Whether you're looking to make your points go further or want to bring the whole family over for a magical experience in Japan, Economy reward seats are the most cost-effective way to use your Qantas Points for travel. It costs just 25,200 Qantas Points + $148 in fees and charges to snag a seat on this nine-hour flight.
The Red Roo's Airbus A330-300s are outfitted with international treks in mind, with 269 seats down the back of Economy in a standard 2-4-2 layout. But what's it like in practice? Let's find out.
Check-in and boarding
This flight to Tokyo-Haneda is my second leg, after a gruelling red-eye journey from Perth to Brisbane in Qantas Boeing 737 Economy (not Qantas' fault – the west-east overnight flights are terrible for sleep). But it does mean I've completed all the formalities in Perth: staff verify my passport, issue my Brisbane-Tokyo boarding pass, and check my bags through, so I don't need to pick them up in Brisbane.
Over in Brisbane, I board a free transfer shuttle to the international terminal with five hours to spare. Qantas' counters are practically empty at 6:00 am. Passengers beginning their journey in Brisbane can use a kiosk or counter to check-in. With plenty of options, I don't imagine check-in will take too long here.
Lounge options at Brisbane International Airport
In case there's any doubt, a Qantas Economy ticket does not grant any lounge access. But if you have single-entry lounge passes, Qantas Club membership, Qantas Gold status and higher or Oneworld Sapphire and higher, then the Qantas Brisbane International Lounge will welcome you.
Given my Qantas Platinum status, that's where I head to refuel on fresh fruit, yoghurt, and a much-needed coffee, though I also tip the scales the other way with a cheeky 'breakfast spritz' with bush plum, finger lime and white wine.
Hiding a Priority Pass card in your wallet? Use your membership or single-visit passes at these two lounges, which are both open during the morning bank of flights:
Lounge access details are provided for your information. Lounges don't play a part in scoring Economy reviews unless they're included with an Economy fare without status or memberships.
With a few more hours up my sleeve, I enjoy a shower and an upright nap in a secluded corner upstairs, where no other passengers venture. Even then, I still have time to kill, so I also visit the Aspire Lounge. Sadly (for a pay-per-use model), the lounge is empty, which is a pity. It's a pleasant space (though out of the way), and I enjoy chatting with the staff about their reopening strategy. If you have Priority Pass visits, I'd recommend stopping by Aspire.
Eventually, the clock ticks to 11 am and it's time to board. With my status, I join the Business Class priority lane to snap some early pictures of the Economy cabin.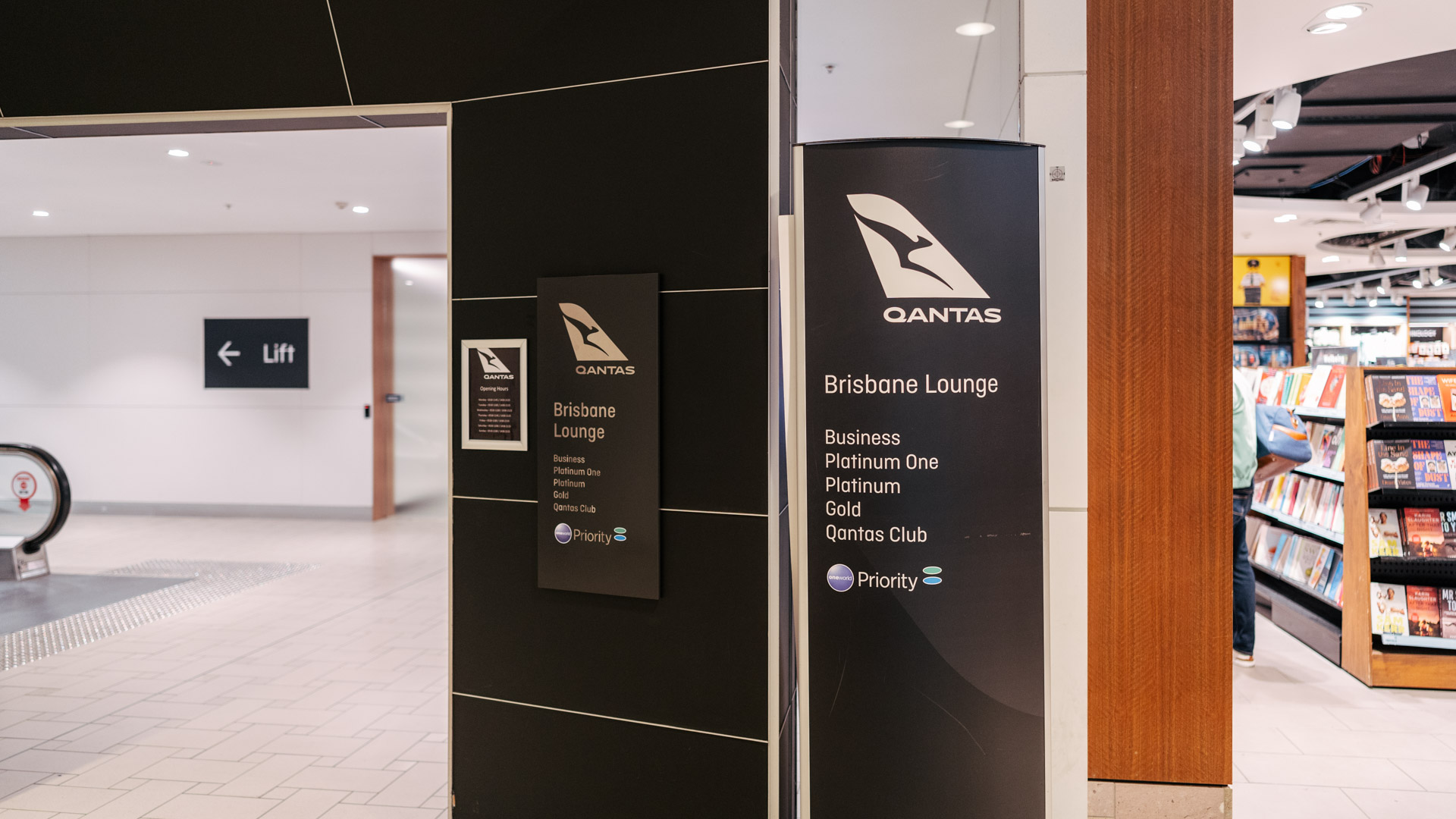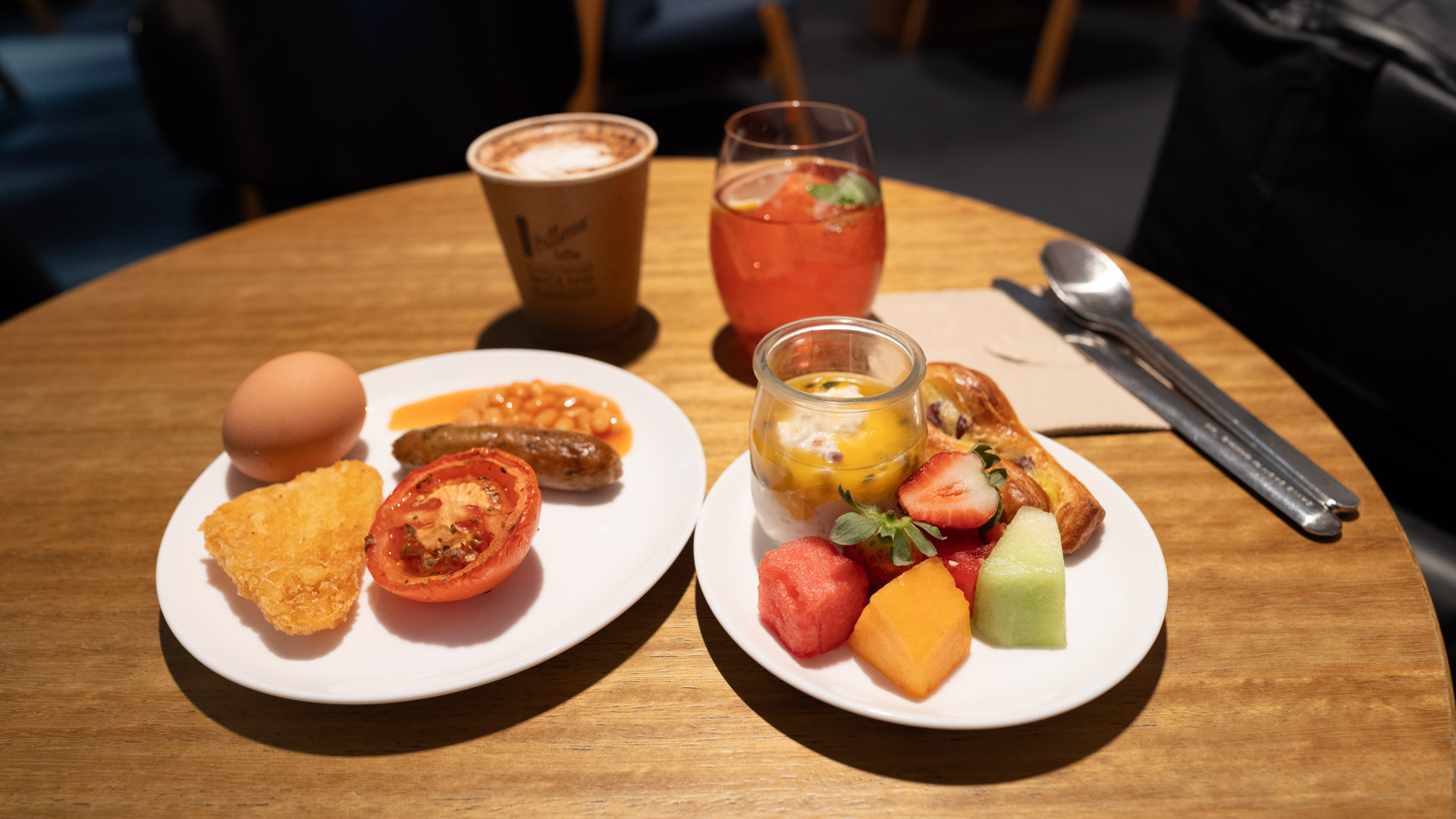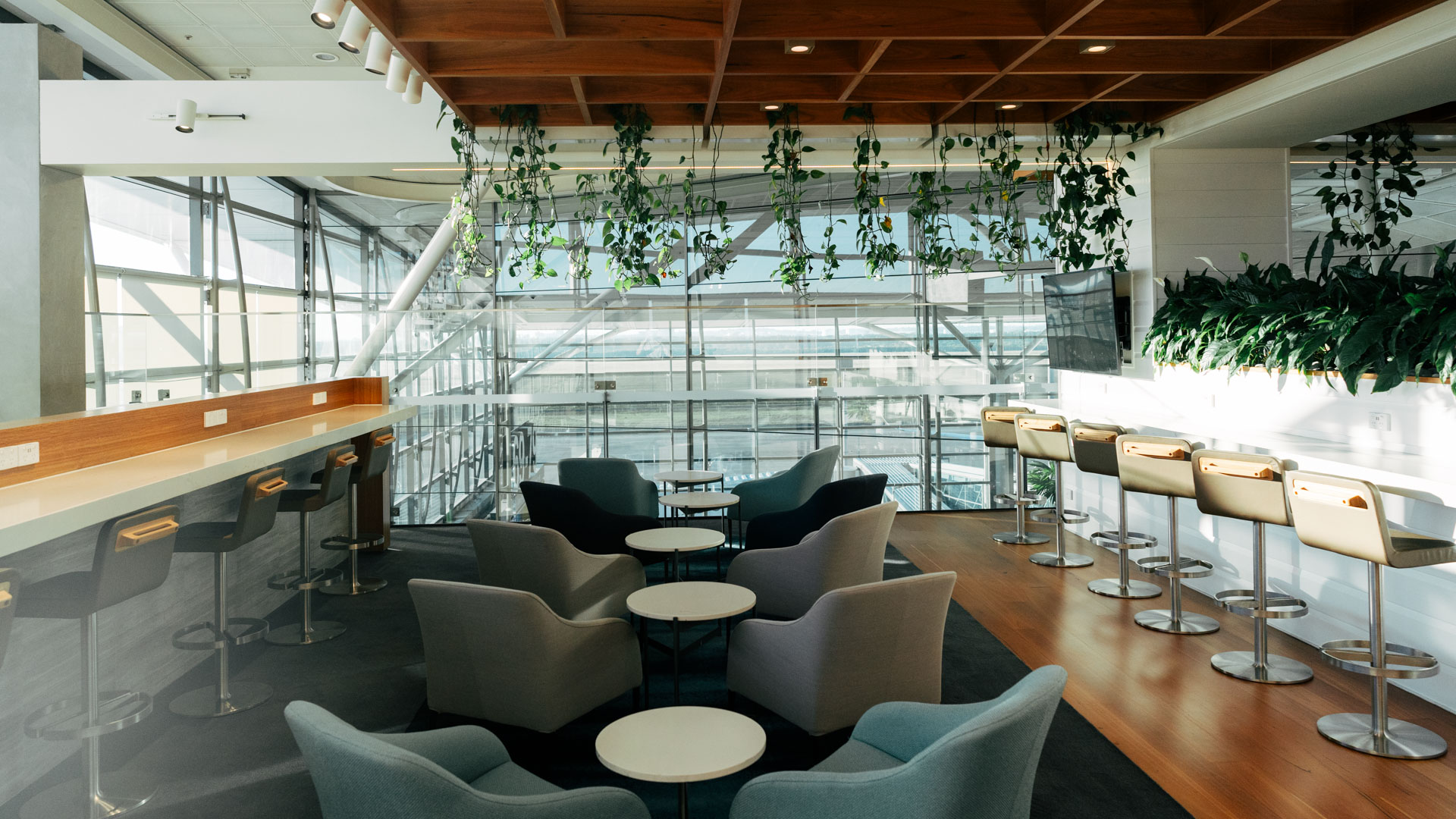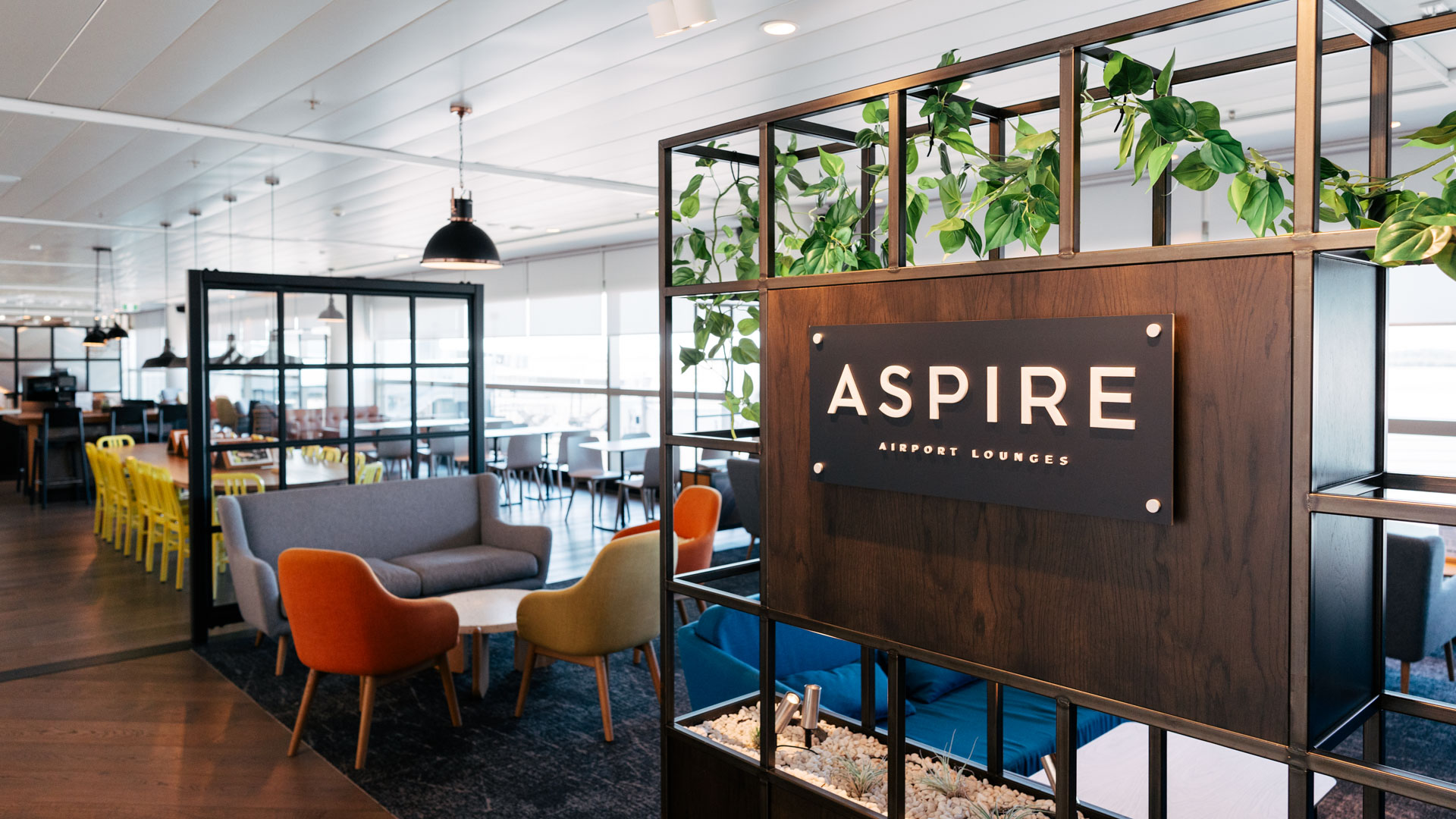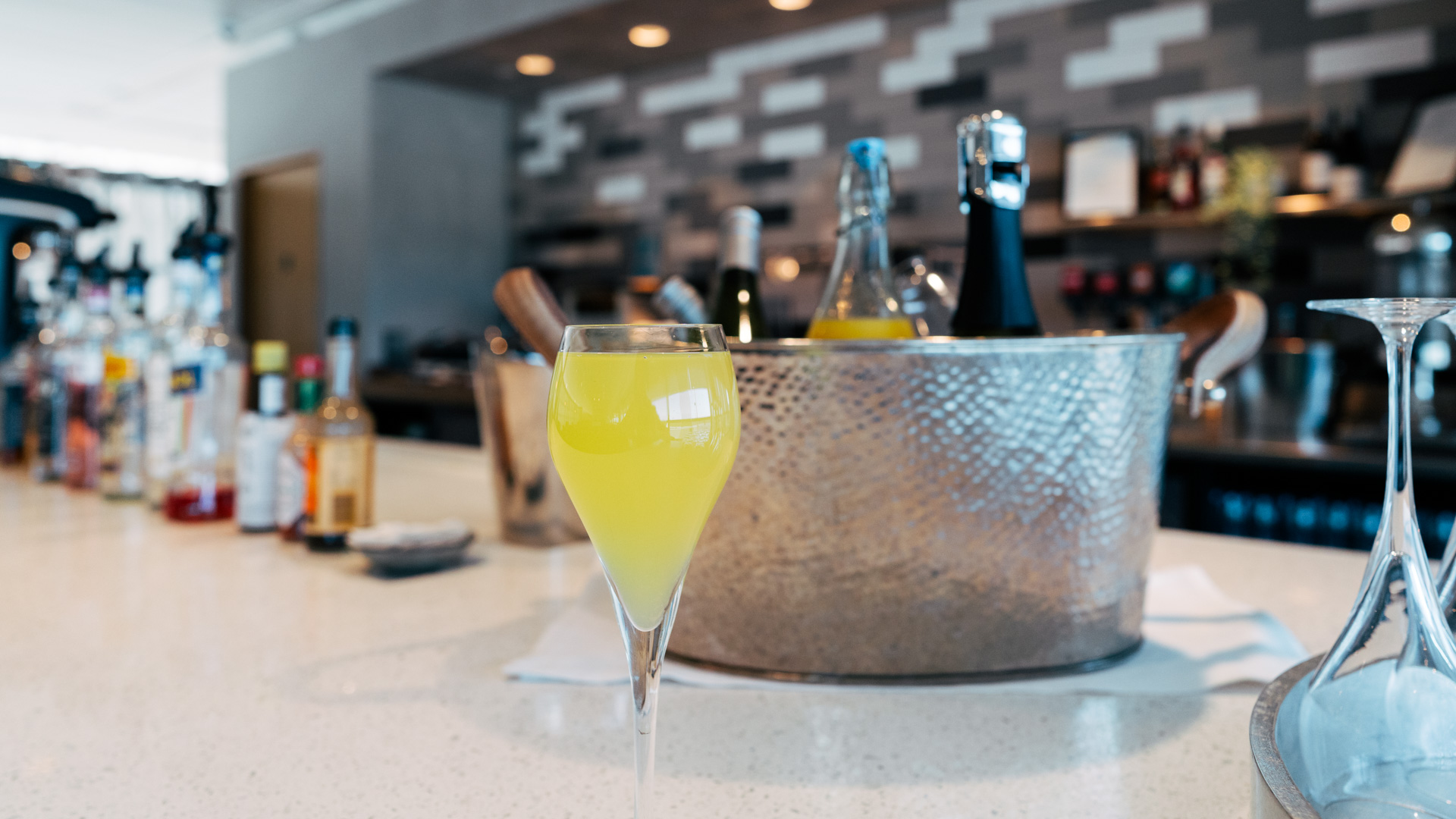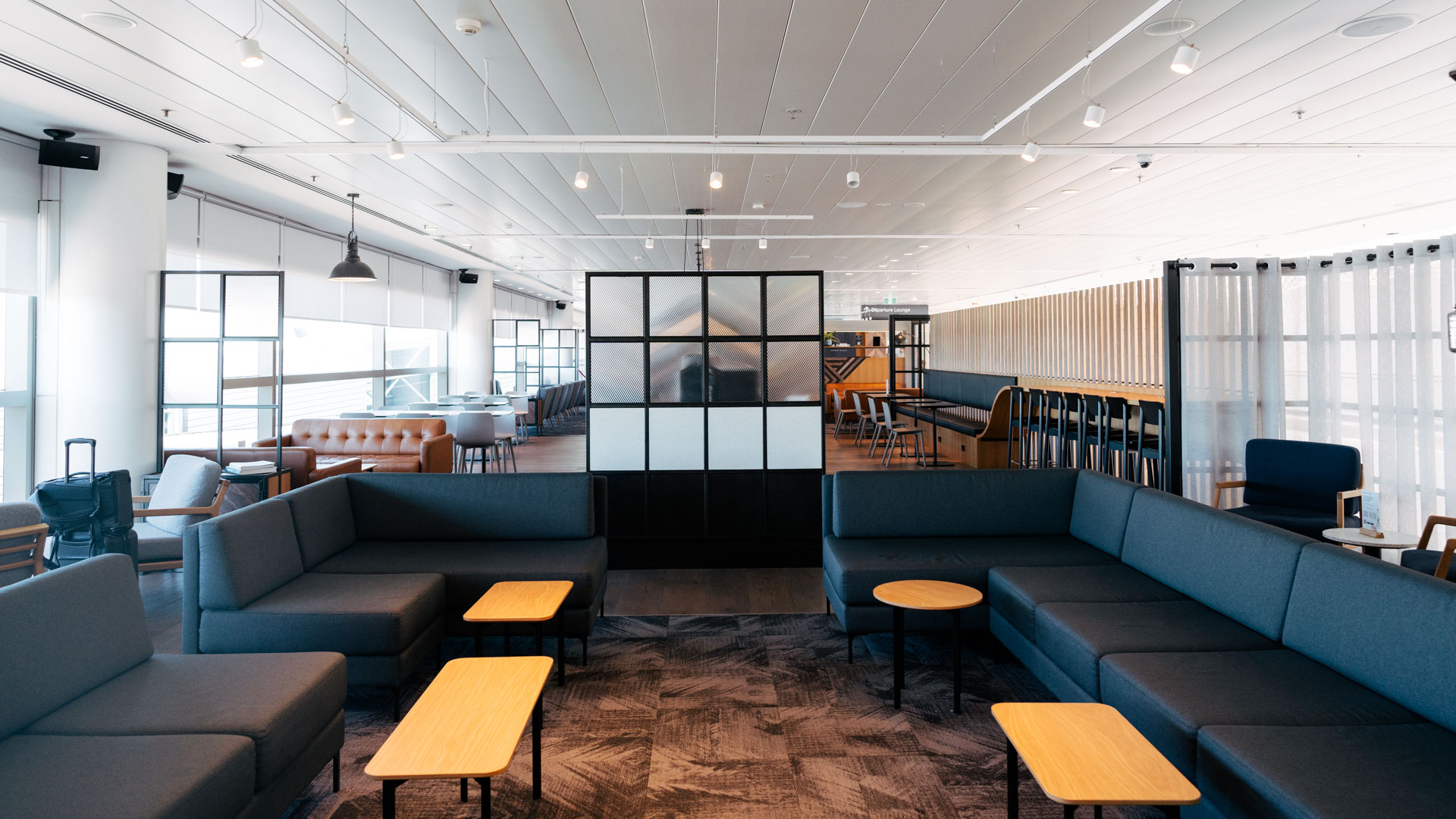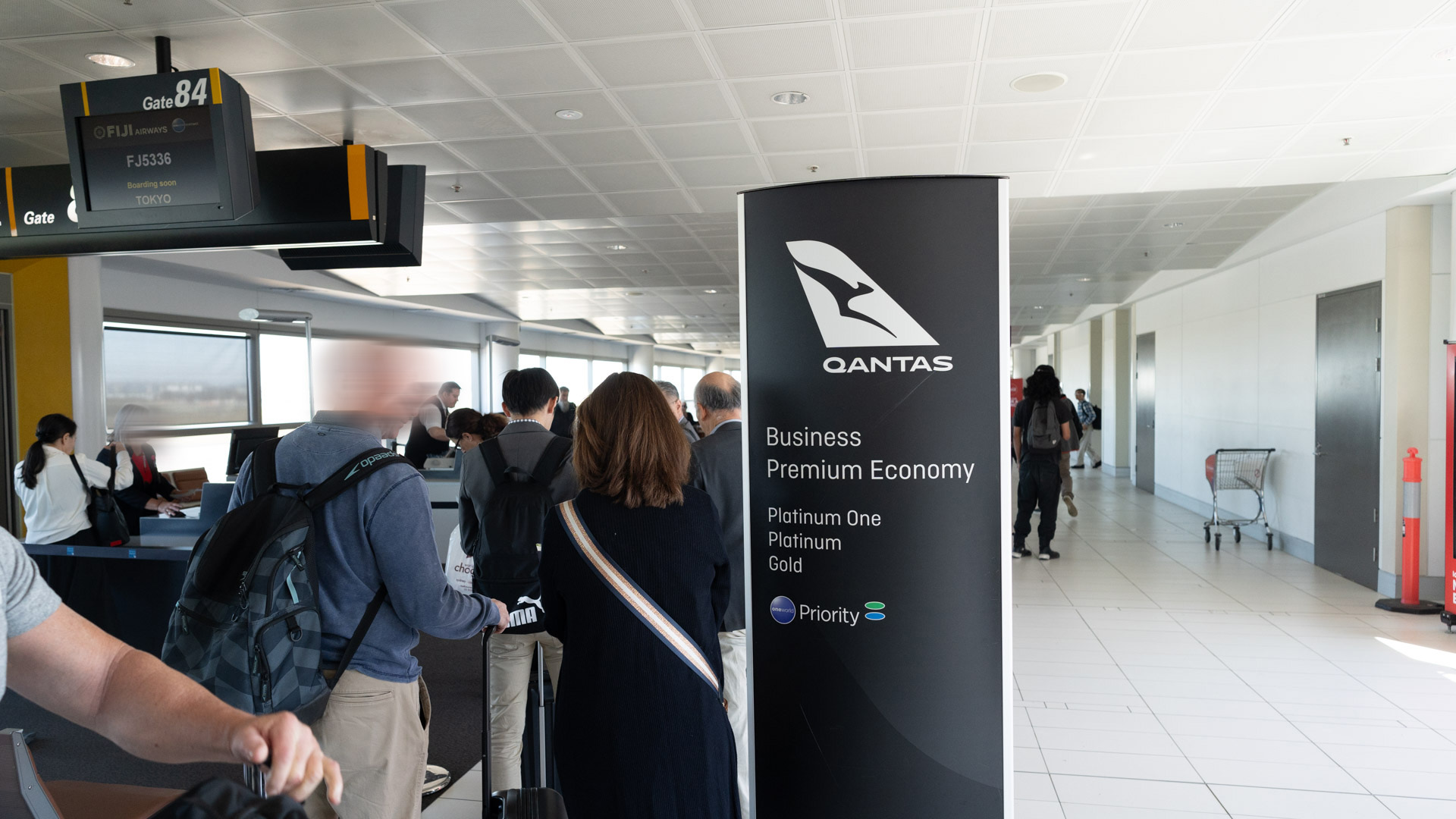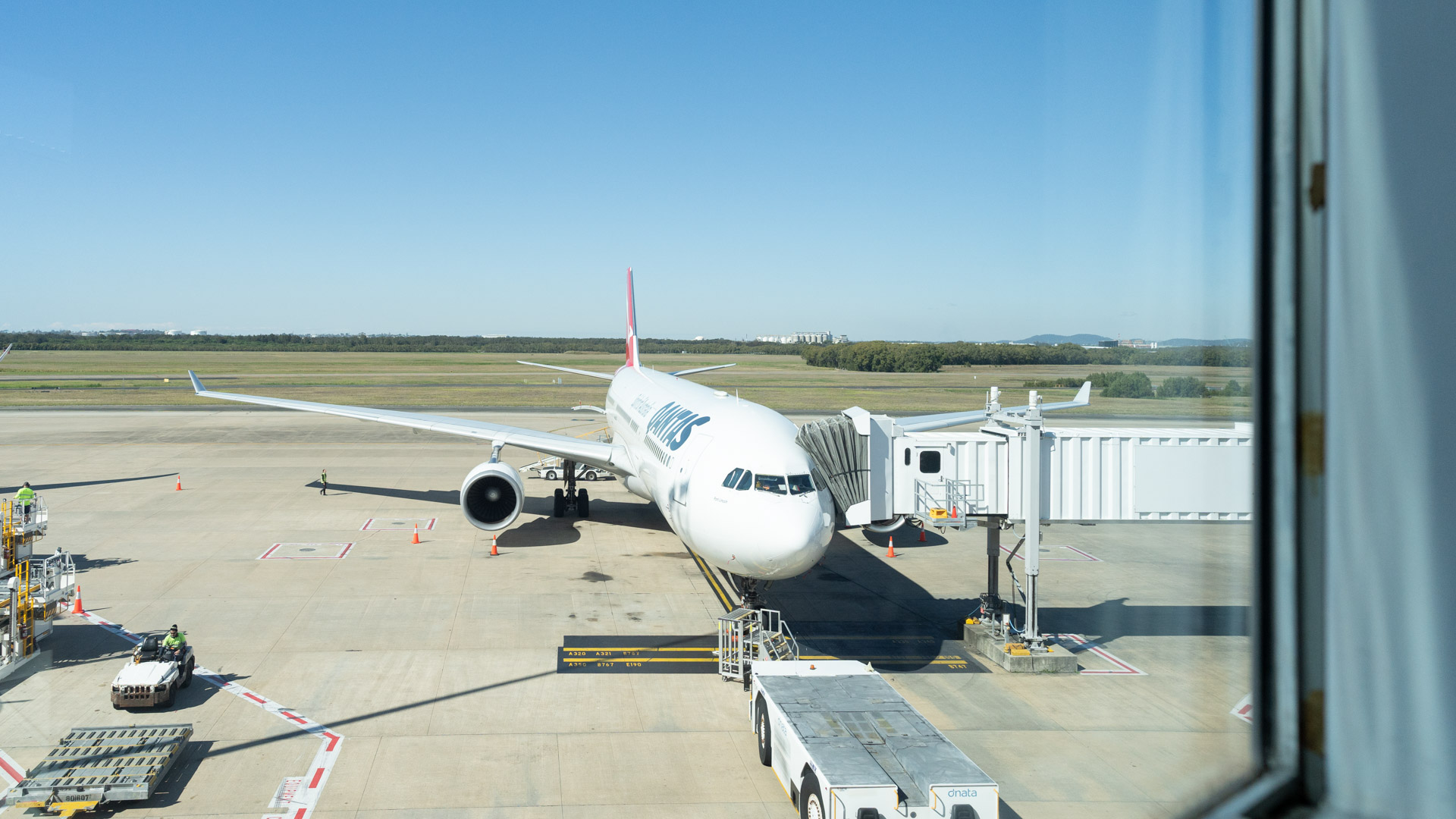 Qantas Airbus A330-300 seating
There shouldn't be any surprises onboard the Airbus A330-300. Qantas follows the industry standard of eight seats per row with an average pitch of 31″ (78.8 cm) between rows. Your shoulders have up to 17″ (43.2 cm) of width to play with, which is also quite normal.
Overall, the seat is fine without being spectacular. I've got enough width, and my knees don't quite touch the row in front. For this flight, I've selected 46C – an aisle seat in the middle block. Normally, I'd go for a window seat. But I've been eyeing the seat map beforehand, and sure enough, the other three seats remain empty when the doors close. Hooray for a knock-off Business Class bed!
(In case you're wondering, being treated to a whole row of seats doesn't impact our scoring for the review).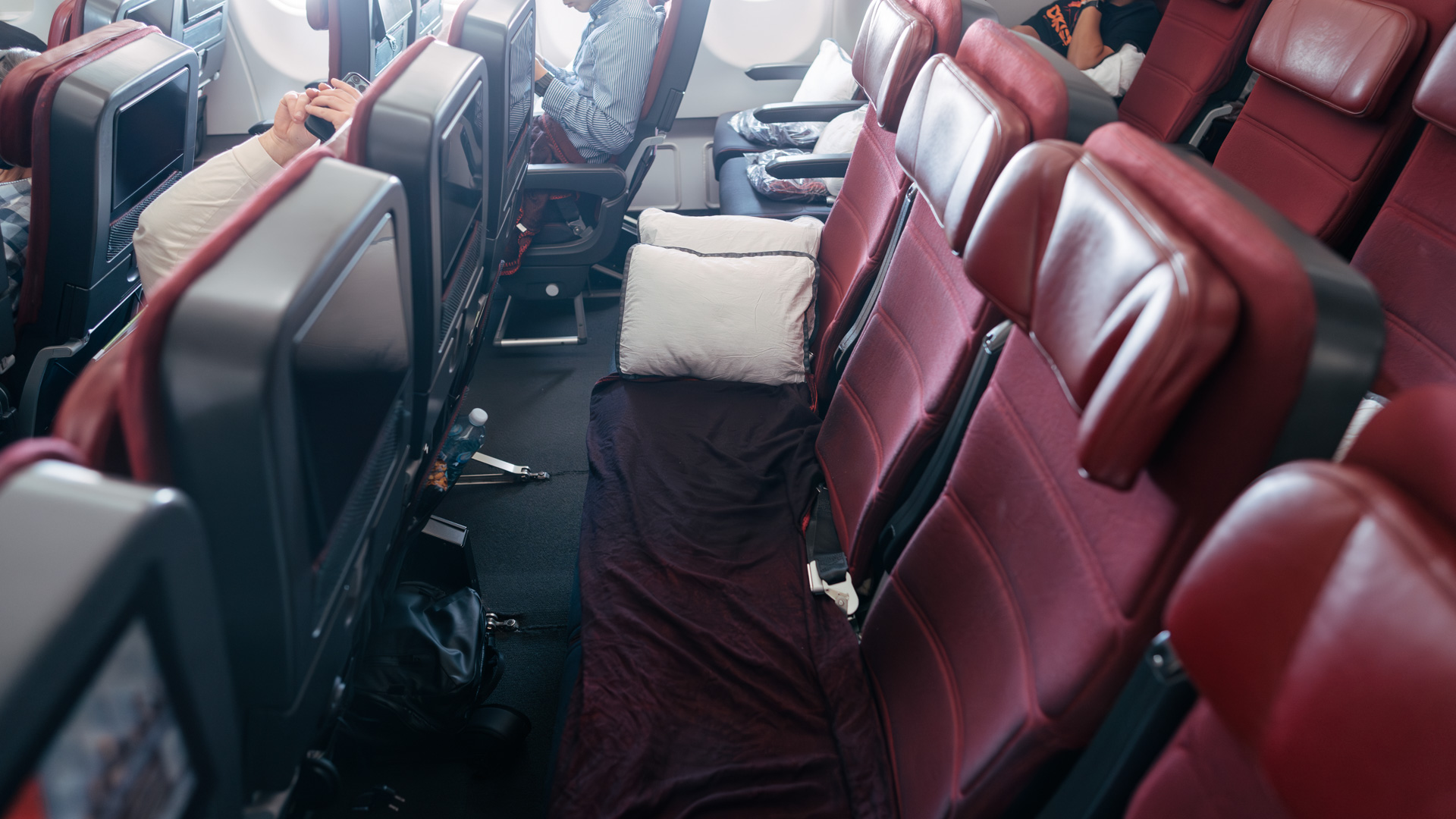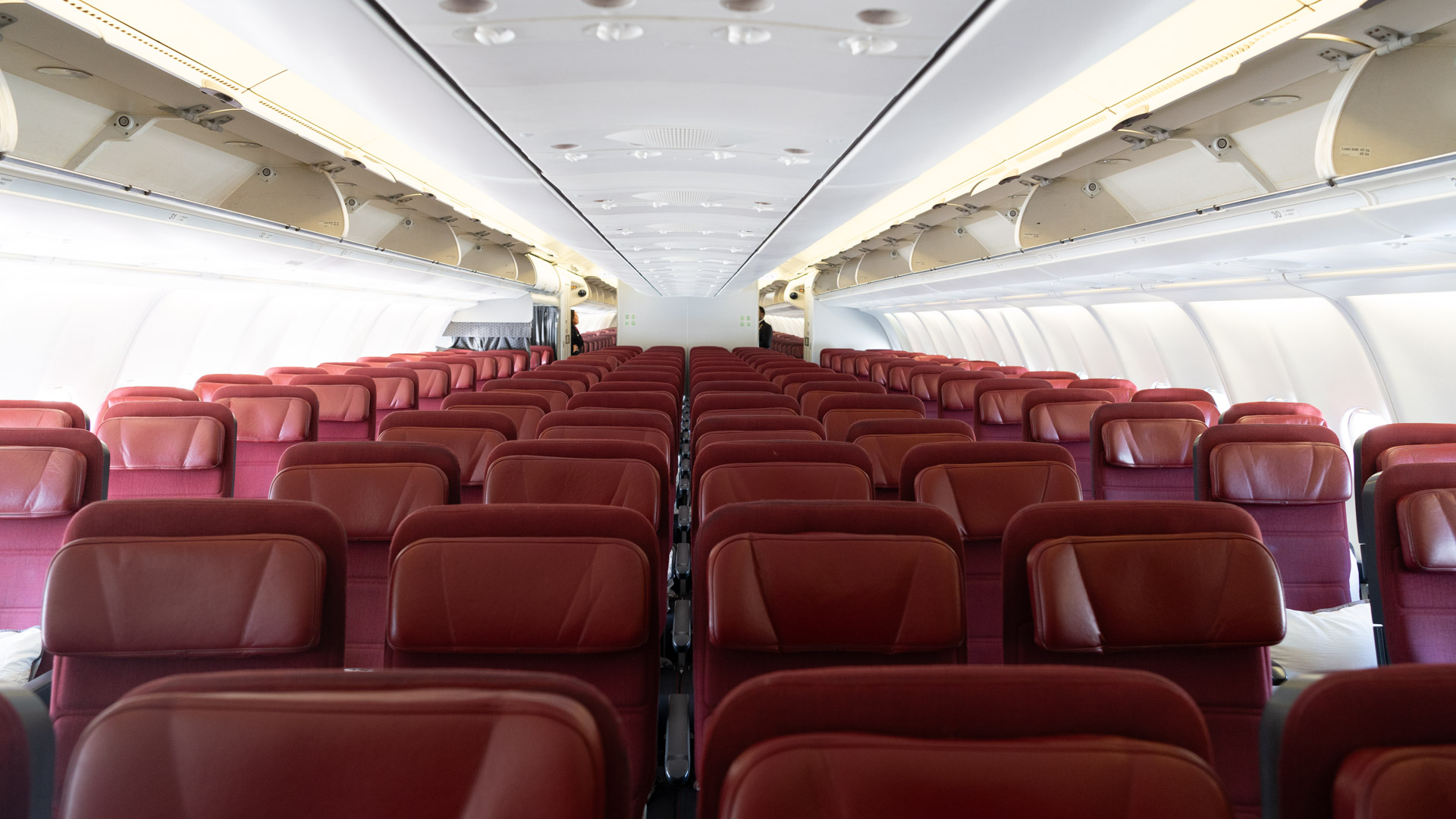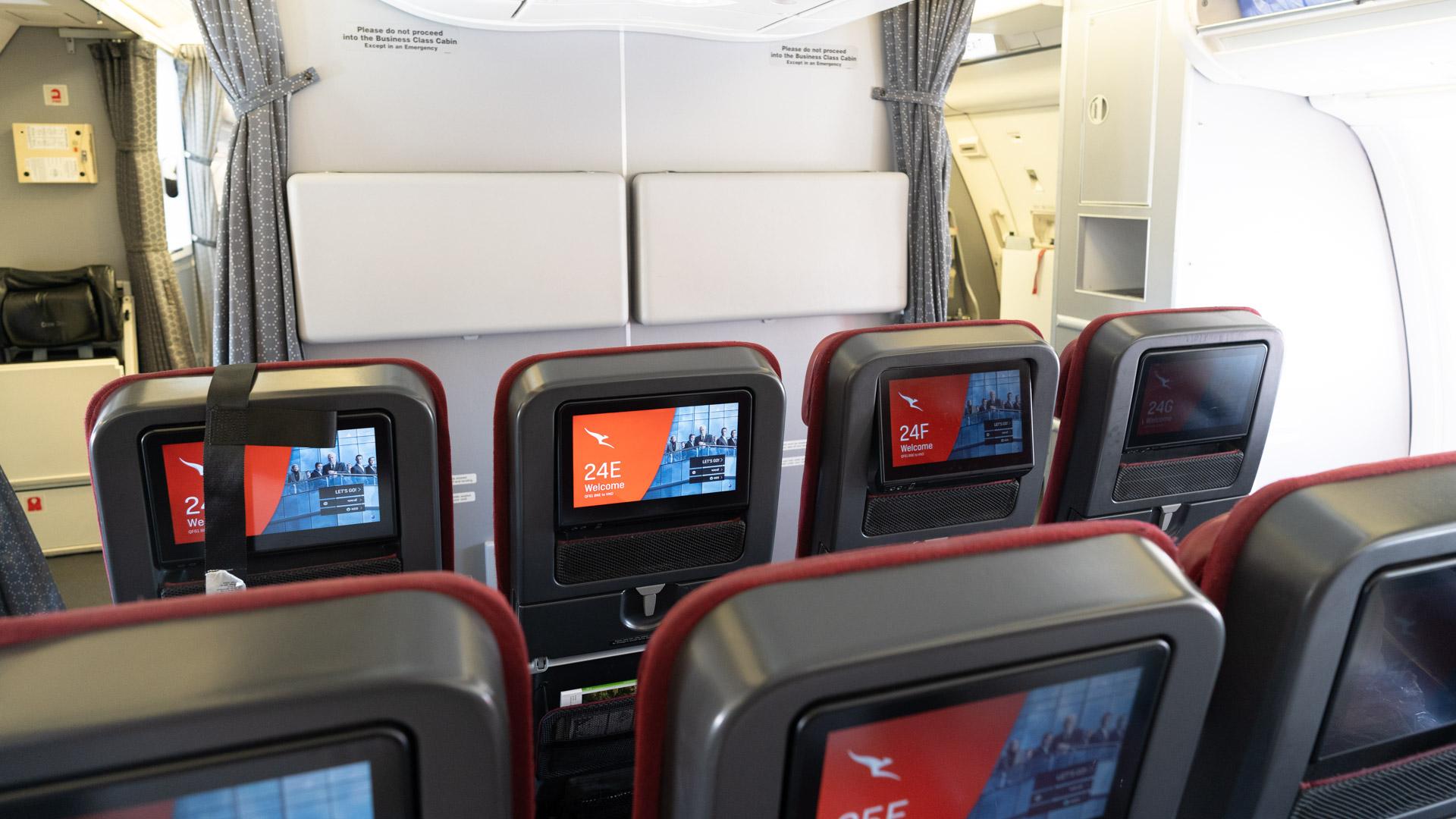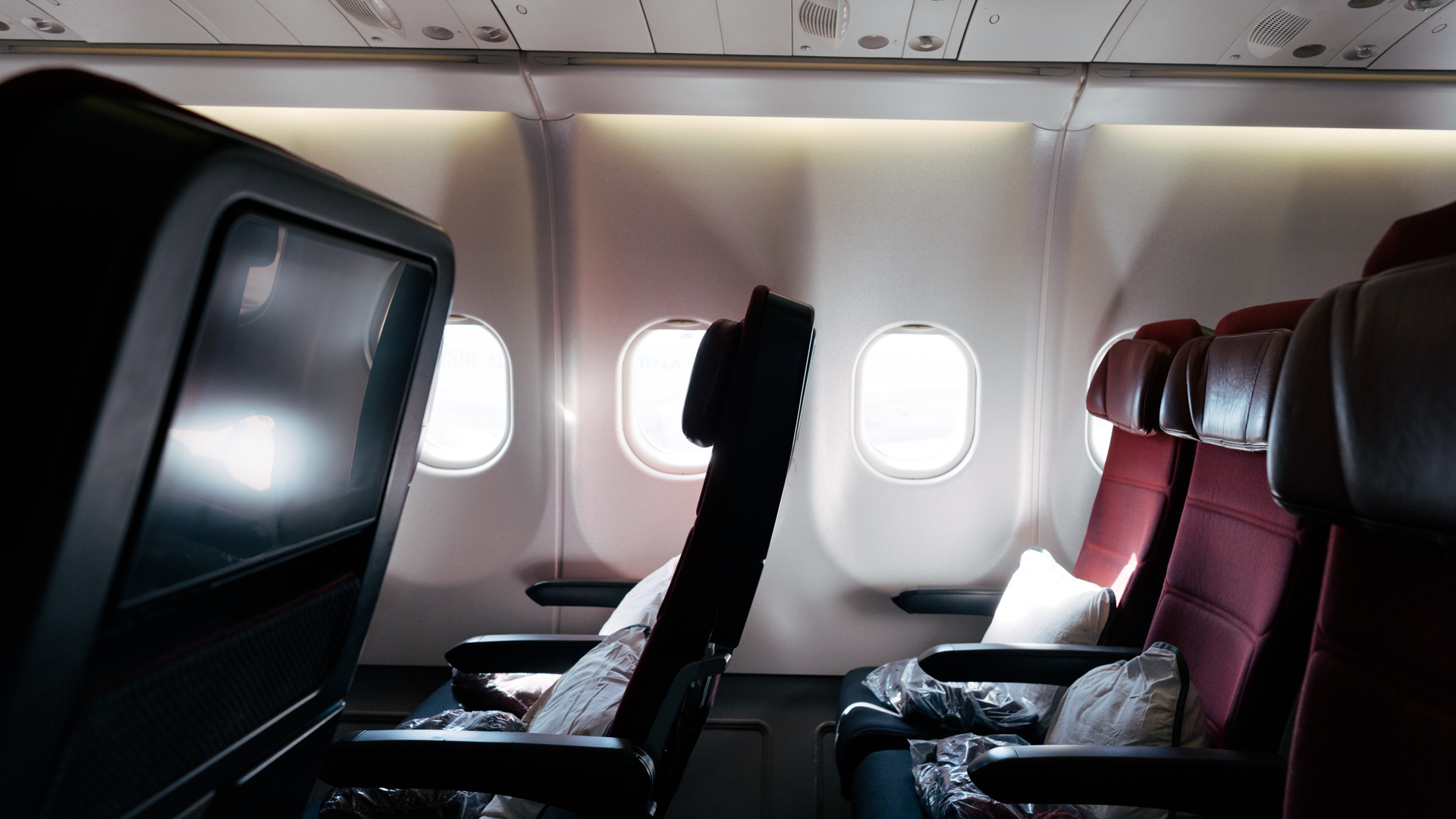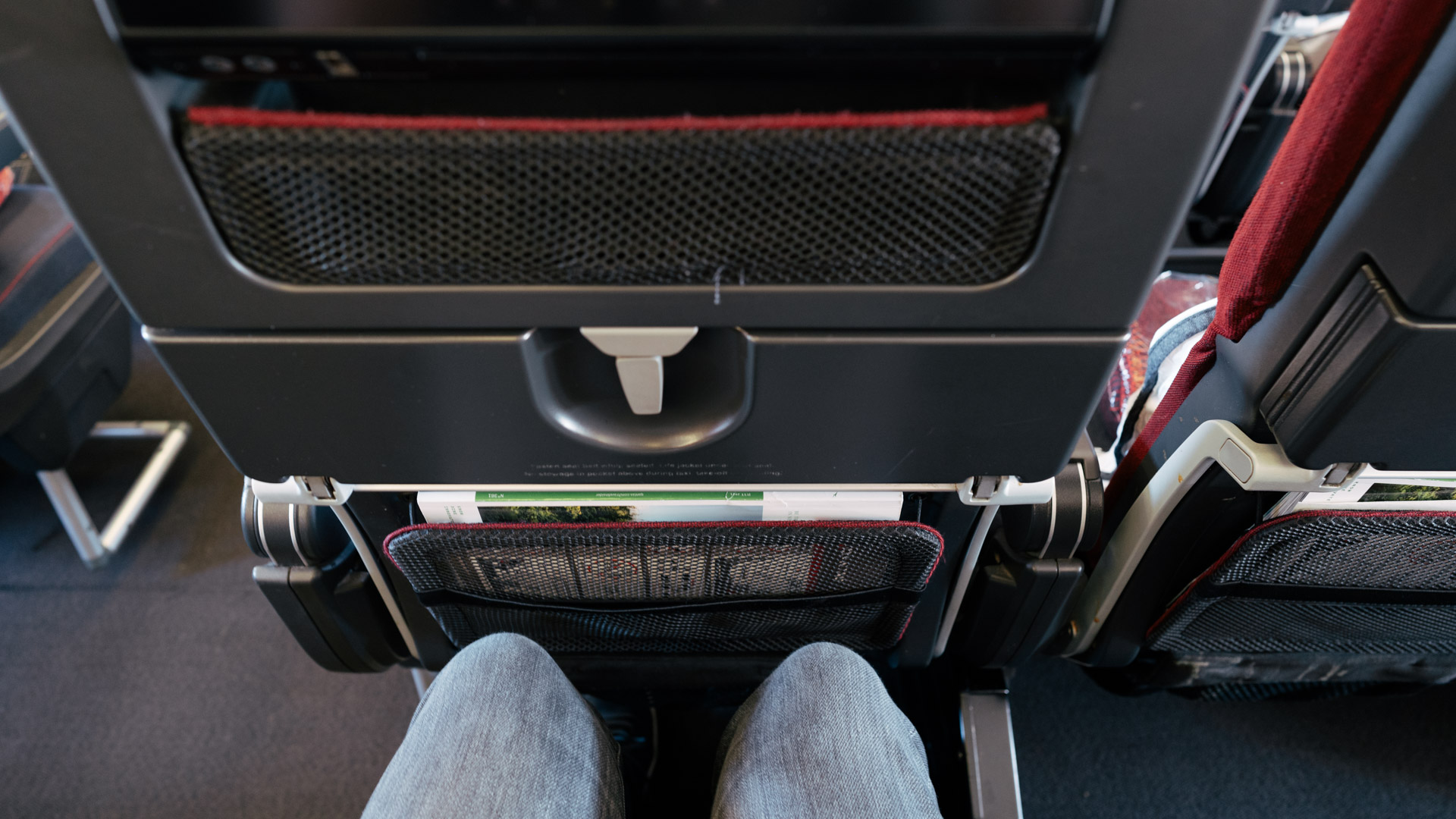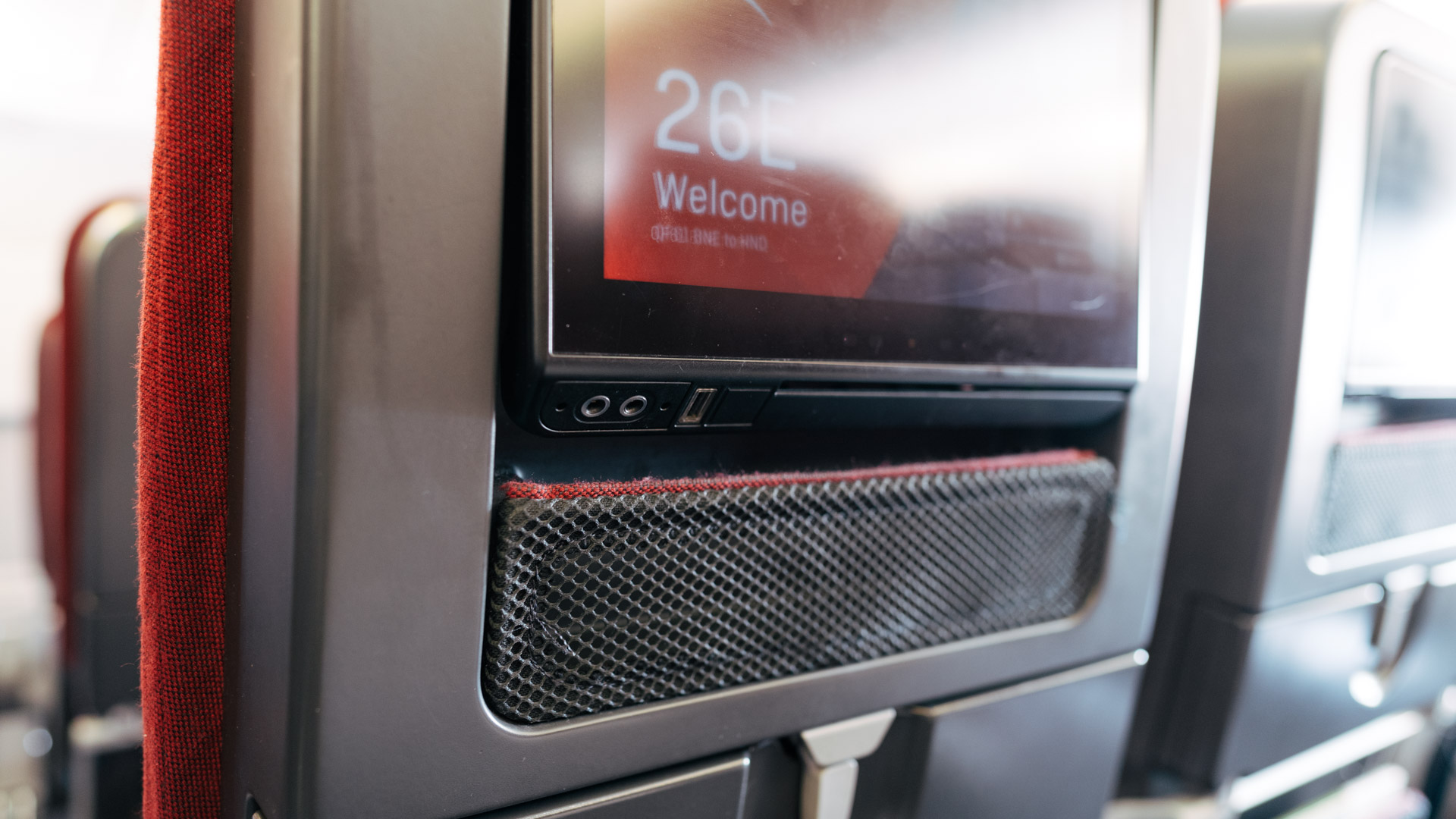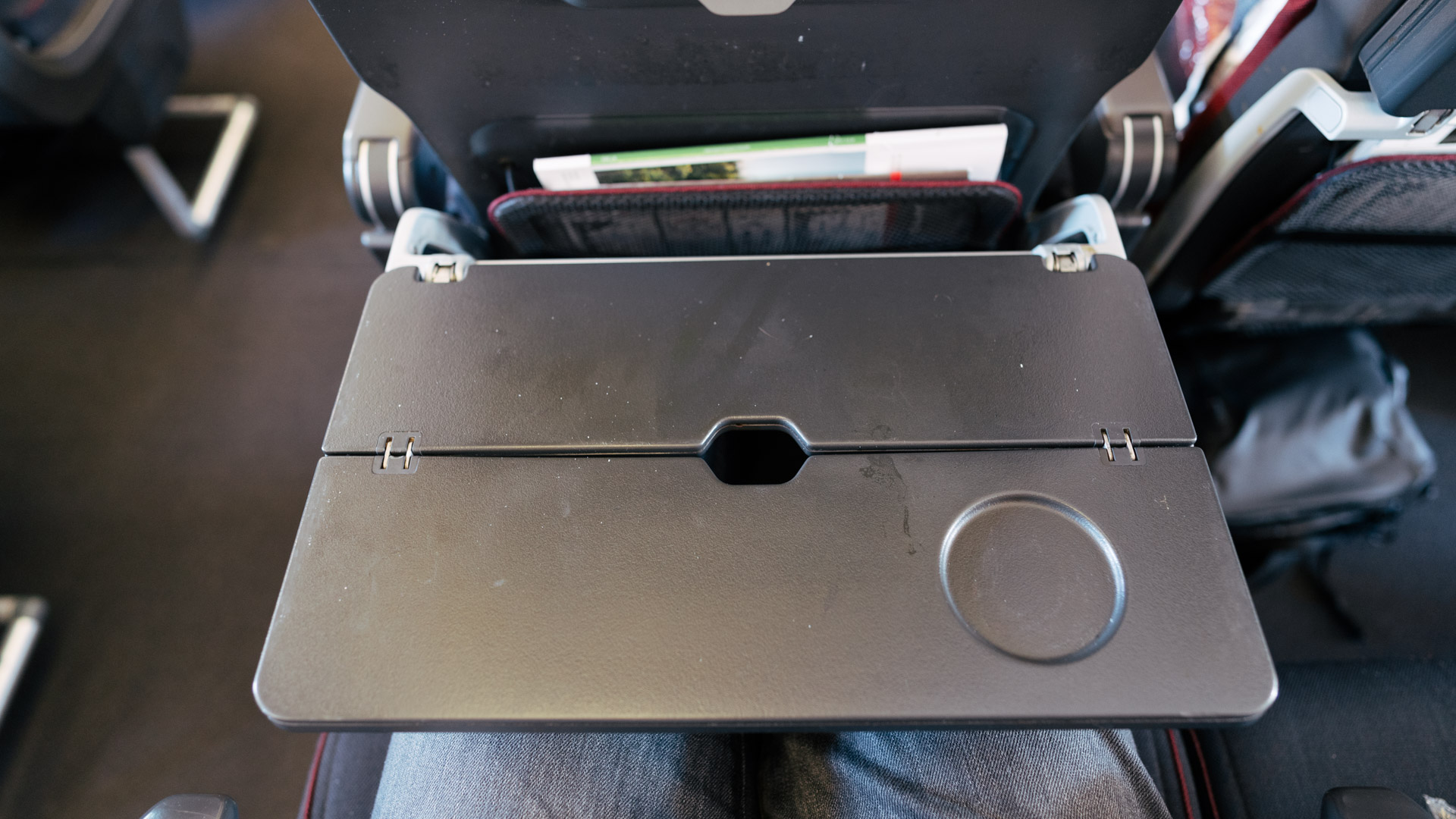 Every seat in Economy has an updated Panasonic eX3 entertainment system with an 11.1-inch (28.2 cm) touchscreen. Other amenities include:
A four-way adjustable headrest
Bi-fold tray table
Storage pouch under the screen
USB charging port
Shared AC power sockets beneath the seats
For extra legroom seats, consider 45A/B and 45J/K, though an extra cost applies unless you're Platinum One or higher. Row 39J/K might also be a good pick, as the two rows behind are reserved for crew rest.
---
Take the family to Tokyo with this supercharged sign-up bonus – it's enough for multiple Economy reward seats.
---
Qantas Airbus A330-300 dining
With this leg taking up much of the afternoon and evening, two meals are served. Qantas doesn't offer printed menus in Economy, but I find the options listed through the entertainment screen. Beer, wine, spirits and all non-alcoholic drinks are complimentary.
Love it or hate it, Qantas hasn't served a traditional tray meal in Economy for many years. Instead, the carrier offers a large main course an hour after take-off, supplemented with various sides. For lunch, that's a choice of the following, accompanied by garlic and rosemary focaccia and 'iconic Australian ice cream':
Ratatouille pasta bake with panko topping, roast cauliflower and green beans
Chicken yakisoba with Hokkien noodles and pickled ginger
Braised wagyu beef with broccoli, carrots and soft polenta (my pick)
In Qantas' defence, the braised wagyu beef is hearty, tasty, and has a good dose of vegetables. Don't forget to use the focaccia to mop up the sauce!
However, I can't help but chuckle at the 'iconic' ice cream – I think the Red Roo can do better than Splice (and Paddle Pops, on a previous flight), right? I'm quite full, so later on, the offer of mixed nuts and a bottle of water is enough to keep me happy (passengers can request other beverages throughout the flight as well).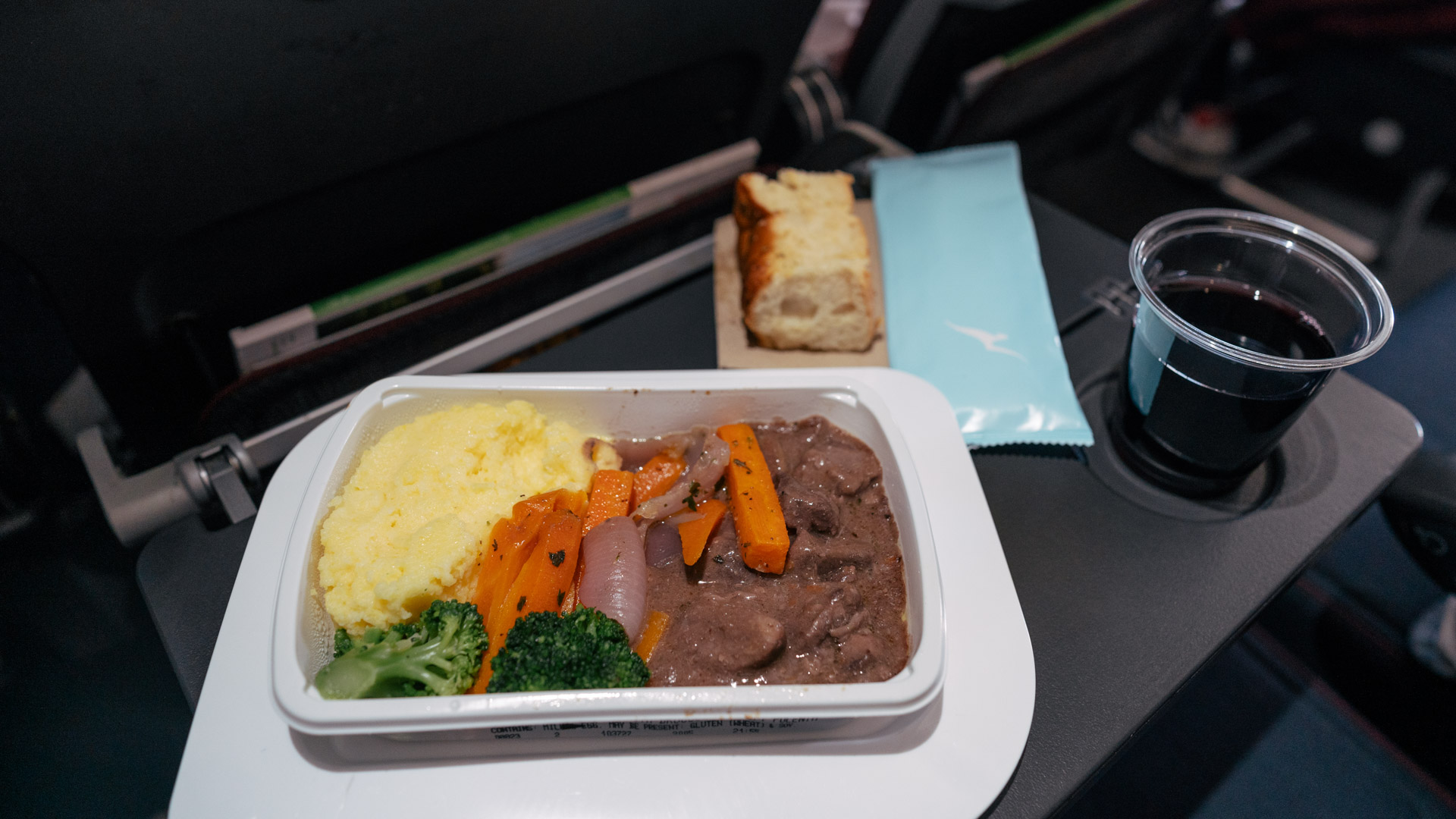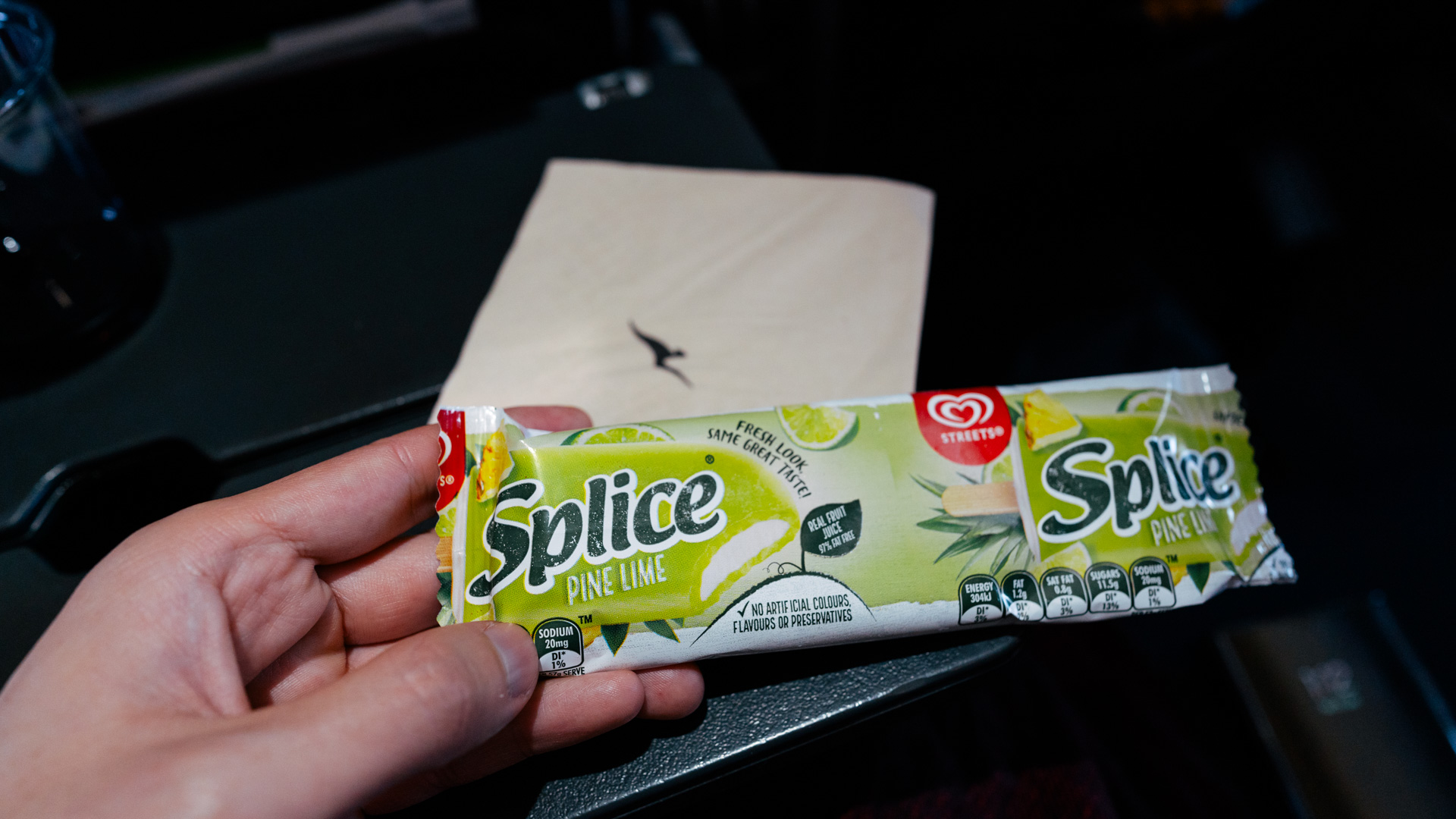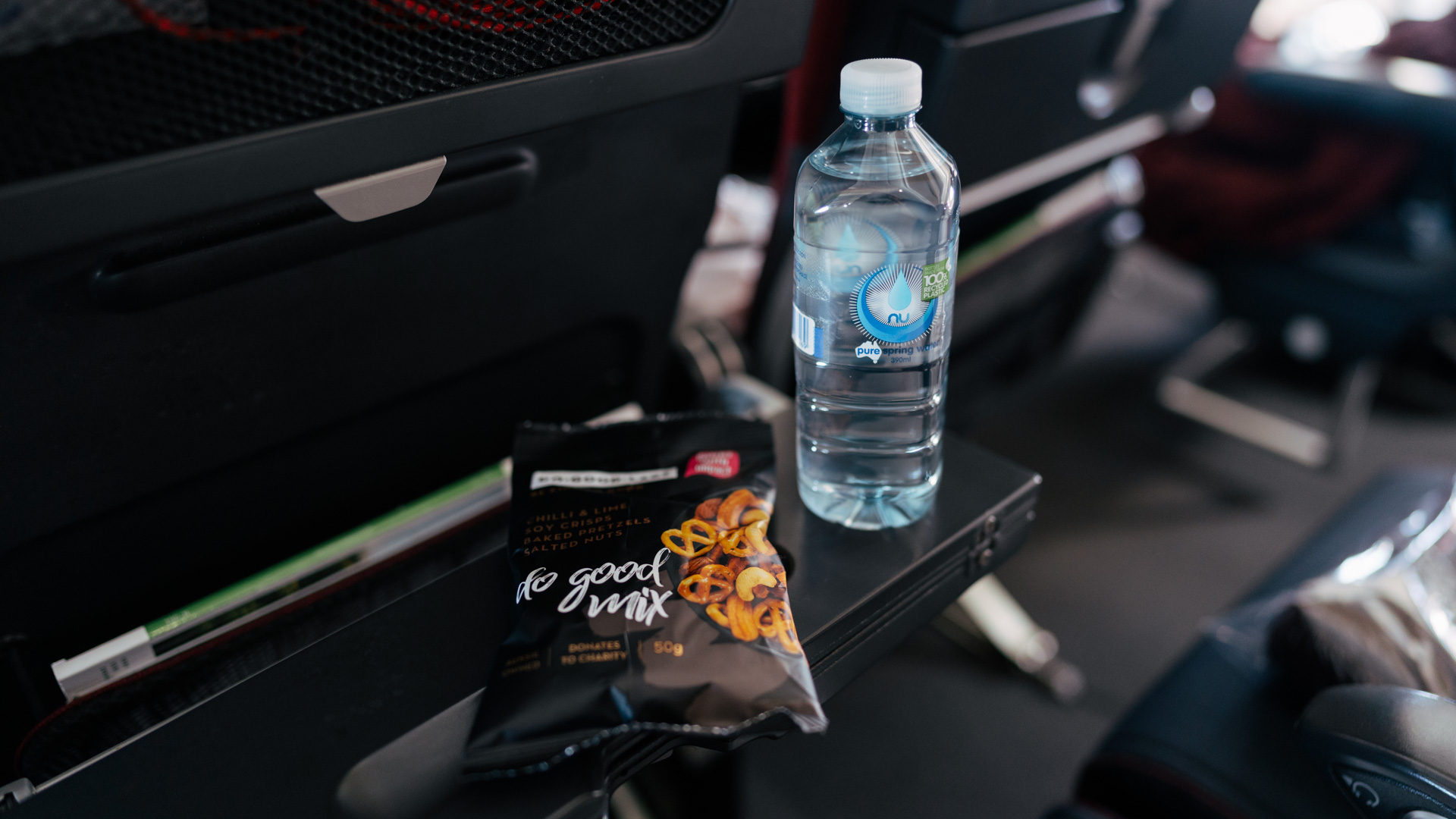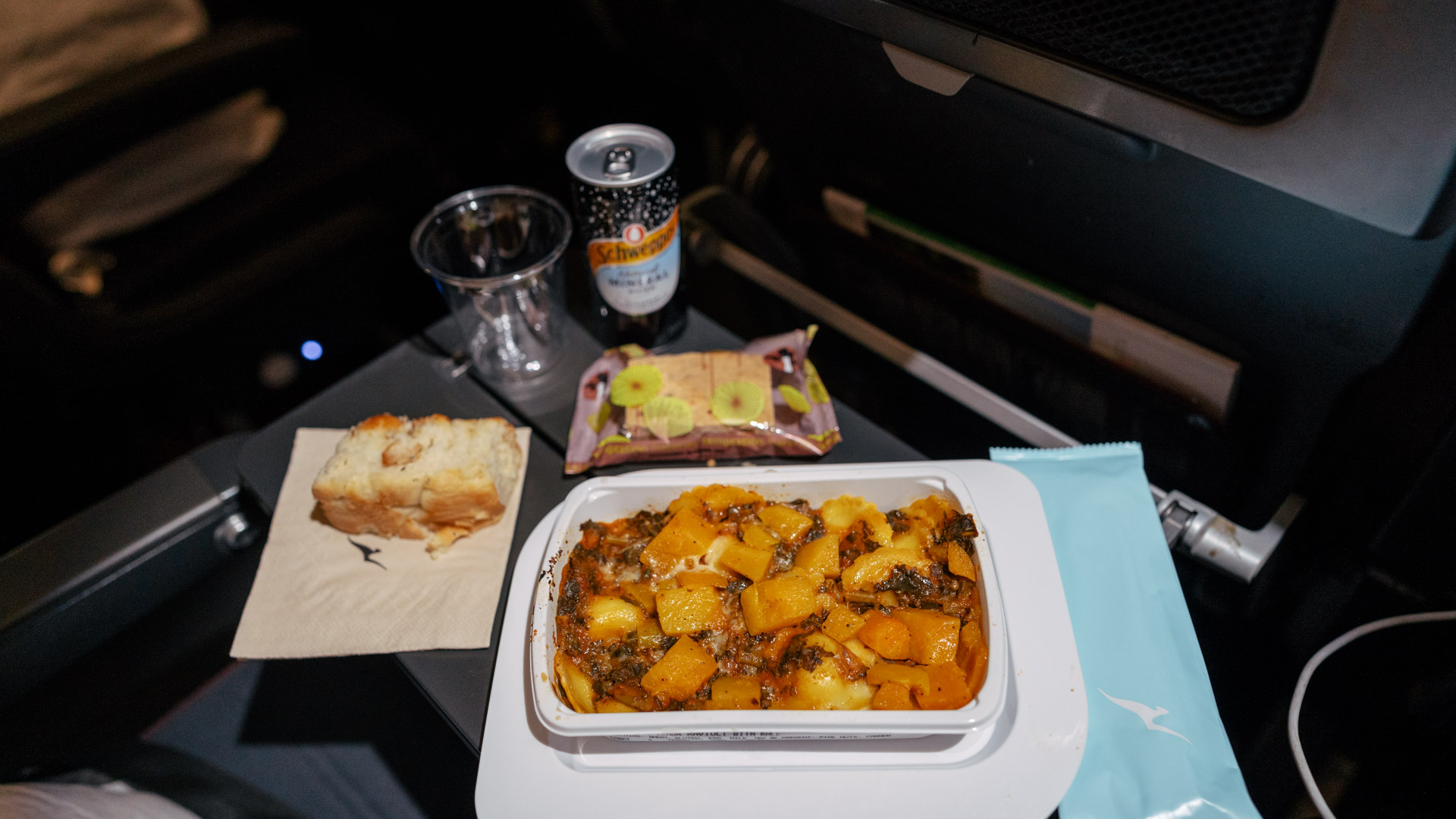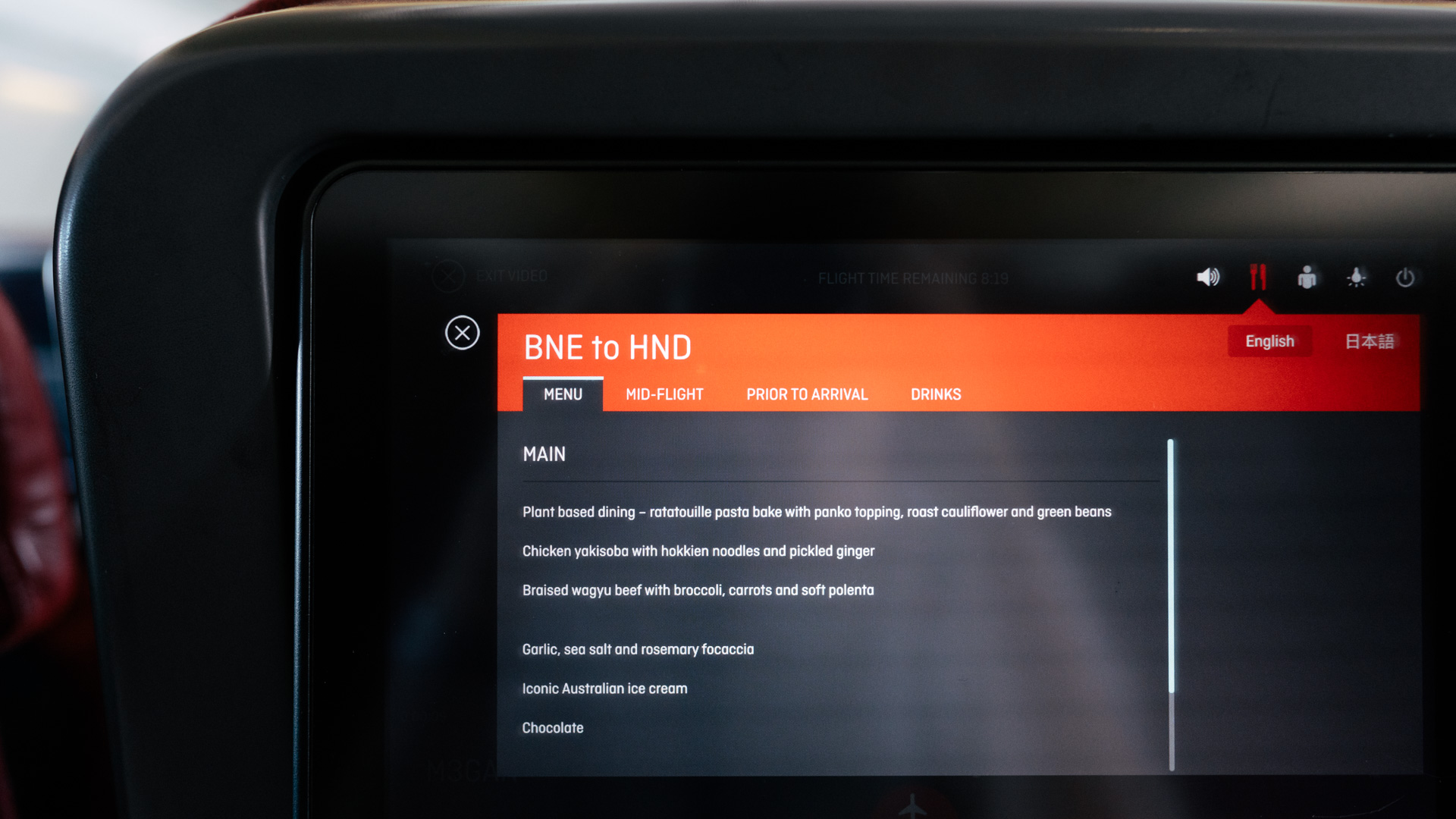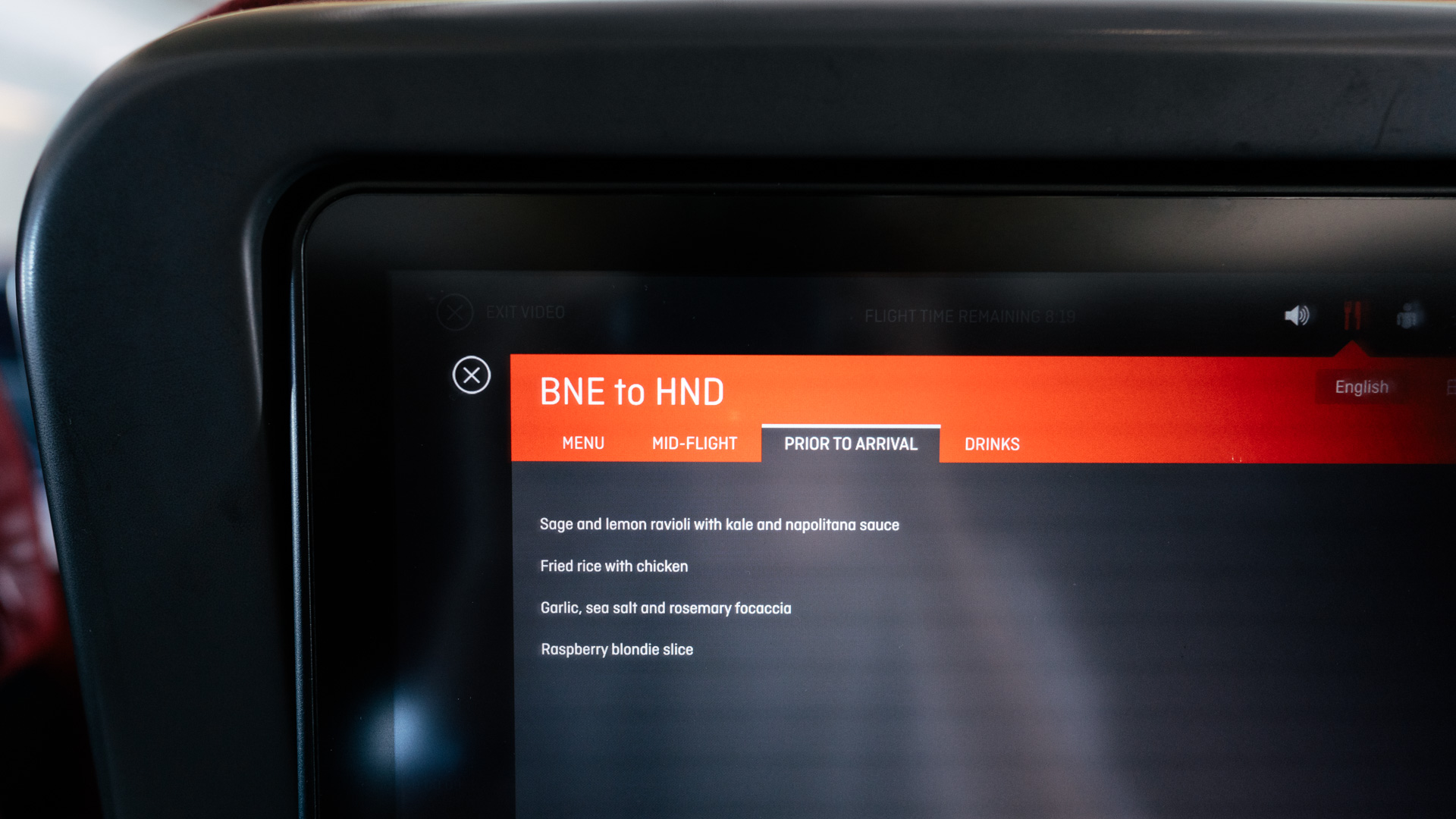 Next up is dinner, served roughly 4.5 hours after lunch (around 5:15 pm Brisbane time, according to my photo timestamps). As a smaller meal service, two choices await along with another slice of focaccia and a raspberry blondie:
Sage and lemon ravioli with kale and napolitana sauce (my pick)
Fried rice with chicken
I'm pleasantly surprised by the ravioli – it's also a generous serving and loaded with pumpkin pieces. I've certainly had worse Economy meals.
Qantas Airbus A330-300 service and entertainment
The Qantas crew on this flight are all cheerful and polite. One of the flight attendants is the designated Japanese speaker for in-flight announcements, while an abridged version of the in-flight video also screens in Japanese after the English version.
This won't apply to everyone – but before take-off, the CSM (Customer Service Manager) comes by with his tablet to offer a cursory 'hello' and 'let us know if we can help you with anything' for elite status members in Economy. But later on, that evolves into a proactive offer of red wine from Business Class with lunch, which I greatly appreciate. It's the perfect pairing for my braised beef lunch.
Although there's no Wi-Fi on my flight (that's gradually being rolled out on Qantas international Airbus A330 flights while flying over Australia), there's still plenty to do on the inflight entertainment. I'm quite happy with the screen resolution – it's crisp and the screen is responsive. Just bring your headphones if you can – unsurprisingly, the provided ones are basic. It lessens the thrill of watching horror/sci-fi film, M3GAN.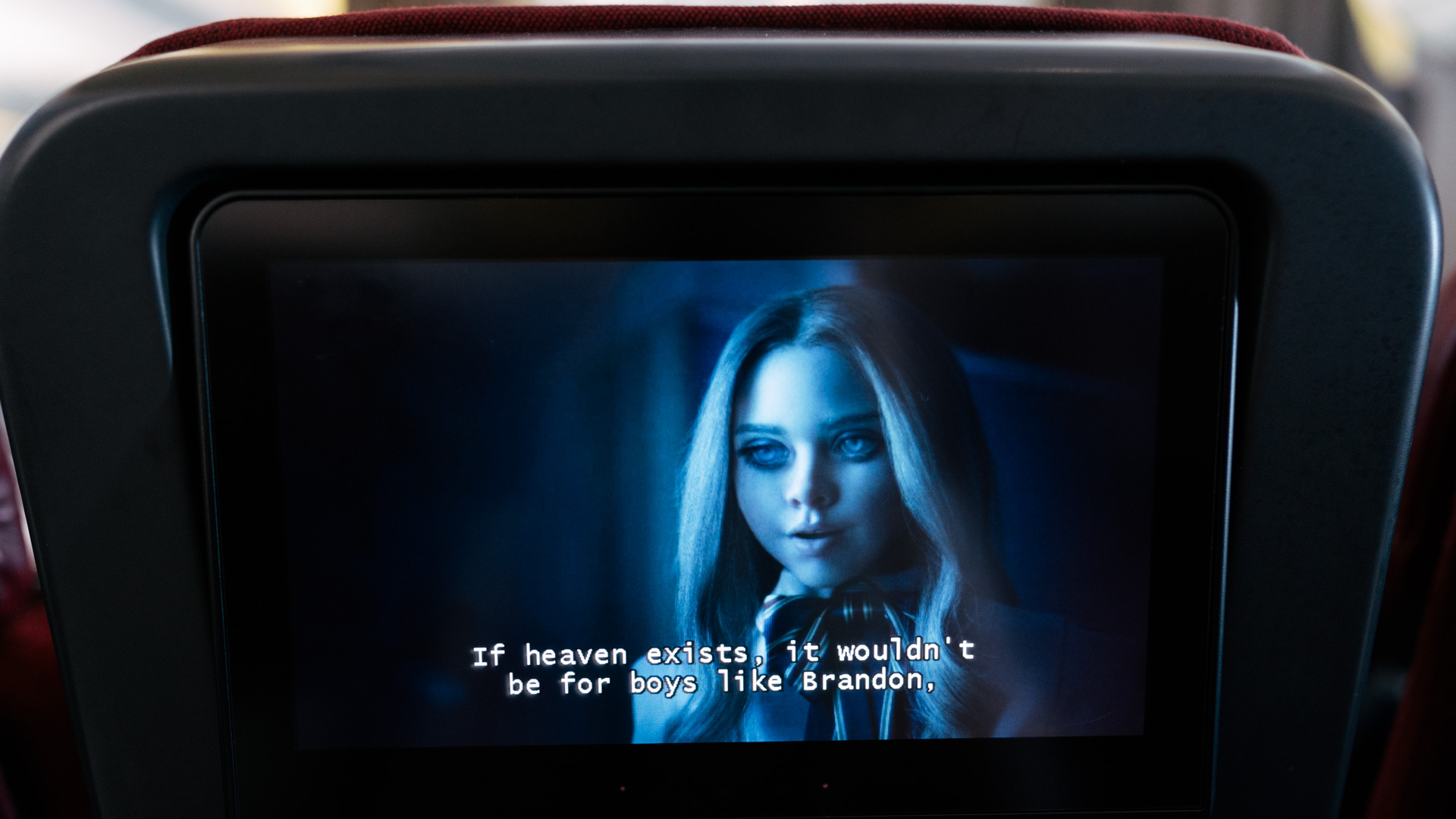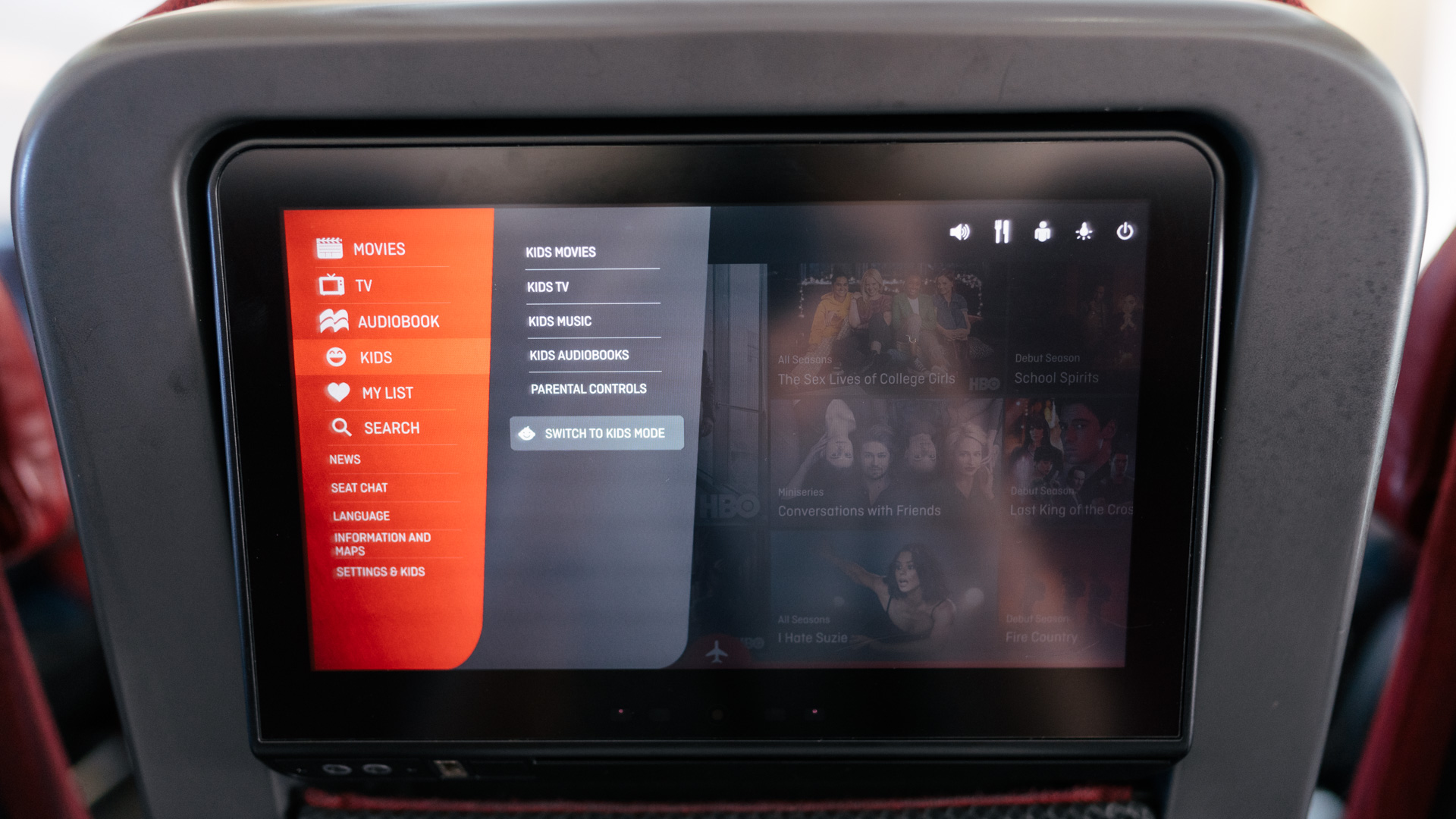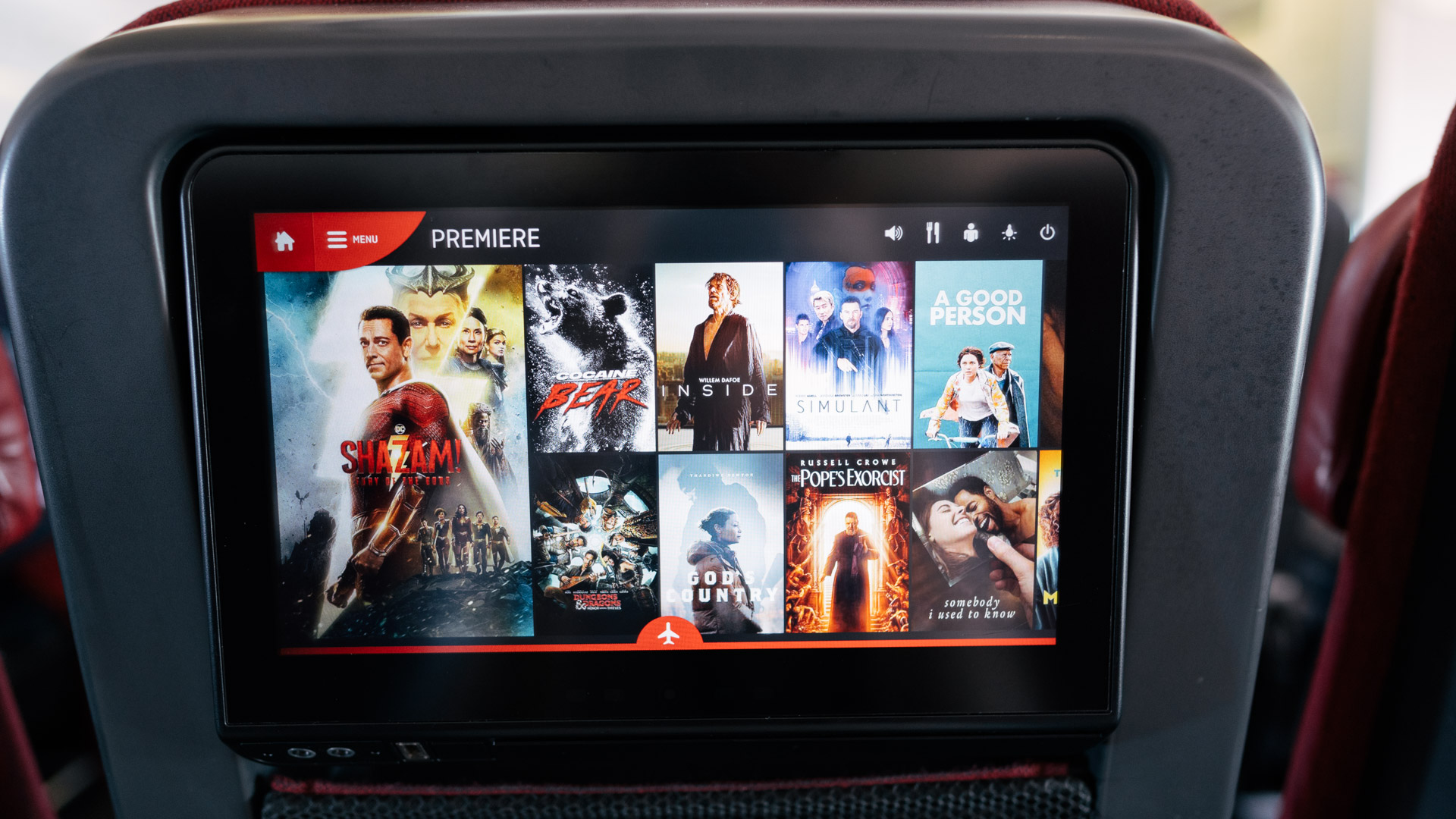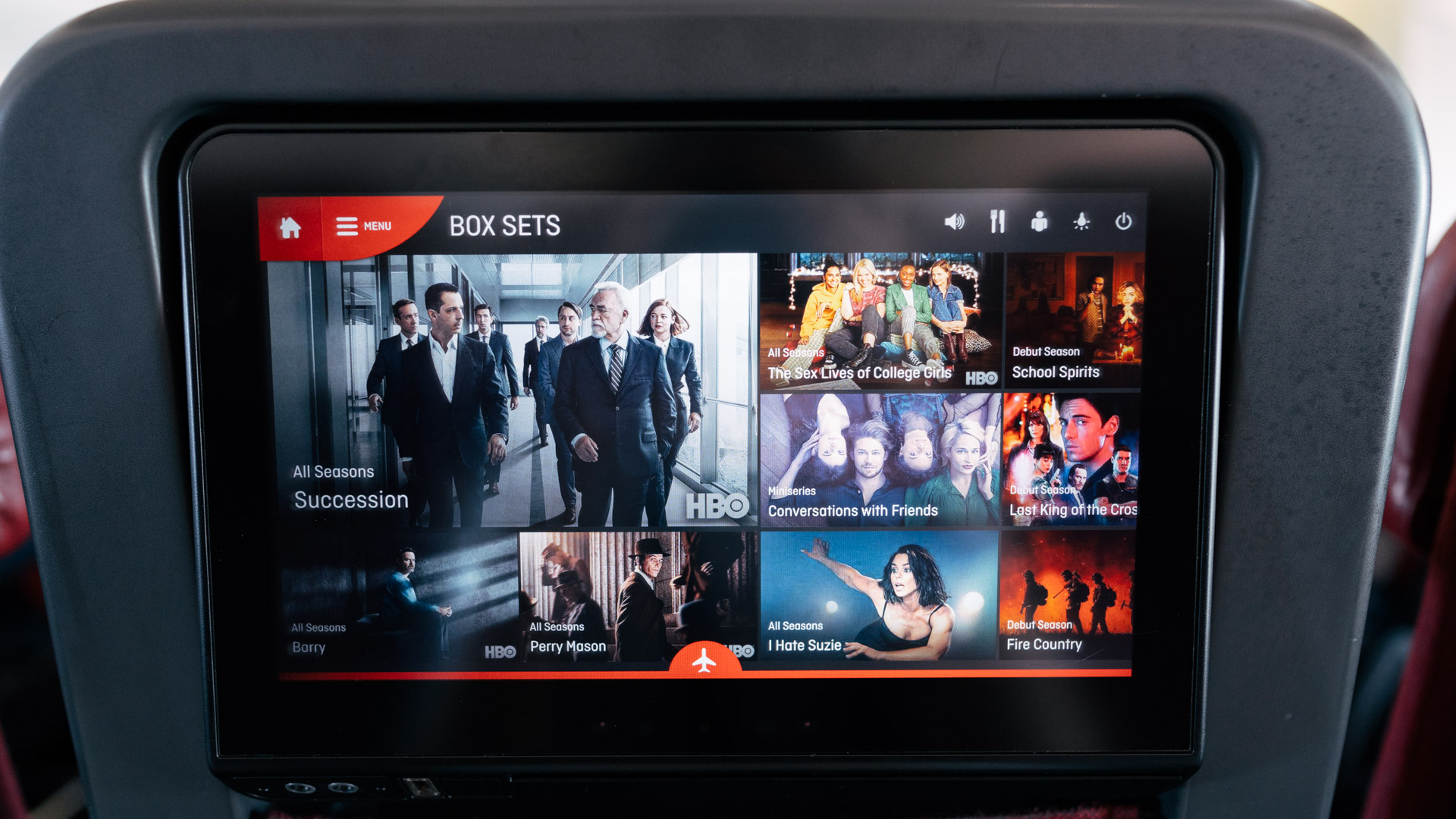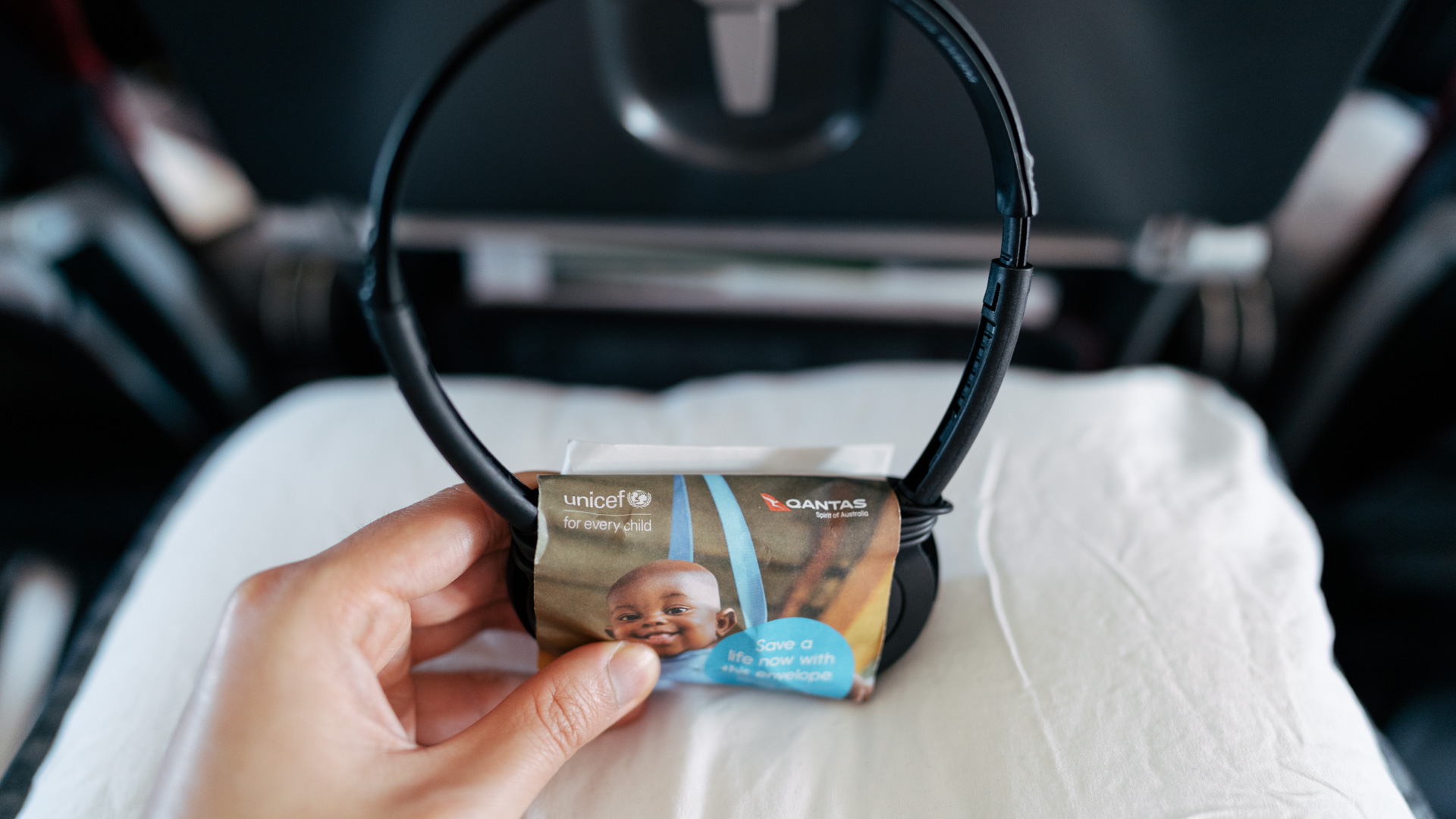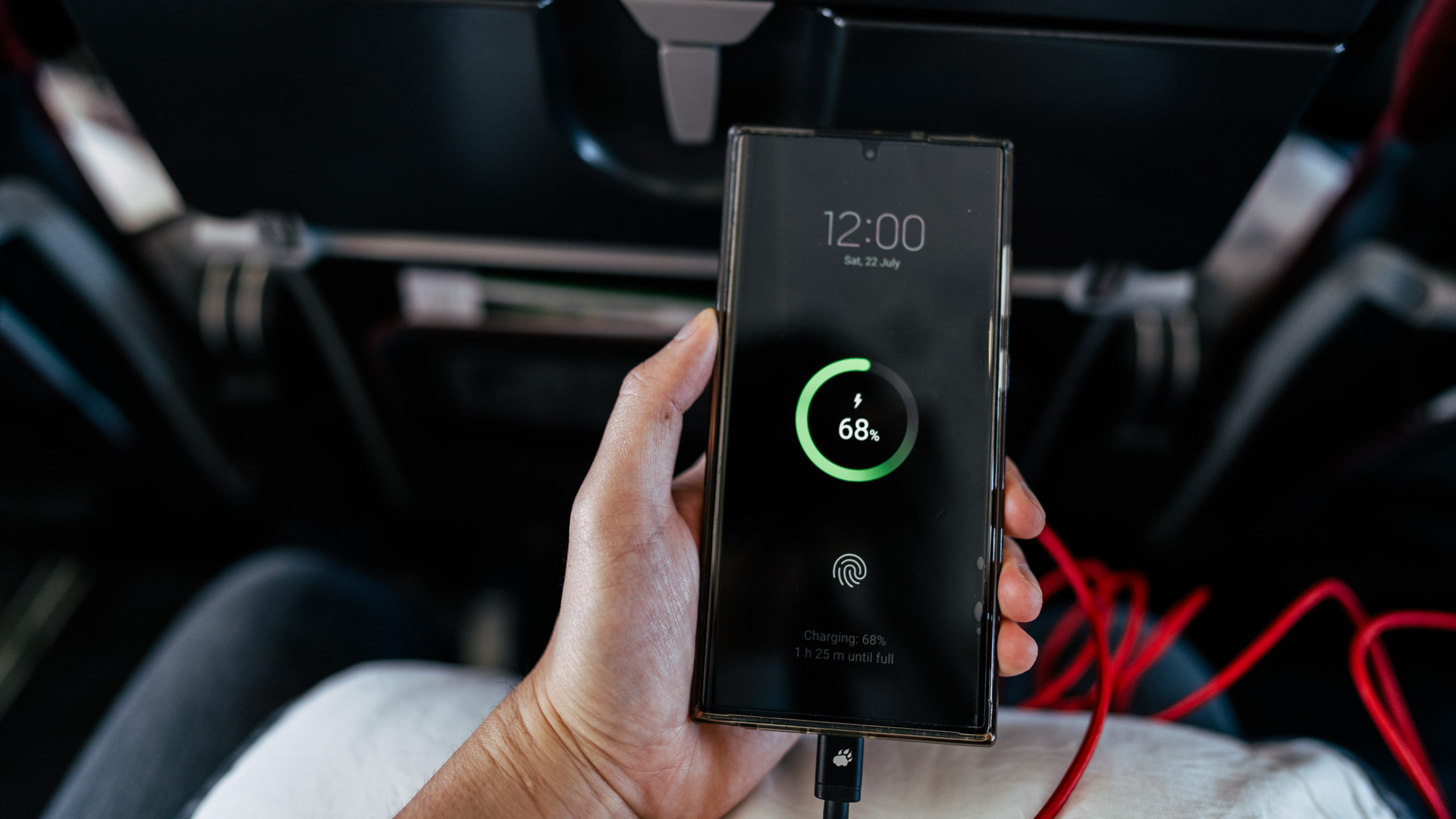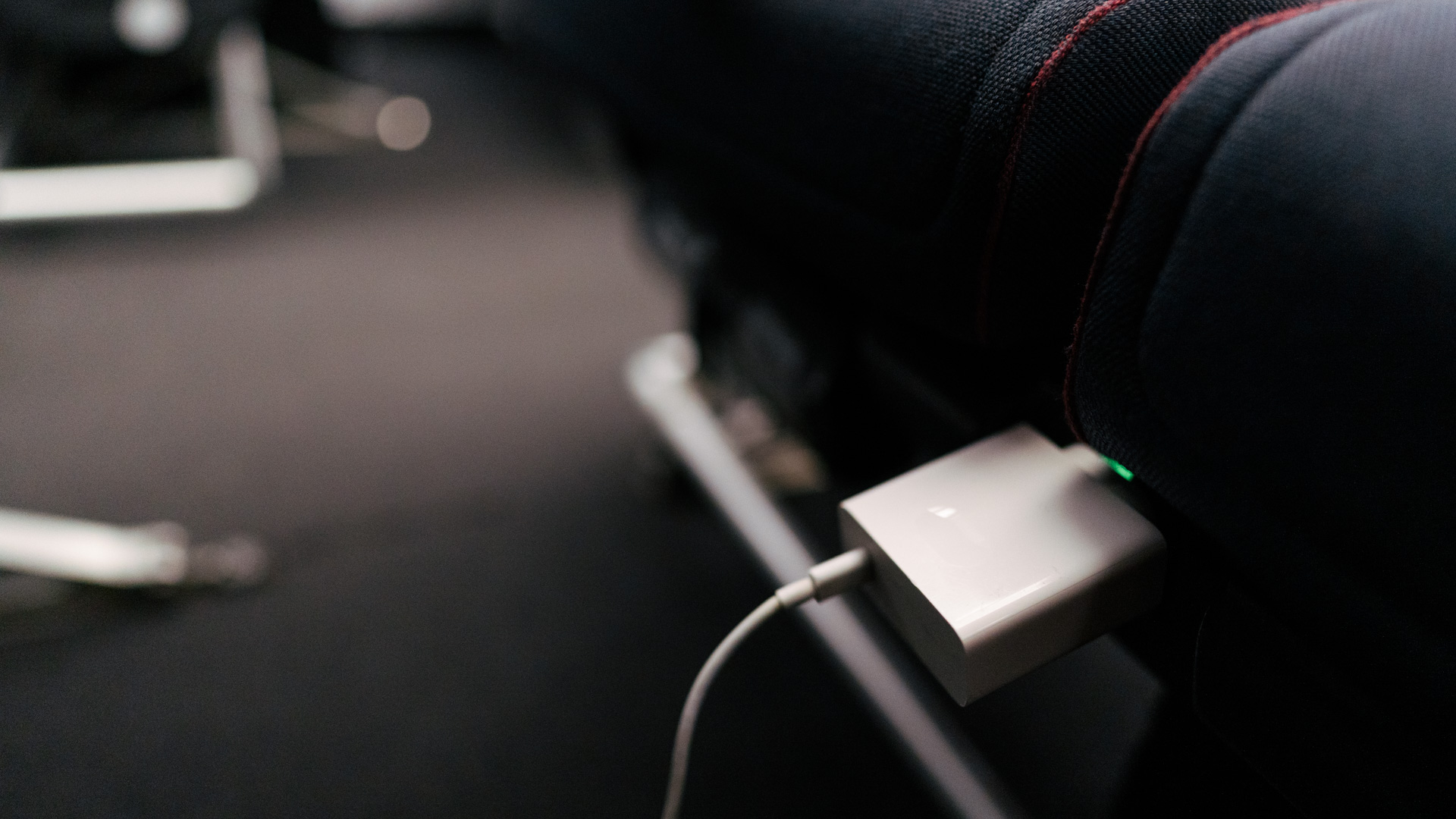 I have no issues keeping my phone battery topped up. Via USB, it recharges at a respectable rate. And plugged into AC power with my brick, it charges as fast as on the ground.
The verdict
I have a good time in Qantas Airbus A330 international Economy Class, though there's a bit of a lull in the middle. After watching a movie, eating lunch and napping on my four-seater makeshift bed, there's a sense of 'what next?'. (The answer is to watch another movie, so I experience a classic: E.T. the Extra-Terrestrial).
Though I'll always prefer a traditional Economy meal – with the little packet of cheese, a starter, and some dessert – over what Qantas does, I also see where Qantas is coming from with its slimmed-down meal service. Yes, it's less refined, but I don't leave the flight hungry, so there's that.
Eventually (and after one aborted landing due to winds), we're in Tokyo! While it gets a bit boring in Economy, I can't lose sight of the fact that the thrill of travelling is a treat. And if using 25,200 Qantas Points + $148 to fly from Brisbane to Tokyo in an Economy reward seat makes it happen, then so be it.
Just one other note – although I fly to Tokyo-Haneda, this flight switches to Tokyo-Narita from 26 November 2023. If you have connecting flights, make sure you know which airport in Tokyo you're flying from.
All photography by Brandon Loo, who travelled at Point Hacks' expense.
---
Stay up to date with the latest news, reviews and guides by subscribing to Point Hacks' email newsletter.
Qantas Airbus A330-300 Economy (Brisbane – Tokyo)
was last modified:
November 2nd, 2023
by