This overview looks at both of the lounges at Kuching International Airport. There is hardly any information or reviews about these lounges available online, so hopefully, this guide will also be useful for readers from Asia.
I would wager that many people living in Australia have never heard of Kuching before — it's the capital city of the state of Sarawak in eastern Malaysia, separate to Peninsular Malaysia (west) where Kuala Lumpur (and Singapore) is found.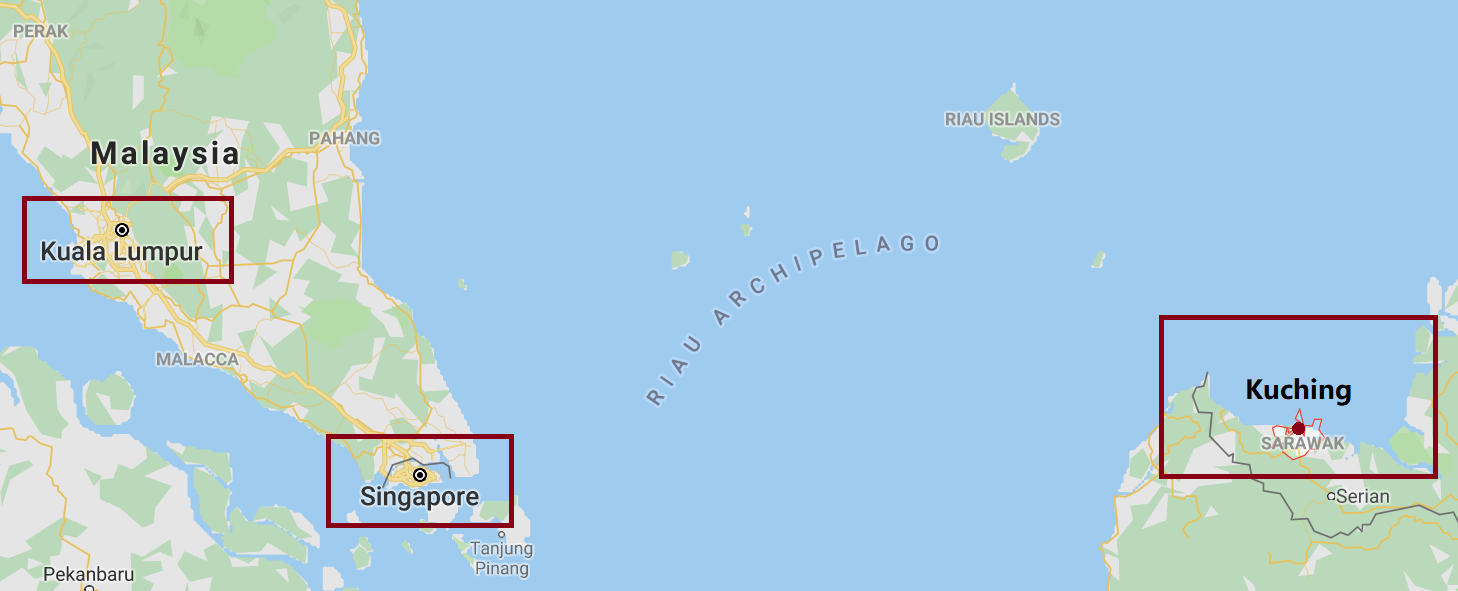 Kuching is a gateway for Aussie tourists exploring the wider region of Borneo, plus there are certain commercial and agricultural links to Australia.
Using Qantas points, it's possible to book Reward Seats on Malaysia Airlines from Kuala Lumpur or Singapore to Kuching in Economy and Business Class. The city is also serviced by AirAsia (many domestic connections), Scoot to Singapore and Royal Brunei to Brunei.
1. Malaysia Airlines Golden Lounge, Kuching
The Malaysia Airlines Golden Lounge is located after security and immigration near Gate 6. It's actually on the Mezzanine floor, one level up from the gates. Look for the escalators up.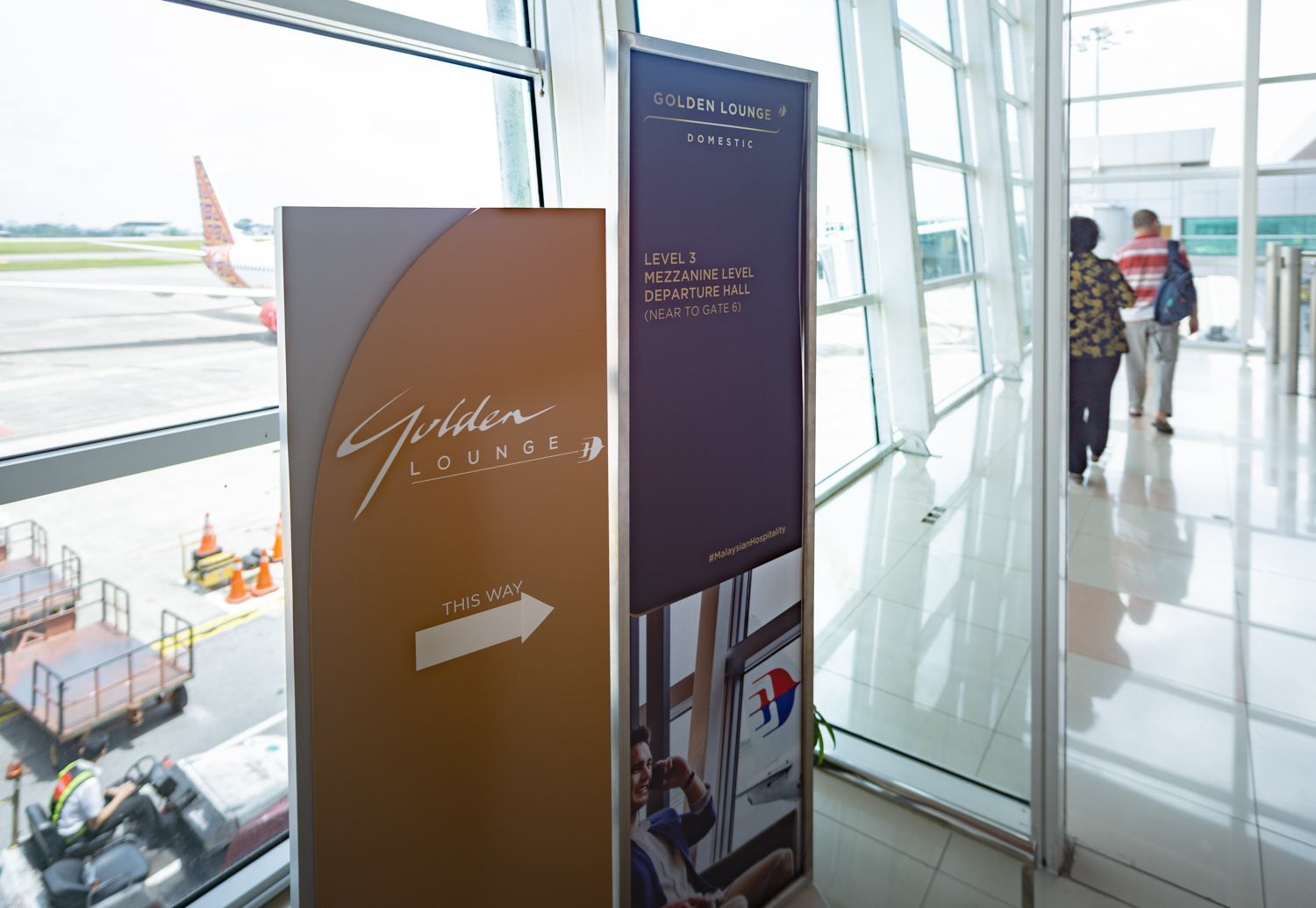 Although this lounge is on the domestic side, it is also available for internationally-departing passengers on Malaysia Airlines flights to Singapore by special arrangement.

There is a door for them to cross to the domestic side to access the lounge (having already done international immigration and security), and then back again to board the flight.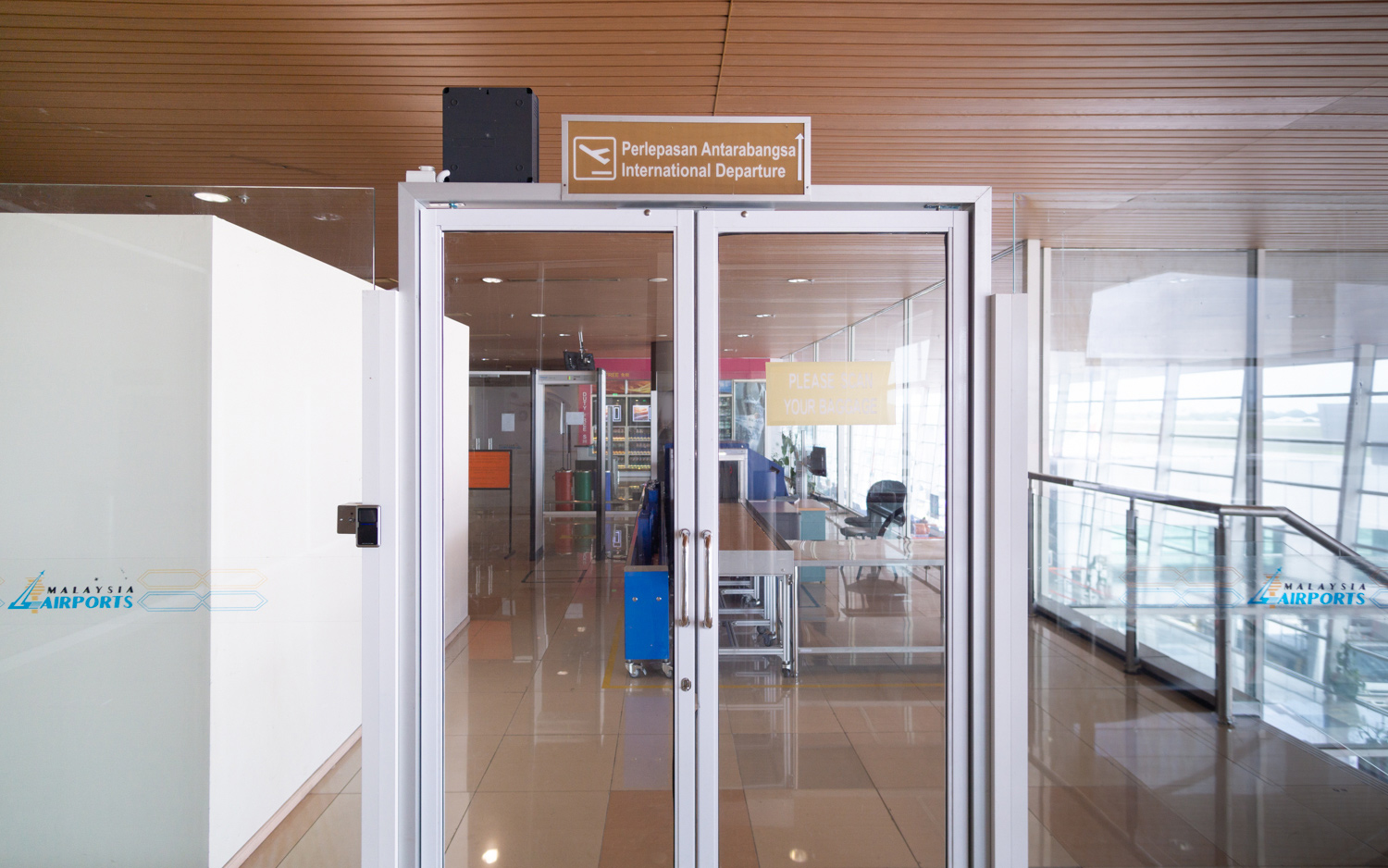 The entrance of the Golden Lounge is fairly unassuming.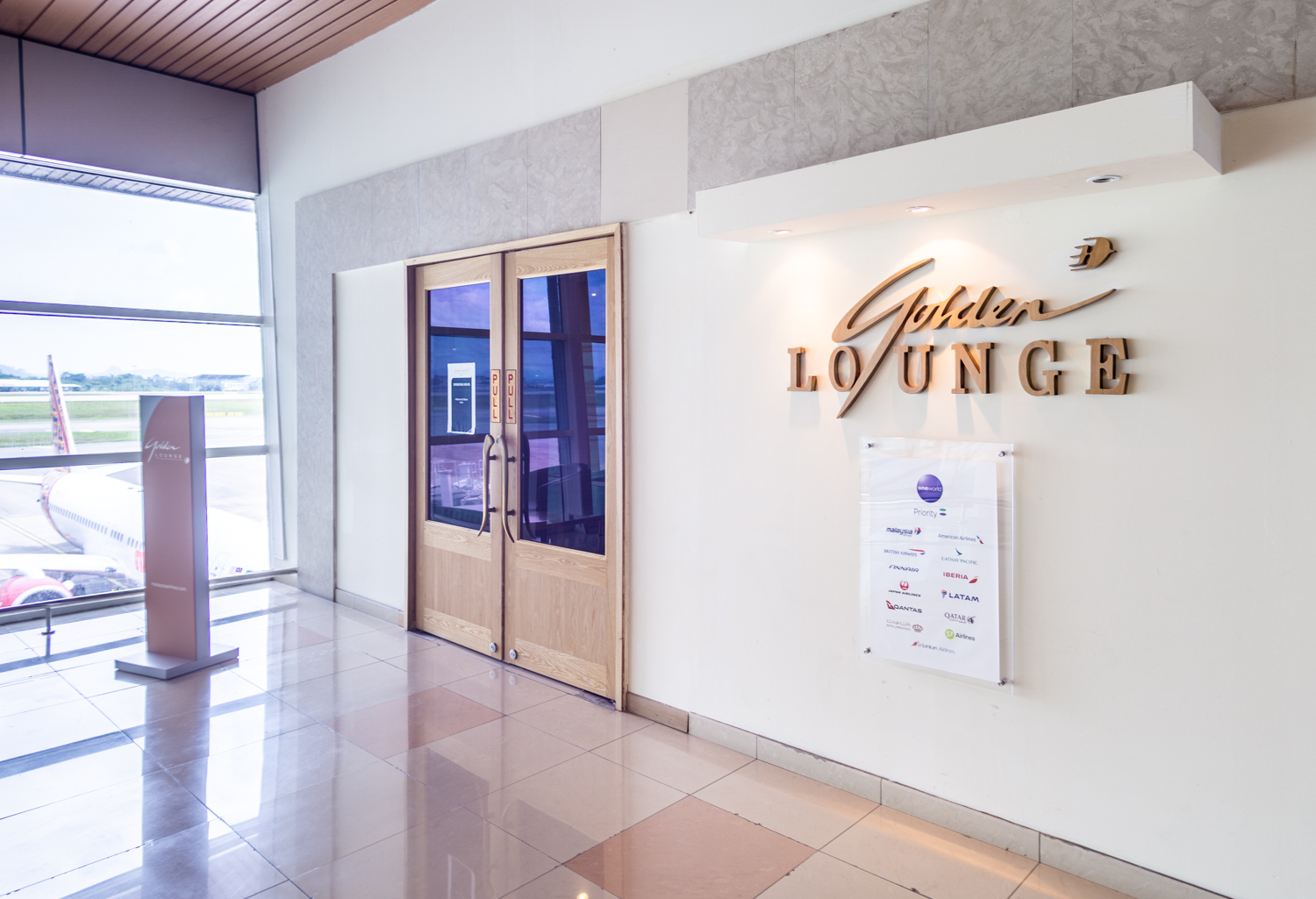 Lounge layout and seating
The lounge is one big rectangle with the reception desk directly in front of you. The whole left has windows for views and natural lighting, while seats are found on the edges.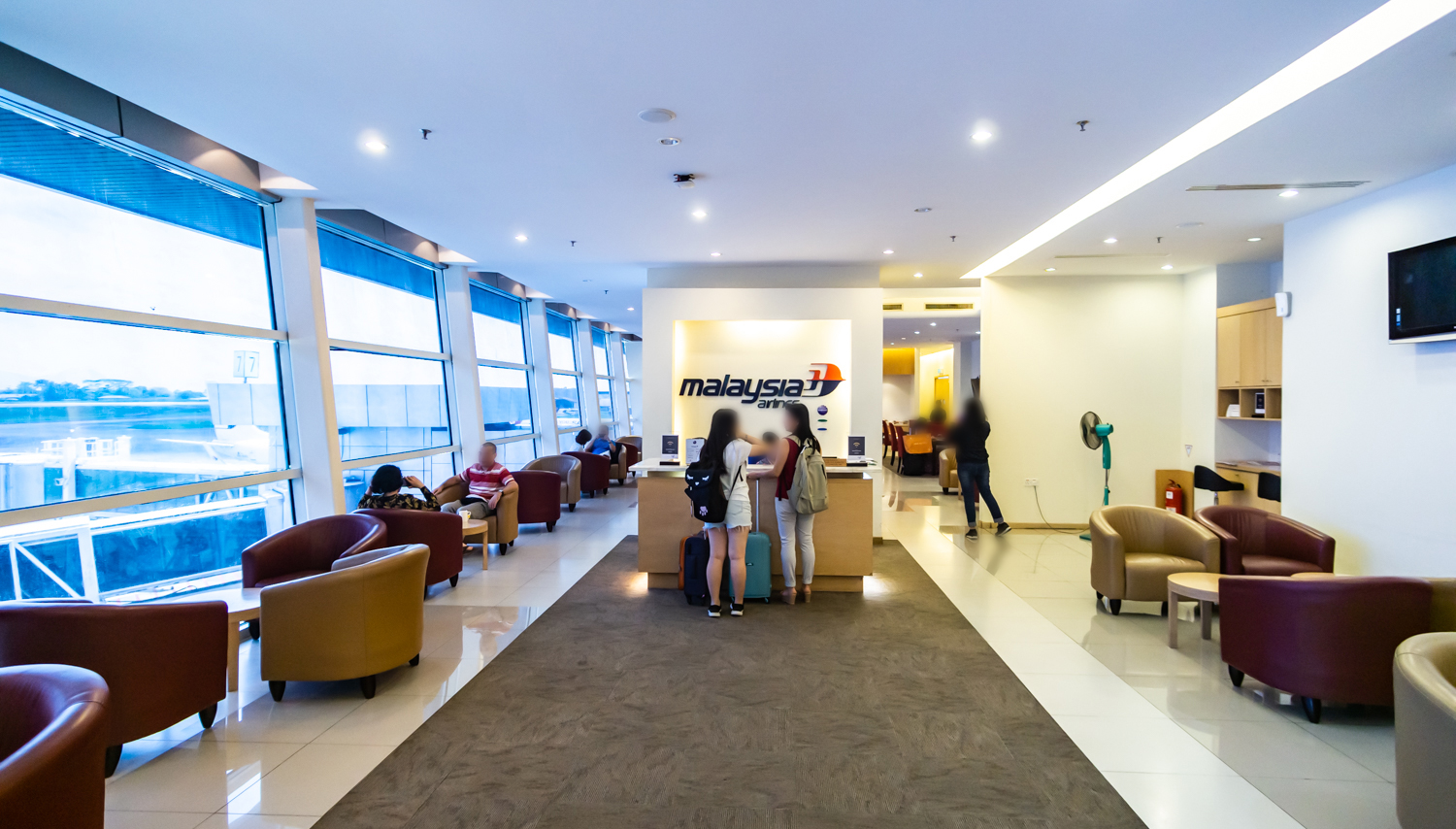 Past the reception is the main lounge area (this is the view looking backwards). The pedestal fans and furniture do give a fairly 'basic' vibe.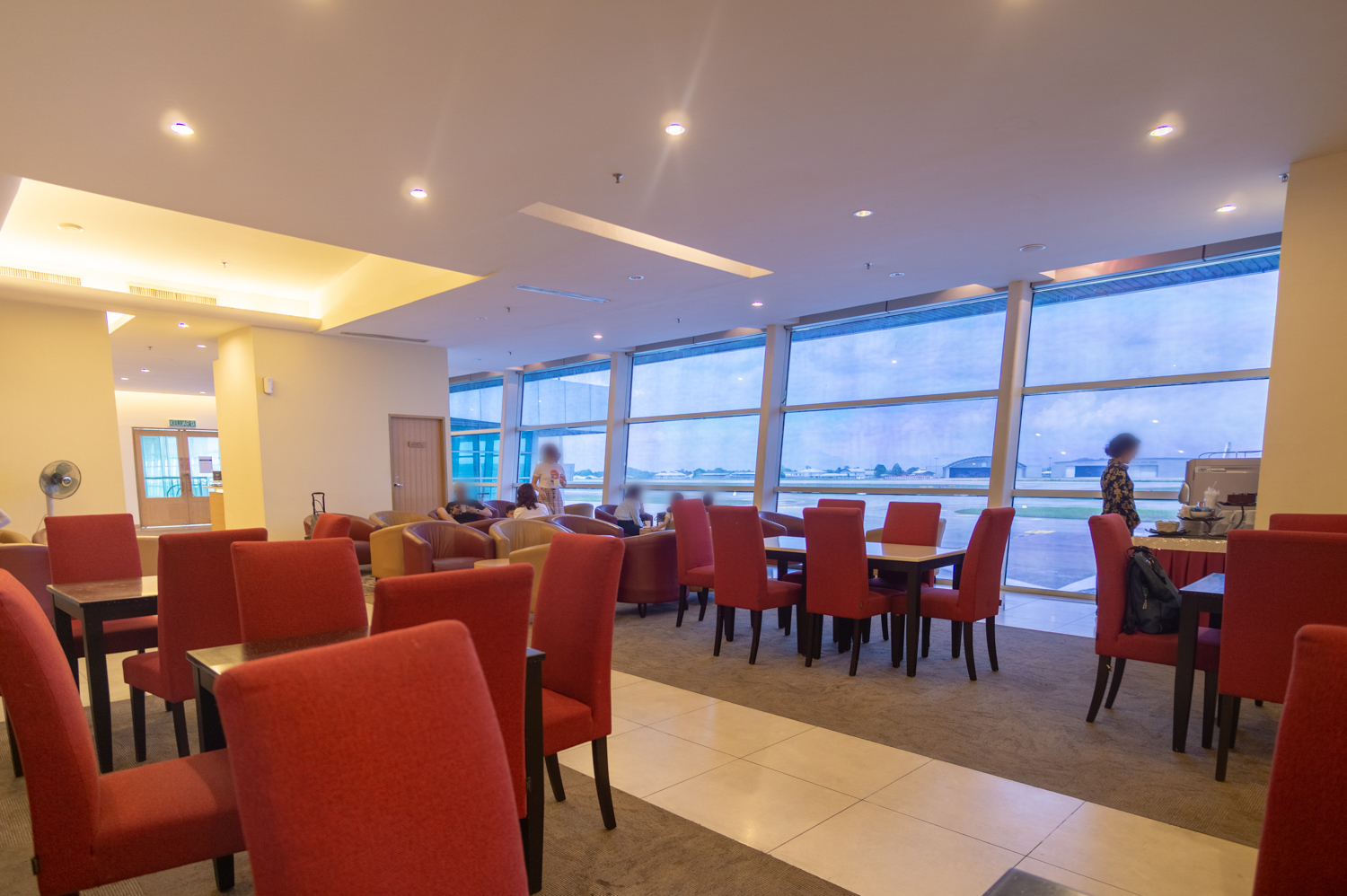 Lining the far wall is the small buffet. The right-side passage leads to the bathrooms and prayer rooms. Showers are available.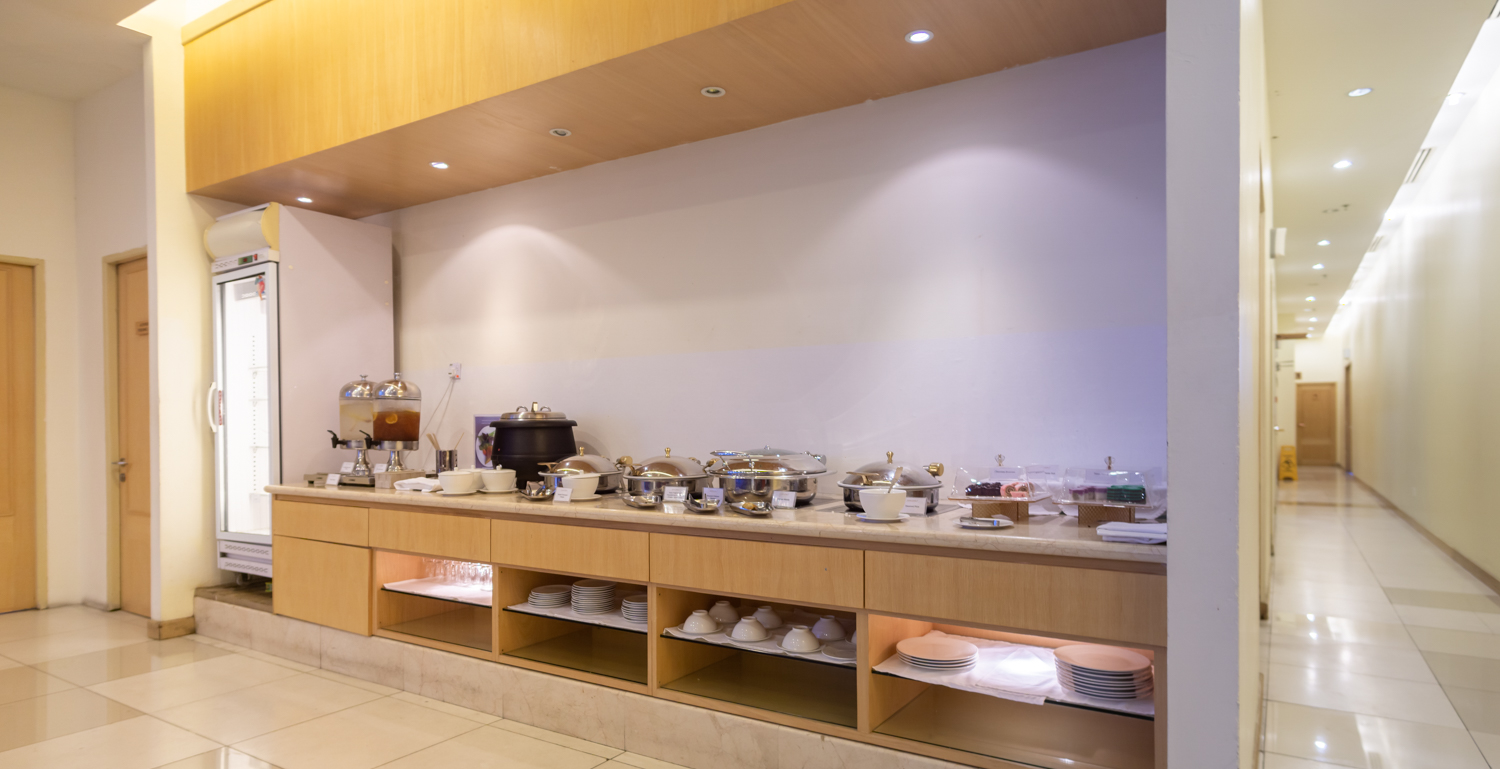 On the side of the lounge is a small working area. Power points are very scarce so you will need to look along the walls for them.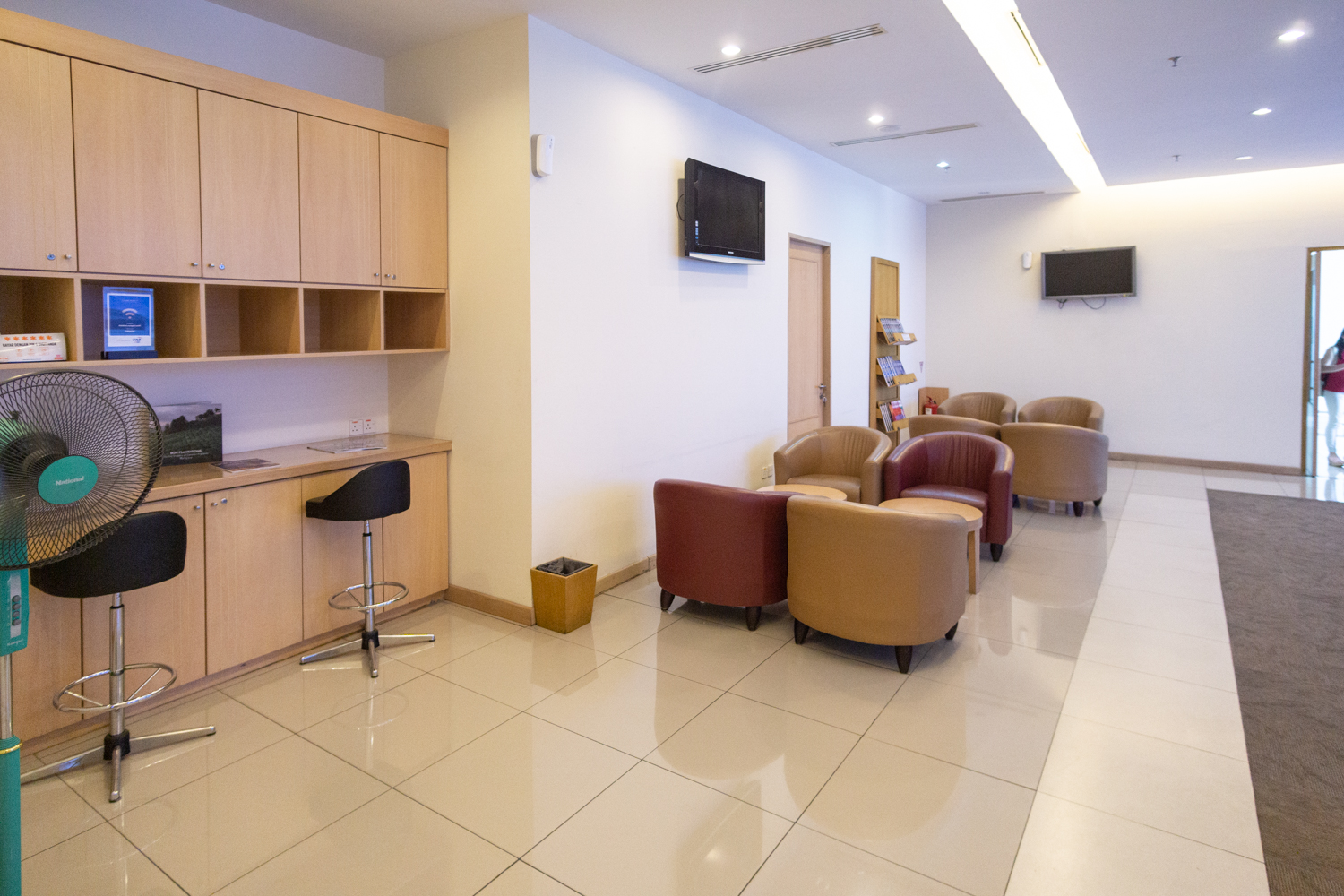 Food and Drink
There are a few hot dishes available such as these chicken noodle soup bowls (add the soup broth yourself). The other Asian dish is beef rendang and steamed rice.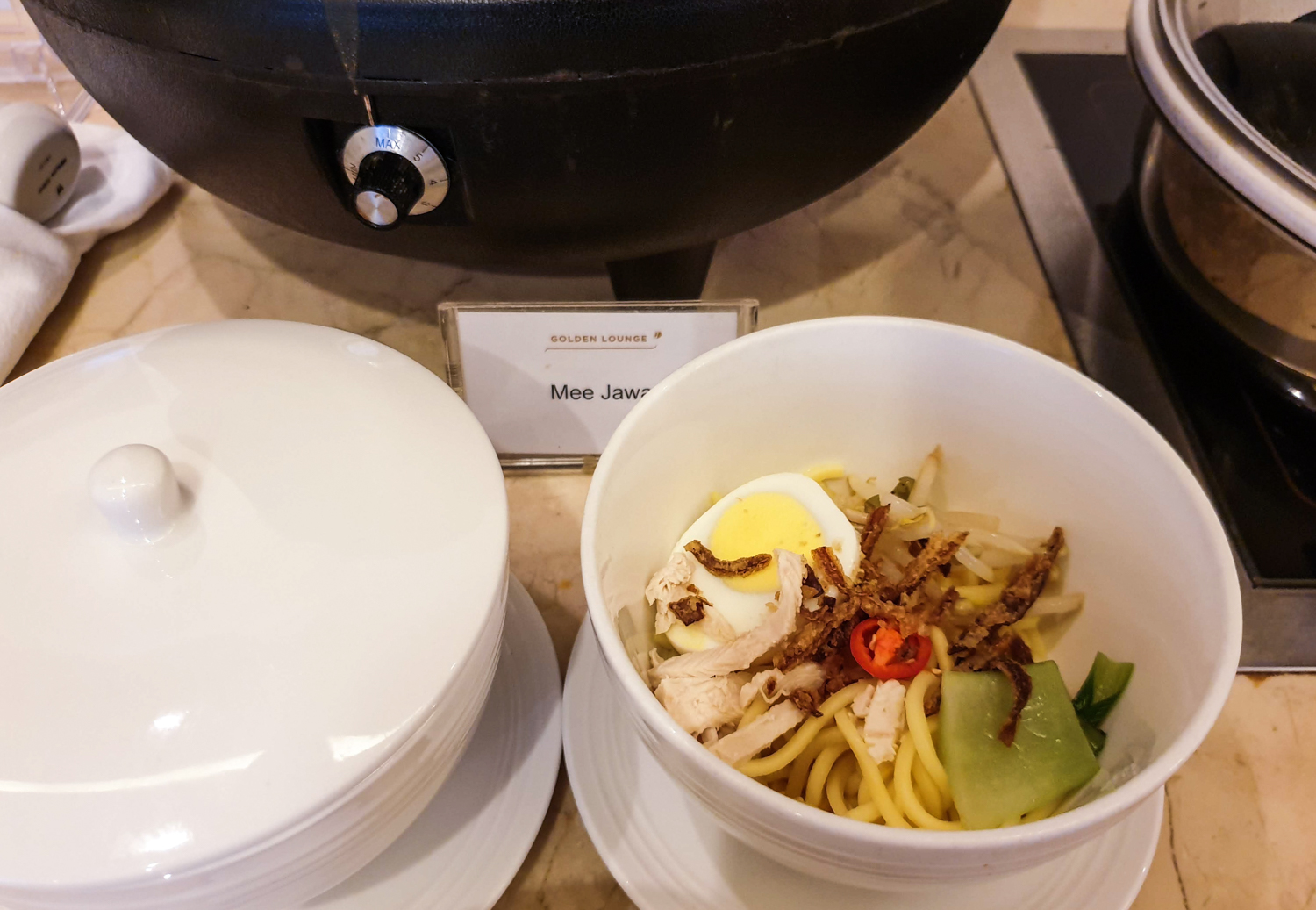 There are two options for more Western tastes – spaghetti and stir-fry vegetables. A chicken or vegetable panini can be ordered on request, but the bread tasted really salty.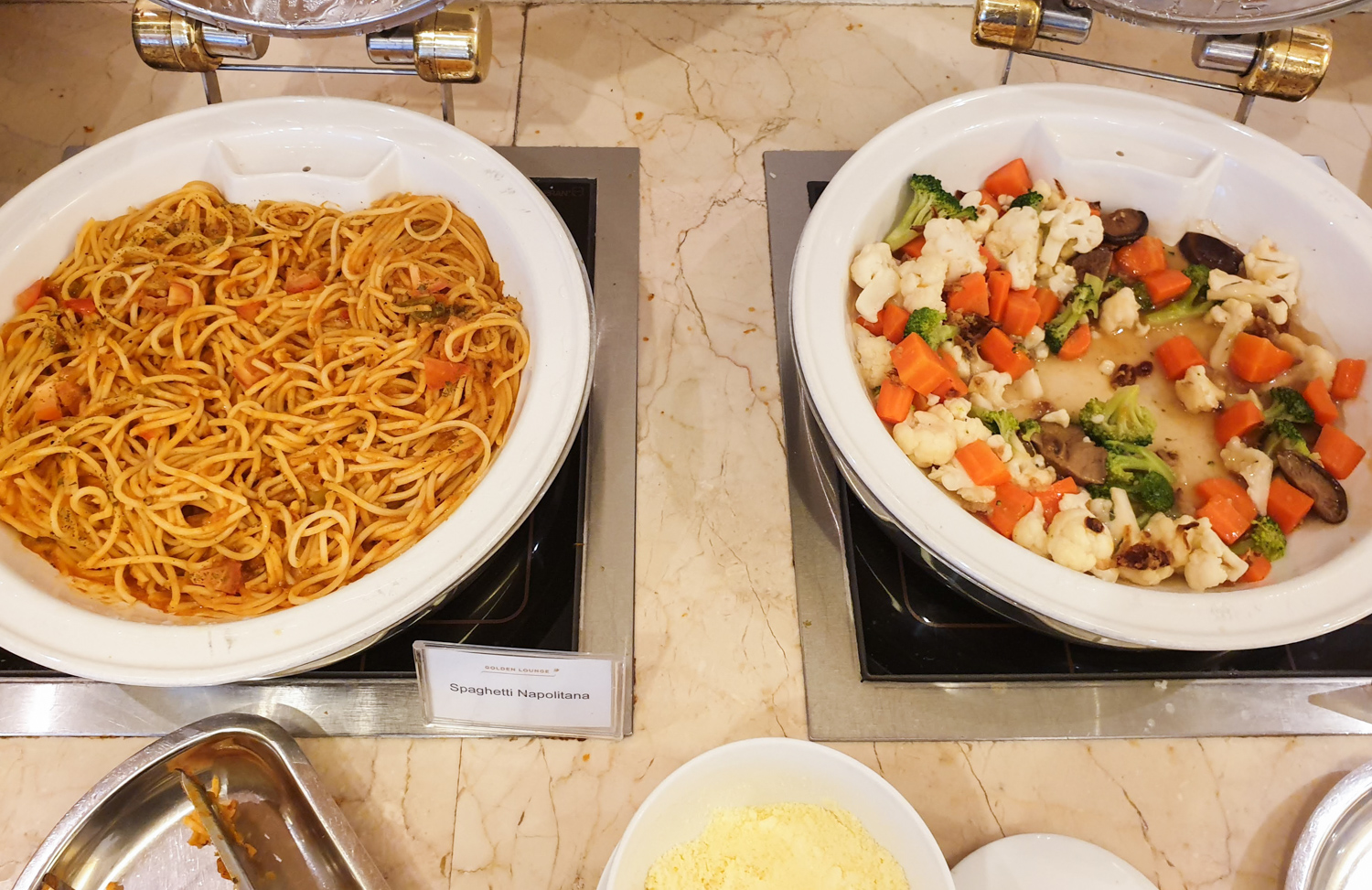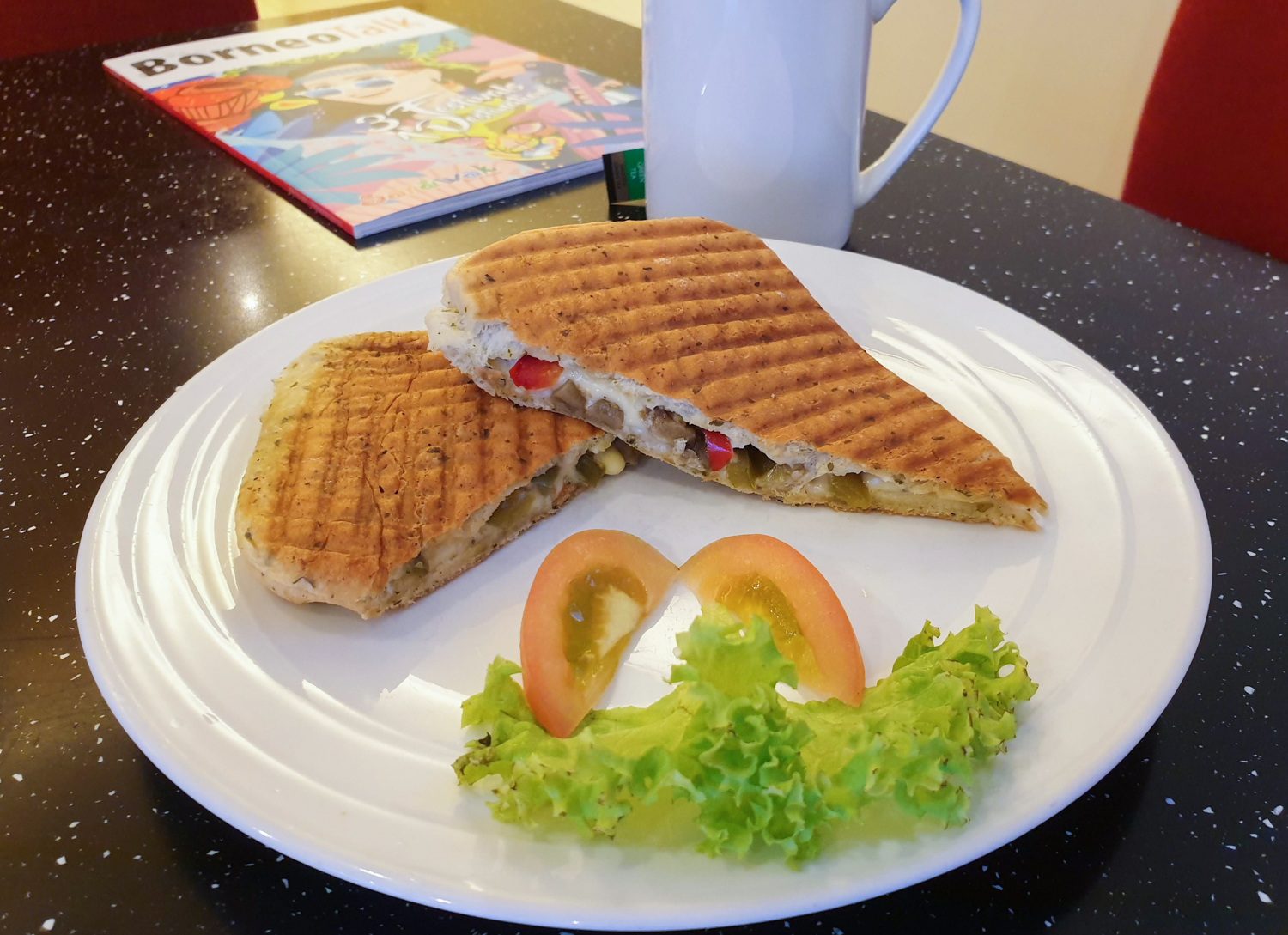 Dessert is a selection of four cakes. In the fridge are some cut fruits and a salad as well.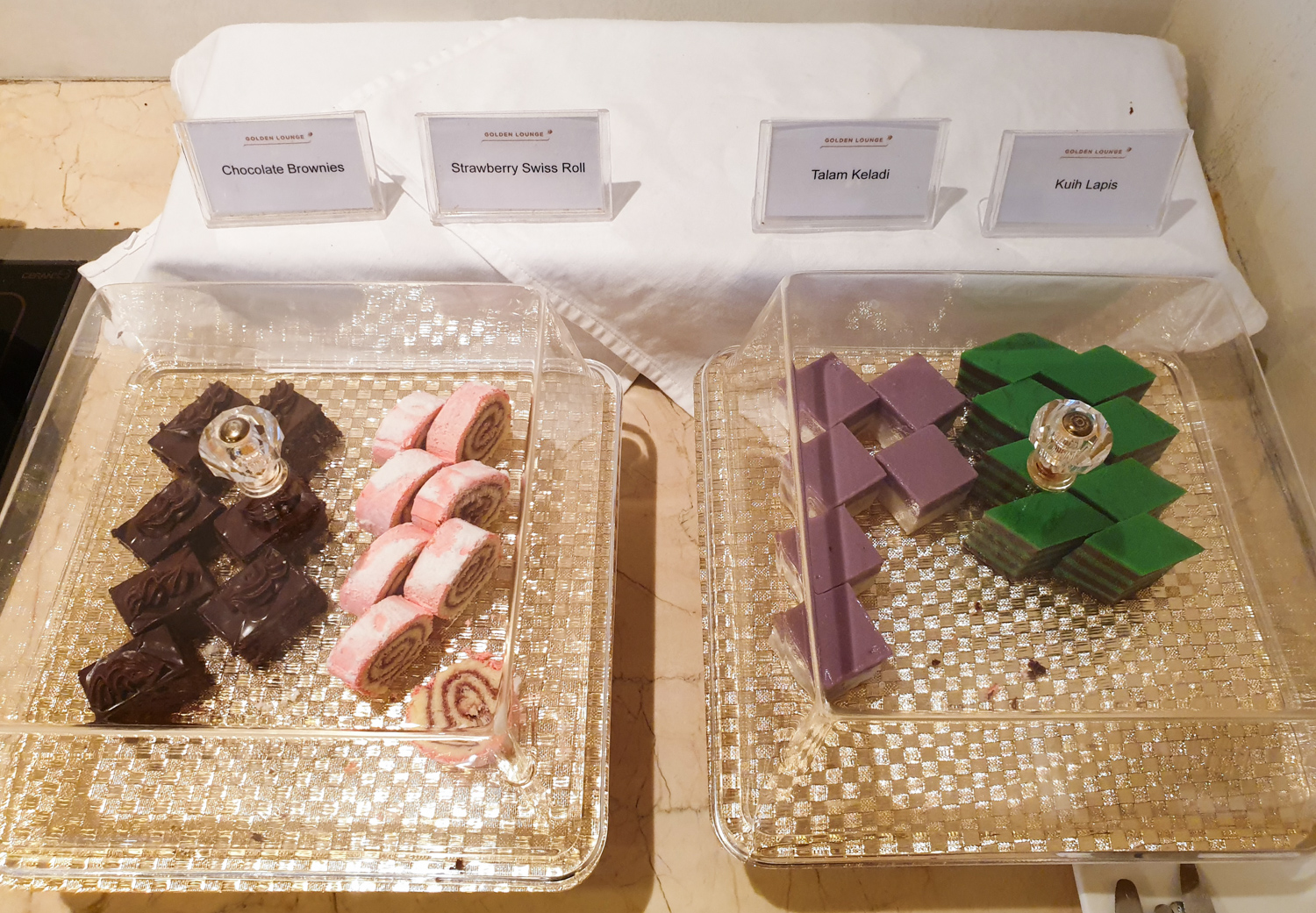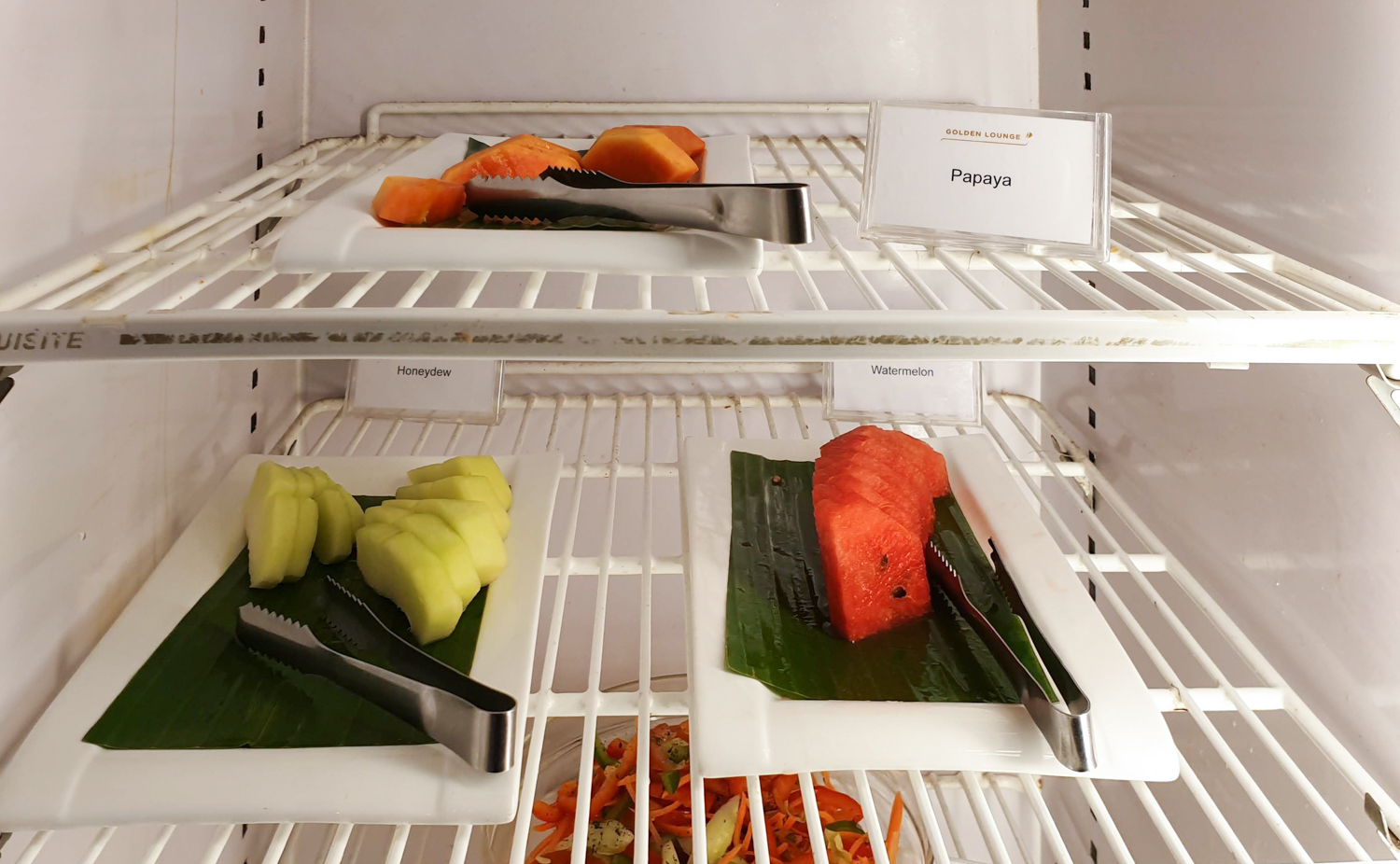 Unfortunately, the drinks selection was rather disappointing. This was literally the soft drinks available (although the cans got replenished later).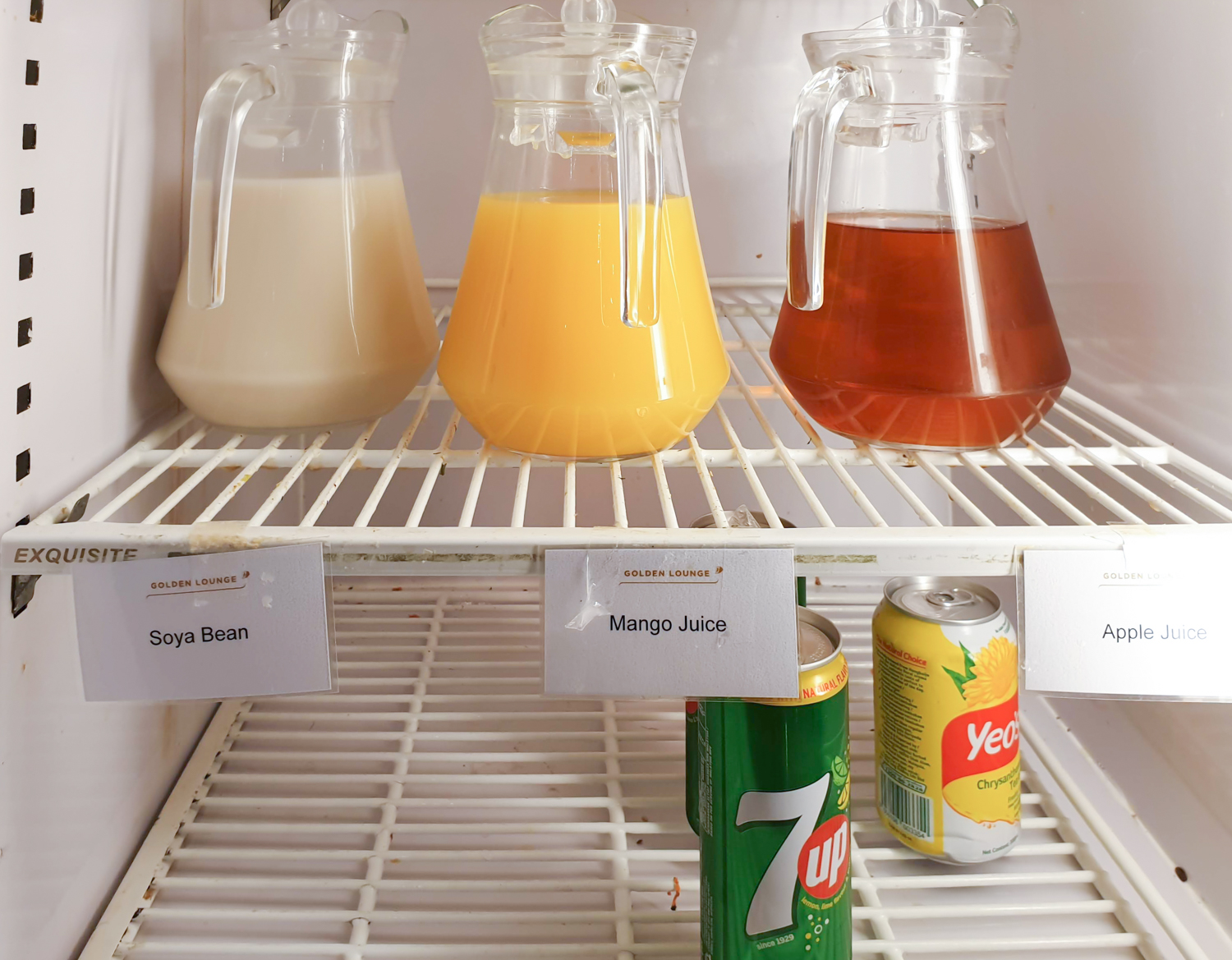 Tea and coffee can be made on a nearby table.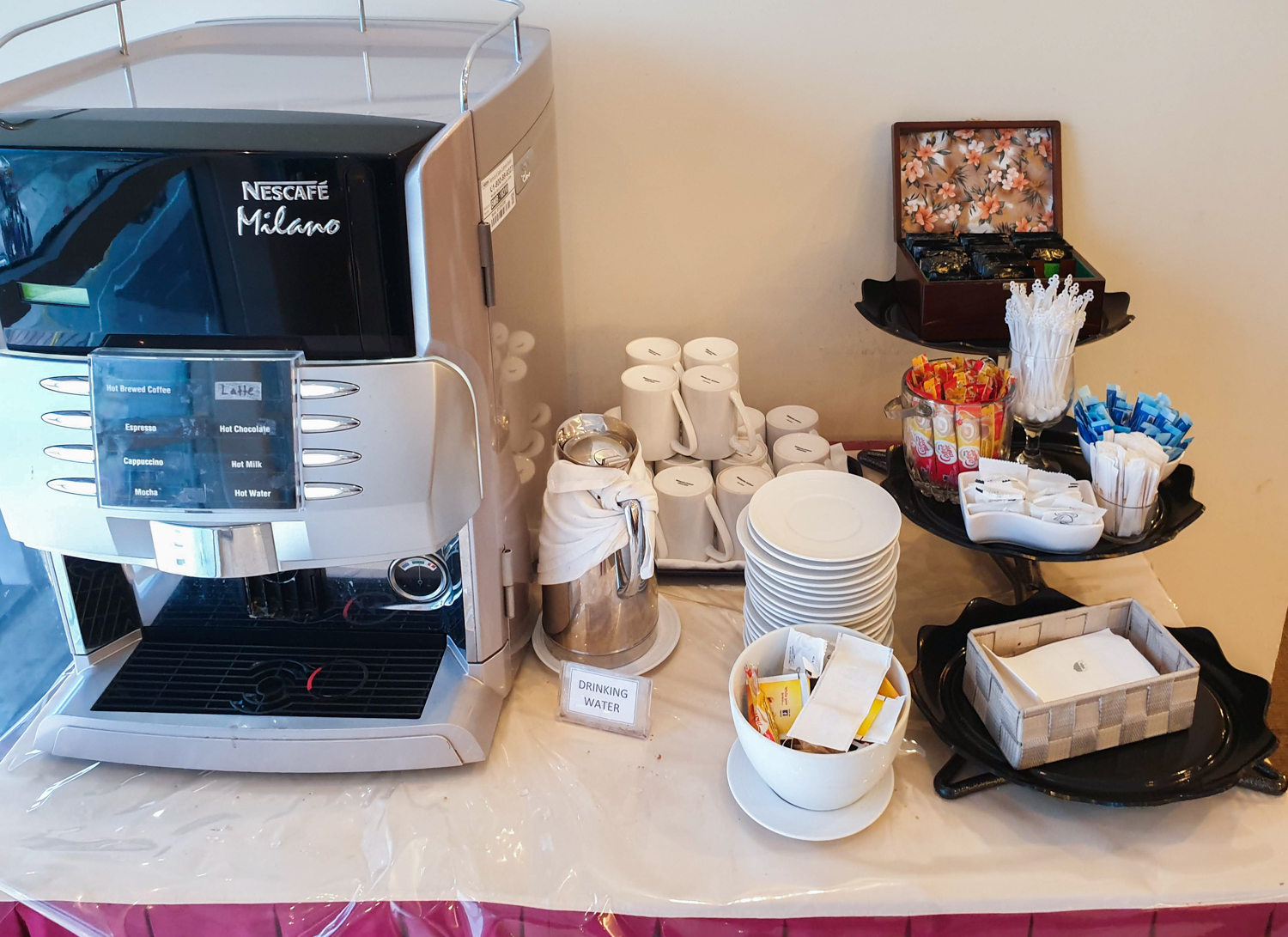 Amenities
Some newspapers and magazines are available for reading, but you can't remove them from the lounge. Nearby is a space to store luggage, but you still need to keep an eye on it.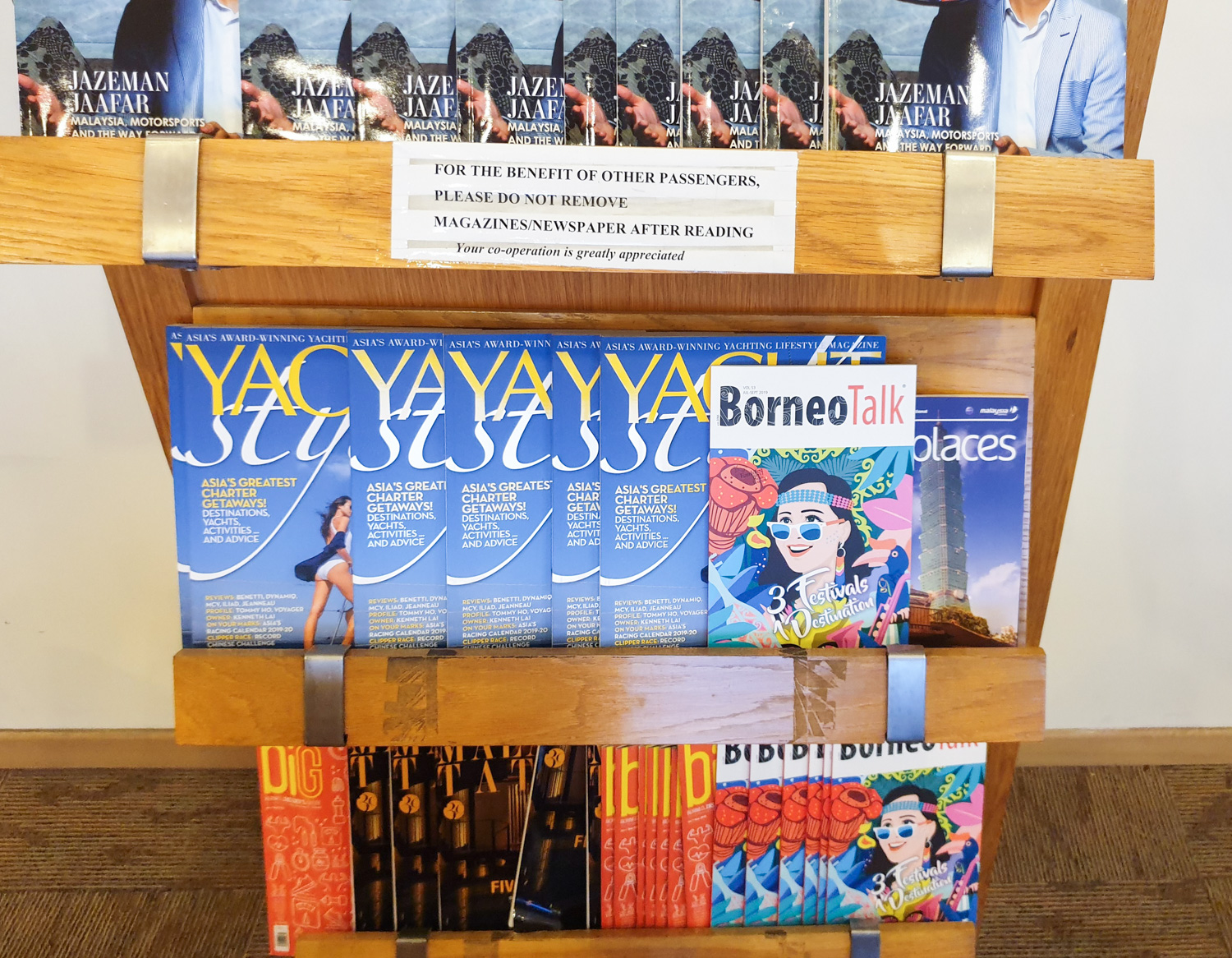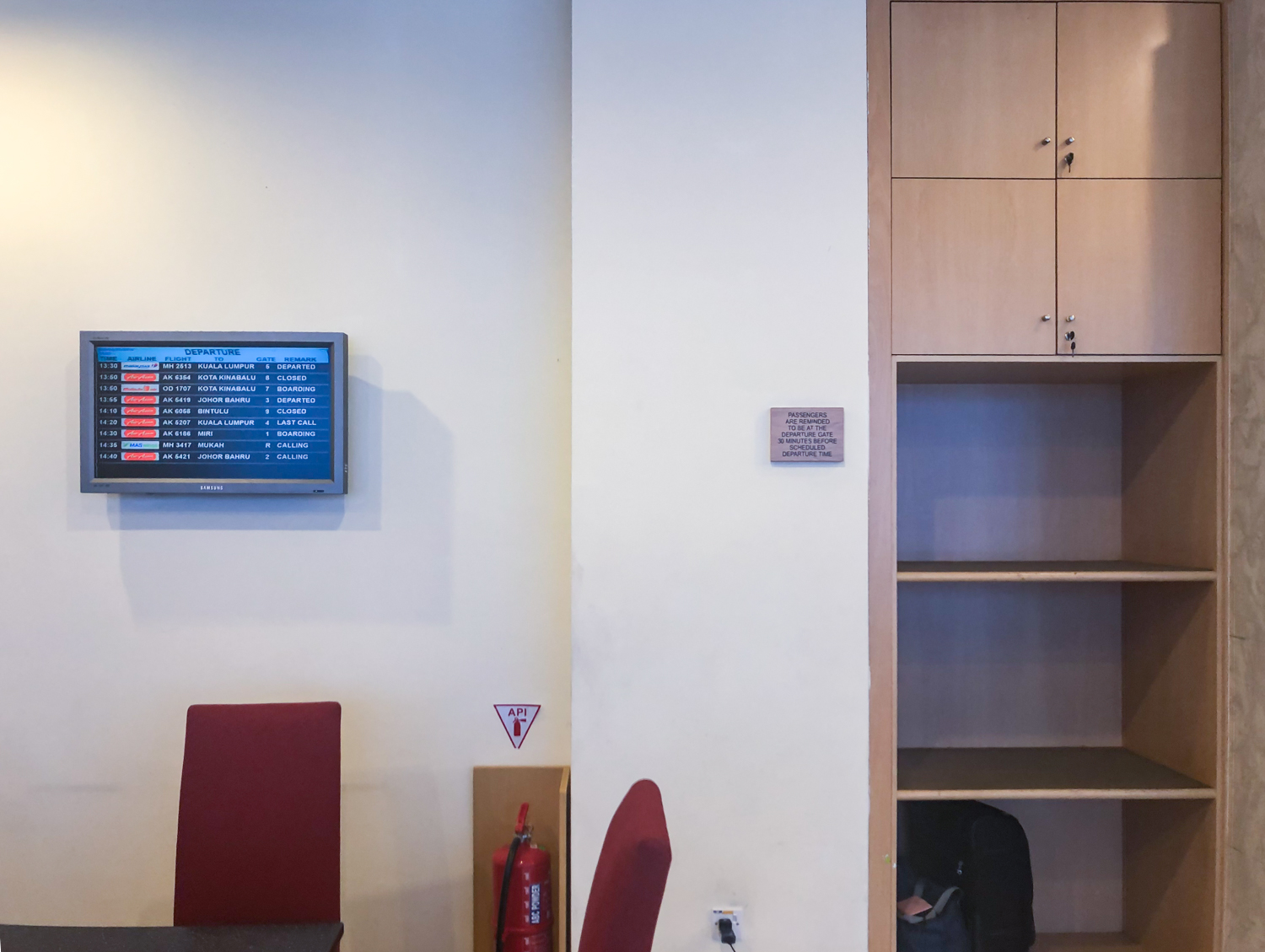 There is one shower in each of the male and female toilets, with towels available from a desk before you go in. These shower rooms are really small, but I think they are the only shower facilities in Kuching International Airport.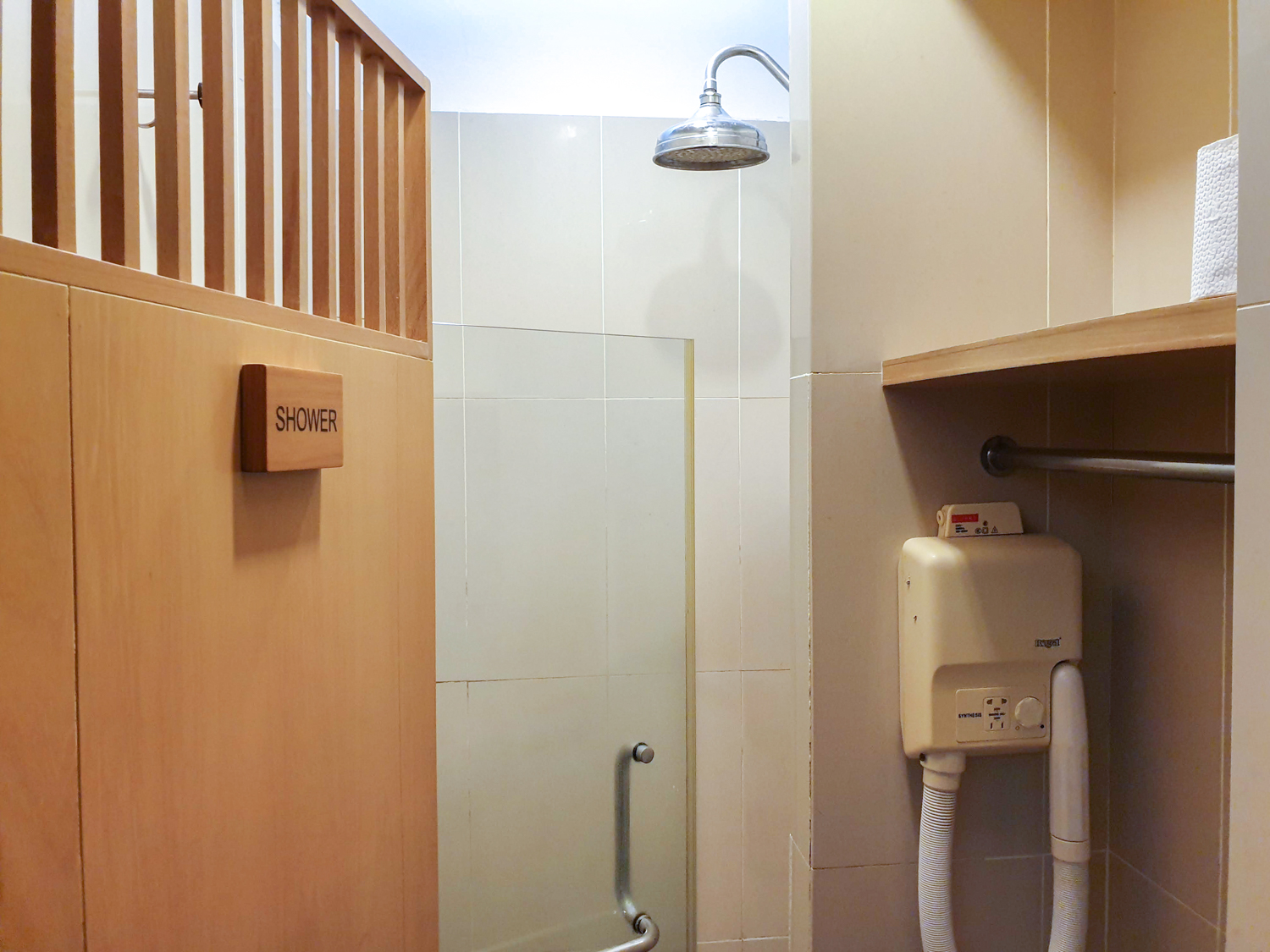 Malaysia Airlines Lounge WiFi was fairly symmetrical with downloads and uploads of roughly 3.85 Mbps each way.
Lounge Access Options
By class of travel: Business class with Malaysia Airlines to Kuala Lumpur or Singapore
By frequent flyer status: Enrich Gold, Platinum or Oneworld Sapphire, Emerald before Malaysia Airlines flights.
By day pass: 180 MYR ($64 AUD) walk-in rate for Malaysia Airlines passengers only.
2. Plaza Premium Lounge, Kuching
The Plaza Premium Lounge in Kuching is also on the domestic side, after security and immigration. Unlike the Golden Lounge, there is no way to access this before an international flight. It's opposite Gate 5.

Outside is a cafe-like area where customers can buy a-la-carte meals directly, instead of accessing the lounge. Check-in at reception where staff will validate your method of entry.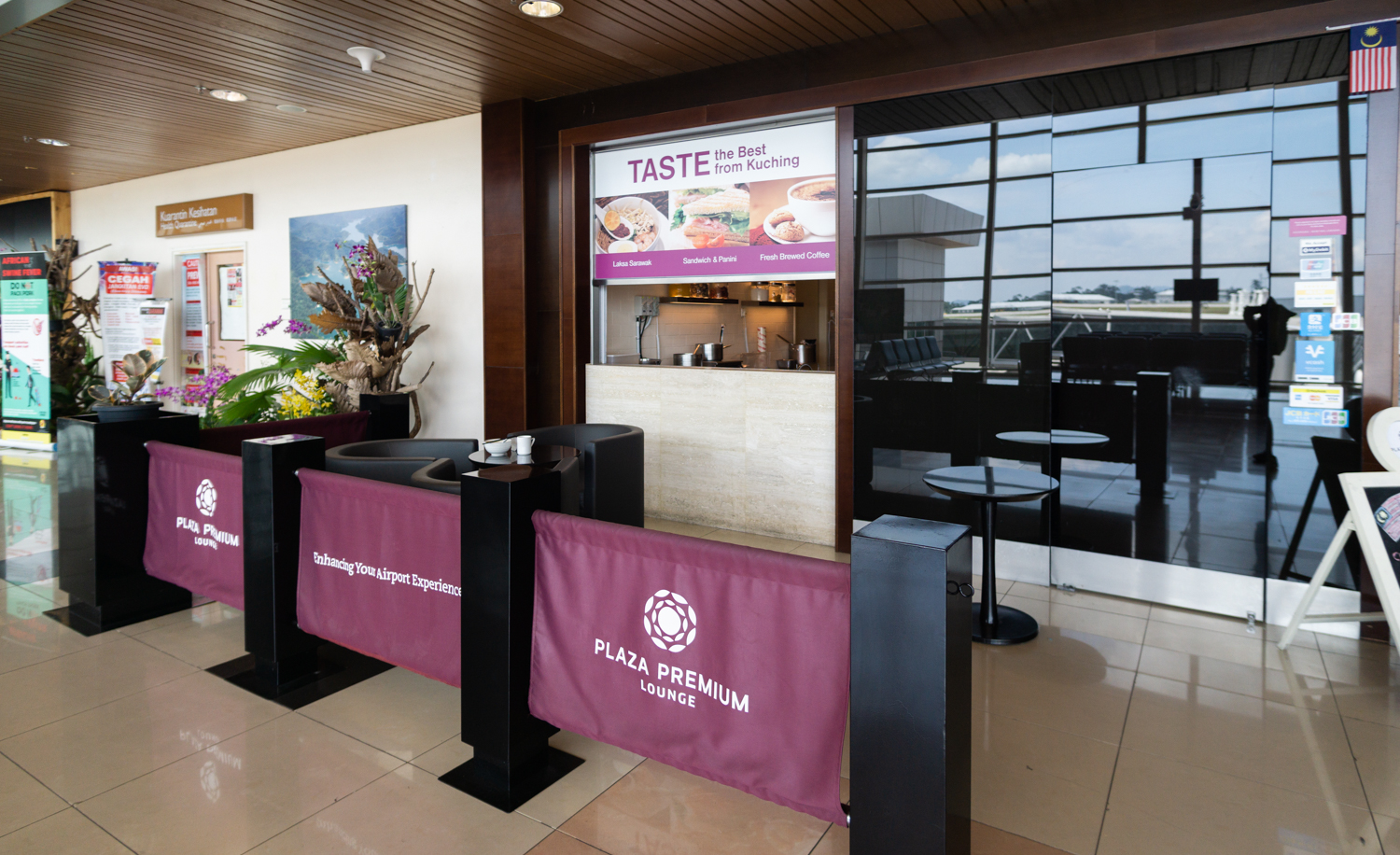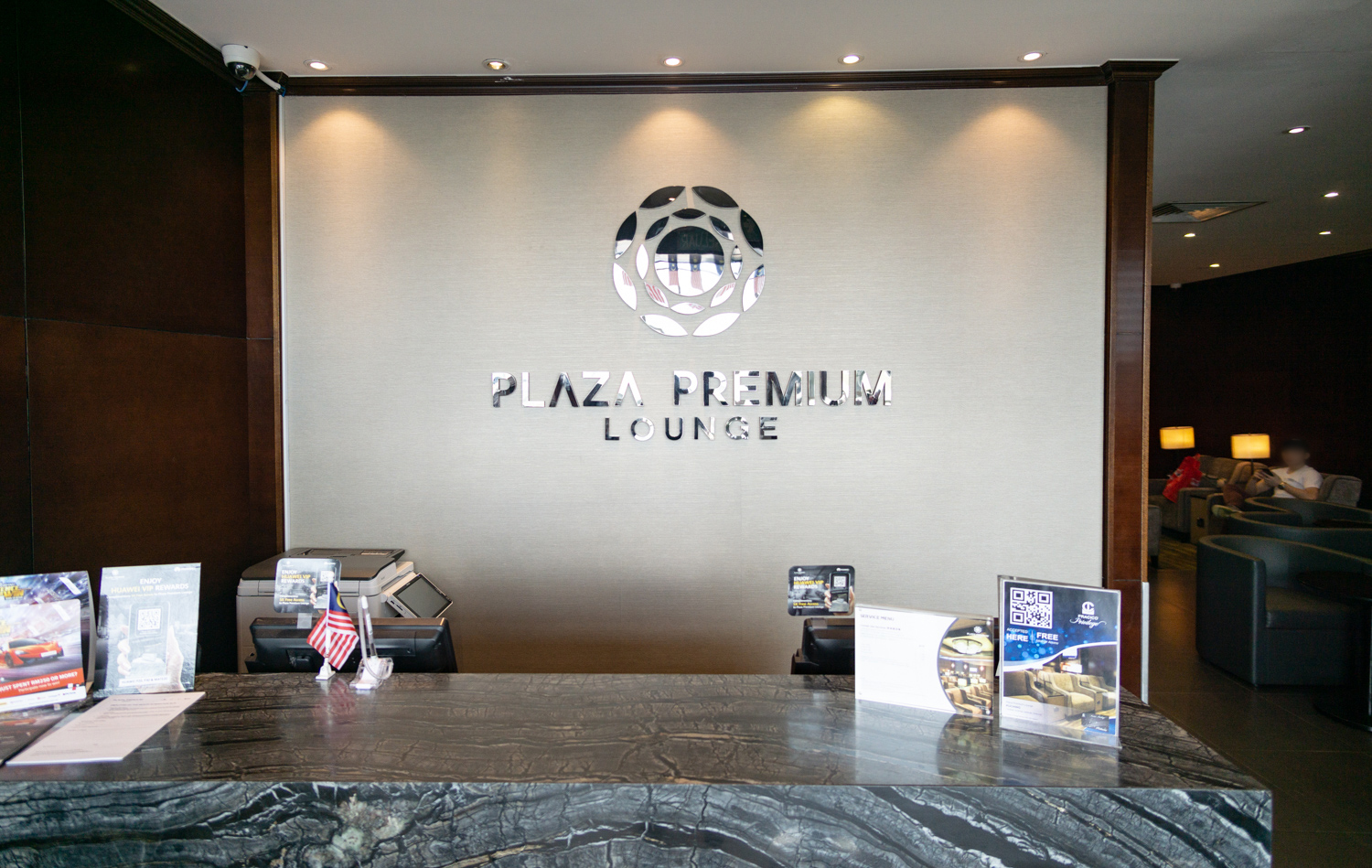 The Plaza Premium Lounge in Kuching is really small. You can see practically 90% of the lounge with this view, taken from the dining room.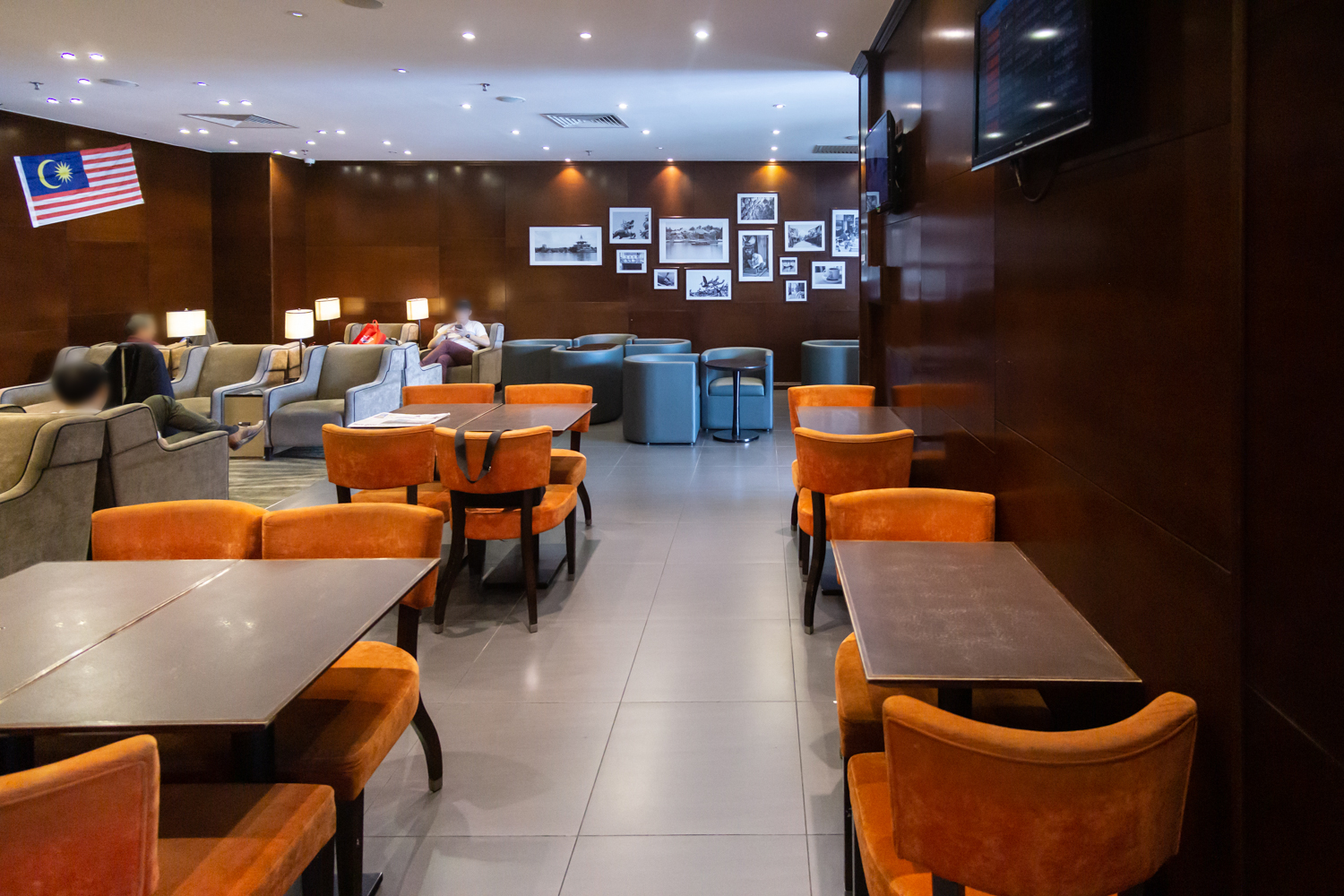 On the side are smaller groups of chairs with power outlets. Magazines and TVs are on the wall.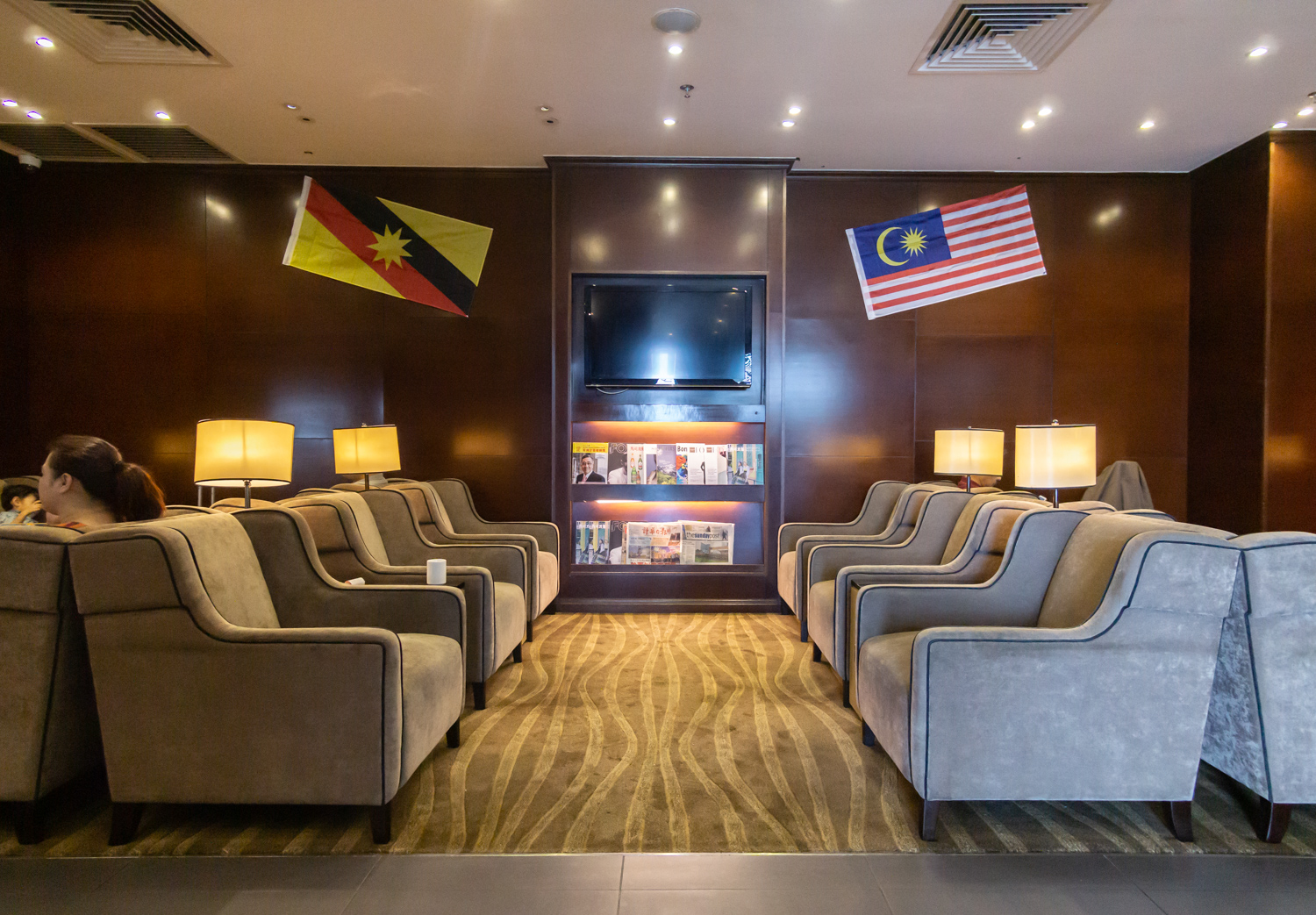 The only other type of seating are these small armchairs and cocktail tables. There are no toilet or shower facilities in this lounge.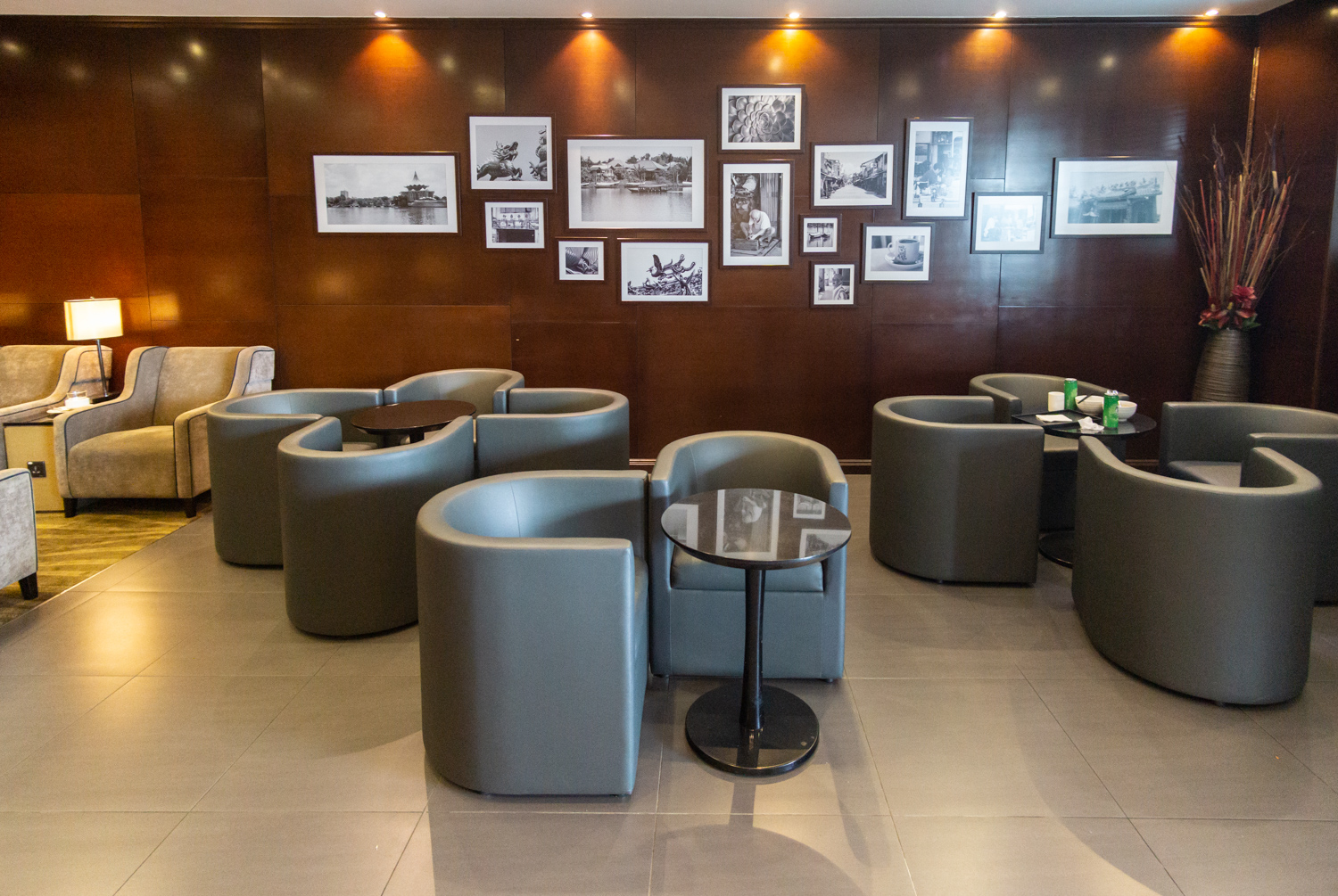 Food and Drink
In contrast to the Golden Lounge, the Plaza Premium Lounge doesn't have much of a buffet. Instead, the focus is on a-la-carte meals made to order.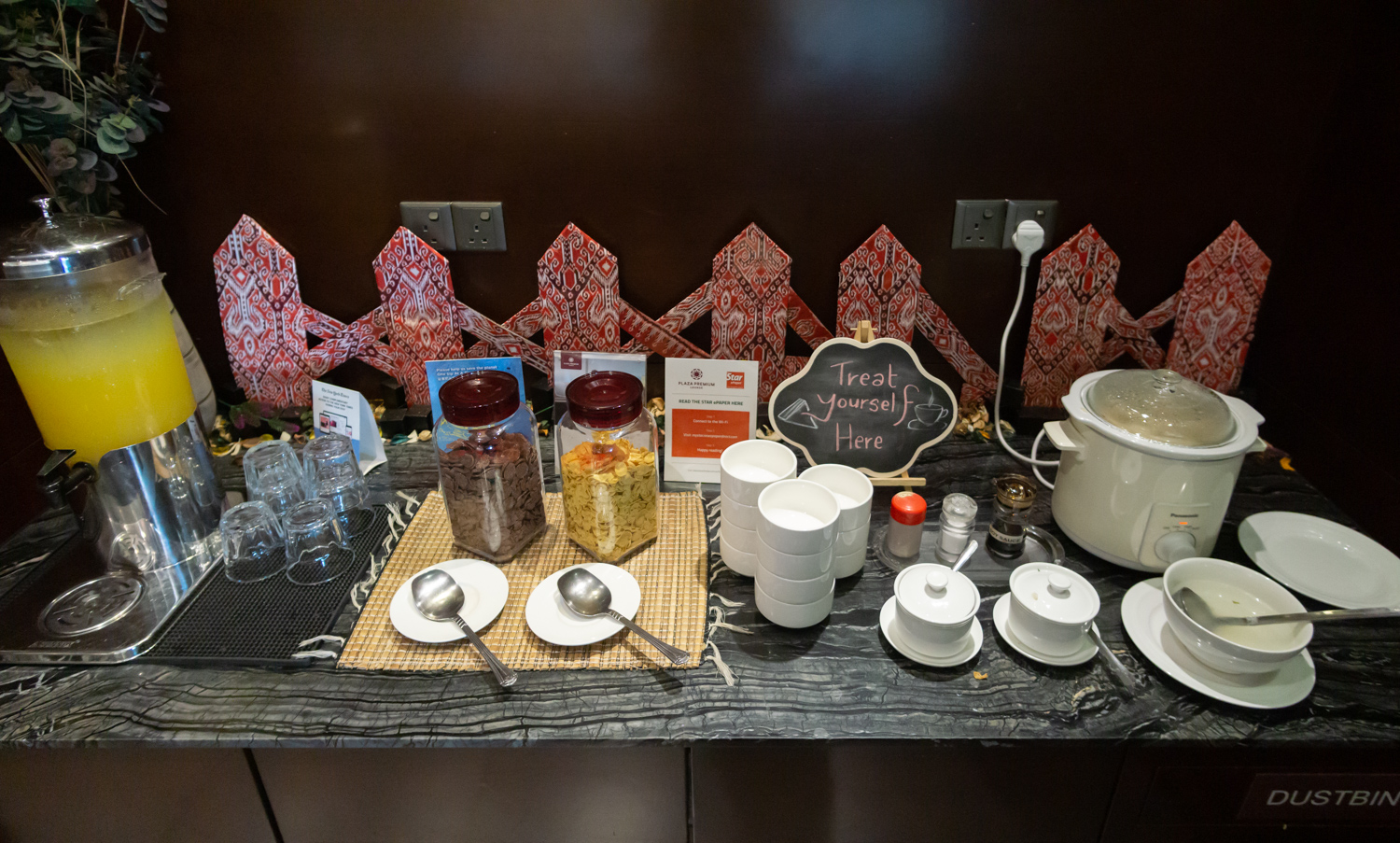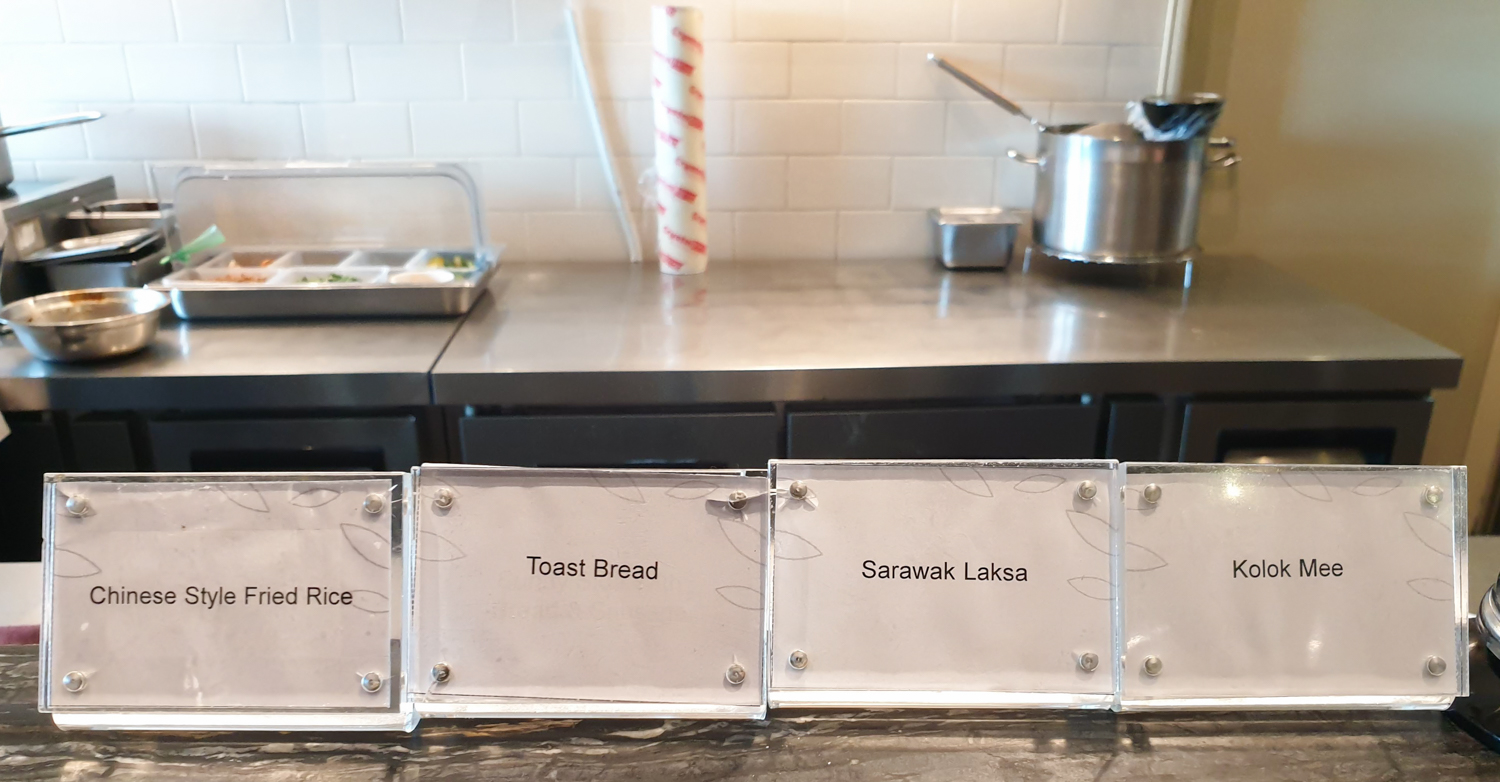 As you can see, the quality is quite good compared to buffet food! The top-left and bottom-right image are the Kolo Mee (a local favourite), one with chicken and one vegetarian.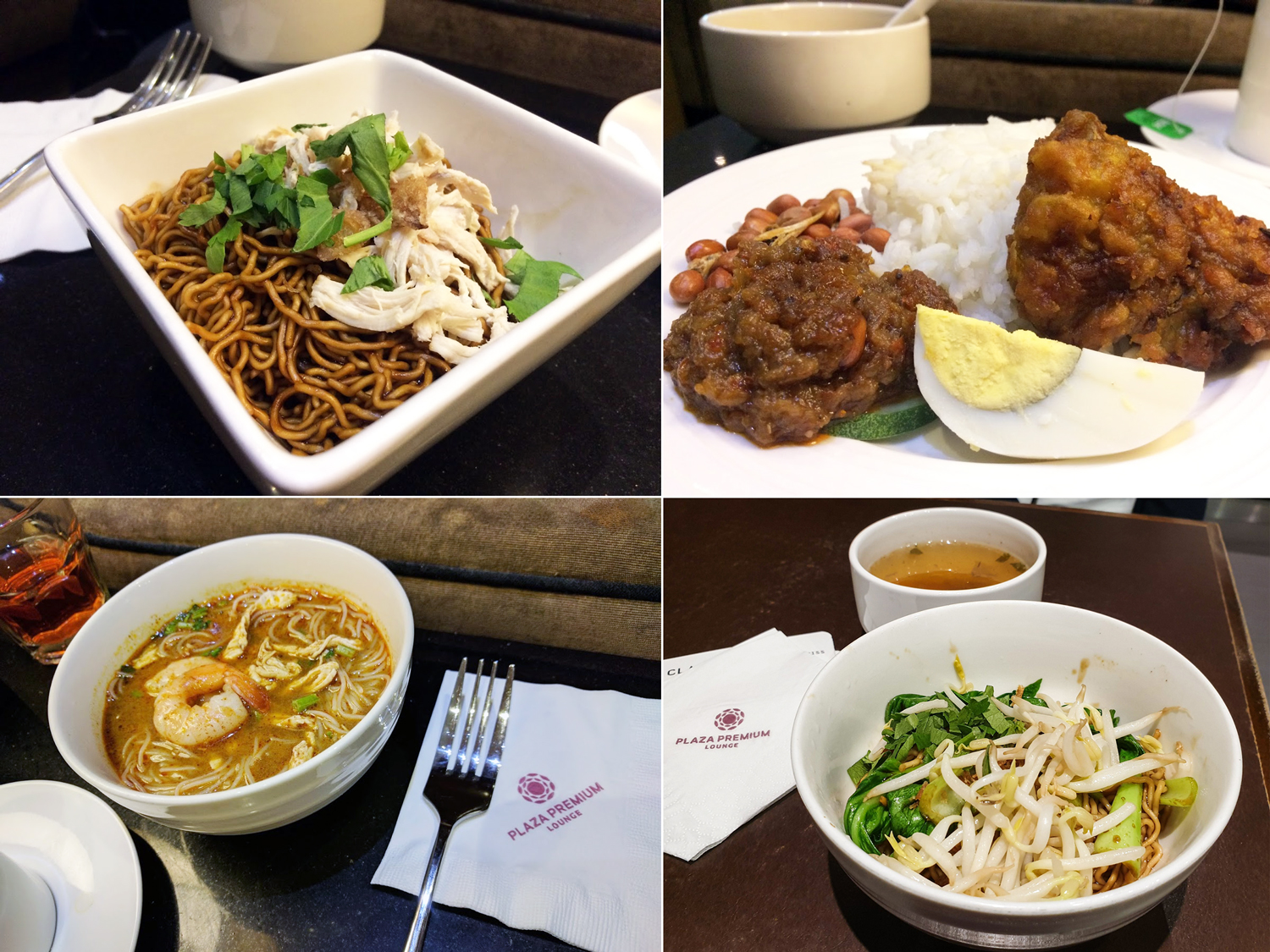 The bottom left is the prawn laksa, also very flavoursome. Unfortunately, the top-right dish of nasi lemak (fried chicken, egg, flavoured rice) is no longer on the menu — that photo was taken when I last visited in 2017.
Beverages are limited to soft drinks or Carlsberg beer only, plus tea or coffee.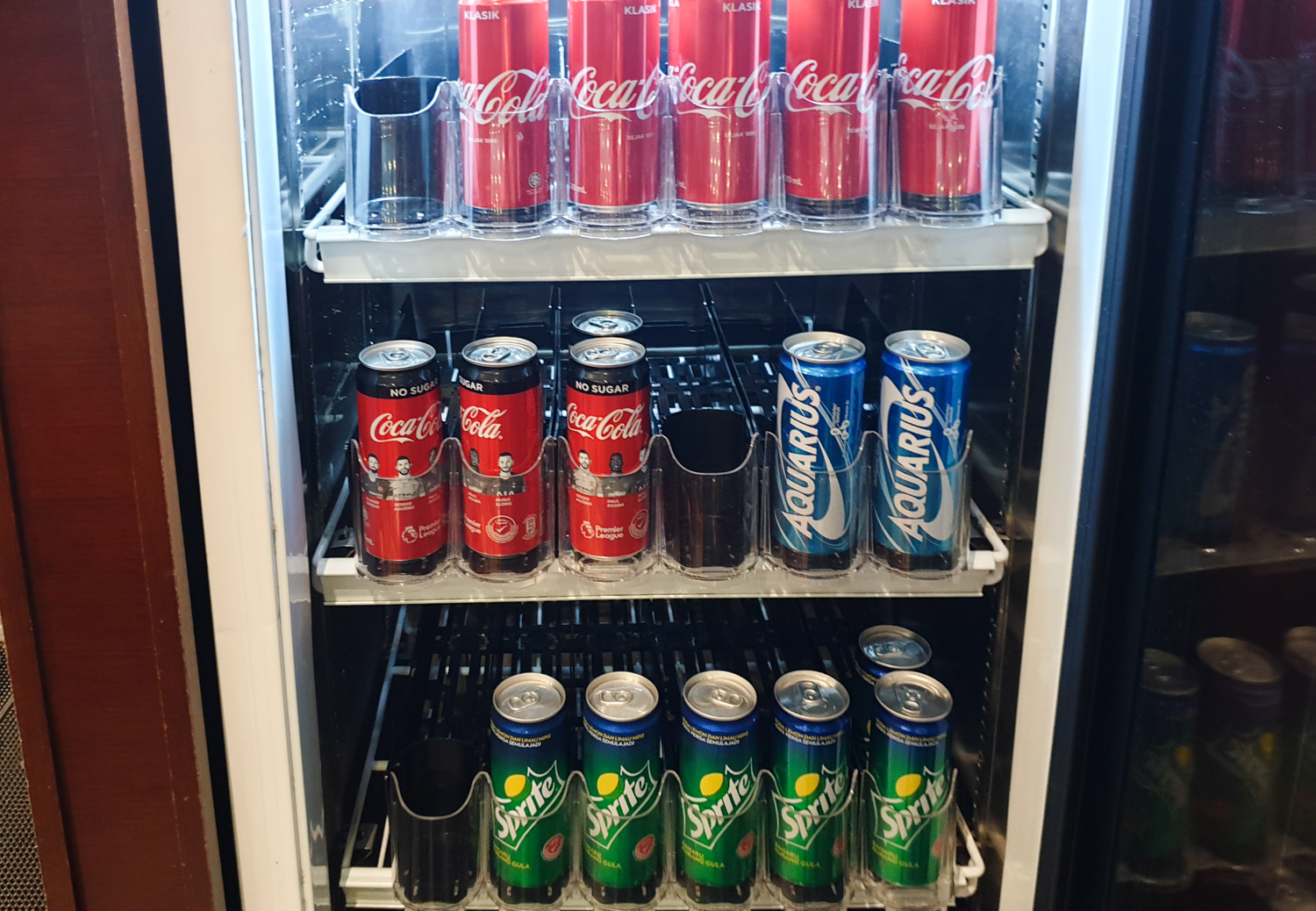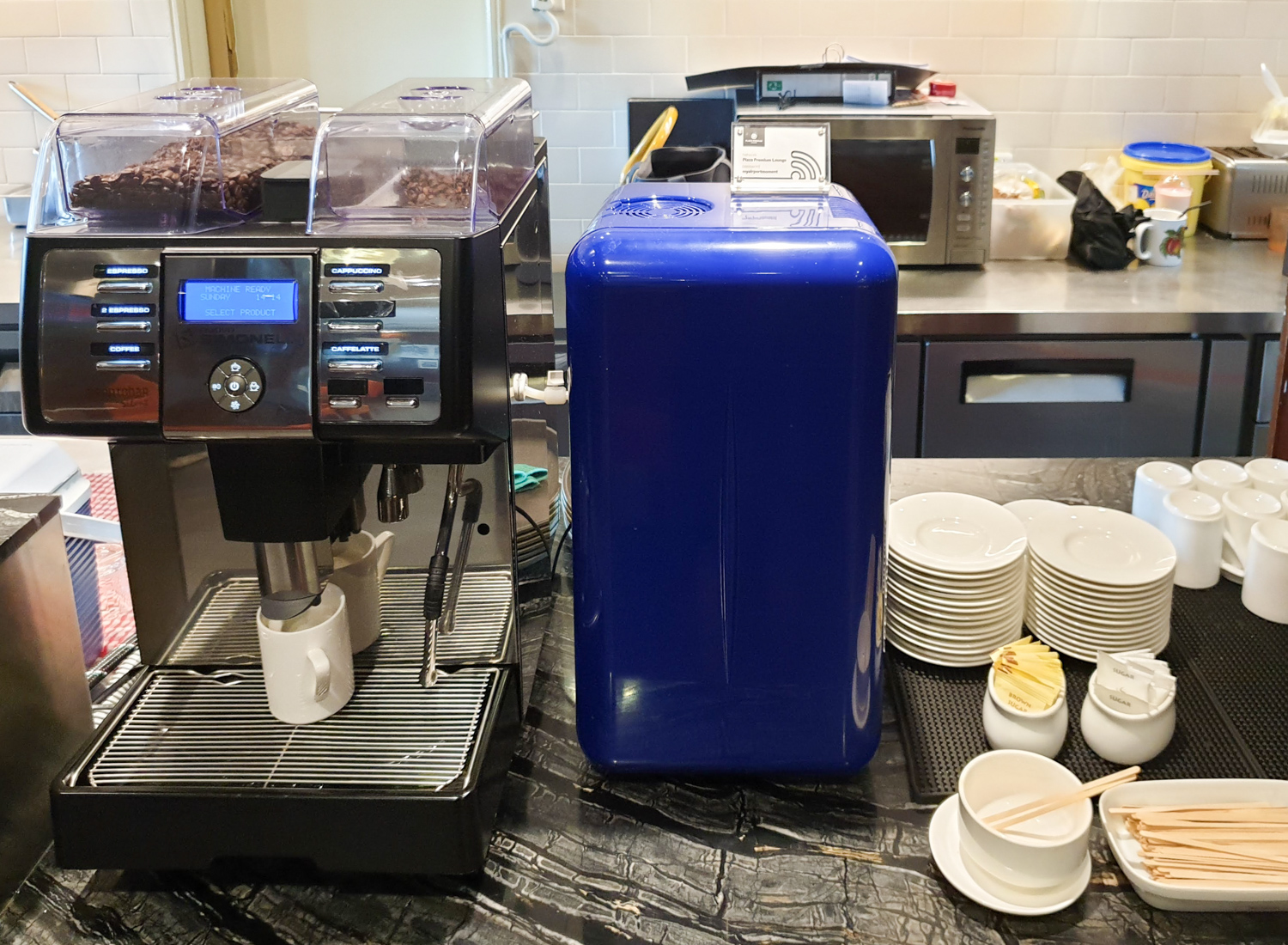 Amenities
There isn't much else in the way of amenities. What you see is what you get! WiFi was faster here than the Golden Lounge, with 18.9 Mbps downloads and 4.67 Mbps uploads.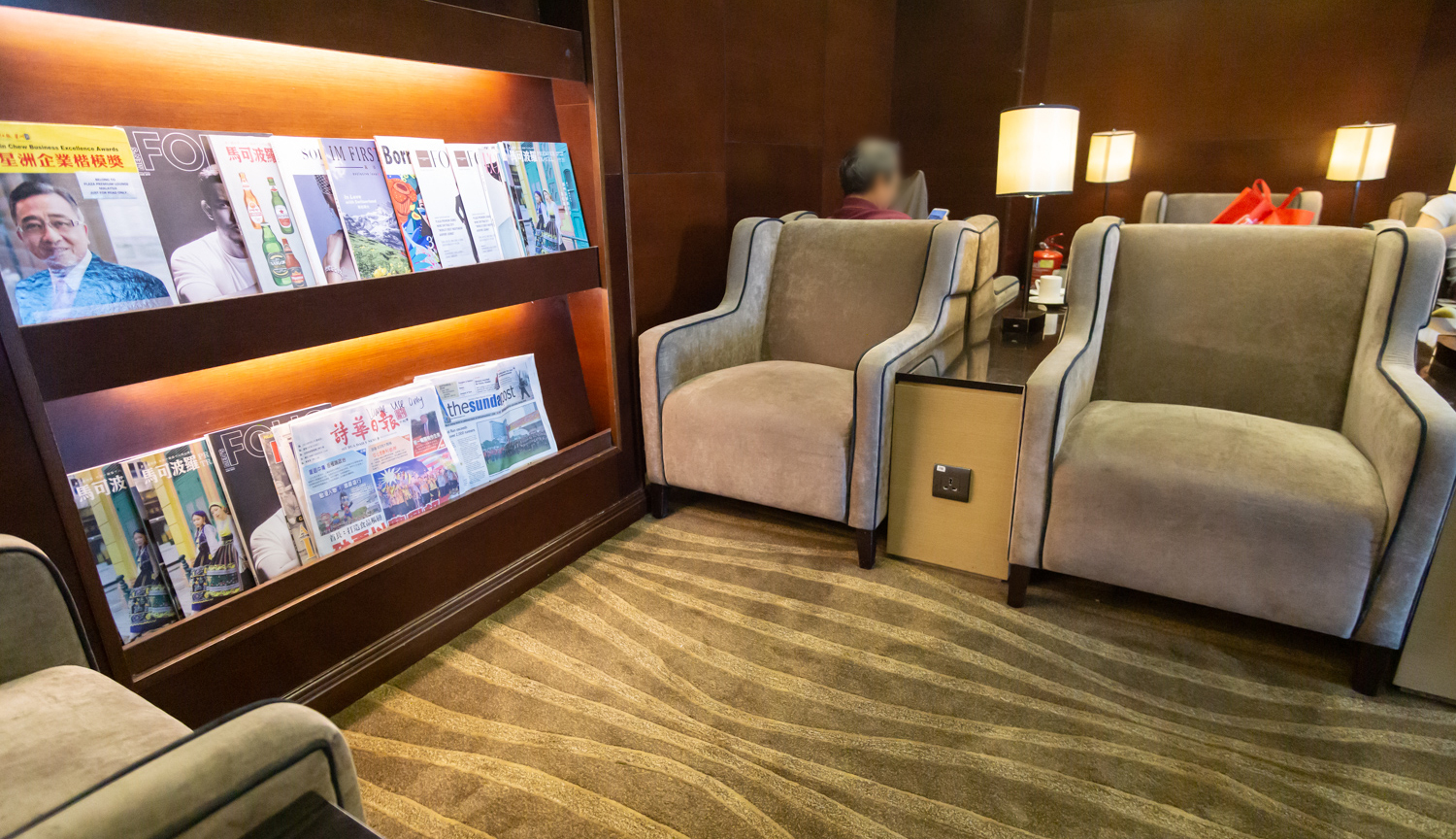 Lounge Access Options
By lounge membership: Priority Pass, DragonPass, LoungeKey, Lounge Pass.
By day pass: 72 MYR ($26 AUD) walk-in rate for 1 hr access. Online booking rate is approximately 42 USD ($62 AUD) for two hours.
By credit card: American Express Platinum Card (worldwide). Some local bank cards may offer access — check with your card issuer.
Other lounge reviews
Our Take
Overall, I would give both Kuching lounges an average rating of 2.5 stars out of 5, which is passable. Both have their own pros and cons — the Golden Lounge is bigger with nicer ambience and has both showers and toilets. The food options are a let-down though.
The Plaza Premium Lounge is tiny but the a-la-carte food menu is much better. The staff were friendlier too, but the lack of bathroom facilities really weigh it down.
Personally, I wouldn't pay the walk-in rate for either lounge. I was lucky to have complimentary access to both lounges through frequent flyer status and Priority Pass membership.
If you didn't have access to the Plaza Premium Lounge, it might be more cost-effective just to buy the a-la-carte dishes through the cafe window for about $10 AUD each, or try out the nearby food court.
What was great
Golden Lounge has great views, lighting and bathroom facilities.
Plaza Premium Lounge has better food, drinks and friendlier staff.
What was not great
Golden Lounge's food options aren't as high-quality.
Plaza Premium Lounge is small, darker and has no bathrooms.
Both lounges are probably not worth the cash walk-up price.
Overview of Kuching International Airport Lounges: Malaysia Airlines Golden Lounge and Plaza Premium
was last modified:
March 17th, 2022
by