The revamped Malaysia Airlines Golden lounge debuted in 2017 and offers a comfortable environment for jetsetters to relax before short flights within Malaysia.
Lounge location & details
The lounge is located on Level 3 of the Main Terminal of Kuala Lumpur International Airport, Domestic Terminal A, next to gate A2. It operates from 5am to midnight every day.
Lounge seating
The reception area is on your left upon entering the lounge.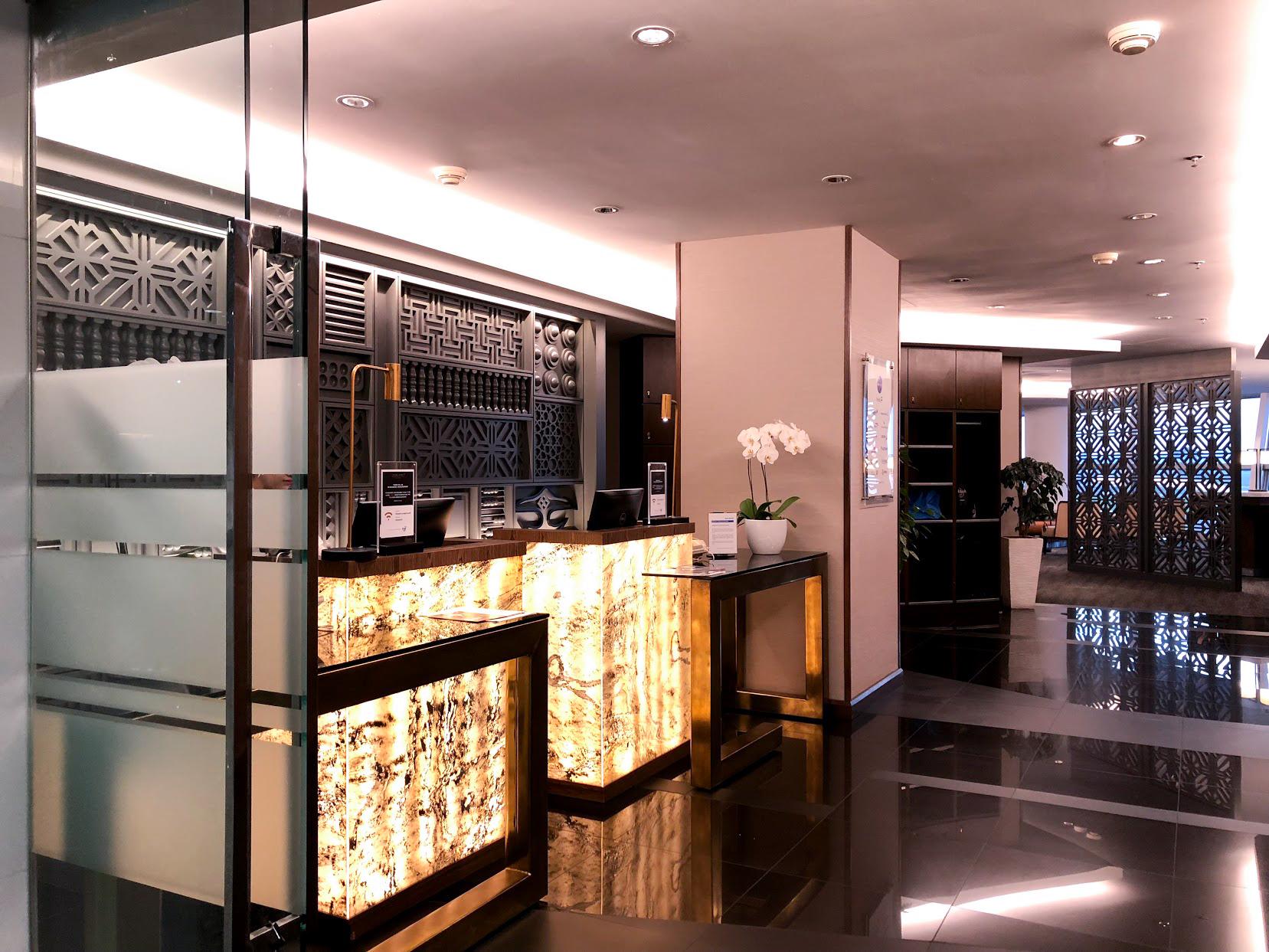 As you head into the lounge after checking-in, you will find a luggage storage shelf on your left before entering the main seating area. Unfortunately, it appears only the open-air cupboards are available for guest use, which do not offer much in security.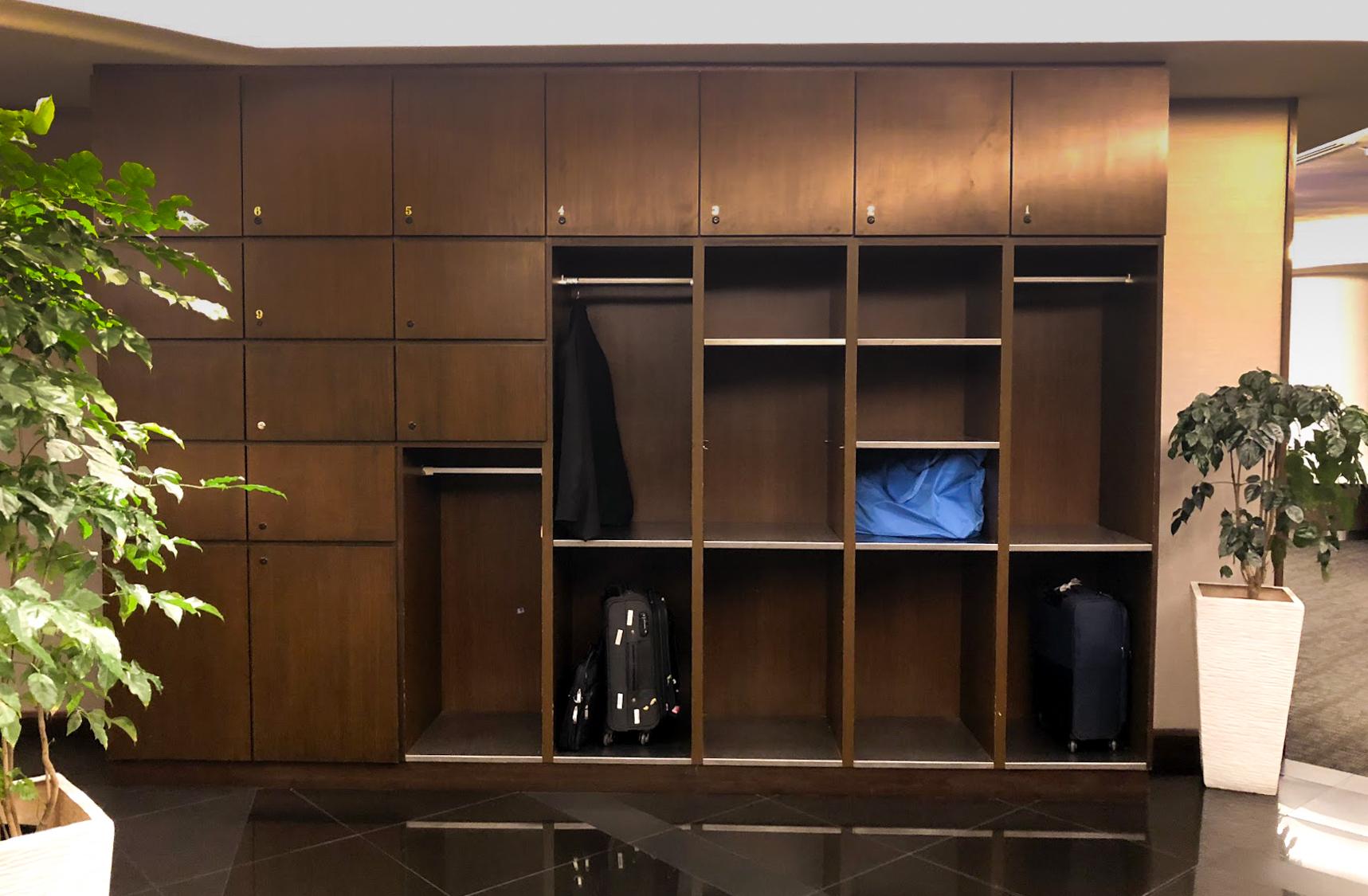 The main lounge area is vast and consists of different zones. The first thing you will spot is a long high table lined with power ports along its edge, which is perfect as workstation or for viewing TV while enjoying a light meal and nice beverages.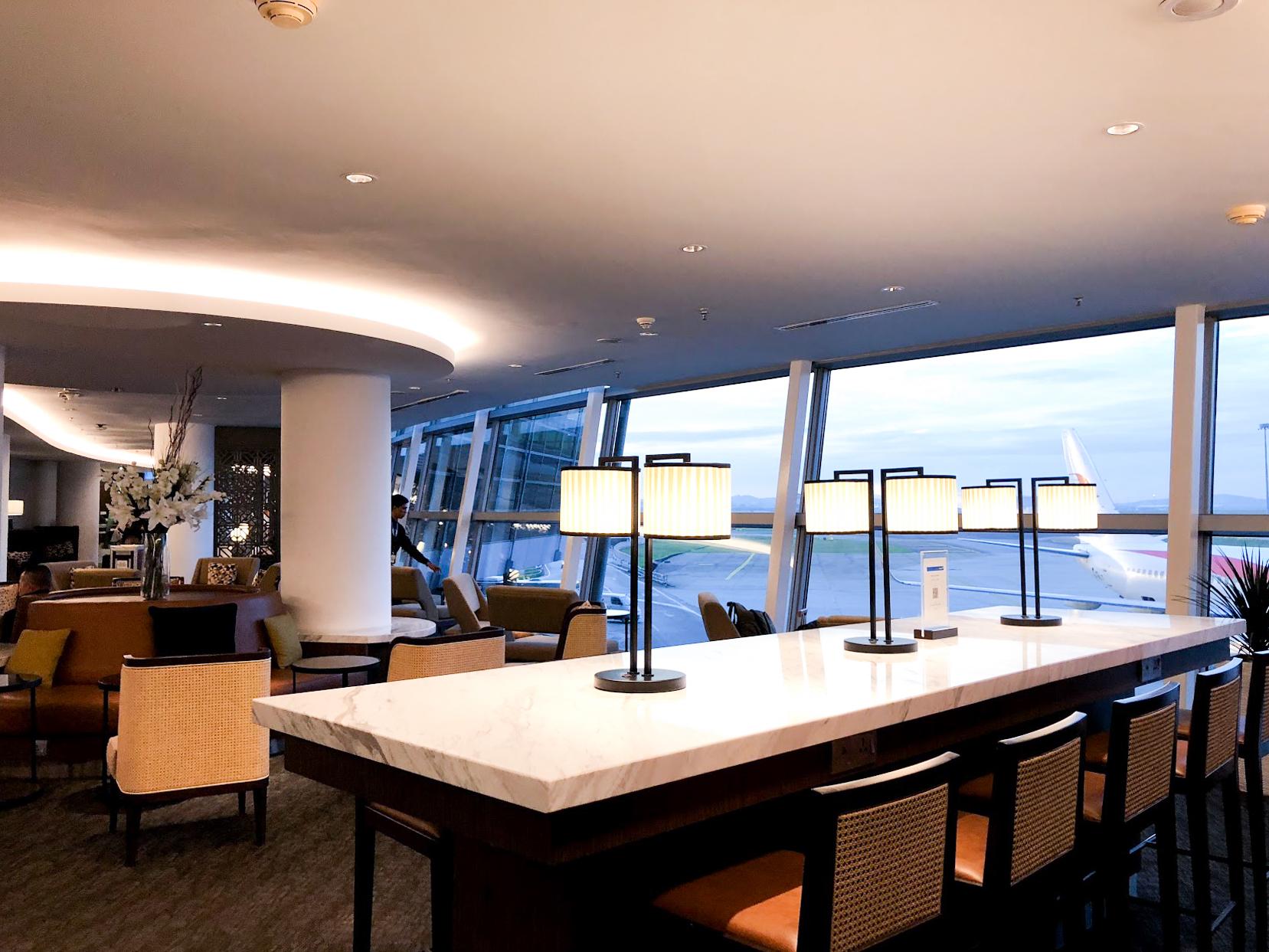 Moving further in, the atmosphere gets somewhat quieter, with groups of plush chairs arranged around cocktail tables, offering a view of the tarmac.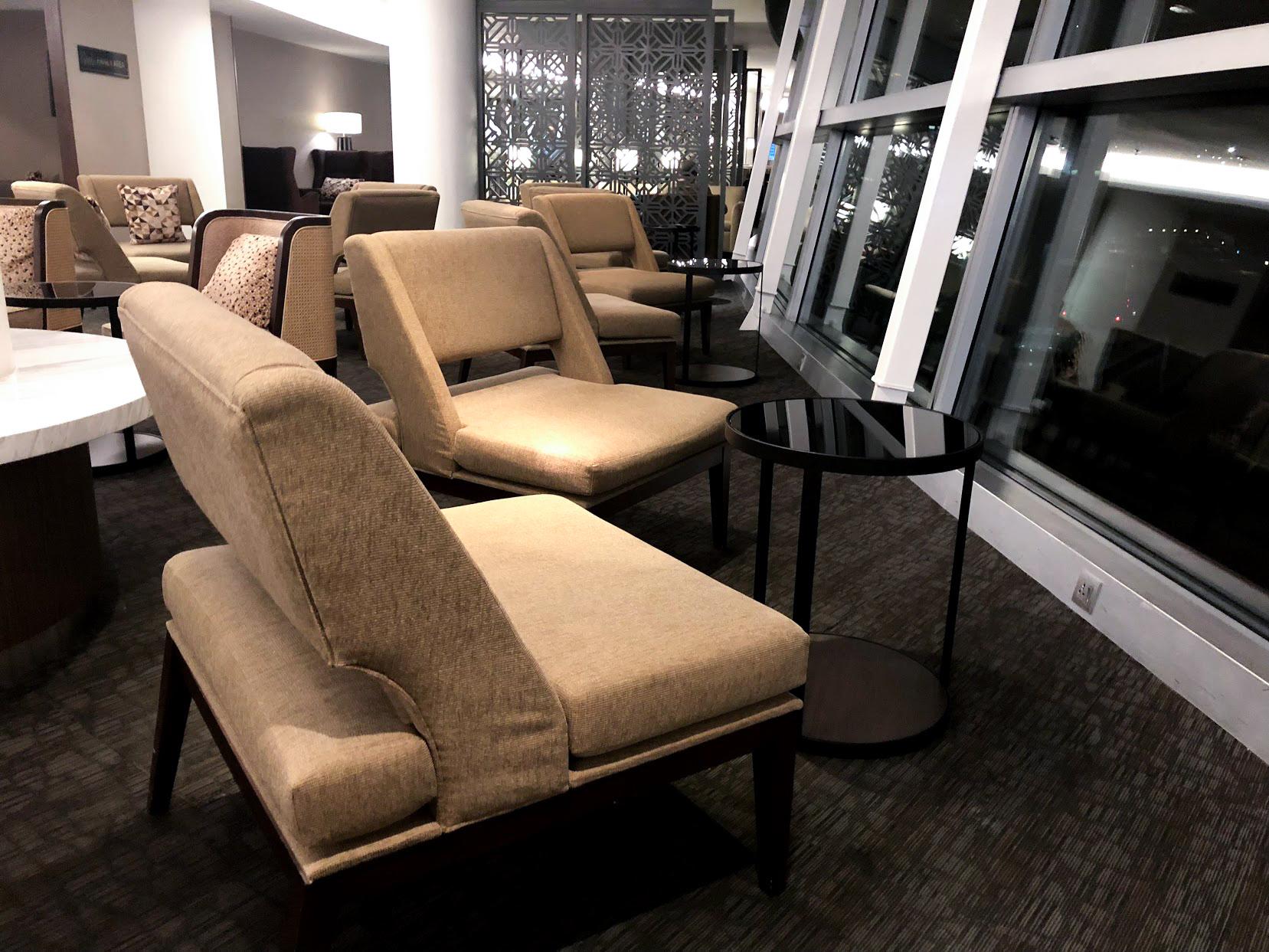 There are some small nooks that offer a bit more privacy for duos.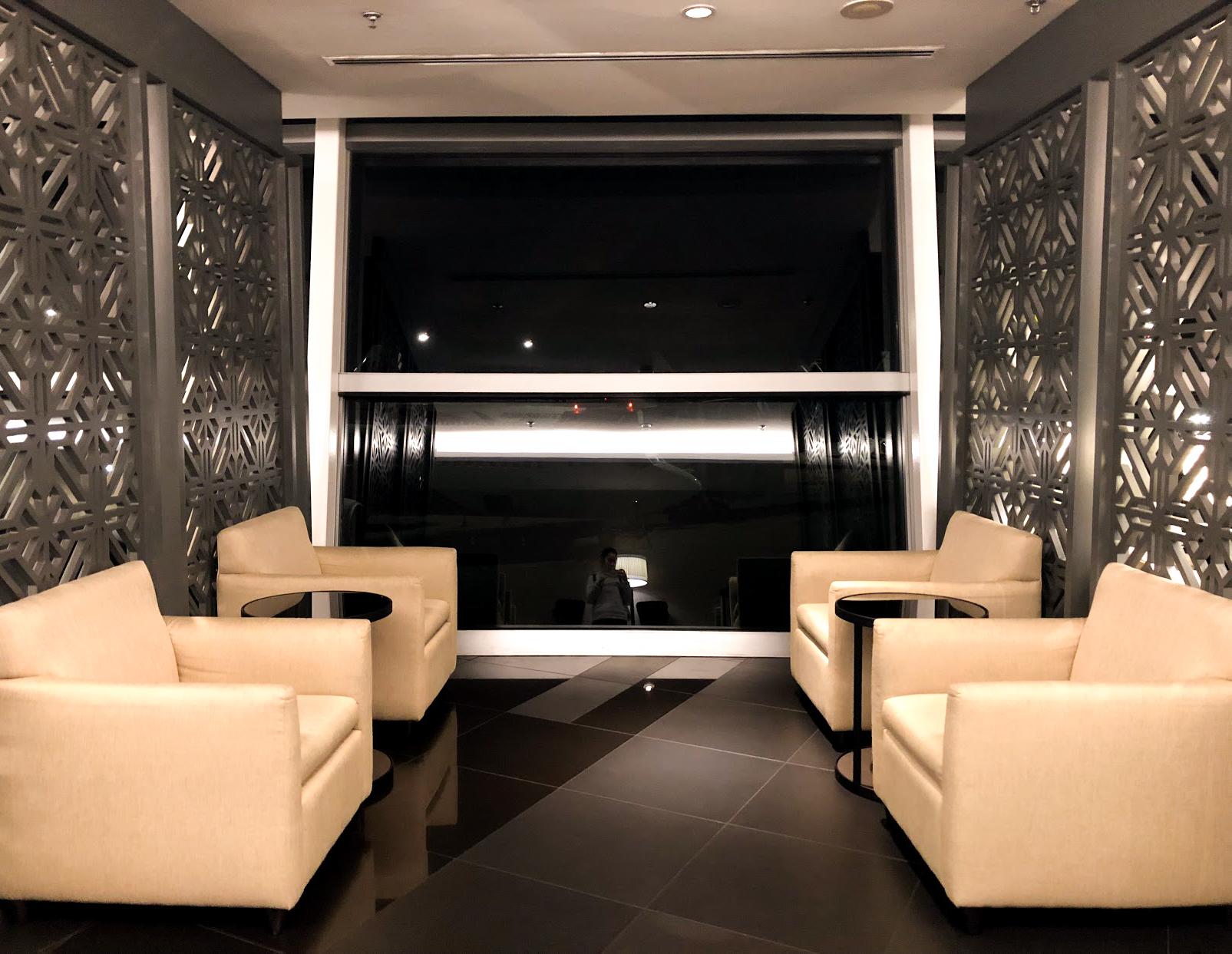 Off to one side in the centre of the lounge is a family room which includes beanbags, baby high chairs and a TV set with children's programs.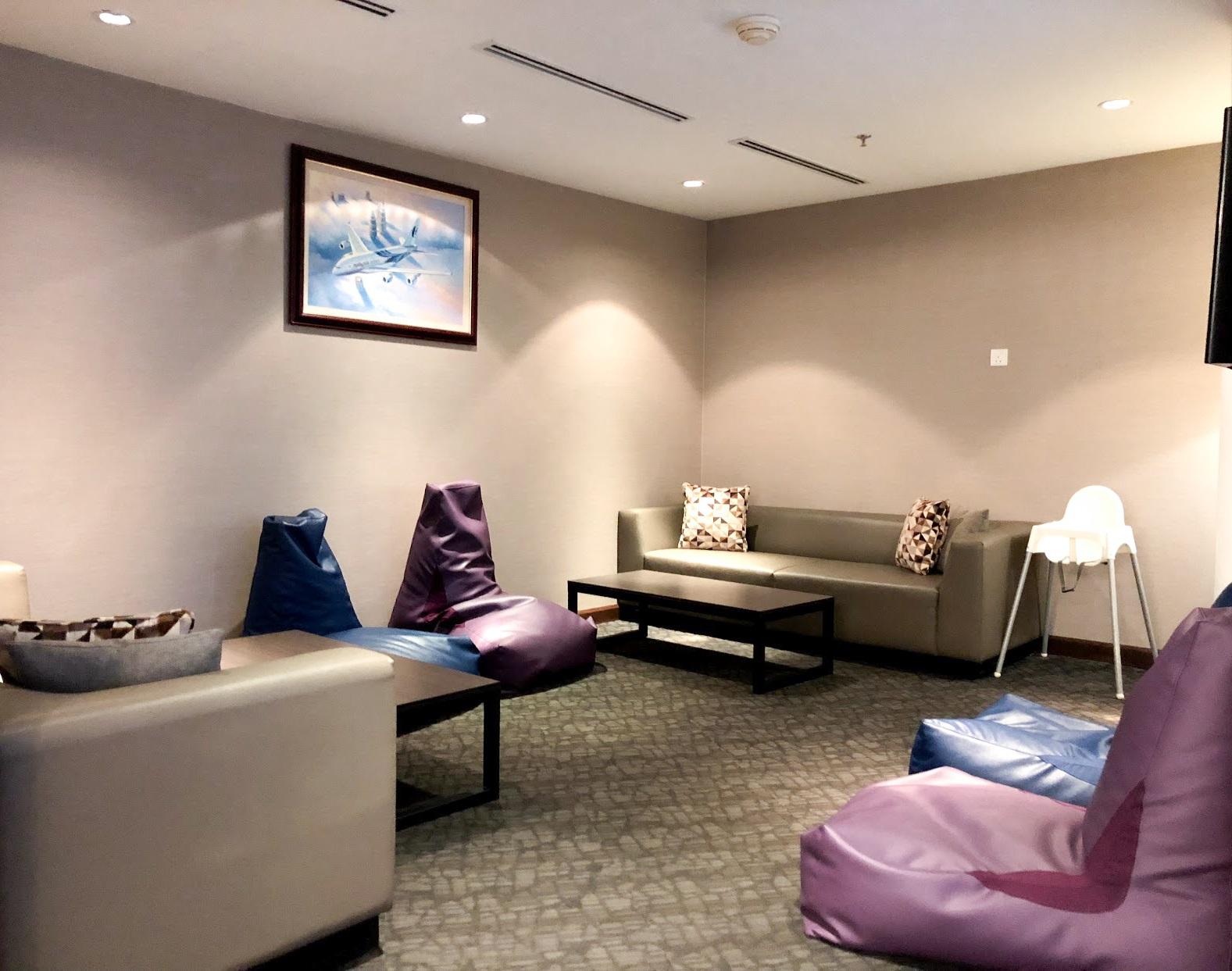 As you move further in, you will soon come across the food and beverages stations on the left.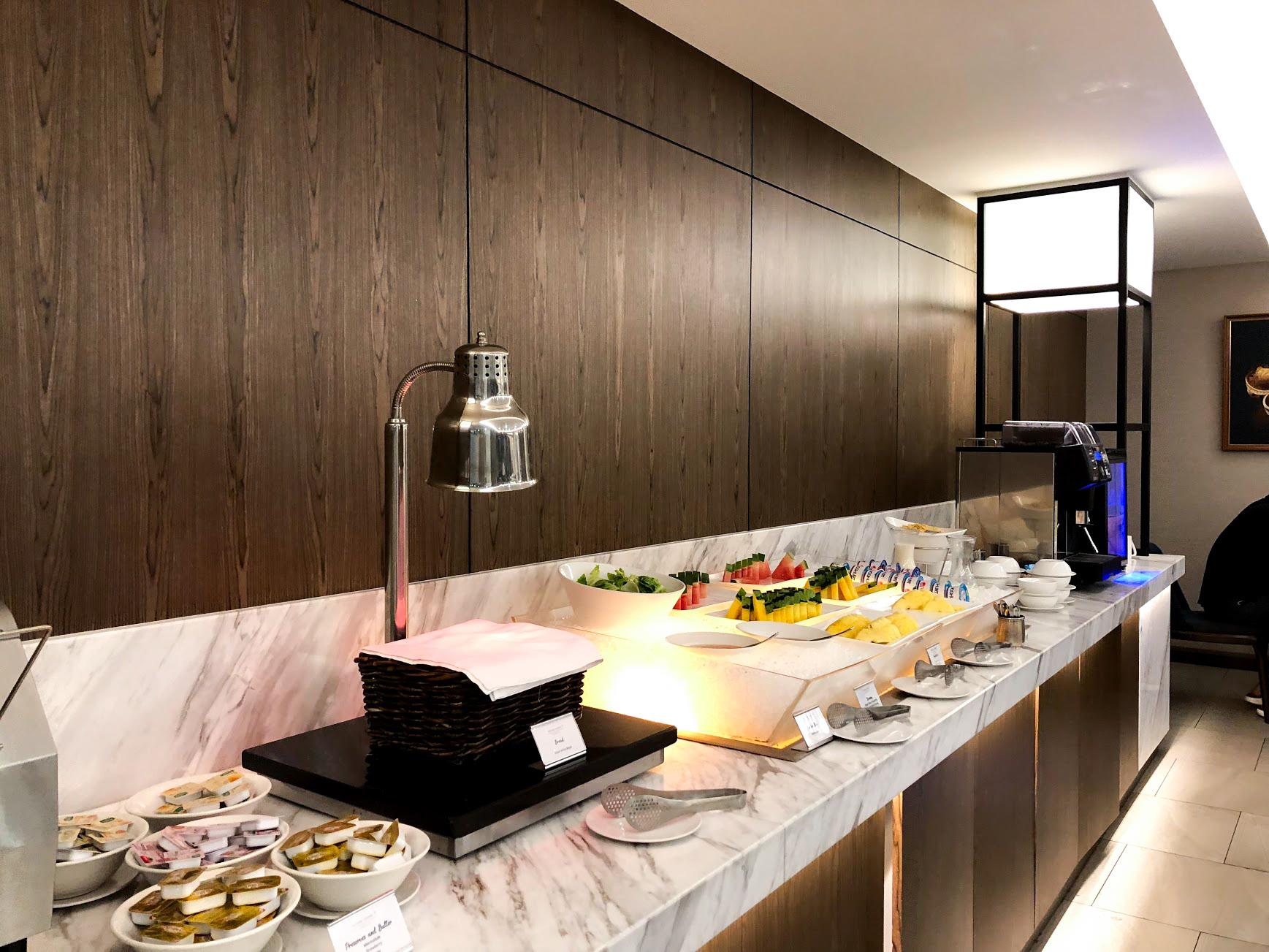 Here is also where you will find both toilets as well as gender-specific prayer rooms and a baby changing room.
Adjacent to the food station is a dining area. Once again, the long benches have power outlets, which are ideal for using or charging your devices while filling up your tummy.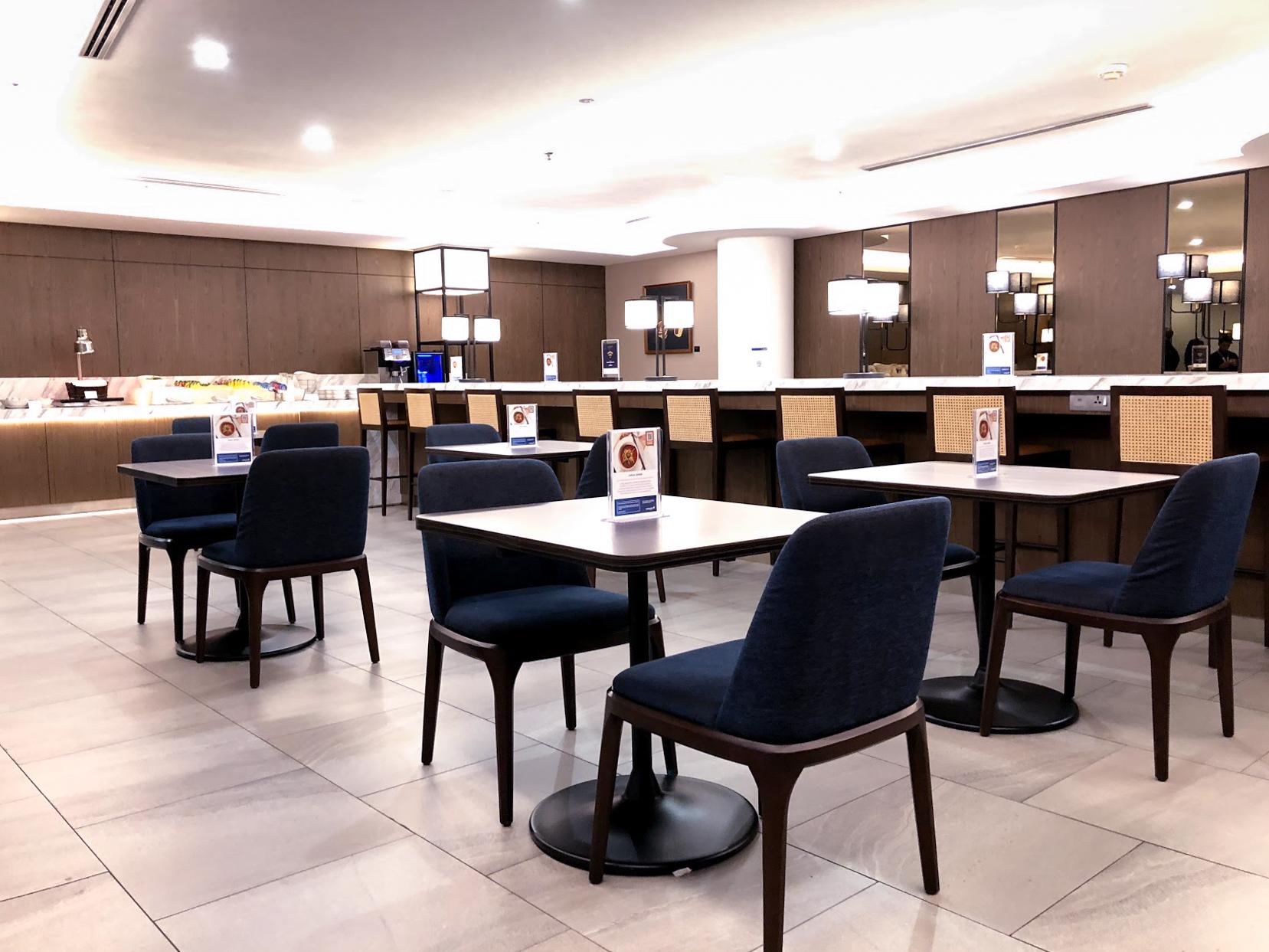 Finally, as you venture to the end of the lounge, you will come across another huge seating area, which was completely empty in the early hours of the morning.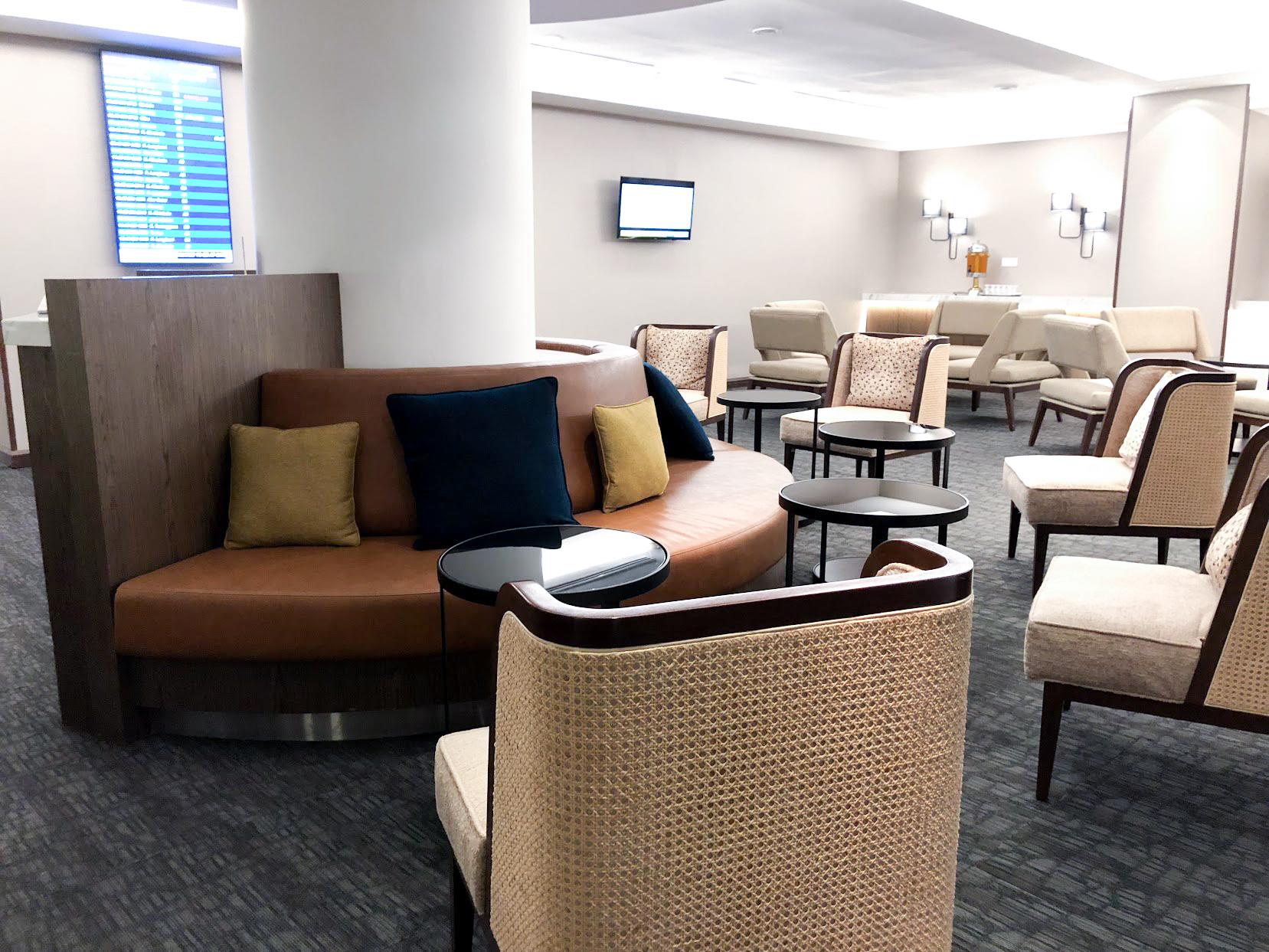 Newspaper stands are dotted throughout the lounge, with a selection of Chinese and English papers.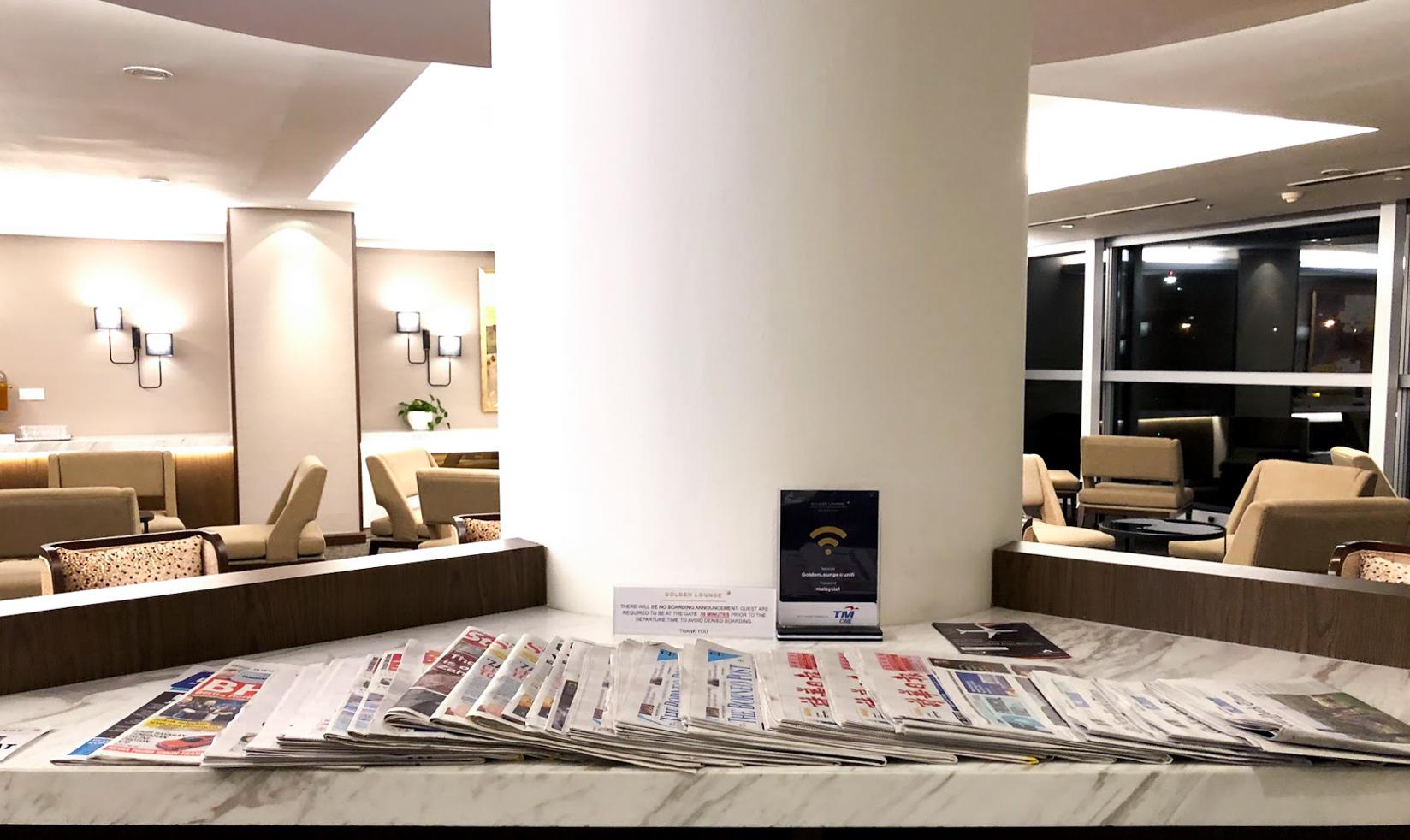 Food & drink
During my early morning visit, two types of dining were on offer. A made-to-order noodle bar offered three tasty choices—as the spicy Johor Laksa would have jarred me awake, I opted for the milder wonton noodle soup with chicken dumplings and vegetables topped with shallots, which hit the spot.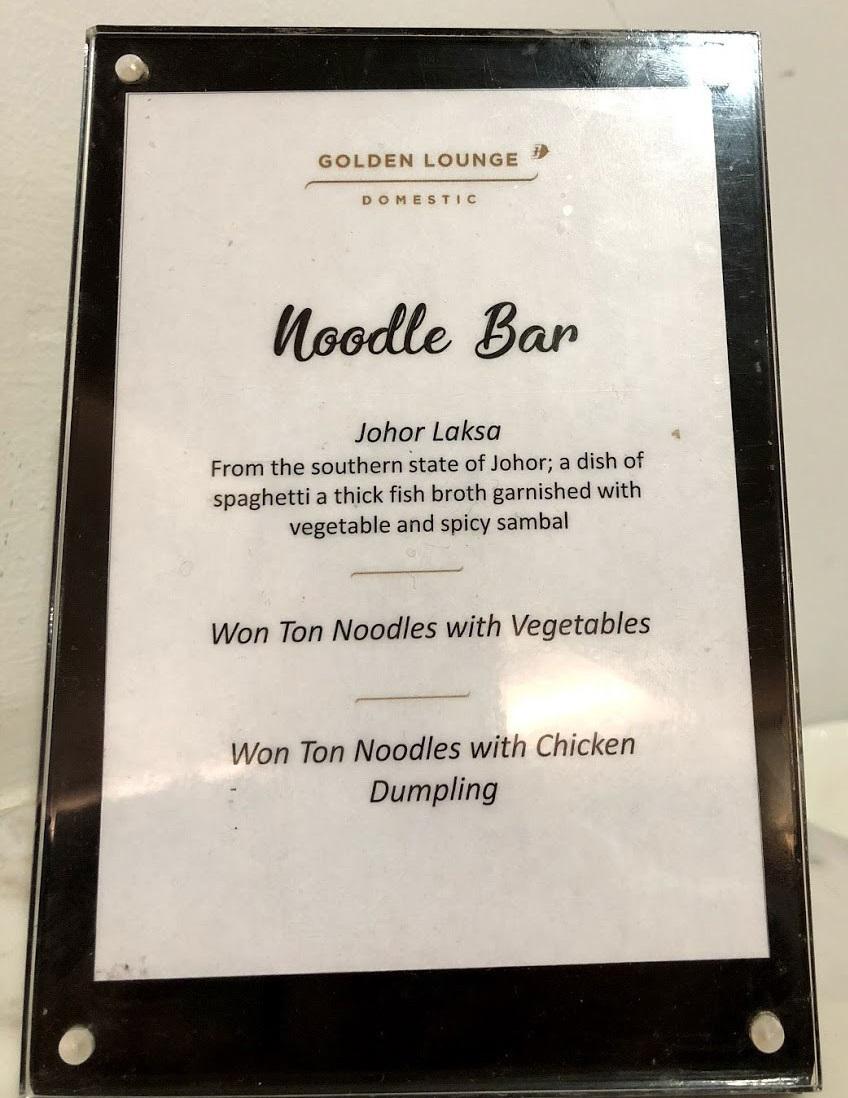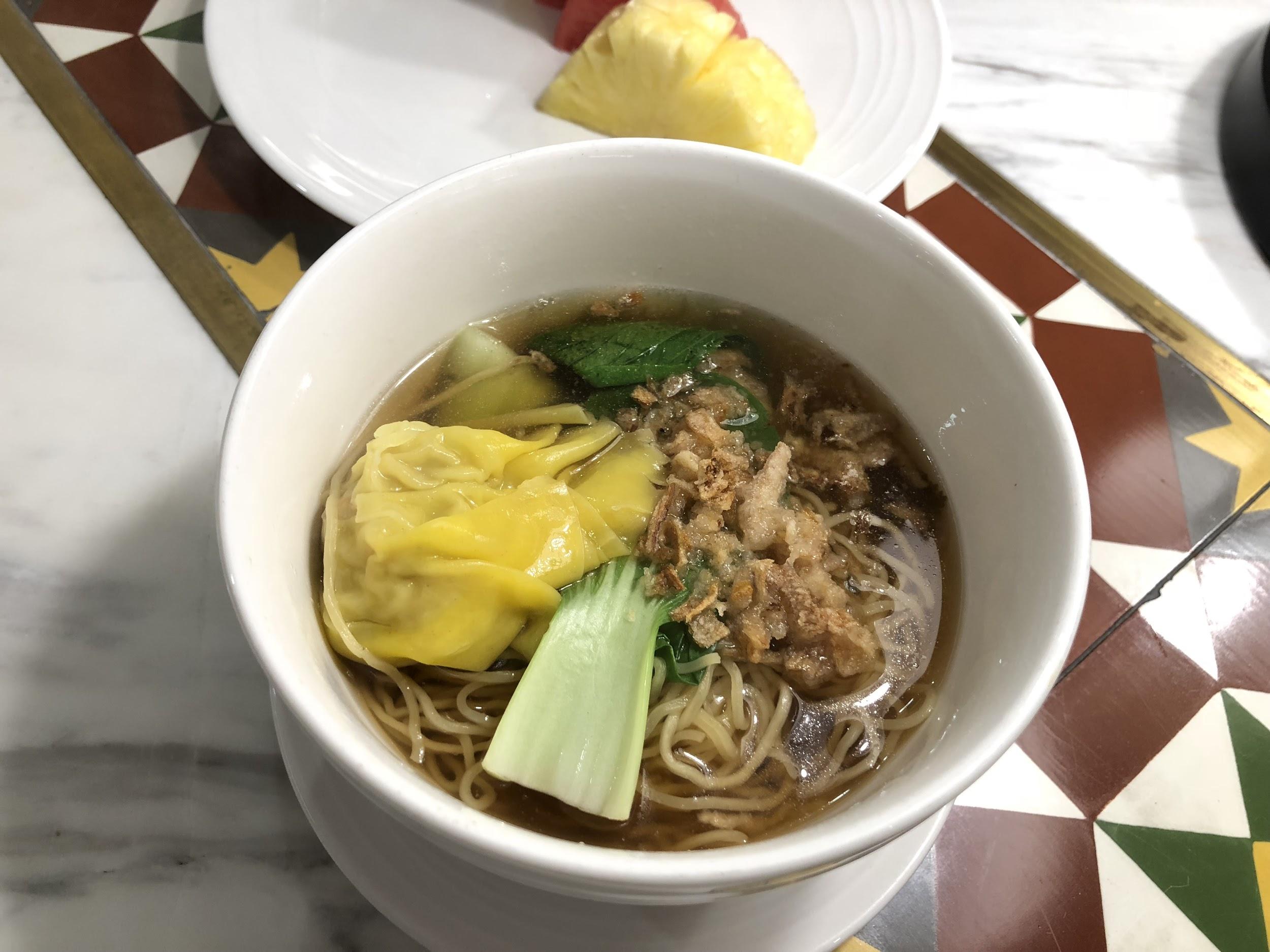 If you are one who likes things on the spicer end, you can garnish your breakfast with some belacan (local chilli sauce with shrimp paste) or just simply cut chilli. Soy sauce and sesame oil are also available for flavouring.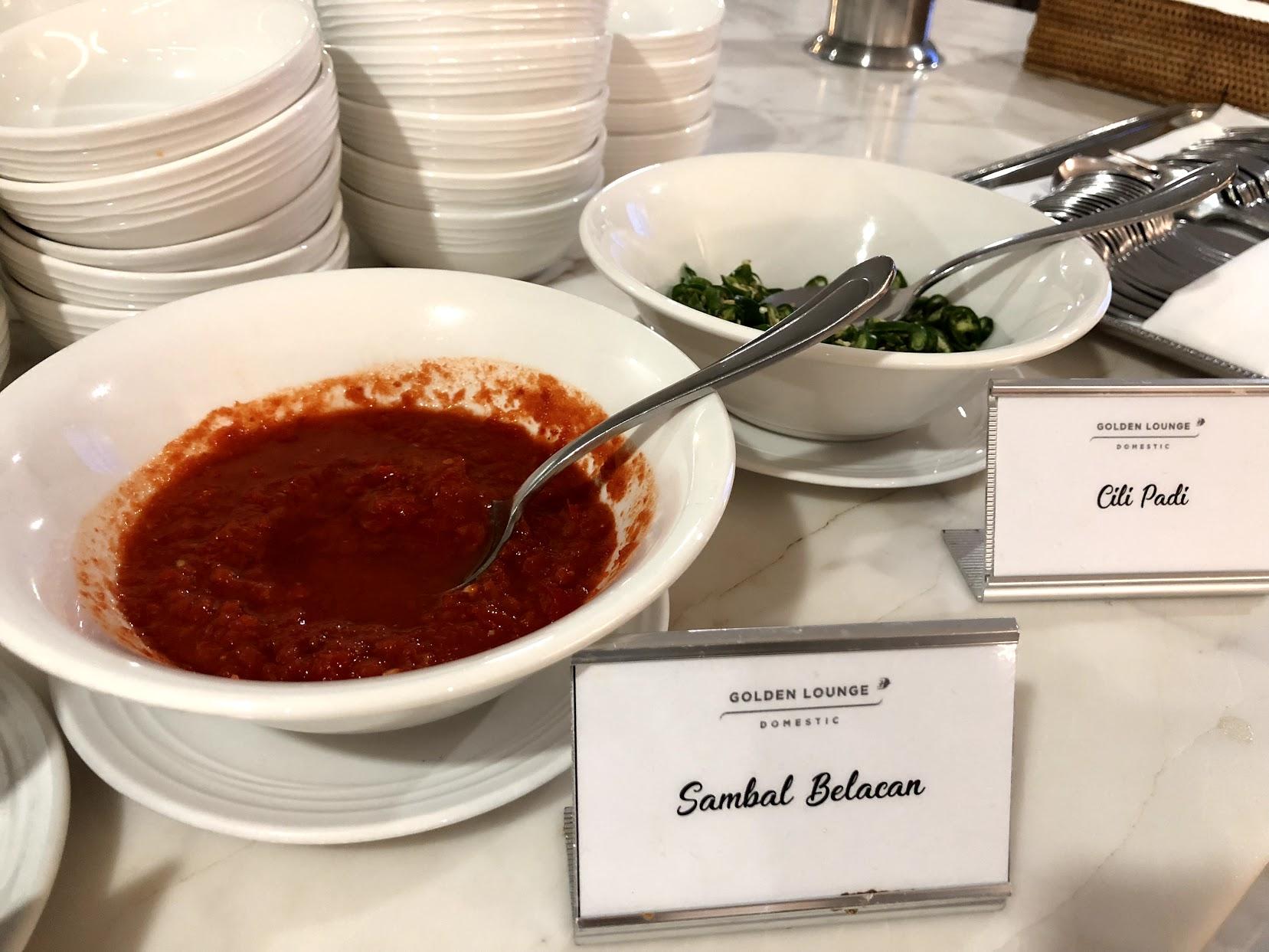 The hot buffet included coconut rice, chicken rendang and traditional condiments that you need to make your own fiery nasi lemak.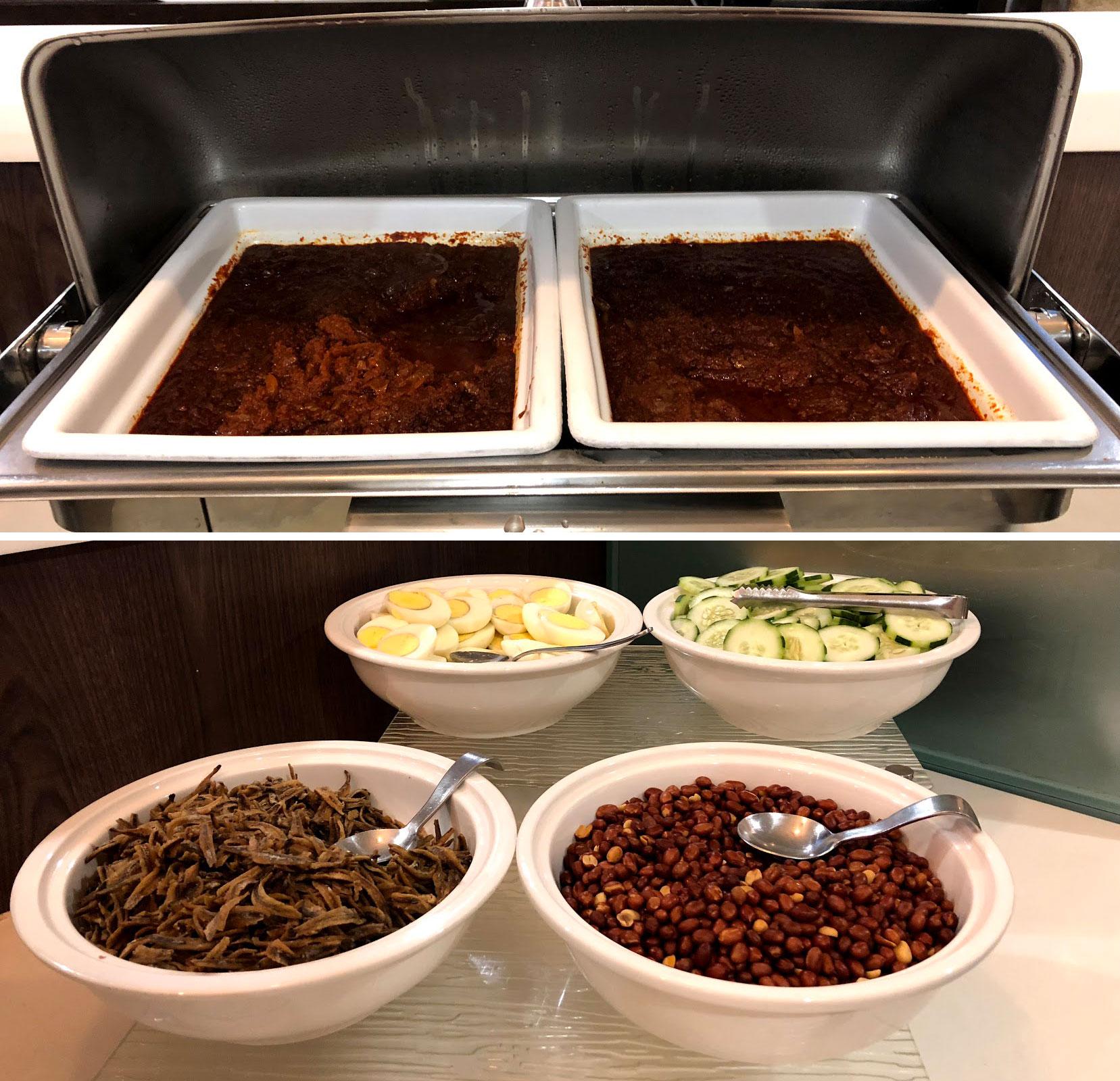 For the sweeter tooth, a selection of pastries was available, including a spin on a local delicacy, kaya whirls (kaya is a delicious spread made of coconut and pandan) as well as the more pedestrian plain and chocolate croissants.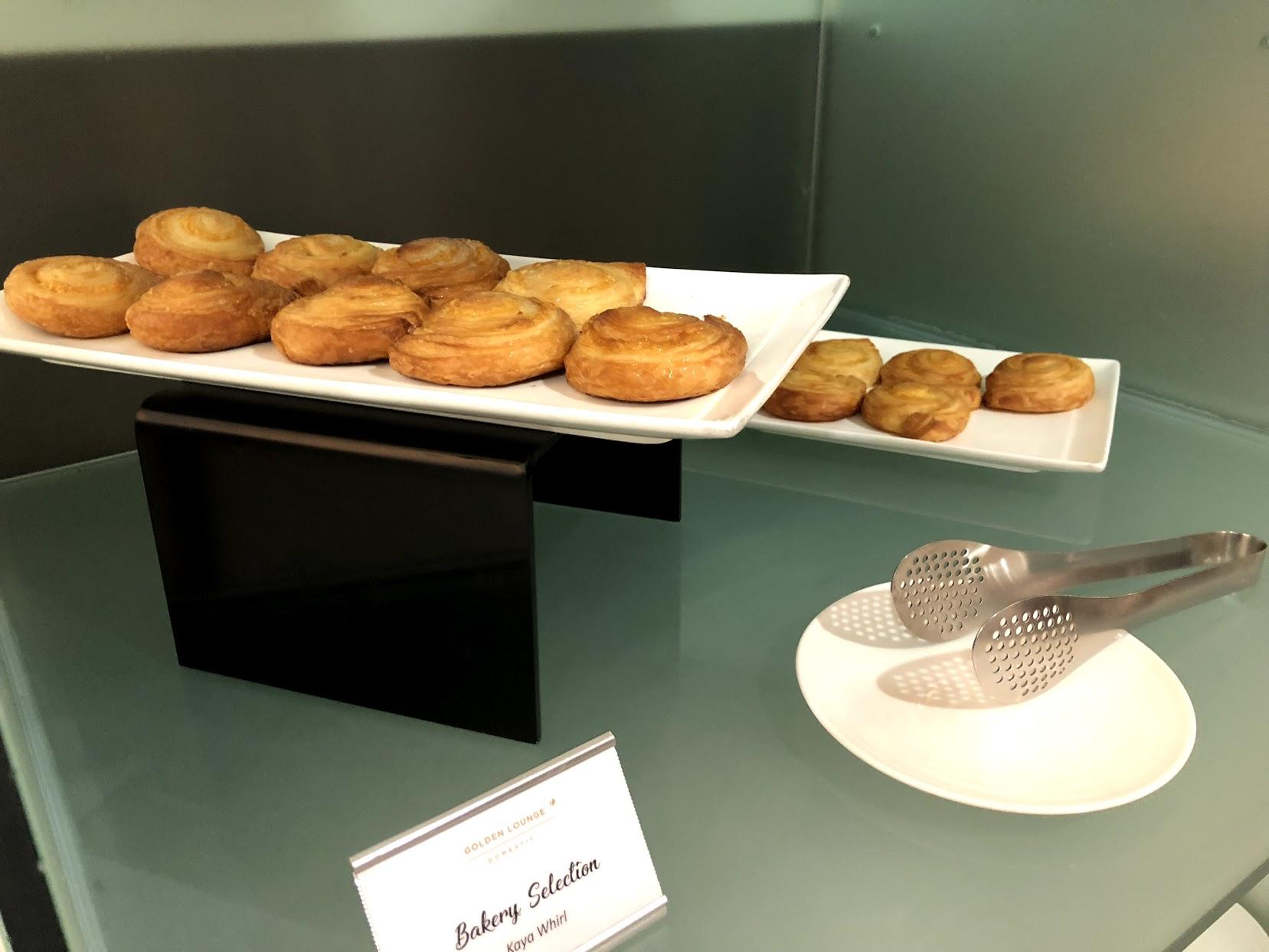 Cold items included artfully sliced fruits and individual packs of low-fat yoghurts.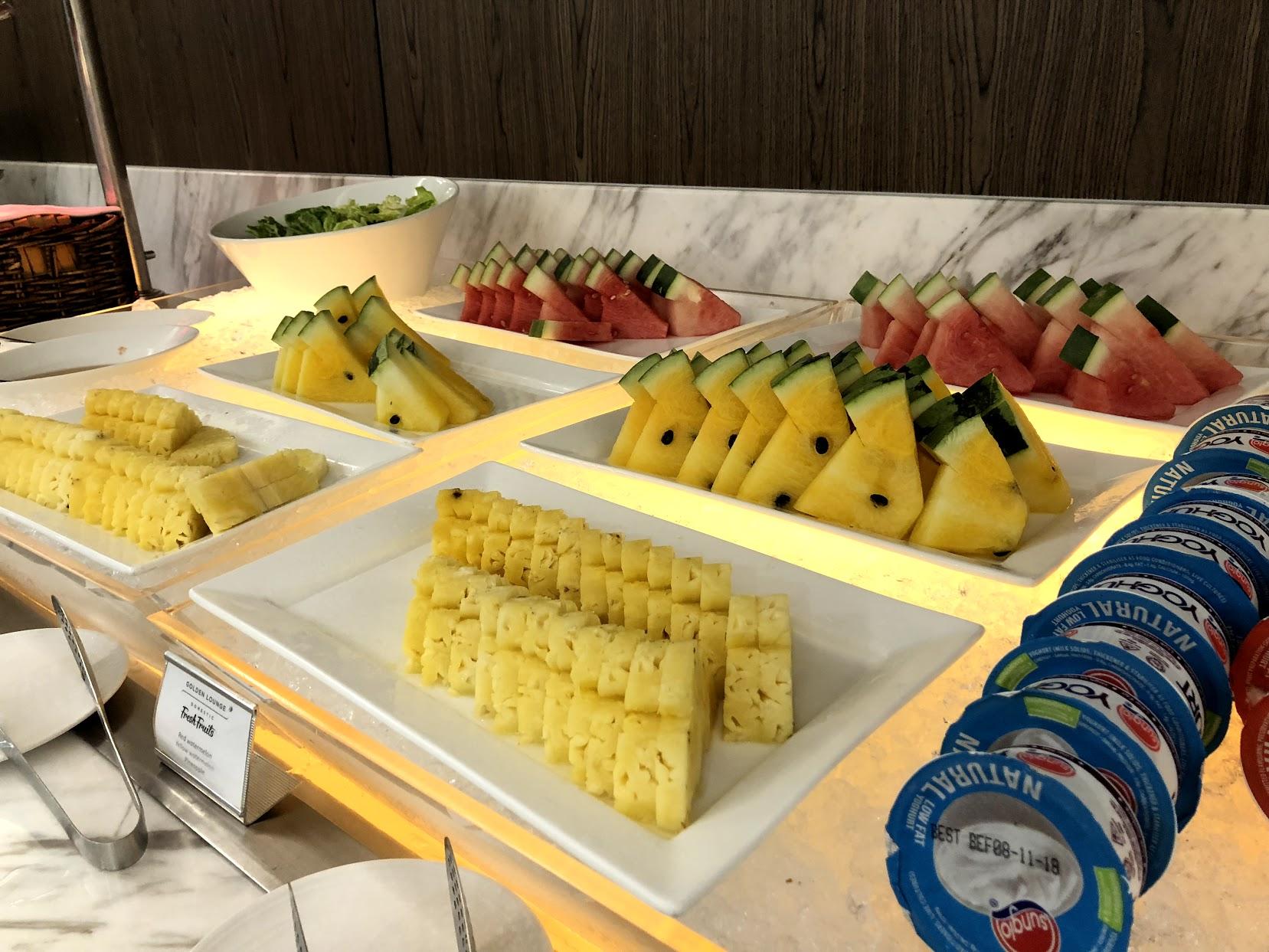 Sliced white bread is available along with the usual assortment of preserves jam and butter. The cereal selection was limited to just cornflakes, accompanied with whole or low-fat milk.
There is no tended bar—or, indeed, any alcohol—in this domestic lounge. Instead, there are multiple coffee machines and a selection of BOH tea bags for hot beverages. Powdered teh tarik (pulled tea) has an interesting milk tea taste, and definitely worth a try.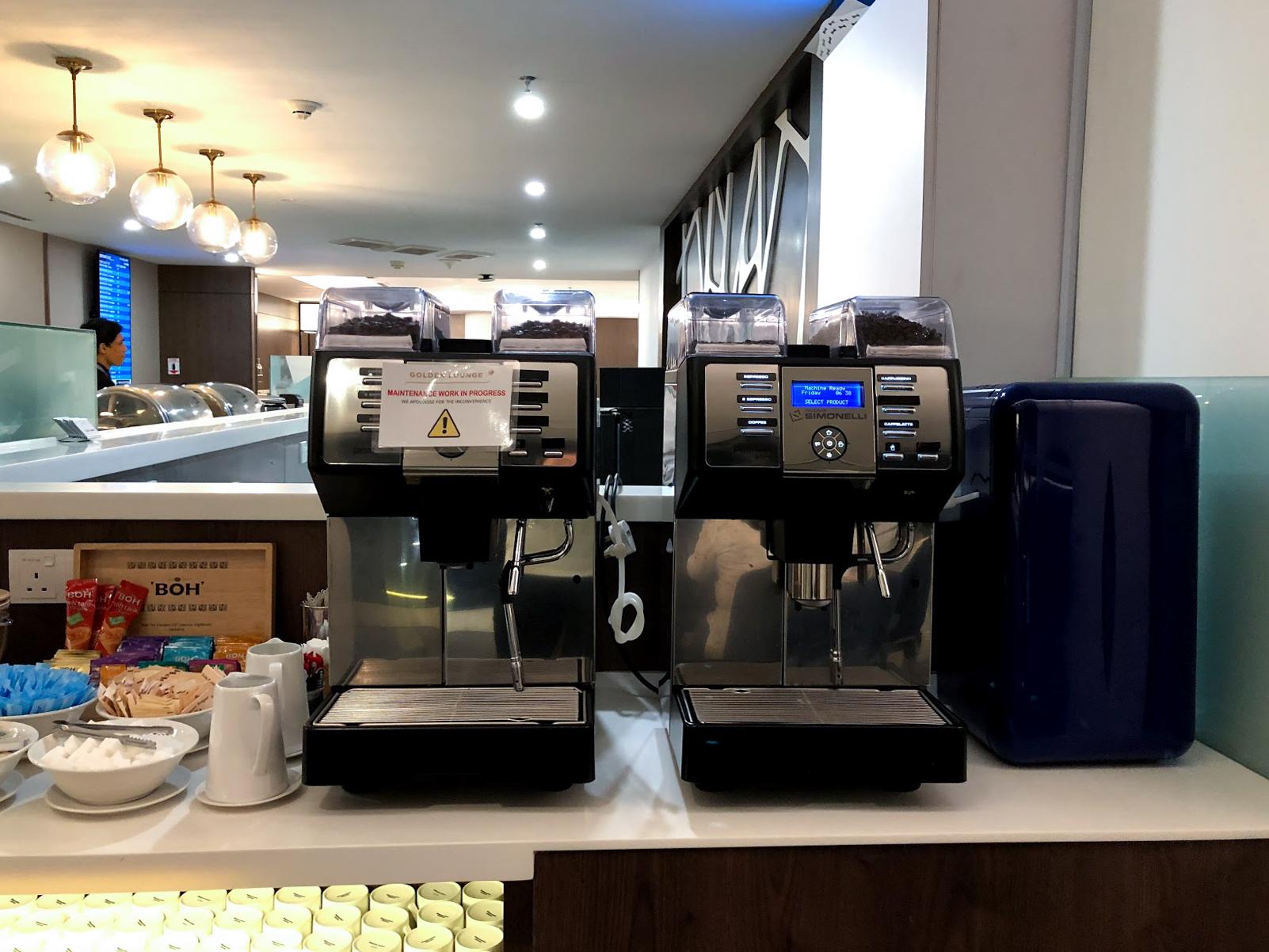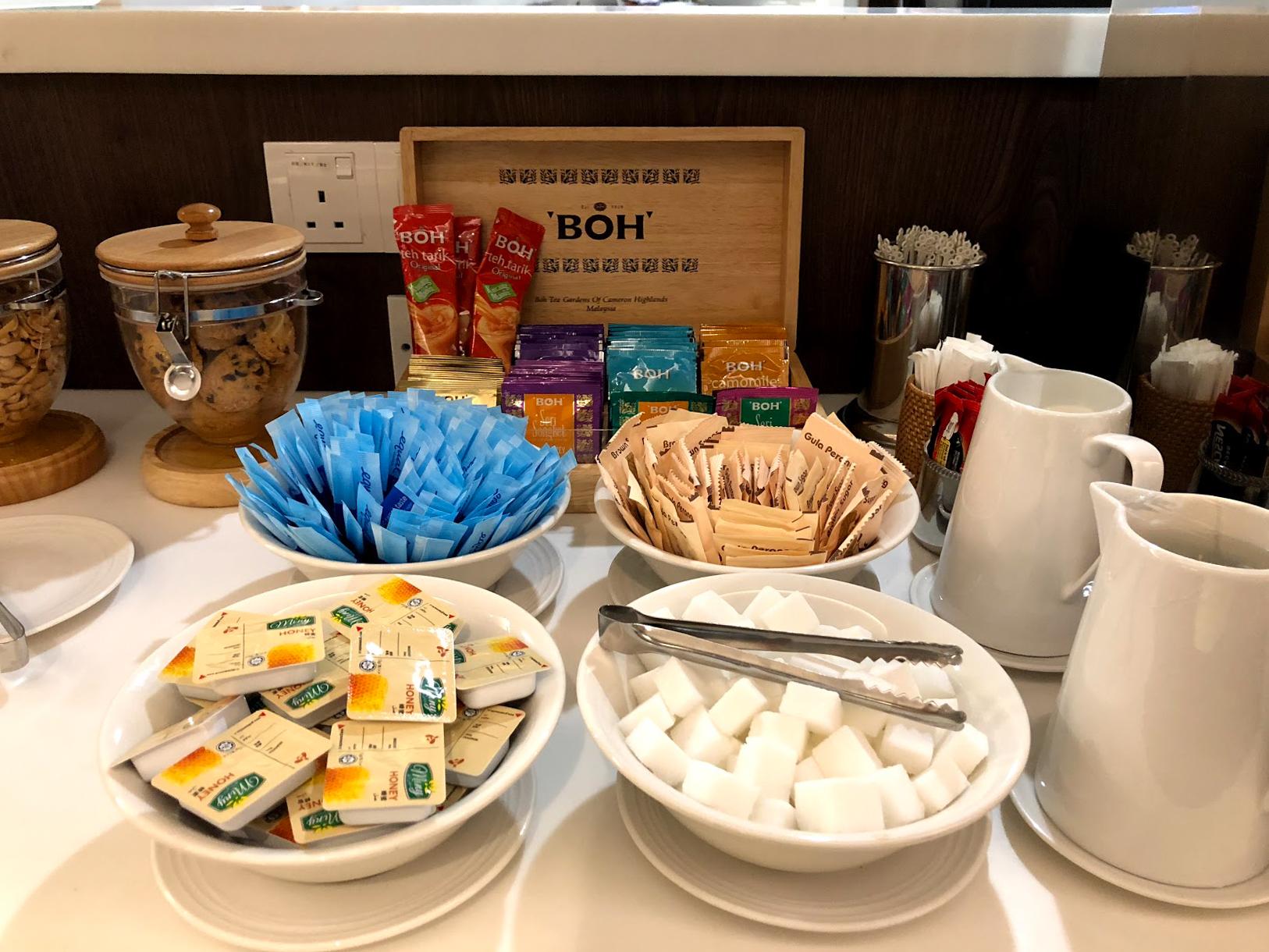 For chilled drinks, you can help yourself to fruit juice and sweetened iced tea on tap, which are located throughout the lounge.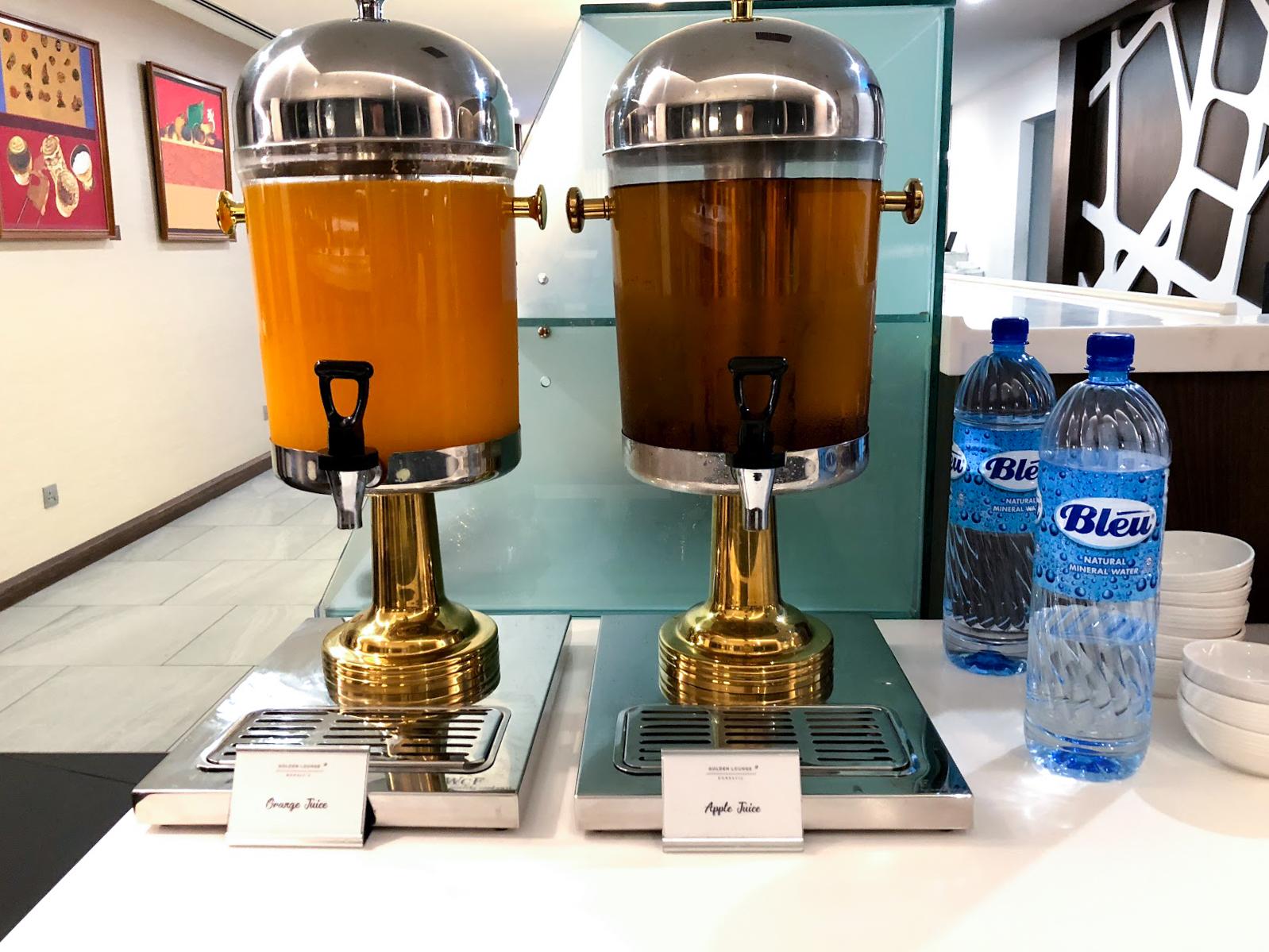 Lounge amenities
Wifi is broadcast throughout the lounge but came in at a rather sluggish 4 Mbps for both downloads and uploads. There is no business centre here, so BYO devices.
There are many power outlets dotted around the lounge but be mindful that some are 'international standard' and accept Australian plugs, while other older ones are 'local standard' and only accept UK-style plugs.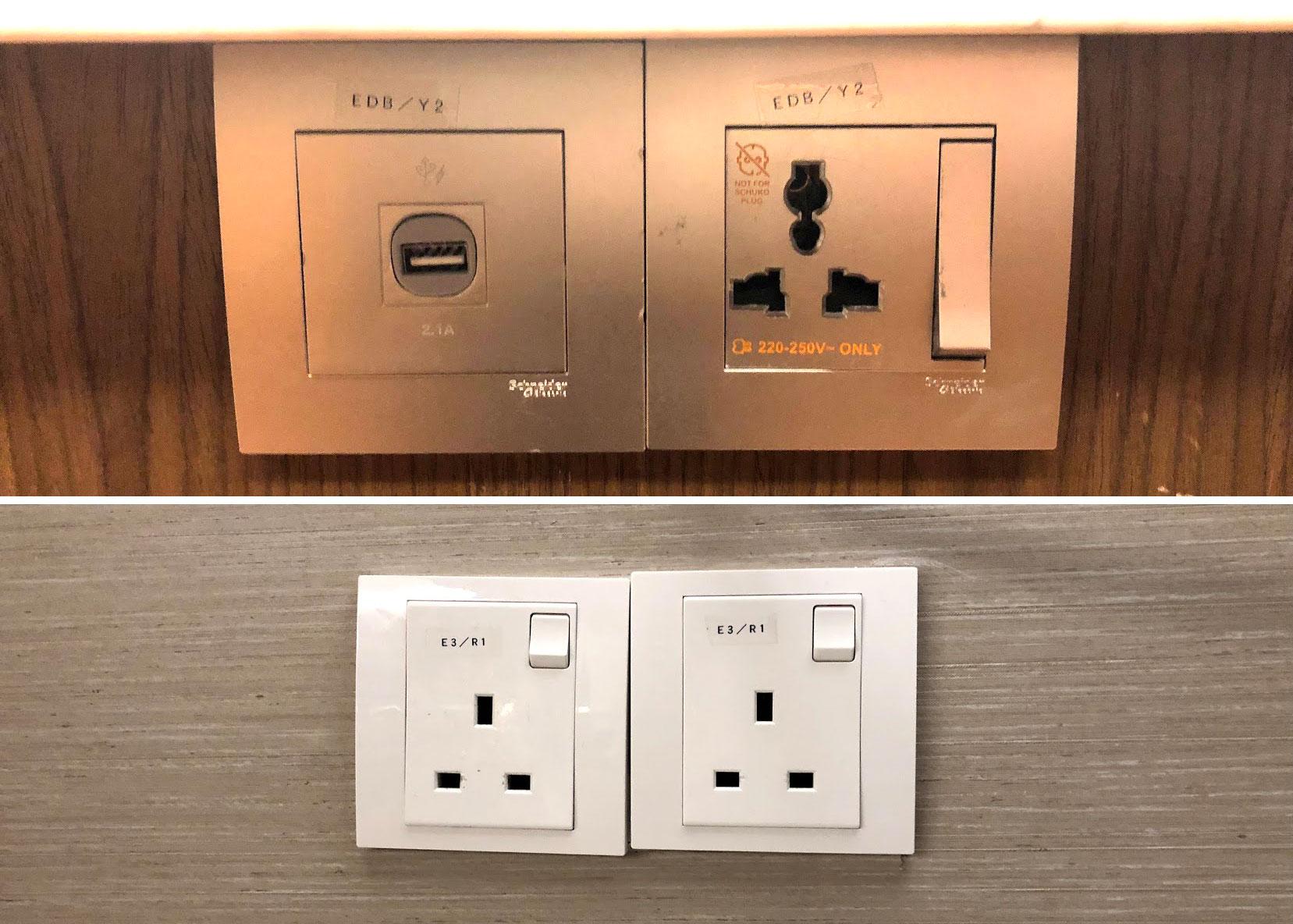 The well-appointed bathrooms are located directly opposite the noodle bar.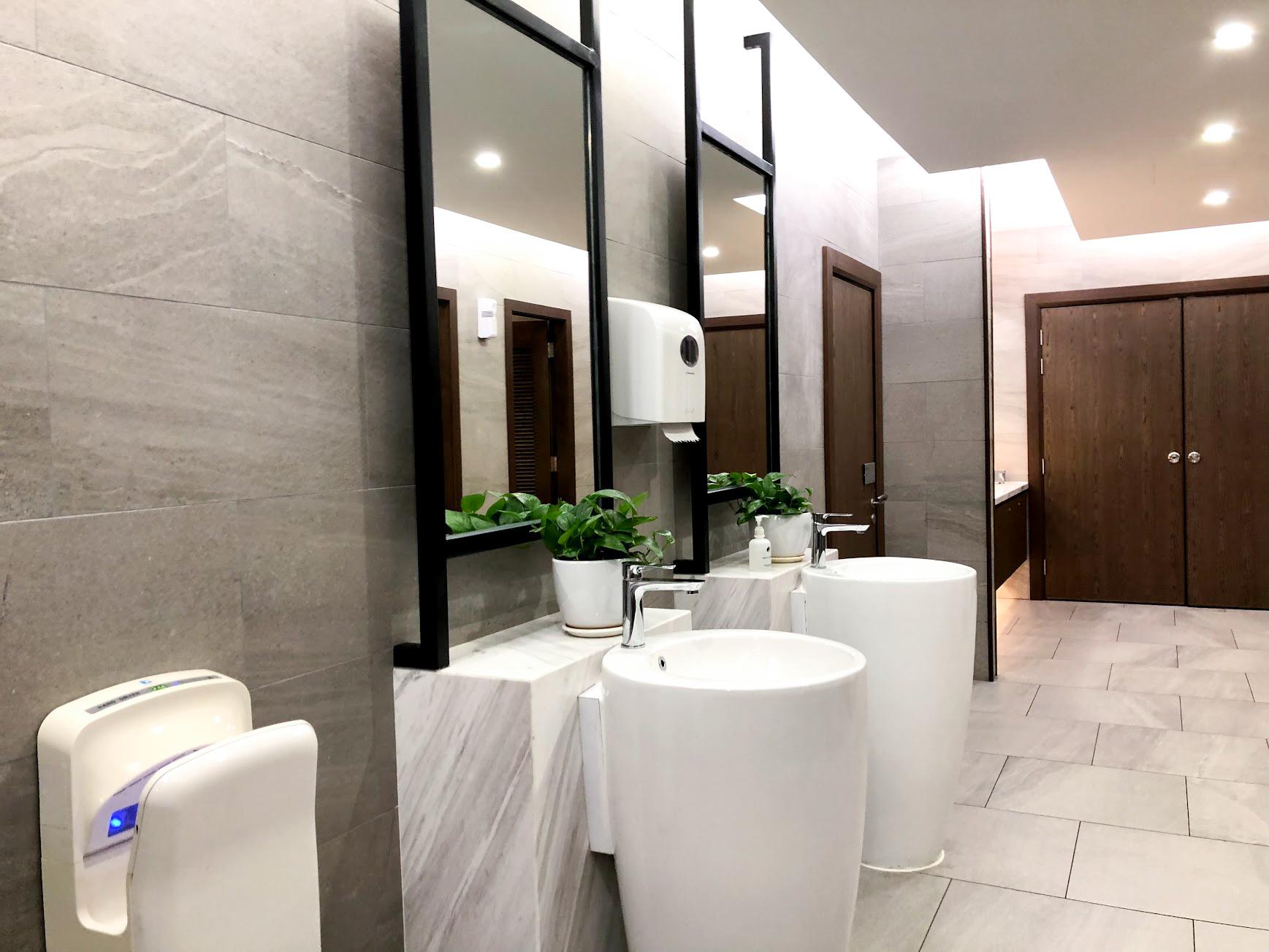 Lounge access options
By class of travel: Business Class on Malaysia Airlines domestic flights
By Malaysia Airlines frequent flyer status: Malaysia Airlines Enrich Gold or higher
By alliance frequent flyer status: oneworld Sapphire (Qantas Gold equivalent) or higher
By day pass: RM130/65 (~AU$44/$22) for adults/children if purchased online through your booking; single-entry; no guests allowed
Malaysia Airlines flight reviews
Summing up: my take
Overall, this is a perfectly reasonable lounge for domestic travellers, given flights within Malaysia rarely exceed three hours.
The noodle bar and hot buffet provide multiple healthy options for breakfast, and the food selection is even more varied during lunch and dinner.
The main downsides are lack of any alcohol and the slow wifi.
However, all in all, there are plenty of areas to sit and recharge, work or socialise, and most travellers should find this lounge to be a comfortable place to rest for an hour or two before their flight.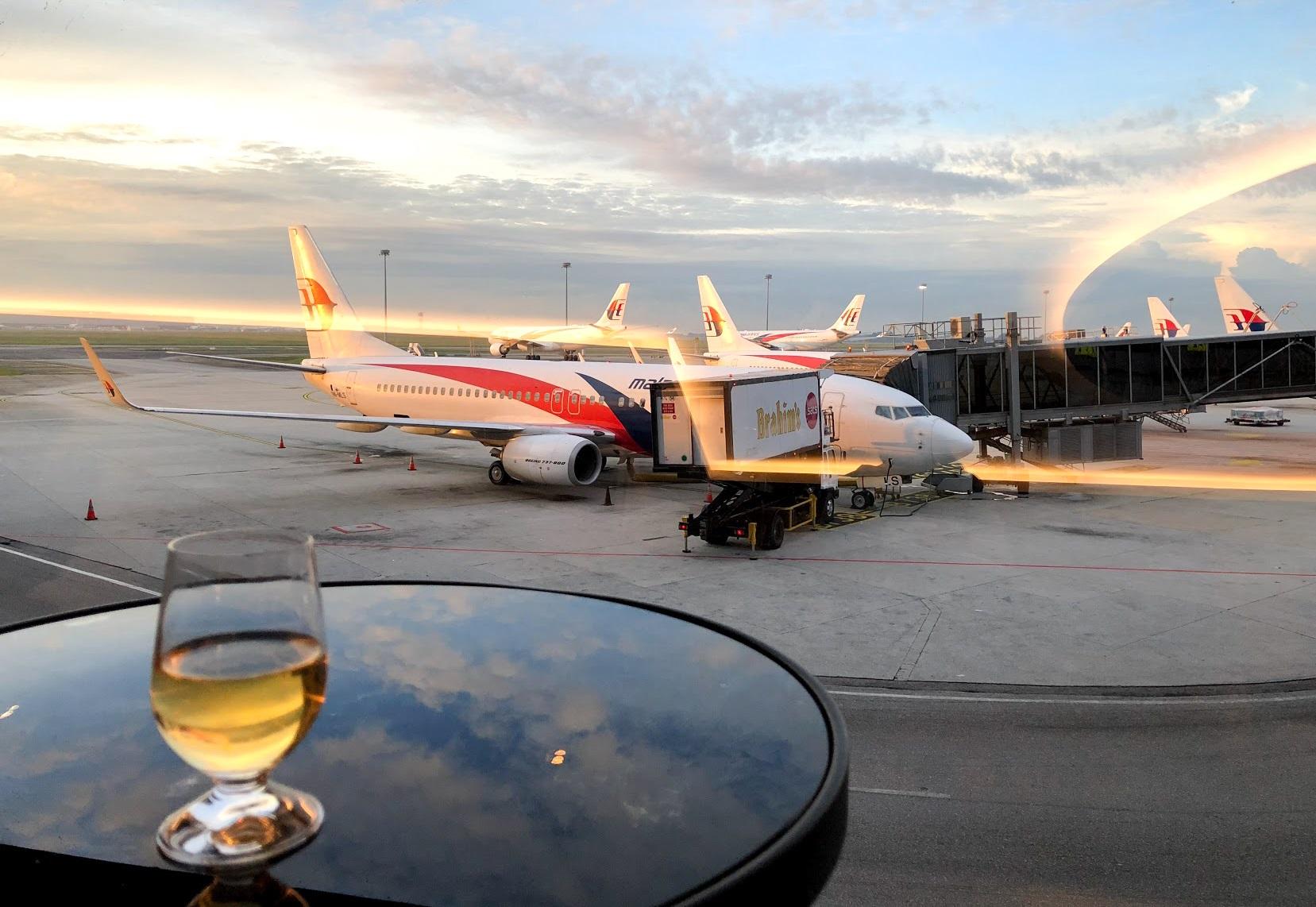 Malaysia Airlines Domestic Golden Lounge Kuala Lumpur overview
was last modified:
March 18th, 2022
by