While I was transiting in Kuala Lumpur International Airport before my flight to Singapore, I took the opportunity to check out some nearby lounges.
The Plaza Premium Lounge in the Satellite Building of KLIA is the natural choice for most travellers who have a Priority Pass membership or American Express Platinum Card.
I have now visited this lounge twice – once several years ago in the early morning and now this occasion in the early evening. Both times, I left with the same impression – this lounge is always insanely packed.
Lounge Location and Details
The Plaza Premium lounge is located on the Mezzanine floor in the Satellite Building of KLIA. This is also where most of the other international airline lounges can be found. The Satellite Building has all the C-gates and is where most international flights depart from.
Once you have checked-in and cleared immigration in the main terminal, head to the signs for C1-C37. This leads to a platform where you board the shuttle service to the Satellite Building.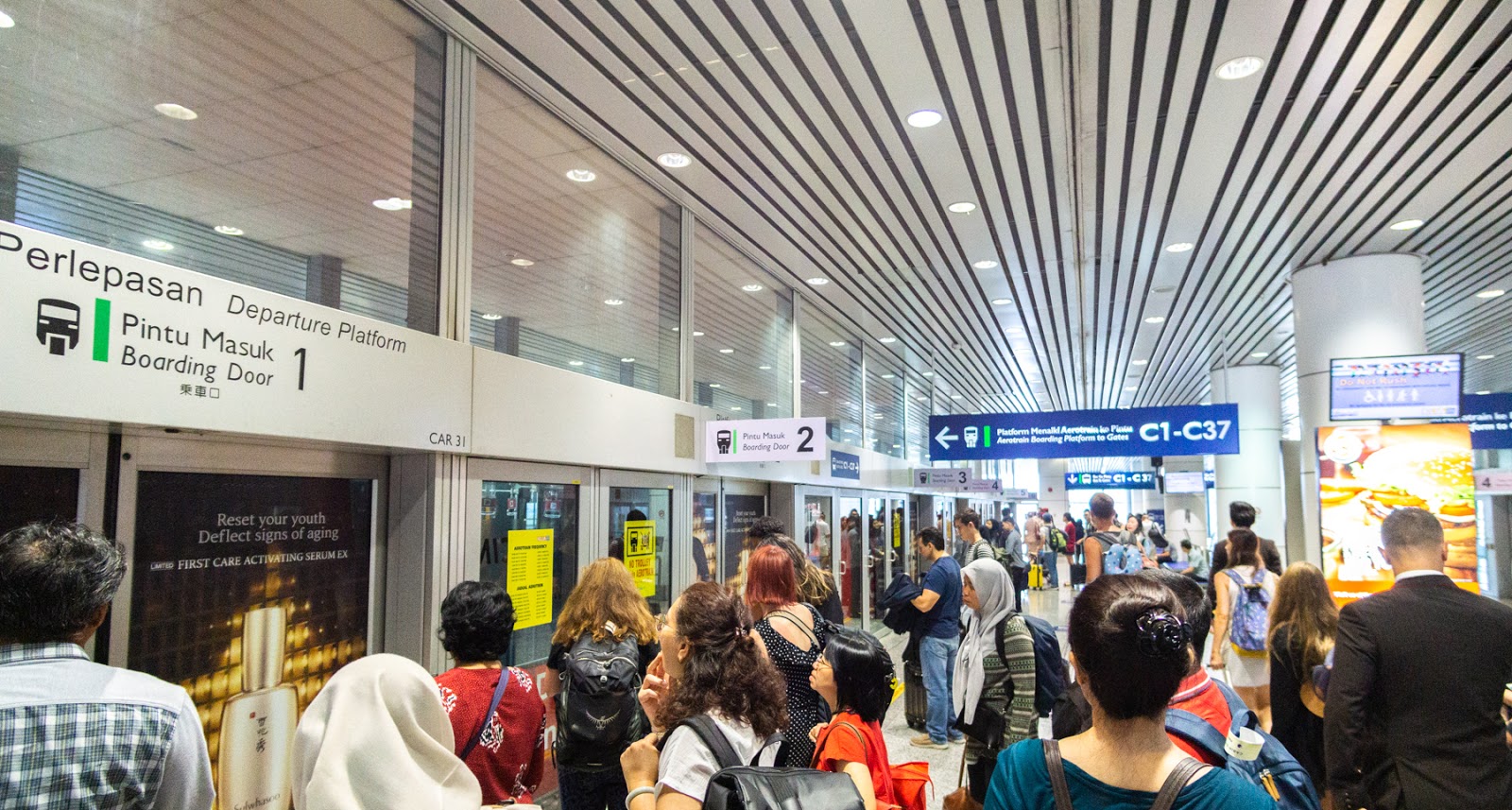 Follow the signs for airline lounges, which is on the Mezzanine level. To help you get orientated, once you leave the shuttle, head straight forward and look left. There should be a Kashkha shop on the corner. Take the lift or escalator up one level to the Boost Juice shop.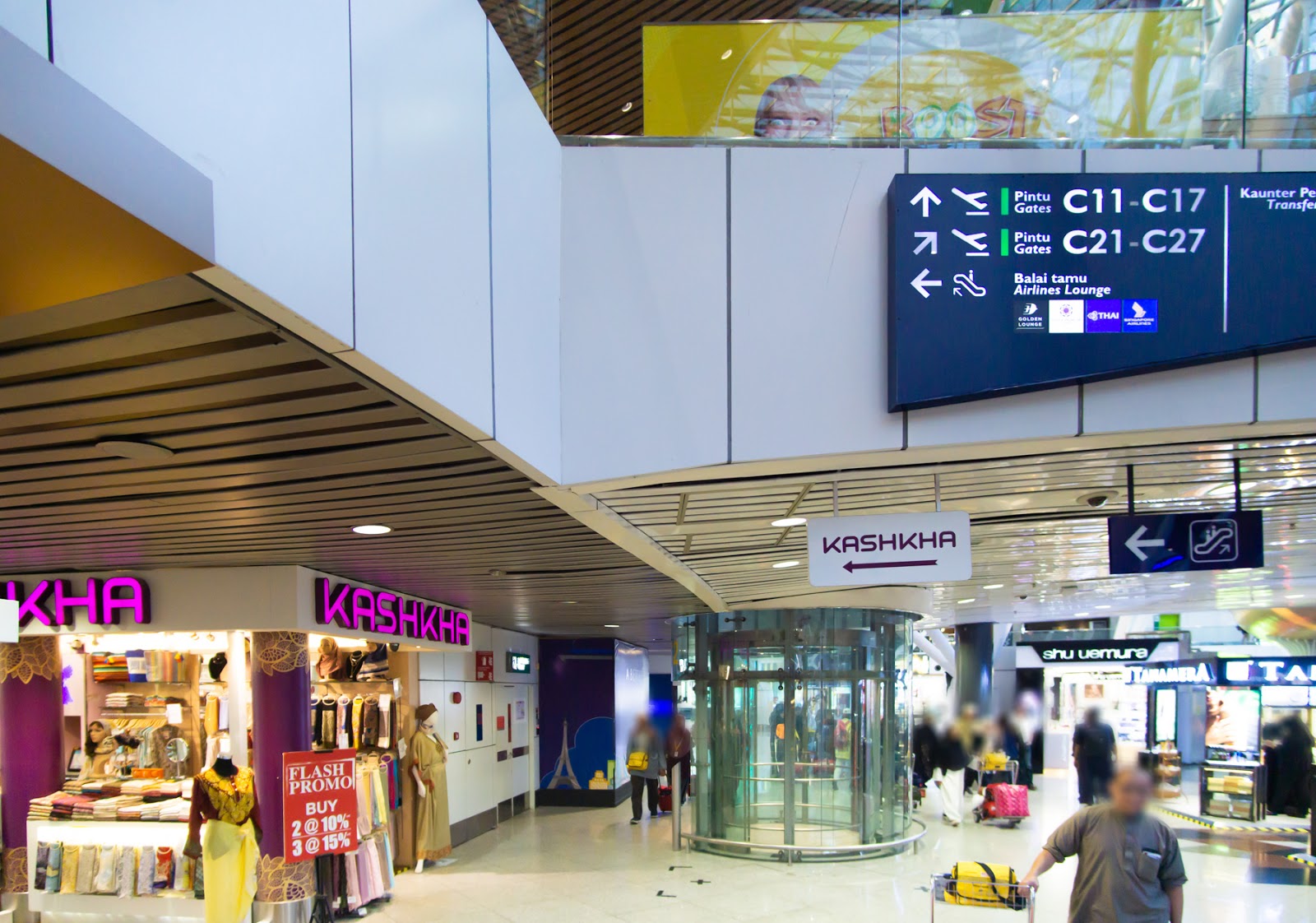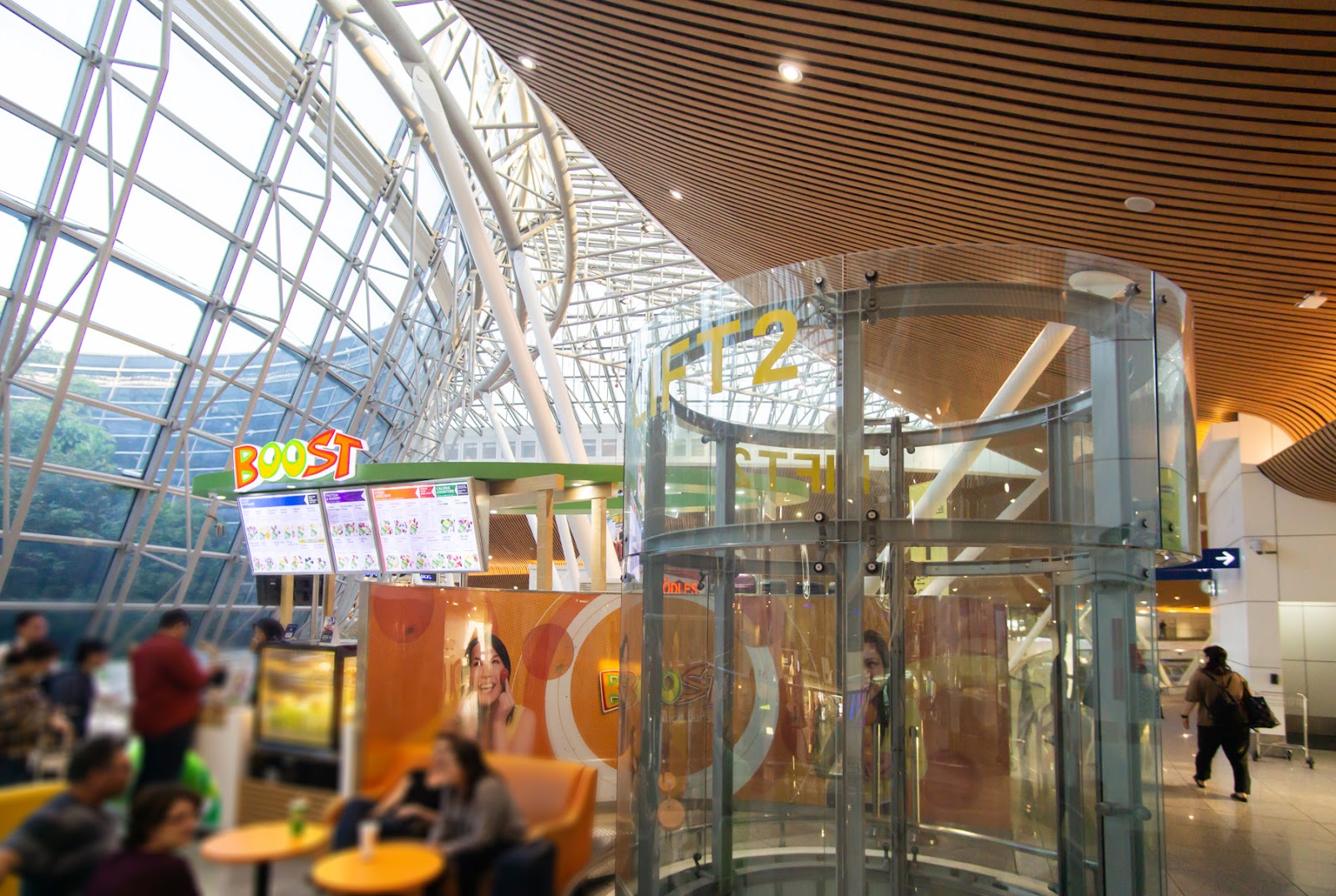 The Plaza Premium Lounge is one of the first you will spot on the outer wall.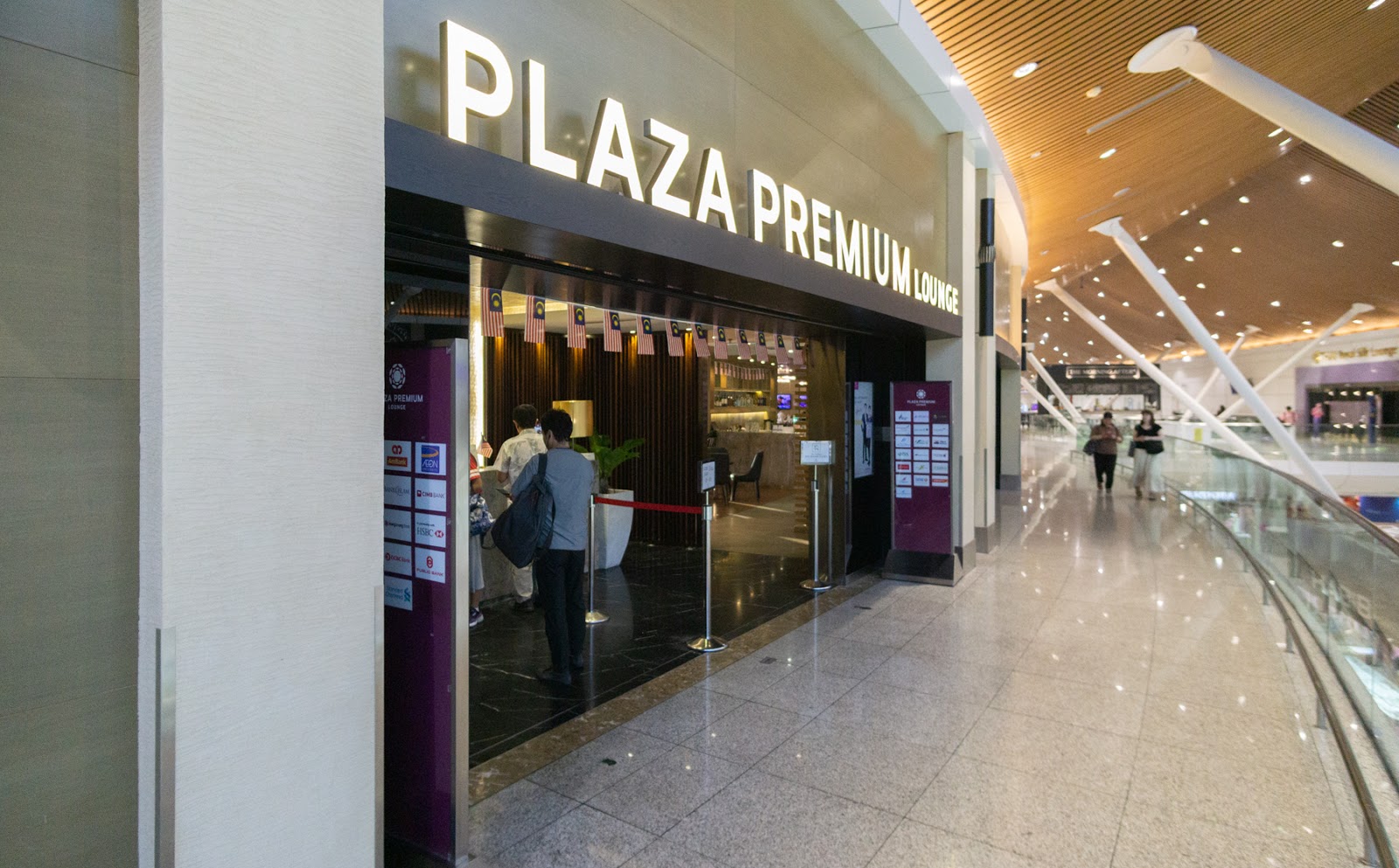 There are two separate lines for entry: one for lounge memberships and one for eligible airline business class passengers and elite status.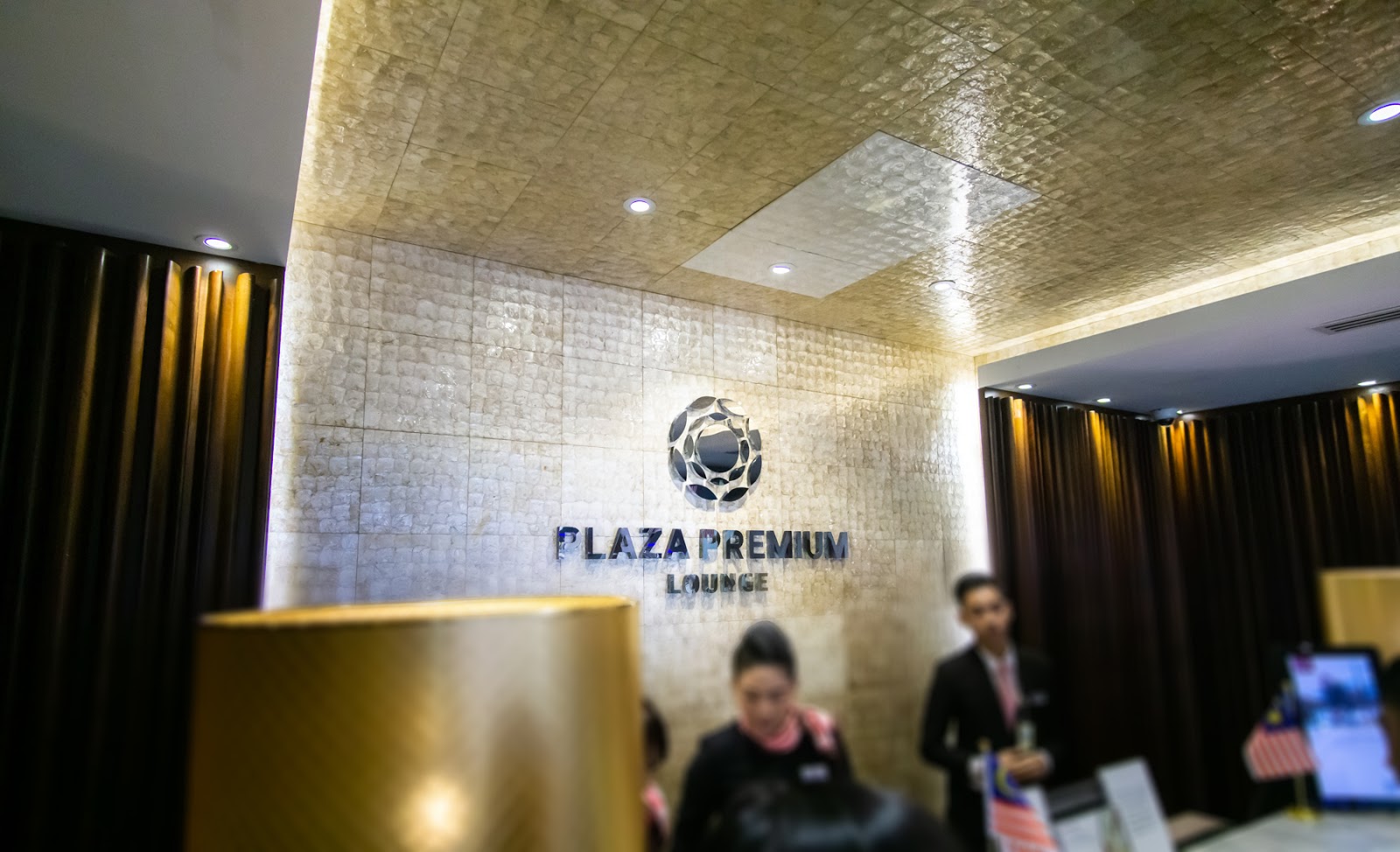 The Plaza Premium Lounge is open 24/7.
Lounge layout and seating
As you walk into the lounge, you will end up in the far left side which has the buffet, dining tables and the bar.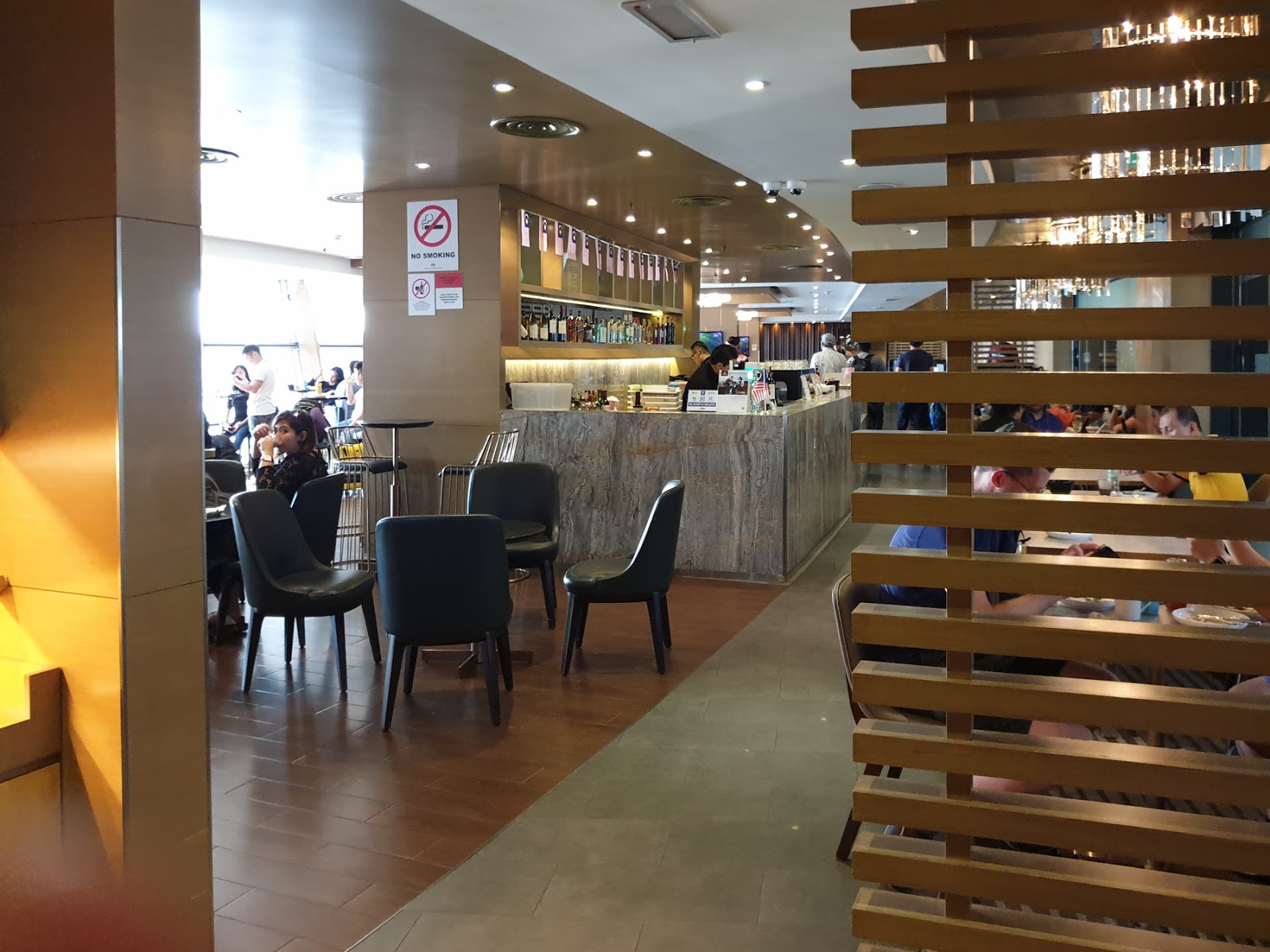 Turn left again and all the food is found in this little space. The boxed design means it gets crowded easily.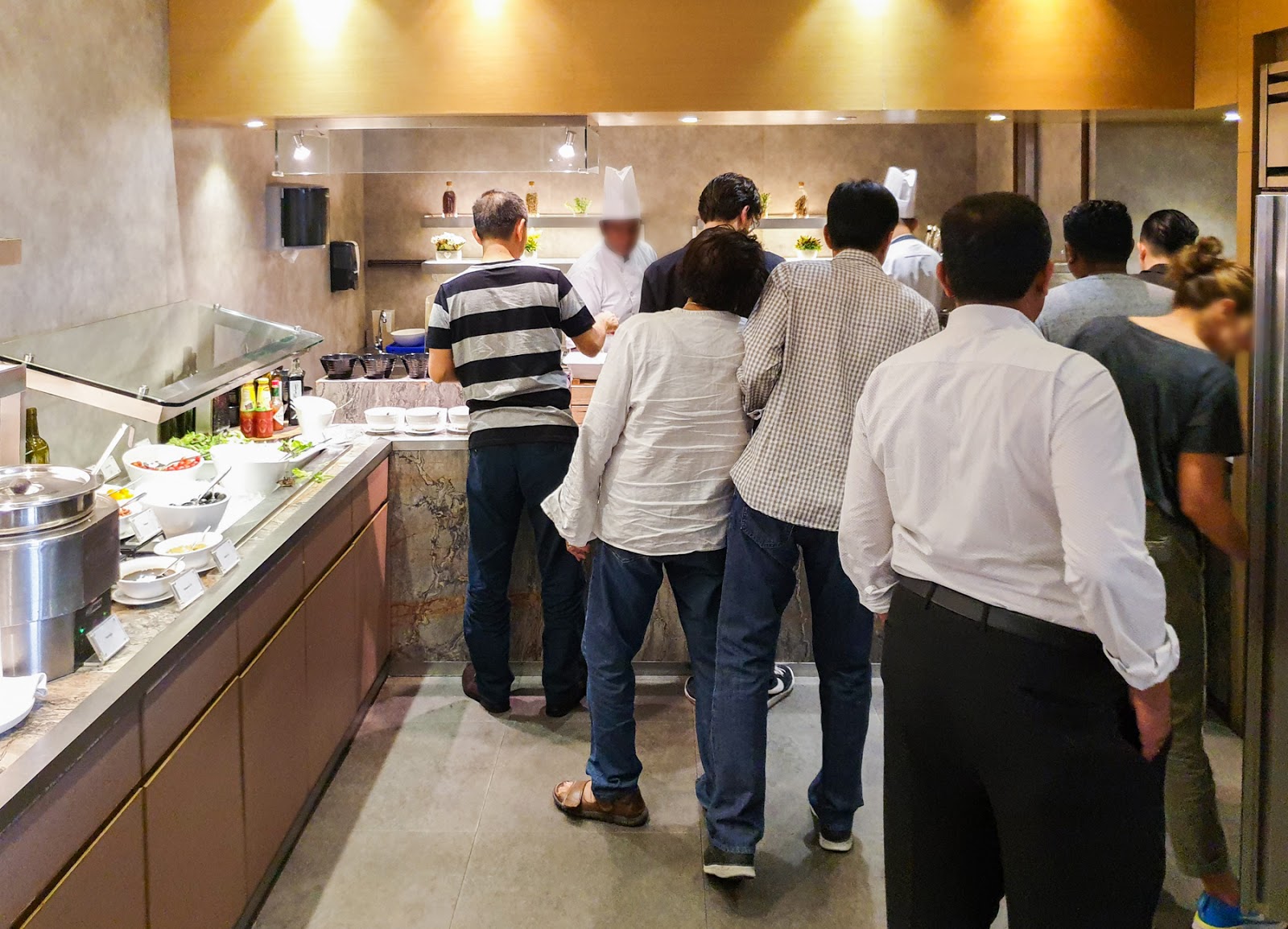 The windows are easily the best asset of this lounge, which stretches down the whole length of the room. The bar tables would be a nice place to sit and enjoy a bite.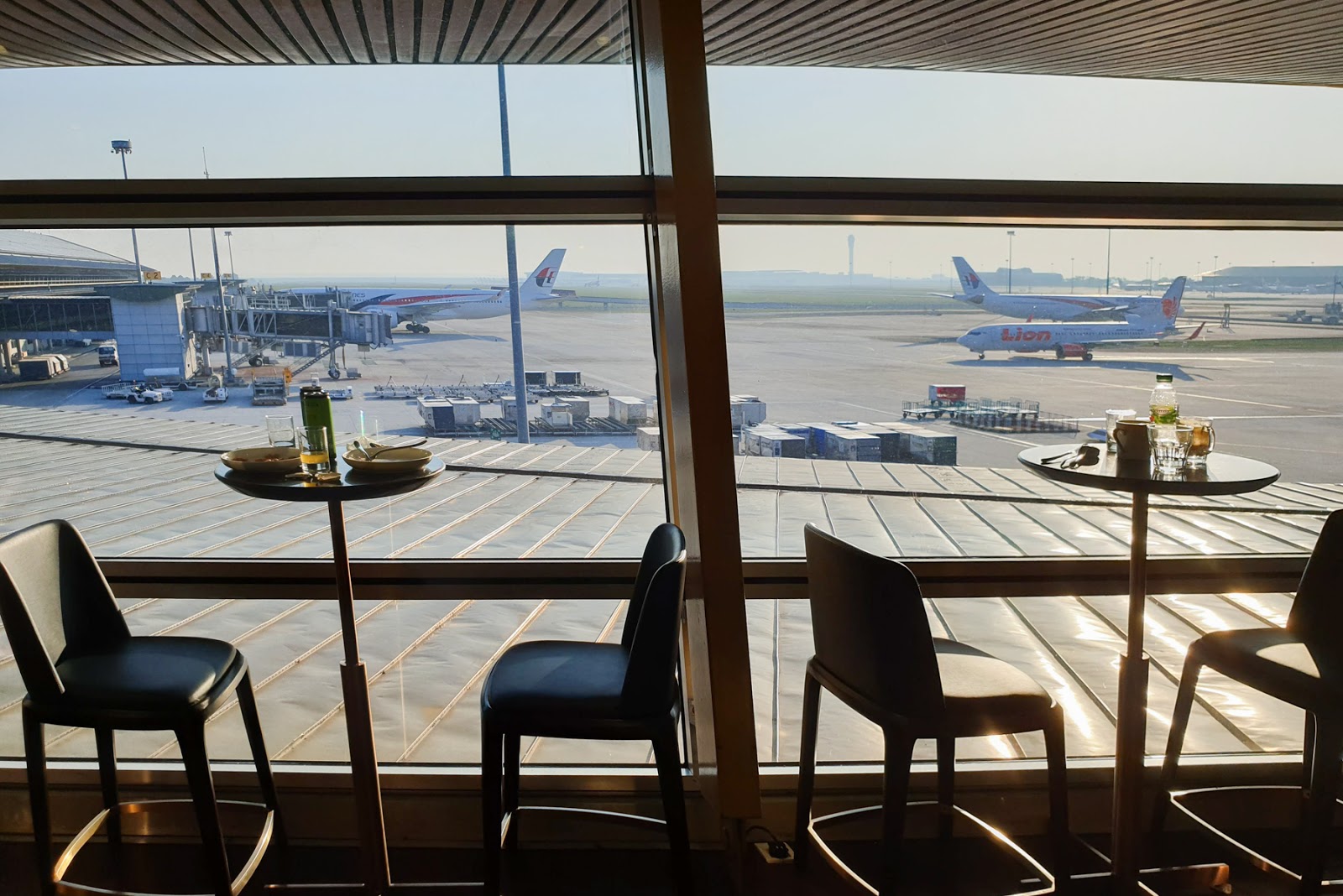 The rest of the lounge is split into two main seating areas. These have Plaza Premium's signature chandeliers and seats with the power ports in between.

There are eight of these private solo working booths throughout the main seating area. You need to be quick to snag one! They have a reading light and power port.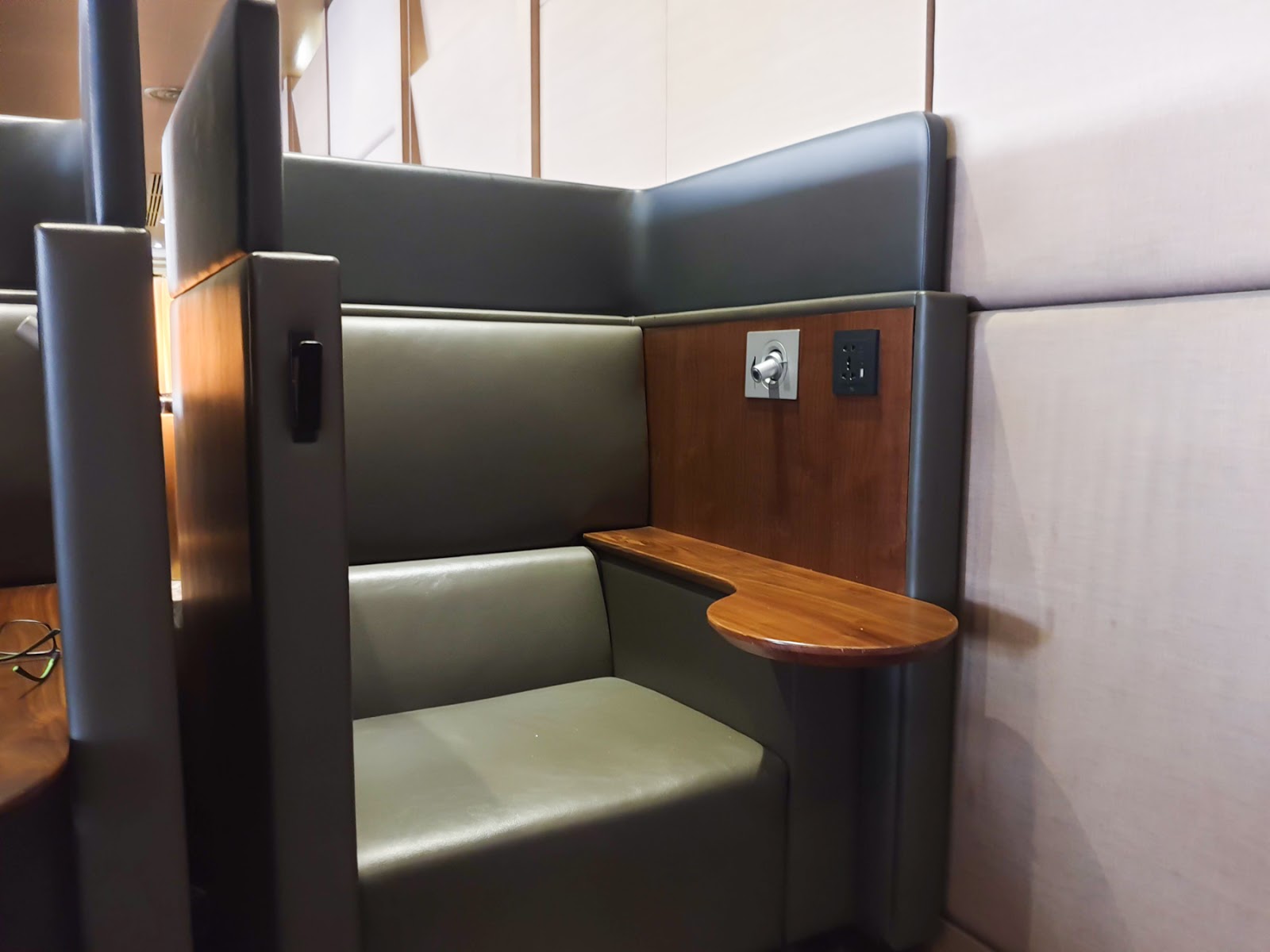 Along the internal-facing side are dining tables and the bar.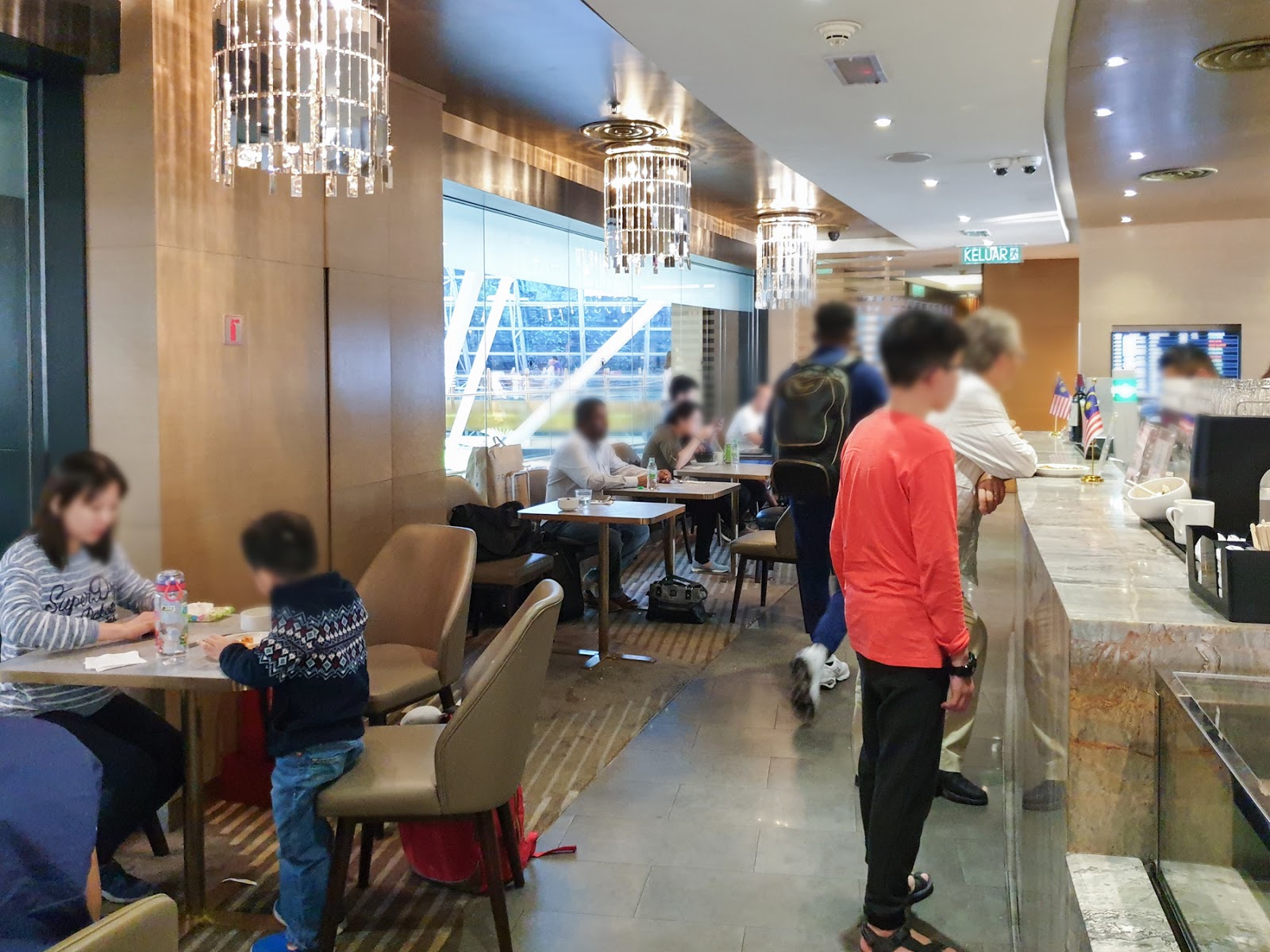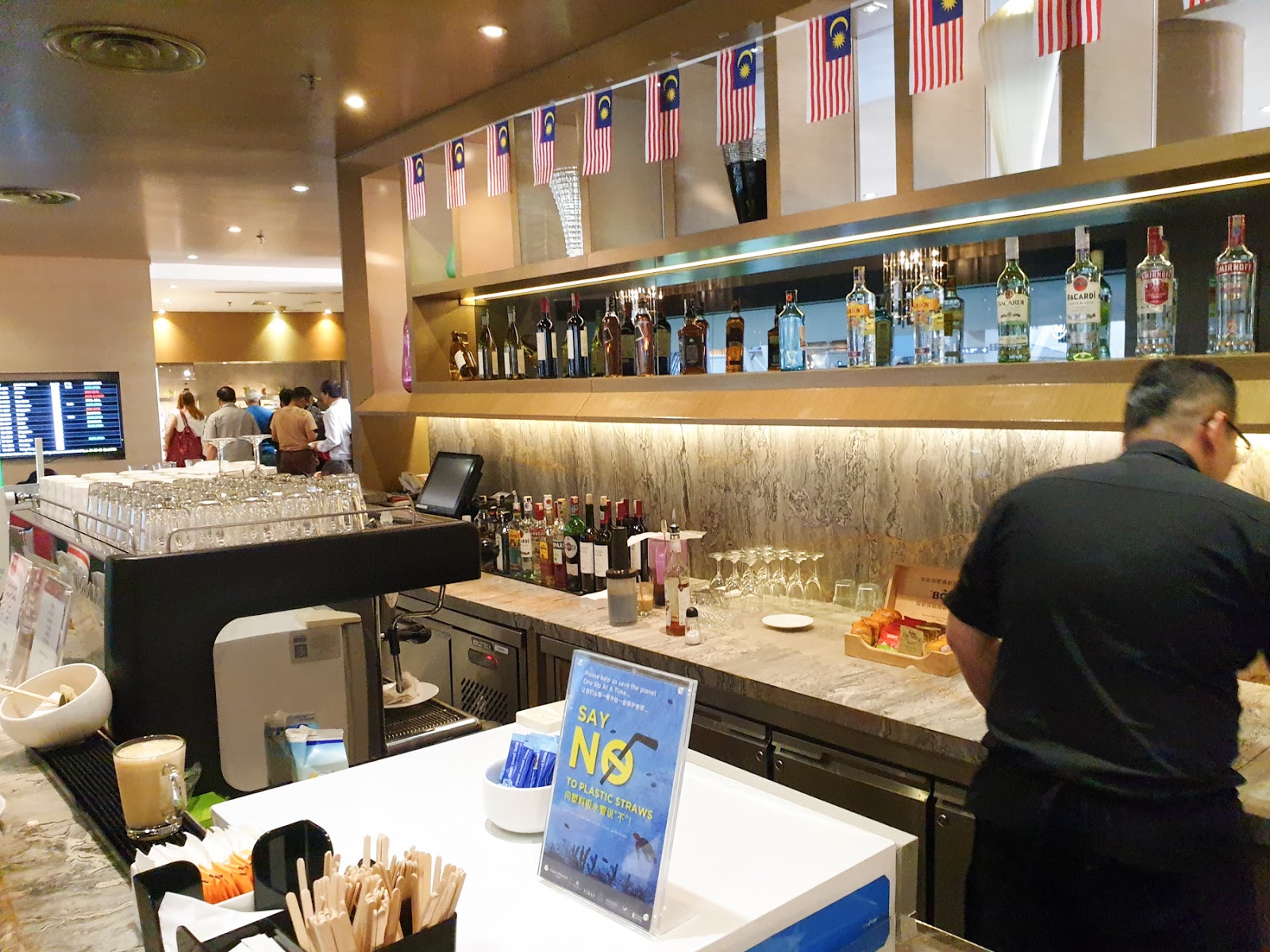 Showers and toilets are located further down the corridor. Unfortunately, because they were both so busy, I couldn't get any pictures of them. The bathrooms are rather small but have all the essentials you need.
Food and Drink
A pop-up station was serving chef-cooked pancakes with condiments when I first entered the lounge. This finished just before 6pm though.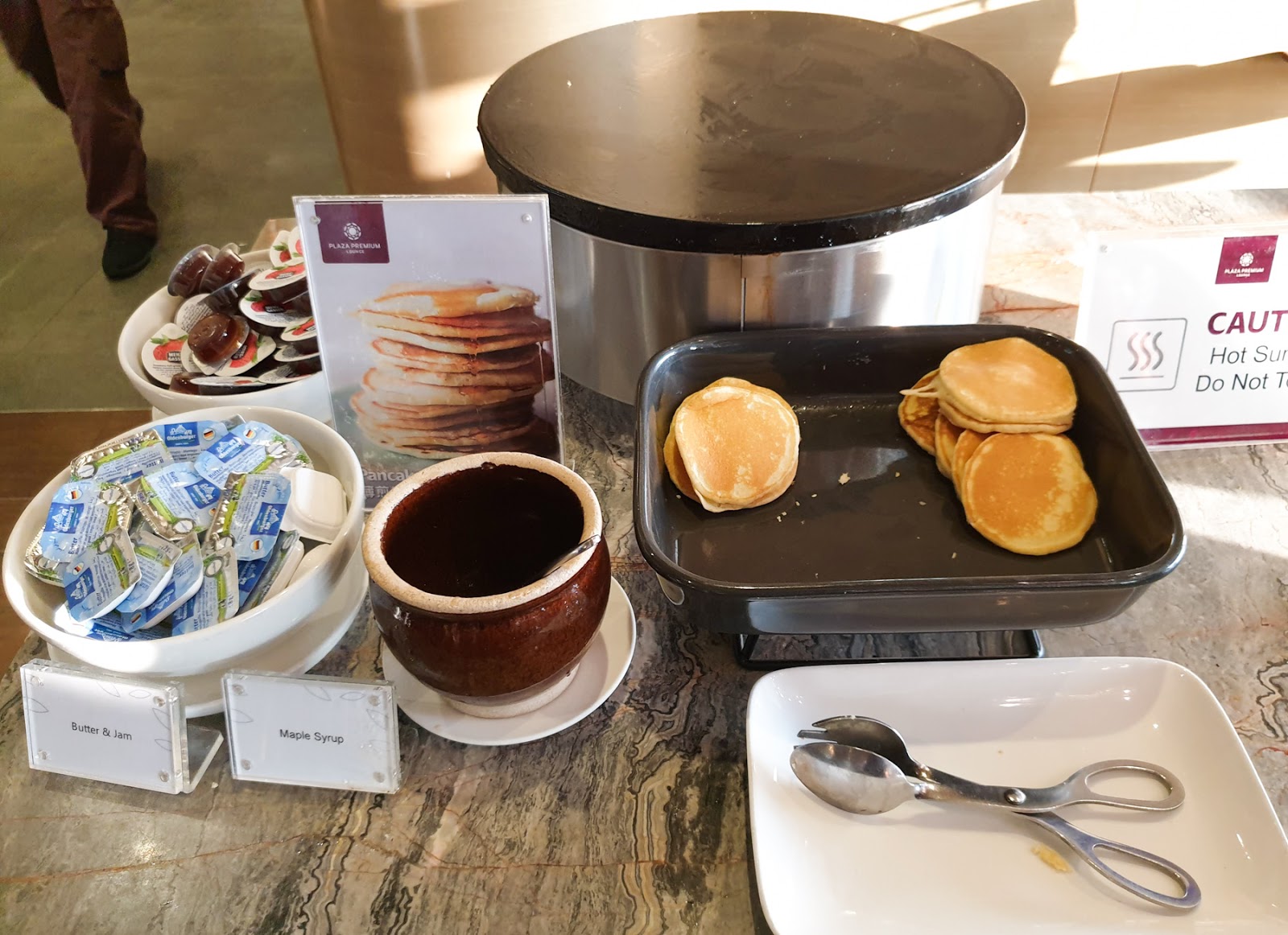 Inside the 'food nook', highlights include the noodle counter where chefs will freshly blanch a pot of noodles for you to mix in the bowl of veggies with your preferred seasonings.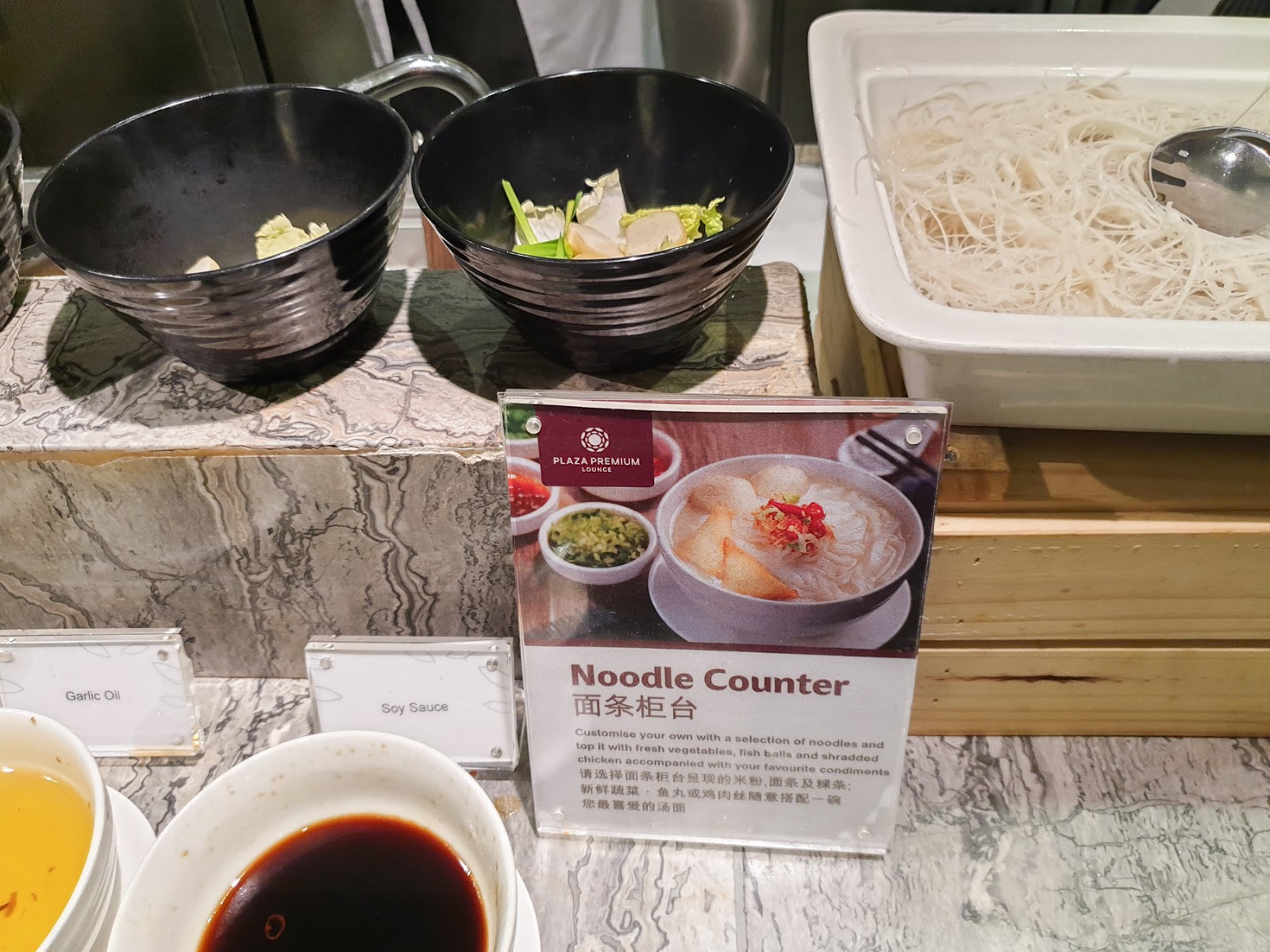 There's also a DIY porridge station with various condiments.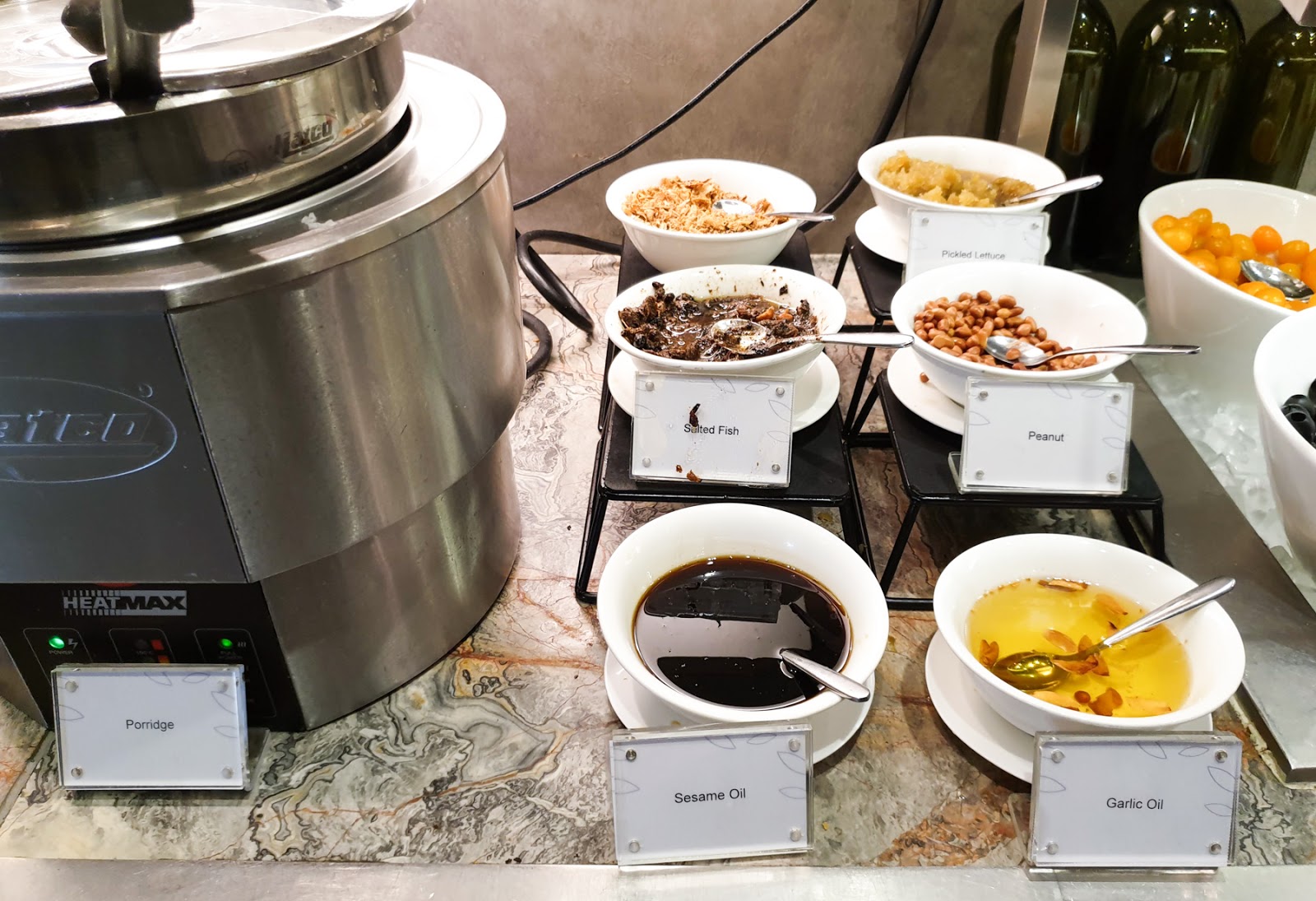 There are four main hot dishes: chicken curry with brown rice, penne pasta and stir-fried vegetables.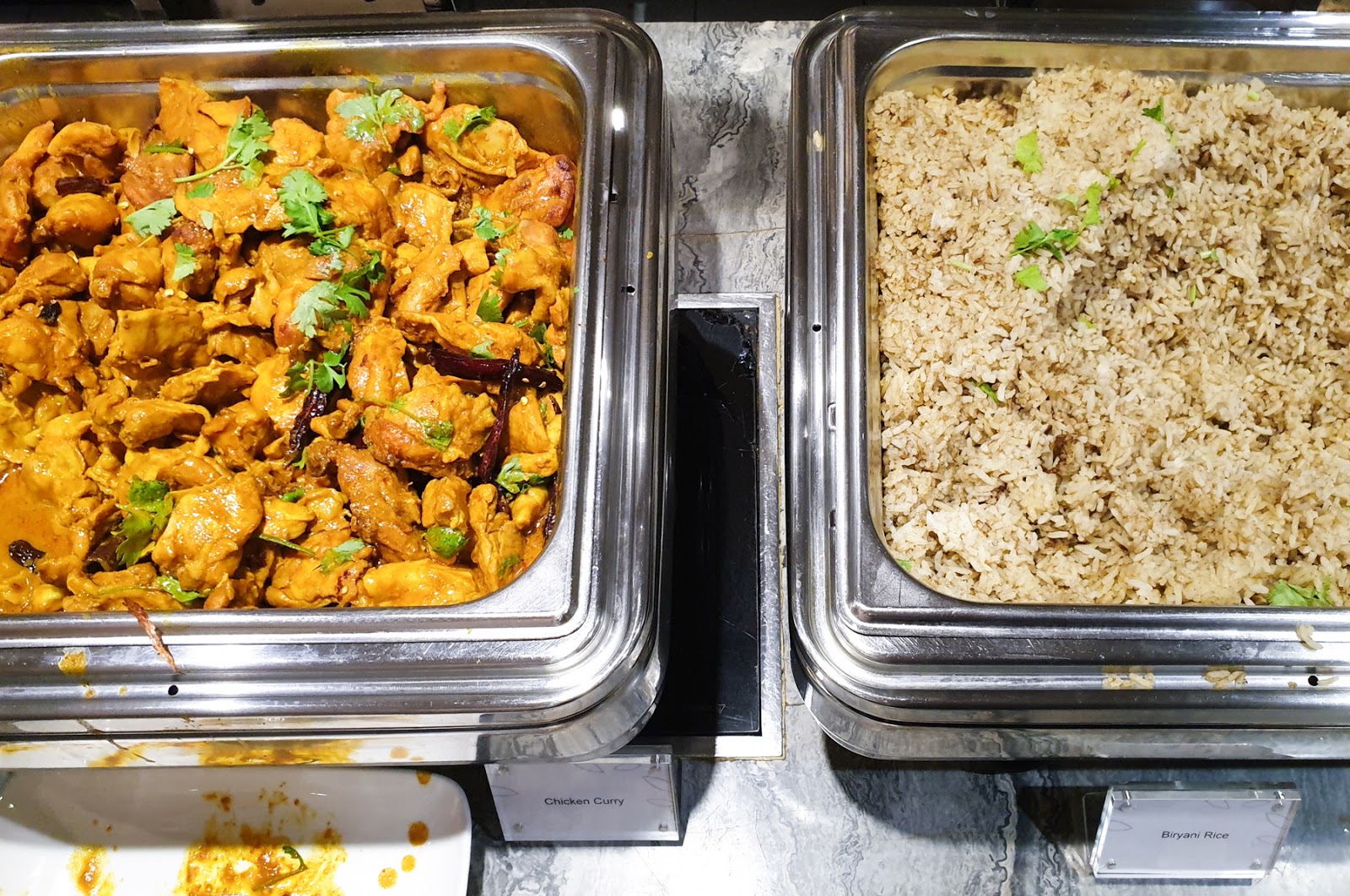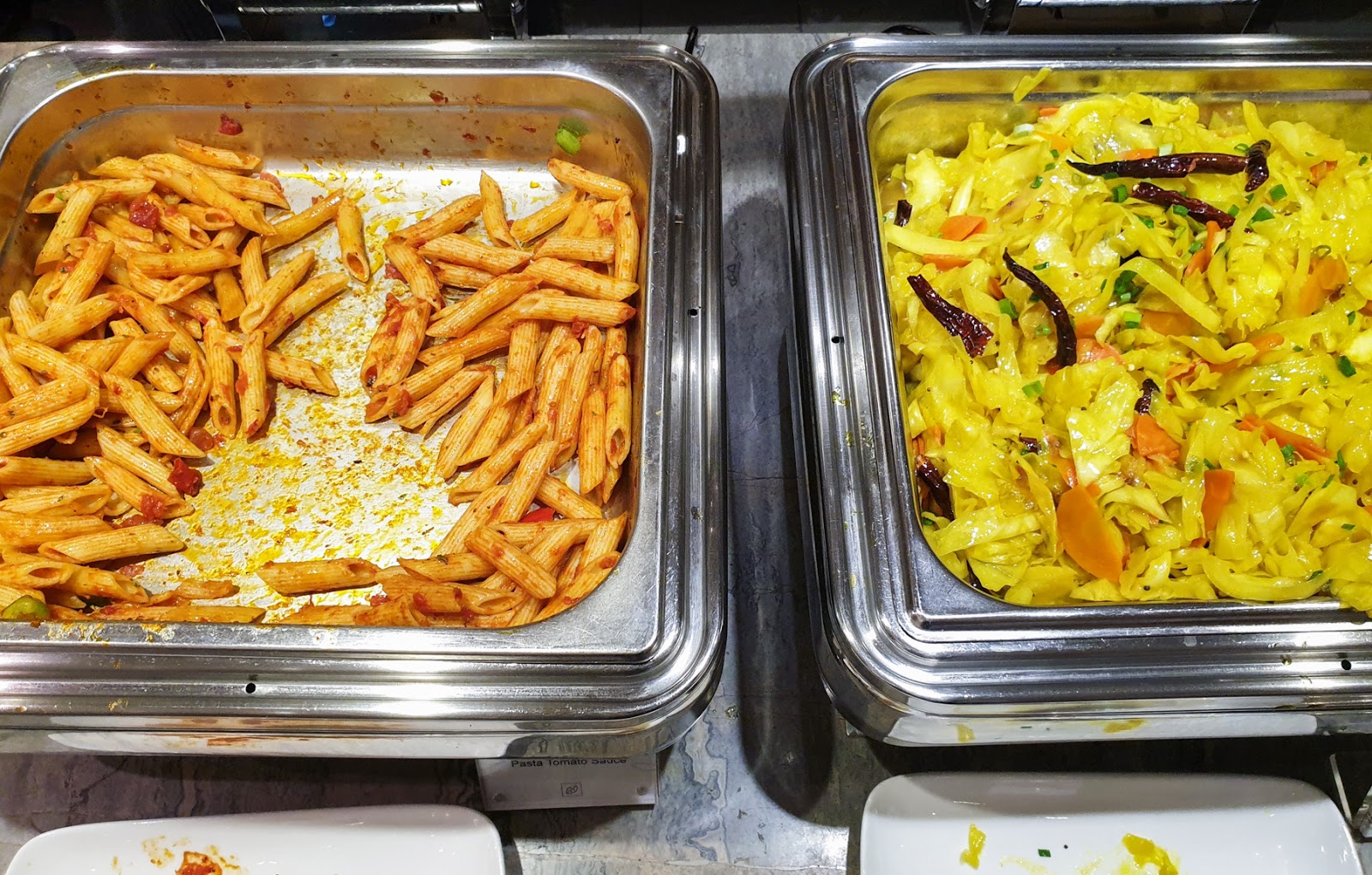 On the ice are some basic fruits and cold salads.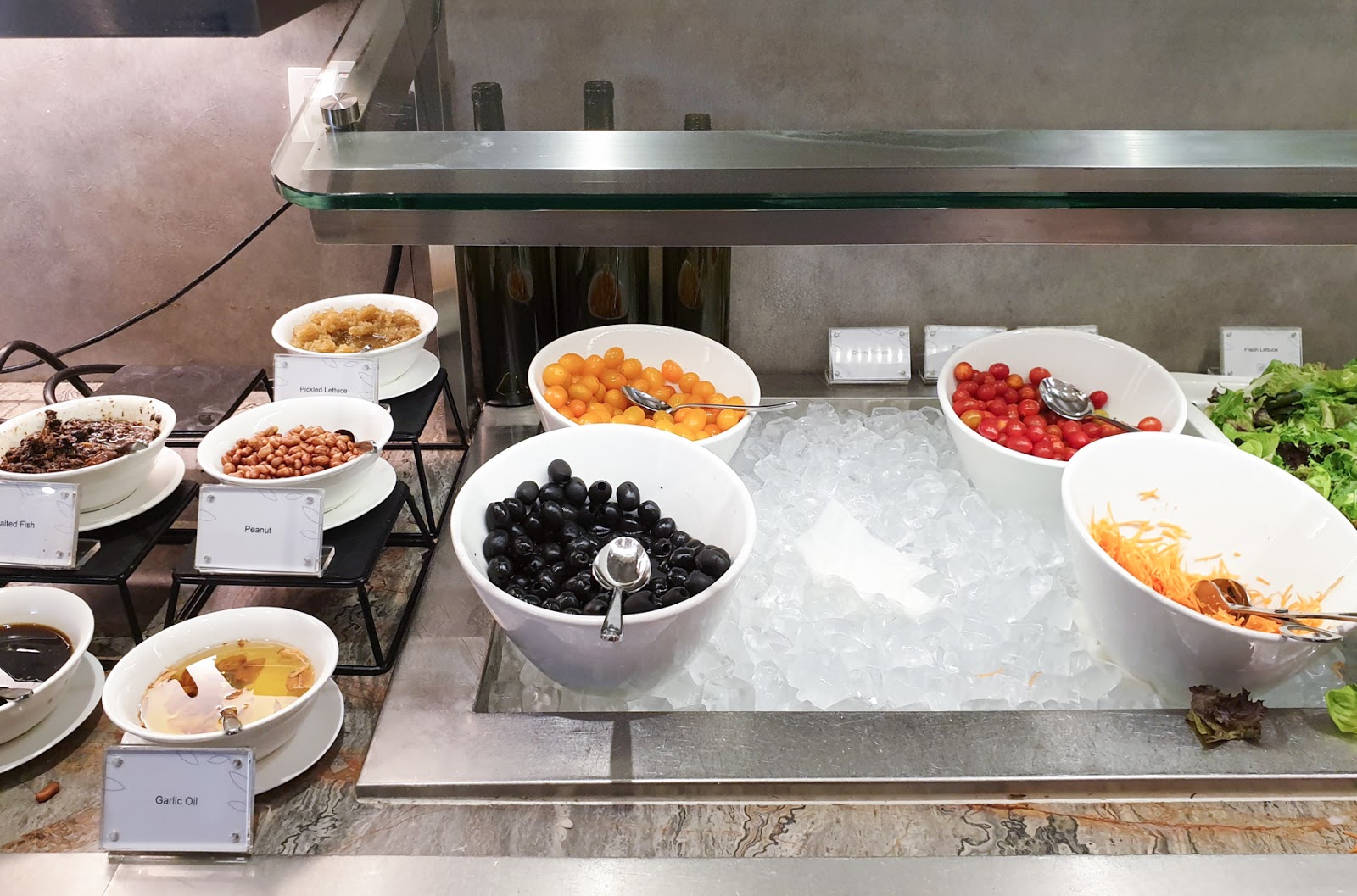 Sweets are actually located next to the bar, in a cabinet where a staff member will serve whatever slices you want.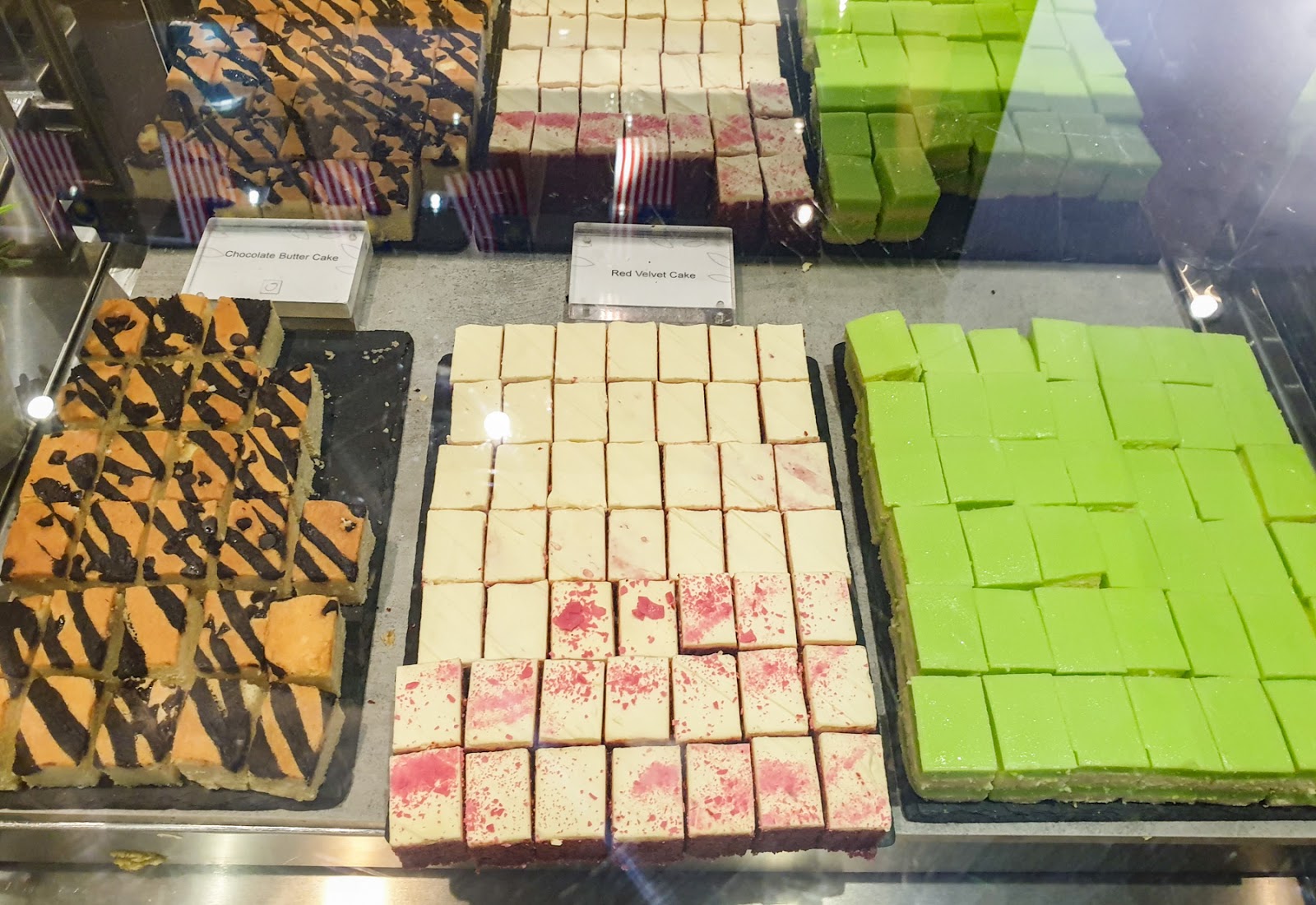 Here is the beverage menu – alcoholic drinks are chargeable except for Carlsberg beer.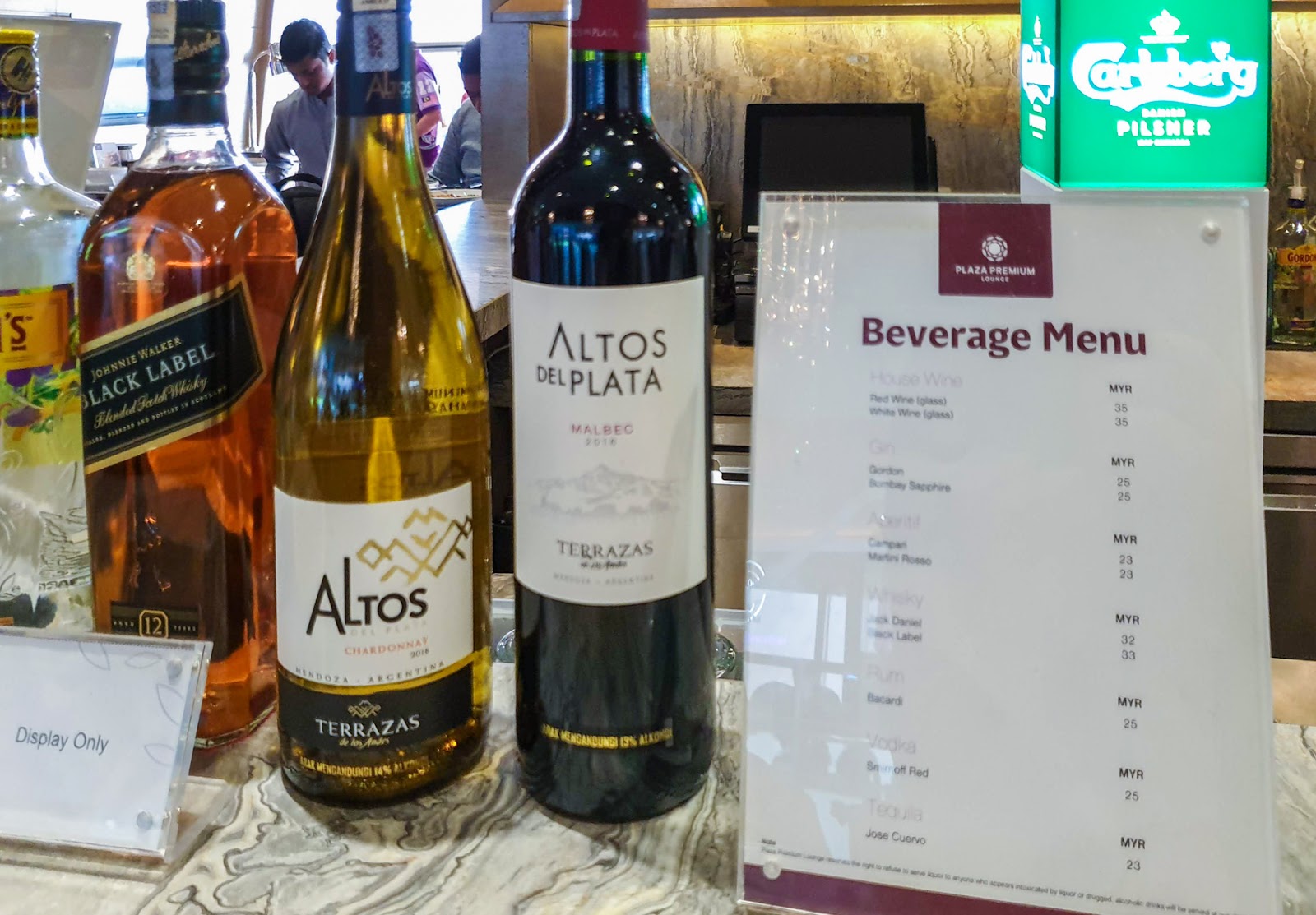 Teas and barista-made coffee is served from the bar as well, which is a nice touch.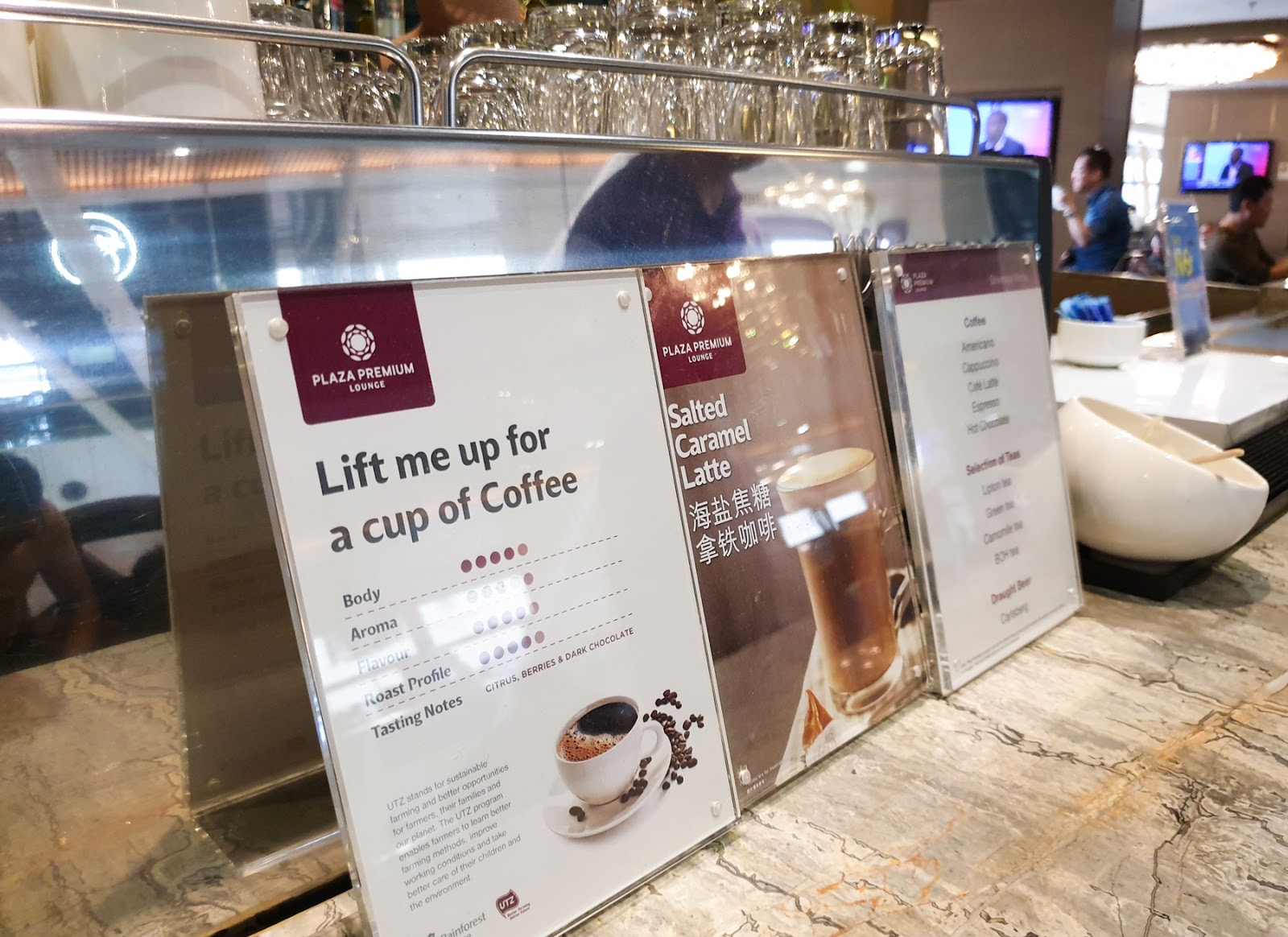 Soft drinks are complimentary of course, and you will find them back in the buffet area. Like the Plaza Premium Singapore Lounge, I recommend the unsweetened canned green tea drink.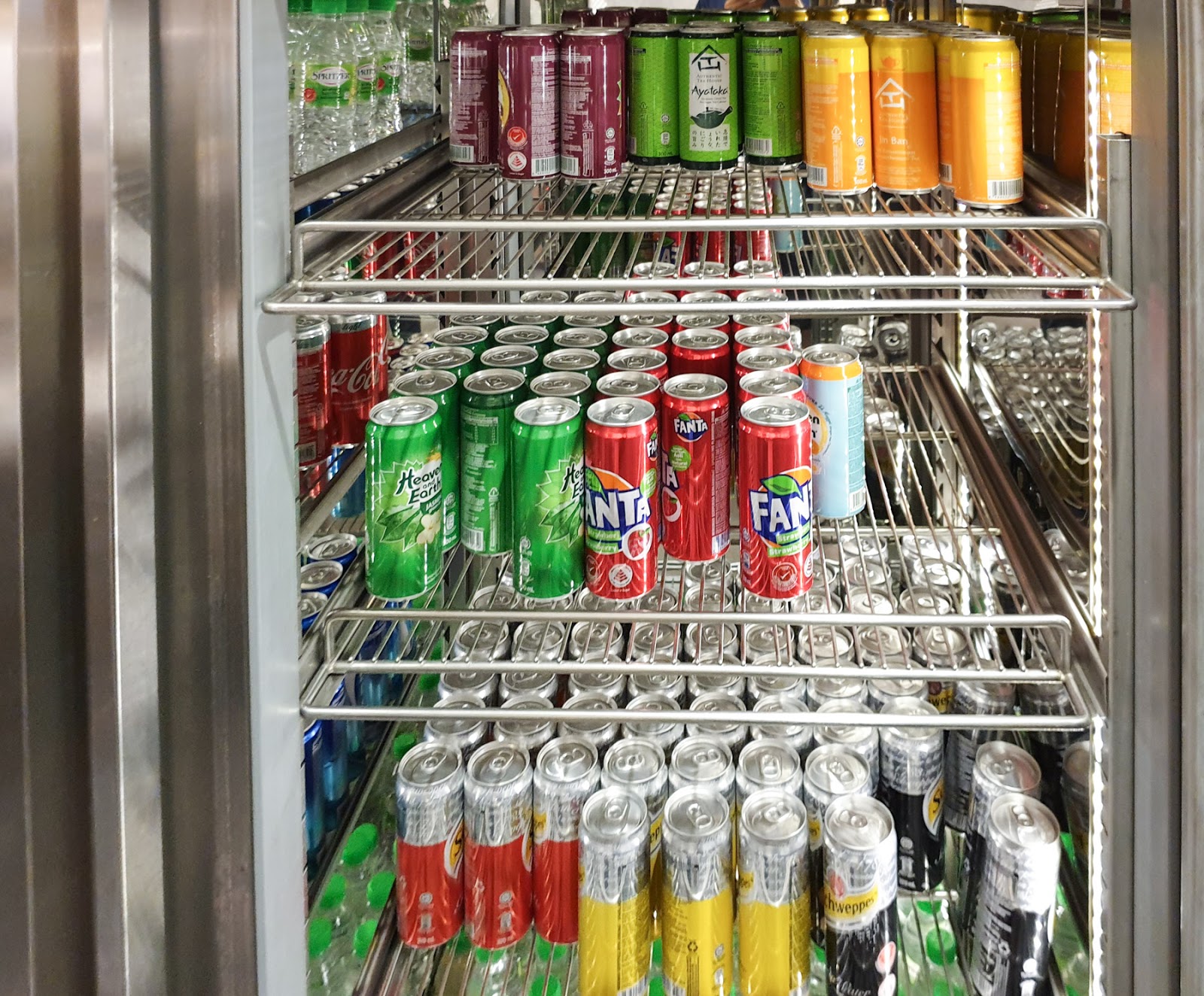 Overall, I enjoyed a decent lounge meal which was much better than in the nearby Singapore Airlines SilverKris Lounge.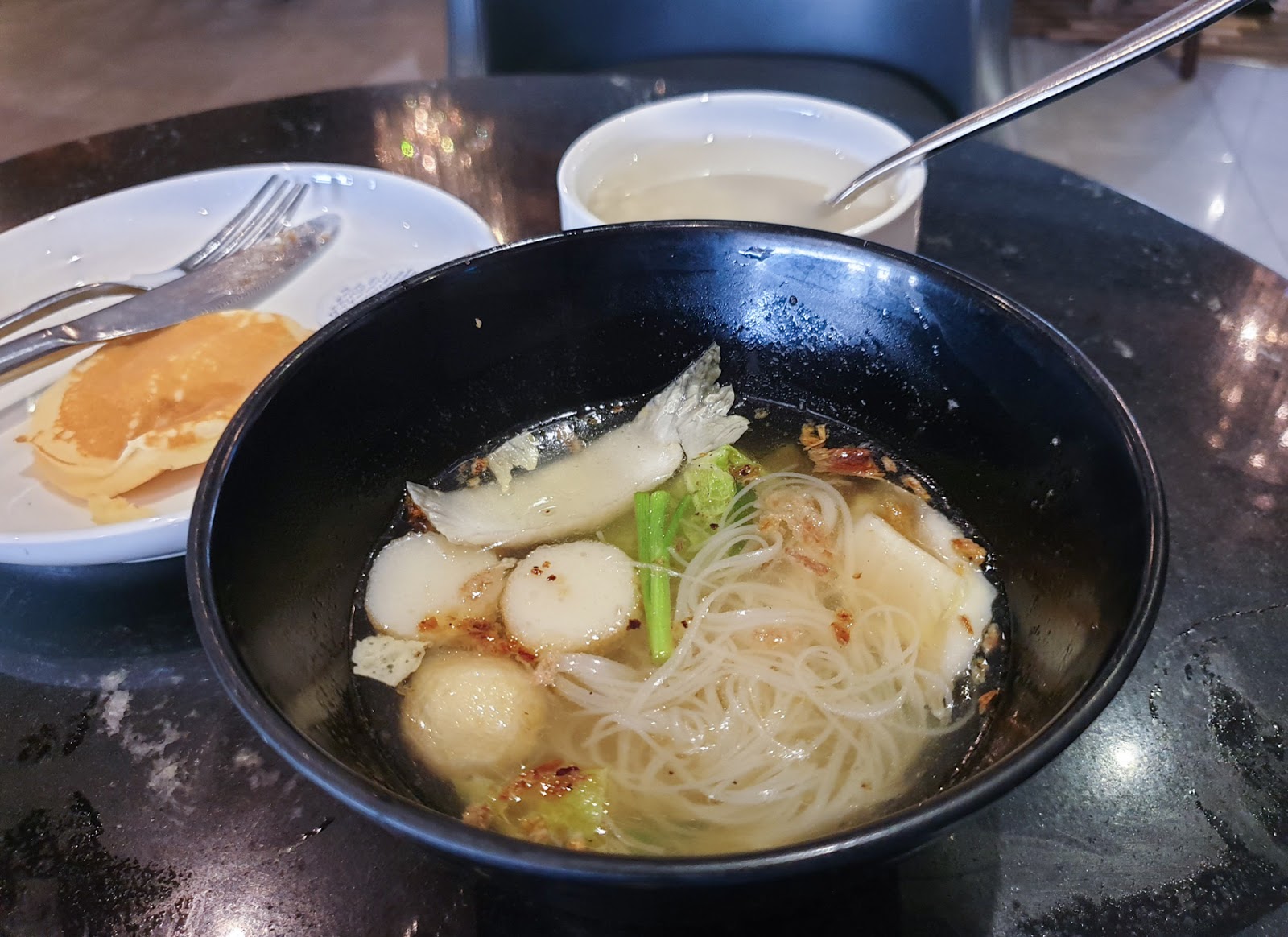 Amenities
Magazines and newspapers are provided on various shelves throughout the lounge.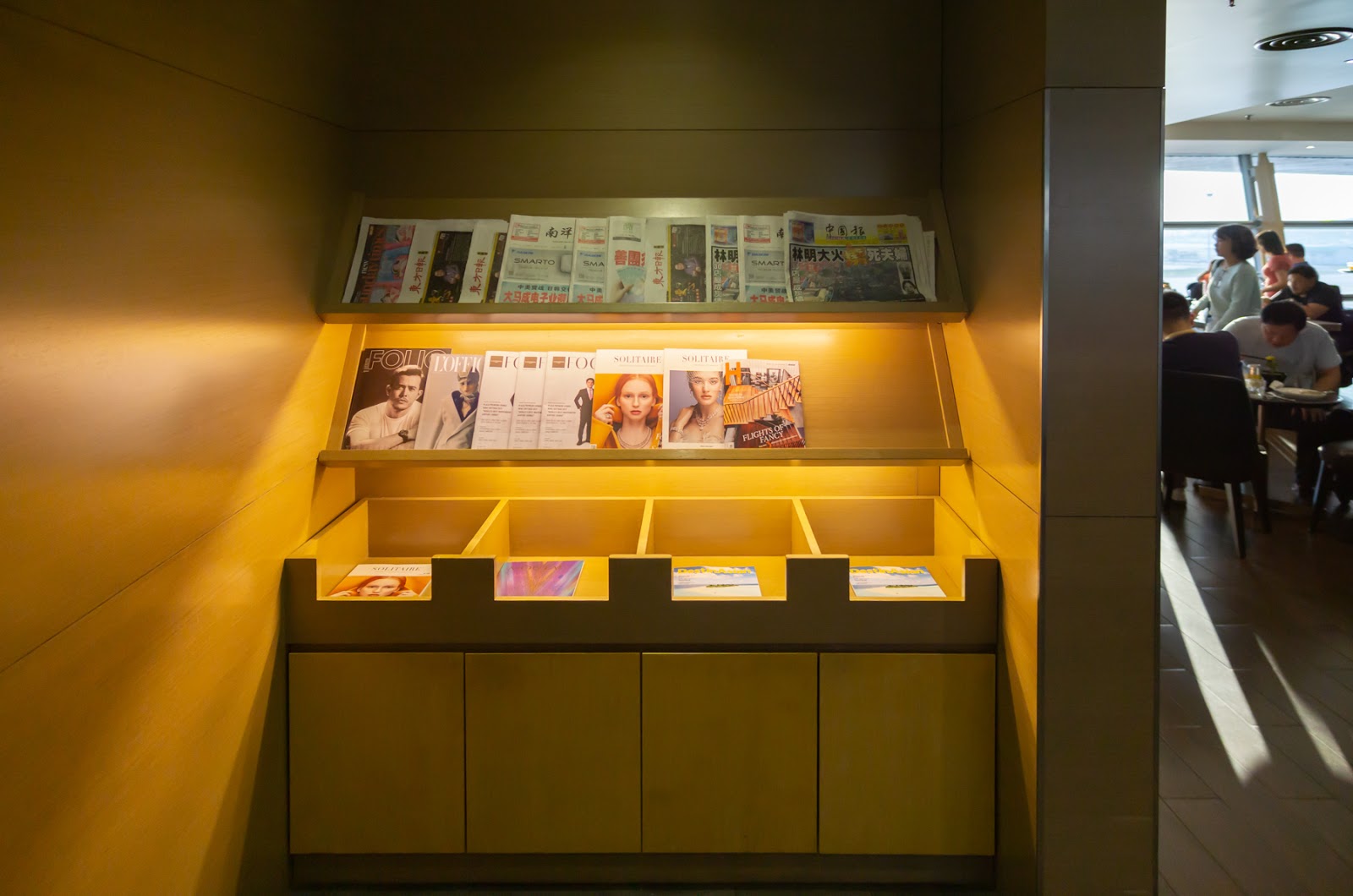 Showers have to be booked from the reception, but it is complimentary for most lounge membership and airline guests. The walk-in rate is 32 MYR ($11.30 AUD) for a 30-minute block. All amenities are provided.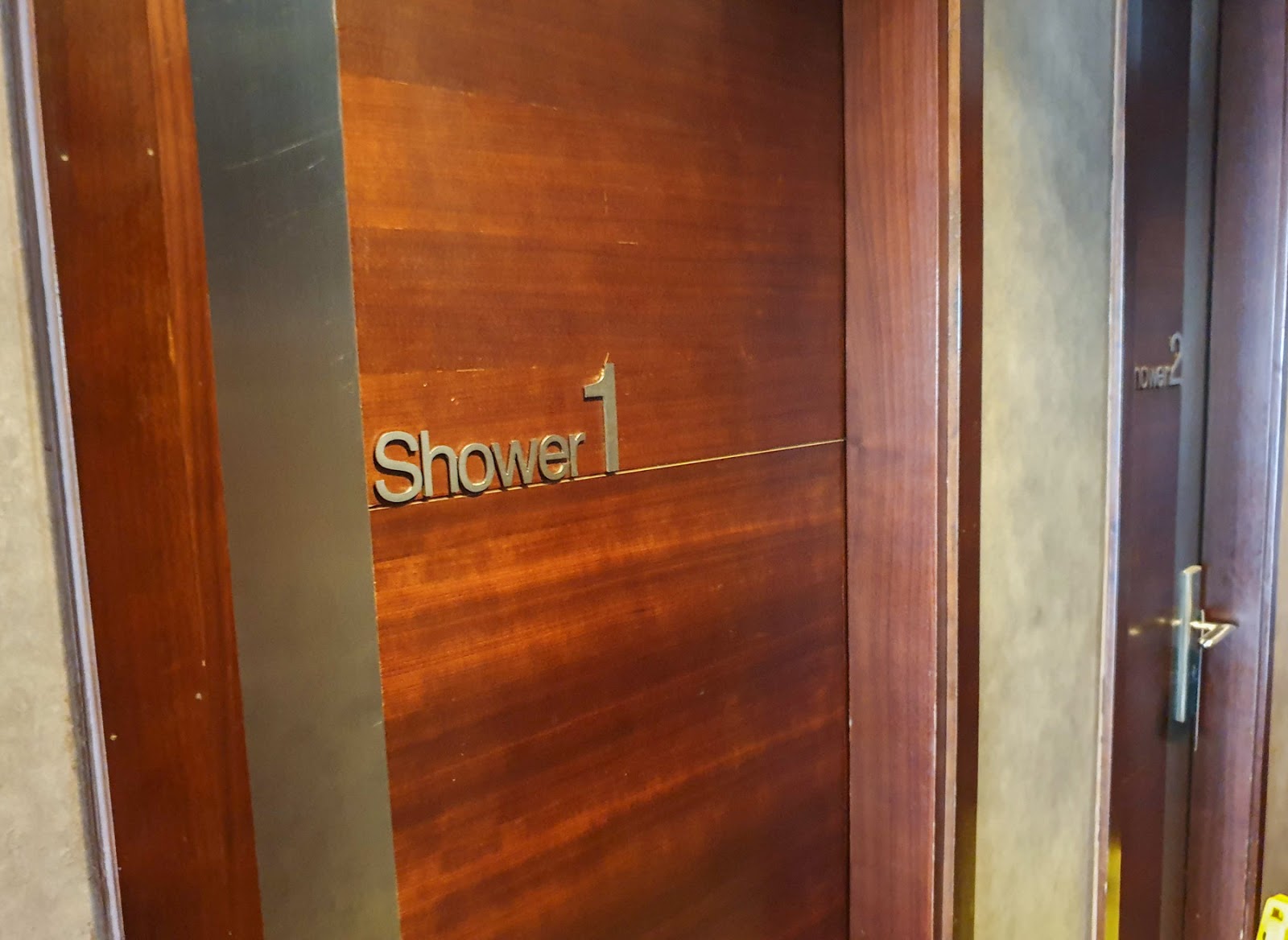 As mentioned earlier, power ports are found in-between seats in the general lounging area, but not really in the dining or cocktail table areas. Best to have a power bank handy just in case!
Finally, WiFi in this lounge was surprisingly good given how busy it was. My speed tests showed 57.6 Mbps/82 Mbps down/up respectively.
Lounge Access Options
By class of travel: Business or First Class on airlines that use the Plaza Premium Lounge (see the photo below).
By frequent flyer status: Elite frequent flyer status on airlines that use the Plaza Premium Lounge (see the photo below) – e.g. Star Alliance Gold, Oneworld Sapphire or Emerald, SkyTeam Elite Plus when flying on those member airlines in any class.
By day pass: Access can be purchased on the Plaza Premium website. Walk-in rates start from 168 MYR ($60 AUD) for two hours of lounge access per person. Kids under 11 get a 30% discount.
By lounge membership program: Through Priority Pass, DragonPass, LoungeKey and Lounge Pass.
By credit card: Through the American Express Platinum Charge card and a lot more regional cards – see the photos below for providers and check with them for details.
A large number of airlines use this as their contract lounge for Business and First Class passengers, plus those eligible to enter through elite frequent flyer status. Check the operating airline website for more detail.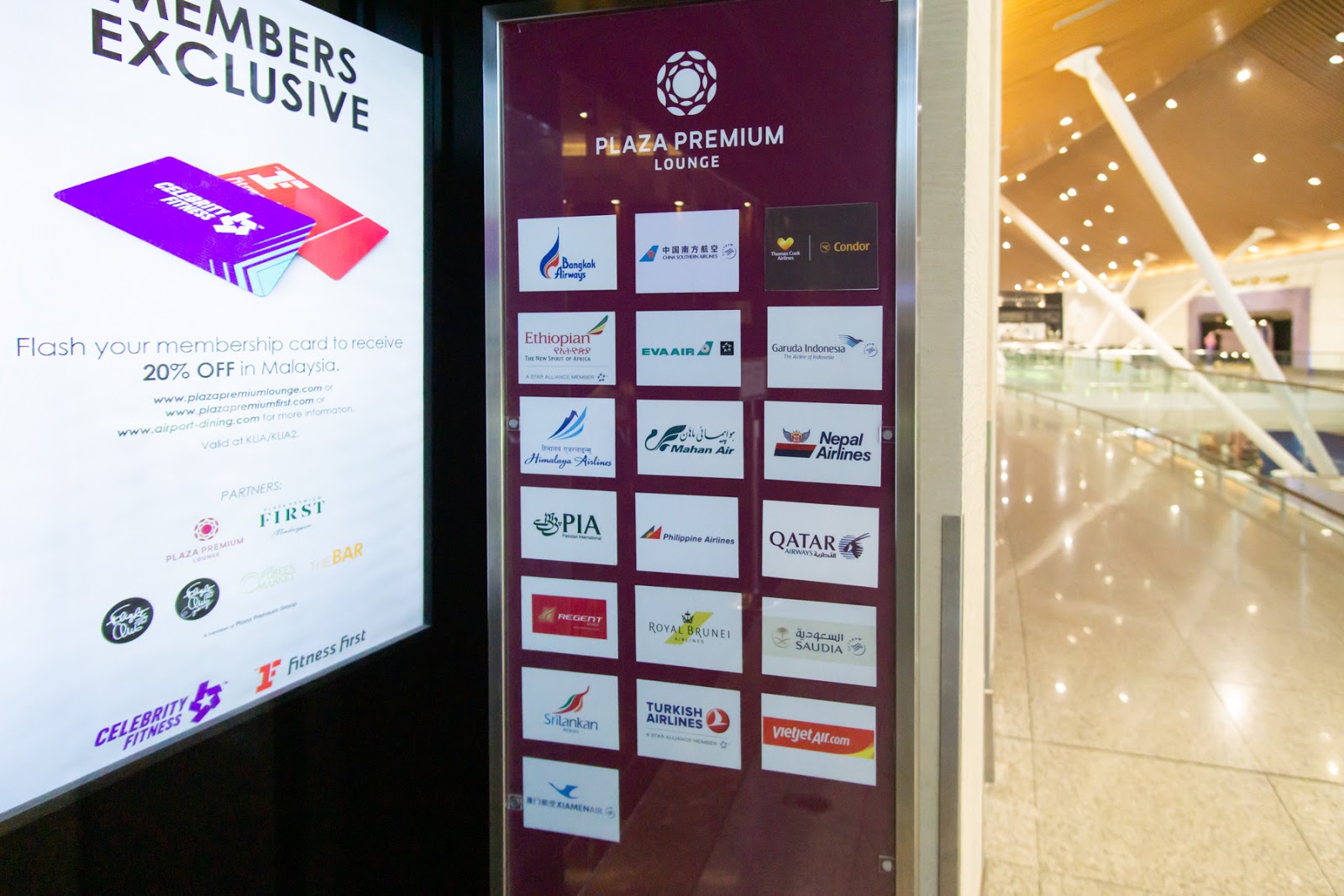 Apart from American Express, a lot of other banks across Asia offer access through various schemes. If you happen to be one of their customers, check with them on how to access Plaza Premium Lounges.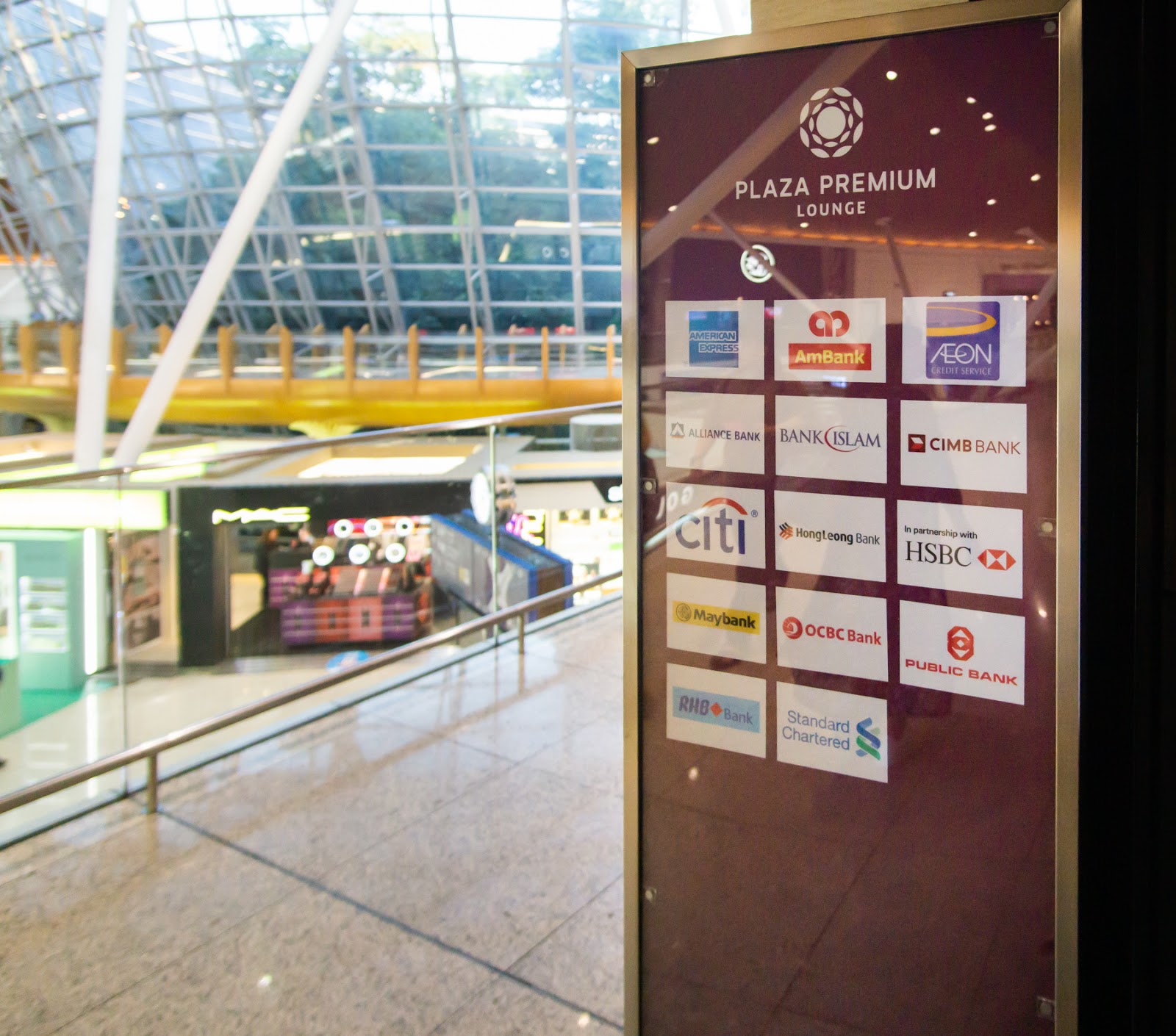 Our Take
With such a big door list, it is not hard to imagine how the Plaza Premium Lounge in Kuala Lumpur International Airport is always so busy. It is basically the only contract lounge in the terminal, while also accepting practically all lounge memberships.
I mostly liked the design of the lounge along with the expansive views, however, found the boxed-in location of the buffet to be poorly planned. The lounge was well-staffed, but it often took a while before dirty plates and glasses were taken away.
The food and drinks selection is fine, but nothing special. It is unfortunate that Plaza Premium charges for premium alcoholic beverages, but that is commonplace in their lounge network.
In short, I'd be fine using this lounge if it was included in my flight ticket or I had an unlimited lounge membership. But if I was going to pay for entry or had a limited number of lounge entries, I'd consider just going to a nice restaurant or cafe somewhere else.

What was great
Views of the airfield
WiFi speeds and working solo booths
Multiple hot food options
Showers available
What was not great
The lounge is always so busy
No complimentary premium alcohol
Not enough toilet cubicles for the lounge capacity
Plaza Premium, KLIA Satellite Lounge
was last modified:
April 4th, 2021
by