Following a top-to-bottom refurbishment across 2018-19, KLM's Crown Lounge 52 is a sight for sore eyes at Amsterdam's Schiphol Airport. Serving passengers flying to 'non-Schengen' destinations, it's certainly a lounge to arrive early for. And as fate would have it, I did just that – spending a sum total of six enjoyable hours here dozing and dining.
Given airport queues have been lengthy of late, of course, it's best to arrive early anyway. But as a premium traveller, you'll have this to look forward to once you're past those formalities.
Location
If you're starting your journey in Amsterdam itself, or are in transit from a Schengen country (Italy, for example), you'll need to clear passport control first. That's because Crown Lounge 52 is in the airport's non-Schengen departures area.
I stopped by when in transit from London to Singapore. As these destinations are both outside Europe's Schengen Area, I only had to clear transit security in Amsterdam – not passport control. From there, it was a calm walk to Crown Lounge 52, located between Concourses E and F.
I take the escalator up to the lounge, and can't help but admire the charming Delft blue miniature houses along the way. A whimsical introduction that sets the tone for the entire KLM experience – both lounge-side and in the air.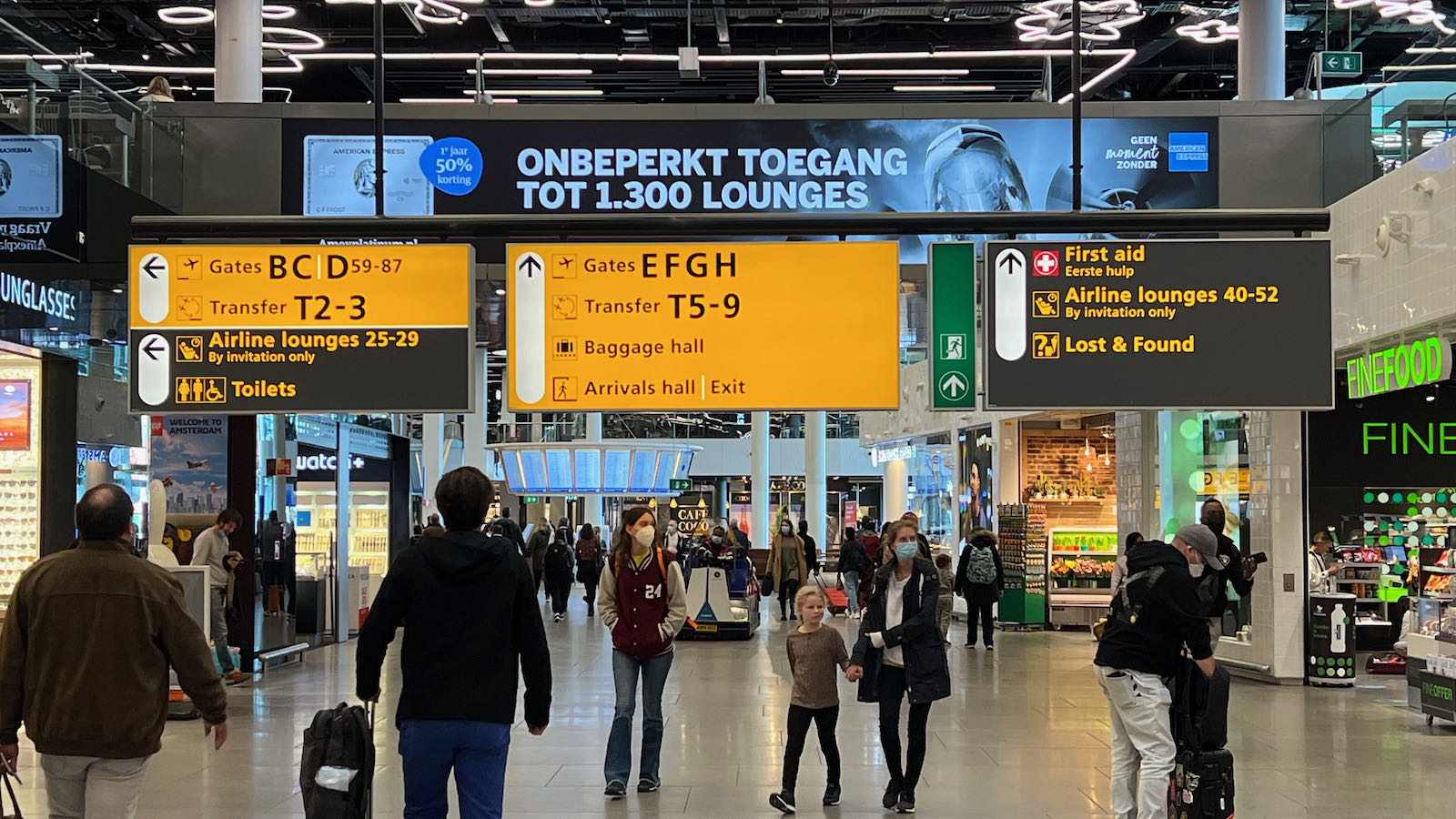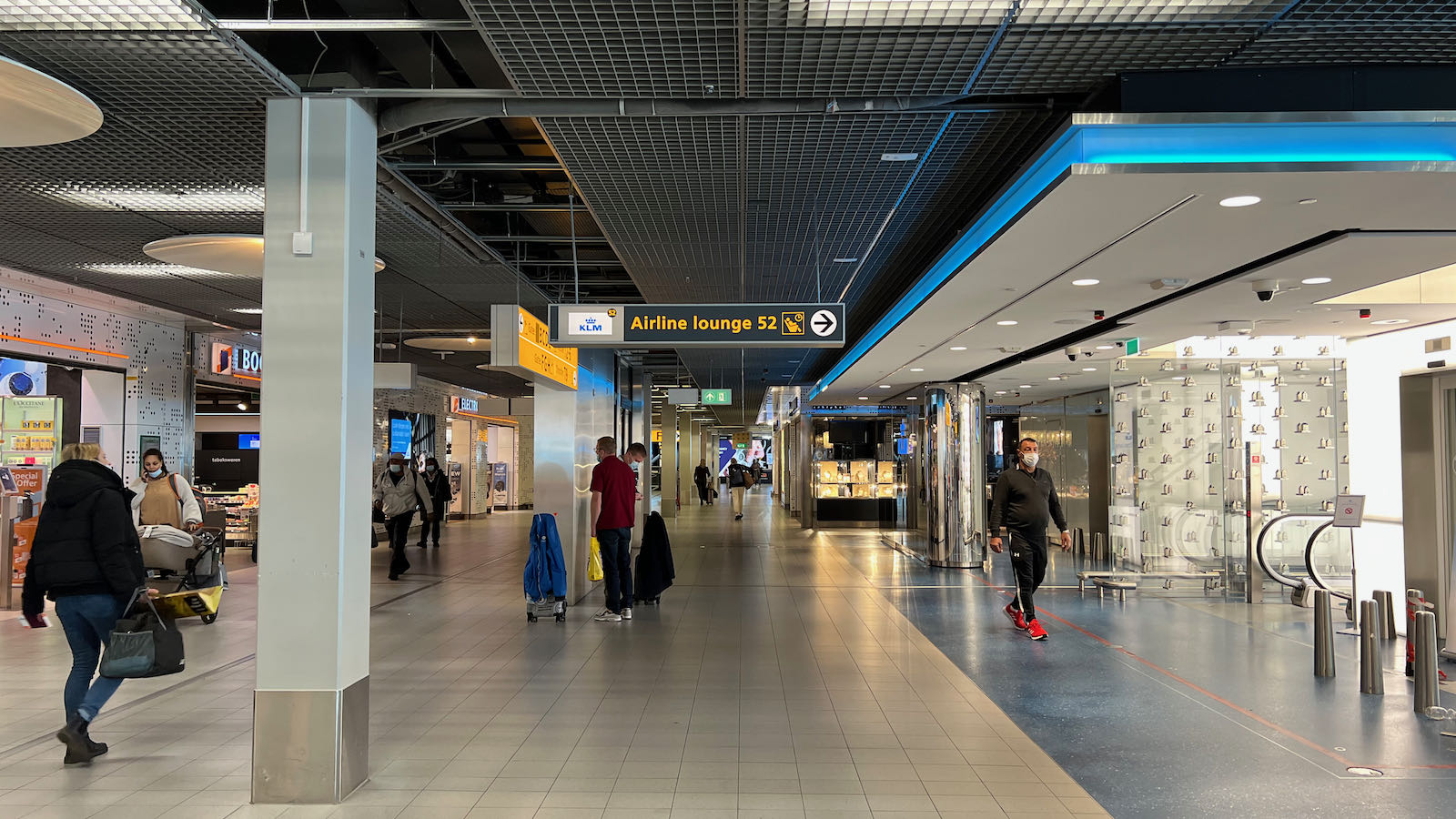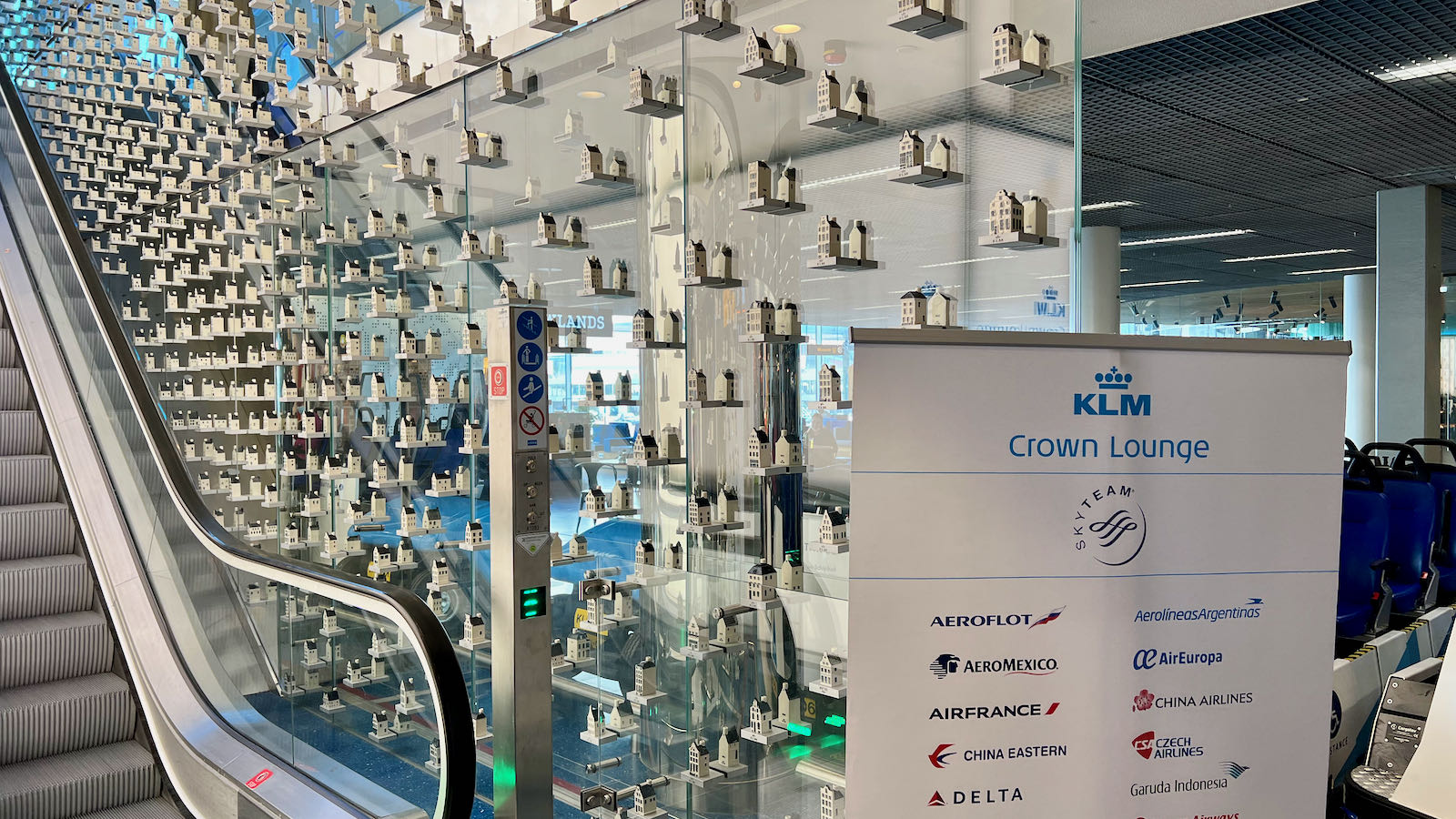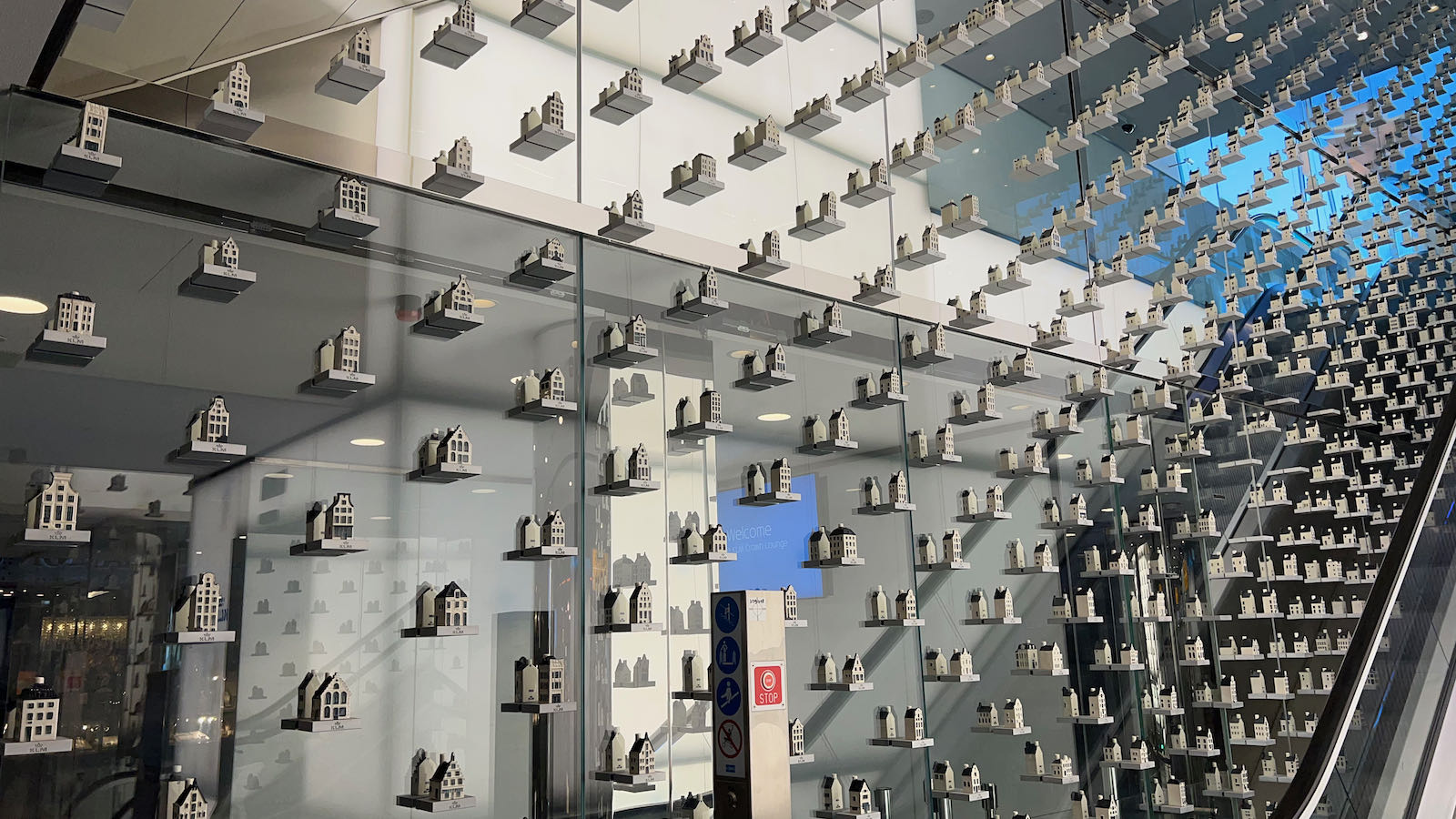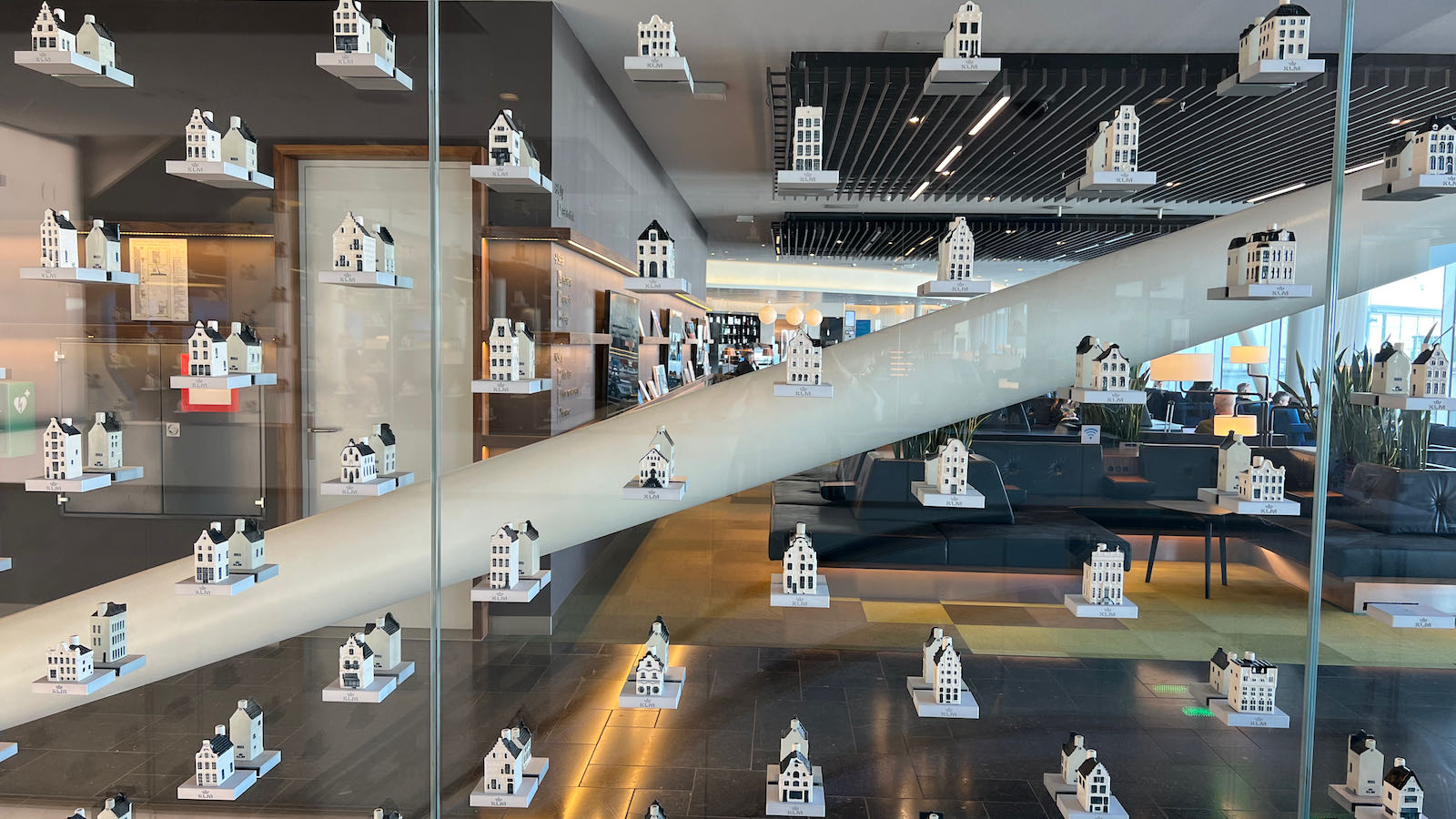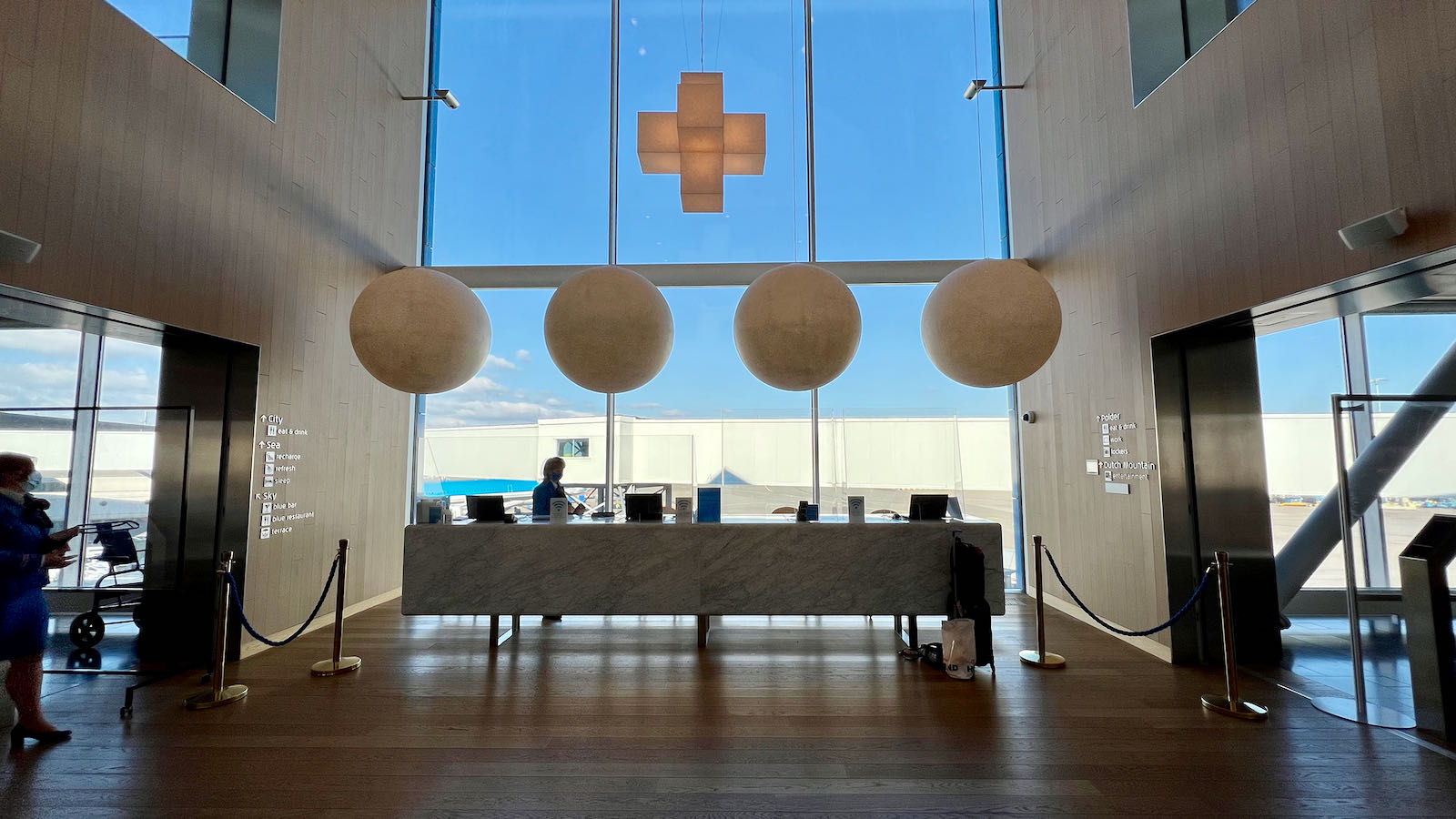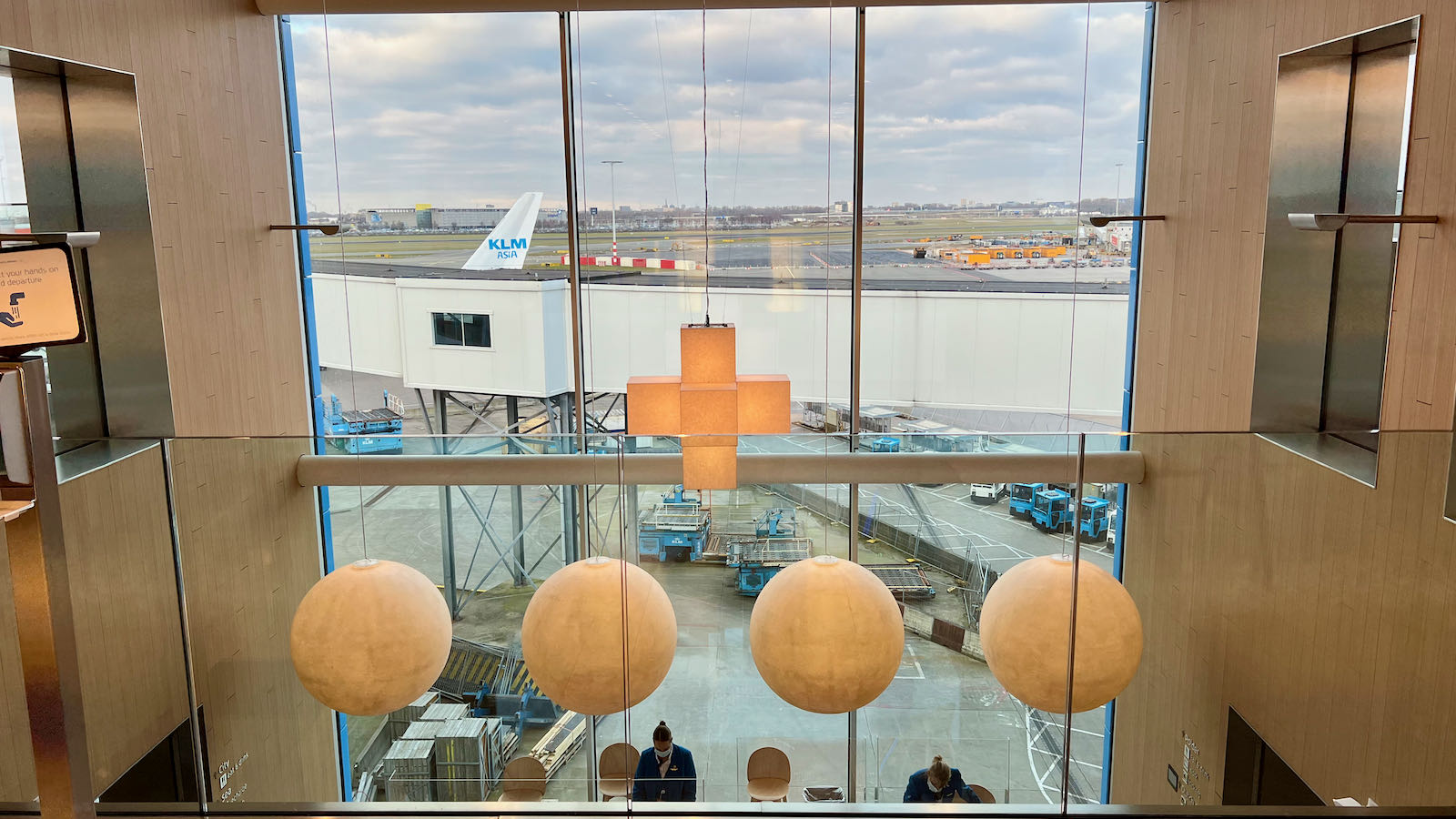 At the top, there's a quick check of my boarding pass. The staff at the desk have a convivial Dutch humour that's immediately appealing. I'm flying KLM World Business Class to Singapore, so I'm quickly inside. You can also choose to 'turn left' or 'turn right' at the top. Setting the scene for my flight ahead, I can't help but turn left.
Lounge layout and seating
Welcome to KLM's main lounge for long-haul flyers. Given Amsterdam is also KLM's home hub, the non-Schengen Crown Lounge is huge.
You'll go for a wander, and just as you think you've reached the end, another room reveals itself. And then another…. and another. This bounty of space seems excessive at first, especially with the lounge so empty before my flight to Singapore. But pre-pandemic, it was often buzzing with travellers.
It's delightful having so much choice over where I'll settle in. There are directional signs throughout the lounge, but they're a little confusing. Who knew that 'City' and 'Polder' mean 'eat and drink'? Or that 'Sky' means 'bar'? Or that 'Sea' is code for both 'shower' and 'nap room'? Not me!
You're much better off just walking a quick lap of the lounge to get your bearings. Once you've seen where everything is and assessed your options, you can choose the best spot.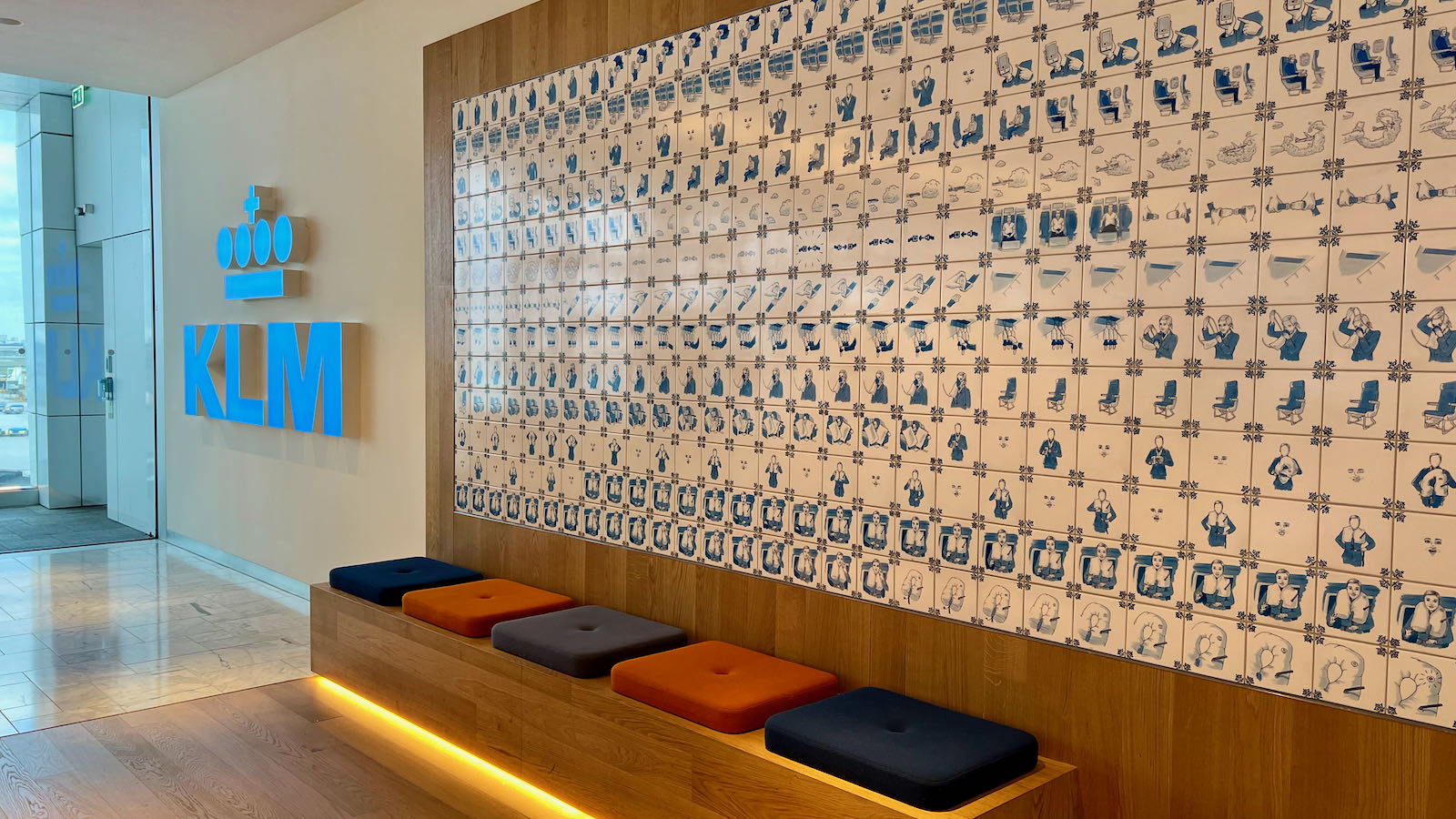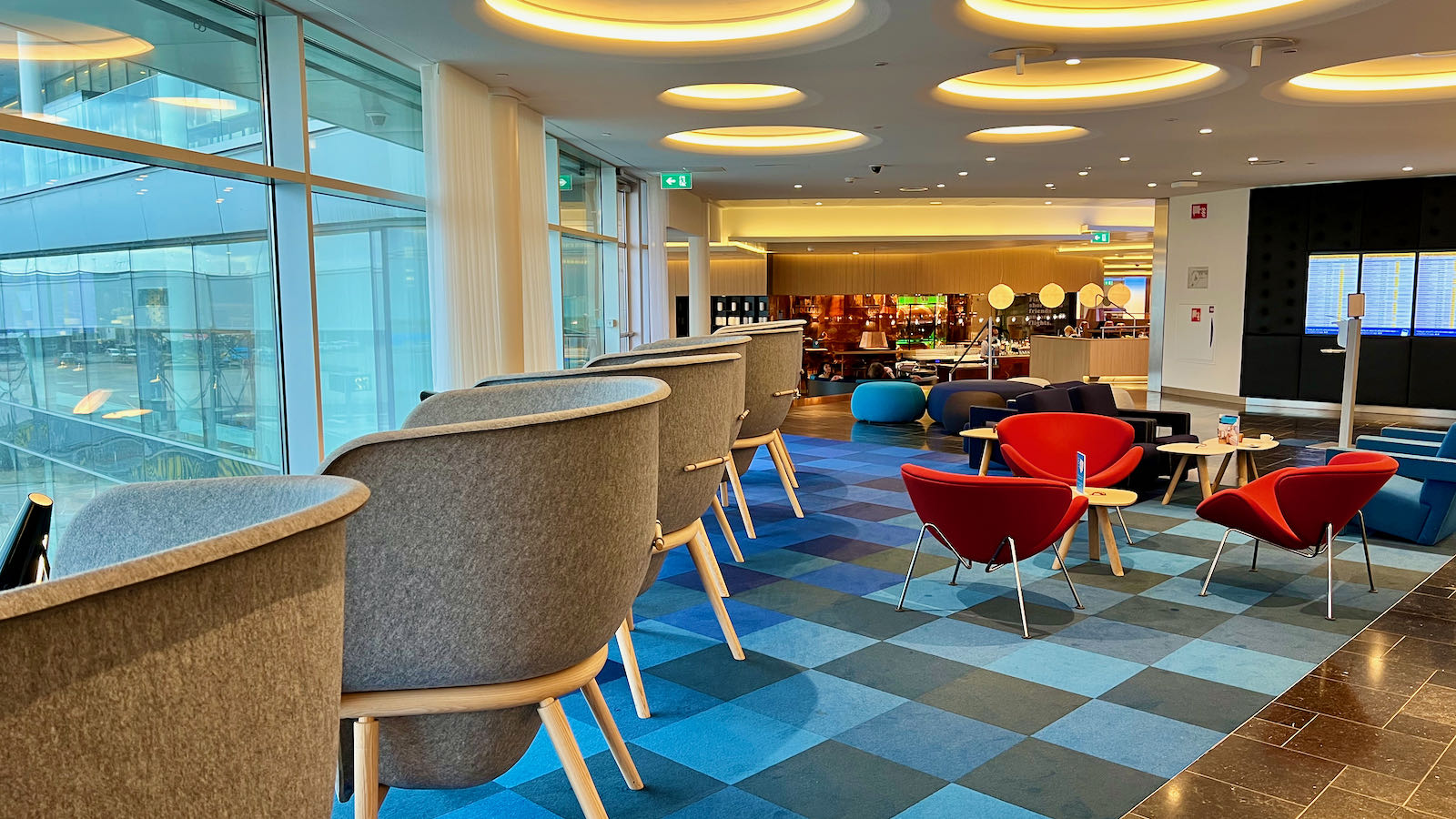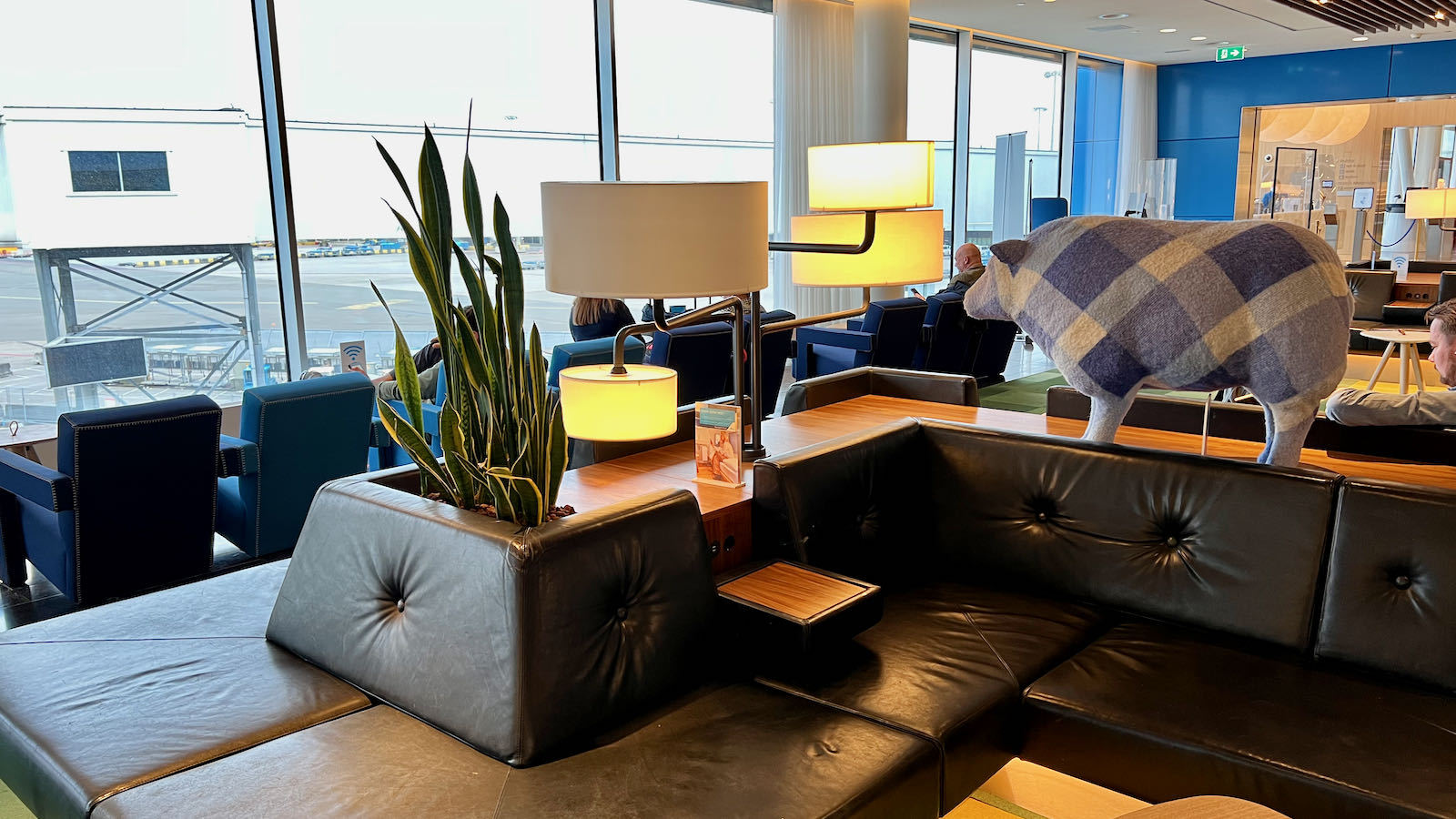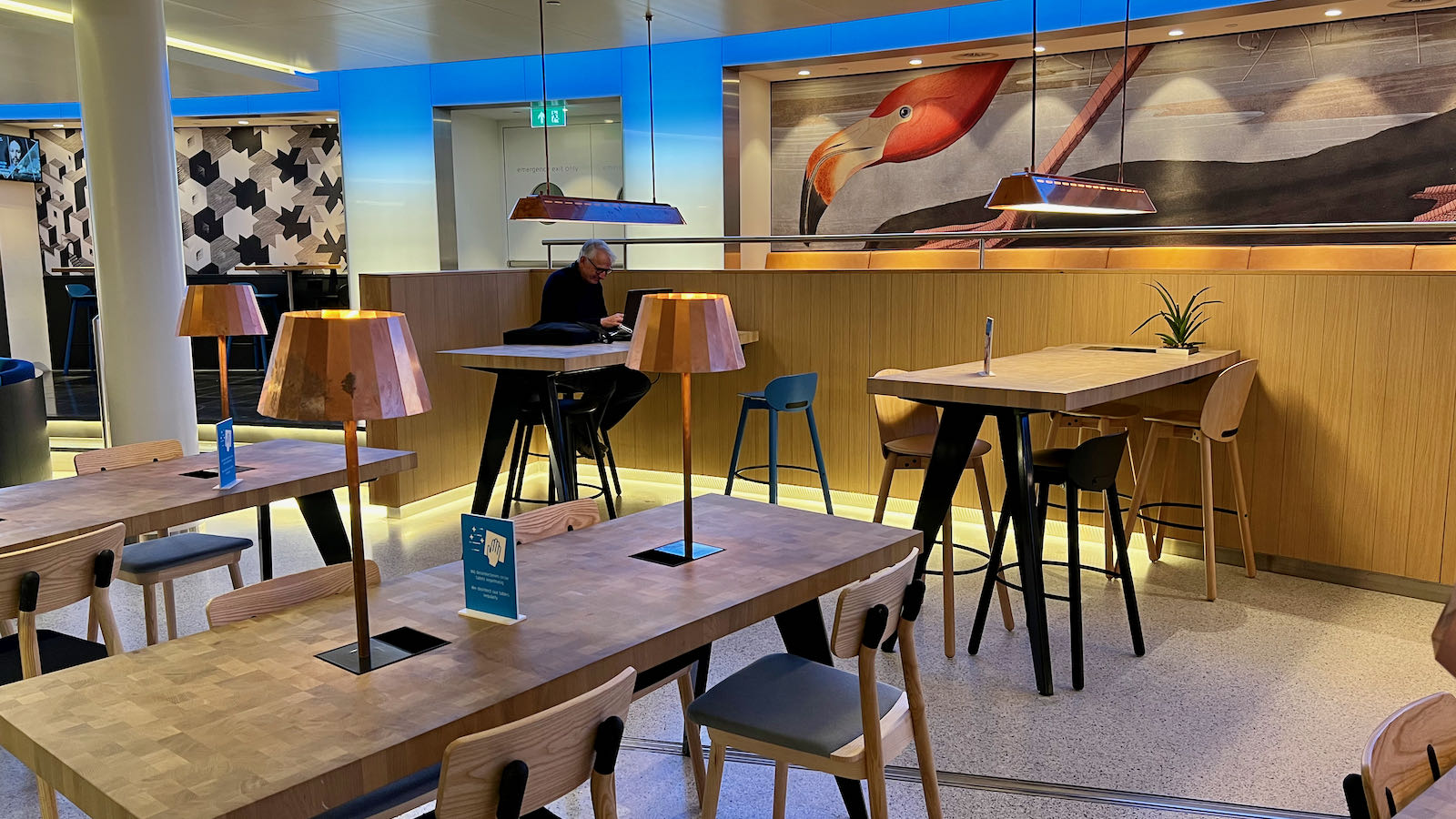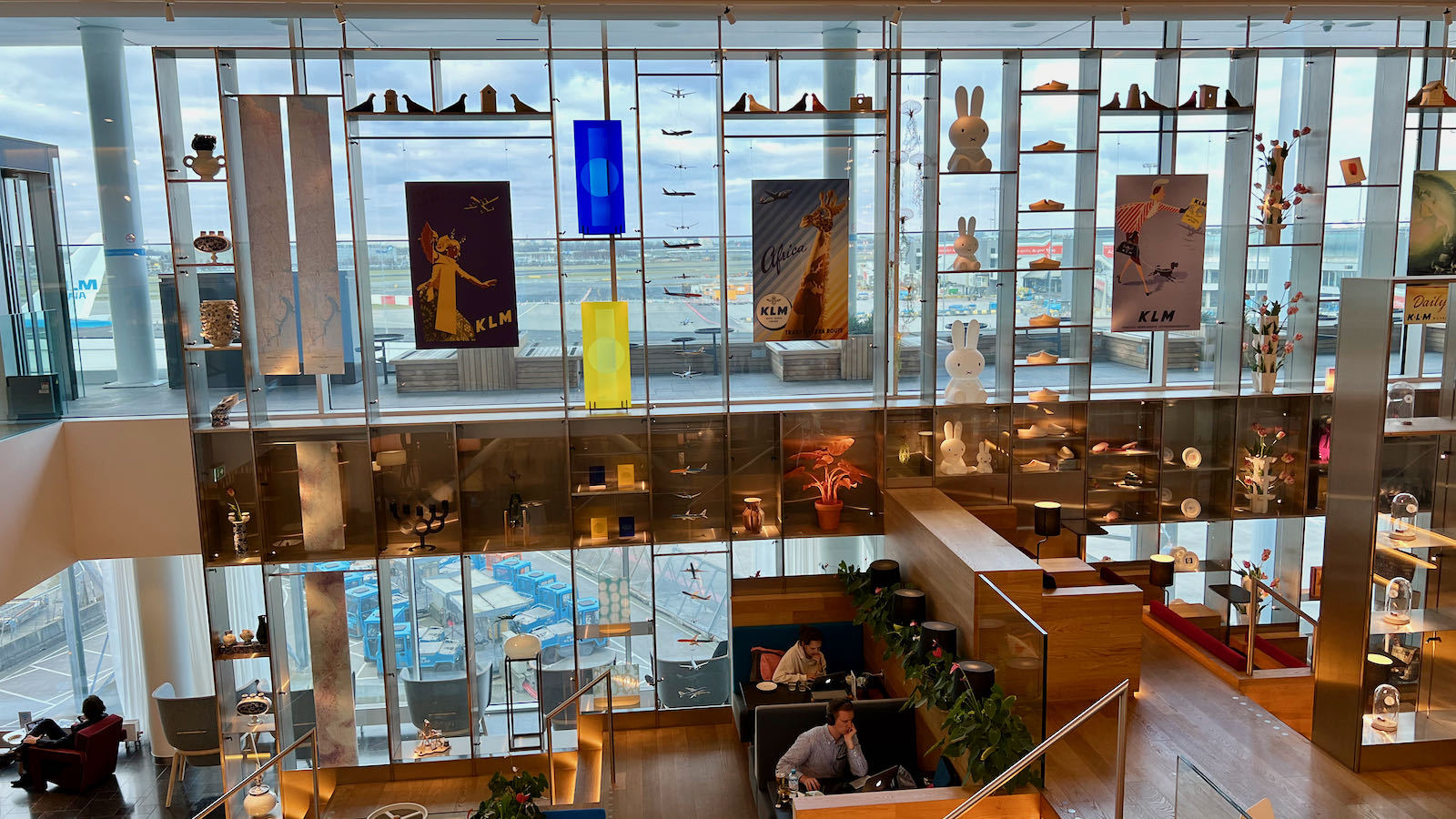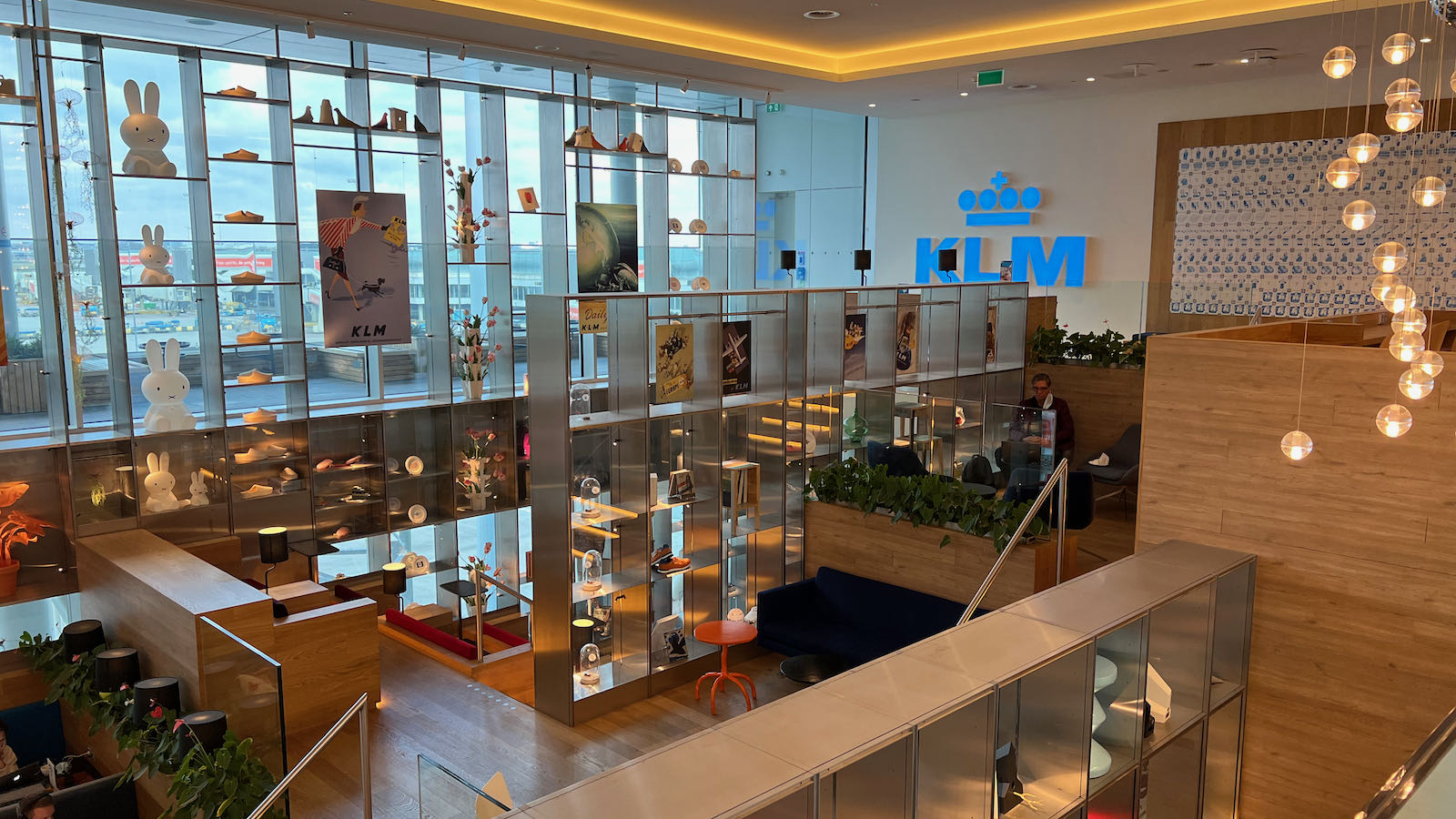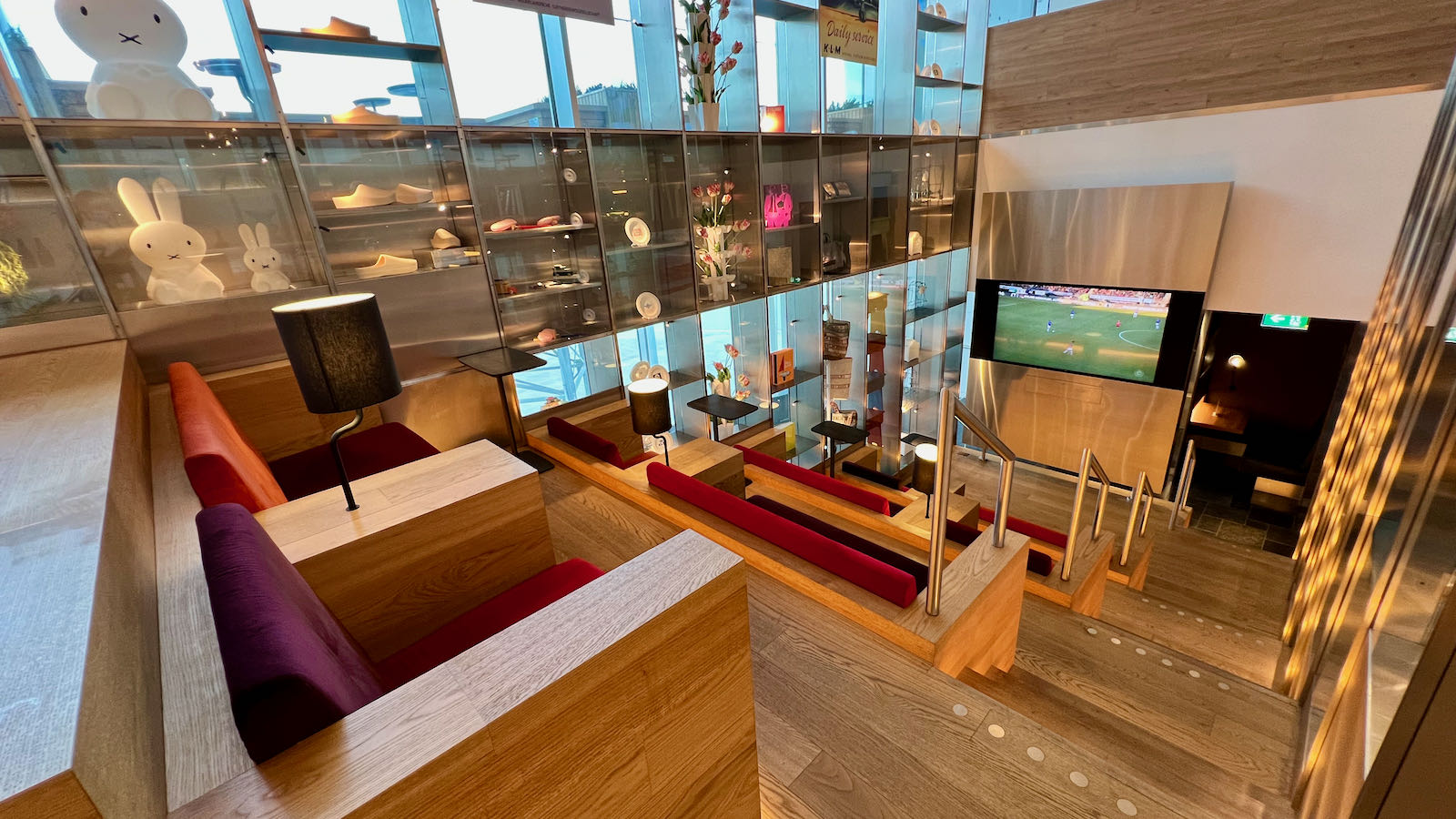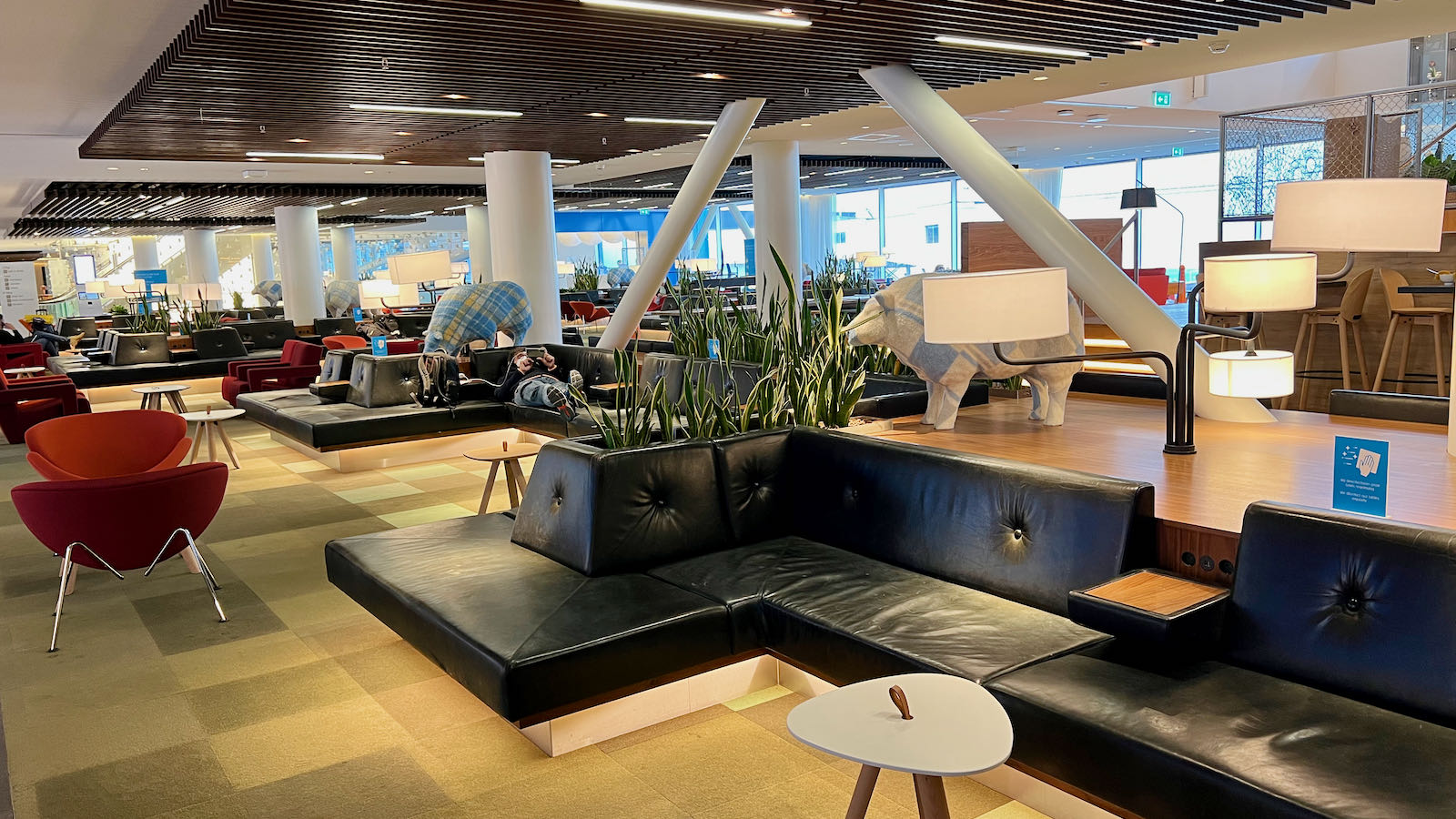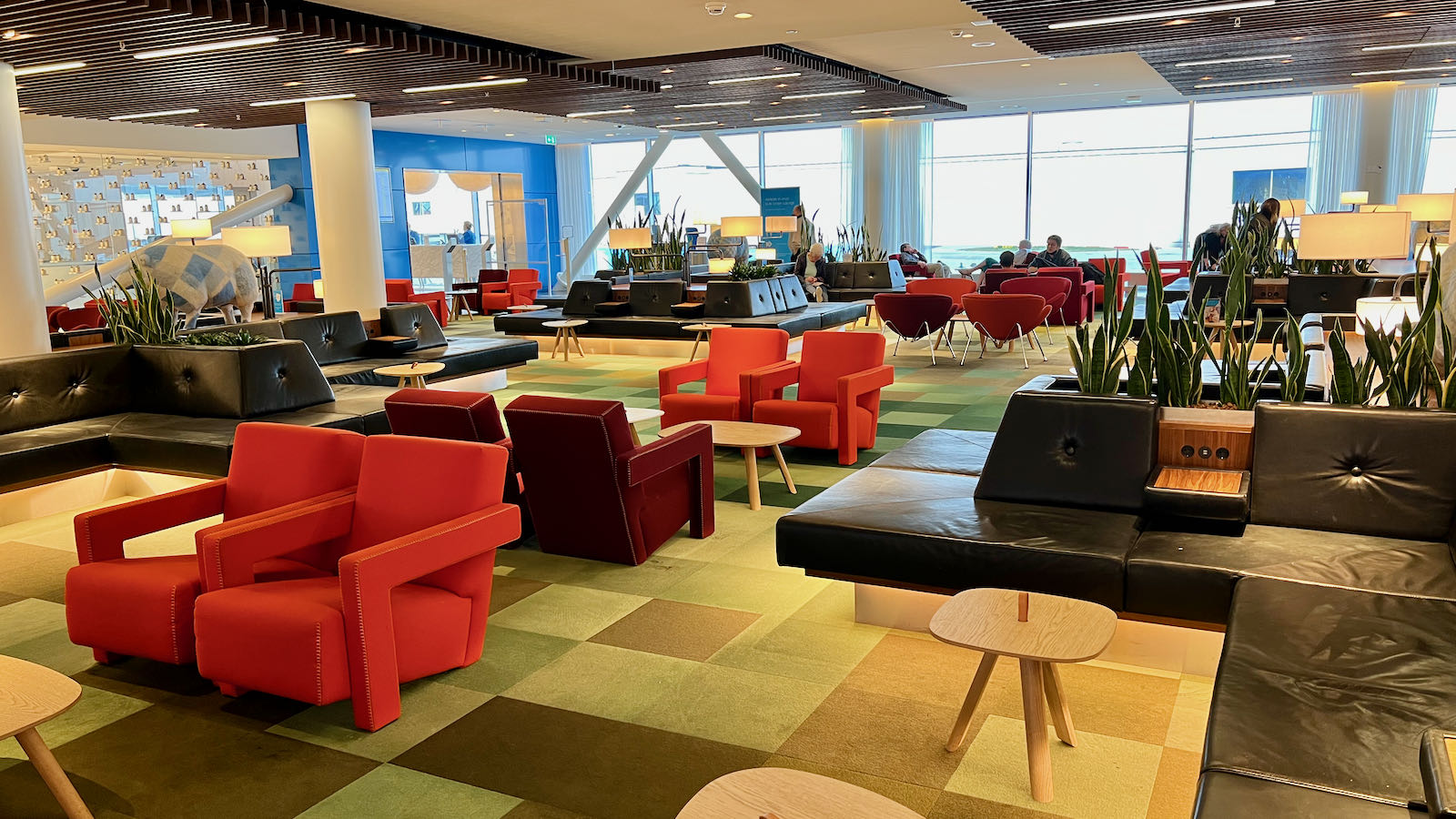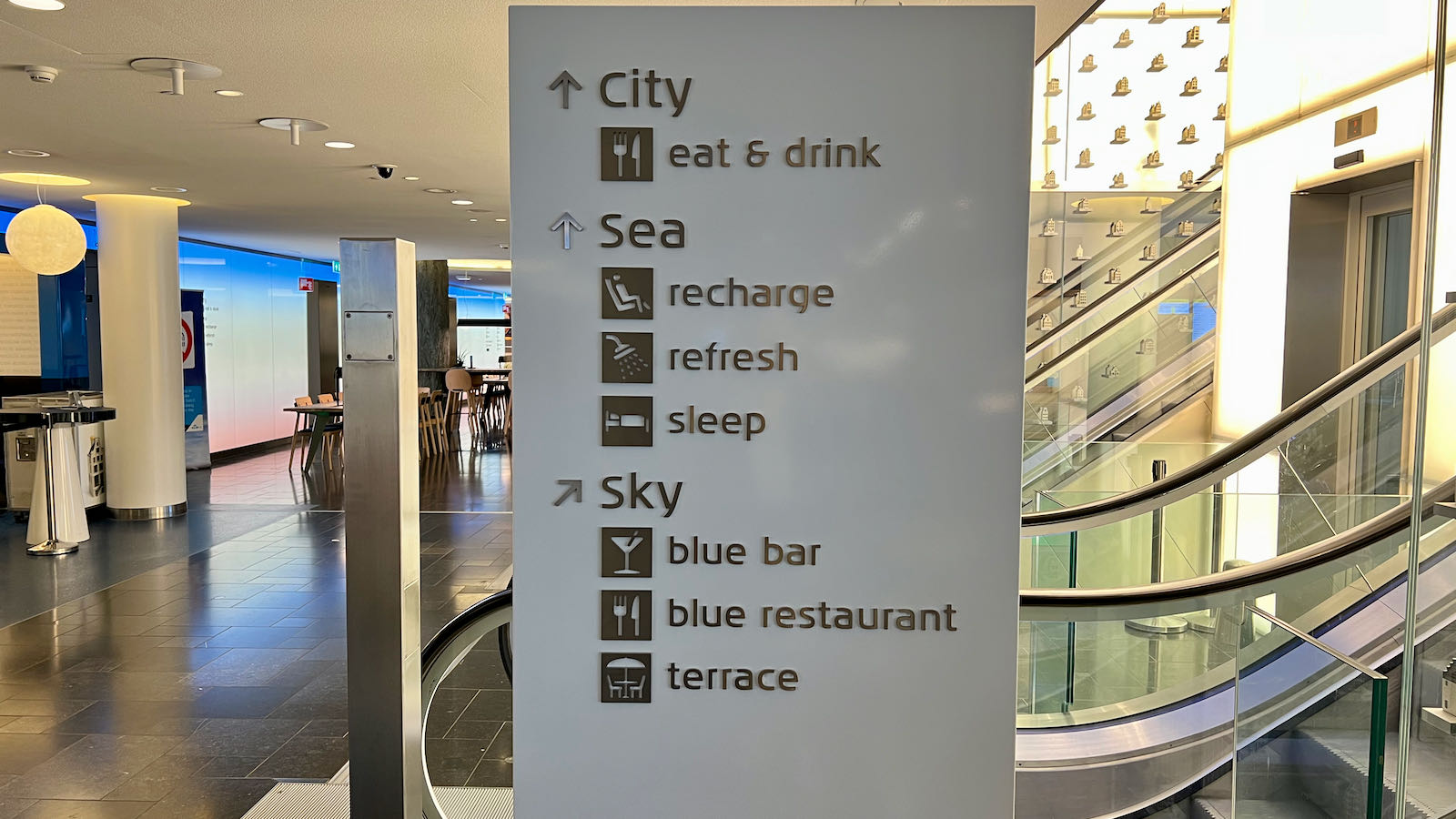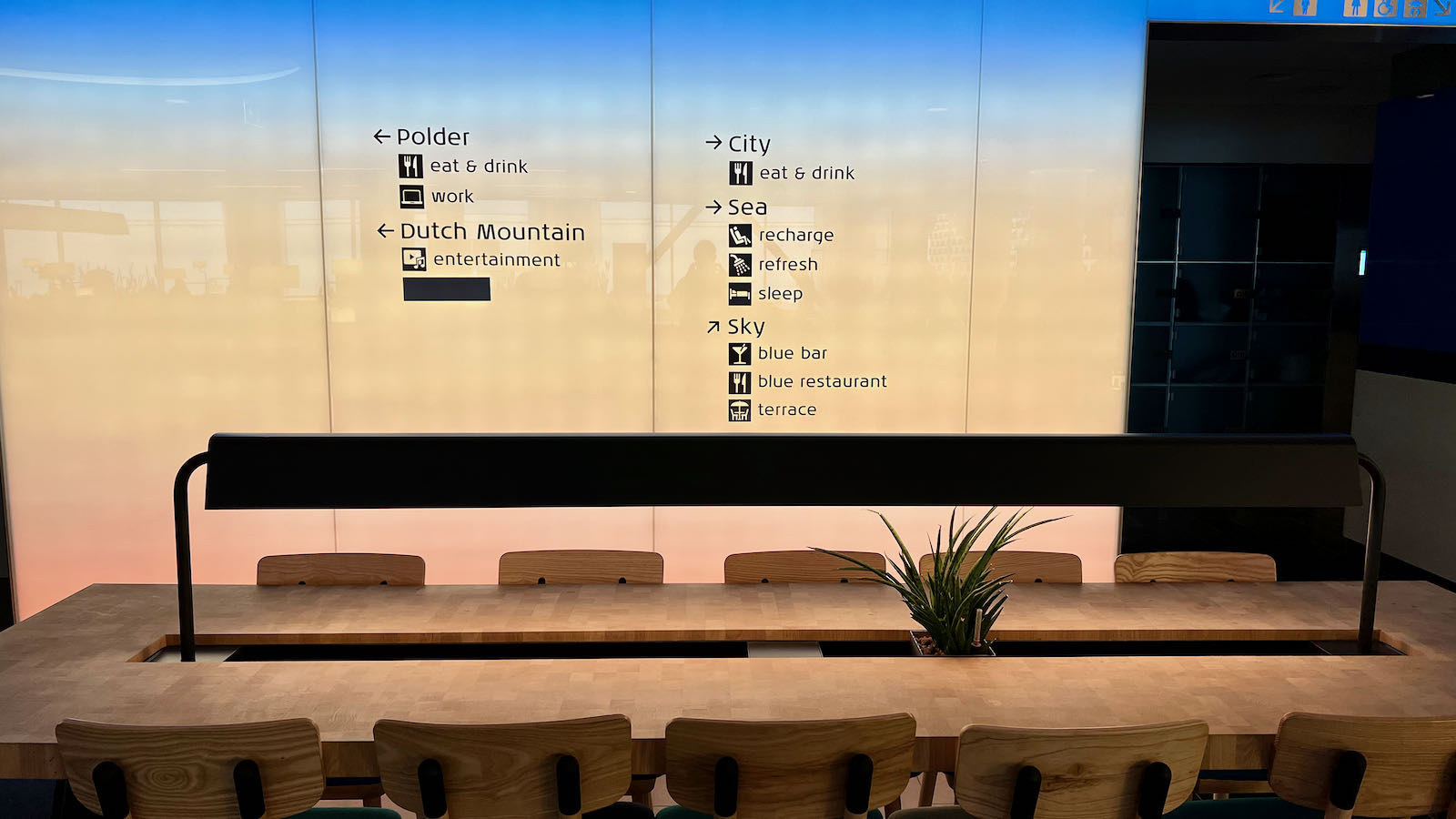 Need to get some work done? There's a solid supply of benches and tables, many with nearby power points. But if yours is a larger laptop charger, you'll be somewhat more limited in your seating choices. That's because in some places, power points are nestled within cosy notches on the tabletop – so larger transformers just won't fit.
But if you're here to relax, you're much more free. Fancy a window seat? Done. How about a perch facing a TV on game day? There's a whole section of the lounge for that. Just stopping by? Seating starts right at the entrance – there's no need to walk far.
I gravitate towards the 'centre' of the Crown Lounge, with its high ceilings and abundance of natural light. There's a feeling of space here that's rare to find in busy airports like Schiphol.
Food and beverage in KLM's Crown Lounge 52
With the Crown Lounge not as busy as its pre-COVID days, the food and beverage situation is a little different than before. On my visit in March 2022, the renowned Blue Restaurant remained closed (boo hoo!), so I had to make do with the buffet.
My lunchtime visit finds some predictable sandwiches, but a much more interesting salad selection. Hot food also makes an appearance – though oddly, it disappears at noon. Still, it's tasty if you can get it. I sample a range of bites, and have to say, the creamy seeded mustard soup was the unexpected winner.
There's a barista station for freshly-prepared coffee, but to be honest, I'm more interested in the wine this time. I didn't rate the Sonneskenk Chardonnay from South Africa, but the label's Merlot was more drinkable. As was the Jaume Serra Brut Cava from Catalonia.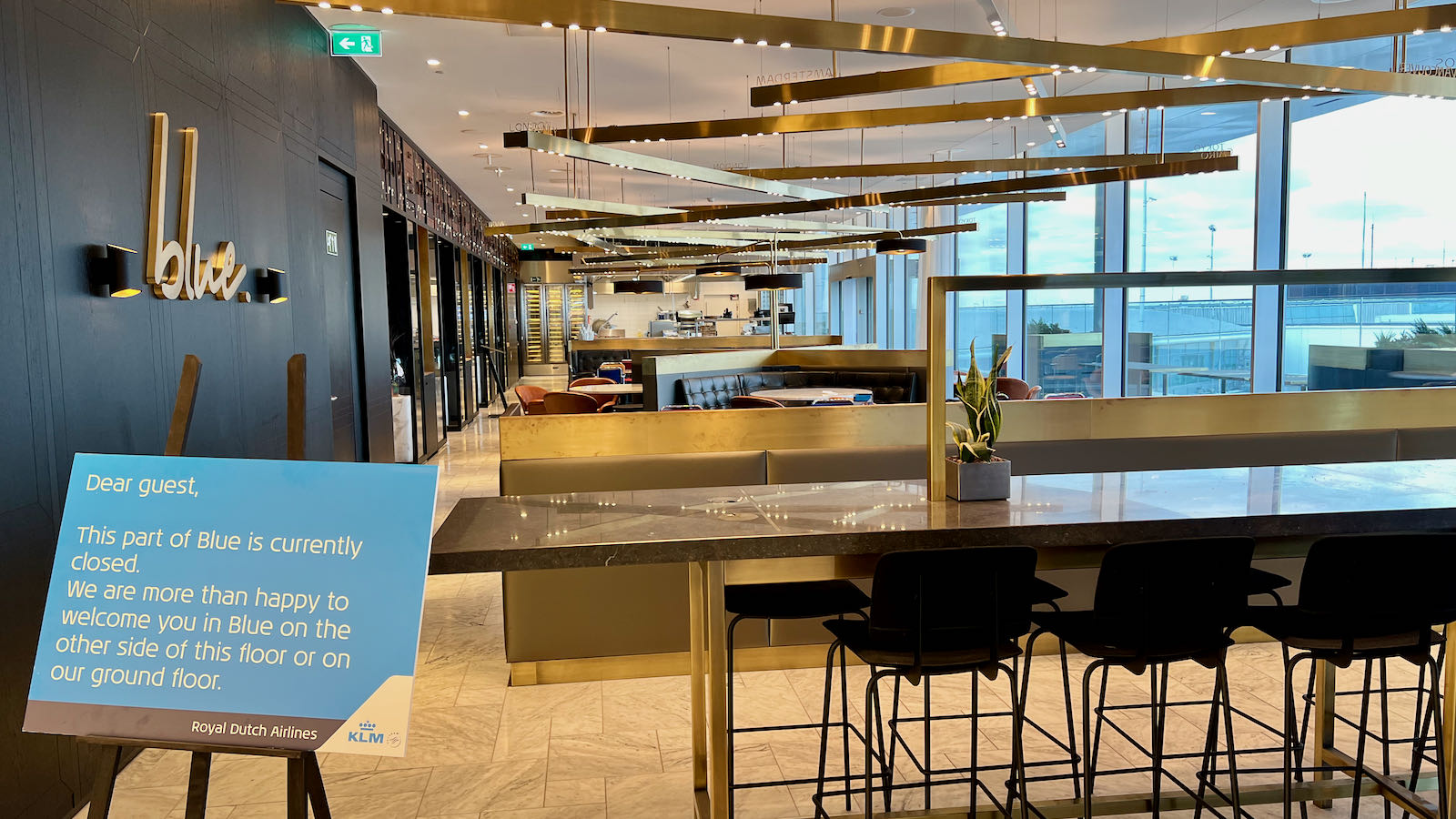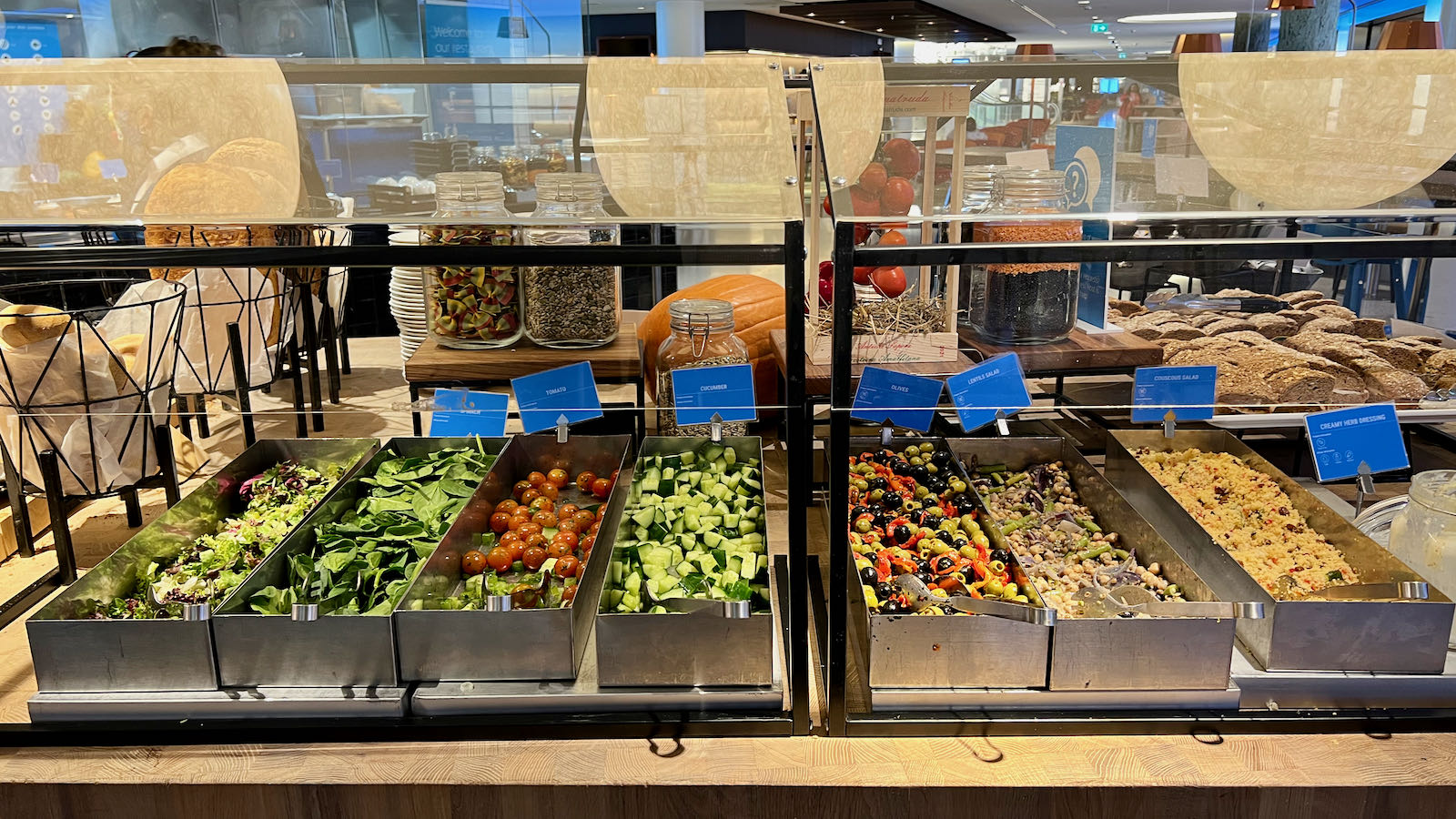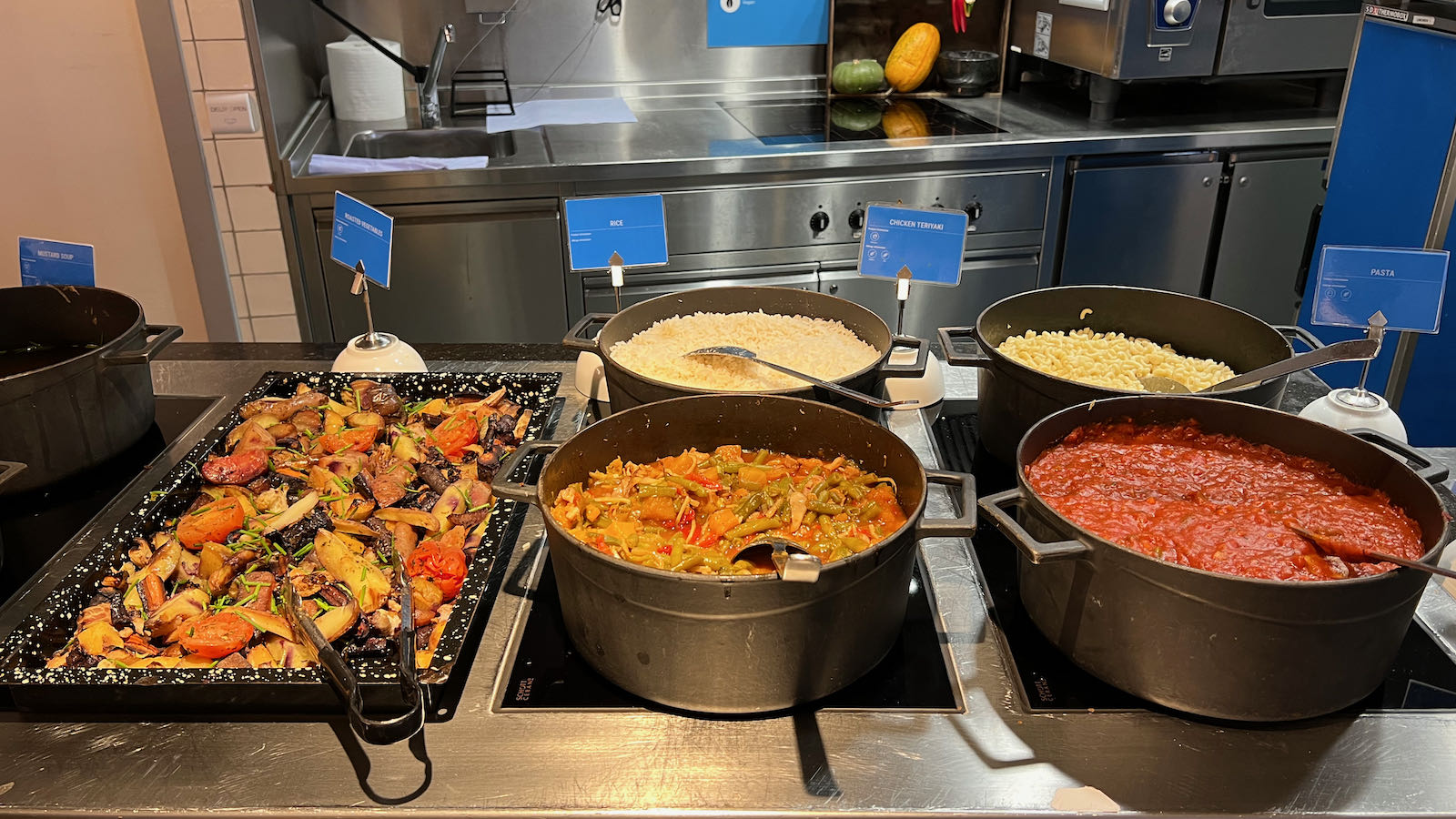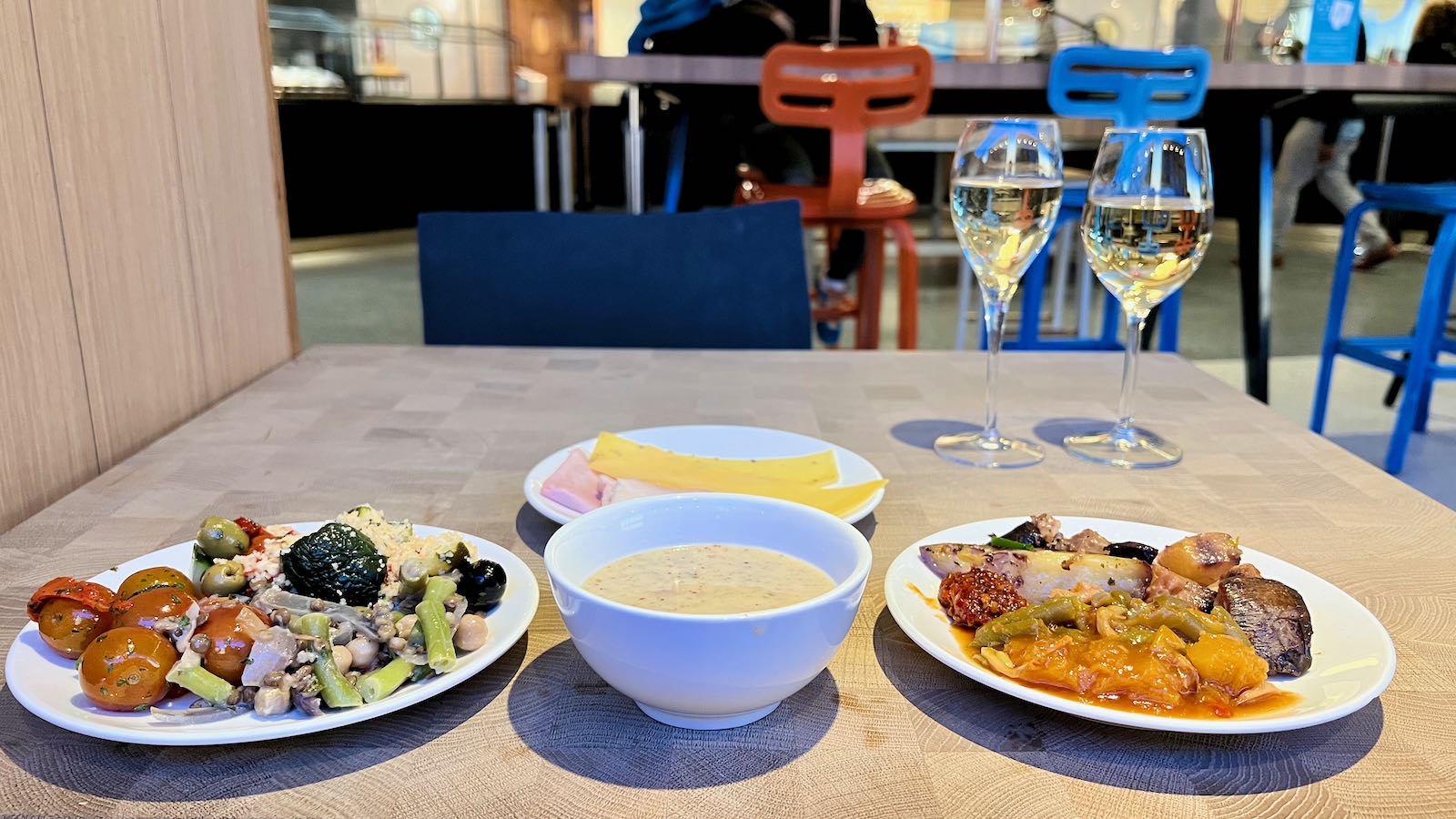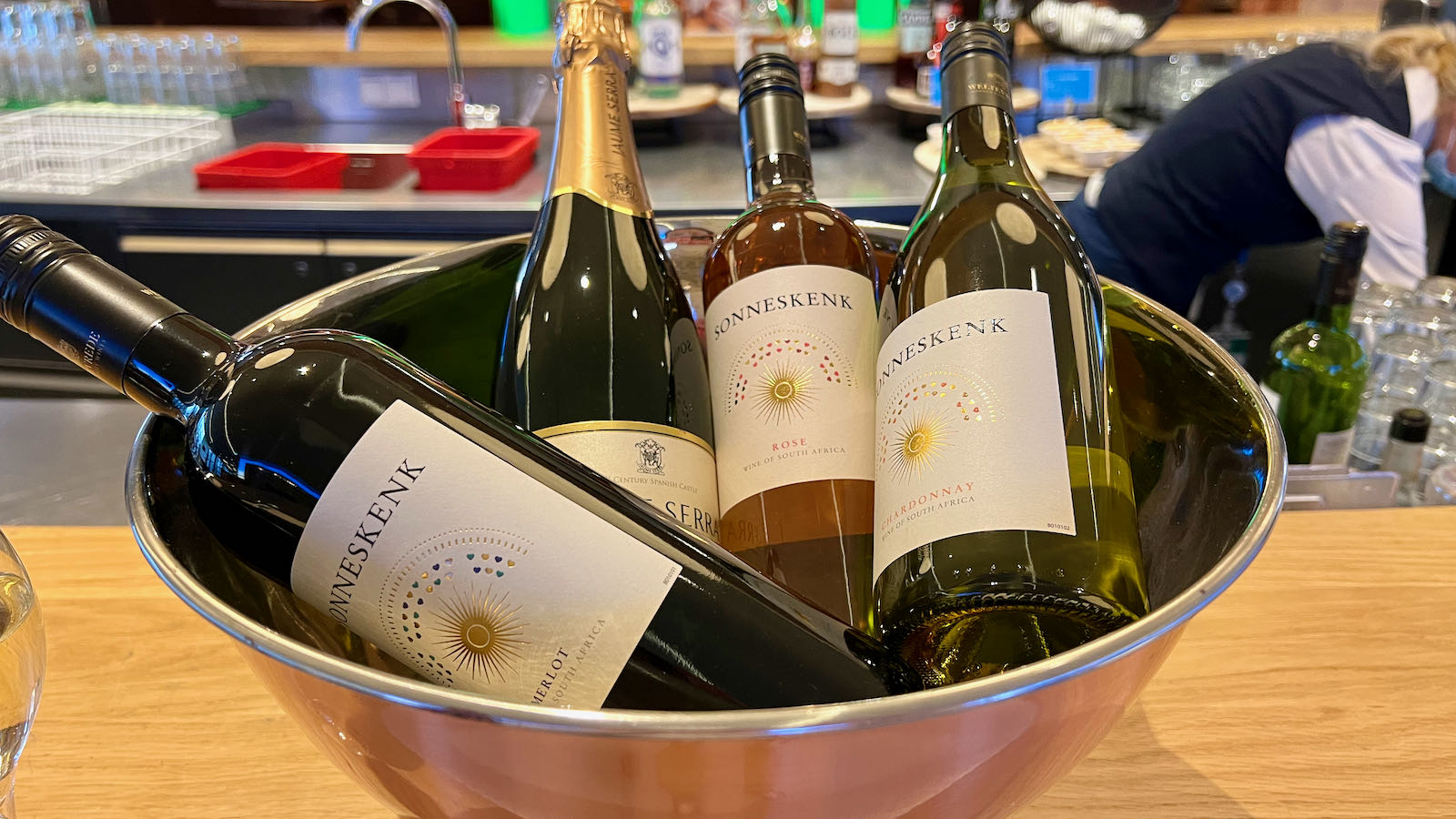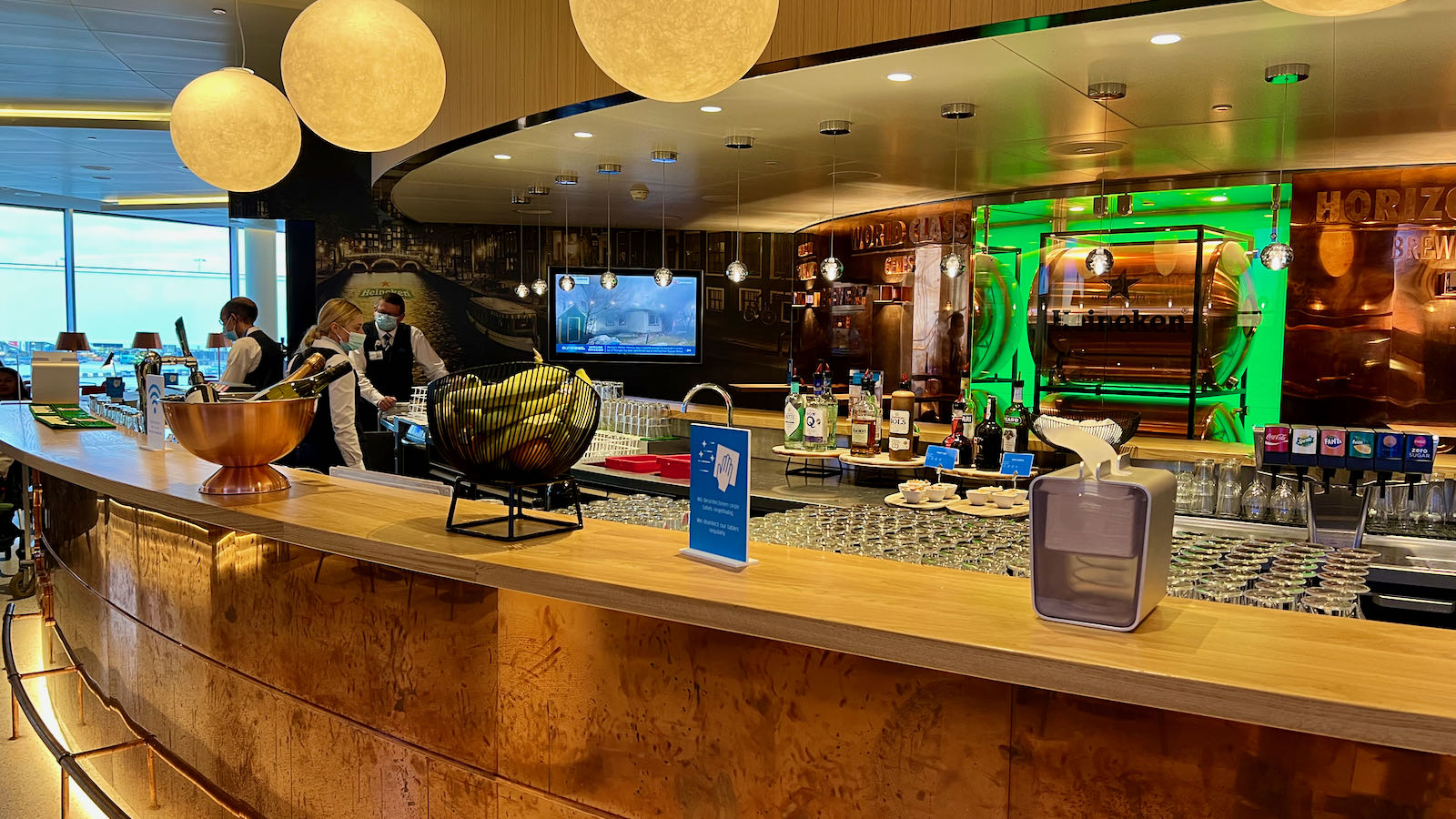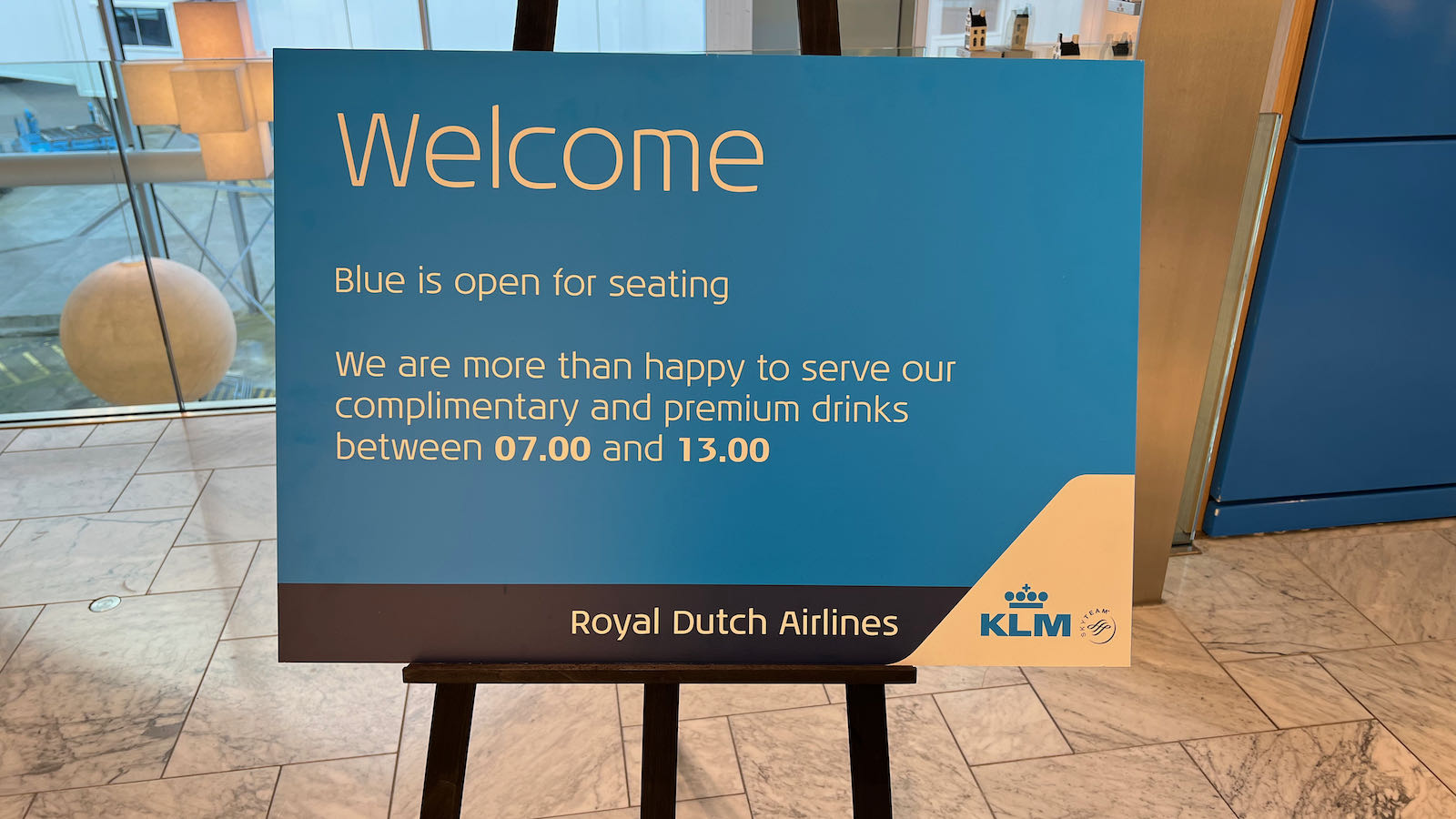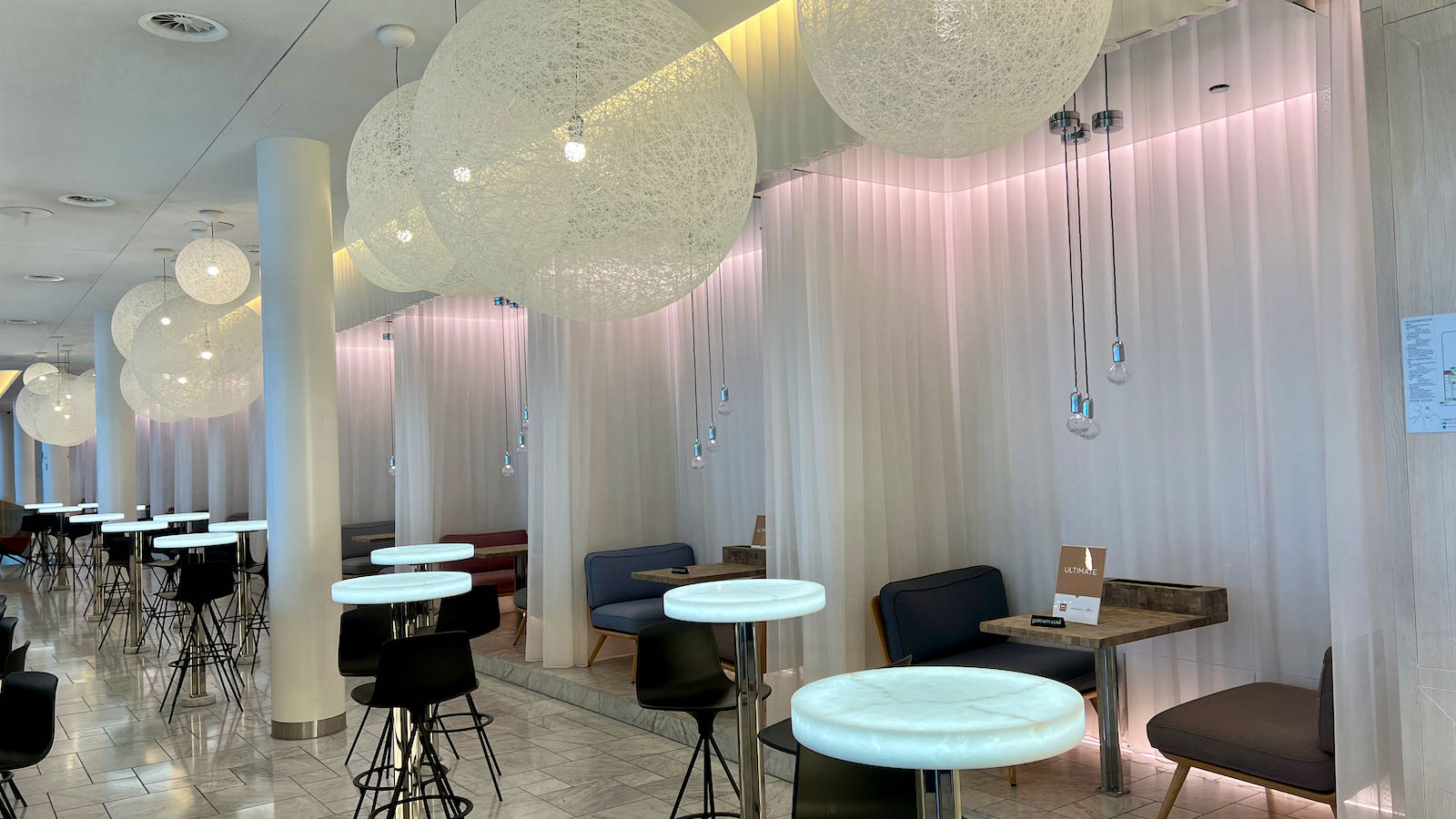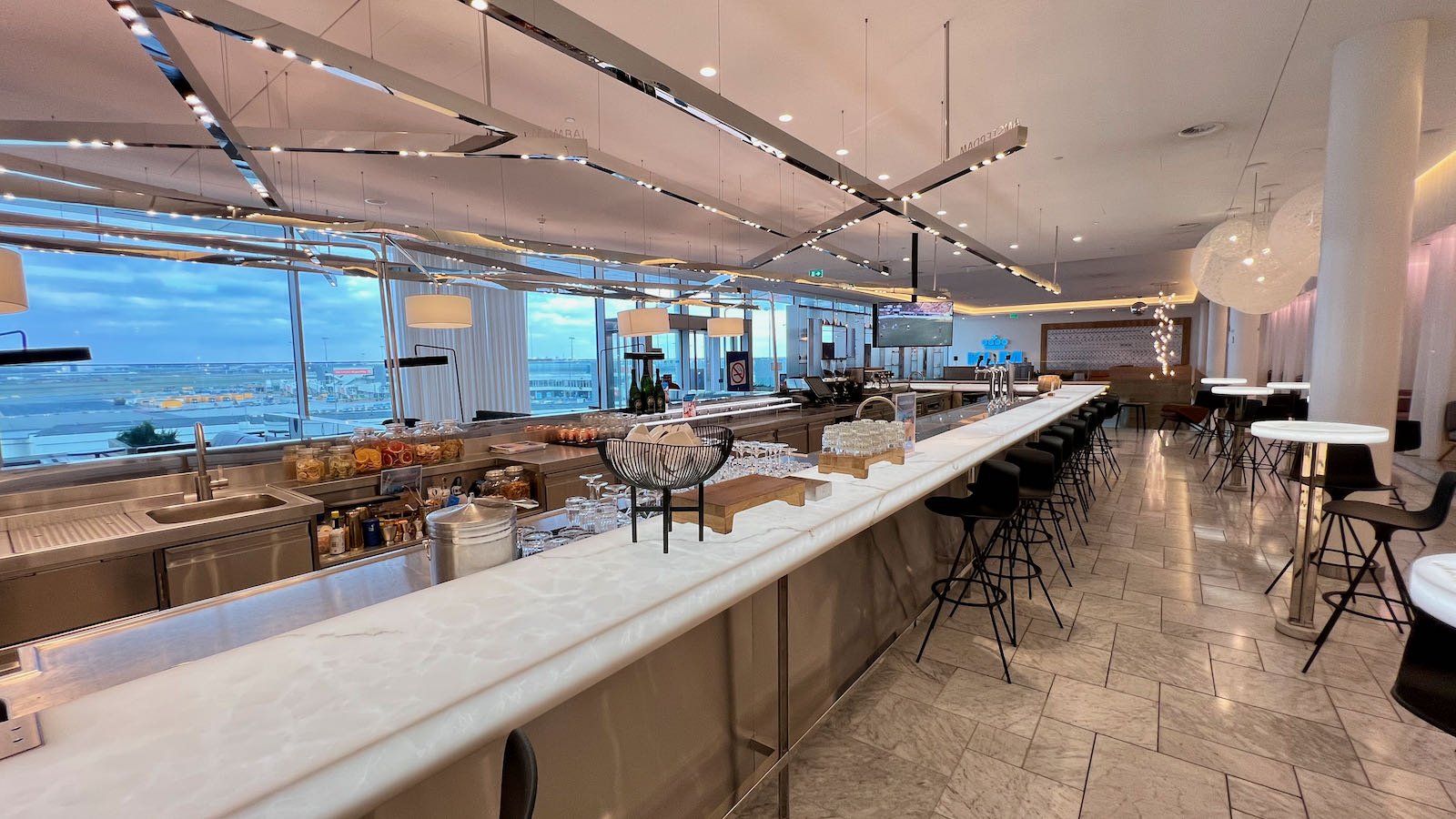 Fancy a beer instead? There's an entire corner of the lounge practically dedicated to Heineken. That's apt, being a Dutch brand and all!
For now, Blue Bar is also open to all Crown Lounge guests and has a complimentary drink menu. It's on the upper level. Pre-COVID, it only served those paying for a premium tipple. There's still that option – but a premium purchase isn't required, as it was before.
Unfortunately though, Blue Bar shuts at 1 pm each day. I'm told it mainly opens to cater for the Americans flying through in the morning. Still, given there are great views to be had up here, it'd be a nice spot to unwind later in the day.
Lounge amenities
It goes without saying that shower suites are available here. After all, this is KLM's flagship Crown Lounge.
But there's something much less expected. A collection of 'sleep cabins' are tucked away for those who know to book. They're cushy, whisper-quiet and are great when you have a long transit.
Given I had plenty of time to spare before my connecting flight to Singapore, I decided to give one a whirl.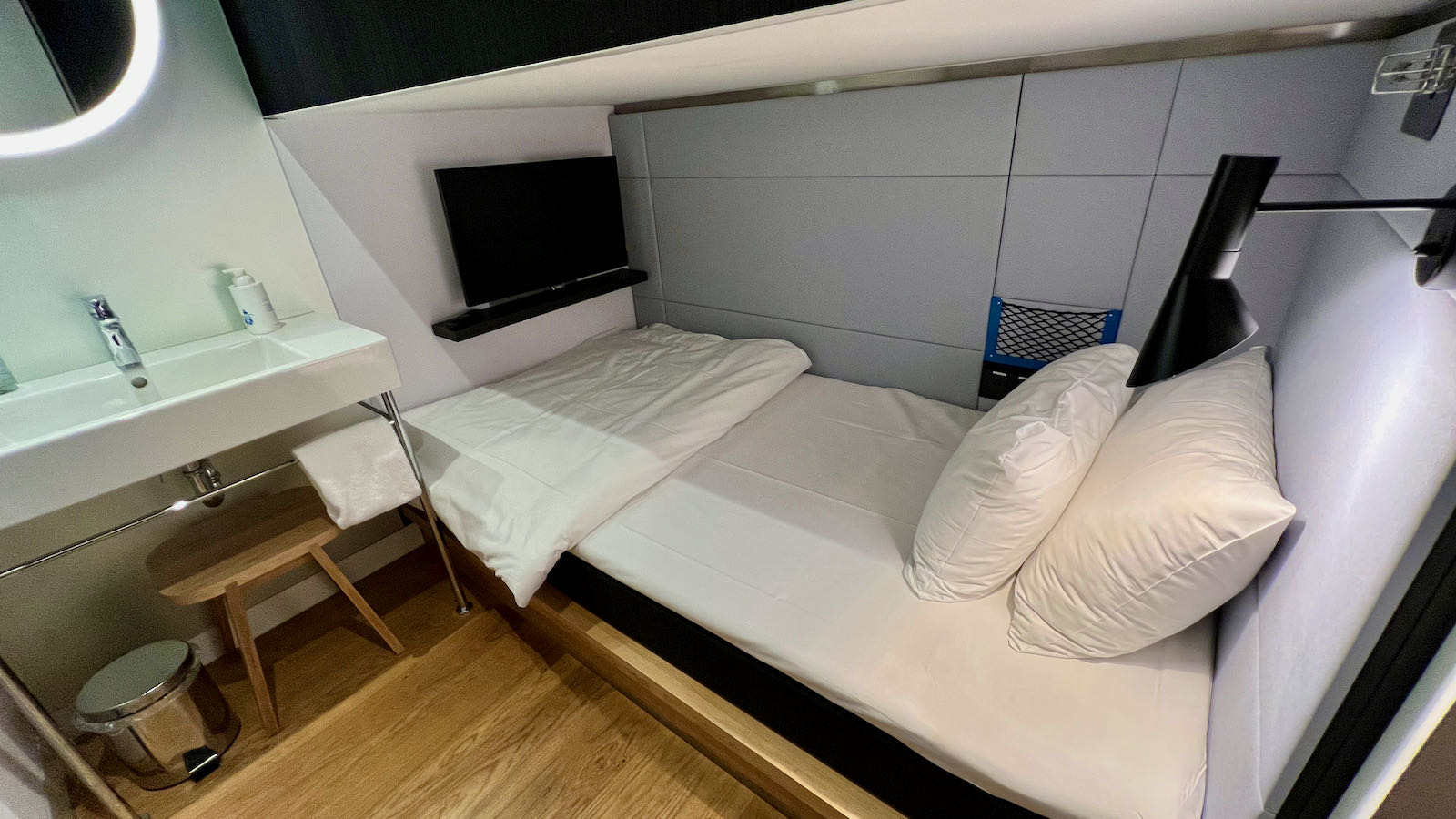 Now, this was a daytime visit and I was still running on London time after my whirlwind visit to the UK. So don't be surprised to hear that I couldn't actually sleep. But the bed was SUPER comfortable and pillowy, and the room was absolutely soundproof. With the lights switched off, it was pitch black. Highly recommended.
But unlike the showers and the other Crown Lounge amenities, the sleep cabins come at a charge. You can book online before travelling to guarantee your place, or book in person on the day. You'll pay:
For three hours: €49.50 (about AU$73), or 12,400 Flying Blue miles.
For five hours: €75 (about AU$110), or 18,800 Flying Blue miles.
Wherever you choose to venture in the lounge, there's fast and free Wi-Fi ready and waiting. Expect speeds of around 70Mbps for both downloads and uploads. Whether you're backing up your holiday snaps to a cloud drive or downloading Netflix shows to watch in the air, you won't be waiting long.
Accessing KLM's Crown Lounge 52
This KLM Crown Lounge is yours to visit when travelling beyond the bounds of the Schengen Area. For example, if you're flying from Amsterdam to places like London or Singapore.
With KLM being a member of the SkyTeam alliance, this is also the go-to lounge for eligible passengers on SkyTeam flights. A few other travellers make the cut as well, as detailed below. The rules for bringing additional guests into the lounge vary by airline.
By Business Class or First Class ticket:

Passengers of KLM, as well as Aeromexico, China Airlines, China Eastern, China Southern, Delta, Garuda Indonesia, Georgian Airways, Kenya Airways, Korean Air, Middle East Airlines, Saudia, TAROM and XiamenAir.

By airline frequent flyer status:

Qantas Gold, Platinum, Platinum One and Chairman's Lounge when travelling with KLM to Singapore. For access by Qantas status (that is, when not flying KLM Business Class), Qantas cardholders must be booked on a Qantas (QF) codeshare flight number operated by KLM.

Air France/KLM Flying Blue Gold, Platinum and Club 2000 frequent flyers prior to international SkyTeam flights.

Other SkyTeam Elite Plus cardholders prior to international SkyTeam flights.

KLM's Skipper of the Flying Dutchman members when travelling with any airline. This is KLM's invitation-only frequent flyer tier.

China Southern Sky Pearl Club Gold members, when departing on China Southern only.

Purchase access: If you'd like to come inside and don't otherwise qualify, a single visit costs €65 (about AU$95) and can be paid at the door. If you book online, you'll save €10 (~AU$15). Flying Blue Silver members also get a 25% discount, while even an entry-level Flying Blue Explorer card can save you 10%.
While designed for non-Schengen departures, you may also be able to visit this lounge if you're connecting from a non-Schengen country to a Schengen destination aboard an eligible SkyTeam airline. Just allow plenty of time to clear passport control, which takes place after leaving this lounge but before your connecting flight.
Summing up
KLM's Crown Lounge 52 is far from your typical airport hangout. But when you've flown all the way to Europe, isn't trying something different the whole point?
With plenty of space and natural light – and an abundance of available seats – it's hard to be left wanting here. Sure, the wine could do with a little improvement, and it'd be great if the stunning upstairs bar were open when most people actually want to drink alcohol. But give it time, and these things may come.
Given the regular delays at security screening lately, trust me, you'll just be happy to see the lounge!
Also read: How to book KLM flights using Qantas Points
Photography by Antonia Strakosch, who travelled at Point Hacks' expense. Additional reporting by Chris Chamberlin. Feature image courtesy of KLM.
---
Stay up to date with the latest news, reviews and guides by subscribing to Point Hacks' email newsletter.
KLM Crown Lounge 52, Amsterdam
was last modified:
December 9th, 2022
by