In my view, a great cabin experience is more than the sum of the hard and soft products. Airlines have a feel to them, an intangible quality – a vibe. And it's this you remember long after the seat pitch and spirit selection have faded from memory.
My recent flight in KLM Business Class aboard the 777-300ER was memorable from start to finish, with a vibe I can only describe as whimsical. Add in superb service, a spacious lie-flat seat and a sprinkling of charming Dutch design, and you have a unique Business Class product. One I'm itching to fly again.
And with KLM entering a codeshare agreement with Qantas Frequent Flyer in 2018, Qantas members can earn and redeem Qantas Points on all KLM flights.
Here's why you should consider flying KLM Business next time you're jetting between Europe and over 170 destinations around the world.
Check-in, lounge and boarding
After beginning my journey and checking-in in London, I have a seven-hour transit in Amsterdam Schiphol Airport before catching my KLM flight to Singapore. A lengthy transit like this is usually a nightmare. But with access to the impressive KLM Crown 52 Lounge, my time here zips by.
The two-level Crown Lounge is enormous, with a ton of different zones in which to work, dine or relax. I'm welcomed warmly by the staff at the desk. And it's this warmth and gentle humour that quickly sets KLM staff apart.
I'm travelling in early March 2022, so COVID requirements are still very much a thing. Lounge staff recommend I allow two whole hours to clear document check before boarding. And thank goodness they do. An interminable queue stretches back into the airport, though thankfully my Business Class ticket sees me ushered to the very front.
Happily, priority boarding is a breeze – and I'm one of the first onboard. The cockpit door is open, so I have a tantalising glimpse of the pilots with their illuminated switches and important-looking paperwork. I've scored seat 1K, right on the bulkhead. The lovely Dutch hostess proffers a tray with a choice of welcome drinks. From the selection of beer, orange juice, sparkling water and champagne (Nicolas Feuillatte in this instance), I choose champagne. I always do.
The delights continue. I'm enamoured with the KLM amenity kit, my first taste of the traditional Dutch blue and white Delft print. Inside, I find an eye mask, cosy socks, a toothbrush and toothpaste, and a few miniature toiletries. Even the safety video incorporates Delftware, with an animated video cleverly set on a Dutch tile.
KLM's safety measures are impressive, too – especially in regards to COVID-19. In fact, in 2021, they won the APEX Diamond Award for health and safety. Seats face in the same direction to minimise horizontal airflow and face-to-face contact. You have to hang your own coat so staff don't handle it, there are plastic protectors on food, and the bathrooms are spotlessly clean.
Speaking of bathrooms, Delft wallpaper and a cheering fake tulip elevate this often-overlooked amenity still further, proving that on KLM, a sense of whimsy exists even in the toilet.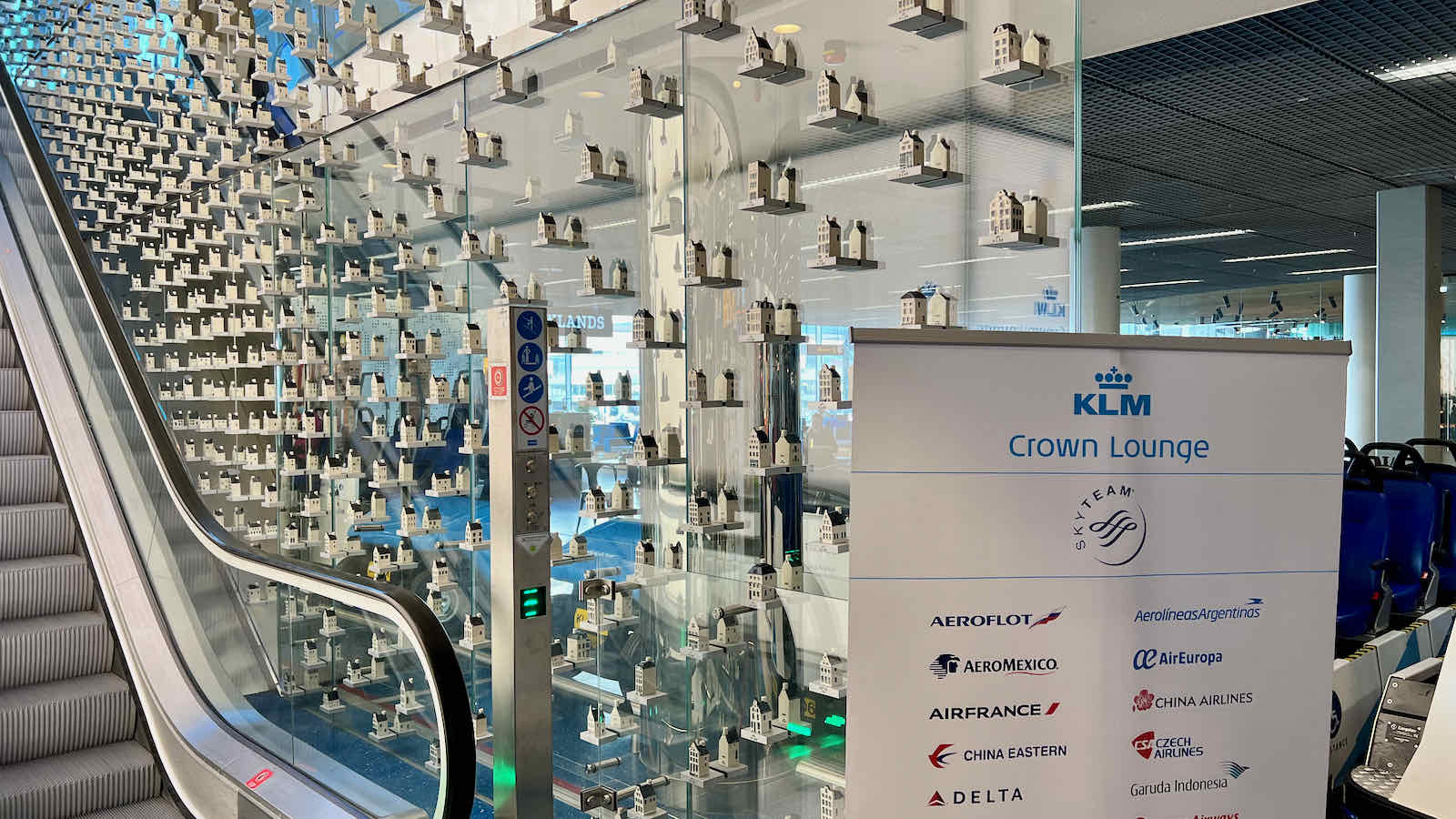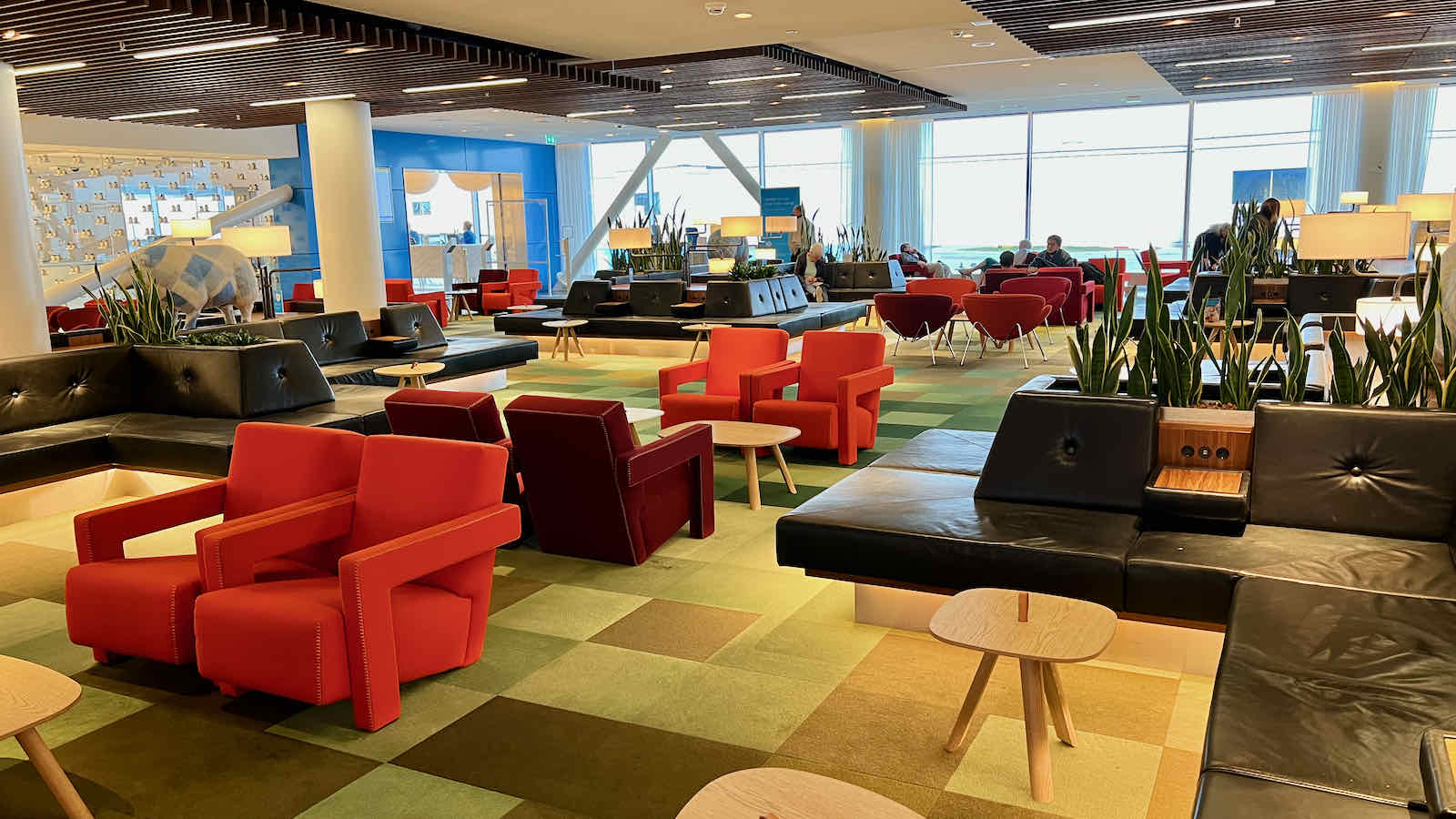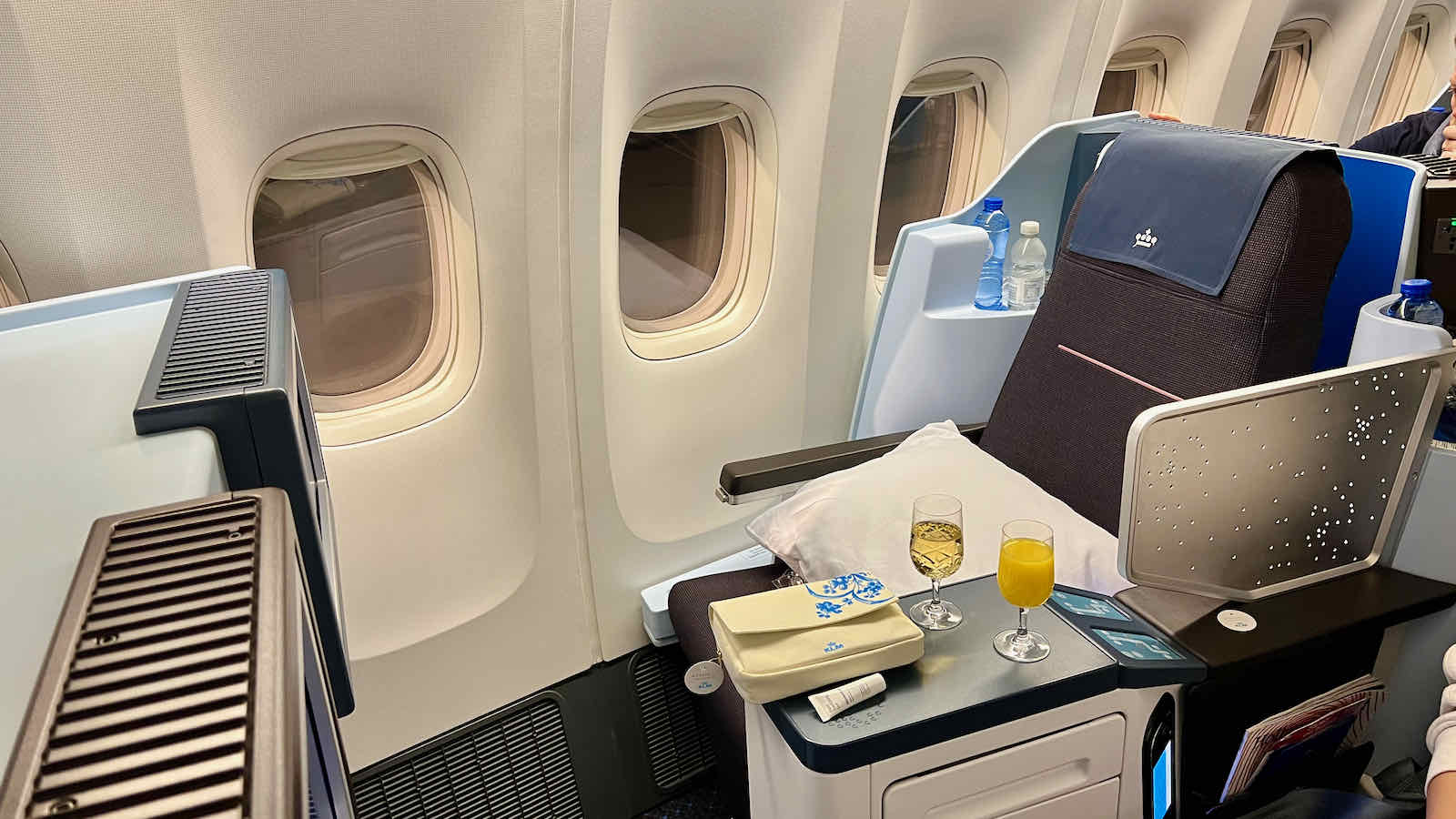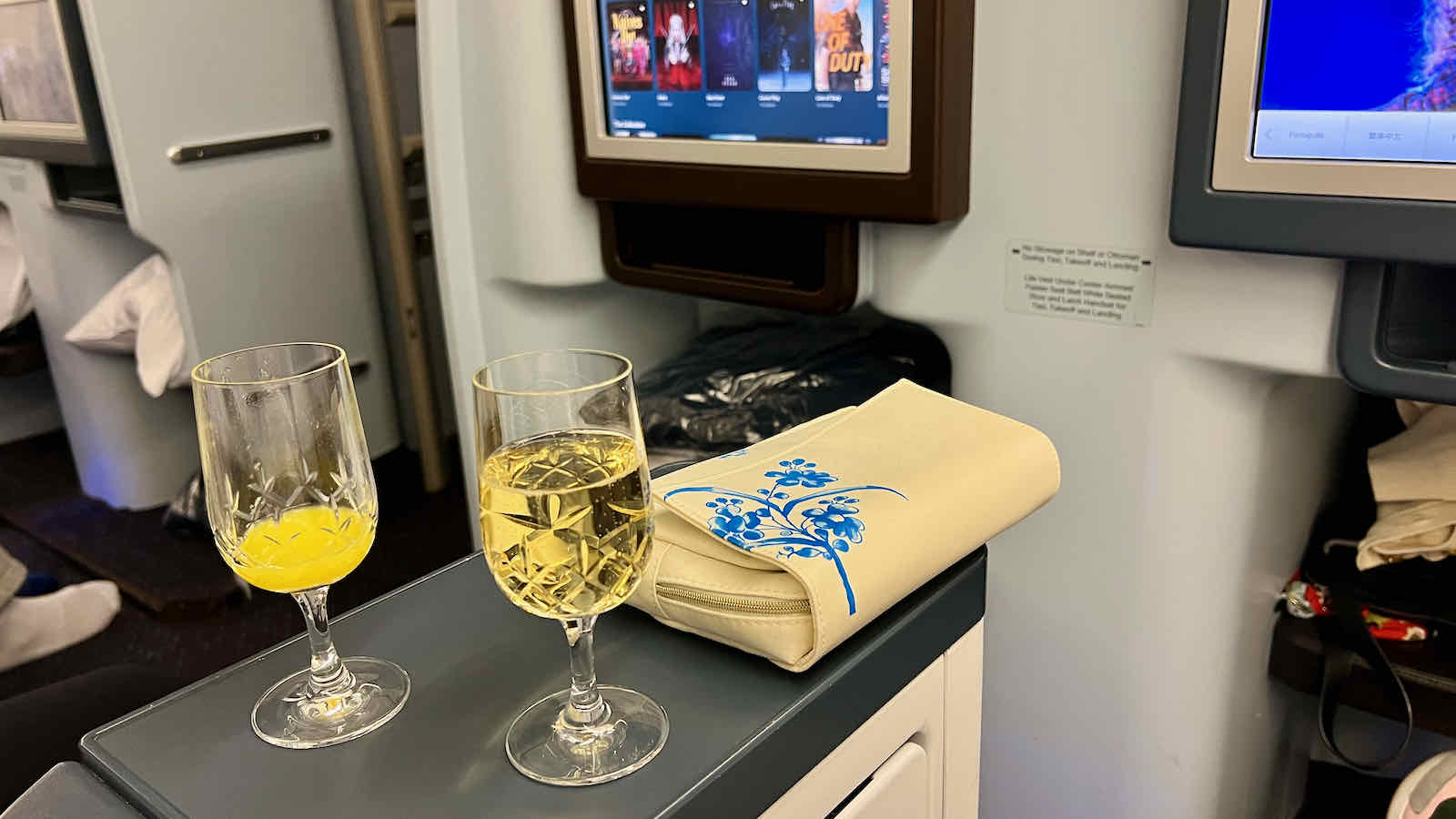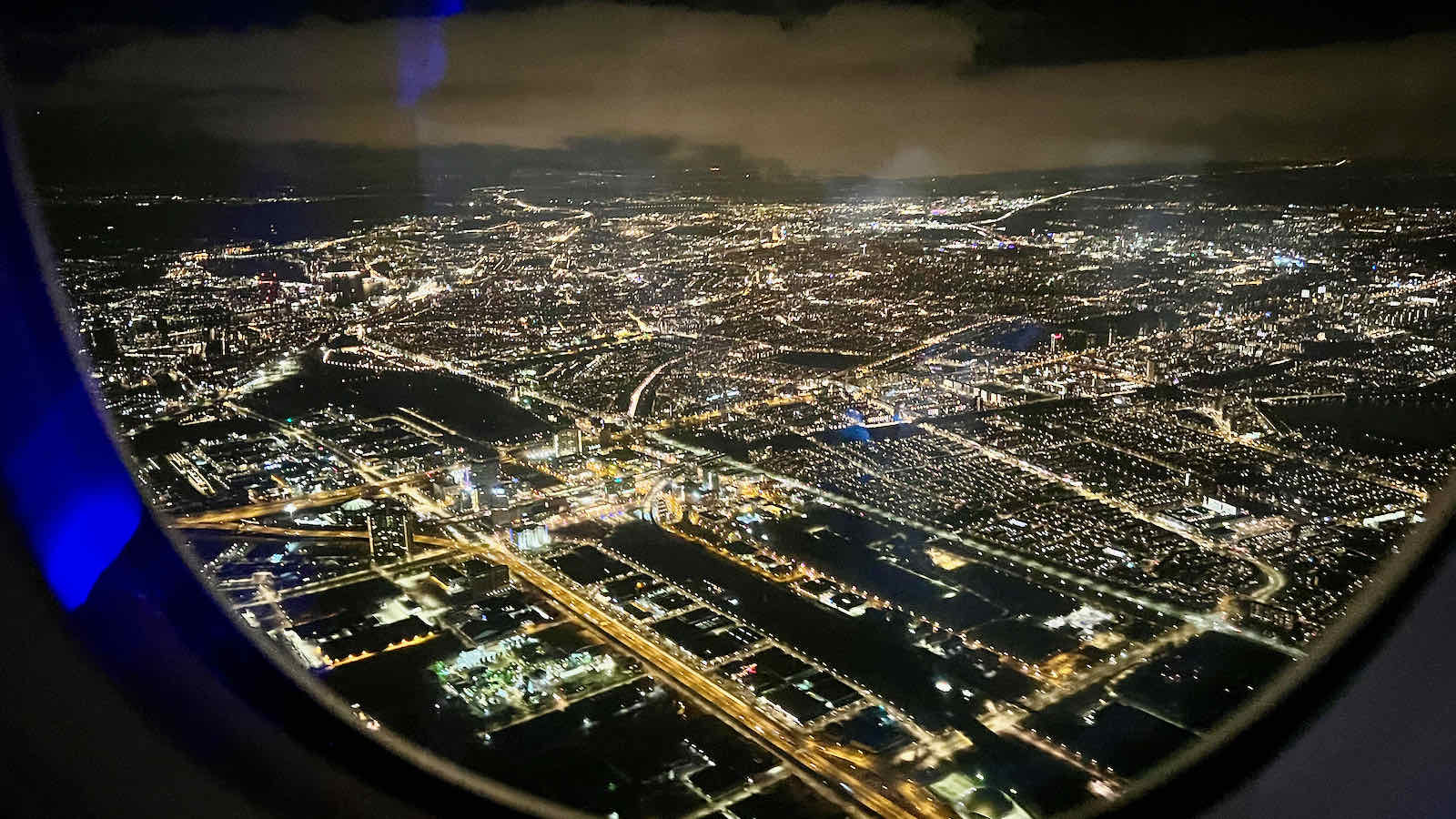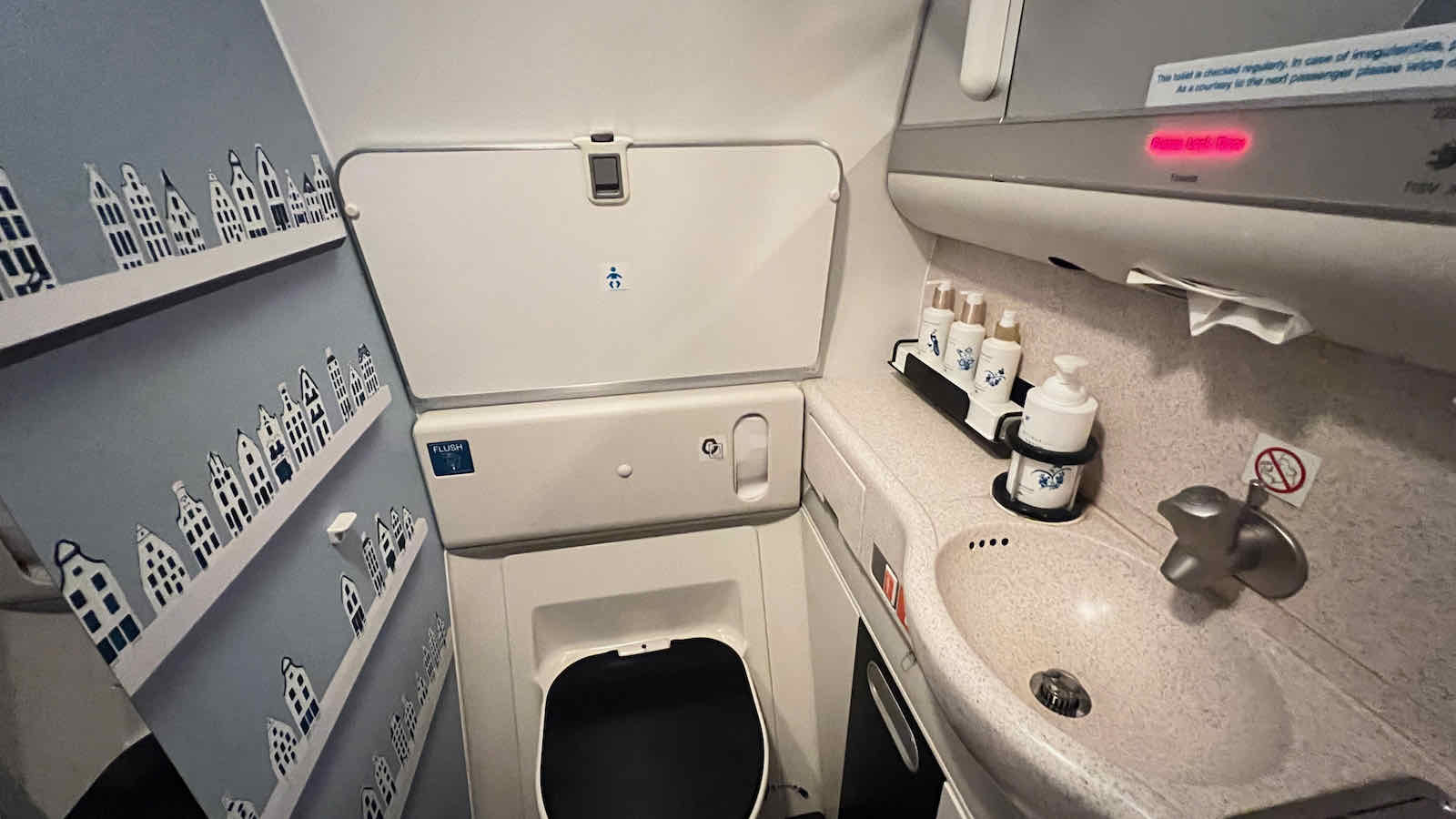 KLM Boeing 777-300ER Business Class seating
Aboard the 777-300ER, the KLM Business Class cabin has a 2-2-2 layout. Which is my chief criticism of this otherwise most enjoyable flight. Given I was flying solo, I would have much preferred a single seat on the window – especially given the flight time clocks in at over 12 hours. (Next time I'll aim for the 787-9, with its 1-2-1 layout).
Sure, there's a privacy divider between the seats. But unless your neighbour is pint-sized, when you're seated upright their head will still be in view. So keep this in mind. Of course, couples and friends will likely appreciate this layout, affording shared views out of the two spacious windows.
Looking for your tray table? It folds out from the centre console. Without it open (on takeoff and landing, for example), you and your neighbour will be vying for space on this console to hold your drinks and snacks. It's not a tight squeeze, but it does involve an element of compromise.
In terms of storage, there's plenty to go around. Both the padded footrest and the space beneath it serve as storage chambers when your seat's in the upright position, while the small compartment above perfectly fits a book and amenity kit. Meanwhile, a head-height compartment on the right of your seat holds both a water bottle and charging ports, while on the left you'll find a pouch for magazines.
And when you're ready for some shut-eye, a simple hand control extends your seat into a two-metre-long fully flat bed. There's no mattress topper unfortunately, but with the doona and cushy pillow provided I'm more than comfortable. I'm delighted to discover that once I'm lying flat, that pesky privacy issue vanishes. Hours of peaceful slumber ensue.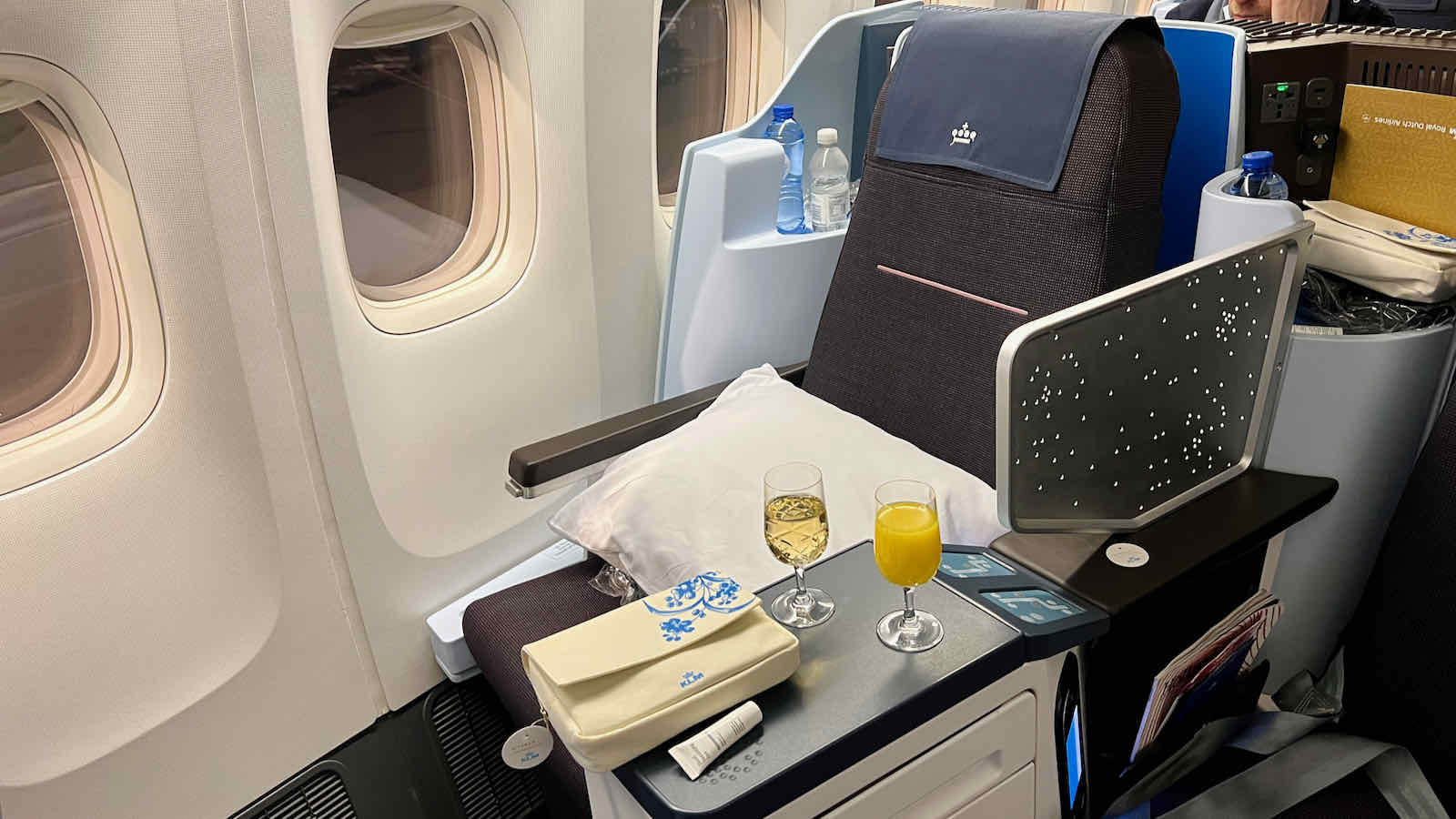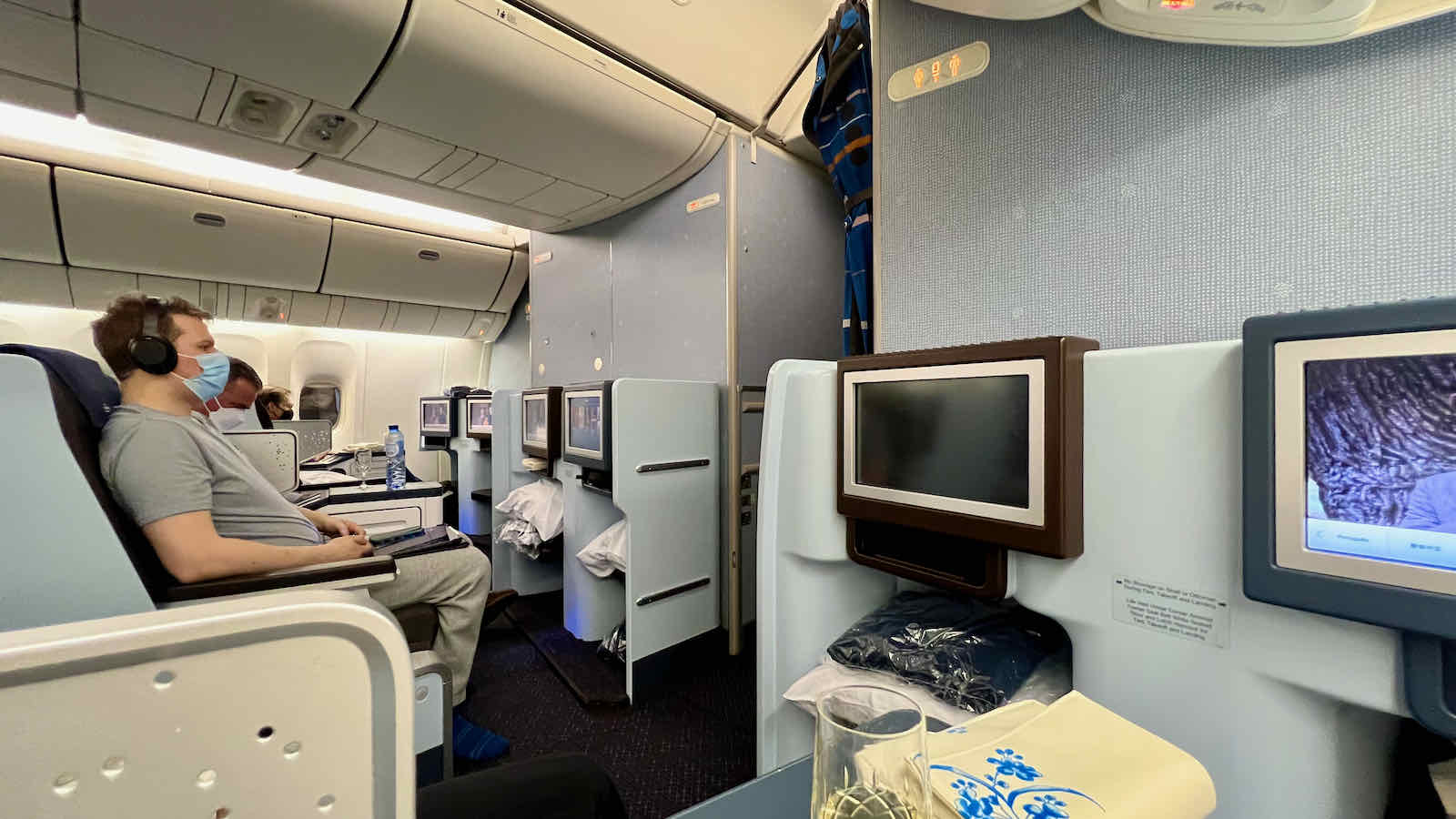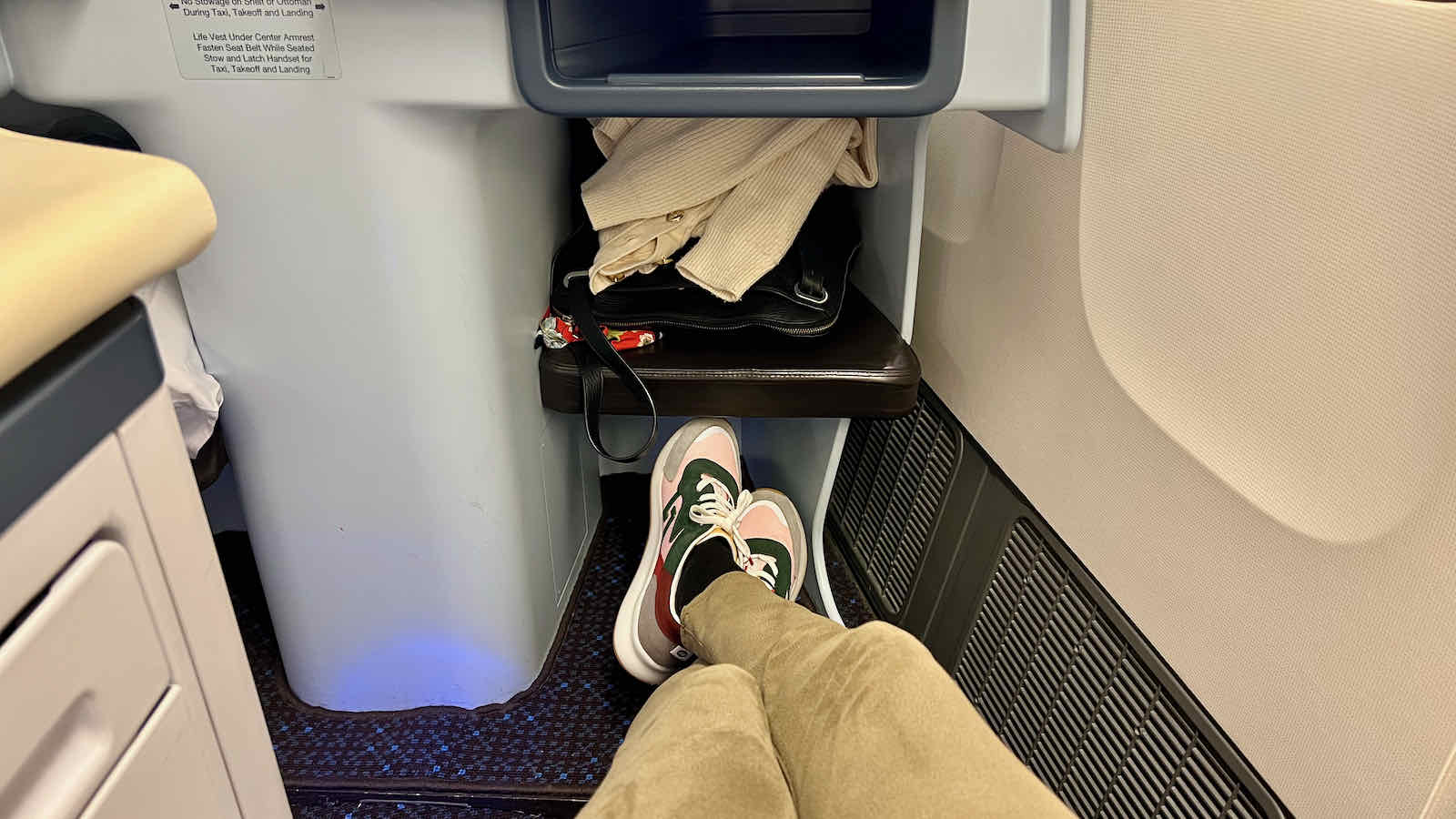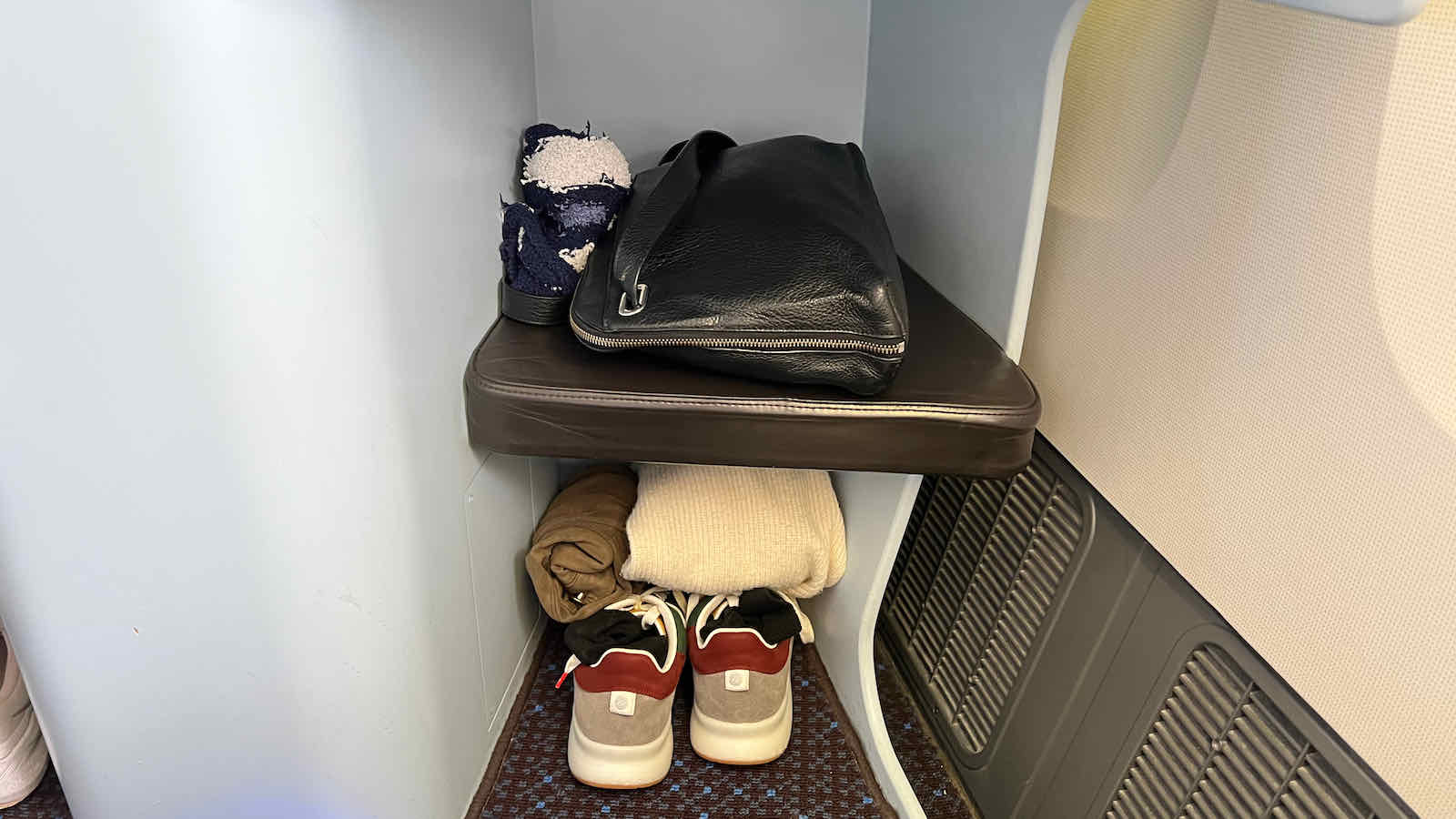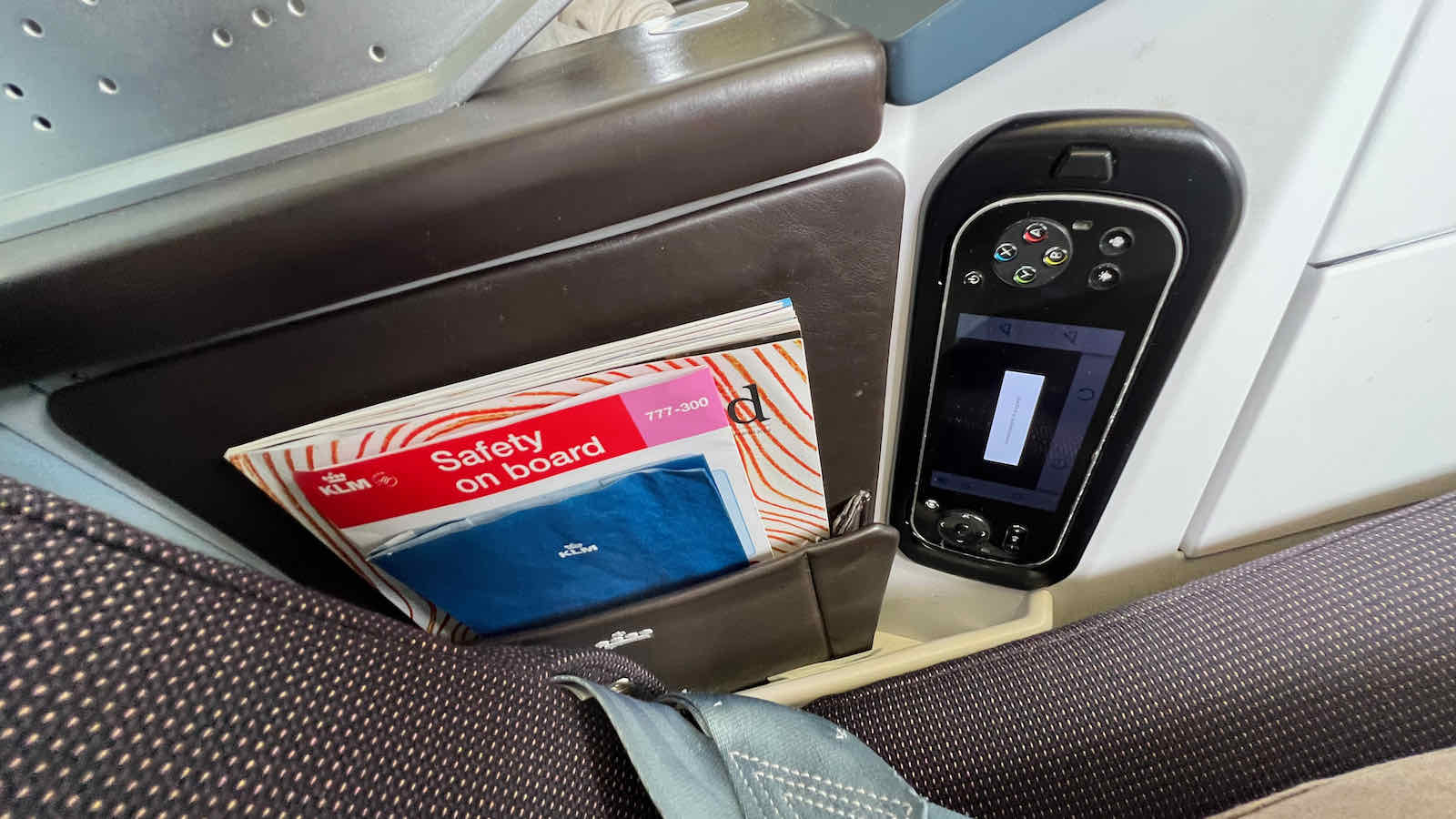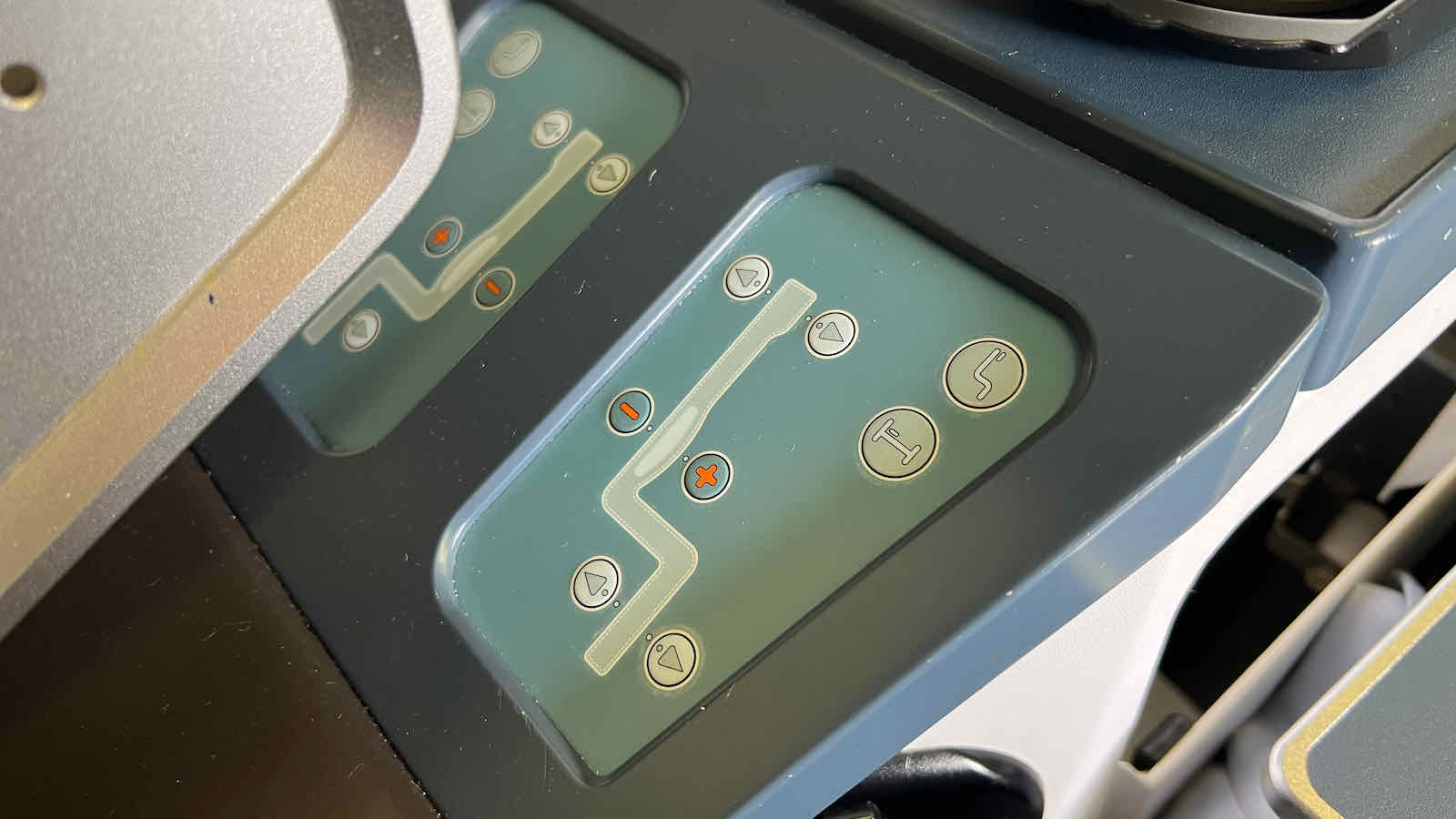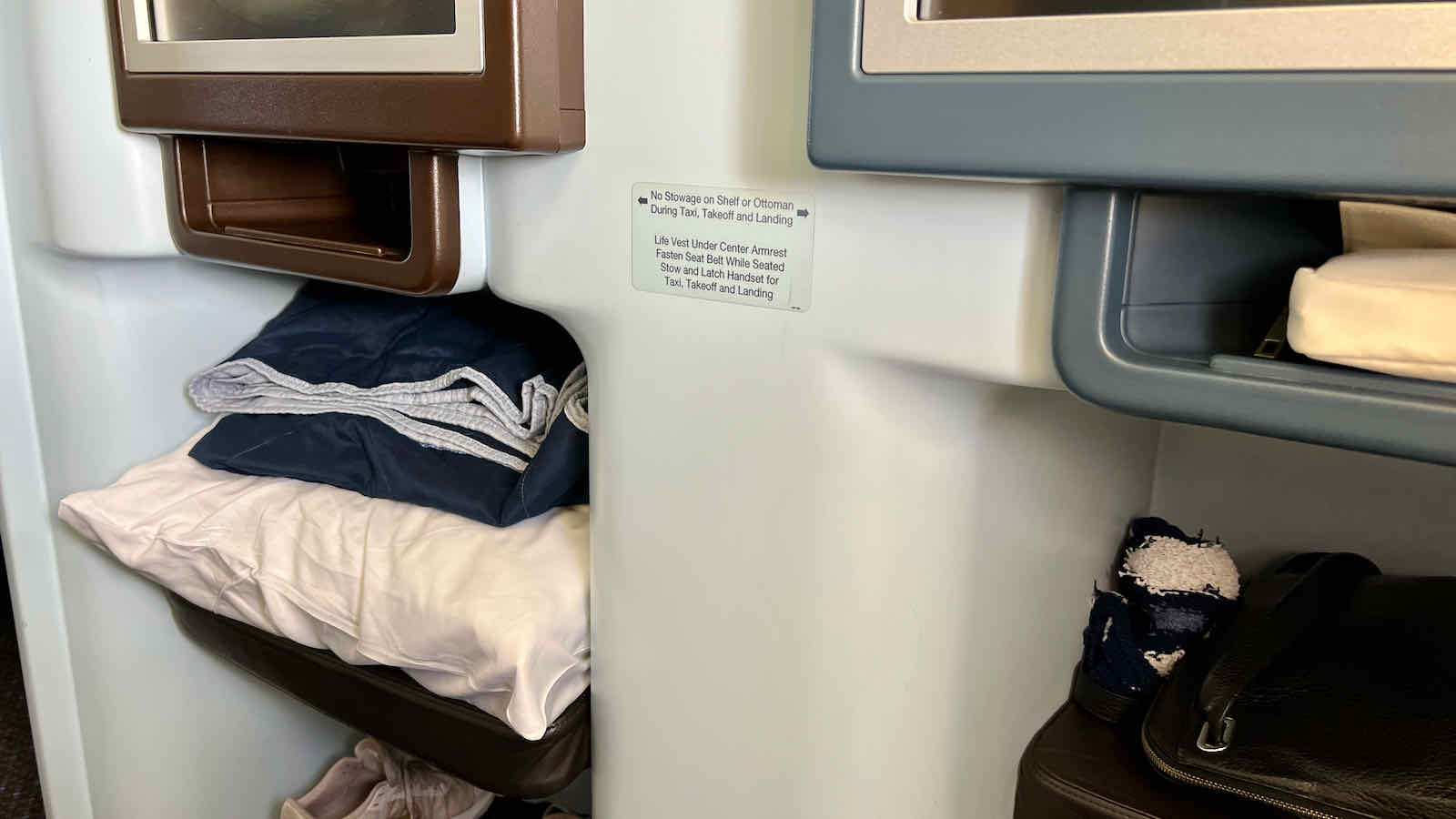 KLM Boeing 777-300ER Business Class food and beverage
I enjoy the food on this KLM flight to Singapore. But it's in the beverage department that the carrier really shines.
With its dry and toasty notes, my welcome glass of Nicolas Feuillatte champagne is the perfect aperitif – and I love the etched glass flute. But it's the silky Chilean Veramonte Pinot Noir that really gets me excited. Chilean Pinot Noir: who knew?
My hostess serves dinner shortly after departure. From the linen tablecloth to the quality porcelain and delightful red plastic clogs that serve as tiny salt and pepper shakers, the design is inspired.
On the food front, my sea bass ceviche serves as a refreshing appetiser, with pickled red onion and strawberry wasabi dressing lending a zesty kick. Though I'm surprised to see wedges of brown avocado atop the fish – surely one of the least friendly foods for a pre-prepared meal.
I continue with cod for main – a warming dish with artichoke and pickled fennel adding earthiness. Though unfortunately, my fish is a tad overcooked. I'm too full for dessert, but a miniature chocolate KLM house is a tasty finish.
After a restorative sleep, I wake to breakfast before landing in Singapore – starting with a bracing filter coffee (you'll need to fly the Dreamliner to experience barista coffee in KLM Business). There are three choices on offer: an omelette, sweet crepe or granola and yoghurt. I enjoy the fluffy salmon and chive omelette, while a warm croissant and fresh fruit bowl round out brekkie. And with Champagne and OJ on offer as well, a cheeky mimosa is just a pour away.
Speaking of drinks, KLM offers Business Class guests one of their collectable gin-filled Delft Blue miniature houses on intercontinental flights, with each house depicting a real Dutch building. Though they're far too lovely in my opinion to crack open the wax seal and actually drink.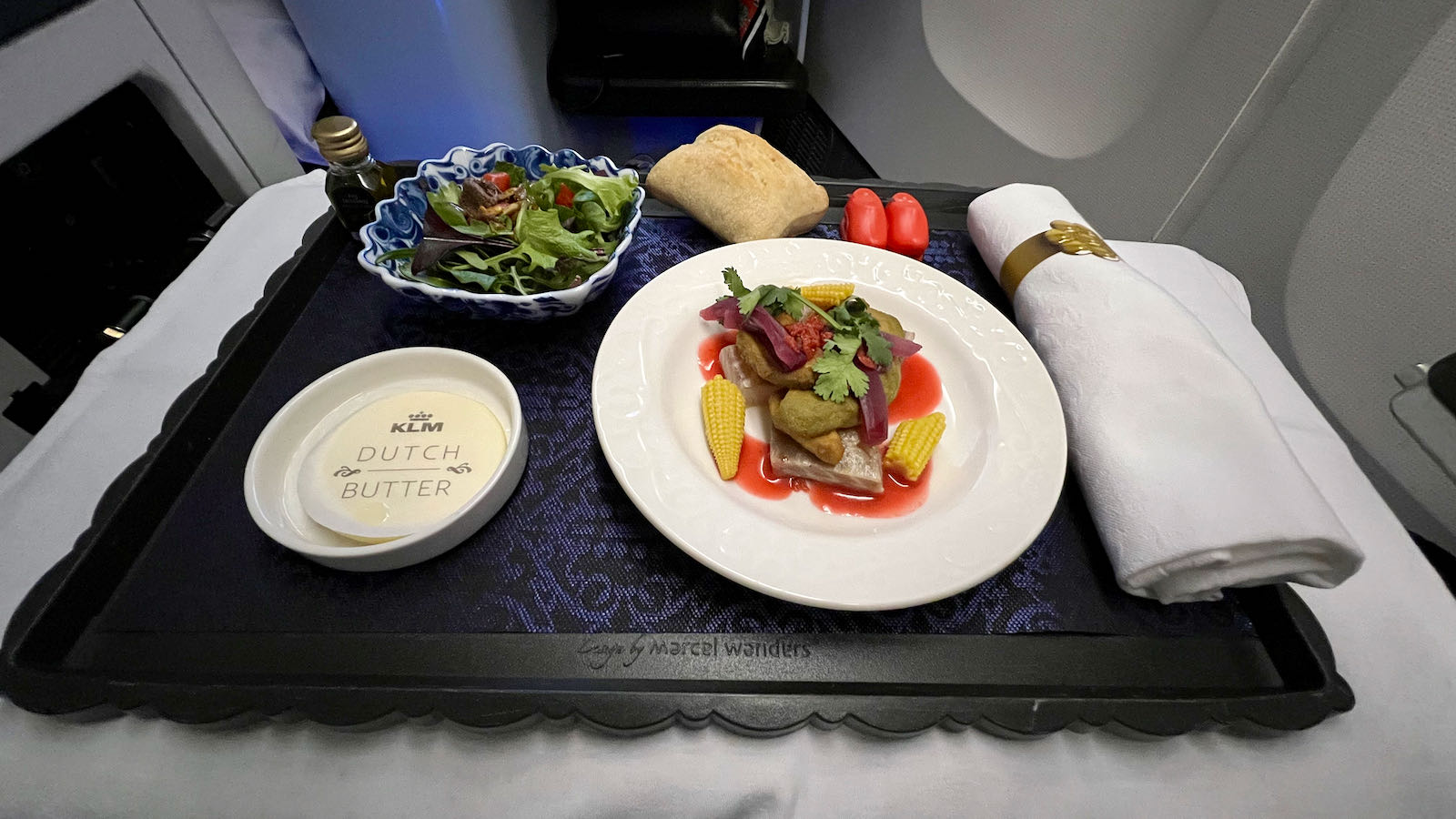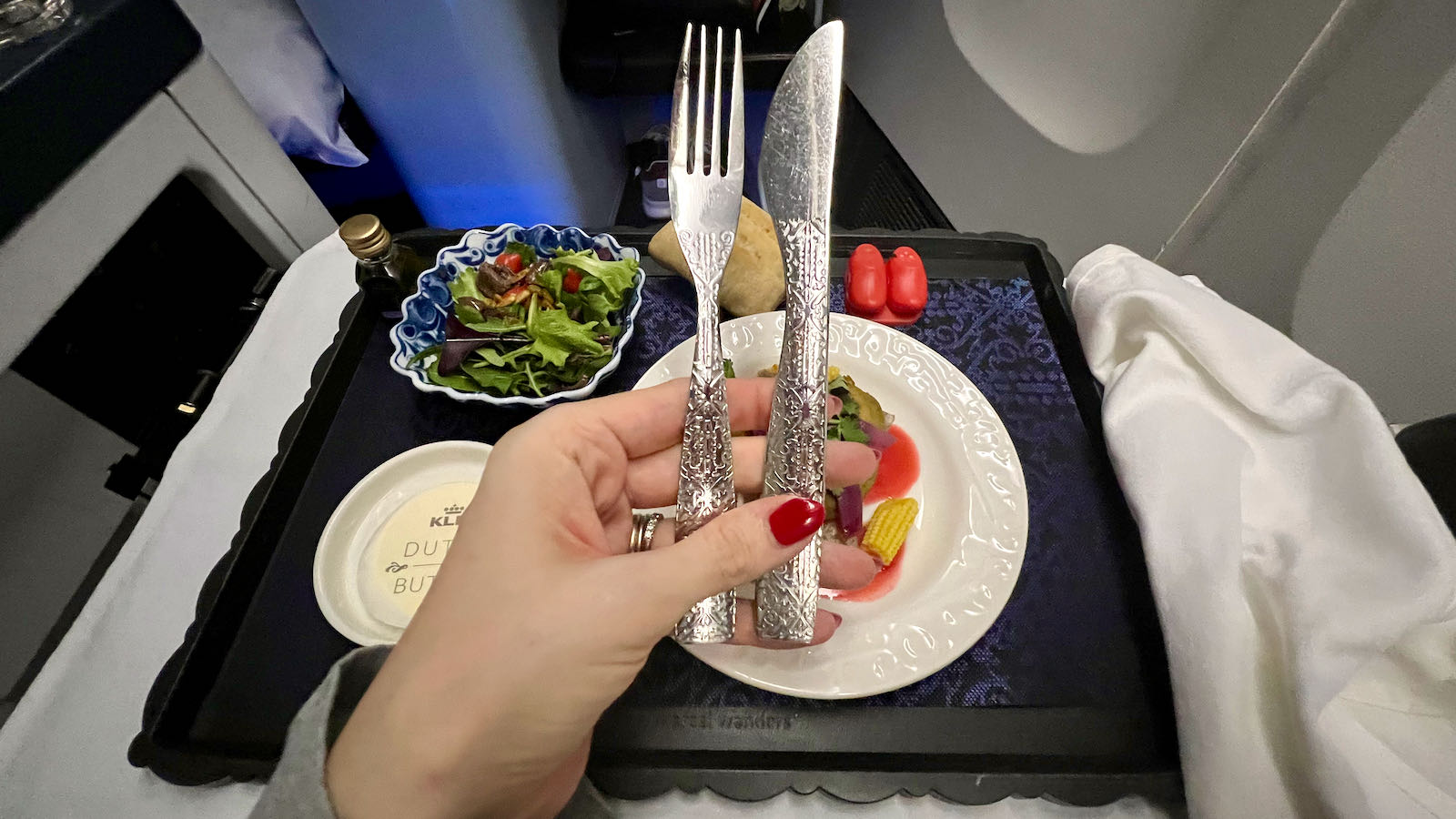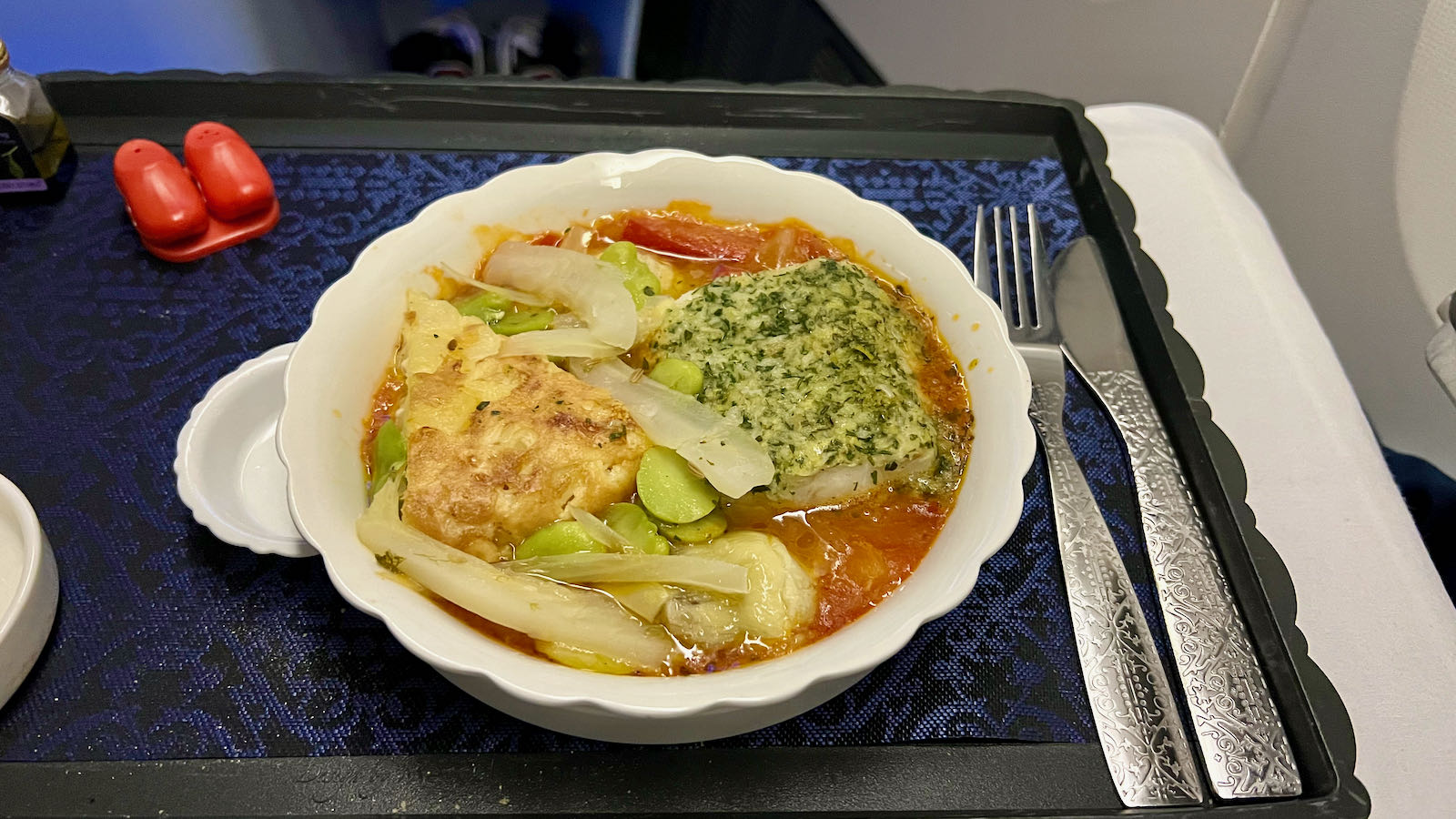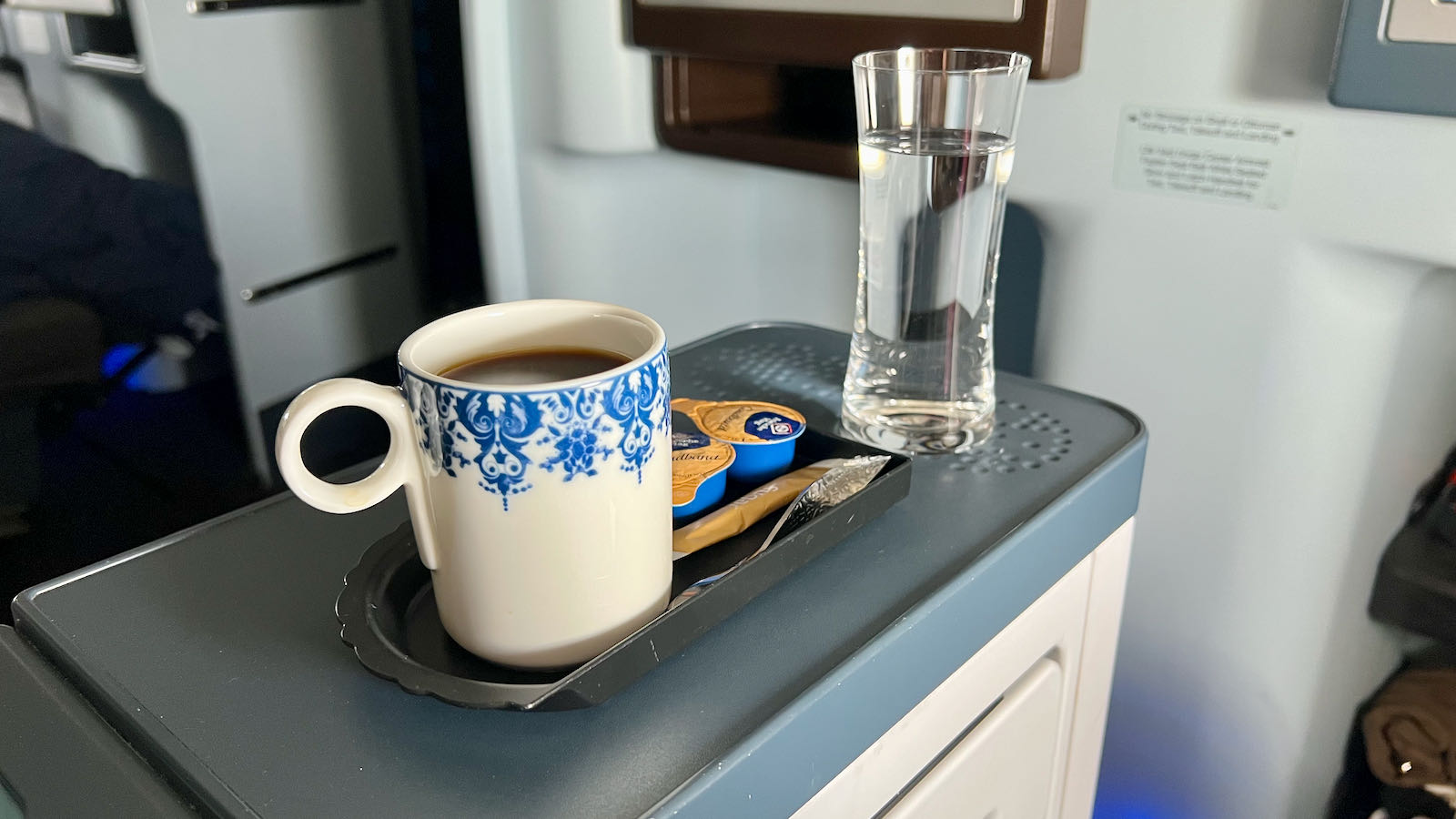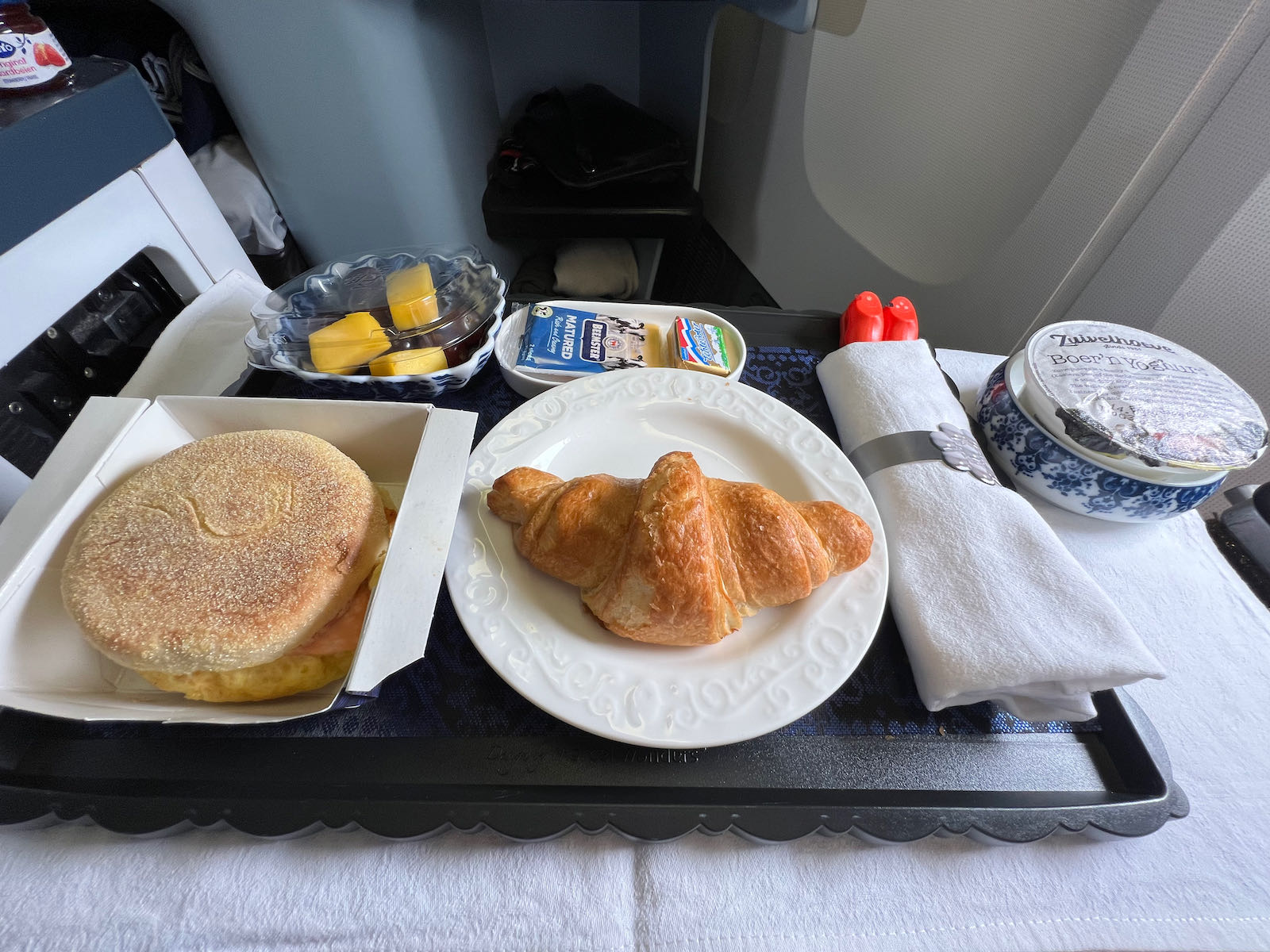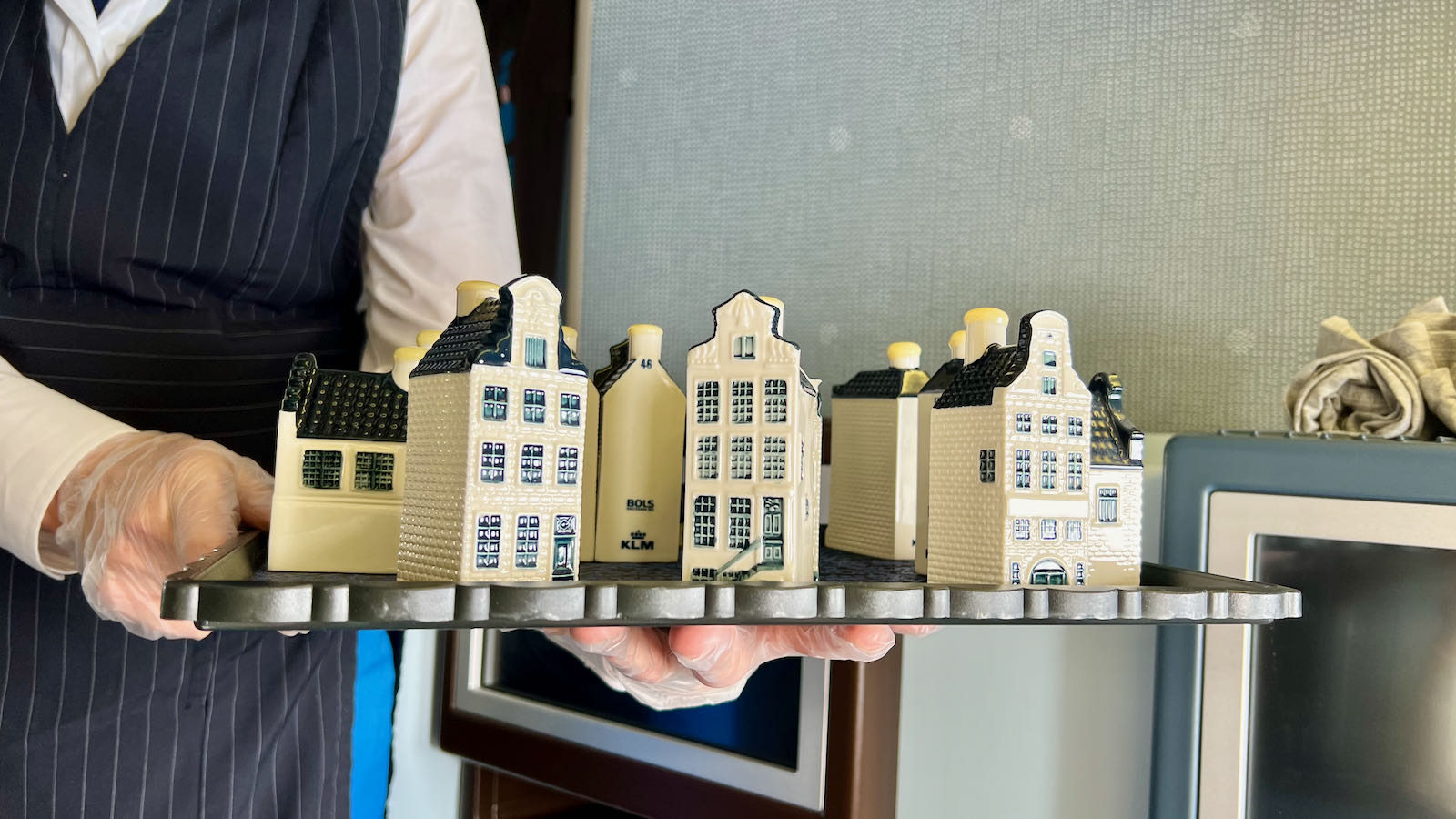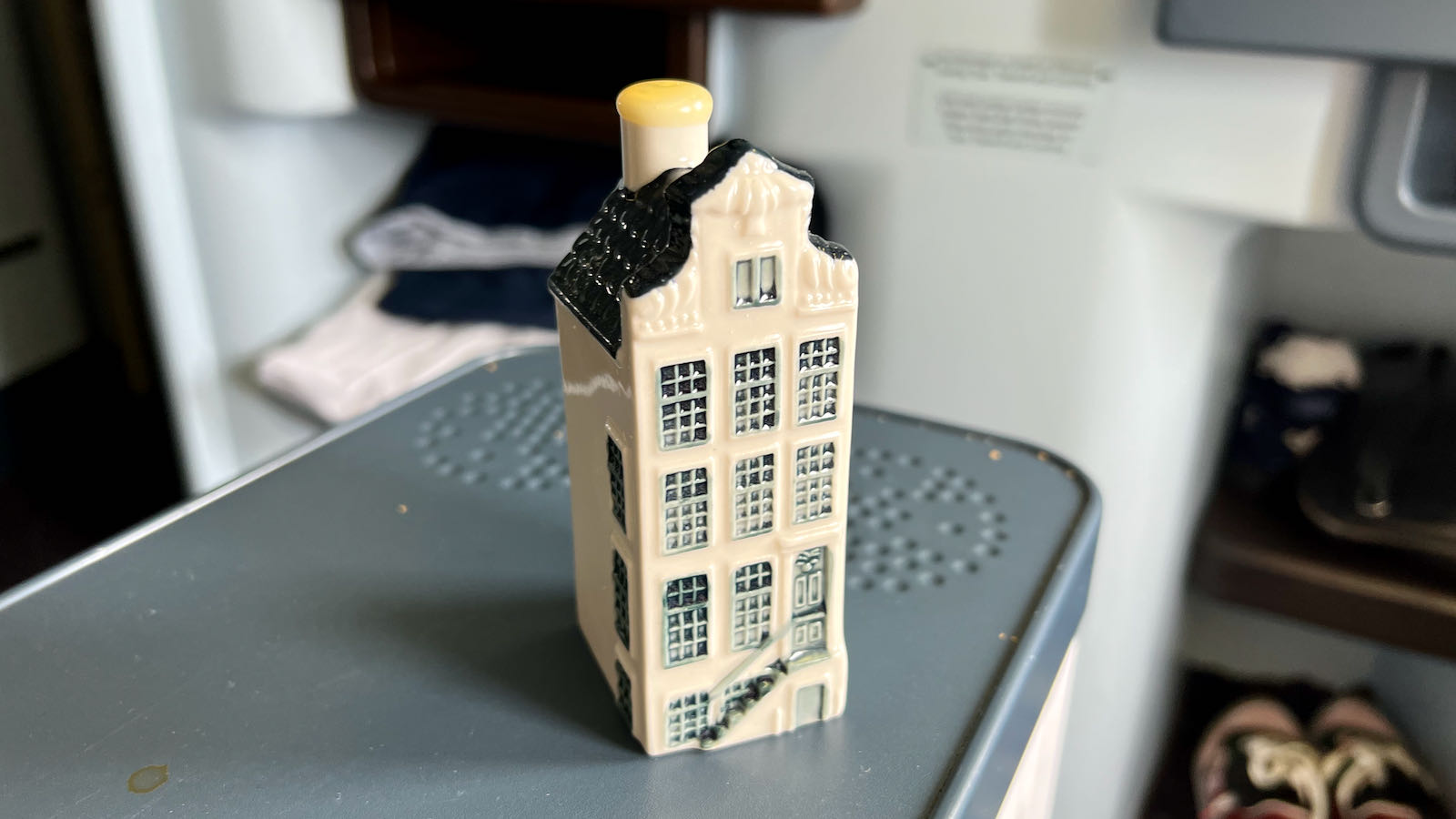 KLM Boeing 777-300ER Business Class service and entertainment
Service on this Amsterdam-Singapore flight is excellent, with my hostess continually going above and beyond to ensure I'm happy and comfortable. She manages to keep smiling – through her mask, no less – as I capture endless photos and videos. Her unfailing sunniness contributes to the warm and welcoming vibe I mentioned earlier.
On the entertainment front, the 777 offers a 17-inch touchscreen in Business, with a selection of recent movies and binge-worthy TV shows complementing the usual games and music. A mini touchscreen hand-control also comes in handy, especially when you're lying down. And I'm always fond of a moving map.
I discover this plane isn't equipped with Wi-Fi, though most other KLM jets are. Still, for those looking to get some work done, the fold-out tray table works well with a laptop, and the charging ports are conveniently located. But No Time To Die beckons, so what can I do?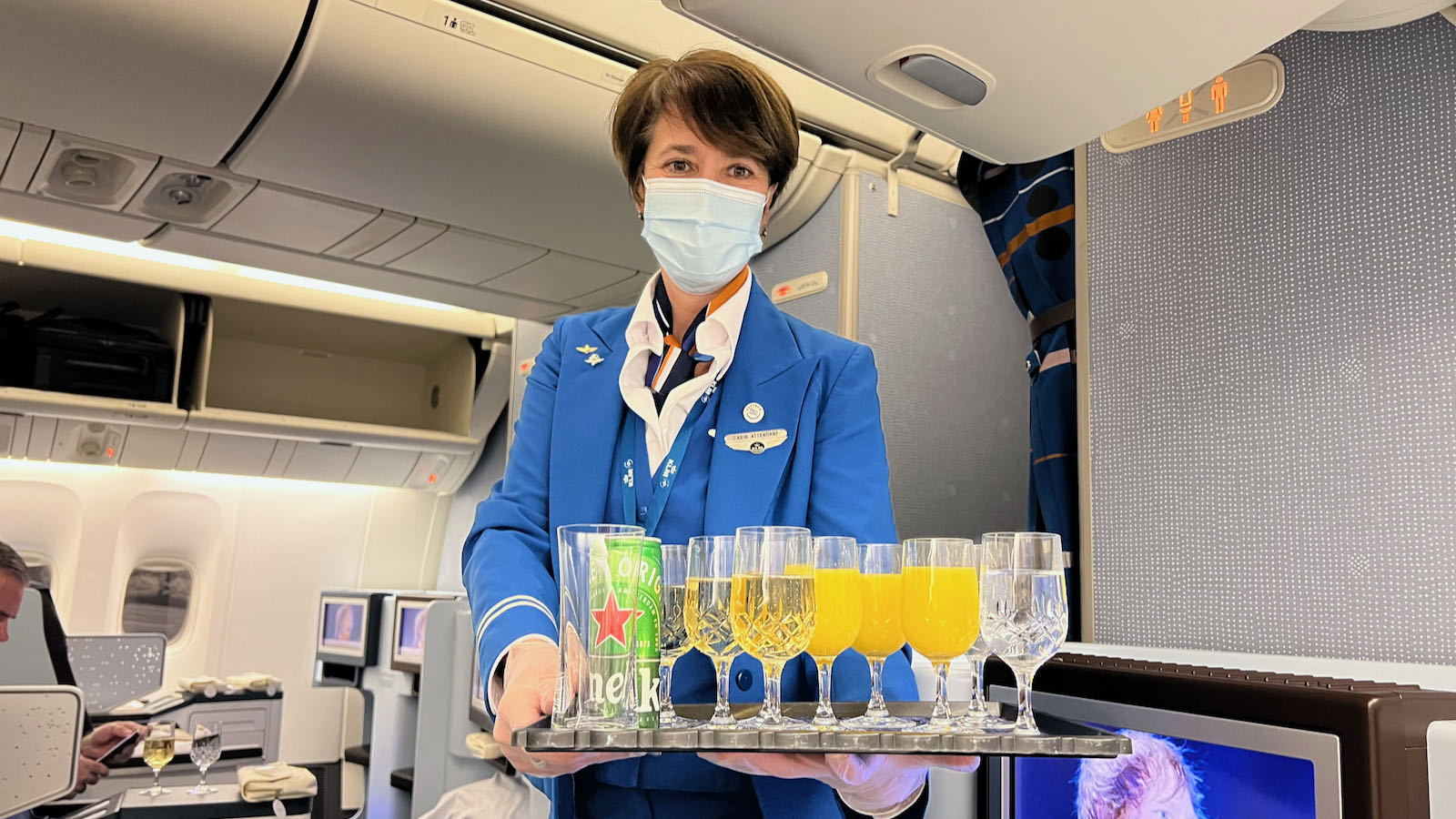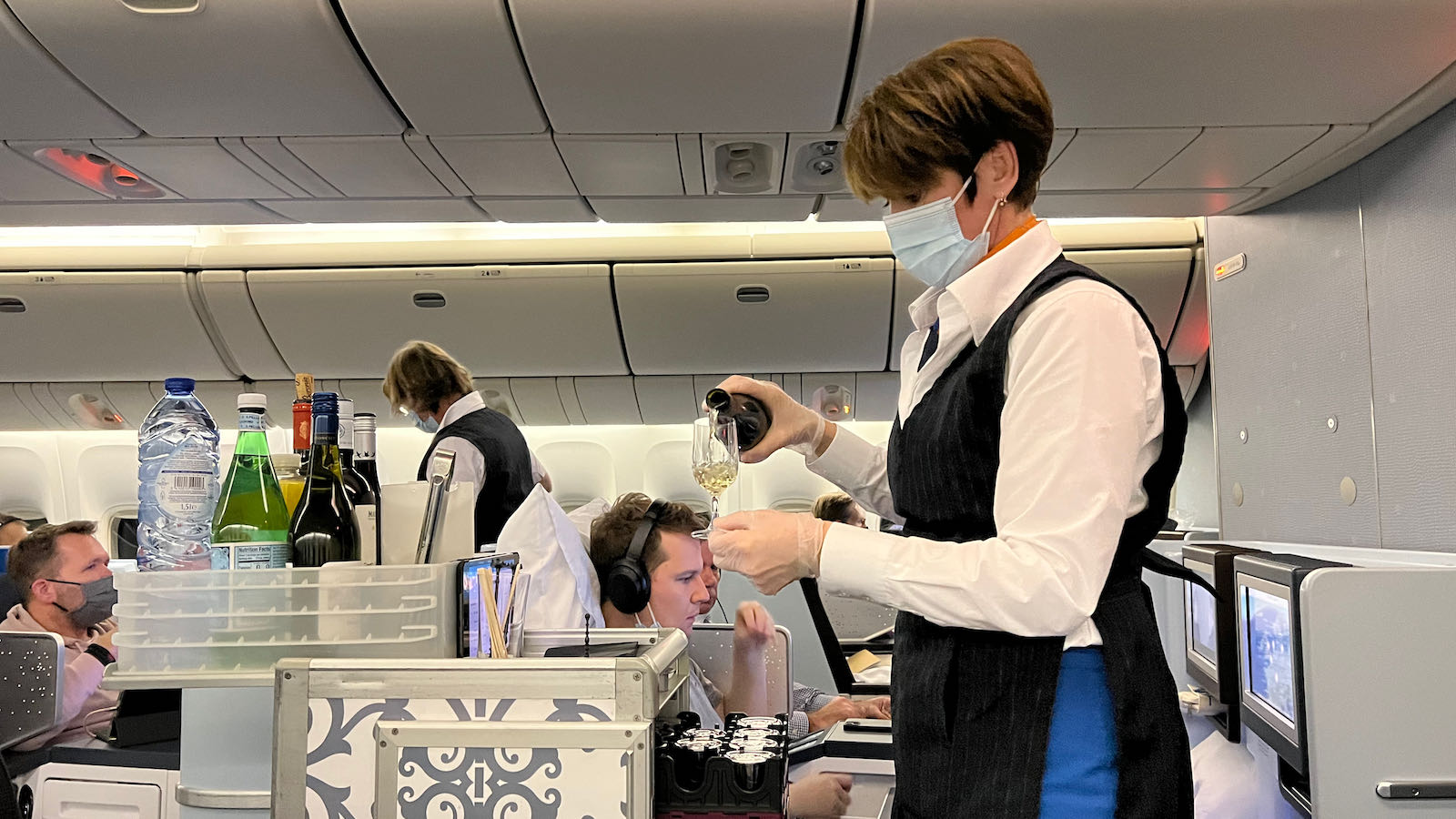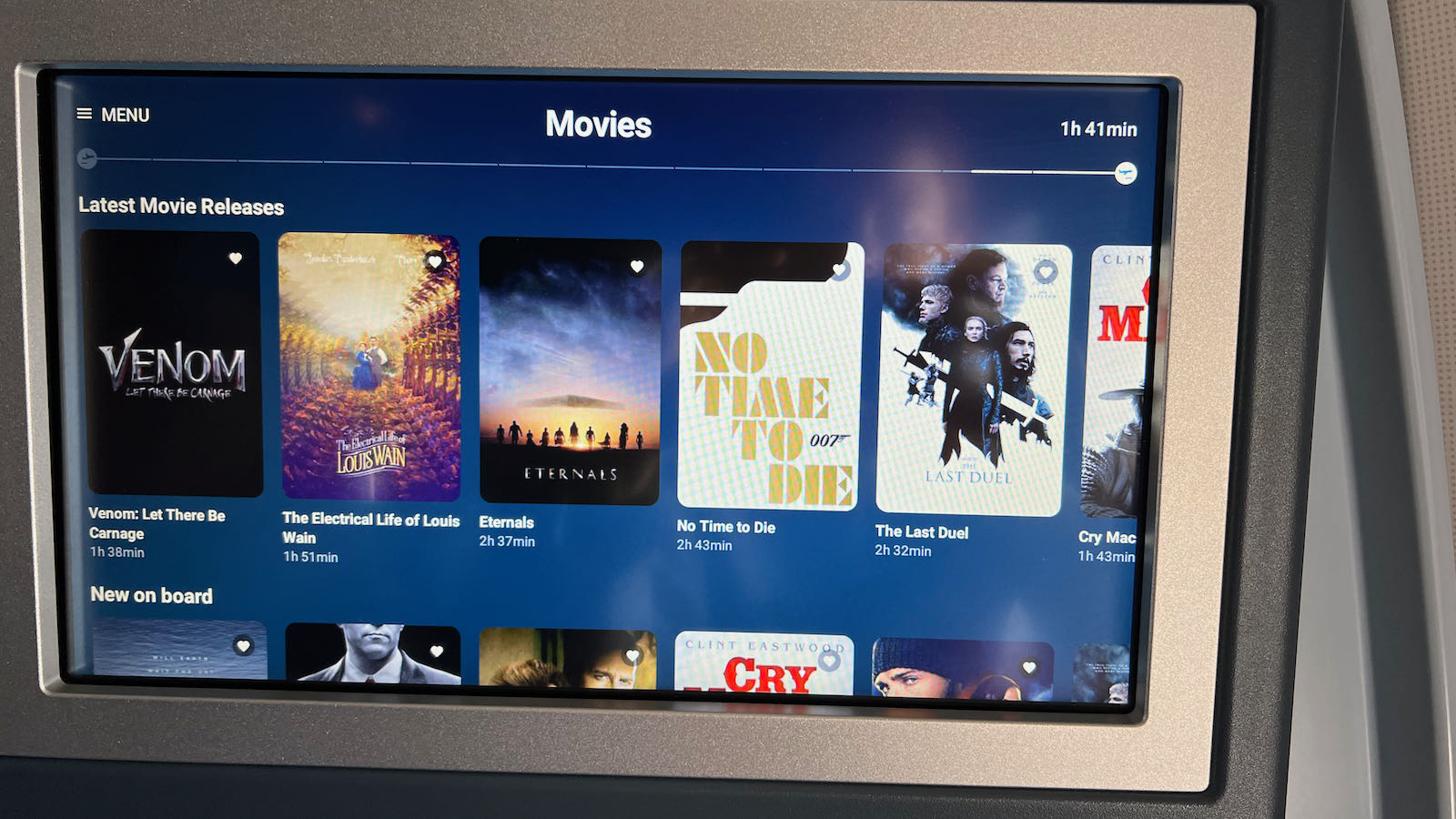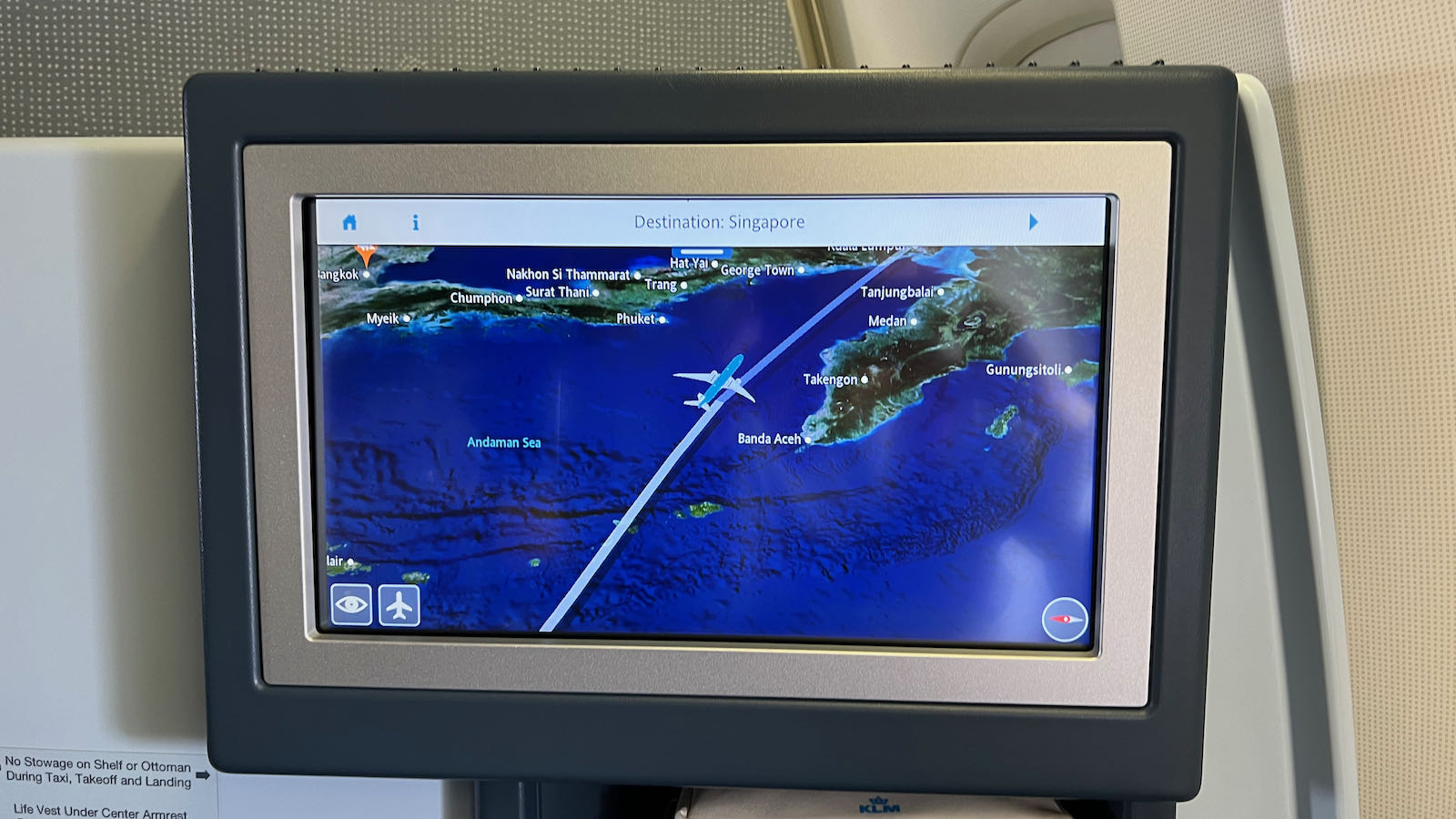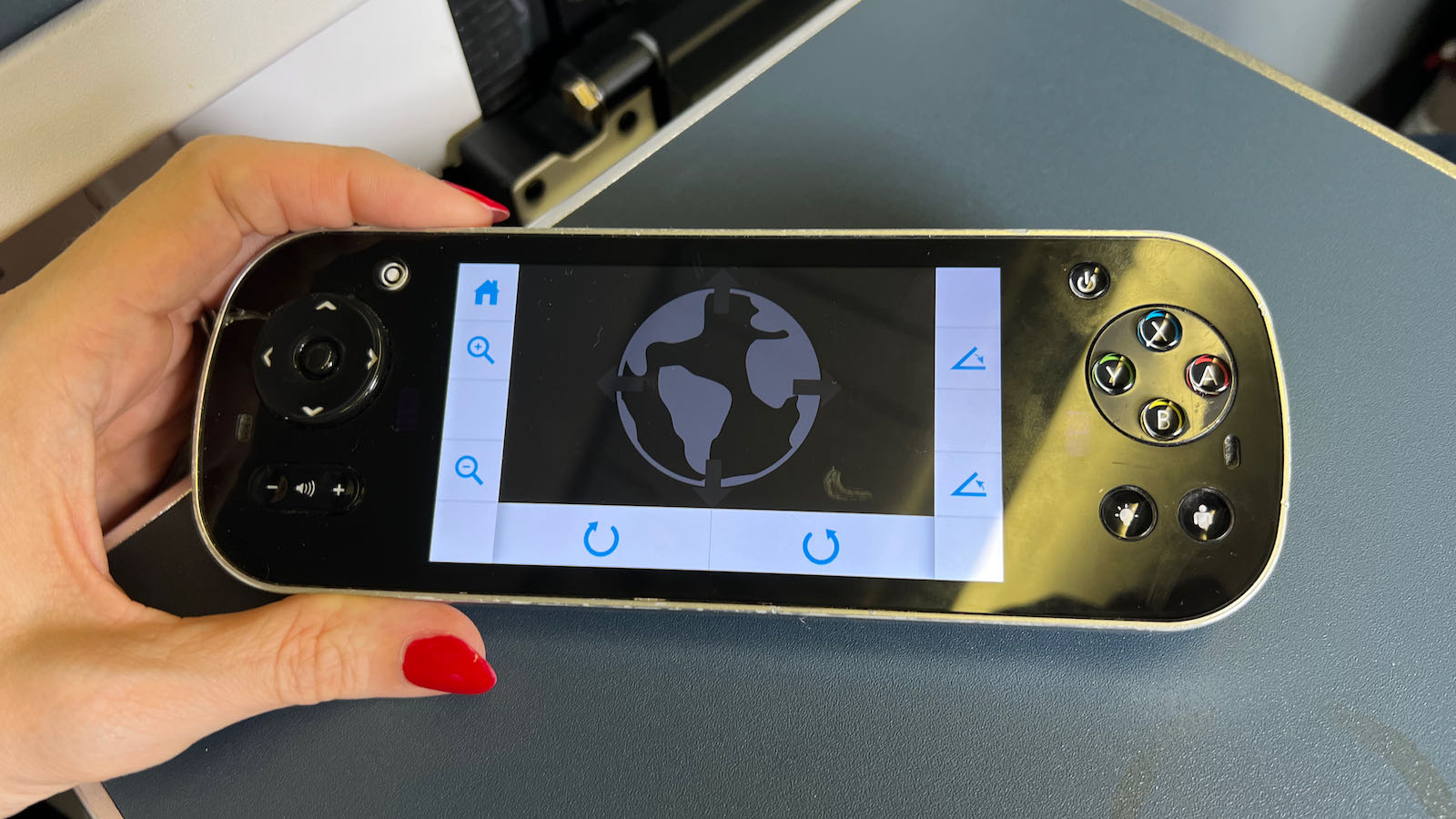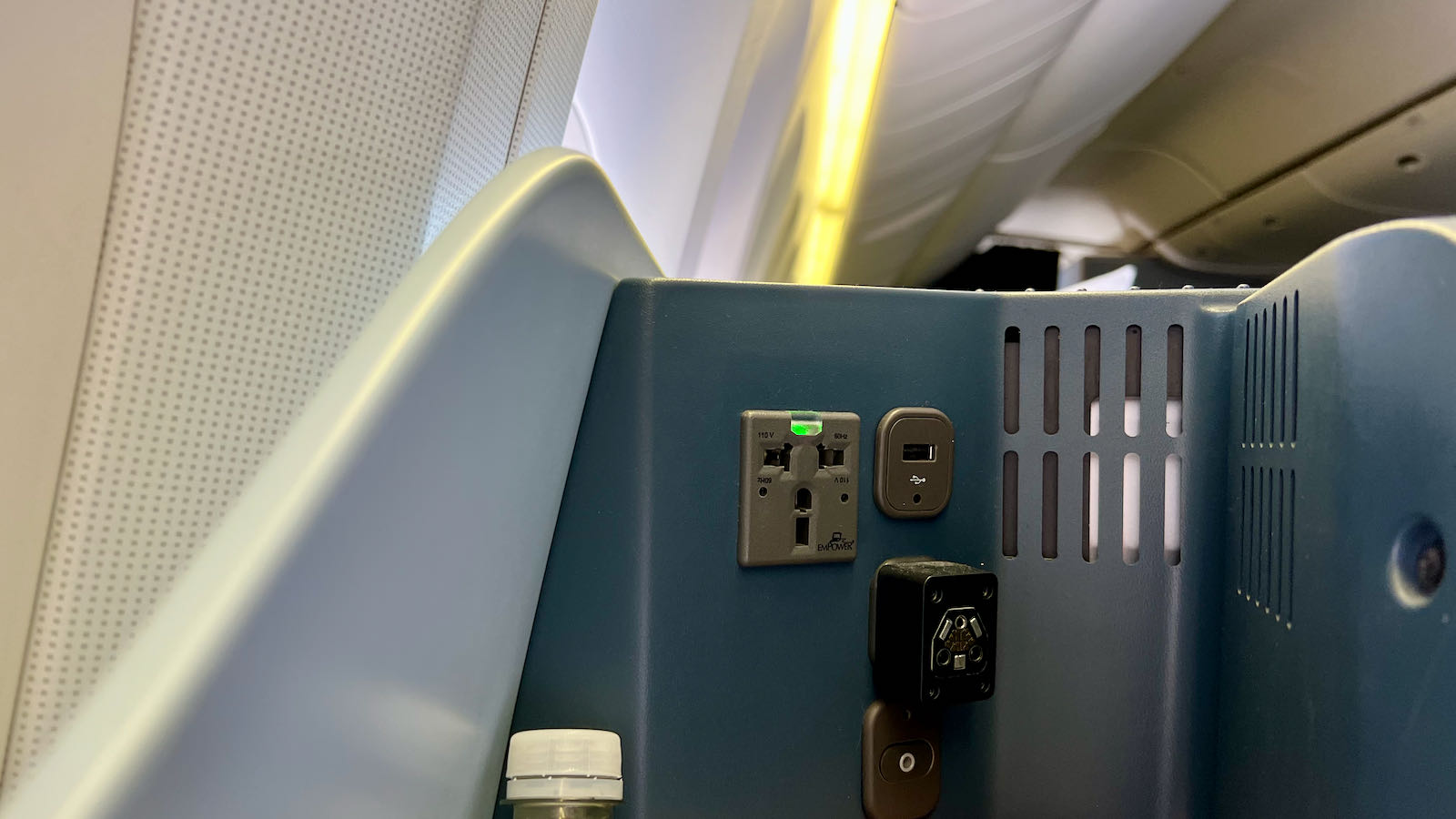 Summing Up
My first experience of KLM Business Class is a genuine pleasure. The service is exceptional, and I can't get enough of the Dutch design. The drinks on offer are a treat as well.
My main criticism concerns the less-than-private privacy screens. Again, these are mainly an issue when you and your neighbour are sitting upright – fine if you're flying with a friend or colleague. But if you're travelling solo as I was, you may find yourself suffering through forced conversation or awkward silence.
In the dining department, a few tweaks would improve the experience as well. The quick-to-brown avocado will never work in a pre-prepared meal served at 40,000 feet. I feel strongly about this!
But what do I remember overall about my KLM Business Class flight from Amsterdam to Singapore? That whimsical vibe. On an airline. I'll be flying KLM again the first chance I get.
KLM Boeing 777-300ER Business Class (Amsterdam – Singapore)
was last modified:
May 26th, 2022
by