With Qantas now offering direct Sydney-Bengaluru flights, the Roo has recently become best friends with IndiGo. Although technically a low-cost airline, IndiGo is the country's largest domestic carrier. It's a tie-up of opportunity and one that allows Aussies to easily venture beyond Bengaluru in IndiGo's Airbus A320neo Economy cabin.
In fact, some IndiGo routes can even now be booked using Qantas Points, or purchased as part of a Qantas fare from Australia. Having hopped aboard Qantas' inaugural Sydney-Bengaluru service, I continued my trek up to Agra for a bucket list visit to the Taj Mahal.
Bengaluru-Agra flights aren't yet part of the Qantas-IndiGo deal, but I wanted to give IndiGo a try all the same. By purchasing a 'Super 6E' fare, I unlocked most of the same benefits as Qantas passengers would get on a QF codeshare flight – and the extra legroom wasn't bad, either.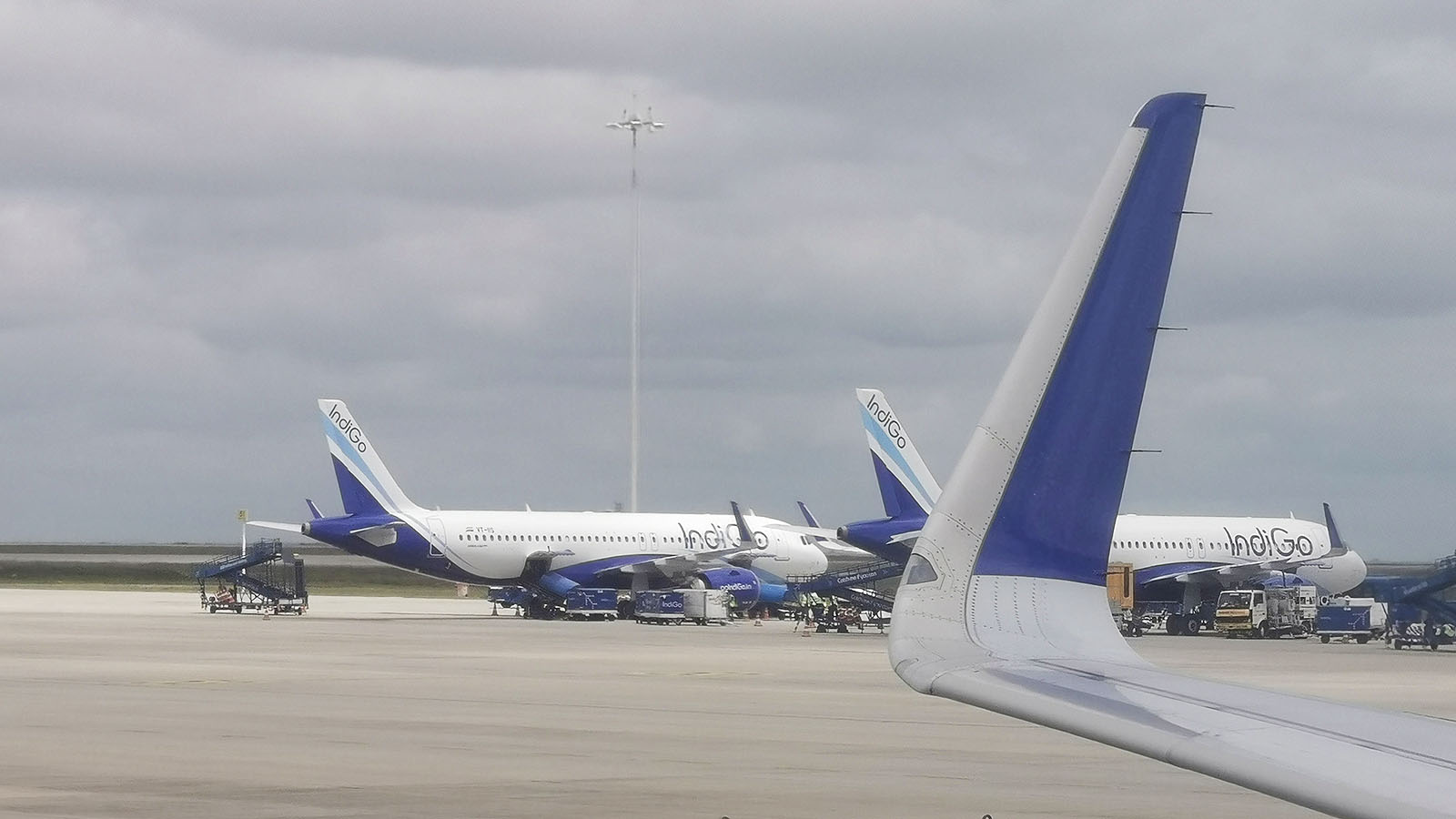 Check-in, lounge and boarding
I rarely get to experience flying with a new airline, but today, I'm adding IndiGo to my list. I'm travelling on a cash fare booked directly with IndiGo, which means I can't earn Qantas Points or Status Credits this time. But it's a ticket that includes baggage and food, much like the experience QF codeshare passengers get on other IndiGo routes.
After a quick check of my itinerary and passport to get inside the terminal in Bengaluru, I'm pointed towards an IndiGo kiosk. I'd already checked in online, and my baggage tag is promptly printed with a quick scan of that boarding pass. I drop that suitcase at the counter and I'm straight off to security.
As I quickly learn, all metallic items need to be removed from carry-on bags at the checkpoint – not just laptops. Everything metal needs to go into a tray for screening. Think travel adapters, charging cables, headphones, cameras, power banks and so on. But pro tip: metal credit cards can stay safely tucked away.
Once through the formalities, I'm off to Bengaluru Airport's 080 Domestic Lounge. IndiGo fares don't grant access as standard, and nor does Qantas status – even on domestic codeshare routes. But with a Priority Pass card in my travel wallet, I'm as good as gold.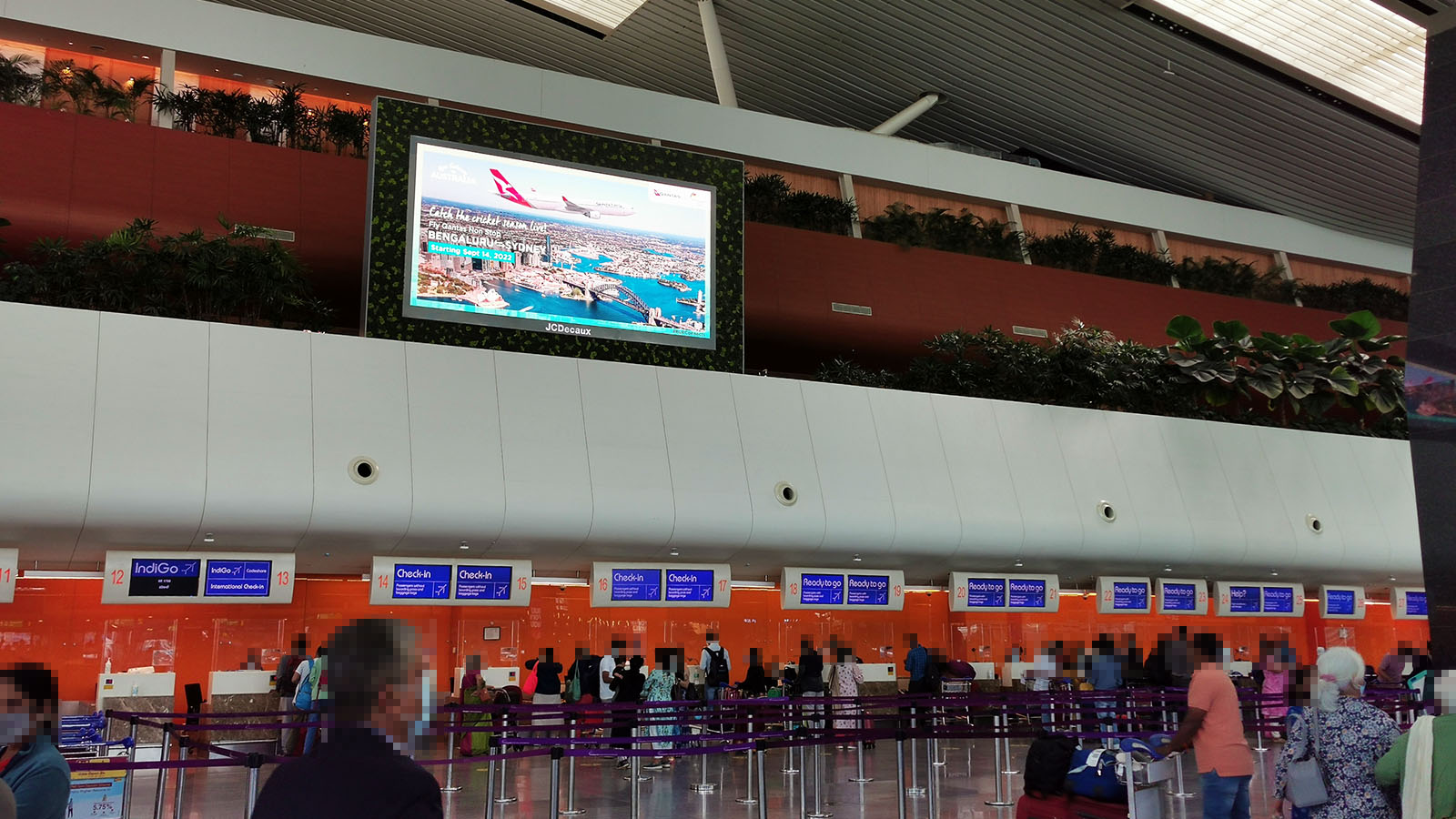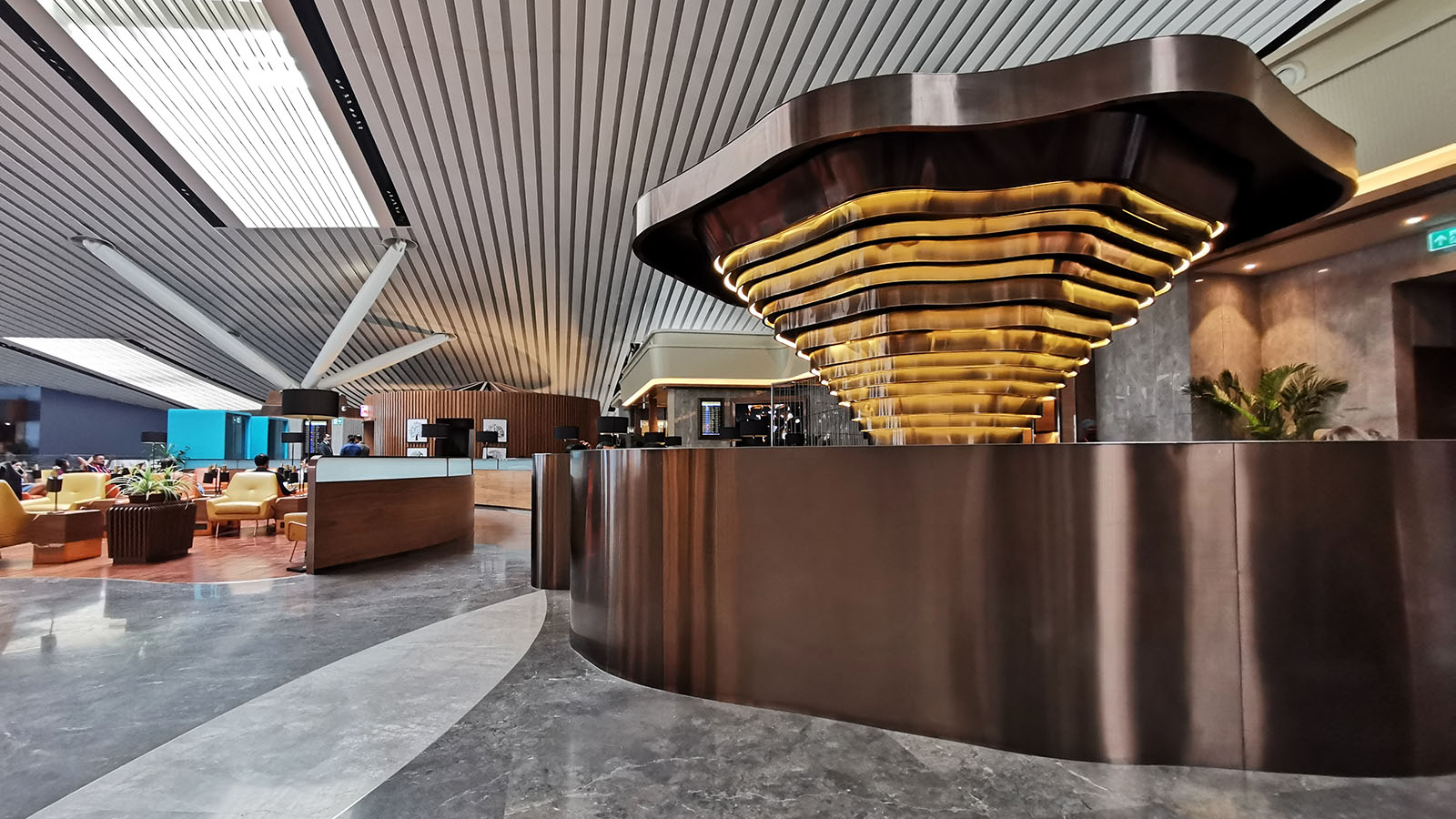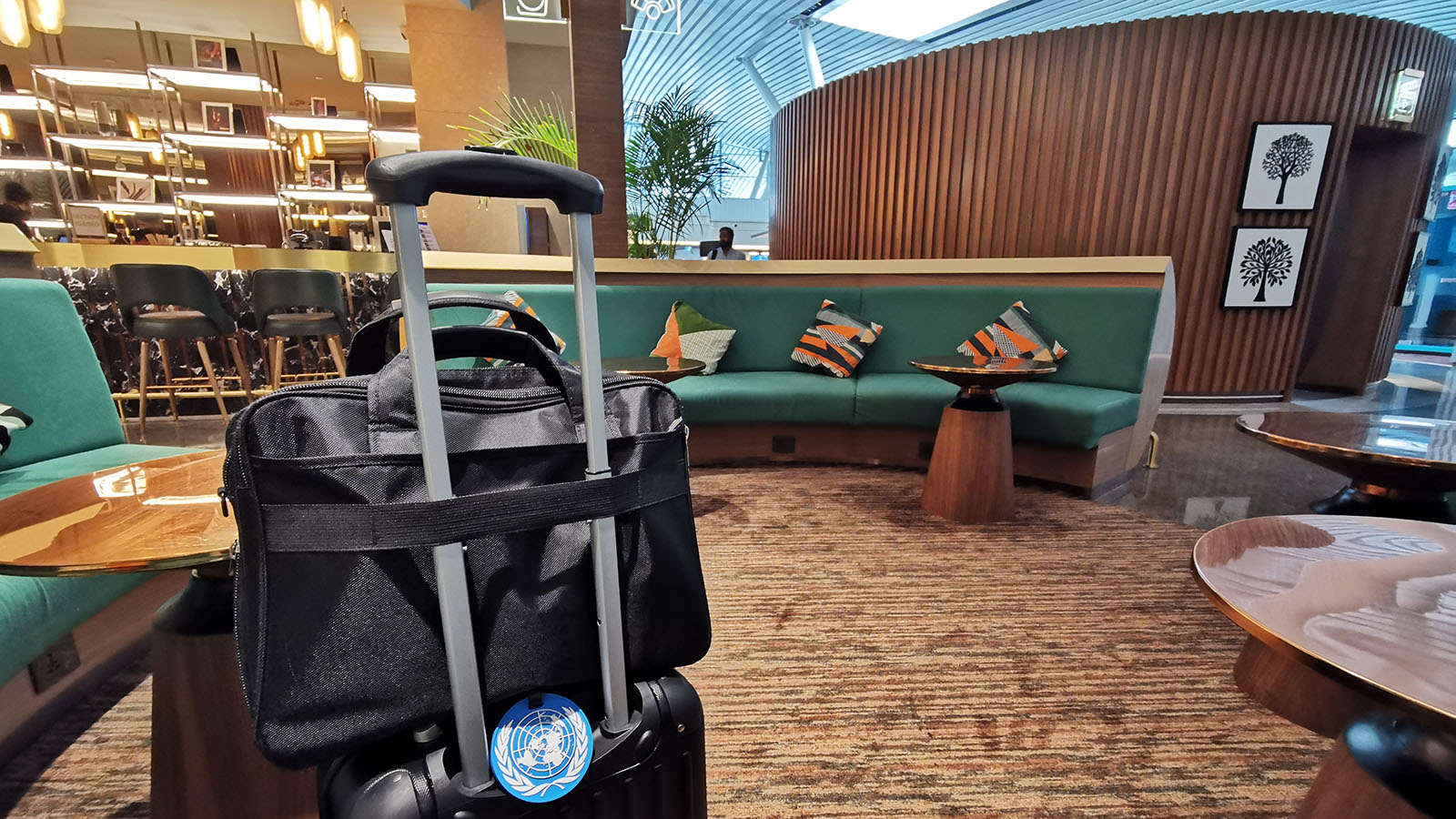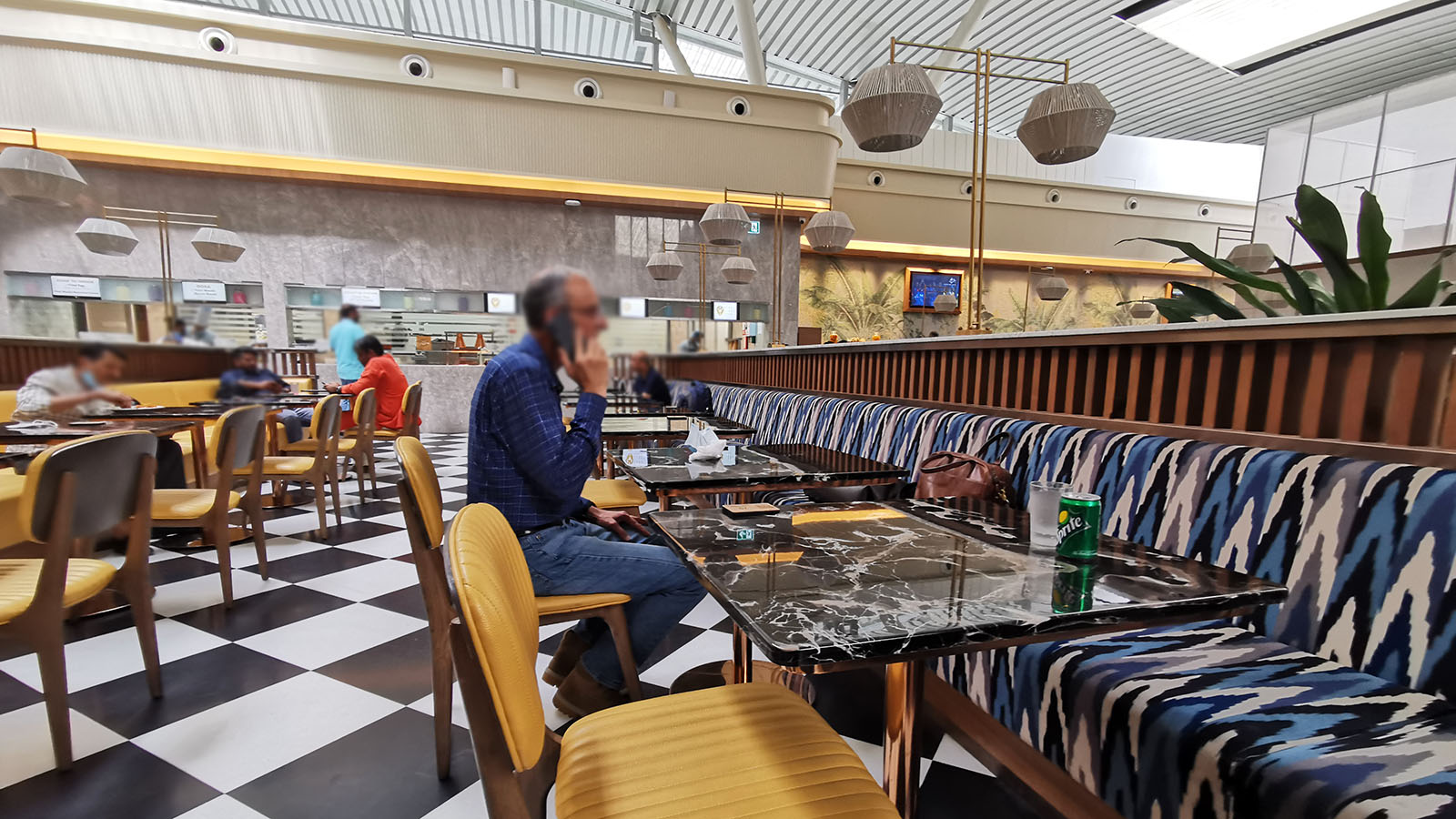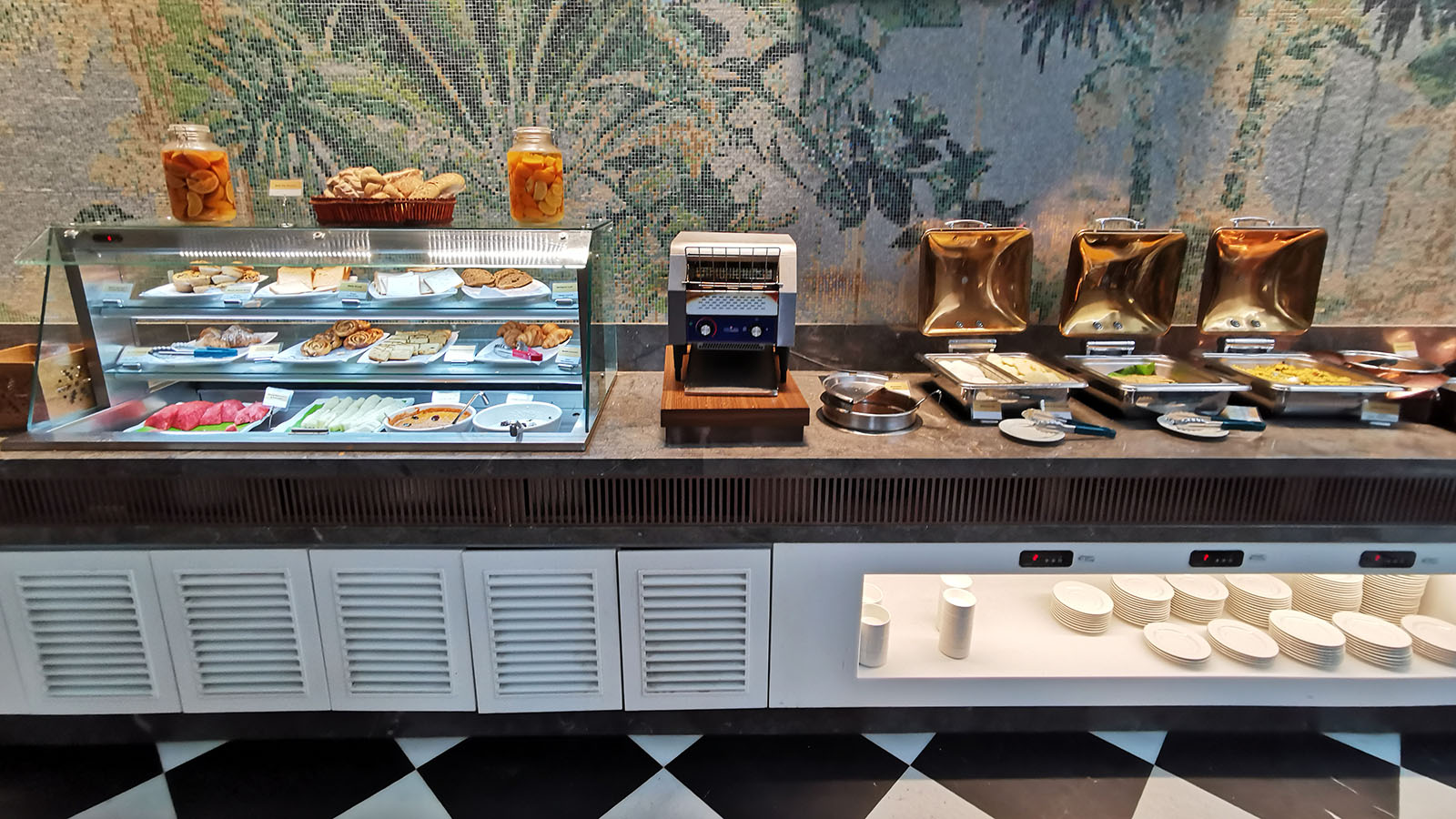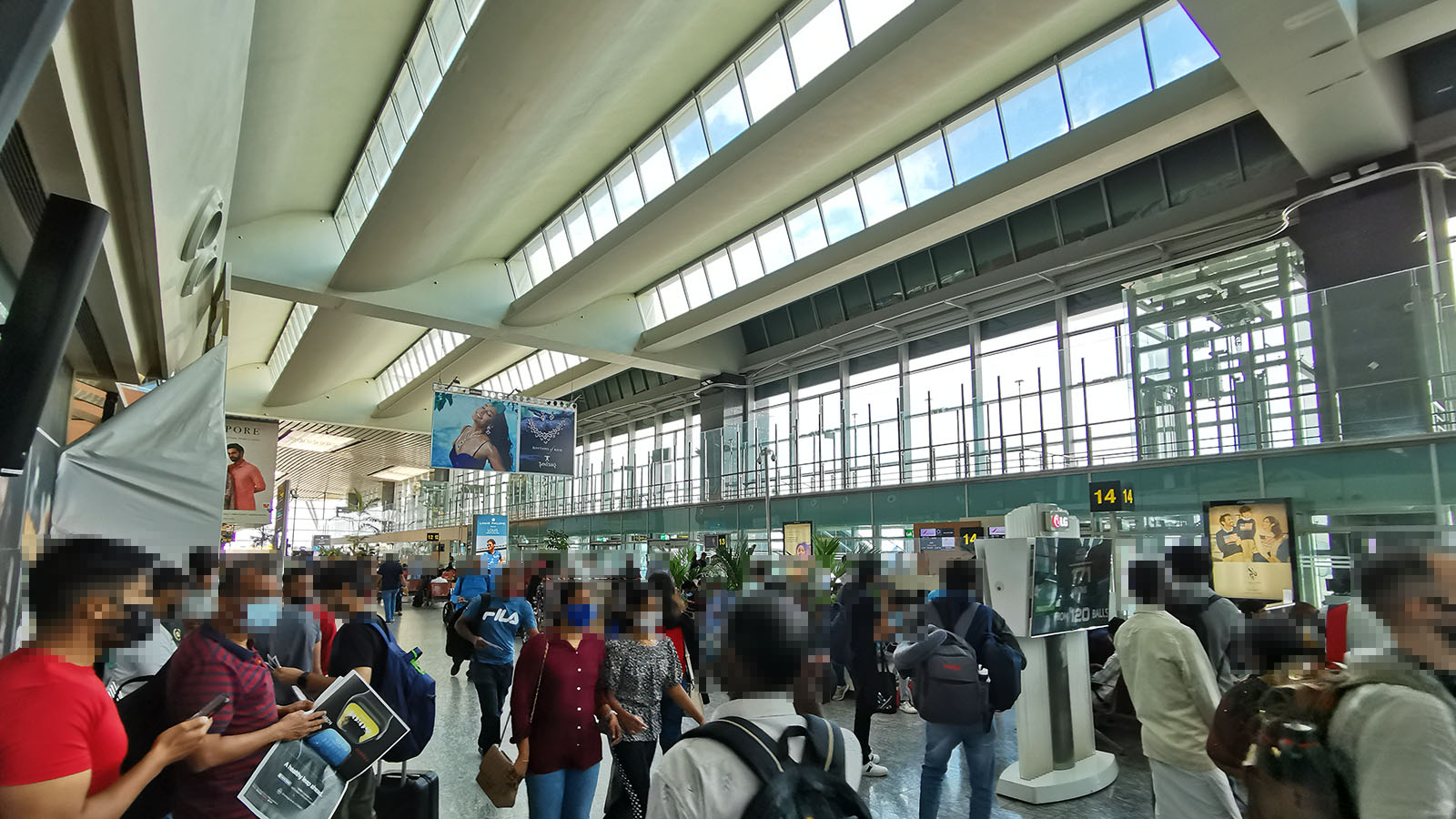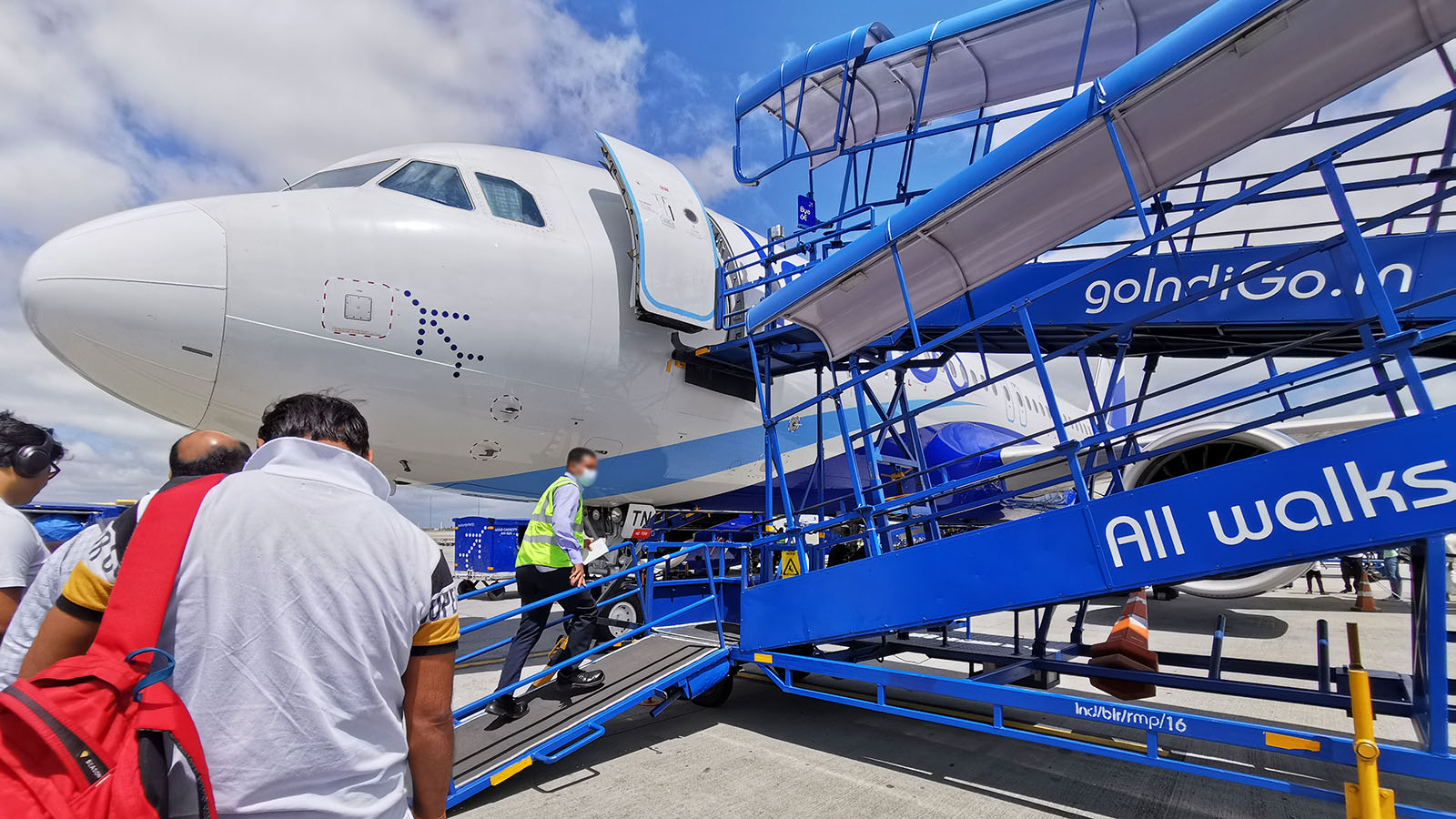 I wasn't expecting it, but this is perhaps the best Priority Pass lounge I've ever visited. It's super spacious, modern, open 24/7 and an all-around winner compared to the busier concourse below.
On my return IndiGo Airbus A320neo Economy journey from Agra, check-in is assisted by staff. Even without those time-saving kiosks, I don't have to wait long. There are no lounges in Agra, but there's a café after security for any small purchases.
IndiGo Airbus A320neo Economy Class seating
IndiGo doesn't offer Business Class, so if you're stepping onboard, you'll be flying Economy. But IndiGo Airbus A320neo Economy Class is still a comfortable way to fly. Especially so if you've done as I did, by purchasing a 'Super 6E' fare.
No, that doesn't mean being relegated to a middle seat (6E). It's instead IndiGo's IATA airline code – the two characters at the beginning of every flight number – which they cheekily pronounce as 'sexy'. And by purchasing a Super 6E fare, IndiGo gives you all the perks of being a 'super sexy' passenger.
As you might expect, you don't have to buy your drink at 40,000 feet; your inflight meal is covered too. You also get 25kg of checked baggage with priority check-in and priority baggage delivery, as well as extra legroom. Being sexy has its perks, let me tell you!
Flying with IndiGo is cheeky… and after all, who doesn't like a little fun?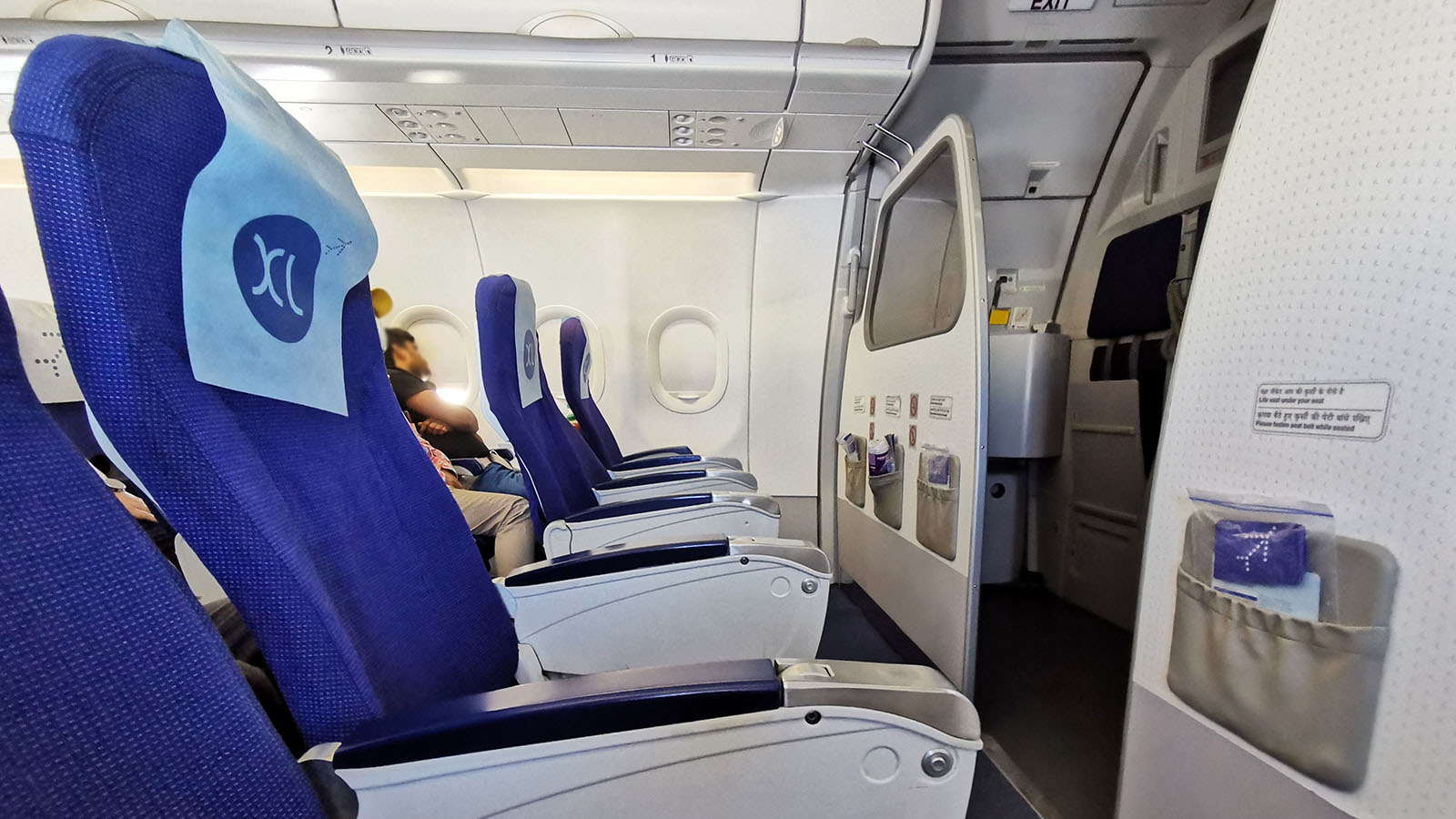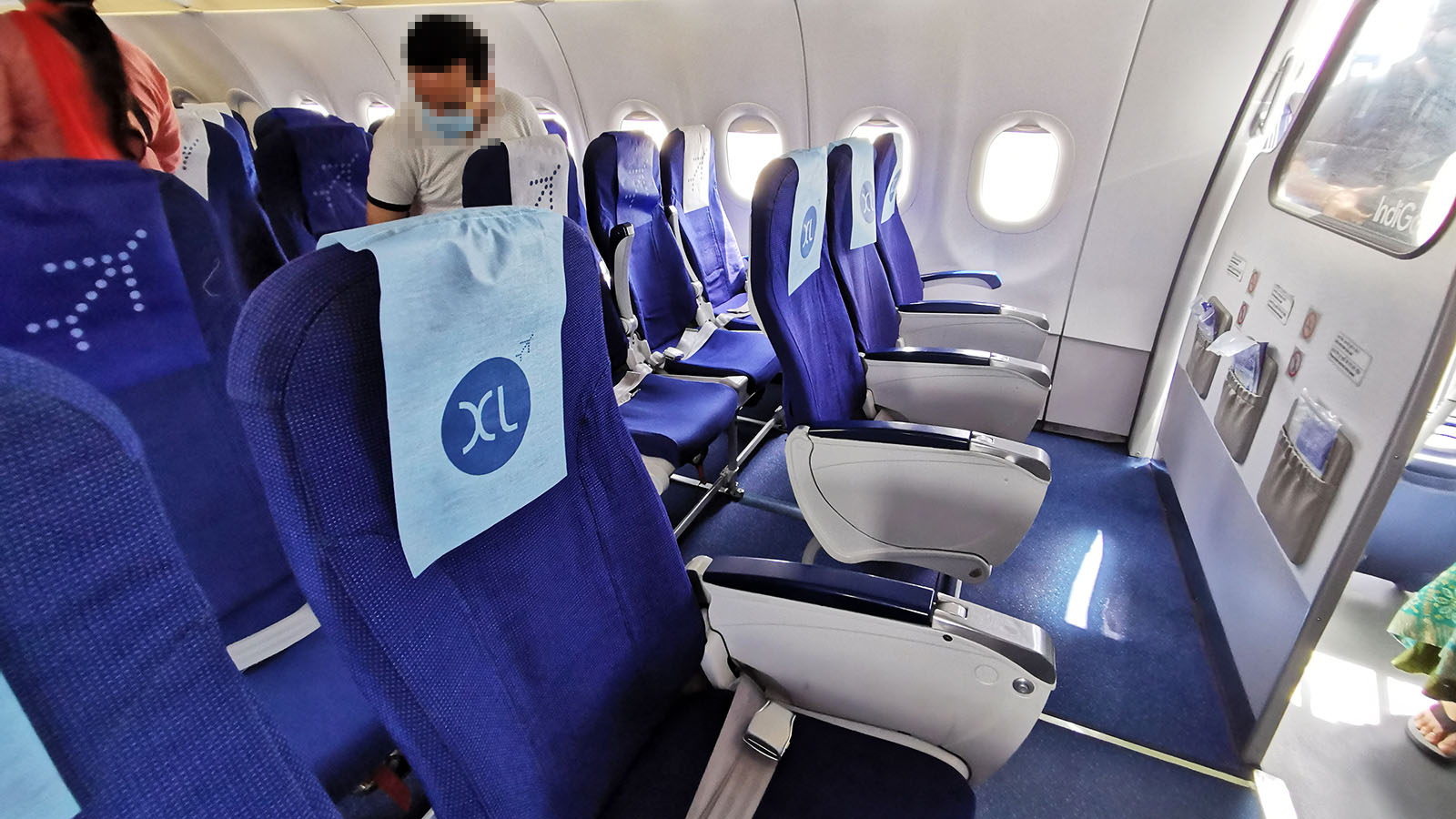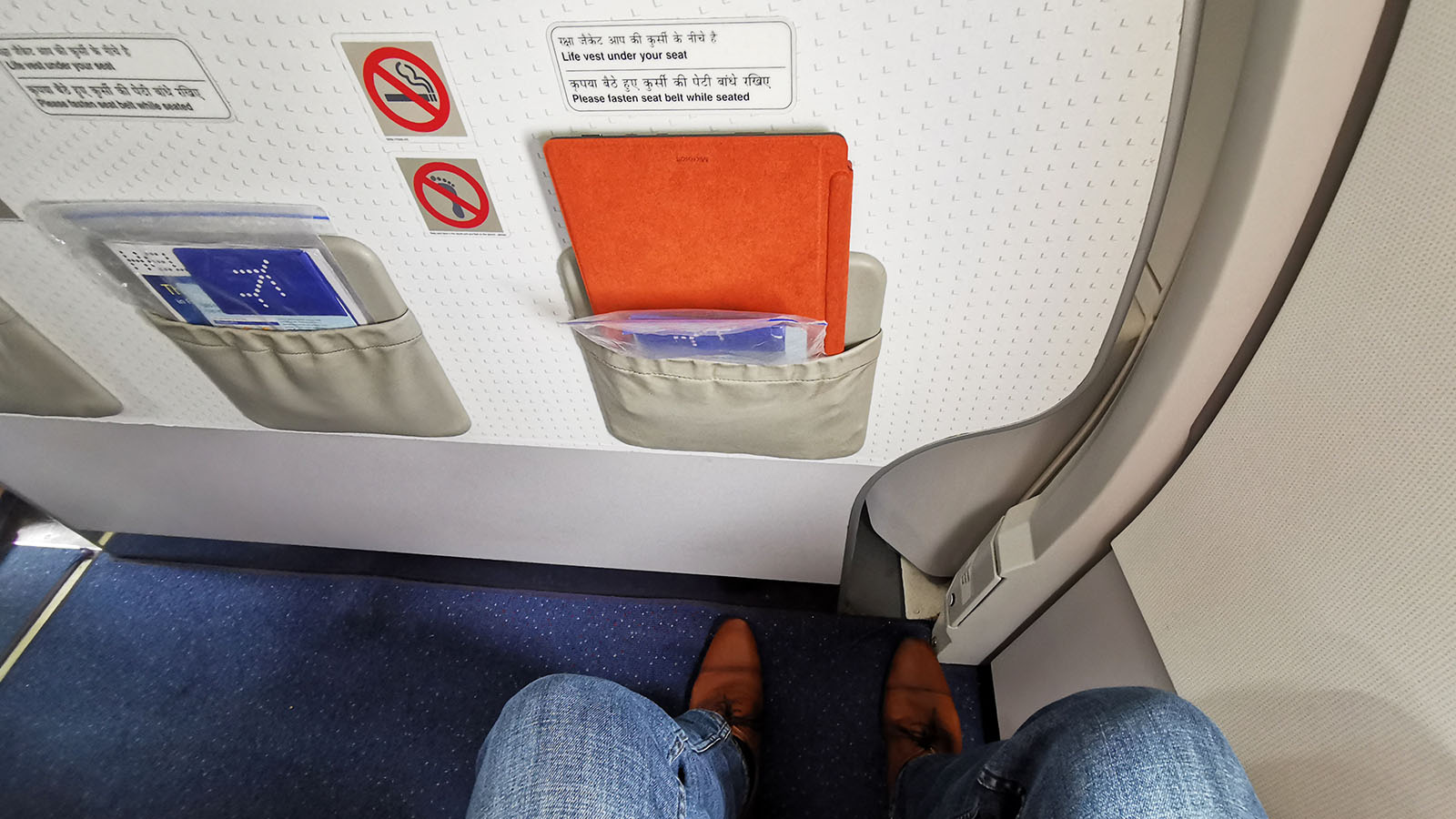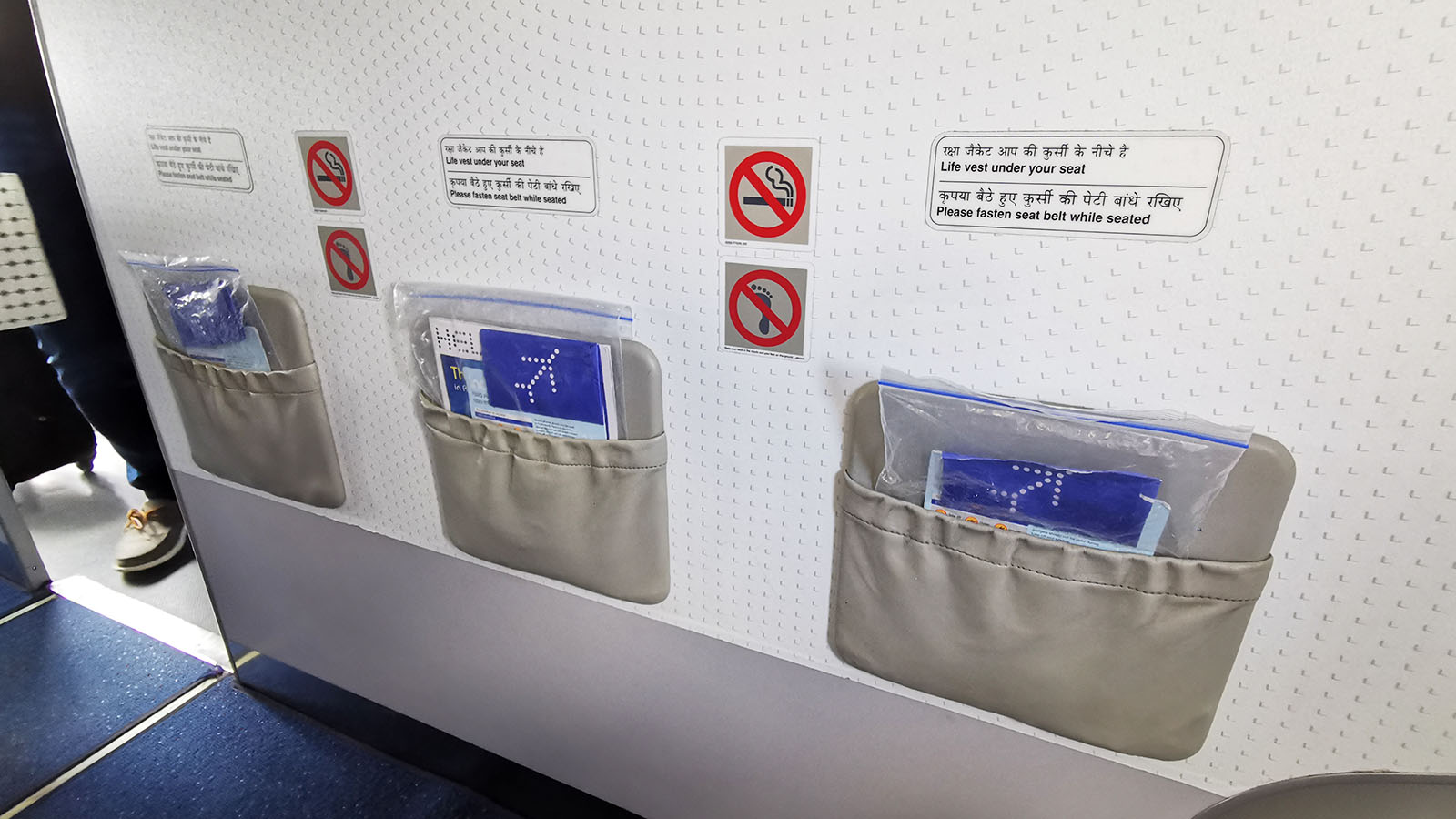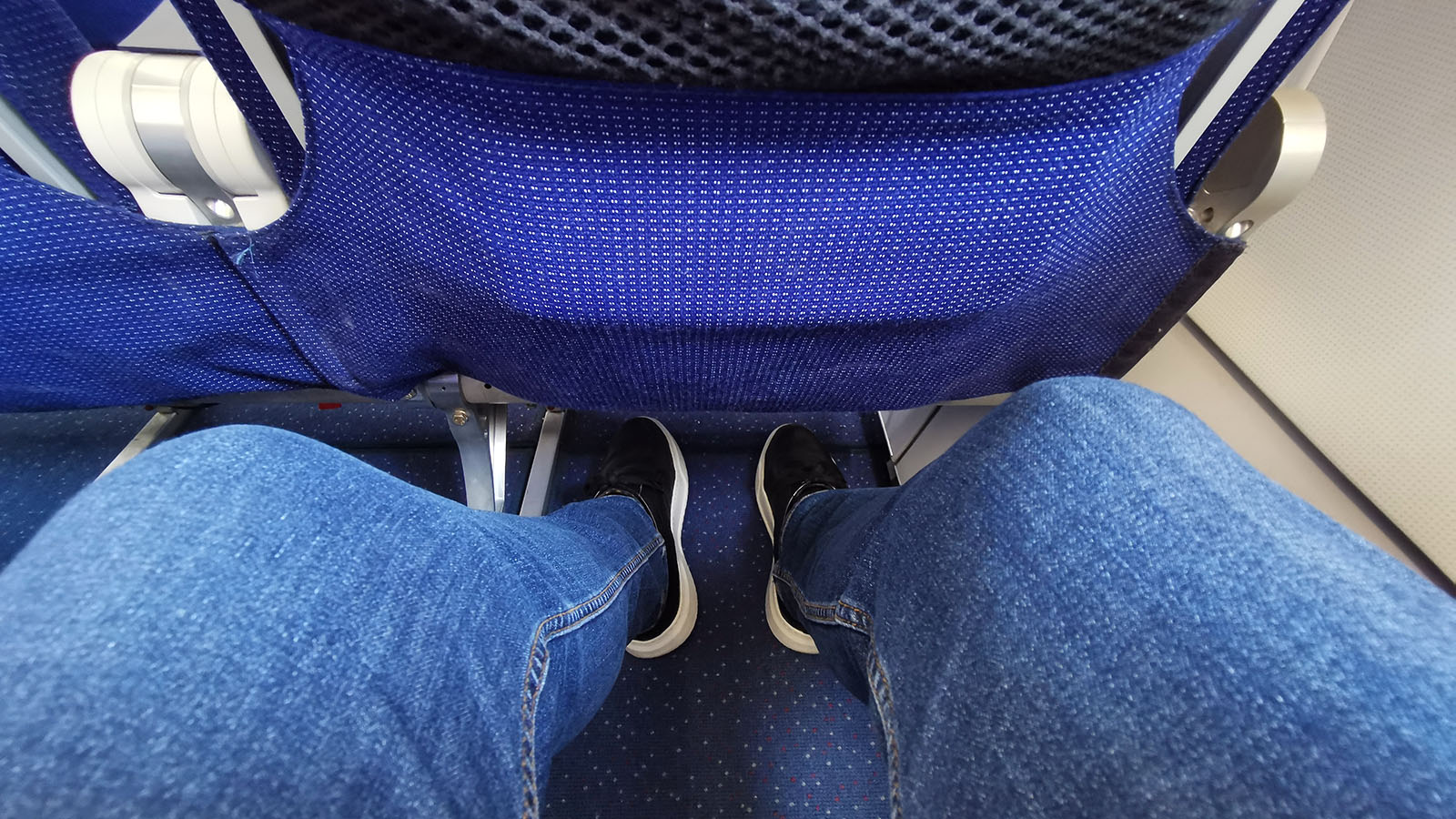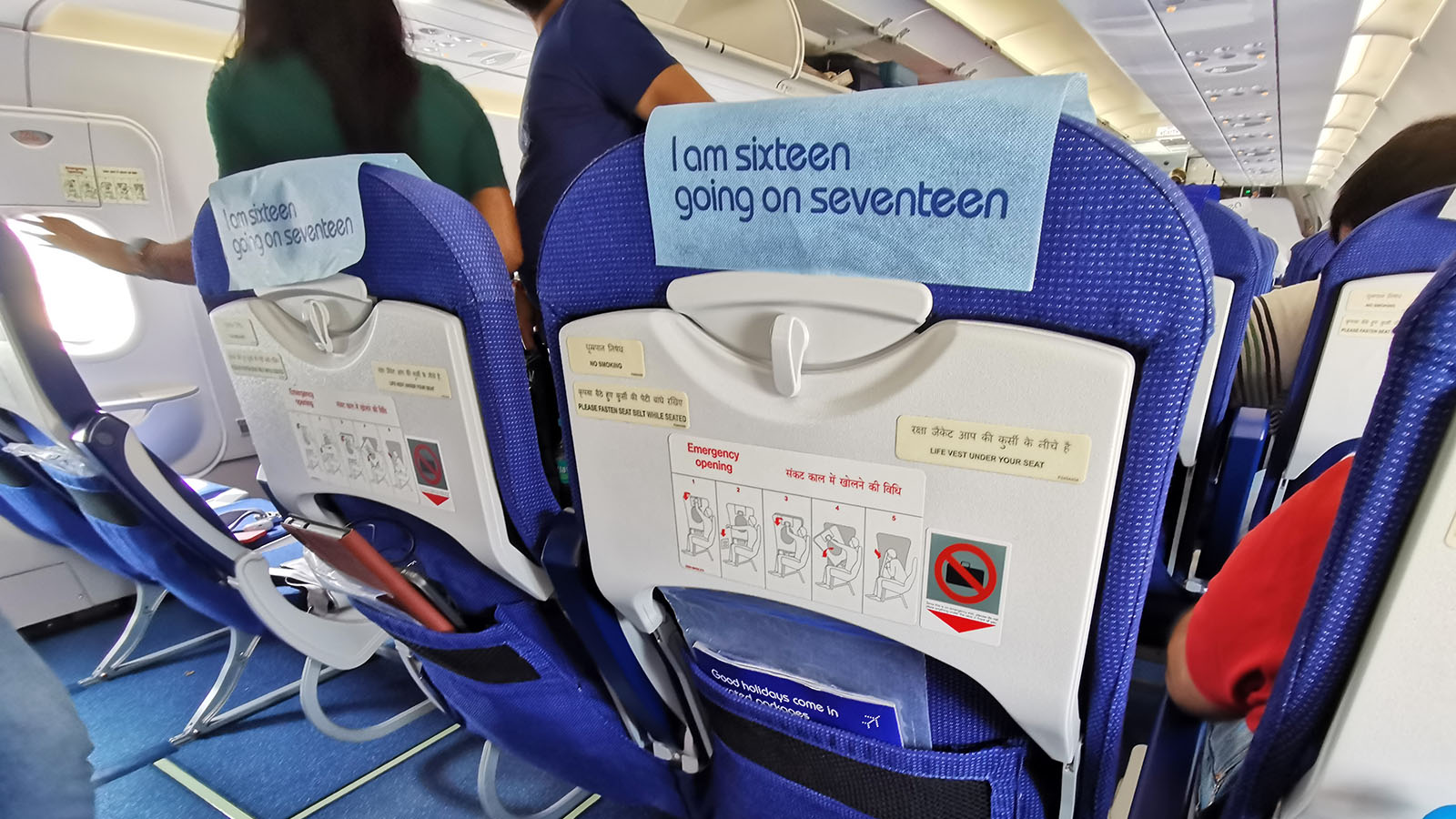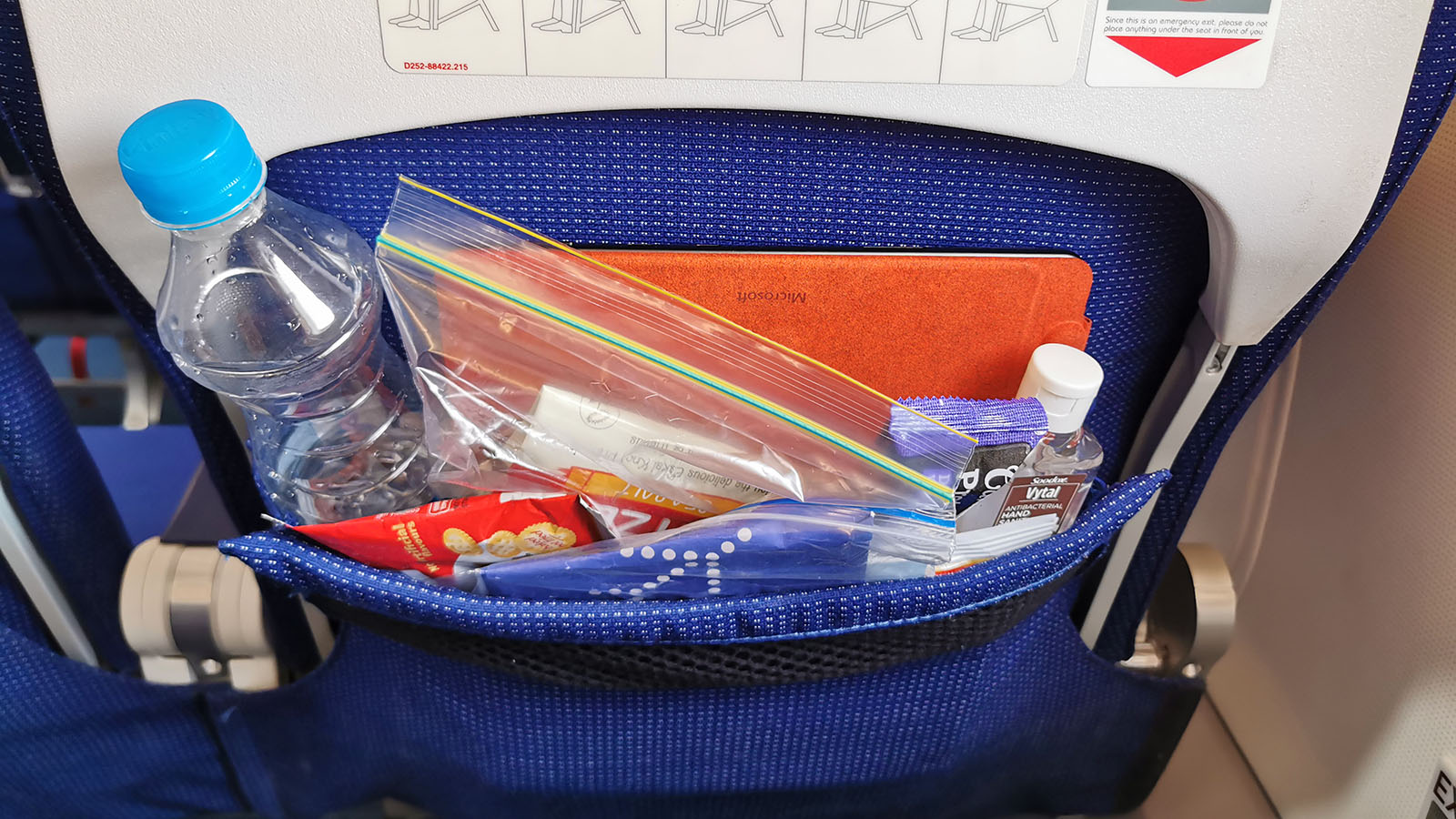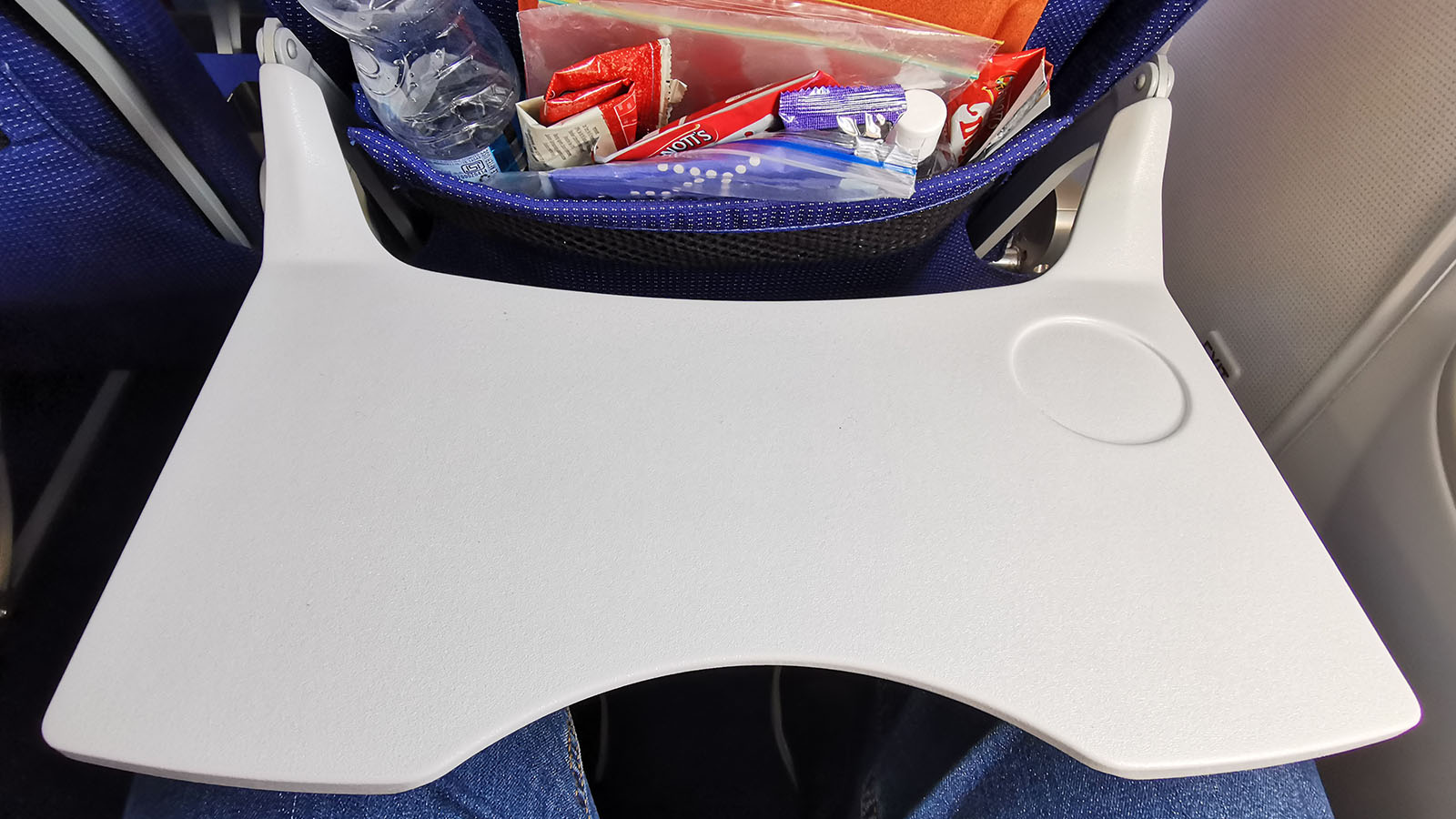 For the hard product, seating comes in an expected 3-3 layout. Buying a Super 6E fare means sitting right up front in row 1 or stretching out in the exit rows.
With a return booking, I gave both options a try. For my money, row 1 is the winner. There's nobody in front of you to recline and you're also the first off the plane on arrival. But if you can't get row 1, I'd still take the exit row over a seat anywhere else.
Every seat also comes with a tray table and storage pouch. That pocket is quite handy at the Super 6E rows as bags here need to be in the lockers for take-off and landing. A tablet holder would be a welcome addition for longer domestic routes like this.
IndiGo Airbus A320neo Economy Class food and beverage
While an IndiGo Airbus A320neo Economy Class experience doesn't normally include food, there are ways around that. One is to pre-order a bite via the 6E Tiffin menu on IndiGo's website. The other is to purchase one of these Super 6E fares and make a complimentary meal selection when you book.
You could also previously purchase meals onboard using cash or a credit card, but for now, substantial catering is by pre-order only. You can still buy light snacks, such as cookies and nuts where available.
On one leg, I enjoyed dips with baked pita. By chance, I'd packed a small bag of Jatz from home which helped me enjoy every ounce after the pita had vanished. On my return, a couscous, falafel and dried fruit salad came as more of a substantial pick – and tasty it was, too.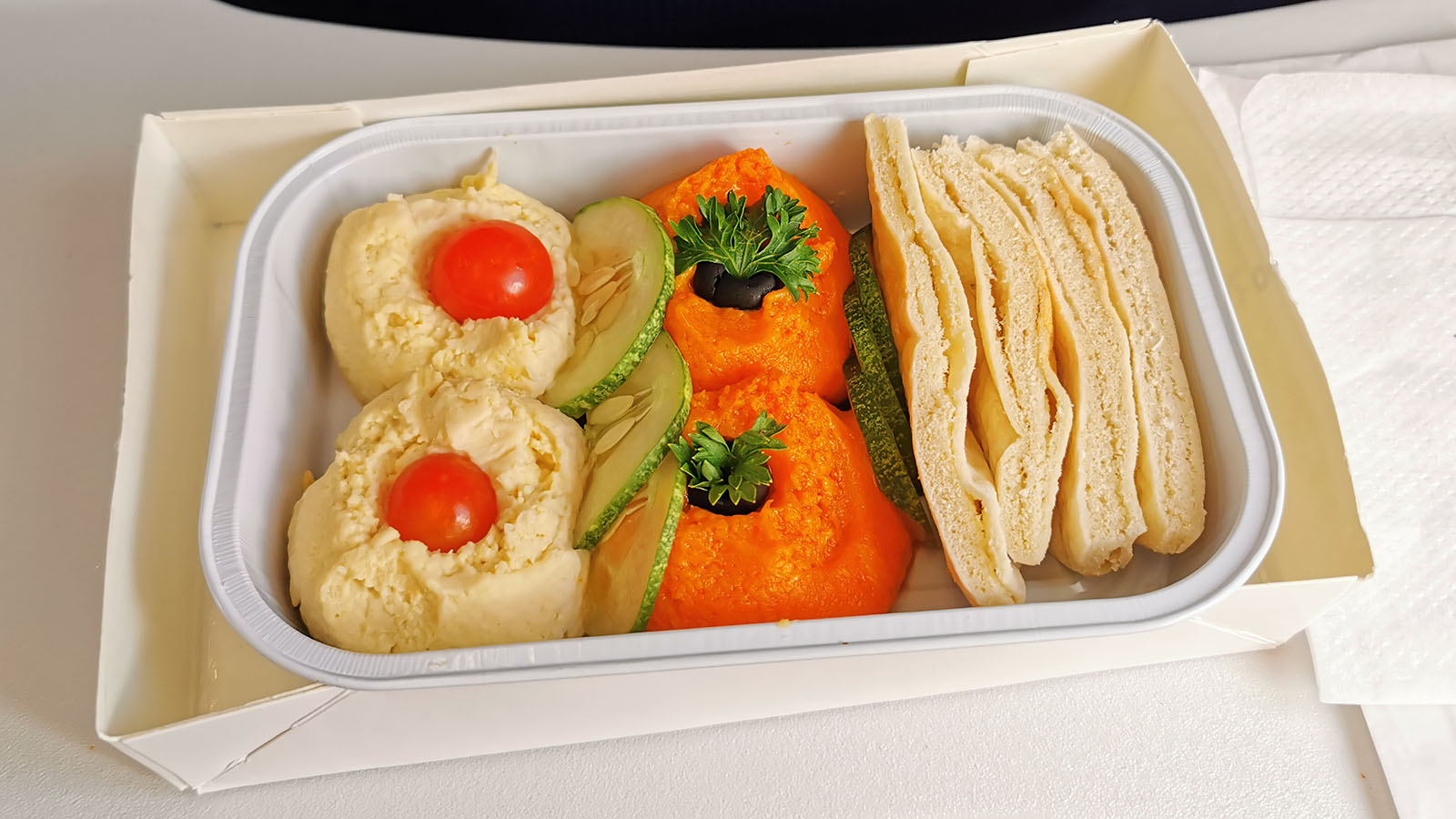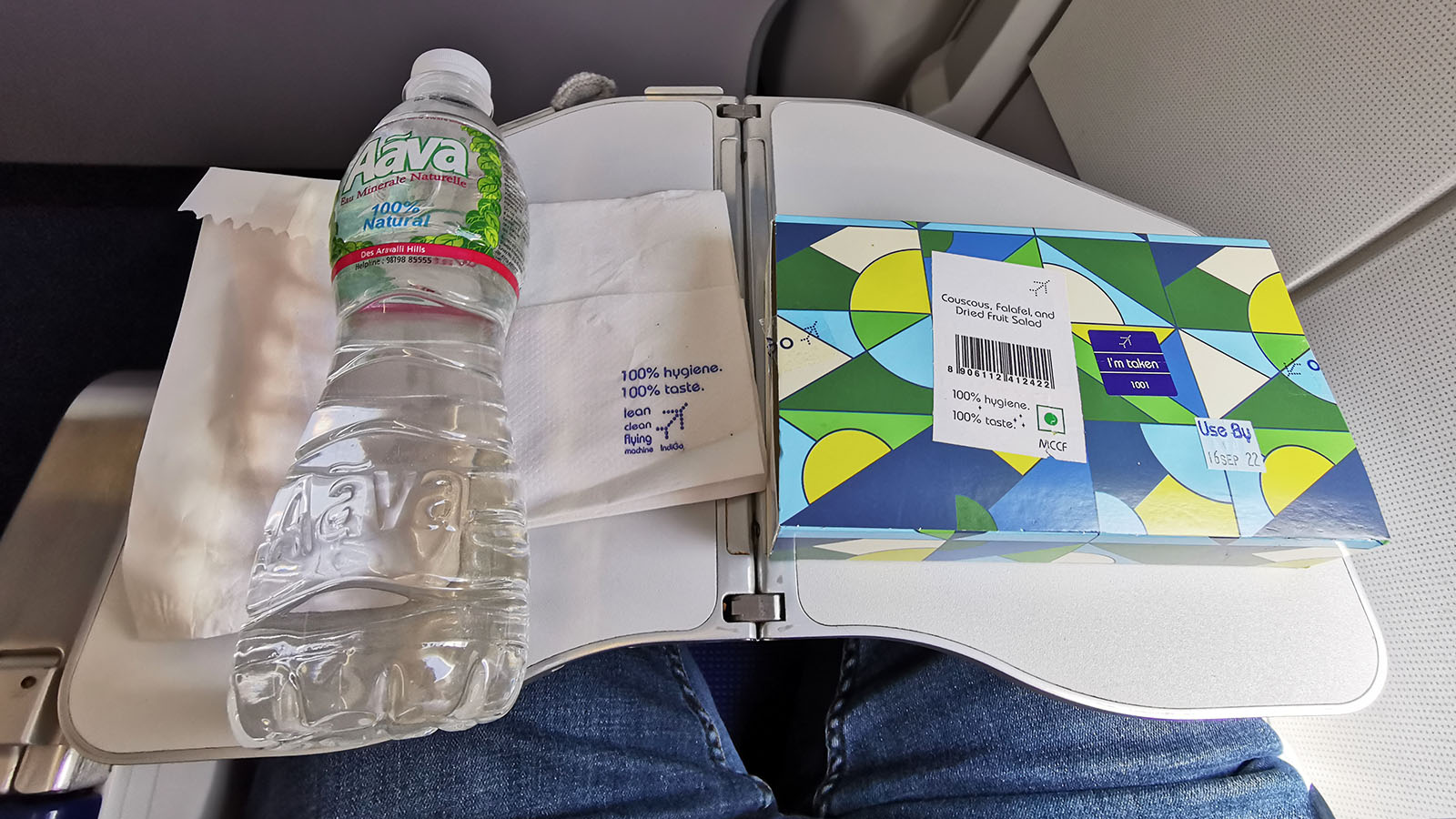 If you've booked a Super 6E fare and didn't pre-select your food, you'll instead be offered a selection of instant noodles on board. Those around me seemed jealous that I'd remembered to pre-book something better!
Cups of water are free for all IndiGo passengers, with Super 6E guests also enjoying a complimentary non-alcoholic drink. While soft drinks were among the gratis choices, I opted for a water bottle each time. It was handy to take this with me for the ride onward from the airport to my hotel at each end.
Alcohol isn't served on IndiGo domestic flights, but can be purchased on international sectors.
IndiGo Airbus A320neo Economy Class service and entertainment
Here's where the IndiGo Airbus A320neo Economy Class experience remains 'low-cost', regardless of your fare type. There's nothing to watch or listen to, whether by seatback screen, overhead monitor or onboard streaming service. There's a magazine in the seat pocket – Hello 6E – but any other entertainment is only what you've brought with you.
At least, that's how it's supposed to work. But on my flight from Agra back to Bengaluru, a fellow passenger decides to become the inflight entertainment. Retrieving their plastic recorder, they begin playing. Not a tune, mind you – more just a shrieking noise as they try to learn the instrument.
Props to them for trying to learn a new instrument. I just wonder whether 40,000 feet in a closed-in aircraft cabin was the best place for their inaugural tutorial. Fortunately, I'd packed my noise-cancelling headphones, as the crew didn't stop the lesson from continuing.
Anyway! While aisle seats are convenient, window seats are my go-to when travelling somewhere new. After all, there's plenty of space in these Super 6E rows to come and go without disturbing those around you.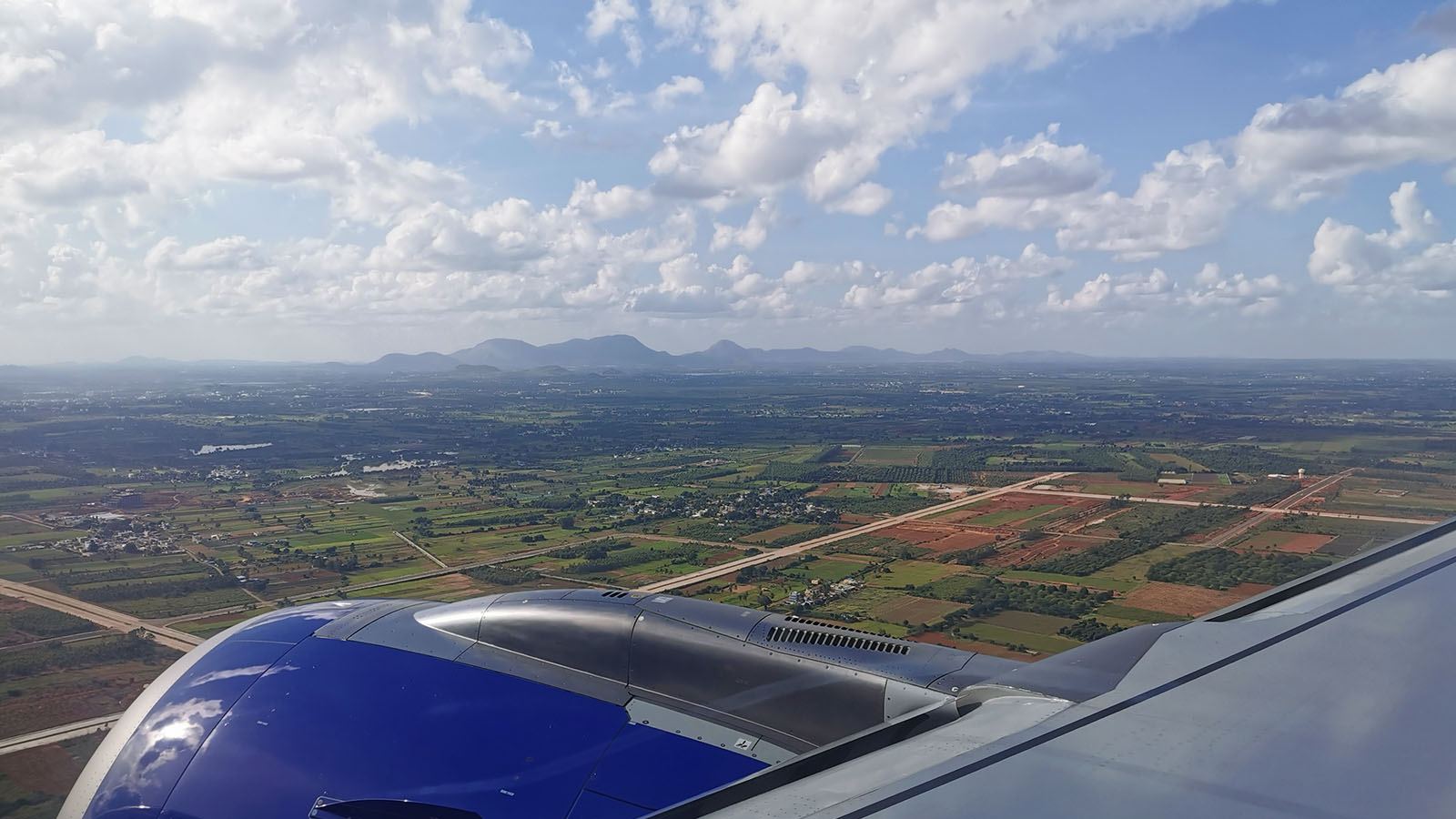 It's a little cloudy departing Agra and photography is prohibited until after take-off. That's because Agra Airport is primarily an Indian Air Force base, which just happens to host a small number of commercial flights. It's an interesting experience, but it's lovely to enjoy a better view as we come in for landing in Bengaluru.
Summing up
IndiGo may be a 'low-cost' airline, but the travel experience is perfectly pleasant (recorder performance aside). Even when purchasing the higher-priced Super 6E fares, my ticket was still only around AU$175 each way for a 2.5-hour flight.
With all the extra inclusions and the glorious legroom on board, buying a Super 6E ticket in IndiGo Airbus A320neo Economy is a real no-brainer. That said, if you can book your IndiGo flight as a Qantas codeshare, many of those extras are included by default. You'd then just have the option of purchasing an extra legroom row to complete the experience, while also earning Qantas Points and Status Credits.
On its own, IndiGo may not be the first airline that Aussies consider for Indian domestic flights. Of course, Air India and Vistara are both entwined with Singapore Airlines' KrisFlyer frequent flyer program. That makes it easy to earn and spend miles on flights within India, without needing to have an international flight attached.
But Qantas' fresh partnership with IndiGo does provide some new options. That's particularly true as Aussie travellers are likely to be making an international flight booking anyway, through which IndiGo sectors can then be booked as a Qantas codeshare.
It's still early days for the Qantas-IndiGo romance, so if you must book direct with IndiGo, go all the way with Super 6E.
Also read: The Taj Mahal beckons: visiting India's stunning masterpiece
All photography by Chris Chamberlin, who travelled at Point Hacks' expense.
---
Stay up to date with the latest news, reviews and guides by subscribing to Point Hacks' email newsletter.
IndiGo Airbus A320neo Economy Class (Bengaluru – Agra return)
was last modified:
October 20th, 2022
by