High-speed rail is plentiful in Europe, with many distant cities just a few hours apart by train. Sure, there are plenty of flights, too… but what if the train was your plane? With Emirates and Deutsche Bahn, it practically is.
You see, Deutsche Bahn is an 'interline' partner of Emirates. This means your Emirates flight ticket can double as a train ticket too. In the interests of curiosity, I booked and boarded 'flight' W2-6269 from Munich to Frankfurt. Which, as you might gather, is really operated by a Deutsche Bahn train (ICE512).
Spoiler alert: you can't earn or spend points on this 'flight' – it doesn't leave the ground, after all. And if you have shiny frequent flyer status, that doesn't get you into a lounge before the rail journey. But when you're buying an Emirates airfare, it's easy to include a segment by train. And of course, you can earn points or miles on those 'real' flights.
Here's what it's like to travel under the Emirates and Deutsche Bahn interline partnership.
Booking your Emirates and Deutsche Bahn journeys together
Emirates serves a huge number of European cities with non-stop flights from its Dubai hub. But no single airline can fly everywhere. That's where the carrier's Deutsche Bahn partnership comes into play.
If you're heading somewhere outside of Emirates' own flight network, you don't need to juggle multiple tickets. You can simply book your entire trip from where you are to where you need to be. When that's somewhere in Germany, Emirates will fly you into one of its many ports. And from there, that same ticket can get you aboard a high-speed train to your final destination.
For instance, let's say you wanted to travel from Brisbane to Stuttgart. On the Emirates website, just search exactly that: 'Brisbane to Stuttgart'. You'll then see options that take you all the way there – including by Deutsche Bahn rail. Complete your reservation, and you'll have a single ticket covering both plane and train.
There's even more freedom when you book your itinerary via a travel agent or through Emirates' contact centre. That's because agents can see a wider range of rail options versus what appears during the normal online booking process. For my journey, that means flying into Munich and taking the high-speed rail onward to Frankfurt the next day, to try things out.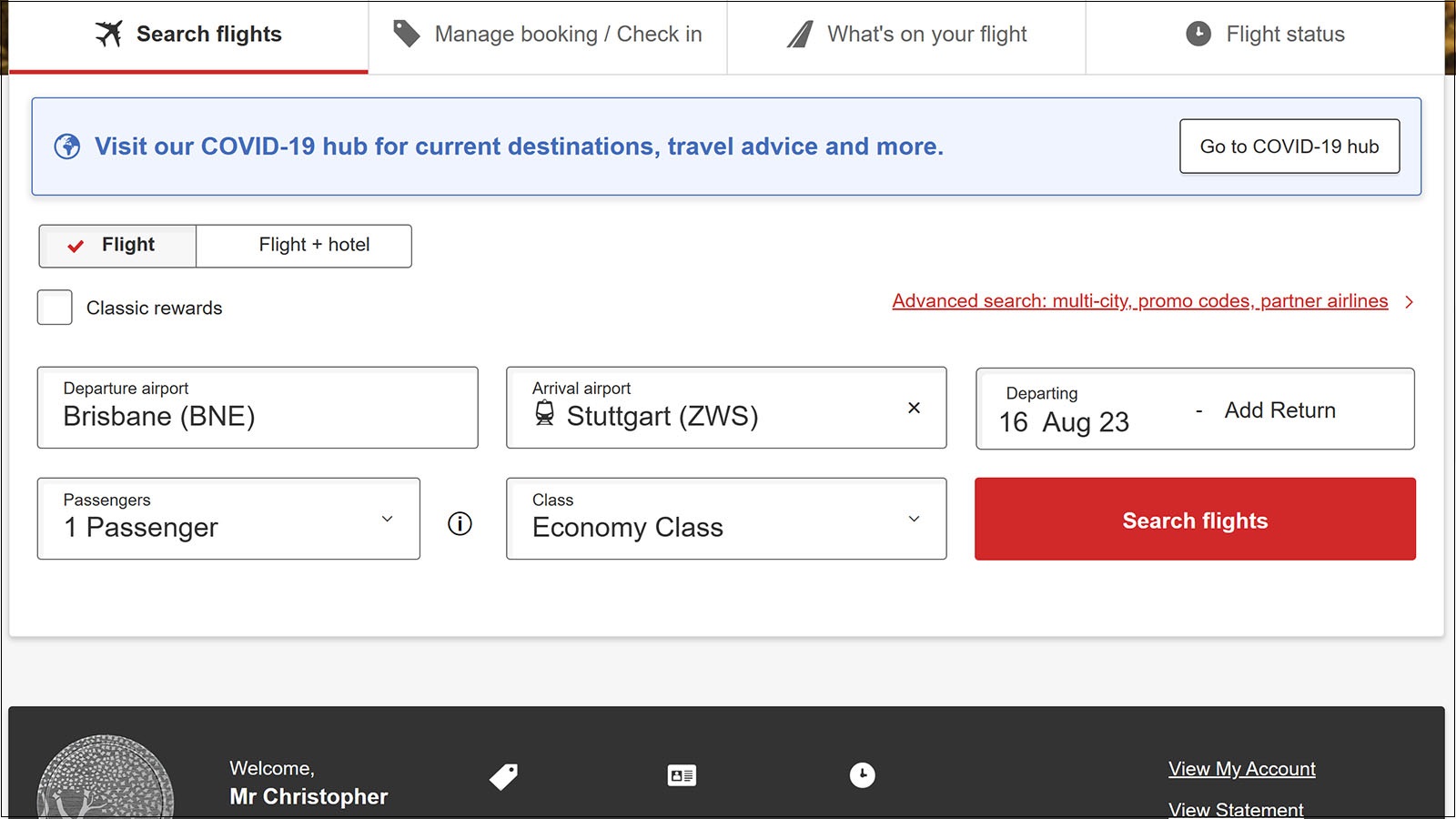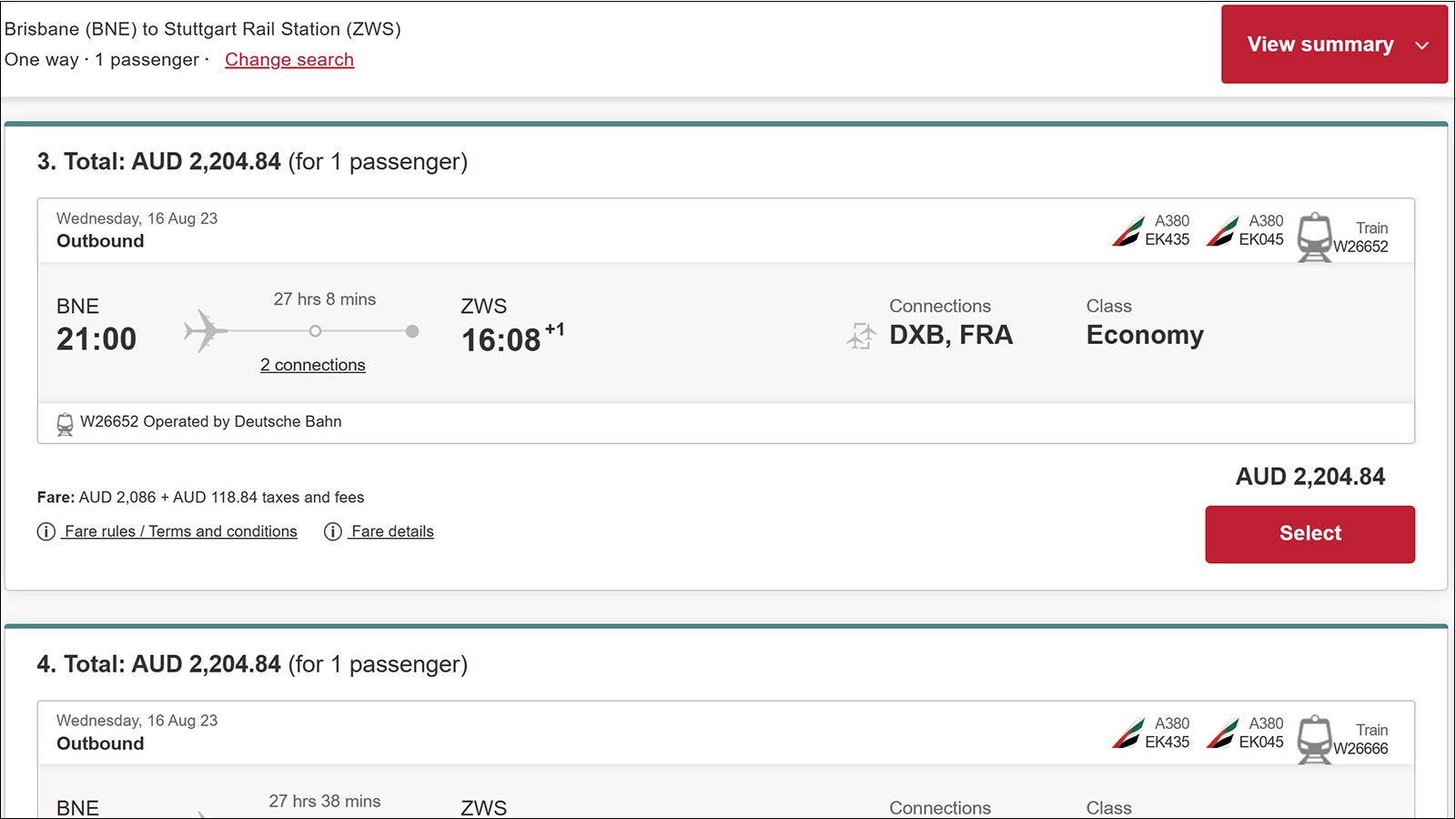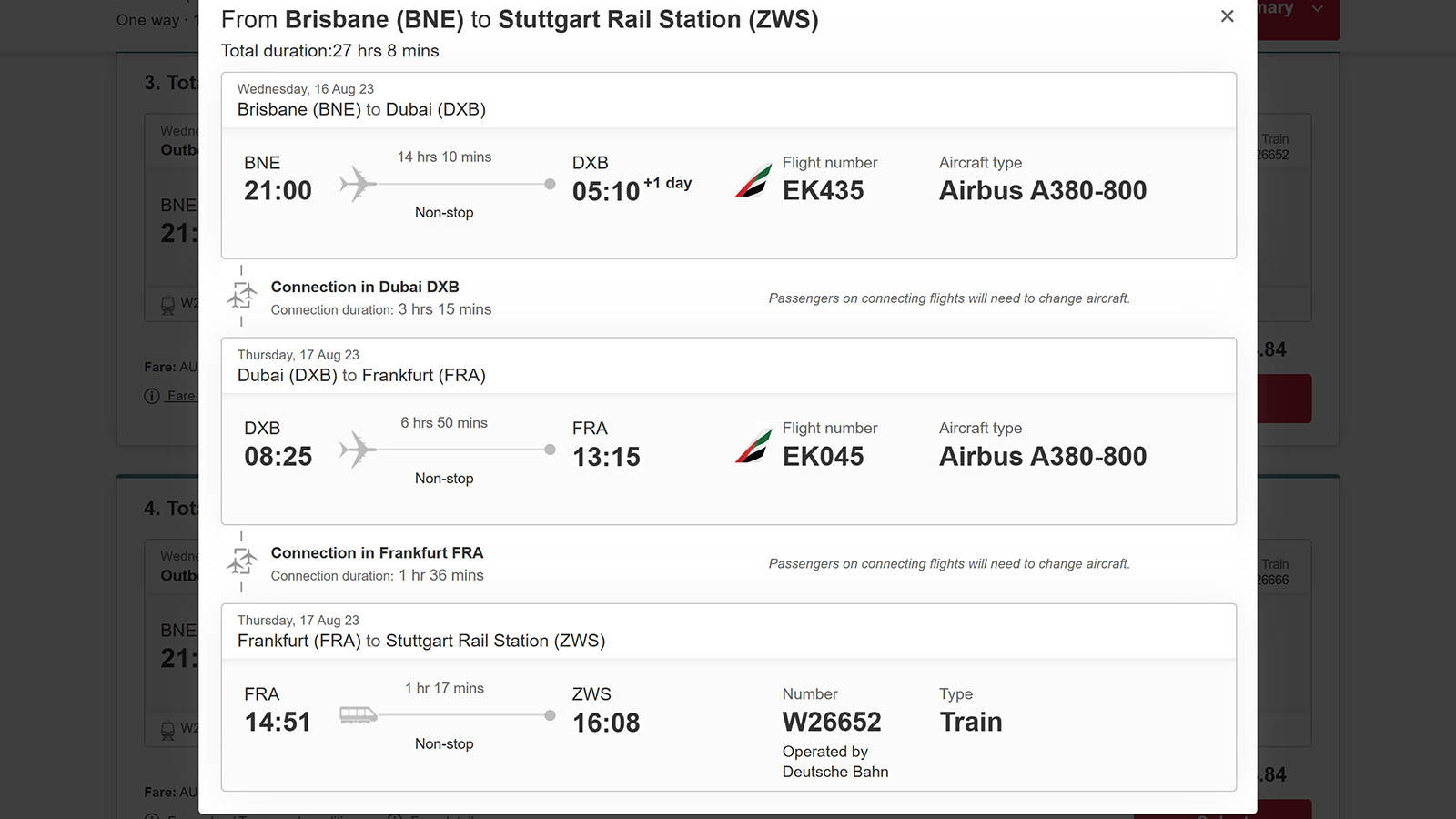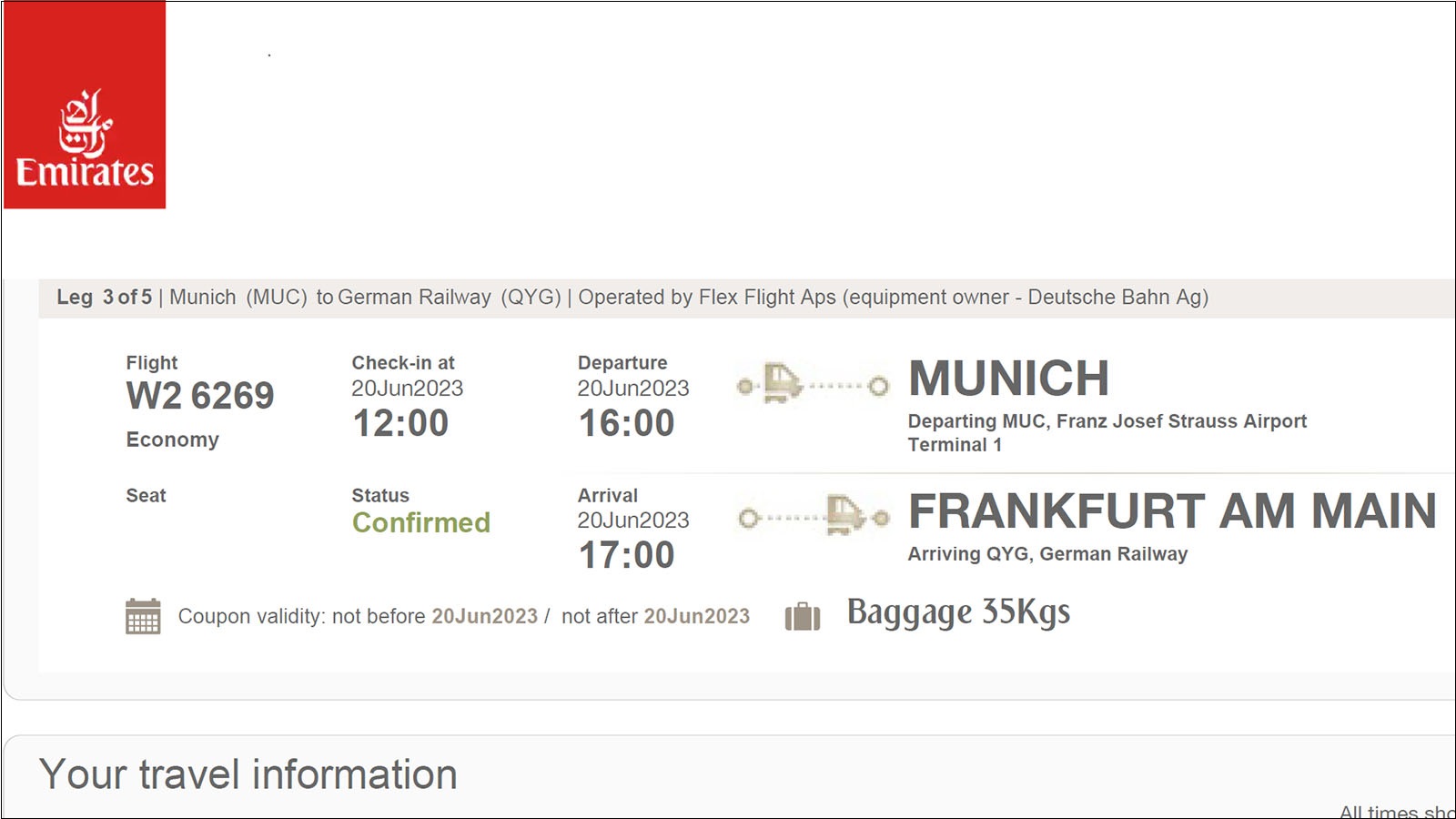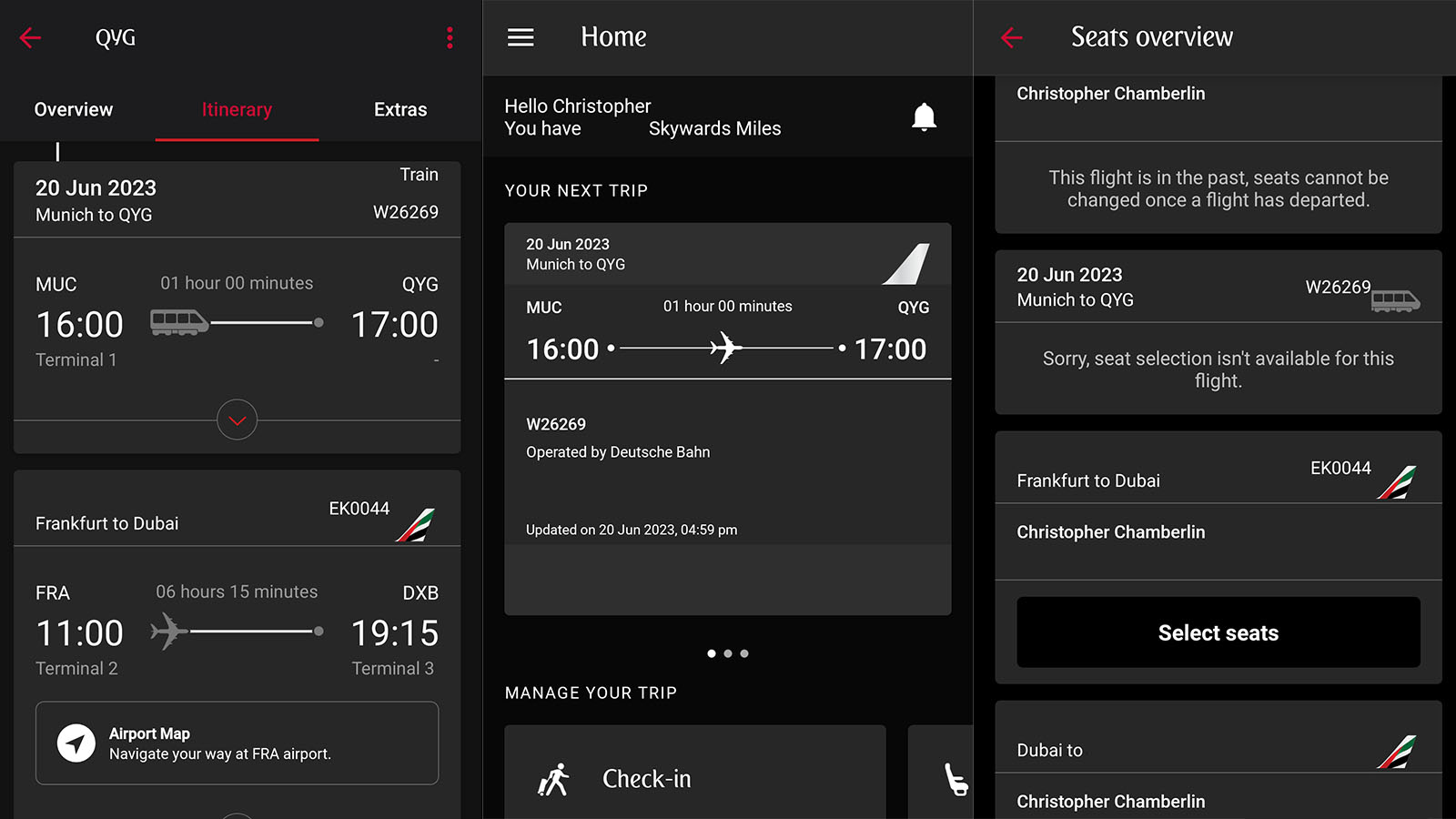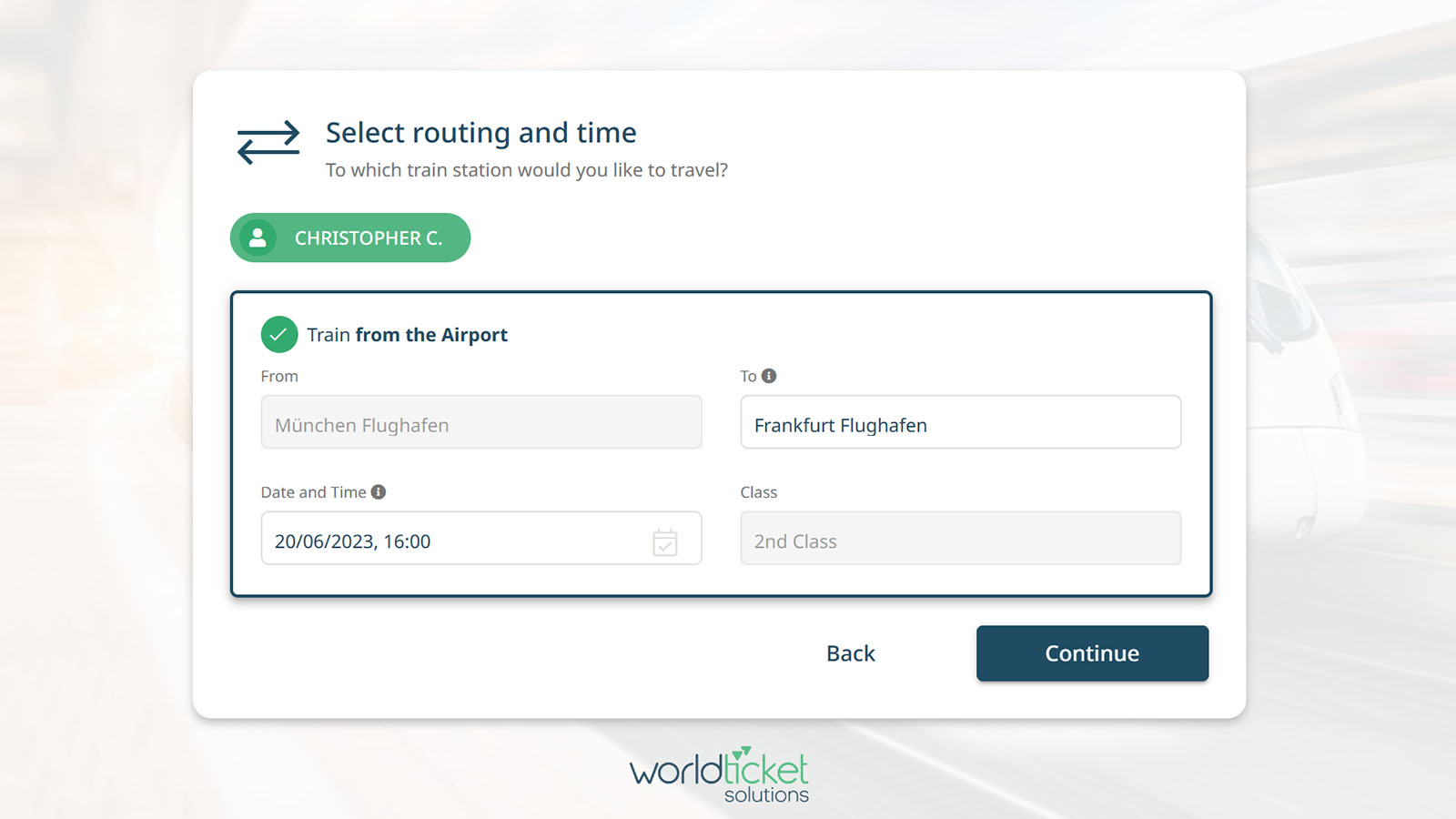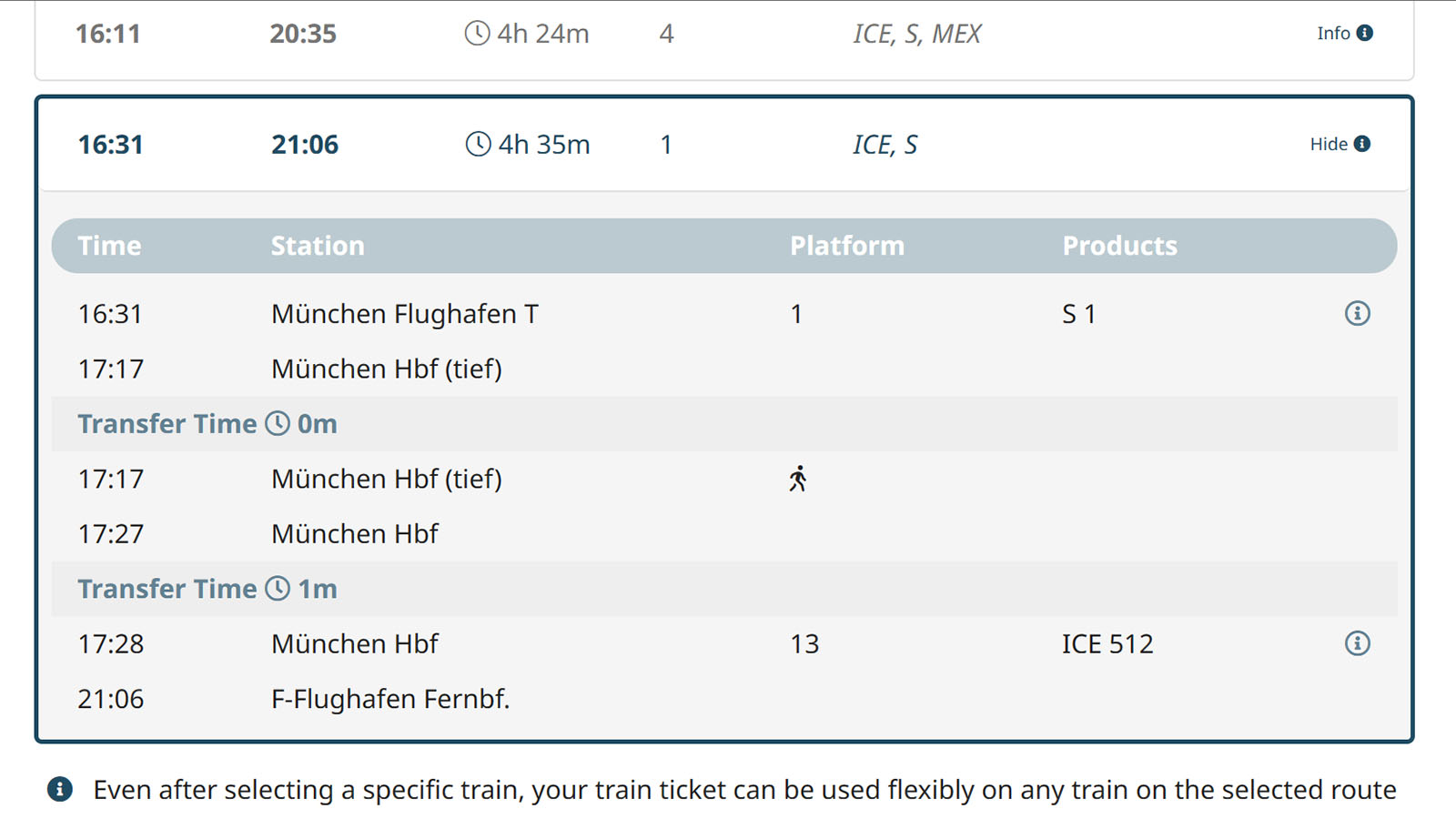 Unlike a flight though, you won't receive your Deutsche Bahn boarding pass at the airport. You'll instead get that directly from Deutsche Bahn (DB). On your Emirates itinerary, you'll spot a six-character Deutsche Bahn confirmation code. Just enter that on the DB website within 72 hours of your rail journey to get started.
Confirm the train you plan to take, and you're sorted. You can either print your boarding pass, or load it into the DB Navigator mobile app for easy recall along the way.
Selecting a seat for your rail journey
Here's an important caveat. Regardless of your fare type or frequent flyer status with Emirates, seat assignments on Deutsche Bahn attract a fee. Your booking merely covers the journey – not a guarantee that you'll have somewhere to sit on the train.
This leaves you with two options. Either you can risk it – hopping aboard and wandering through the carriages in the hope of finding an available seat, but with the chance that you may end up standing. Or you can pay a very modest fee to guarantee a specific seat assignment.
My journey from Munich to Frankfurt would be 3.5 hours. I have bags with me, need to do some work… and the seat selection fee is a mere €4.90 (~AU$8). That's a small price to pay for comfort, productivity and certainty.
Best of all, because I'm paying the fee, I can be as fussy as I want. First, I want a window seat. After all, this business trip to Germany is for a mere 36 hours, so I may as well see as much of the country as I can. Then, I'd like some extra space to work, so I narrow it down to a seat with a large table. Speaking of work, quiet would be nice, so the quiet carriage it is.
Oh, and I'll have bags with me, and don't want to leave them unattended. So, I'd like all of the above – plus a view of the luggage rack where I'll have them stored. A quick scroll through the train's available seats finds exactly what I'm looking for, so I snap it up.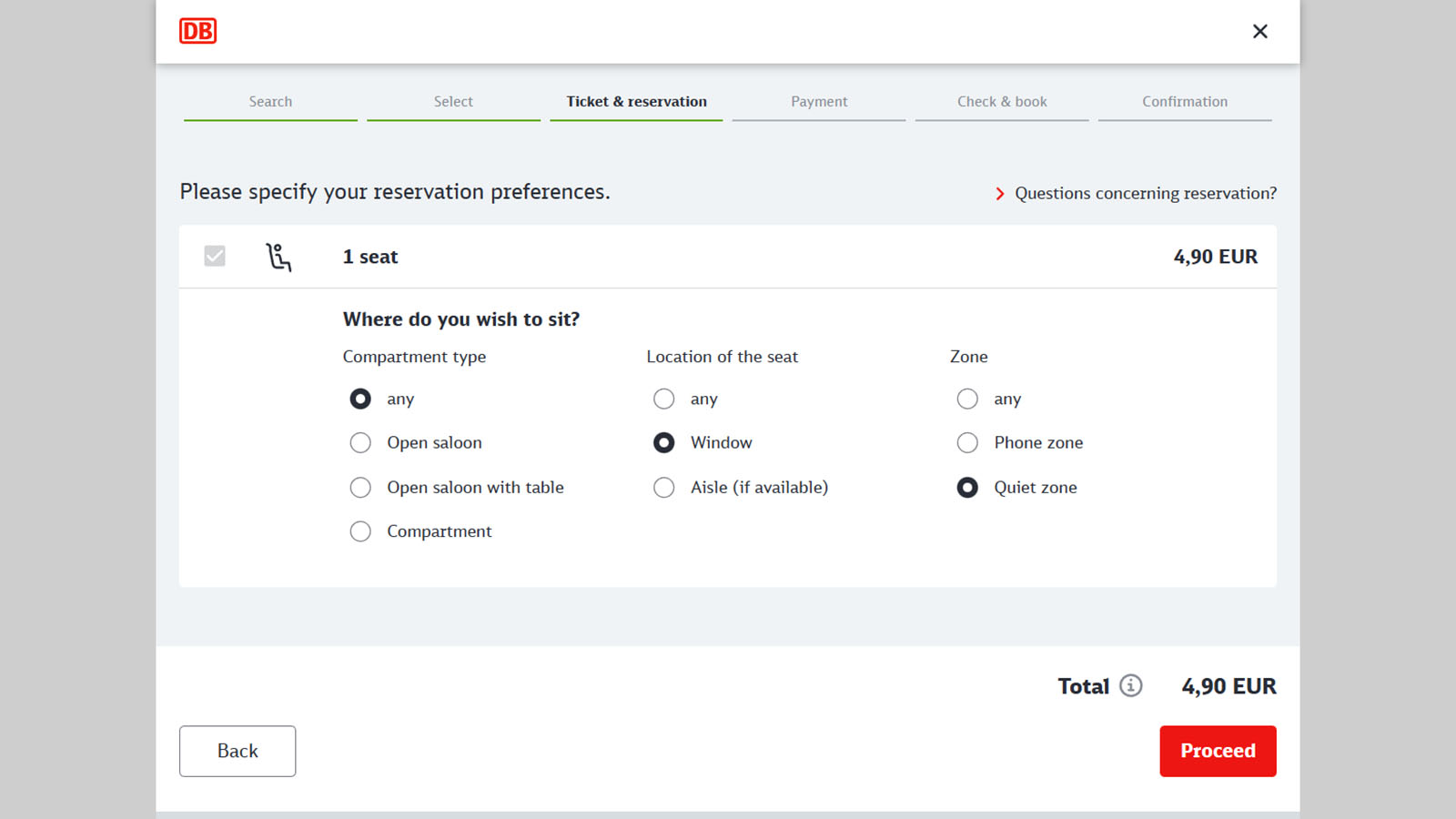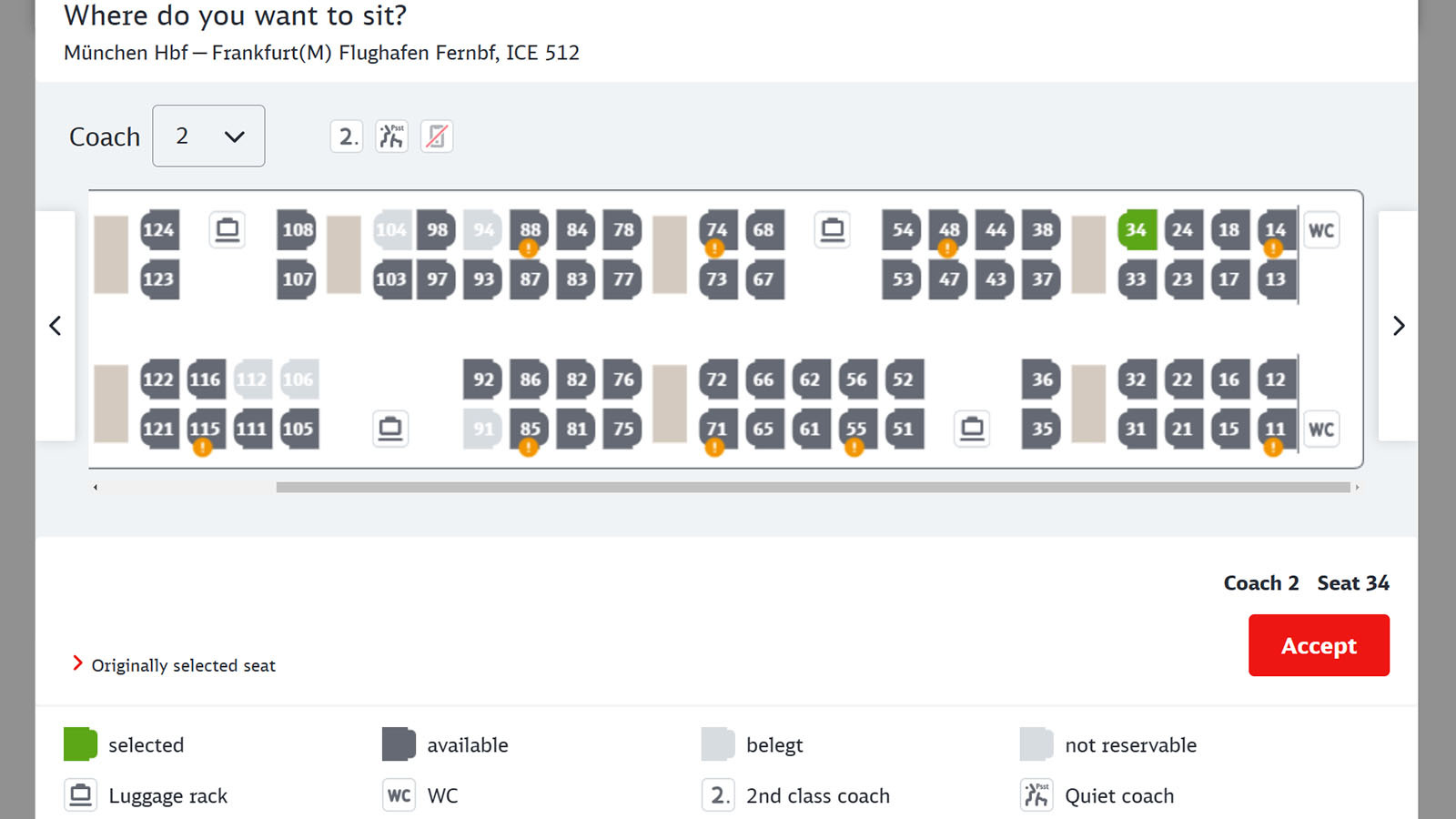 As luck would have it, nobody pre-selects the seat beside me. And to be strategic, I've chosen a seat in just the second carriage of a very long train. Translation: everybody hopping on at the last minute without a seat assignment keeps on walking. Instead of taking the vacant seat beside me, the crowds wander yonder in search of more space.
Even though I've got multiple stops along the way, that neighbouring seat remains free the entire way from Munich to Frankfurt. Bliss.
Boarding Deutsche Bahn's Intercity Express (ICE) trains
One of the great things about high-speed rail in general is that you can travel from city centre to city centre. You don't need to leave the city hours early to venture out to an airport. You don't check bags in, you don't clear security. Like most other trains, you just turn up and go.
My journey is booked from Munich's city centre to Frankfurt Airport. (And had I not had such little time, I could have ventured from the Munich CBD to Frankfurt's CBD). It's less than an hour before my train departs and I'm still sitting in a Munich city cafe. If I were flying instead, I'd have already missed the plane.
Now, I don't want my boarding of the train to be too tight. So I head to the station – Munich Hauptbahnhof – around 45 minutes before departure. As it turns out, that was still about 20 minutes too early. Seriously: you can turn up with less than half an hour before you leave and still have so much time to spare.
Before my journey, I download that DB Navigator mobile app. I link my ticket – easily done by scanning a QR code in the PDF received as part of the rail check-in process. It tells me which platform to go to, so I make my way there.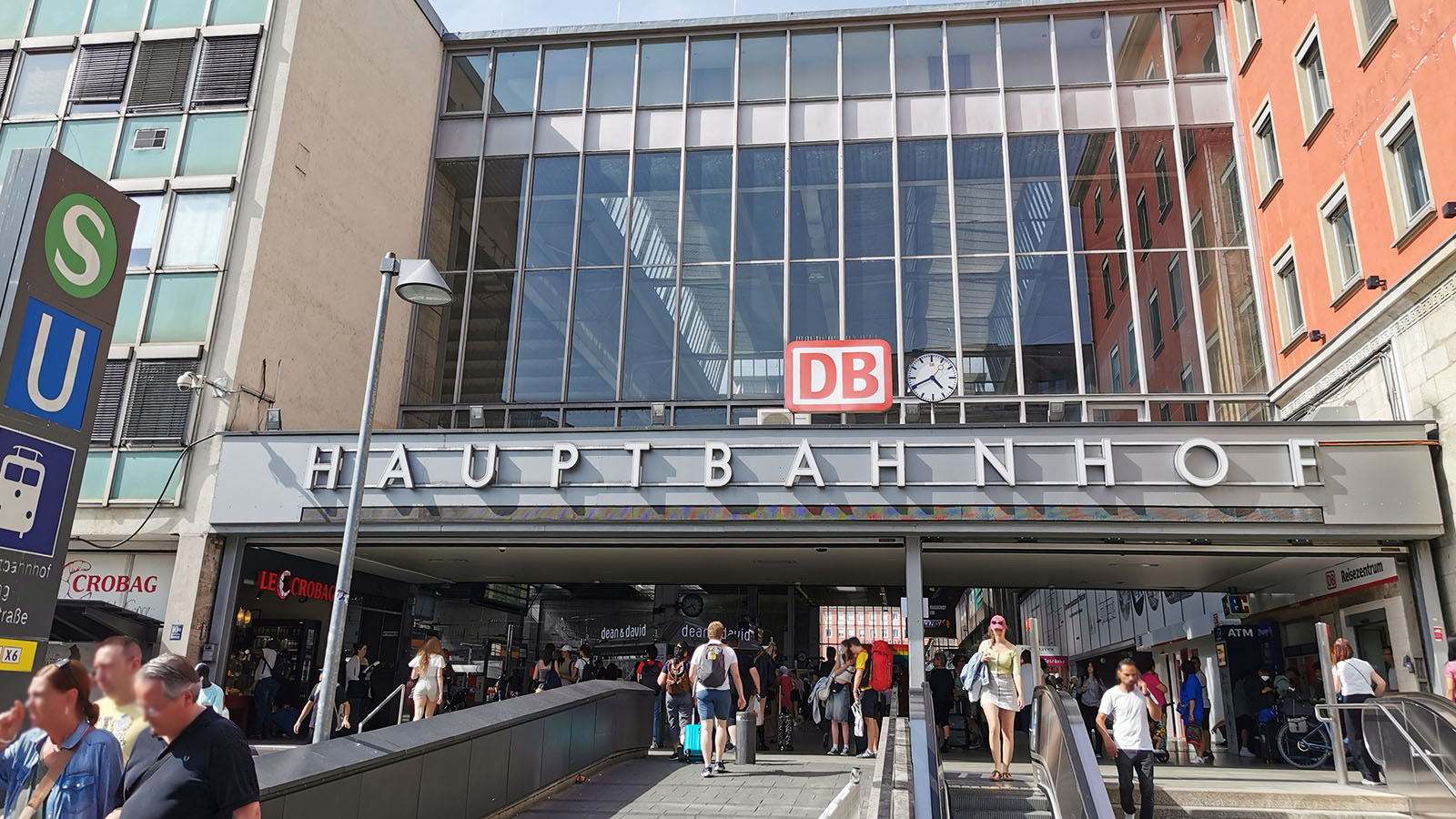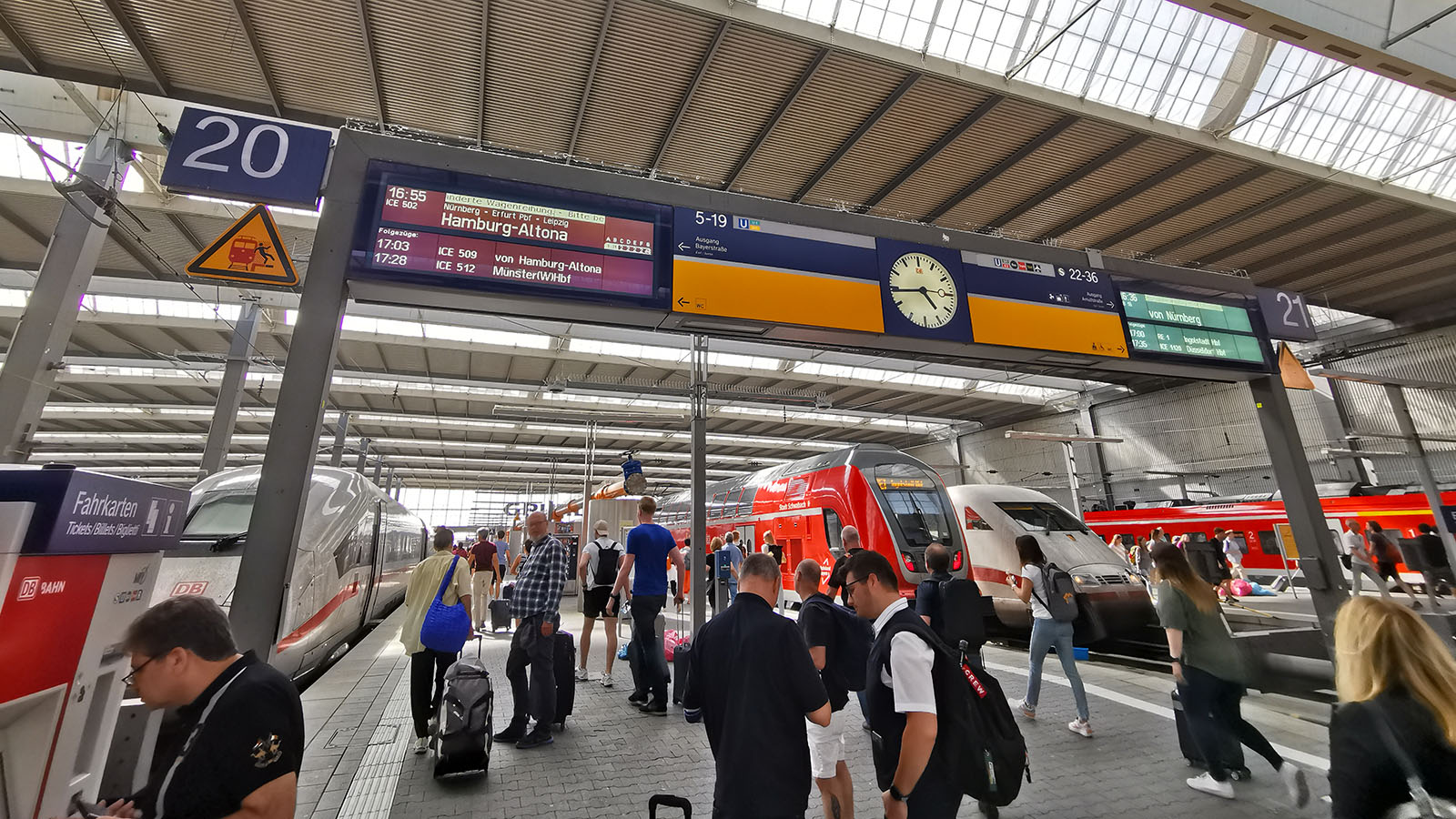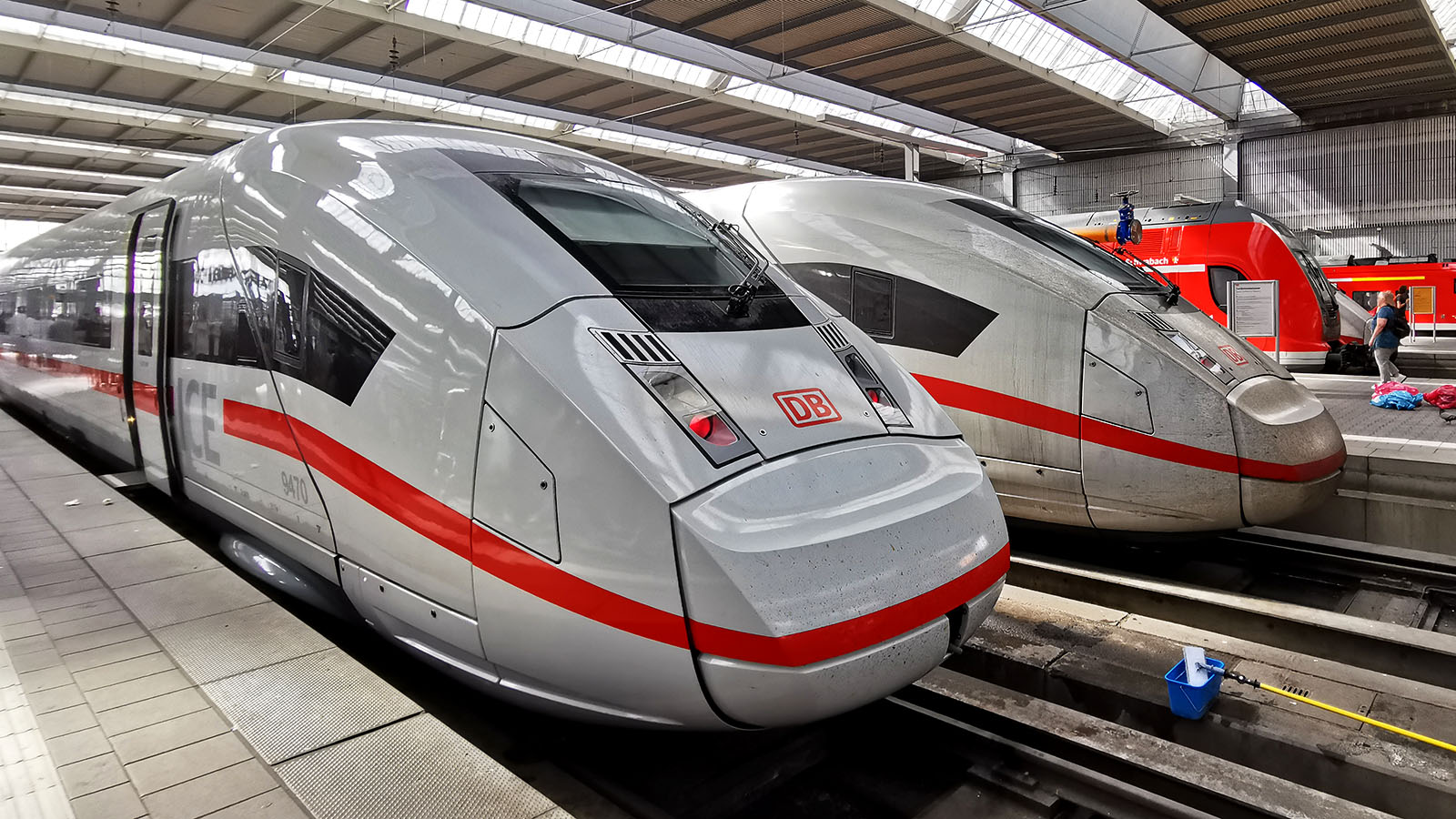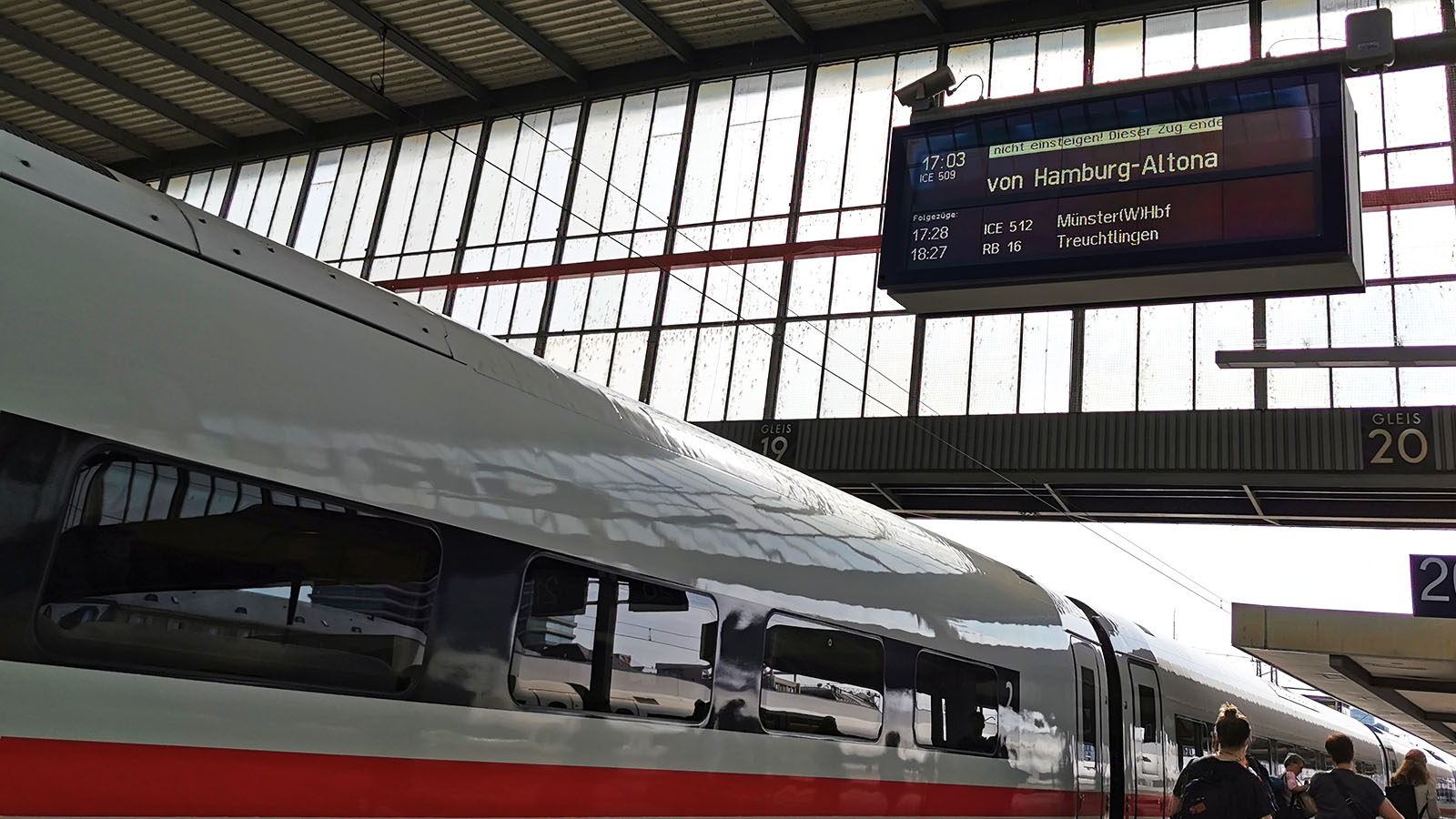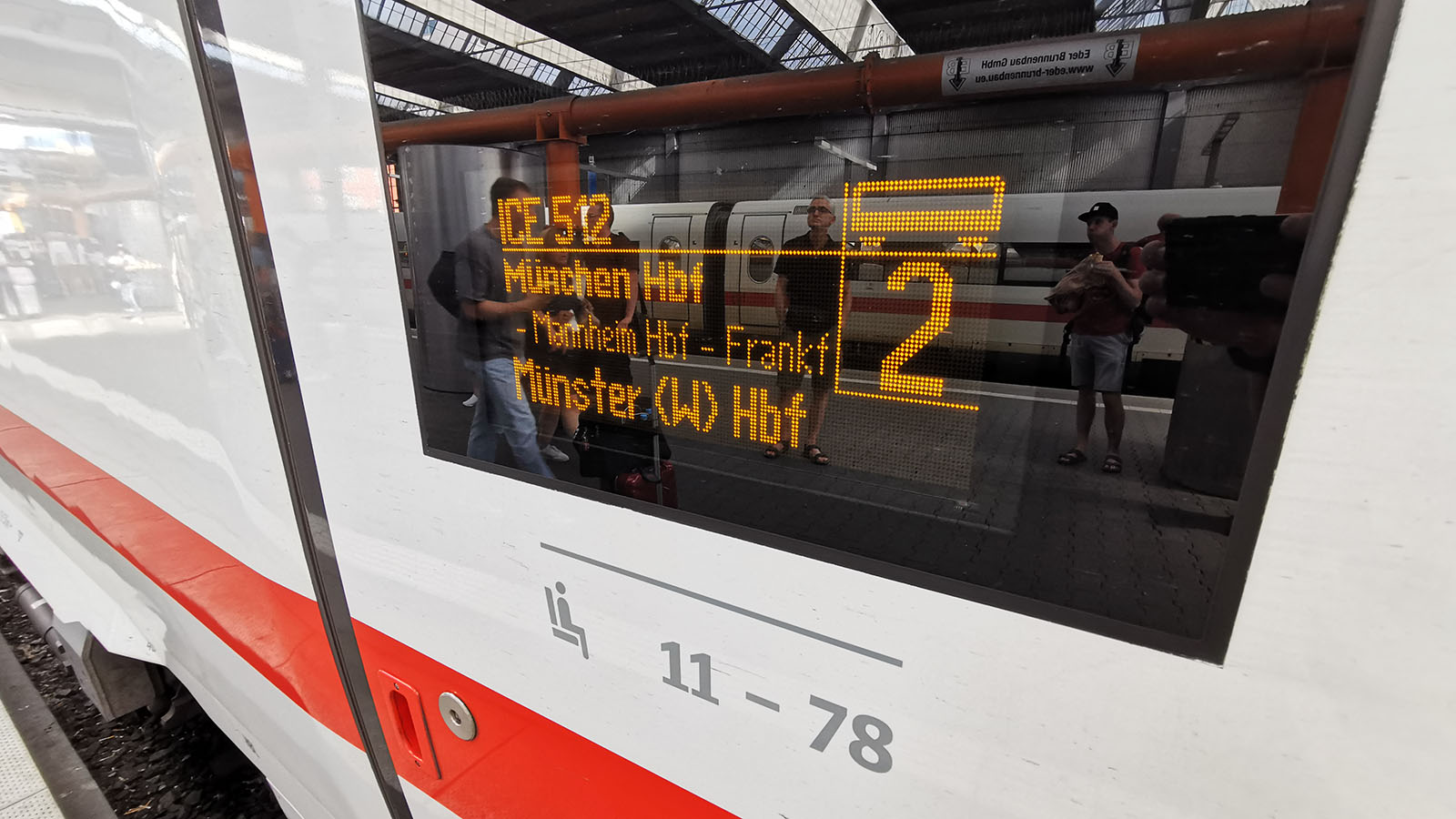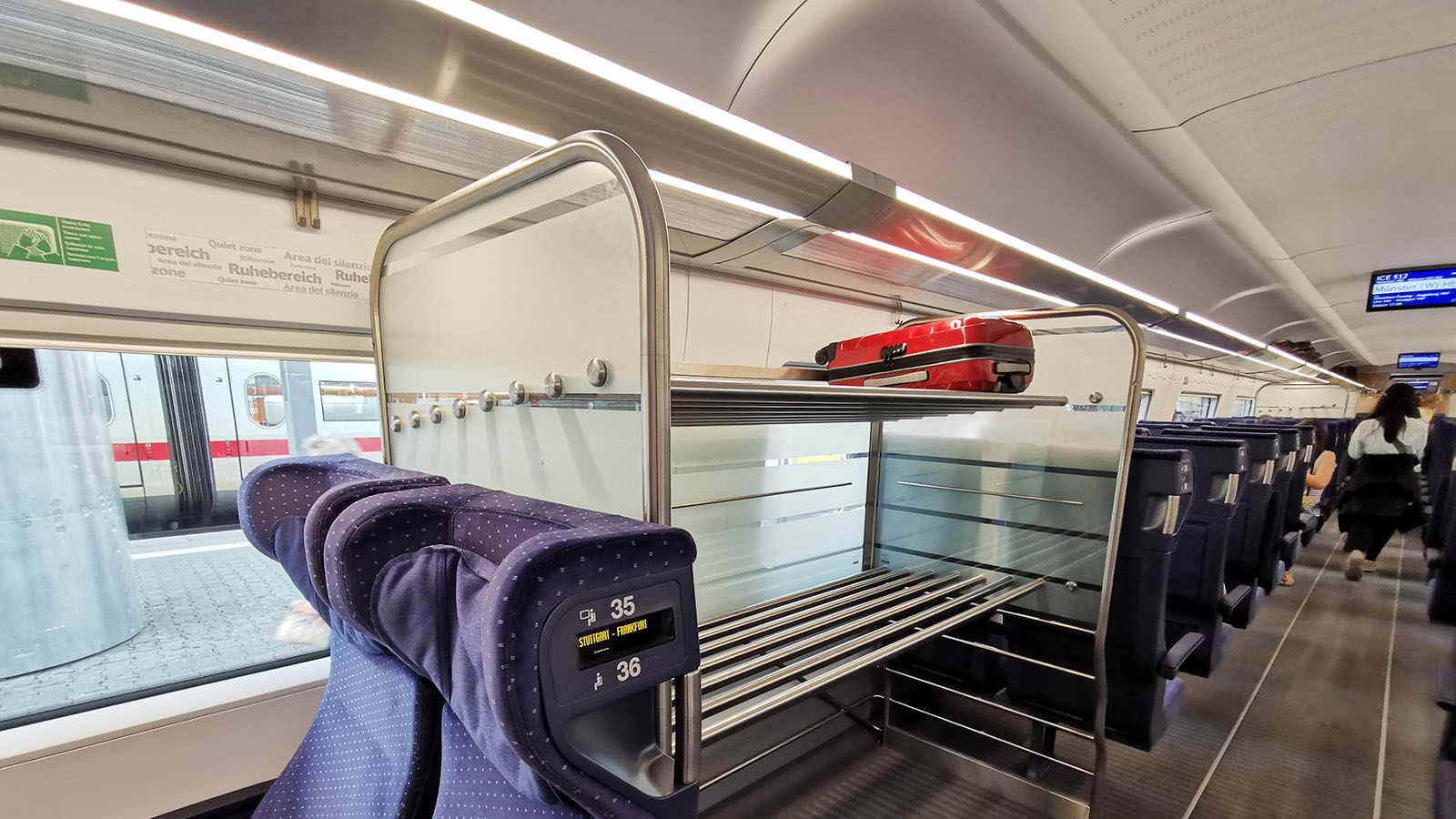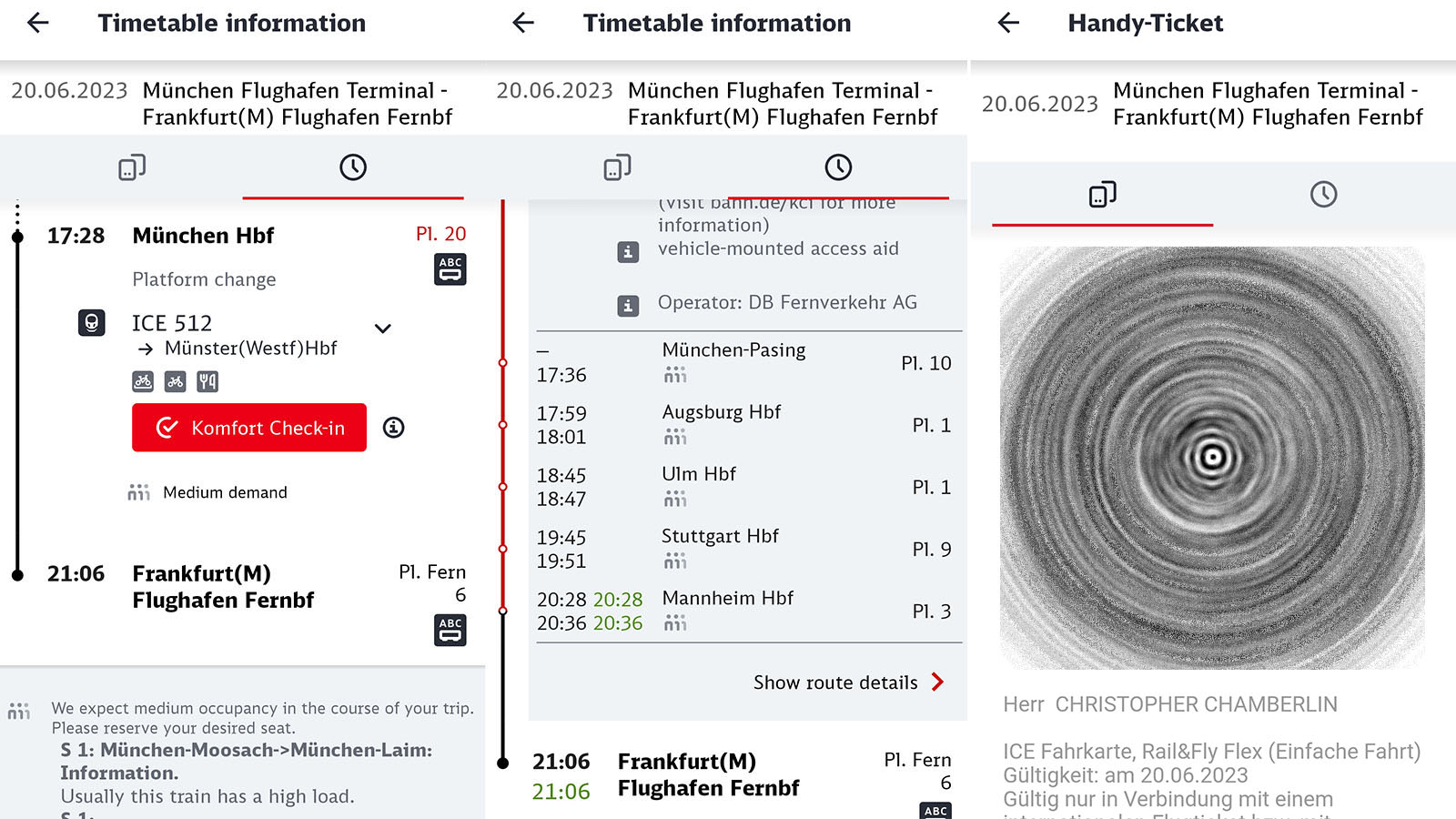 There's another train leaving before mine on the same platform, so I sit and wait. Another pulls up, but I think, 'I have time'. After all, the screen says 'von Hamburg' – whereas I'm going to Frankfurt. It takes me a few minutes to remember that 'von' means 'from' in German… and that the train I've been staring at is the one going to Frankfurt. Oops!
Fortunately, the doors aren't yet open for boarding. Crisis averted, and I'm soon on.
'Second Class' on Deutsche Bahn's ICE trains
Deutsche Bahn's high-speed ICE trains have both First Class and Second Class. For Emirates passengers flying First Class and Business Class, the rail segment books into First Class. Those booked to travel in Emirates Economy are instead ticketed in Second Class with Deutsche Bahn.
I've arrived in Munich on an easy daytime Economy flight from Dubai. Thus, my rail journey will be in Second Class. But because I've reserved a desirable seat – and ultimately, have a spare seat beside me – the experience is quite pleasant.
After all, the main difference between First Class and Second Class is that in First Class, you don't have a neighbouring seat. But with that seat vacant, I have space to keep my laptop bag within easy reach – so it turns out well.
In the cabin, most seats are plane-like: all facing one direction, and with a fold-down tray table. But I've chosen a spot in a group of four with a larger table in between, which again adds to that feeling of space.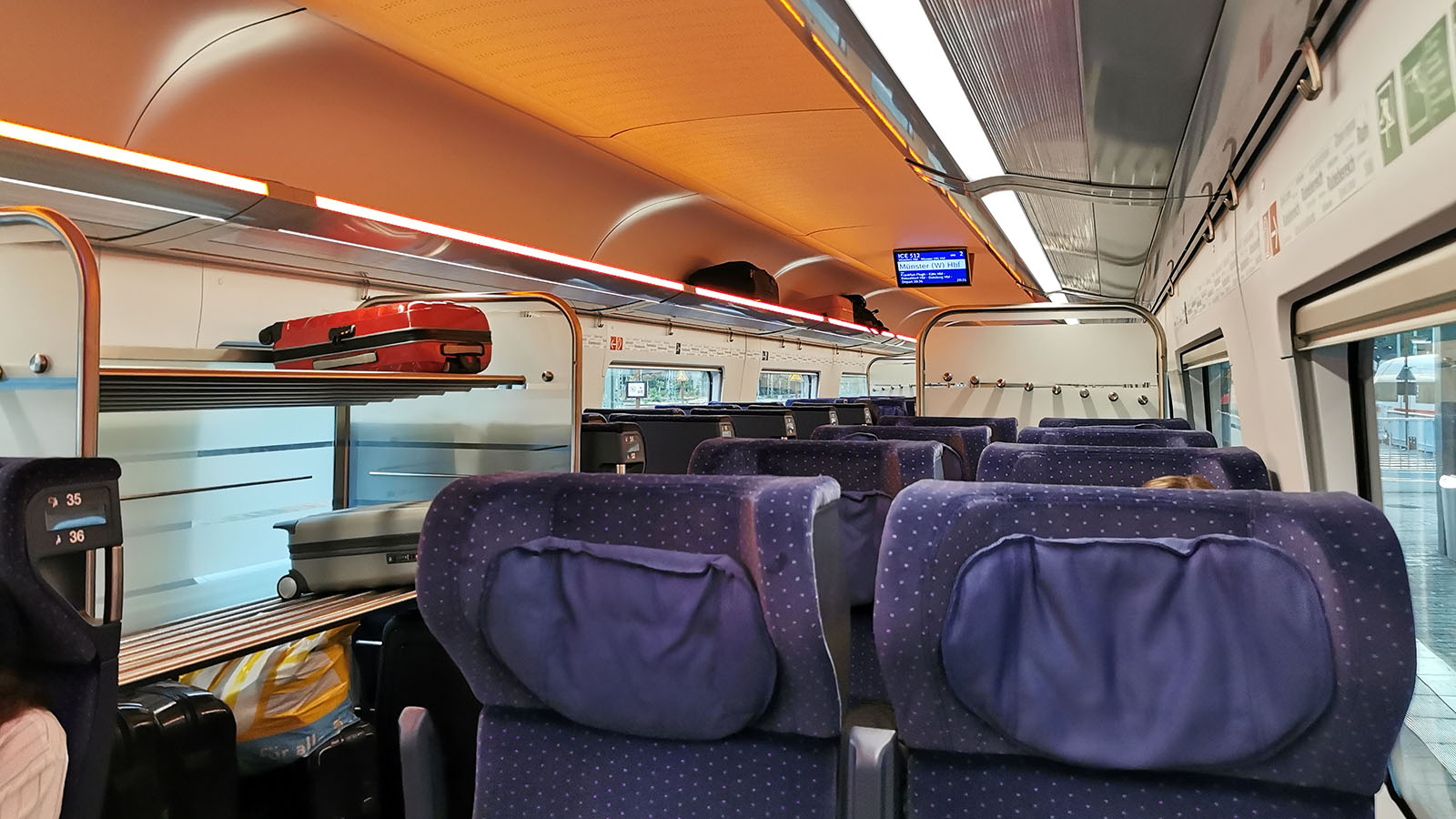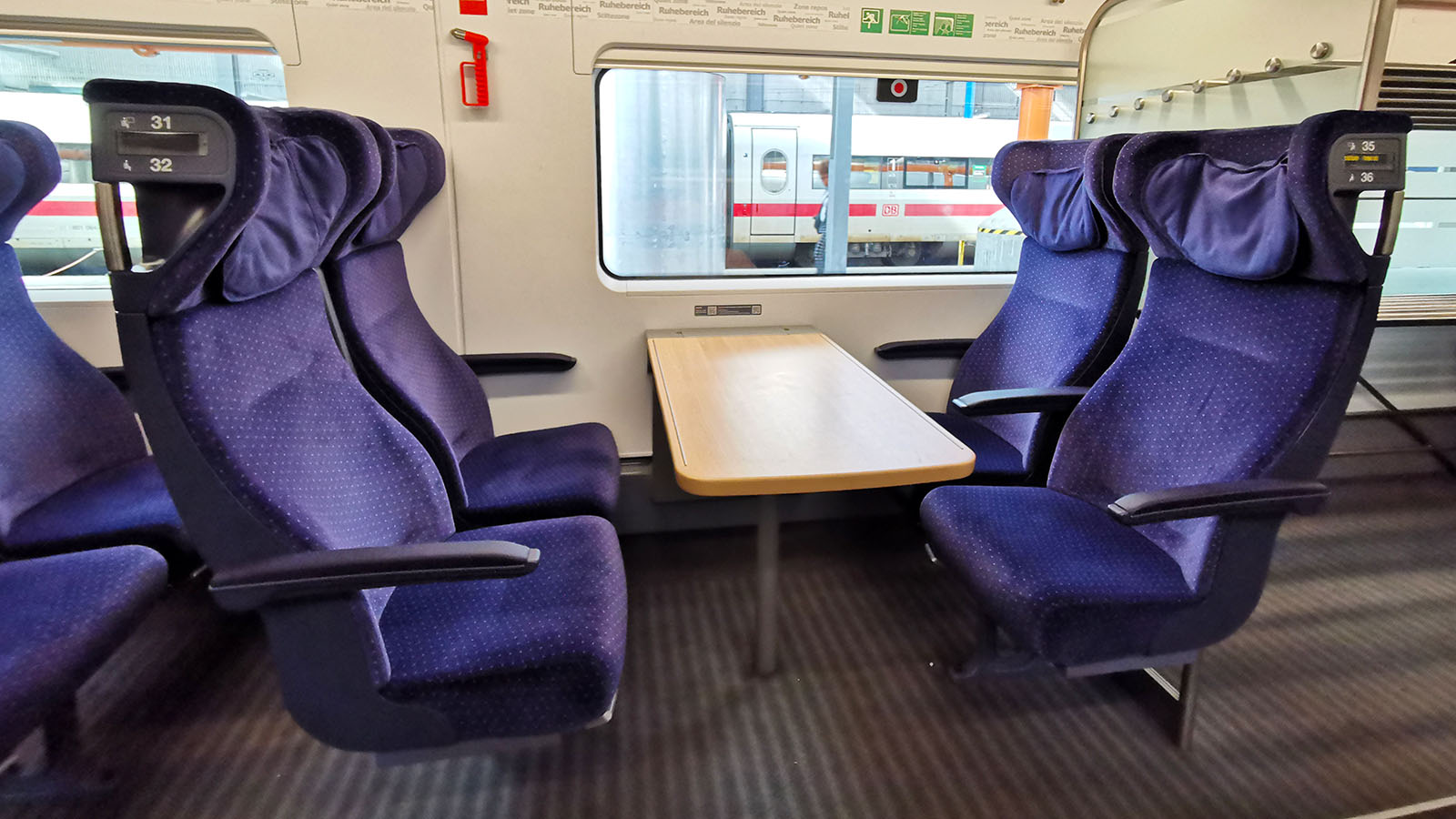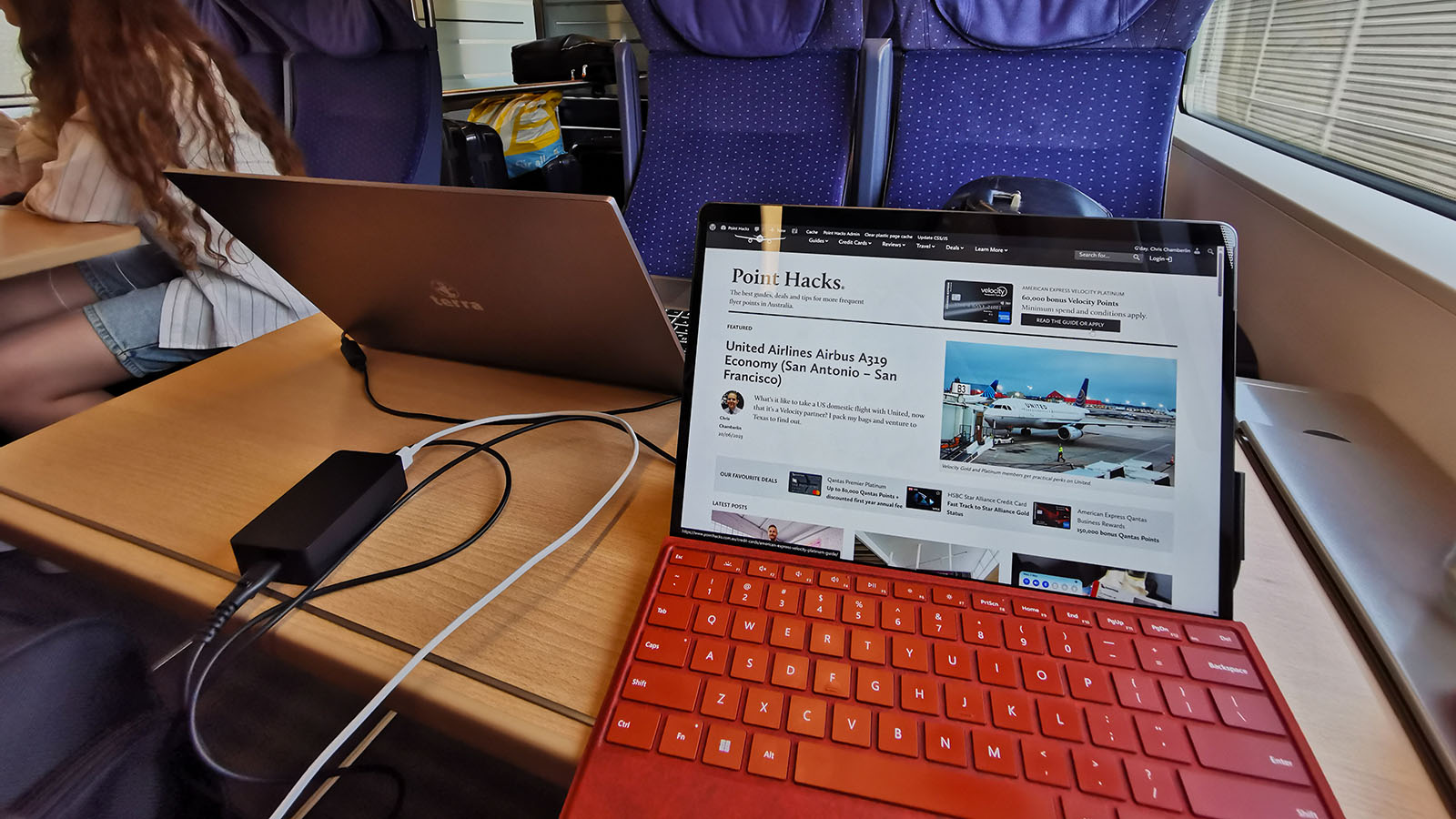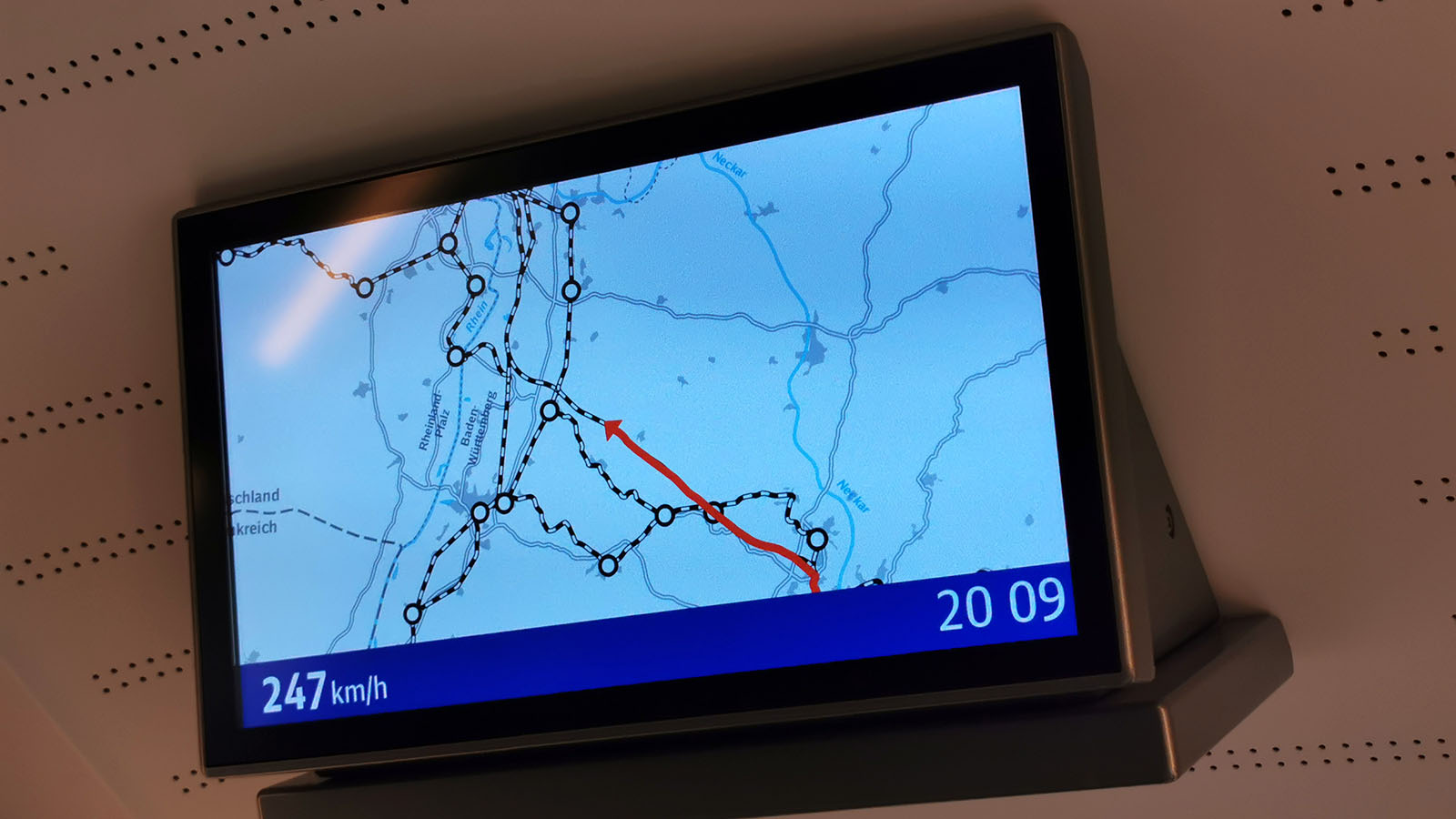 One other passenger joins the quad. He's reserved the opposing window seat, but migrates to the aisle to give us both some extra space for our laptops – and feet. That turns out to be a good move, as an open laptop takes up more than two-thirds of the space on that centre table. If the train were busier, that would have been problematic.
A quick look below the seat finds a standard European AC power outlet. Again, handy when you're aiming to work – especially in the quiet carriage where people generally keep to themselves. If you're peckish, there's a shop further along the train selling drinks and light bites like sandwiches, but I'm all set.
Reaching your destination
Mirroring my seating companion, I spend the next few hours working quietly. As a frequent business traveller, I really appreciate times like this on trips where you can just zone in and get things done without interruptions. For me, that translates into getting through a good chunk of my Emirates Airbus A380 Premium Economy review from my earlier Sydney-Dubai flight.
I still take time to glance out the window as Germany flies by. And via the overhead screen, I can periodically see our speed (247 km/h). It's also helpful to see a precise arrival time for our stop at Frankfurt Airport. This helps me make the most of my time on the train, while also giving me plenty of time to pack up and be ready to depart.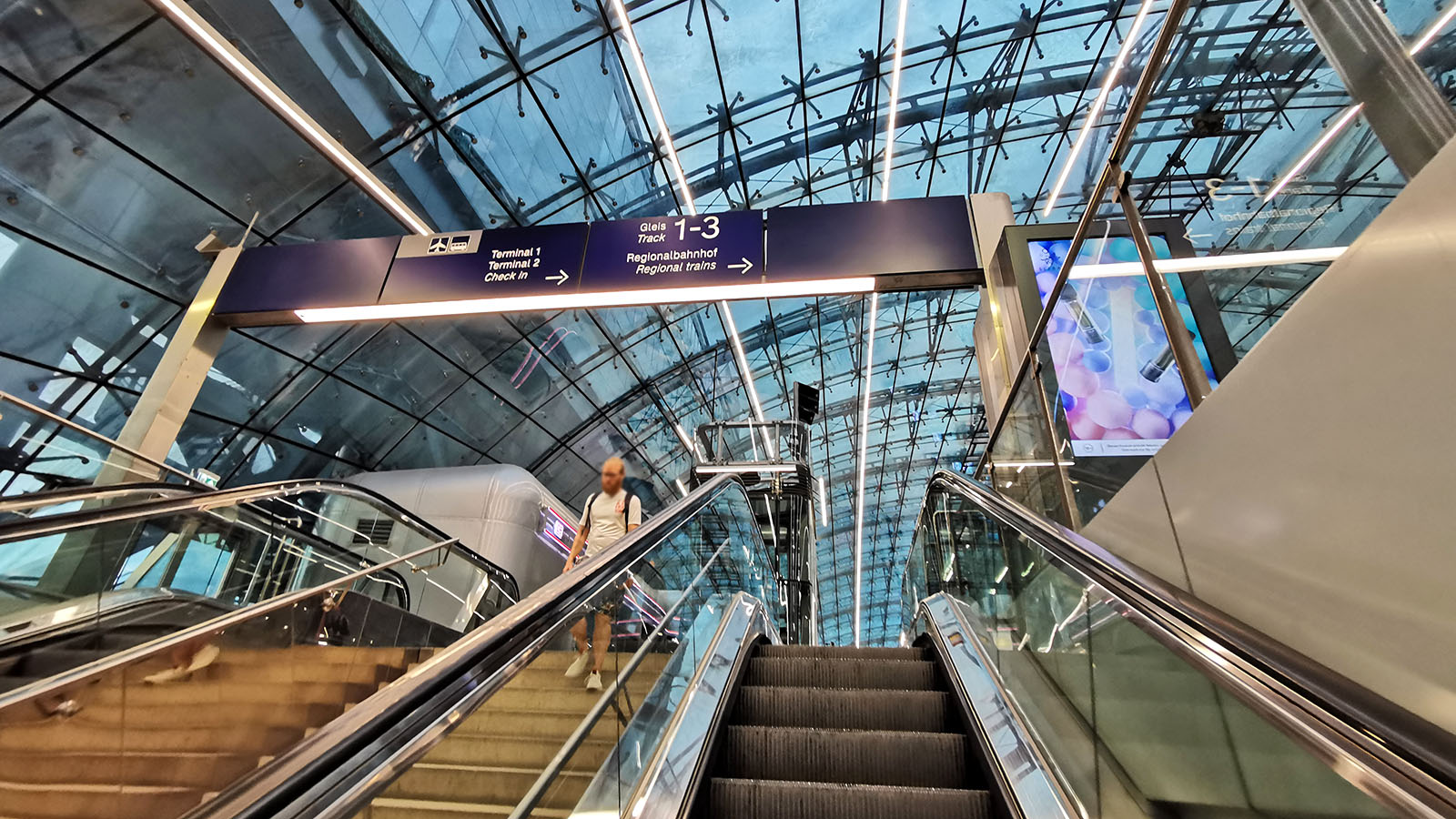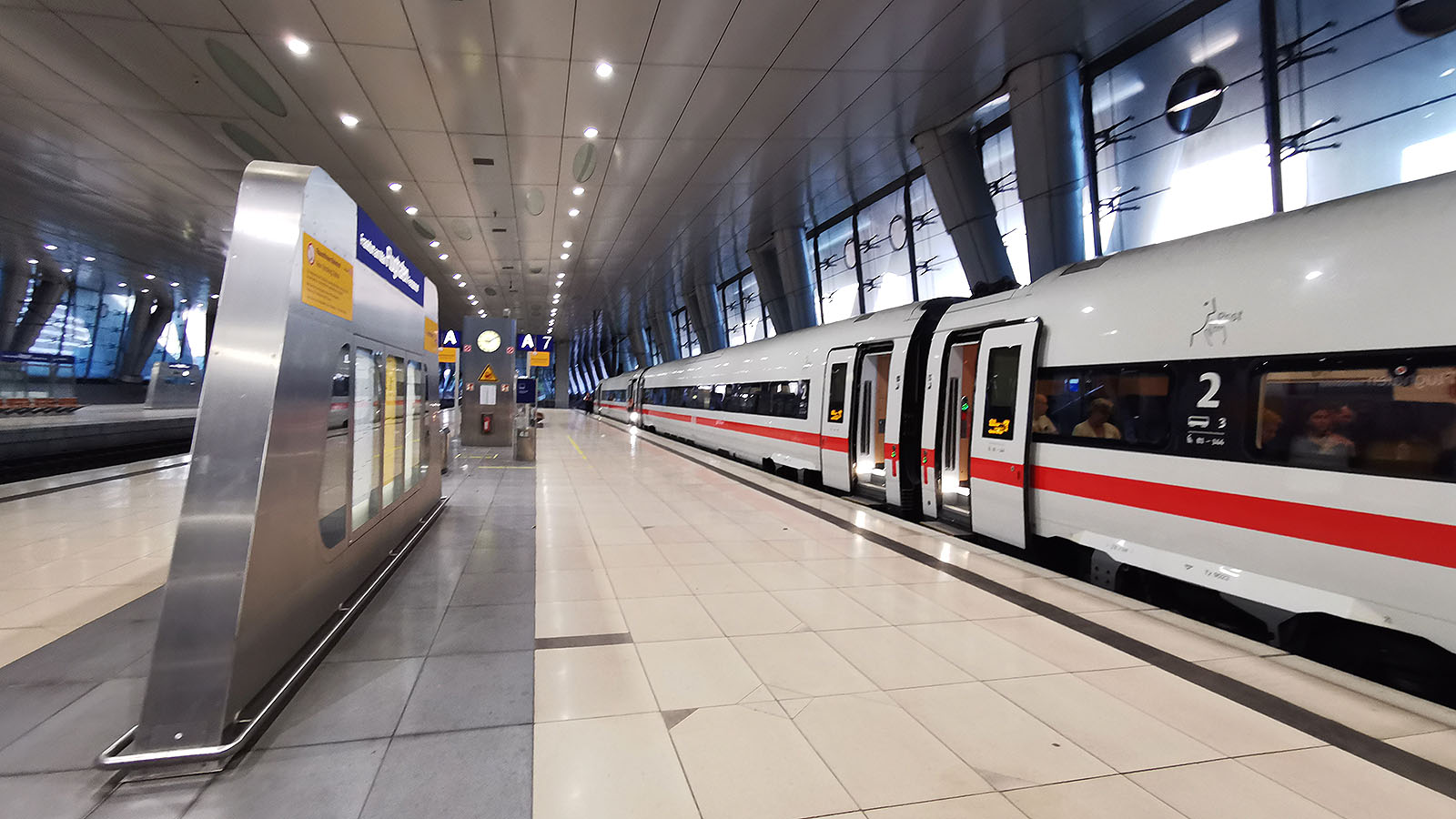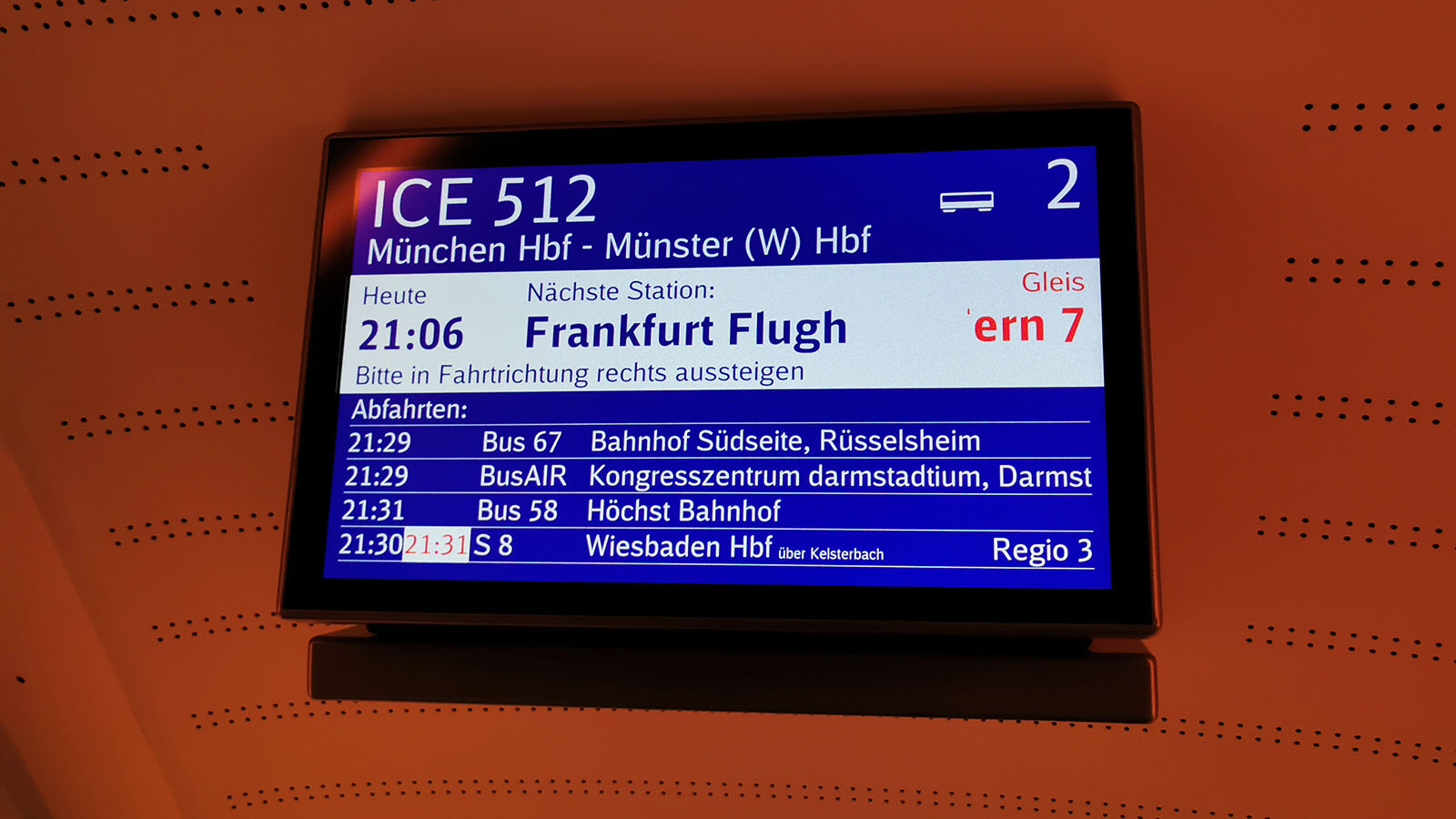 Soon enough, we're here. I grab my bags and step straight off. Done. If my onward Emirates flight were imminent, I could easily wander straight to the check-in desks upstairs and continue the day's travels. But as it happens, I have a quick overnight stop. So for now, it's the hotel shuttle.
Still, the convenience of having all my plans covered on a single ticket is fantastic. Not just flights and rail, but ground transfers too. This includes a chauffeur-driven pick-up the next day, courtesy of an onward flight in Emirates Business Class. Just like clockwork, a Mercedes-Benz E-Class arrives at the pre-booked time and whisks me back to Frankfurt Airport for the next leg of the trip.
Also read: Emirates eyes all-new Sydney Airport lounge
Photography by Chris Chamberlin, who travelled as a guest of Emirates. Seat reservation was at Point Hacks' expense.
---
Stay up to date with the latest news, reviews and guides by subscribing to Point Hacks' email newsletter.
When your Emirates plane is a Deutsche Bahn train
was last modified:
July 14th, 2023
by