Thinking about the partner airlines you can book with Qantas Points, Taiwan-based China Airlines might not immediately come to mind. But it'll always be near the top of my list whenever I want to fly from the eastern states to Asia or beyond. Low carrier charges are one of the main reasons to book, along with a strong inflight offering.
When a work trip opportunity to Japan with Qantas Points came up, I originally booked Jetstar Business via Cairns to Osaka. But a few weeks later, China Airlines released availability across all of its routes to Qantas Frequent Flyer members. I didn't hesitate to change my booking to secure a lie-flat bed to Osaka via Taipei instead, onboard the carrier's 'Premium Business Class' (which we'll shorten to Business Class for this review).
The damage? Just 90,000 Qantas Points + AU$166 (now $193), all the way from Sydney to Osaka. Apart from a 5,000-point change fee, we only had to pay 28,500 Qantas Points more in the fare difference. And as a bonus, I also got a refund of $34 as the fees and charges with China Airlines were less than with Jetstar! That's a win in my book.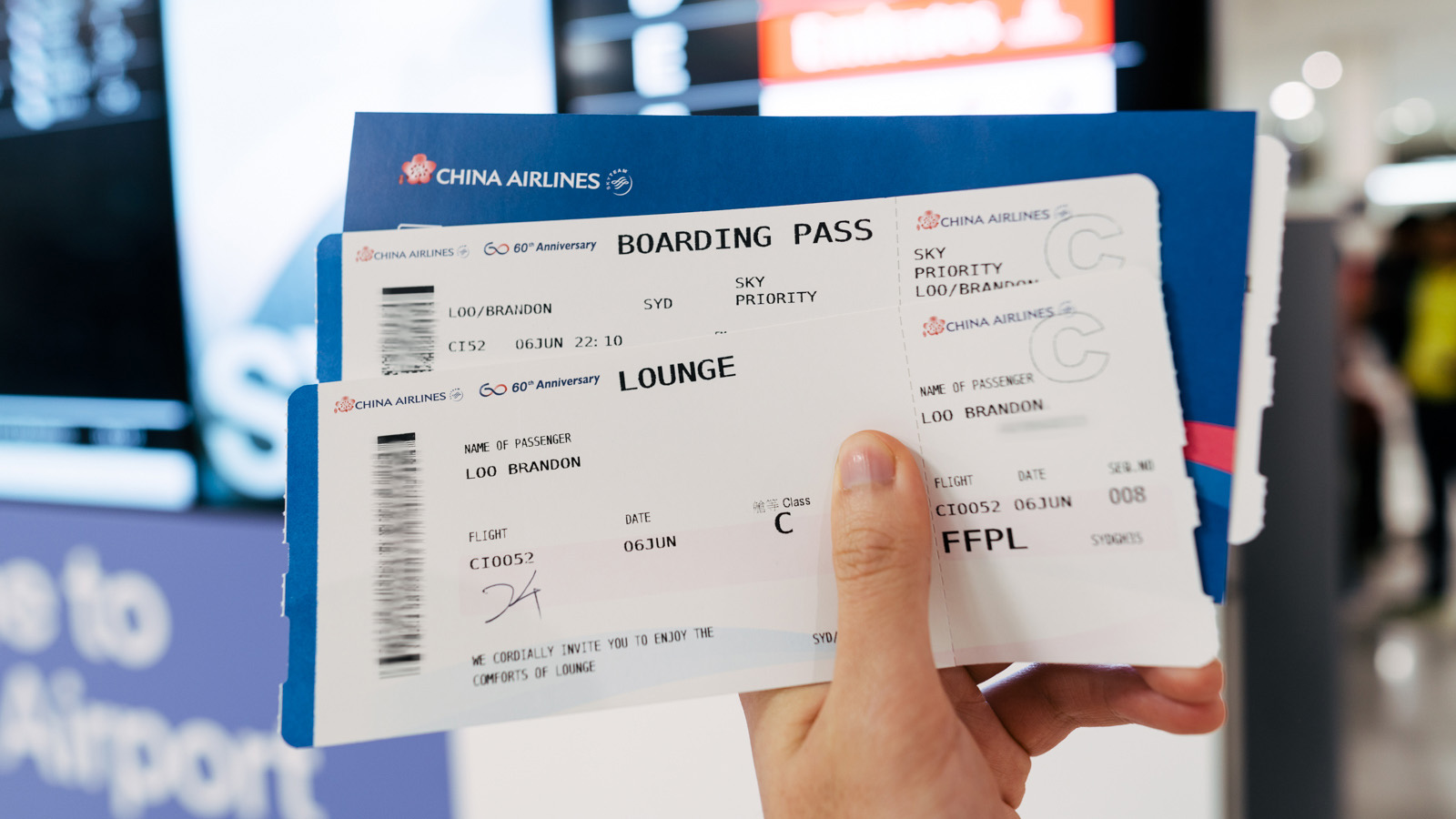 Check-in, lounge and boarding
After a day working at the West Hotel Sydney (Curio Collection by Hilton), I make my way by train to Sydney International Airport. I've arrived too early for check-in – it's 6:30 pm and though the lanes are set up, the staff are still being briefed. But within 10 minutes, the counters are open and I'm processed swiftly.
It's quite early – 3.5 hours before departure, to be precise. There are no queues for Business Class and Premium Economy, though the Economy line is full by the time I'm done. I'm glad to report that immigration and security are painless at this time of night, especially with a dedicated lane for First/Business Class passengers.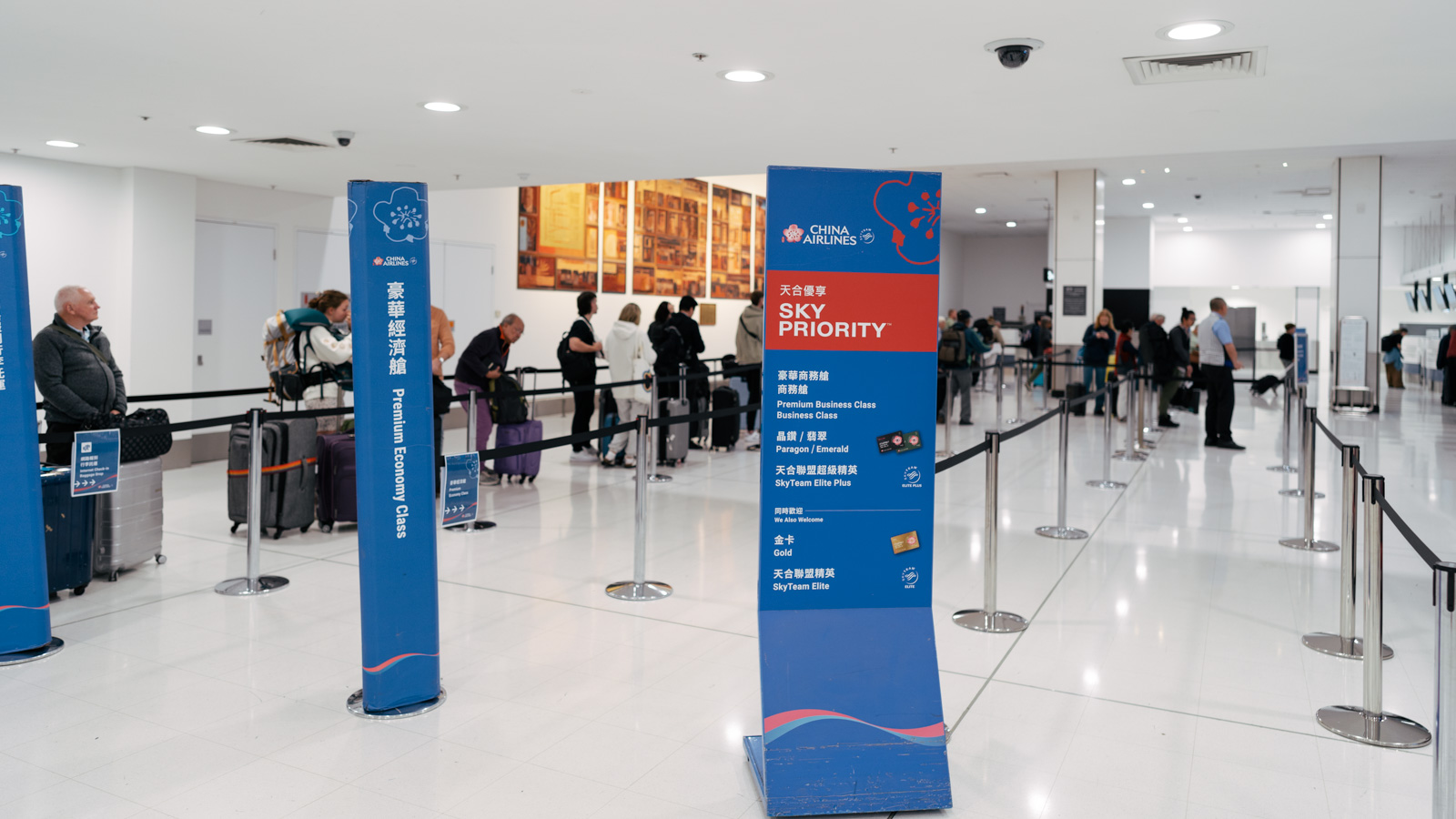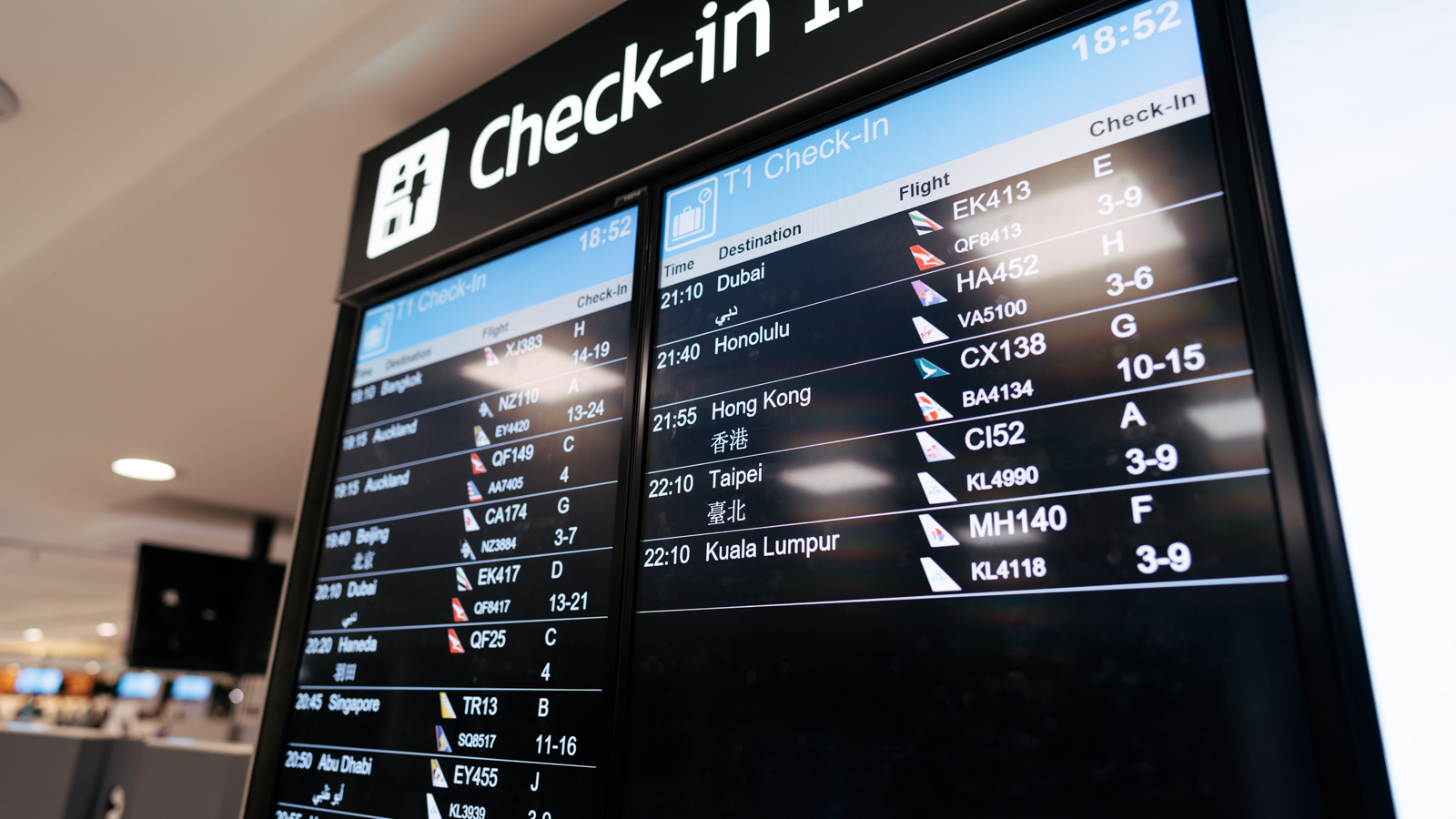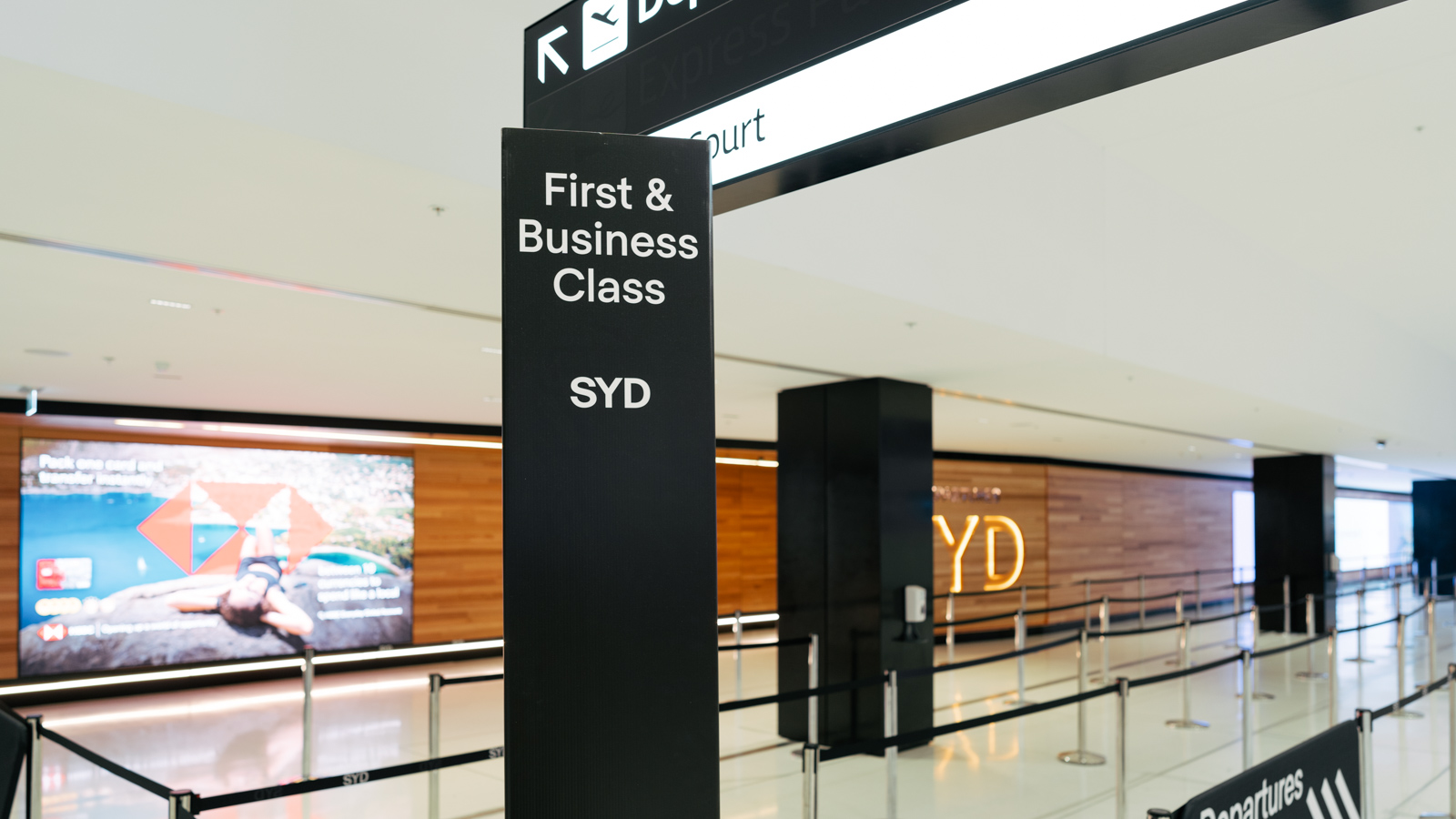 With my American Express Platinum Card, I have access to three lounges in addition to the SkyTeam Lounge, which my boarding pass unlocks. In the interest of market research, I stop by the American Express lounge first, followed by The House. Unfortunately, I'm not as impressed with both lounges since I last reviewed them properly. They're both packed to the rafters and staff struggle to keep up with clearing used plates and glassware.
By contrast, the SkyTeam Lounge is a veritable oasis. It's not a pay-to-enter lounge. Being an alliance lounge, it's only open to Business Class passengers and those with SkyTeam Elite Plus status when travelling on a SkyTeam carrier, such as China Airlines. After a refreshing shower, a glass of sparkling wine and a nibble from the hot buffet, I'm ready to hop onboard.
As expected, China Airlines offers 'Sky Priority' boarding for Business Class passengers. I'm eager to be the first onboard – and you'll soon see why.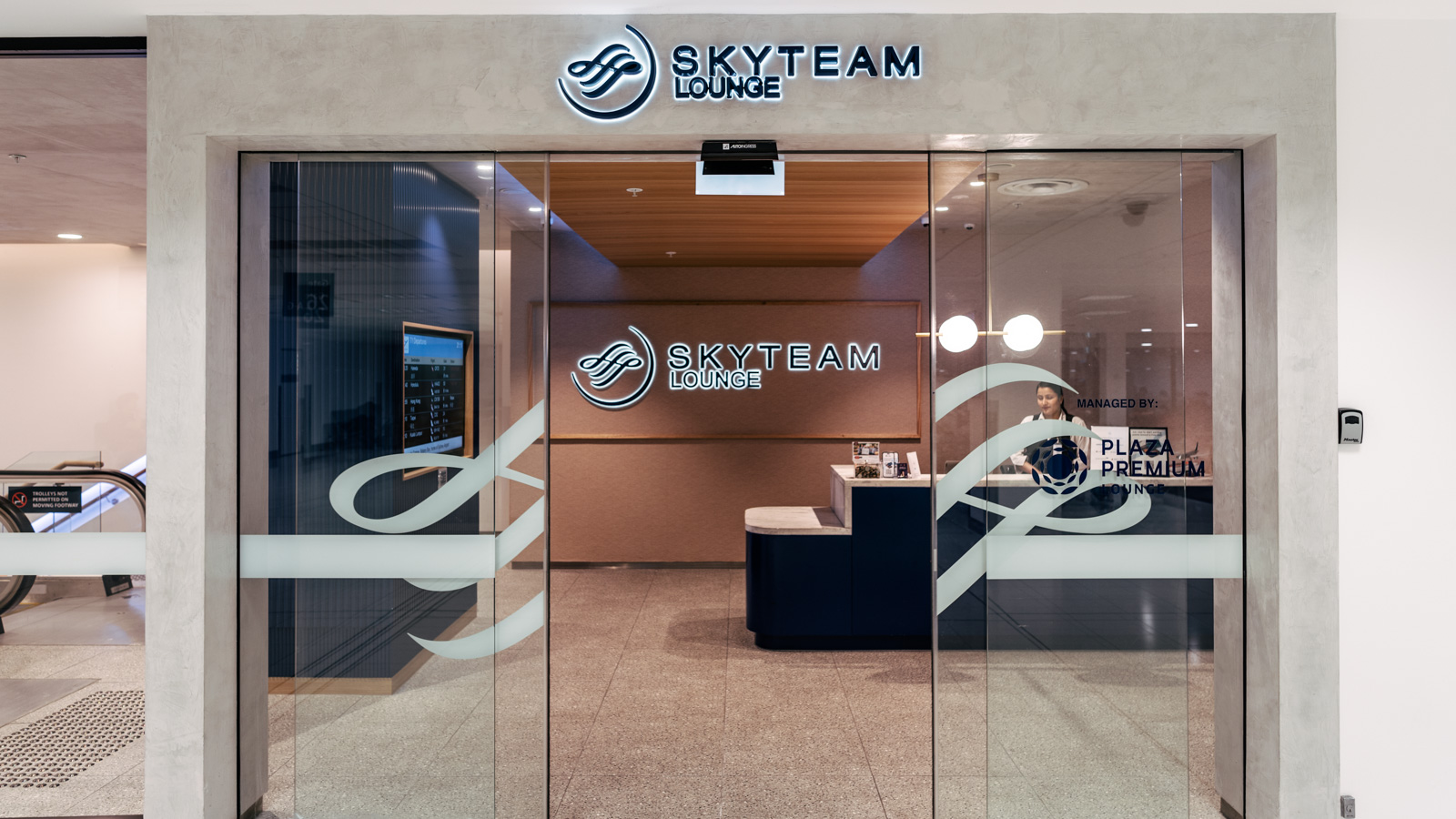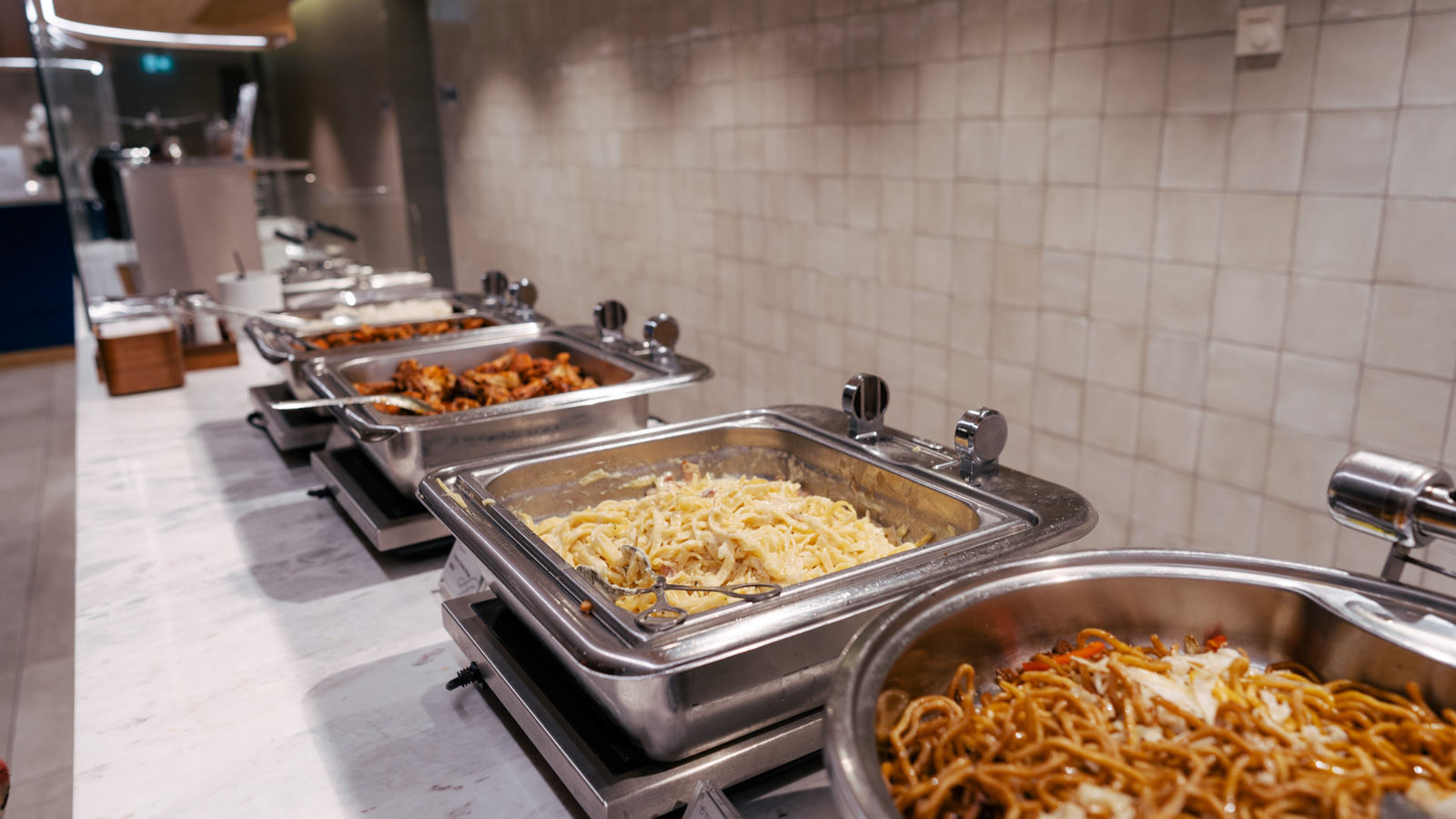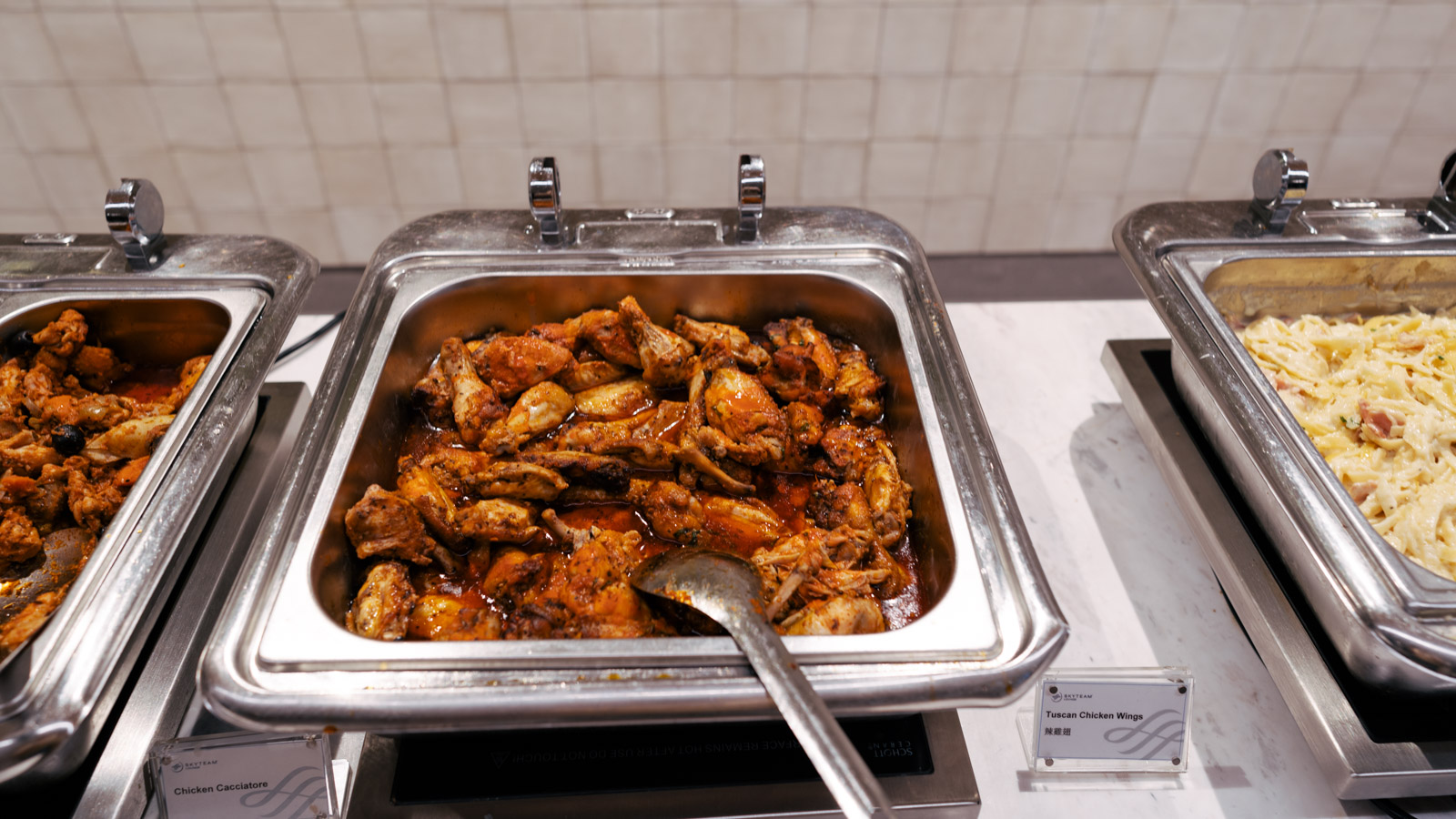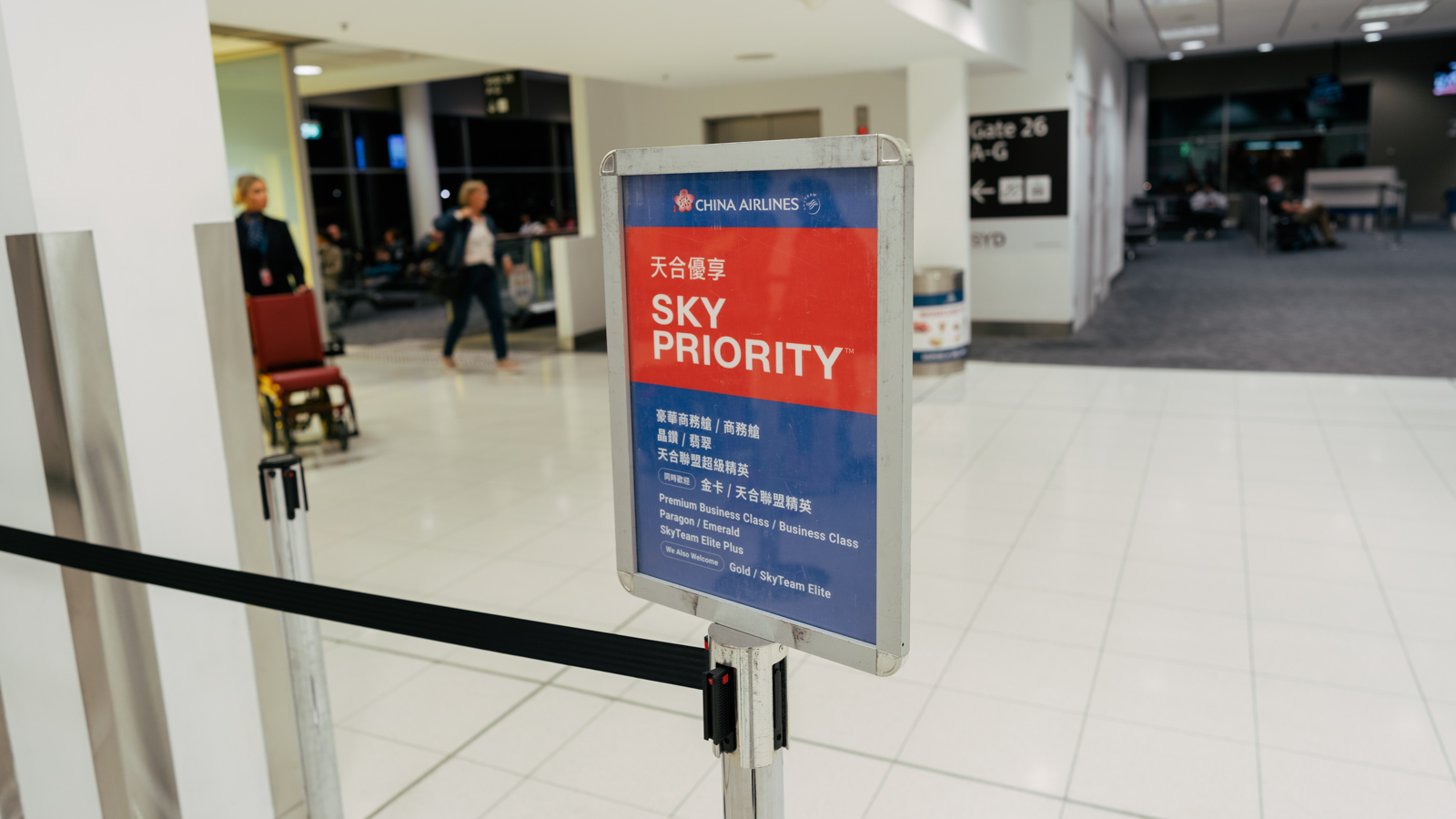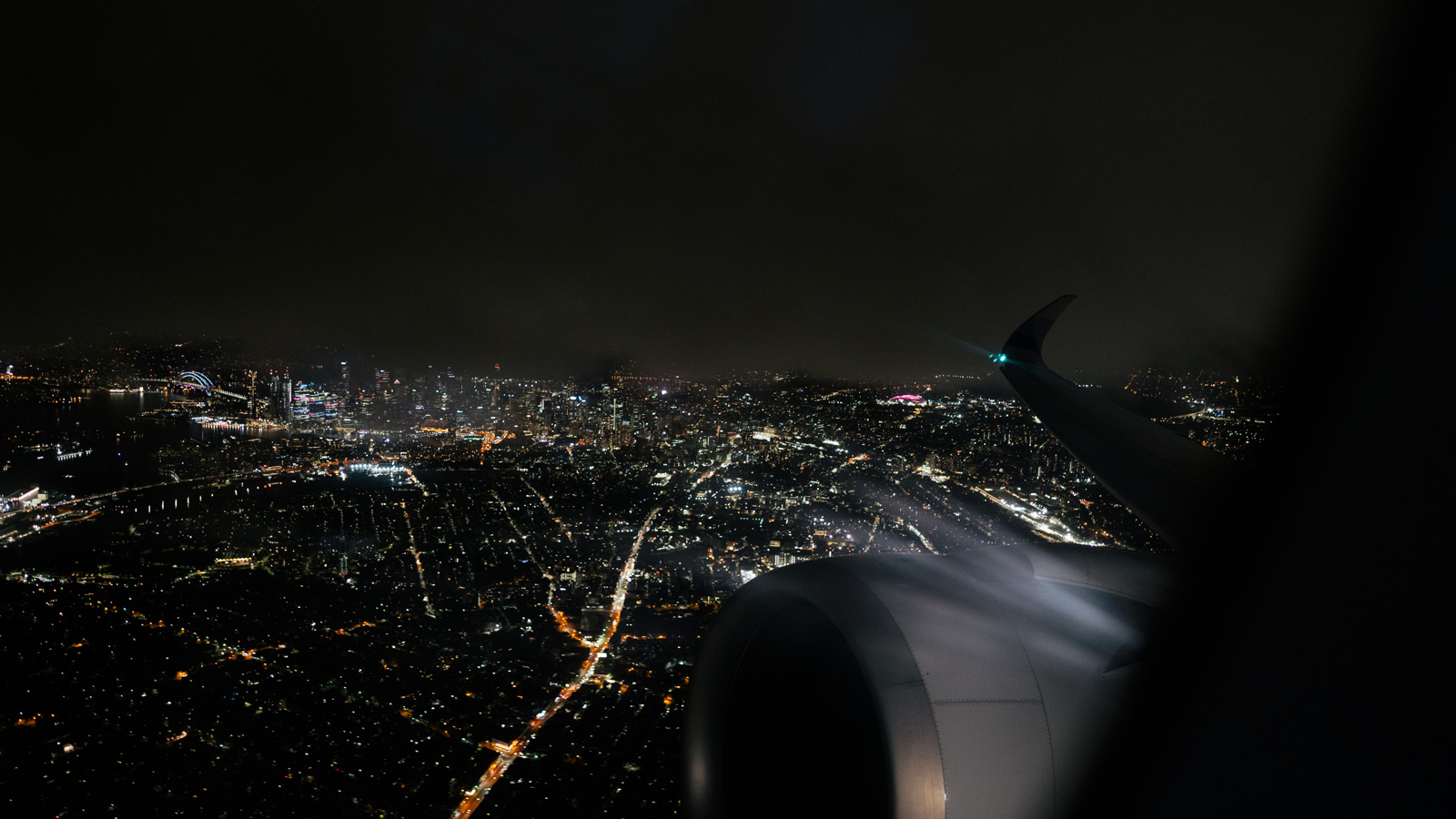 China Airlines Airbus A350 seating
If you've never set foot on a China Airlines Airbus A350 before, prepare to be dazzled. China Airlines' styling, coupled with the spacious and modern Airbus A350 interior and cabin lighting, combine to form one of the most elegant cabins I've had the joy of flying in. From the claw-foot lamp to the moody fabrics, I can tell that every detail has been carefully considered.
Arranged across eight rows of 1-2-1, the 32 seats are based on the Collins Aerospace Super Diamond that you'll find across many other carriers such as the new British Airways Club Suites and Fiji Airways Airbus A350 Business Class. It's a very familiar seat for me (particularly in the 'good old days' when I'd fly between Perth and Melbourne in Virgin Australia's Airbus A330s).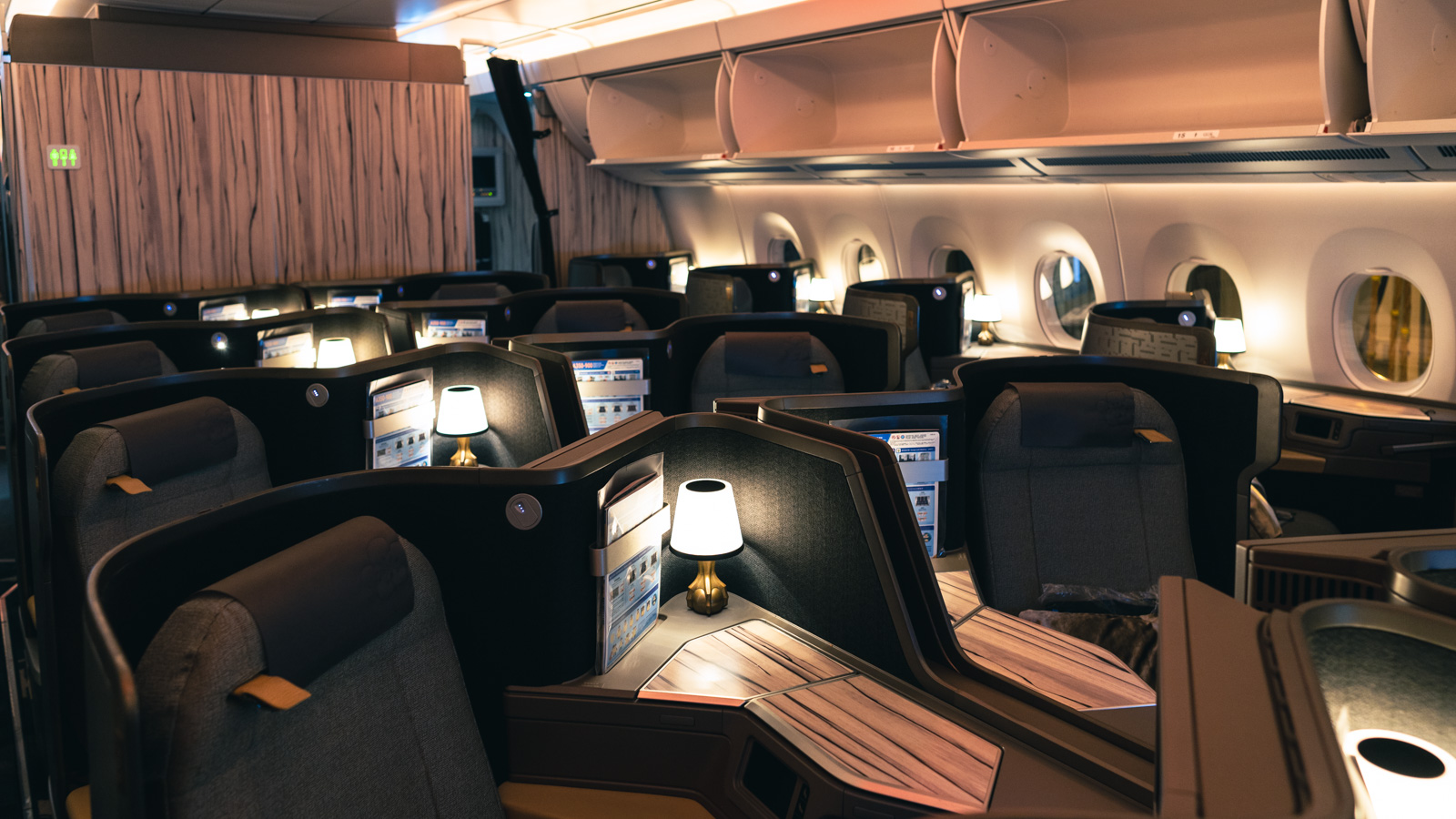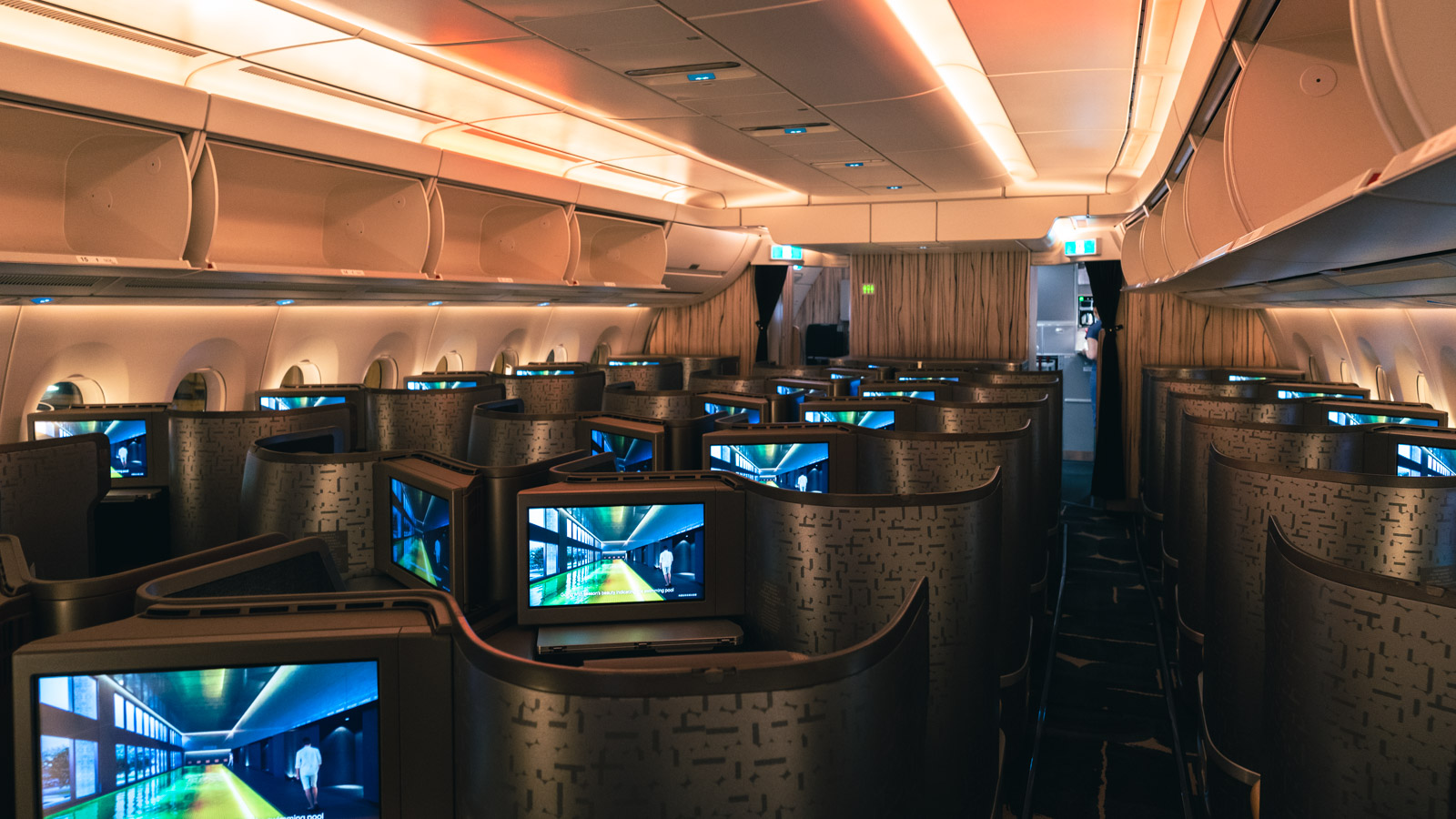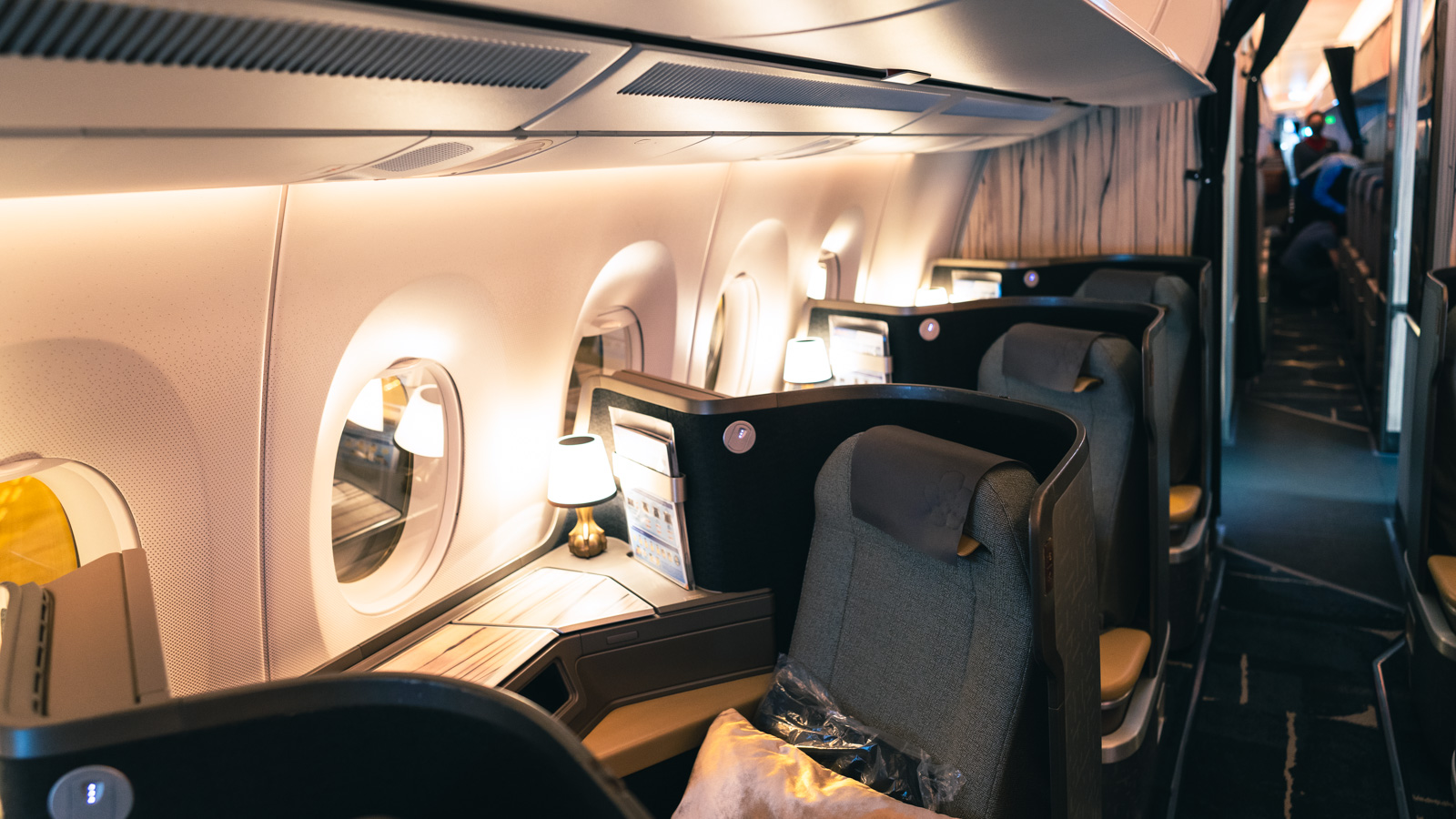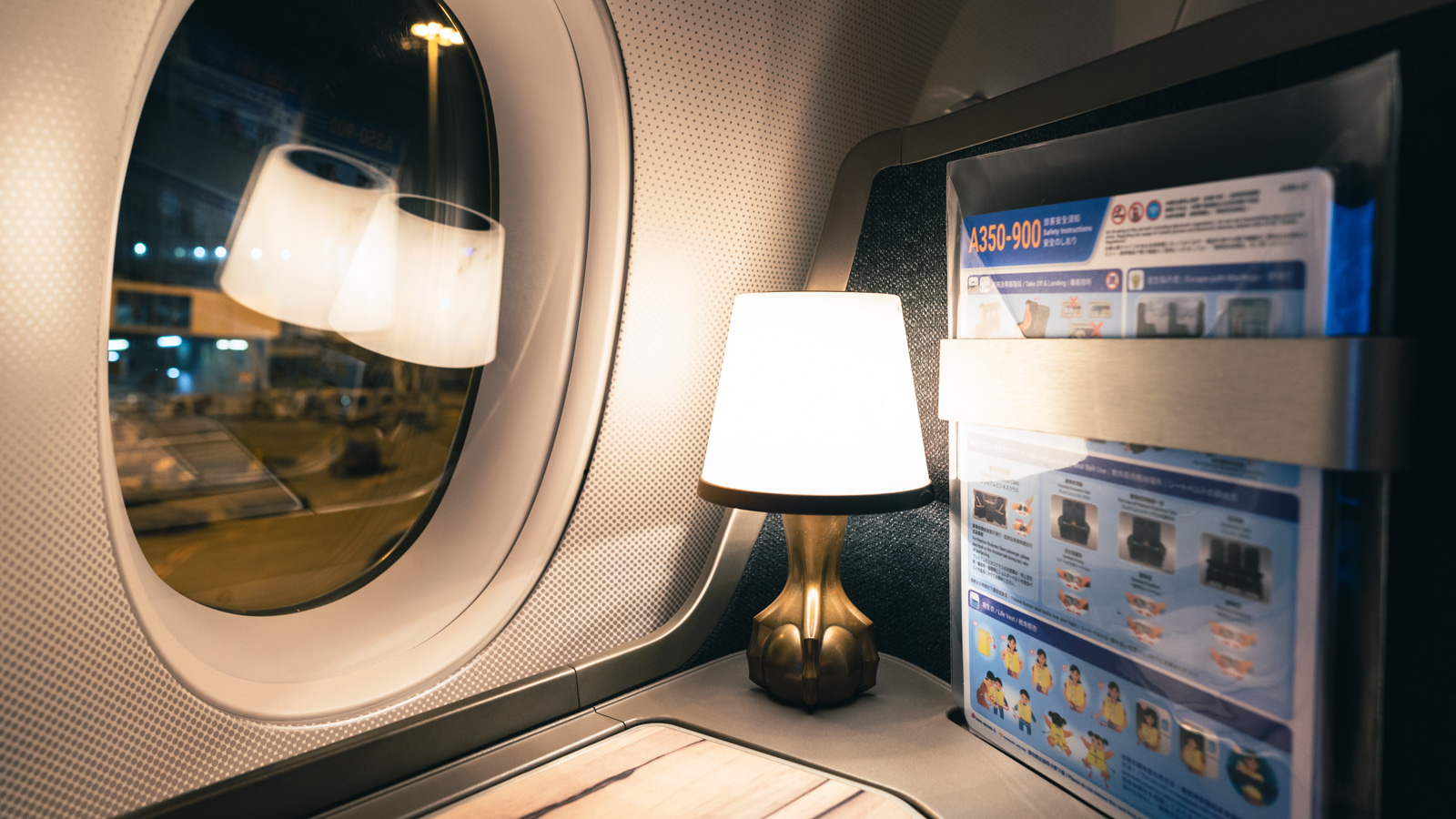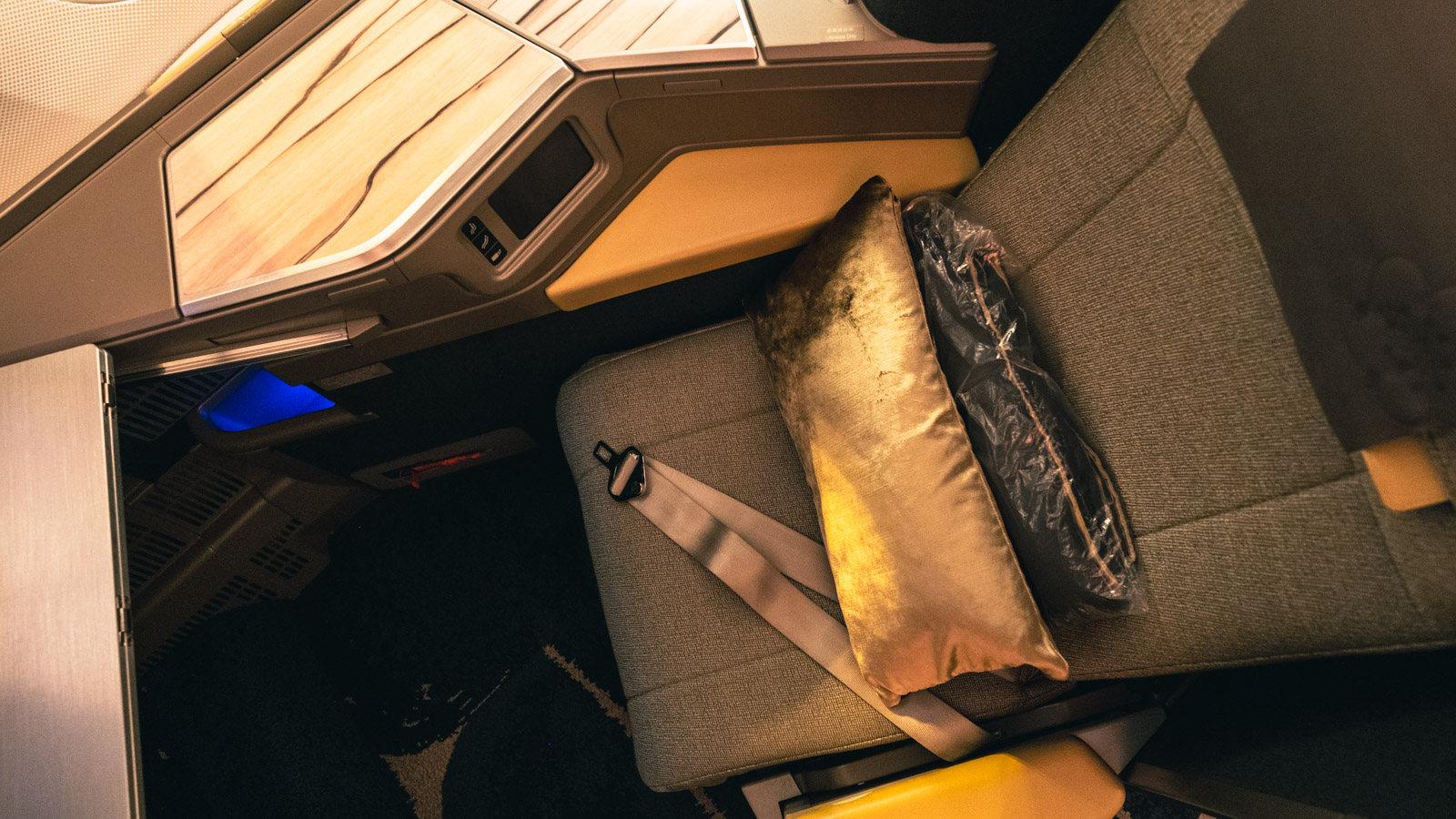 Collin Aerospace's Super Diamond seats are quite popular because the reverse-herringbone layout ensures space and privacy for all. There are no sliding doors on this iteration, but China Airlines ticks all the other boxes. The aisle armrest houses space for a water bottle. Under the side console is an illuminated nook for bigger items.
Above the nifty touch-screen seat controls are another two storage compartments. The right is well-suited for passports and other flat items, while the left houses my phone and other tech. Despite the compartment's deceptively small size, my rather bulky USB-C charger fits just fine and provides plenty of wattage for my devices.
Each seat offers direct aisle access, of course. And I'm happy to say that while the footwell does taper off a bit, it's still sufficiently roomy to stretch out. As a side sleeper, I don't feel hemmed in at all.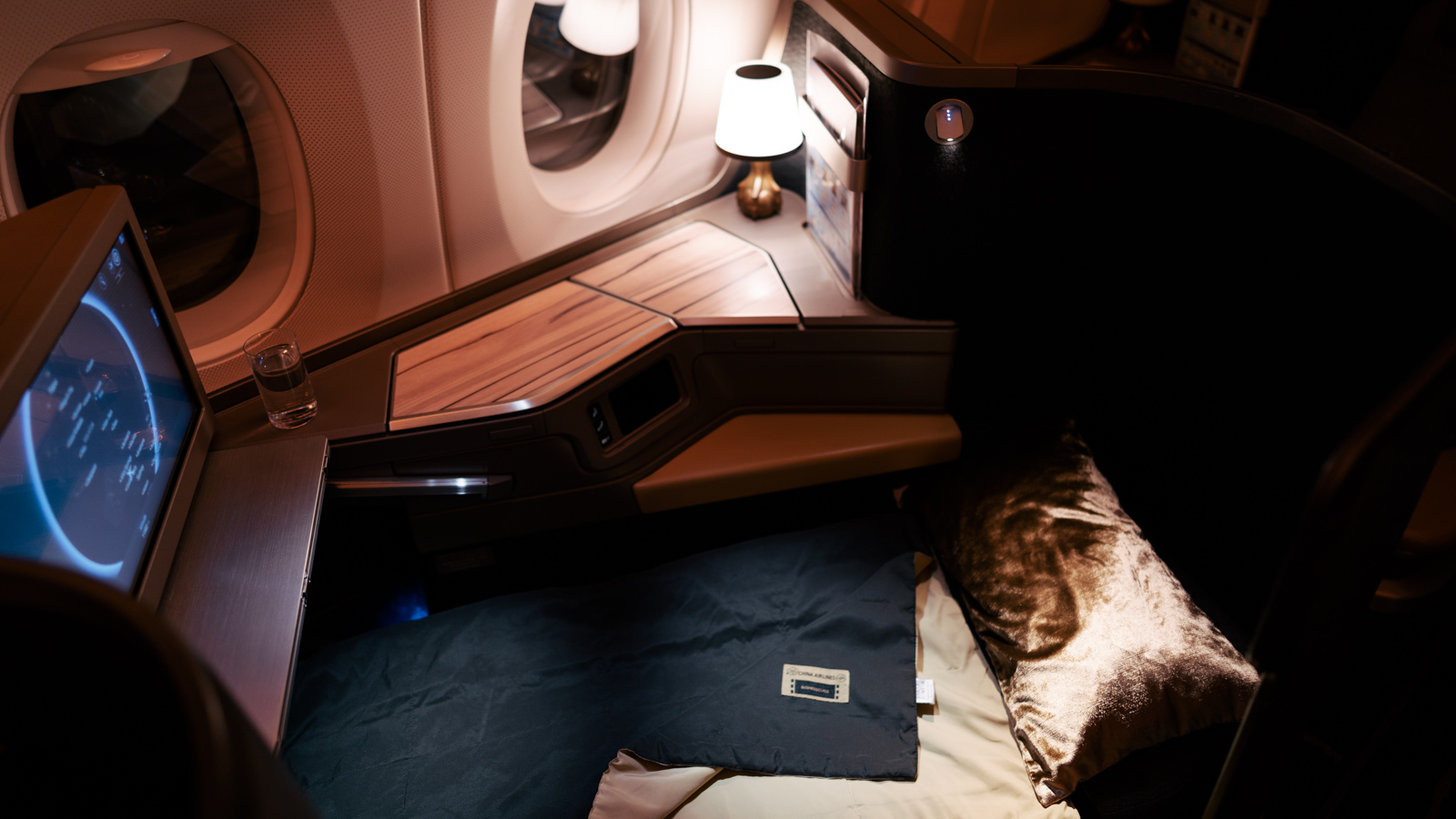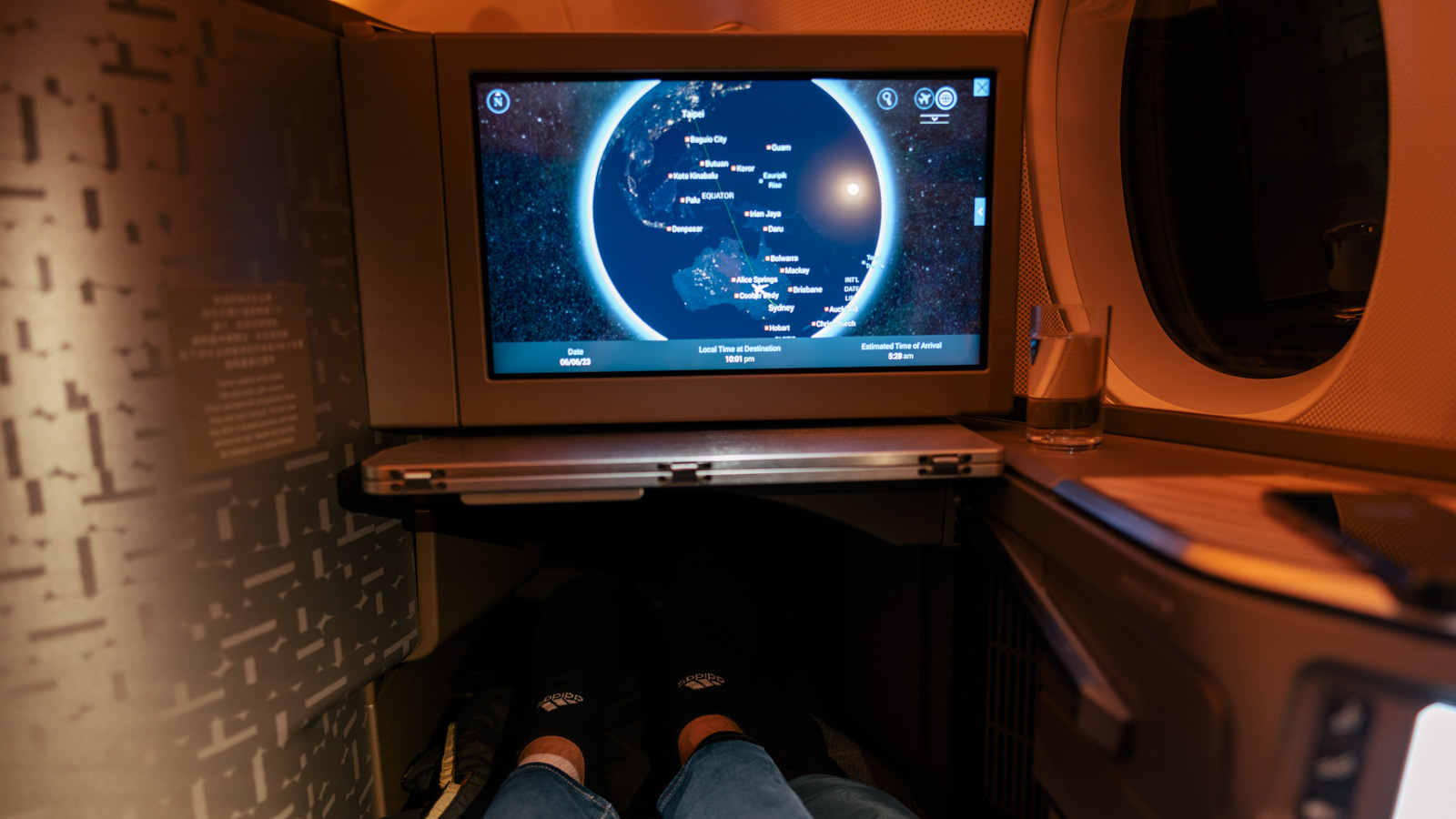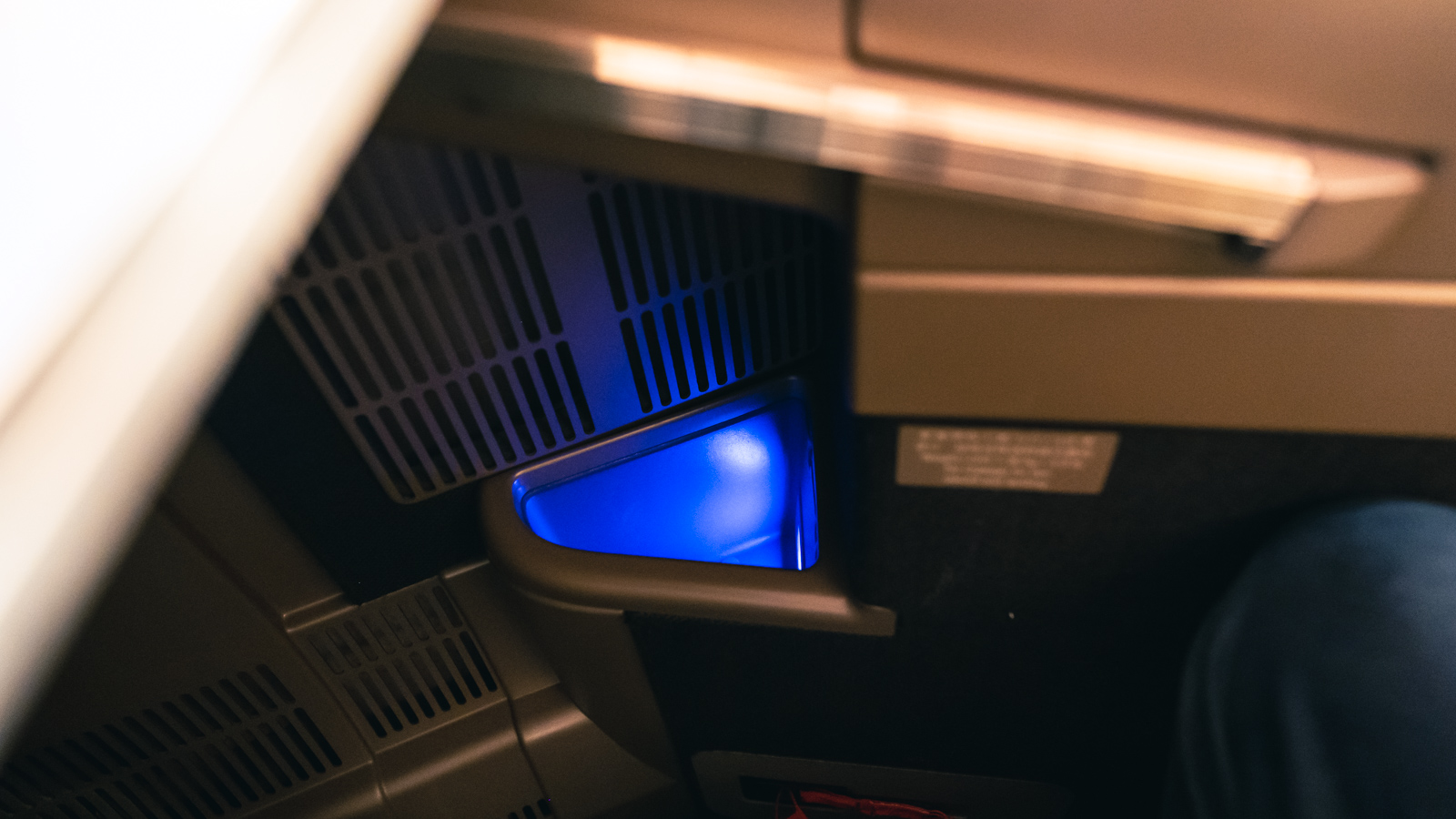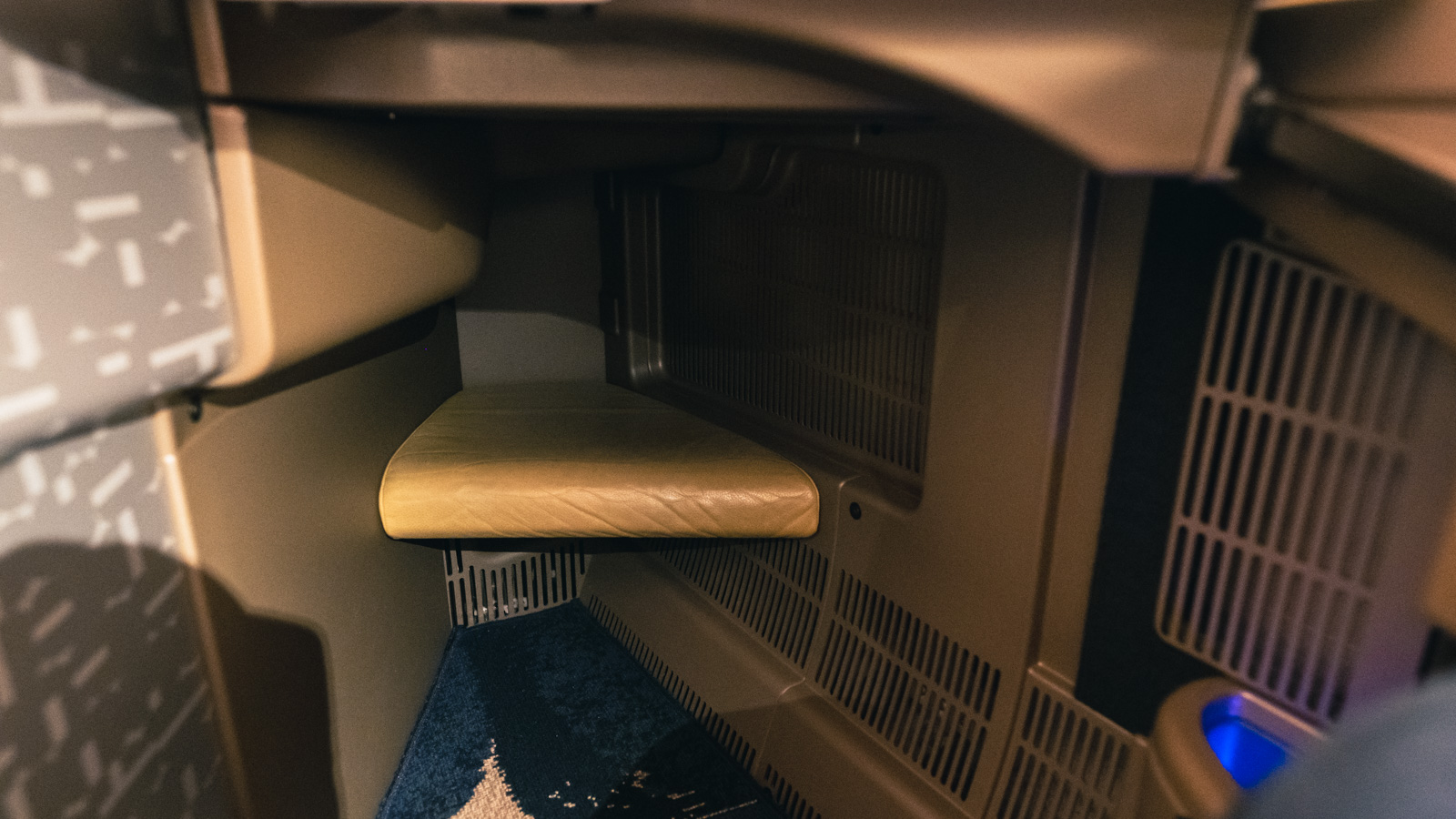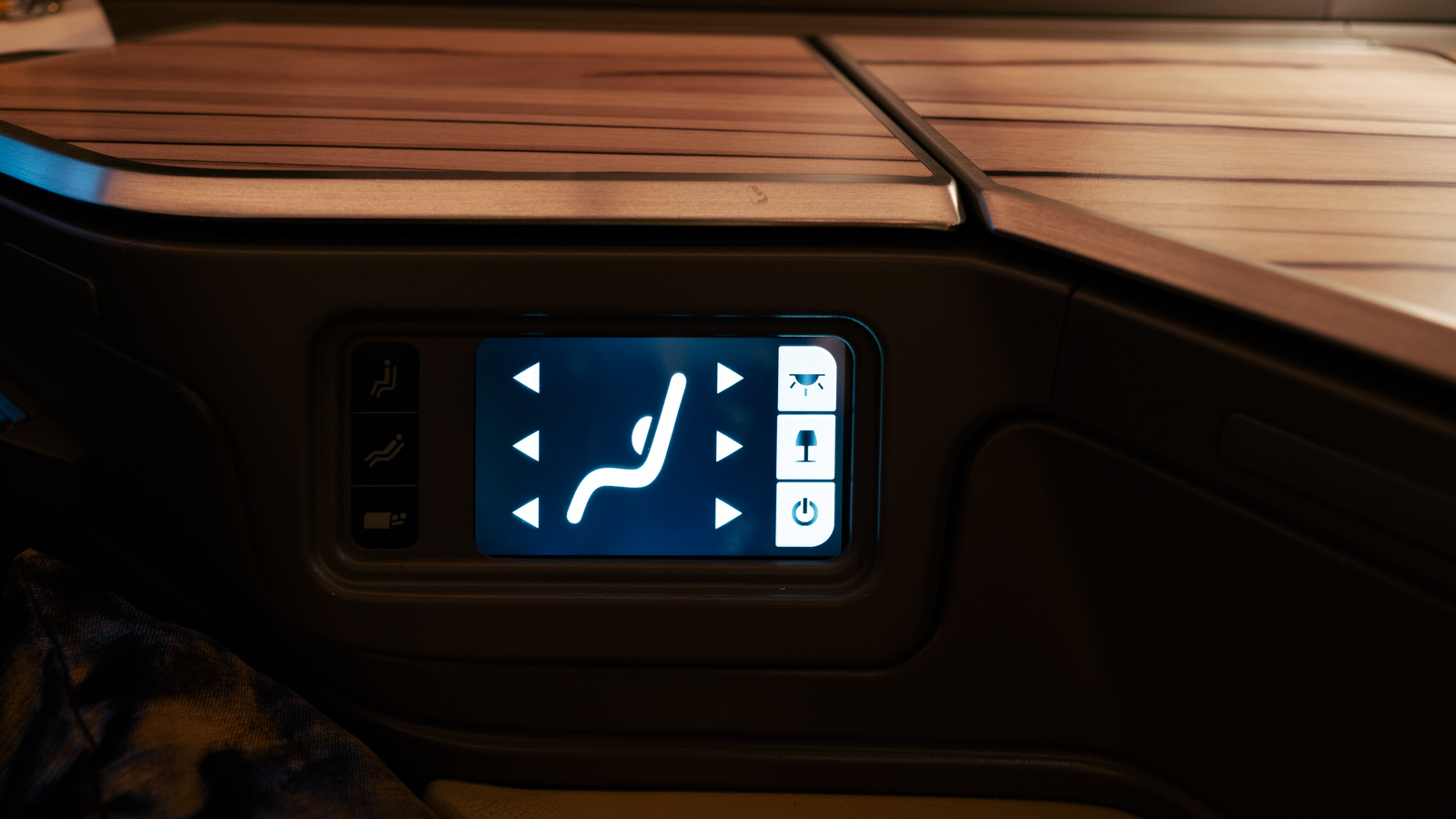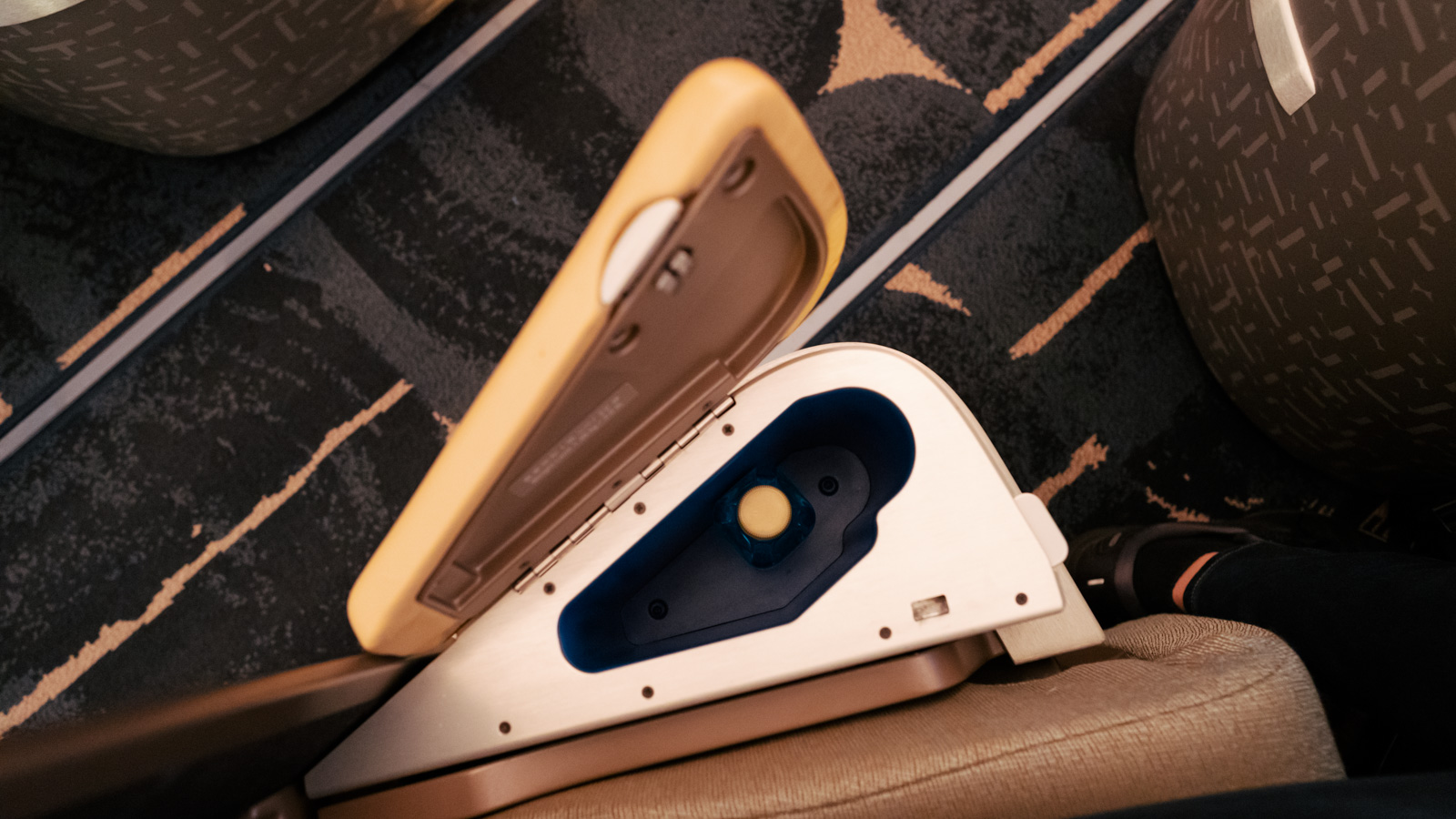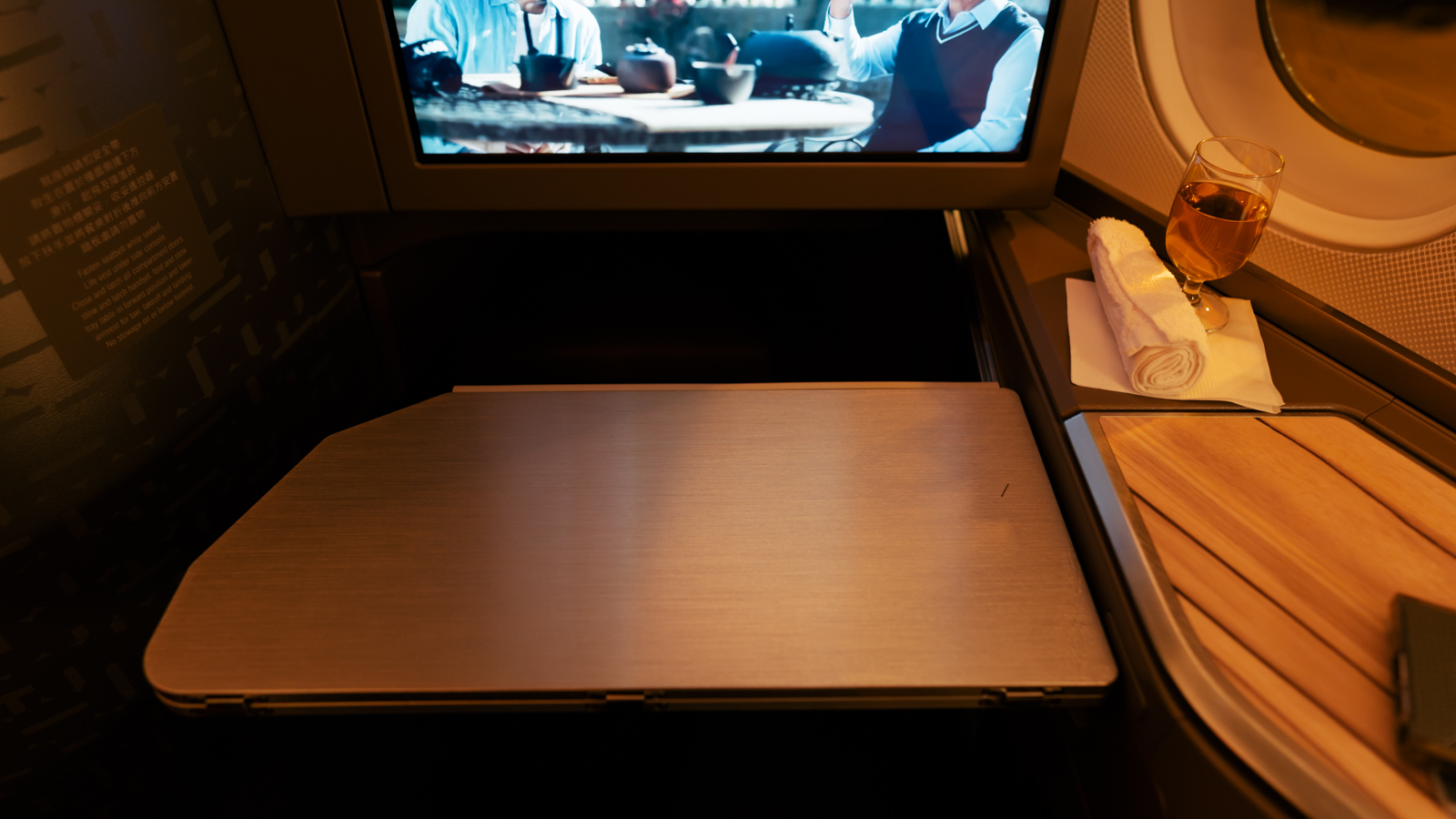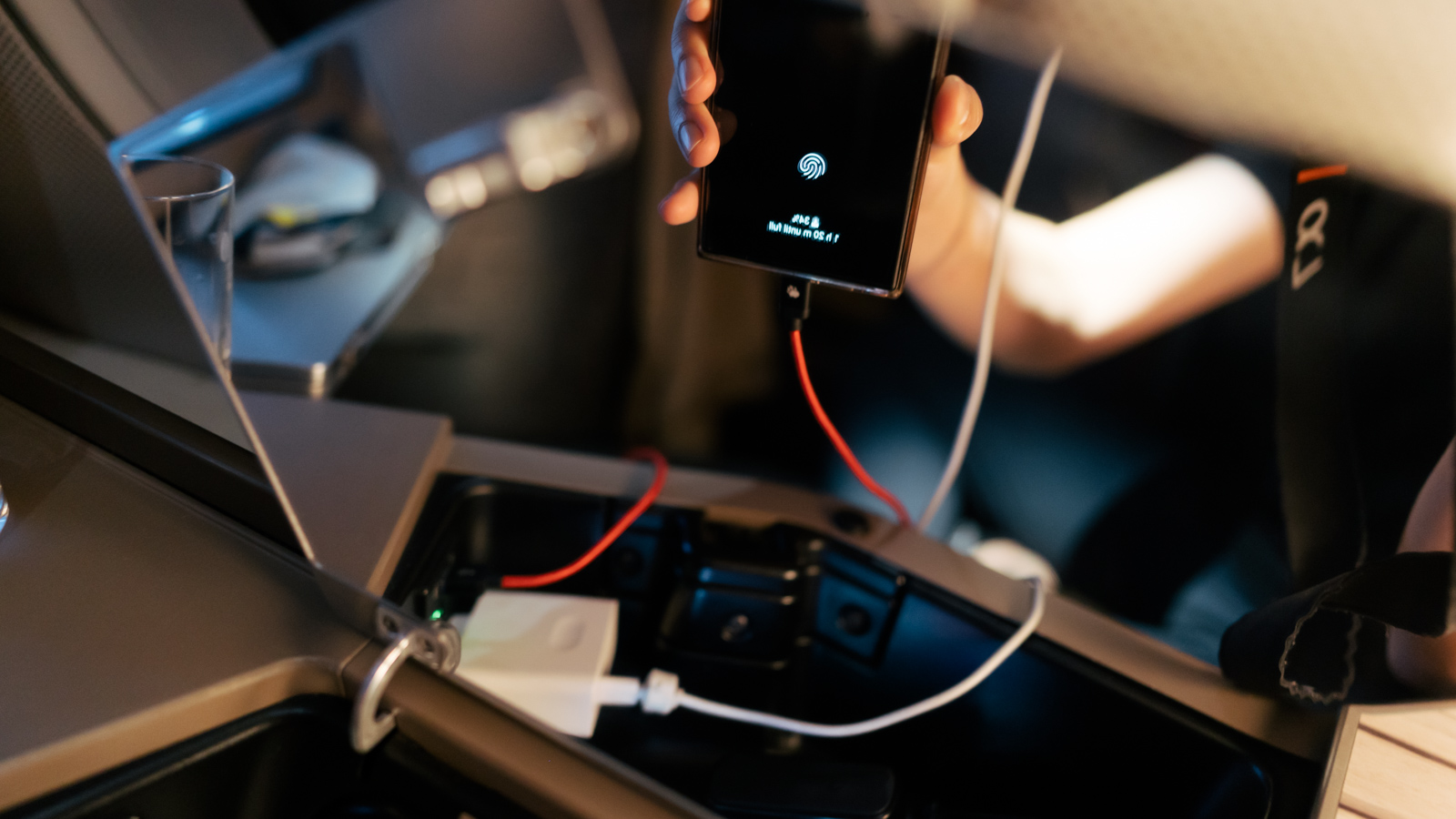 China Airlines Airbus A350 Food & Beverage
Despite a late evening departure, China Airlines still manages to serve up a full four-course dinner for anyone willing to dig in. I decide to only have a few bites in the lounge and save my appetite for onboard, as it will also help me adjust back to Taiwan/Japan time better.
I already know what's onboard thanks to the pre-order service on the China Airlines website. These days, I see online pre-ordering and digital menus as an essential part of a great Business Class product. It gives certainty so I know what to expect onboard and what will be set aside for me. So kudos to China Airlines for implementing that.
Pre-departure drinks & dinner
Before we push back, I'm offered a choice of water or juice. And once we're in the air, the crew come around with mixed dry snacks and another drink. China Airlines serves an impressive drop for Business Class – vintage Piper-Heidsieck Champagne 2012. Lively and zesty, it goes down a treat.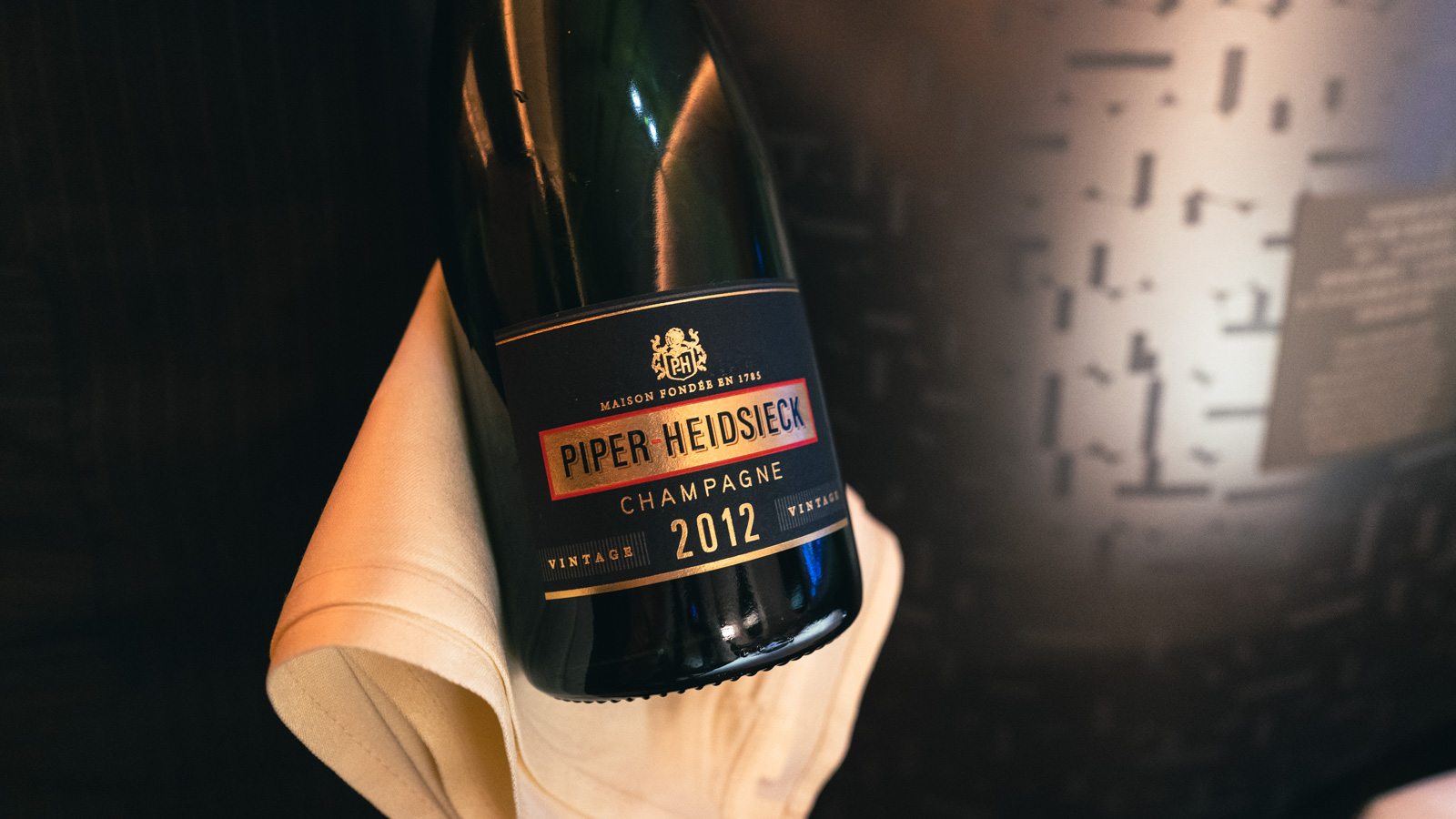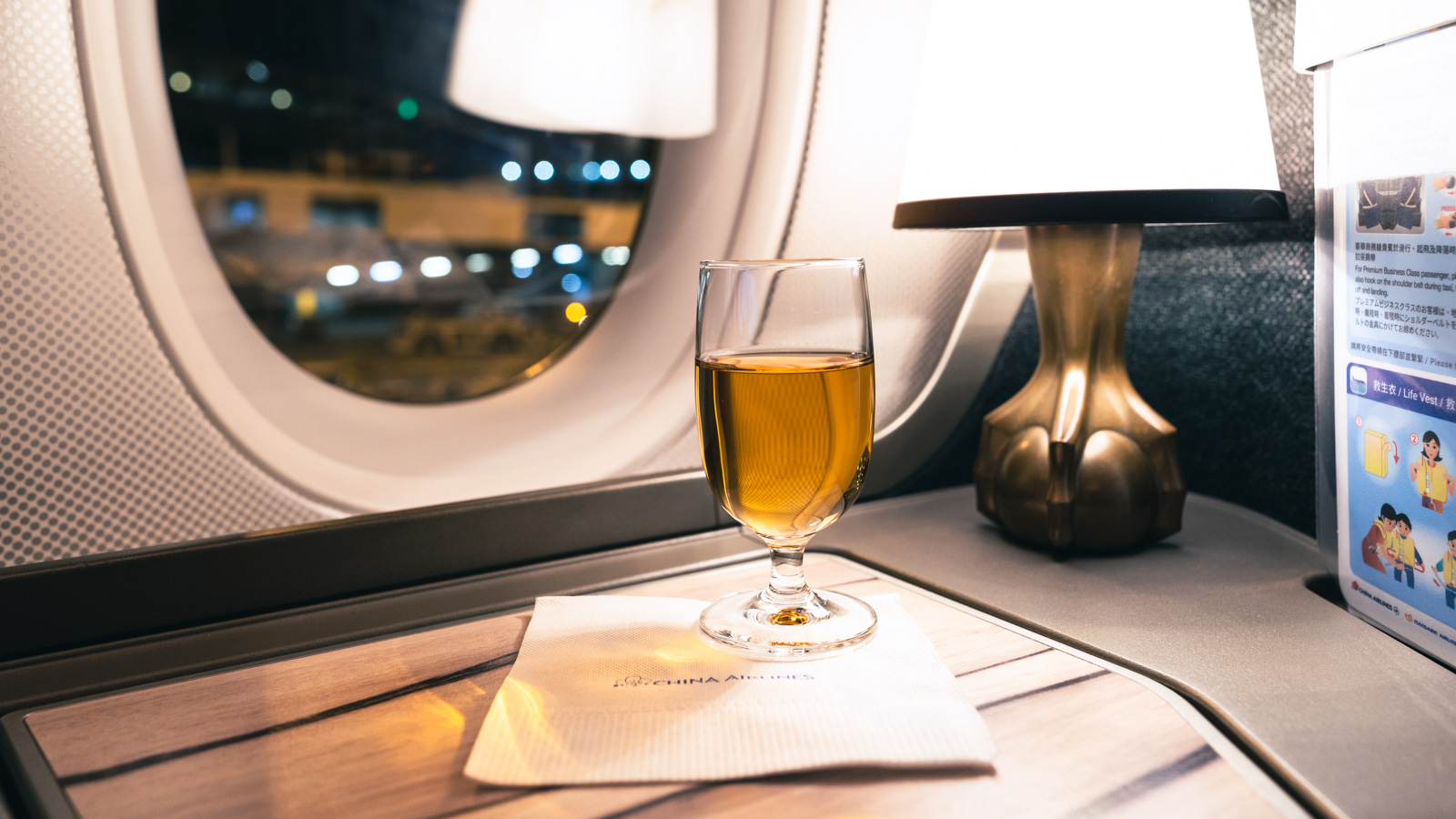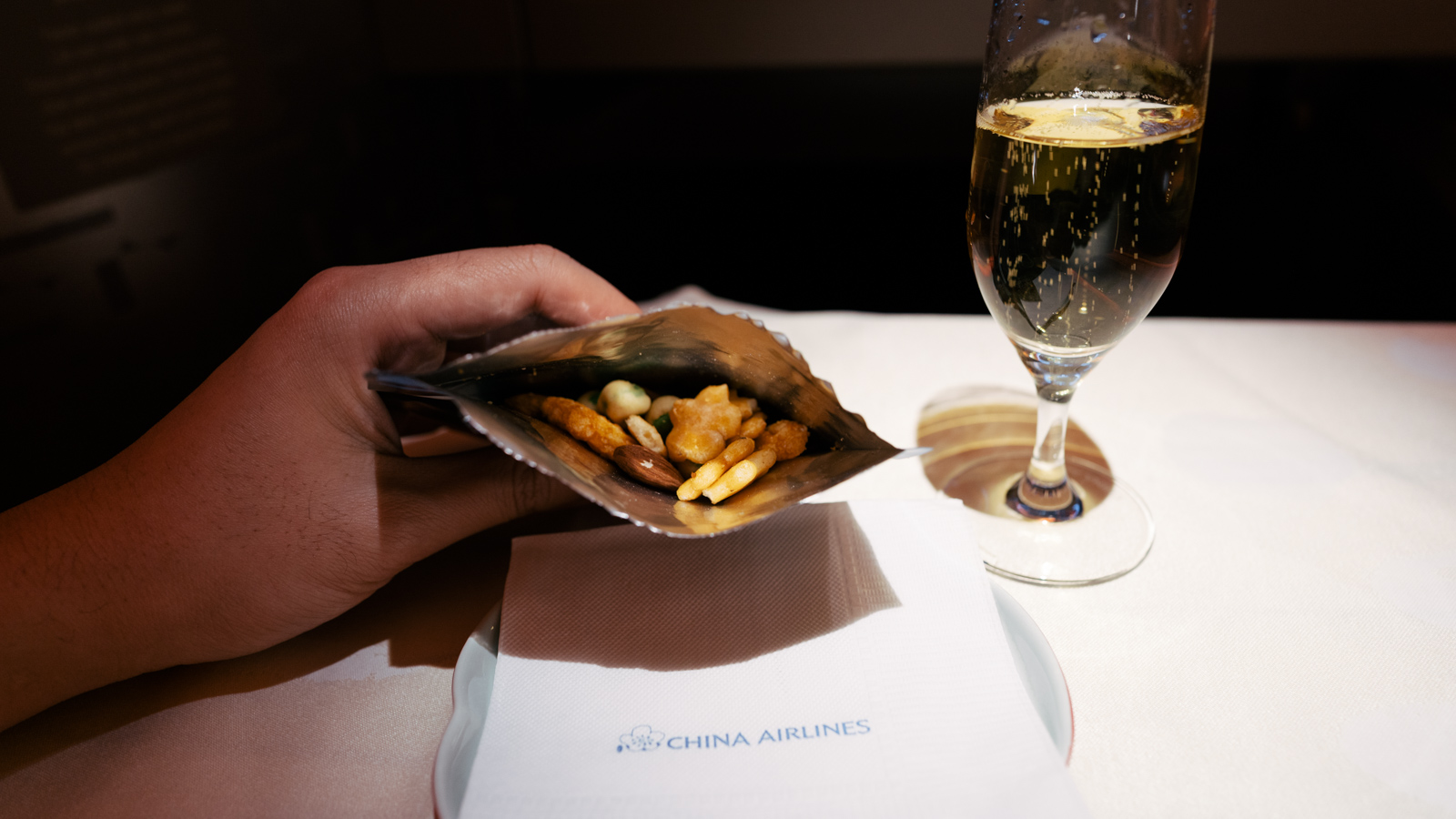 Dinner is served around 50 minutes after take-off. First up is the smoked salmon salad, followed by a pumpkin bisque soup. Both are excellent – the salmon is tasty and plated elegantly, while the separate soup course looks homely, served in a mug with croutons.
For the main course, I choose the grilled beef fillet which is not bad. While there's no trace of pink inside, it's actually still quite tender. But when I get a whiff of the delicious pan-fried snapper fillet that the passenger in front chooses, I realise that I should have probably gone with that as well. Next time, maybe.
Dessert is offered as a choice of fruit and cheese, a white chocolate cheesecake and ice cream. While I should have probably left it at the fruit plate, I also can't pass up the cheesecake. I'll work off the extra calories by walking in Japan, no doubt! A decaffeinated herbal tea sets me up for a few hours of slumber.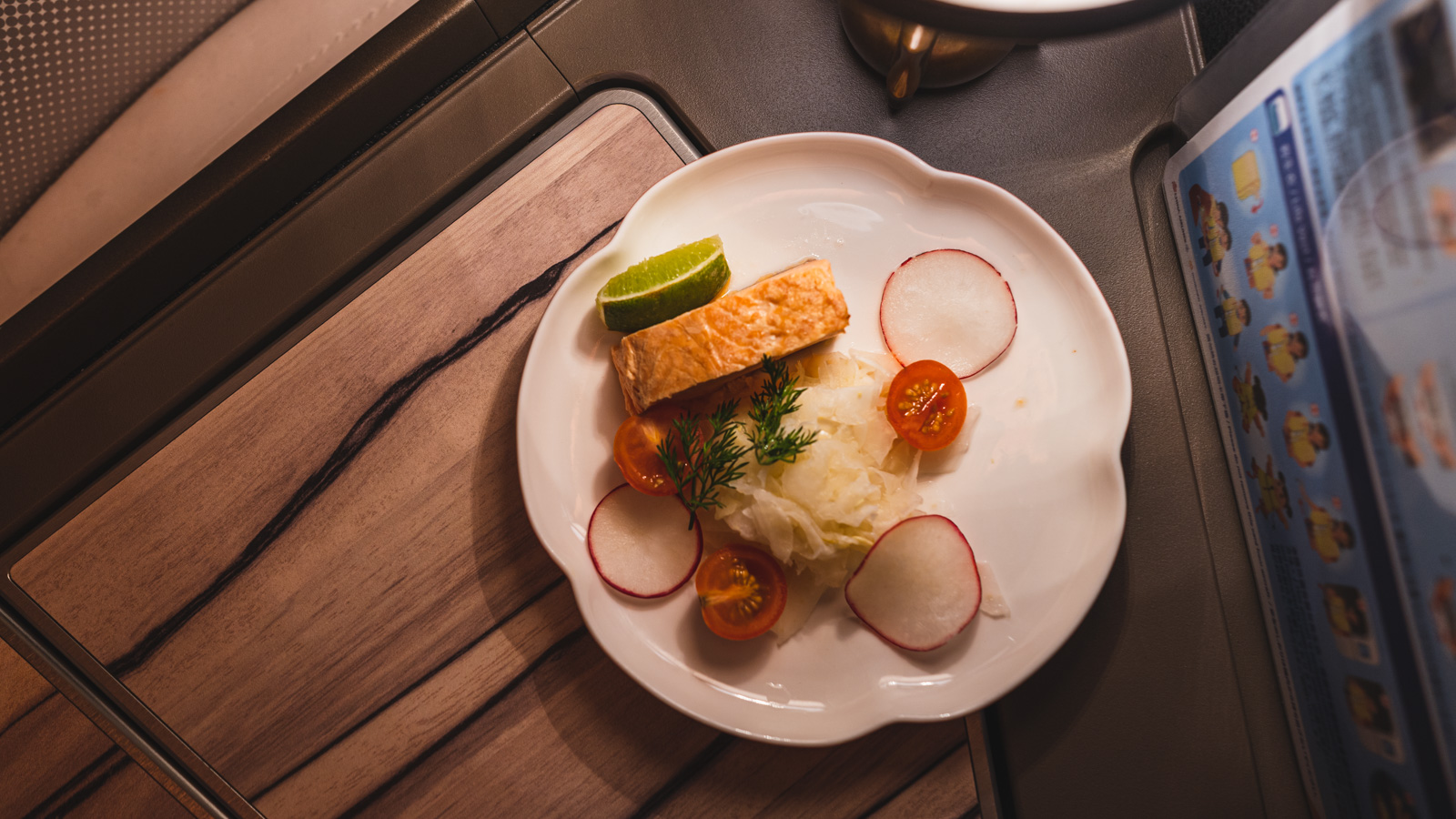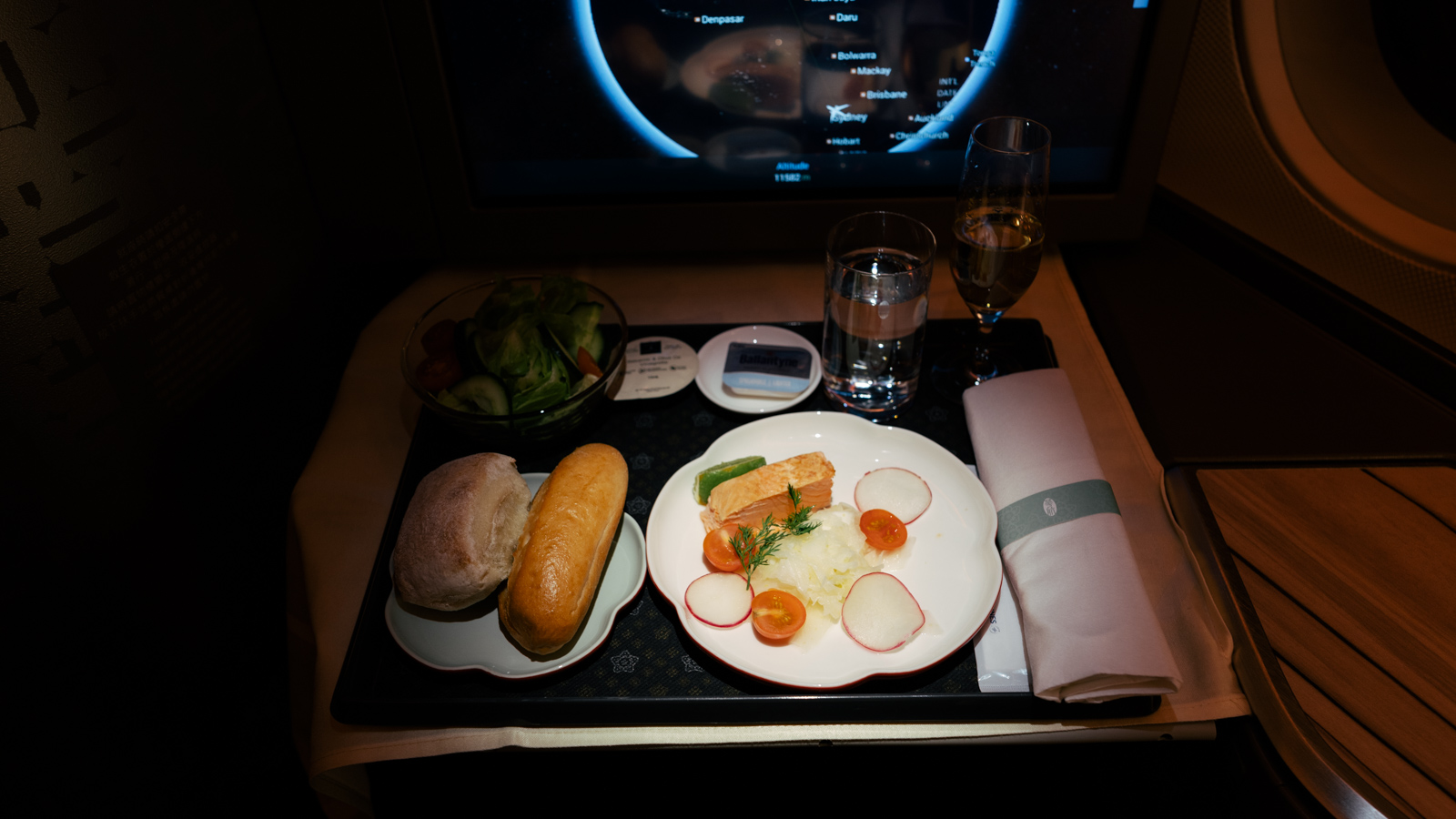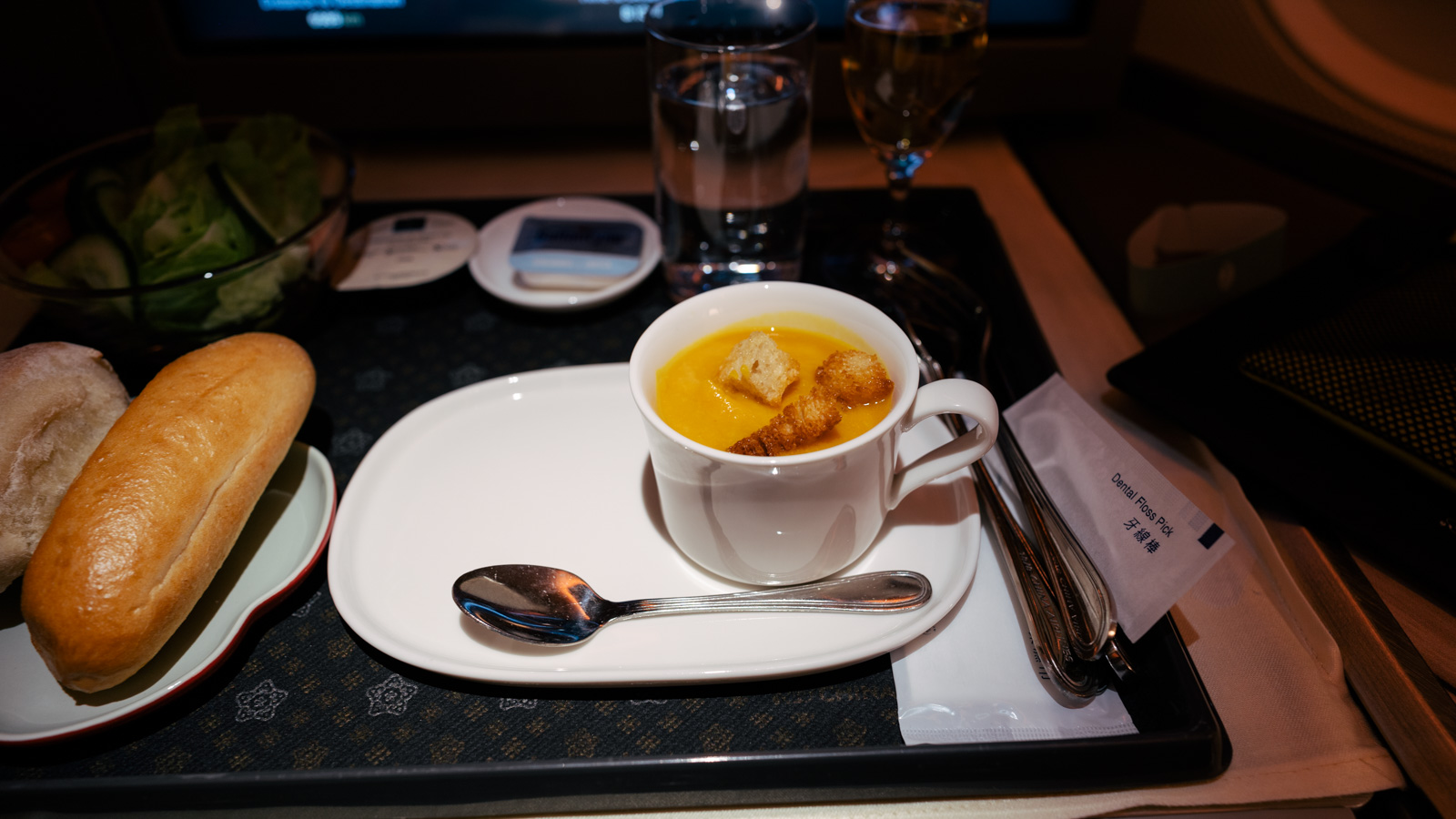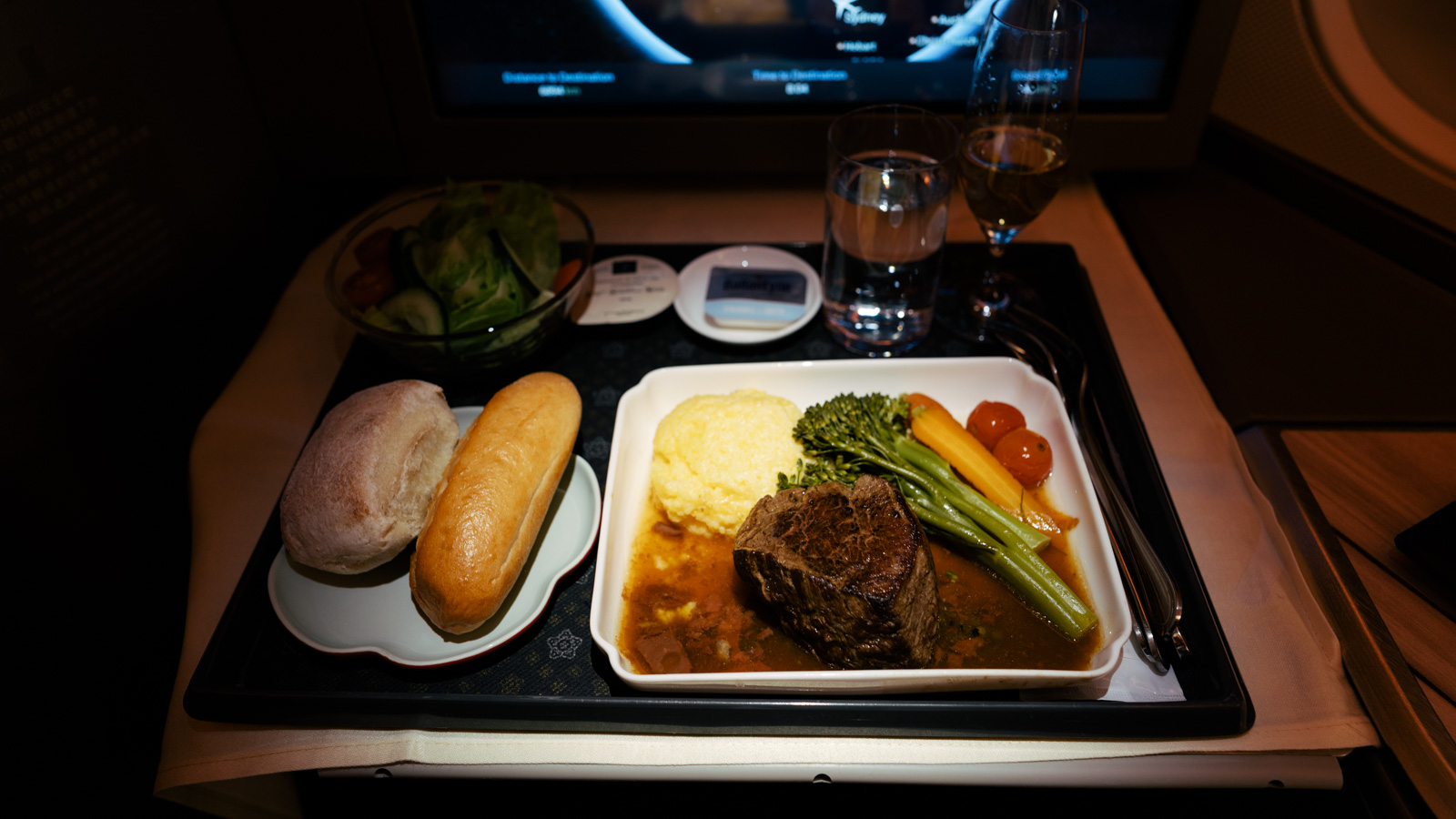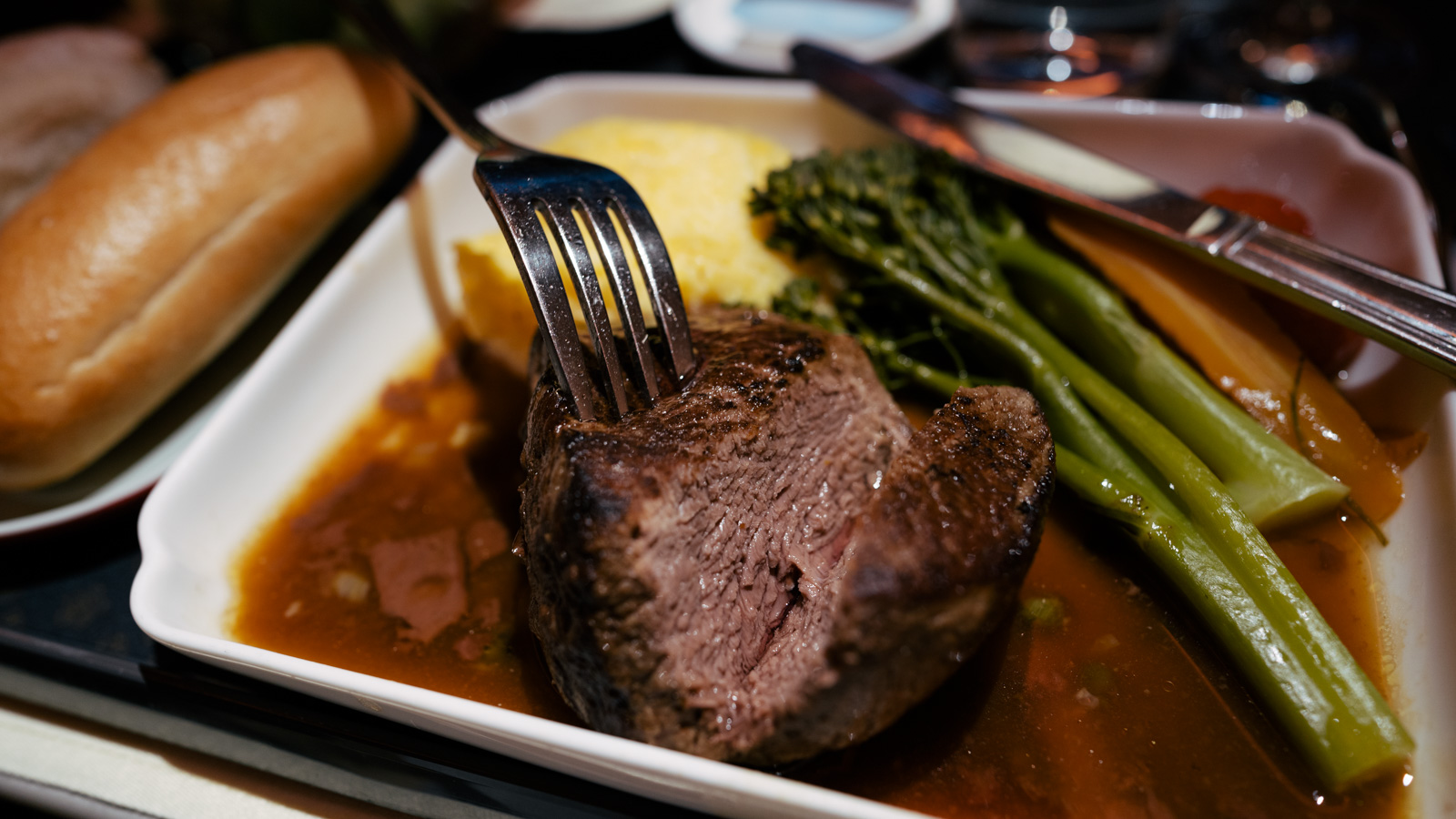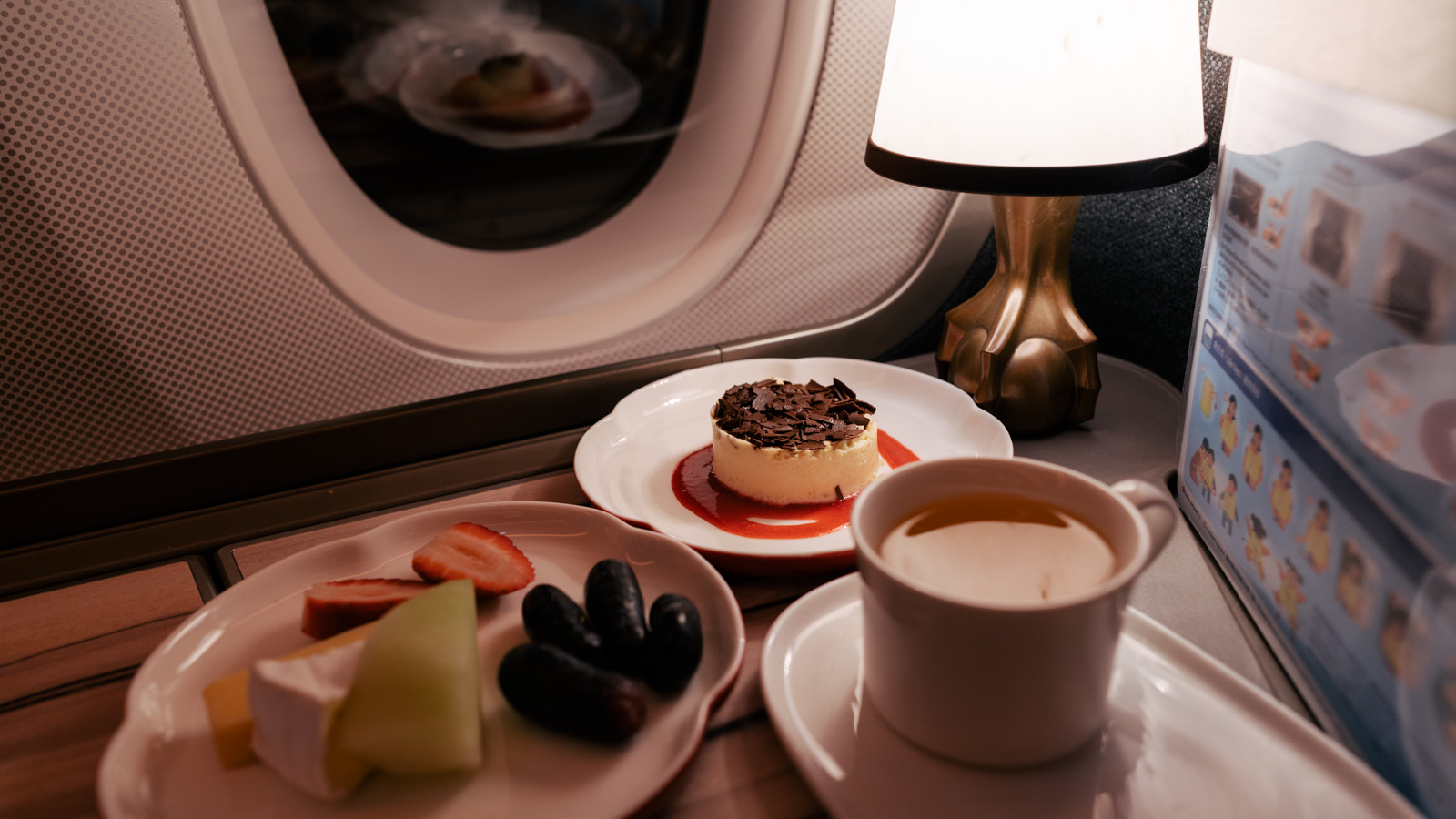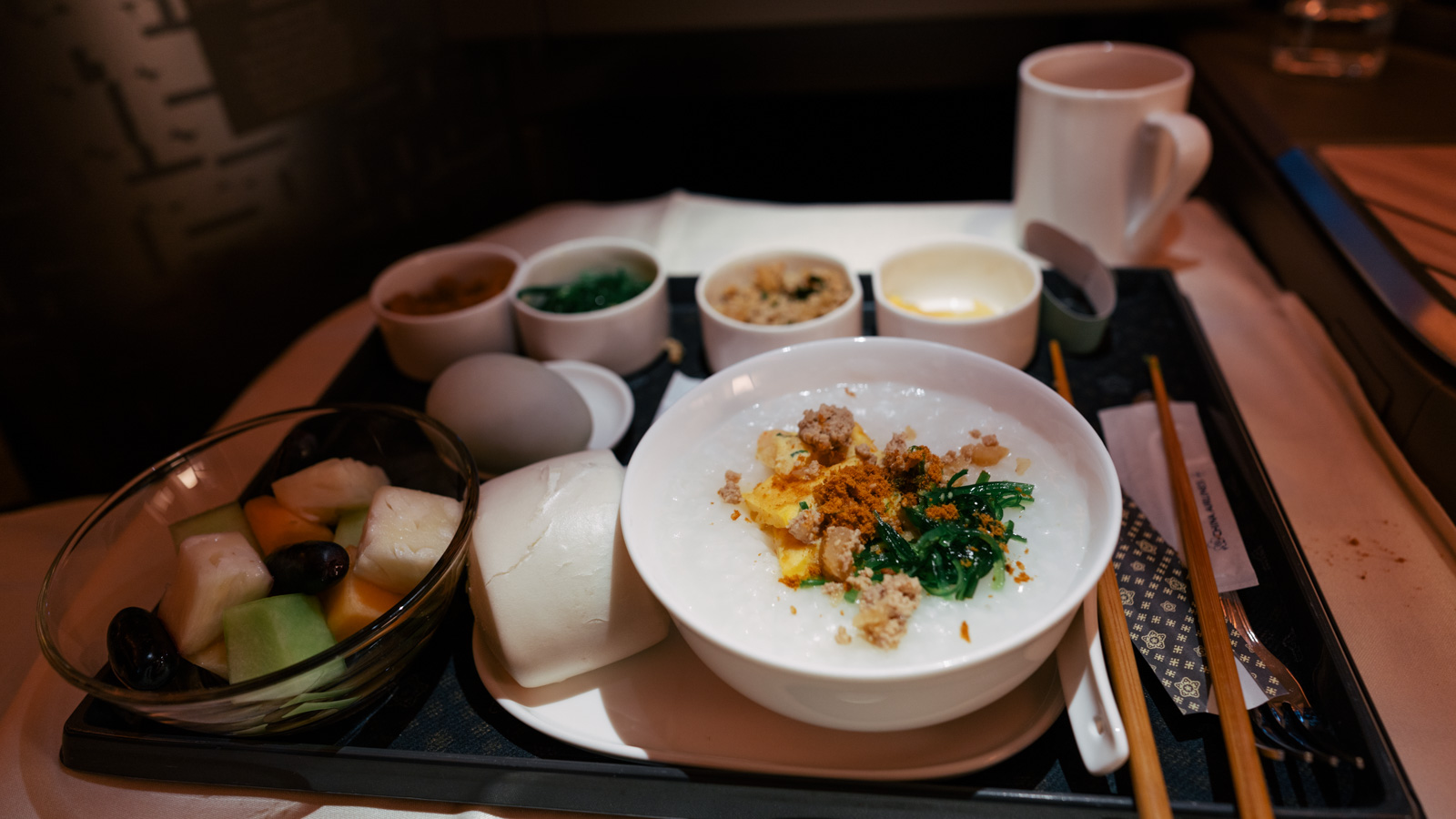 Breakfast before landing
By now, it's midnight – 105 minutes after take-off. I cosy up on my fully-flat bed and enjoy a decent 5.5-hour sleep. By request, the crew wake me up for breakfast roughly two hours before landing. I've opted for the lighter option, the Chinese congee with accompaniments.
It's a delicious mix of omelette, pork mince, fish floss and seaweed. The only thing my palate can't handle is the Chinese salty egg, so I leave that alone after a few feeble bites.
Here's the full menu from my flight, for reference.
Not listed on the menu is a selection of Taiwanese snacks. There's also a 'Sky Lounge' self-serve bar in between Business Class and Premium Economy, though I don't venture there during the flight.
China Airlines Airbus A350 amenities
Inflight entertainment, Wi-Fi and power
As an overnight flight where sleep is the priority (after eating), I don't make much use of the inflight entertainment. But if a late-night movie binge is in order, China Airlines offers a range of entertainment options through the 18″ touchscreen and remote. Basic noise-cancelling headphones are provided.
You can glance through the Fantasy Sky online magazine to see the latest selections. There isn't a huge backlog of Hollywood movies and Western TV shows, but there should be a few recent releases that will keep your interest.
China Airlines offers fast inflight Wi-Fi through Panasonic Aero. Premium Business Class and Premium Economy passengers on paid tickets can redeem a complimentary Wi-Fi code valid from 12-24 hours, depending on the fare class. Unfortunately, reward seat redemptions (O class) are excluded unless you hold China Airlines Paragon, Emerald or Gold status. Those elite members can get a 12, 3 or 1-hour code on reward tickets, respectively.
As that doesn't apply to me, I purchase a 24-hour pass for US$21.95 (AU$34.10). Unlike ANA inflight Wi-Fi, which limits connections to one device and one flight, China Airlines inflight Wi-Fi is a lot more generous. With one purchase, I can use the plan on different devices (one at a time). So although I sign up on my phone, I can later log in on my laptop.
The remaining time can also be used on connecting China Airlines Boeing 777 and Airbus A350 flights, which is handy for my onward flight to Osaka. Through a speed test, I record usable speeds of 2.72 Mbps down and 1.27 Mbps up.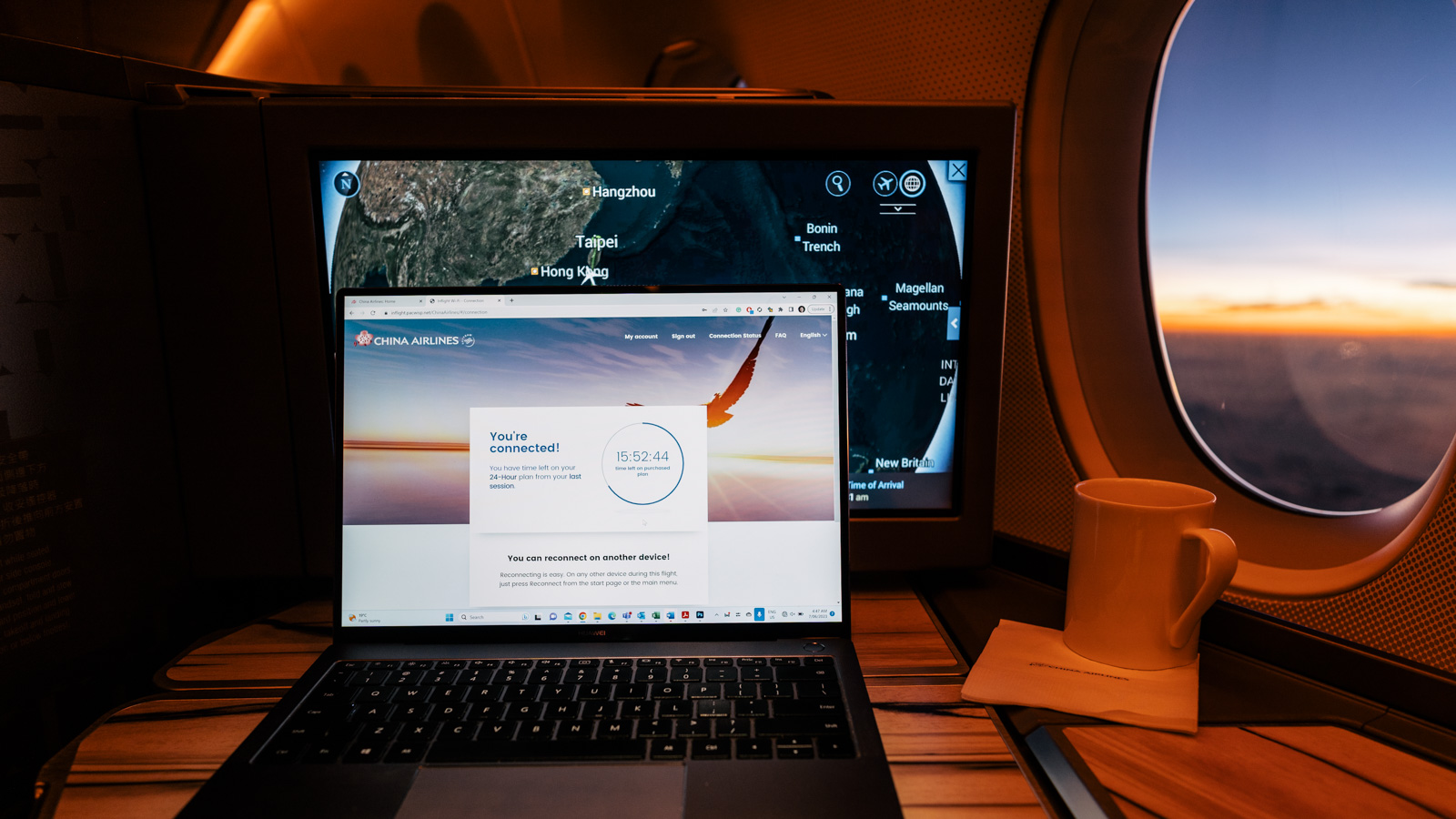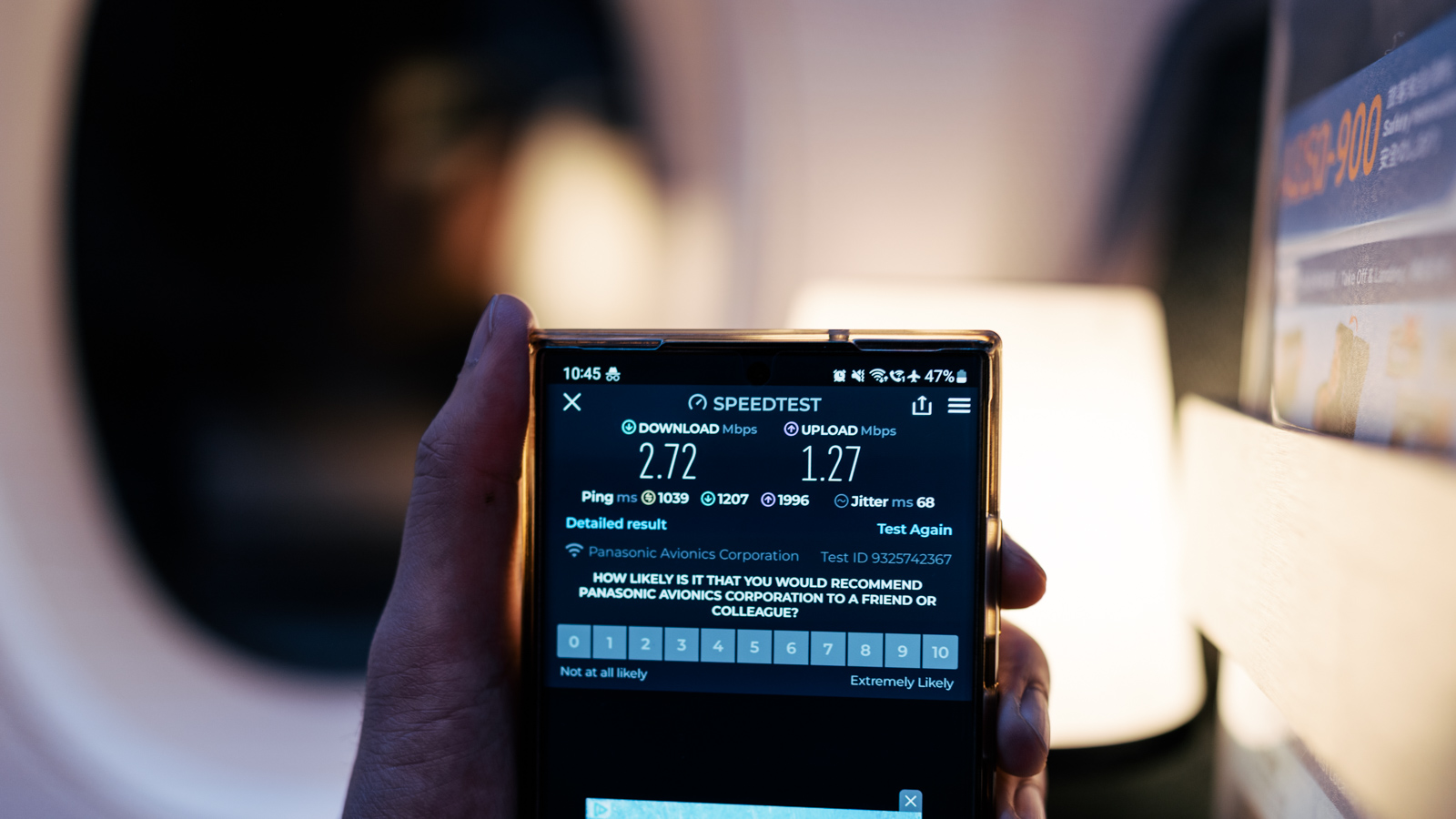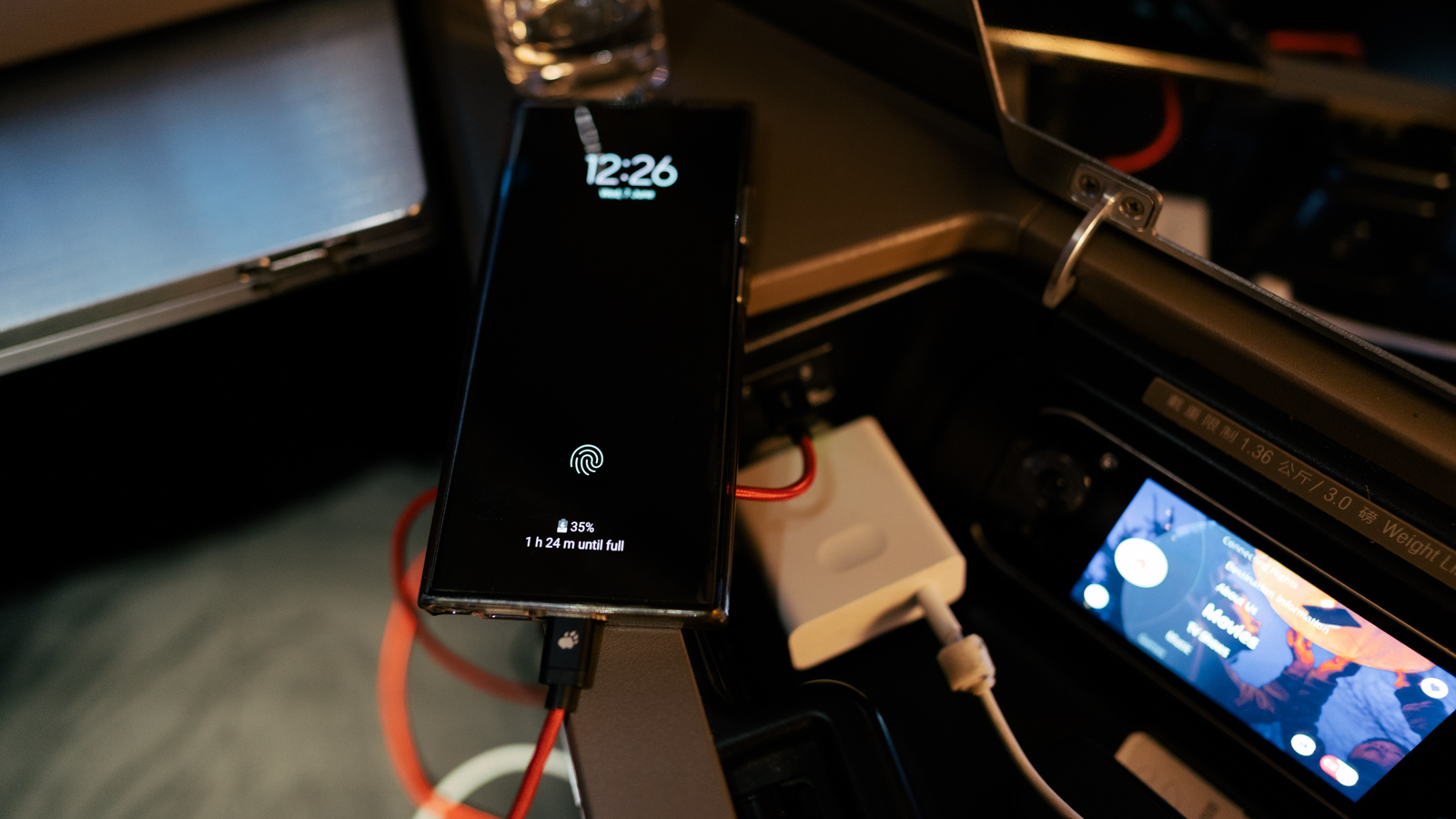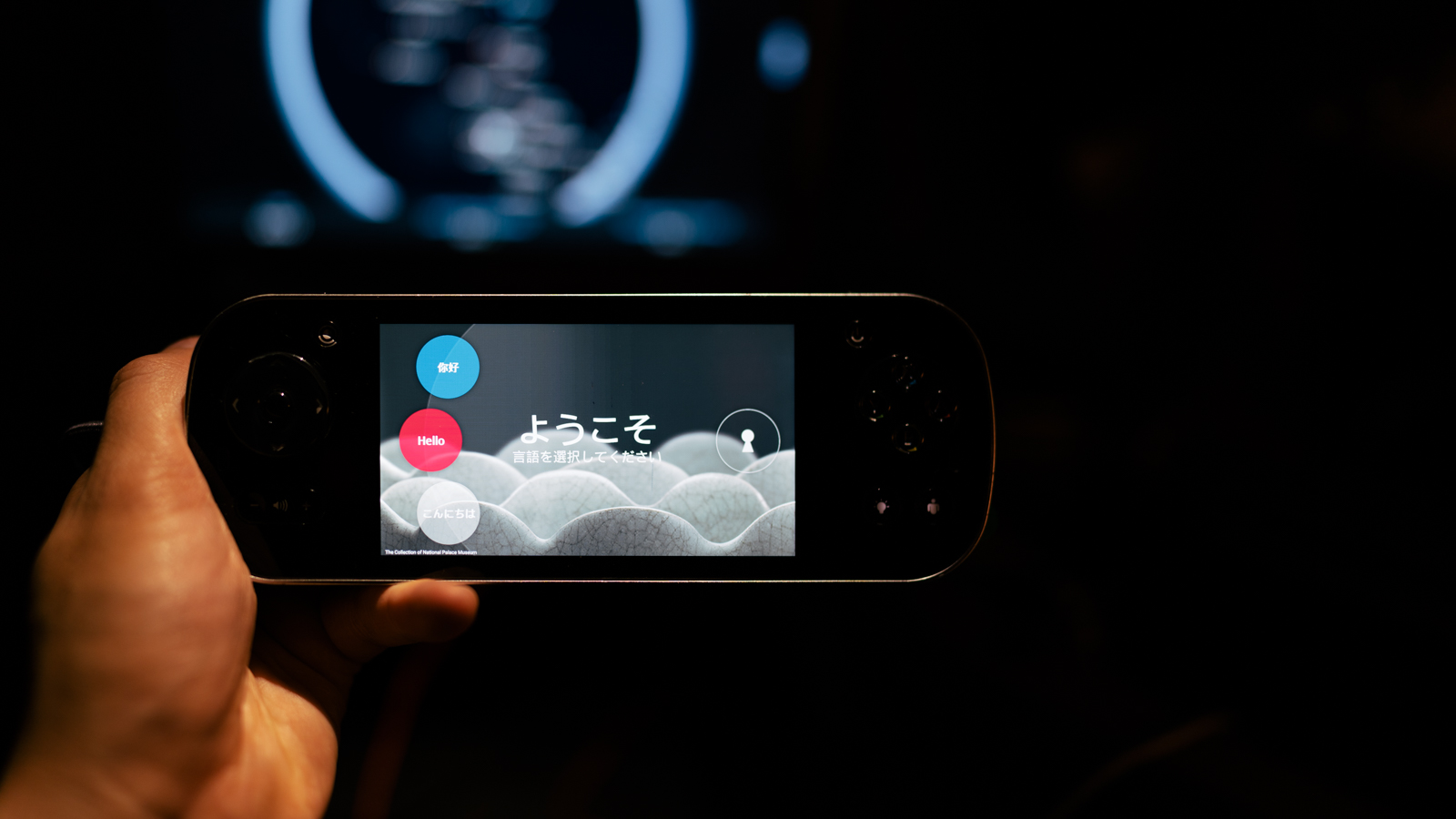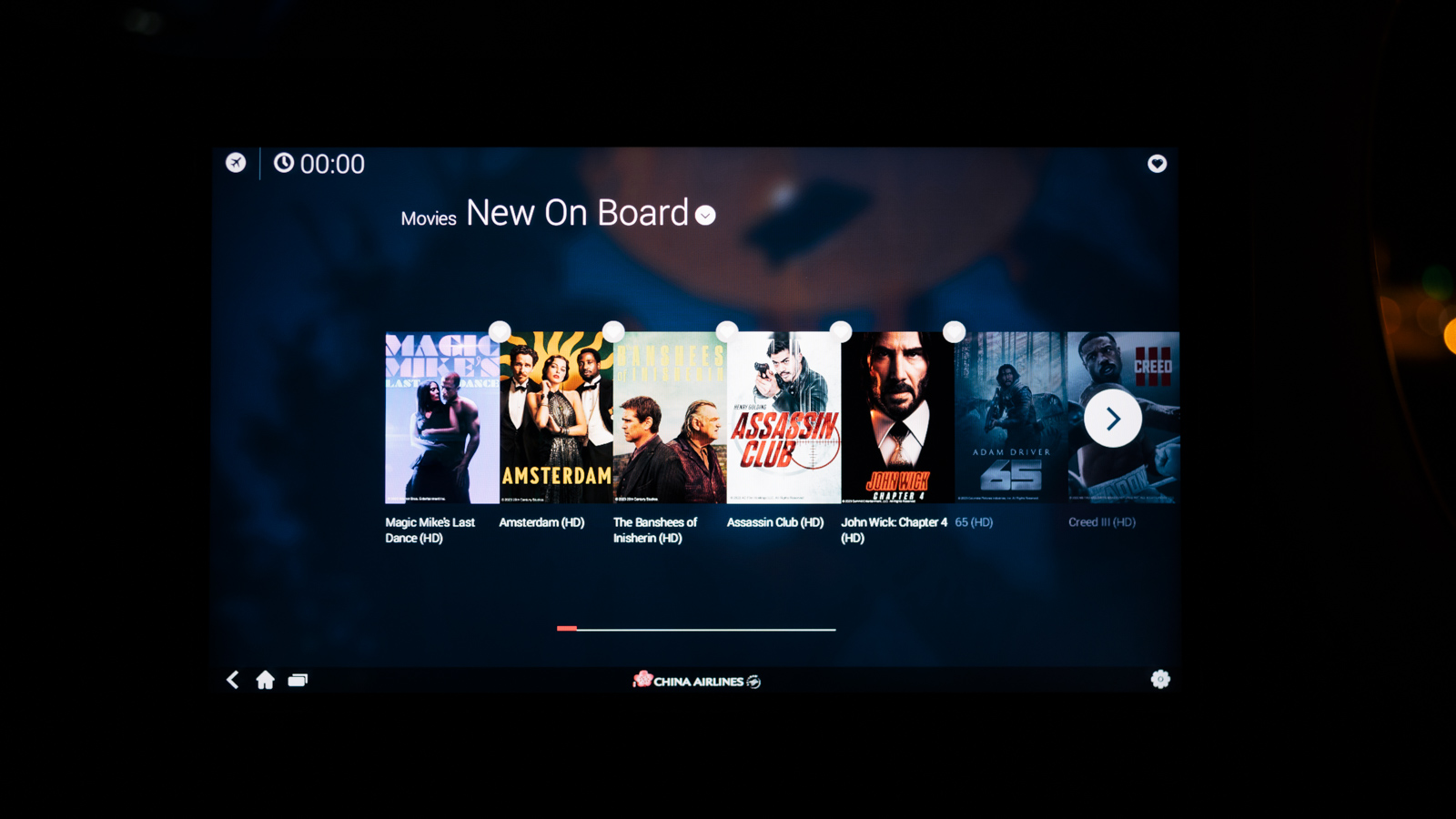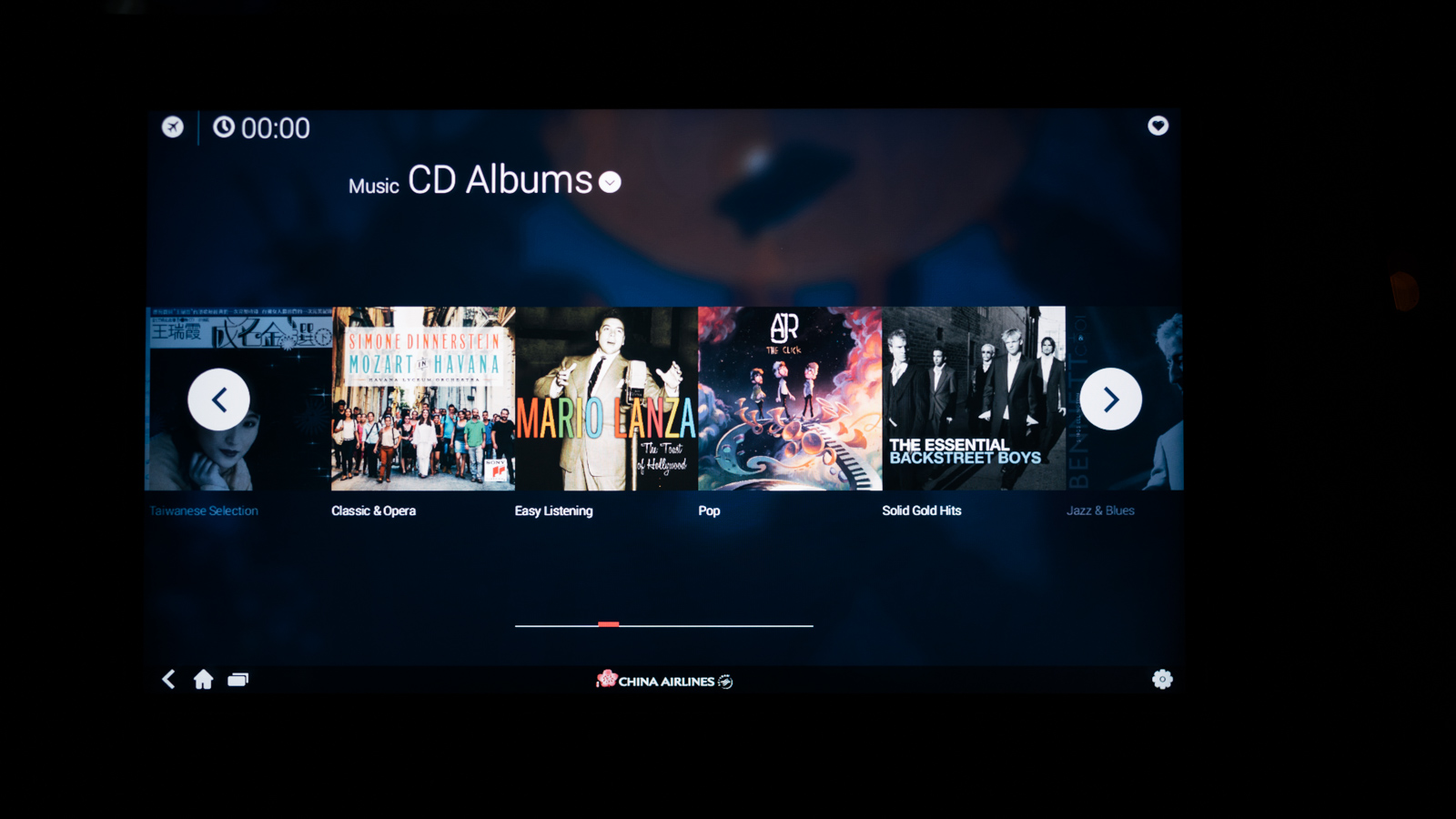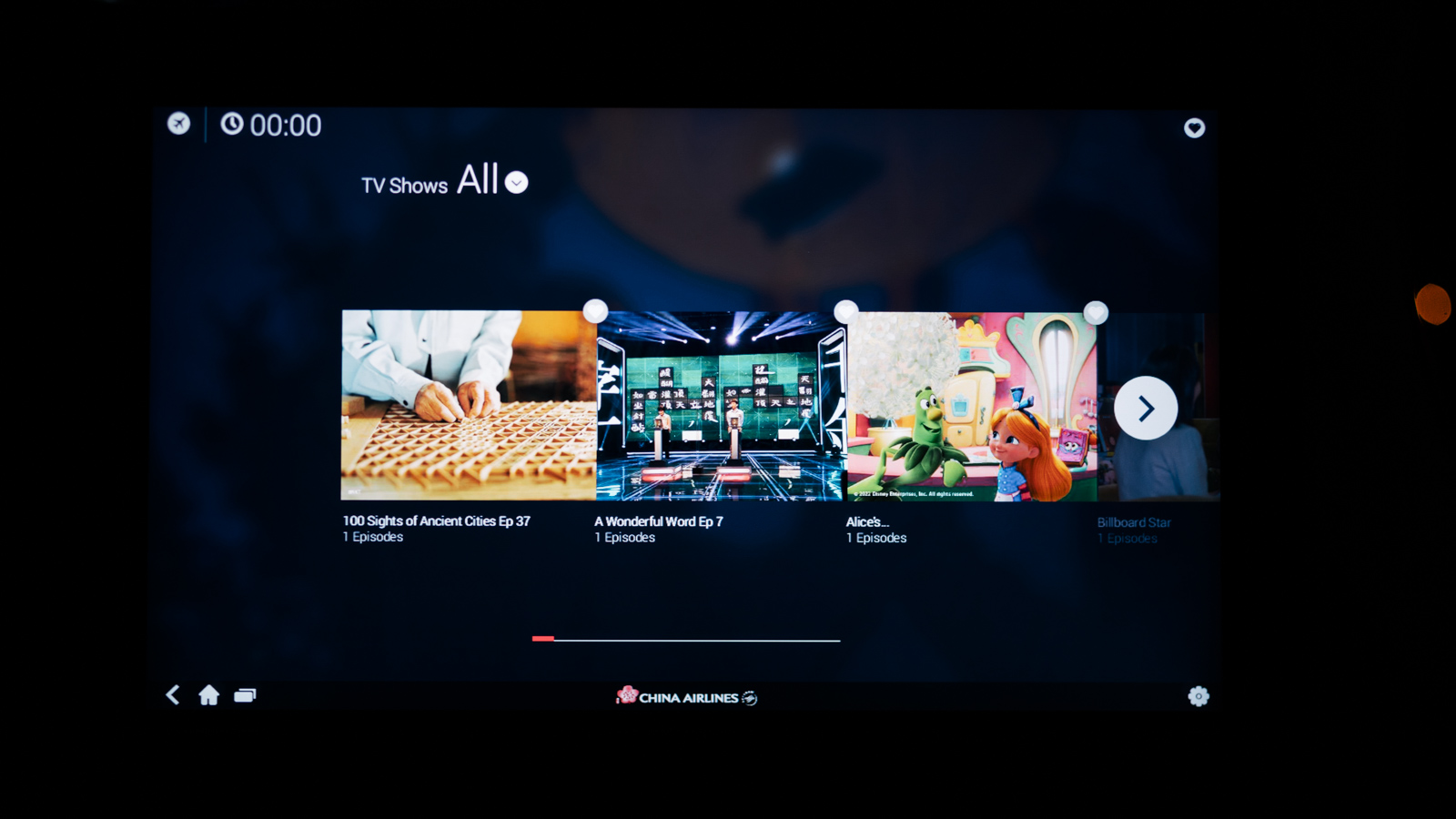 Each seat has a high-speed USB port and AC power outlet for charging. My USB-C charger delivers power at full speed, charging my phone from 35% to full in around 90 minutes.
Amenity kit
Shortly after take-off, the cabin crew come around with amenity kits by The North Face. These kits would look more at home on a camping trip rather than in Business Class, but the contents are a useful mix of hand lotion and lip balm from Norwegian skincare brand, Sprekenhus, along with other essential amenities. The lavatories are stocked with hand cream and scented mist hailing from French brand, Pure Altitude.
China Airlines doesn't offer pyjamas in Business Class, unlike its competitors EVA Air and Starlux.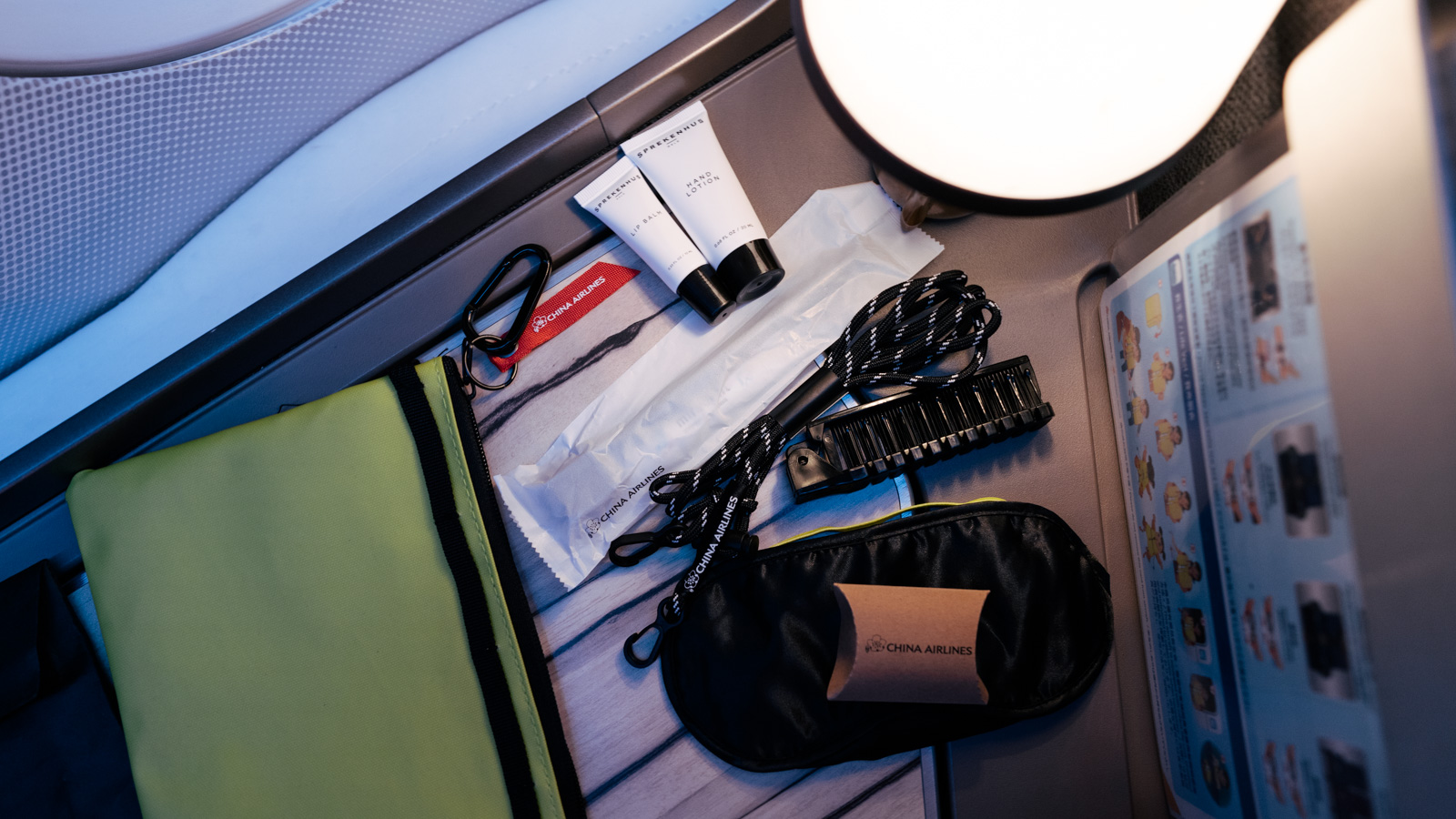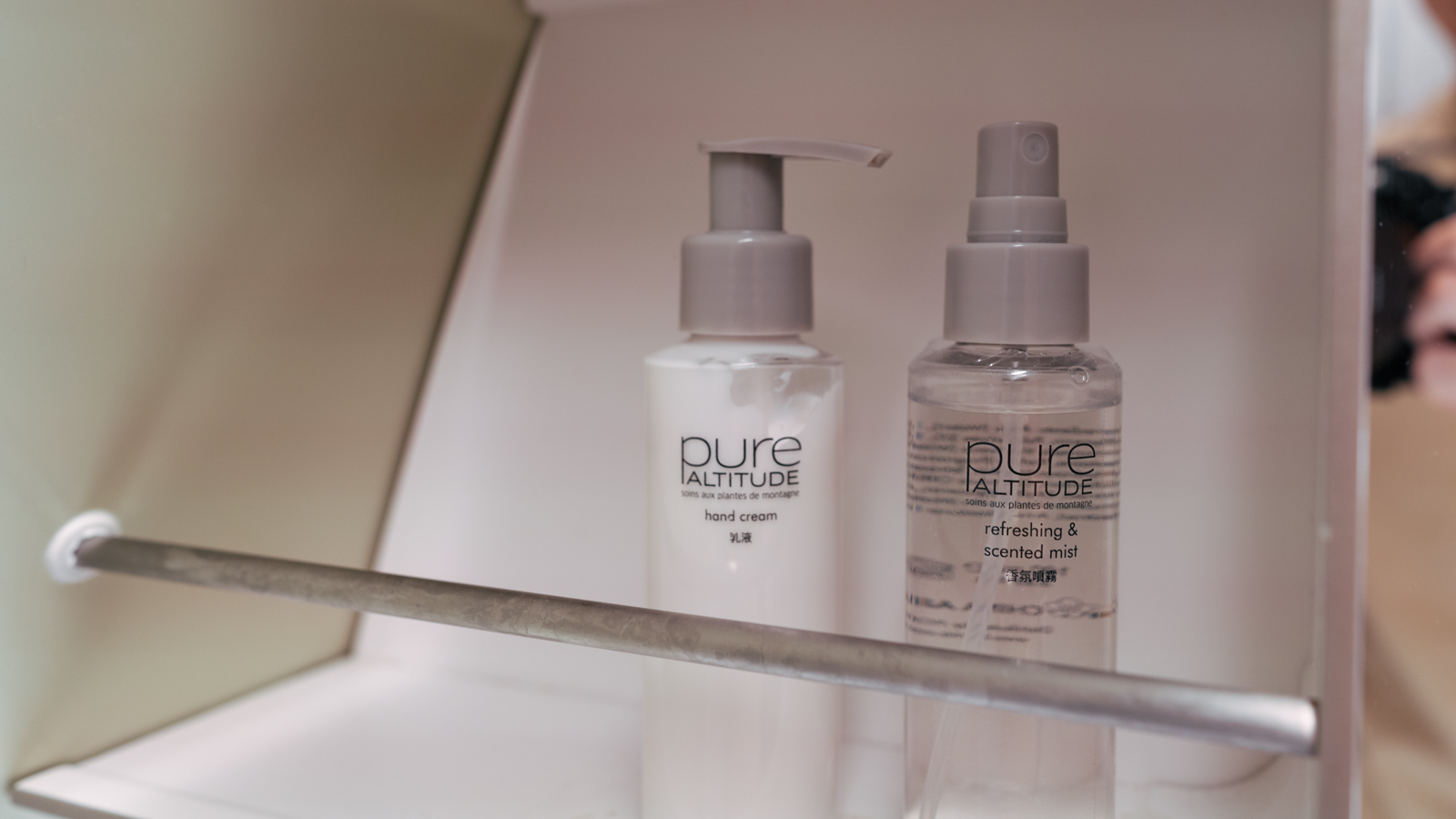 How to book this flight with points
China Airlines flights across the whole network are now available to book with Qantas Points. Simply load up your search on the Qantas website. If China Airlines reward seats are available, they will show. Point Hacks paid only 90,000 Qantas Points and AU$166 in fees and charges for this ticket to Osaka.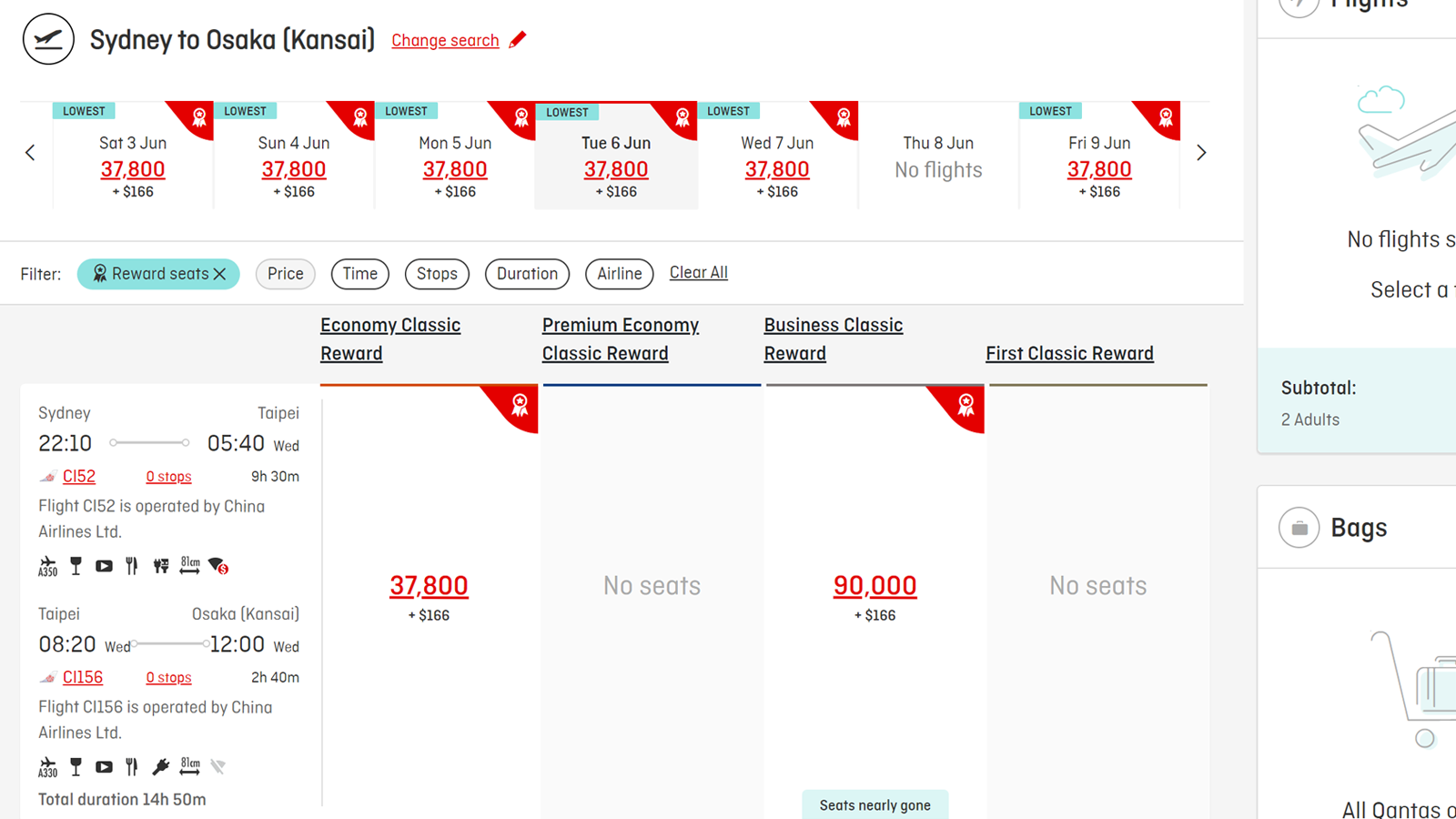 A similar cash fare would cost around AU$2,598 one-way (based on return pricing), giving the Qantas Points a nominal value of 2.70 cents each for this route. If you just wanted to fly the Sydney-Taipei route on its own, that would set you back 75,000 Qantas Points + $164.
---
Fly high in China Airlines Business Class with just one sign-up bonus.
---
Summing up
China Airlines Premium Business Class is an experience well worth paying for, both in cash and with points. The flight ranks amongst some of the best I've taken this year. Particular highlights include the comfortable and elegant seats, accompanied by a well-executed onboard menu. The cabin crew on this particular flight speak reasonably fluent English, which is important for destinations such as Australia.
Several minor shortcomings include a limited inflight entertainment selection – particularly with TV shows where often just one episode is loaded for a show. As someone who prefers to watch TV shows over movies on flights, it's annoying to not be able to watch a season in order. The drinks menu also doesn't provide much context if you enjoy your onboard wine. Indeed, Champagne isn't even listed as an option, so you'd need to know to ask for it. I'll be happy if that's the one thing you take from this review.
But in terms of overall comfort, I enjoy a very smooth ride with China Airlines. And with only an AU$166 co-payment to fly from Sydney to Taipei to Osaka in Business Class, it's an excellent use of Qantas Points.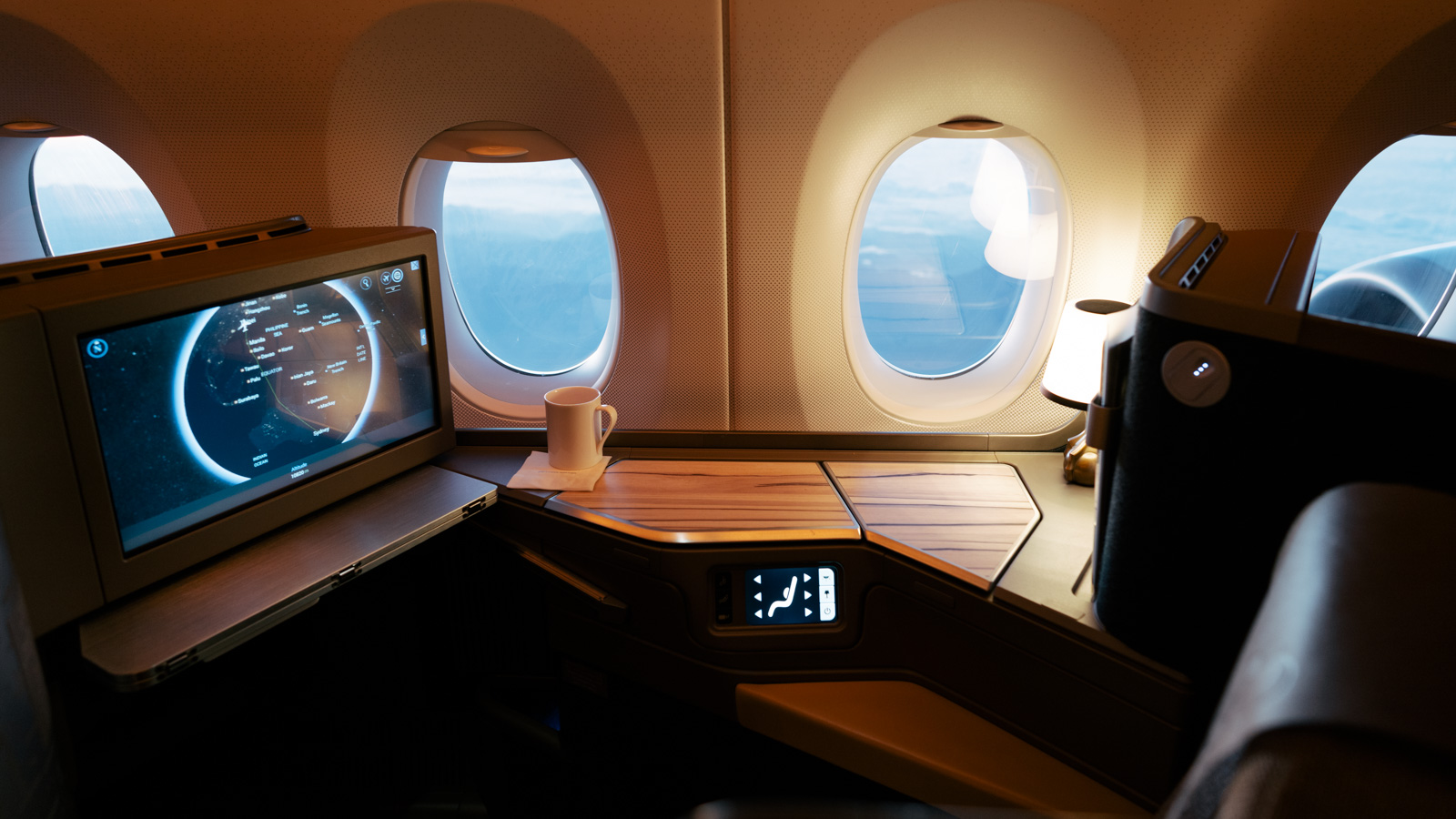 All photography by Brandon Loo, who travelled at Point Hacks' expense.
---
Stay up to date with the latest news, reviews and guides by subscribing to Point Hacks' email newsletter.
China Airlines A350 Business Class (Sydney – Taipei)
was last modified:
August 30th, 2023
by