Japan's major airlines, including All Nippon Airways (ANA), harbour a sterling reputation for inflight service and comfort. In Business Class, expect understated elegance and luxury with a Japanese twist. And if you possess an affinity for washoku – that is, traditional Japanese cuisine – then I'd suggest you add an empty stomach and a sense of anticipation to your pre-flight checklist.
Before this flight, I'd never flown on a Japanese carrier before. So when the opportunity to travel to Tokyo for work arose, I made it a priority to look for some ANA Business Class reward seats to get back to Australia. Knowing the quirks of Avianca's Lifemiles program, I knew it would only cost 40,000 Lifemiles + taxes. The cherry on top was that Avianca was also offering 150% bonus miles at the time, so I wouldn't need to buy as many miles.
After making the purchase, the Lifemiles are credited to my account within five hours. I lock in my ANA Business Class ticket from Tokyo-Haneda to Sydney for just under AU$930 – including the cost of the miles and all fees and charges! That's unbeatable value for a nearly 10-hour journey in life-flat comfort.
Check-in, baggage and boarding
My journey in Tokyo gets off to a rough start when I set my phone alarm wrongly and it vibrates instead of rings. I sleep through the buzzes and end up waking up around 6:00 am, which is actually the time I planned to be at the airport for this 8:40 am departure. Had this flight been departing from Tokyo-Narita, I would probably have missed it (imagine me trying to explain that to my boss…)
But thankfully, Tokyo-Haneda airport is much closer to the city. From my Shinjuku hotel, I order a taxi via the Uber app while I'm checking out. The $90 fare to the airport costs a lot more than the bus I'm planning to take, but I ultimately make it to Haneda Terminal 3 at 7:00 am with still some time to spare. Phew.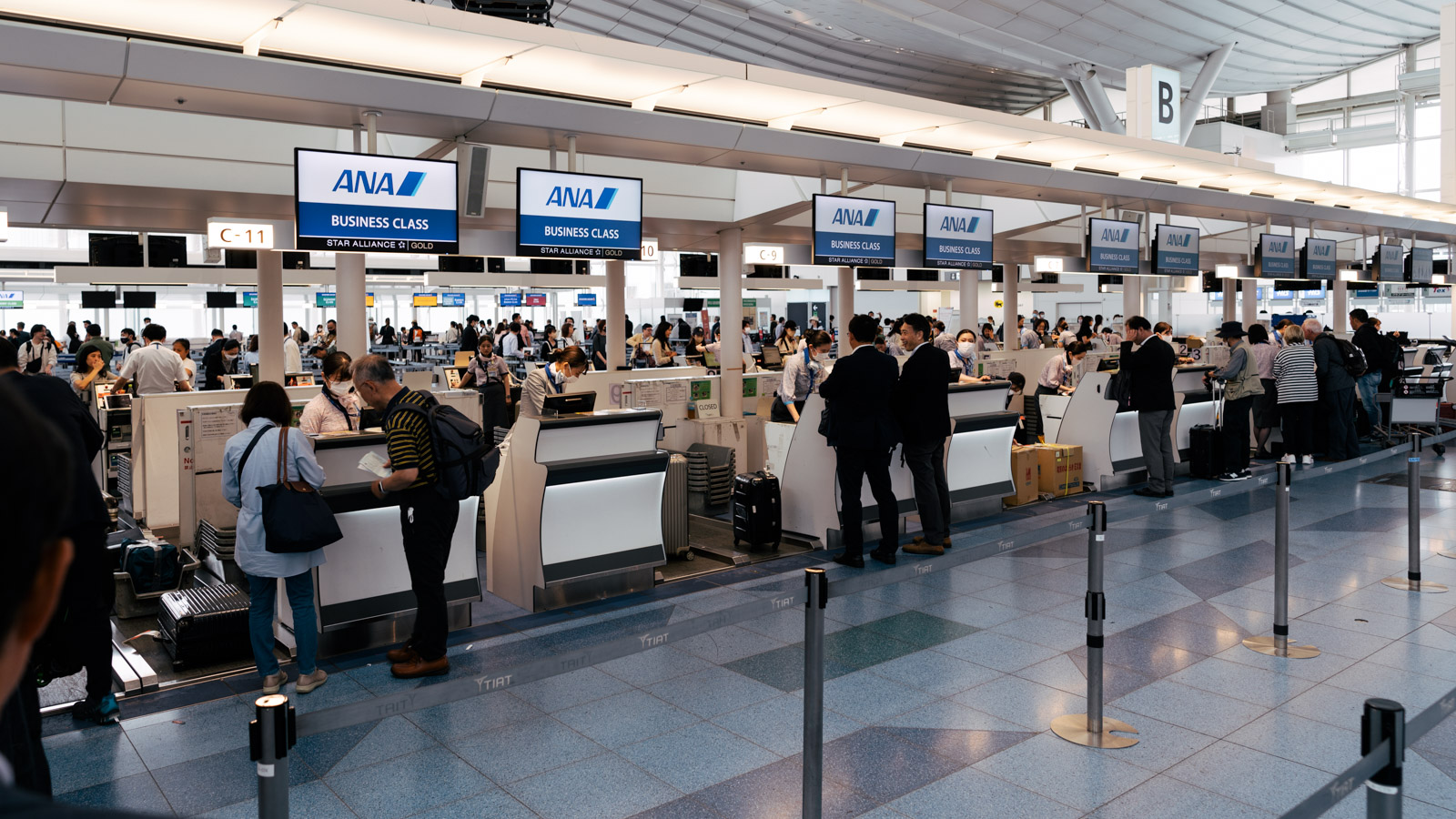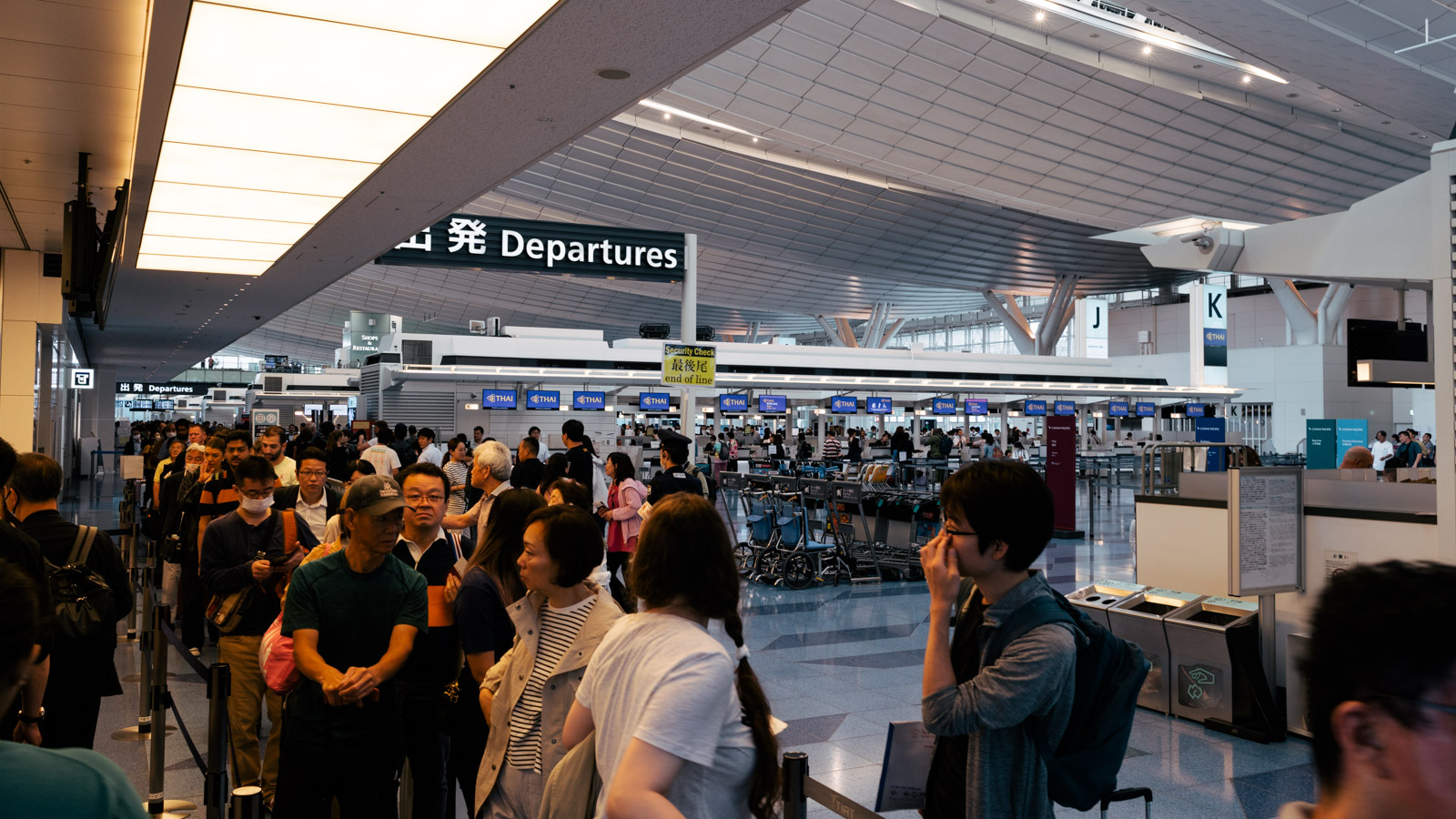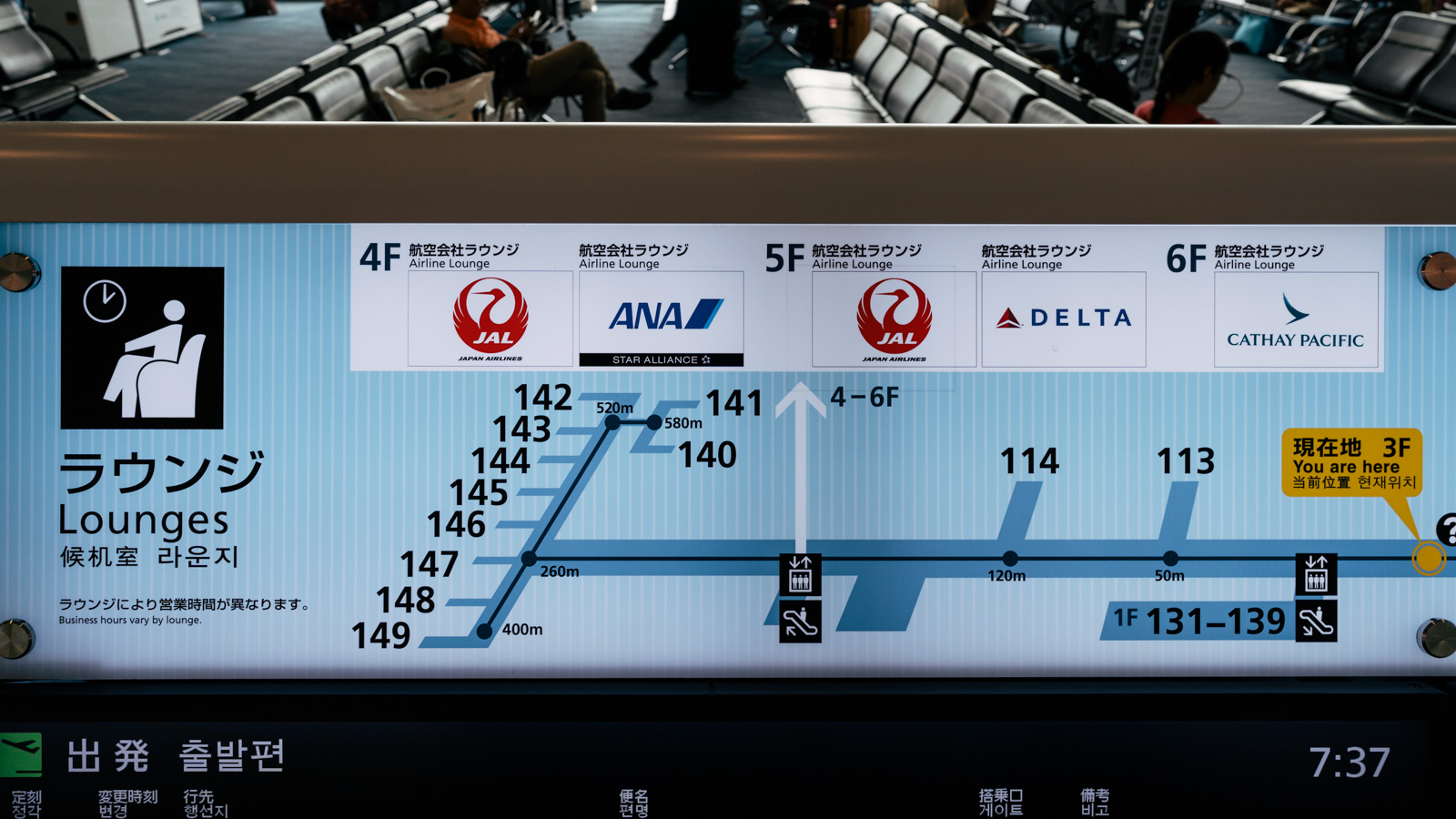 Check-in is easy at ANA's dedicated Business Class area at Counter B. But my cortisol levels don't quite have a chance to taper off yet, because Fast Track immigration and security lines aren't operating. There is a priority queue for Face Express, a new biometric-based security system that links your face to your passport details. But ANA only offers it on its Paris and Taipei Songshan flights at the time of writing.
Instead, I join the regular queue, where a guard conveniently holds up a sign saying 'end of line' so passengers know where the queue starts. Another touch of Japanese thoughtfulness. Immigration and security take a painful 40 minutes as the morning is one of Haneda's peak travel hours.
Pit-stop at the ANA Lounge
By the time I reach the ANA Lounge, there are just over 20 minutes left before boarding begins. That's enough time to freshen up in the bathroom and grab a plate of fresh nigiri sushi that's expertly assembled live. I also throw together a tasting plate of Japanese curry from the buffet. Both dishes are nothing short of delicious and are the perfect pick-me-up for my growling stomach.
Boarding begins on time, but it's from a bus gate. There are only 43 passengers on today's flight across all cabin classes (this daytime flight is a recent new addition to the schedule), so the bus waits for everyone and delivers us to the jet in one swoop. Despite all that, we push back on time as well, so no complaints there!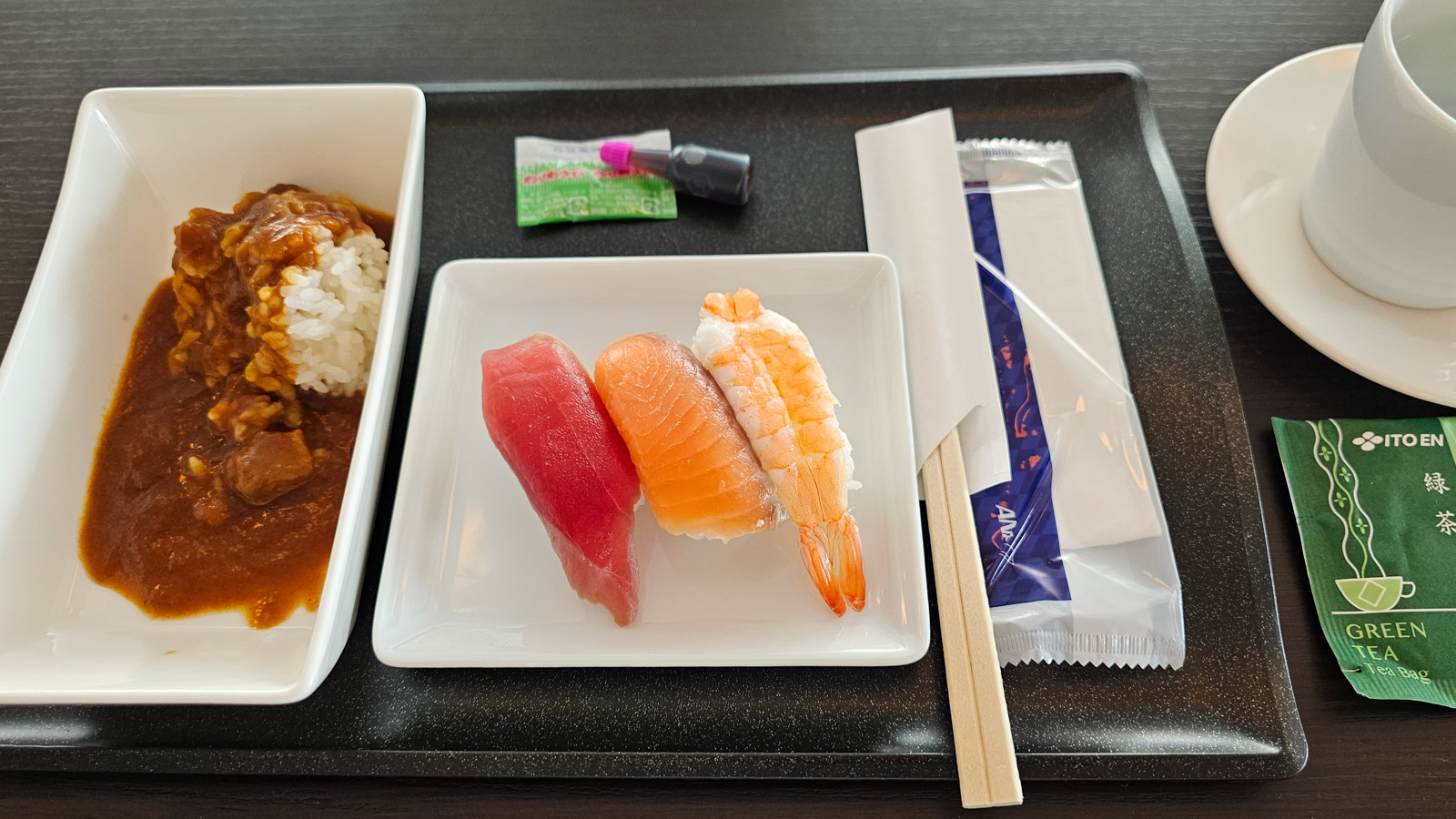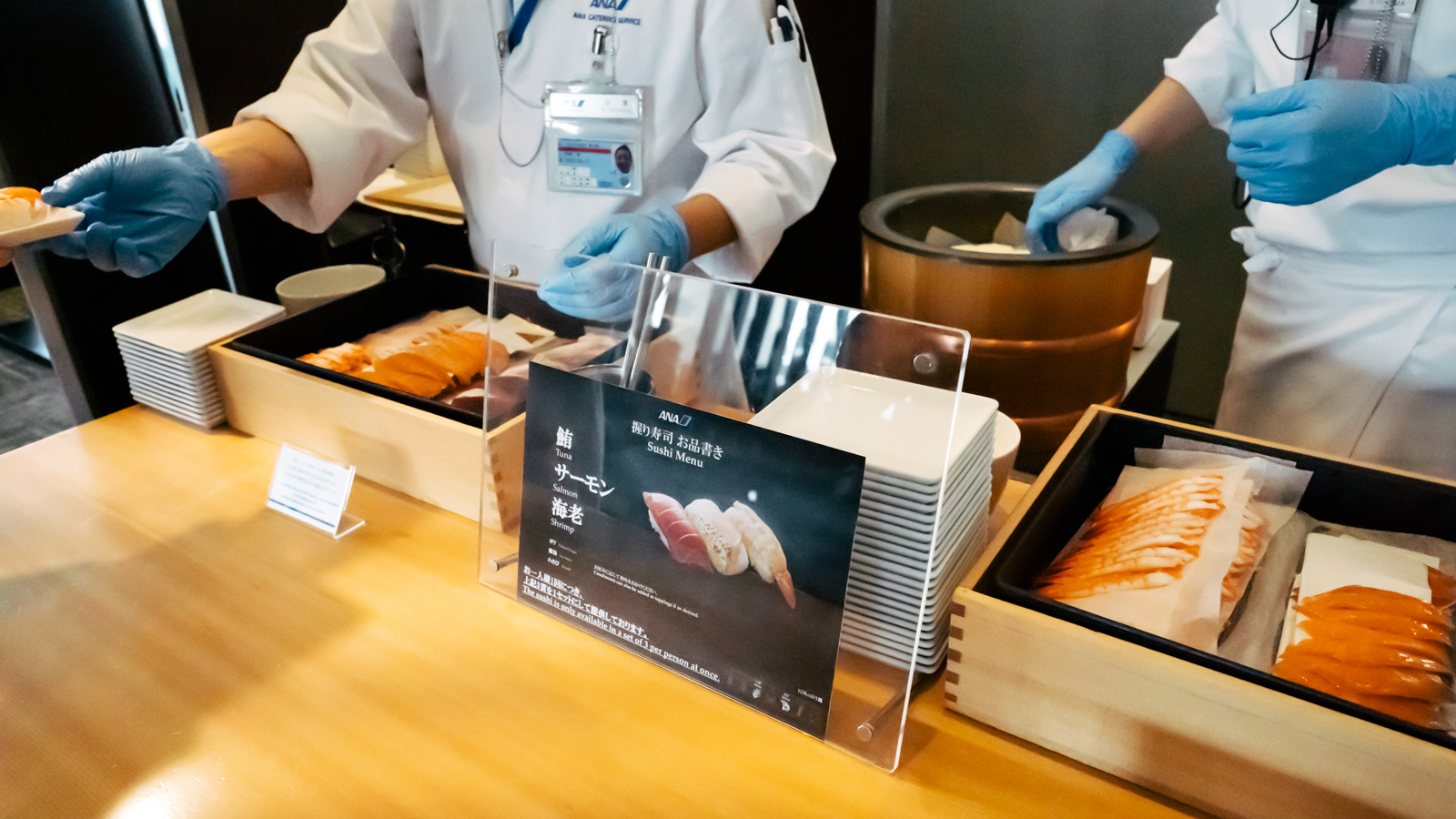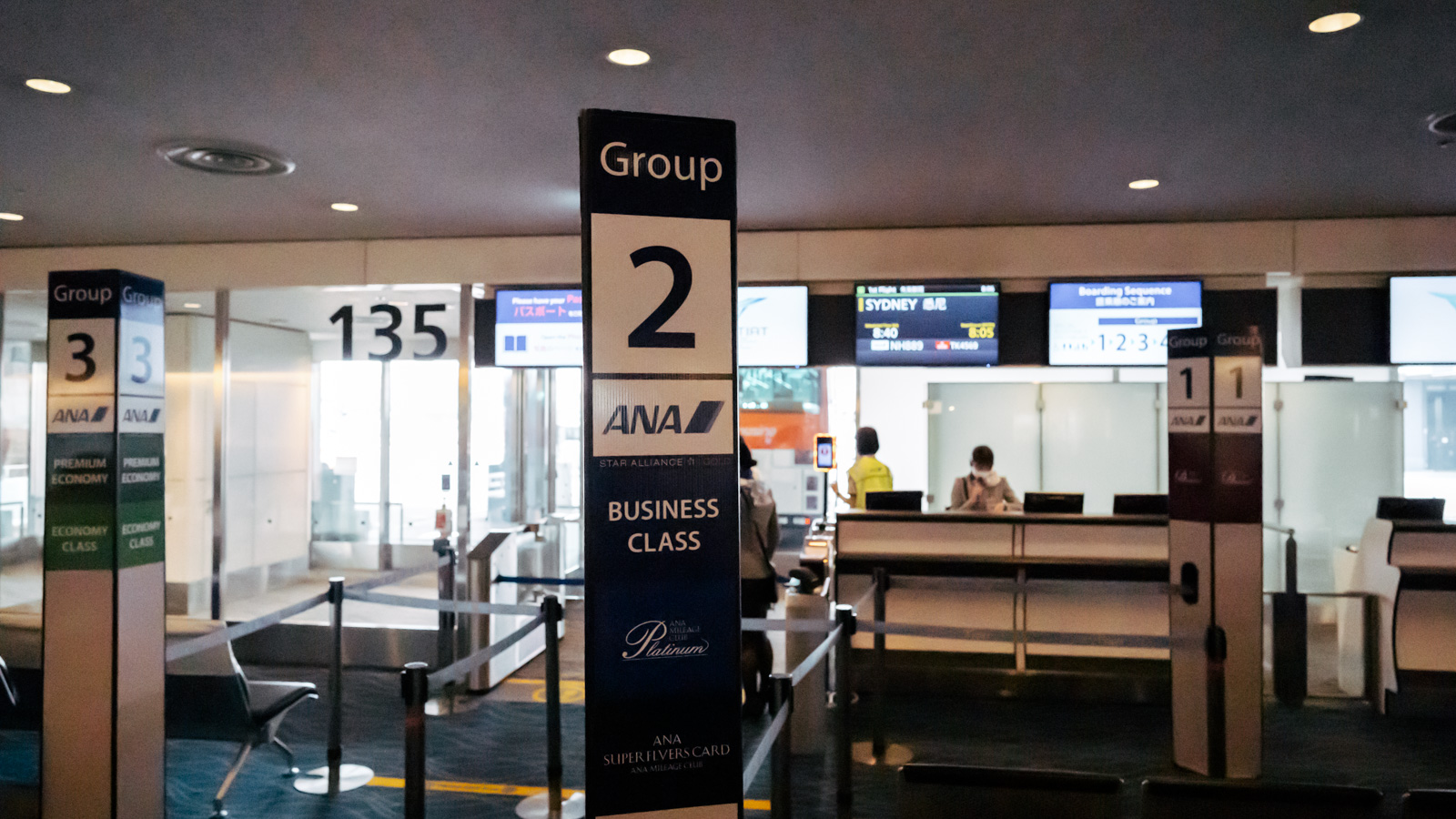 ANA Boeing 787-9 Business Class seating
Seat layout
ANA is renowned for its revolutionary Business Class seat 'The Room', found on the Boeing 777. The last-gen Business Class seats onboard the Boeing 787-9 aren't as eye-catching, but they offer the key essentials. With a typical 1-2-1 layout, each Business Class seat offers direct aisle access and can recline into a fully-flat bed.
Seats alternate to being close to the aisle and away from it, similar to Qantas Business Class in most of its widebody jets. Like Qantas' Airbus A330s, the privacy dividers in the centre pair of seats don't retract. Want the most privacy? Choose an A or K seat on the window (e.g. 1A, 3K, 7A) or an E/F seat in the centre. Need easier aisle access? Scratch that and reverse it. Choose a C or H aisle seat instead (e.g. 2C, 8H) or D/G in the centre.
Business Class is split into a main forward cabin with 30 seats, and a smaller rear cabin with 10 seats. The best seats are those in the first few rows of the main cabin as there's less foot traffic. You're also quite far from the lavatories and the galley. Having said that, I sit in 7A and I'm not disturbed by the lavatory that's behind 8E.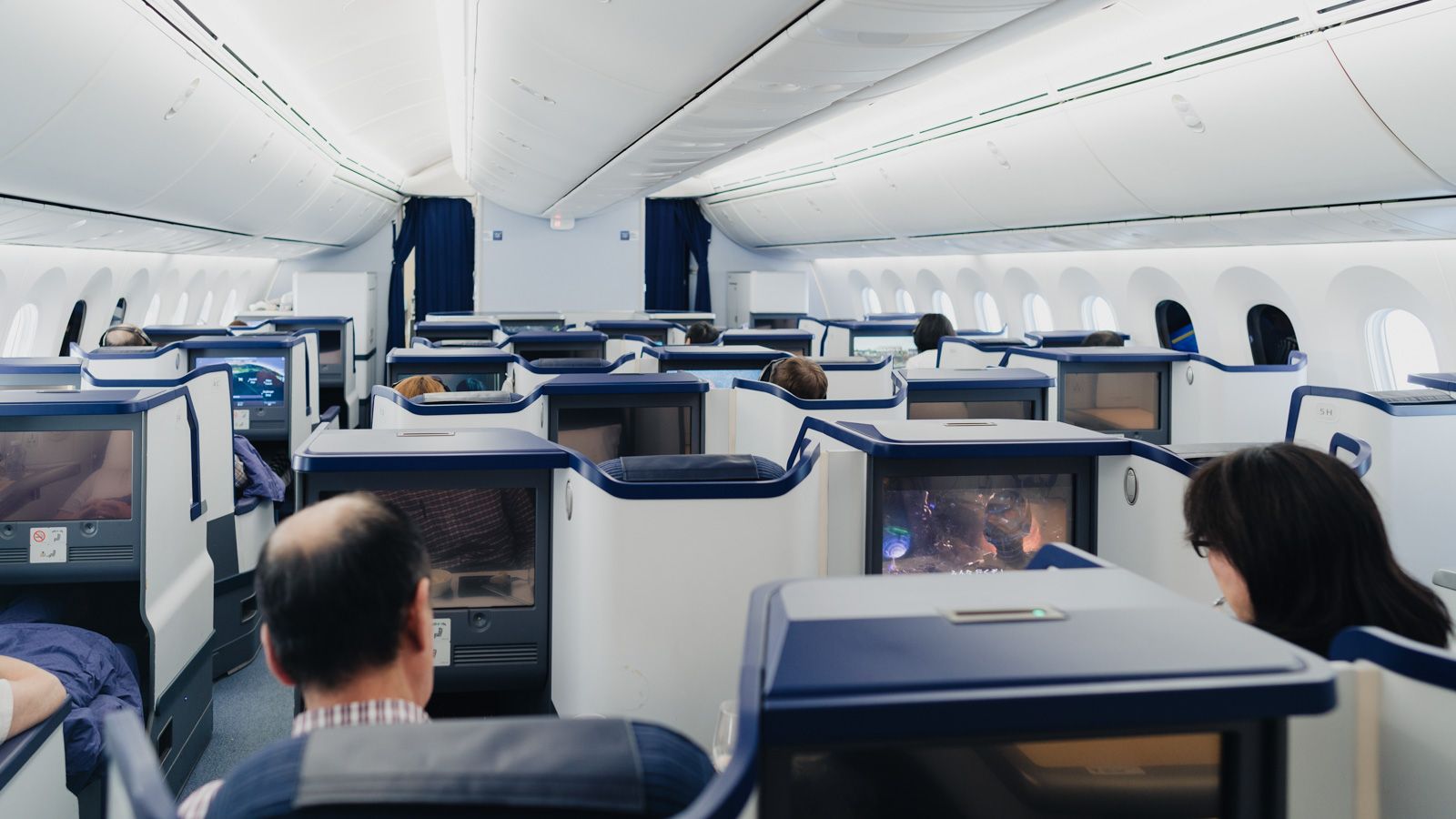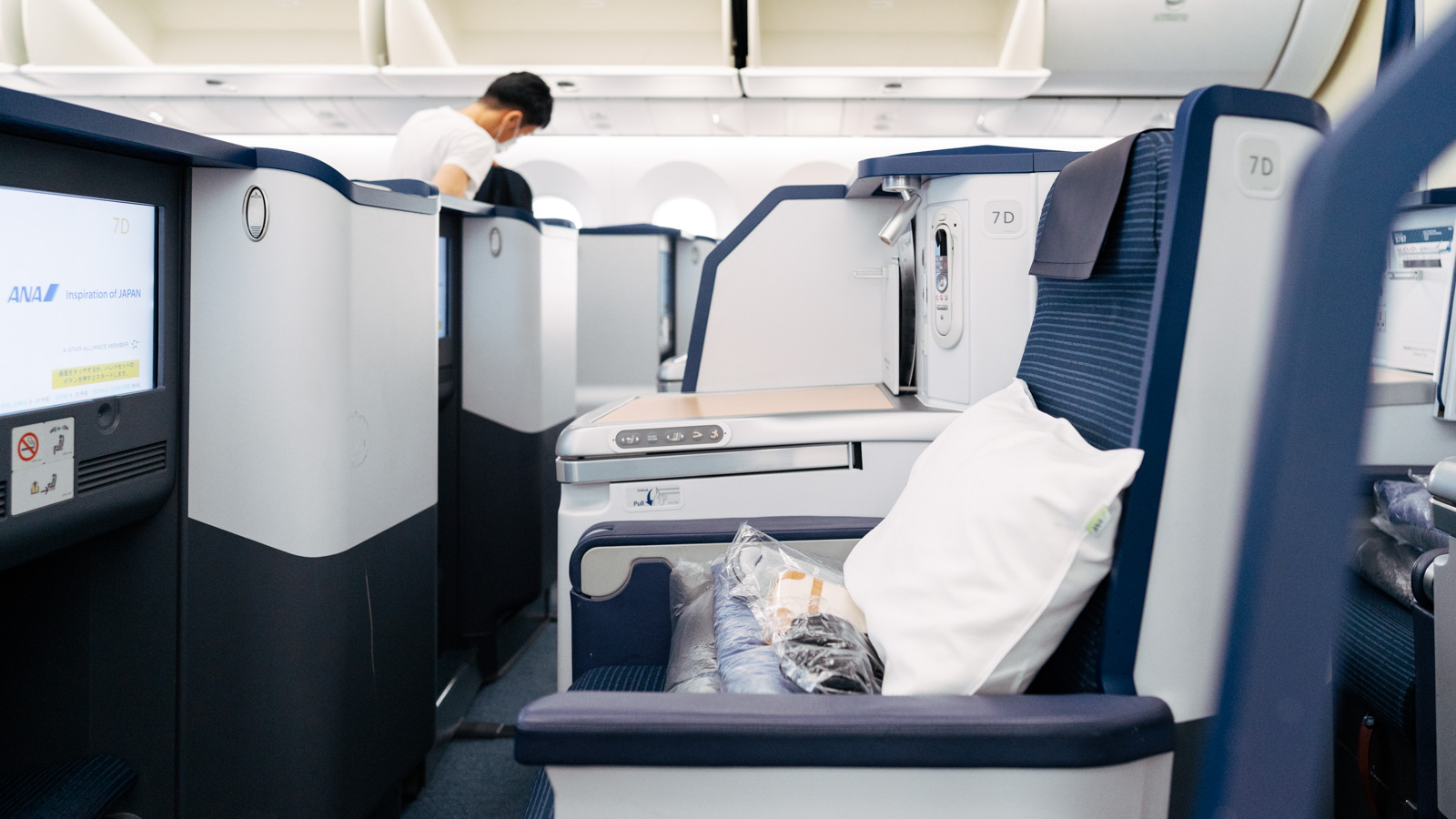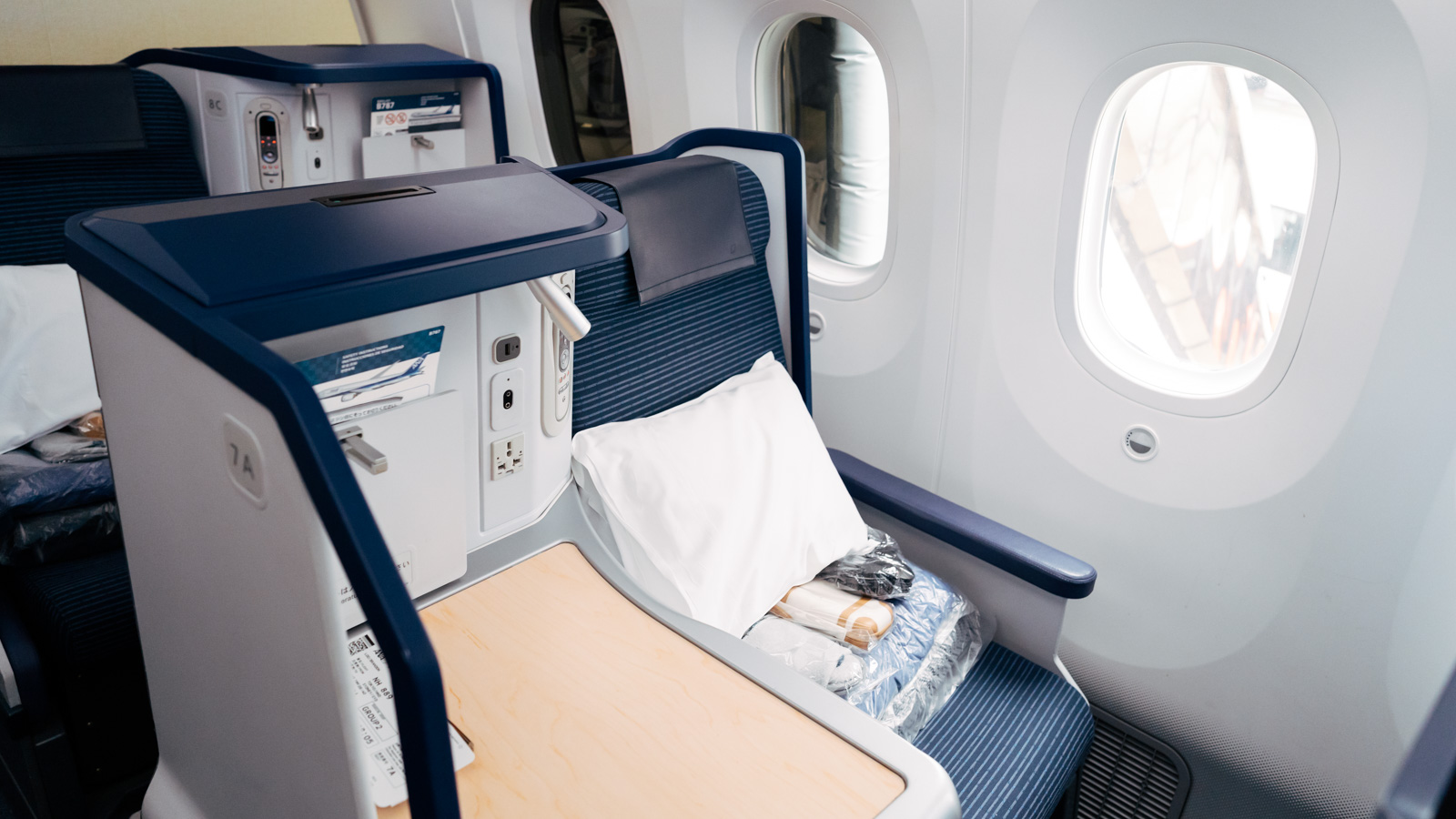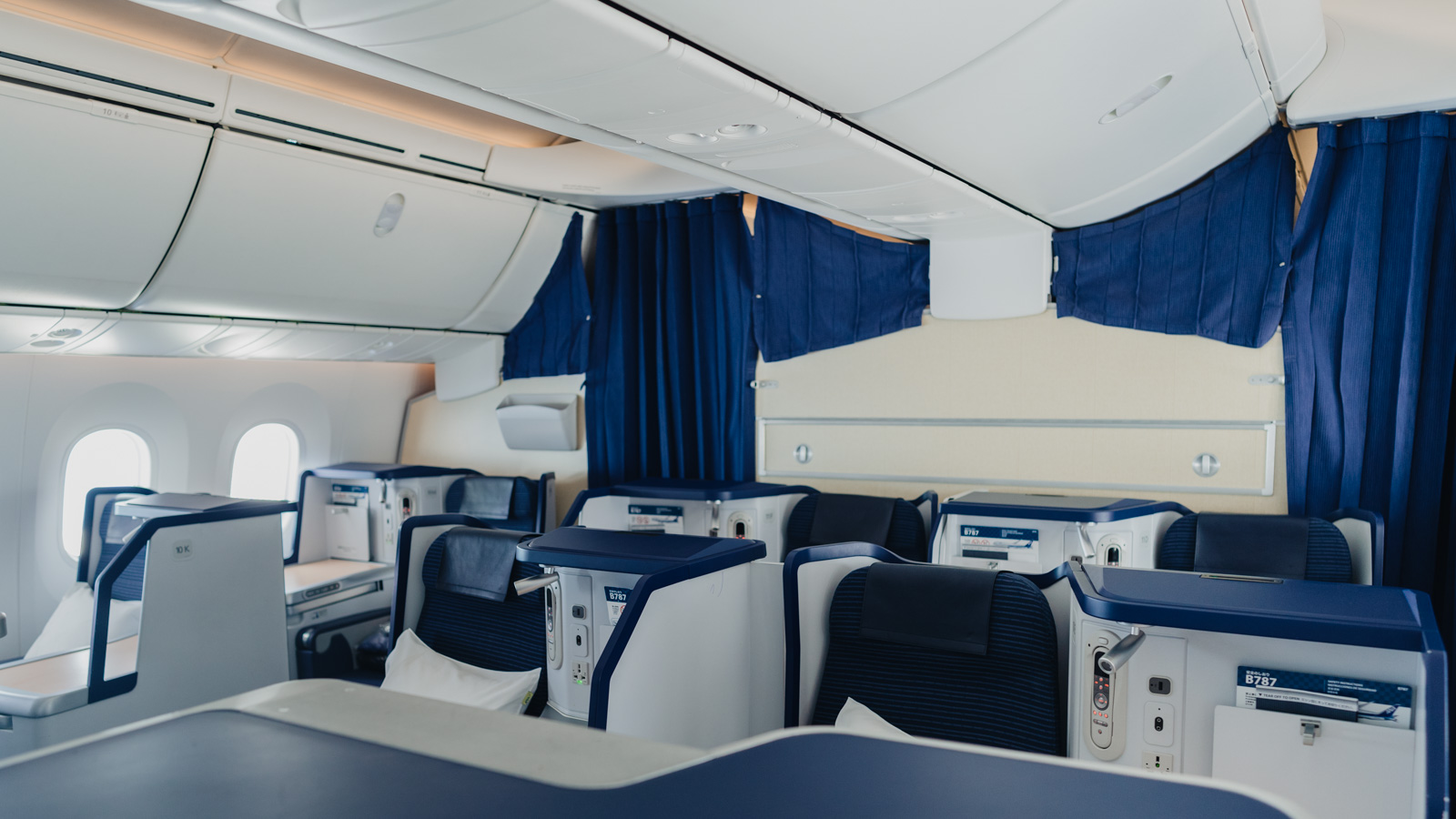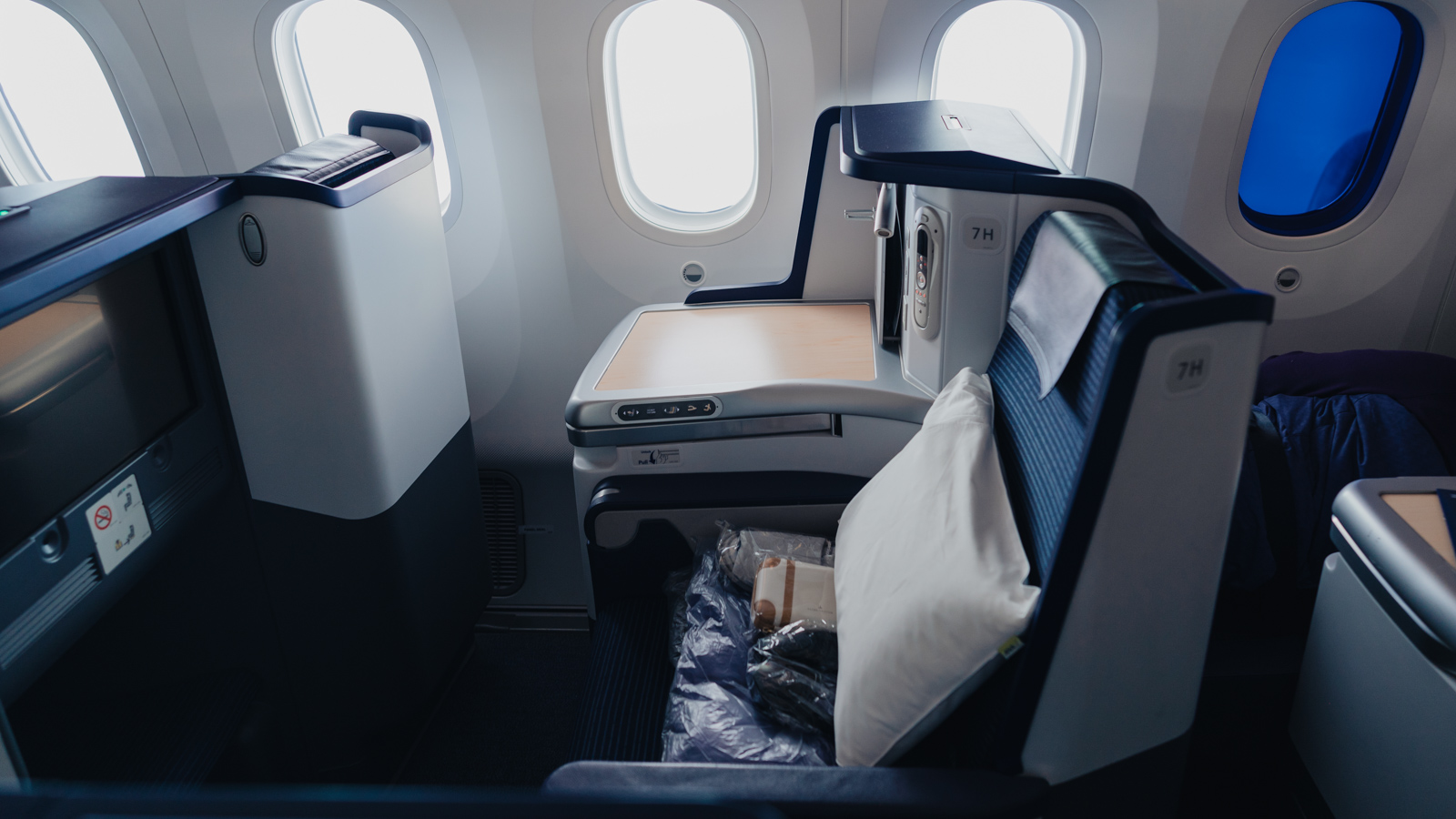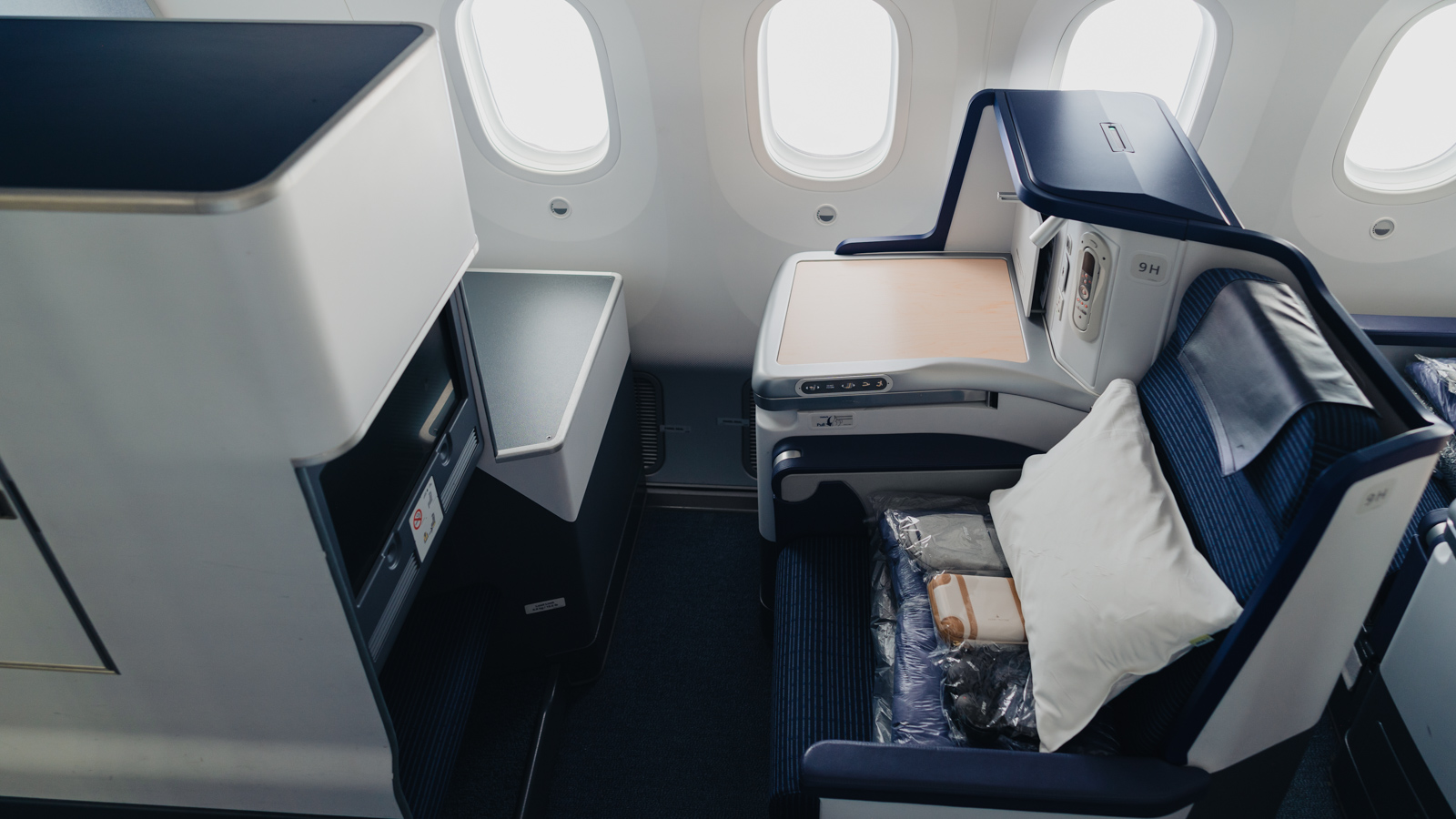 Seat functions
There are two main downsides to this seat, in my opinion. The main one is the lack of different storage areas or cupboards. Aside from the side table and a space for bags under the ottoman, that's it. The 18″ (45.7 cm) touchscreen monitor is fairly standard. I find it's easier to control the system with the remote rather than the screen.
Another is that the seat isn't as private as newer models on the market. While I don't find the seat to be as exposed as Qatar Airways Airbus A380 Business Class, for example, I do feel the privacy would be greatly improved with slightly higher partitions and a panel around head height.
As for the seat controls, they give a basic level of customisation over positioning and lumbar support. Rounding off the seat features is a universal power point (happily with unencumbered access for bigger plugs), a reading light, a USB port and a headphone jack.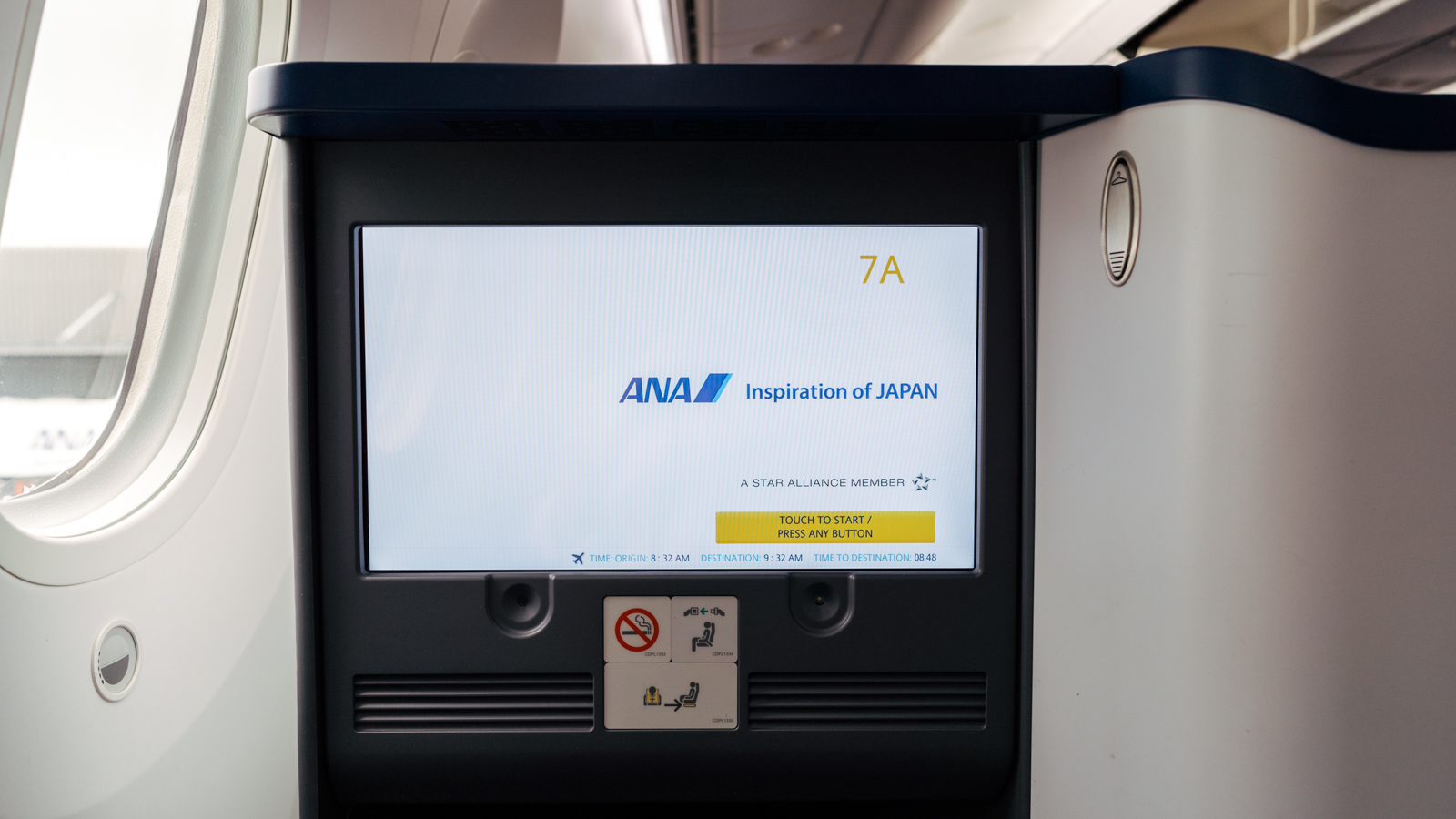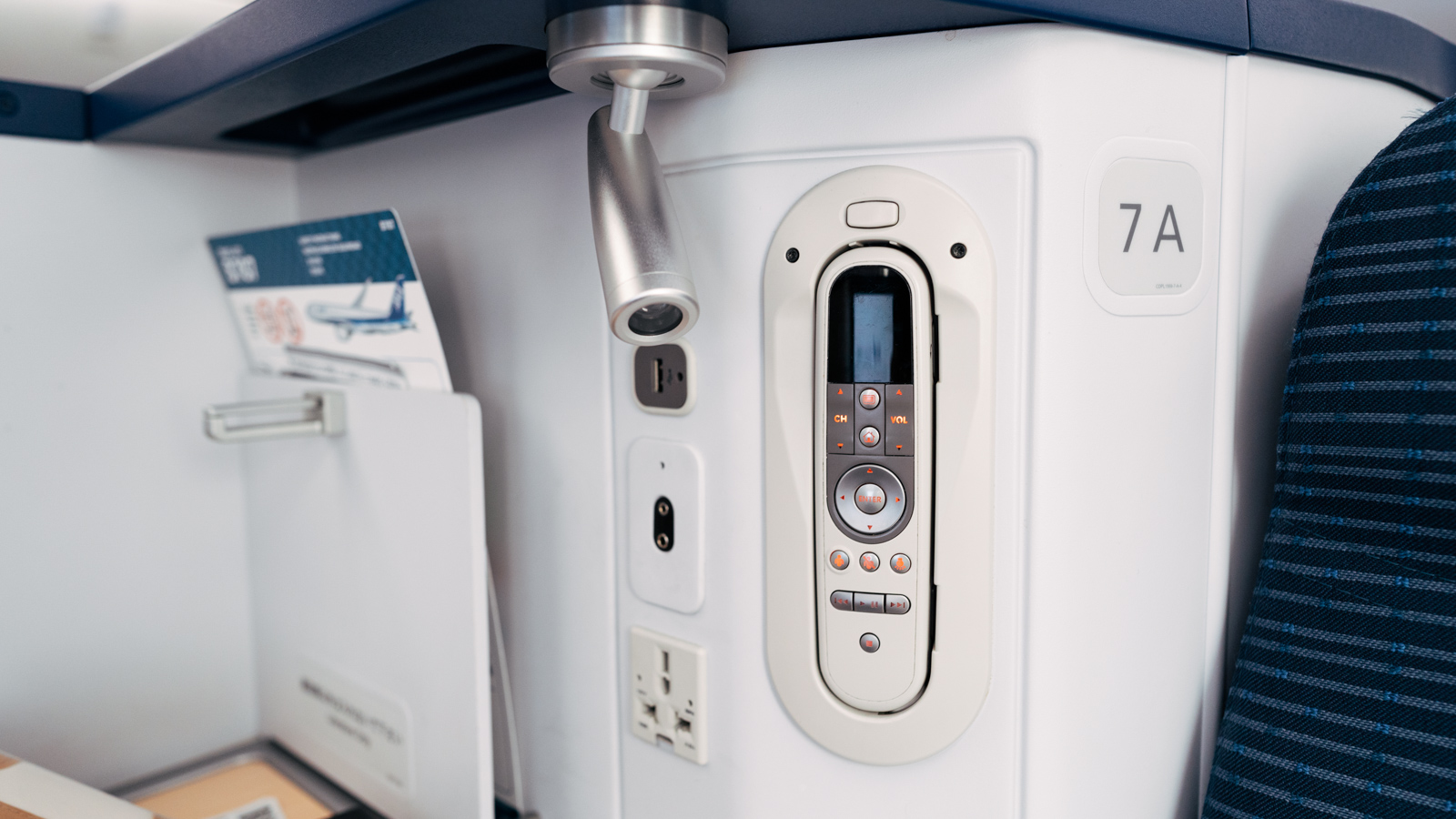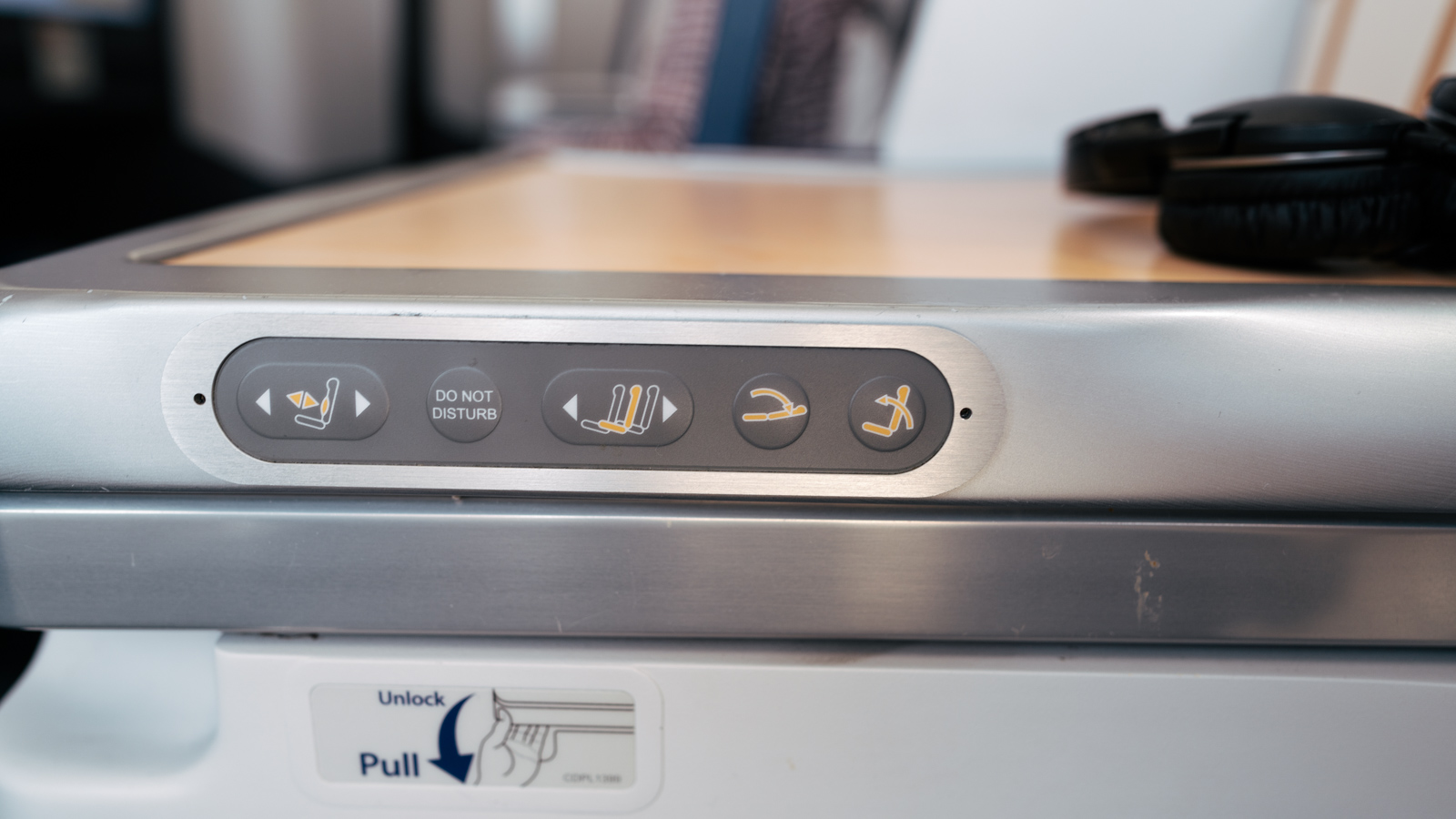 Lie-flat bed
When fully flat, the ANA Boeing 787-9 Business Class bed measures approximately 189 cm long and 49 cm wide. It's about 10 cm shorter than some other airline Business Class beds on paper, but in practice, I don't notice any difference as I usually sleep on my side with my knees bent. The foot cubby is quite spacious as well.
Each seat comes with a plush pillow and blanket, as well as a futon-like mattress pad which I find to be quite comfortable.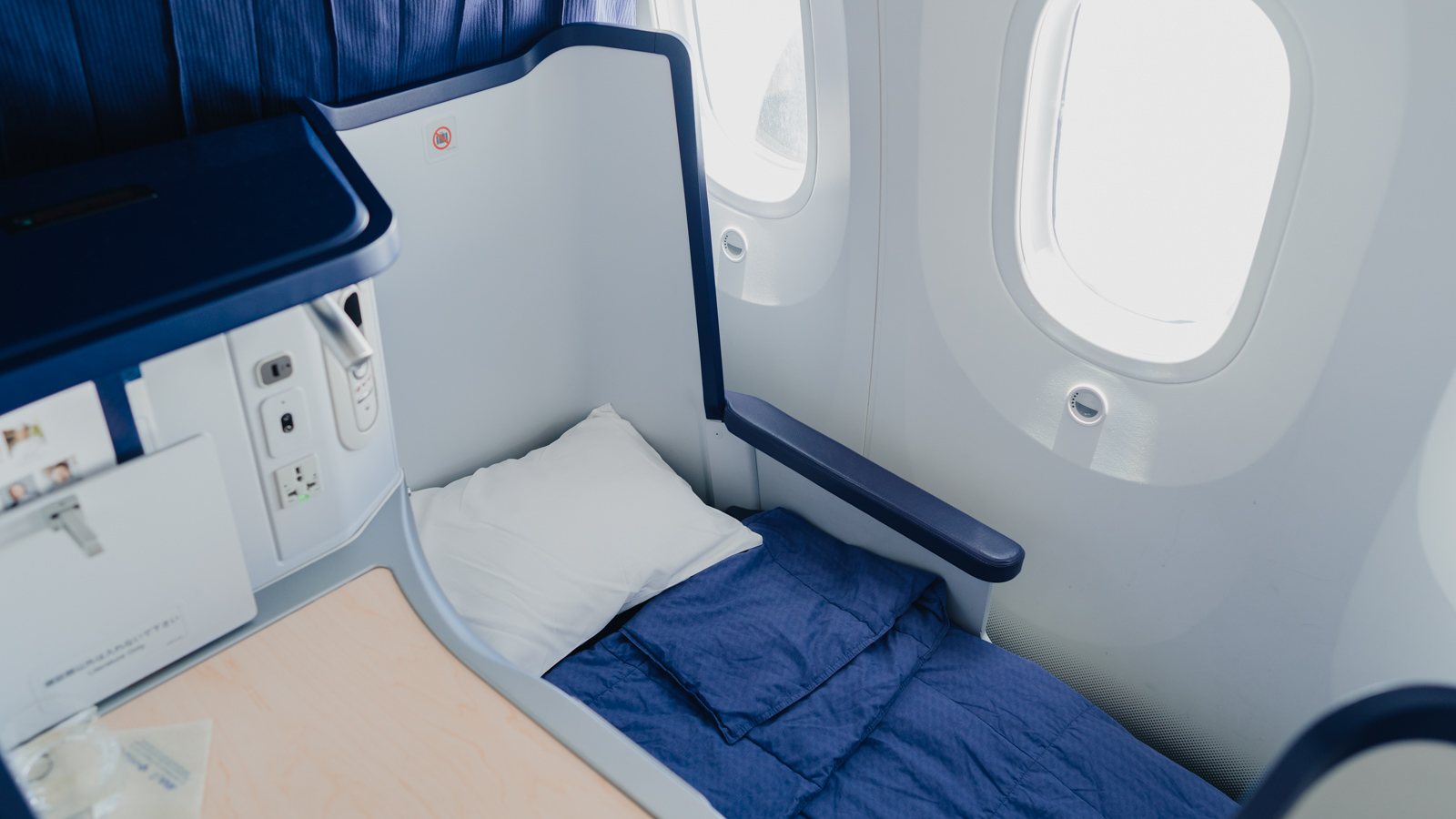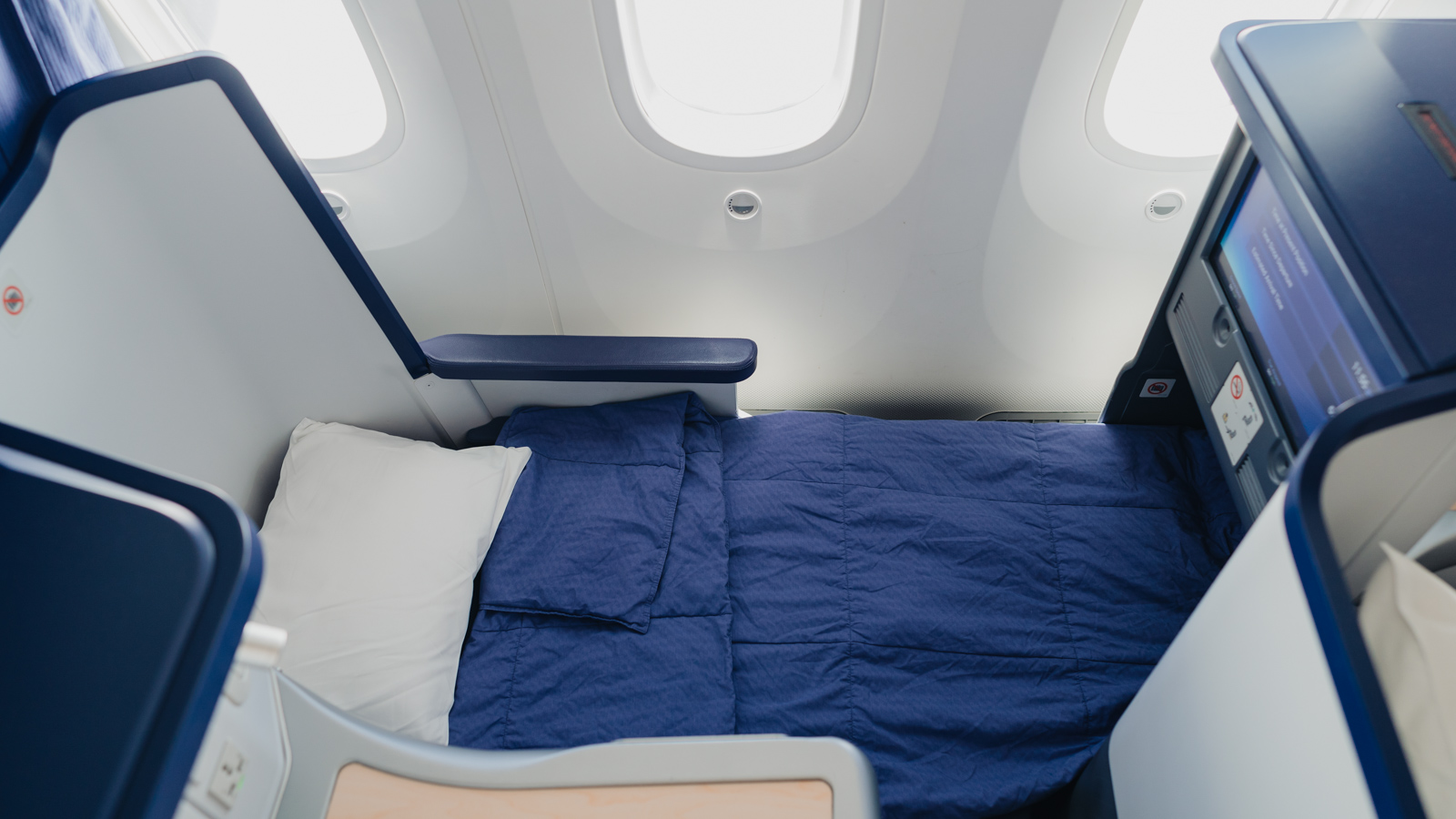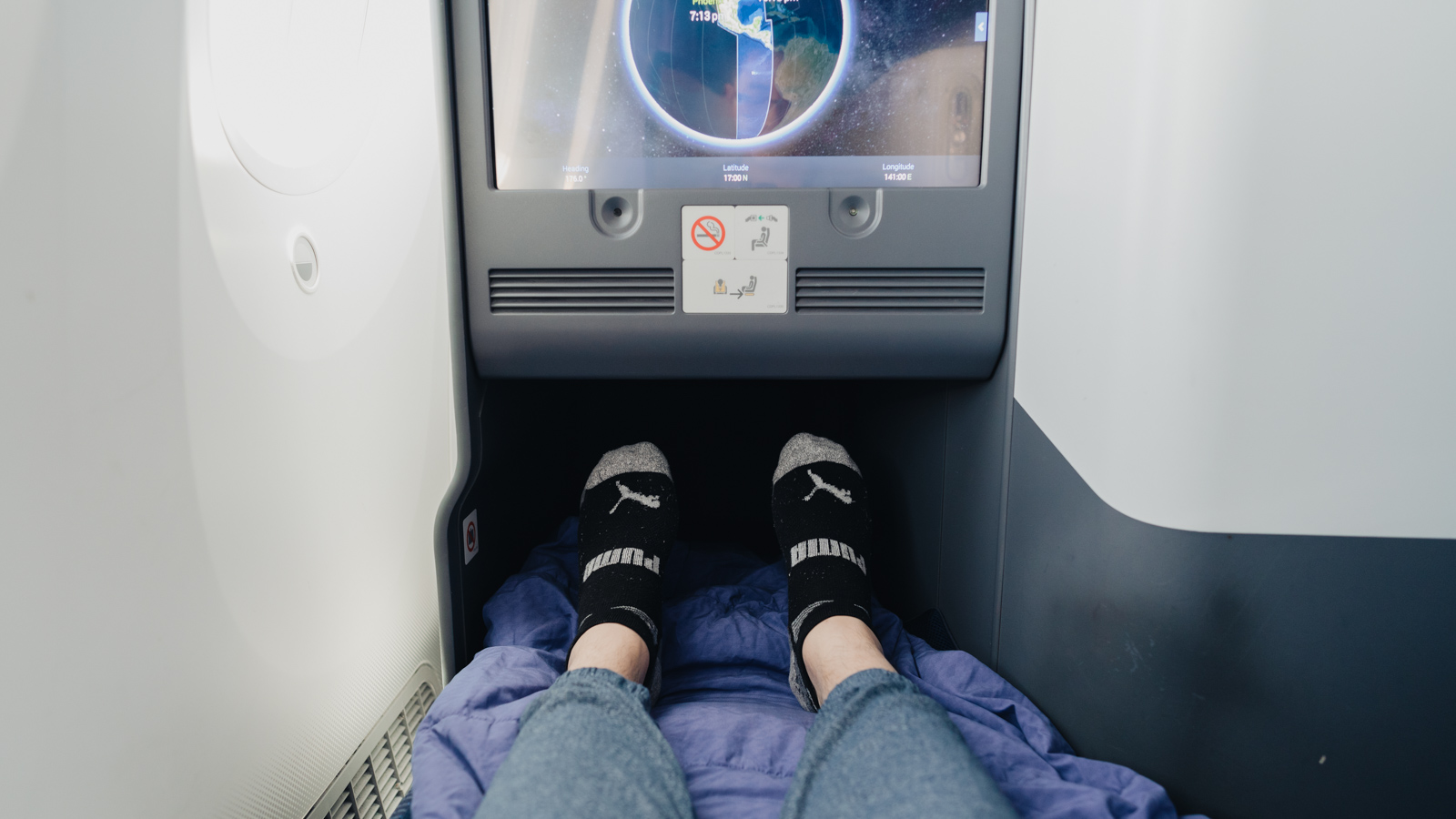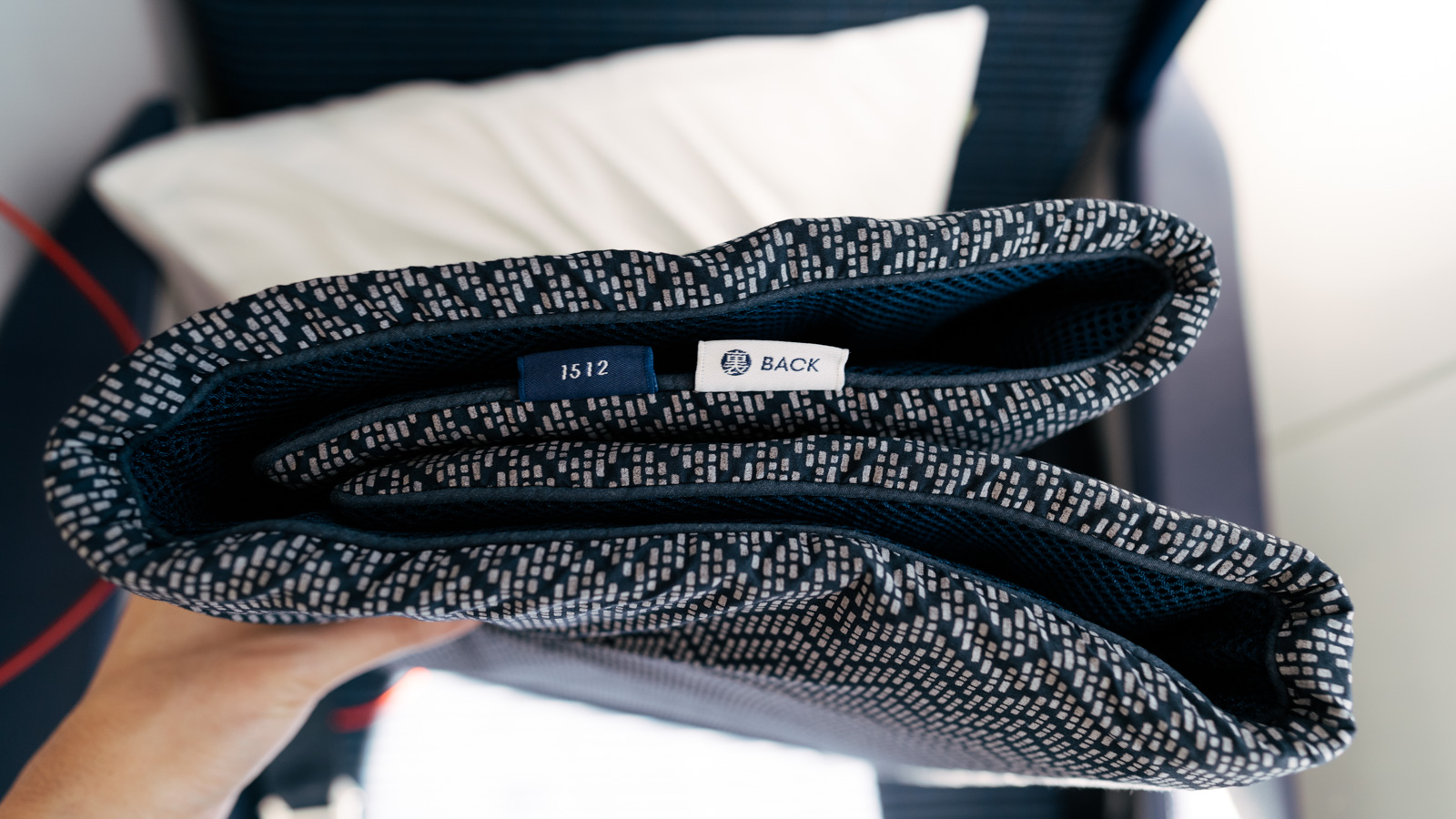 ANA Boeing 787 Business Class food and beverage
The soft product (service, food & beverage) onboard this flight is phenomenal. Onboard, the crew crack open and serve Duval-Leroy Champagne before departure (albeit in a plastic cup initially). Shortly after take-off, the cabin crew spring into action and hand out the menus for today's flight.
But ANA publishes its menus online, so you can easily see what's available before the flight. Even better, you can also pre-order the Japanese or Western option online so you won't miss out. It's a no-brainer for me – I choose the Japanese option.
First meal: after take-off
But whatever you pick, the service starts with an amuse-bouche. Today, that's short-neck clam ratatouille with ANA's signature breadstick.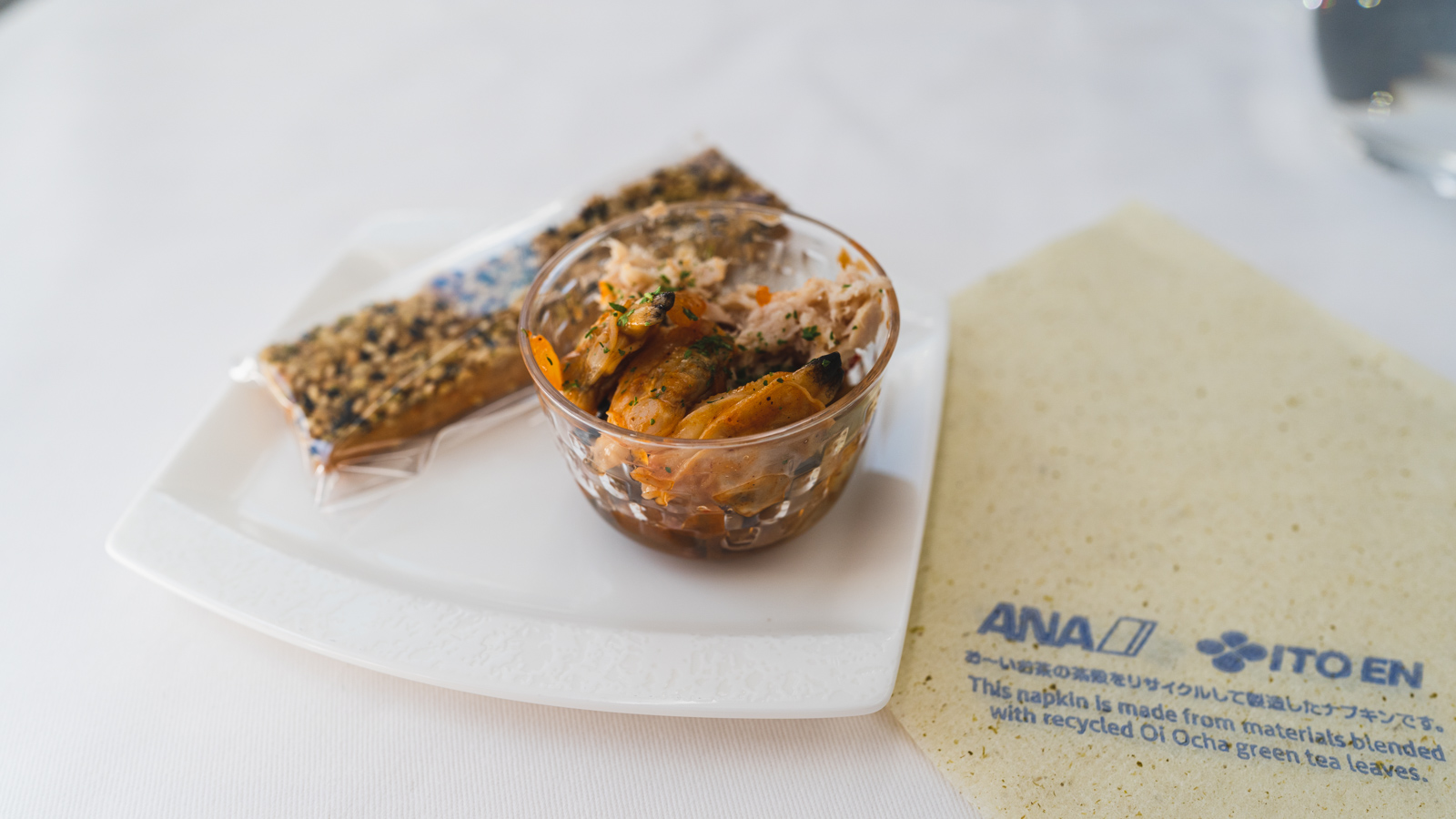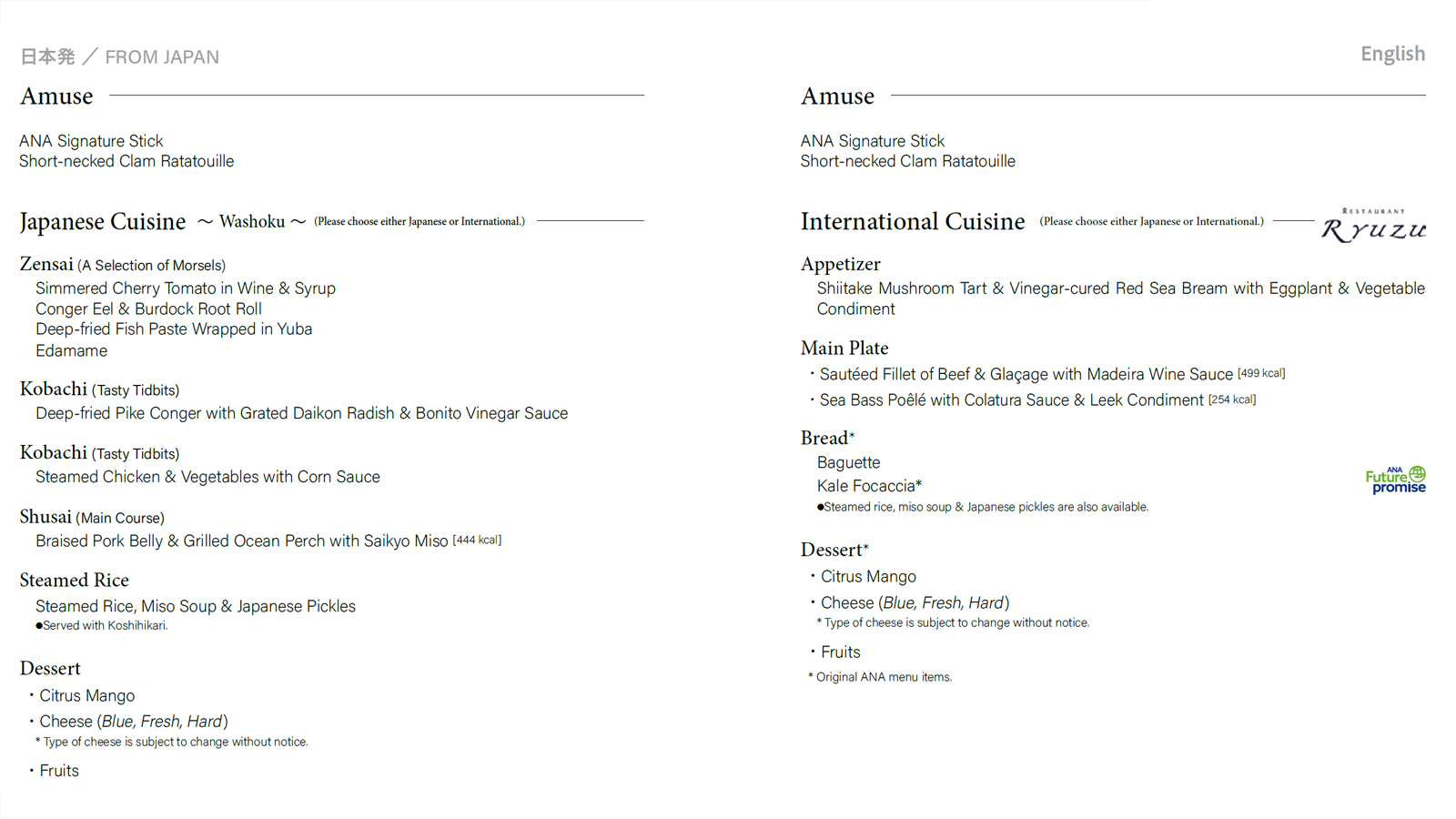 Next up is a delightful entrée platter of three tantalising dishes to whet the appetite:
Zensai (a selection of morsels, central plate):

Simmered cherry tomato in wine & syrup
Conger eel & burdock root roll
Deep-fried fish paste wrapped in Yuba
Edamame

Kobachi (tasty tidbits, left): Deep-fried pike conger with grated daikon radish & bonito vinegar sauce
Kobachi (tasty tidbits, right): Steamed chicken and vegetables with corn sauce
I'm immediately blown away by how fresh and delicate every bite tastes. There's something delightful about enjoying a different flavour with each mouthful.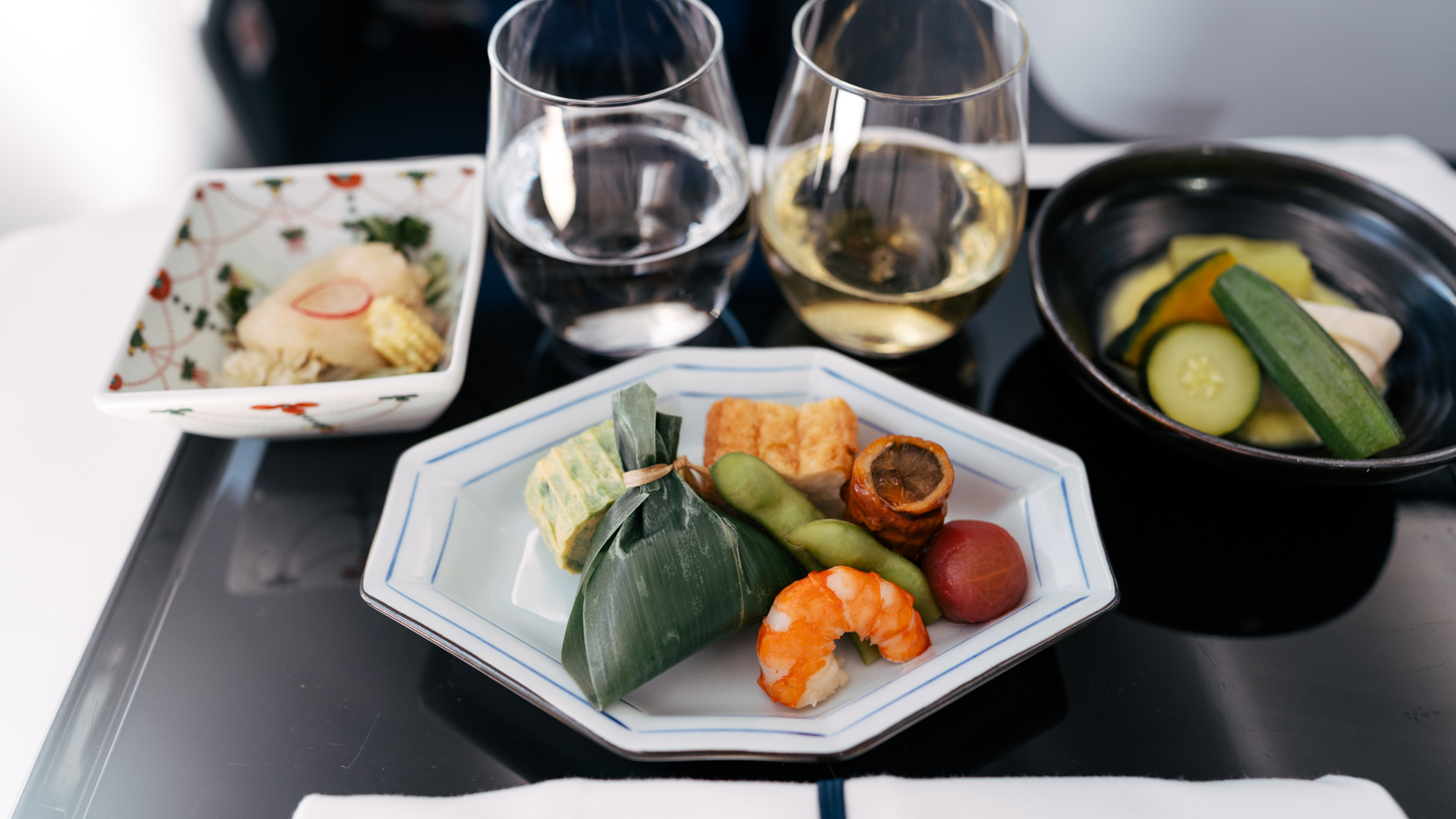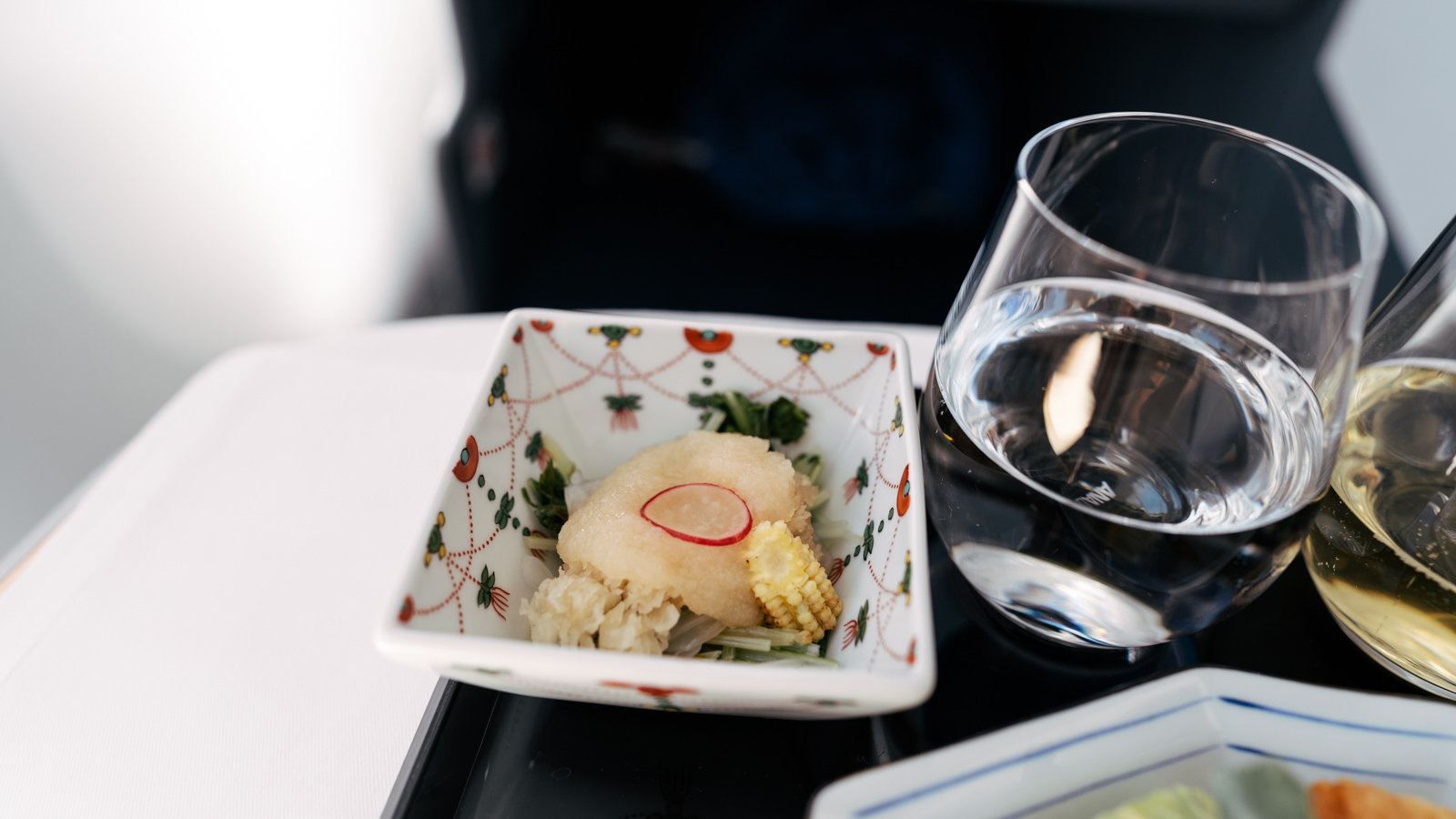 The second tray features the main course, which is actually a combination of two proteins.
Shusai (main course): Braised pork belly & grilled ocean perch with Saikyo miso
Accompaniments: Steamed rice, miso soup & Japanese pickles
Starting with the pork belly, the meat is lean and braised to the point of tenderness. Meanwhile, the grilled ocean perch is succulent. Both dishes benefit greatly from the umami notes of the Saikyo miso.
Dessert is a simpler affair with the choice of a citrus mango 'pudding', fruits, or a selection of cheese. I ask for both the mango pudding and the fruits – a refreshing way to end the meal.
Overall, ANA delivers what I consider to be one of the best approaches to Business Class dining – fresh, strong flavours and dishes that aren't too heavy, yet still satisfying.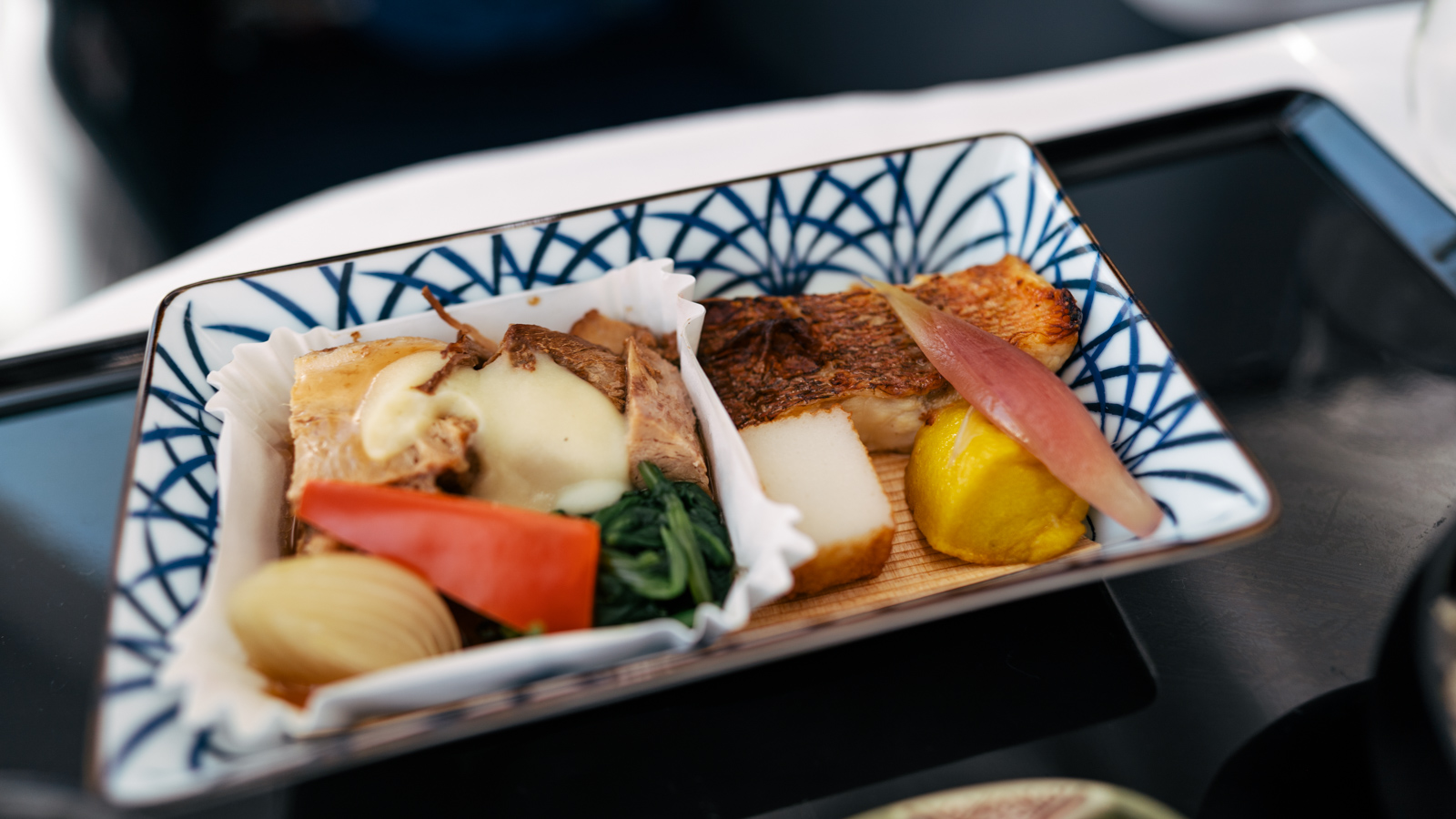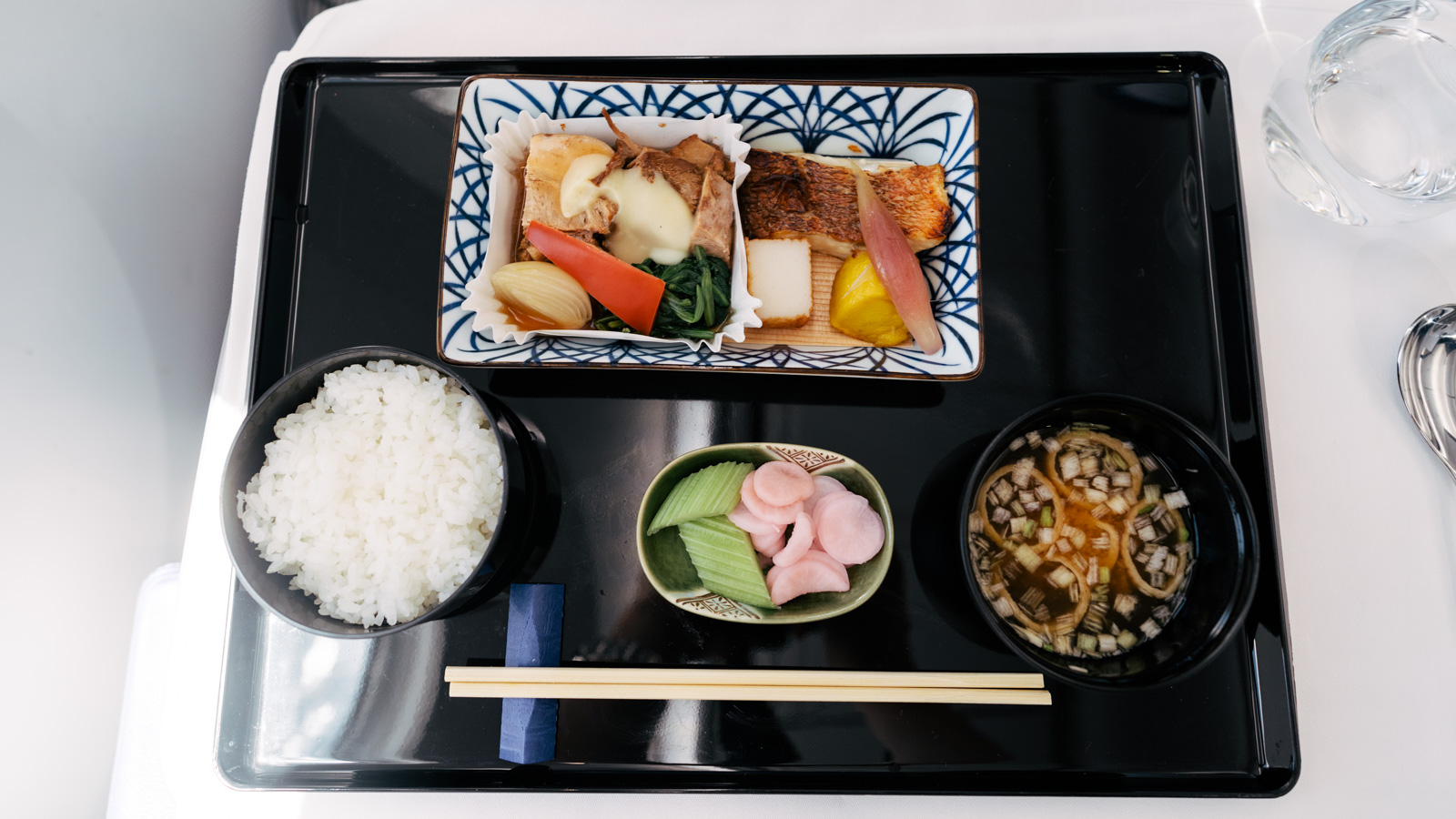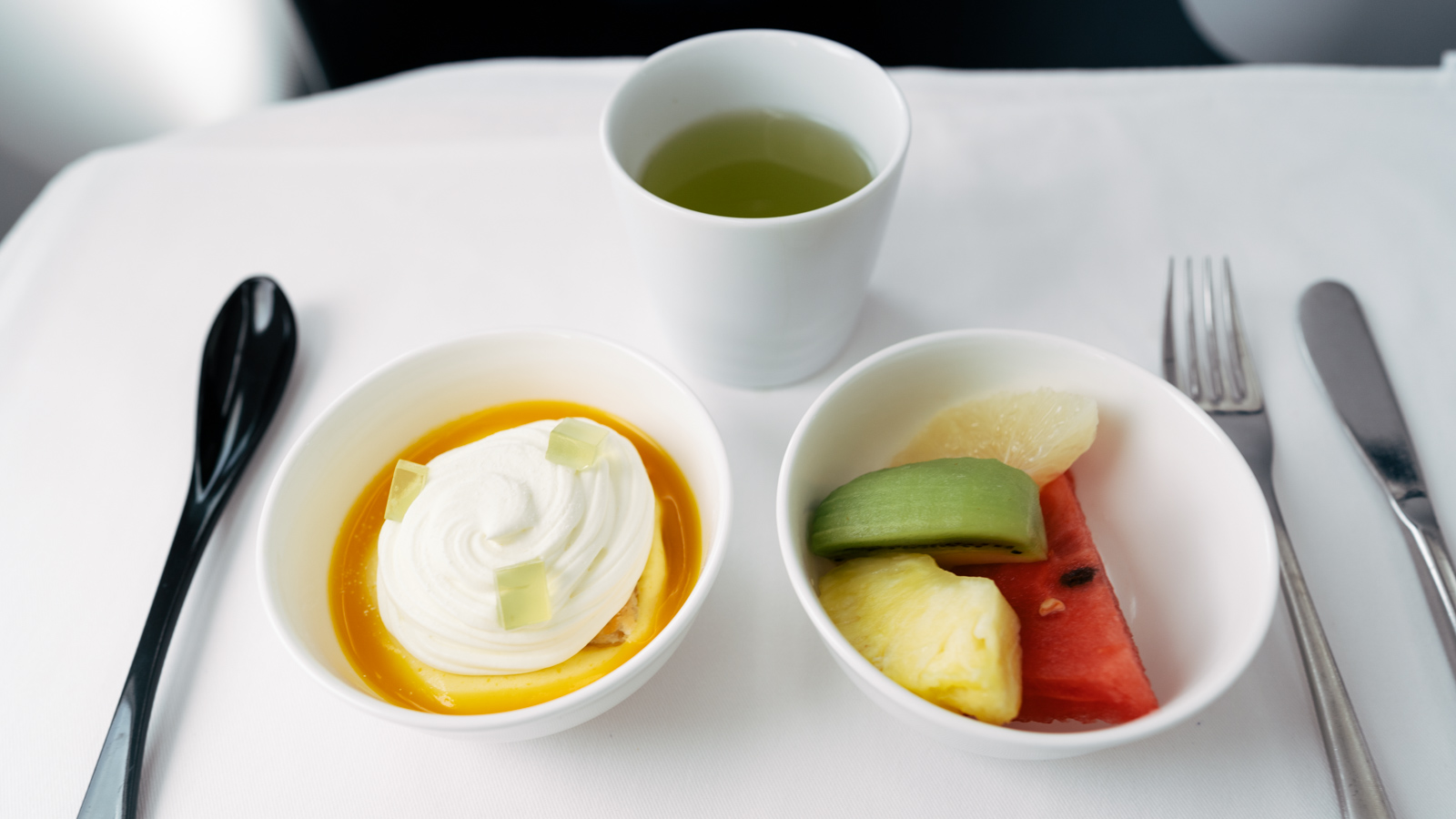 Mid-flight snacks and the pre-landing meal
After the main meal, the rest of the flight operates on a quasi dine-on-demand system. Anytime I'm feeling hunger pangs, I can order light dishes, soups, noodles, refreshments (such as cheese, Häagen-Dazs ice cream and fruits) and snacks (such as nuts and biscuits). There's also a Japanese and Western set menu option which is served as a pre-landing meal towards the end of the flight.
About five hours into the flight, I ask for one of the light dishes that catches my eye. It's a 'healthy' rice bowl with plant-based cutlet and konjac. Thick and juicy, the plant-based cutlet does greatly resemble pork (though not 100%).
Before landing, the Japanese set option of grilled sea bass with butter soy sauce sounds too good to pass up. It's just the right size for a pre-landing meal as well.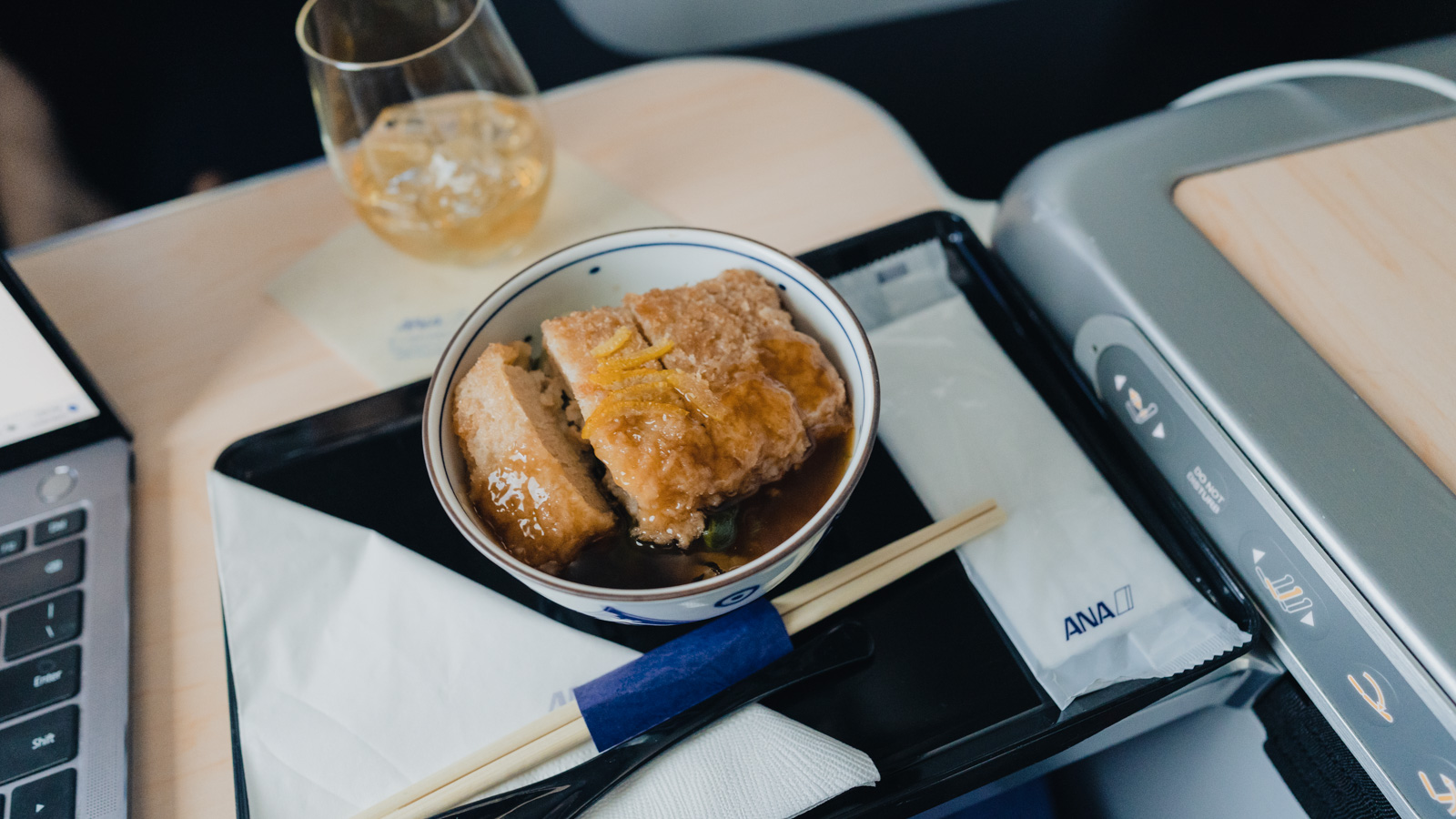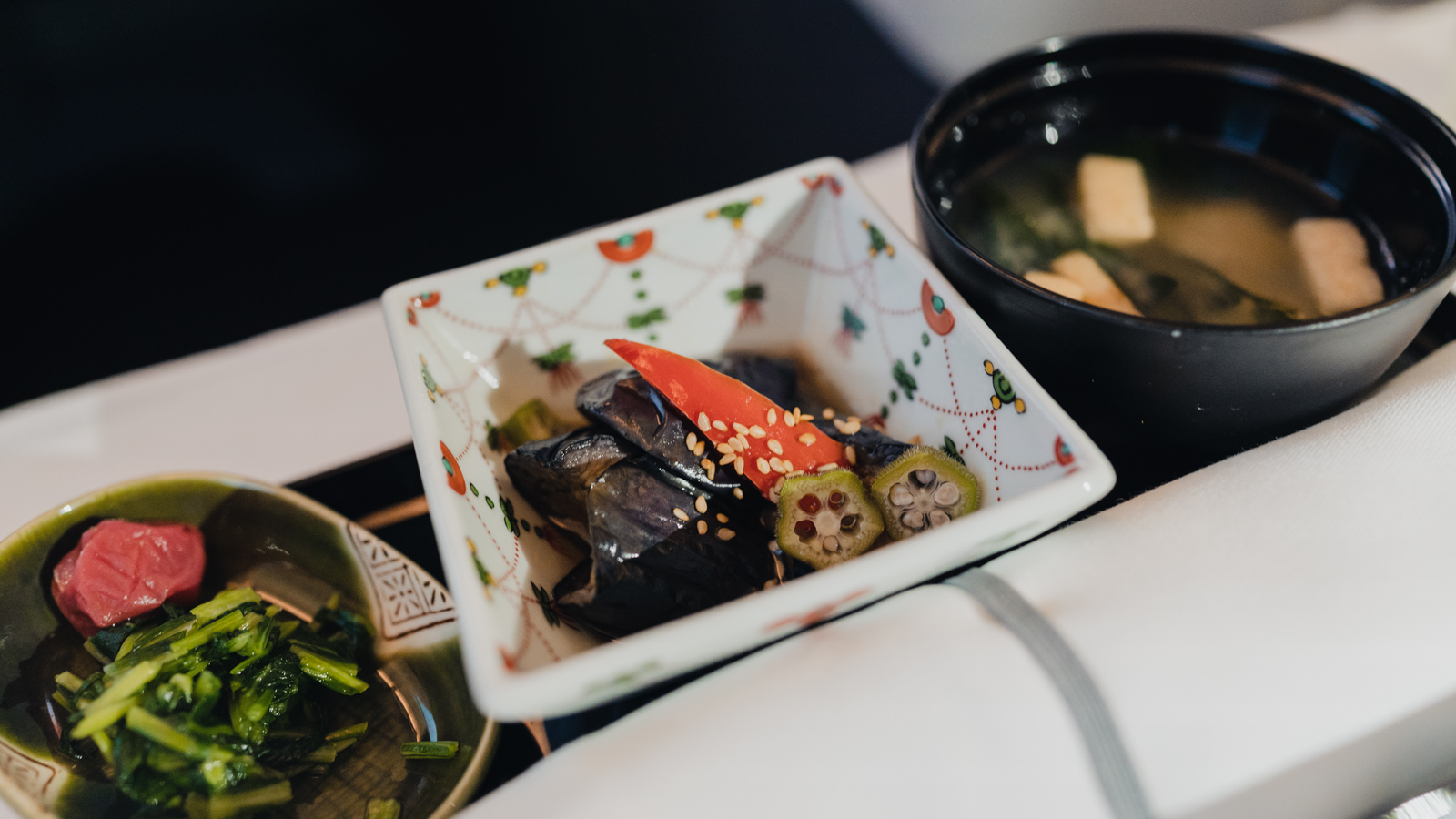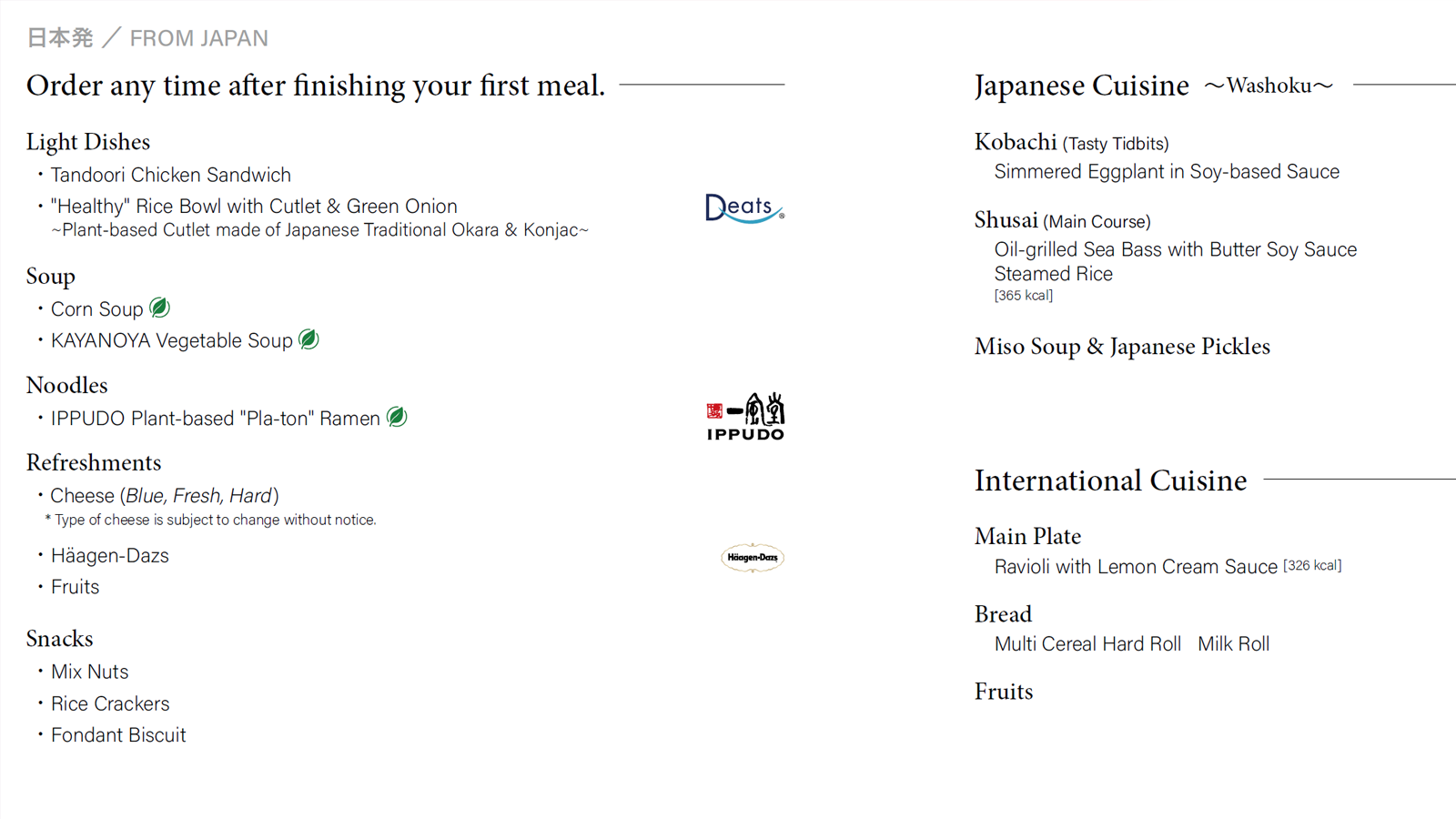 Beverages
ANA offers a pleasing range of alcoholic and non-alcoholic beverages onboard. The usual suspects on the menu include Champagne (Duval-Leroy), whisky and spirits (Suntory Hibiki is a standout), basic cocktails and a wide range of Japanese beers. There are also two red and white wines as you'll see in the menu below.
But for the most authentic experience, I highly recommend you check out the range of sake and shochu that ANA pours in Business Class. Retailing at about AU$230 a bottle, the Yamagata Masamune Kurenai is incredibly smooth and dangerously drinkable. It, of course, pairs brilliantly with the Japanese washoku as well.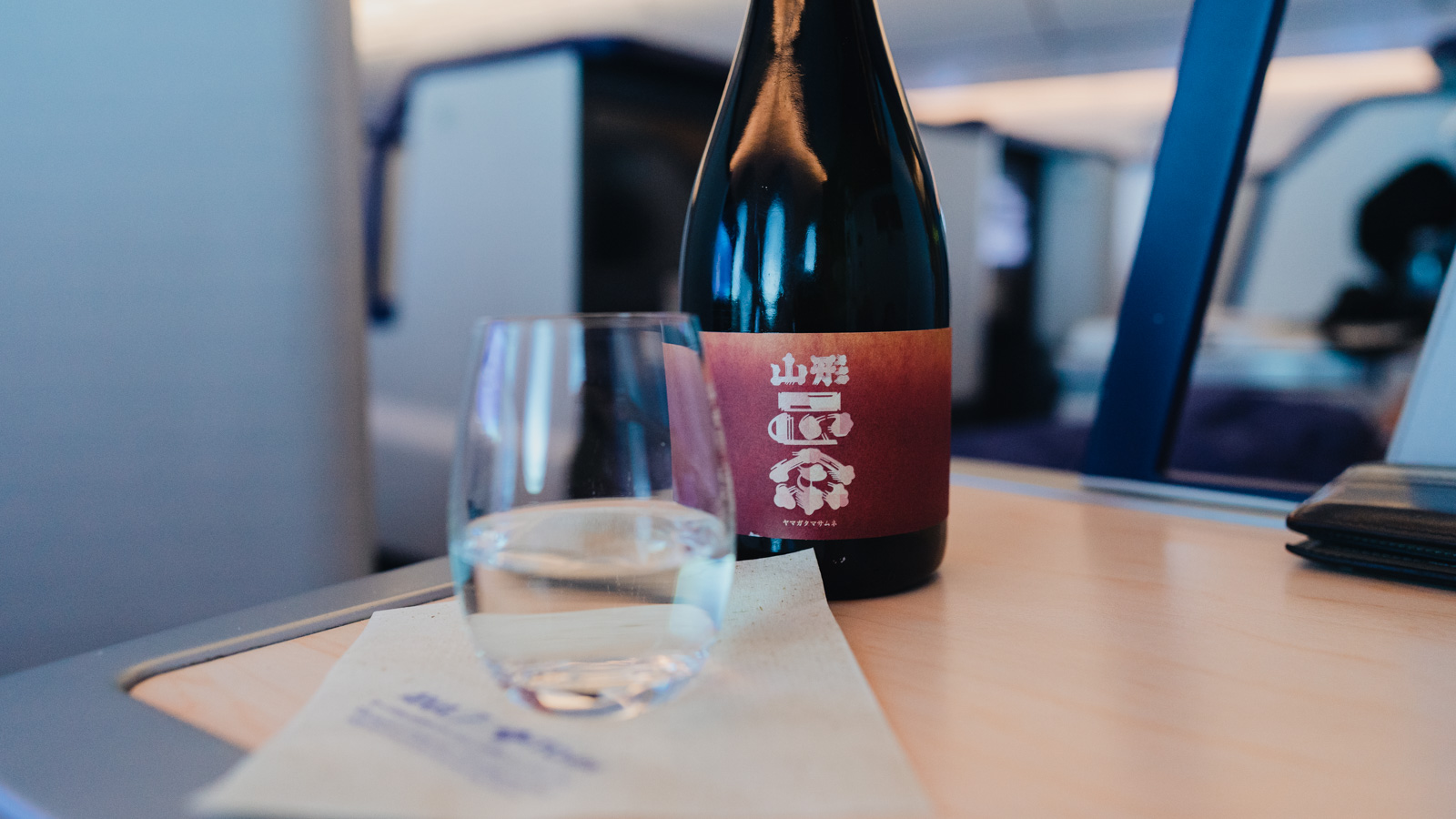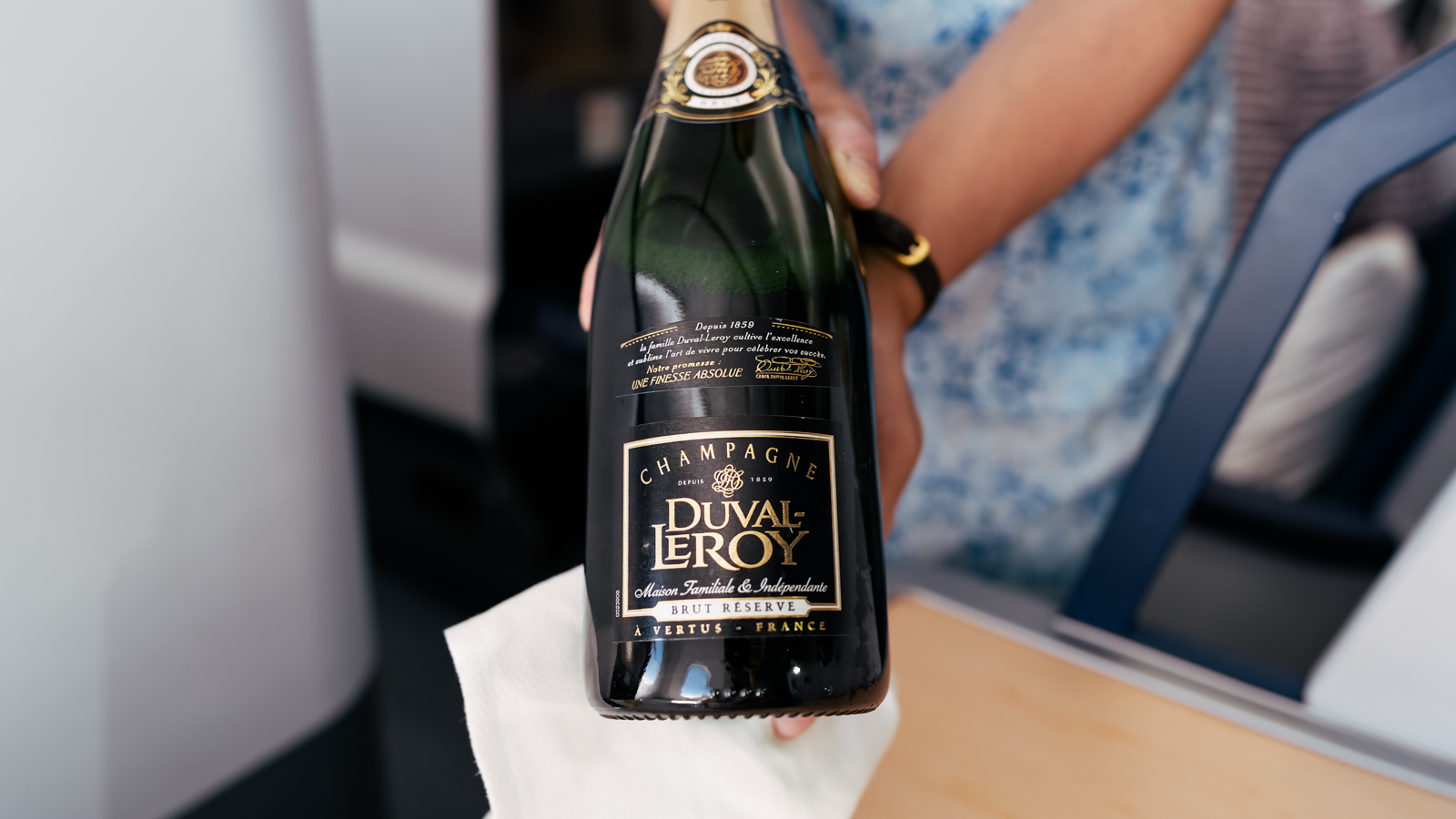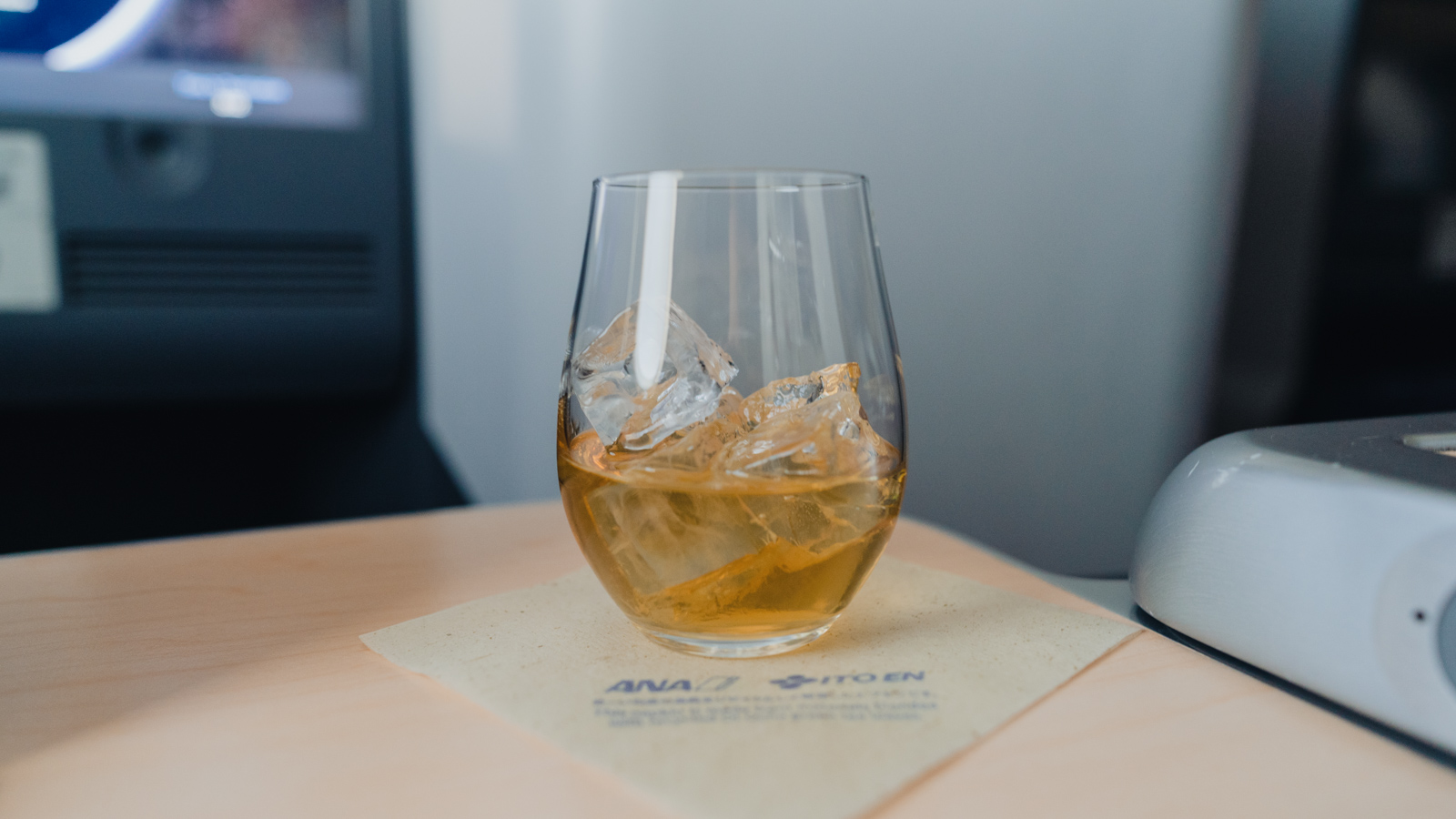 Apart from the pre-departure Champagne being served in plastic, the rest of the beverages are served in proper (though stemless) glassware.
I tend to migrate to non-alcoholic beverages towards the end of the flight so I don't step off with a hangover. On this front, ANA has plenty of options well. The aromatic Kabosu (Japanese citrus) juice is sweetened slightly with honey and proves to be very refreshing. The selection of green teas is impressive as well.
ANA Boeing 787 Business Class amenities
Pyjamas and amenity kit
ANA offers pyjamas in Business Class, but they are collected at the end of the flight, presumably to wash and reuse. (For reference, JAL does this as well). They're made of breathable marle cotton and feel a bit more premium than other similar airline PJs that you can take home. Slippers are available at each seat as well.
I initially mistake the smart-looking amenity kit to be from BRICS at first glance. But it's actually a design from the British brand Globe-Trotter. Inside are the usual amenities such as a toothbrush and toothpaste, but also a yuzu lip balm and face mist from cosmetics brand Shiro.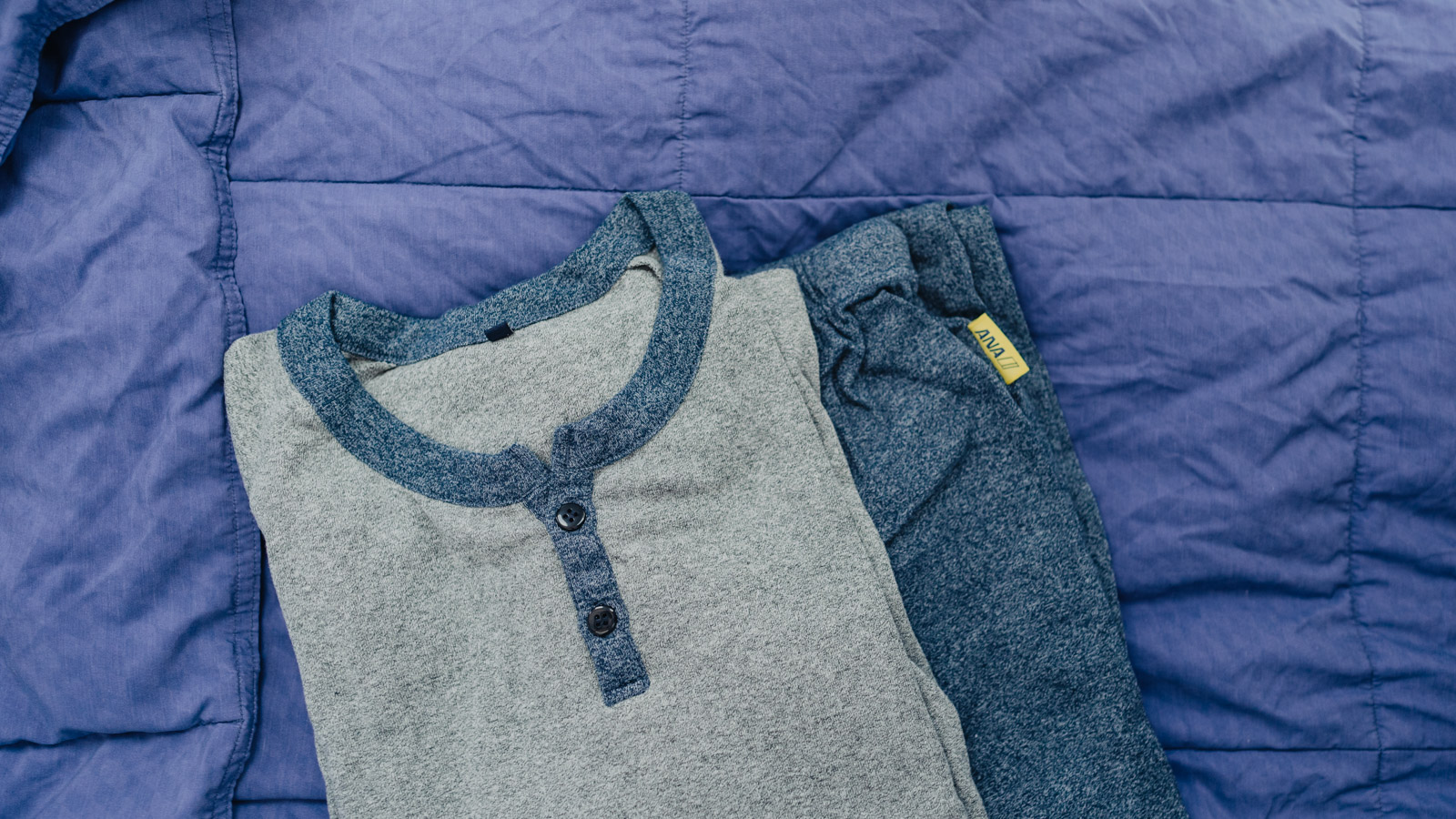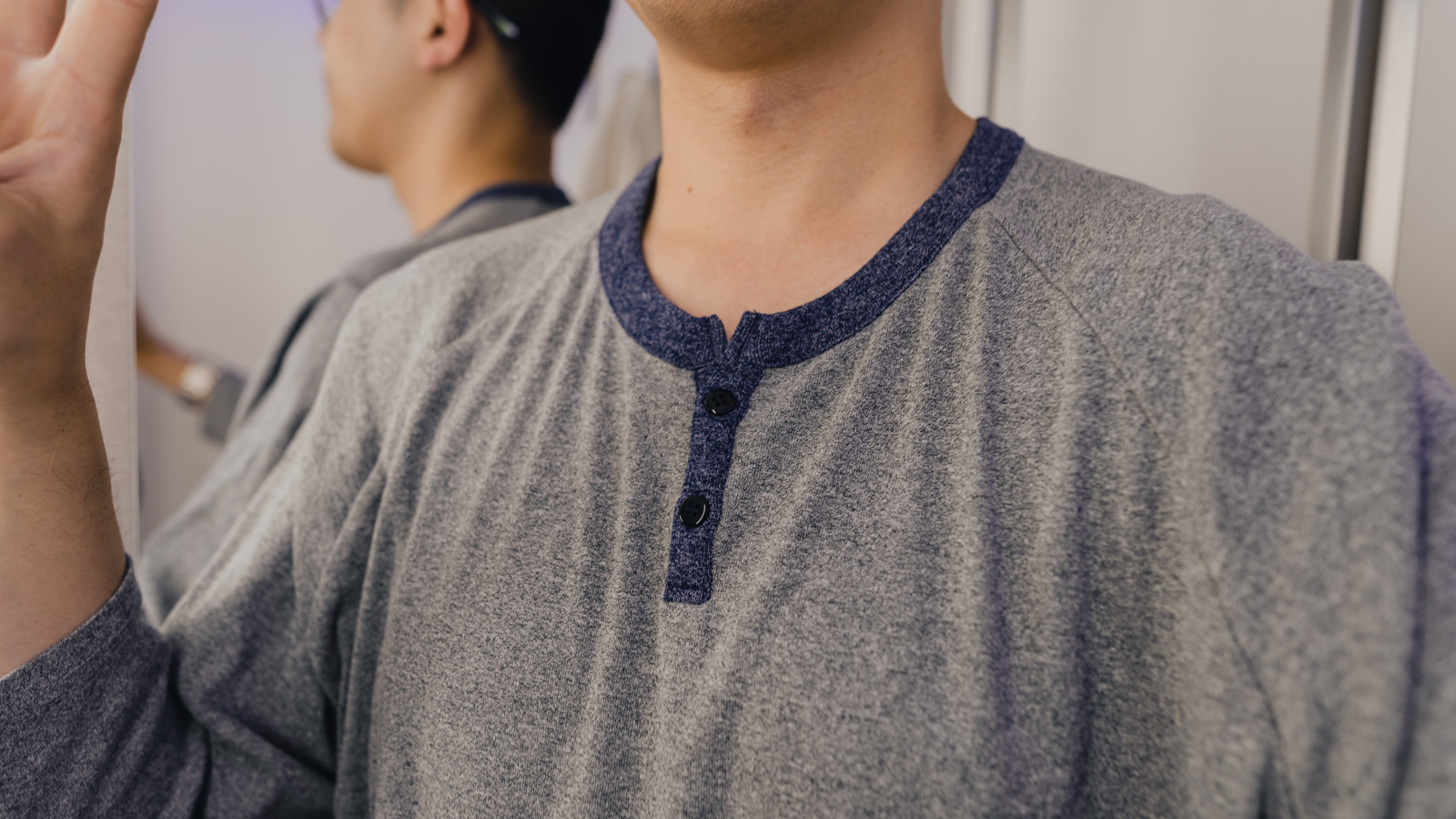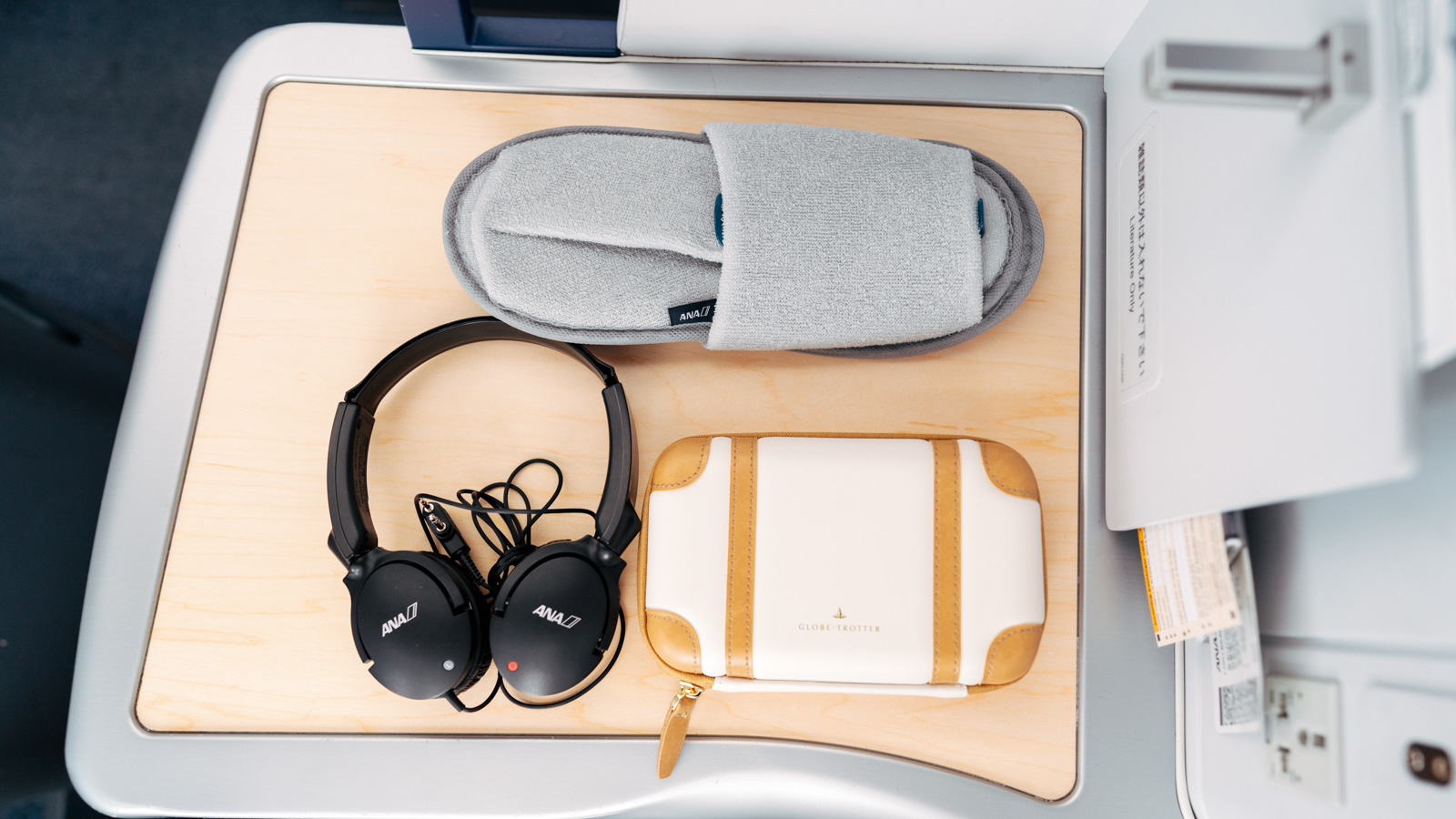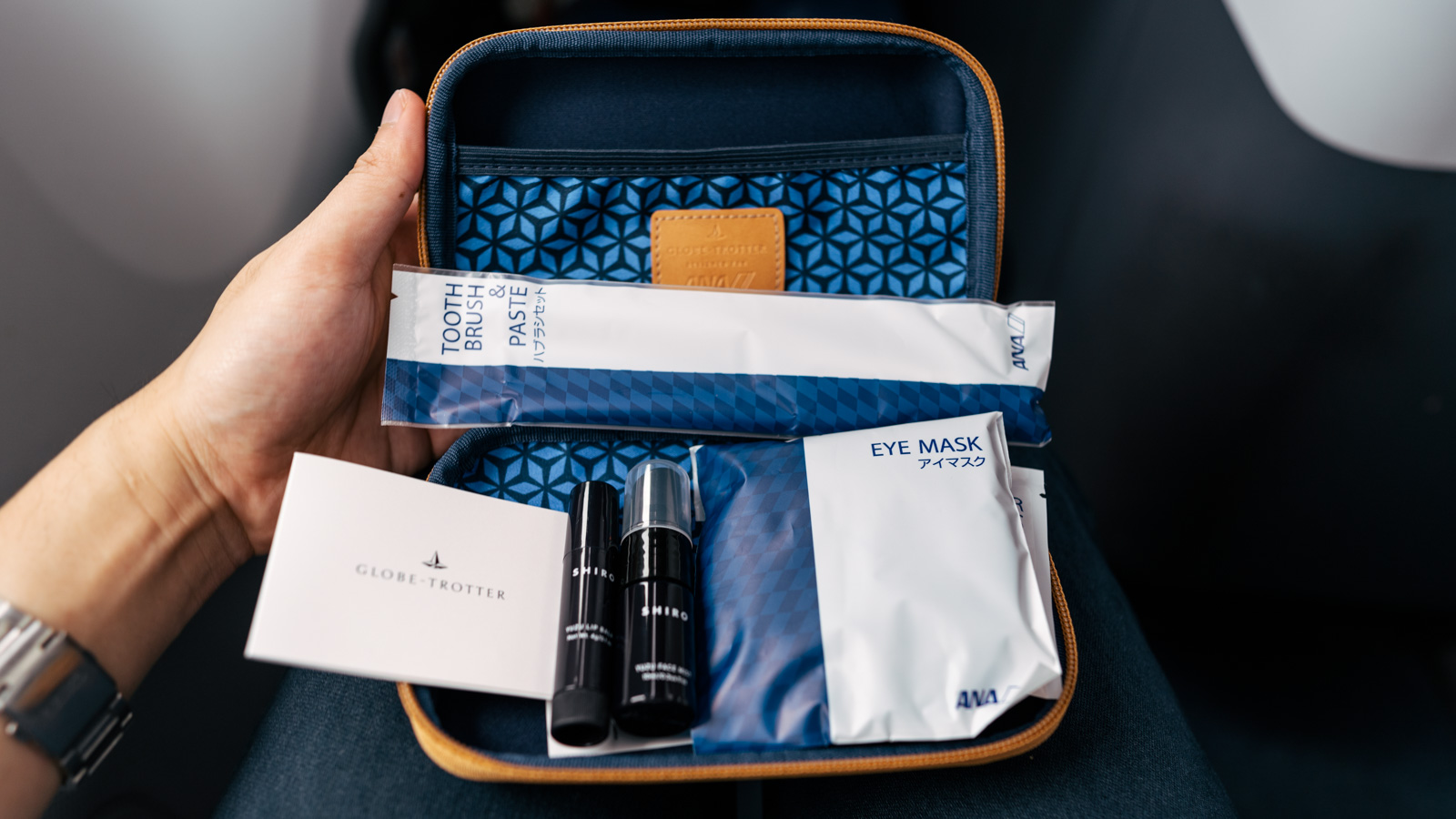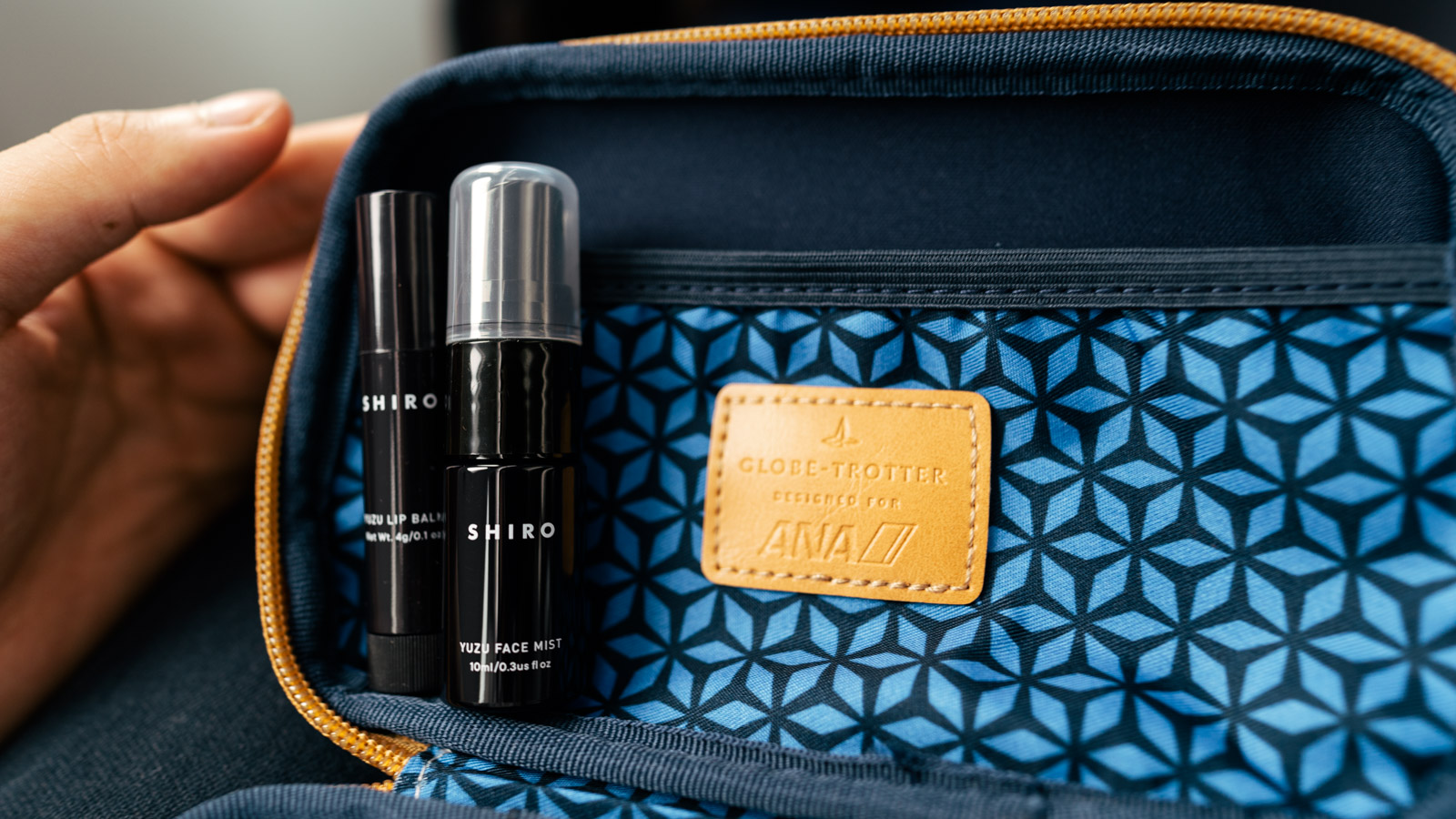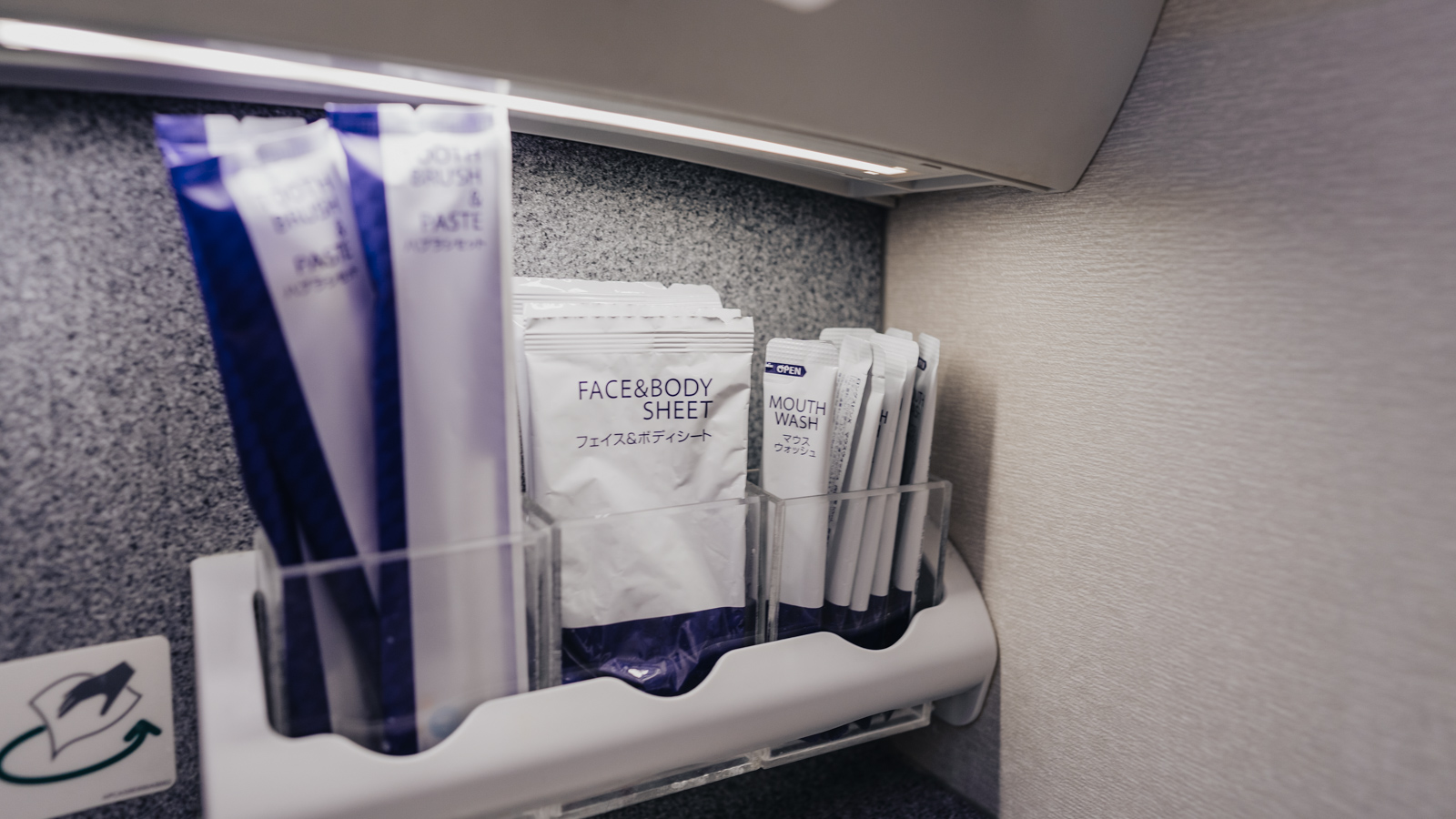 The lavatories are stocked with essentials such as dental kits, mouthwash and even moisturising face and body sheets. And yes, they're all equipped with Japanese-style electronic bidets!
Inflight entertainment
Being a flight that takes up the equivalent of a full working day, I spend most of the trip catching up on work. But if you need some downtime, the ANA SKY CHANNEL system beckons. The interface on the Boeing 787-9 is clunky and outdated, but it works without being too slow. Expect a small range of new-release and Hollywood movies, live TV and assorted TV episodes (but not full seasons). There is quite a bit of Japanese programming too, if you're interested.
Towards the end, I kick back and rewatch The Incredibles 2 for some light-hearted relaxation before we arrive in Sydney. Browse the latest inflight entertainment guide on the ANA website. Noise-cancelling headphones are provided.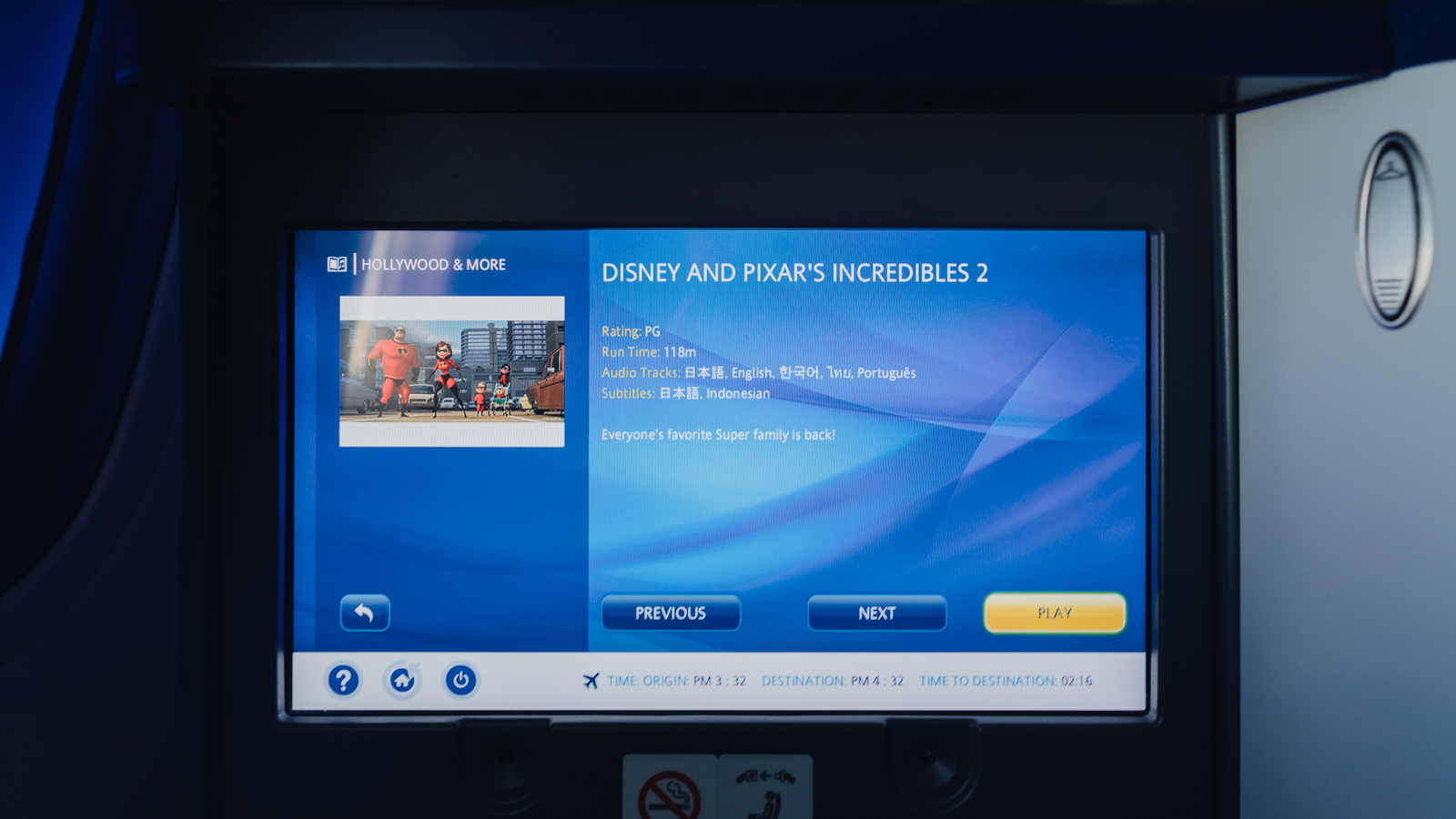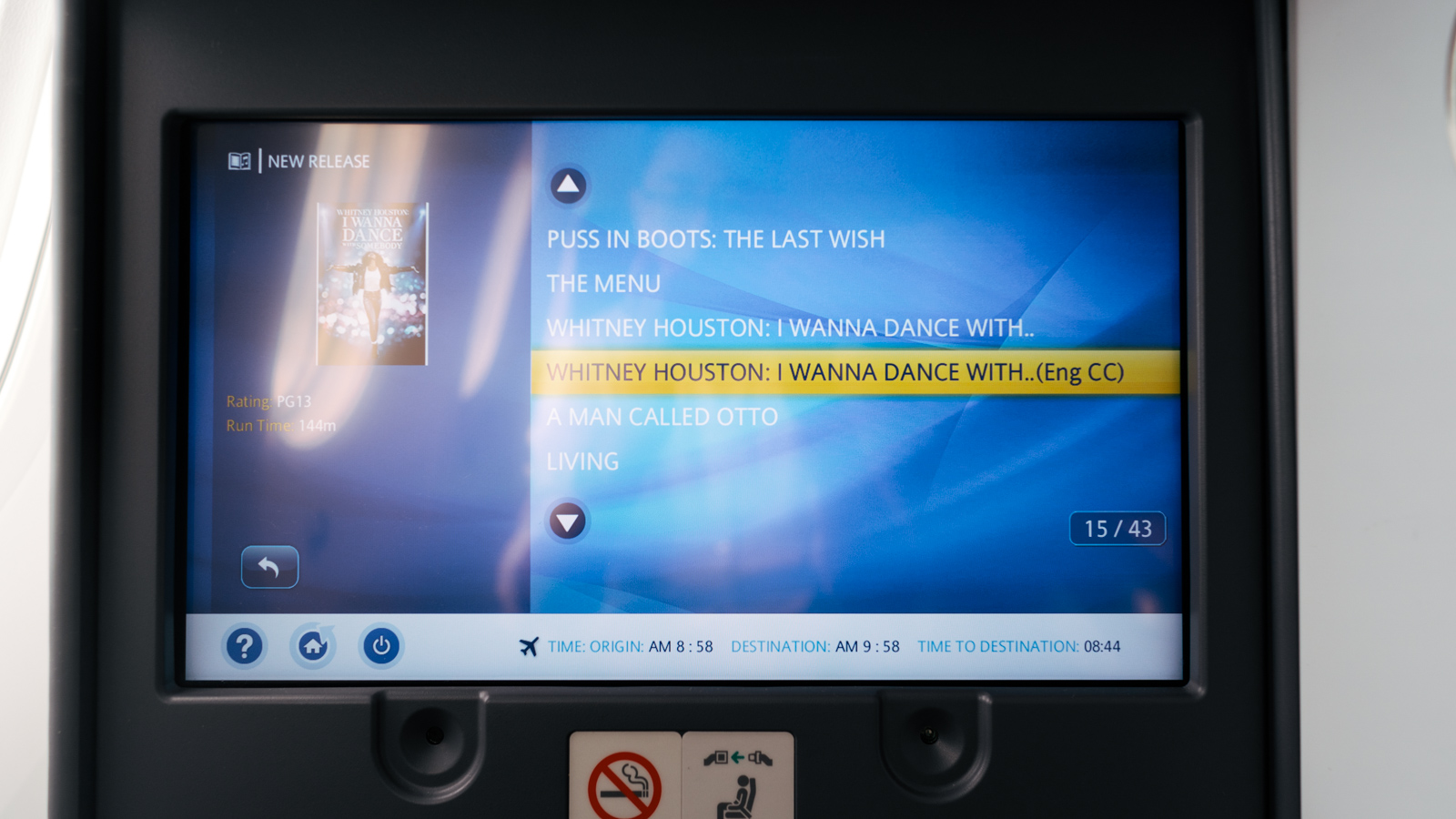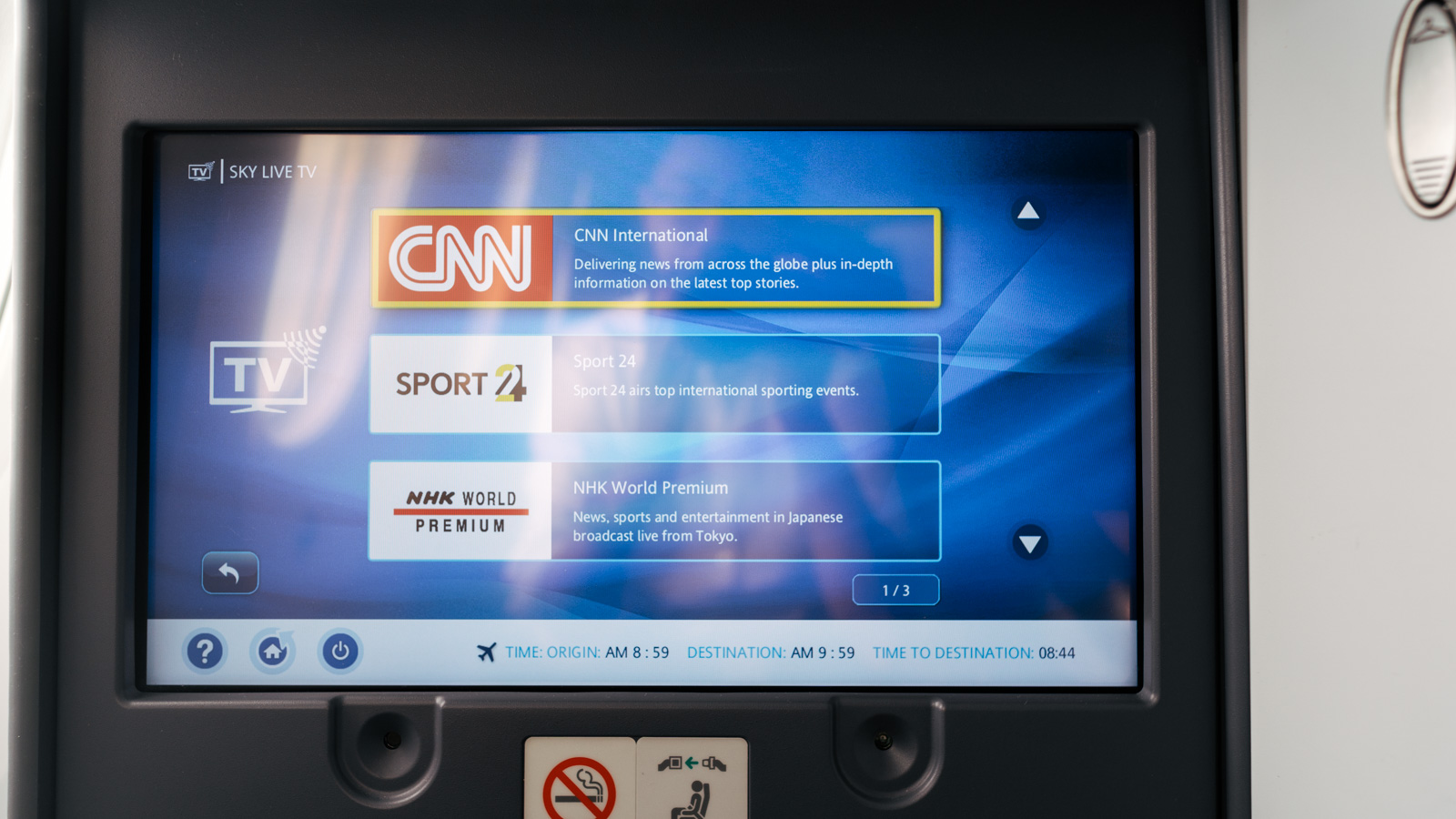 Inflight Wi-Fi and working
ANA's Boeing 787-9s are equipped with Wi-Fi that works throughout the whole flight. I've got plenty to do to keep me occupied without needing the internet, but I purchase a 30-minute plan towards the end just to test it out. The plans are pleasingly time-based rather than data-capped, with the prices below:
30 minutes: US$6.95
3 hours: US$16.95
Full flight: US$21.95
If you know you need connectivity, I'd suggest getting the full flight plan as soon as the Wi-Fi is turned on after take-off as that offers the best value. However, plans are only valid on one device. You can't switch between a phone and a laptop, for instance, so be sure to purchase the plan on the device you intend to use throughout the flight.
In contrast, most other Wi-Fi services I've used allow switching of devices (though you can only use it on one device at a time). There is no free allowance for Business Class passengers, unlike with Singapore Airlines.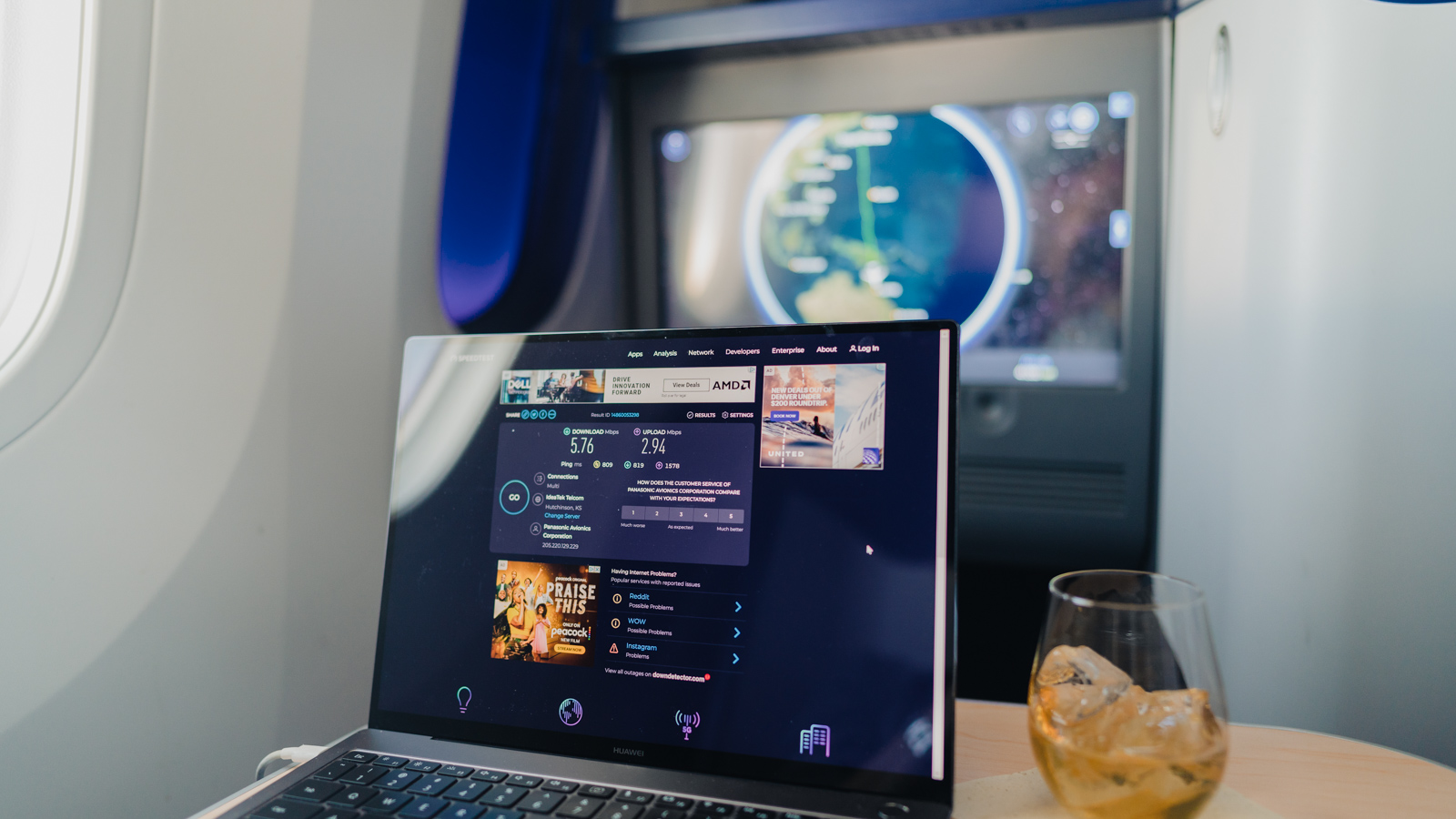 The good news is that speeds are decent – 5.76 Mbps down and 2.94 Mbps up. The swing-out tray table is very sturdy and I don't experience much wobble or bounce when typing. I certainly have no problems being productive (and comfortable) in this Business Class seat.
How to book this flight with points
ANA is a Star Alliance member so you can use the points or miles from any other Star Alliance partner to book this flight. Virgin Australia is also a partner of ANA and you'll be able to use Velocity Points on ANA soon in the second half of 2023. Here's a quick summary of how you can book this flight (taxes are approximate).
For anyone with access to Velocity Points, using 78,000 points will likely be the easiest way to redeem this flight. We just need to wait for ANA reward bookings to come live on the Virgin Australia website.
---
Start building your Velocity Points balance to fly to Tokyo!
---
If you have points in American Express Membership Rewards, you'll only need 90K MR points to transfer to 45K Virgin Atlantic Flying Club points to book this award. That's better than transferring MR points to Velocity or KrisFlyer to book ANA. But you'll need to call Virgin Atlantic to make the booking.
Otherwise, you could look into buying Avianca LifeMiles or Air Canada Aeroplan points on sale. Here's how we booked this trip for around AU$930, all-inclusive:
Buying 40,000 LifeMiles on sale: US$561
Paying taxes on the flight: US$51.9
Paying LifeMiles award booking fee: US$25
Total: US$627.9 or ~A$929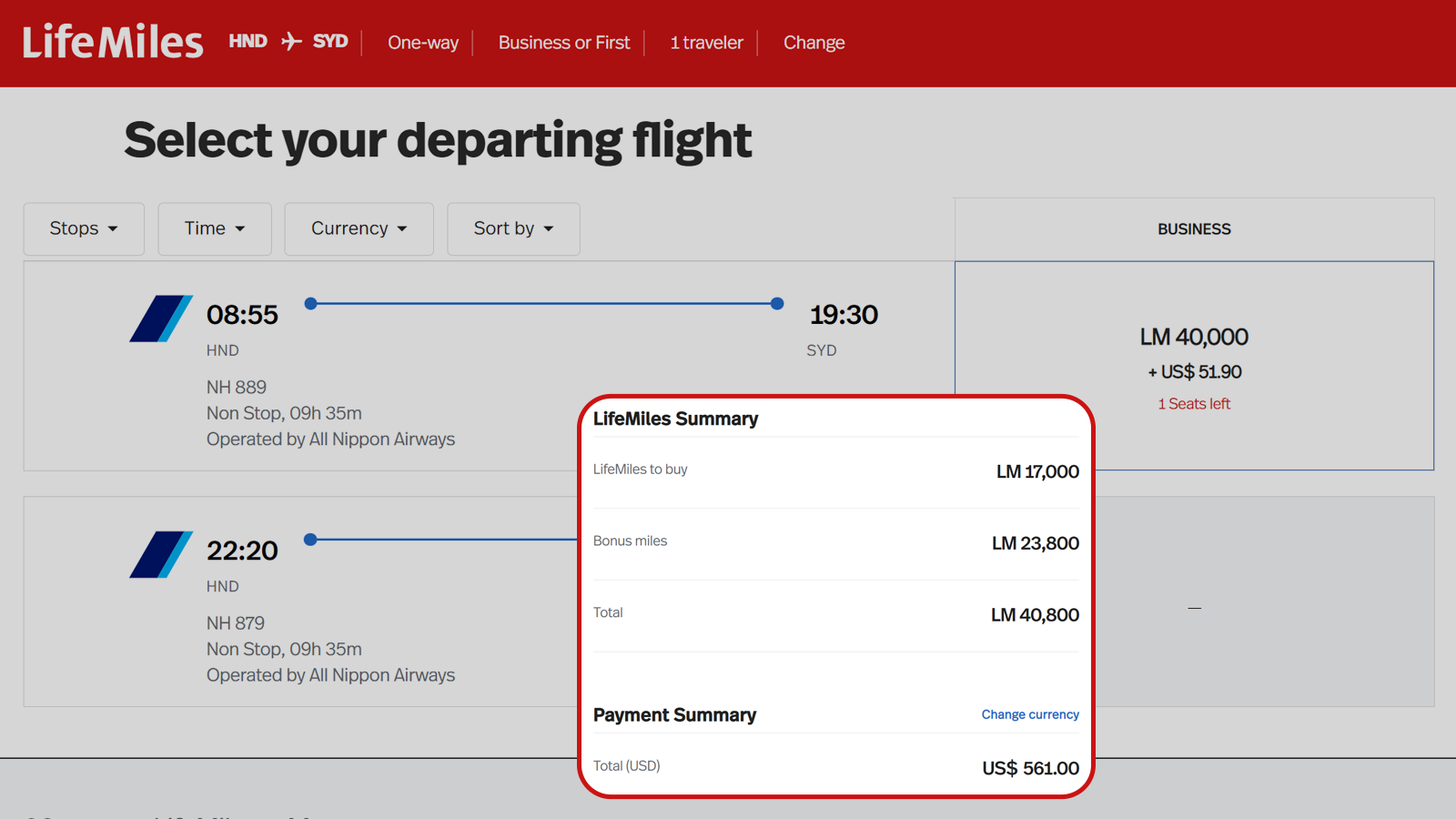 Summing up
The flight from Tokyo to Sydney is just under 10 hours and it can feel like a drag if you're not having a great time. It's no surprise then that I feel like the time passes effortlessly while I'm on board.
Between excellent food and beverage, and a comfortable seat that's equally suited for napping and working, I arrive in Sydney feeling like I've had a very productive day – that's really the point of Business Class.
ANA's Boeing 787-9 Business Class cabin isn't exactly groundbreaking. Increased privacy and a better inflight entertainment system would help. But it does still tick all the important boxes – direct aisle access and fully-flat beds. Add friendly and warm service from the cabin crew and you've got a winning combo.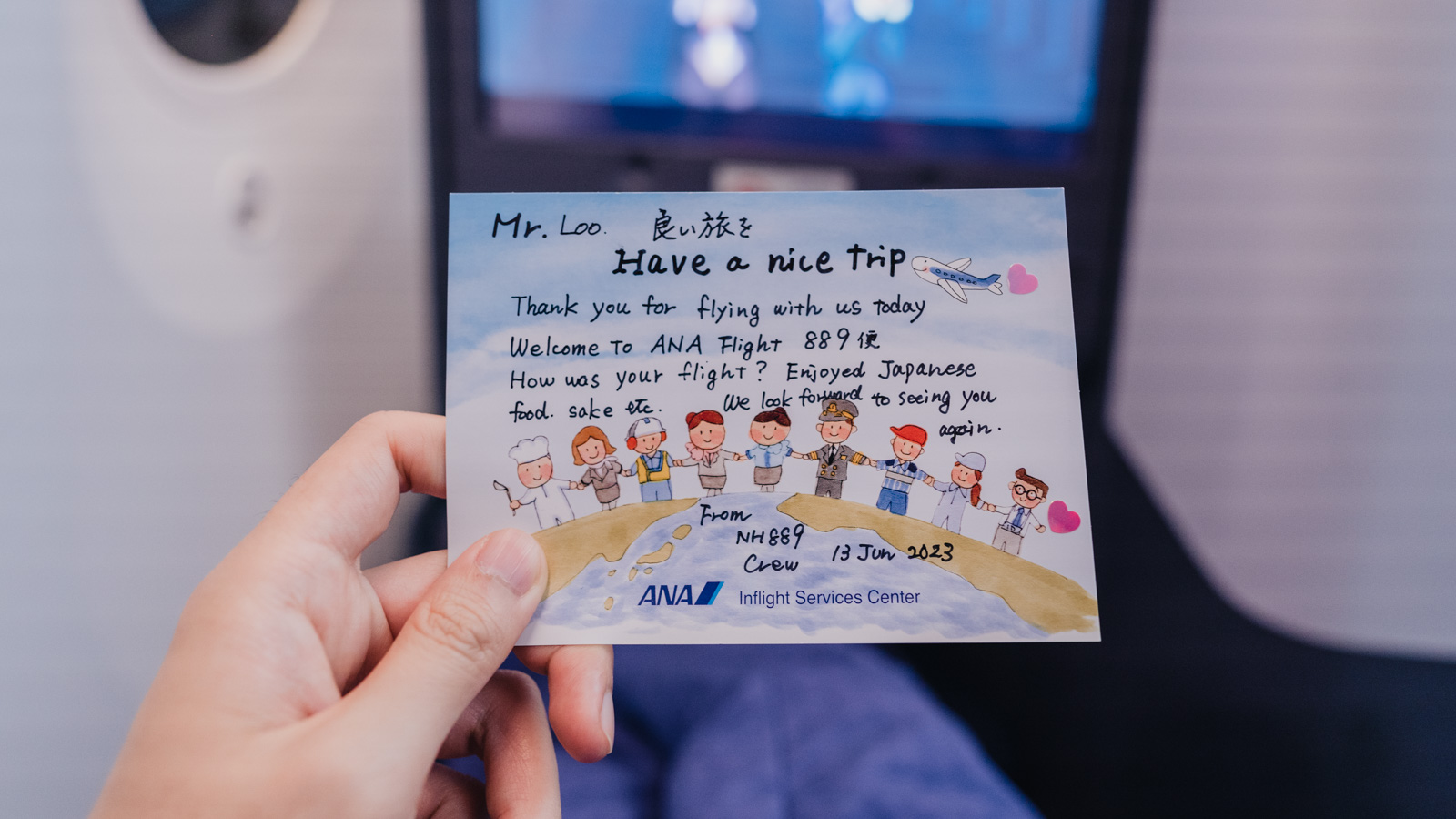 Photography by Brandon Loo, who travelled around Japan at Point Hacks' expense.
---
Stay up to date with the latest news, reviews and guides by subscribing to Point Hacks' email newsletter.
ANA Boeing 787 Business Class (Tokyo – Sydney)
was last modified:
August 2nd, 2023
by