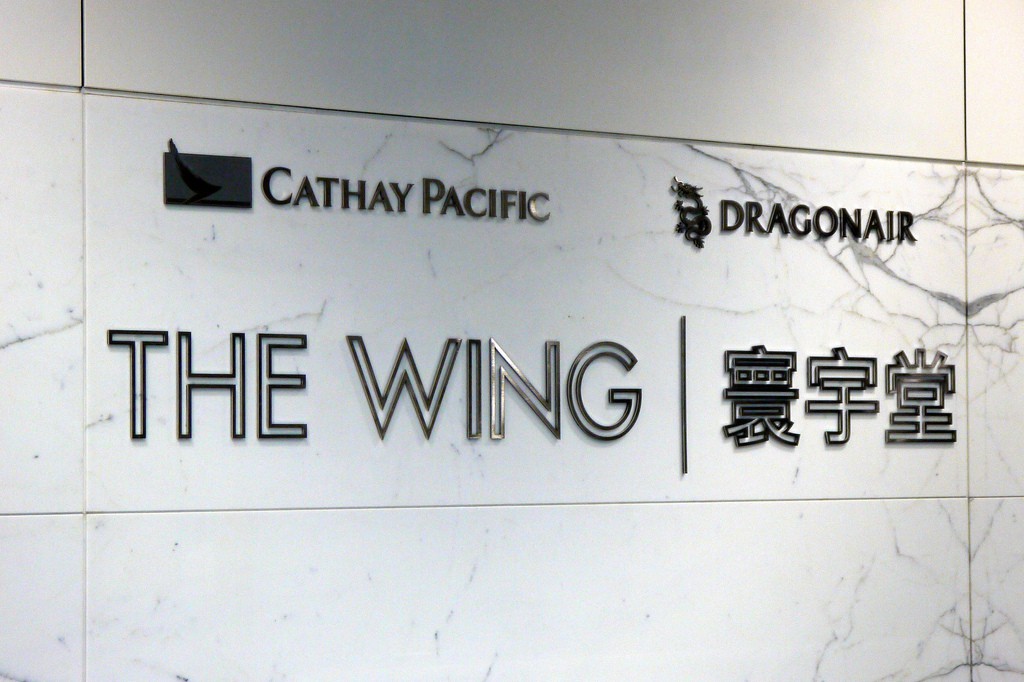 Cathay has 3 major lounges at HKG – The Wing, The Pier (both with Business and First Class sections), and The Cabin (Business class only). On my return to Sydney, I was able to access both The Wing and The Cabin thanks to my Qantas Gold status, and a 2 hour delay which meant me spending around 7 hours at HKG all up, of which I spent a couple in The (new) Wing.
I actually visited the dedicated Qantas lounge first that day, but I'll post a review of The Wing before as it literally only reopened to the public last week (the first week of February) – and it was a hell of lot nicer, as you'd expect from one of Cathay's prime home-port lounges.
I'll let the pictures do most of the talking in this review; the lounge's design was really something to behold – up there with the Qantas First Class Lounge in my opinion.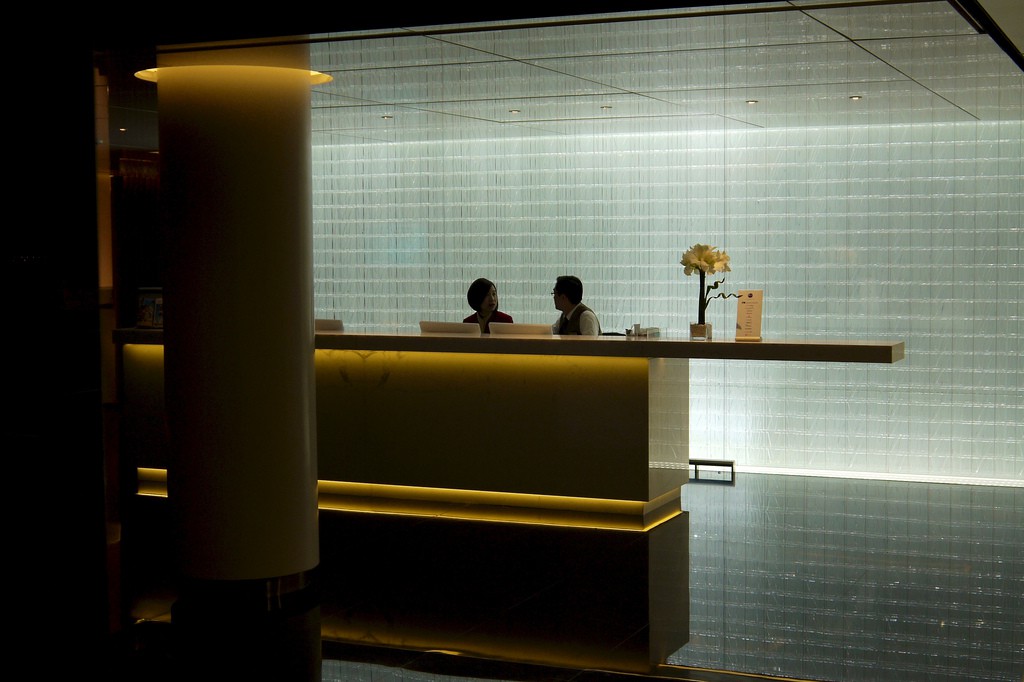 The Wing Main Reception is near Gate 3, a fair walk from most of the gates. Go through security, head left, and keep walking. Then walk some more.
There's an upstairs and downstairs section. After heading up one floor in the lift, you arrive at the other reception.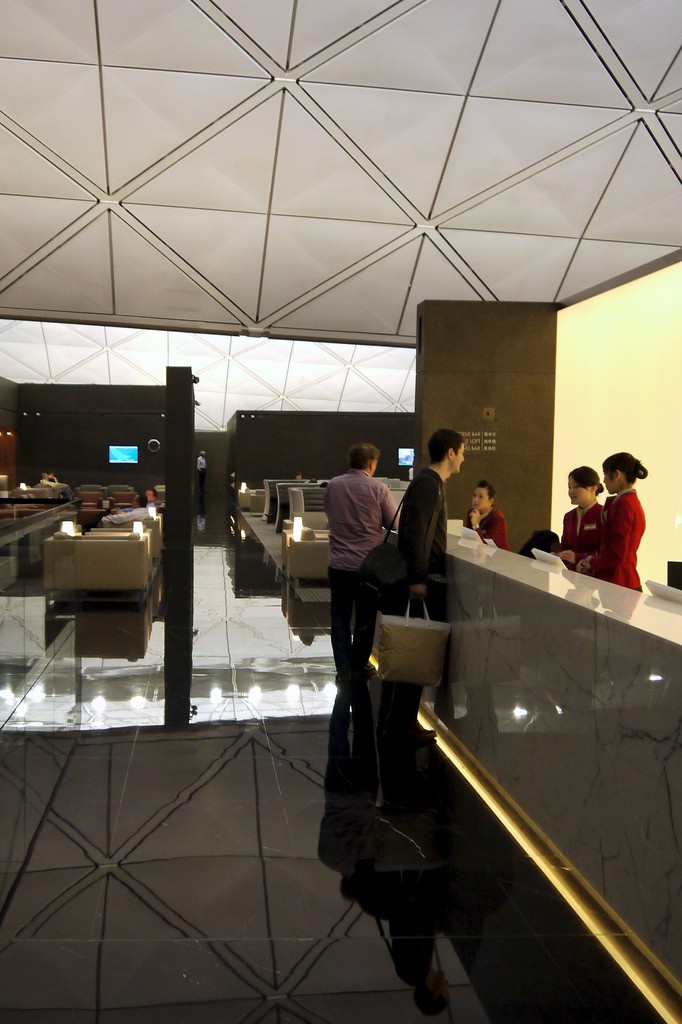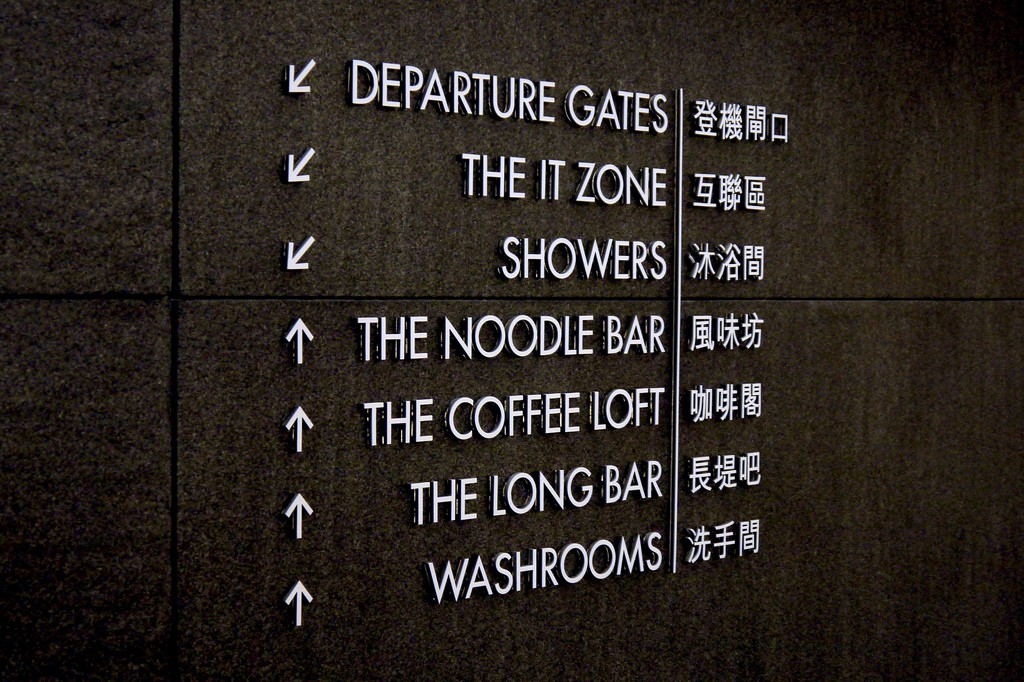 There's a decent amount of signage to keep you orientated, all silver outlines on the dark stone walls.
The Coffee Loft
I decided to check out The Coffee Loft first.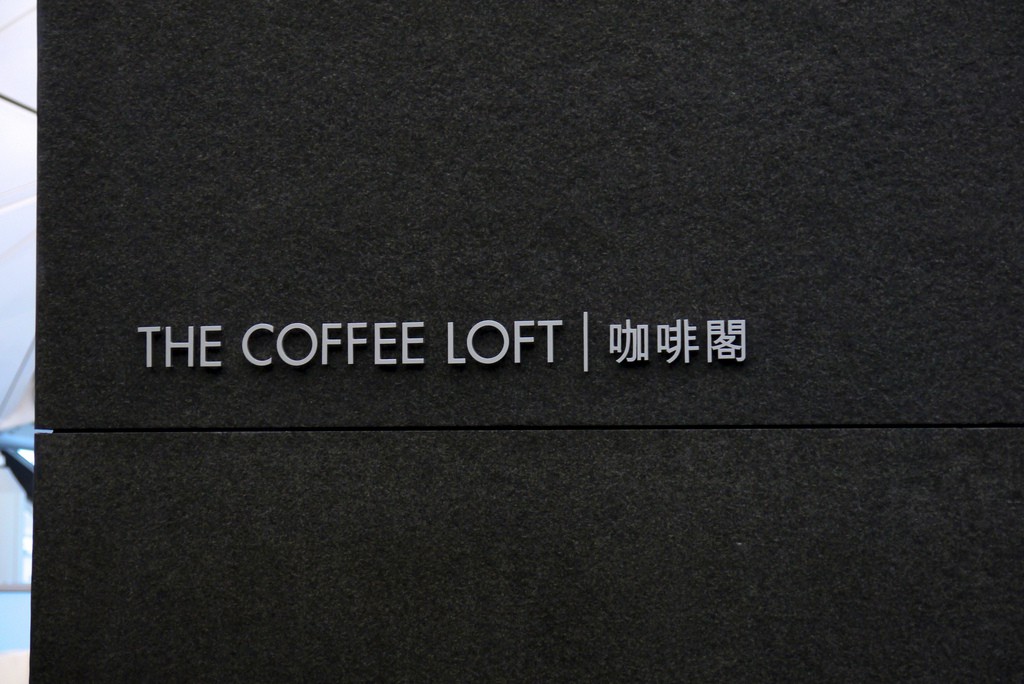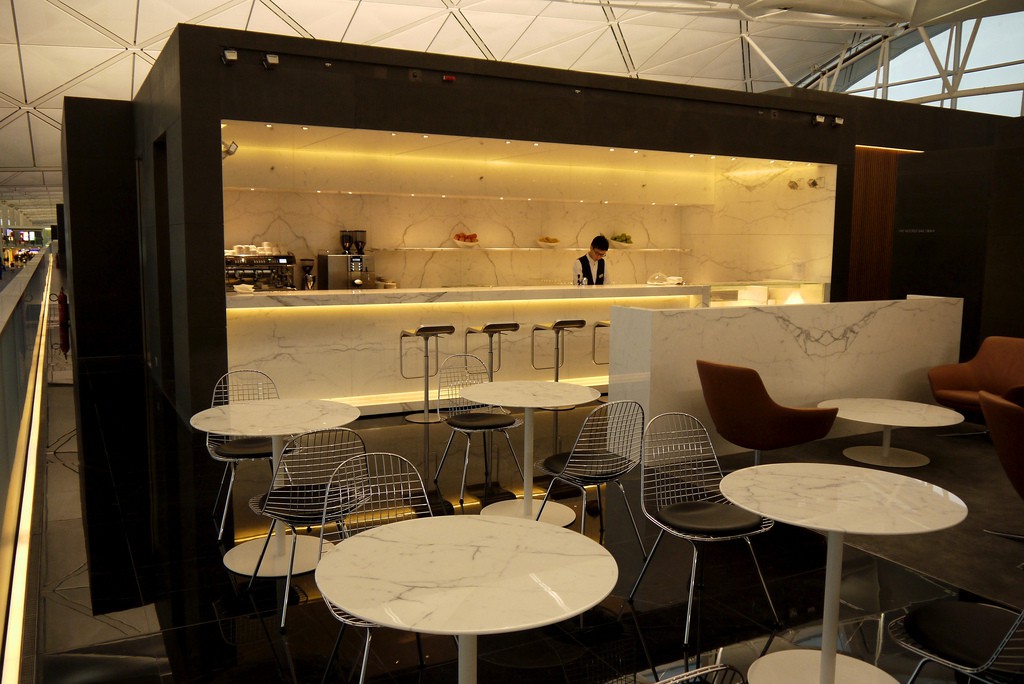 It's staffed by a barista, serving coffee to order as well as sandwiches and pastries. I took a seat at a bar overlooking Gate 3.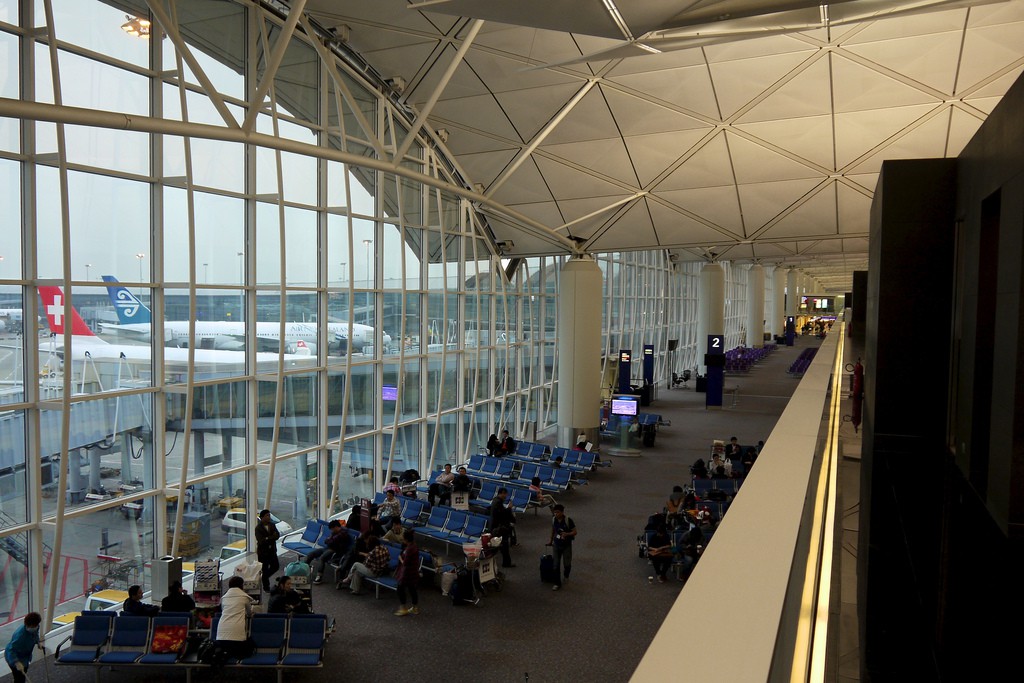 I actually moved off to grab some noodles after people-watching for a few minutes, but came back later on to grab a coffee and cake.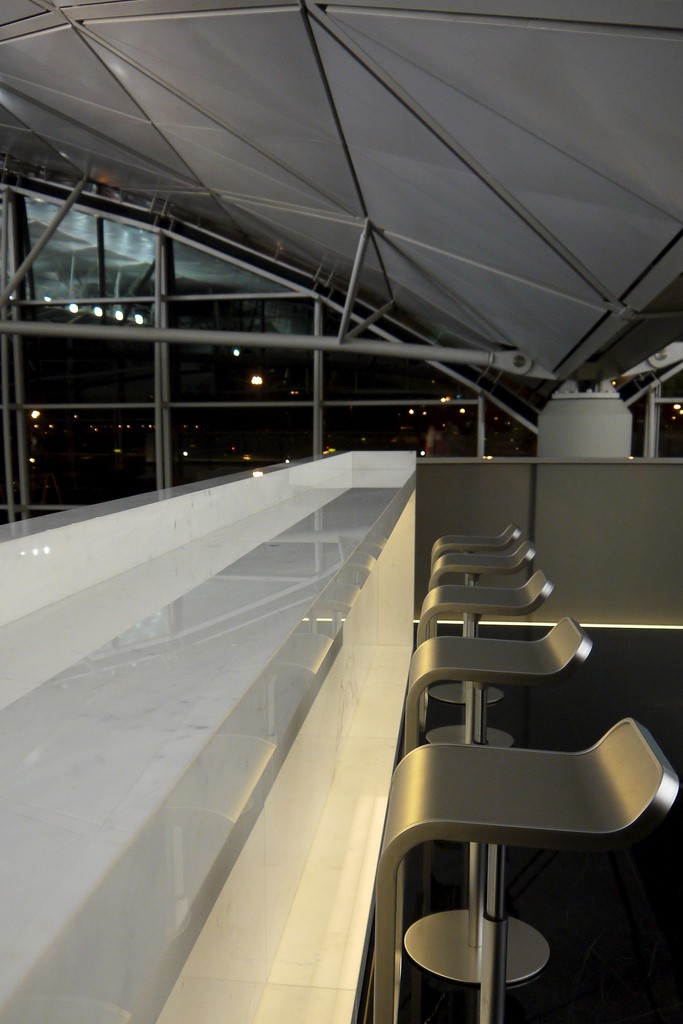 The seating, like in most of the rest of The Wing, is highly designed leather or metal pieces.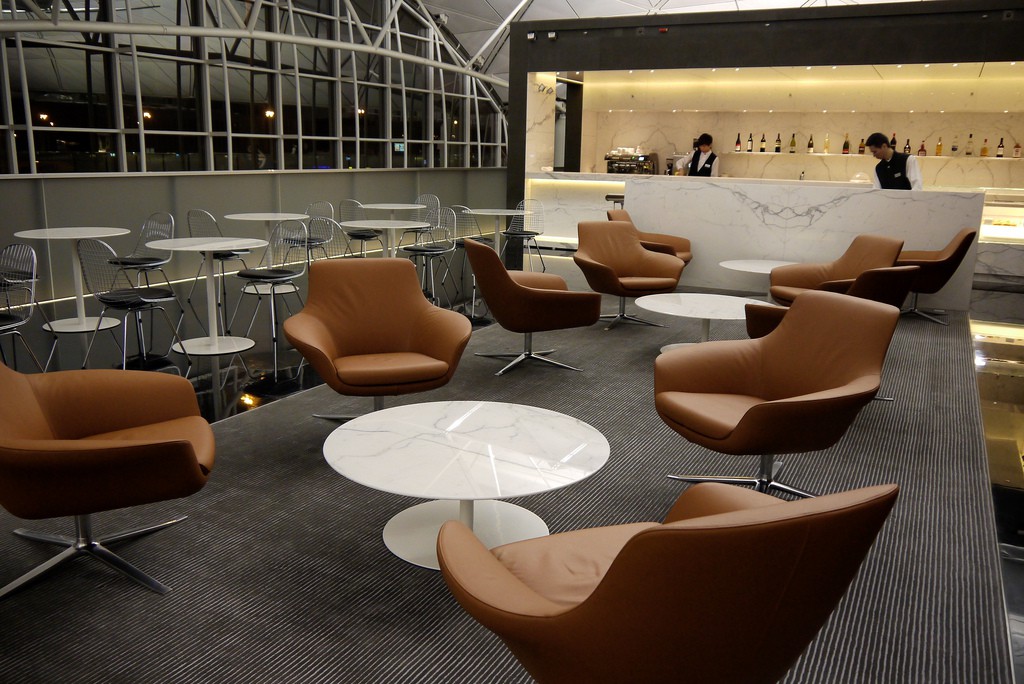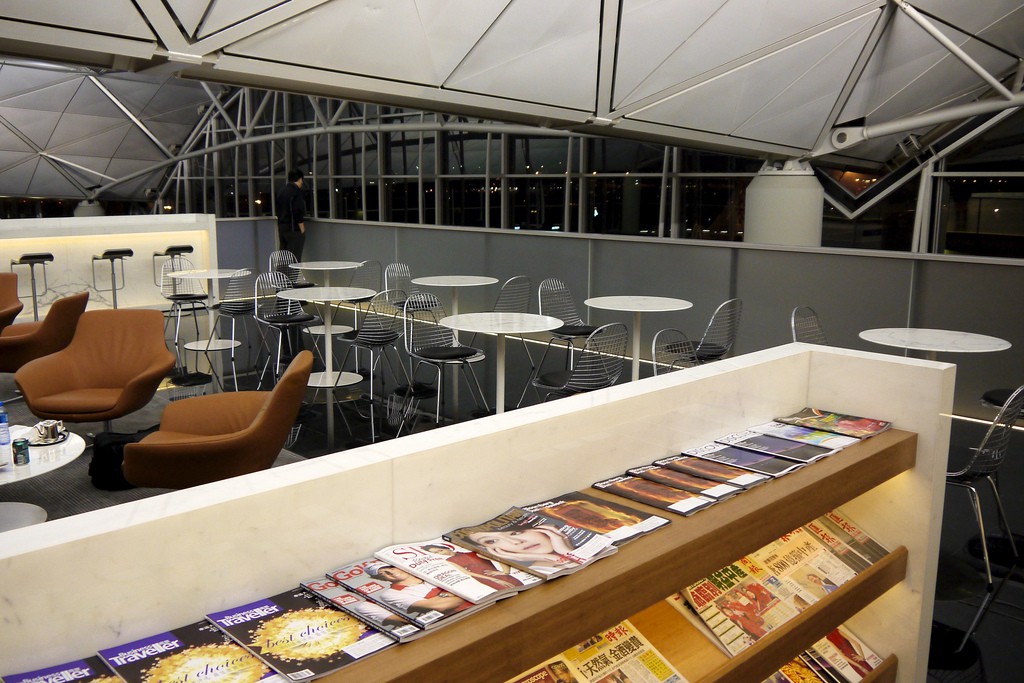 There's also a wide selection of reading material. If you have computing to get on with, place yourself near the wall to grab one of the many sockets to keep your gear charged.
The Noodle Bar
Stepping out of The Coffee Loft, make a right and you wander into The Noodle Bar.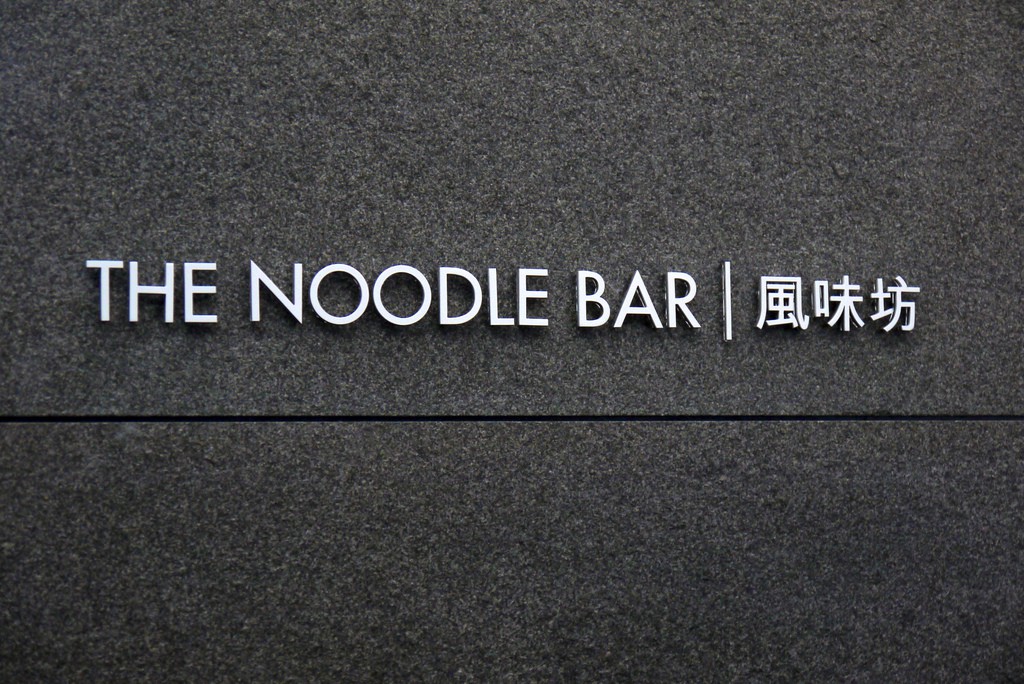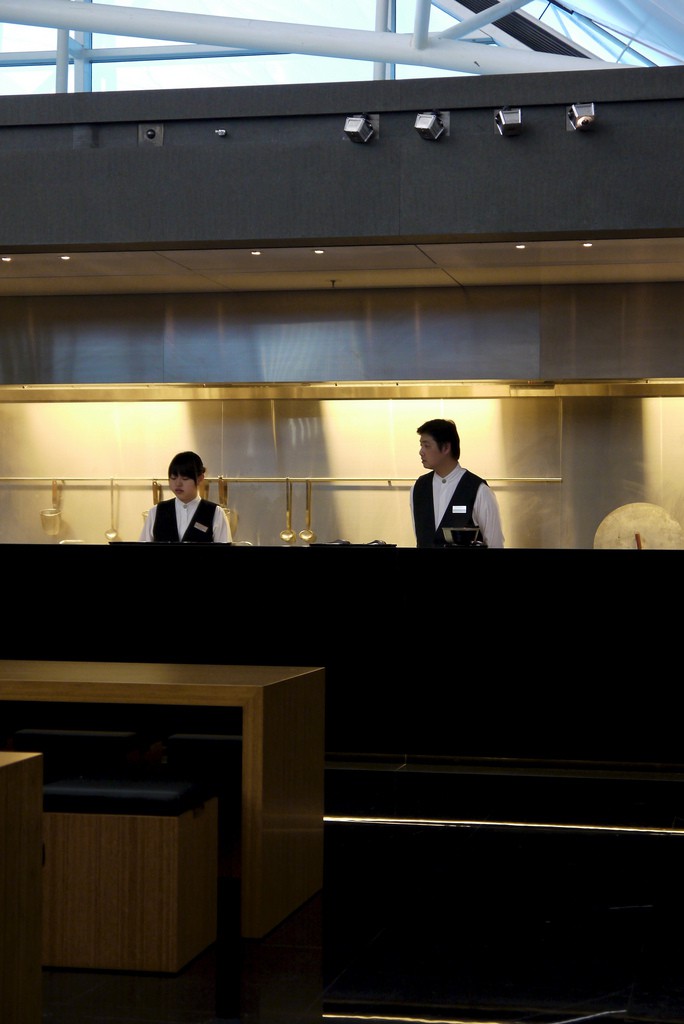 Here you can order from a variety of Asian dishes off a set menu – they are cooked to order, and you're given a buzzer to notify you when to collect. I ordered some Ramen with Chicken Teryaki, and then headed off to take some photos and grab a drink.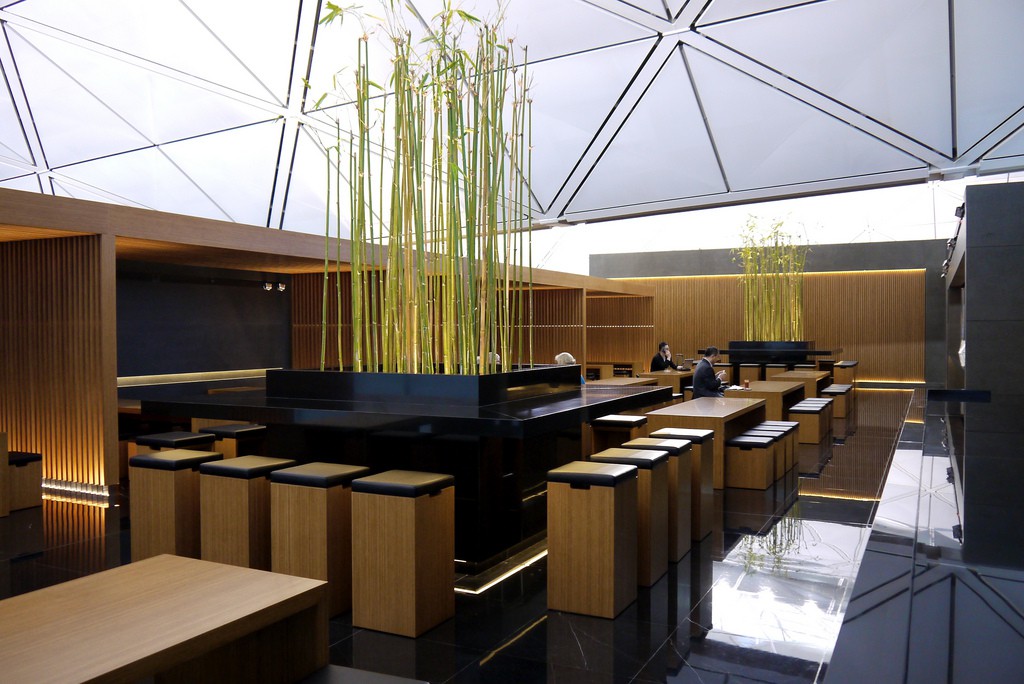 The Noodle Bar space is pretty amazing, with several metre high bamboo rising up into the roof space above The Wing. There's plenty of bar style seating for solo travellers, as well as large bench tables for groups.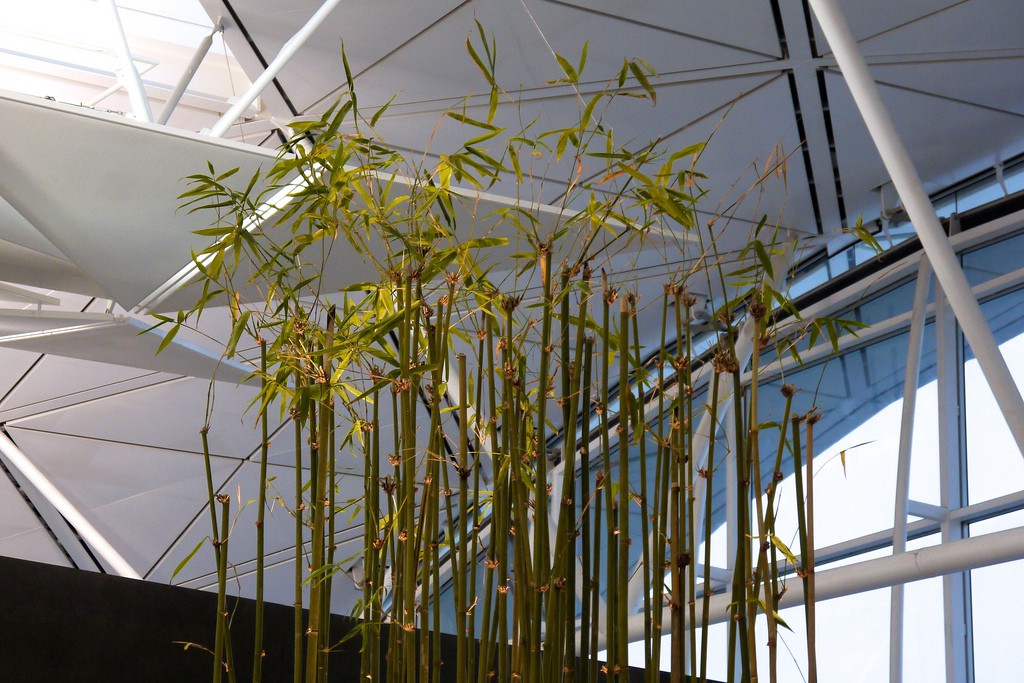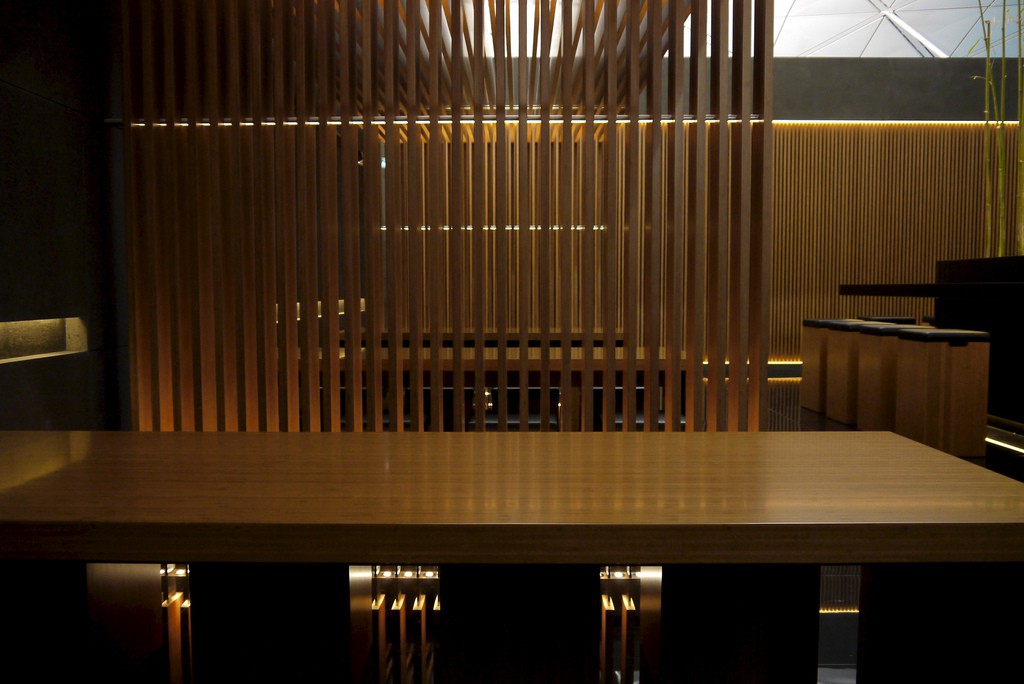 The interior design is very well thought through, with soft lighting provided by light wells at the table level, and upward facing lights shooting up from the floor.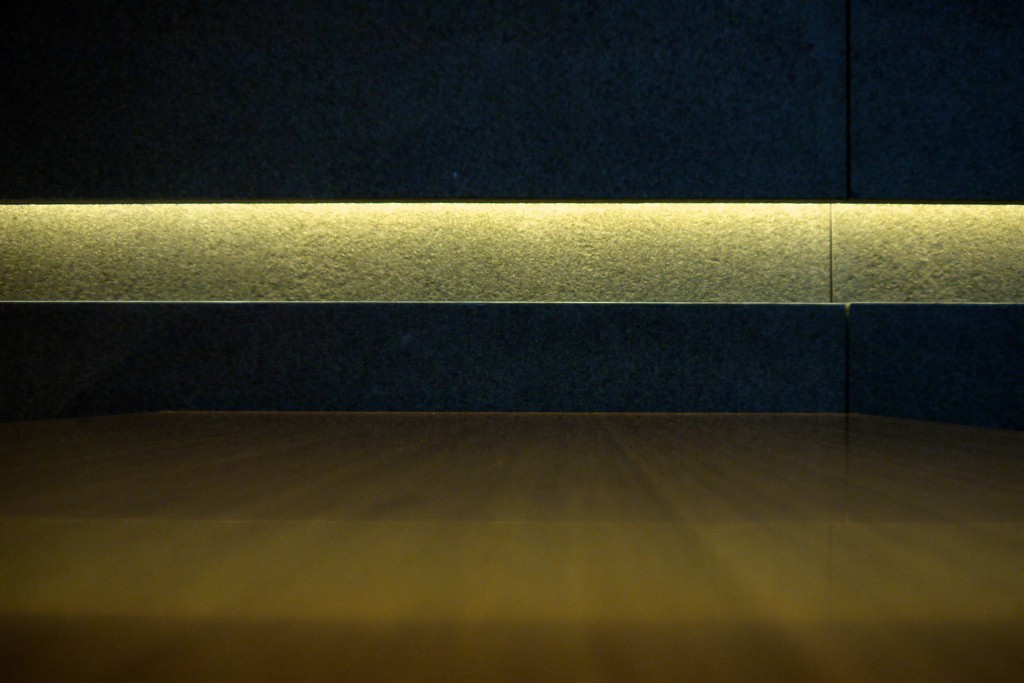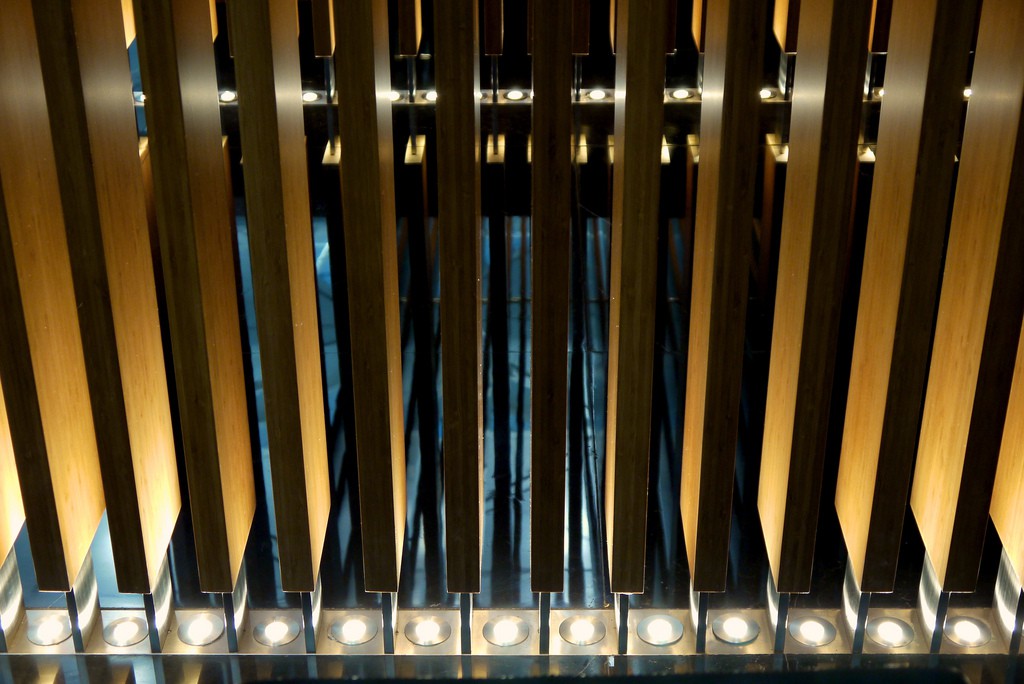 I picked up a cold can of Asahi, and Apple Juice and a couple of beef dumplings as an entrée to tide my over until my Ramen was ready from the self serve area beyond the Noodle Bar.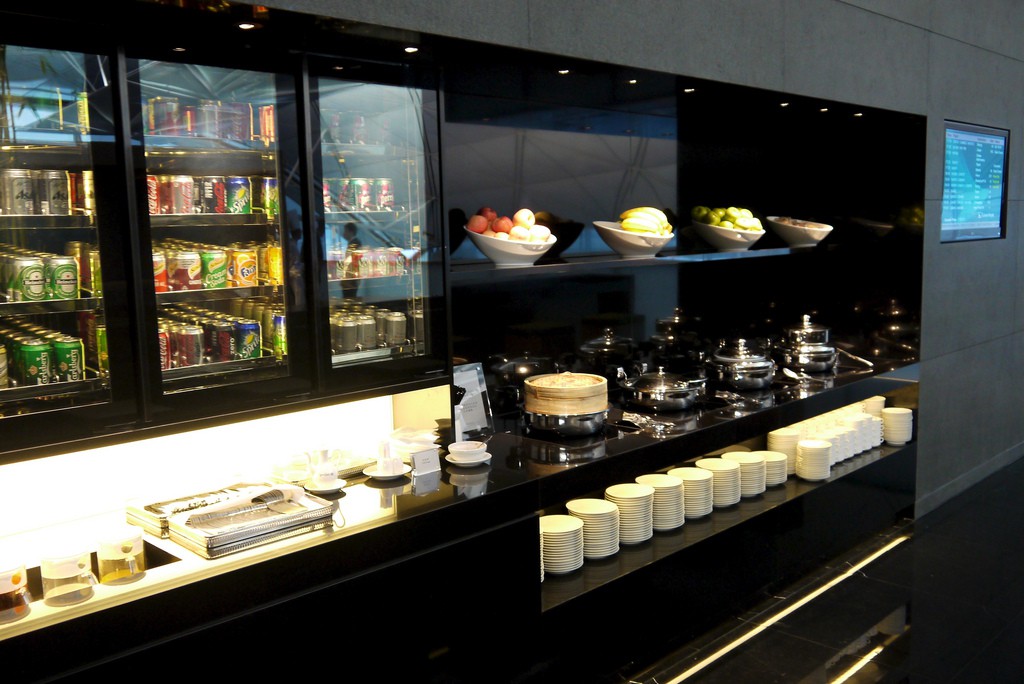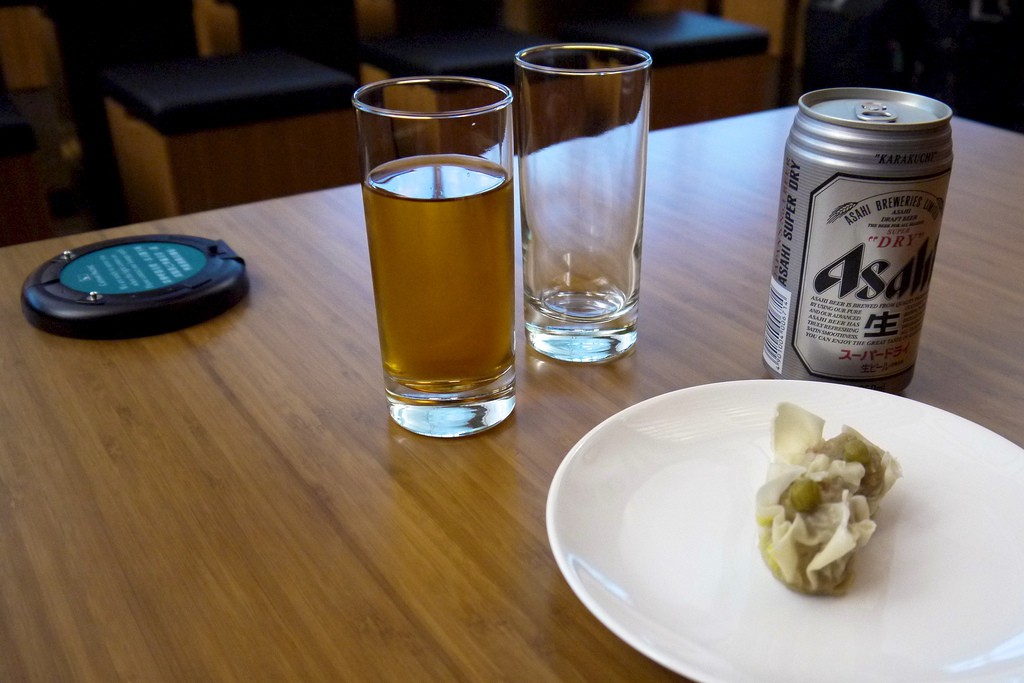 About 10 minutes later, my food was ready.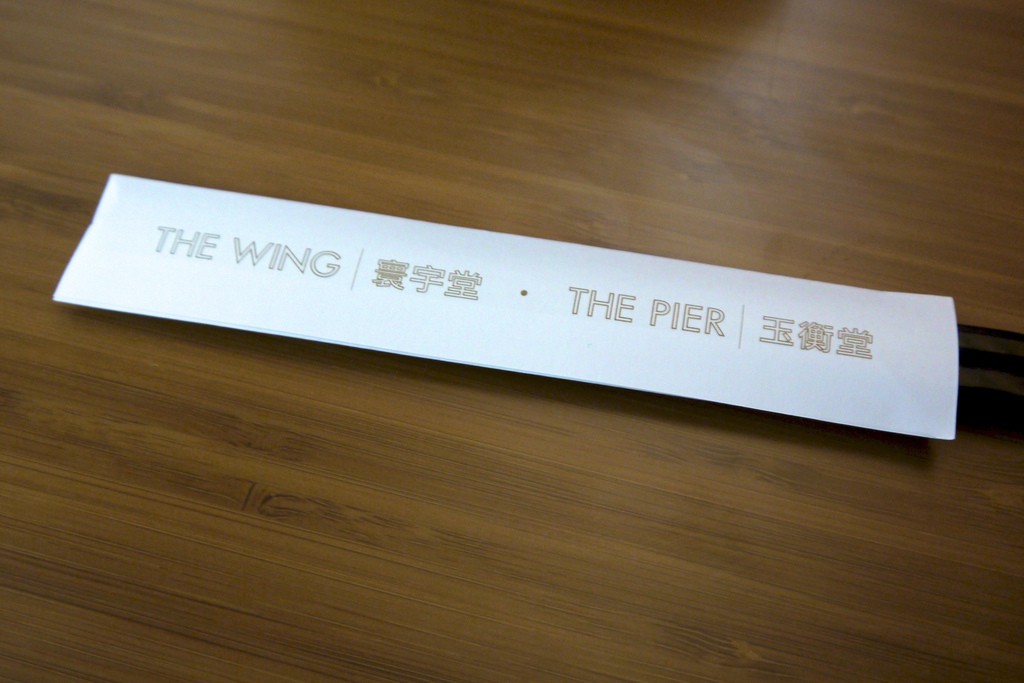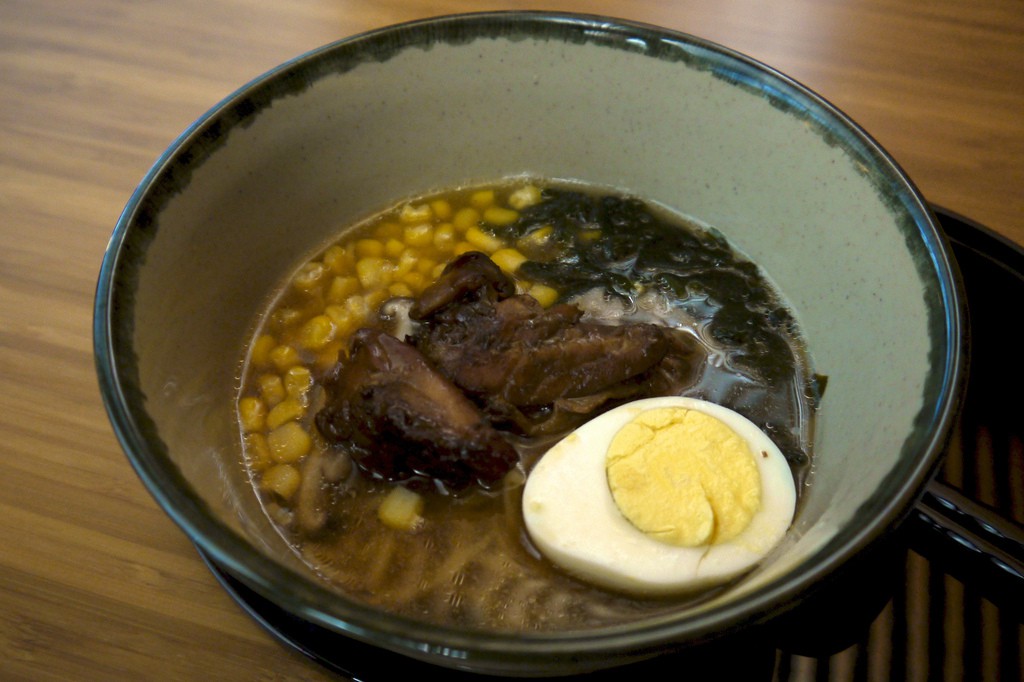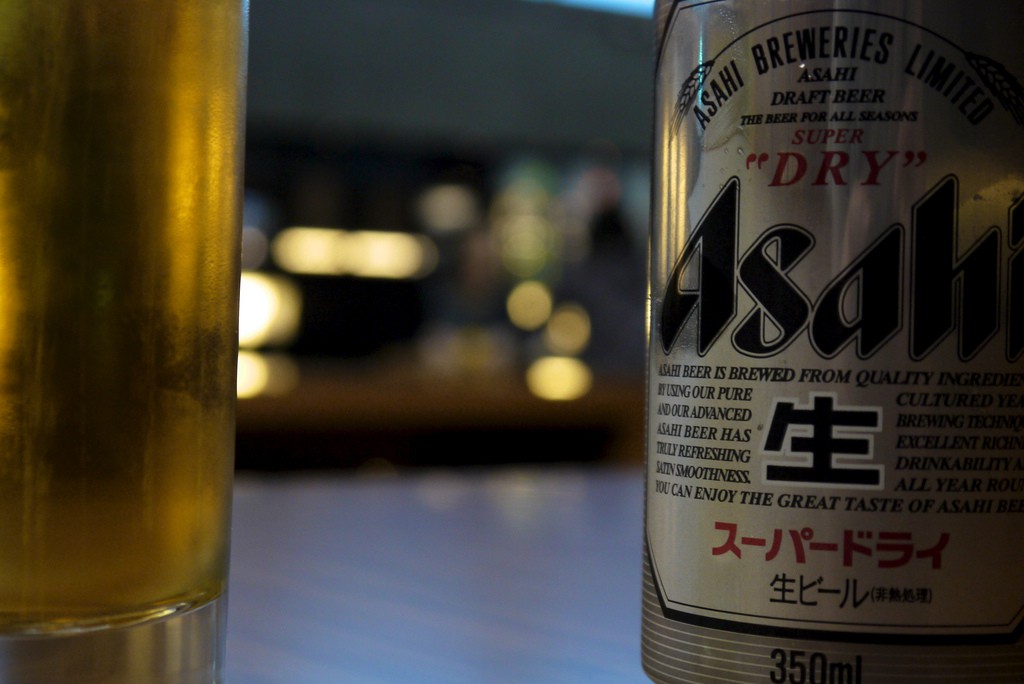 The Noodle Bar was a great spot to grab a quality bite to eat rather than the usual Airport Lounge snack fodder. In quality, though not in the level of service, it seems like it's on par with many First Class lounges around the world. I'd love to check out The Wing's First Class area when that reopens to see how that's executed.
Rest of the upstairs
The other areas upstairs consist of a large amount of seating, a bar and more self service food options – both Western and Asian. Large amounts of white marble, wood, dark stone (I assume granite) and leather make it feel pretty special.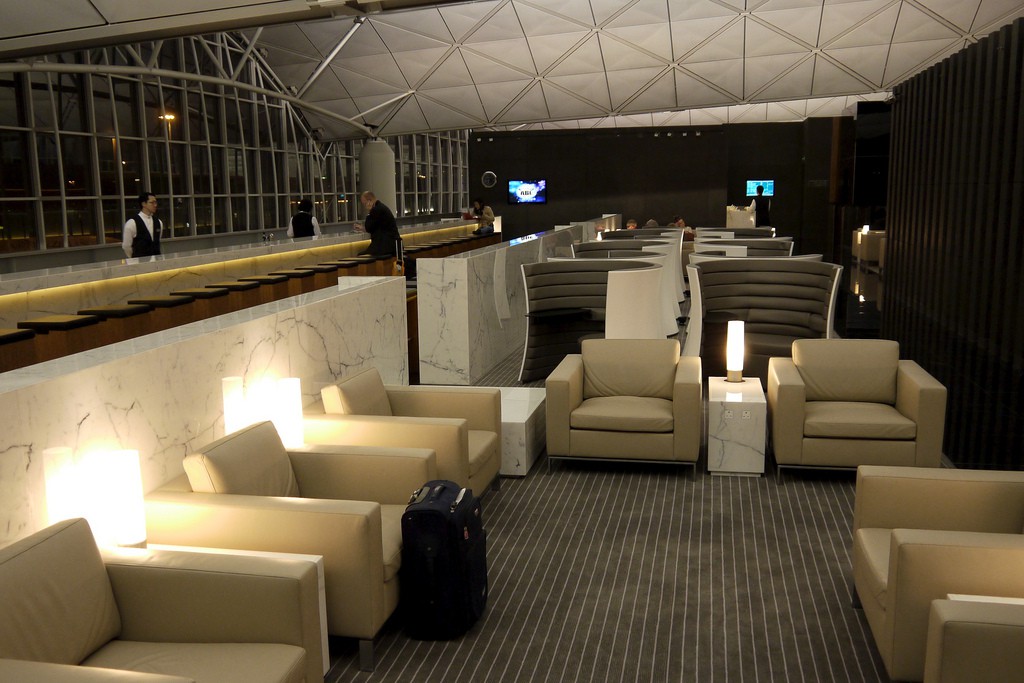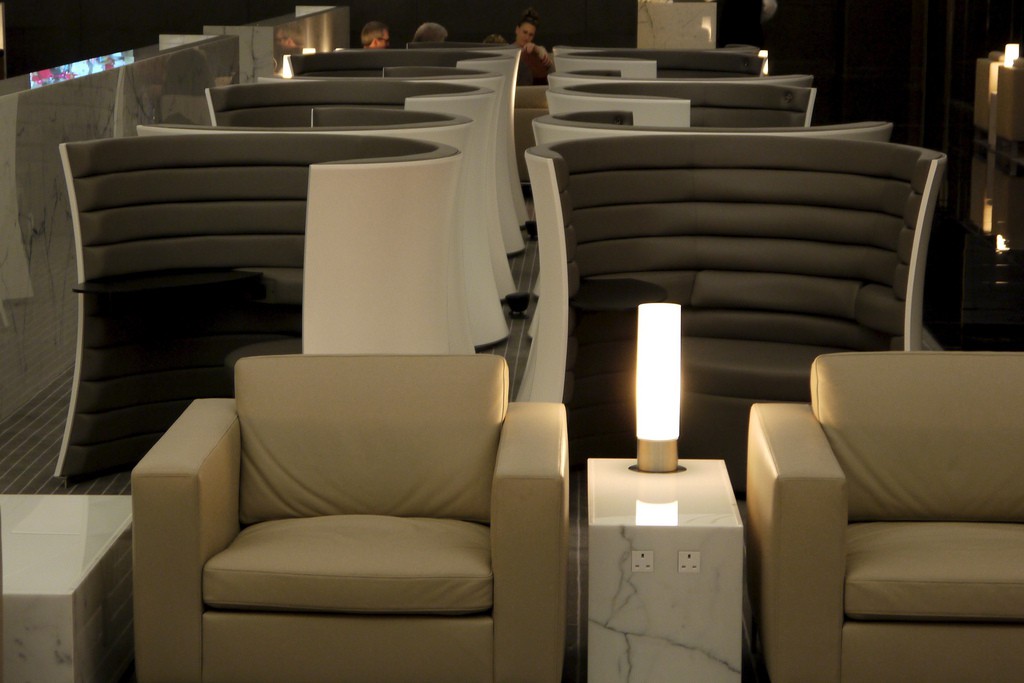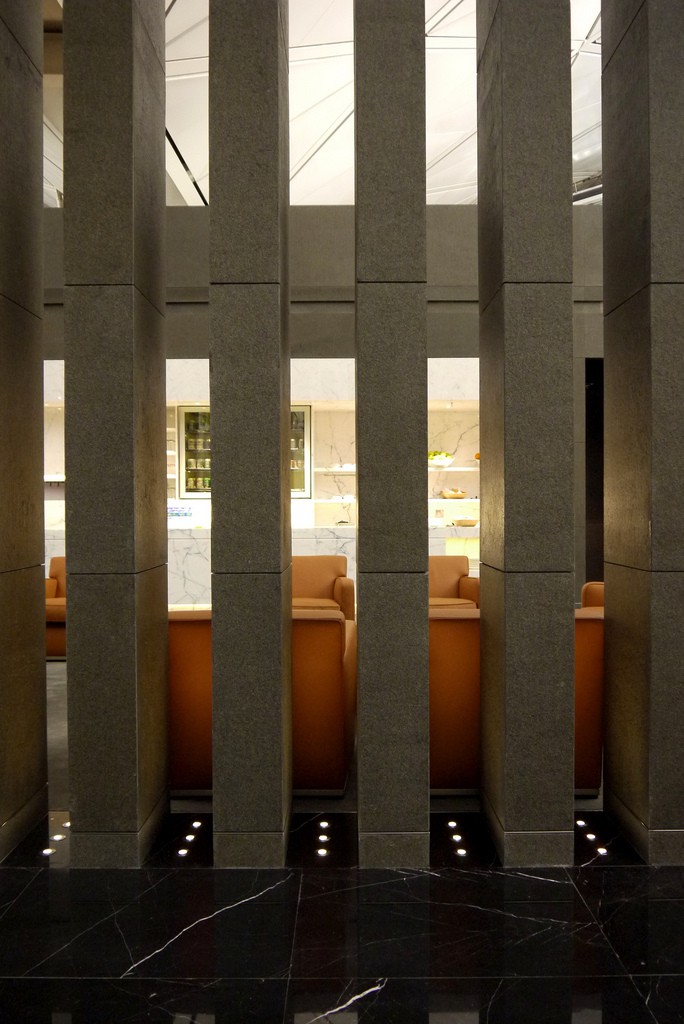 The Wing is also full of many 'Solus' chairs, a Cathay Pacific design that's aimed specifically at the solo traveller's needs, with a small table, power outlet and a design that keeps you mostly enclosed from prying eyes.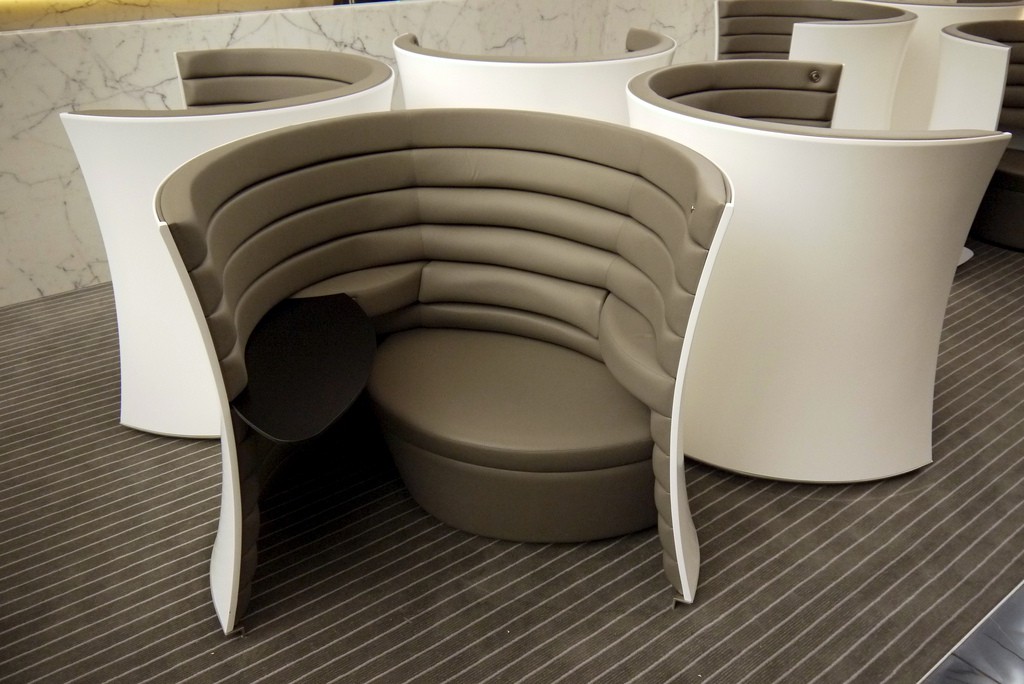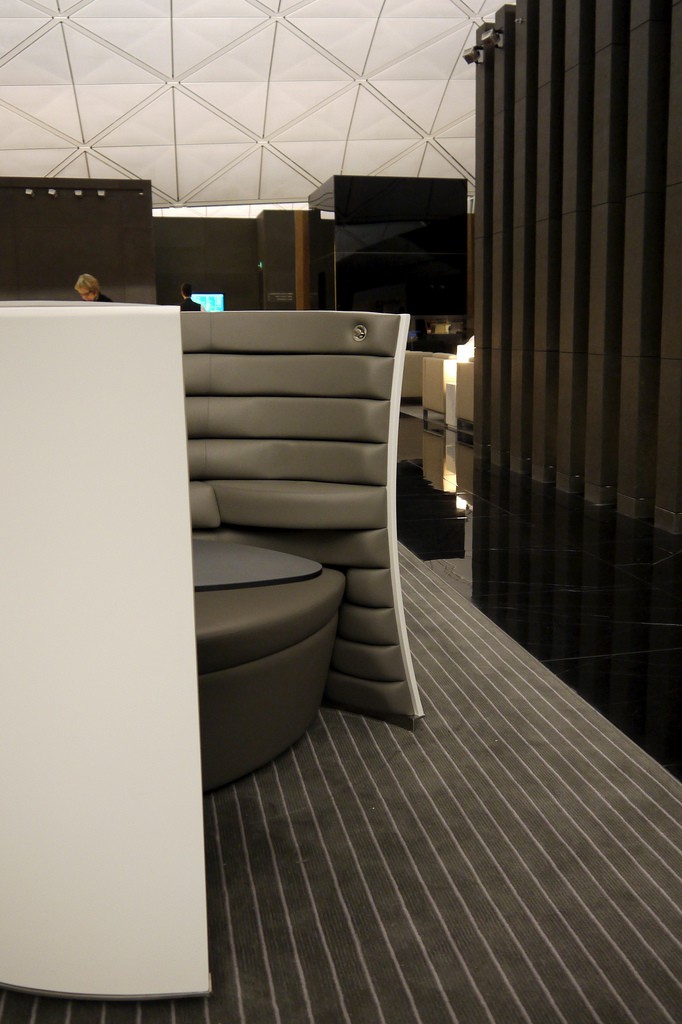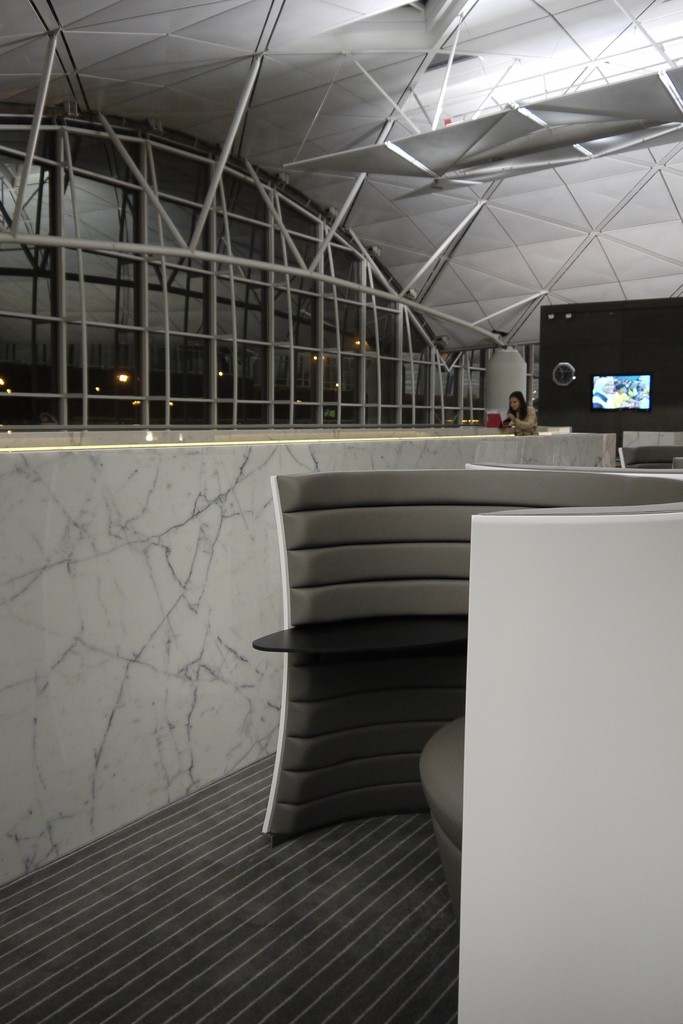 Beyond the right of the reception was a section that was complete, ready to use, but still closed off due to renovations. It had more seating, tan Solus chairs, and a long row of single recliner seats.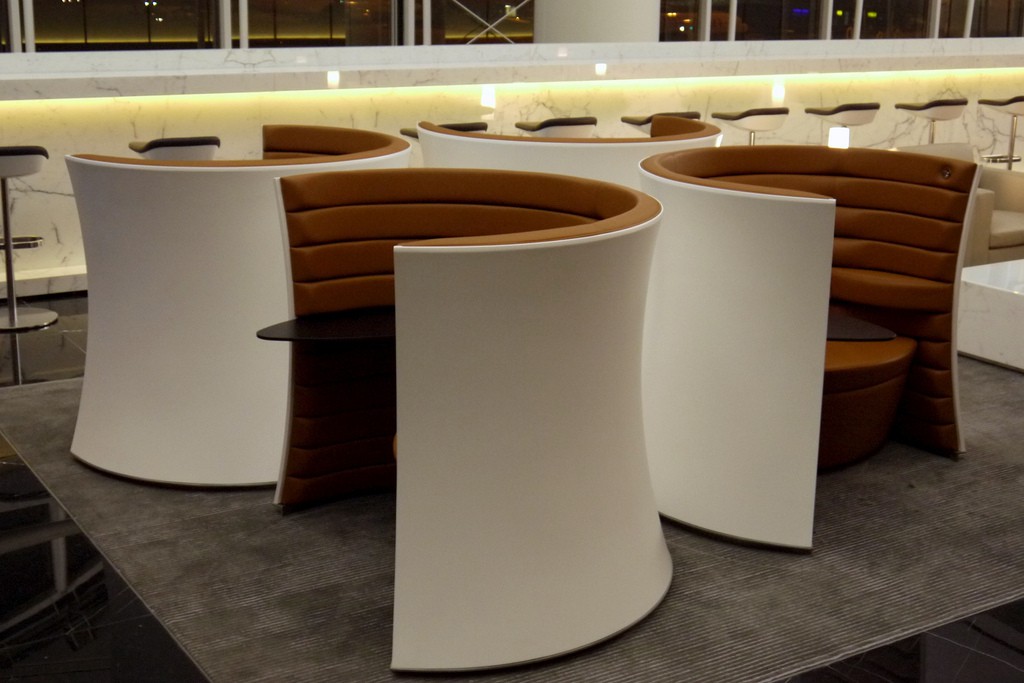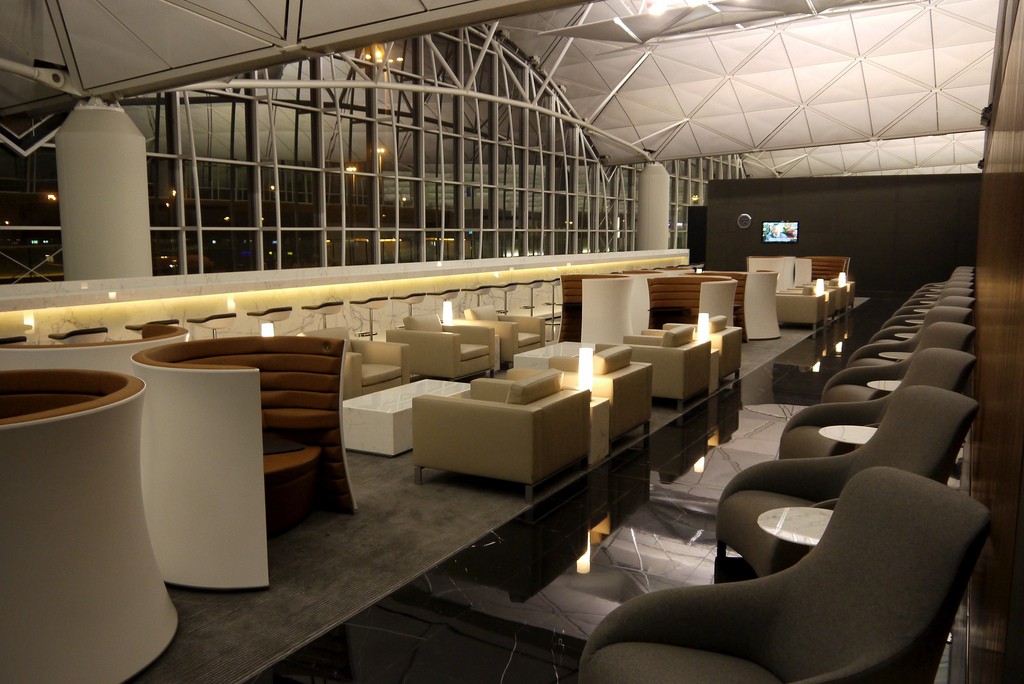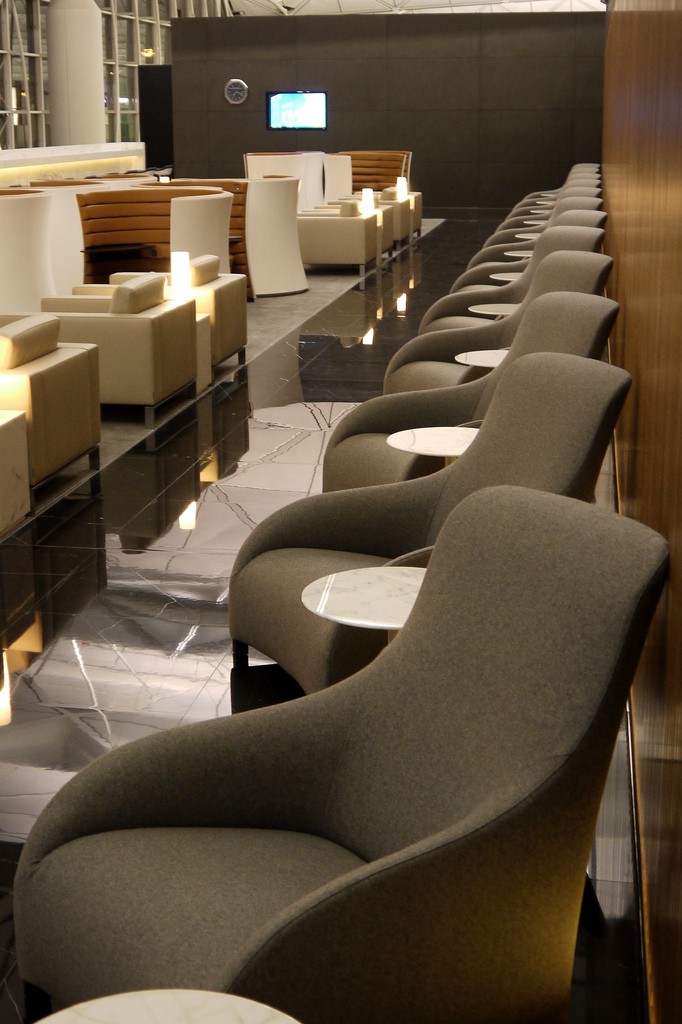 Downstairs
The Wing's downstairs main function seemed to be to house the extra services the lounge offers, including a spacious set of workstations in a quiet room, the bathrooms and showers, and further seating and another set of self serve food options, similar to upstairs.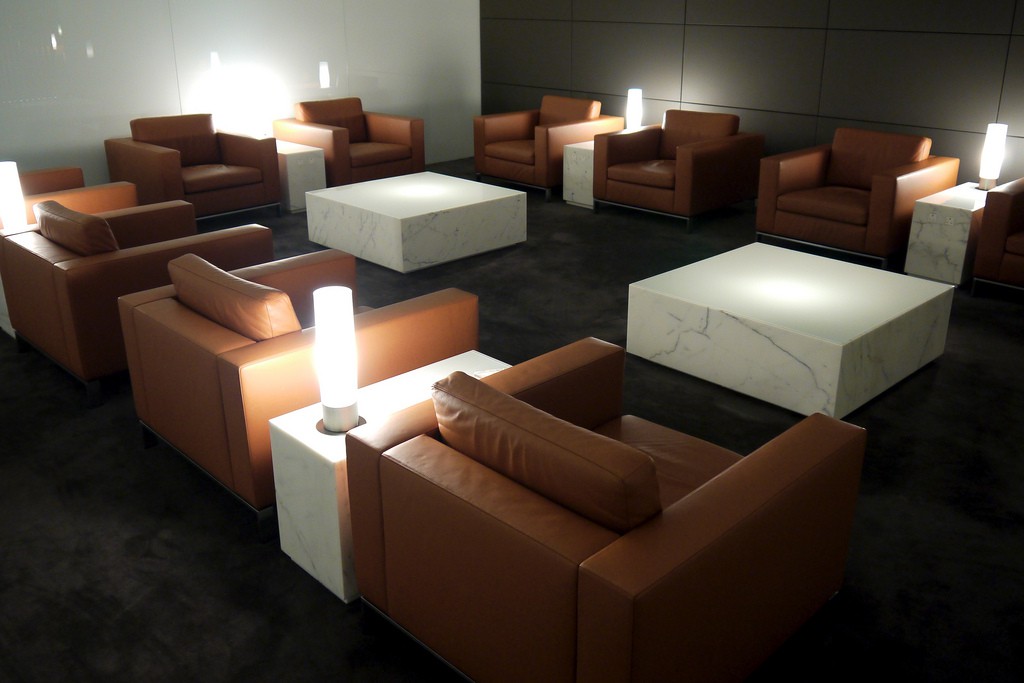 I grabbed another snack for the road, and tested out another recliner with footstool, which seemed to be a different design to those upstairs.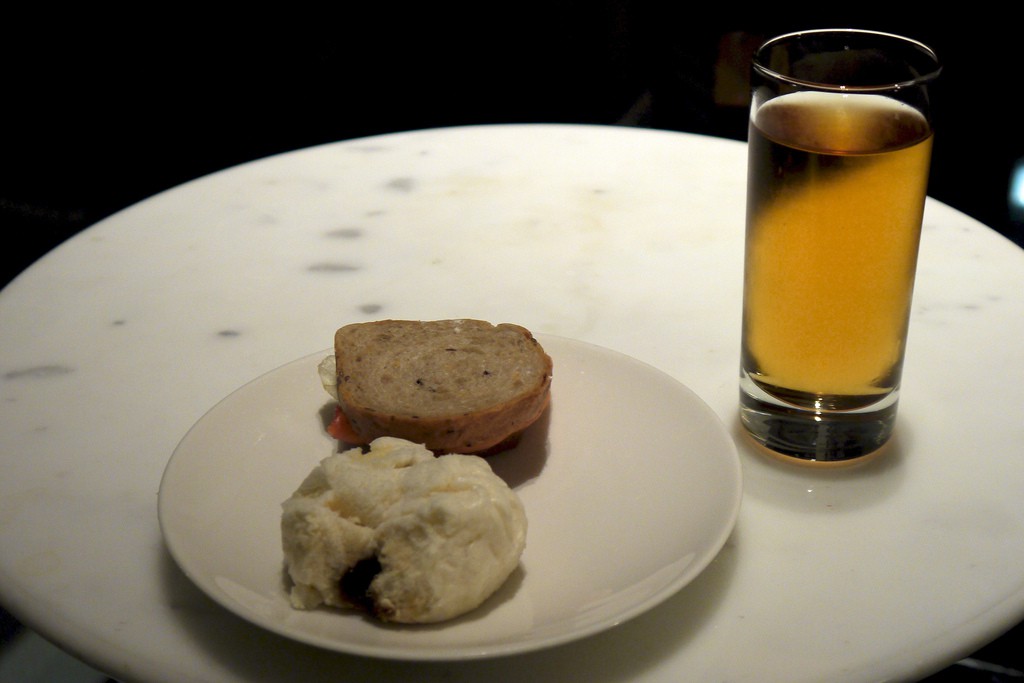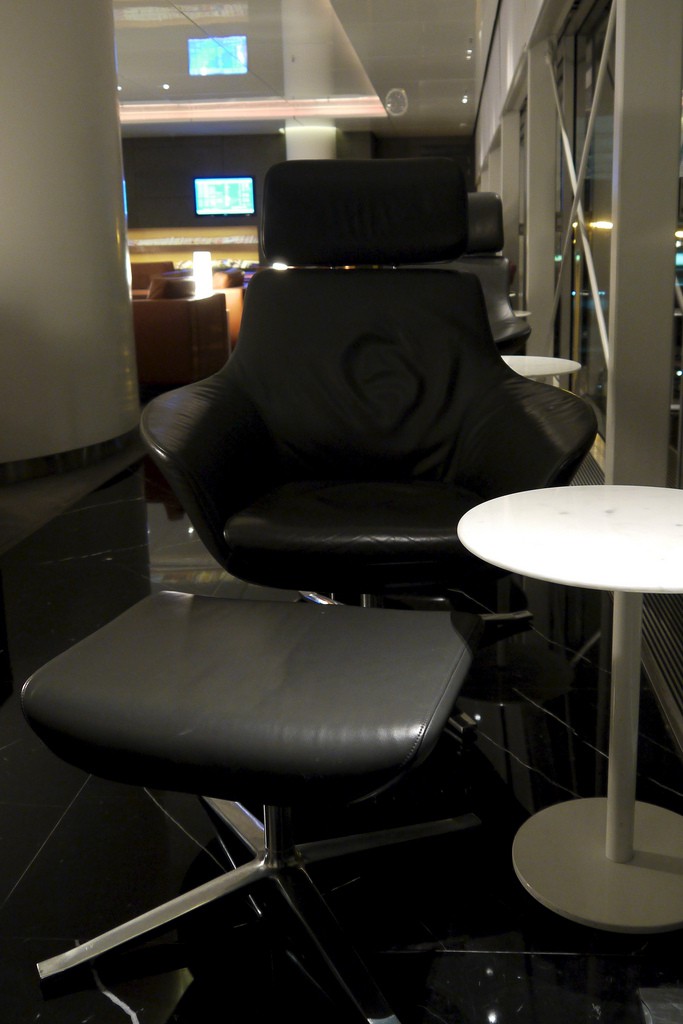 Conclusion
Cathay Pacific have done a beautiful job with the refurbishment of The Wing. It would seem they are being increasingly design-led in their product thinking – their new Business Class seating that's operating on the Sydney-Hong Kong route, the launch of The Cabin lounge, even the redesign of their in-flight magazine this month – they are upping the stakes when it comes to the premium appearances they can control for their travellers.
This is definitely not a bad thing. You may have noticed I tend to place value on design and aesthetics in my reviews (and hopefully my photos). I think it's important – travel is often a stressful experience, yet it should just be an experience, without the stressful part.
I'll leave you with a couple of appropriate quotes from Charles Eames which I think somewhat sum up what Cathay Pacific (and in many regards, Qantas) are trying to achieve by focusing on good design –
The details are details. They make the product. The connections, the connections, the connections. It will in the end be these details that give the product its life.
Recognizing the need is the primary condition for design.
Cathay Pacific have recognised the need, looked at the details, and in the new 'Wing' at least, made the product.
Cathay Pacific's 'The Wing' Business Class Lounge review – Hong Kong Airport
was last modified:
November 14th, 2017
by