After a couple of weeks in New York City, it was time to head over to London for the last leg of our big trip for this year – and we ended up on American Airlines on a new day flight, AA142, operated between the two cities.
I seem to be cursed in having 'not the best' experiences when flying between the US and the UK – a crappy flight with British Airways was one of my first reviews I wrote for Point Hacks around 5 years ago(!).
This American flight though should have been good. I found availability for four of us, on the same flight, in Business Class. We managed to get four seats together. This particular AA Business Class cabin and seating was relatively new on the market. And it was a day flight, which is much better for kids.
But – it wasn't to be…for a number of reasons, it was an average Business Class flight at best, and I hate to say it, but we may have been better off in Economy.
Research & Booking
Finding award flights between the US and Europe for 1 or 2 passengers is usually not that tricky, but four together on the same flight is not so simple.
In this case, I got relatively lucky – just a few days prior to starting my searches for our prospective dates, American added this new day flight into their schedule and opened it for booking, and award availability had opened up at the same time. I jumped on it and emptied my Qantas account.
We've produced this standalone guide to redeeming points between the US and Europe focusing initially on oneworld redemptions for using Qantas Points or Asia Miles. Given the vast number of airline and route options. I got lucky in our case, but new flights with award availability don't launch all that frequently.
I used 50,000 Qantas Points per passenger plus only $5 in taxes and fees (jumps to 57,000 Qantas Points from 18 September 2019 onwards). Yep, $5. Why? As we've written about before, when using Qantas Points for American Airlines flights, taxes are very low.
The Flight
AA142 has a scheduled 9.55am departure, and American has a 60 minute check-in cut off for international flights. We screwed up massively with the timing of our transfer from Manhattan to JFK, and arrived to check in by the skin of our teeth at about 8.52am.
What saved us? American's kerbside check-in.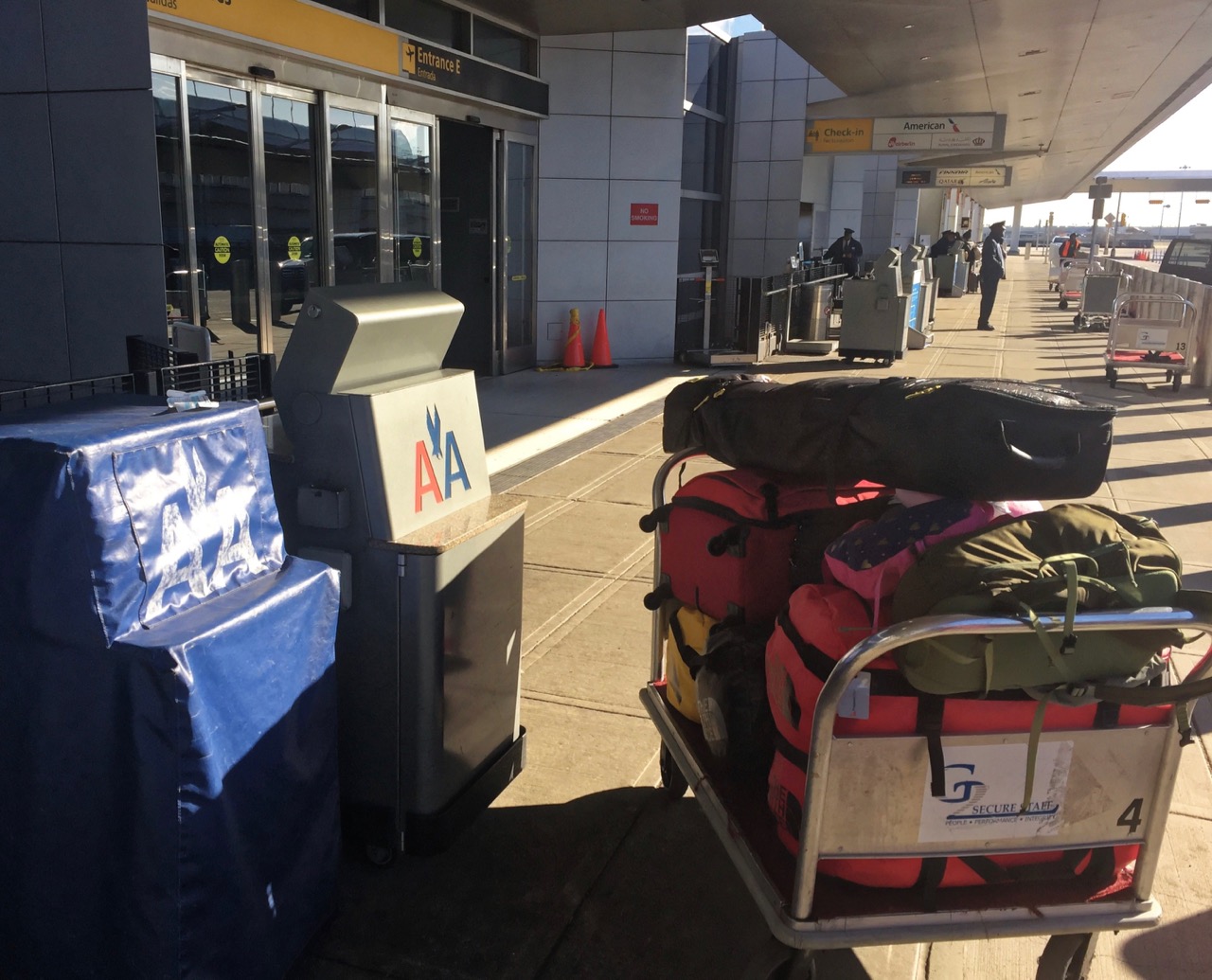 This was my first time using kerbside check-in and the guy helping us couldn't be more friendly. Our transfer pulled up about 2 metres away from the check-in kiosk, so I ejected myself from our car, thrust my passports and ticket details at the agent who nailed it, and made this the easiest check-in ever. Without kerbside check-in, we wouldn't have made this flight.
Given we had a heap of bags, it was also convenient to have them tagged as they came out of the car, and taken away from us without us having to even shepherd them into the airport. Kerbside check-in is totally something airlines should explore in Australia!
Given our late arrival we had no time to check out the lounge. Security lines were non-existent so we had a relatively leisurely saunter directly to the gate, and then on-board the flight part-way through boarding.
I was pretty stressed by our ridiculously late arrival, but turns out we actually timed everything perfectly to walk straight on the plane. Not recommended though!
Seating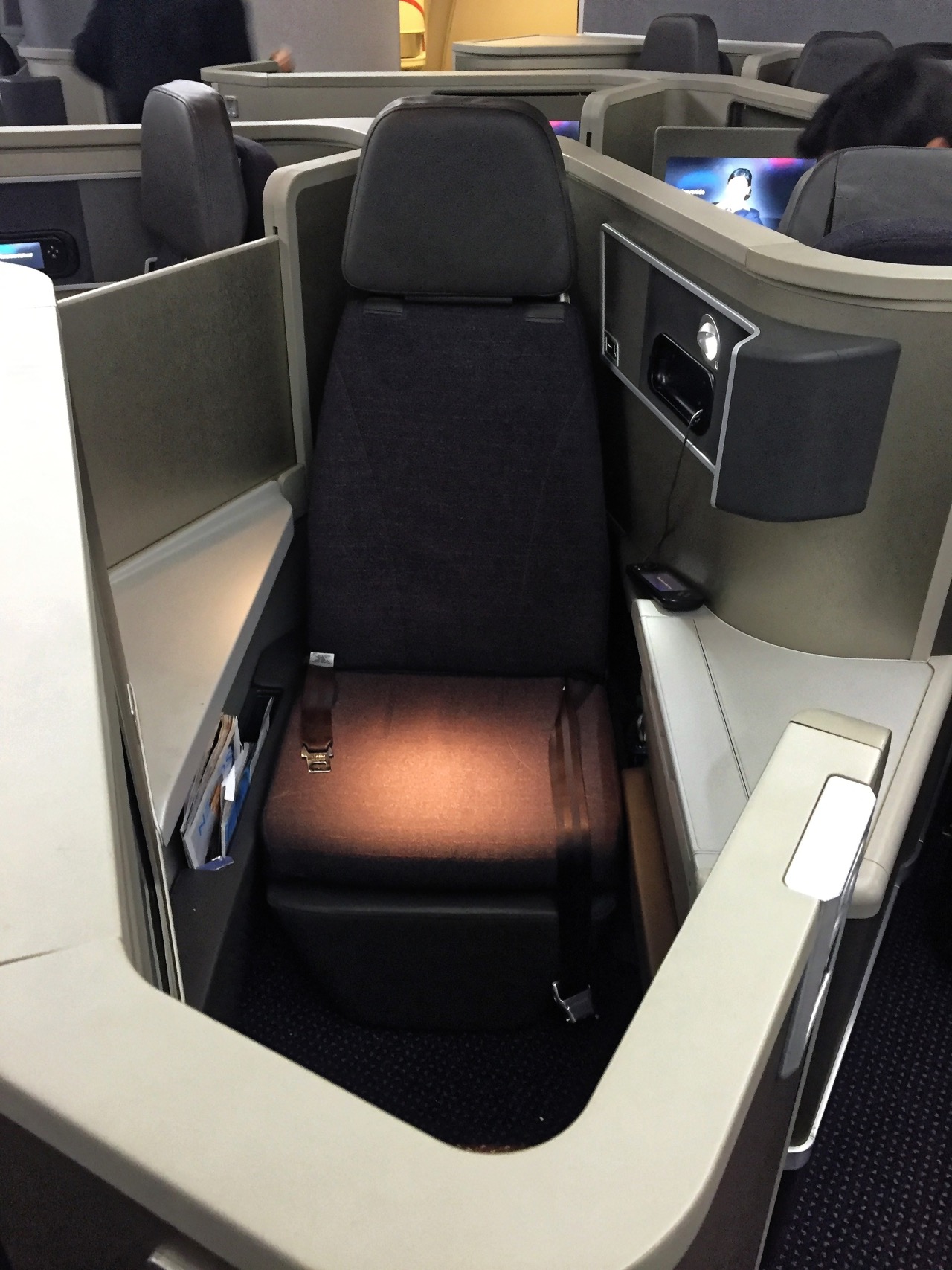 Onto American's weird 777-200 seating configuration. It's pretty tricky to explain, but the Business Class configuration on this aircraft was like a intersecting, forward/backward and reverse-herringbone layout.
The same seats are present on American's 787-8 fleet which fly between Auckland and Los Angeles, which is where many readers would be more likely to find it.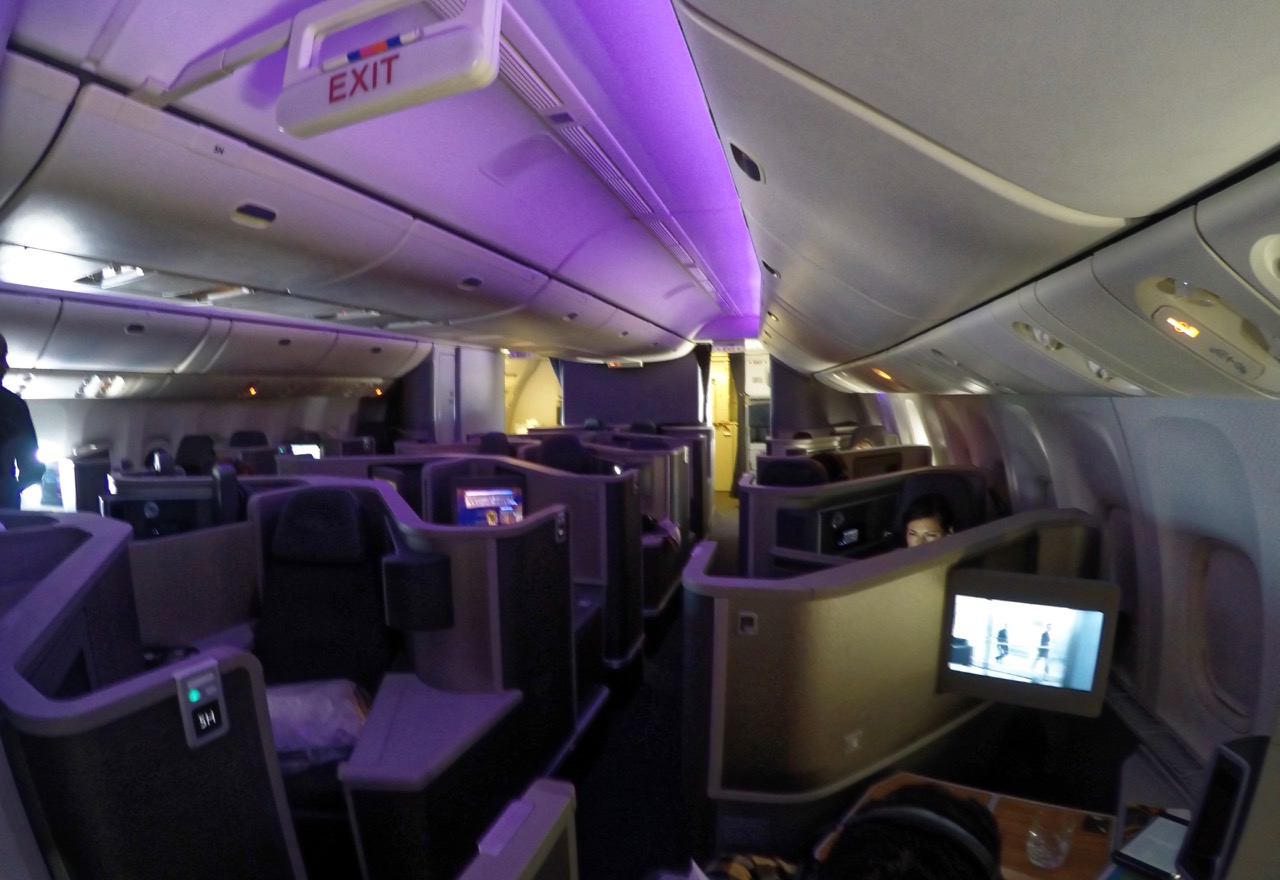 These are the window seats – you can see they flip-flop between forward and backward facing.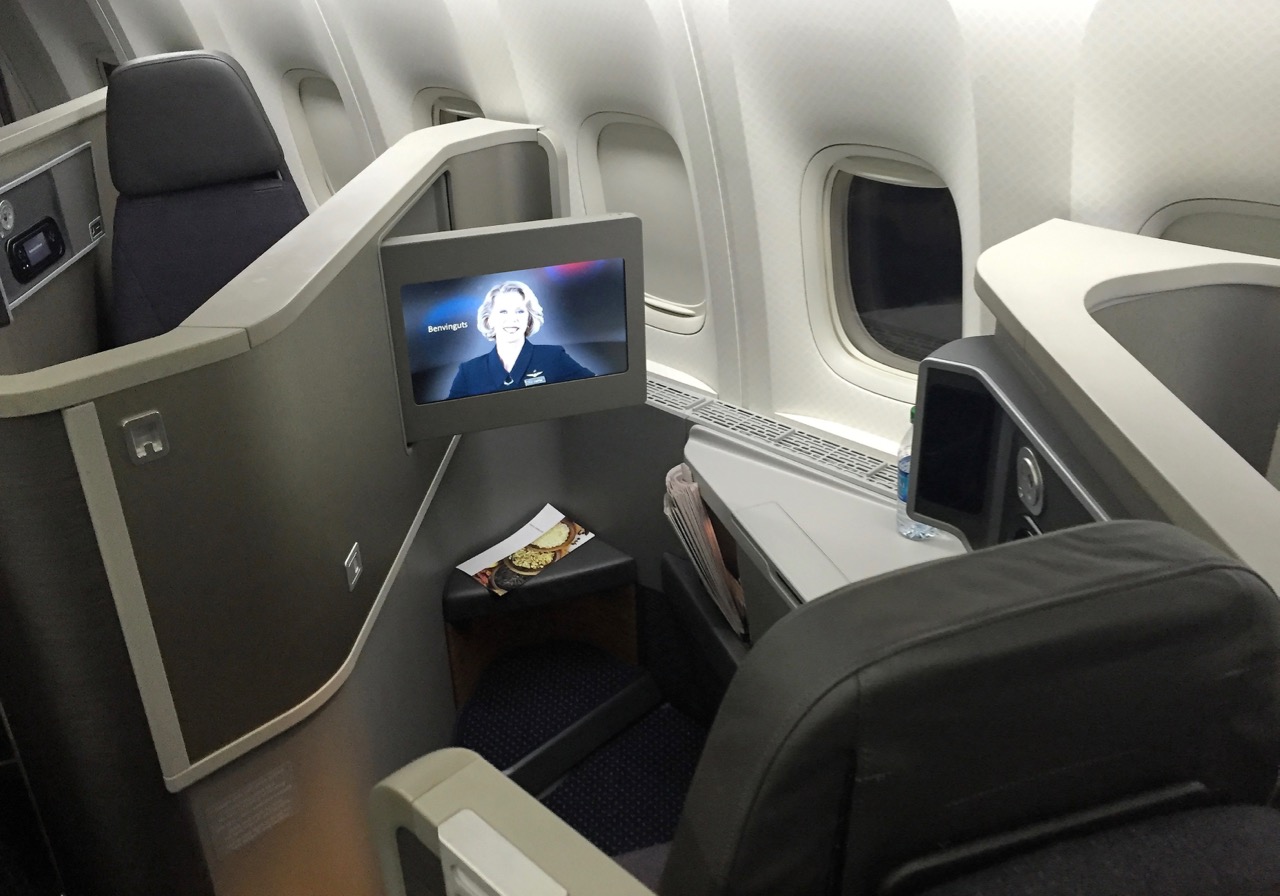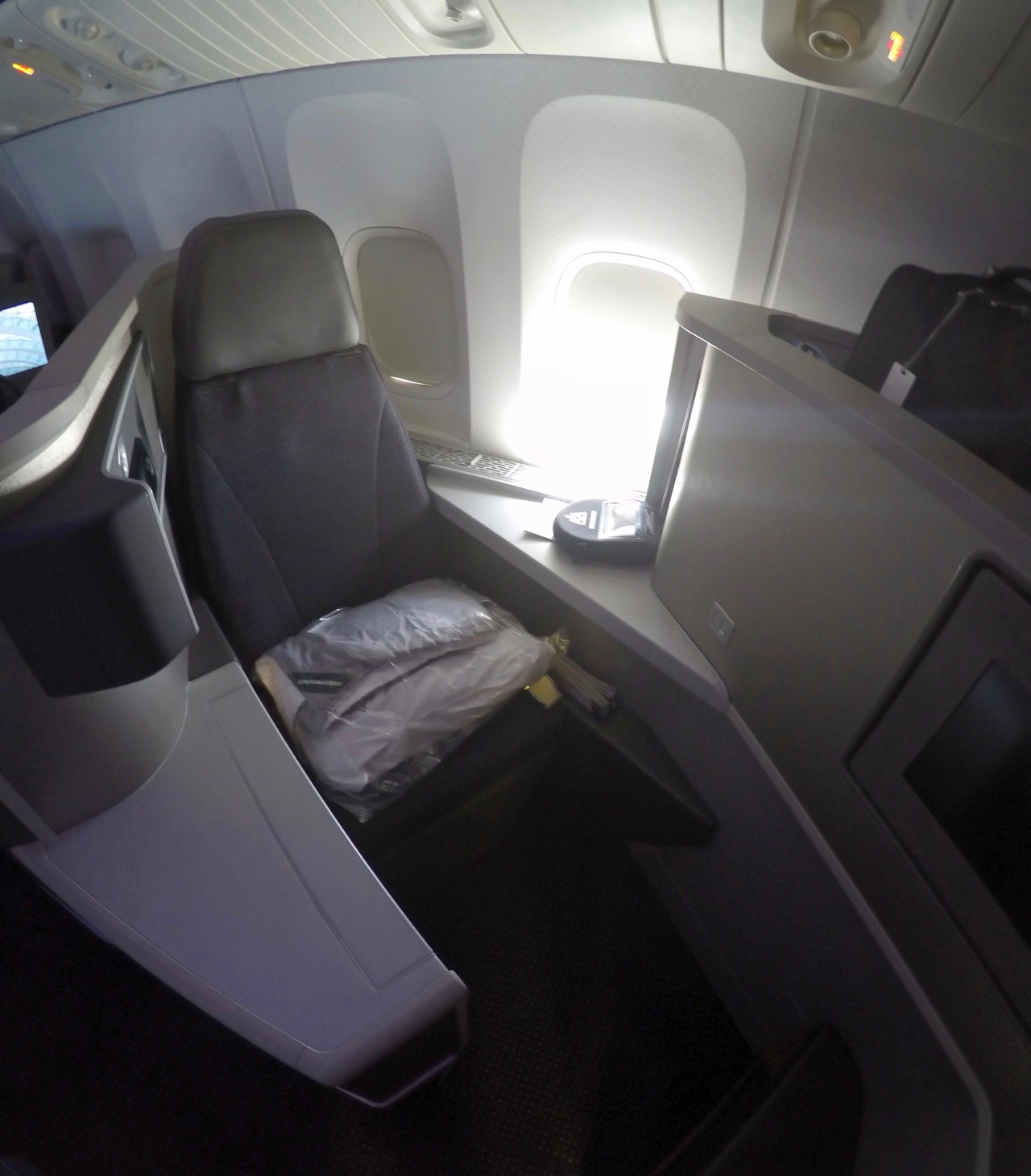 Seat selection for a family of four with two small kids was really tricky – we would naturally want to sit as close as possible to our kids, but the seats closest together have a solid, immovable and high barrier between them, while the pairs of seats that face forward have a lot of distance between passengers.
Here's that barrier in action between Zoe and myself: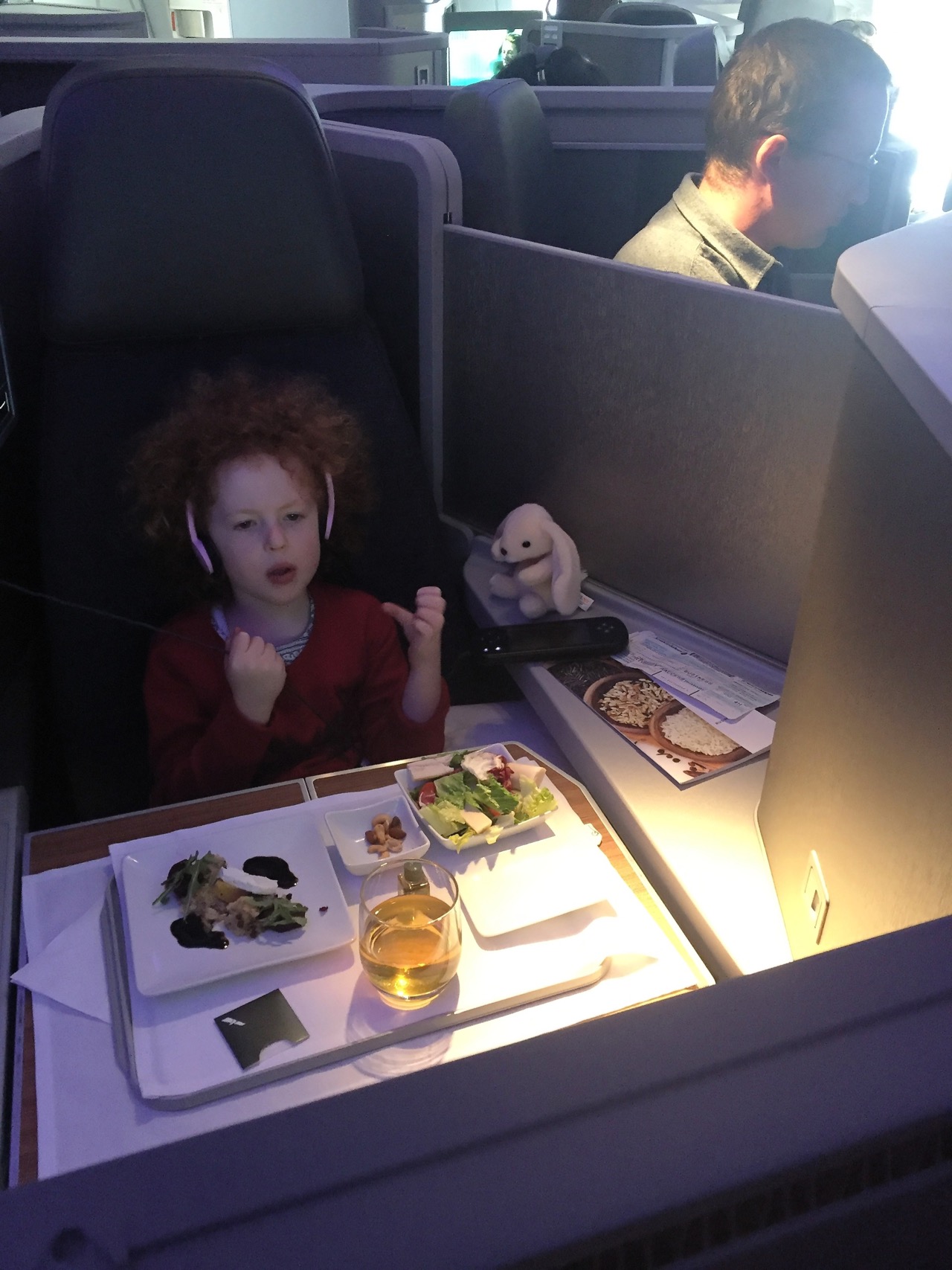 While this is my better half in the forward facing seats (our 2 year old daughter is over on the other side, out of shot):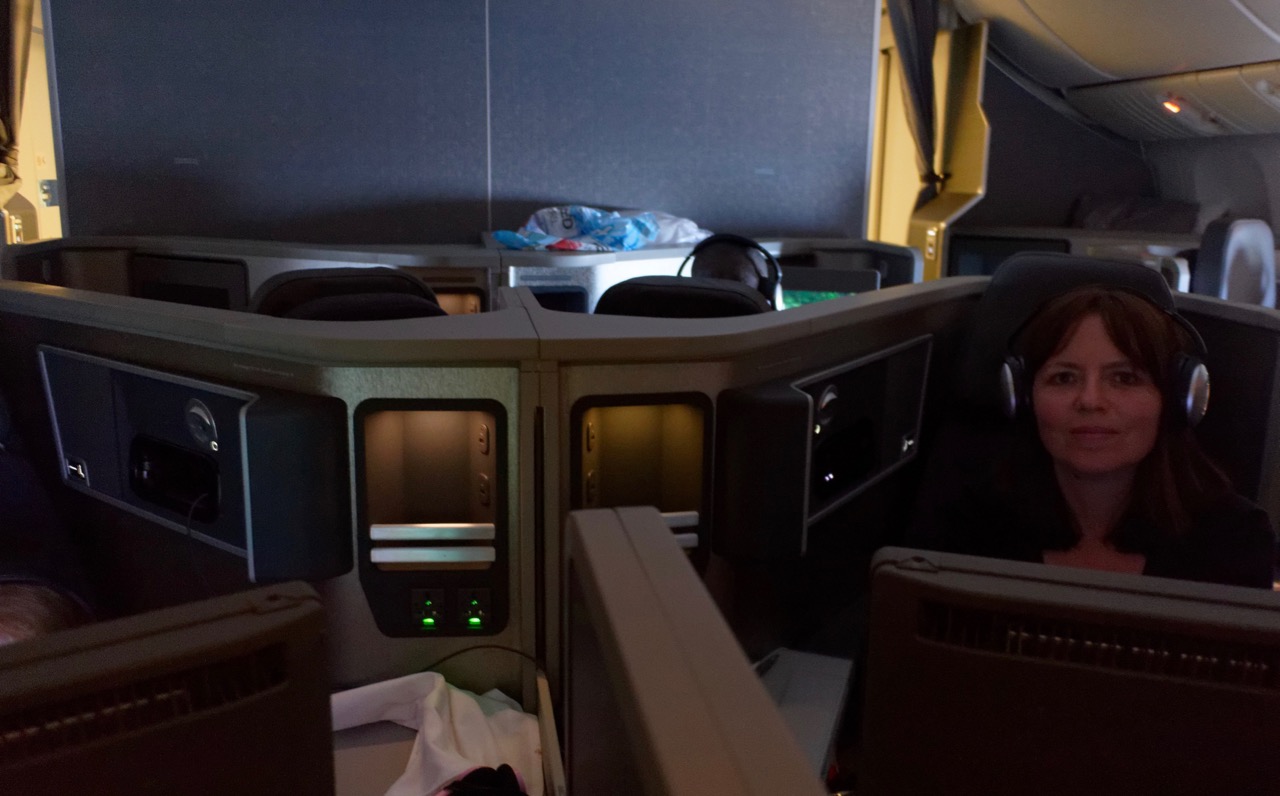 I couldn't grab a better image of this, but it was as good as other options out there if you're travelling with multiple people and want to have some access to each other.
Otherwise each individual suite was not massively spacious or private, but did the job as a modern, comfortable business class seat – it just didn't work well for us. One Mile at a Time has a good overview of this cabin, with more pictures than I managed to take.
The inflight entertainment was pretty decent though – there was a good selection of content, modern and responsive equipment, and a decent size screen. Happy days.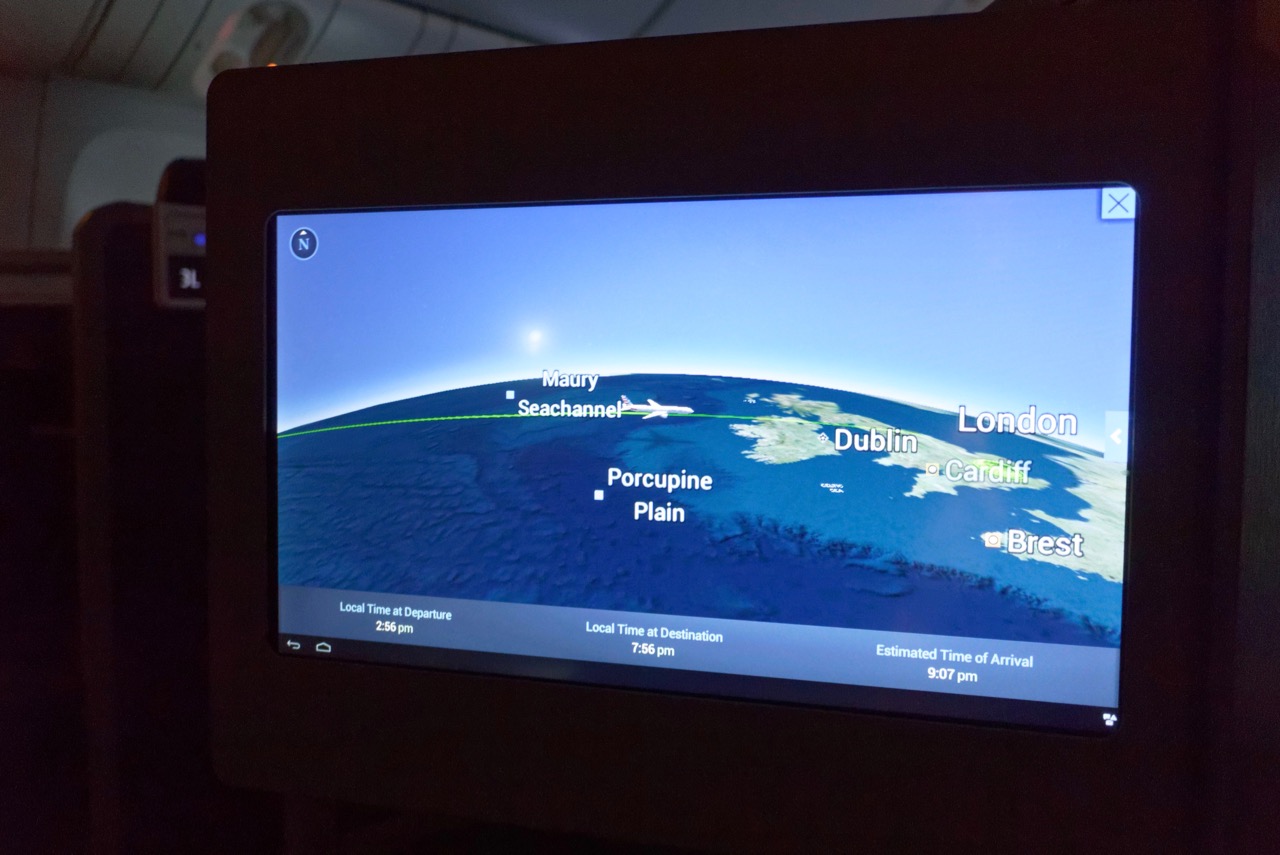 Service & Dining
This is where this American flight fell flat, but could have so easily been avoided. Let's start with the food.
We received a main meal (lunch) followed by an afternoon snack.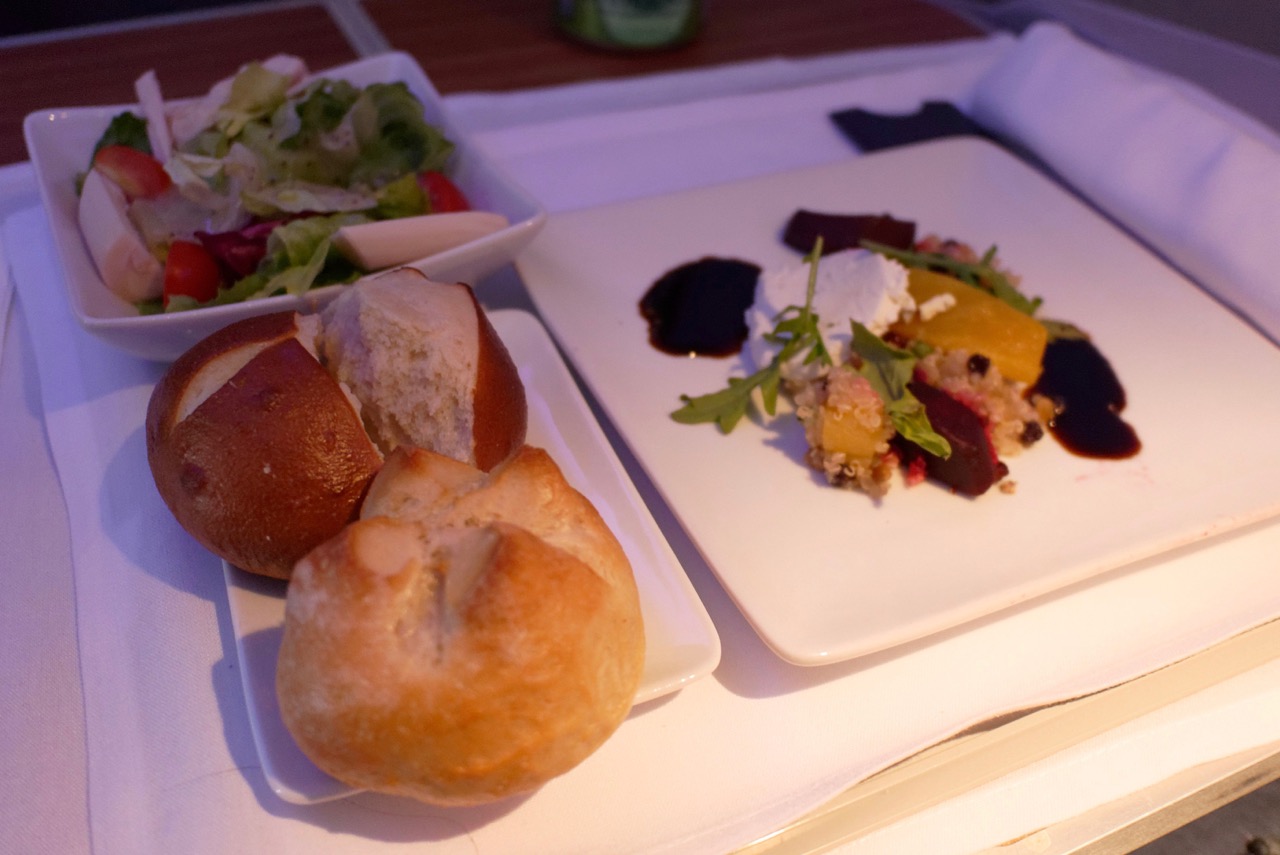 A salad as a starter, followed by a beef main – neither were great, but both decent enough.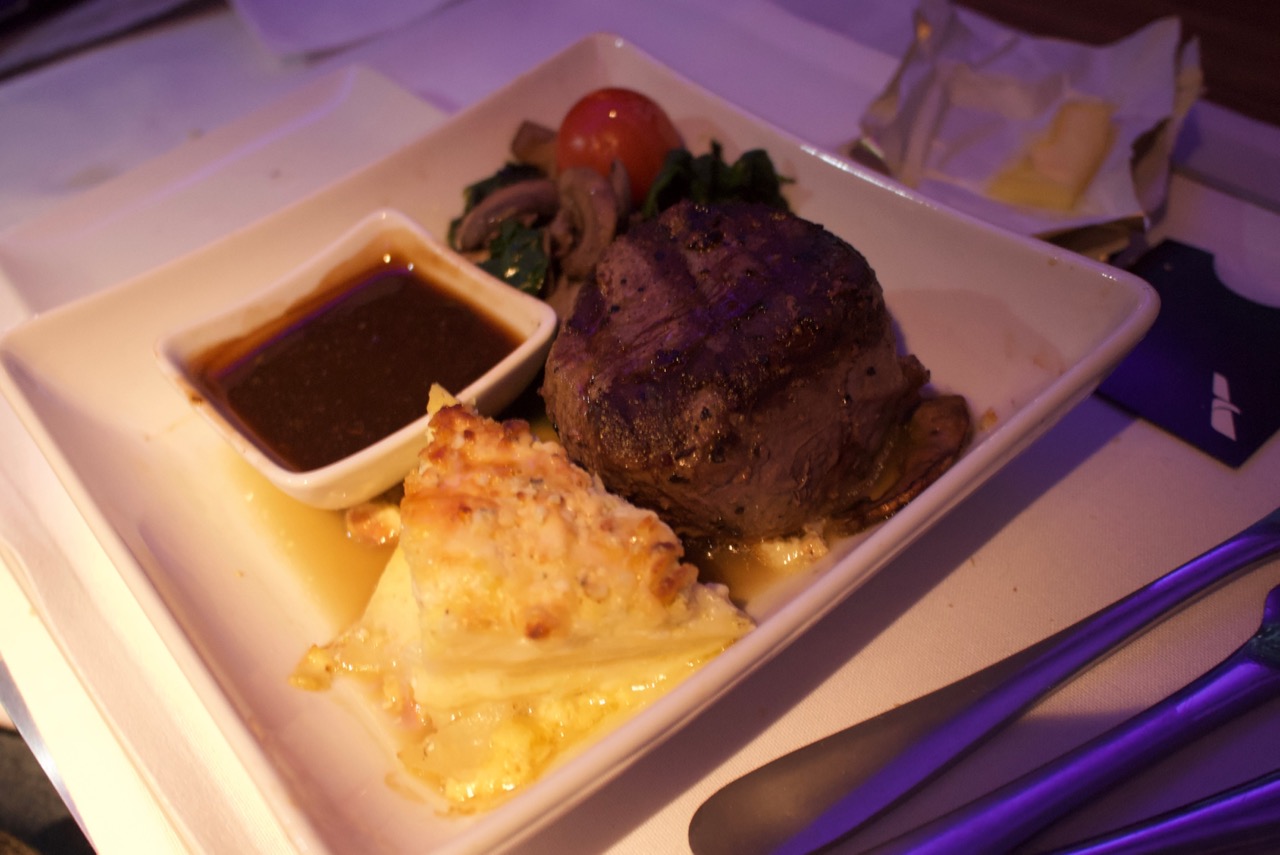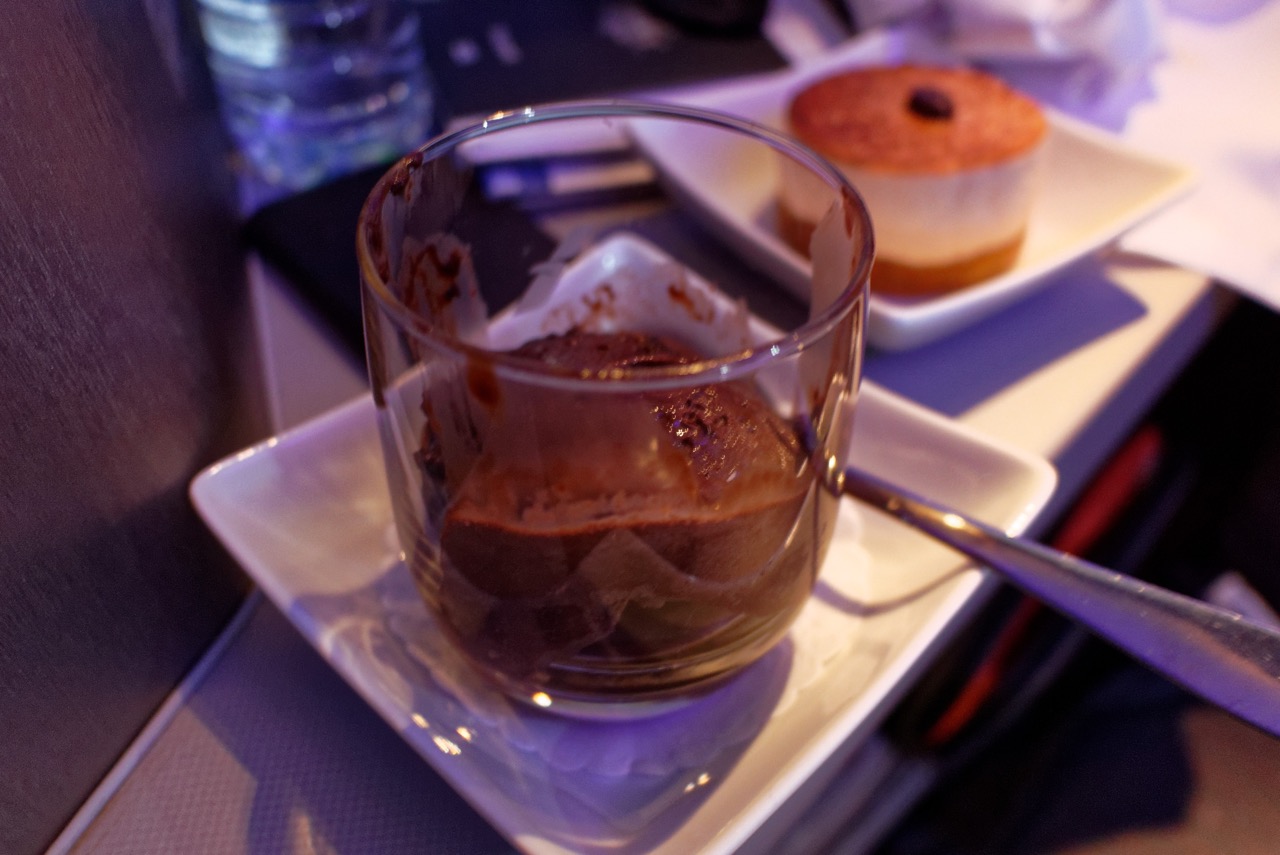 Desserts – home run, I love chocolate mousse.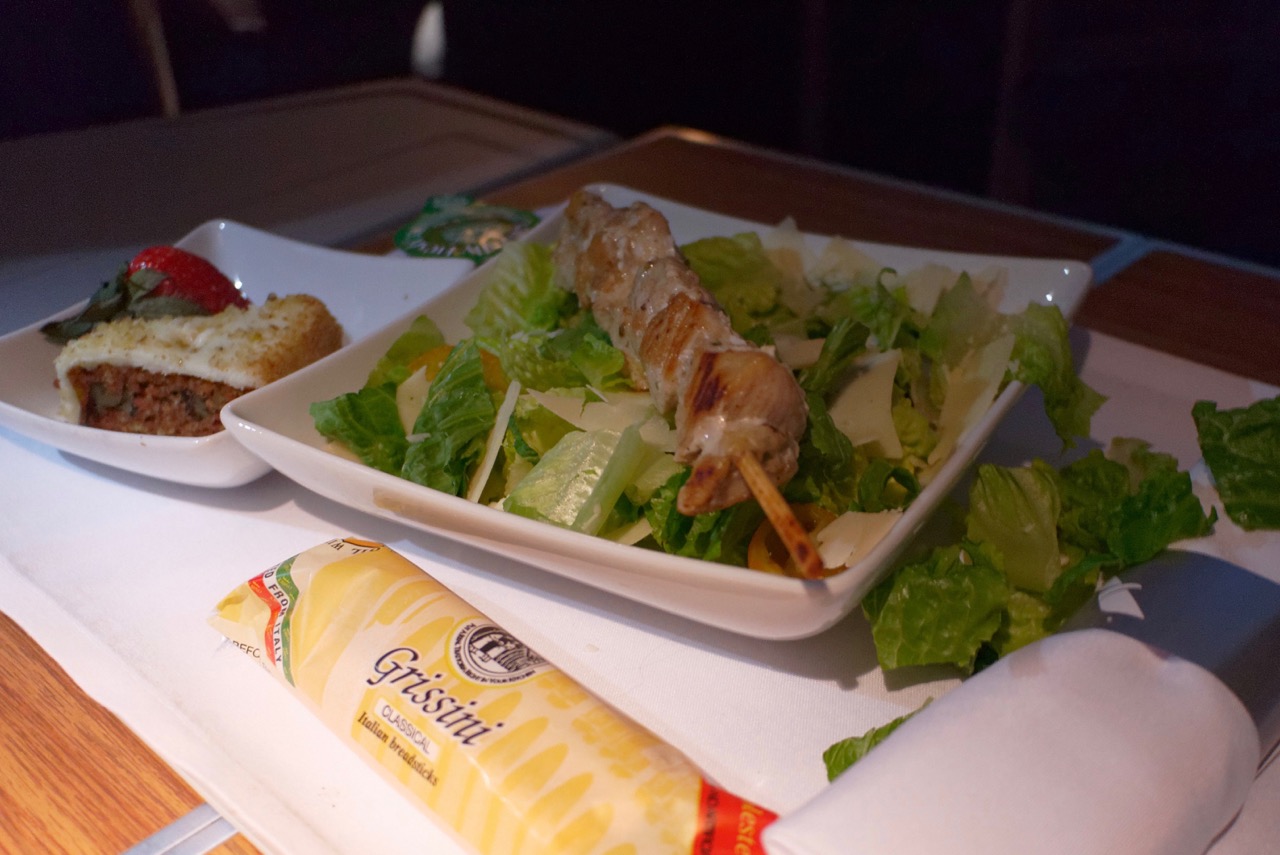 Afternoon snack – this was a bit small. Then we were served another small dessert – and well, the fruit that came with mine was mouldy. I won't subject you to the imagery.
The other facet to our experience was the staff – and while it's a well-known stereotype of US-based airlines that you'll receive poorer service than you might get elsewhere, that didn't hold true for the majority of the crew on our flight.
However there were two particularly grumpy attendants with which we had some very odd interactions, to the point where we felt uncomfortable asking them for anything throughout the flight.
I won't go into too much detail, but the outcome was just one of discomfort, and what with the seating weirdness, we just wanted to get off this flight as soon as we could.
Our Other Reviews
Summing up
I don't think our experience on American was representative of what you'd receive by flying with the airline, and it wouldn't put me off redeeming my Qantas Points with them – mainly because, on this route, the alternative would be with British Airways, whose additional taxes and fees are extortionate by comparison.
Service and food – well, I'm willing to chalk those up to some one-off problems. Maybe our weird interactions with the crew members were our fault, I don't know, but benefit of the doubt there. Food – could be better, and hey, I didn't suffer from food-poisoning. That was the worst offence, I guess.
The seating is one aspect that won't change much – American are not configuring any more aircraft with this cabin, but the existing 777-200 and 787-8 fleet will continue to run with it.
And of course, this was still a decent deal – 50,000 Qantas Points plus only $5 in taxes for a flight that would have otherwise been upward of $1,500 isn't a bad redemption. Note that this will jump to 57,000 Qantas Points from 18 September 2019 onwards.
So why did I think we might have been better off in Economy? I looked back halfway through the flight and I guess it was probably only half full. That's a 3-3-3 configuration, so we would have easily found two blocks of three seats each, and almost 120,000 Qantas Points (20,300 per person).
I'm yet to fly with American Airlines across the Pacific from Sydney or Auckland to LA. If you have, what's been your experience?
American Airlines AA142 New York – London Business Class Review
was last modified:
March 8th, 2022
by