Avios is one of the most useful points currencies worldwide, especially if you fly with oneworld carriers such as Qantas and Qatar Airways. British Airways Executive Club came out with an Avios subscription service in November 2022 to boost your balance over the long term. But just six months in, the pricing is set to change.
Generally, if you've been paying for a yearly subscription in GBP or EUR, costs will go up. But if you've been paying annually in USD, costs will decrease quite noticeably.
Of course, this isn't the first miles subscription model out there. United MileagePlus and Avianca LifeMiles are two other example programs that let you swap a monthly fee for a chunk of airline miles.
But with British Airways offering substantial savings with a subscription, compared to buying Avios in one-off amounts, here's our take on the whole program.
What are the Avios subscription plans?
There are four plans to choose from, each with monthly and annual prices. It makes sense to go for the yearly option, as you'll get the same number of Avios overall, but pay for 10 months instead of 12.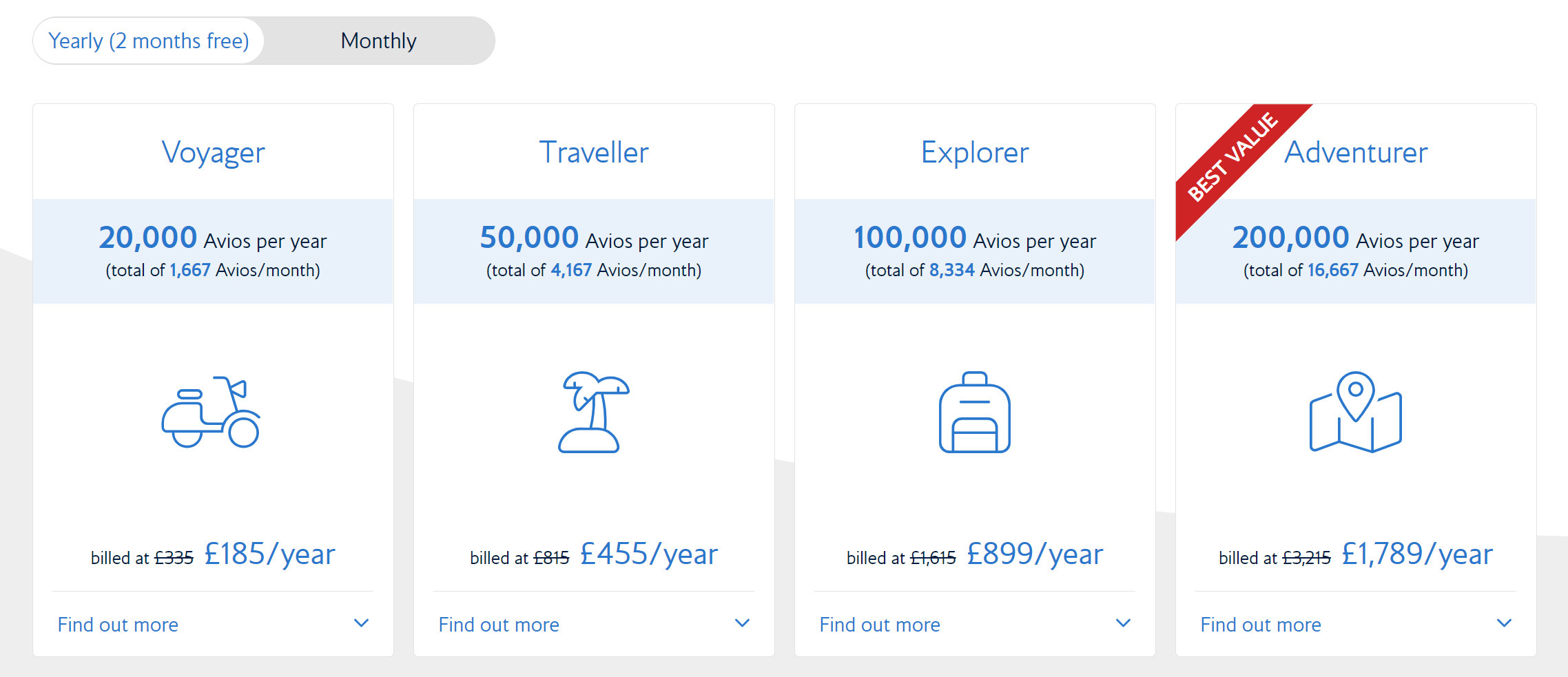 The Adventurer package provides the best value overall. Having said that, you won't be short-changed too much by choosing a lower package.
But those attractive prices in pounds are only available when the address on your Executive Club account is set to the United Kingdom. If your account shows an Australian address, you'll instead be billed in US dollars – which could see you paying more.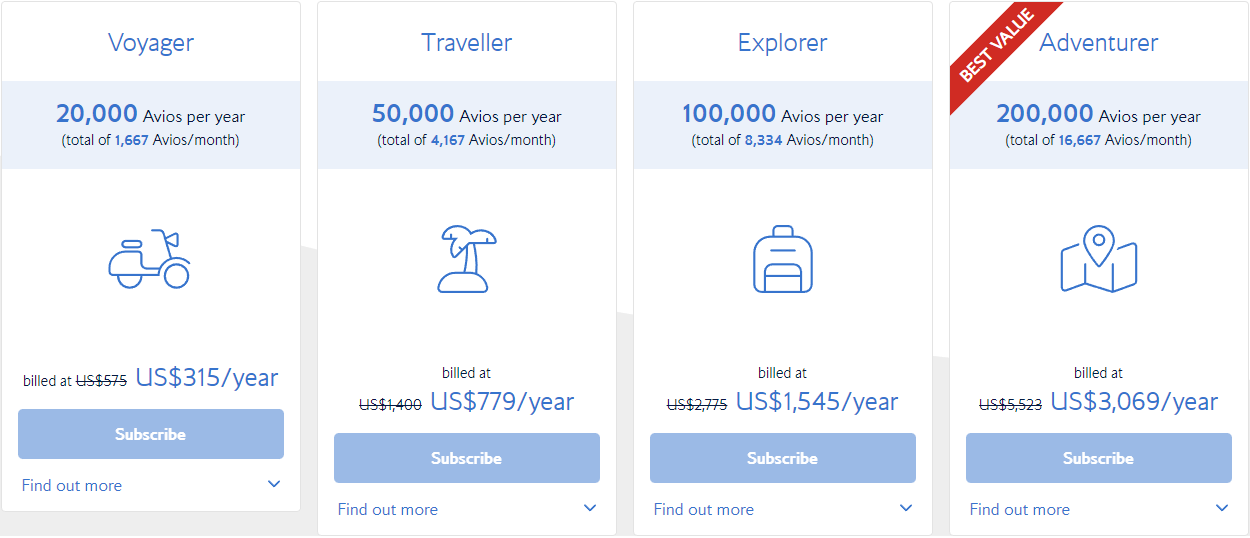 Don't see the fuss? From 1 May 2023 and with a UK address, the cost of the Adventurer Yearly plan is £1,989 – around AU$3,755. But with an Australian address, the US$2,575 price is instead on-par with AU$3,897. That's right: the asking price ends up being more expensive just because of the address on your Executive Club profile!
It's times like these it pays to have a UK address…..
Changes to Avios subscription plan prices
British Airways offers Avios subscriptions priced in GBP, USD and EUR. The currency used depends on the address attached to the member's account. And at first launch, the overall 'cost' of paying in currencies other than GBP was much greater. Particularly so when amounts were converted into an AUD equivalent.
But from 1 May 2023, the gap in the overall amount charged between the various currencies becomes narrower. In fact, some prices in USD and EUR will be lower from 1 May, while some costs in GBP will be higher.
There are many pricing changes to explore, and too many to highlight – as the subscription cost varies by currency, plan type and payment frequency. But here's a look at how the changes impact the purchases that currently provide the best value: the yearly subscriptions.
GBP
(now)
GBP
(from 1 May)
USD
(now)
USD
(from 1 May)
EUR
(now)
EUR
(from 1 May)
Voyager Yearly (20,000 Avios)
£185
£259
$315
$339
€209
€309
Traveller Yearly (50,000 Avios)
£455
£549
$779
$719
€515
€649
Explorer Yearly (100,000 Avios)
£899
£1,049
$1,545
$1,365
€1,015
€1,259
Adventurer Yearly (200,000 Avios)
£1,789
£1,989
$3,069
$2,575
€2,019
€2,389
The pricing changes bring the USD costs more into line with an equivalent amount in GBP. This reduces the incentive for people to need various overseas addresses…..
How do Avios subscriptions compare to the usual 'buy Avios' offers?
The Avios subscriptions actually represent a genuine saving over buying Avios through the usual means. A 50% bonus is usually the best offer we see. Under that promo, you can buy 300,000 Avios for £3,215, which is 1.07 pence per Avios. But with the subscription, you could be buying Avios for just under one pence each.
What can I do with 200,000 Avios a year?
For the long haul…
Avios can be very versatile. From Australia, one of the best ways to use Avios is to transfer them to Qatar Airways Privilege Club and fly to Europe in Business Class. You only need 90,000 Avios per person, each way (plus taxes)!
Most flights have at least two Business rewards available, and booking through Privilege Club will give you the best chances at snapping up those elusive seats.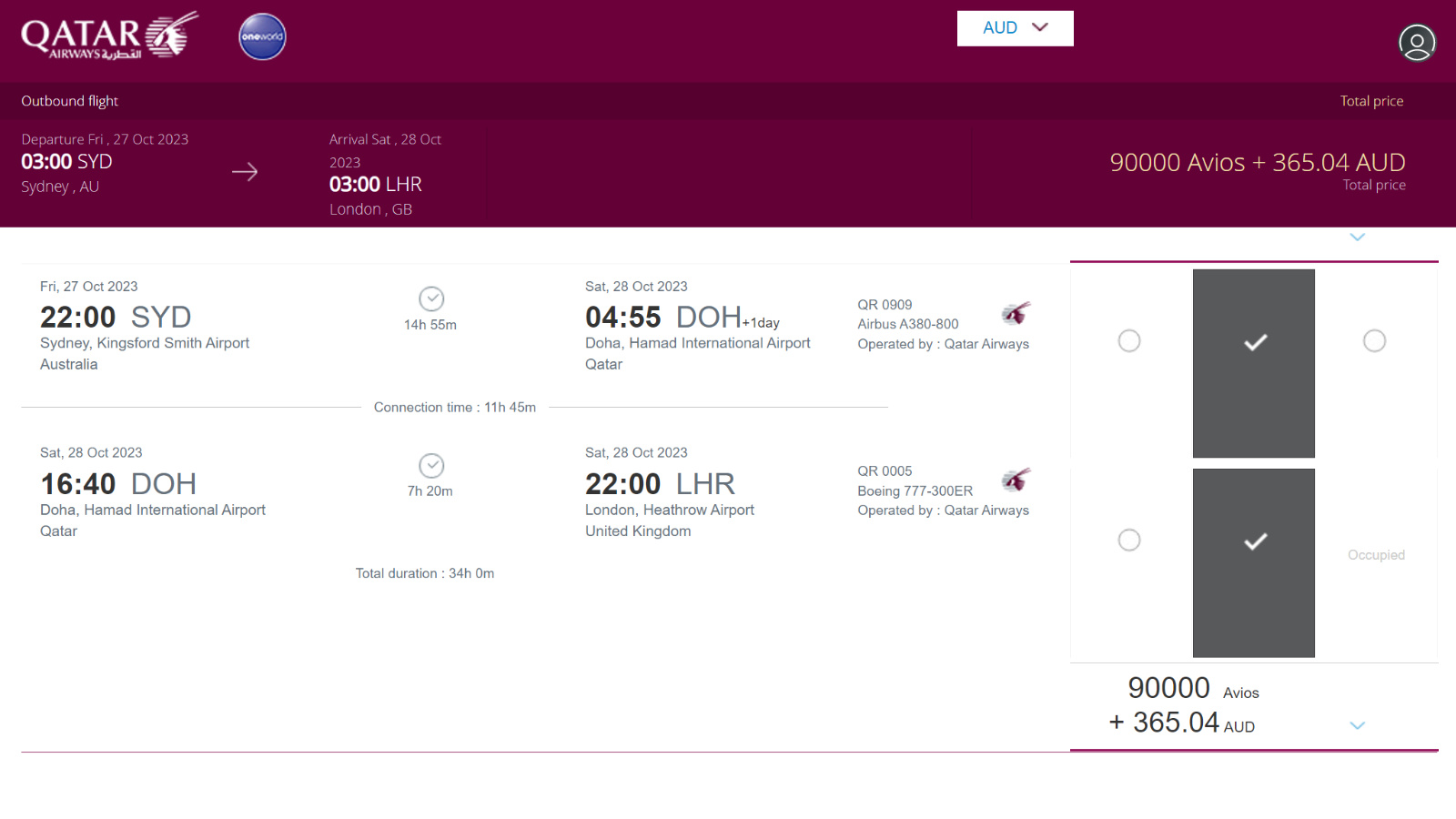 Based on the highest Avios subscription package, you could be getting a one-way flight from Australia to Europe in Business Class for around AU$2,055, including taxes.
For darting around Europe…
When you need to scoot around Europe in a hurry, Avios can be great for relatively cheap flights in Economy and Business. For example, you can fly London-Amsterdam for as little as 9,250 Avios + £0.50 per person during off-peak days.
British Airways also lets you pay with fewer Avios and more cash at competitive rates. For example, I could opt to pay 3,700 Avios + £65 for two people in Economy – perfect for using up a small quantity of Avios in your account.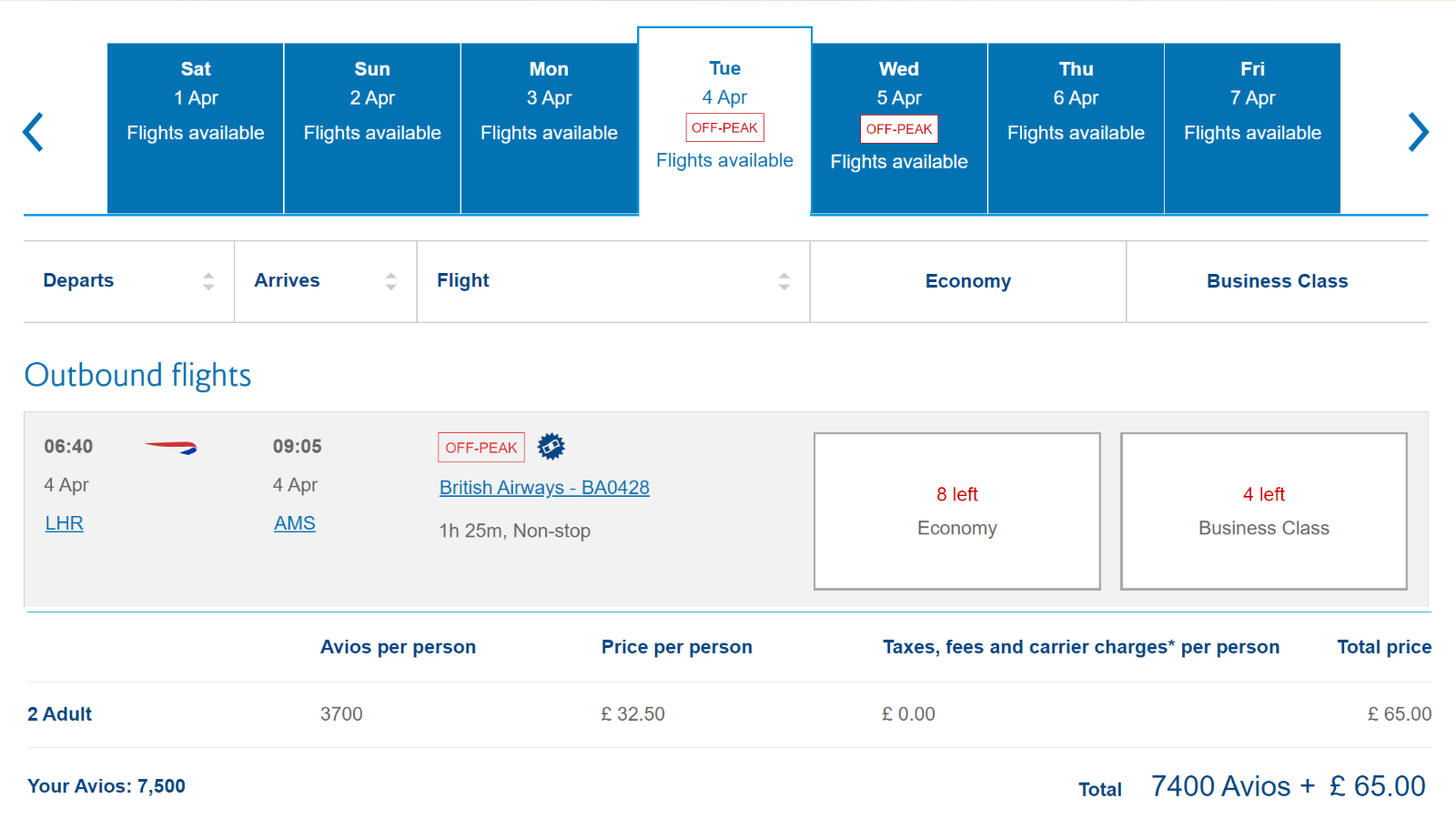 Based on the highest Avios subscription package, you could be getting a one-way flight from London to Amsterdam for around AU$173, including taxes and luggage allowance. (At the time of writing, comparable flights are retailing for AU$229 one-way for a basic fare which doesn't include a luggage allowance).
For cheap Qantas Business Class within Australia…
A one-way ticket from either Brisbane to Sydney or Sydney to Melbourne both fall into their lowest bracket at under 600 miles. This would set you back 6,000 Avios in Economy or 12,500 in Business. Compare this to 8,000 and 18,400 Qantas Points respectively.
Brisbane to Melbourne is over the 600-mile mark so will fall into the next bracket: 9,000 Avios in Economy or 16,500 in Business. Once again, this is considerably less than Qantas.
Melbourne to Perth is 11,000 Avios in Economy or 22,000 in Business and Sydney/Brisbane to Perth is 13,000 Avios in Economy or 38,750 in Business. This is about the maximum distance where purchasing Avios can represent good value for domestic flights.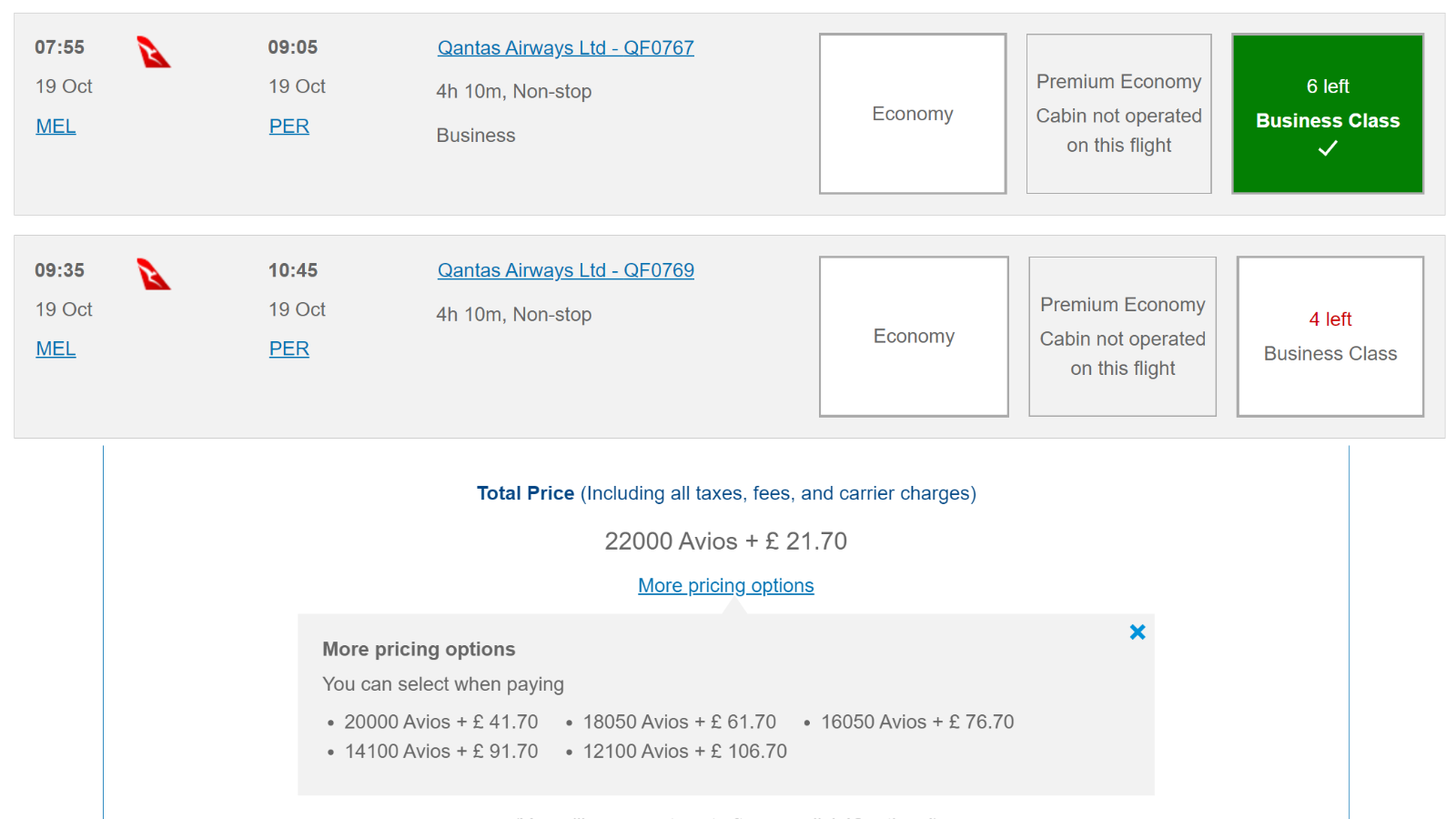 Based on the highest Avios subscription package, you could be getting a one-way Business Class flight from Melbourne to Perth for around AU$454, including taxes. That's a massive saving over the AU$1,400+ sticker price for Qantas transcontinental Business Class.
What's the catch with Avios subscriptions?
One very important point to consider is that the Avios comes delivered in monthly instalments. Even if you're paying for the annual plan, you'll only get up to 16,667 Avios per month.
This makes planning for reward redemptions much harder, as you'll need to wait a few months to build up enough balance for a big trip. But if you're taking multiple shorter trips, the Avios subscription could work out quite well.
And even if you have the patience to slowly accumulate Avios over a year, there's still the volatility of frequent flyer programs to consider. There would be nothing worse (in the loyalty world) than accumulating hundreds of thousands of Avios, only for a massive program or partner change to derail your plans.
As well, there are some hurdles to pass before you can subscribe. You'll need to have either earned or redeemed Avios in any quantity in the last three years to qualify. Alternatively, you'll need a balance of at least 1 Avios in your account.
A quick and easy way around that is to convert points from hotel programs like Marriott Bonvoy across to British Airways Executive Club. A minimum transfer of 3,000 Marriott points can fetch you 1,000 Avios – easy. You can even buy Marriott Bonvoy points to get that box ticked.
Alternatively, convert points to Marriott Bonvoy from programs like Amex Membership Rewards or CommBank Awards, and then ship those points onwards to British Airways.
Once you've passed that opening hurdle, you can take out an Avios subscription via the British Airways website.
Additional reporting by Chris Chamberlin.
British Airways Avios amends subscription prices
was last modified:
April 27th, 2023
by