A short 2.5-hour flight from Brisbane, nature-filled Norfolk Island is the perfect weekend getaway. But the island has another trick up its sleeve. Norfolk is an external territory of Australia, meaning flights depart from the international terminal – but you don't need a passport. How unique is that?
Travelling to Norfolk is like taking a trip back in time in Marty McFly's DeLorean time machine. In this beautiful, well-maintained country town, nobody locks their door, honesty boxes still exist and everyone knows everyone else. For those who enjoy a simpler and less stressful life, holidaying here could make you never want to leave.
And flying there in Qantas Business Class from Brisbane or Sydney costs just 27,600 points per person, plus $103 in fees and taxes. For a couple return, we're talking 110,400 Qantas Points all up, with just $410 to pay in cash. The same return flights retailed for a staggering $5472 on the weekend when we travelled, so by flying on points we saved over $5000! And unlike many international destinations right now, reward availability to Norfolk is excellent.
My wife and I loved everything about our weekend getaway to Norfolk Island – though the island is so sublime many people stay for much longer. Here's why you should jump in and book a trip to Norfolk, too.
Flying to Norfolk Island in Qantas Business Class
My wife and I are up at 4:30 am to get to the airport for a 5:30 check-in. An early start can sometimes be a drag. But there's something exhilarating about rising early for an international flight. I'm excited enough that I can't sleep anyway.
And here's the unusual thing about Norfolk Island. As it's an external territory of Australia, technically you're hopping on a domestic flight. But you get to check-in at the international terminal and even shop for duty free. Who doesn't love that?
Of course, we're flying Business, so we check-in via the priority Business queue and head through the security check as per normal. But once we reach customs, we're split out into a priority customs queue specifically for Norfolk Island travellers. Why? Because you don't need a passport to get through immigration! You can use an Australian driver's licence or simple photo ID, though I stick with my passport for that international flavour.
Walking through the duty-free labyrinth, I'm in international travel mode and riddled with excitement. It's the sort of thrill true travel lovers get when venturing overseas.
Because we're flying Business Class, the Qantas International Lounge in Brisbane is our first port of call. It's airy and well-equipped, with plenty of natural light once the sun rises. After our early start, we're rightly ravenous. So we're happy to see the plentiful breakfast spread. The bar-style seating is perfectly set up for dining, and we settle in with a coffee and warming brekkie. But forget forking out for an exorbitant meal at the airport. The food and drink here are all included, so I never need to reach for my wallet.
40 minutes before our flight, we wander to the gate lounge ready for boarding. Because we're flying up the pointy end, there's no need to join the lengthy Economy queue. My wife and I are at the front of the short priority line, so we're first onto the plane. We settle into our seats – 1A and 1C of course!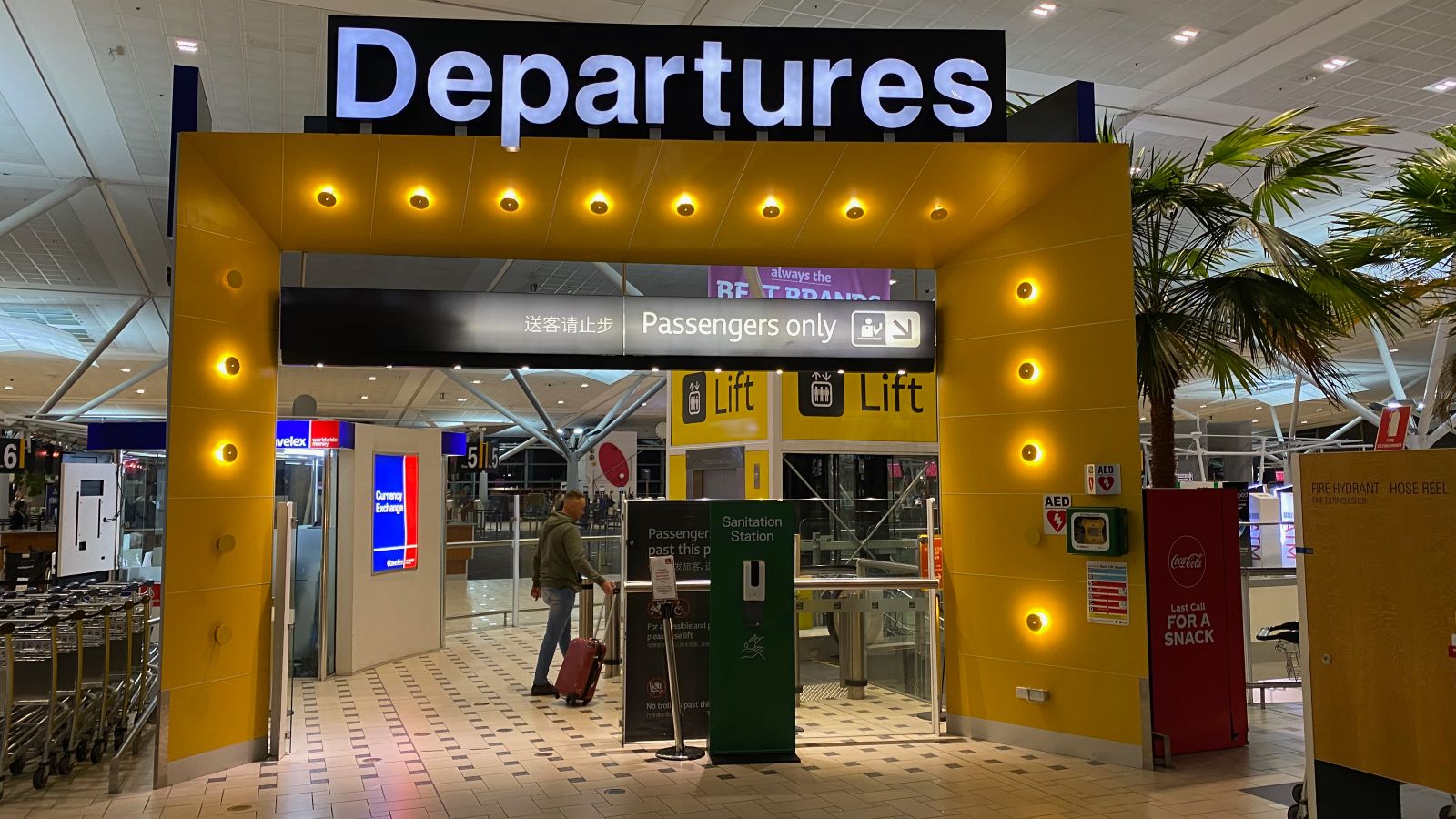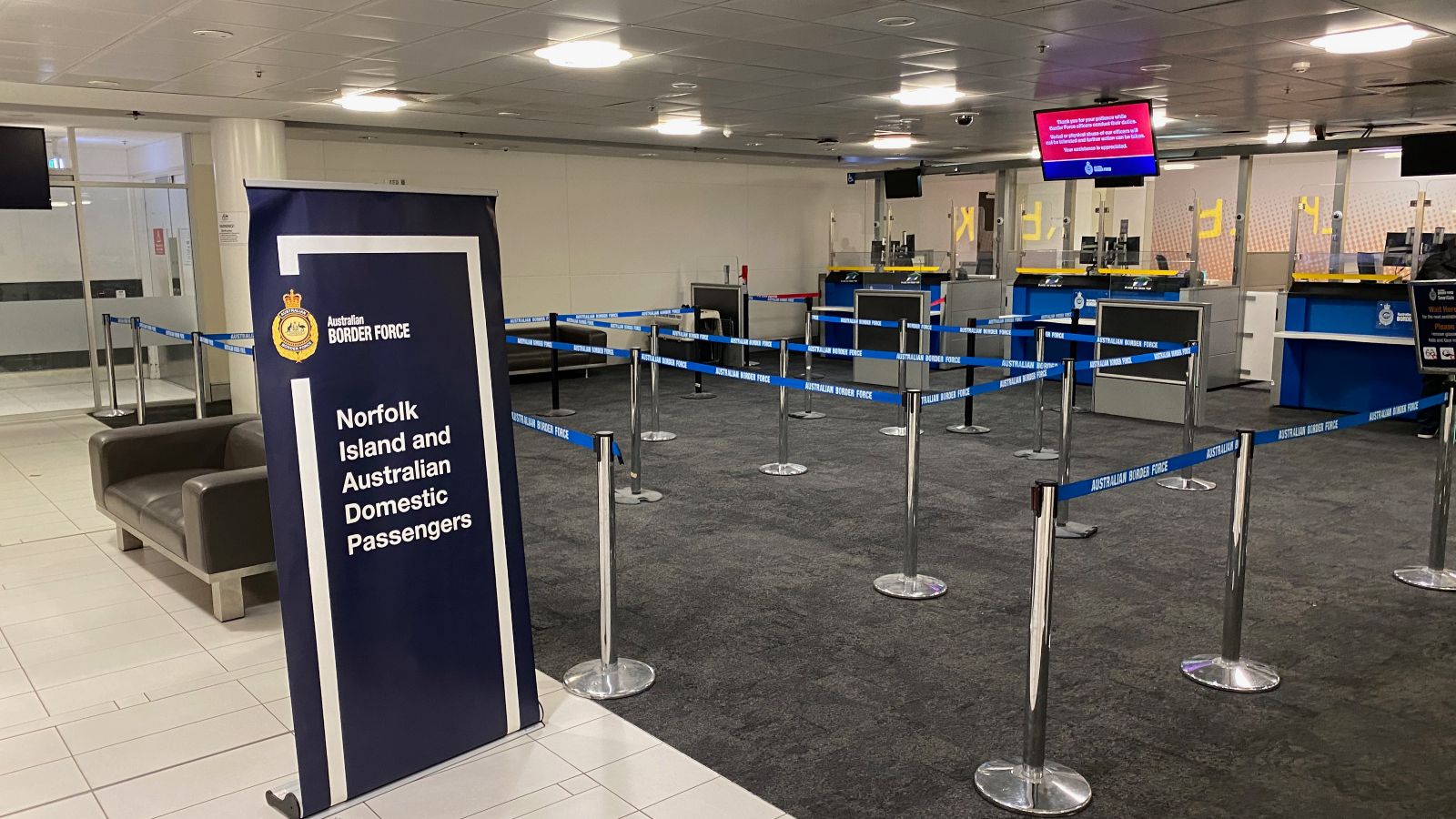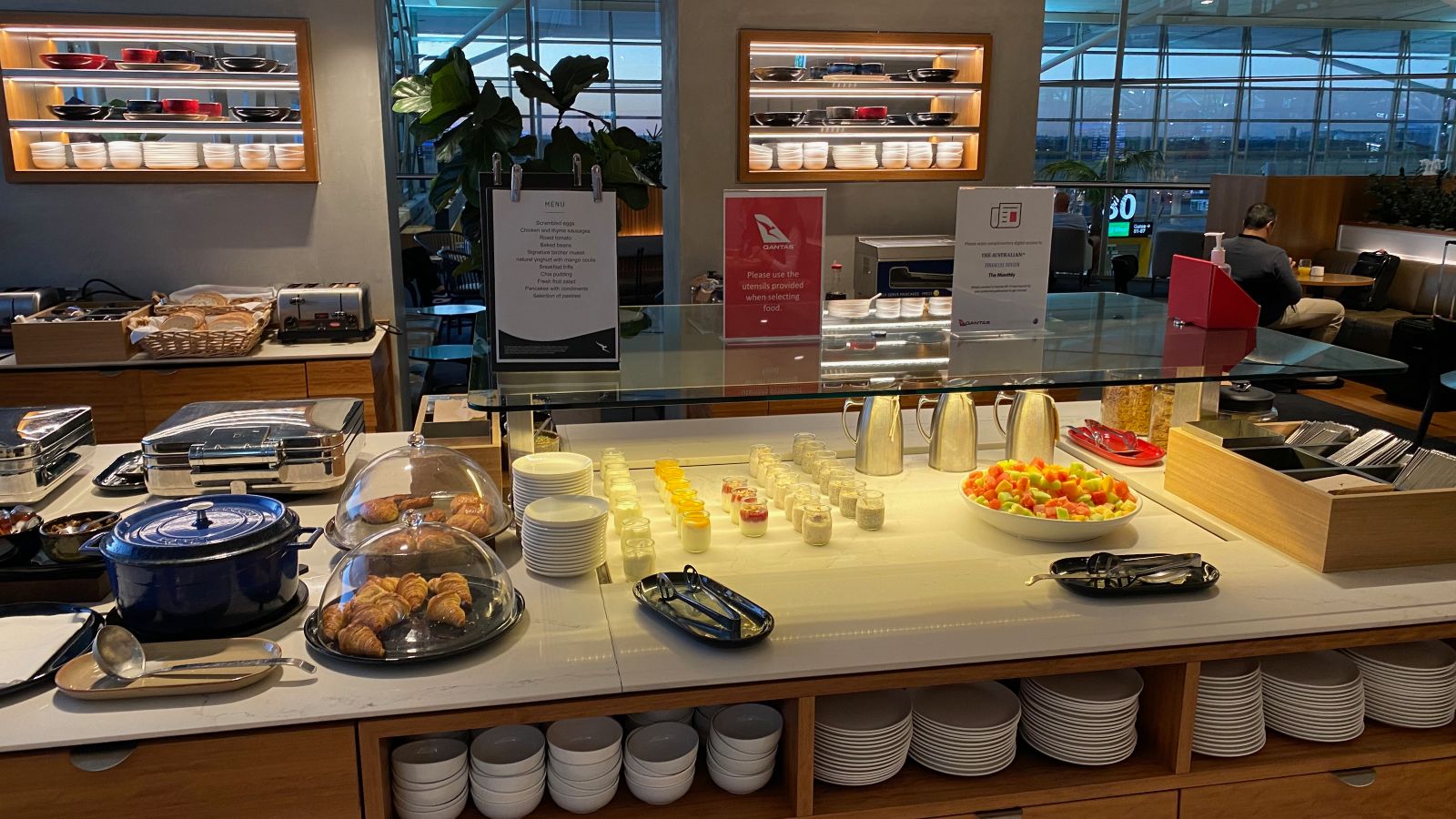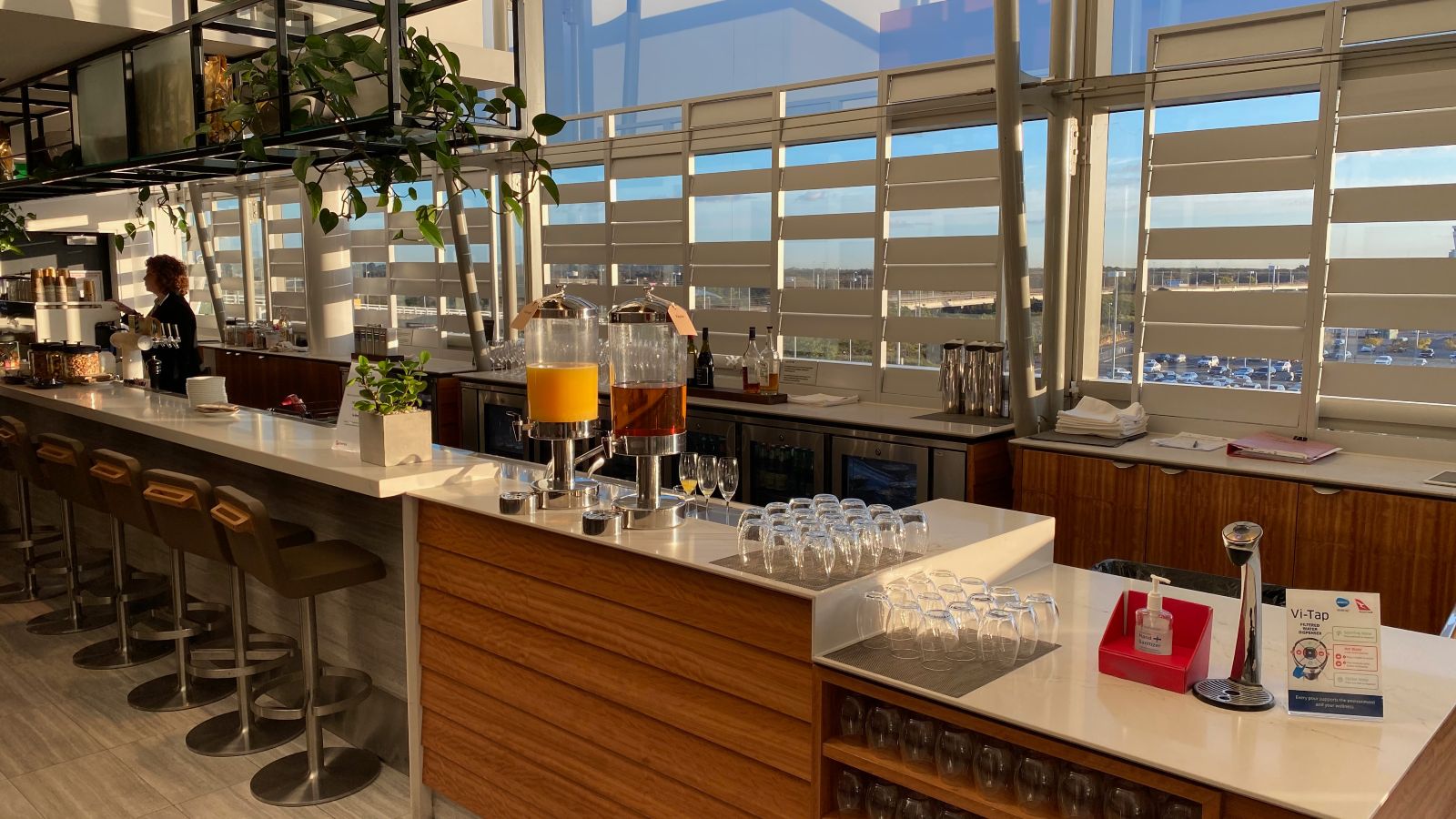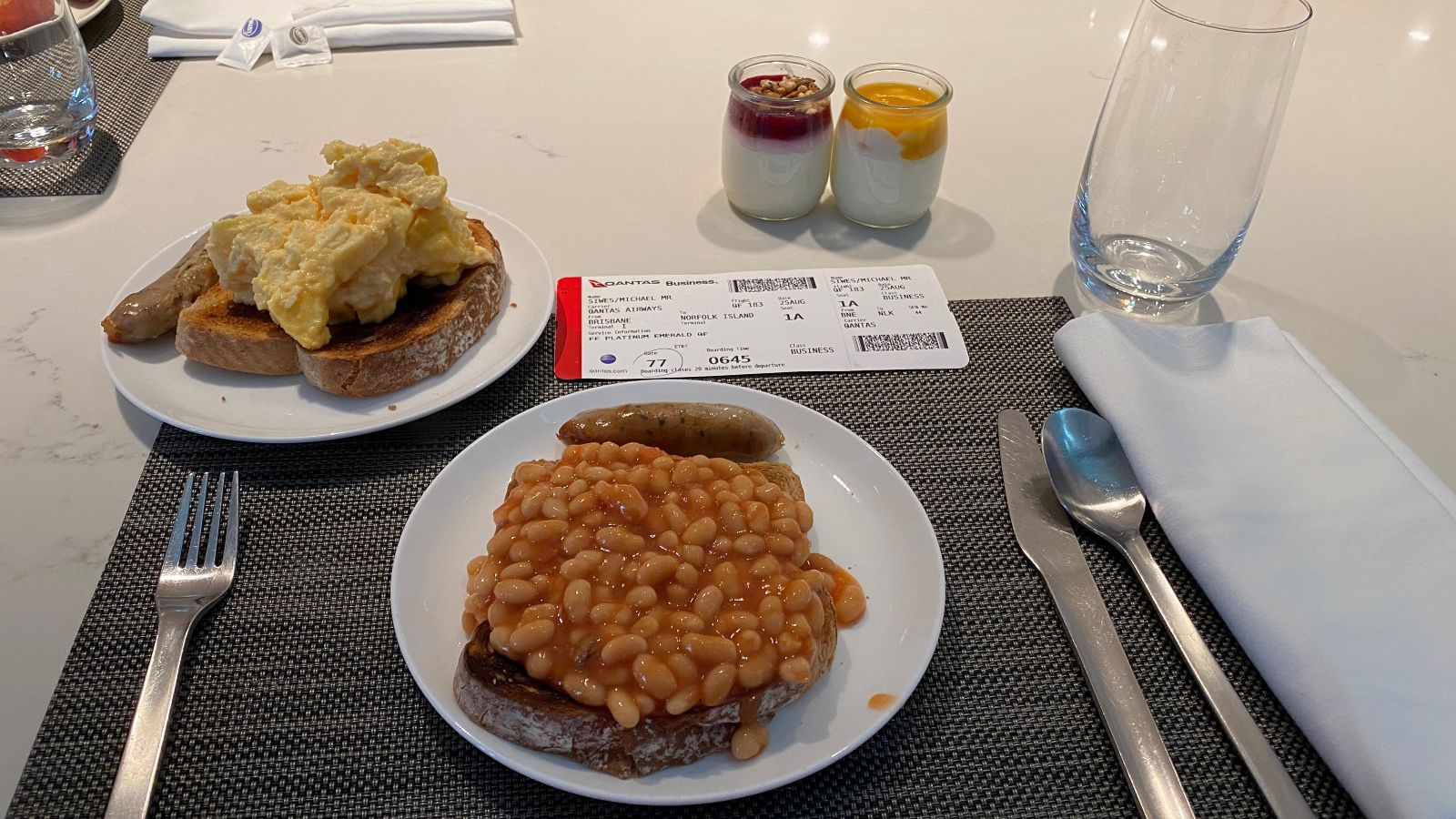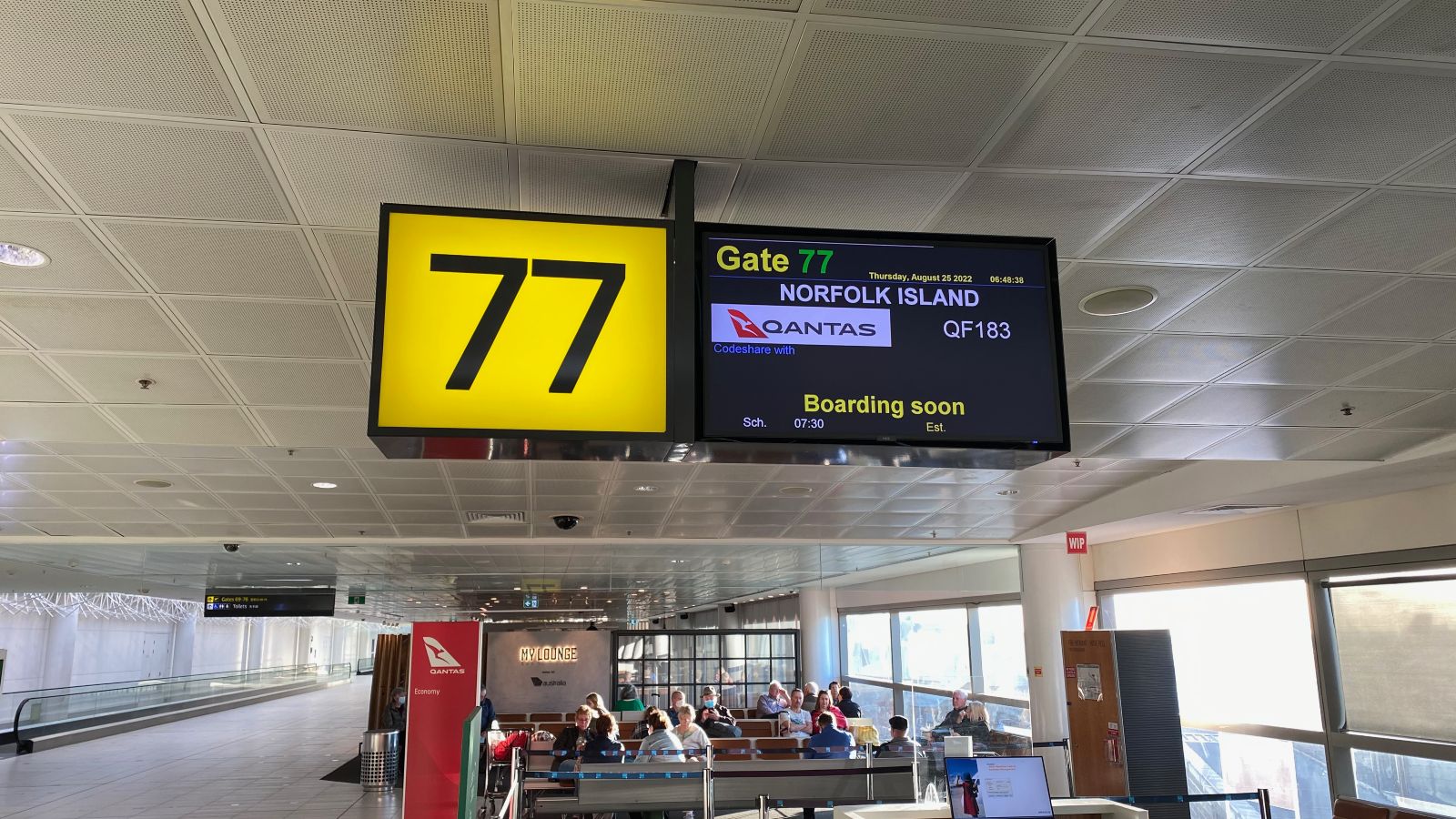 Qantas Boeing 737 Business Class
On the Boeing 737, Business Class isn't as luxurious as what you'd get on a long-haul flight. There are no lie-flat beds or spacious individual suites. Though with a flight time of just 2.5 hours from Brisbane and beautiful Norfolk to look forward to, who's planning on sleeping anyway?
But here's what's great. With only two side-by-side seats compared to three in Economy, I have heaps of leg and elbow room. And the service we experience is next-level compared to down the back. There are only 12 seats in the entire Business Class cabin and only seven passengers on this flight. And with a dedicated cabin steward in Business, my every need is catered for. What more do you need?
Soon, it's time for a second breakfast. I've eaten in the lounge, but when my meal tray arrives suddenly I'm hungry again. I've selected the omelette with potatoes, mushrooms and bacon, served with a strawberry pastry and passionfruit Greek yoghurt. The entire meal is absolutely delicious. My wife enjoys her mushroom frittata with bacon and baked beans, with the same pastry and yoghurt to finish.
Speaking of enjoyment, I order a small bottle of Grant Burge sparkling to accompany my breakfast. Why the hell not – I'm in Business Class and on holiday, damn it! I read a few chapters on my Kindle and before I know it we're getting ready to land.
Even though this is technically a domestic flight, you still need to fill out the standard Australian Incoming Passenger card to enter Norfolk – the same as you would if you were returning home from overseas. But there are a few key differences. I outline these in the tips and tricks section at the end of this article.
All in all, this is a great introduction to the pleasures of flying Business for those without the points to travel long-haul. With the domestic Business Class fit-out, I find the real luxury comes from the dedicated service and substantial meals. But I also really appreciate the extra space and wiggle room.
After experiencing life up the pointy end, I guarantee you'll be hooked and determined to become a true point hacker. That way, you'll never have to fly down the back ever again.
Also read: Best seats in Qantas Boeing 737 Business: should you choose row 1, 2 or 3?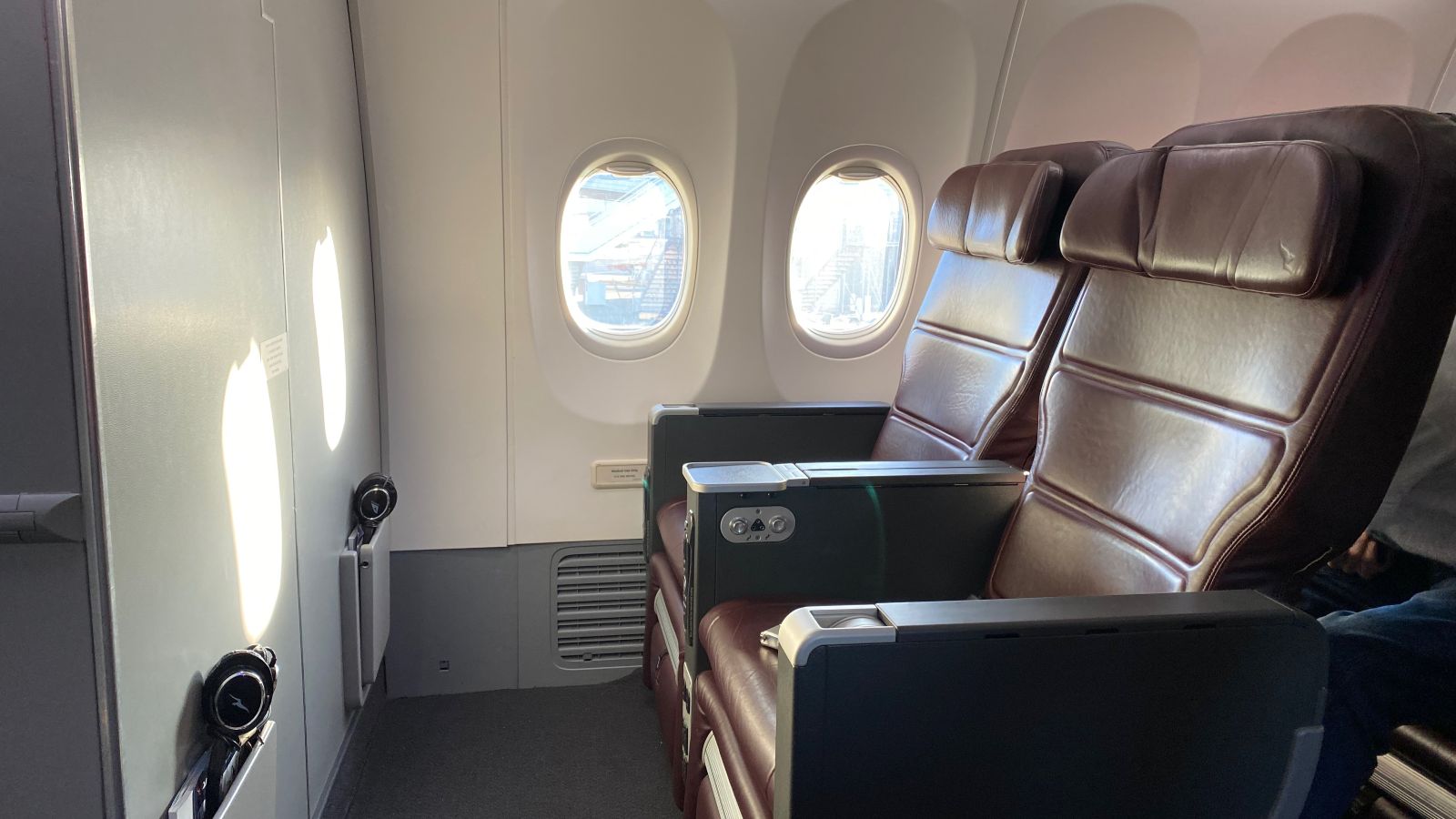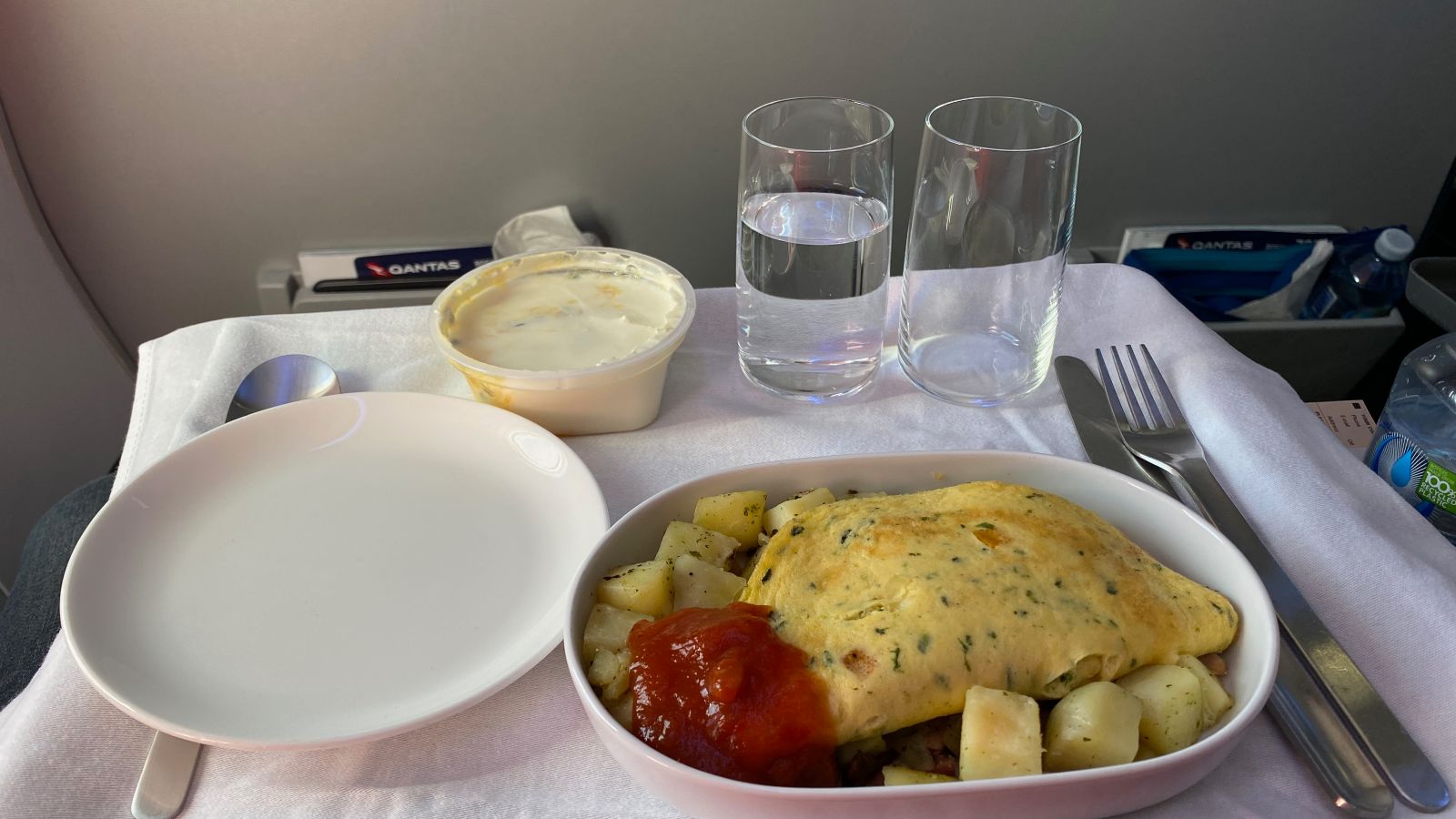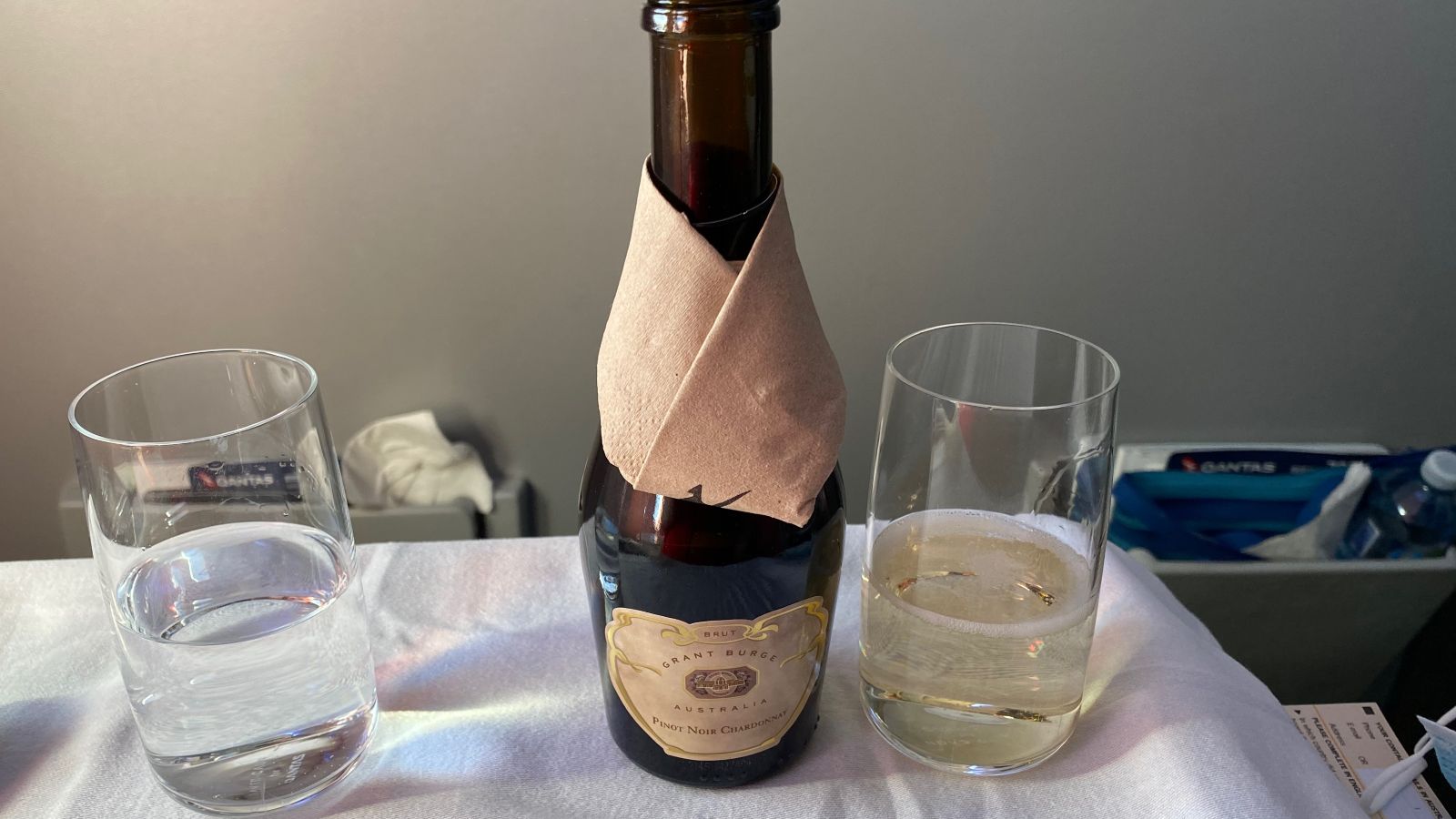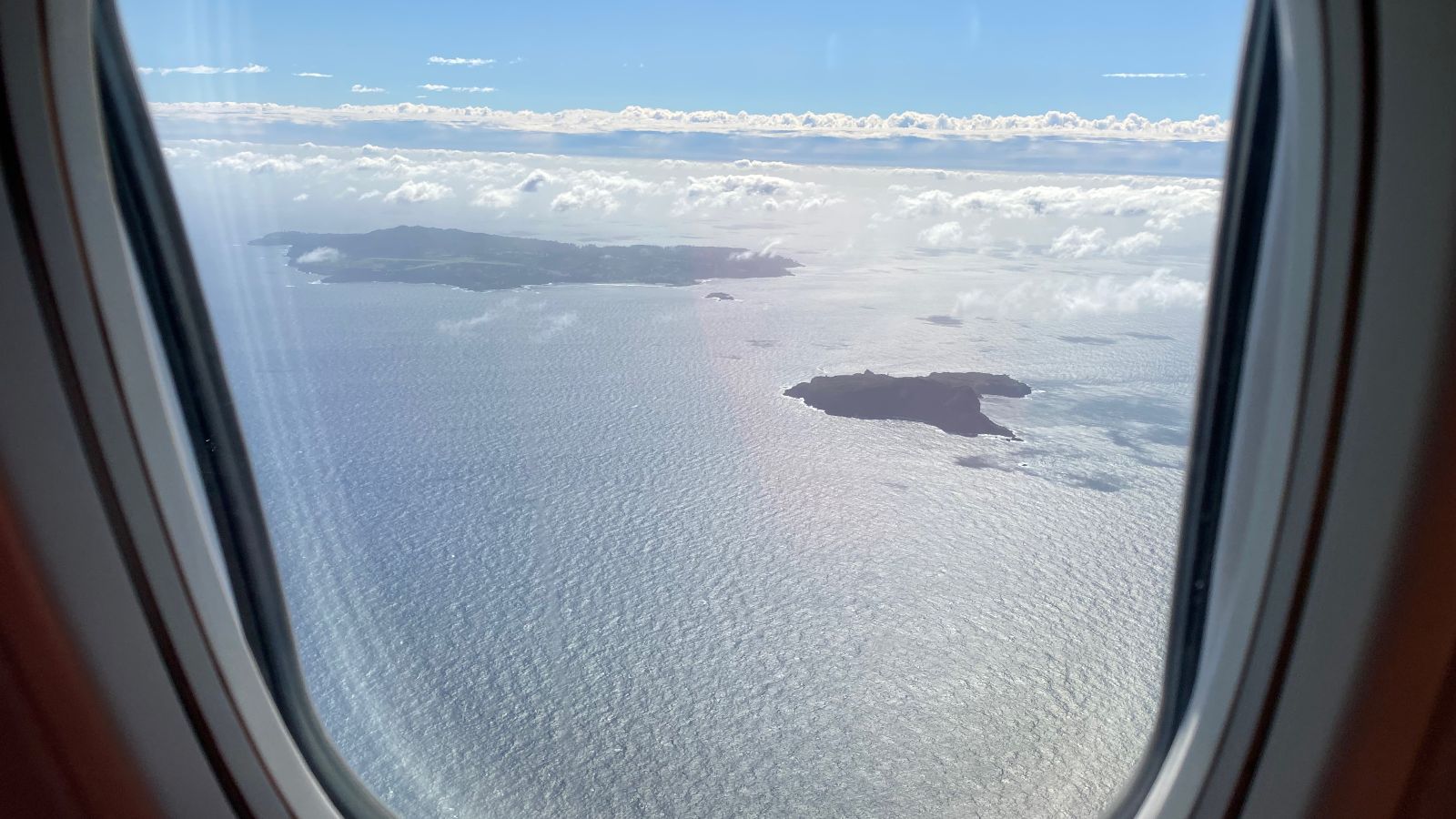 Hello Norfolk Island
Before we know it, the seatbelt sign chimes on for landing. The island is stunning from the air – and even more beautiful on the ground. Hello paradise.
Accommodation options
There are a variety of accommodation options on Norfolk Island, but they tend toward the cheaper and less luxurious. So if you're after an affordable getaway, you'll be all set. And with so much to see and do on the island – especially if you're just going for a short escape – you won't need much more. Of course, there are also some higher-quality digs. But don't count on there being availability if you're booking at short notice.
I found Airbnb to be a great option for better accommodation at reasonable prices. I book a place called The House at Puppy's Point on Airbnb via Qantas Hotels. With three spacious bedrooms (limited to four guests), a lovely owner and amazing beach and sunset views from nearby Puppy's Point, the fact I earn one Qantas Point per dollar is simply the cherry on top.
And staying in a house somehow seems more authentic to the Norfolk lifestyle. There's certainly nothing manufactured about The House at Puppy's Point. It's an authentic Norfolk paradise, from the pot-holed roads where you need to dodge cows and chickens to the sound of waves crashing into the nearby rocks as you lay in bed. We sit by the fire pit at night watching the sun set over the western Pacific Ocean, and in the morning we enjoy breakfast on the verandah as the rain falls gently outside.
I've been to many opulent hotels and resorts in my time, but there is something more real and meaningful about staying at a place like this. I feel connected to the locals, whose independence and protective attitude towards their island is something to savour.
Depending on the time of year, this fantastic homestead can be rented for between $200-$275 per night. But as you'd expect it's very popular, so try and book as far in advance as possible.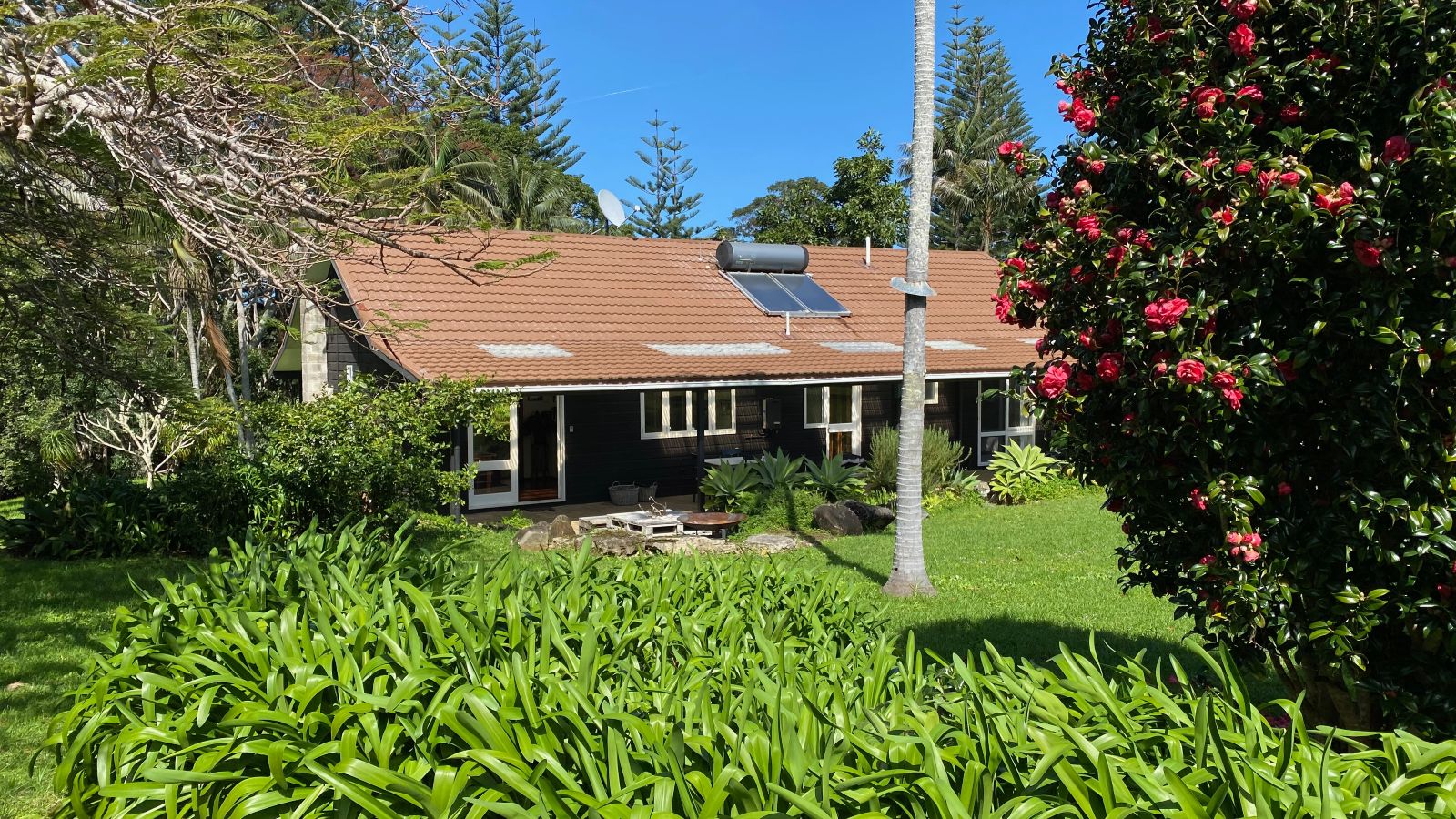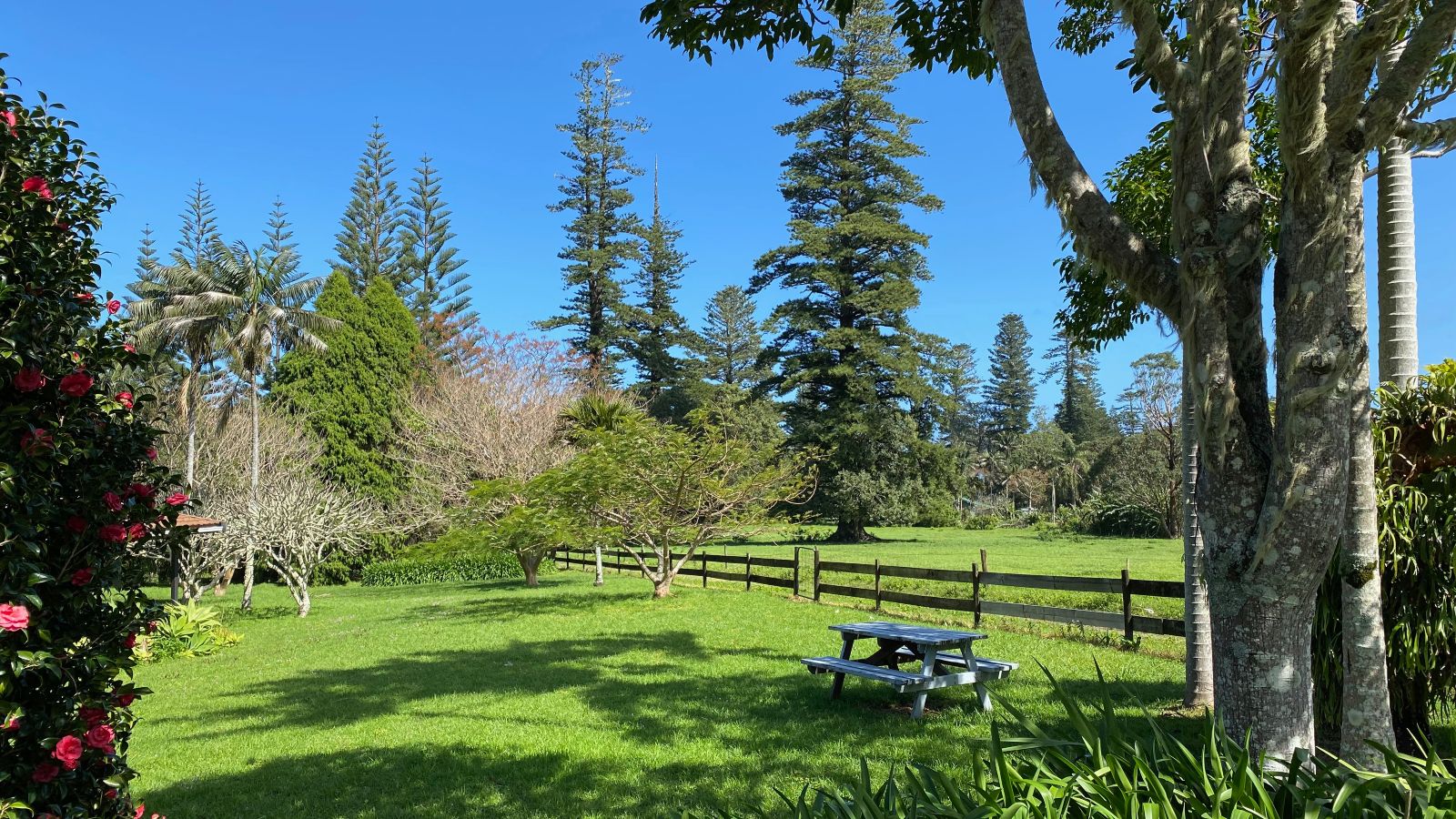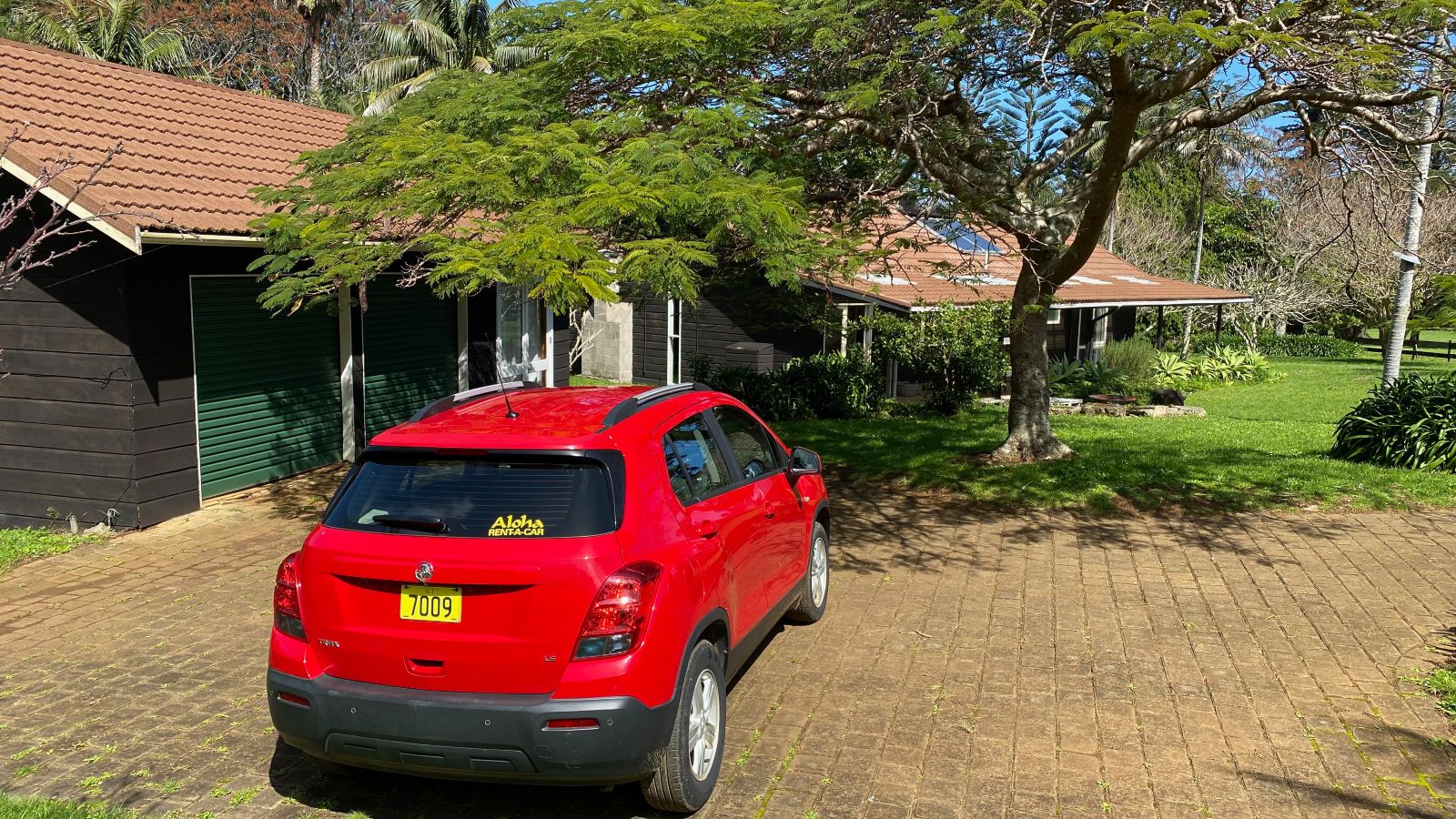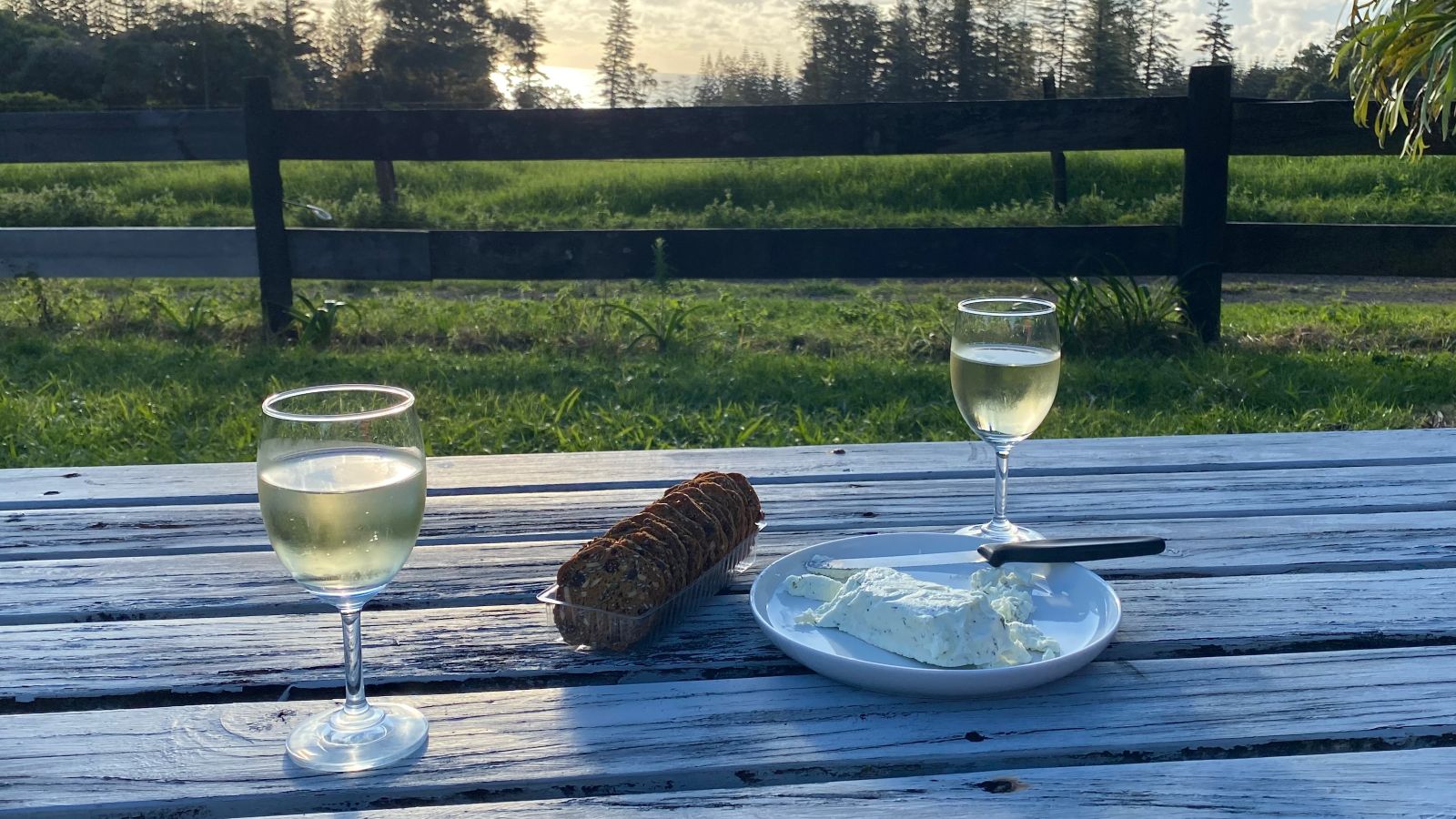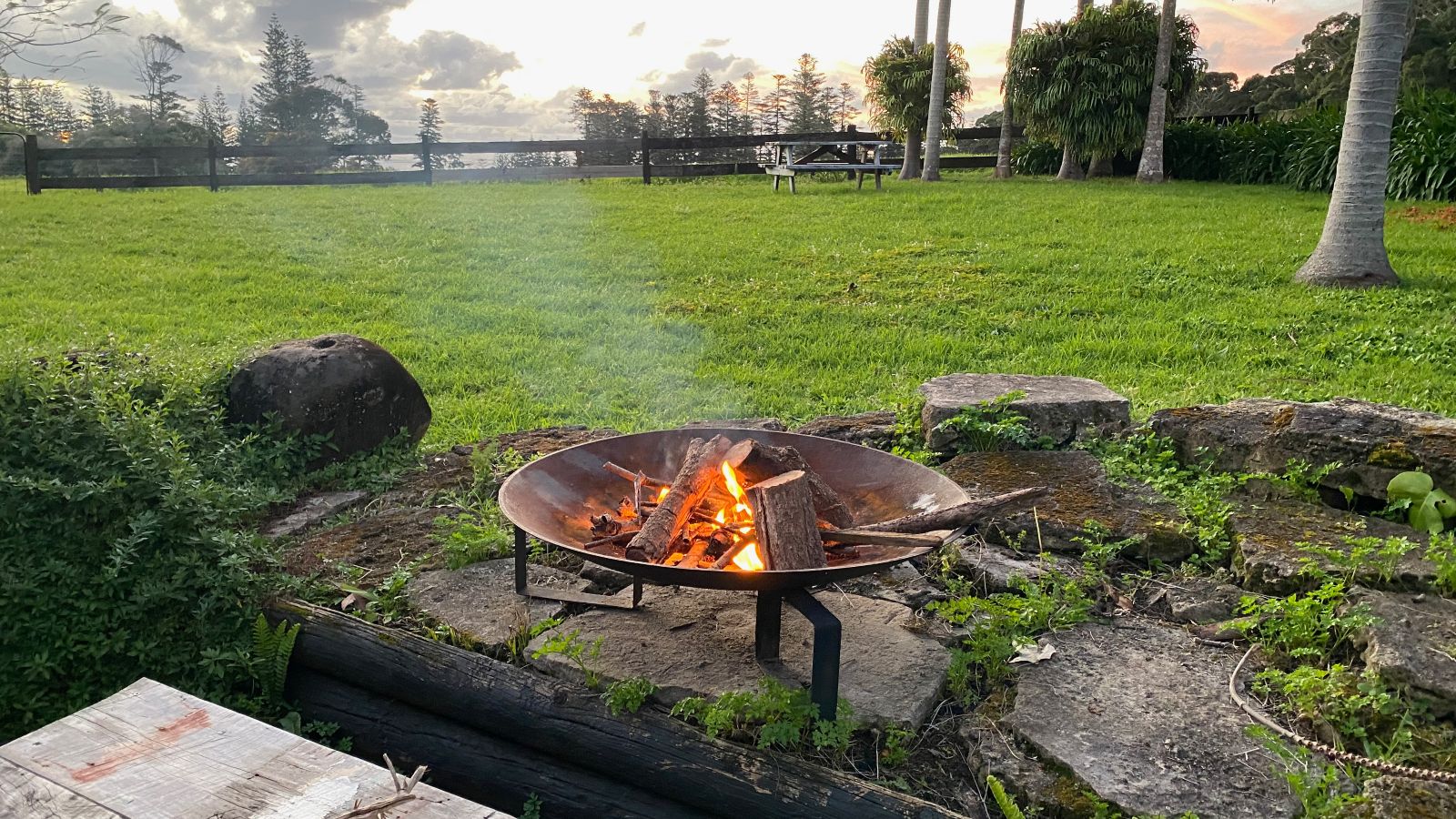 Ad – Scroll down to continue reading.Minimum spend, terms & conditions apply.
Getting here on points
For a restorative weekend getaway, it's hard to go past Norfolk Island. And why would you, when cash fares are notoriously expensive and it's so affordable to fly there on Qantas Points?
Return from Brisbane or Sydney for one person, it'll cost you a measly 27,600 Qantas Points each way in Qantas Business Class, plus $103 in fees and taxes. For a couple, that's just 110,400 Qantas Points return and $410 on the side in taxes and fees. The equivalent cash fare for a couple flying return in Business Class cost $5472 on the weekend when we travelled, so jetting there on points scored us a saving of $5062. It's hard to argue with that! Of course, if you have time to travel mid-week, slightly cheaper Business Class cash fares might be available.
Travelling from Melbourne? It's 41,500 Qantas Points one-way in Business Class via either Melbourne or Sydney, or 83,000 points return. That's 166,000 Qantas Points return for two – still really attainable.
And with many frequent flyer credit cards offering up to 100,000 bonus Qantas Points after you're approved and meet the minimum spend, you'll be jetting off to Norfolk before you know it. Check out our credit card offers below for some great deals.
Qantas Wine is another excellent way to get tipsy on points, with certain cases offering up to 20,000 bonus Qantas Points.
For the best activities on beautiful Norfolk Island plus where to drink and dine, keep reading. I cover all this and more.
Featured deals
What to do on Norfolk Island
Norfolk is an island paradise, with all the stunning scenery and beautiful beaches that you'd expect. Its sleepy way of life is one of its many charms. But don't be fooled – there are still plenty of activities to keep you busy. Here's what my wife and I enjoyed while we were there.
Activities
Hiring a car is a must on Norfolk Island, and the views are spectacular wherever you go. In fact, my wife and I ended up calling it 'Wow Island', because every time we turned a corner the word 'wow' would invariably come out of our mouths. So grab a map and get exploring.
First, head to the summit of Mount Pitt to get a 360-degree panorama of the entire island. You'll be staggered at how much there is to see and do on an island that looks so small from above.
I prefer to set my own itinerary – and drive my own car. But if you're looking to familiarise yourself with the island quick-smart, you may want to book an organised tour. Local tour guides will fill you in on Norfolk's history, flora and fauna.
A fan of golf? Then don't miss playing a round at the Norfolk Island Golf Club. The course isn't super challenging, so it's good for all levels. But it's the views of the Pacific that are truly next level. I'd suggest picking a day without a strong southerly wind, though the views are breathtaking no matter the weather. Lovers of the sport may want to opt for a dedicated golfing travel package, with 3 to 5-star accommodation options all included.
If you're not squirmish, you can visit the pier in the historic Kingston area mid-afternoon when the fishing boats return. They fillet the fish on the pier and then throw the remains back into the ocean. Local sharks have cottoned onto this habit and come in to feed. Thankfully, sharks that aren't hungry don't tend to want to eat swimmers, the locals told me!
Of course, nature lovers will be spoiled for choice on Norfolk. Bushwalk through the subtropical forests of the National Park, with its ancient trees and clifftop views. I'd also recommend the walk at 100 Acres down to Rocky Point, which has unique flora not seen elsewhere on the island. I felt as if I'd entered a portal into a completely new world. The area is also known for its enormous Moreton Bay Fig trees, so have your cameras at the ready.
I'm a history tragic, so I loved spending time in the historic Kingston area. Captain James Cook landed on Norfolk in 1774, and many early settlers and convicts established themselves here in Kingston. I found it fascinating to wander past the historic stone buildings and ruins, which overlook some lovely beaches along Slaughter and Emily Bay.
And here's a tip: be sure to visit at low tide. The nearby reefs shelter the shore and provide huge protected pools for swimming, snorkelling or wandering among the rock pools. While you're here, grab a ride in a glass-bottomed boat (try booking ahead as they can sell out a few days in advance). It's a great way to observe the sea life without having to get into the water yourself.
I'm not usually into art, but I found the 360-degree painting depicting the history of Norfolk Island absolutely amazing. Known as Cyclorama, it's well worth the $15 entry fee.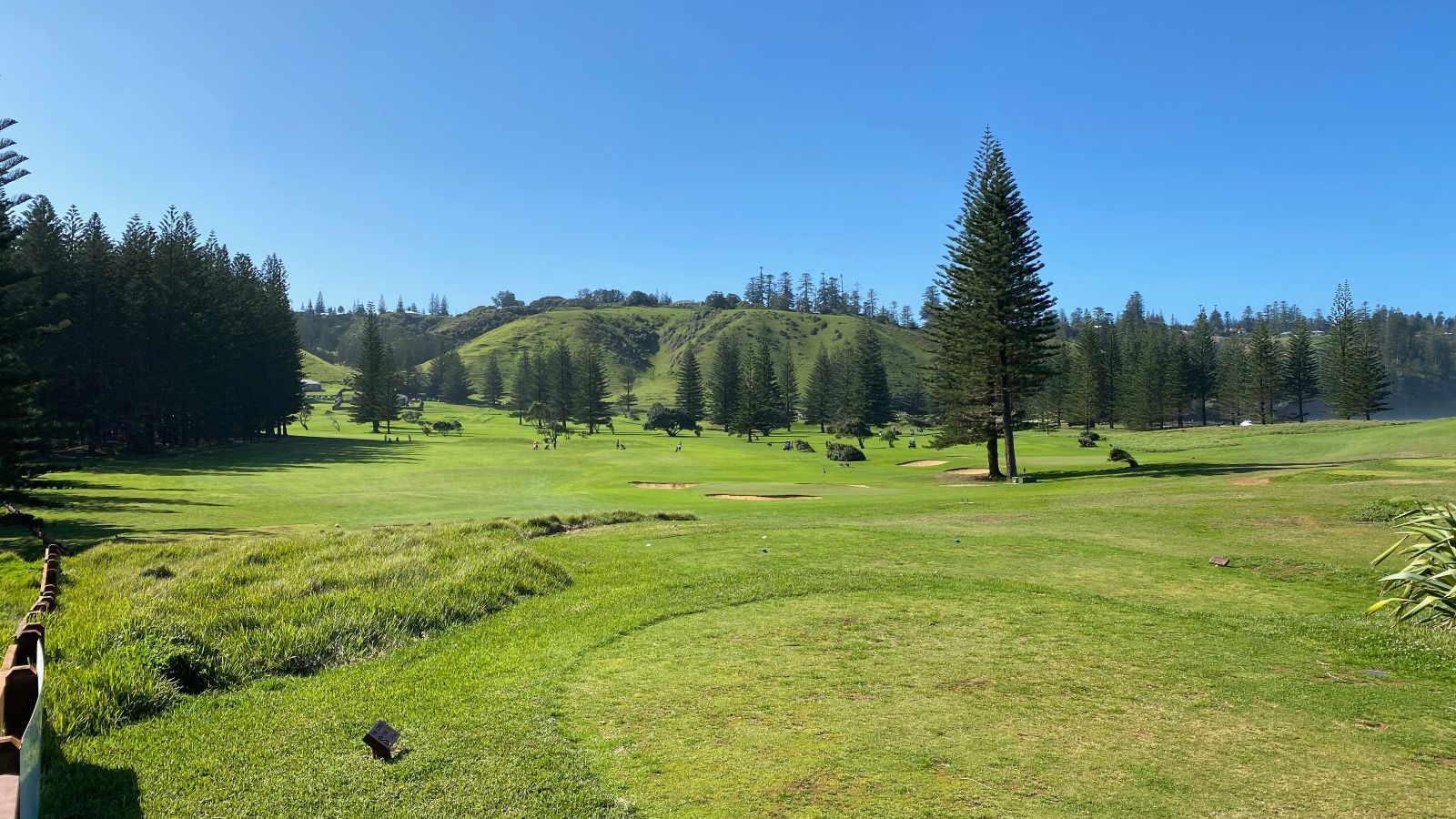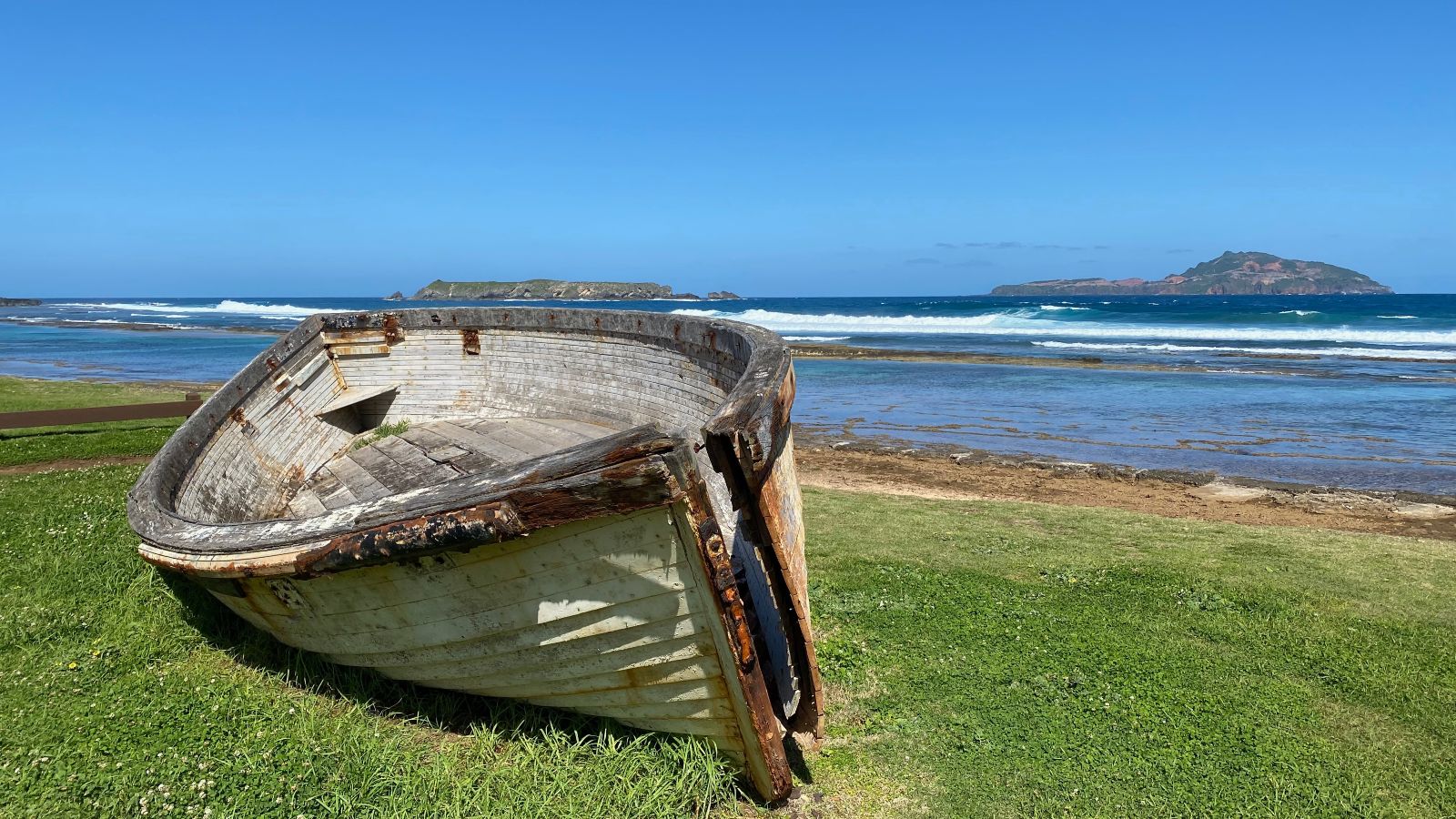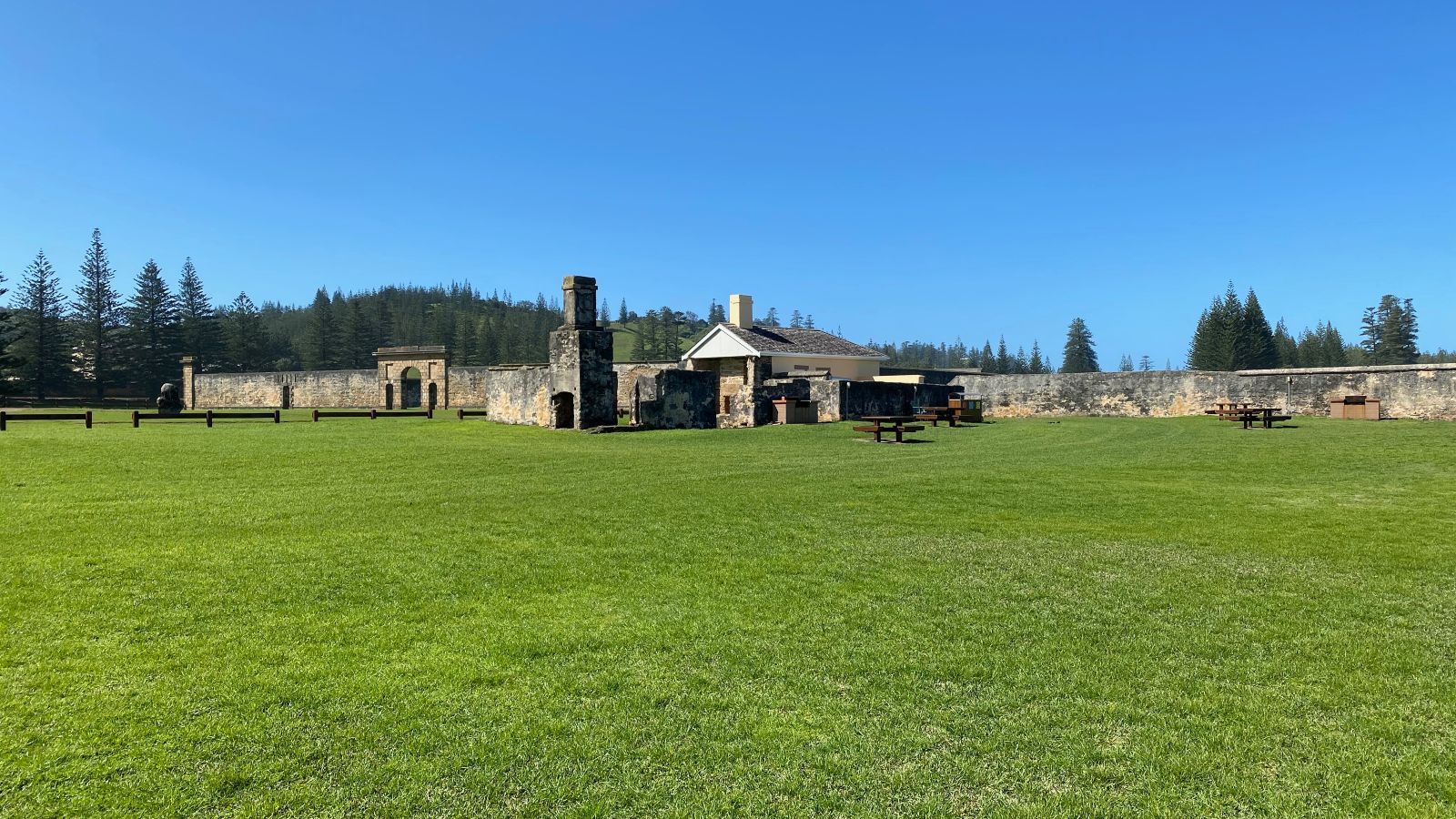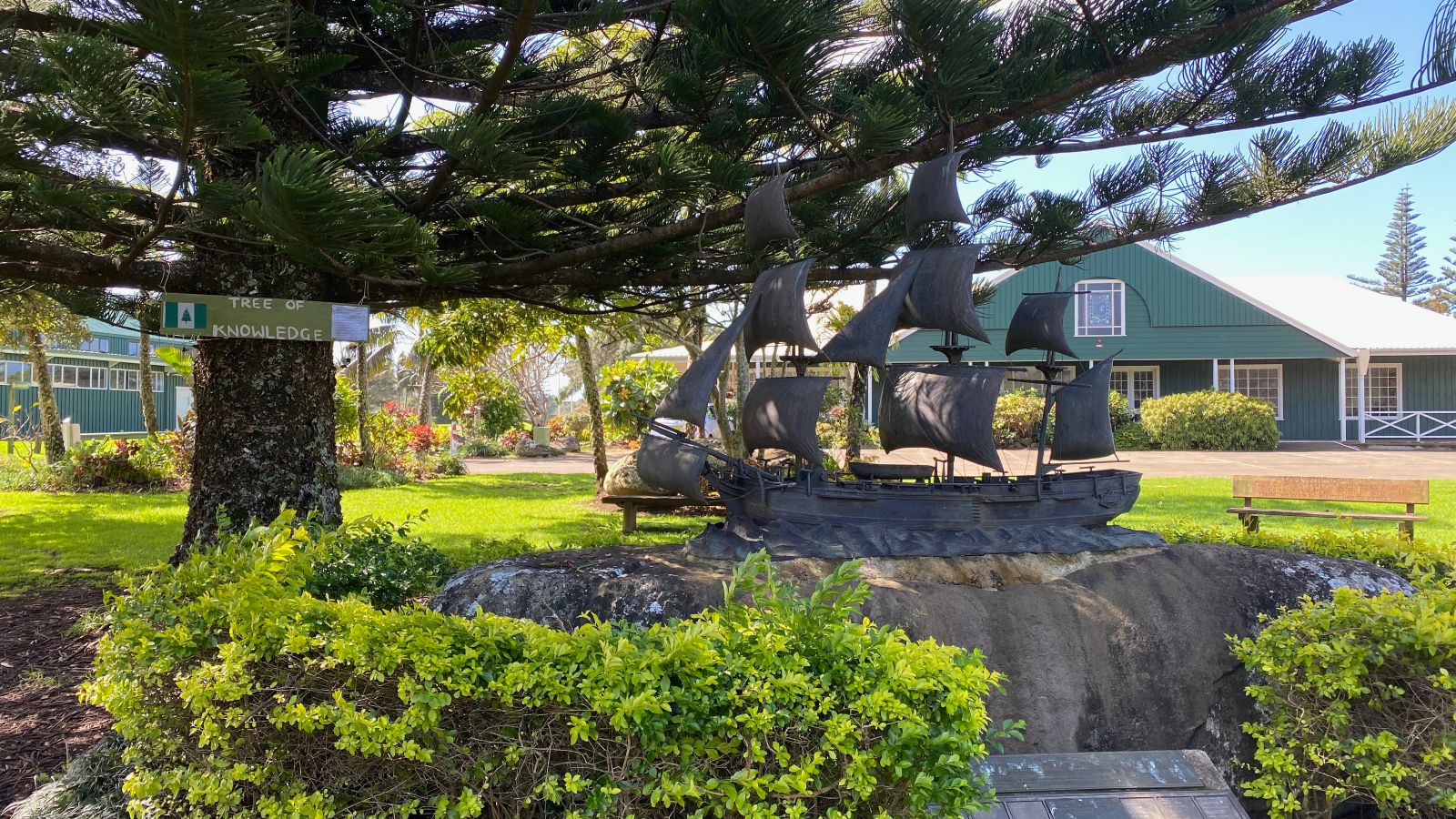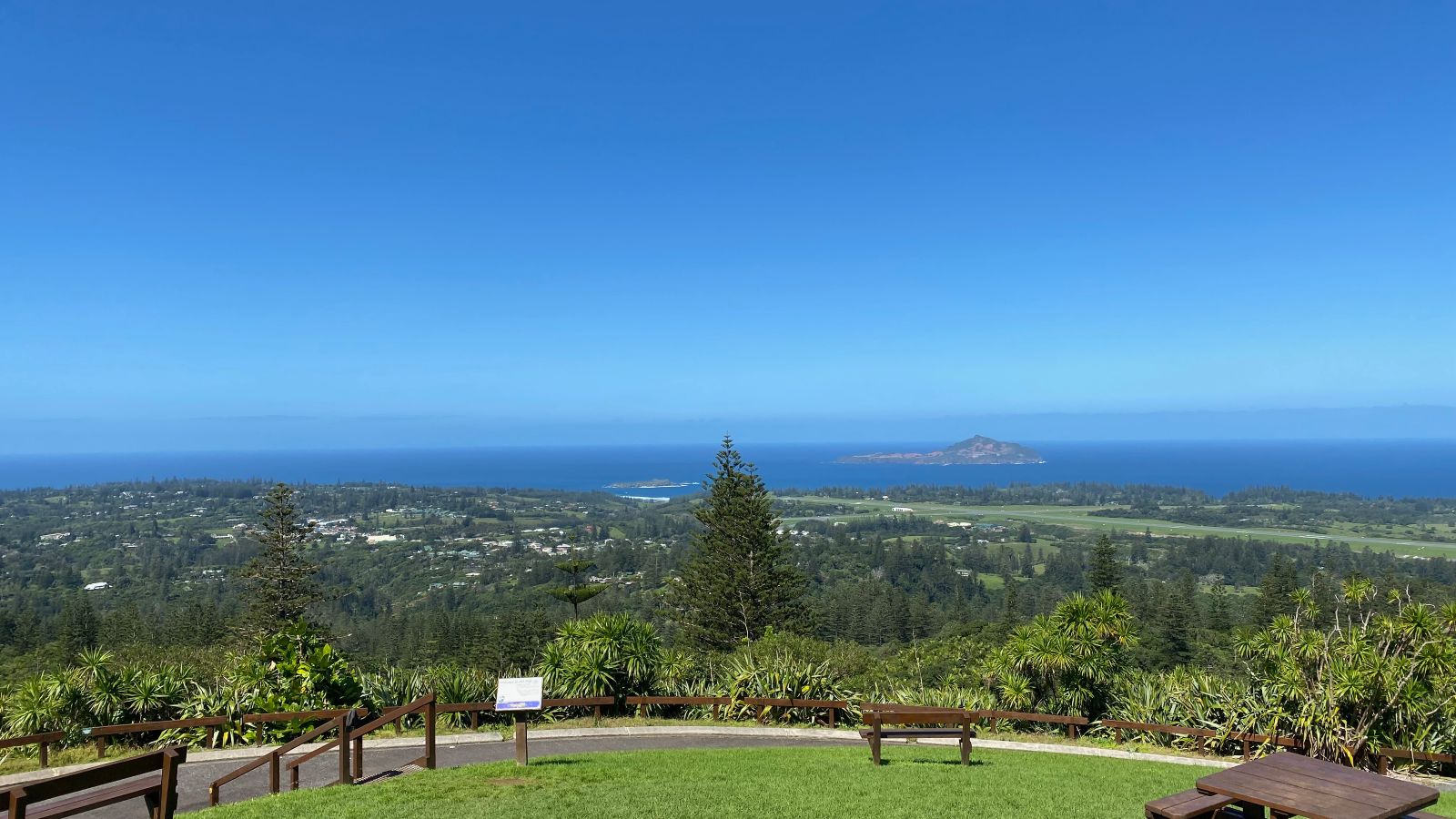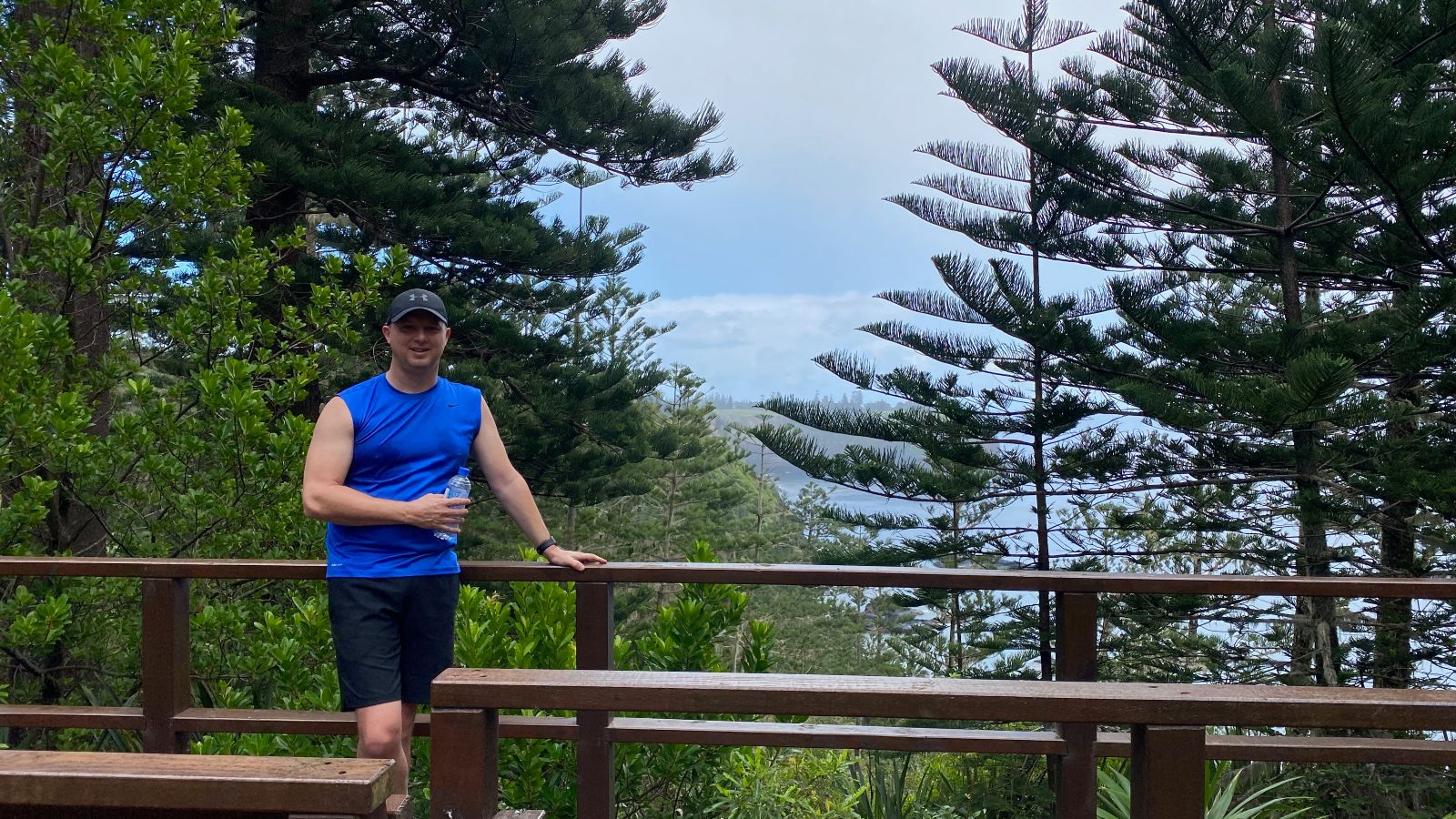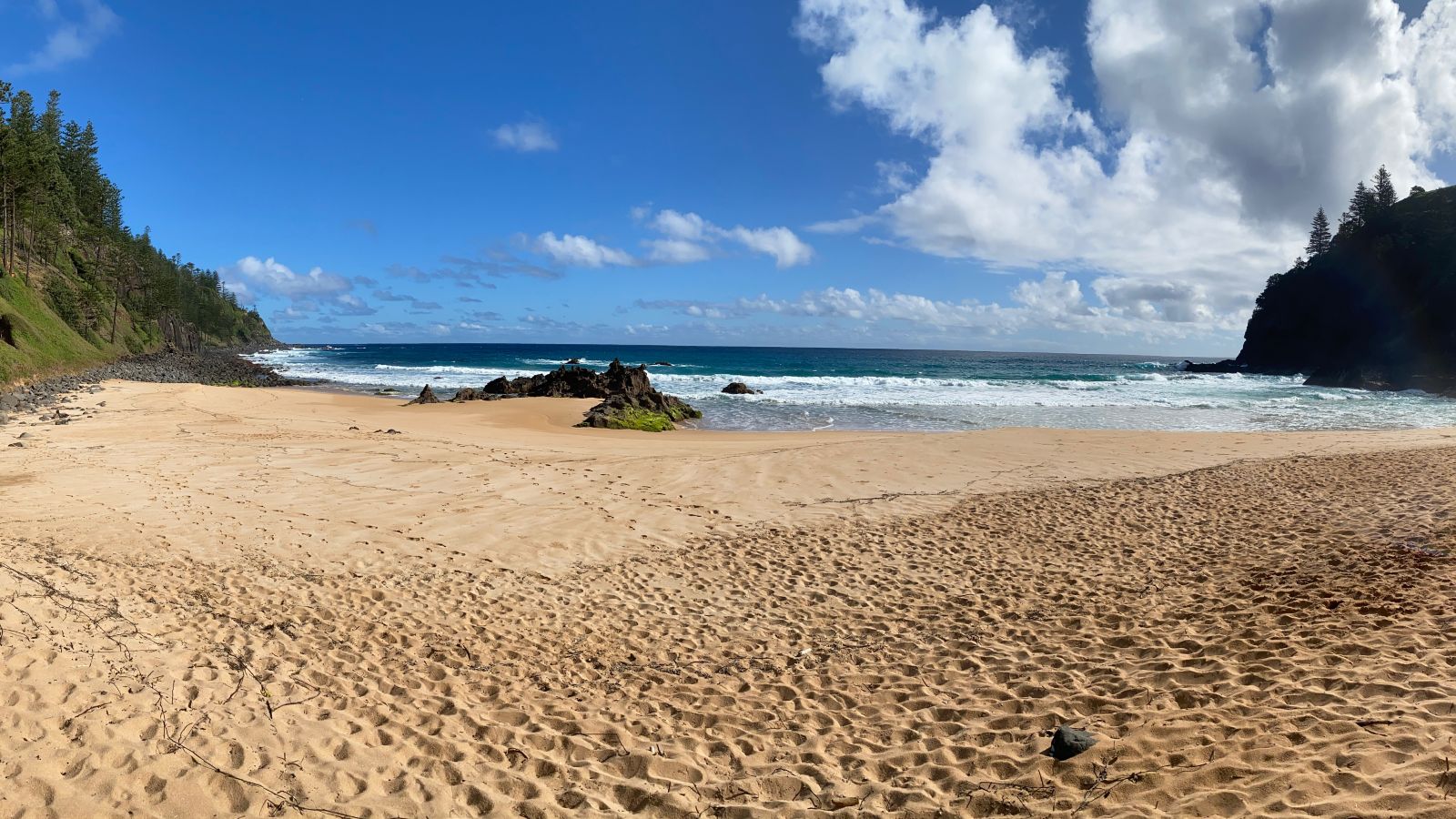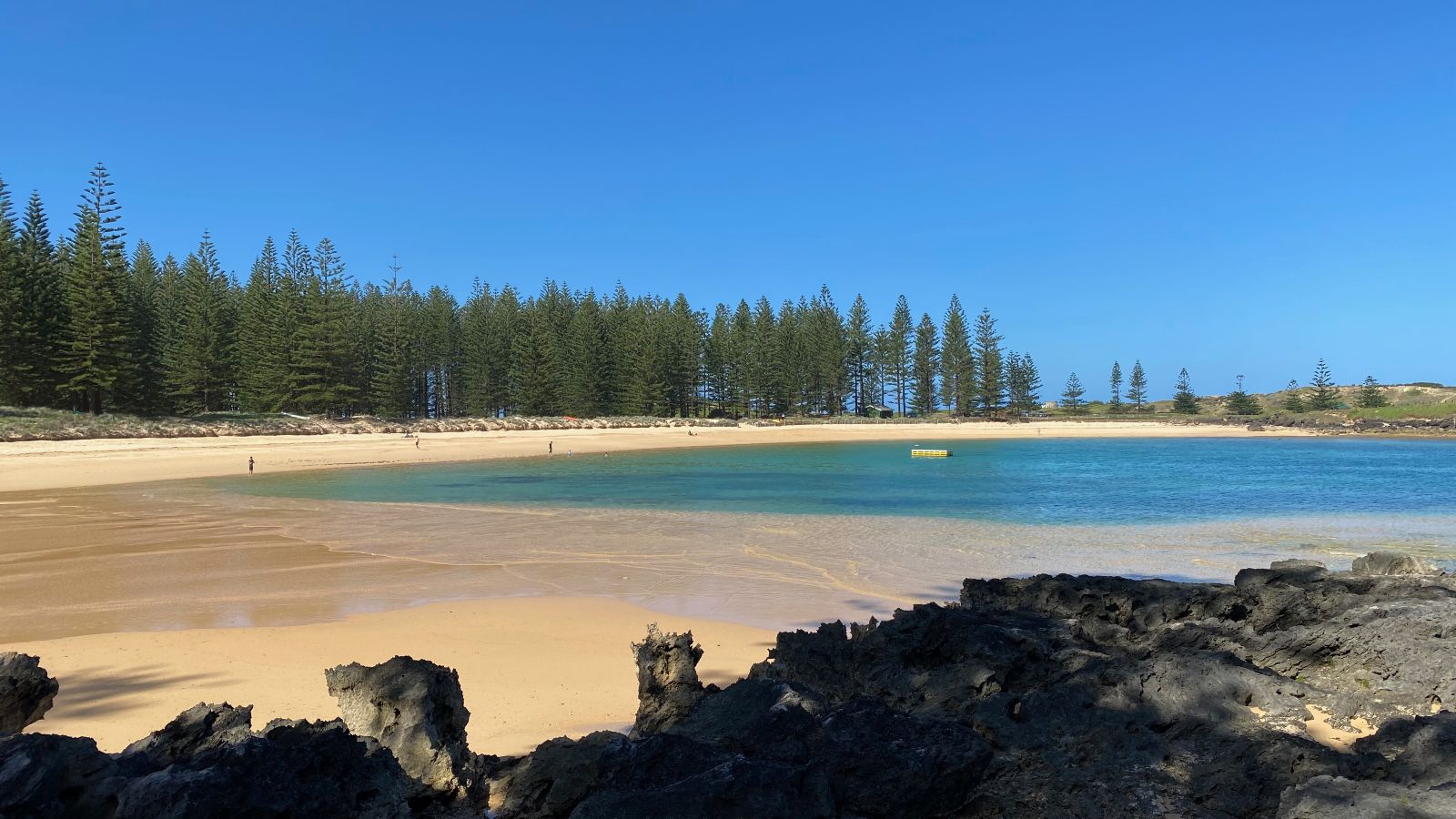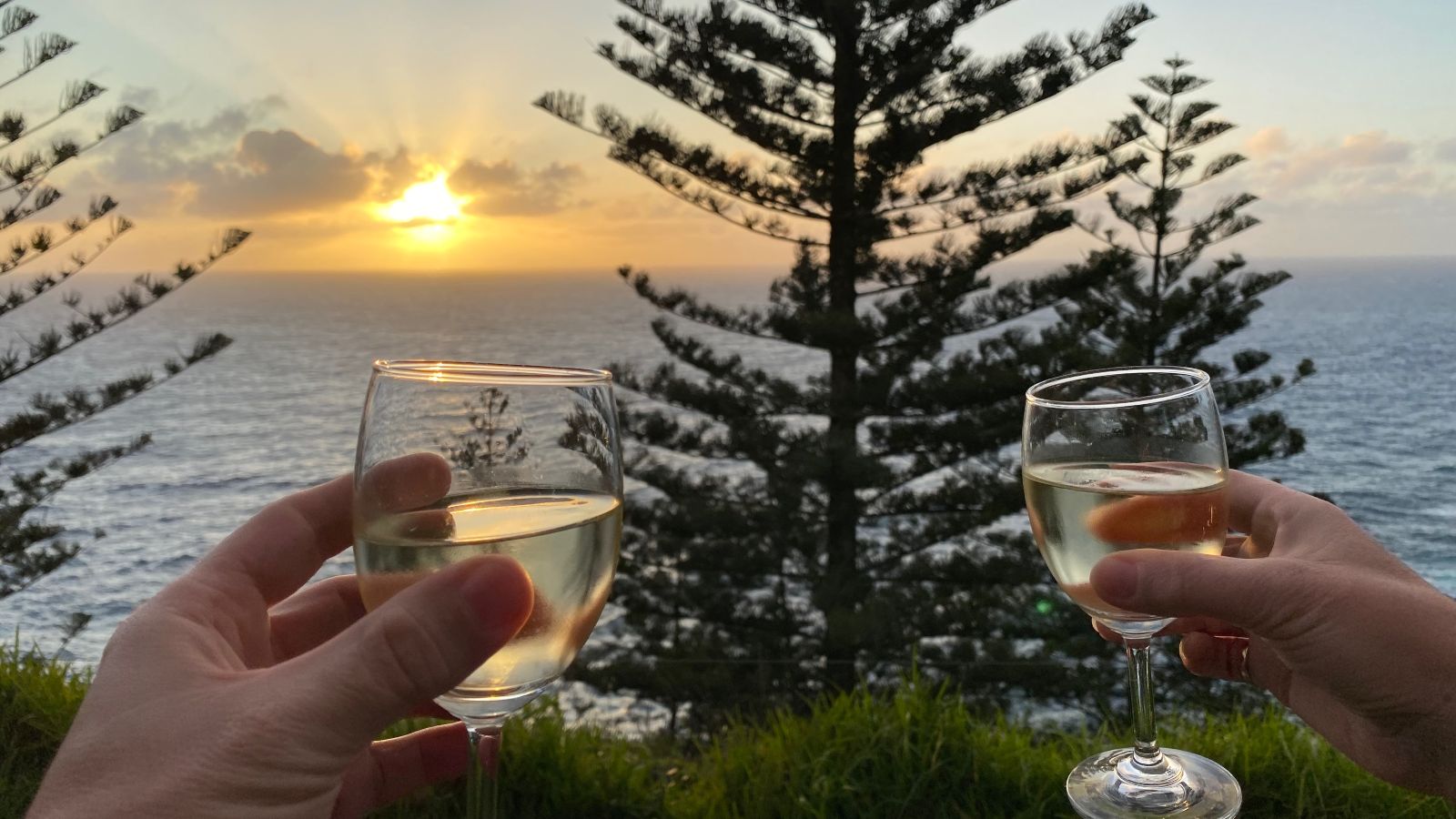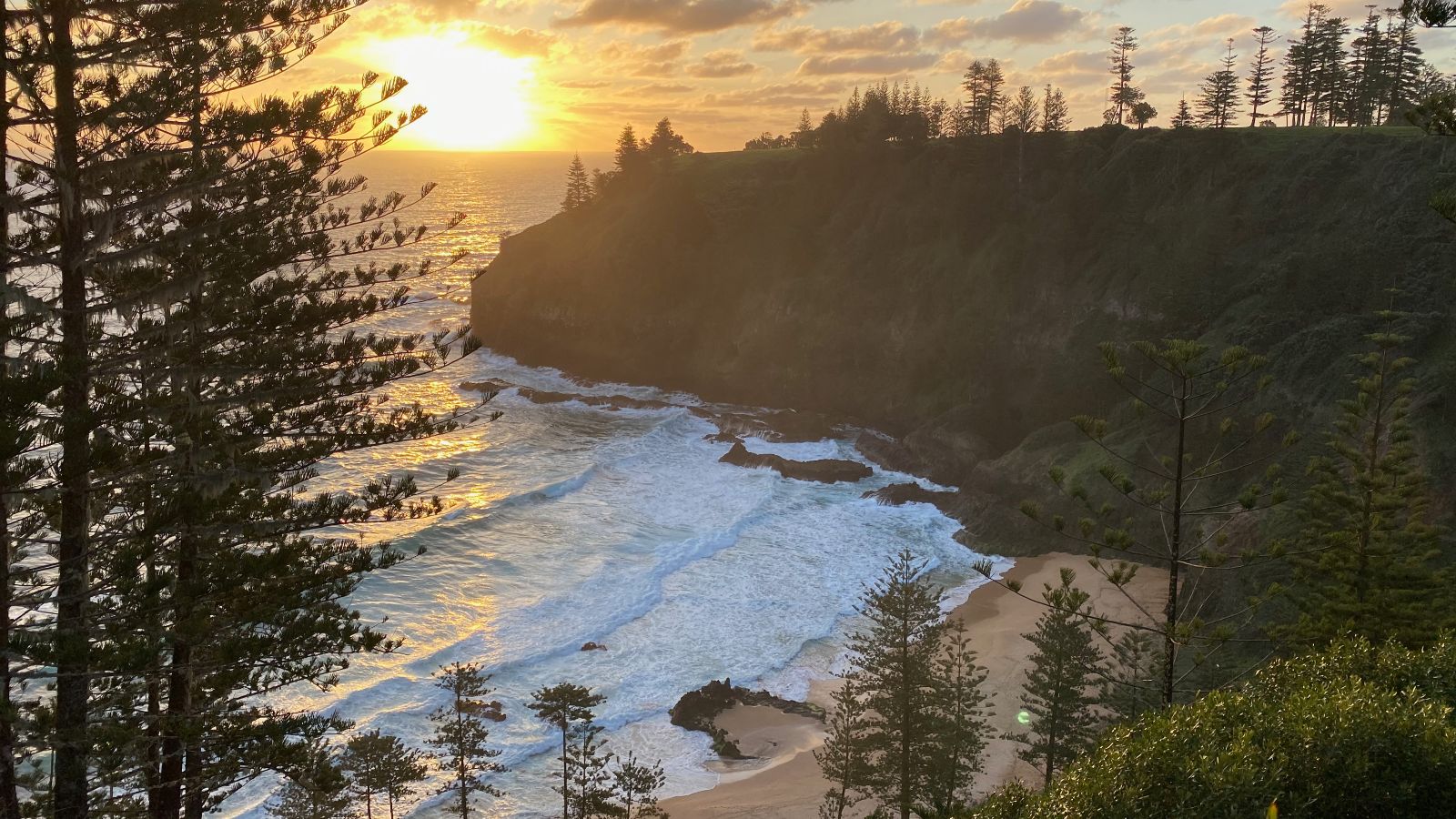 Dining and drinking
Of course, all of this exploring made us hungry. Which was fortunate, as there are some great places to eat and drink on Norfolk Island.
Fine(ish) dining
If you're after something more upmarket, I'd recommend Homestead. I thought I'd be able to snag a booking last minute, but unfortunately not. This is the first place locals recommend for amazing food, so book online before you travel to avoid missing out.
Speaking of booking ahead, there is a very popular progressive dinner that takes you to three different homes on Norfolk Island: one for entrée, one for mains and one for dessert. Again, I missed out, so book well in advance to avoid making the same mistake.
Hilli Restaurant and Cafe is utterly delicious – so much so we ate there multiple times. Dine alfresco in the courtyard gardens to soak up the peaceful natural surroundings. For meat lovers, Bounty Bar and Grill is another popular choice.
Casual dining and drinking
For a reasonable feed at a good price, try the RSL, Leagues Club and Bowls Club. Though the settings aren't as picturesque as many other places on the island.
If you're after a café breakfast or lunch, there are plenty of tasty options. The Orb was one of my favourites for great food in a beautiful setting. The Olive Café is popular with locals for good tea and coffee, while Seriously Chocolate dishes up divine corn fritters and other savoury options alongside its chocolate offerings. And in the town of Burnt Pine, Enitaim Woodfire and Espresso is a yummy pitstop.
Friday night pizzas at Castaway are great. Even better, it's located next to the Norfolk Island Brewery, where you can get a tasting paddle of local craft beers. Try the cheese platter while you're there, but keep in mind that while it says it feeds two people, it's well and truly big enough for four!
For drinks, I'd recommend the Norfolk Island Brewery and The Local during the day, or the Black Anchor Bar at night. There's also a local liqueur producer and a winery on the island – both of whom offer tastings. Though it's certainly tempting to pick up a bottle.
Gourmet picnic
Finally, I'd recommend grabbing some meat, cheese and charcuterie from Slick and Sons, plus some wine or sparkling from the Norfolk Island Liquor Bond Store near the information centre. Then head to one of the free public BBQ areas on the western side of the island like Puppy's Point or Anson Bay for an early dinner. Watching the sun set over the Pacific Ocean while enjoying a local feast – it's hard to beat that.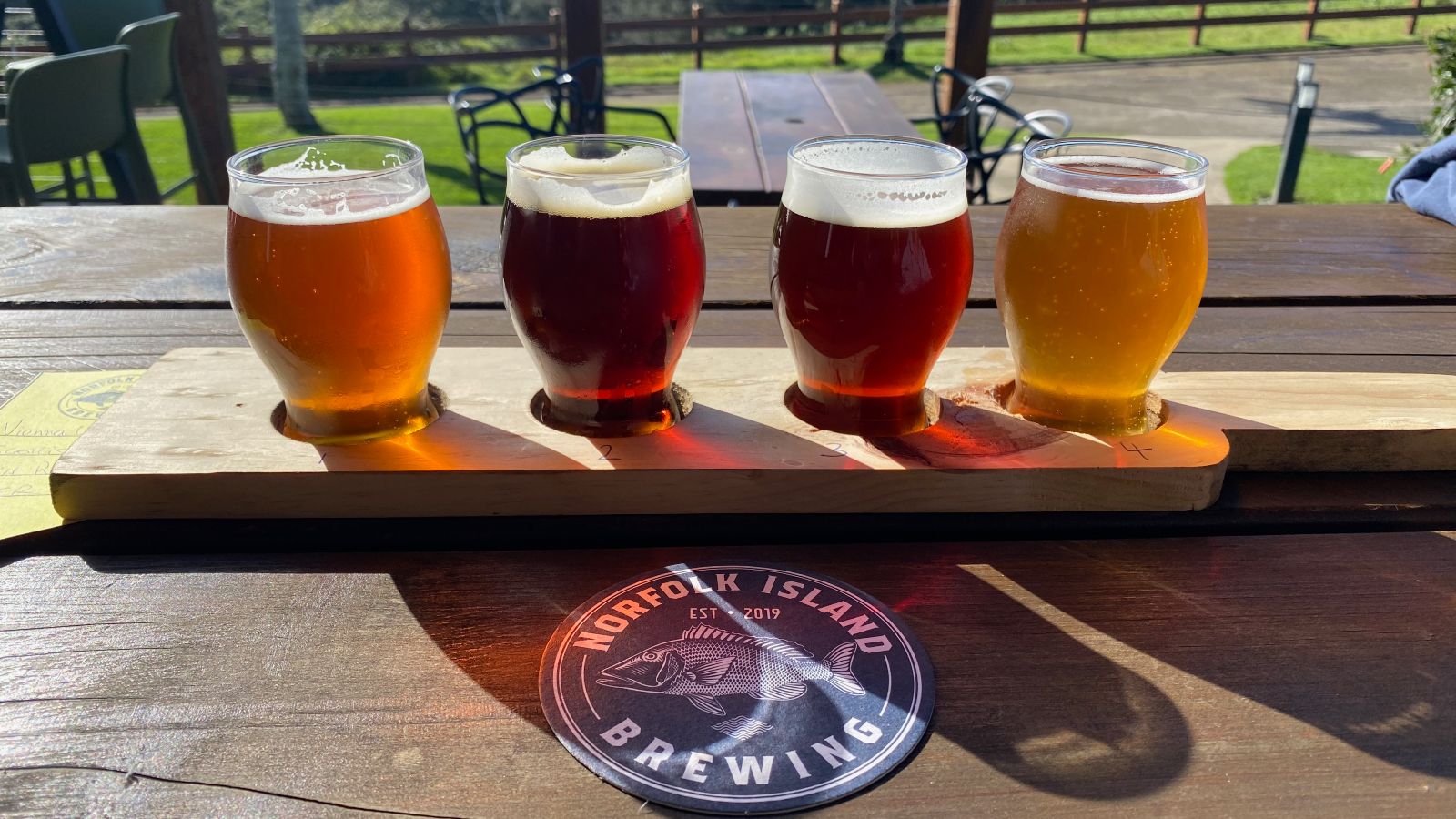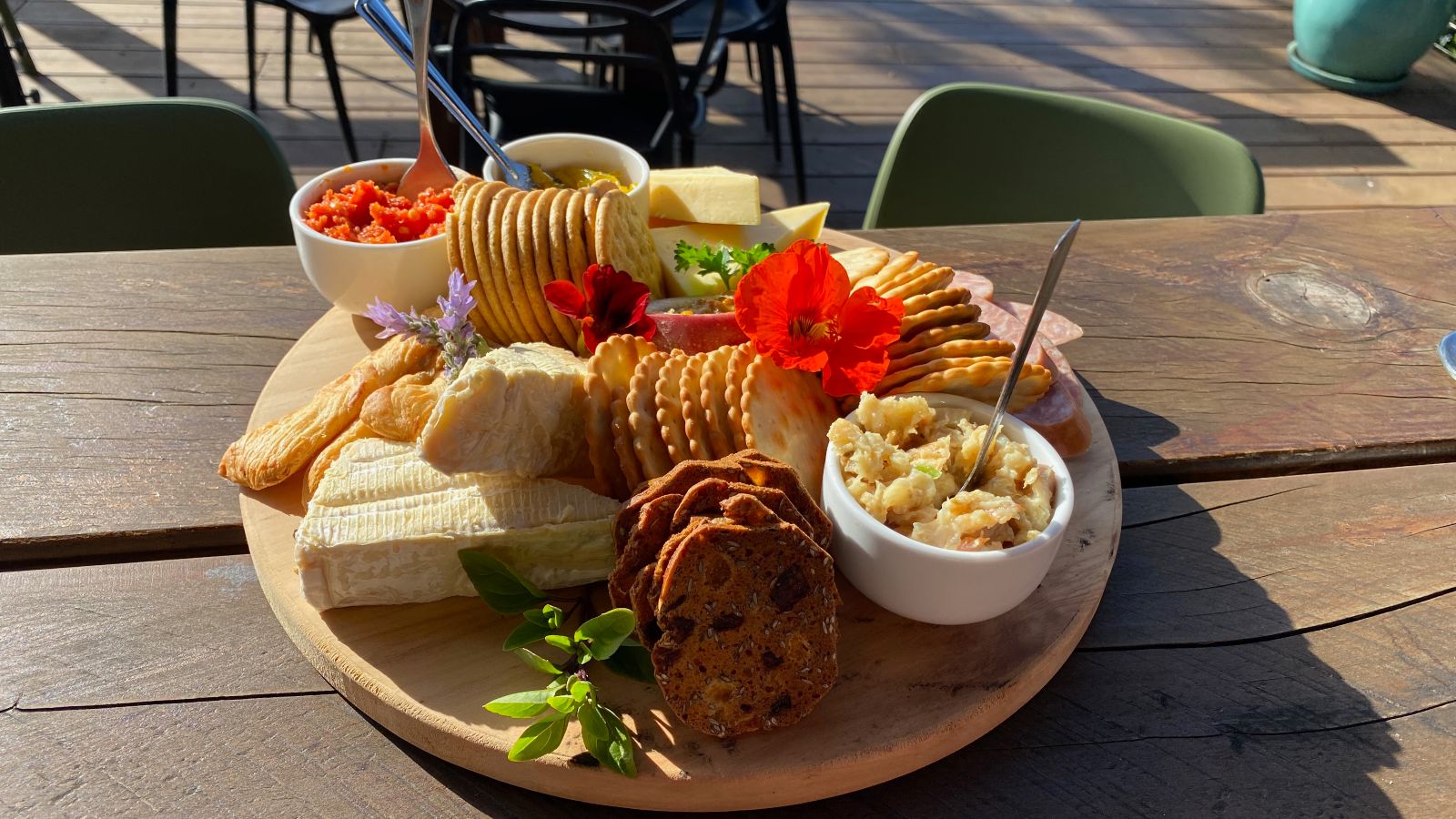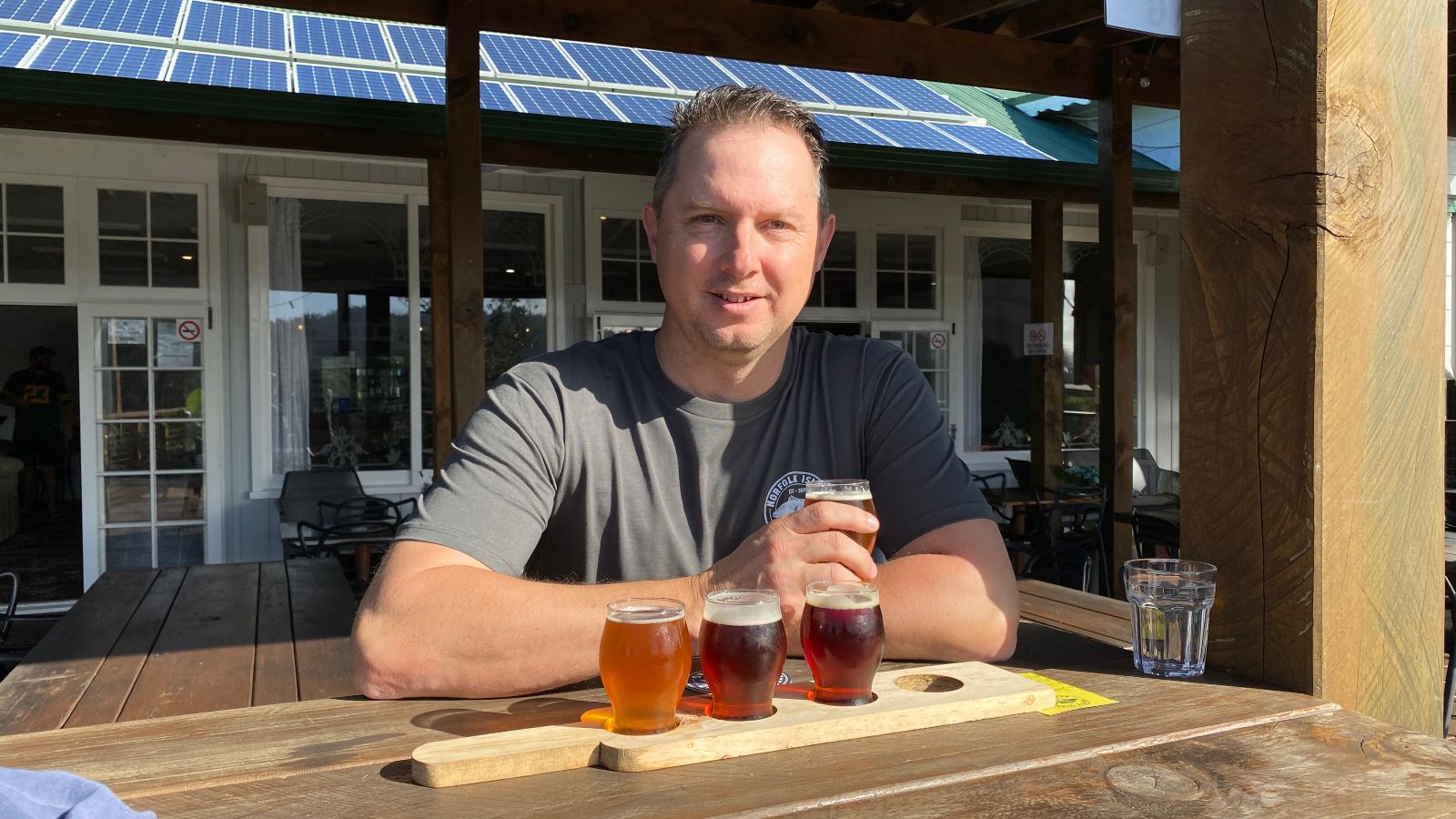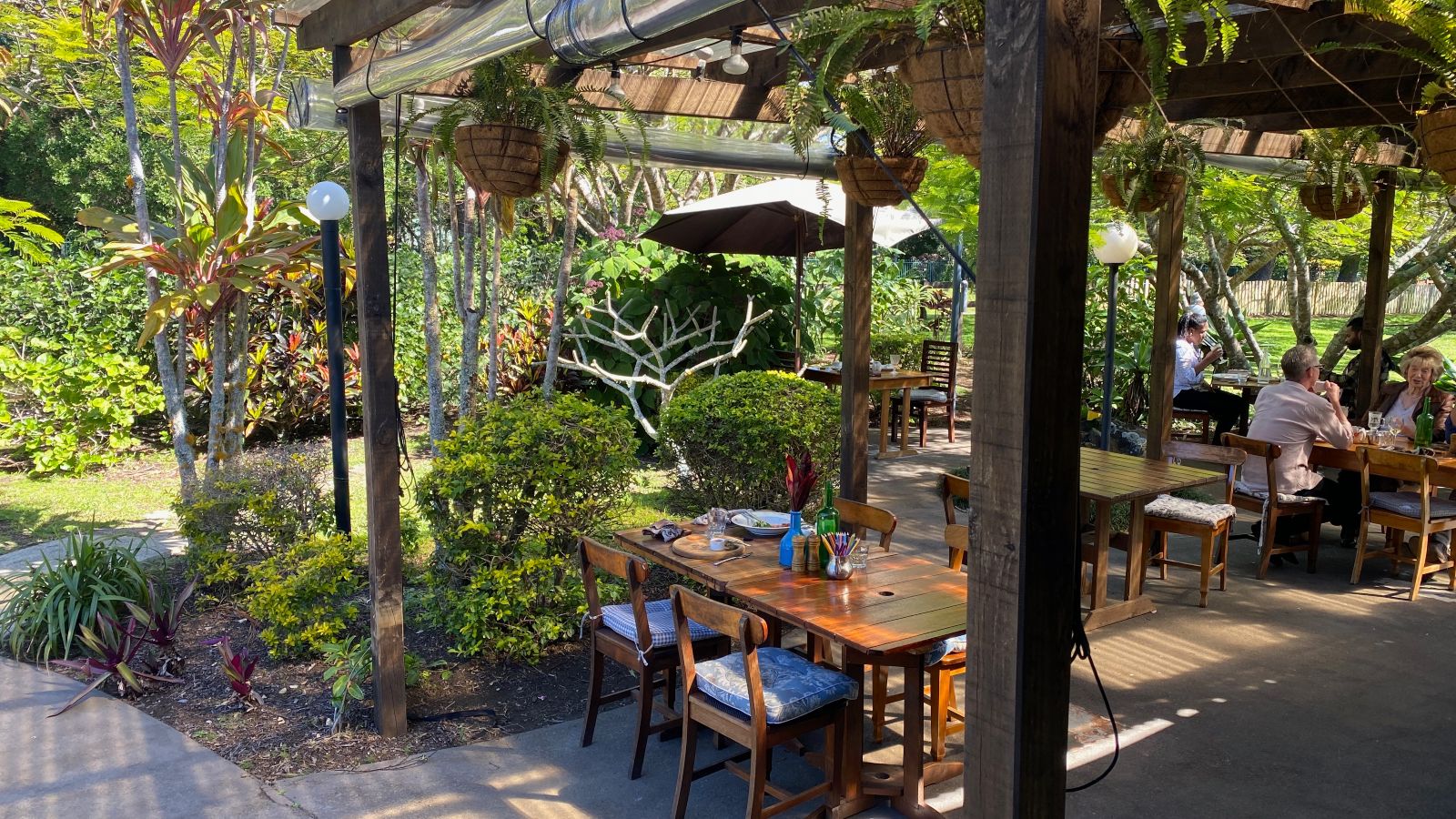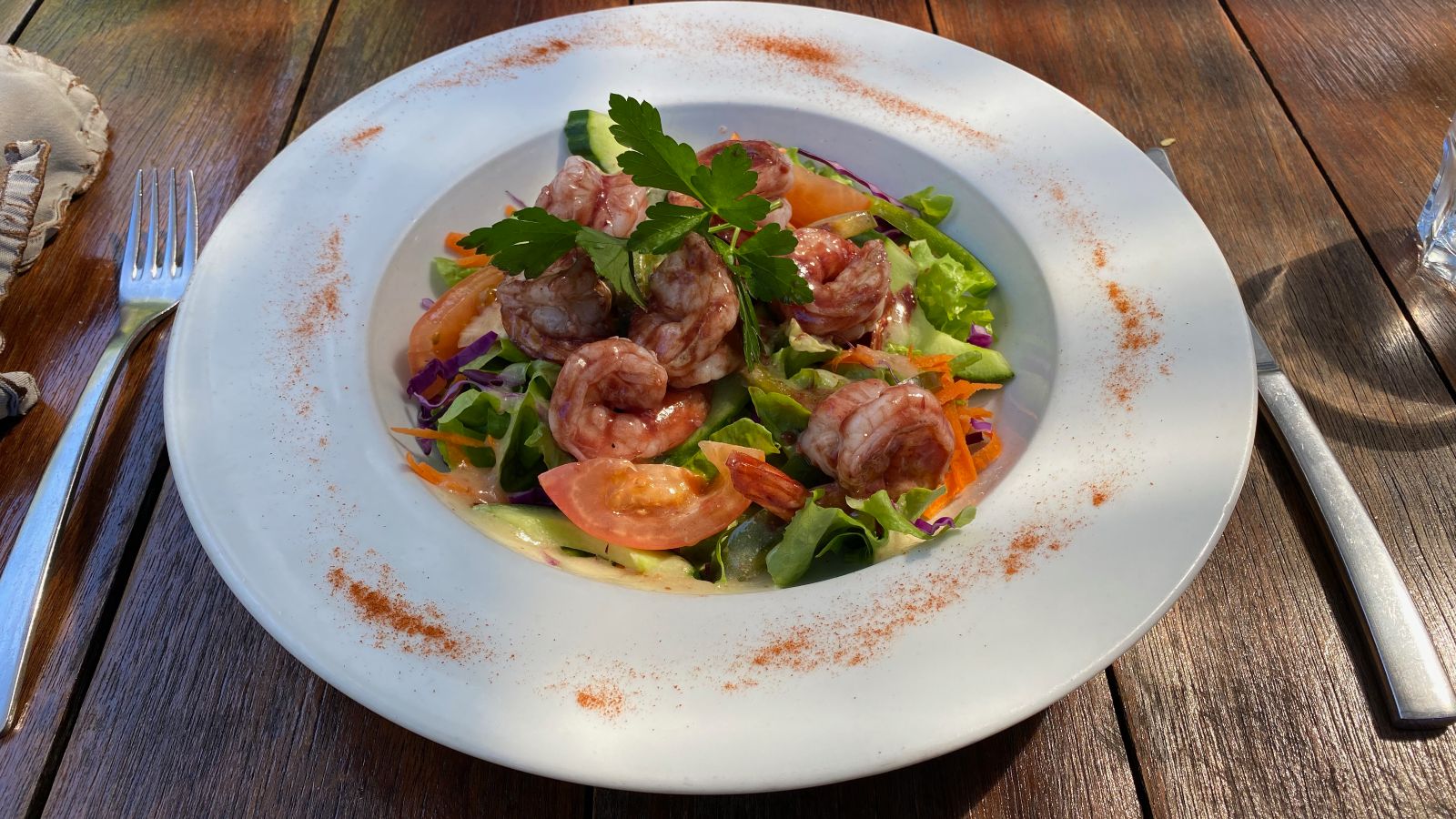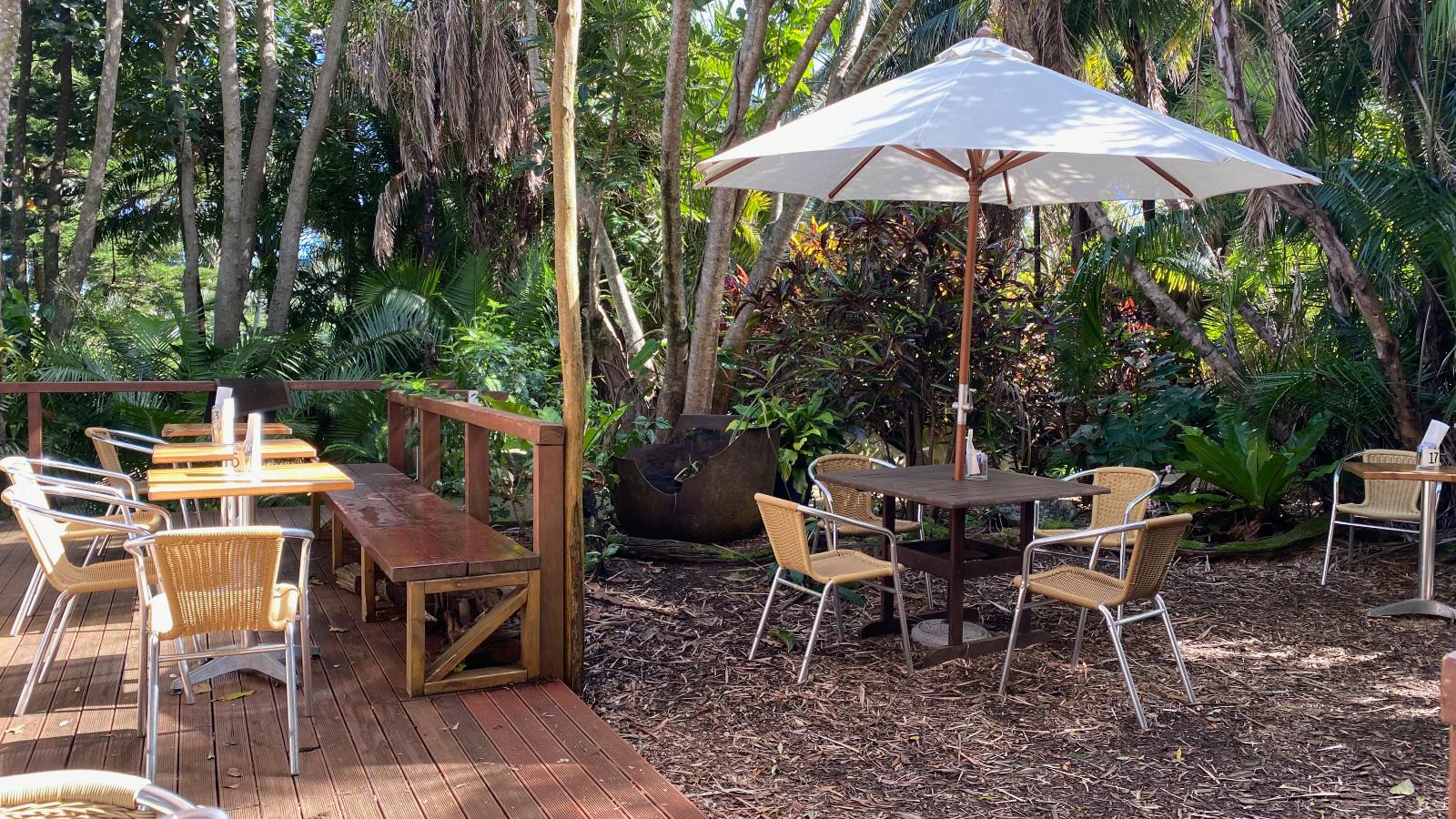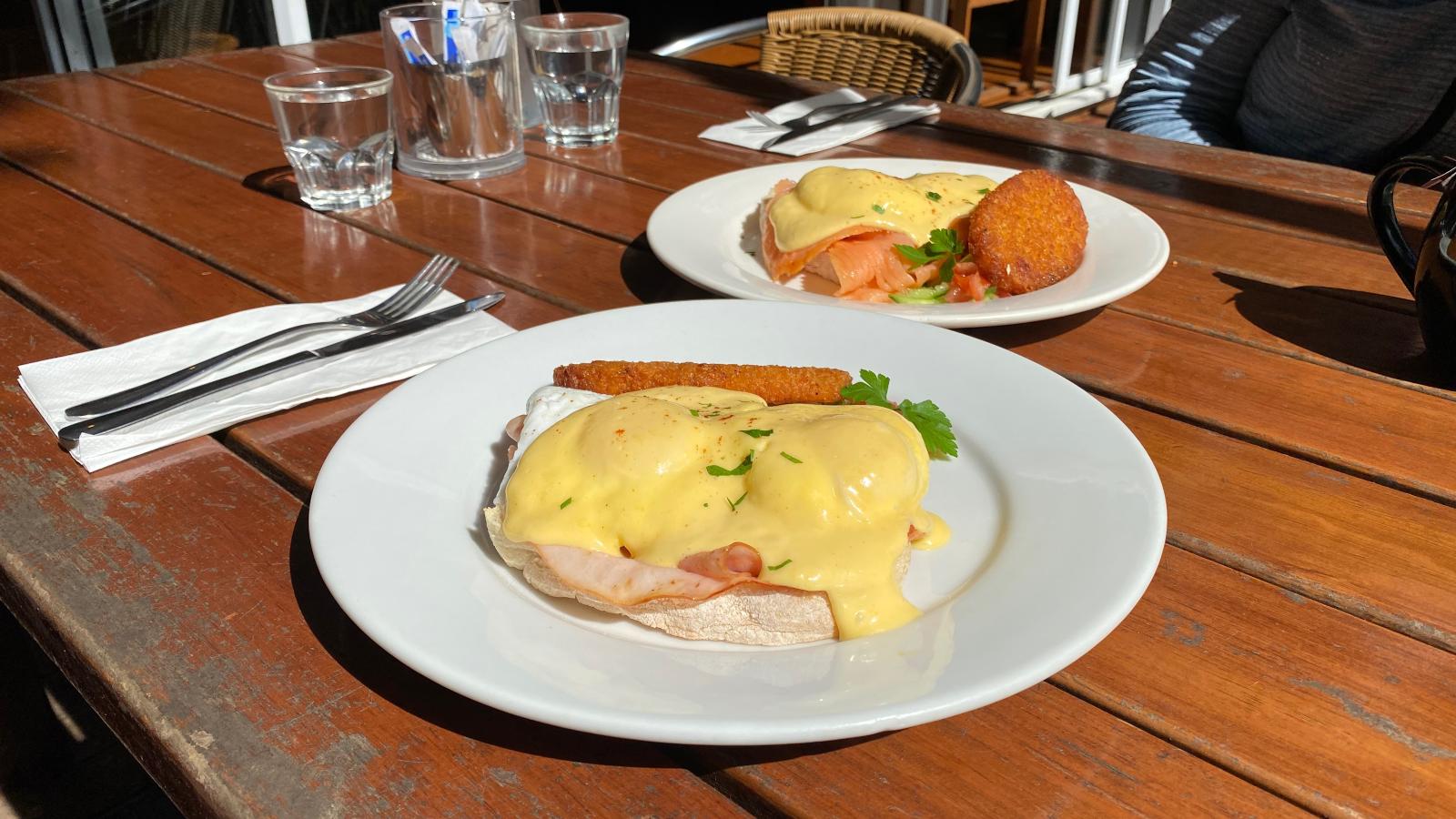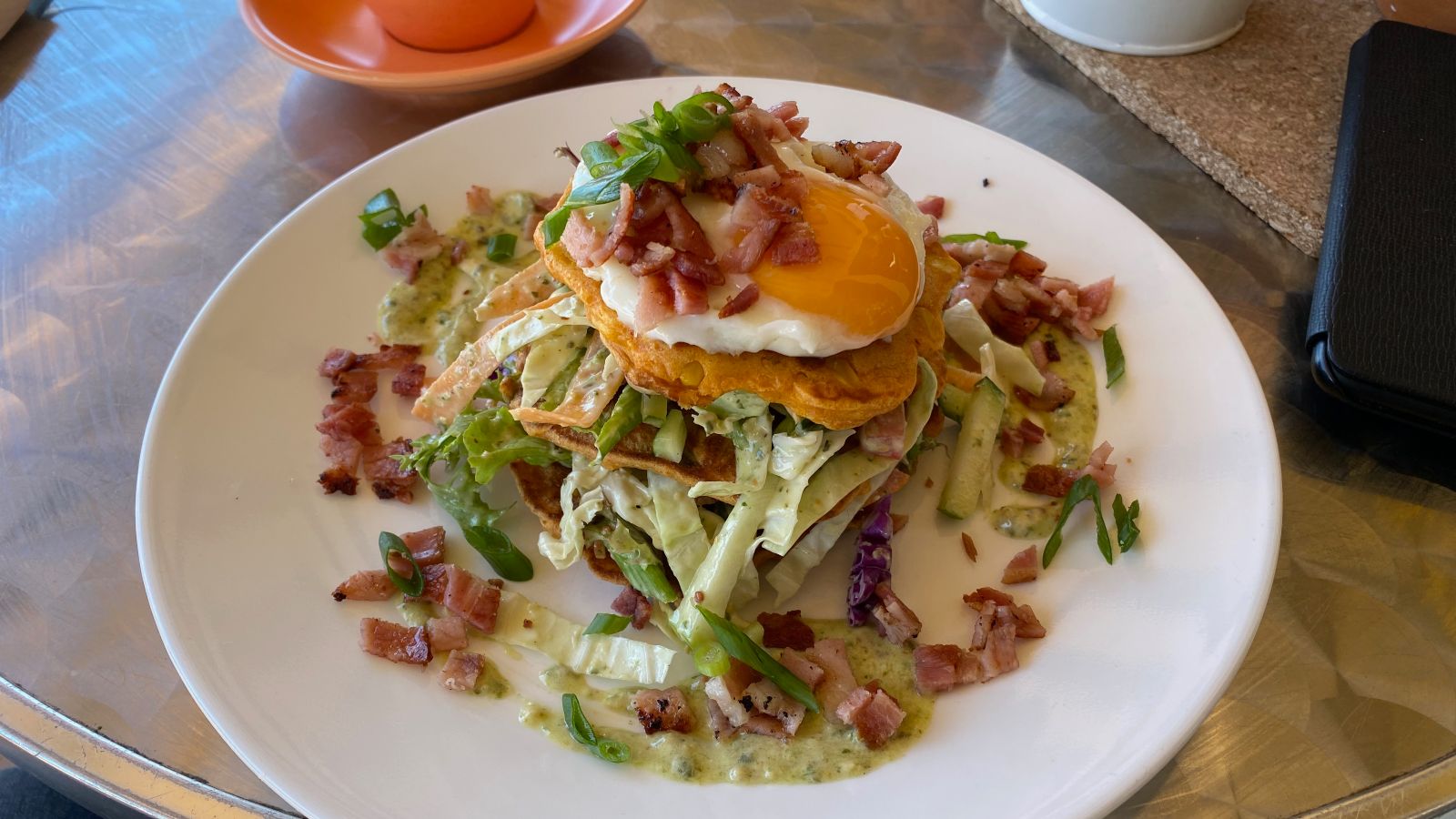 Travel tips and tricks
Hire a car
Unless you're planning to join a bunch of guided tours, hiring a car on Norfolk is an absolute must. Without your own transport, you'll miss much of the spectacular scenery the island is known for. And with emerald-green pasture, towering trees and steep ravines leading down to the ocean, that would certainly be a shame.
I hired a Holden Trax – a small SUV – from Aloha Car Rentals for around $75 a day. It was perfect for getting around. Other than the main street from the airport to the town of Burnt Pine, the narrow, winding roads are rough and there are potholes everywhere. But my SUV handled them fine, especially given you can't go more than 50kph.
Make sure you wave at every car you go past, as the locals will think you're rude if you don't!
Keep in mind, Norfolk Island is a favoured travel destination for retirees, and the guided tours are popular with that demographic. If you're a bit younger and or feel you'd prefer to explore in your own time, I'd highly recommend a car.
Planning on venturing out at night? Get a good map and scout out dinner options during the day to avoid getting lost. The sun sets quite early here, signs aren't amazing and there are basically no lights at night – even roadside restaurant signs are unlit. It's virtually pitch black, so plan in advance.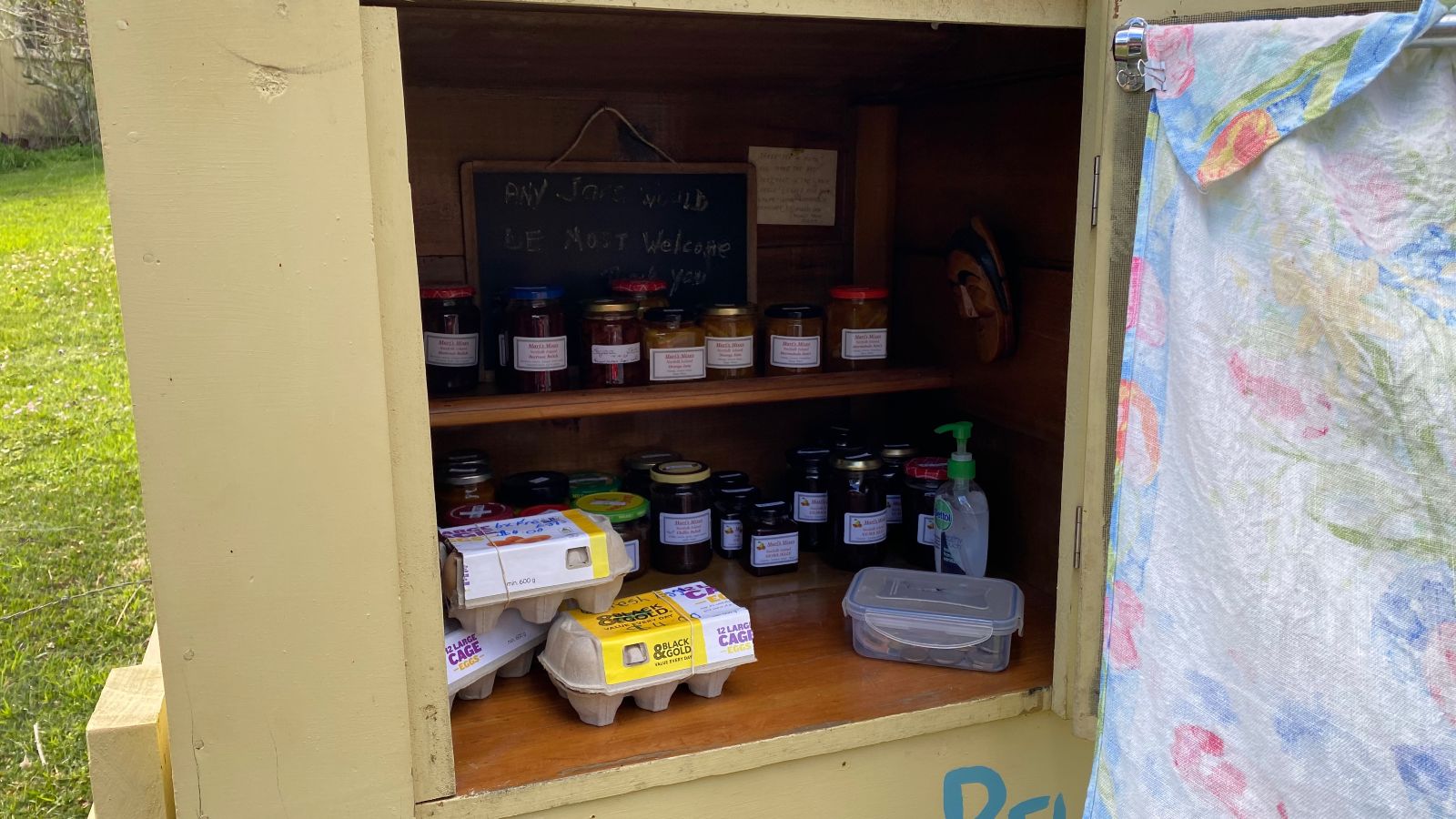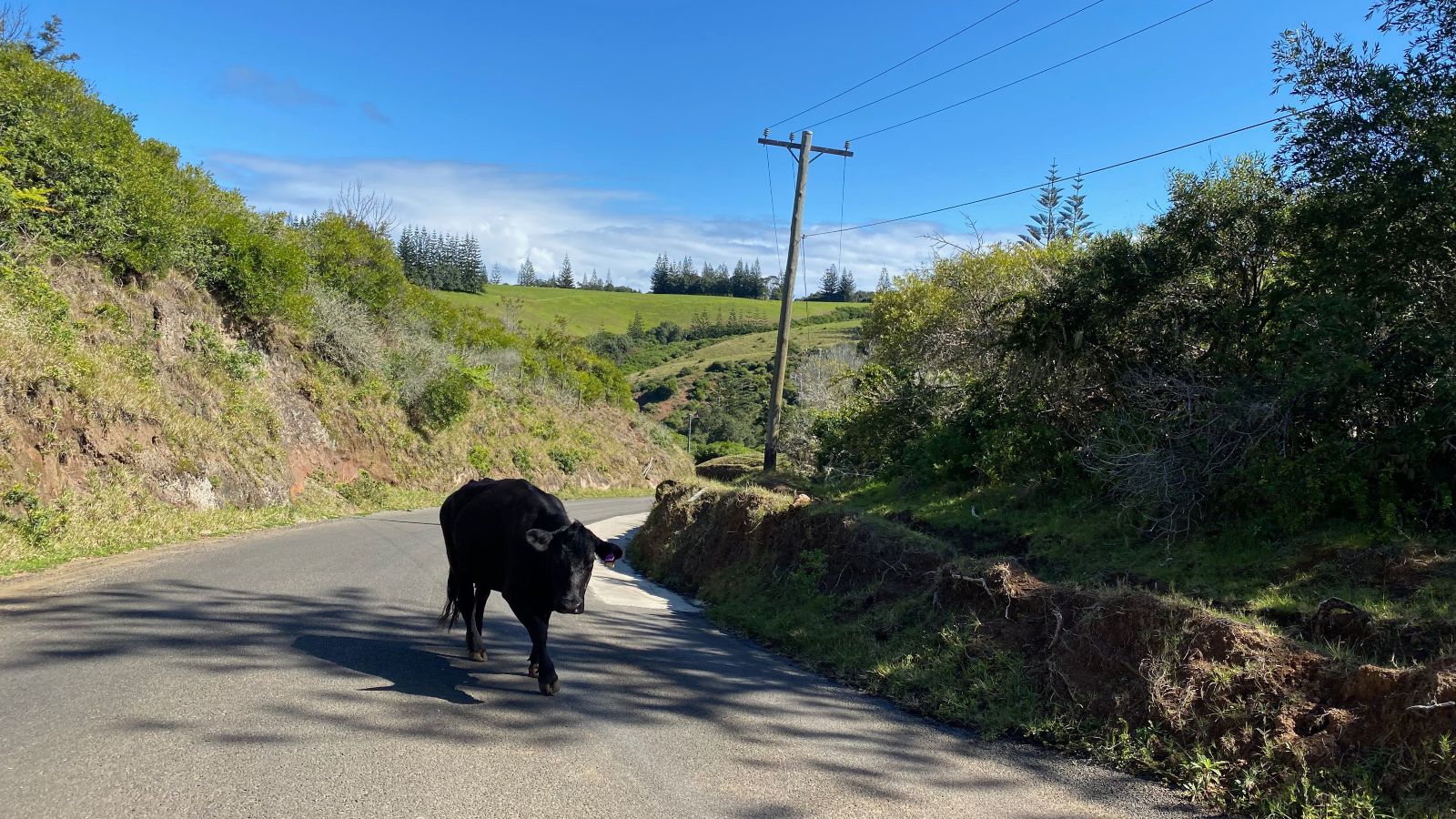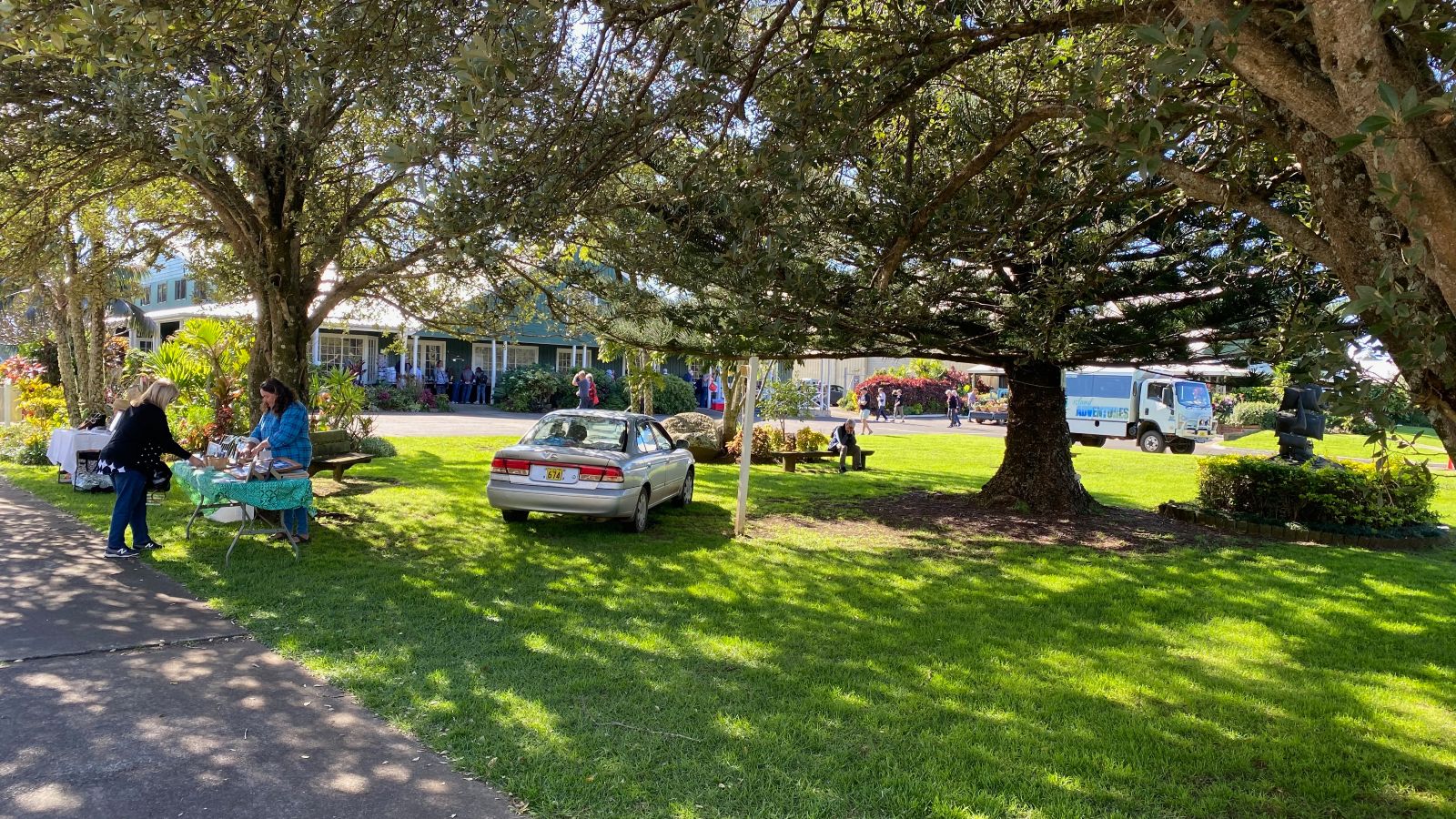 Flight and COVID info
As I've mentioned, flying to Norfolk Island from Australia is a unique experience, in that you'll be jetting off on a domestic flight that departs from the international terminal. Being escorted through a dedicated passport-free Norfolk Island lane at passport control is great fun.
Here are some other tips and tricks.
While you don't need a passport to fly to Norfolk, you will need some form of photo ID. An Australian driver's licence works just fine.
Although Norfolk Island is an external territory of Australia, you'll still need to fill in an Incoming Passenger Card before landing. But there are three key differences: cross out references to Australia and replace these with Norfolk Island; you can use your Australian driver's licence number instead of your passport number if you're using that as your form of photo ID; and Australian citizens have to fill out section B for visitors and temporary entrants rather than Section C for returning residents as per normal.
Duty-free shopping is a go! So stock up on affordable gifts and alcohol to your heart's content.
In regards to COVID, vaccination requirements are the same as travelling domestically within Australia – which is to say, there aren't any! I didn't need to show proof of vaccination either before boarding or after disembarking.
There are strict rules for entering Norfolk when it comes to fresh produce and the like, but they're no different than entering Australia from overseas.
Mobile phone and Wi-Fi coverage tips
Australian phone carriers don't roam to Norfolk Island, but you can pick up a local SIM card when you land. In practical terms, this means you'll be given a local phone number (only five digits long!) and your usual phone number will NOT connect to your phone and can't be forwarded to your new number. Not especially convenient, but it is what it is.
The standard tourist plan provides 1GB of data, as well as allowances for local and AUS/NZ calls. Additional data can be purchased via a top-up. Pick up your local SIM from Norfolk Telecom in the main town of Burnt Pine. There are a number of other locations around town if Norfolk Telecom is closed on the weekend.
There is Wi-Fi available, but it's limited in terms of data. That's because they are running on limited bandwidth via the NBN satellite service.
Phones run on an old 3G network, so expect snail-slow data and internet browsing. So ditch the screens and soak up the stunning scenery instead!
Payment information
As you'd expect, the currency on Norfolk Island is AUD.
Tap and Go payments are found everywhere, but there's virtually no coverage for Amex cards.
Bring some cash, including small notes, for the local markets and honesty boxes around the island. Honesty boxes in particular mightn't have much change, so don't expect to pay $10 for some excellent local produce with only a $50 note handy.
Time to get booking
An affordable couple's getaway on Norfolk Island awaits. So collect those Qantas Points and get booking!
And if you want to keep up-to-date with our global trips around the world on points, then don't forget to subscribe to the Point Hacks email newsletter. We've never met a destination we didn't like.
Photography by Michael Siwes, who travelled, stayed and adventured at Point Hacks' expense.
Experience a weekend getaway to beautiful Norfolk Island on points
was last modified:
October 10th, 2023
by