Everybody loves a Platinum frequent flyer card. But in Australia, there is one Gold card that stands out from the pack – Qantas Lifetime Gold. For those who fly more than most, the perks are well worth aiming for. Think lifetime airport access, priority check-in and boarding, and more – regardless of how often you continue to fly.
It's also considered the sweet spot among Qantas' trio of lifetime levels. It's much more achievable than Lifetime Platinum, while delivering significantly more benefits than Lifetime Silver. Here's a look at the level many of Australia's most regular travellers aspire to achieve.
Watch our video or continue reading below to learn more:
How to get Qantas Lifetime Gold
If you thought Qantas Lifetime Silver was a lot of flying, Qantas Lifetime Gold is a much harder task. You'll only get there by earning 14,000 Status Credits over the many years of your Qantas Frequent Flyer membership.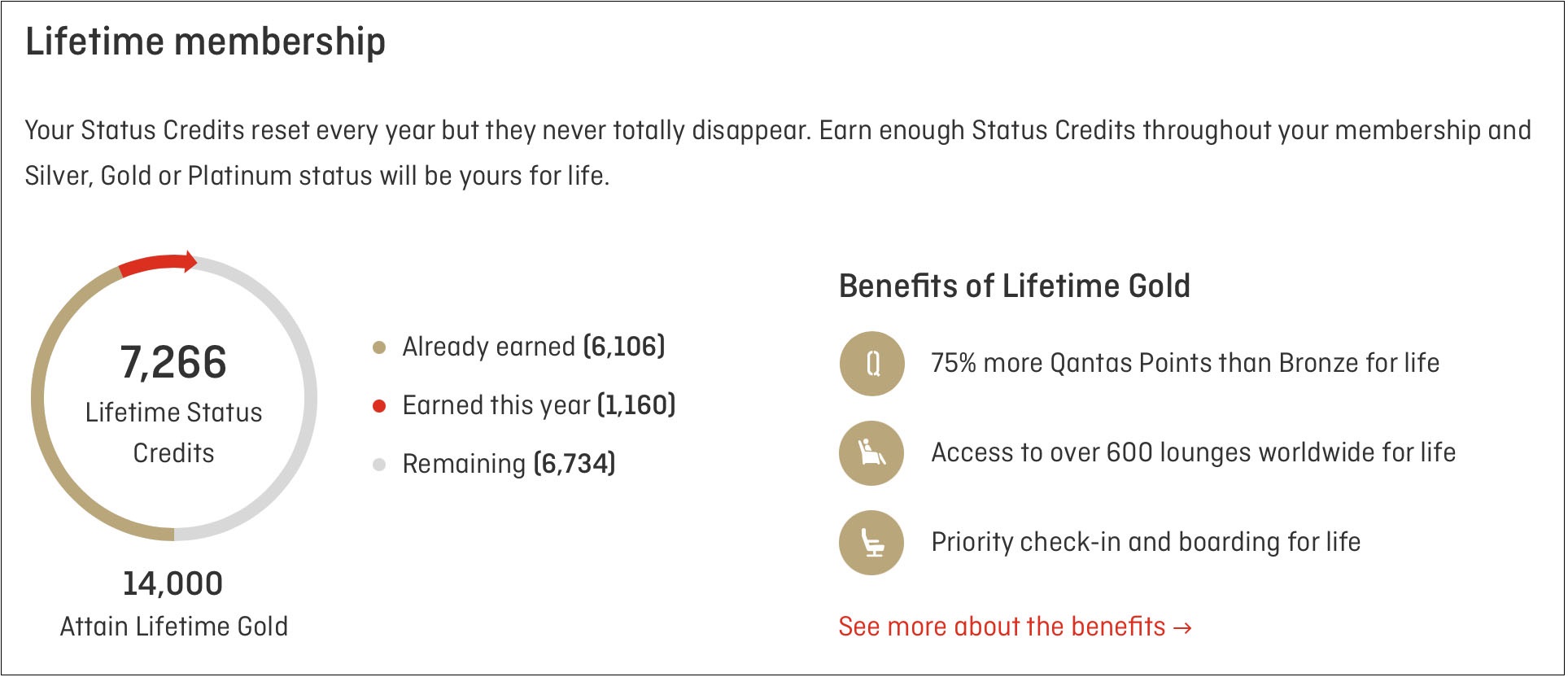 To put that into perspective, Qantas Lifetime Silver is 'only' 7,000 Status Credits. This makes Lifetime Gold the same as earning Lifetime Silver, and then starting from the bottom to earn Lifetime Silver over again.
As well, annual Qantas Gold status requires just 700 Status Credits to earn and 600 Status Credits to retain. At 14,000 Status Credits, reaching Lifetime Gold is the same as earning annual Gold and then retaining it for around 22 years beyond that.
Here's how that looks on paper. Let's say you earned Qantas Gold this year, and finished your membership year with a balance of 700 Status Credits. And for this example, that you retained Gold every year thereafter, earning exactly 600 Status Credits. It wouldn't be until the year 2046 that you'd tick over to Qantas Lifetime Gold.
If your Status Credits are also mainly earned on domestic Qantas Economy flights, it's a seriously hard slog. Qantas Lifetime Gold could mean taking up to 1,400 domestic flights on Red e-Deal fares, when flying on routes that give 10 Status Credits per flight.
Yes, 700 return trips between Sydney and Melbourne to get over the line and claim your prize as Lifetime Gold.
Remember, it was never meant to be easy…
Getting a fast-track to Qantas Lifetime Gold
We've probably just made Qantas Lifetime Gold seem impossible. But for those who regularly earn and retain status year on year, Lifetime Gold may not be as daunting as it sounds.
Here's how the numbers shape up for travellers at the various tiers:
Platinum One members are within the easiest reach of Qantas Lifetime Gold. Given Platinum One needs 3,600 Status Credits every year to earn or maintain, just four years of Platinum One equates to Lifetime Gold.
Qantas Platinum cardholders are also in with a reasonable chance at Qantas Lifetime Gold – but it's a little harder. Gold status for life would come after being a Qantas Platinum member for around 11.5 consecutive years. For those who go up and down the ladder over the years, Lifetime Gold is also on-par with earning Qantas Platinum outright 10 times over.
Qantas Gold members might get Lifetime Gold one day, but it relies on many, many years of continuous travel. As outlined further above, being a Gold member for around 23 years is what it takes. Or, earning Qantas Gold outright 20 times over.
Last but not least, there's Qantas Silver. For those who earn annual Silver status and then retain it year on year, it'd take almost 56 years of continuous Silver status to unlock Qantas Lifetime Gold. A few might get there one day, sure – but at these levels, it's quite a distant goal.
Just remember, every Status Credit counts. Some years, you might earn more Status Credits than needed to retain your tier, but not enough to upgrade to the next level. For instance, earning 500 Status Credits per year as a Qantas Silver member. If this describes you, Qantas Lifetime Gold status could be yours in just half the time, versus those earning only the bare minimum.
Ad – Scroll down to continue reading.Minimum spend, terms & conditions apply.
Benefits of Qantas Lifetime Gold
If you've climbed the ladder up to Qantas Lifetime Gold, there's a lot you can look forward to for the rest of your life.
It begins with all the perks you were already enjoying with Qantas Lifetime Silver. Think priority airport check-in, extra checked baggage and a higher priority when waitlisted for an upgrade. But Qantas Lifetime Gold brings with it all the benefits of annual Qantas Gold status too. Highlights include:
Access to domestic Qantas Clubs and Qantas International Business Lounges prior to eligible flights. Domestically, this includes Qantas, QantasLink and Jetstar flights. Internationally, access is currently available before the same, as well as when travelling with oneworld partner airlines and other eligible partners, including Emirates.
Access to partner airline lounges. This includes eligible lounges operated by Air France, Air New Zealand (domestic), China Eastern, El Al, Emirates, KLM and LATAM.
Recognition as a oneworld Sapphire frequent flyer. This unlocks the Business Class lounges of airlines such as British Airways, Cathay Pacific, Japan Airlines and more. It also opens the door to American Airlines Flagship lounges.
Priority security screening and boarding with Qantas, Emirates, oneworld and other eligible partners.
Earn 75% more Qantas Points than Qantas Bronze on Qantas, Jetstar and American Airlines flights. This applies only when the total reward exceeds the Minimum Points Guarantee.
Earlier access to Classic Reward seats in premium cabins on Qantas-operated international flights. Bookings are available up to 353 days before departure, versus 323 days for Silver and Lifetime Silver, and 297 days for Qantas Bronze.
Improved seat selection, including row 2 in Qantas domestic Business and from row 9 in Qantas domestic Economy. Seat selection fees are also waived on British Airways from the time of booking.
In other words, Qantas Lifetime Gold gives the benefits of regular Qantas Gold, for life.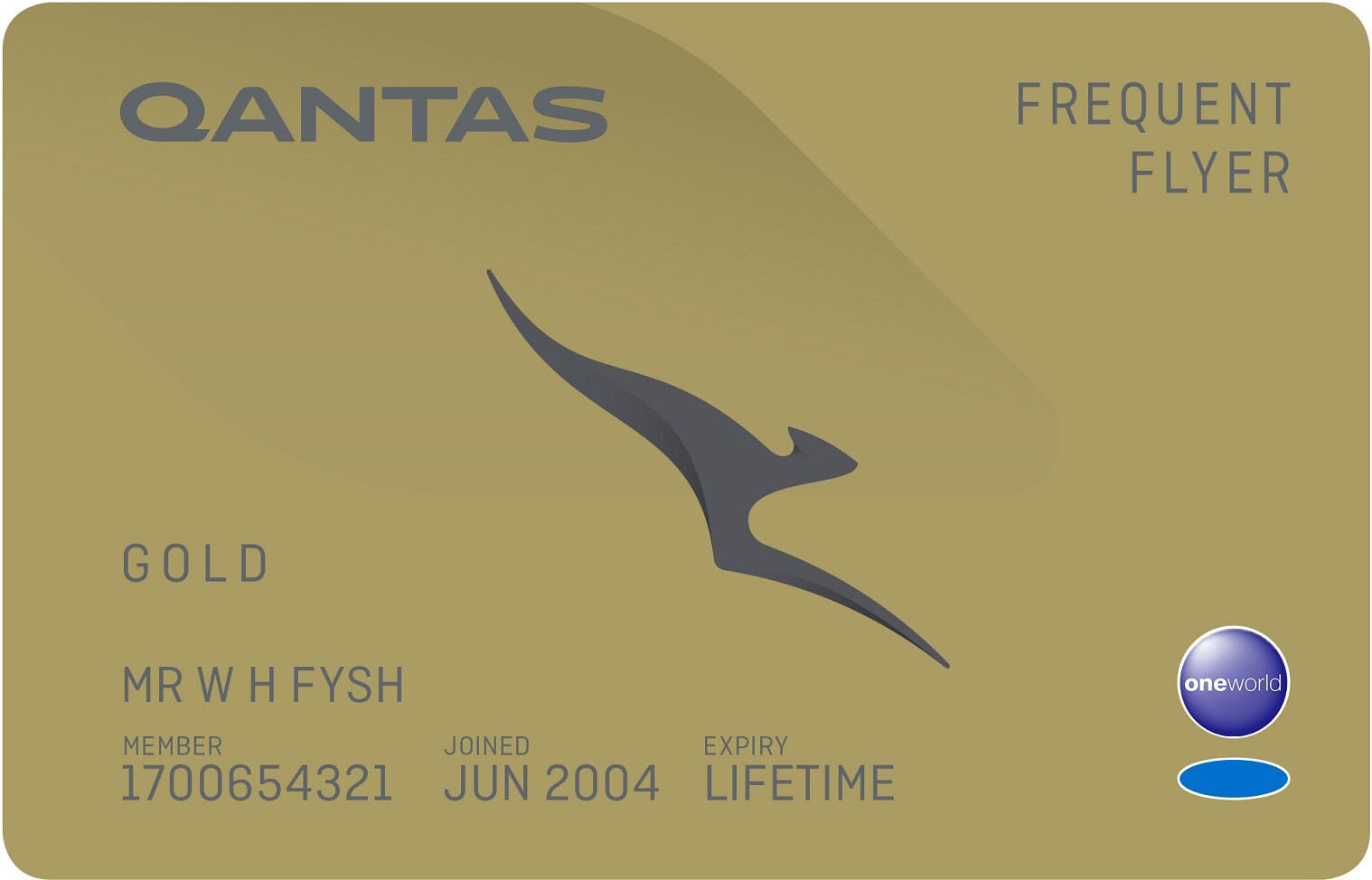 How to earn lifetime status even faster
We've previously shared tips for fast-tracking your way to Qantas Lifetime Silver, and those same principles apply for Lifetime Gold. With that in mind, we won't go into as much detail here – but here's a quick recap.
Booking connecting flights and taking advantage of Double Status Credits offers can prove particularly fruitful. So can striving for Qantas Points Club membership, before travelling on Qantas flights booked using Qantas Points. This allows Status Credits to be earned on Qantas reward flights – a benefit not otherwise available.
On that note, booking travel on a Qantas QF flight number will also usually be more rewarding than booking onto any other airline's flight code. Of course, when travelling on a more expensive fare or in a premium cabin, the benefits of this become much greater.
Choosing Status Credits as your Qantas Loyalty Bonus and Green Tier benefit adds to your lifetime tally, too.
Combined, you could find earning Qantas Lifetime Gold status much easier – and much faster.
Summing up
Qantas Lifetime Gold is certainly the 'sweet spot' among Qantas' lifetime tiers. Airport lounge access for life, priority airport queueing for life and other great perks give travellers much to aim for.
As well, Qantas Lifetime Gold is more of a realistic goal for many, compared to the Everest-esque struggle to reach Lifetime Platinum. At 75,000 Status Credits, Qantas Lifetime Platinum will be out of reach for most. But with Lifetime Gold requiring a much lower tally, you just might get there within your lifetime.
Also read: Qantas Lifetime Silver: a goal of many, achieved by very few
Images courtesy of Qantas.
---
Stay up to date with the latest news, reviews and guides by subscribing to Point Hacks' email newsletter.
Qantas Lifetime Gold: the Holy Grail for truly frequent flyers
was last modified:
July 25th, 2023
by