Qantas Wine is one of the simplest ways to earn Qantas Points if you enjoy drinking wine or champagne.
This week's list of Qantas Wine bonuses is here and it has 72 items on the list including wines, champagnes and some food choices.
The highest points earners this week is the Voyager 3 Vintages of Cabernet Merlot with 15,000 bonus Qantas Points.
Plus, there are also a number of items with 10,000 bonus Qantas Points each, so check out the list below.
About this guide
We collate Qantas Wine's weekly offers ourselves and do not have any kind of commercial partnership with the program.
Qantas Wine didn't use to be good at publishing all of the products on which you'll earn a points bonus—there was no consolidated list on their website or via email, so I thought I'd better make one.
After I started publishing this list, they also launched a bonus points listing page on their website.
We update our list weekly and it shows more data than the Qantas Wine's page. Use either list, whatever works for you.
Please ensure you do price comparison research elsewhere if getting good wine at the best price is important to you.
Qantas EpiQure was rebranded as Qantas Wine in mid-2018. The move was in line with the changes in other Qantas brands and was aimed at making it easier for members to understand the products being offered under each brand, which in EpiQure's case are primarily wines.
This week's Qantas Wine offers
Table updated 11 February 2019.
---
What's Qantas Wine?
Qantas Wine is Qantas' wine program and offers the ability to earn thousands of bonus Qantas Points from wine purchases, usually in cases of 6 or 12.
At risk of sounding like a bit of an alcoholic when I'm not meaning to, Qantas Wine is one of my favourite ways to pick up bonus points. I tend to only buy wine when a bonus is offered, and not being a wine snob or one too particular around shopping around for the best wine deals, knowing that I'm getting a kicker of bonus points works for me.
Qantas Wine also have added a range of gourmet food at (as you'd expect) gourmet food prices – so this isn't one to take advantage to start earning more points on your day to day groceries, but is worth bearing in mind for gifts or treats.
---
The full guide to Qantas Wine
Anyone with a Qantas Frequent Flyer membership can purchase wines from Qantas Wine. This guide covers both the free and paid membership options, outlining how you can earn more points and when it's worth going for the paid membership.
As a regular Qantas Frequent Flyer member, you can access Qantas Wine as a regular customer with an account that's linked to your Qantas Frequent Flyer number.
You can earn 1 bonus Qantas Point for each dollar spent, and on top of that you will receive free delivery on all your orders and receive email invites for bonus point promotions.
If you are 'points rich' you can also choose to pay for your wine using your Qantas Points balance, but I wouldn't recommend it as you can get better value out of your points for upgrades or flight redemptions.
Earning bonus Qantas Points
Bonus points are usually awarded for certain cases of wines, often the more expensive options – but sometimes also on some of the more accessible mixed cases. Bonuses usually start at 2-3,000 Qantas Points, and work their way up depending on the price of the case or bottle of wine.
A previous example promotion was for a case of 3 Handpicked Single Vineyard Marsanne 2014 or 3 d'Arenberg The Ironstone Pressings Grenache Shiraz Mourvedre 2010 with 5000 bonus points, for $174.00 including delivery.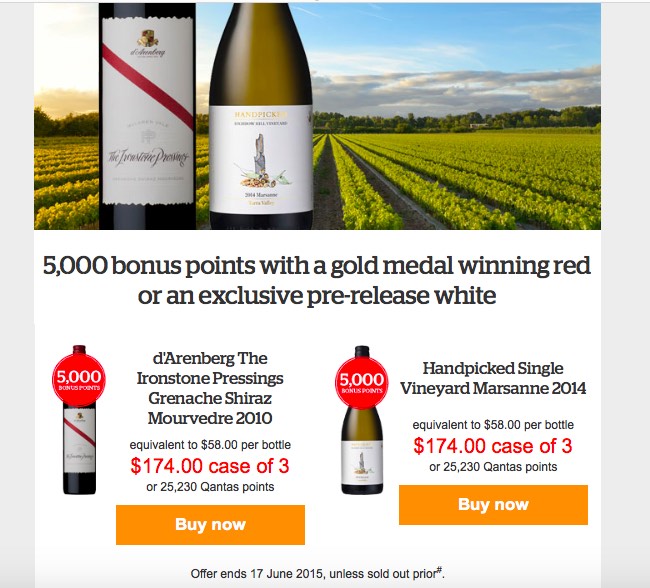 Both wines in this bonus offer are hard to find in big retailers such as Dan Murphys, so let's value them based on the wine-makers website. The Marsanne comes in at $57 and the d'Arenberg at $65.
Given the offers are for a case of 3, if this is a wine you'll like this an OK deal – it's selling for around retail, and you'll get at least around 5,180 Qantas Points on top.
The key concept to understand is that there's no general rule you can apply around the value of Qantas Wine's pricing – sometimes it's a good offer, especially so when the wine comes with a chunk of bonus points. But then often standard pricing can be beaten by your local wine merchant.
Other offers have included 10,000 and 15,000 Qantas Points on cases around the $250 to $300 mark.
It's worth keeping an eye on the Qantas Wine sale page of their website for some of the better deals.
Qantas Wine Paid Premium Membership
Alongside the free membership Qantas also has a paid membership on offer. This will set you back $99 (standard pricing) with a free gift included.
The free gift at the time of writing is either a bottle of Taittinger Brut Réserve Champagne which I would value at $59.99, or a bottle of Seppeltsfield NV Paramount which Qantas values at $329. This particular bottle couldn't be found online anywhere else so take this value with a grain of salt.
As a paying member of Qantas Wine, you'll receive 3 points per $ spent, on top of free delivery.
You'll also receive invites to exclusive events for Qantas Wine members – however, these are often paid events, rather than free, and wouldn't suit all tastes.
Here's a write-up (external site) of an EpiQure event held in Adelaide in May 2015, for example.
There's also a wine plan component of Qantas Wine, where you can opt-in to receive wines delivered quarterly based on your preferences. Joining a wine plan also comes with free paid membership, so could be worth looking at if you were considering the membership anyway.
Gaining free or discounted membership
Qantas often has some promotions running to entice you to sign up which usually come in the form of a coupon, or a free bottle of wine.
Previously coupons offering one-year free membership have shown up. Many members commonly also receive free renewal year-on-year if they continue to make purchases.
Summing up
The fastest way to earn points out of Qantas Wine is to look out for the bonus point promotions in your inbox and see if they meet your taste for wine to stock up on when they crop up.
Just like many people, giving wine is handy business and social custom and using Qantas Wine to stock up wine in this way can ensure you're not left short.
These bonuses can quickly bump up your Qantas Point balances if earned wisely.
When there are sign up offers for the paid membership you could consider joining. With the current promotion, the membership cost is around $30 once you take into account the bottle of champagne.
If you're not a fan of Champagne or Port then hang on for one of the "free year" coupons to show up, as the $99 fee is generally not going to be value for money.
This guide is updated with any new promotion codes or lucrative bonus points offers as they come available.
How about you? Have you had any great Qantas Wine points wins?
Feature image courtesy ten22.com.au / Andy Francis.
Stock up on wines and earn up to 15,000 bonus Qantas Points
was last modified:
May 14th, 2019
by