We get asked this question quite a lot and the answer is 'no'. However, you can get a layover, which a break in your itinerary in a city of up to 24 hours between flights. This way you can add in an extra (quick) city visit and pay fewer points than if you'd stopped for longer.
In this guide, I explain the important difference between a transit and a stopover and the effect they have on award pricing. I also give three examples of incorporating short or long stays in Dubai, Sydney or Hong Kong on your next trip overseas.
This guide deals only with one-way award redemptions. If you want to book a more extensive round-the-world trip with your Qantas Points, read our guide to Qantas RTW redemptions.
Qantas Frequent Flyer stopover rules and restrictions
The determining factor in the pricing of your award ticket with Qantas depends on how long you stay in a city. There is a difference between a:
transit or layover of up to 23 hours and 59 minutes = no additional points
stopover of 24 hours or more = not free
Most frequent flyer programs, including Qantas, allow free transits. Some frequent flyer programs also allow free stopovers; Qantas does not. However, you can use the Qantas multi-city search tool to customise your transit and make it up to (almost) a full day.
Note that Qantas has four different award charts and you'll need to stick to just one:
Classic Flight Reward Table: for travel on Qantas and preferred partner airlines, including Emirates and American Airlines
Jetstar Classic Flight Reward Table: Jetstar and its subsidiaries in Asia
Partner Classic Flight Reward Table: all other partner airlines, such as Alaska Airlines, EL AL and China Airlines
oneworld Classic Flight Reward Table: travel on at least two oneworld alliance airlines other than Qantas, such as American Airlines and British Airways
9 hours in Dubai
Say you want to use your Qantas Points to fly First Class to London. You opt for Emirates via Dubai.
You can get a free transit of up to 24 hours in Dubai for the regular 189,800 points. Or you can spend a few days there by separating your trip into two awards, totalling 208,600 points.
How do I book a free layover of up to a day? Firstly, I separate the two flights into the Qantas multi-city search tool. I make sure to select the following day for the second flight.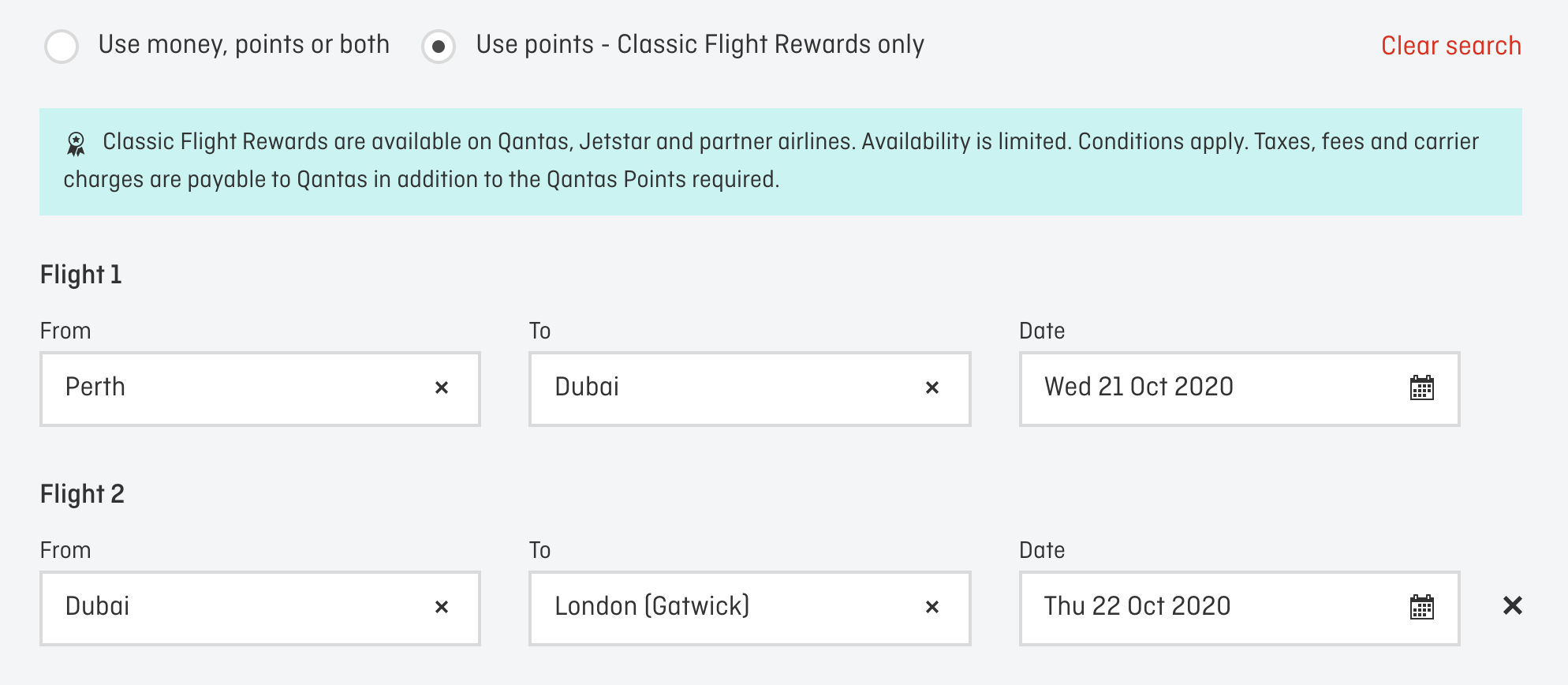 For this date, there is only one flight from Perth to Dubai. I note that it leaves on Wednesday night and arrives in Dubai at 5:20am on Thursday.

Emirates has 10+ daily flights from Dubai to London, including 3 to Gatwick. However, I don't expect to find open award seats on all of them. In fact, on this date, there are two options. The quickest transit in Dubai has me in the airport for two hours and 40 minutes, which is ample time to enjoy a meal and relax in the First Class Lounge.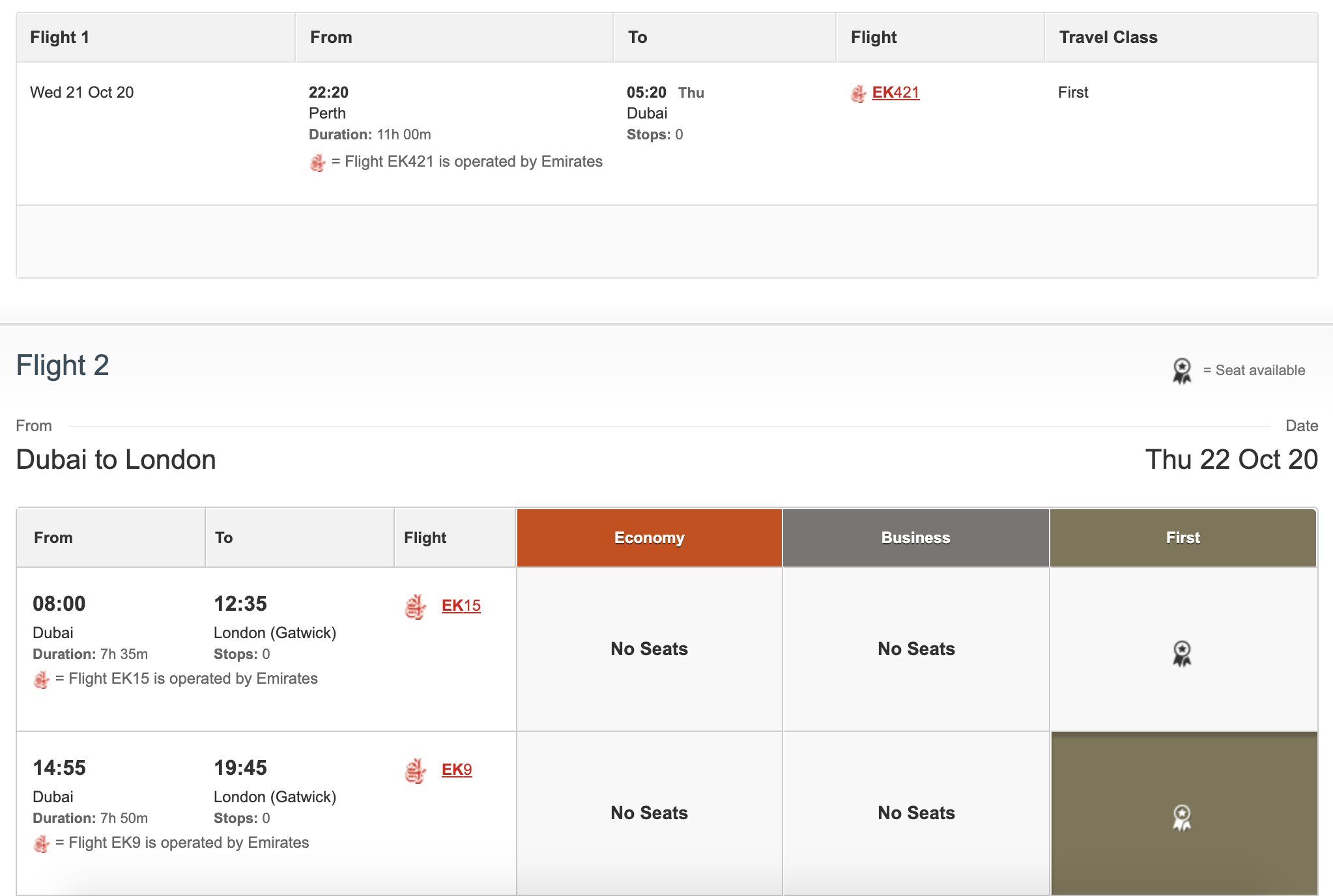 However, if I wanted to pop into the city to see the Burj Khalifa or do some shopping at Dubai Mall, then I would have just over nine hours to do so. I would make sure to factor in time to pass through immigration and get into the city.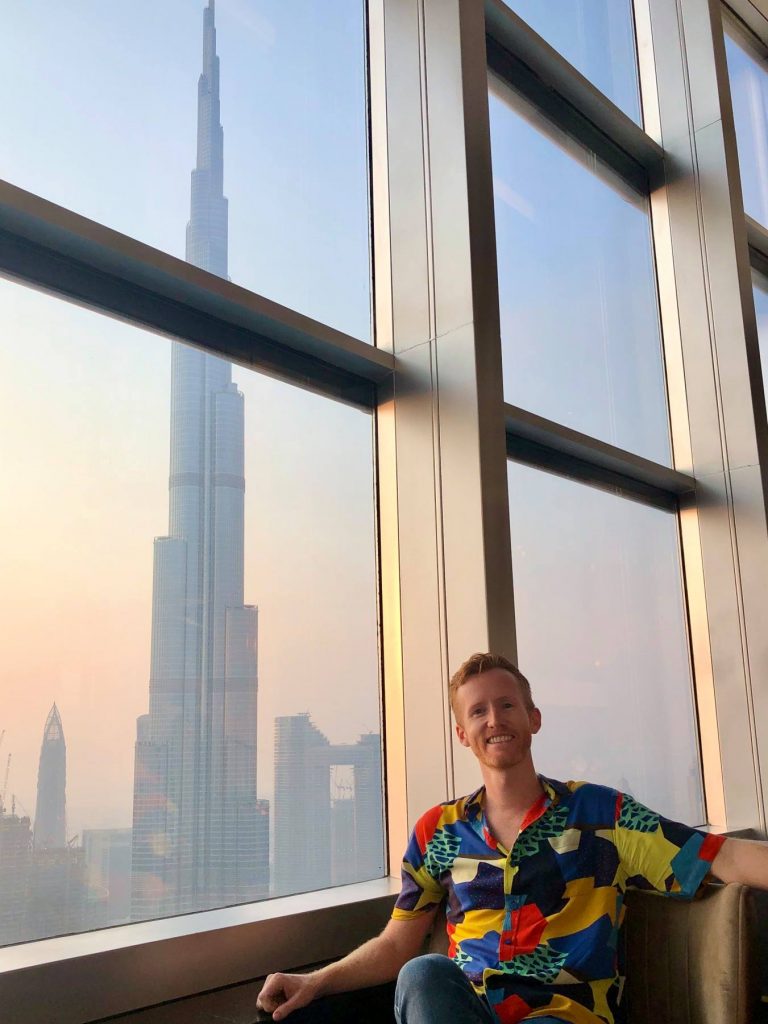 Ad – Scroll down to continue reading.Minimum spend, terms & conditions apply.
A night in Sydney
Say you are flying from Melbourne to the US and have family or friends in Sydney.
Some travellers dislike transiting through Sydney because the domestic-to-international (and reverse) transfer process takes a bit of time and can be stressful. Therefore, stretching your transit to nearly a full day can give you a cushion between flights and allow you to visit the city.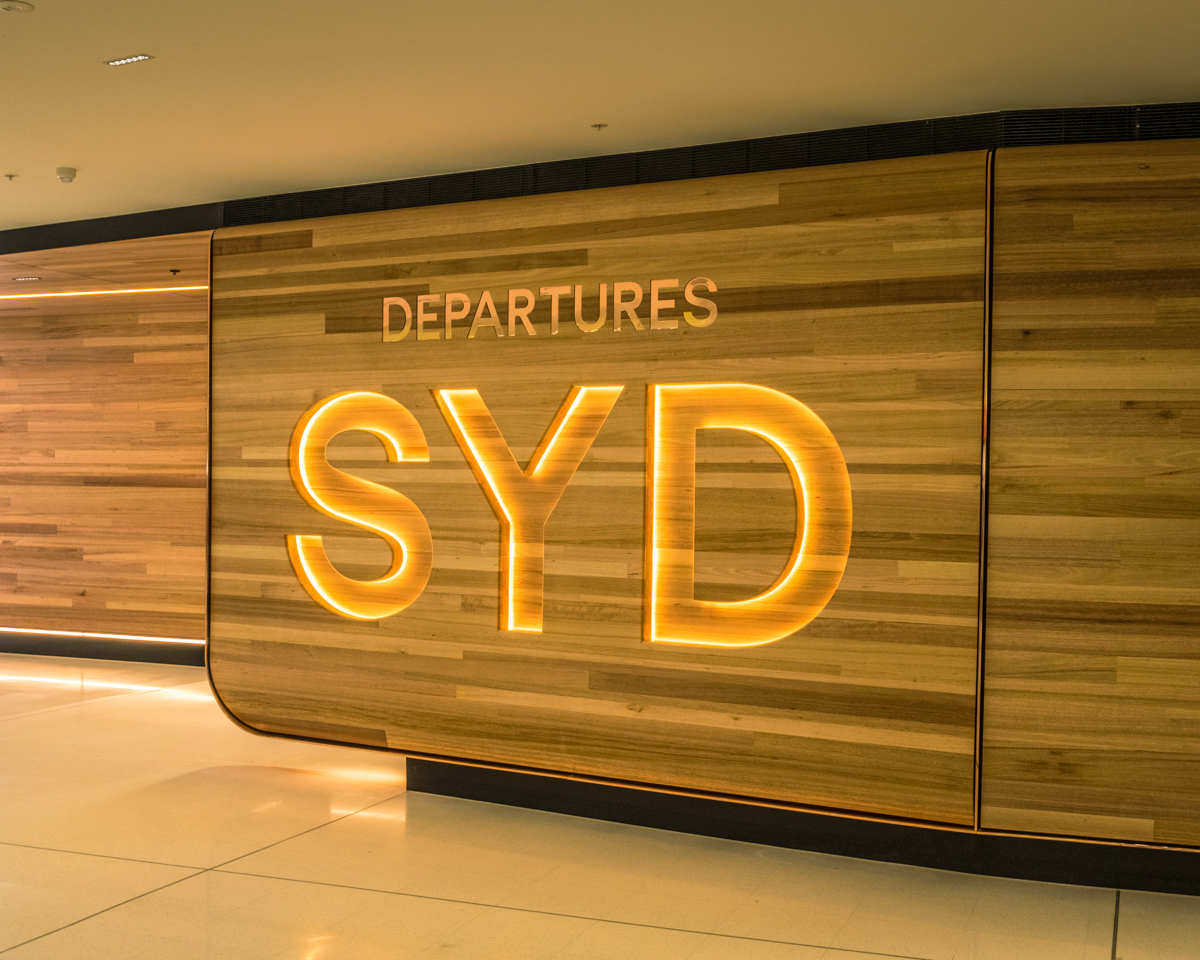 The following itinerary flying to Sydney and then onwards to Los Angeles is priced the same as a direct Melbourne – Los Angeles flight (41,900 points in Economy Class.)
The arrival to Sydney just before midday on Monday and departure before midday the next day satisfies the less-than-24-hours requirement of a free transit. It also you a night in Sydney to play with.

If you wanted to extend your layover to a stopover (more than 24 hours), you would book two separate awards. It would cost 8,000 points for the first flight and 41,900 for the second.
A full day in Hong Kong
For our final example, let's say you want to fly from Brisbane to Taipei on Cathay Pacific. Rather than staying in the airport, you may want to spend some time exploring Victoria Peak or on a boat going around the harbour.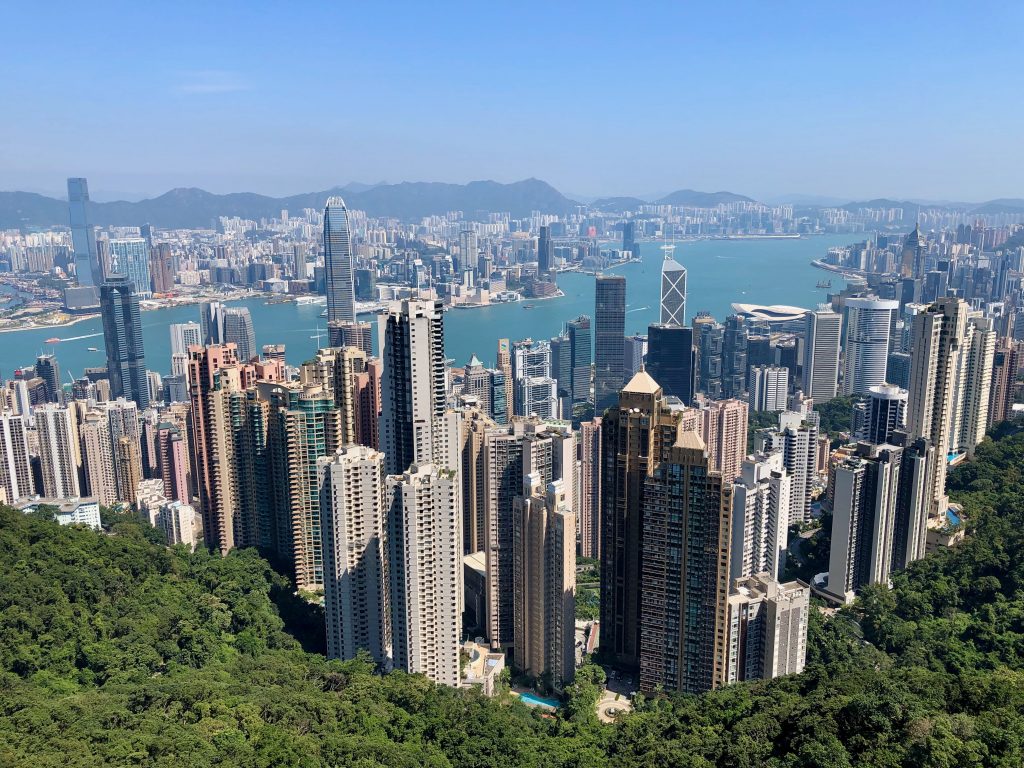 As I've done in the other examples, I separate my itinerary into two flights in the search tool. I select Cathay's red-eye from Brisbane, arriving in Hong Kong at 7:10am.

Then for the same price, I can choose from over 15 onward flights from Hong Kong to Taipei. I'm going to select the 7:30pm departure, giving me just over 12 hours as my layover.
This one-way Economy Class redemption would cost me the same 37,800 points whether I did the quickest transit of 1 hour 20 minutes in Hong Kong, or stretched it out to up to 23 hours and 59 minutes.
How to book a free layover with Qantas Points
Go to the Qantas multi-city search tool
Select Use points – Classic Flight Rewards only
Enter in your two flights
Make sure to factor in time differences when choosing desired dates
Find award availability
Note the arrival time of the first flight
Make sure that the departure time of the second flight is less than 24 hours after the first flight arrives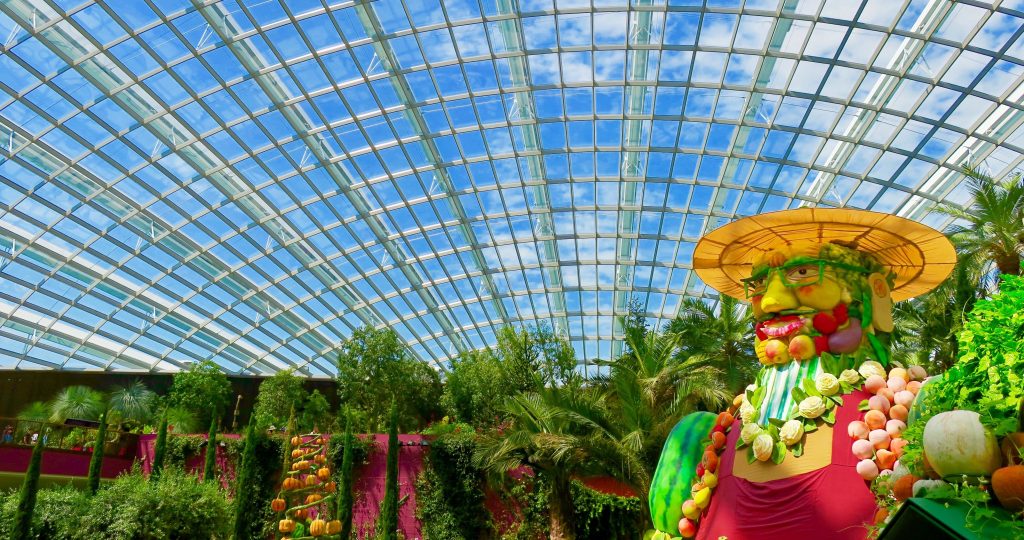 Summing up
If you search for a one-way or return trip on the Qantas website, it will automatically give you options with the shortest connection times. However, if you use the multi-city search tool, you can customise a free transit of up to 24 hours in an intermediate city.
This can be a really nifty way to visit places that Qantas and its partners connect through, including:
Singapore, Hong Kong and Tokyo in Asia
Sydney, Auckland and Nadi in Oceania
Dubai and Doha in the Middle East
Honolulu, Los Angeles and Miami in the US
Finally, if you want a longer stopover (of more than 24 hours), you might as well make the most of it for at least a few days. That's because Qantas prices the segments separately.
Can you get a free stopover when using Qantas Points?
was last modified:
May 18th, 2022
by