Emirates offers not one, not two, but three First Class lounges at its home hub in Dubai. Most travellers would be familiar with the airline's lavish lounges in Concourse A and Concourse B. But the Emirates First Class Lounge is a little different here in Concourse C.
It doesn't run the length of the terminal, as in Concourse A – and there's no spa, as in those other two lounges. Instead, this lounge is cosier. It's fair to say it looks like many of Emirates' Business Class lounges. But it still squeezes in twists of First Class flair, such as à la carte dining.
If you're flying from Concourse C and simply want to use the closest lounge, or are just curious to explore, here's what awaits in Concourse C's Emirates First Class Lounge.
Location
For those unfamiliar with Dubai, Terminal 3 – where Emirates is based – is spread across three separate buildings. Each of these buildings has a letter: A, B or C. 'Concourse C', as it's now known, used to be a separate terminal in its own right. But given how much Emirates has grown over the years, what was the old Terminal 1 became Concourse C – and part of Terminal 3.
If that's confusing, don't panic. Every Emirates flight departs from Terminal 3, so you can't be in the 'wrong' place. The three concourses are also joined airside, so there's no need to clear security again when strolling between them. All of the gates in Terminal 3 begin with a letter: A, B or C. So to put it simply, if you're flying Emirates from a gate beginning with C, this will be the closest First Class Lounge for you.
It resides near gate C19, but you can follow the overhead signs towards the First Class Lounge.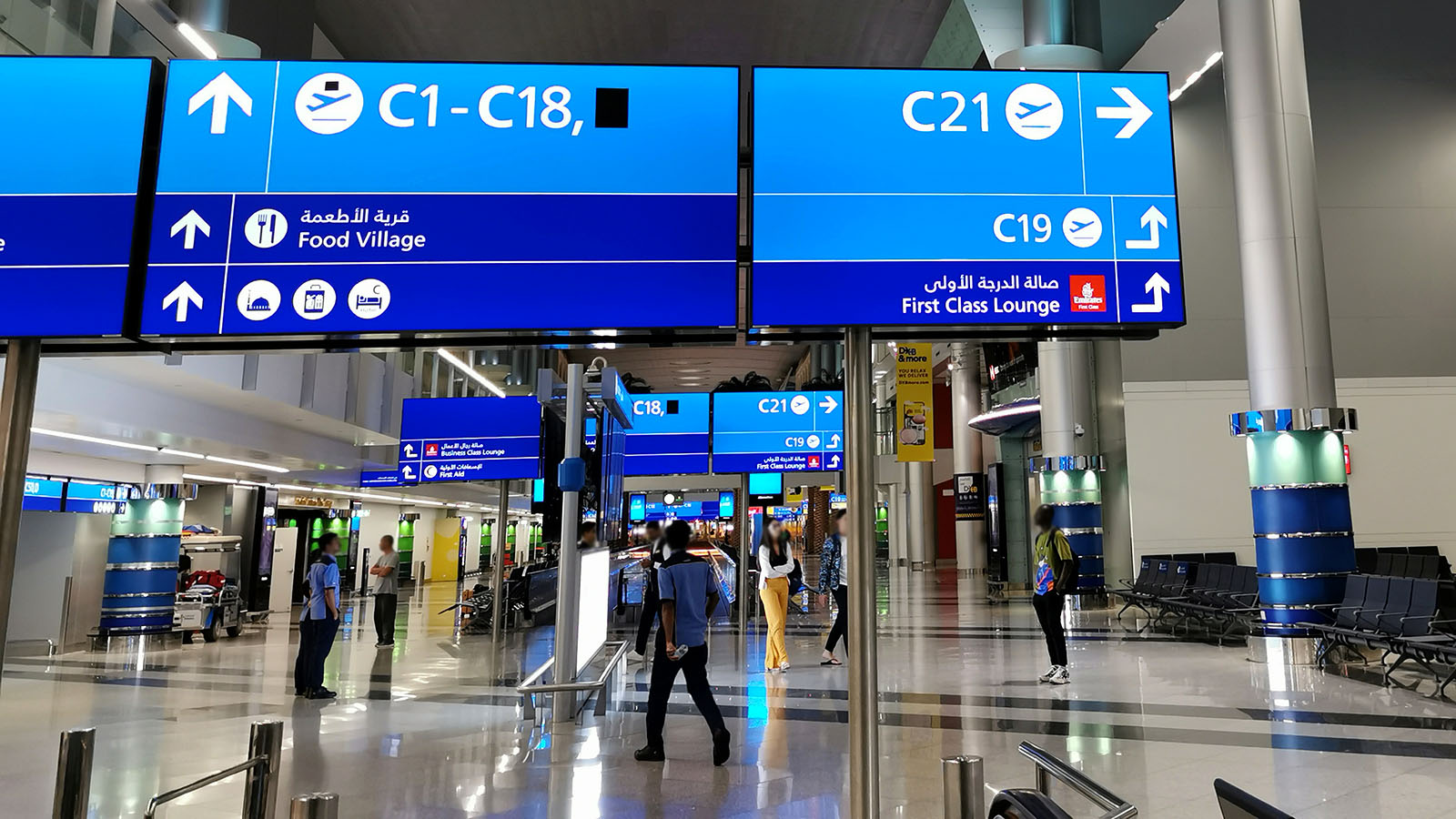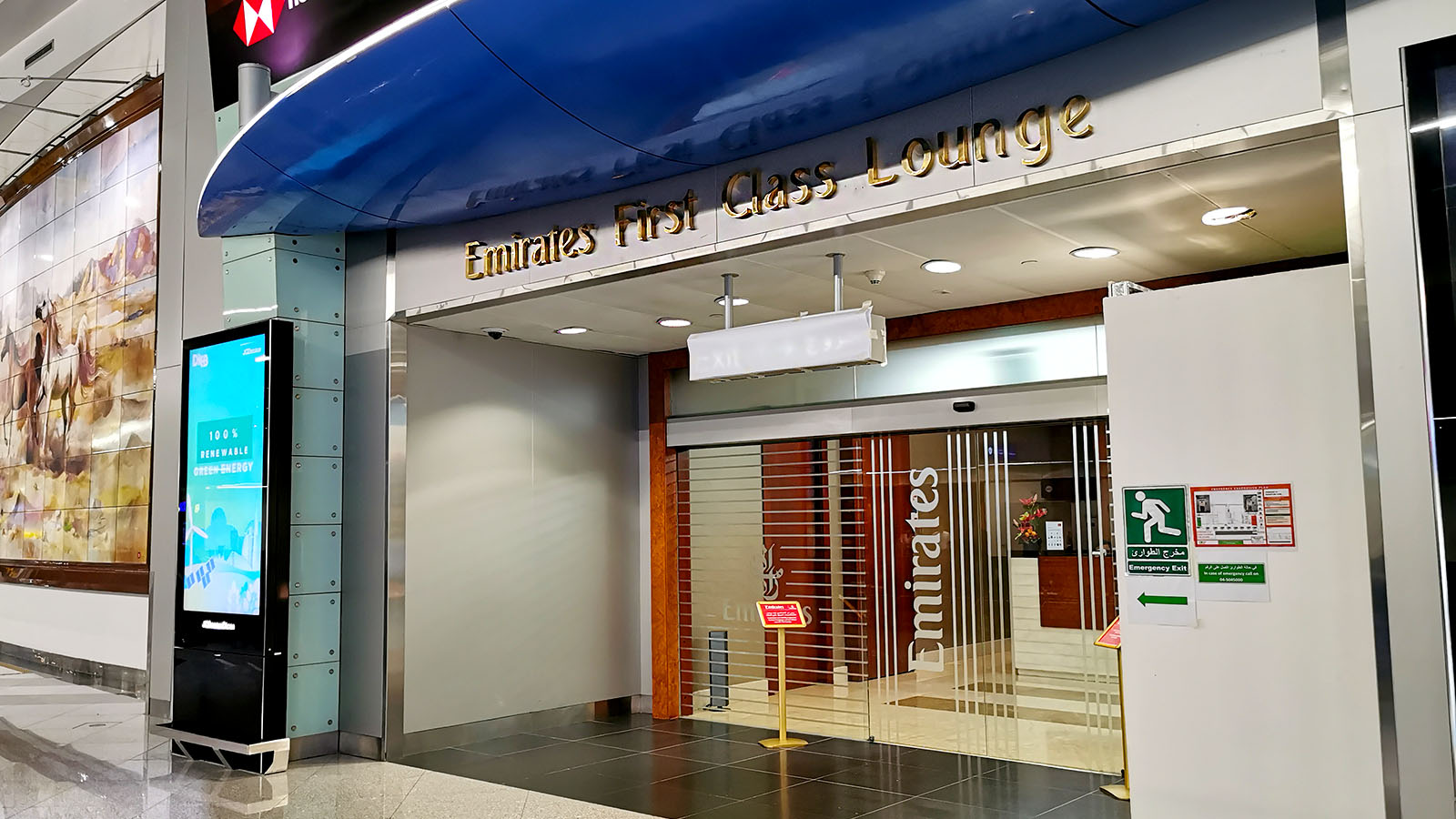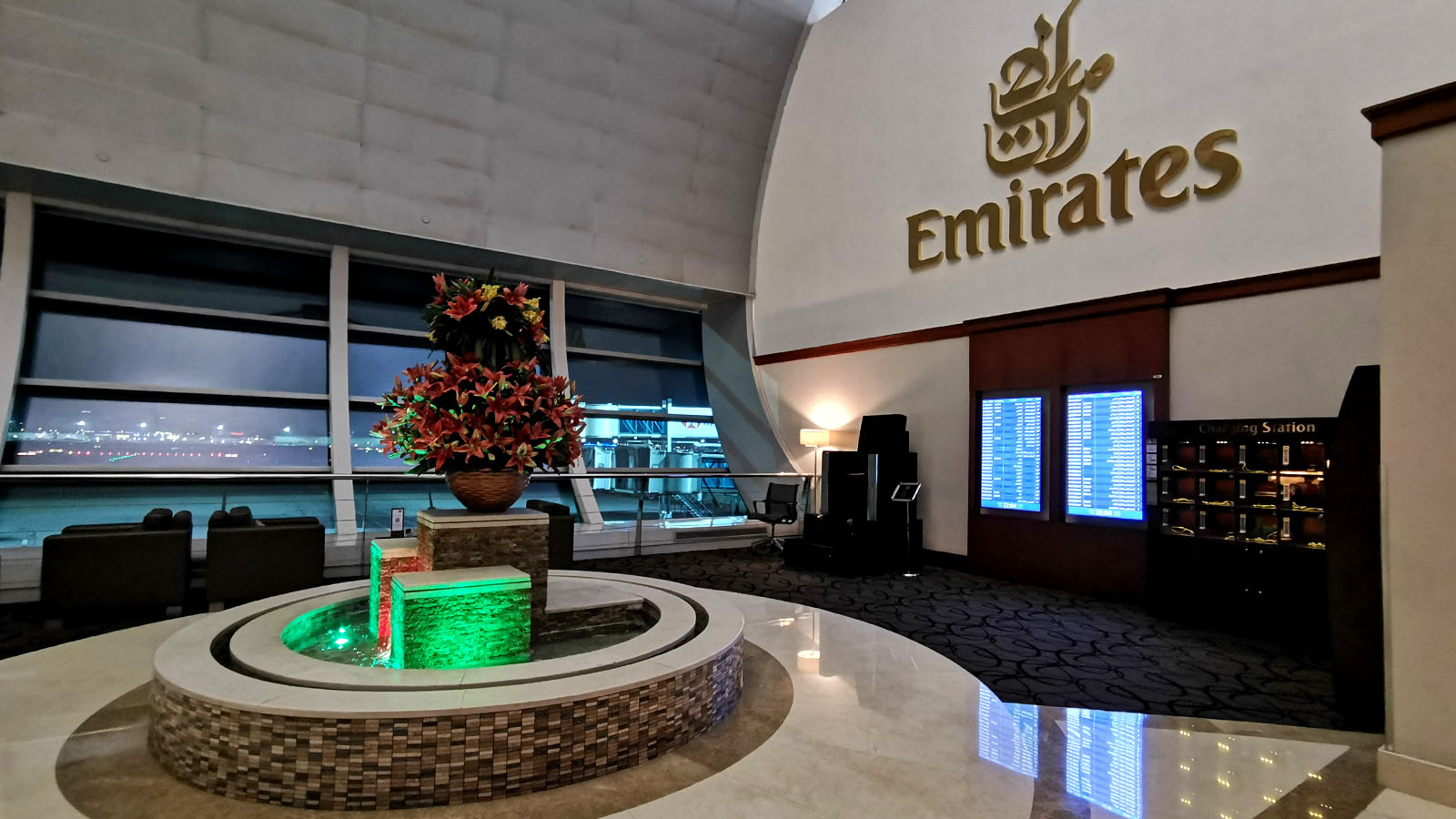 Once inside, enjoy clear airport views, with windows running from one end of the lounge to the other. And hey, it doesn't hurt to know that this is the oldest of Emirates' three First Class lounges in Dubai. After all, it lives in the 'original' Emirates terminal before the other concourses even broke ground. This means it's not as modern and lavish as its newer counterparts but still well-maintained.
As with Emirates' other lounges in Dubai, the First Class Lounge in Concourse C is open 24/7. If you particularly fancy a stroll, you can also visit this lounge when departing from Concourse B (the next building over) and Concourse A (much further away – allow plenty of time).
Lounge layout and seating
This isn't a colossal lounge. It feels about the same size as the Qantas Domestic Business Lounge in Sydney – if not a little smaller. But it's large enough given the tight access list and the fact that most travellers use the First Class lounges in the other concourses.
I've been here several times and never seem to find it busy. By comparison, the adjacent Business Class Lounge in Concourse C is almost always packed when I fly through. As for the First Class space itself, it's a relatively straightforward design.
Once passing reception, you'll emerge into a single room with very high ceilings. There's a water feature to greet you with colourful lighting for a touch of relaxation. This flows through into the main seating area and dining zone. There's also an upstairs section with extra seating and a more private feel.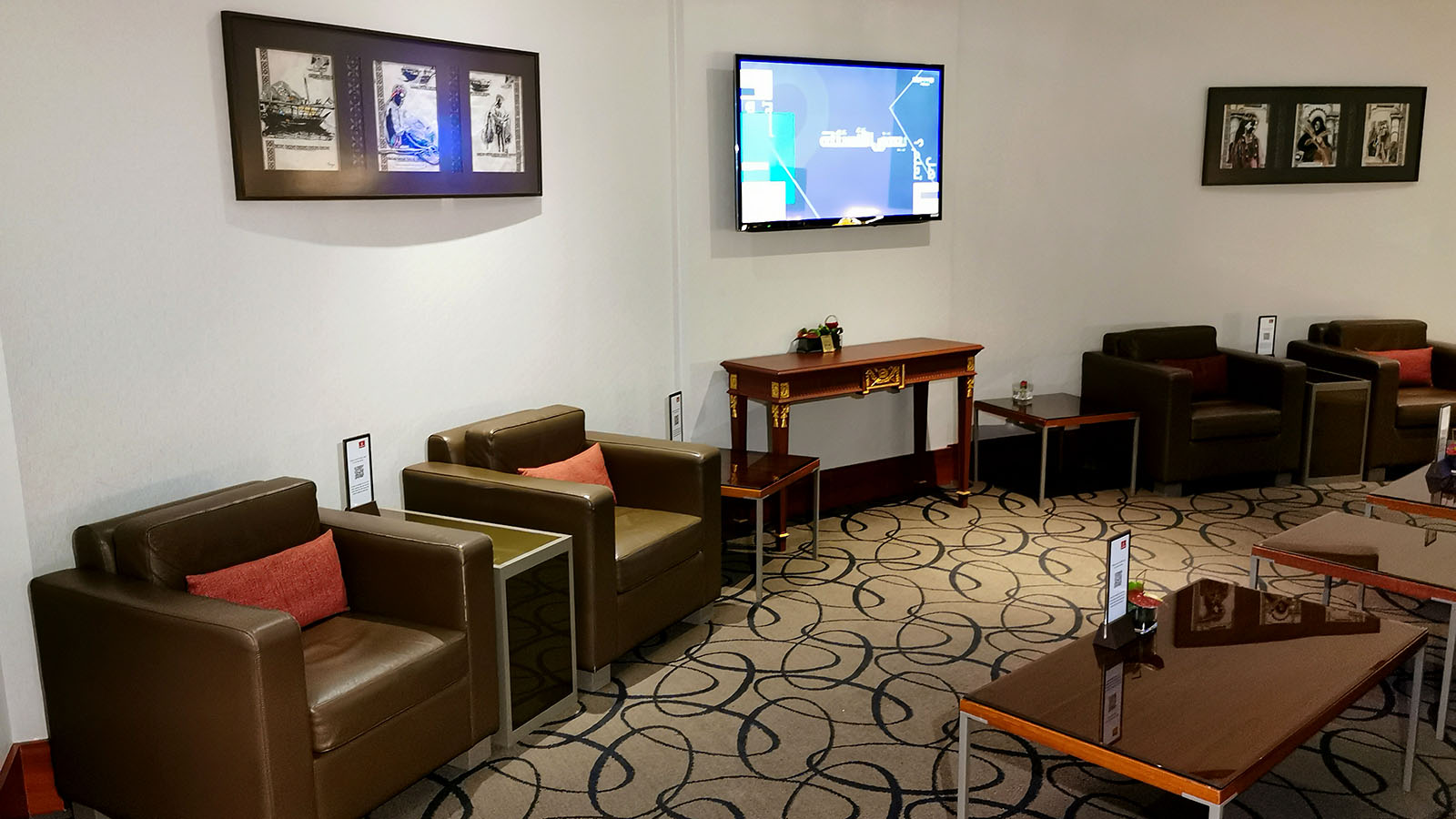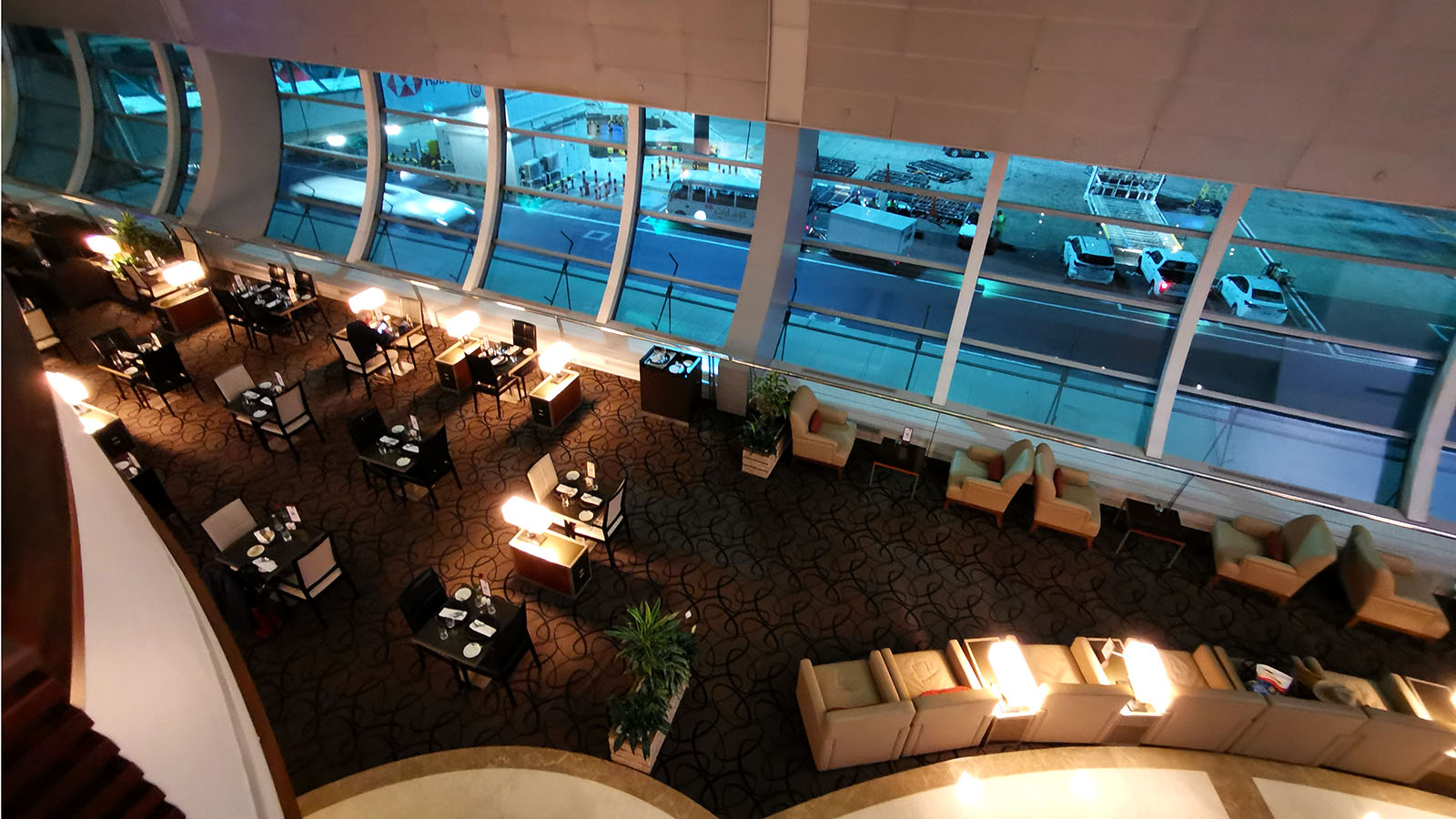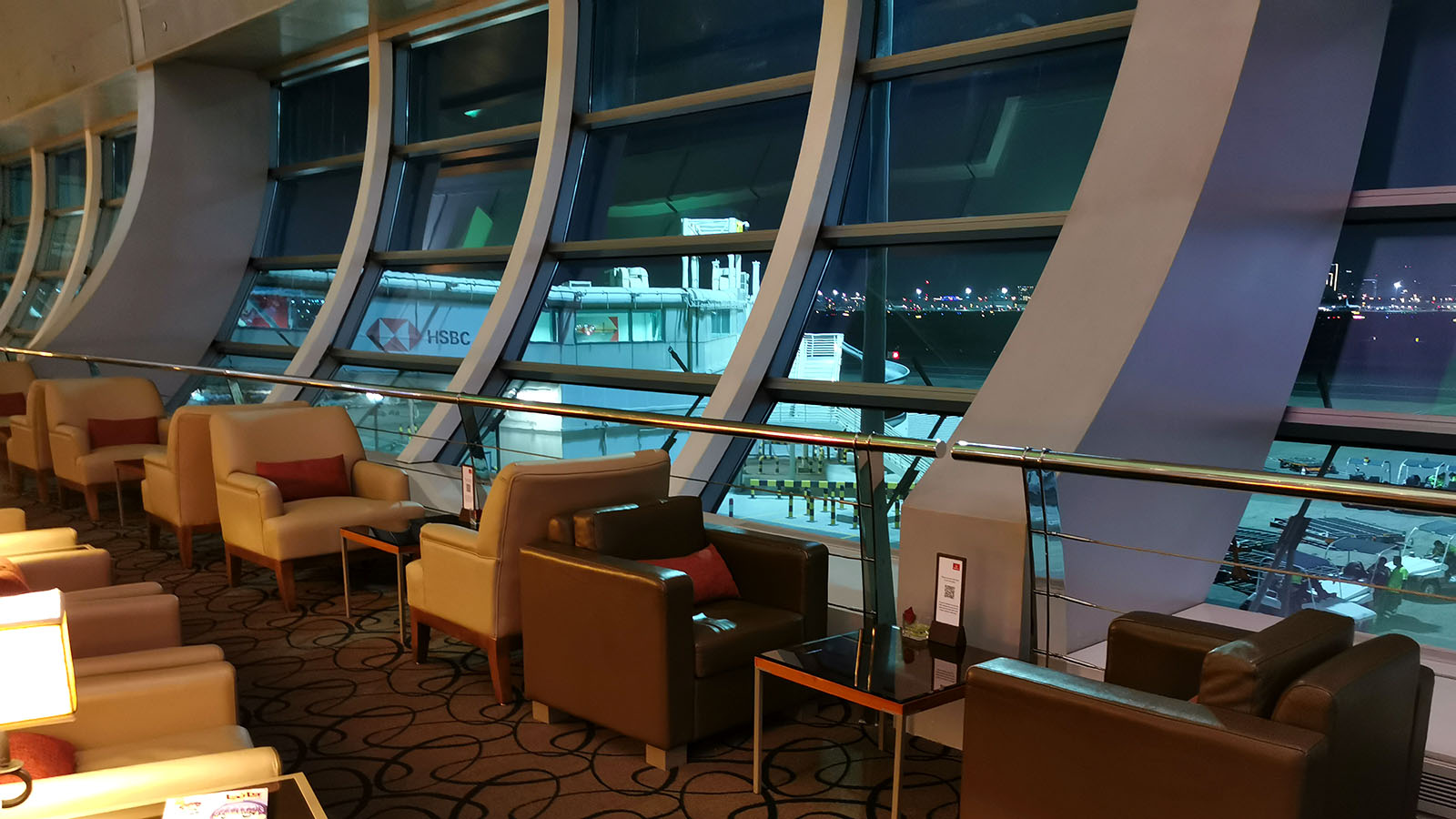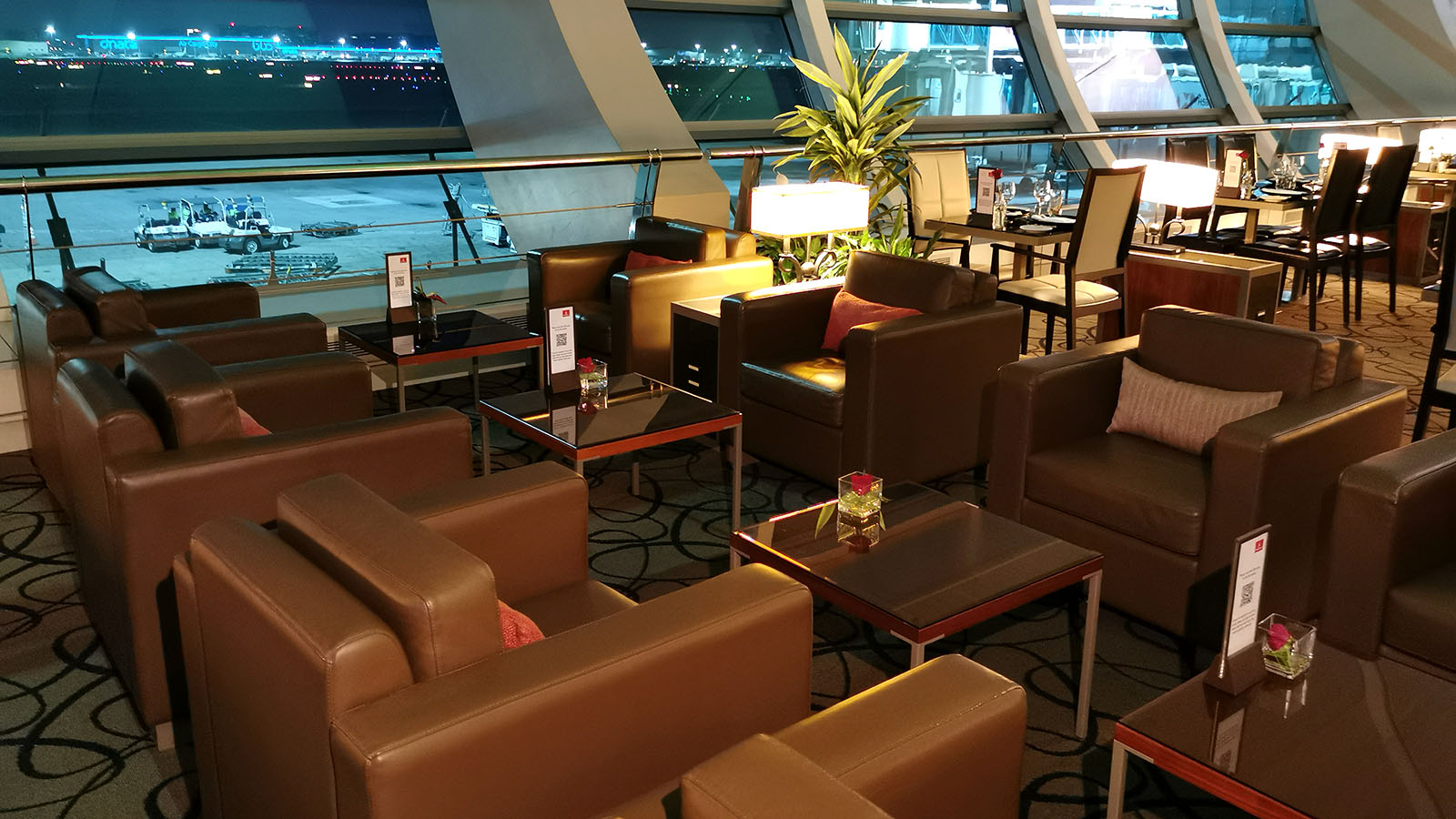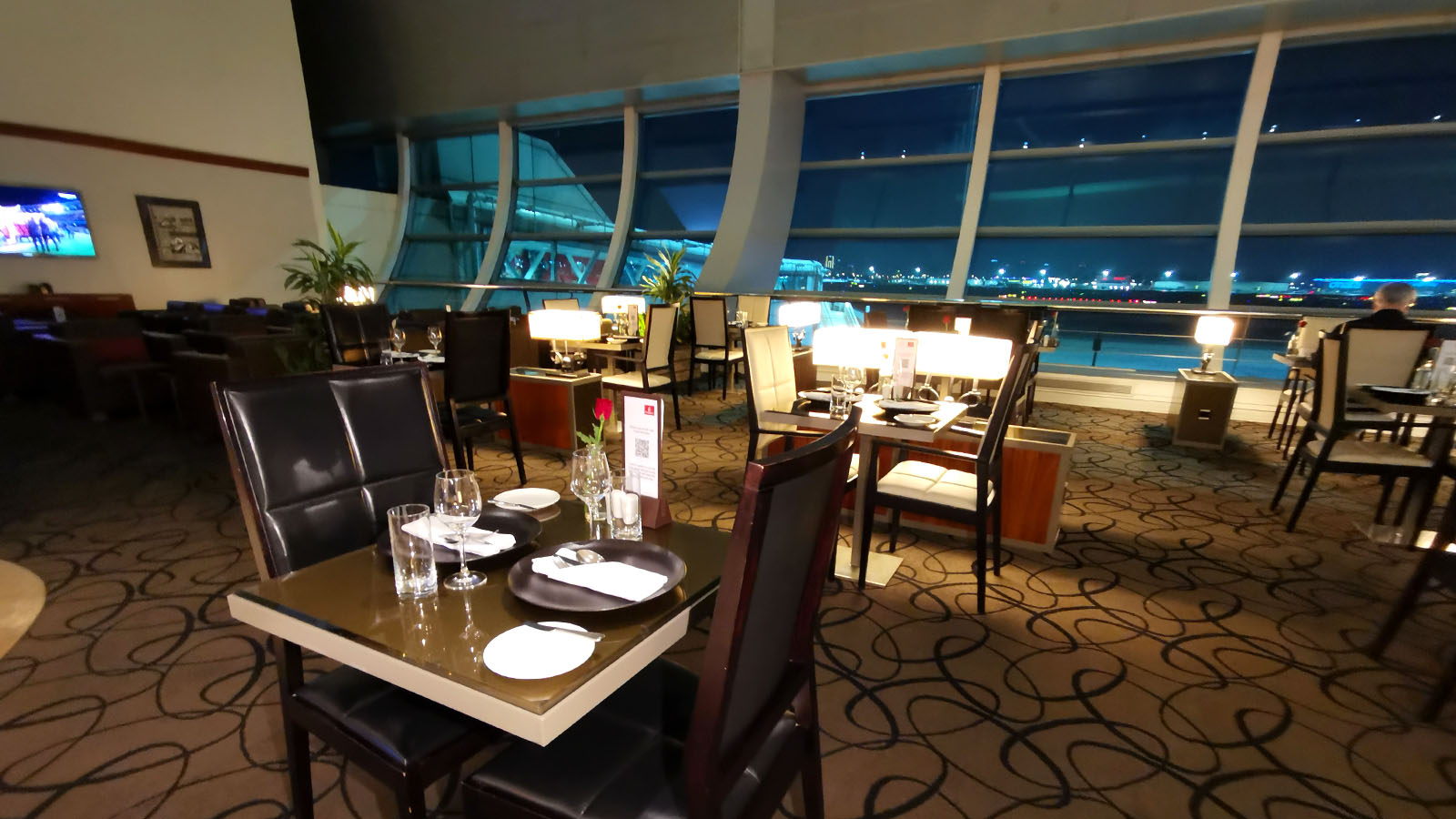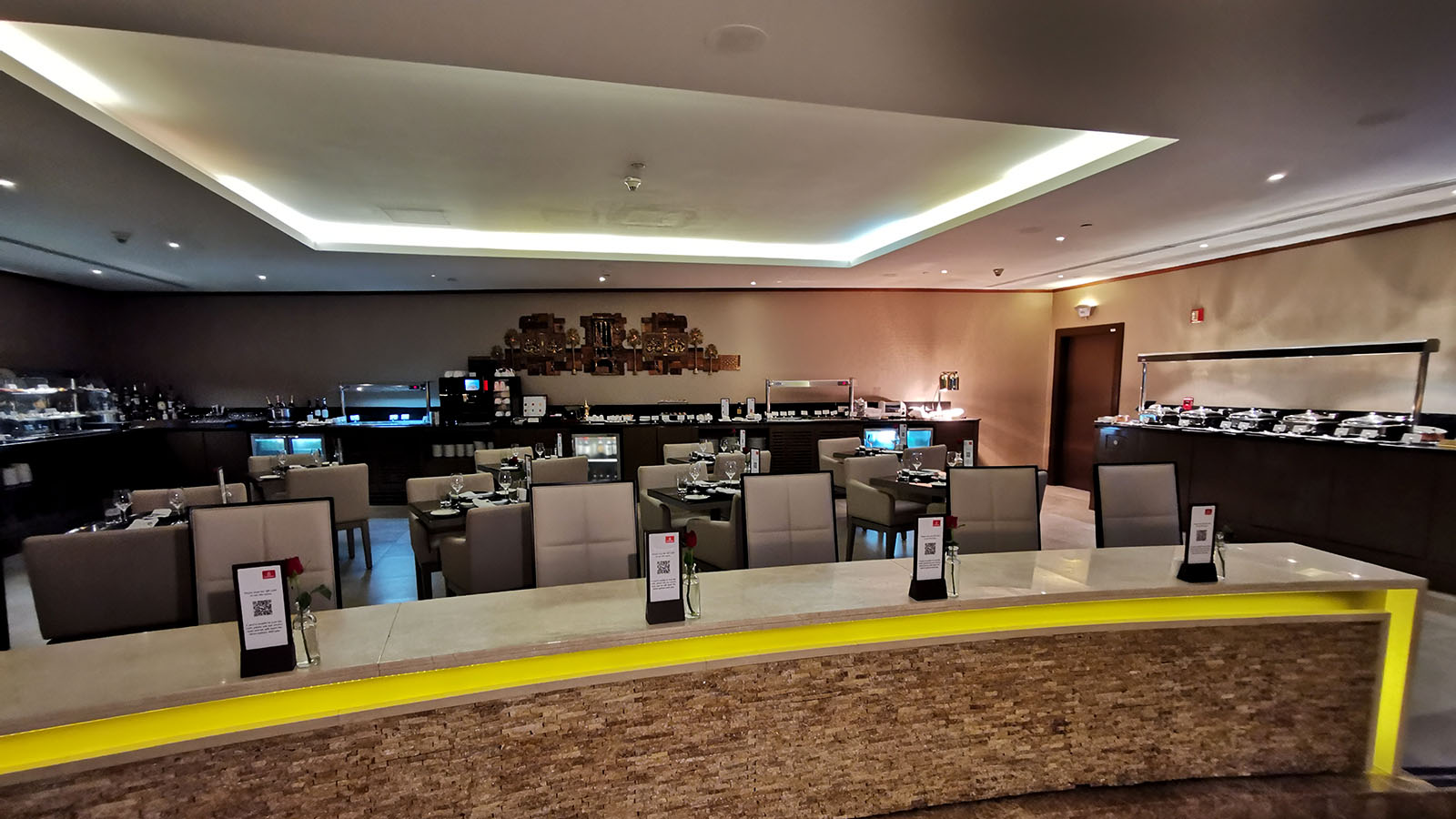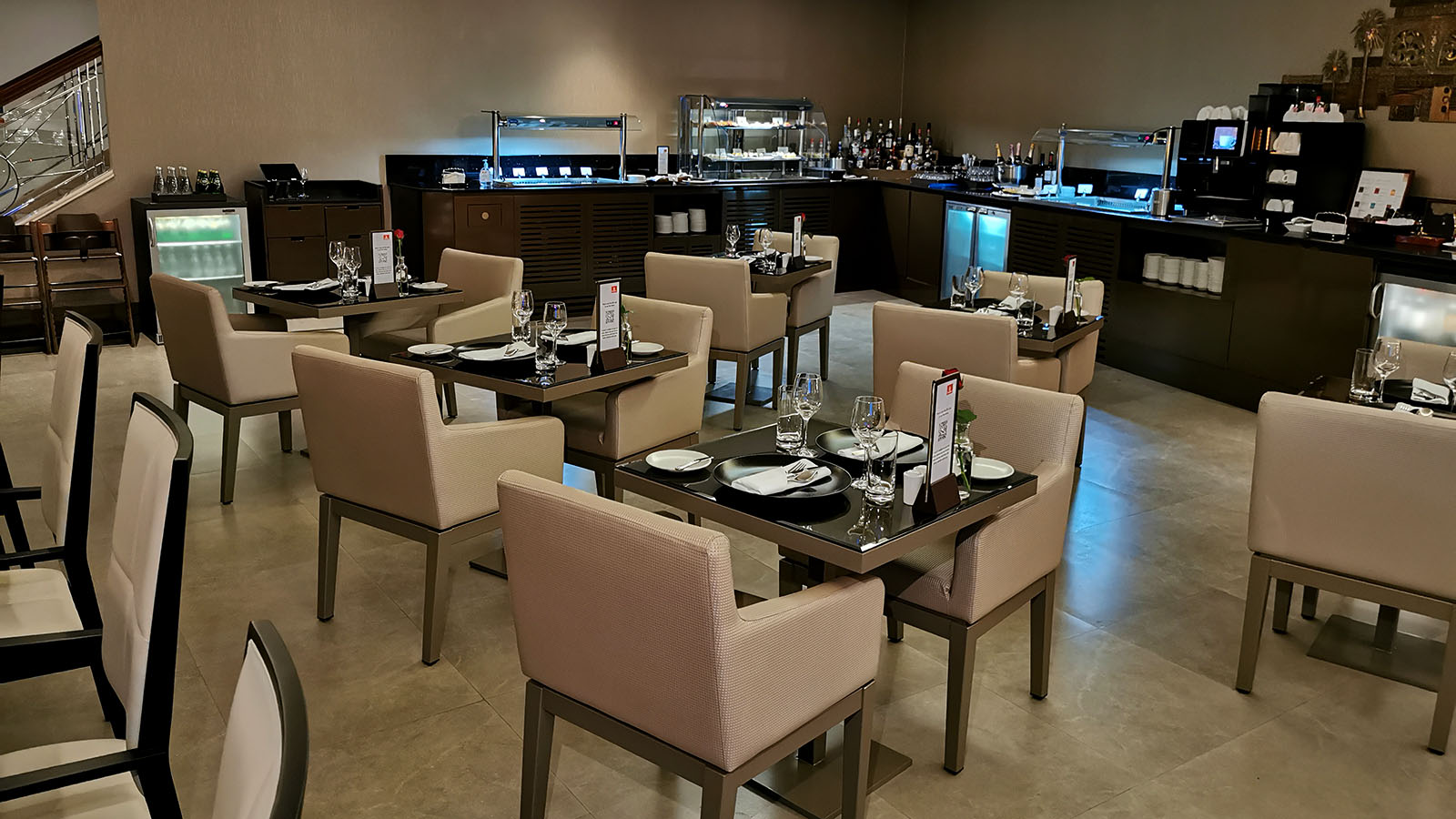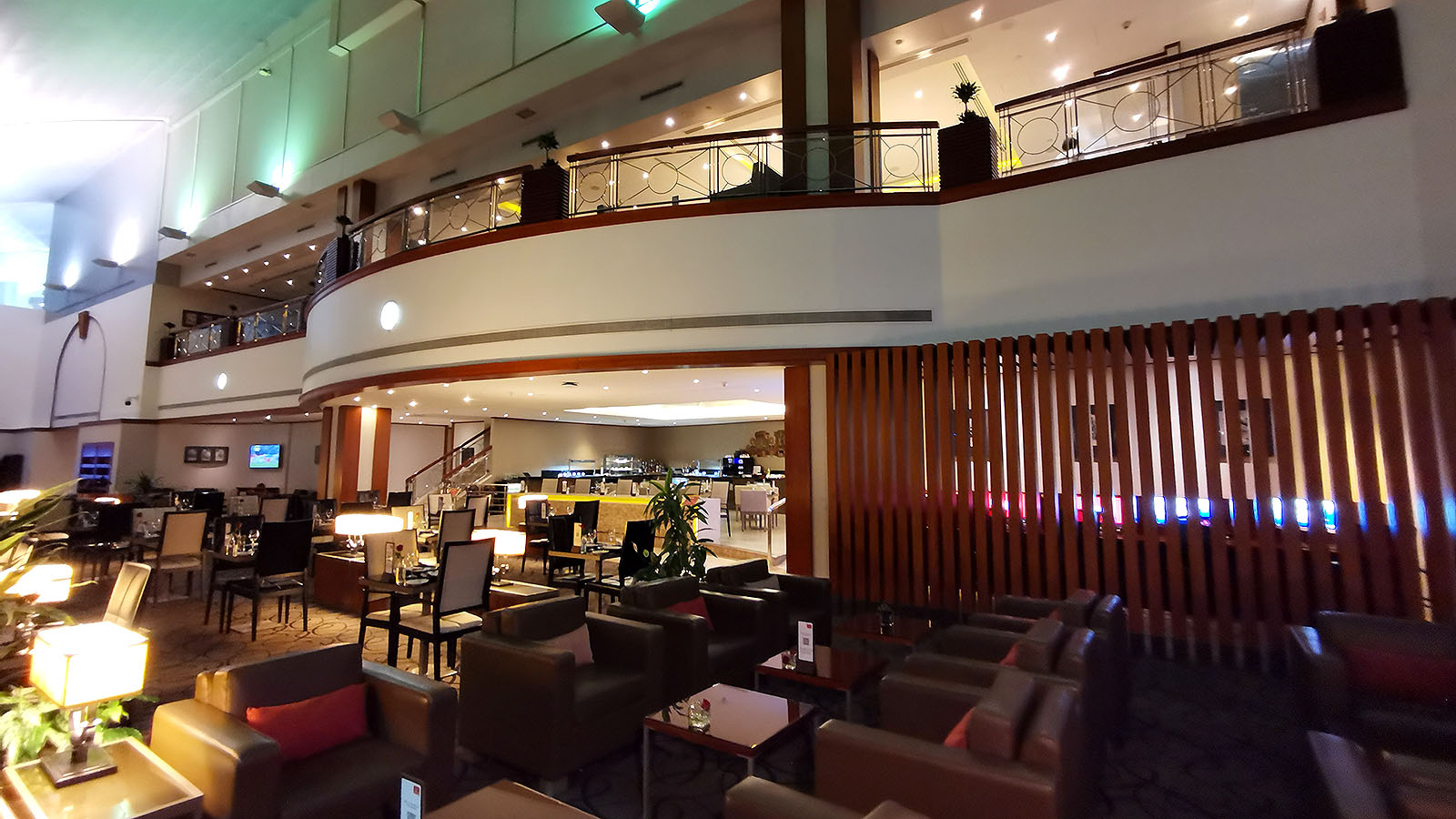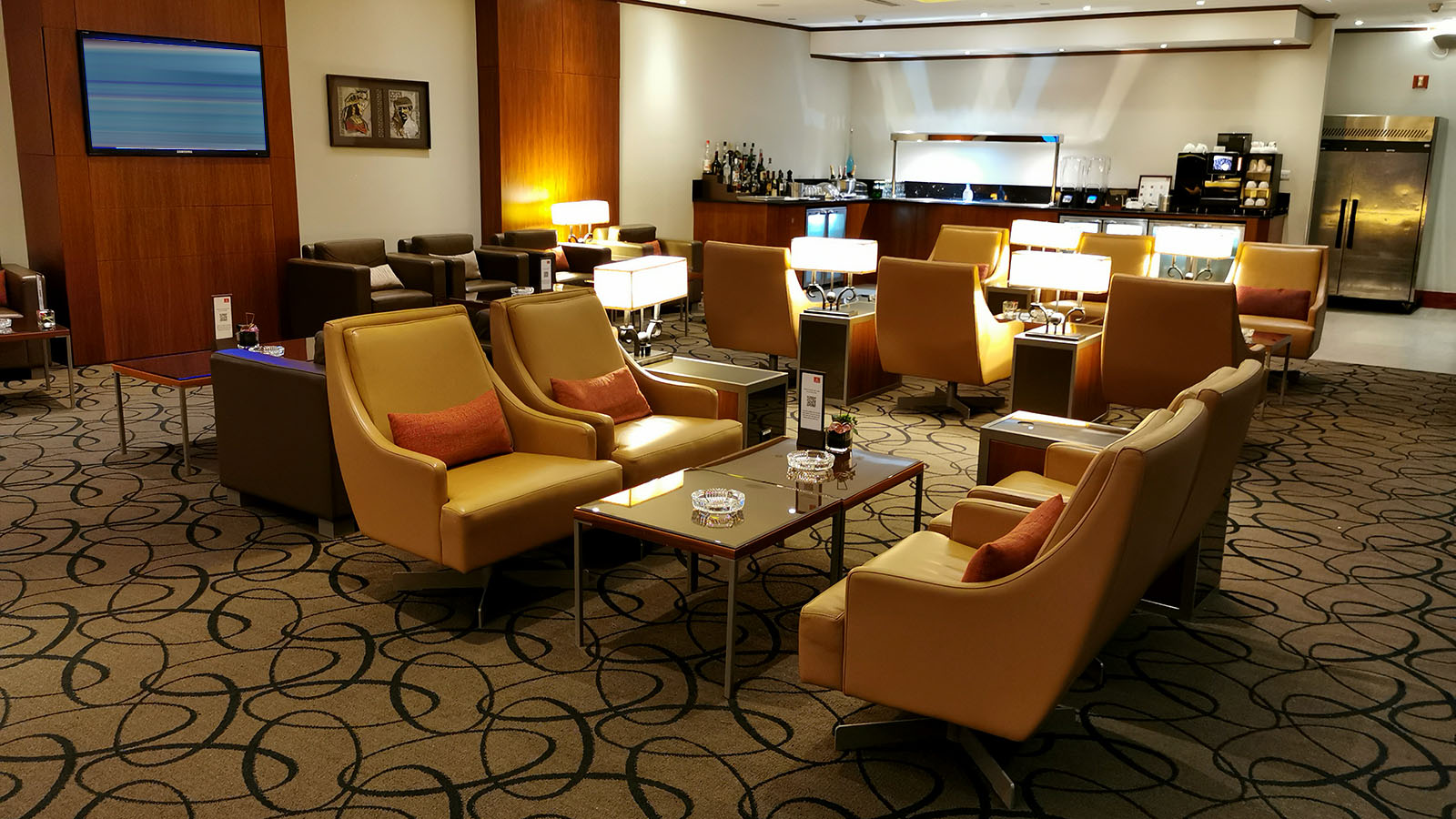 As for the dining zones, you have two main options here. One of those choices is to pull up a table right in the middle of the buffet section. These seats are newer, but this area does have a greater resemblance to Emirates' Business Class lounges. Alternatively, you can dine over by the windows – and this is always my pick.
Food and beverage in the Emirates First Class Lounge, Dubai T3, Concourse C
One thing that positions this Emirates First Class Lounge as a cut above its Concourse C Business Class counterpart is à la carte dining. Simply scan the QR code at any table to browse the latest menu. Staff will then come by to take your order.
There's so much to choose from. It's a 10-page menu with dishes catering to every palate and nearly every dietary requirement. From vegan to wagyu, you're bound to find something that takes your fancy. After all, the varied menu takes inspiration from practically every part of the world.
I settle in, and just like in Emirates First Class itself, a well-stocked breadbasket appears. There's both sweeter and saltier butter to mix and match. As for the food, there are plenty of casual options for those who fancy a relaxed bite. But today, I'm eyeing more of the restaurant-style fare – the things I wouldn't simply eat at home.
The pan-seared Hokkaido scallops get me started. They're artfully served with a pistachio crust and sit atop an artichoke purée. A cauliflower salad provides a little balance and a cracking dish. I'm saving today's alcohol for a visit to the Moët & Chandon Champagne bar in the Concourse B Business Class Lounge, so the blood orange smash mocktail catches my eye. It's refreshing and also suits my next course.
Given that I've just flown over the Persian Gulf on a flight from Frankfurt and seen Iran out the plane's window, the Iranian mixed grill seems like a good way to continue. As the name suggests, there's a little of everything. Chelo kabab koobideh (beef), grilled lamb chops, king prawns, and saffron chicken – served with zereshk (dried fruit), saffron rice and cucumber yoghurt. It's simply delicious and oh-so filling.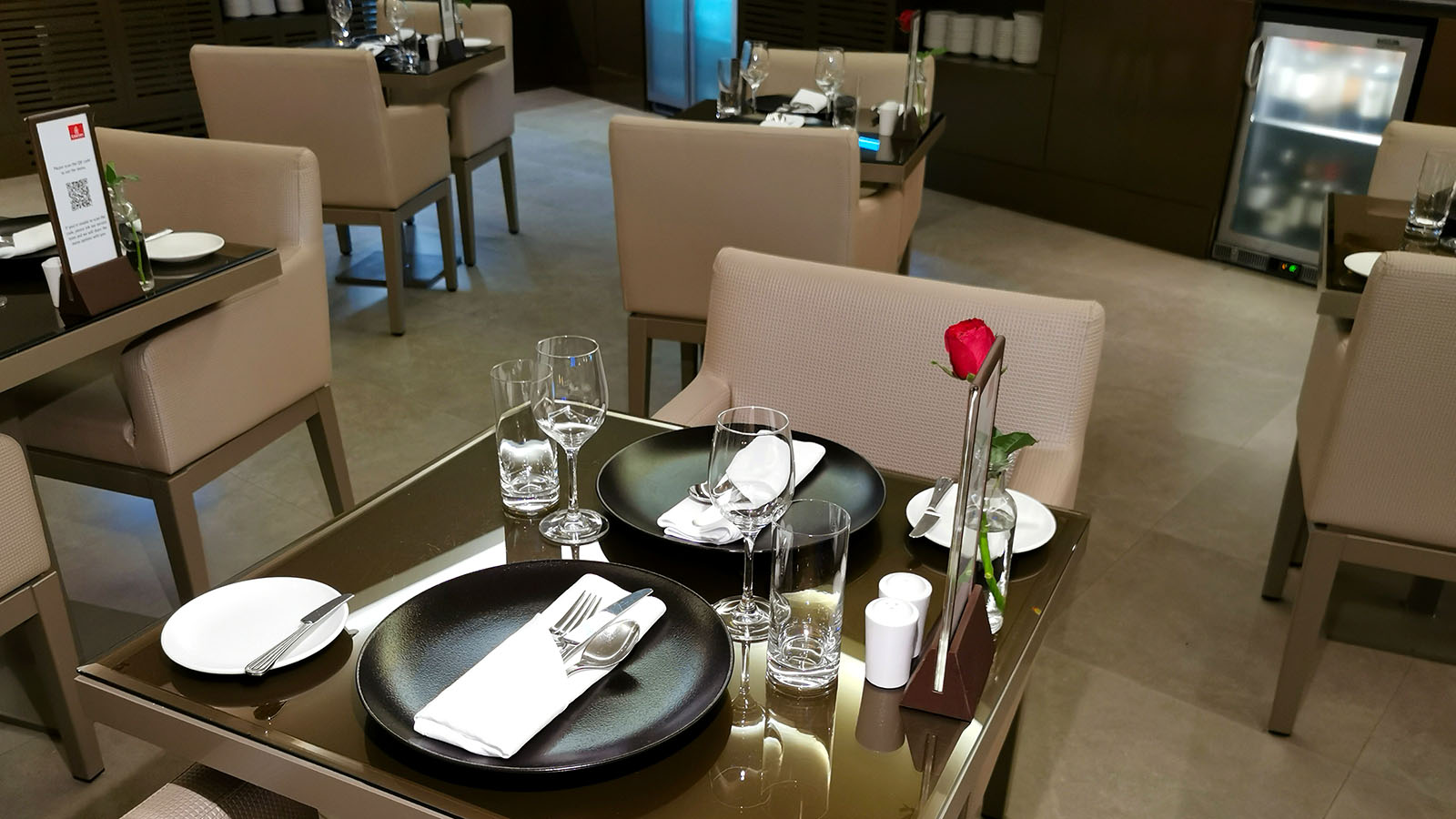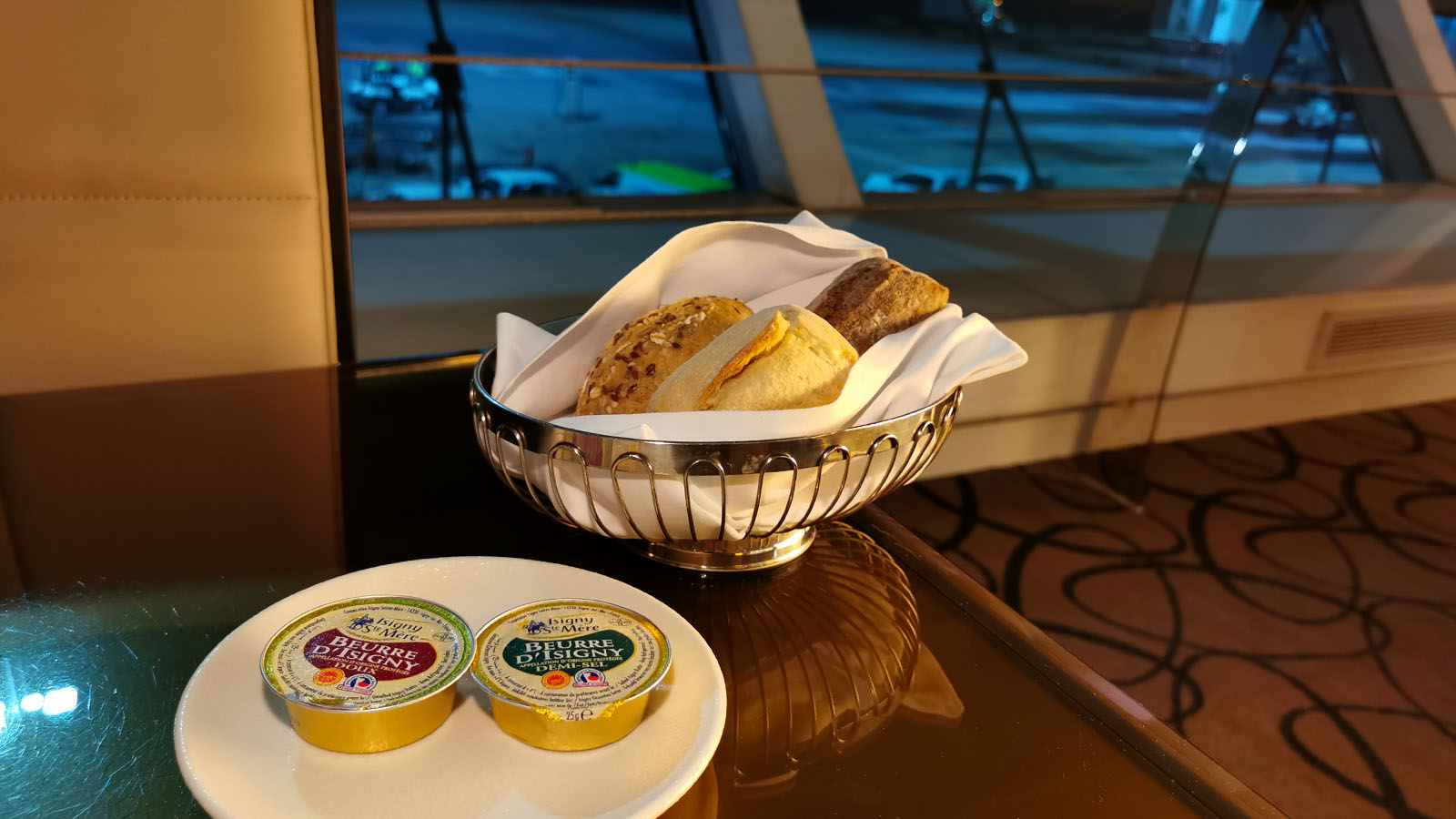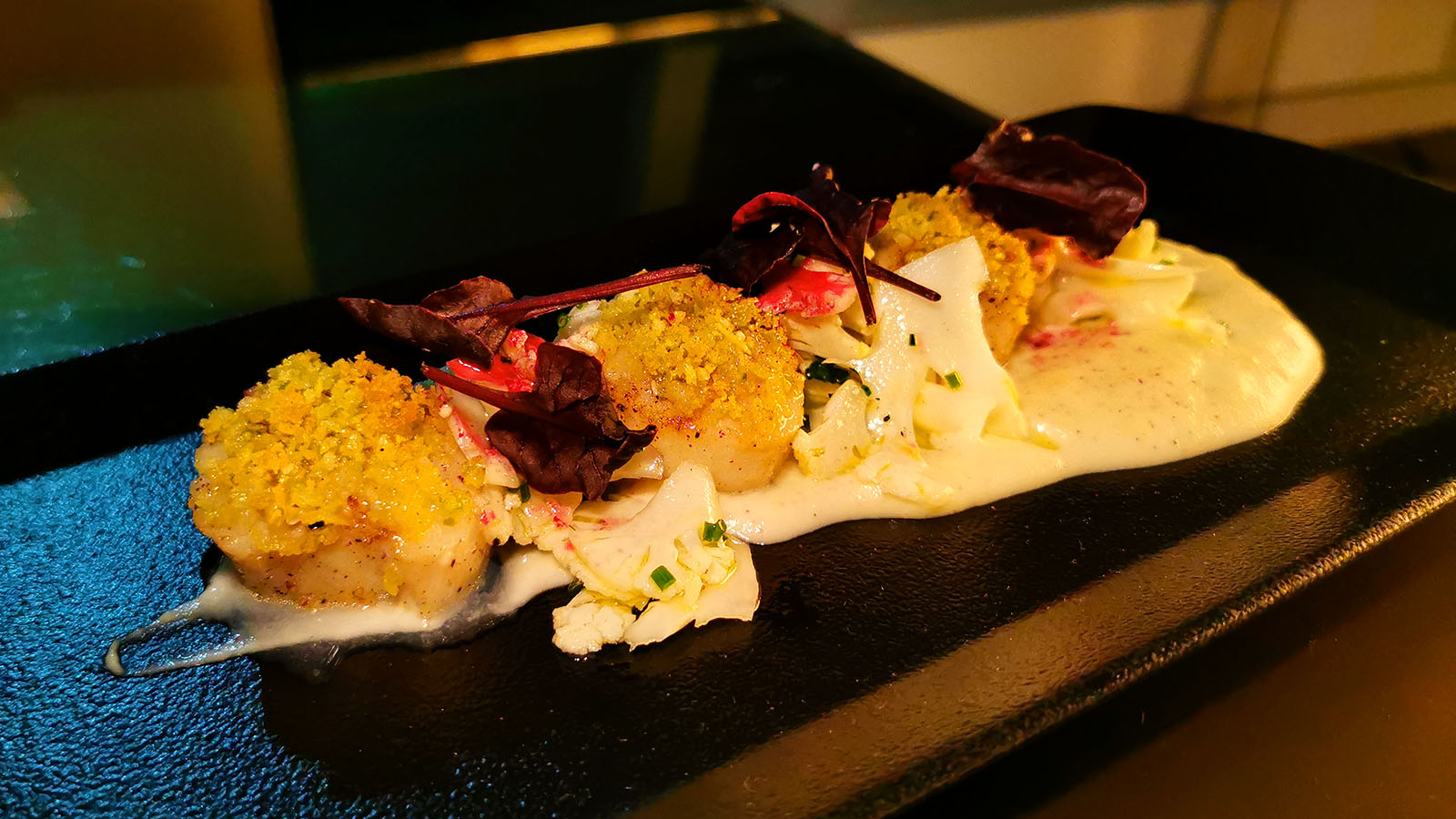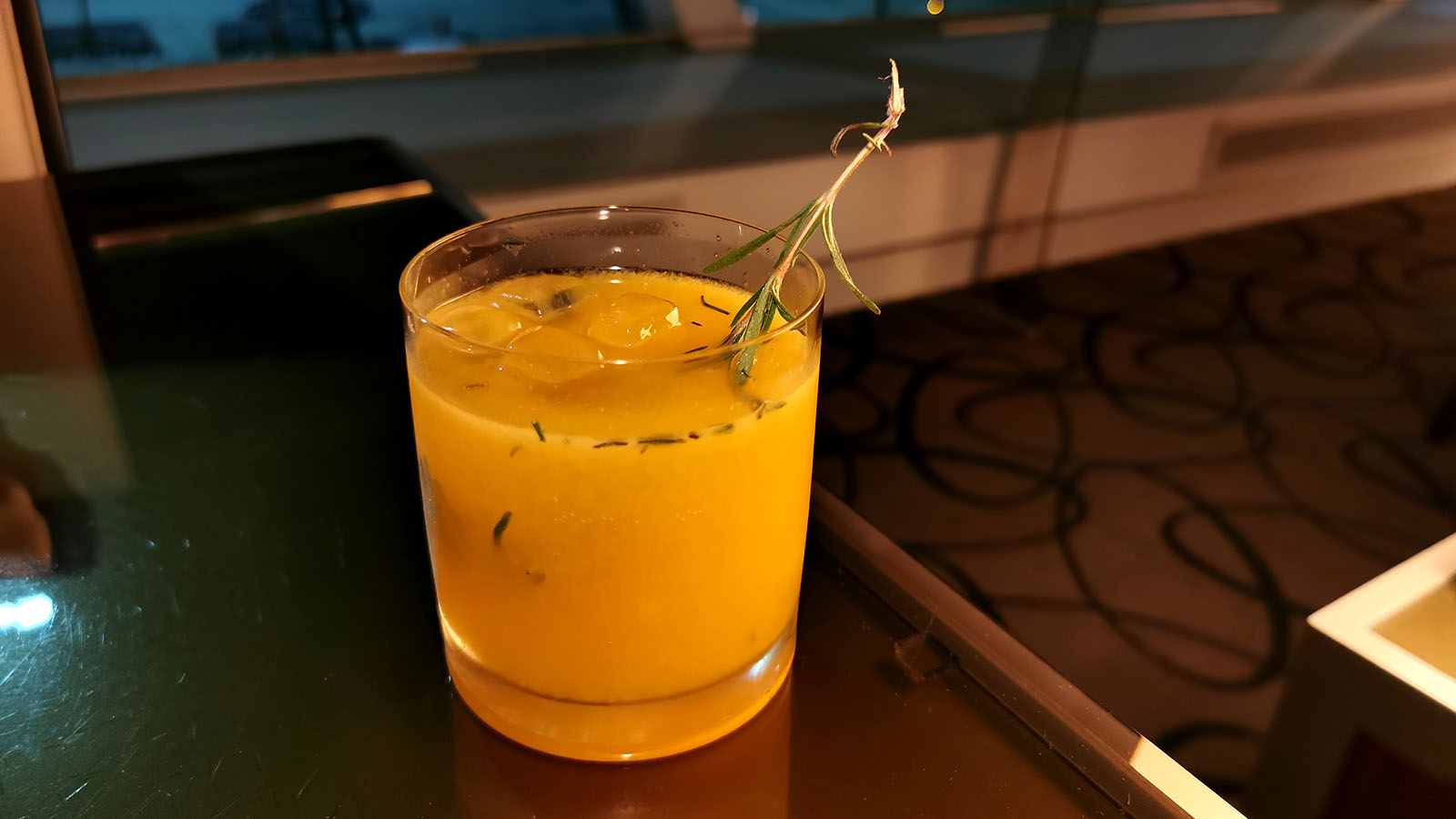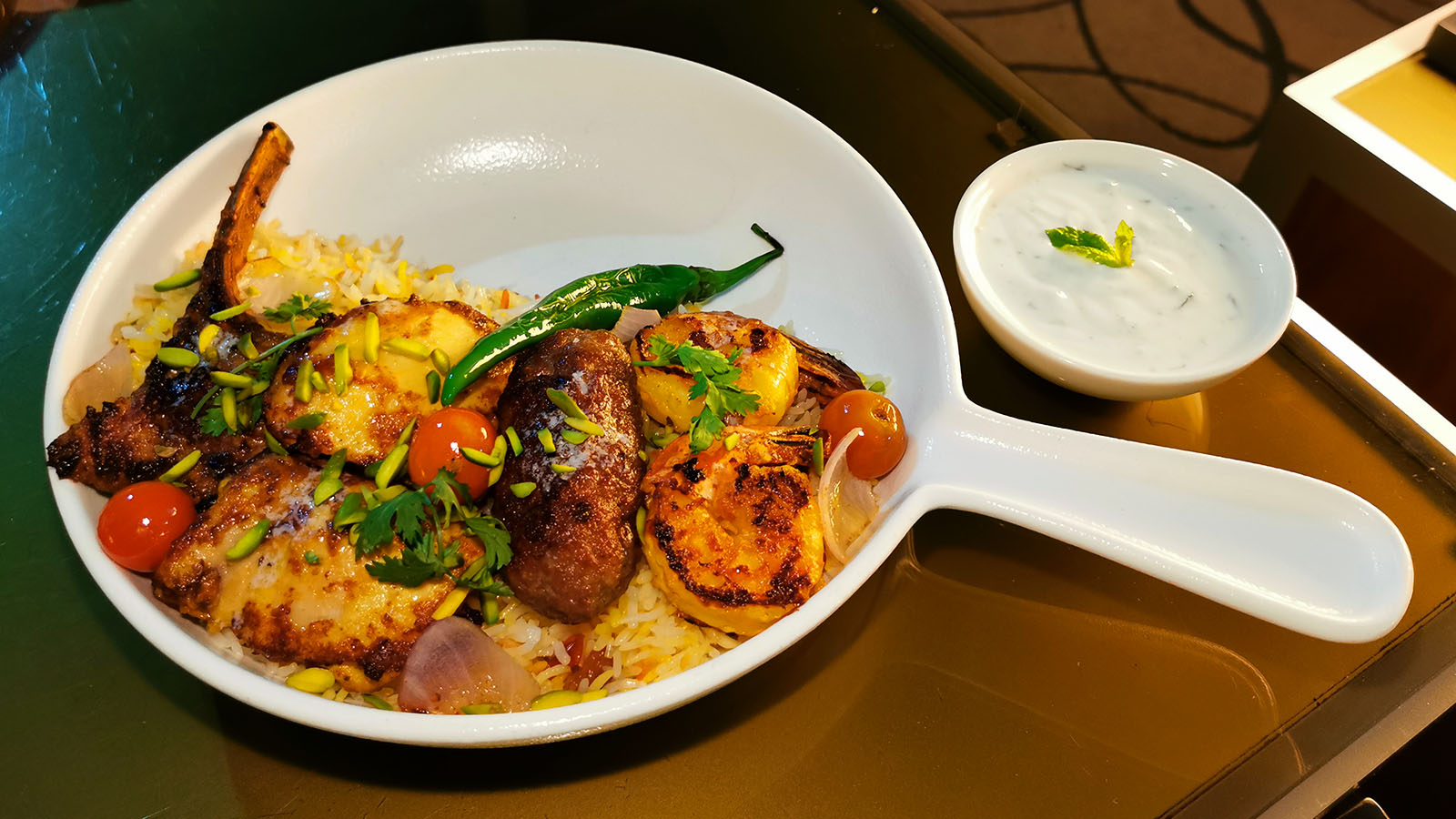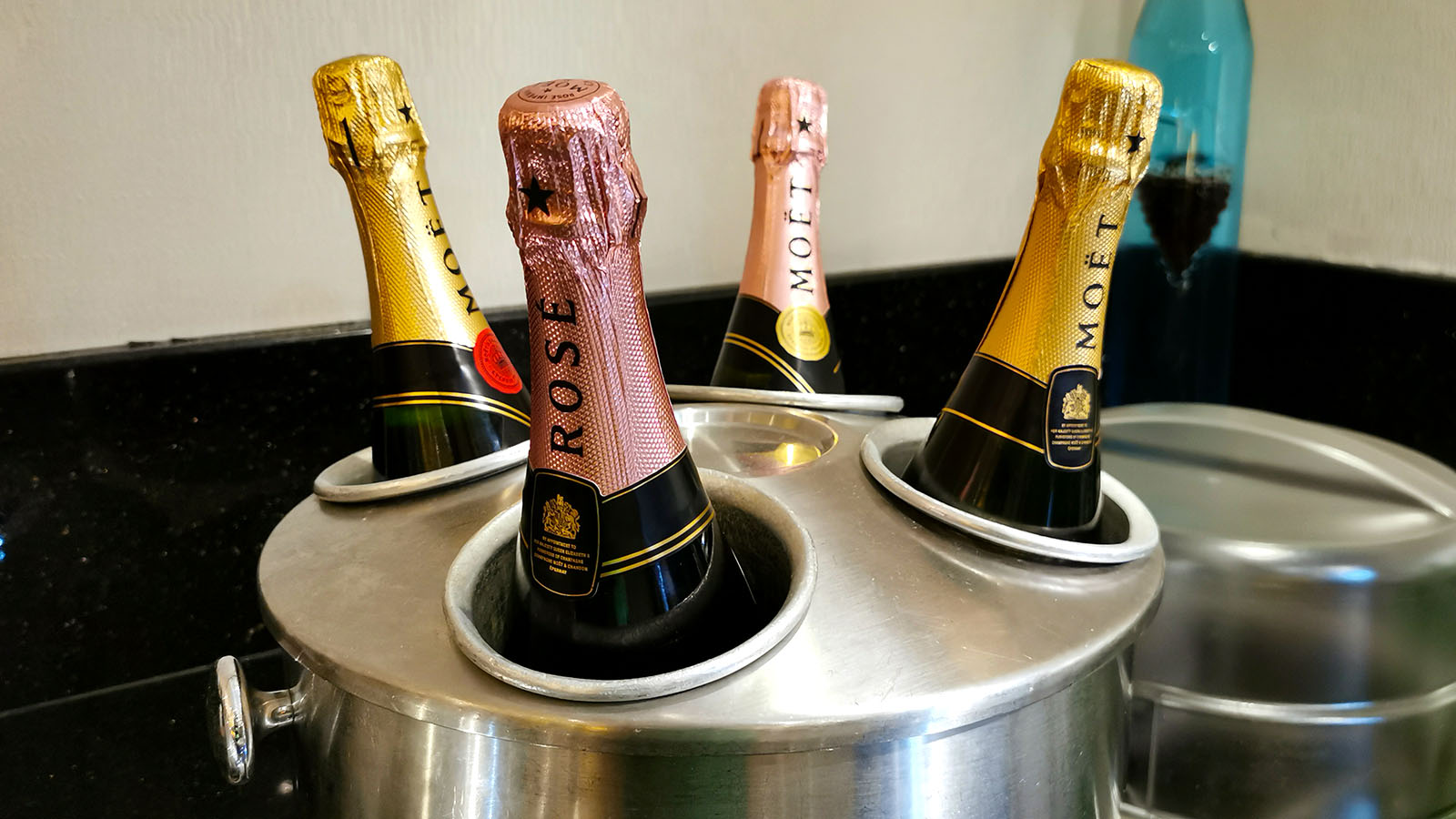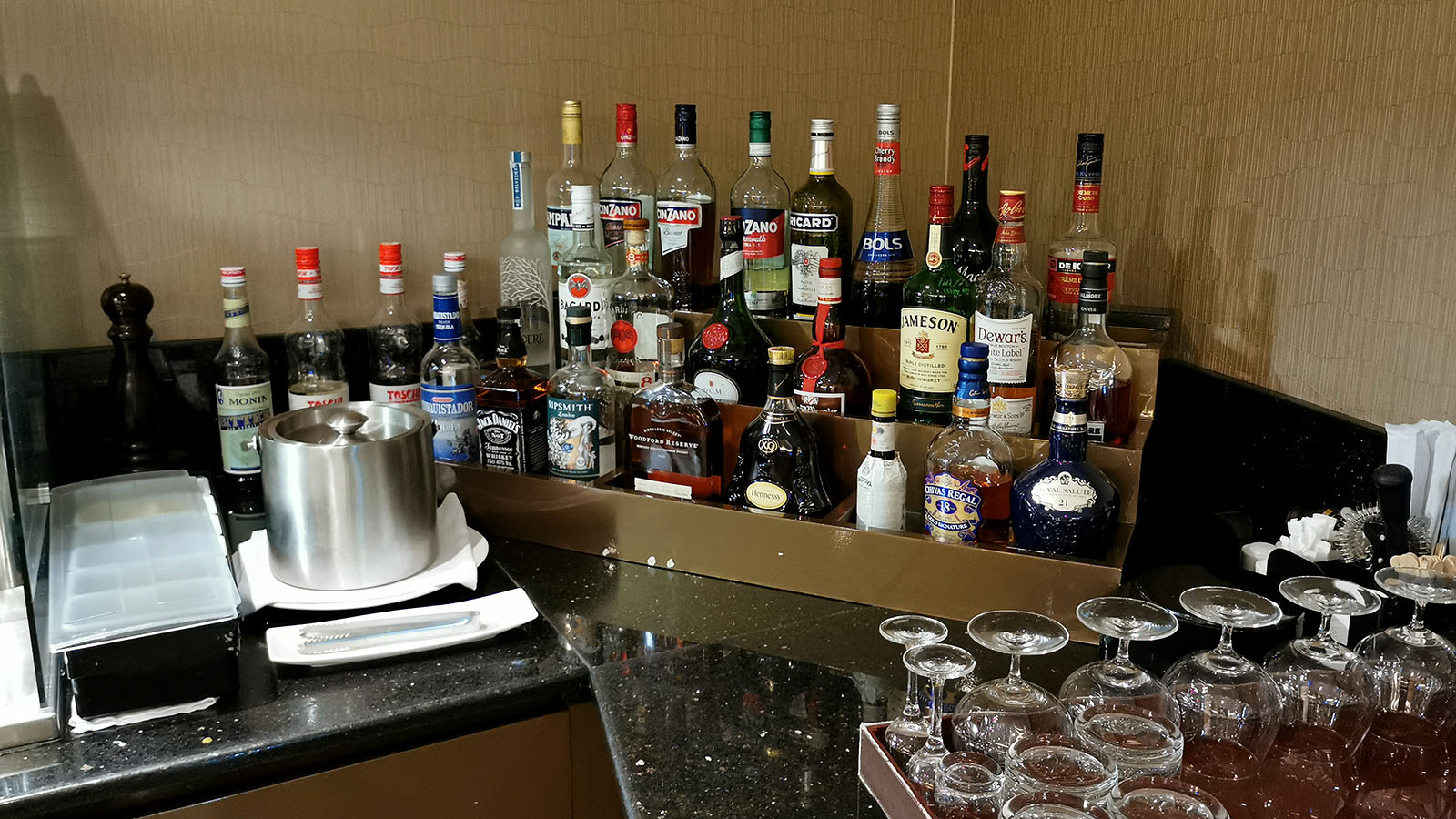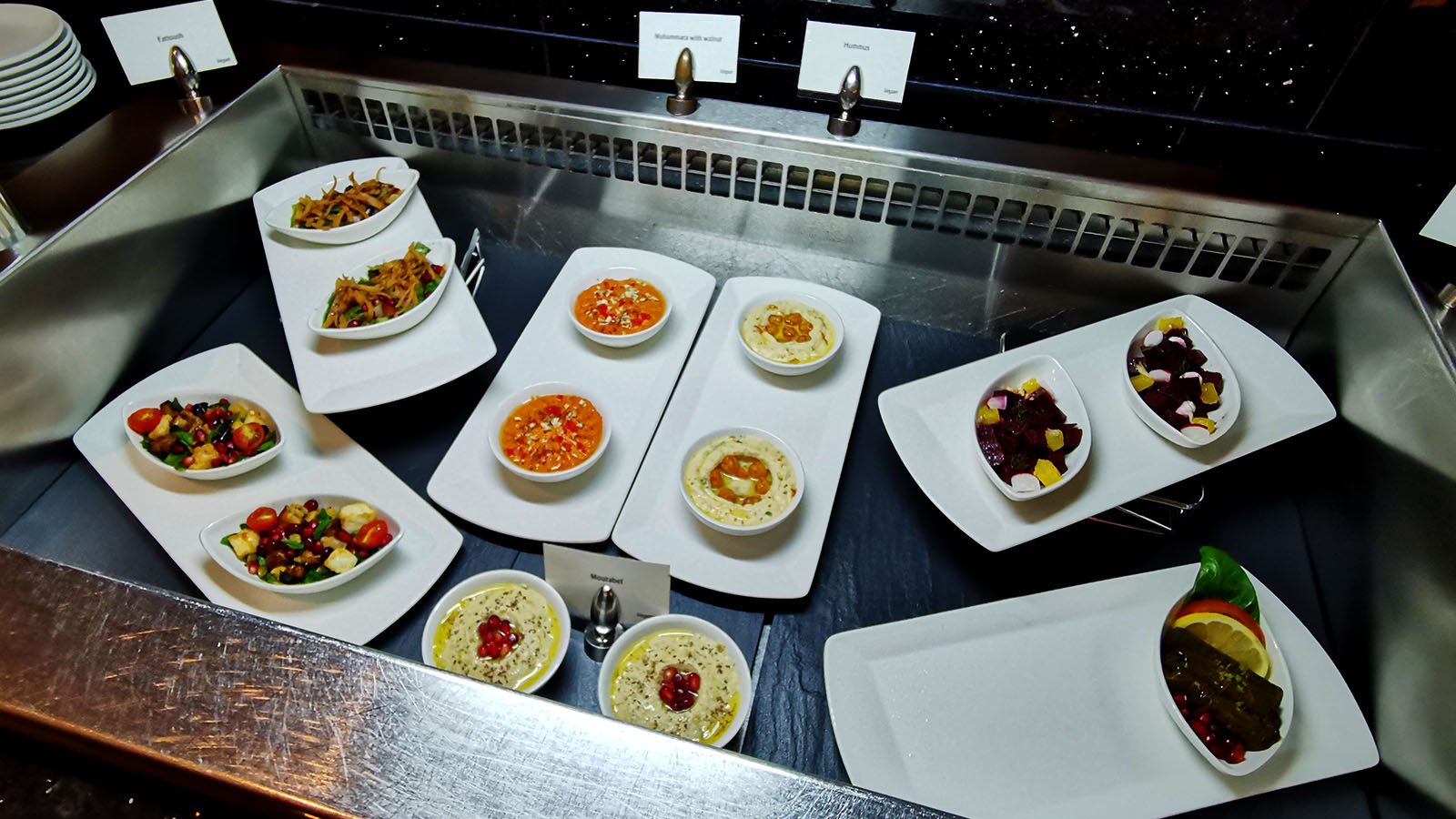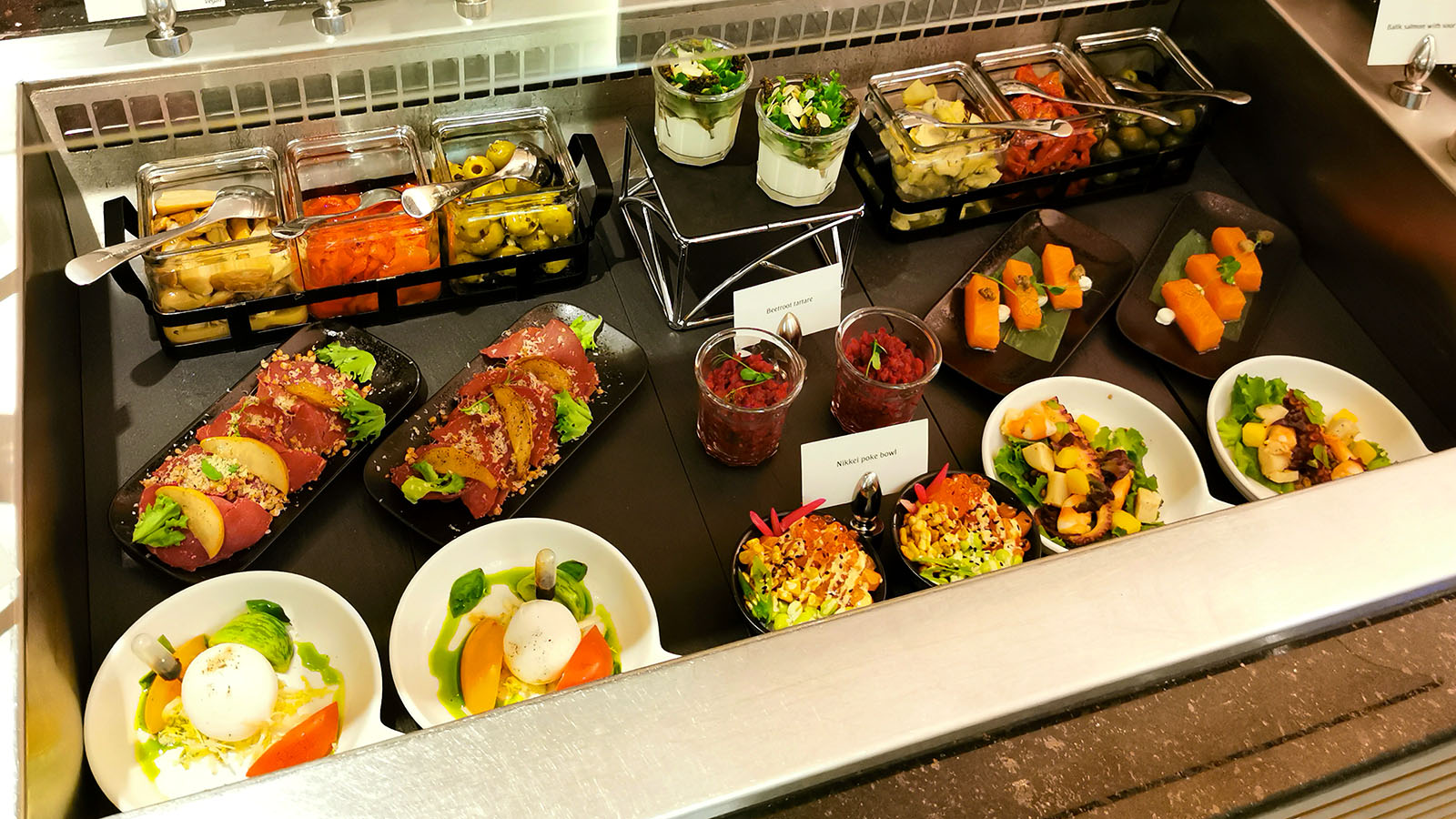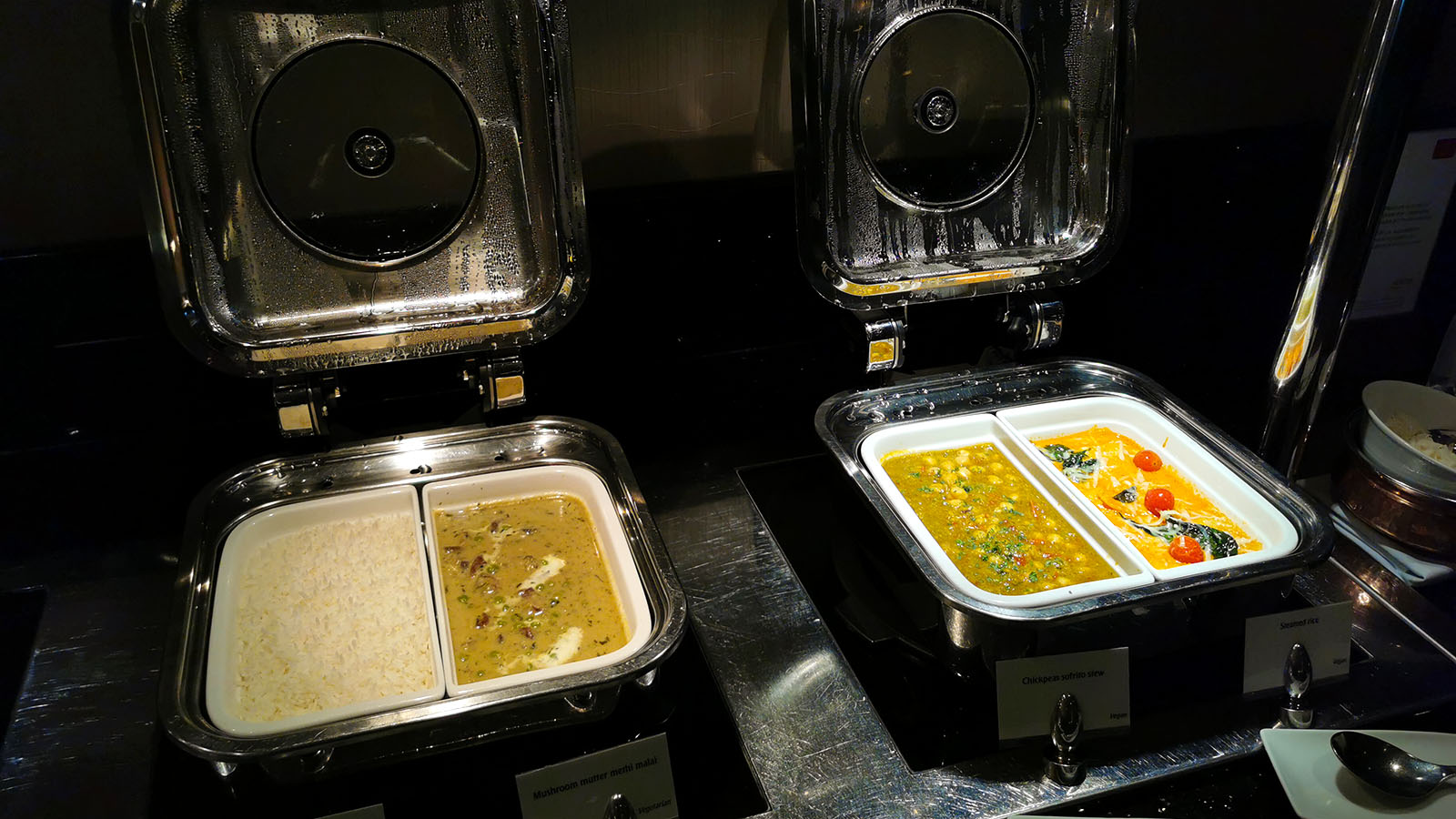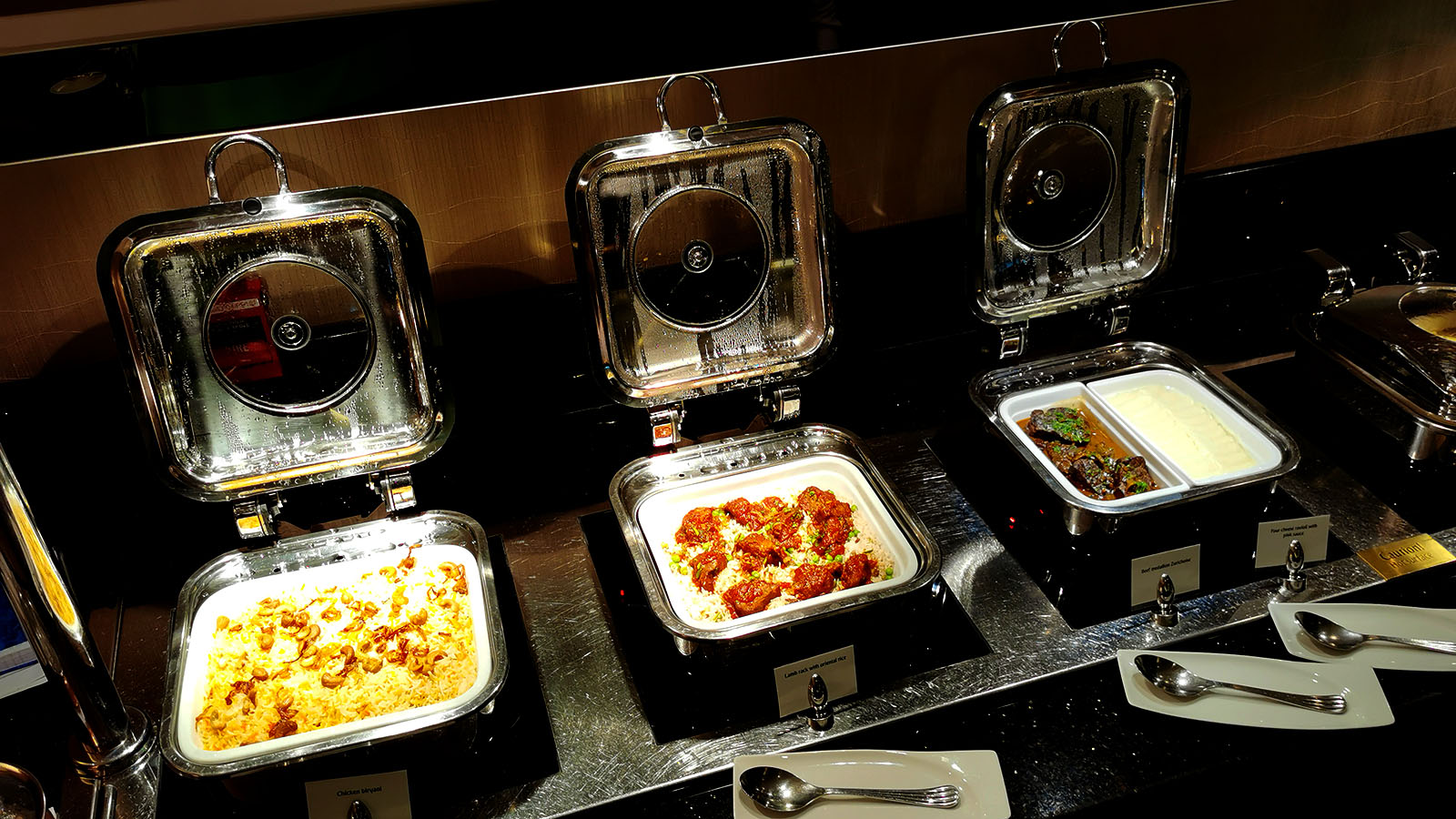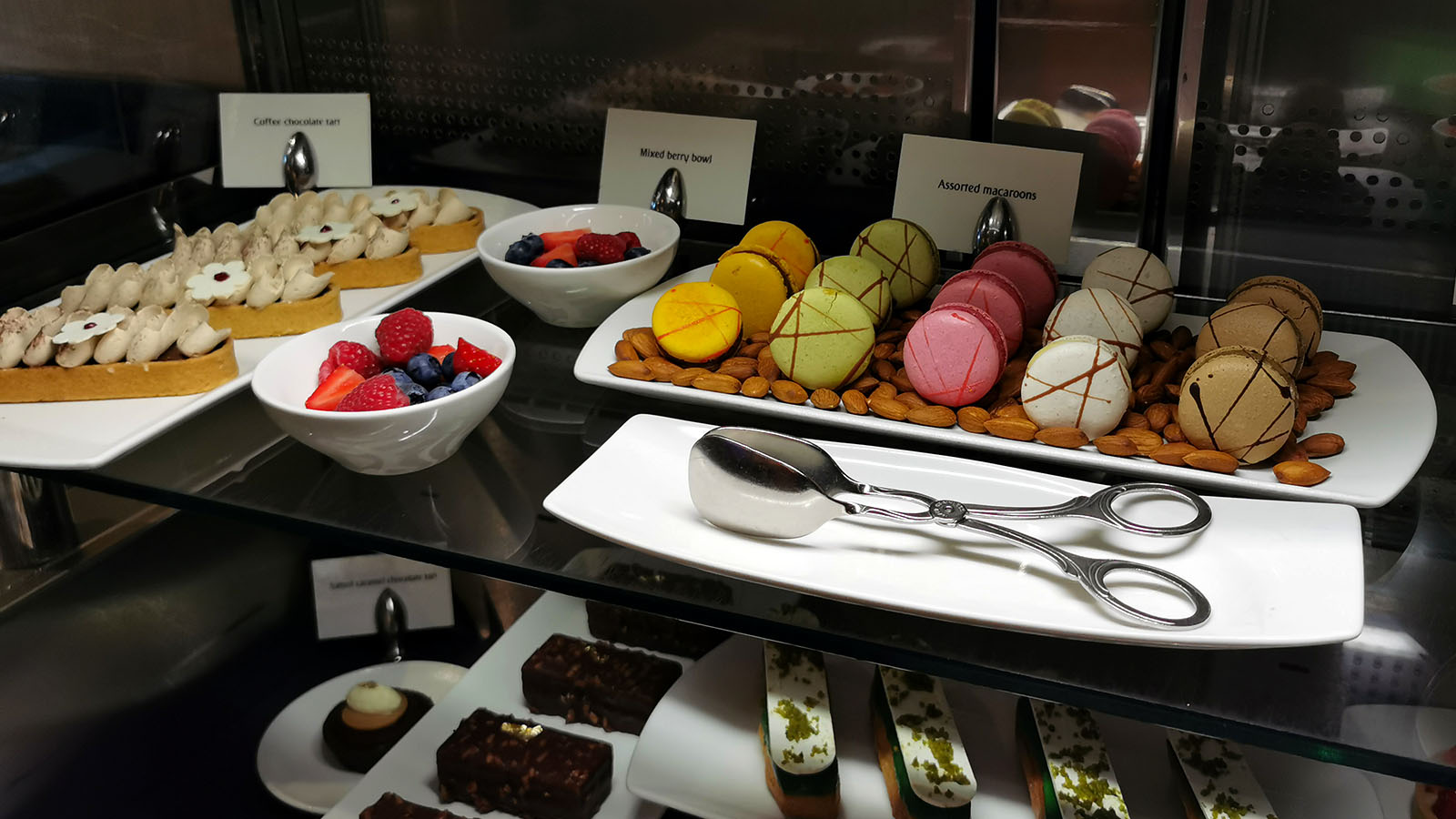 There's also a buffet if you're just looking for a quick bite. The options look great, especially the dessert cabinet. But after that filling mixed grill, I'm truly spoken for.
Amenities in the Emirates First Class Lounge, Dubai Concourse C
A few nifty features reveal the experience in Emirates' First Class Lounge in Concourse C. For those prone to forgetting their phone charger in hotel rooms, a charging wall makes light of that issue. You can lock your device in a compartment and juice it while lounging. Just don't forget to retrieve it before it's time to board.
Speaking of gadgets, a small business centre has computer terminals ready if you're travelling without a laptop. There's also Wi-Fi coverage throughout the lounge to get things done.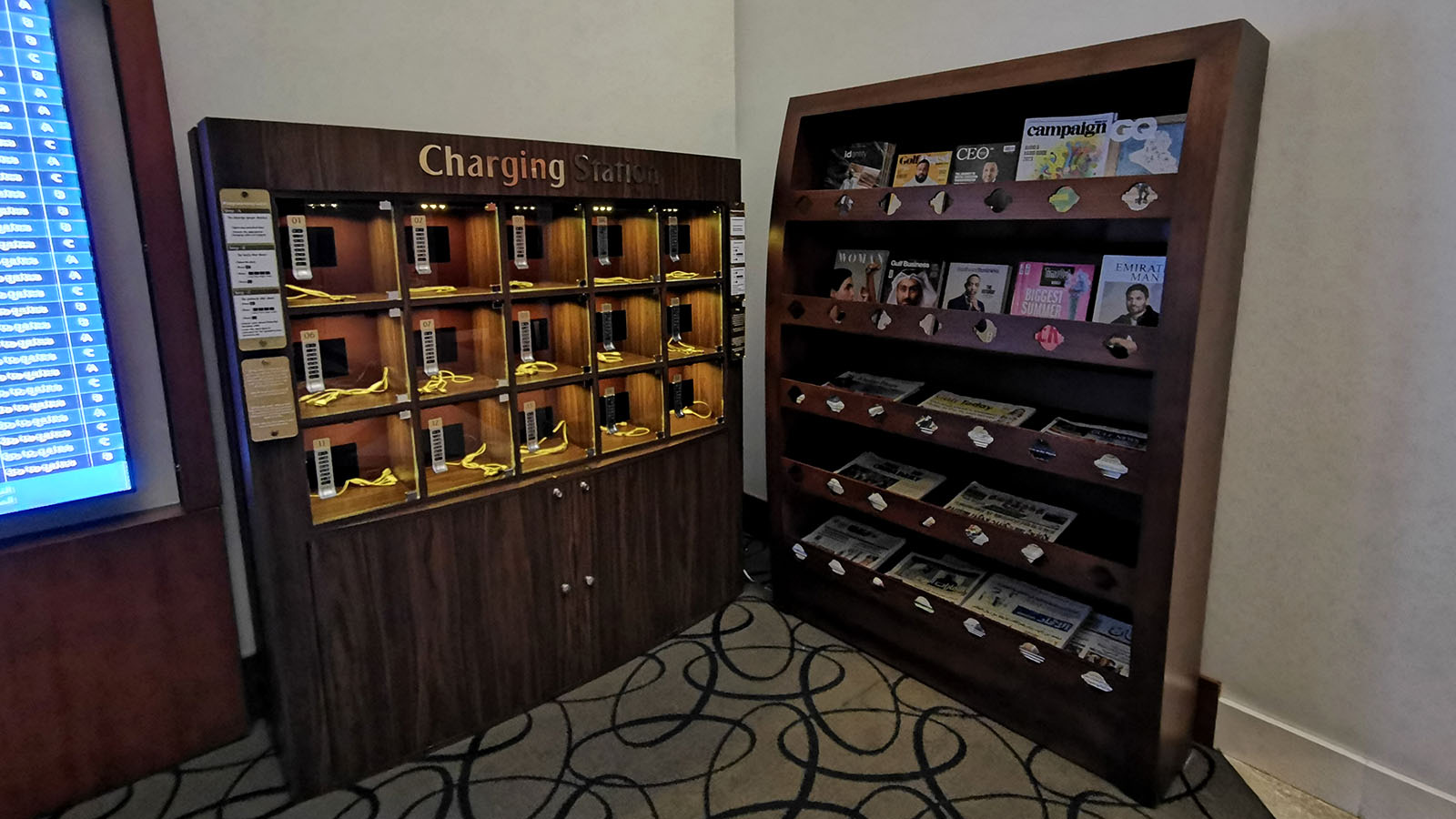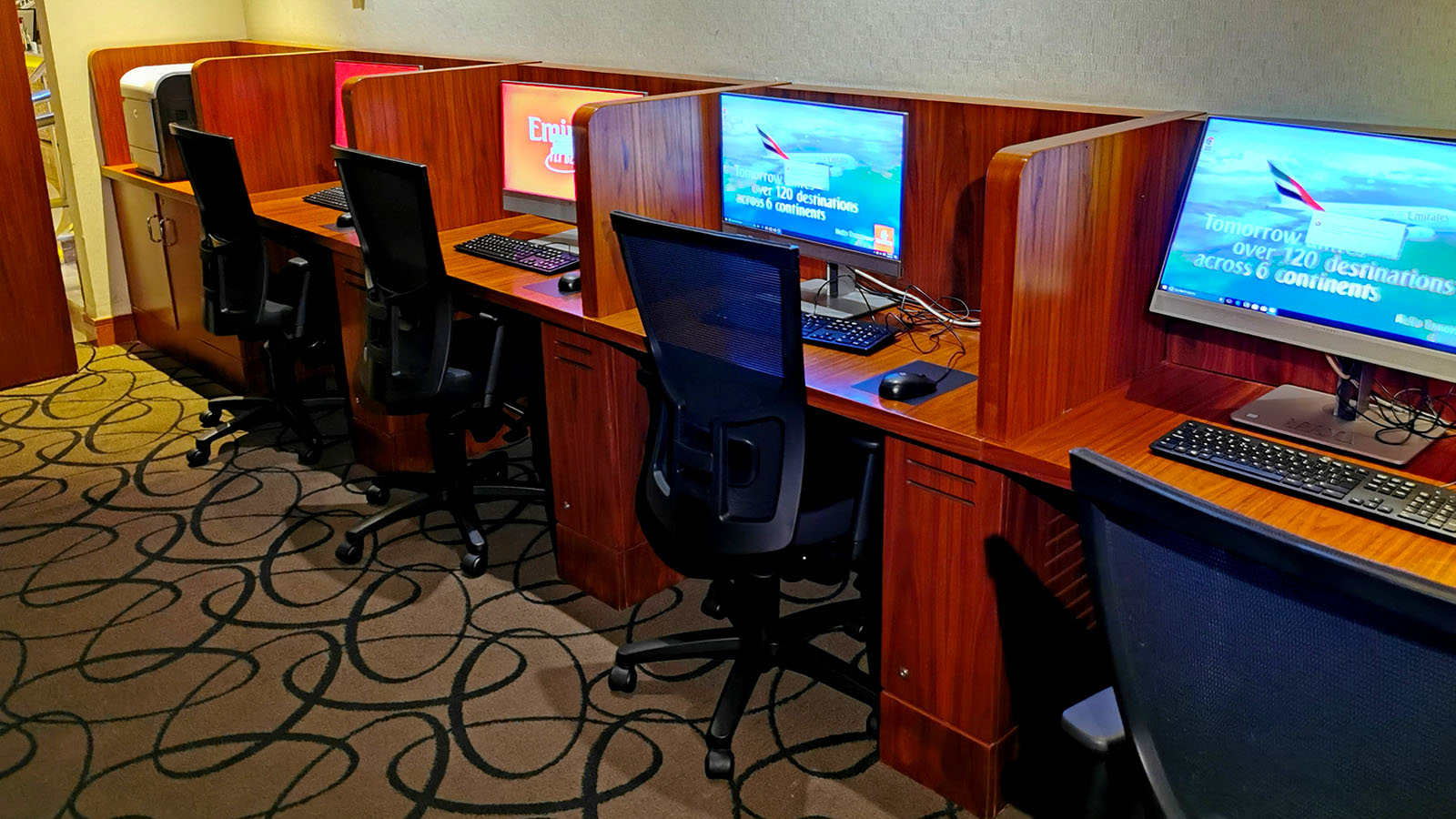 On-site restrooms and shower suites are available too.
Accessing the Emirates First Class Lounge, Dubai Concourse C
There are several ways to experience Emirates' Concourse C First Class Lounge. These include:
By travel class:

Emirates First Class (+1 guest). This also applies when travelling on a Qantas (QF) codeshare flight in First Class, operated by Emirates.

Via frequent flyer status:

VIP-tier Emirates iO members (+ guests), regardless of airline or flight number.
Emirates Skywards Platinum cardholders (+1 adult guest and +2 children) when travelling onwards on an Emirates flight booked on an EK or QF flight number or with FlyDubai when departing from Terminal 3.
Qantas Platinum, Platinum One and Chairman's Lounge members (+1 adult guests and +2 children), prior to Emirates flights booked on a QF or EK flight number.

By paid entry or lounge upgrade:

Already covered for access to the Emirates Business Class Lounge? You can pay an 'upgrade' fee at reception to visit the First Class Lounge instead. This costs US$155.50 (~AU$243), including UAE VAT for Skywards members and US$183.75 (~AU$287) for non-Skywards members.
Don't have access to any Emirates lounge – or need to bring in more guests than your ticket or status allows? Outright paid entry is also available. Skywards members can pay US$262.50 (~AU$410), while for non-members, it's US$315 (~AU$492).
It must be said, that's a lot to pay versus going to a restaurant in the terminal and having a nice meal there. Especially when paid access is only available within four hours of your flight's scheduled departure time. But it could suit those celebrating a milestone trip, and it's still significantly cheaper than buying a First Class flight outright, through which lounge access is included. Just be sure to join Skywards first to pay the reduced rate – it's free to sign up.
The verdict
I'm a little bit spoiled in that I've spent a lot of time in Emirates' many lounges over the years – including all seven of the carrier's lounges at Dubai International Airport. These days, as a Platinum frequent flyer, I generally narrow my choice down to three – whether to visit the First Class Lounge in Concourse A, Concourse B or Concourse C.
If I'm short on time, I'll just venture to whichever is closest to my departure gate, especially Concourse A, where you can board your flight from directly inside the lounge. But as for Emirates' First Class Lounge in Concourse C, there are two main reasons I'd go out of my way to visit. That's serenity and nostalgia.
Take this visit as an example. I'm here for a few hours, and all three other people stop by during that entire time. This isn't a lounge typically teaming with people – it's an exclusive space. And when you just want somewhere quiet to work or make phone calls, having that serenity within one of the world's busiest airports is quite a drawcard.
Then, there's the nostalgia. To be fair, this isn't Emirates' 'original' lounge or anything like that. It opened around the year 2000. But when it debuted, it was the airline's only First Class Lounge in Dubai. The others in Concourse A and Concourse B came later. In other words, for people who spend a lot of time in the air and around airlines, it's a space that reflects on just how much things can change over the years and how much an airline can grow.
The Concourse A First Class Lounge may be Emirates' newest, biggest and best, but there's something to be said of old-world luxury. If nothing else, it's an interesting peek into the history of Emirates – and by extension, the UAE.
Also reviewed: Emirates First Class Lounge, Dubai Terminal 3, Concourse A
All photography by Chris Chamberlin, who accessed the lounge courtesy of (earned) frequent flyer status while travelling as a guest of Emirates.
---
Stay up to date with the latest news, reviews and guides by subscribing to Point Hacks' email newsletter.
Emirates First Class Lounge, Dubai Terminal 3, Concourse C
was last modified:
November 17th, 2023
by