Virgin Australia relaunches Sydney-Canberra with Link Airways
Virgin Australia charts a new path between Australia's national and business capitals.
Posted:
December 2, 2021 - 3:47 pm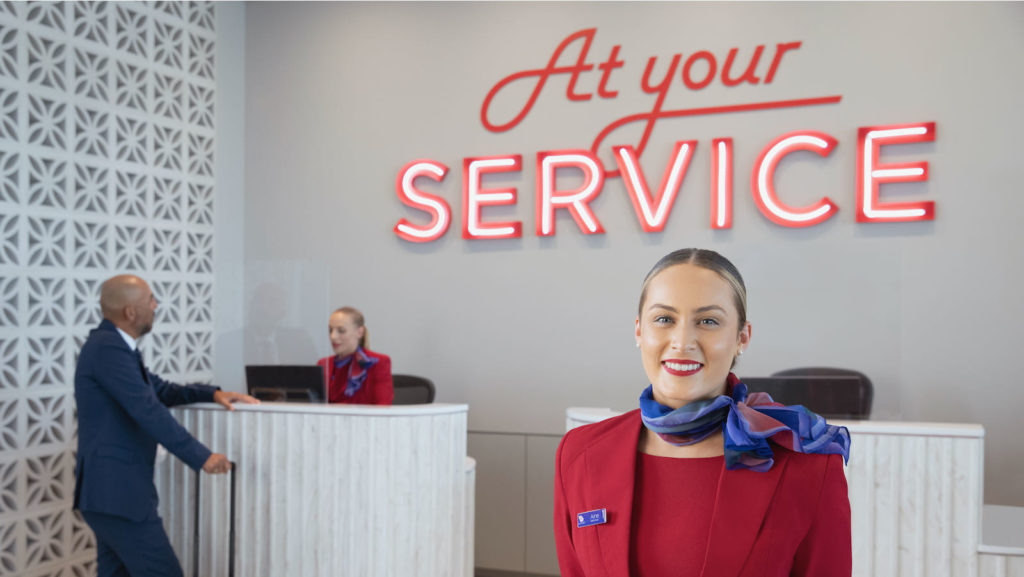 What we'll be covering
Virgin Australia is bringing back flights between Sydney and Canberra, after a near two-year hiatus. But they'll be delivered differently than before, now as codeshare flights operated by Link Airways.
A regional airline formerly known as Fly Corporate, Link Airways will supply both the planes and the crew. Virgin Australia will instead sell the tickets, and provide travellers with those all-important Velocity Points.
Here's what to expect when flying between Australia's business capital and the national capital.
Virgin Australia/Link Airways Sydney-Canberra flight schedules
Sydney-Canberra-Sydney flights kick off from 30 January 2022. On weekdays, up to nine flights will run per day in each direction. Here's what that looks like from Sydney, on a busy weekday:
| | | |
| --- | --- | --- |
| Flight number | Departs Sydney | Arrives in Canberra |
| VA630 | 7:35 am | 8:35 am |
| VA634 | 8:35 am | 9:35 am |
| VA638 | 9:55 am | 10:55 am |
| VA640 | 10:35 am | 11:35 am |
| VA656 | 4:05 pm | 5:05 pm |
| VA660 | 5:05 pm | 6:05 pm |
| VA668 | 6:45 pm | 7:45 pm |
| VA670 | 7:05 pm | 8:05 pm |
| VA672 | 8:35 pm | 9:35 pm |
In reverse, here's what's available from Canberra on those busiest days:
| | | |
| --- | --- | --- |
| Flight number | Departs Canberra | Arrives in Sydney |
| VA625 | 6:05 am | 7:05 am |
| VA629 | 7:05 am | 8:05 am |
| VA633 | 8:25 am | 9:25 am |
| VA637 | 9:05 am | 10:05 am |
| VA641 | 10:05 am | 11:05 am |
| VA655 | 3:35 pm | 4:35 pm |
| VA661 | 5:10 pm | 6:10 pm |
| VA663 | 5:35 pm | 6:35 pm |
| VA669 | 7:05 pm | 8:05 pm |
On a weekly level, there'll be 53 return Virgin Australia/Link Airways services between Sydney and Canberra. That's sure to keep prices competitive for travellers, with QantasLink and Rex also plying the route.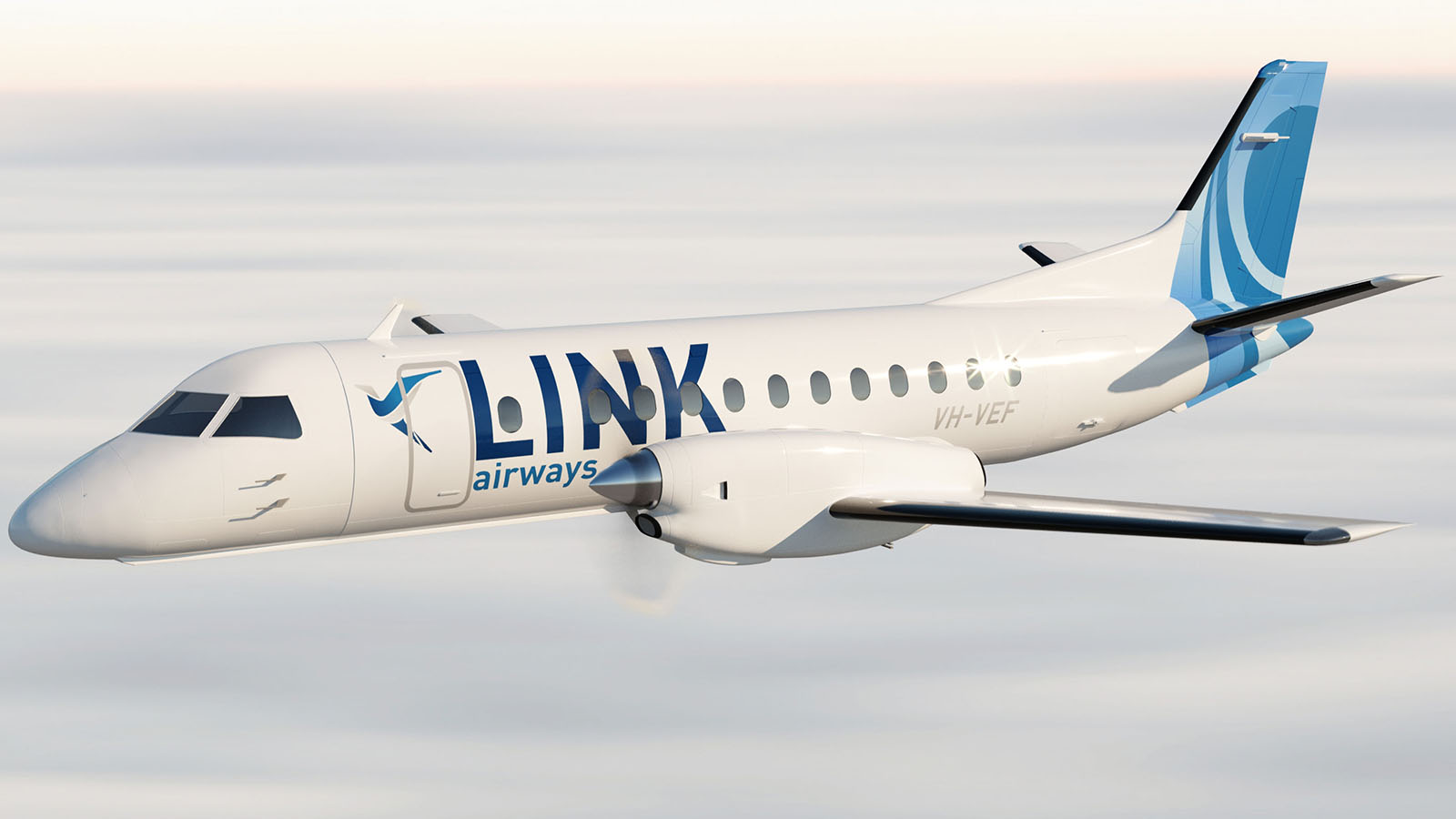 All Virgin Australia flights between the cities will be served by Link Airways' Saab 340 B Plus turboprops.
We are seeing the strong return of aviation with flights increasing each week as border restrictions ease across Australia and people get back to flying. We are confident that flights and passengers will continue to increase in 2022. Canberra tourism and business are ready to welcome back travellers to the Capital and Canberrans are ready to recommence their travel plans.

– Michael Thomson, Head of Aviation at Canberra Airport, 2 December 2021
Onboard the Link Airways Saab 340 B Plus between Sydney and Canberra
These tiny turboprops can carry up to 34 passengers. That's about one fifth the size of Virgin Australia's workhorse Boeing 737s.
Link Airways' Saab 340 B Plus comes in a 1-2 seating layout. That's perfect for both solo flyers and travelling pairs. Of course, there's no middle seat in most rows, which makes things even better.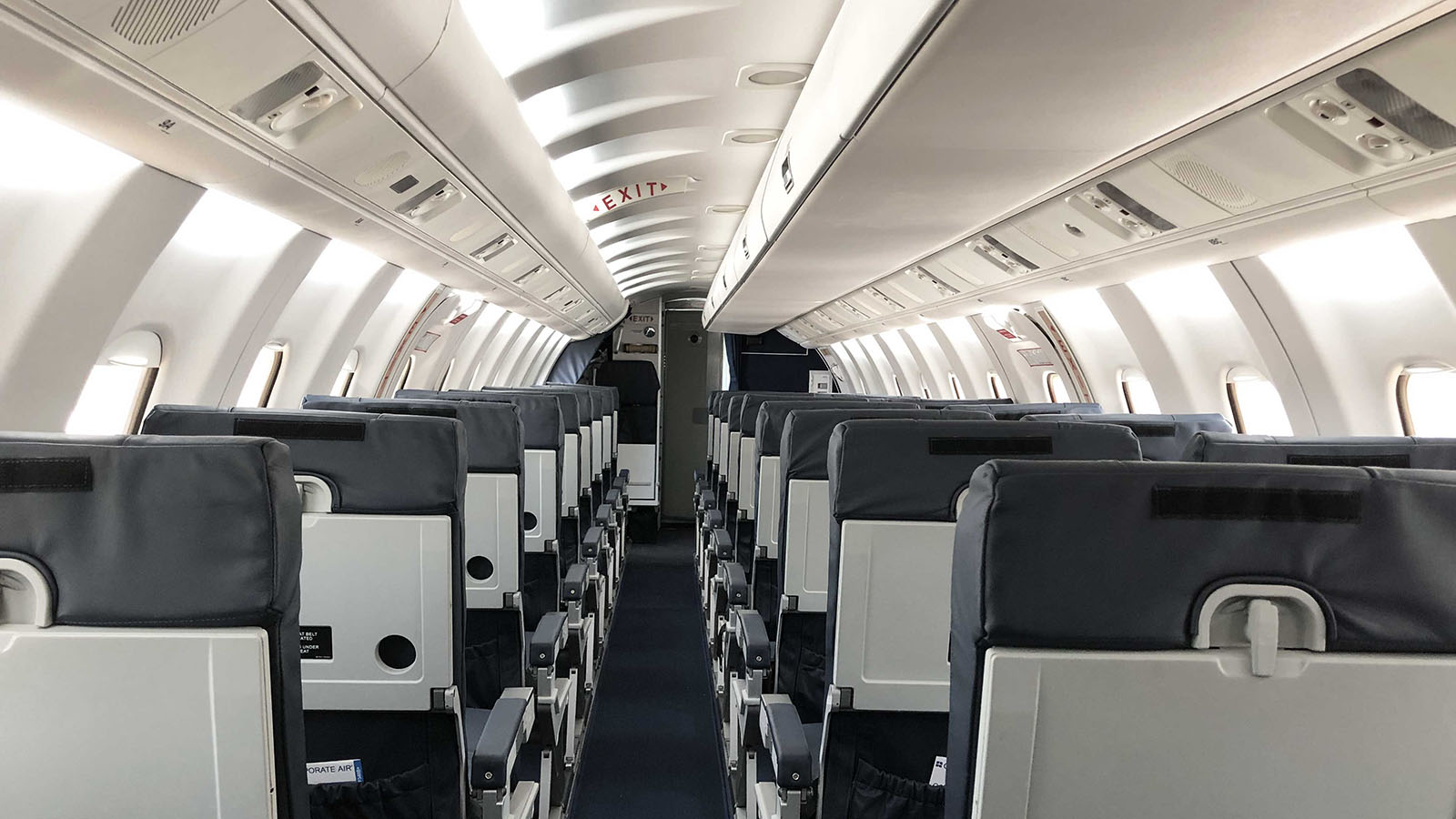 Groups travelling together may instead prefer the very back row, which provides four seats across the cabin. As the aisle finishes at the row in front, it's the only place on board where you'll find a 'middle' seat.
Saab 340s tend to be more roomy than some other regional planes. That's particularly true around the elbows. Seats on the Saab 340s are typically about 1.5 inches (about 3.8cm) wider than what you'd commonly see on a Bombardier Dash 8, for example.
As with most other turboprops, these planes come in an all-Economy Class layout.
As a Canberra headquartered airline, we particularly look forward to the commencement of the services in January. The frequency of the services offered is a strong indication of the value Virgin Australia places in facilitating connections between Canberra and interstate destinations.

– Andrew Major, Chief Executive Officer at Link Airways, 2 December 2021
Passengers travelling on these Link Airways flights will receive complimentary coffee, tea and water. It's the same experience you'd expect on a Virgin Australia Boeing 737 flight. Just be warned, the overhead lockers on Saab 340s tend to be briefcase-sized only. Pack light, or prepare to gate-check any larger bags.
Ad – Scroll down to continue reading.Minimum spend, terms & conditions apply.
Virgin Australia Velocity Points and Status Credits on Sydney-Canberra flights
Even though Link Airways is doing the flying, Virgin Australia is selling the tickets. That means every passenger will travel on a VA flight number. This paves the way to earn and redeem Velocity Points, and accrue Status Credits.
Earning Velocity Points and Status Credits
On these Link Airways flights, you'll earn Velocity Points as though you were travelling on a Virgin Australia aircraft. You'll also accrue Status Credits at the same rates.
Virgin Australia provides five Velocity Points per $1 spent on the airfare. Velocity Silver members earn 50% more, or 7.5 Velocity Points per $1 spent. Those at Velocity Gold collect 75% extra points, being 8.75 Velocity Points per dollar. Top-tier Velocity Platinum cardholders pocket double points, or 10 Velocity Points per dollar.
Status Credits are instead earned at fixed rates, depending on the category of fare purchased.
| | | | |
| --- | --- | --- | --- |
| Sydney-Canberra earn rates | Economy Lite | Economy Choice/Groups | Economy Flex |
| One-way | 5 Status Credits | 15 Status Credits | 25 Status Credits |
| Return | 10 Status Credits | 30 Status Credits | 50 Status Credits |
All in all, it's a similar arrangement to Virgin Australia's deal with Alliance Airlines. In the same respect, Velocity Points and Status Credits can't be earned on other Link Airways flights. Only those sold by Virgin Australia with a VA flight number count.
Spending Velocity Points
It's also possible to use your Velocity Points to book these Sydney-Canberra services.
Expect to part with 7,800 Velocity Points per one-way flight, plus $43.90 in taxes, fees and charges. These bookings can be made via the Virgin Australia website, and there's currently great availability.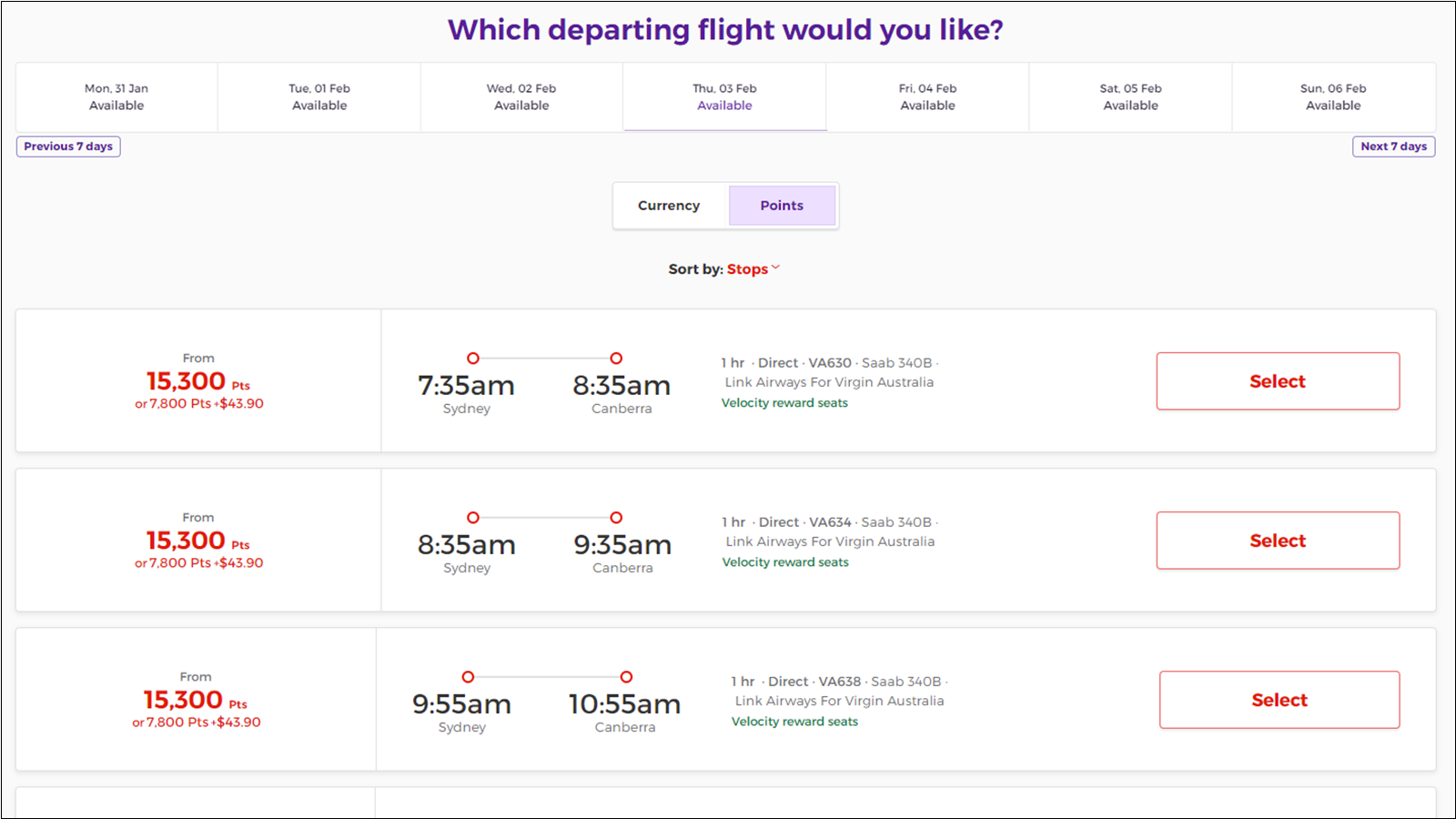 Just check the 'Use Velocity Points' box when searching your preferred travel dates.
Virgin Australia Lounge access for Sydney-Canberra flights
Eligible travellers will enjoy access to the Virgin Australia Lounge on these codeshare flights. Lounges are available at both Sydney Airport and Canberra Airport.
As with services operated by Virgin Australia, that's available for Velocity Platinum and Gold frequent flyers. Paid-up Virgin Australia Lounge members also receive pre-flight access.
The same is true of all others who'd normally visit the Virgin Australia Lounge. For example, lounge access remains possible for Amex Platinum Card holders. Simply present the card and your onward boarding pass at the lounge reception desk.
Summing up
Flights between Sydney and Canberra are key for many corporates and government travellers. Pairing up with Link Airways allows Virgin Australia to offer a broad schedule. After all, if somebody had to wait hours for an available flight, it'd be faster to drive!
This is also the 15th new route planned by Virgin Australia since September 2021. Under its new management, the airline is showing it's poised for growth, which is ultimately great news for frequent flyers.
Virgin Australia relaunches Sydney-Canberra with Link Airways
was last modified:
August 25th, 2023
by