Etihad's Airbus A350 brings closing doors to Business Class
Slide your privacy door shut and drift off to sleep as you soar above the clouds.
Posted:
April 2, 2022 - 1:00 am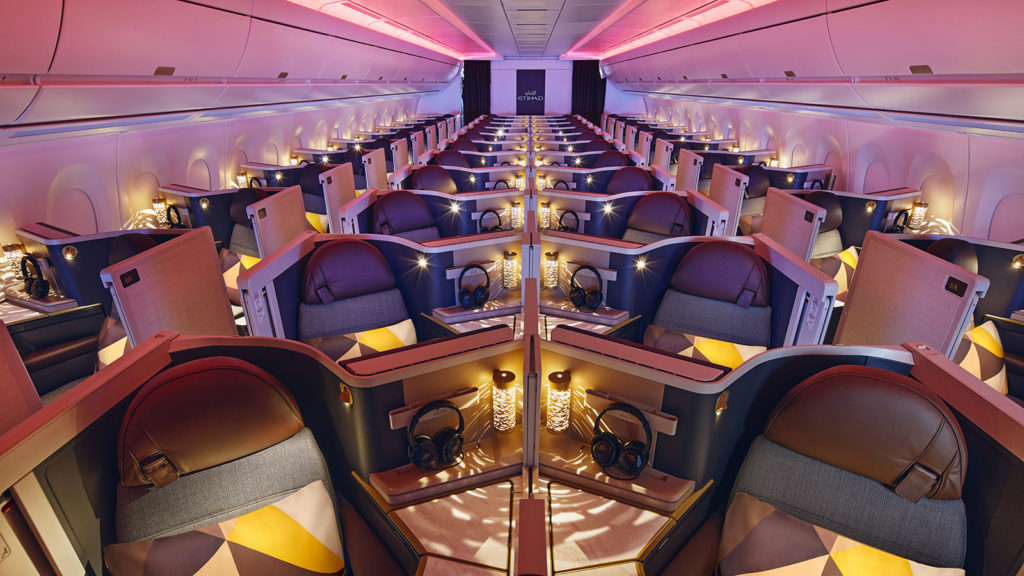 What we'll be covering
Etihad Airways is taking its Business Class experience to even loftier heights, debuting an all-new seat aboard its factory fresh Airbus A350s. But there's more to it than just the seat. Each 'Business Studio' on the A350 comes with a sliding door for extra privacy.
While that's long been a feature of Etihad's First Class, it's a fresh introduction to the carrier's Business Class offering. And it comes at a time when First Class is available on few Etihad flights, putting Business Class at the forefront.
The Airbus A350 is an absolutely incredible aircraft, and we are proud to introduce it into the Etihad Airways network today. Our teams have worked closely together to craft a product and travel proposition that will ensure every journey with Etihad is a choice well made – both for our guests and for the planet. With highly efficient fuel consumption and CO2 savings, the A350 will support our goals to reduce carbon emissions and deliver an unmatched flight experience for our guests.

– Tony Douglas, Group Chief Executive Officer at Etihad Airways, 1 April 2022
Interestingly, Etihad Airways took delivery of its Airbus A350-1000s across 2019 and 2020. Yes, just prior to – and during – the COVID-19 pandemic. Fast-forward to 2022 as travel picks up, and the plane is, at long last, now carrying passengers on international flights.
Here's a look at what awaits in Business Class.
Inside Etihad's new Airbus A350 Business Class cabin
Etihad's Airbus A350-1000 jets sport 44 Business Studios, arranged in a 1-2-1 layout. As goes without saying, that means you'll have direct access to the aisle (and nobody scooting over you) regardless of where you sit.
Settle into your Business Studio and stretch out! Each seat measures just over 50cm (20 inches) wide. And when it's time to doze on the A350, your Etihad Business Class seat glides forward and transforms into a lengthy 200cm (79 inches) bed.
Don the supplied noise-cancelling headphones and watch whatever takes your fancy as the world flies by. With an 18.5-inch high definition TV, you can also access live TV, as well as inflight Wi-Fi.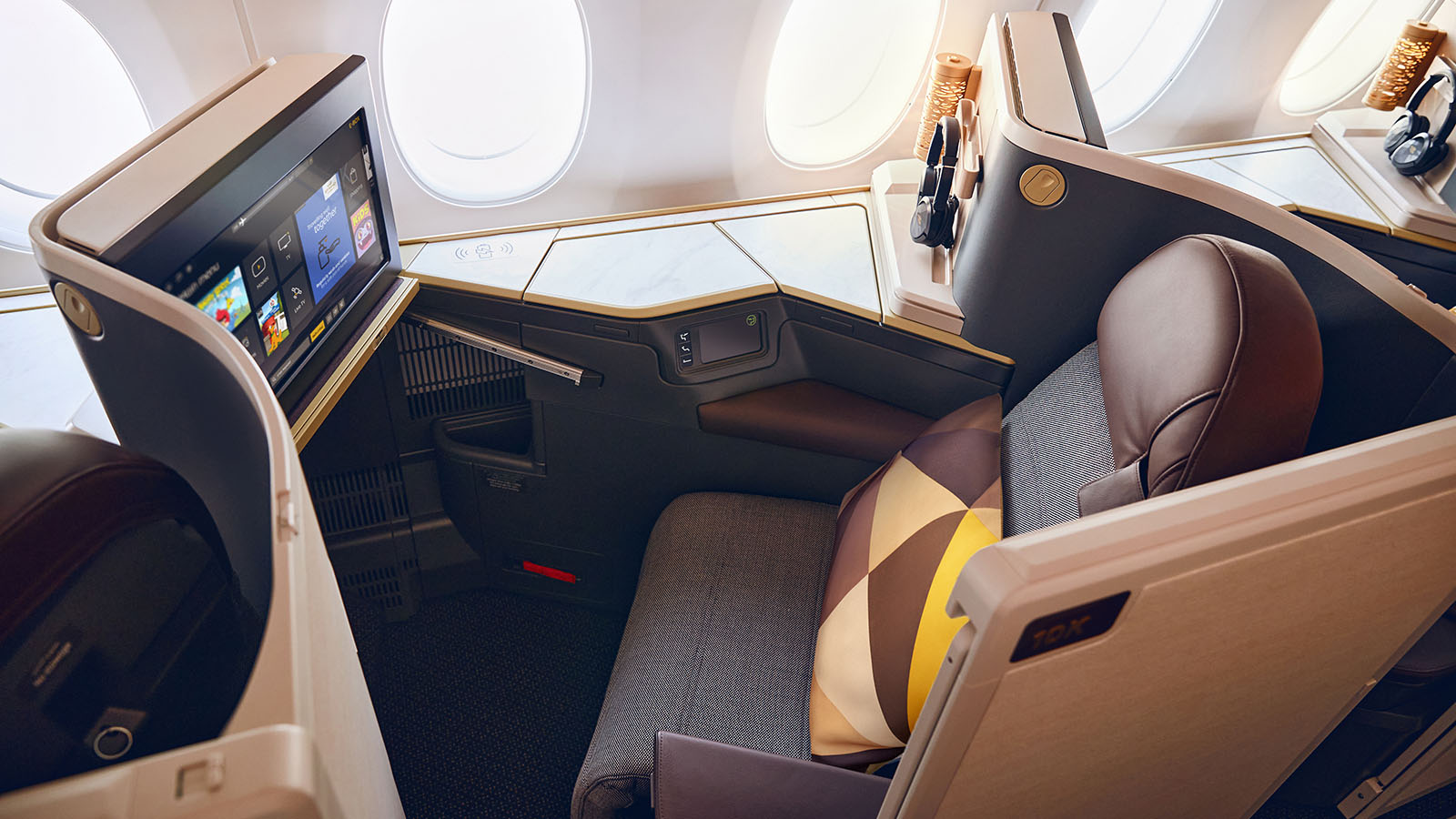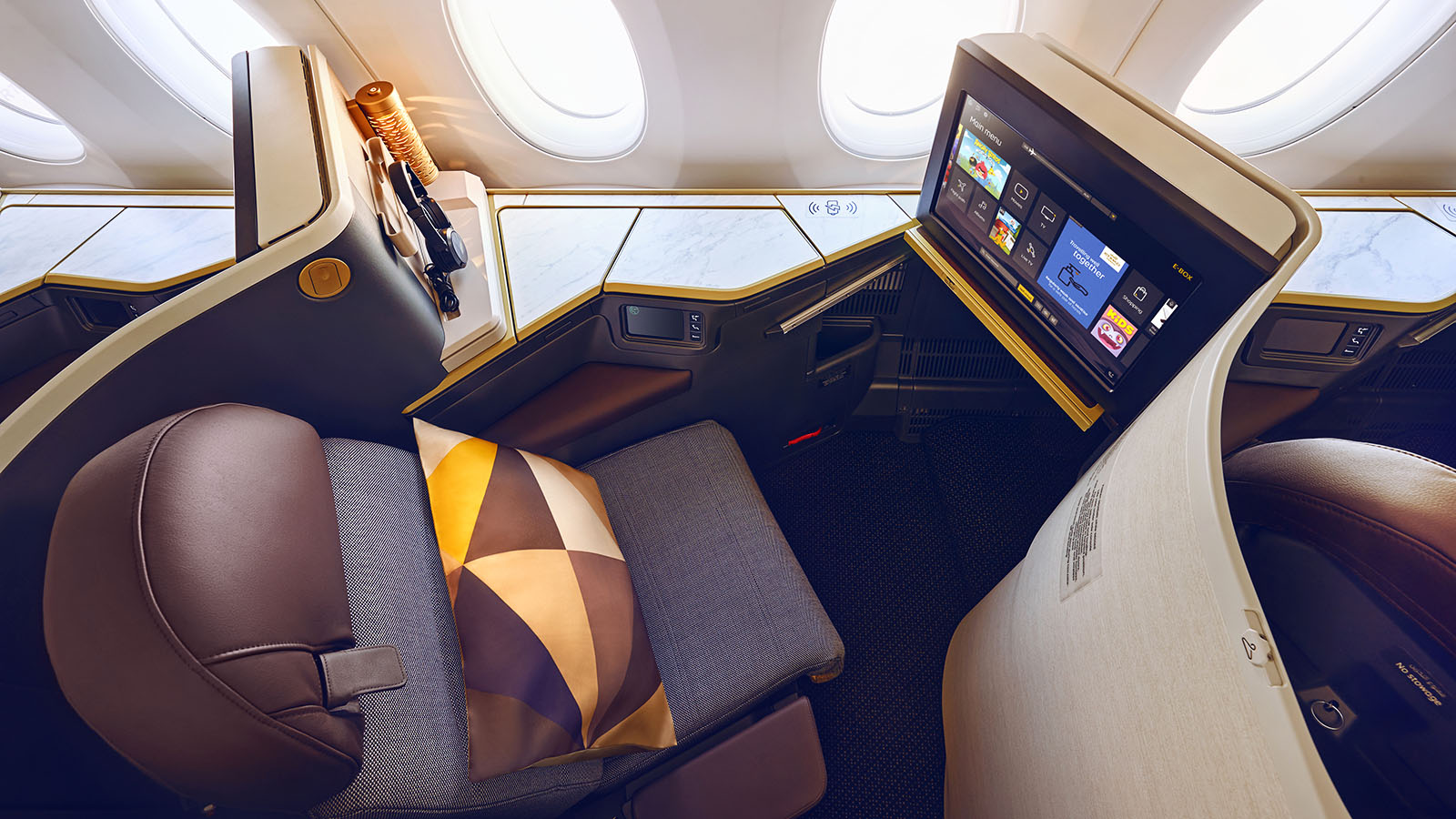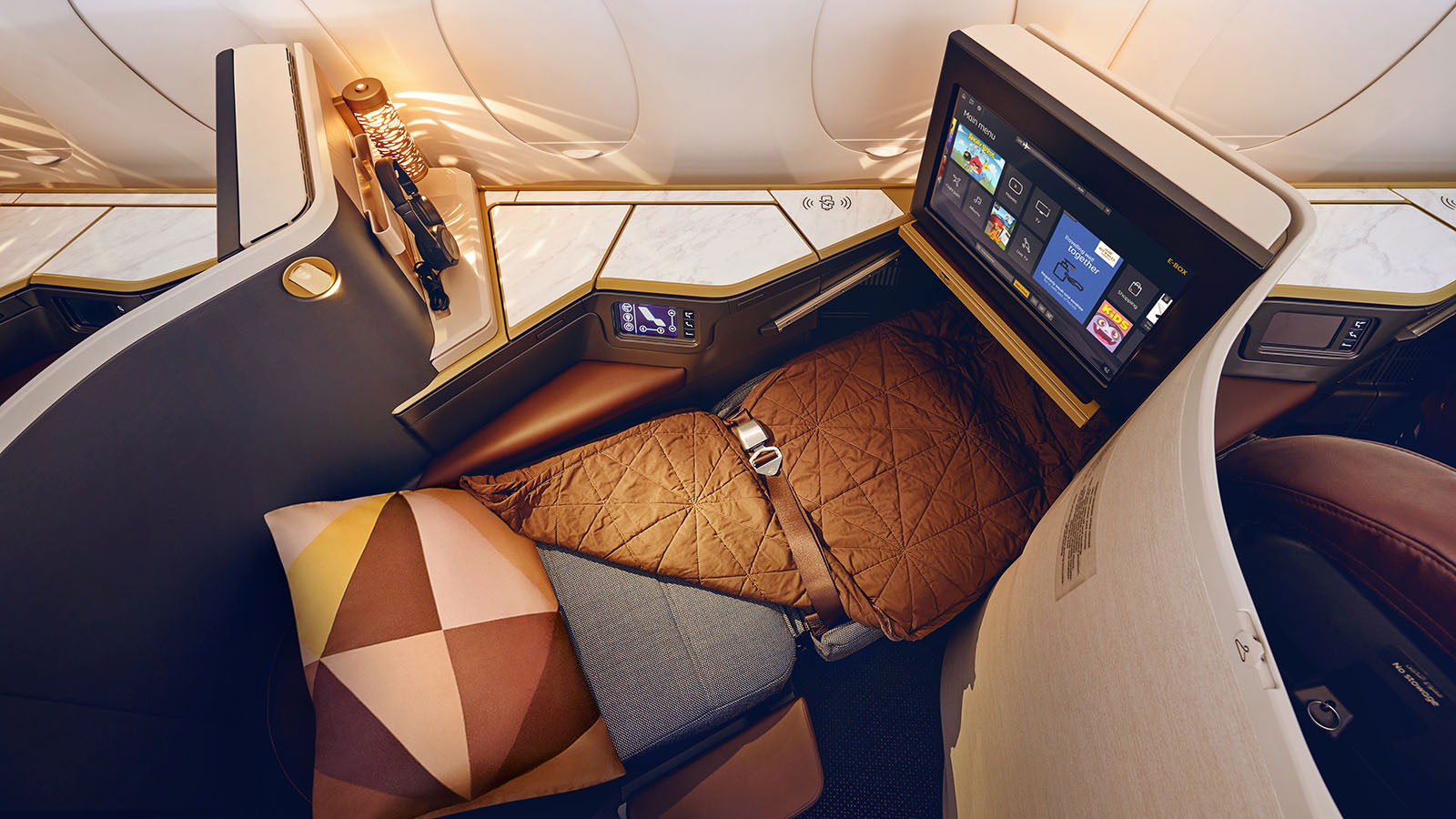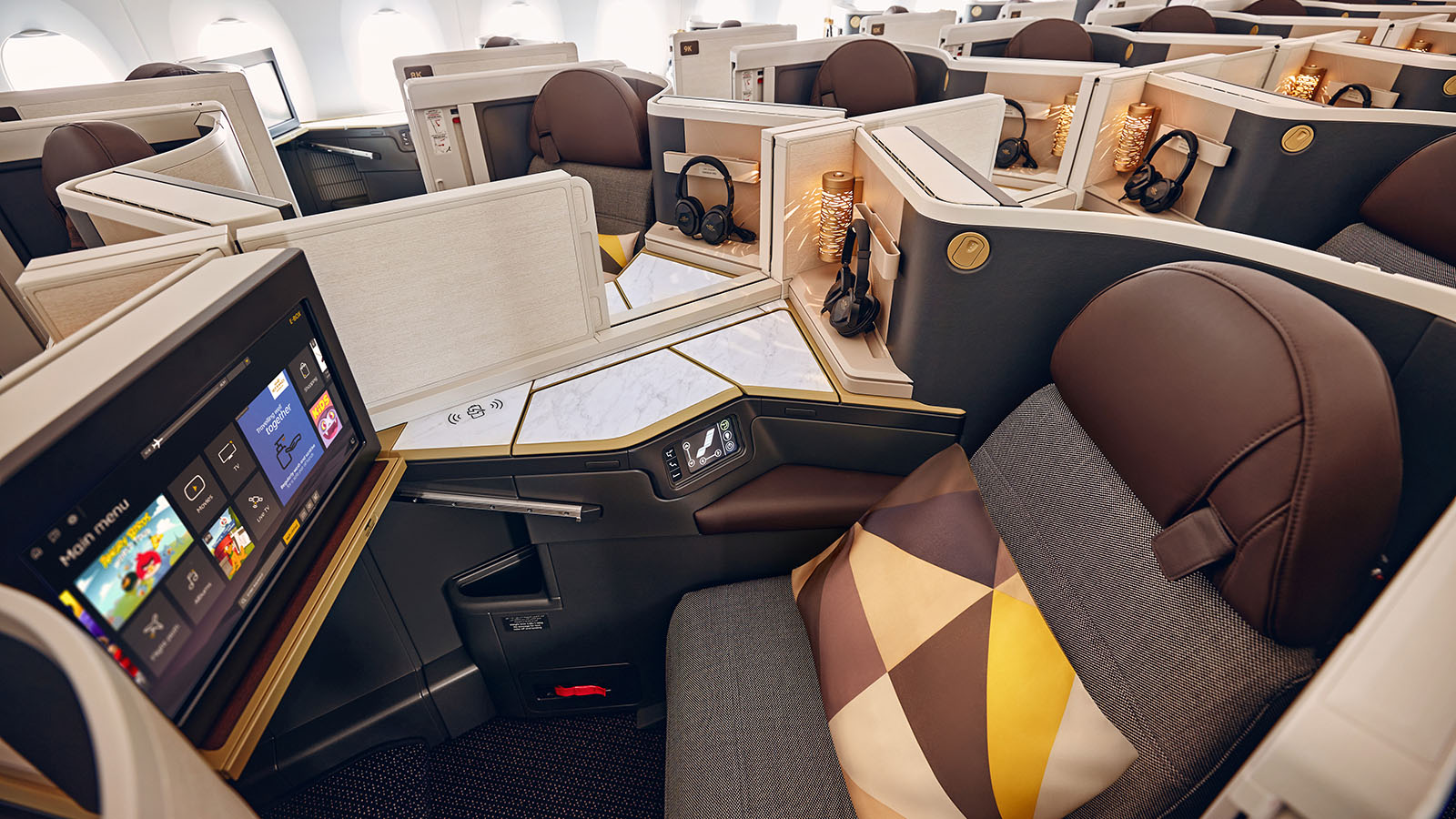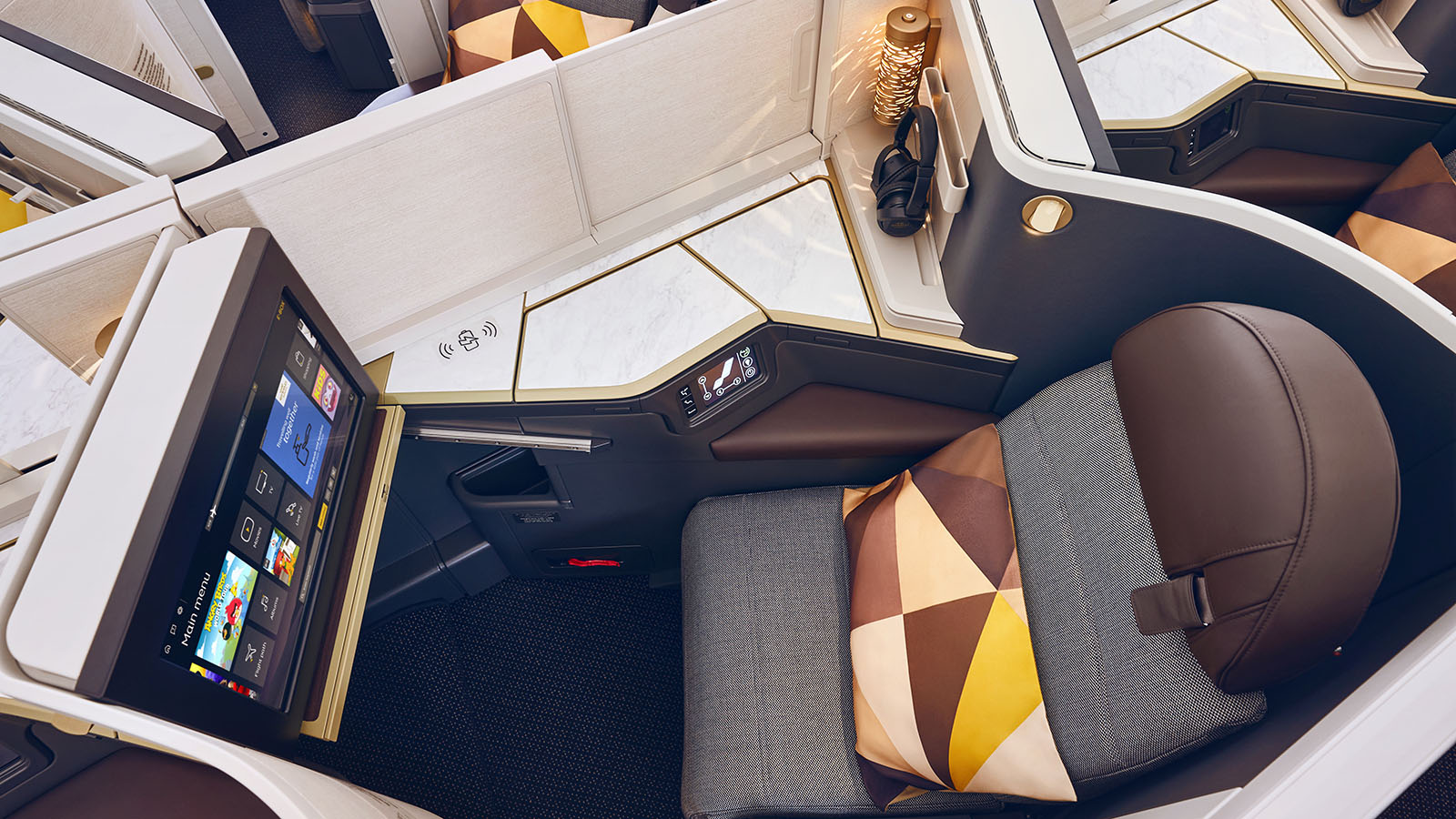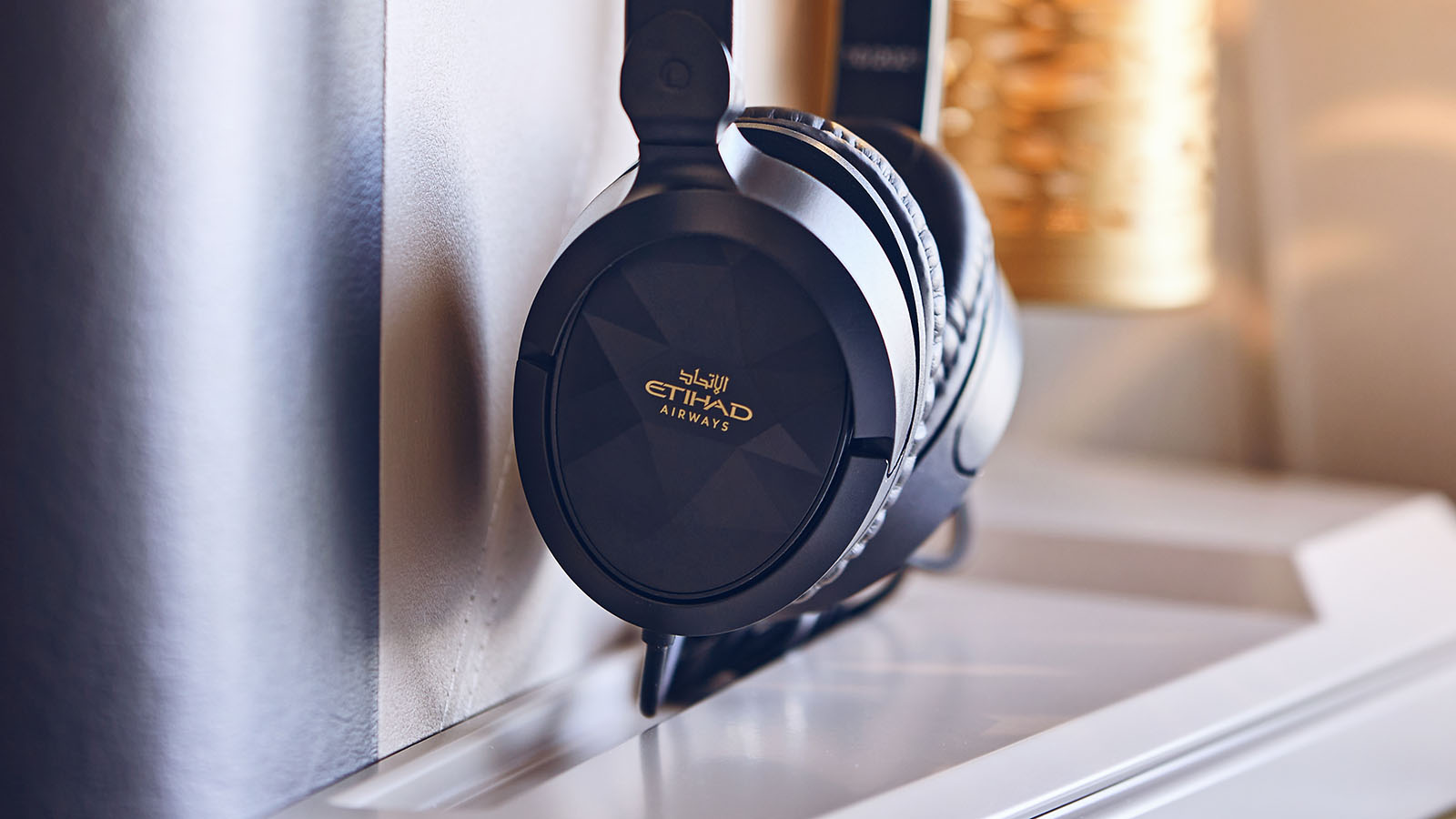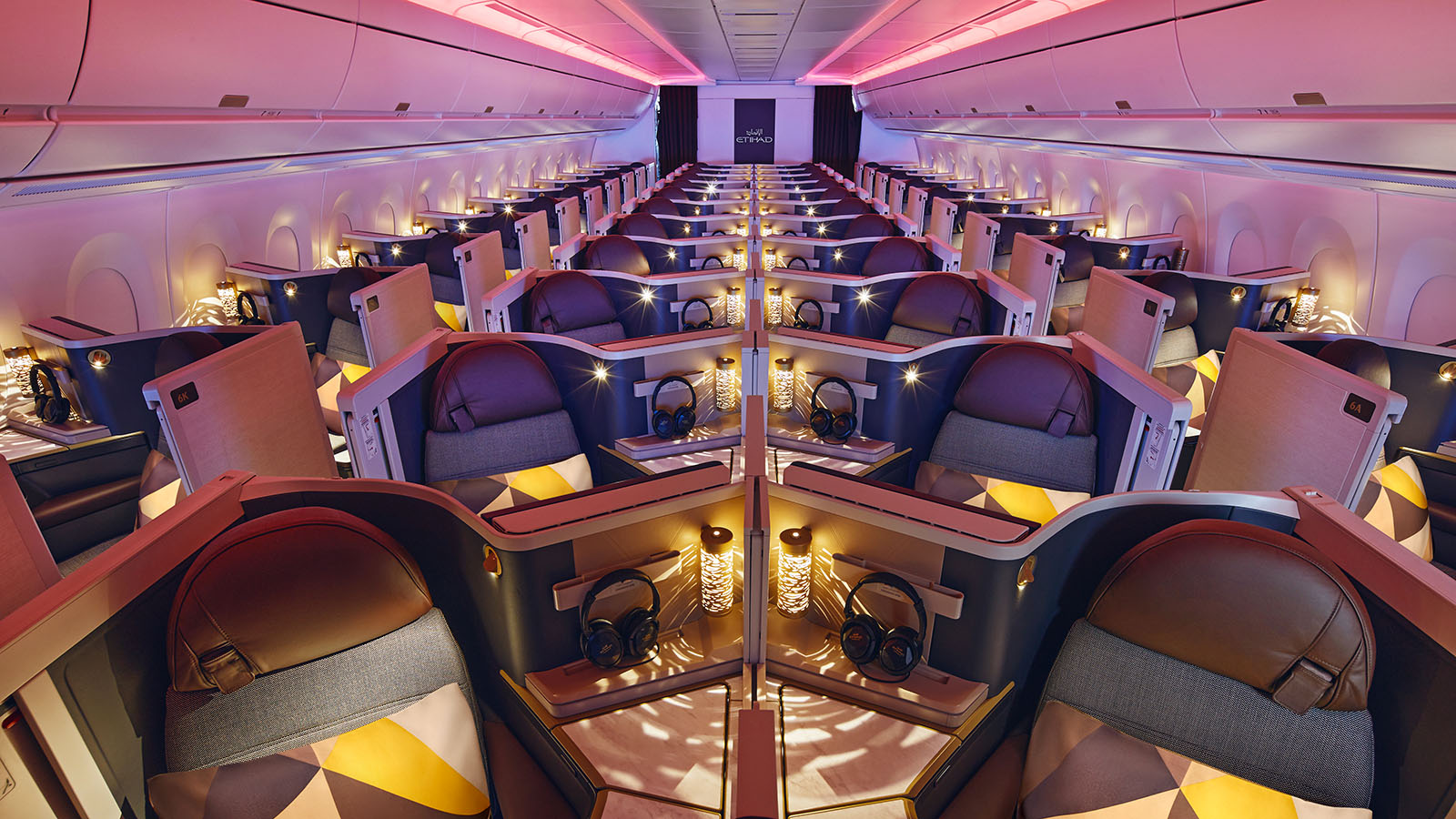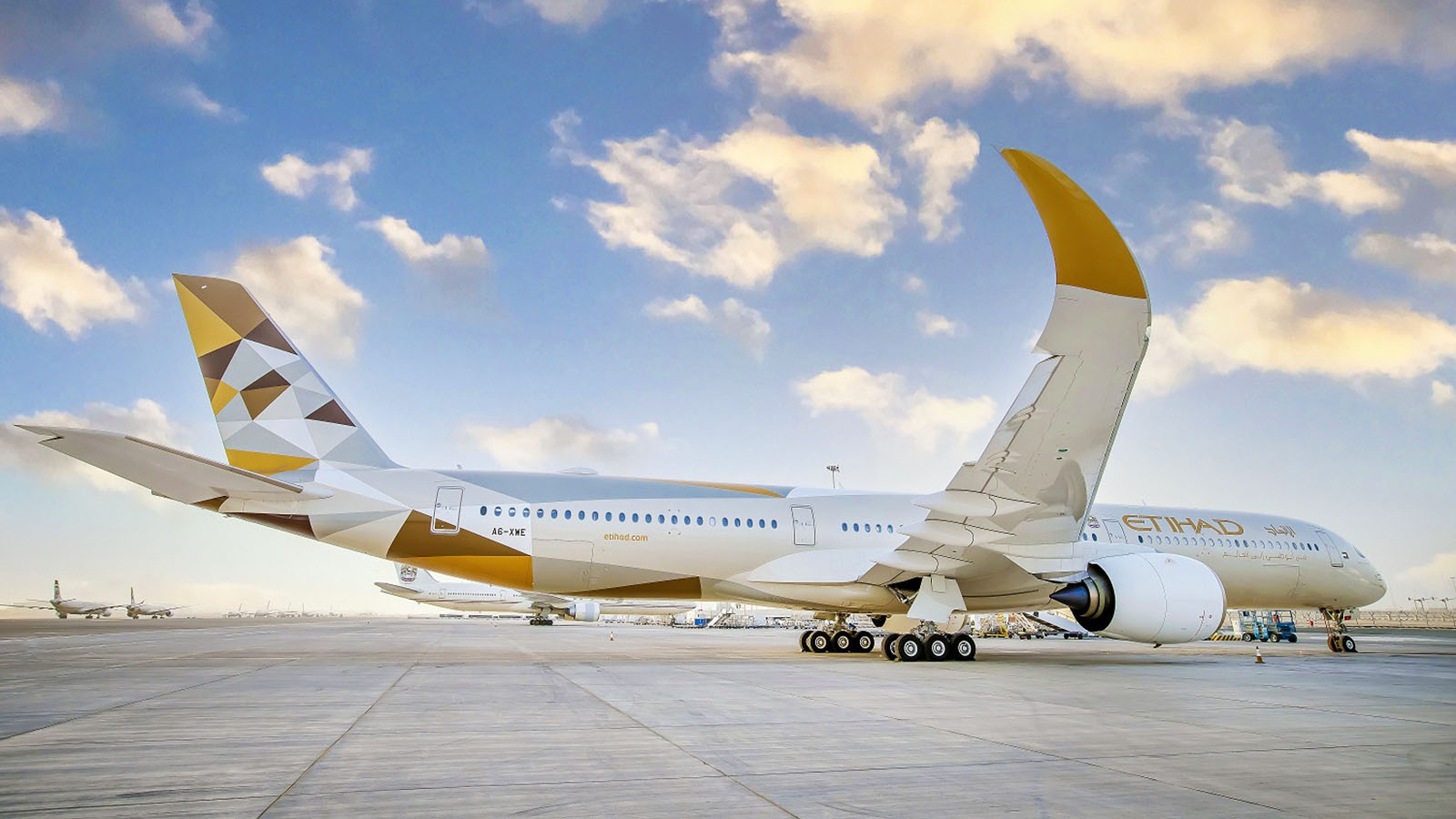 Speaking of being cable-free, it won't matter if you've left your phone charger at home. Just set it atop the wireless charging surface on your side console, and it'll be powered back to life. If you've packed your own Bluetooth headphones, you can also pair them to the inflight entertainment system: of course, no cable is needed.
And if you're thinking the cabin looks a little familiar, you're not wrong. It's based on the same design as 'The Business': Virgin Australia's former flagship Business Class product. Naturally, Virgin Australia didn't have the added privacy door. But both stem from the Super Diamond seat by Collins Aerospace, popular also with Air Canada and American Airlines.
Over the coming months, Etihad will also relaunch its inflight Business Class dining and service. Stay tuned!
Ad – Scroll down to continue reading.Minimum spend, terms & conditions apply.
Etihad's Airbus A350-1000 routes
For now, the Airbus A350-1000 won't be flying to Australia in Etihad colours. But you may be able to fly it on a connecting service beyond Abu Dhabi.
Initially, the plane will run on shorter routes such as to Istanbul, Jeddah and Cairo. It'll then pivot to longer services such as from Abu Dhabi to Chicago and New York. Flights to Delhi and Mumbai will also be a staple for the airline's newest jets.
Flights between Australia and Abu Dhabi are currently served by the airline's two-class Boeing 787s. These also offer Business Class and Economy Class, but without the closing doors at the pointy end for now.
Etihad Airways celebrates 15 years in Australia
It truly is 'party week' at Etihad, with the airline also marking 15 years since its first flight to Australia.
Its journey Down Under began with an Abu Dhabi-Sydney service on 27 March 2007. This was followed by Brisbane, and then later, Melbourne and Perth. Of those, Sydney and Melbourne remain in the airline's current network, with connecting codeshare flights aboard Virgin Australia available from other cities.
COVID aside, much has changed for Etihad over the years and we're a different airline now, with different ambitions and strategies. But one thing that hasn't changed is our commitment to Australia and its role as one of our most important markets globally.
And whilst our A380s have been parked since COVID, there was no denying the Etihad A380 was a flying experience in a class totally of its own. We now operate our flagship Boeing 787s and are welcoming the A350 into the fleet literally as we speak, so the Etihad product continues to soar sky high.

– Sarah Built, Vice President Sales (Australasia) at Etihad Airways, 31 March 2022
To mark its anniversary of serving Australia, Etihad Airways held a private celebration at the Museum of Contemporary Art in Sydney.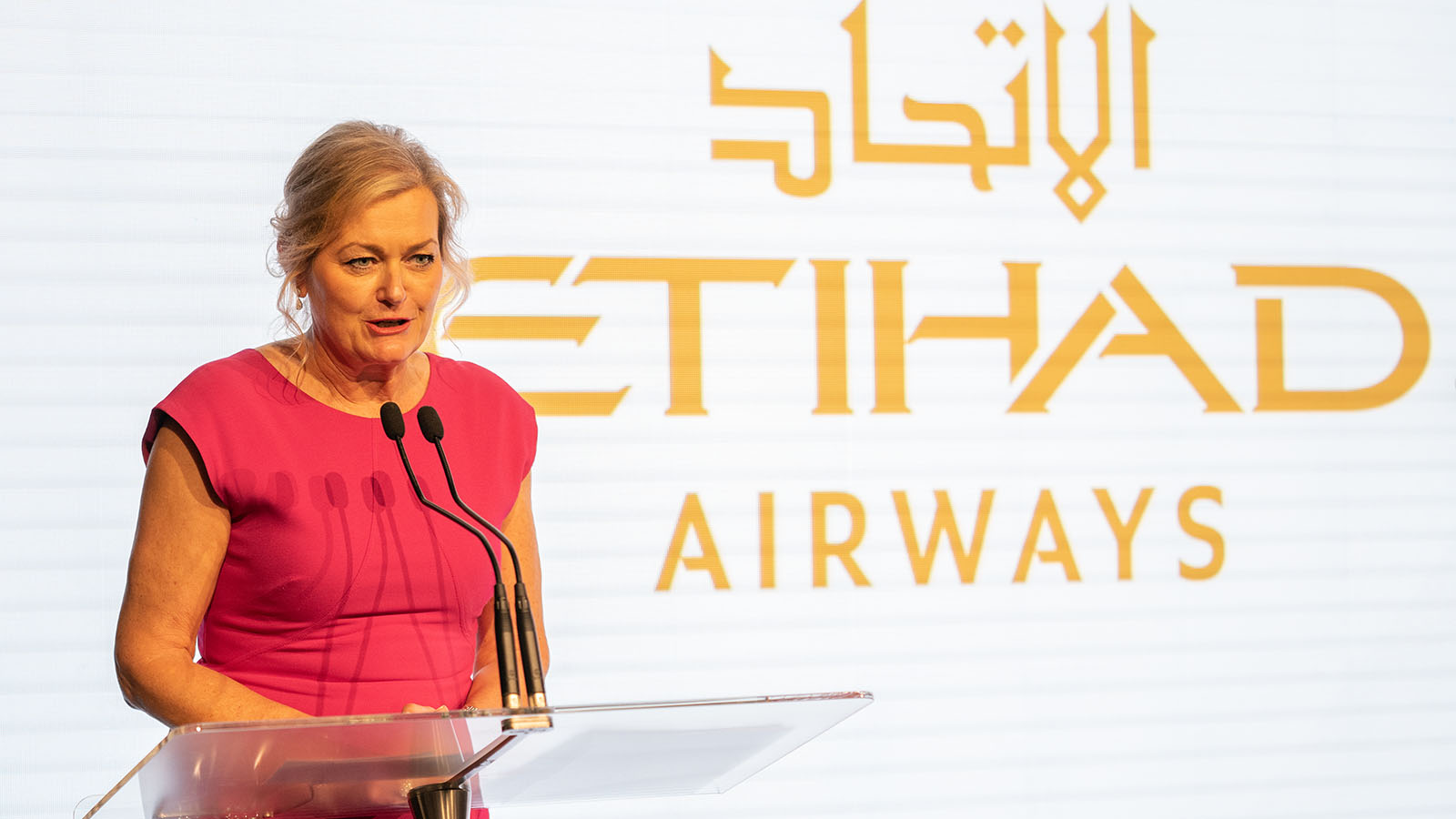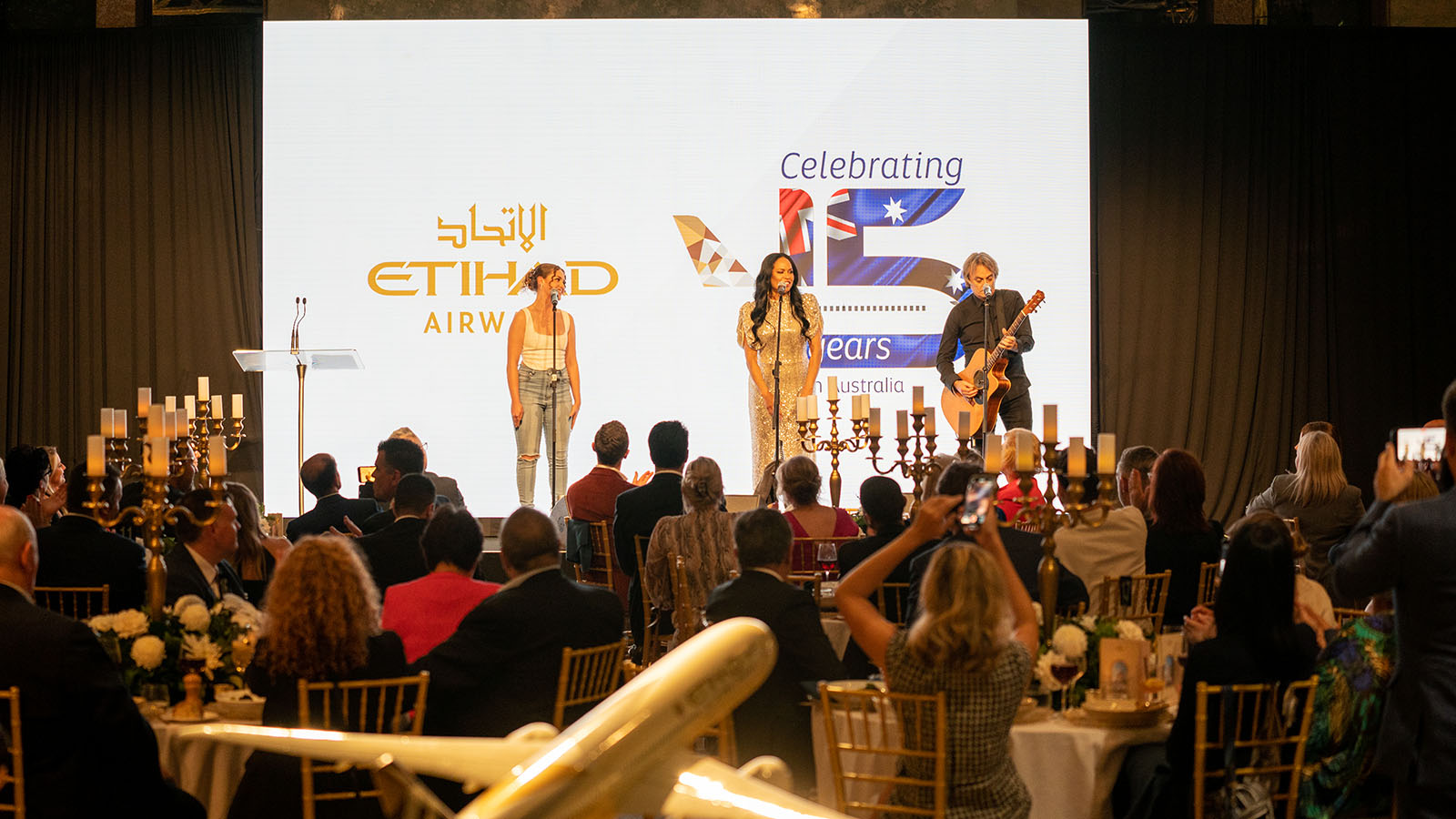 Summing up
Privacy doors are becoming more widespread in Business Class. Some airlines even consider them a staple of the experience: especially on flights where First Class is no longer available.
Speaking from experience, I always appreciate it when there's a door. During the day, this helps keep any sensitive work away from prying eyes. And on overnight flights, gliding that door shut takes you into a world of your own for a good night's sleep.
It'll certainly be interesting to see how Etihad's new Business Class stacks up, particularly after the airline relaunches the inflight experience later this year.
Chris Chamberlin attended Etihad Airways' 15th-anniversary celebrations as a guest of Etihad. All uncredited images courtesy of Etihad.
---
Stay up to date with the latest news, reviews and guides by subscribing to Point Hacks' email newsletter.
Etihad's Airbus A350 brings closing doors to Business Class
was last modified:
August 24th, 2023
by