Emirates' Skywards boss talks upgrades, elite perks, status matching and more with Point Hacks
We also get an update about booking Emirates Premium Economy using points.
Posted:
September 28, 2023 - 2:30 pm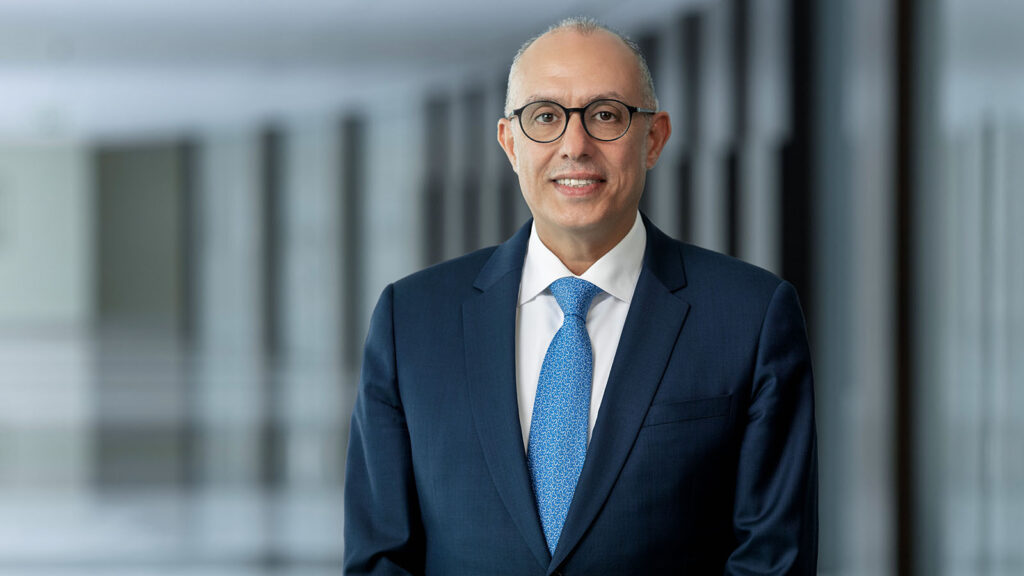 What we'll be covering
Emirates is never an airline to stand still, and its Skywards frequent flyer program follows that same mantra. But it's fair to say, Emirates Skywards isn't the only game in town. When many Australians are members of Qantas Frequent Flyer (QFF) too, what role is there for Skywards in that crowded loyalty space?
For that matter, when will travellers be able to book or upgrade to Emirates Premium Economy using points? In this Point Hacks exclusive, I catch up with Dr Nejib Ben-Khedher – the Divisional Senior Vice President of Emirates Skywards. He gives us the scoop on this, and insight into another very important aspect of loyalty: elite status.
Emirates Skywards versus Qantas Frequent Flyer
As most Point Hacks readers can already attest, Qantas Points can be earned and spent on Emirates flights. So is there much appetite for Aussies to join Skywards as well?
'You know, QFF is a prominent program in Australia, and for a good reason,' Dr Nejib recognises. 'And we have a great relationship with the mutual benefits that we provide to our members. But people are still seeing value in joining Skywards. We haven't seen really a drop in the number of (active) members.'
'We've just onboarded 260,000 additional members since we started operating again in Australia in the past couple of years. So we continue to see people coming, engaging with the program. I think Qantas offers us a great partnership (to) provide reward possibilities for our members, and vice versa. We have a lot of QFF members who fly on us as well, and that's good from a commercial perspective for us.'
Where's the unique appeal in Skywards, then? 'Upgrades are exclusive to our members,' Dr Nejib reminds. 'In Australia, these are extremely popular, as you can imagine. Especially that you can get upgraded up until the time of departure. Actually, you can get upgraded on board.'
It's handy to remember that option, especially if you, shall we say, want to escape your seatmate!
'We're seeing more of those late upgrades coming in. If there are seats on the aircraft that are available, then you have access to them. Our crew are delighted whenever they can just put a smile on somebody's face by allowing them to indulge themselves or their family members.'
Ad – Scroll down to continue reading.Minimum spend, terms & conditions apply.
Booking Premium Economy using Skywards miles
Emirates is the first of the 'big three' Gulf carriers to introduce Premium Economy. But given the size of Emirates' fleet and network, it'll take some time before it's available to most of the airline's destinations. For now, travellers can buy a seat in Emirates Premium Economy with money – but not with miles. So when is that likely to change?
'It's being reviewed right now Chris,' Dr Nejib assures. But 'there's huge demand for Premium Economy … especially on routes like London or Sydney or Melbourne or New York. It's a stellar product. There's big demand coming from our Skywards members.'
'At the beginning, we wanted to just launch the product and see how it does first; to understand a bit about who is booking it, et cetera. So we wanted really to have a clean set of data around the product to understand what it's doing and if it was a proper investment. And how we're going to be rolling it out also to other markets.'
'At some point in time, we will open this for both upgrades and for reward seats. I mean, the numbers (redemption rates) have been worked out. We're ready to go, but we just wanted to have a clean set of data first before we just open it.'
Speaking of Premium Economy reward seats, these 'will be for Skywards members (first). Eventually, we'll look into how we make it available for our partners as well.'
When it comes to upgrades though, would Emirates still allow a double upgrade from Economy to Business on flights with Premium Economy? Right now, of course, travellers can upgrade from Economy straight to Business Class.
'We haven't had a decision on that. I think there is a school of thought around what you just said, (a) one-cabin upgrade. But then there's a possibility for us just to (do) two, anyway. (Maybe) we can allow for the two-cabin upgrade to start with, and then move into a one-cabin upgrade later on. But I think the one-cabin upgrade is usually the standard approach that you would go after.'
Elite benefits for Skywards members on partner airlines
Emirates doesn't belong to a global alliance. This means tiered Skywards members don't enjoy simplified global privileges in the same way as elites with oneworld, Star Alliance and SkyTeam. They do get reciprocal benefits with selected airlines like Qantas. But with most of Emirates' other partners, there's no recognition of status.
For instance, a Silver, Gold or Platinum Skywards card doesn't unlock any benefits aboard Emirates' partner Korean Air. Linking a Skywards number to the booking may be a way to earn miles – but there's no priority check-in or lounge access via status. With Emirates being such a global airline, why is that so?
'That's a decision we've made some time ago,' explains Dr Nejib. Status benefits are usually enabled as part of 'broader commercial partnerships that we have with some of these airlines. Some of them are extremely comprehensive. Others are more, I would say, transactional in some way. That allows us to broaden or extend our reach regionally.'
'So whether it's Korean, JAL, GOL or others across the world, we have to ensure that we have that ability for our members to get that last mile, if you will. And for (partner airline) members to fly on us.' In other words, those partners are more about travellers completing their Emirates journey, rather than travellers booking standalone trips on those partner carriers.
'We continue to see value in having these partnerships. From Skywards' perspective, we have 16 airline partners around the world.' But when it comes to how things work on the ground, 'we also don't want to burden our operations here, in Dubai in particular. We've got to be able to work with our operational teams in terms of what that means as well.'
Speaking of status, is it easy to get a status match with Emirates?
Almost every airline offers some form of status match throughout the year. Some run grand campaigns to bolster their base of elite members, while others are more reserved – limiting status matches to larger goals like corporate contract negotiations.
On the one hand, status matching can be a great way for airlines to gain high-value customers. After all, if a frequent flyer already has status elsewhere, they're not going to want to start from the bottom. But to counter that, elite status is also something to be earned. If airlines just gave it away, everybody would have one of those shiny cards – and if everybody is 'VIP', nobody is.
So where does Emirates stand on status matching?
'It's interesting,' Dr Nejib ponders. 'We've been trialling that – we don't do a lot of it. We scrutinise a lot the status matching, and obviously, it's done. But also, we look (to see) if people have shifted their travel. So we don't make as many exceptions (to the rules).'
'We really try to keep the tiers as clean as possible,' hinting that Emirates doesn't hand out elite Skywards cards like candy. It's all 'to ensure that we have frequent flyers (at those ranks). People who (are) looking at flying with Emirates and (who have) the affinity with the brand as much as possible.'
'Also from a logistical and operational standpoint, we need to make sure that our lounges continue to be a quiet place for people to go relax before their flights. A lot of (the members) love to be (in) there. You know, get access to the food, the lounge comfort, the shower – whatever we can offer in those spaces.'
During our chat, I get the sense that airport lounge access is Dr Nejib's personal favourite frequent flyer perk. 'Of course,' he concludes.
Also read: Under the hood of the Emirates Skywards program
Featured image courtesy of Emirates.
---
Stay up to date with the latest news, reviews and guides by subscribing to Point Hacks' email newsletter.
Emirates' Skywards boss talks upgrades, elite perks, status matching and more with Point Hacks
was last modified:
September 28th, 2023
by