Air Canada and Emirates hope to tie the knot later this year in a move that'd unlock points and perks on flights across the globe.
Described by the carriers as a 'strategic partnership', the move would begin with reciprocal codesharing across each airline's flights. This would allow travellers to book their journey across both airlines on a single ticket, with baggage transfers to their final destination.
Also on the agenda, a bilateral frequent flyer tie-up. The move is likely to make Air Canada flights bookable using Emirates' Skywards Miles, and Emirates flights bookable using Air Canada's Aeroplan points. Reciprocal perks like lounge access for eligible frequent flyers are also on the cards.
What the Air Canada / Emirates deal brings for travellers
Right now, both Air Canada and Emirates fly between Toronto and Dubai. Once those reciprocal codeshares come online, this would bring more flexibility for travellers in terms of when and how they travel.
For instance, Air Canada's flights from Toronto to Dubai generally depart in the late evening. But Emirates' flights on the same route jet off in the early afternoon. With travellers able to book either service but still on their preferred airline's flight number, convenience doesn't come at a cost to frequent flyer points.
This is a significant partnership that will enable our customers access to even more destinations in Canada and the Americas, via our Toronto and US gateways. It also opens up many new route combinations for travellers across Emirates' and Air Canada's extensive networks in the Americas, the Middle East, Africa and Asia.

– Sir Tim Clark, President of Emirates Airline, 12 July 2022
The airlines will also partner on destinations beyond those hubs of Toronto and Dubai. Routes between the United States and Canada are also a prime contender for codeshares. This could make it easier for a long-haul traveller visiting North America to fly into the US but out of Canada, to visit both countries.
This strategic agreement will create network synergies, and Air Canada customers will have additional, convenient options when travelling between Canada and the United Arab Emirates as well as destinations beyond Dubai. We look forward to introducing Air Canada codeshare service on key Emirates flights, as well as adding the EK code on select Air Canada flights, and welcoming Emirates customers on our services later this year.

– Michael Rousseau, President and CEO of Air Canada, 12 July 2022
Air Canada's Aeroplan program gets bigger with Emirates
As a member of Star Alliance, Air Canada's Aeroplan members have a wide base of airlines on which they can earn and spend points. But beyond Star Alliance itself, Aeroplan has a comprehensive network of other strategic partners.
In fact, Aeroplan claims the largest network of partner airlines of any frequent flyer program. It has 45 at present (including Air Canada), along with four additional airlines on which Air Canada codeshares.
But on the 'earn and burn' side, some of those interesting partnerships include carriers flying to and even within Australia. Virgin Australia is, of course, the most notable there. Others like Cathay Pacific, Etihad Airways and Air Mauritius also have direct relevance to Australian travellers.
Other highlights include Oman Air – which is set to join the oneworld Alliance in 2024 – as well as Gulf Air, Air Serbia, Vistara and many more. Air Canada also flies non-stop between Vancouver and both Sydney and Brisbane.
Ad – Scroll down to continue reading.Minimum spend, terms & conditions apply.
Emirates' Skywards program gets a North American boost
These developments are sure to make Emirates' own Skywards program more relevant for travellers in North America.
While Skywards previously counted Alaska Airlines as a partner, those arrangements concluded in August 2021. This left JetBlue as the only Skywards partner flying within the United States, as well as directly between the US and Canada.
With the addition of Air Canada, Skywards members get even more options for those trans-border flights. And of course, they'll be able to travel within Canada as well – not just to and from.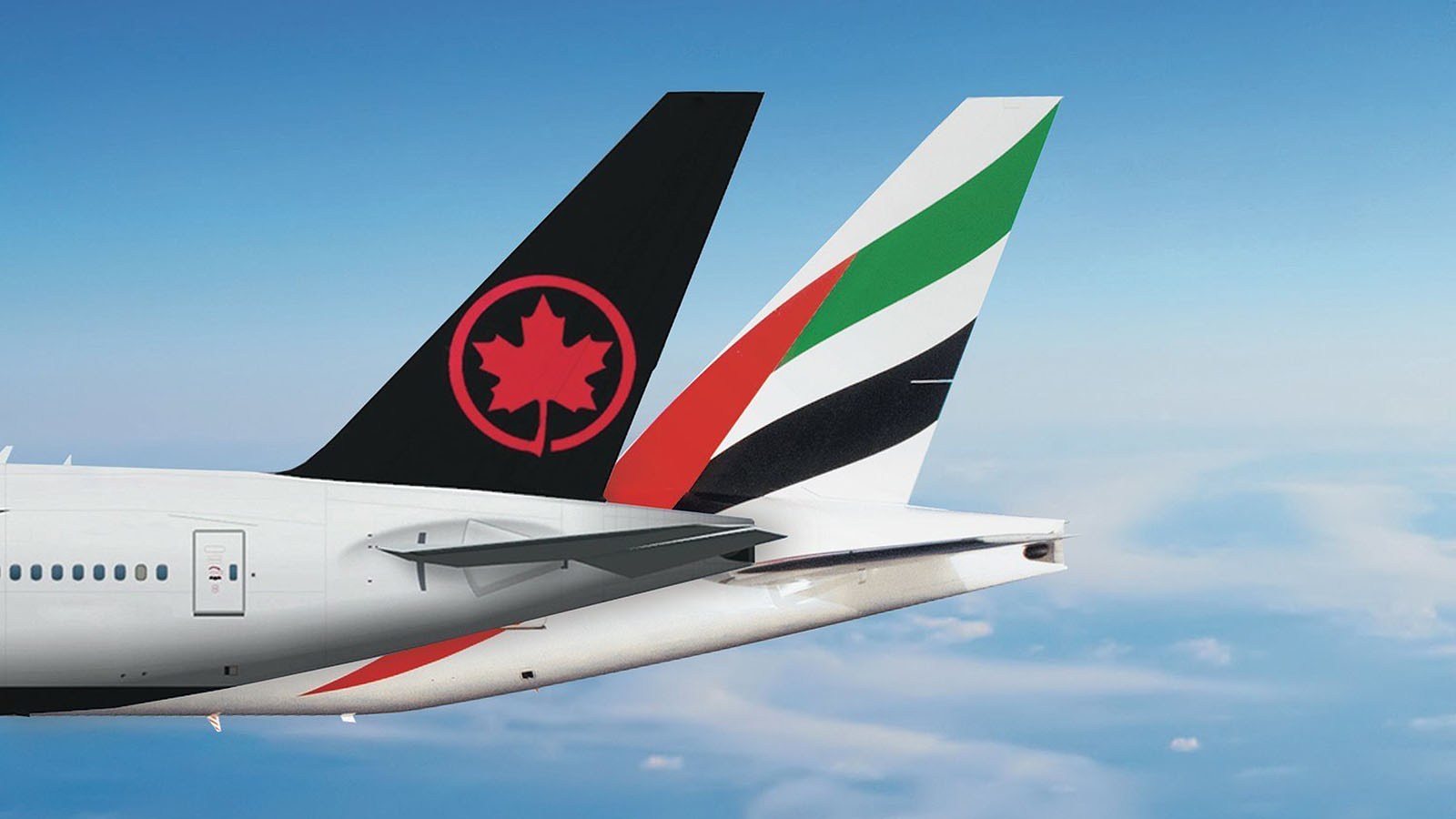 Skywards currently counts 16 partner airlines, as well as its home carrier Emirates. Its most notable partnerships for Australian travellers are with Qantas and Jetstar. Other airlines serving Australia include Air Mauritius, Japan Airlines, Korean Air, Malaysia Airlines and South African Airways.
Emirates itself serves over 130 cities across six continents. In Australia, this includes Sydney, Melbourne, Brisbane and Perth, with non-stop flights to Dubai. Emirates also plans to resume its Sydney-Christchurch trans-Tasman flights in December 2022.
How Australians can take advantage of the Air Canada / Emirates partnership
With this tie-up only just announced, the full suite of information will follow at a later date. As always, the devil will be in the details – including the extent of the opportunities for travelling using points.
Of course, it's unlikely that many travellers from Australia would benefit from the codesharing aspect of this partnership. After all, with non-stop flights from Australia to Dubai with Emirates, and from Australia to Vancouver with Air Canada, there isn't a need to fly through one destination to get to the other.
But being able to earn and spend points from one airline's program for travel on the other could open up some new opportunities.
For instance, Aeroplan regularly runs discounted 'buying points' promotions. This could allow frequent flyers to purchase points with Aeroplan at a reduced rate, to book flights on Emirates. However, it's otherwise difficult to earn Aeroplan points in Australia, aside from travelling on its partner Virgin Australia.
Emirates' Skywards Miles are comparatively easier for Australians to collect. For starters, Skywards maintains several Australian credit card partnerships. This includes being a transfer partner of American Express Membership Rewards. Emirates' tie-up with Citi also includes a cobranded Skywards credit card.
Of course, booking Air Canada flights using points is already quite easy for Australians. Virgin Australia Velocity Points can get that job done quite easily. So too can miles from Star Alliance programs such as Singapore Airlines KrisFlyer, which are also relatively easy to earn in Australia.
But each frequent flyer program sets its own redemption rates. We look forward to seeing whether this latest partnership unlocks any attractive opportunities on either side of the Pacific.
Summing up
Air Canada's Aeroplan program is getting even bigger, soon to count Emirates as its latest partner. Emirates is also expanding its reach in North America, one of the carrier's key long-haul markets.
For Australians, the prospect of a frequent flyer deal is what'll be most exciting. Being able to use points or miles in more ways is always a good thing, as it brings extra flexibility. That, in turn, makes those points even more attractive to earn, and the cycle continues.
Feature image courtesy of Air Canada and Emirates.
---
Stay up to date with the latest news, reviews and guides by subscribing to Point Hacks' email newsletter.
Air Canada and Emirates eye frequent flyer partnership
was last modified:
July 13th, 2022
by