Are you an optimist who sees the glass half-full? Do you love to search for reward seats in anticipation of your next big global adventure? If you're keen to throw your hat in the (travel) ring, then Point Hacks is here to help. There's a real chance that some international travel will resume later this year and across 2022 – and it pays to be prepared.
In fact, Qantas is eyeing a 20 December 2021 restart of some overseas flights. Singapore Airlines, Cathay Pacific, Emirates and Qatar Airways are looking similarly hopeful as well. There are plenty of reward seats out of Australia, but it's far harder to get back at this stage. We expect availability will improve when arrivals caps into Australia are lifted.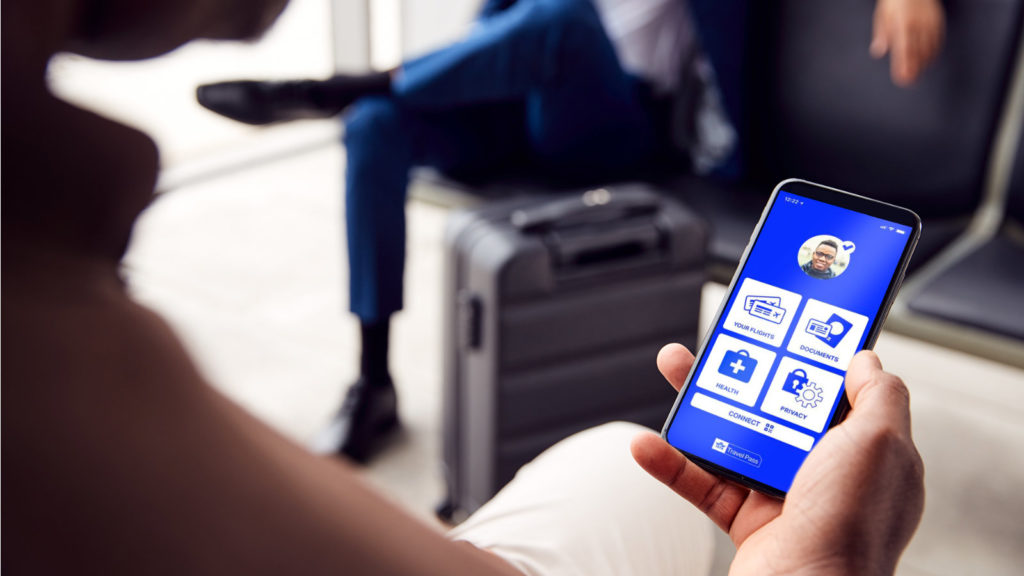 If you can find reward seats, we argue that booking them for future overseas travels makes sense:
Many of you will have been amassing points for 2 years now, with nowhere to go. Your points balances should be looking very healthy by now!
Points can easily be devalued at short notice. By locking in a redemption now, you are also protecting yourself against any program changes in the immediate future.
By taking a small risk now, you could reap the rewards if borders reopen and there is a surge in demand. Your premium seat is confirmed, and you don't have to be put off by high fares and fierce competition.
Reward seat bookings tend to be quite flexible, so you won't lose much (or anything) if your plans fall through. Refunds are often possible, so you should get most of your points and taxes back.
When it comes to flexibility and value, using points for overseas travel is the smart way to enjoy the best of both worlds. So if you're itching to fly abroad, here are some tips to get you started.
Using Qantas Points for international flights
Cancellation policy: free for reward bookings until 28 February 2022
Qantas international reward seat availability can sometimes be difficult to find. But the seats are out there! While there have been some rumours that Qantas will relaunch Points Planes in 2022, these are still just rumours for now. Rest assured, we'll post any confirmed Points Planes on our homepage when those are announced.
However, the airline did confirm to Point Hacks that once international borders reopen, Classic Reward Flight availability will increase by up to 50%:
Once borders open up we'll be making up to 50 per cent more reward seats available on international flights, to help make it easier for frequent flyers to get away on an overseas trip and use their points.

– Olivia Wirth, Qantas Loyalty CEO
Based on our preliminary searches, Economy reward availability is out there. Business and Premium Economy availability is restricted, unfortunately. But here are some options that you could book now.
Sydney-Los Angeles (Airbus A380)
Do you miss soaring on the Airbus A380 Superjumbo? With its spacious First Class suites and a lounge area to break up the flight, there's a lot to love about the A380. Well, we're delighted to say Qantas is rostering the double-decker jet on Sydney-Los Angeles flights from July 2022 onwards.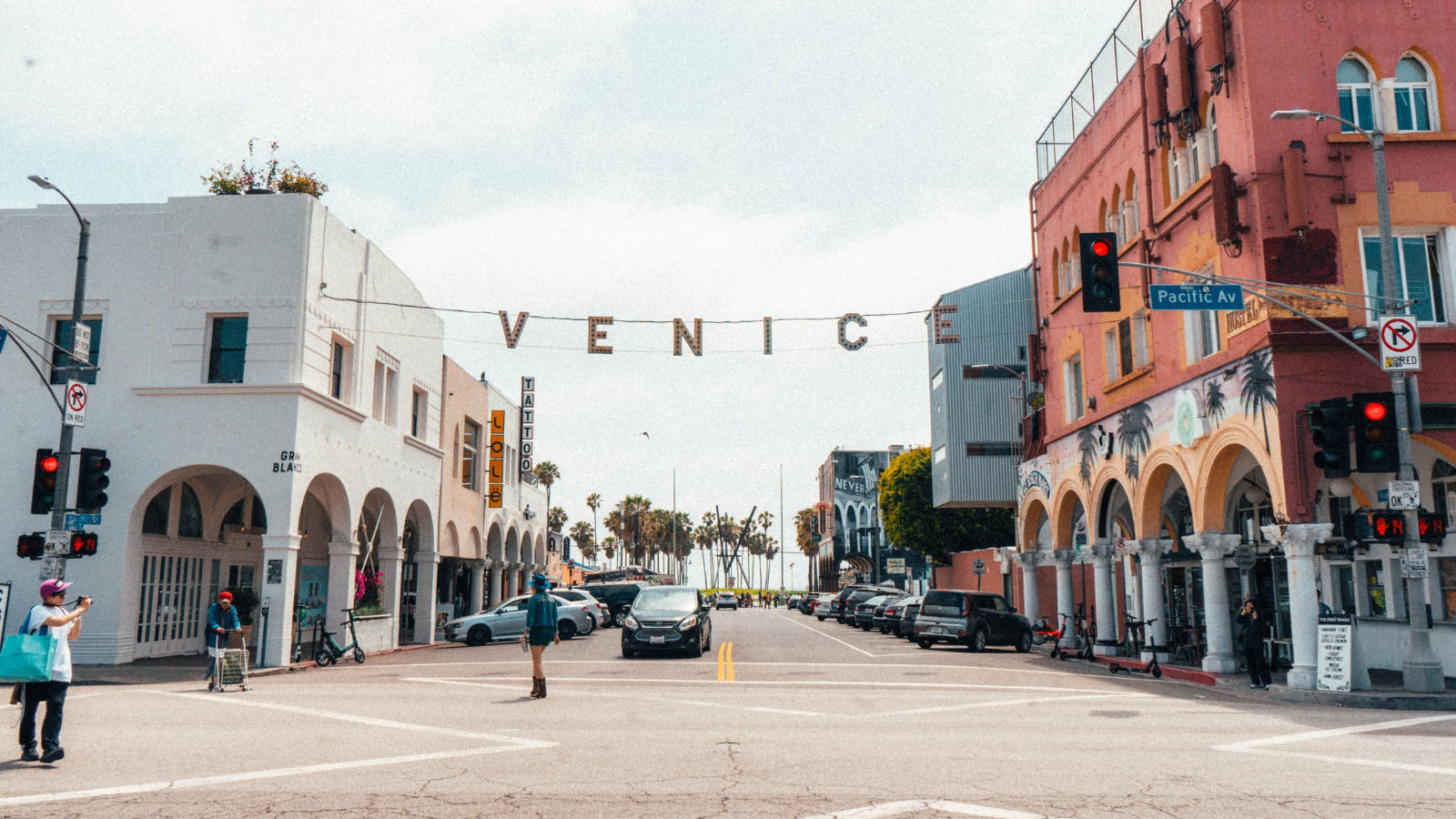 If you have elite Qantas status (that's Gold or higher), then you should be able to see some exclusive reward seats across Economy, Premium Economy and Business. We're still trying to find First availability, but nothing is showing at the moment.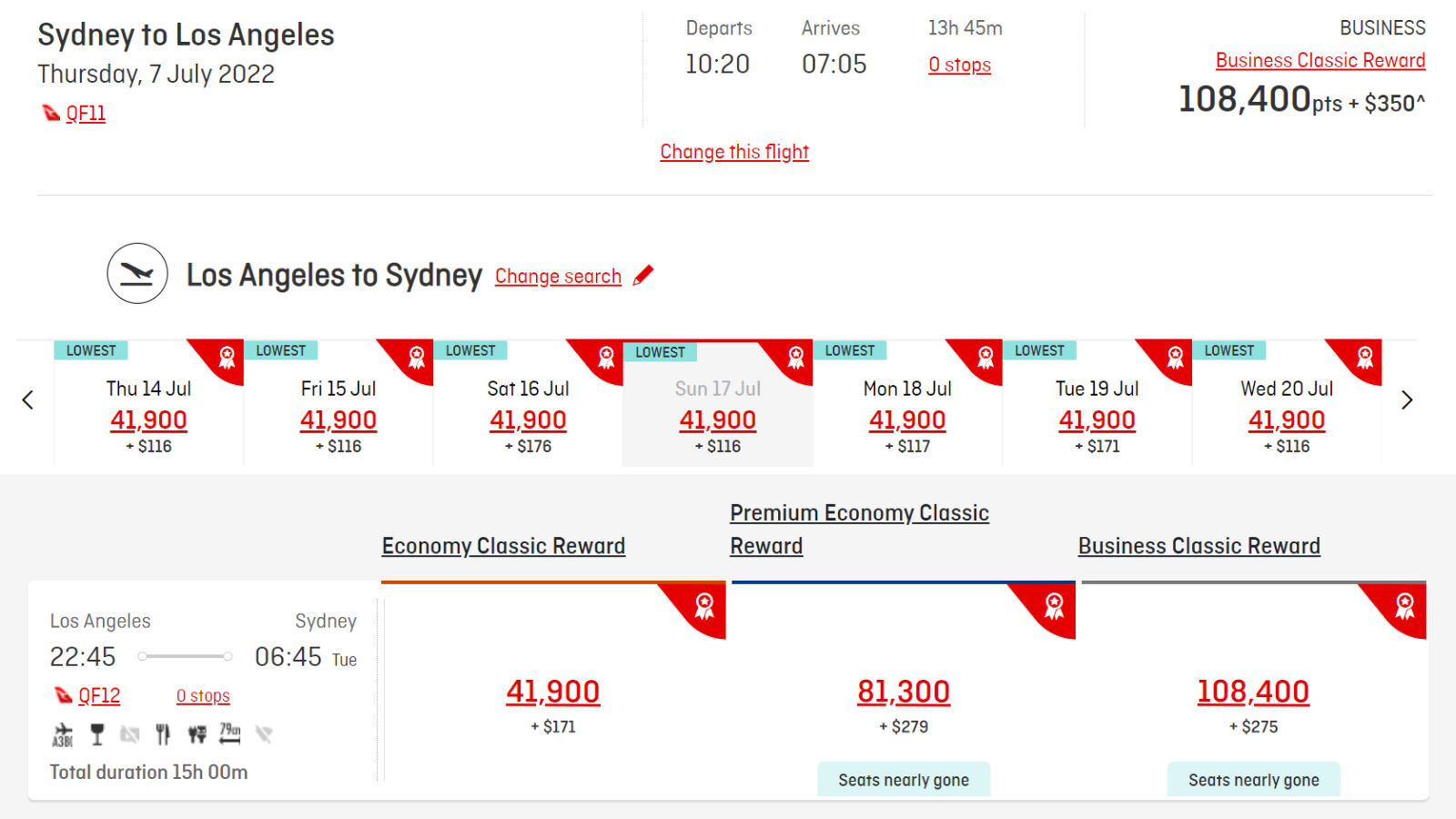 First in, best dressed: If you have elite Qantas status, nab some rare Economy, Premium Economy or Business reward seats departing QF11 on 7 July 2022. The return flight is on 17 July 2022. For a Business return ticket, you're looking at 216,800 Qantas Points + AUD$624 in taxes, per person.
Brisbane-San Francisco (Airbus A330)
If you're headed to the States, why not consider Qantas' new Brisbane-San Francisco route? You'll be flying on a modified Airbus A330-200 on the 13.5-hour journey. In Business, that's plenty of time to relax in Qantas' first-generation Business Suites, with fully lie-flat beds.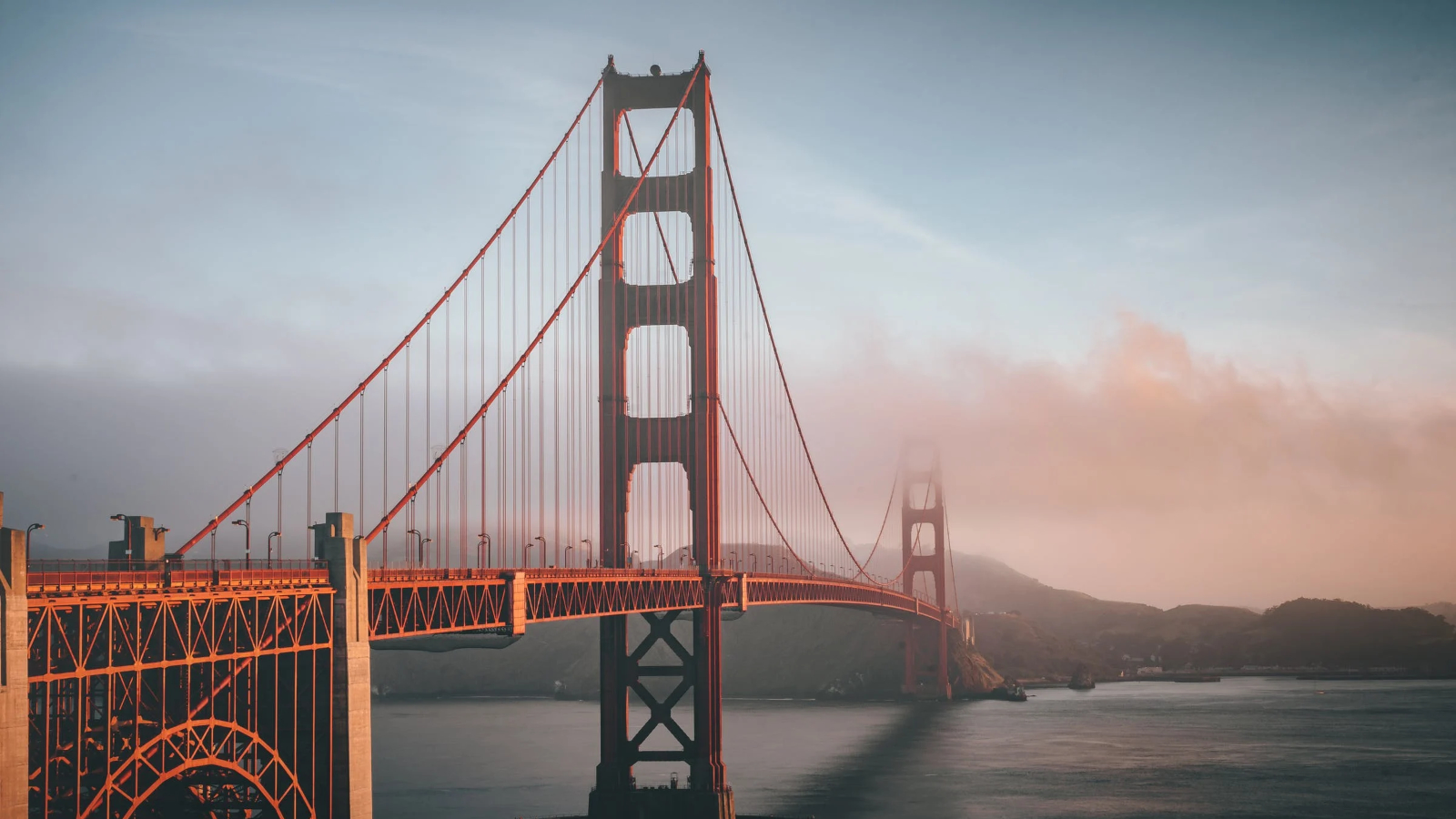 We've found the best availability tends to be on Thursdays, with up to 2 Business seats available. This applies to both QF59 to San Francisco and QF60 for the return.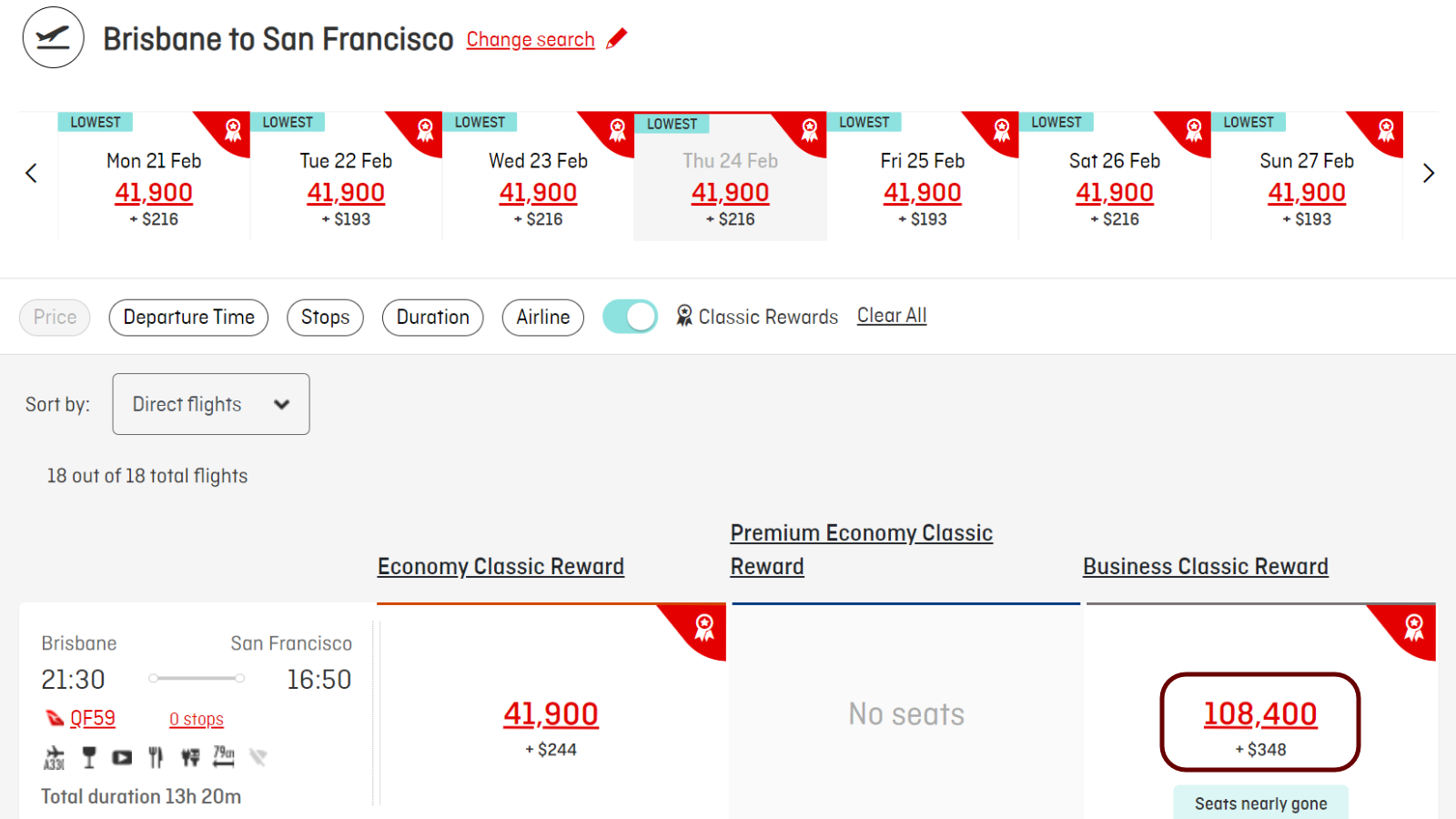 First in, best dressed: Need a week away? Fly Qantas Business from Brisbane to San Francisco on 24 Feb 2022 and back in Economy on 3 Mar 2022. Reward seats cost from 150,300 pts + AUD$592 taxes per person.
Perth-Singapore (Airbus A330)
Imagine relaxing by the infinity pool at Marina Bay Sands. Happily, Singapore is but a hop, skip and a jump from Perth, with a flight time of just 5.5 hours. Once again, you'll relax in the comforts of Qantas' Airbus A330-200 jets in Business. It's a leisurely afternoon ride up from Perth, and a late evening journey back home on the return.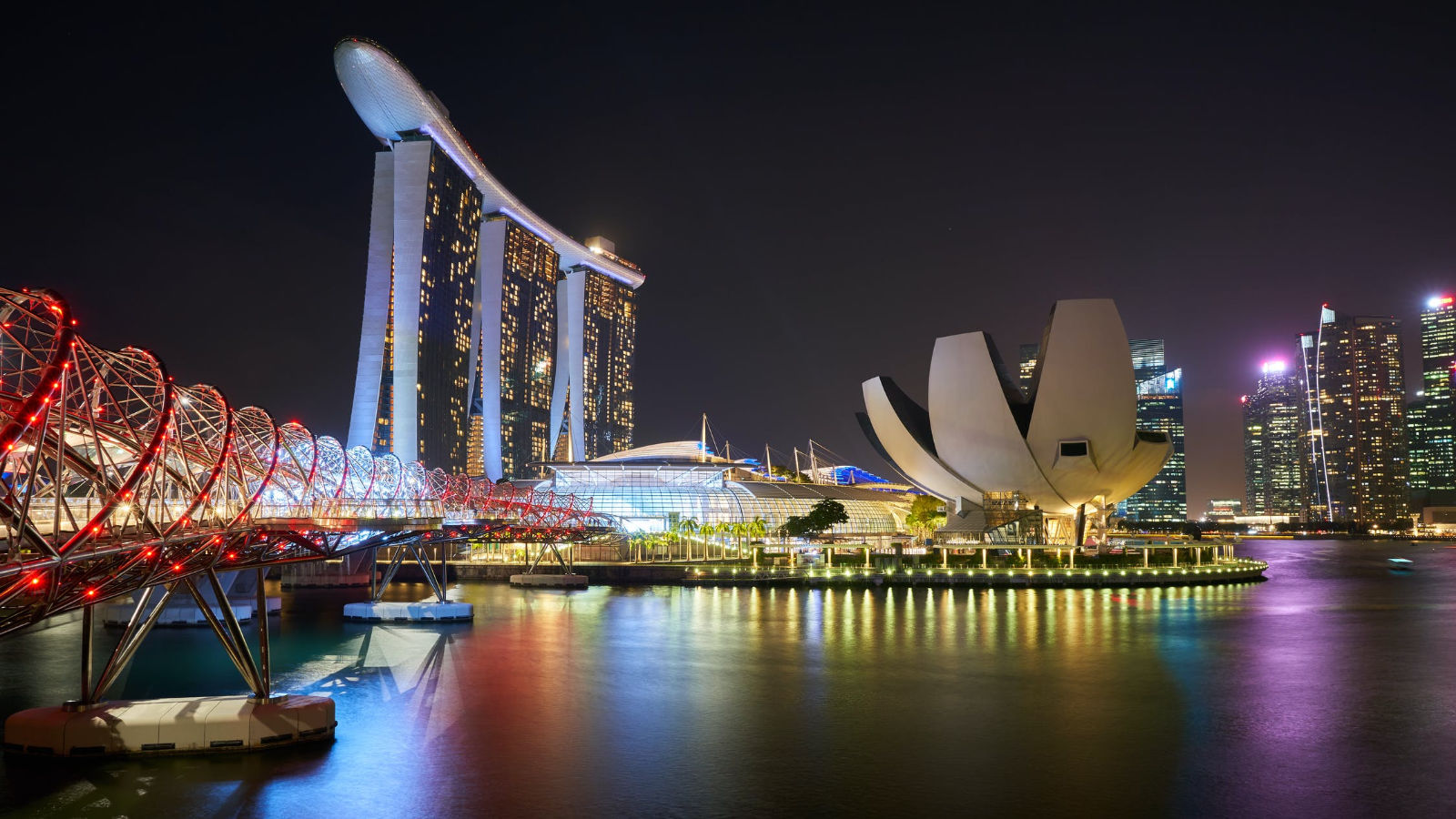 You should find Economy availability on almost all flights. If you're lucky, there are also up to 2 Business Reward seats open for booking per flight, across each week.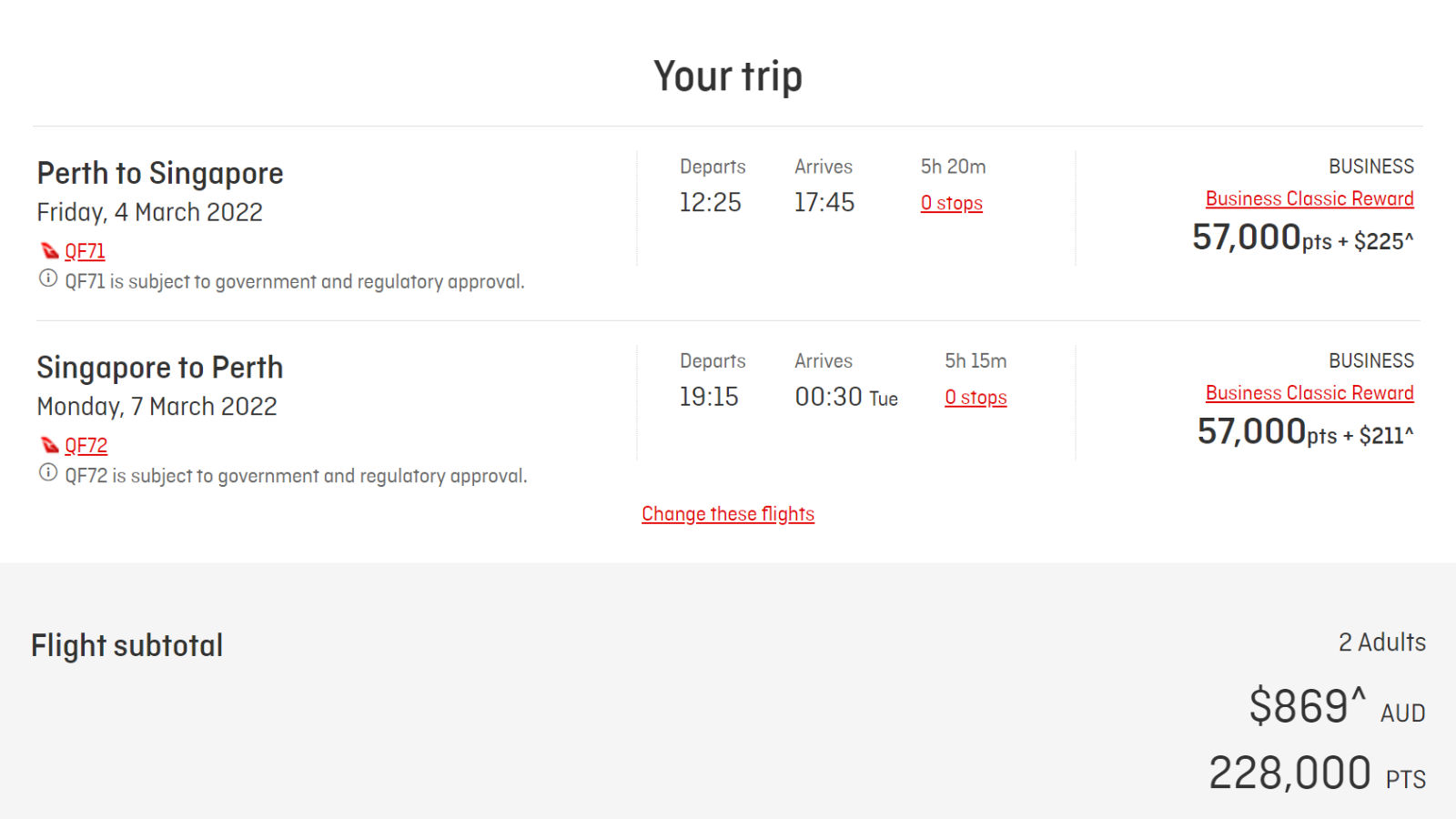 First in, best dressed: Want a luxury long weekend away for 2? Fly Qantas Business from Perth on Friday 4 Mar 2022 and back again on Monday 7 Mar 2022. It's 114,000 points + AUD$435 in taxes, per person.
Sydney-Vancouver (Boeing 787)
Longing to escape Australia's winter for a sweet summer in Vancouver? Qantas' seasonal Canada service returns throughout 2022. You'll be flying from Sydney to Vancouver on a Qantas Boeing 787 Dreamliner, featuring the latest advancements in cabin comfort and technology.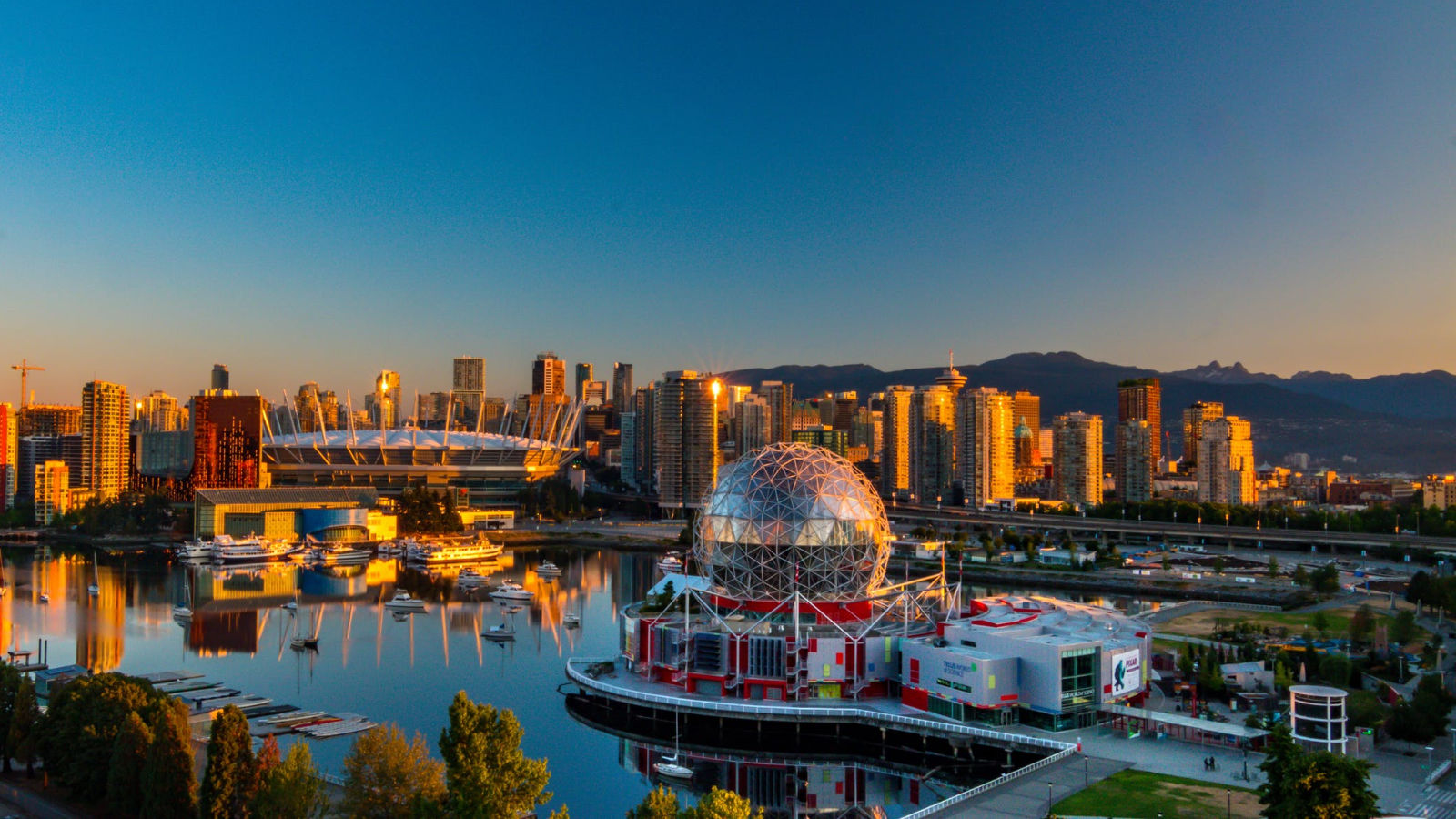 Availability is fairly poor across the board, though this is to be expected on Qantas' longest flights. Most departures have no points seats in Business or Economy. But we've found one date where (at the time of writing), there are 4 Business reward seats and 7 Economy rewards to book!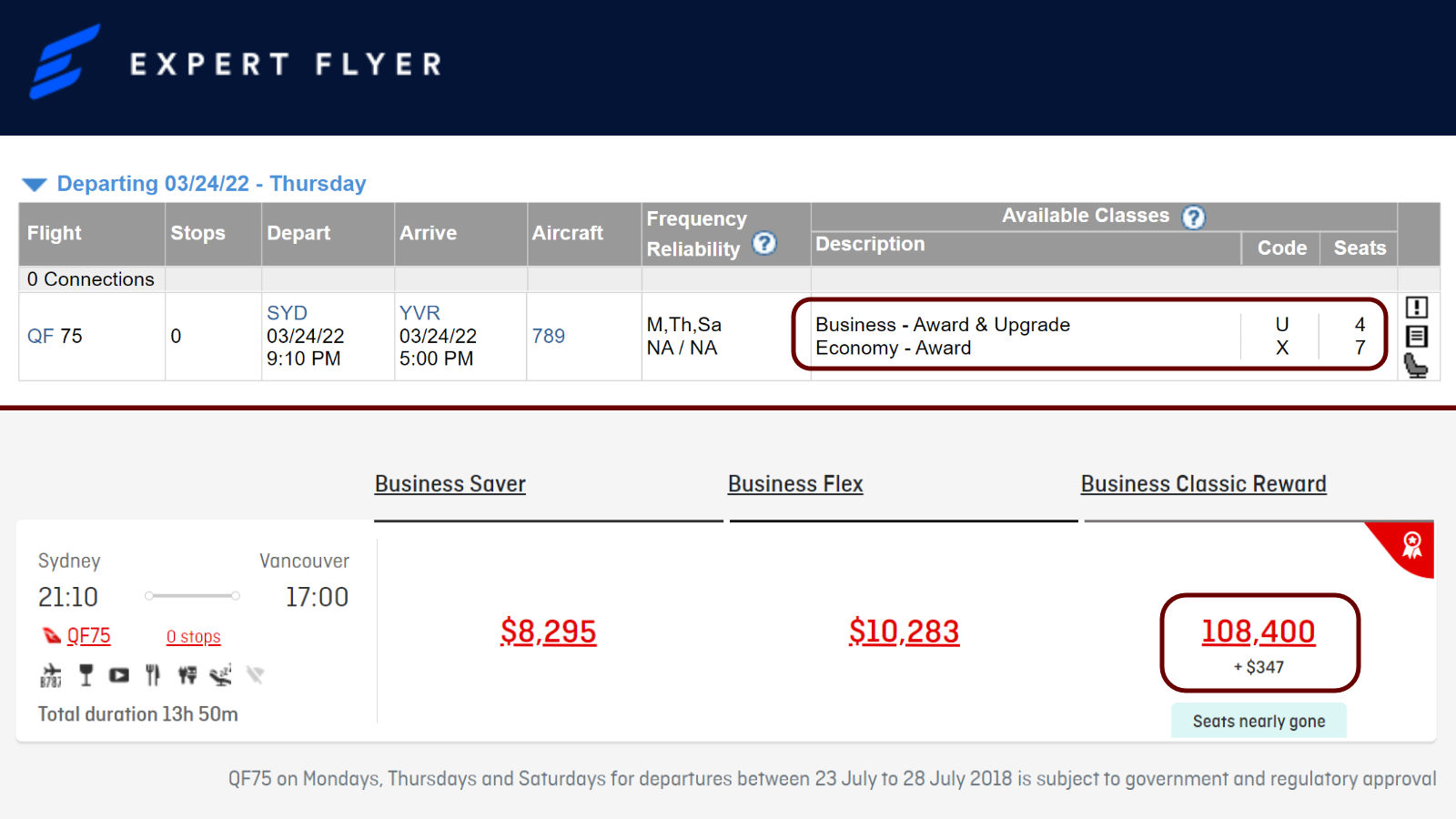 First in, best dressed: Look at Sydney to Vancouver on Thursday 24 March 2022 for your shot at rare Business reward seats. This might suit someone who's looking to fly one-way for now.
How do I improve my chances of finding Qantas reward seats?
Gold members and higher: you may see additional Qantas reward seats that lower-tier frequent flyers won't be able to find – see below.
Platinum members and higher: you're in luck. Simply call up Qantas and request for reward seats to be released. If sale fares are available on your flights, your chances of success will be higher.
All other members: See if you can use your Qantas Points on partner airlines. For example, British Airways has better availability in Business and First Class on the Sydney-Singapore-London route. Emirates and Qatar Airways also have reward seats via the Middle East to Europe and beyond.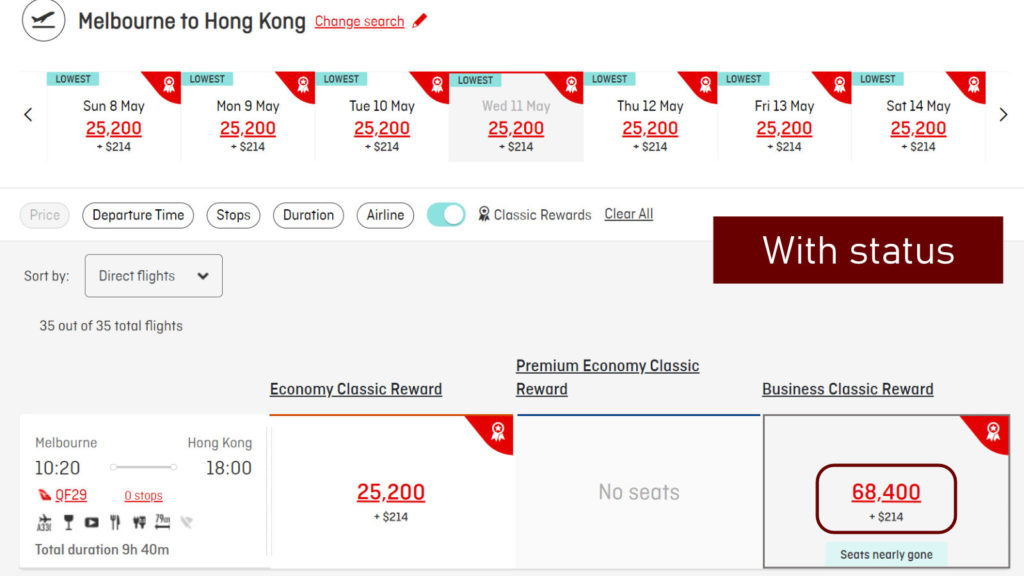 ---
Point Hacks tip: Consider using the American Airlines AAdvantage website to help search for reward seats on Qantas and other oneworld carriers. It's easy to use and has a handy calendar feature for filtering results.
Simply perform your search and use the 'non-stop' filter in the calendar. You can also filter by cabin class. The remaining results should be reward seats that you can book with Qantas Points.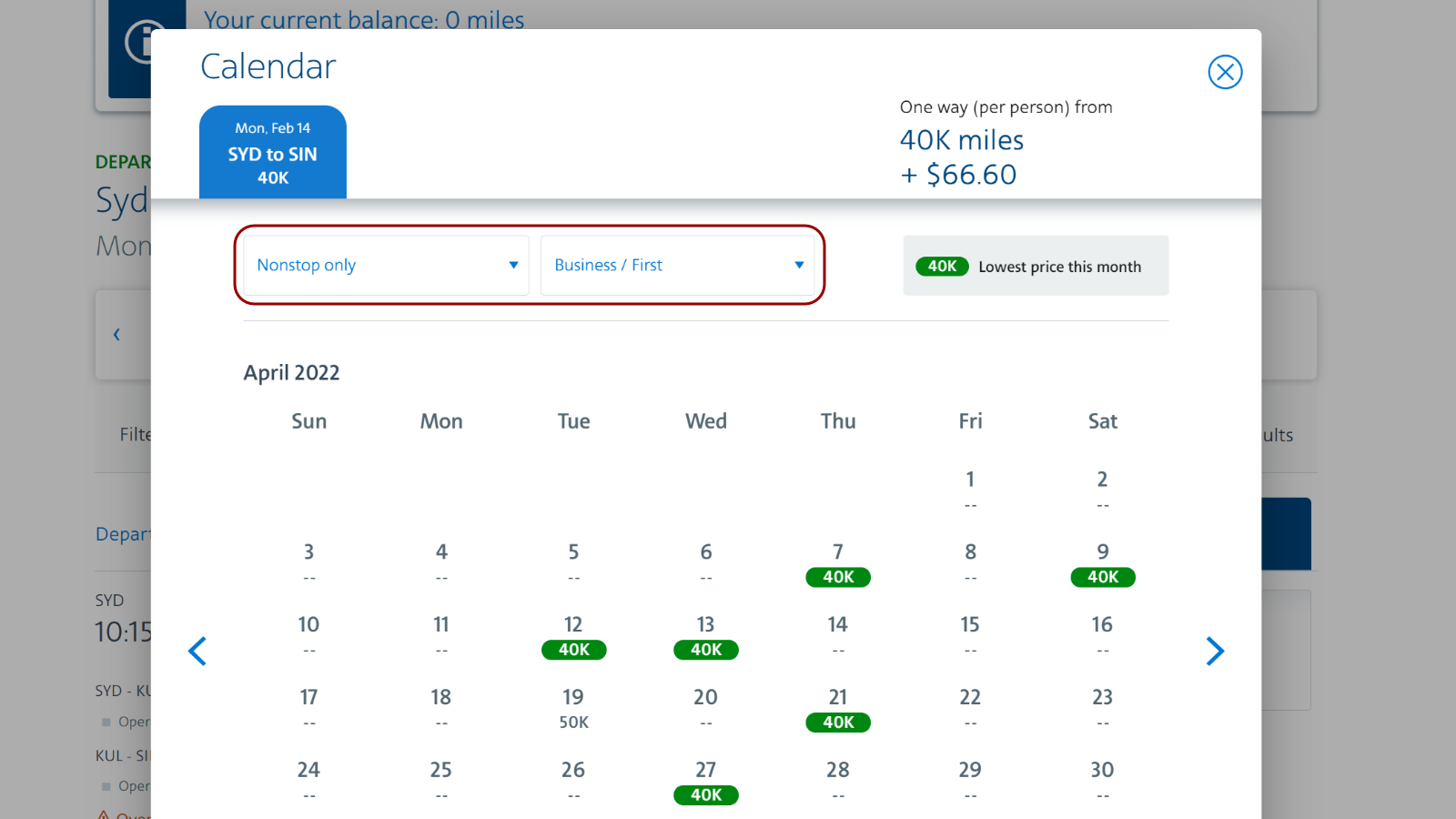 ---
You can also book Qantas and other oneworld flights with British Airways Avios, AAdvantage miles and Alaska Airlines Mileage Plan miles. All 3 programs make it easy to buy those points or miles for reward seat bookings.
What about other Qantas routes and partner airlines?
Unfortunately, we weren't able to find any worthwhile reward seats for very popular Qantas routes including London. At this stage, you could consider using Qantas Points for other partner airlines such as:
Cathay Pacific for flights to Hong Kong and beyond to Europe and the US

Great availability

from Sydney, Melbourne, Brisbane, Adelaide, Perth

Japan Airlines for flights to Tokyo and beyond to Europe and the US

Good availability

from Sydney and Melbourne

American Airlines for flights to Los Angeles and beyond
Qatar Airways for flights to Doha and beyond to Europe and the US

Average availability

from Sydney, Melbourne, Adelaide, Brisbane and Perth

Emirates for flights to Dubai and beyond to Europe and the US

Average availability

from Sydney, Melbourne, Adelaide, Brisbane and Perth

British Airways for flights from Sydney to Singapore and London

Good availability

from Sydney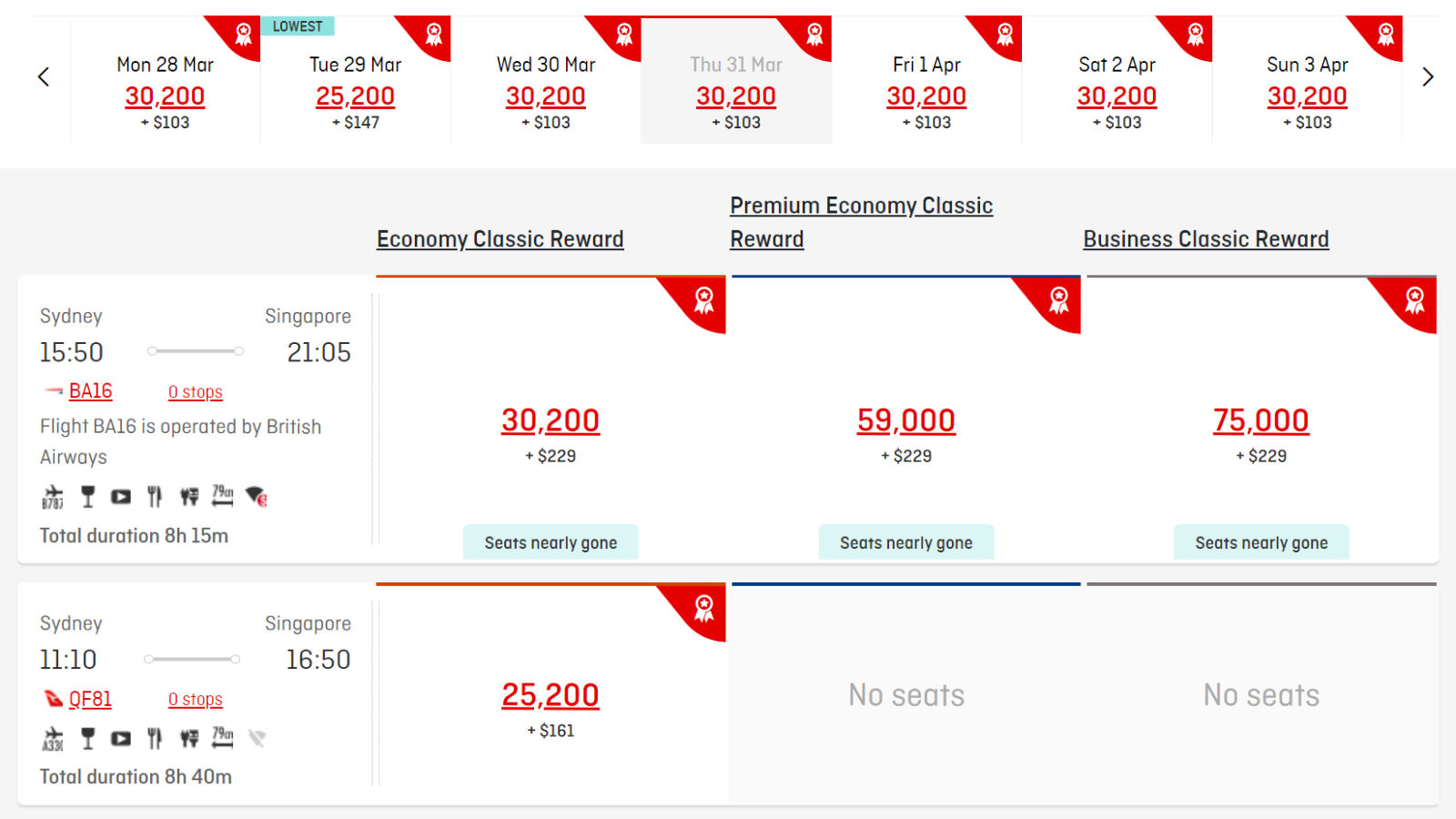 Note on partner airlines: Although there is decent reward seat availability going out of Australia, there isn't much coming back yet. As you'd expect, this is due to Australia's strict arrivals caps. Once Australia's borders are relaxed, we'd anticipate seeing better reward seat availability on the return leg.
Your best bet at this stage? We'd suggest booking an international Qantas Economy flight in order to lock in a journey back to Australia.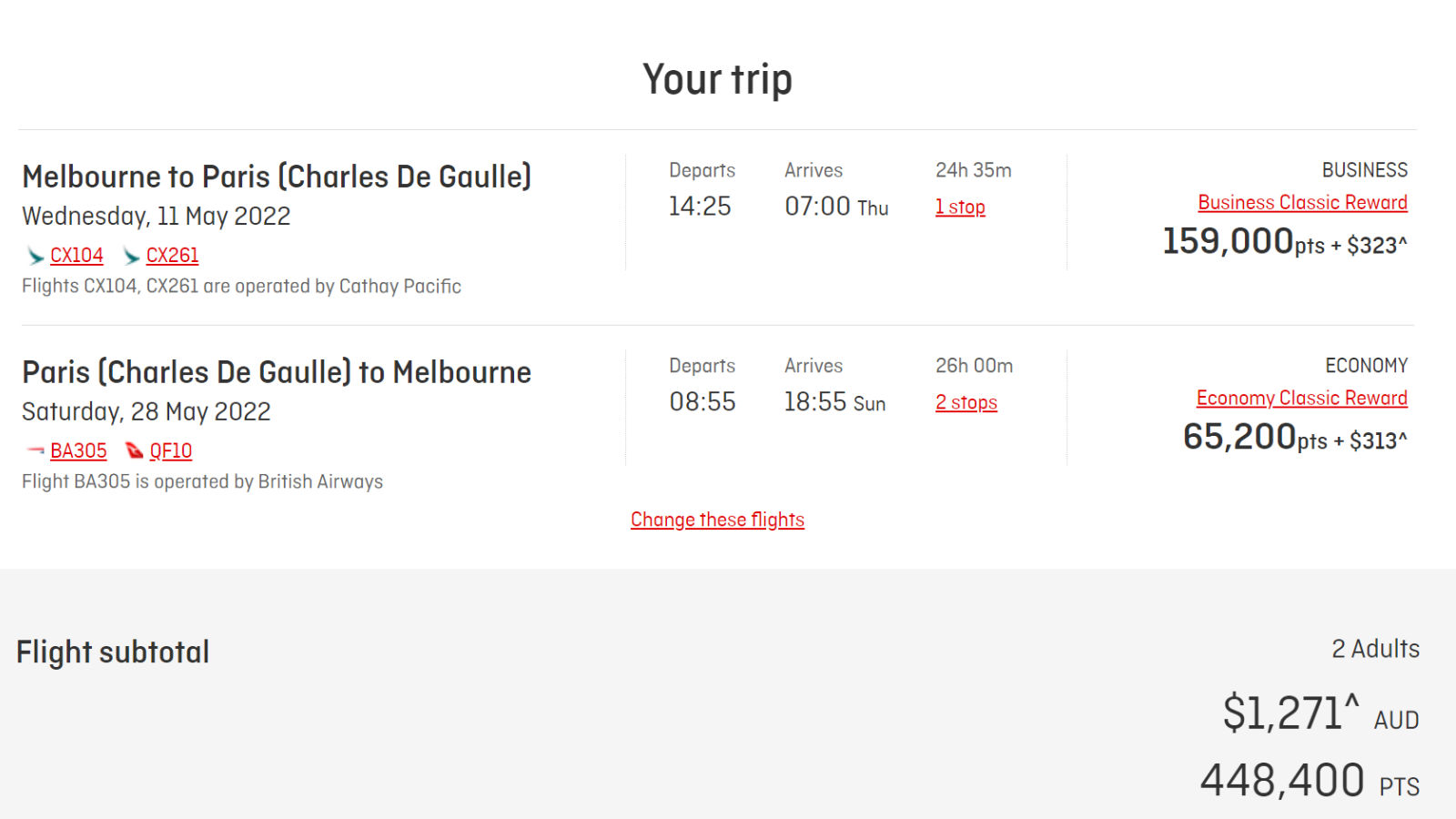 Using KrisFlyer miles for international flights
Cancellation policy: $75 USD fee may apply. Changes are free until 31 Dec 2021
Singapore Airlines' full flight schedule to Australia commences from mid-February 2022 onwards, though it varies by city. Even better? Reward seats are plentiful in all classes almost every day that flights are running.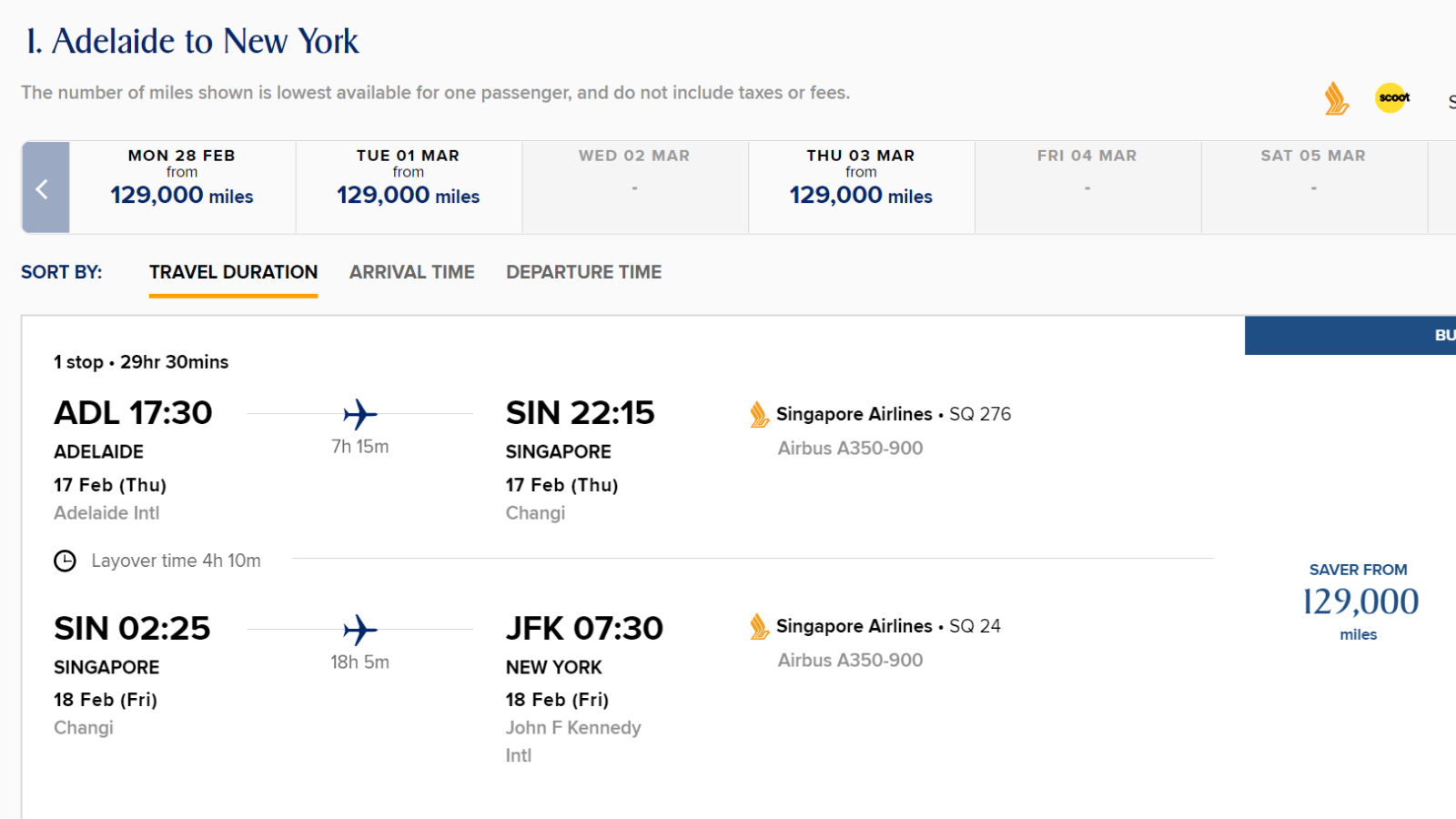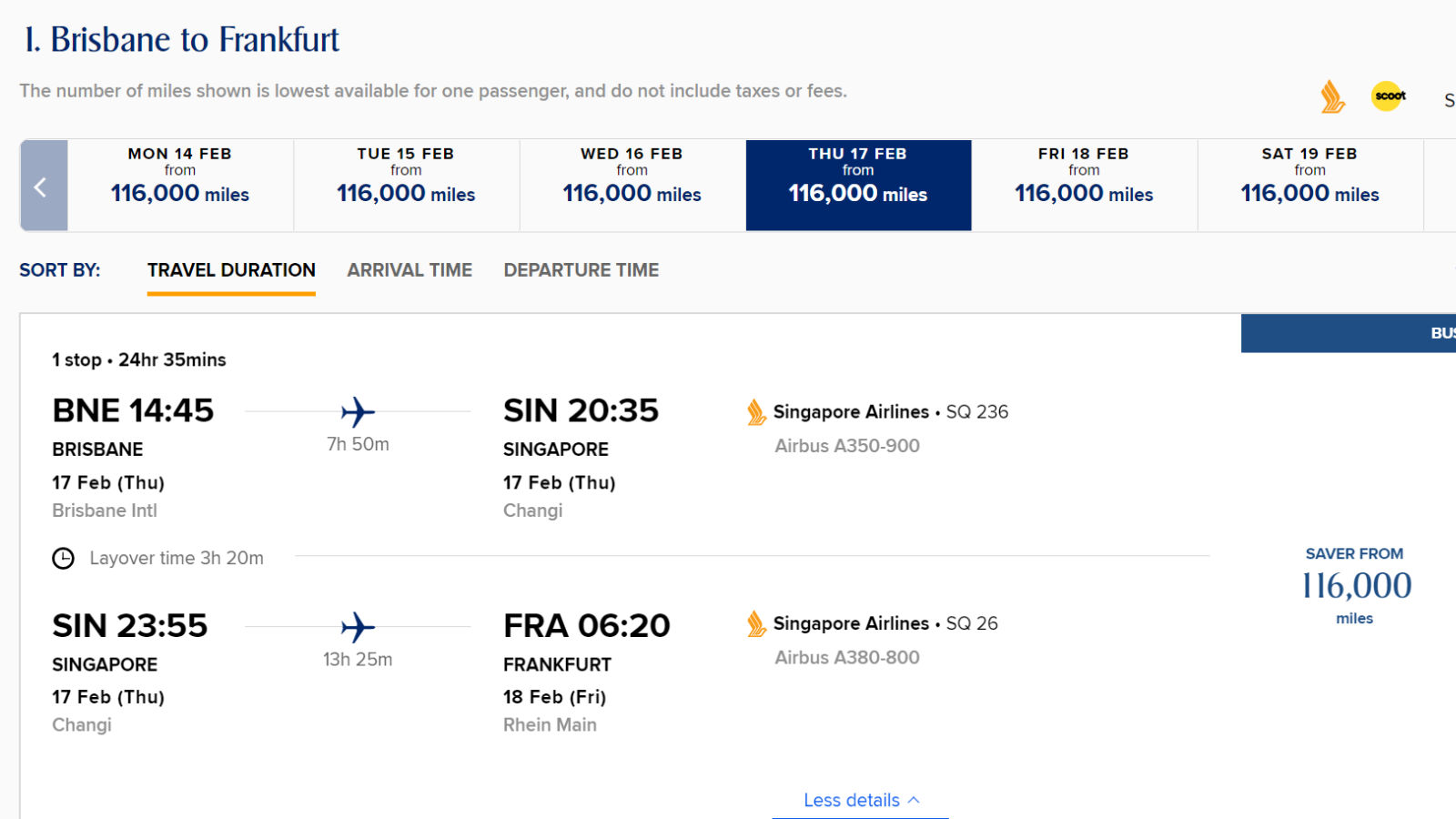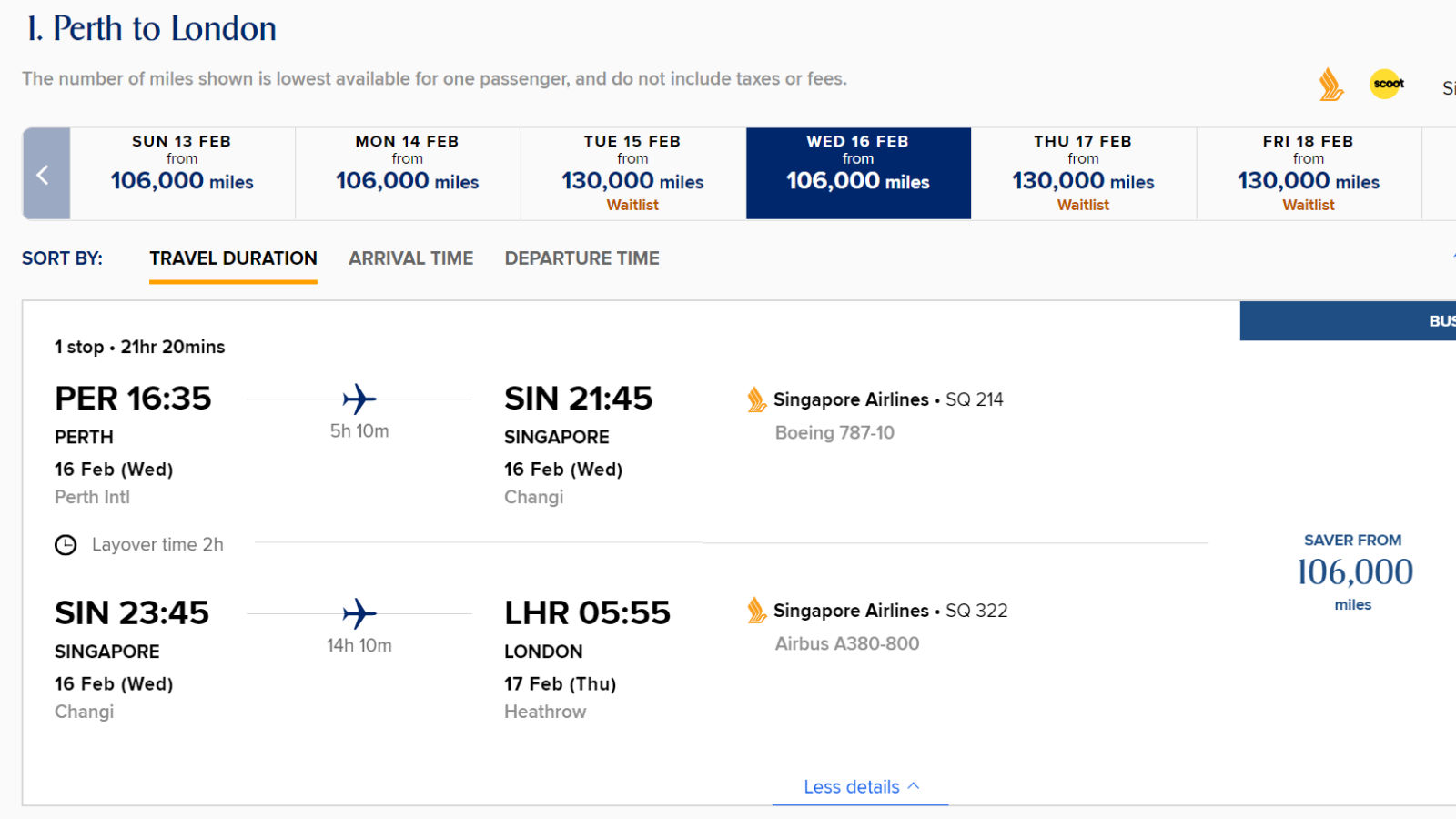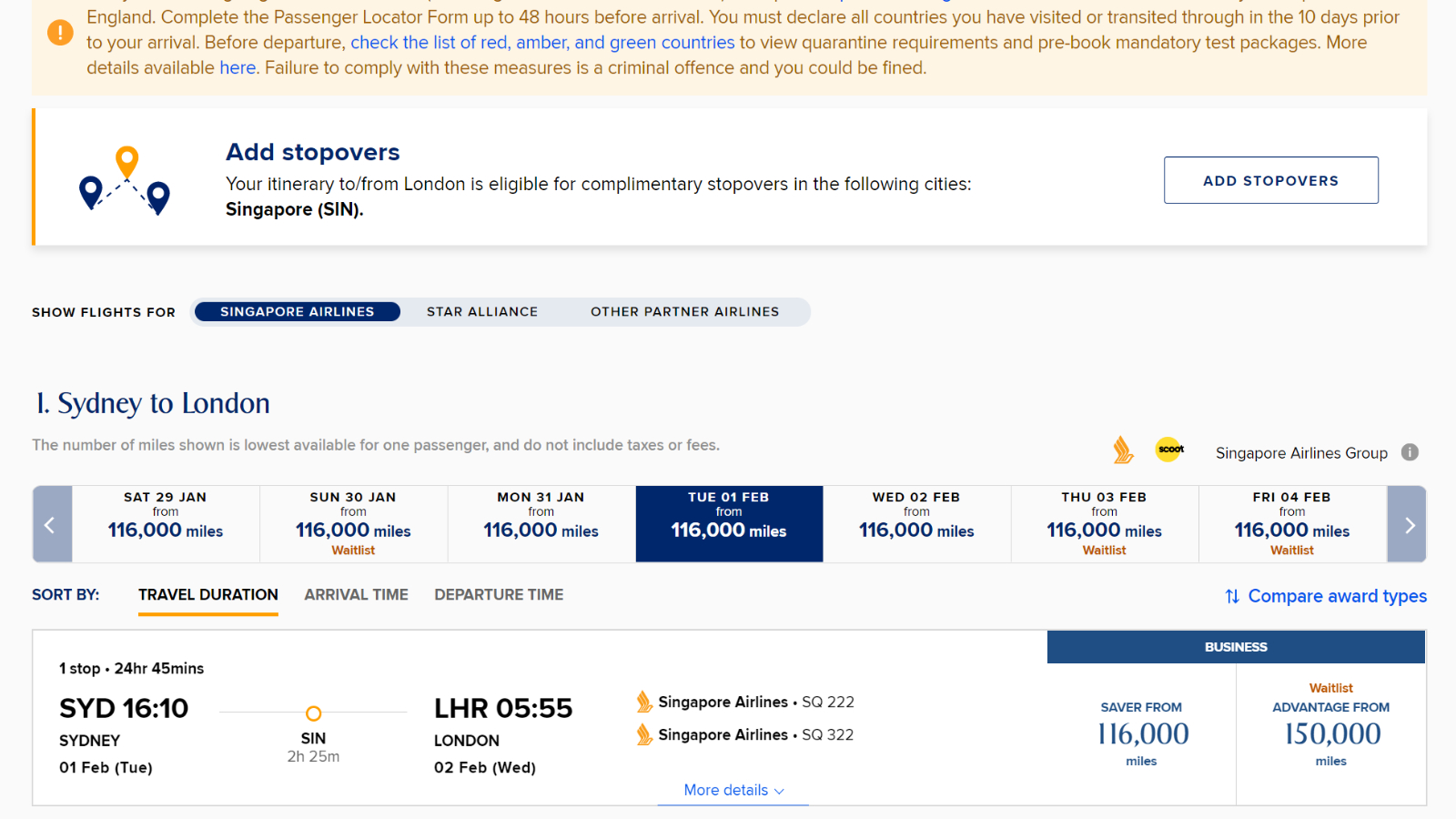 Using Sydney-Singapore-London as an example, you'll need 116,000 KrisFlyer miles or 139,000 Velocity Points for a Business Class redemption. Taxes are extra and usually cost less than $200 per person, each way.
Once again, the problem isn't leaving Australia – it's coming back. All the Singapore Airlines flights back to Australia we found in our searches are 'Waitlist' only, meaning you can't confirm the ticket just now. But you might still want to jump on the waitlist now and see what happens later on.
The KrisFlyer program is offering free rebooking of tickets up to 31 December 2021, and then one free further flight change thereafter. It normally costs USD$75 to cancel a reward booking, which doesn't appear to be waived (but it doesn't hurt to try).
What about using Velocity Points on Singapore Airlines?
Point Hacks asked a spokesperson whether the program will be allowing members to use points on international redemptions again. We're pleased to report that Velocity will make an announcement 'in the coming weeks'. Fingers crossed!
Velocity Frequent Flyer is still granting free changes and cancellations for bookings up to 22 February 2022. So definitely look at using Velocity Points (once reward bookings are available) for your tentative travels.
Ad – Scroll down to continue reading.Minimum spend, terms & conditions apply.
Using Asia Miles for international flights
Cancellation policy: USD$120 fee may apply for cancellations. USD$25 fee may apply for changes.
We don't have too much more to add here. If you do collect Asia Miles, you'll have no problems snagging a Business Class seat on Cathay Pacific out of Sydney, Melbourne, Brisbane, Adelaide or Perth. Returning to Australia in 2022 is still an issue, albeit not impossible. We're hoping this will change once we know for sure when Australia will start allowing more arrivals.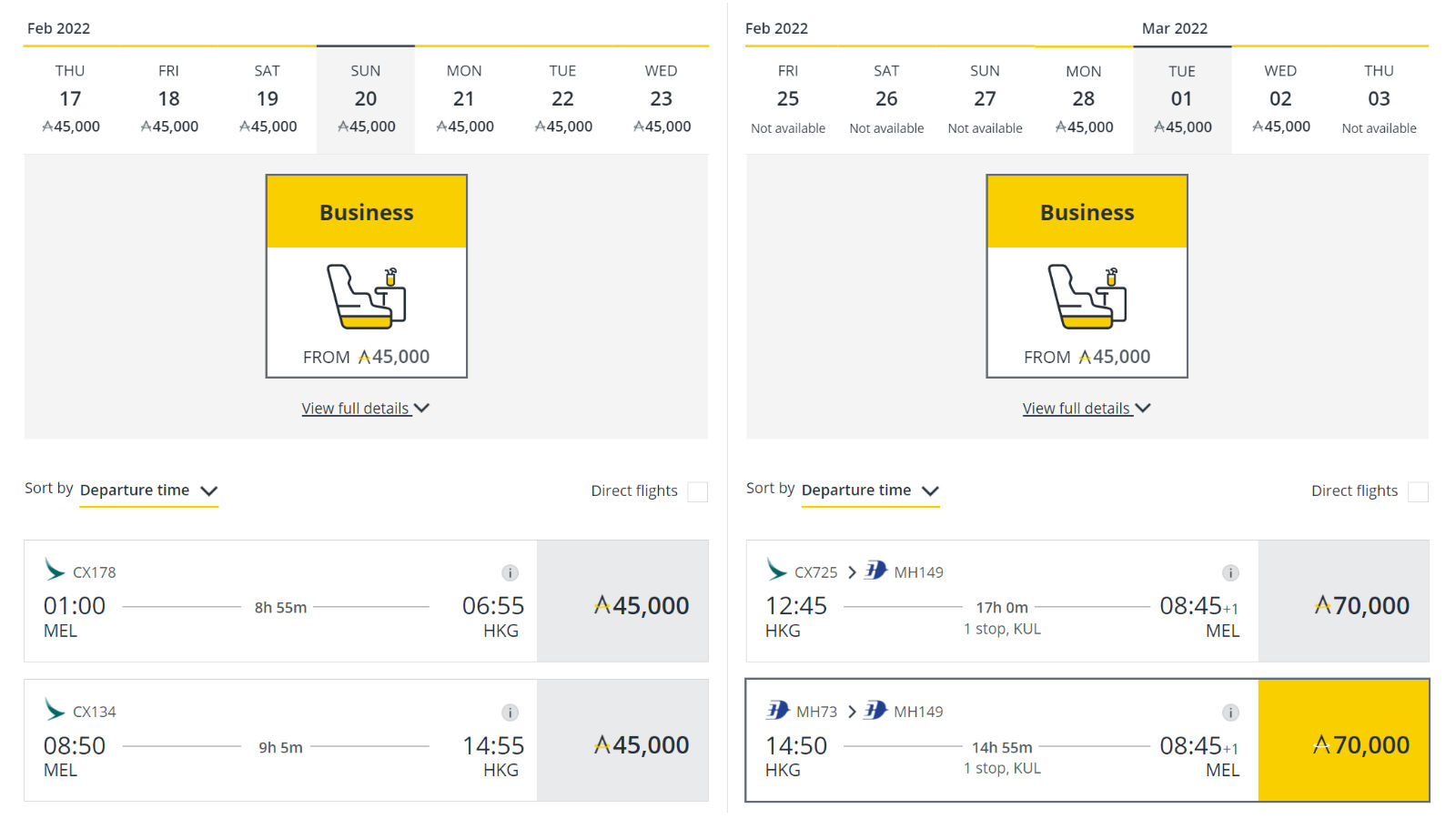 Pro hack: Use ExpertFlyer to help find availability
Are you tired of scrolling through pages of flight searches, only to not find the frequent flyer seats you want? If you're keen to take your points-hacking to the next level, then consider ExpertFlyer.
This is an independent service (not affiliated with Point Hacks) designed for advanced users. As a premium member, you'll be able to specifically search for reward seats with most major airlines. Using a simple text-based interface, the results appear quickly so you'll know where to look.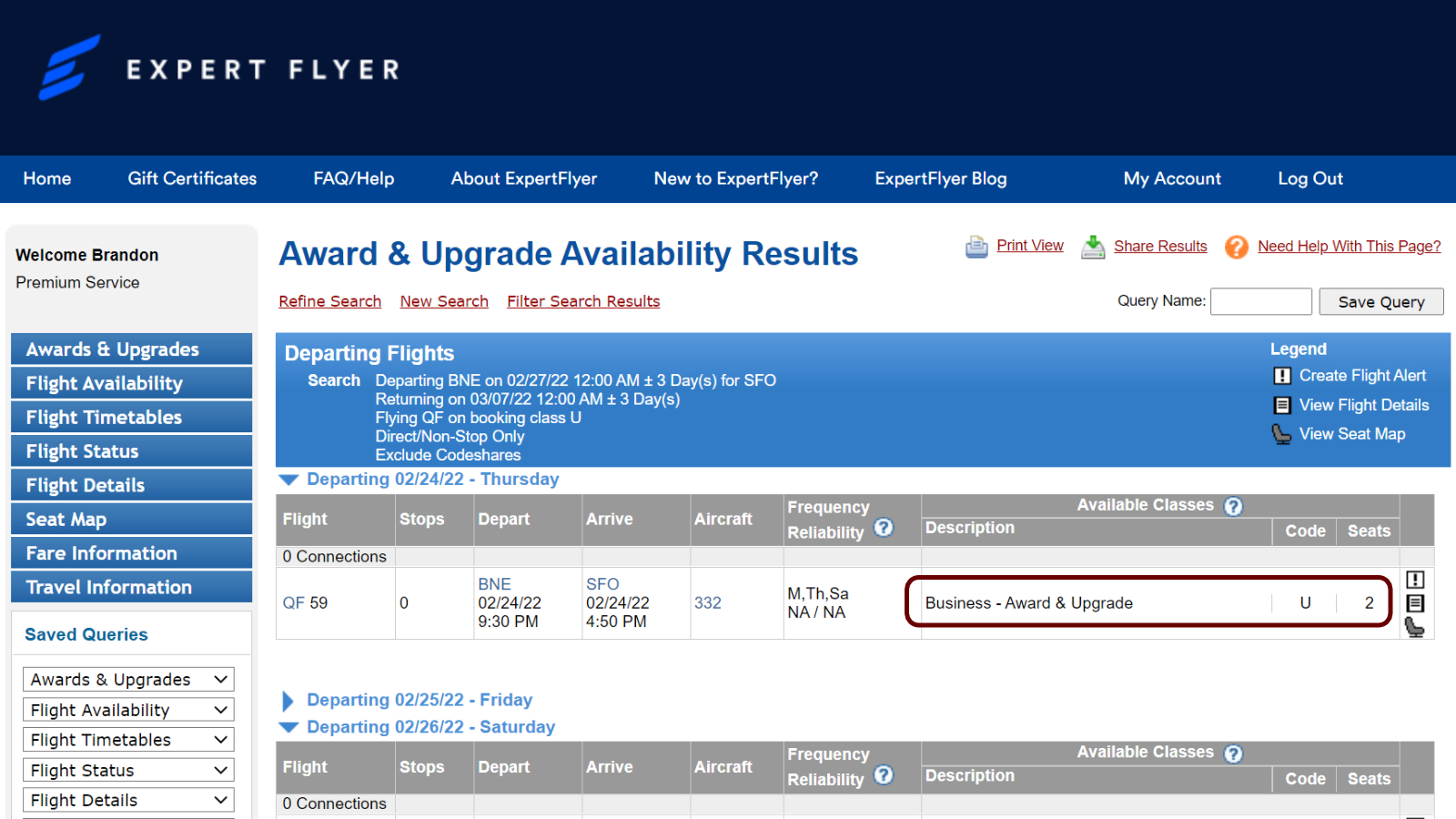 Note that ExpertFlyer doesn't cover Cathay Pacific, Japan Airlines or Qatar Airways when it comes to searching for reward seat availability. It also won't show the 'extra' reward seats that Qantas makes available to its elite frequent flyers. We recommend you start a 5-day trial to see if ExpertFlyer is right for you.
Afterwards, a Basic subscription is USD$4.99/month and a Premium subscription will cost you USD$9.99/month or USD$99.99 a year. The Basic subscription covers up to 250 searches a month for reward seats, while the Premium option gives you unlimited searches and the ability to search +/- 3 days to broaden your scope.
Not only can you search – you can also set alerts for reward seats. This means you'll get an email if the system finds reward seats on the dates you want. Handy, right?!
If you don't use ExpertFlyer often, you can purchase a month's subscription just when you're planning a trip. That's usually enough time to check for availability. But if you do set up alerts, you'll need to keep your membership active so the system will keep checking your alerts.
Summing up: international reward seats
Look, we understand. Booking international reward seats for 2022 is not everyone's cup of tea. If you're not comfortable dealing with potential future border restrictions extensions and rescheduling flights, then we'd suggest you wait it out and see what happens later on. That's a perfectly safe approach.
Keep in mind that even if we're allowed to leave Australia, there'll certainly be requirements to be fully vaccinated, and to take pre-departure COVID tests. This all depends on each country's rules. When you arrive home, there might be a period of home (or hotel) quarantine, which would obviously throw a spanner in the works.
But if you have some points that are just collecting cyber dust, then why not put them to good use? Take a look at reward seats and see if you can lock something in ahead of borders reopening. If everything goes to plan, you've scored a great deal. And if not, then a phone call should sort you out and get the points refunded (though a fee may apply for KrisFlyer and Asia Miles).
We recommend you use Qantas Points because of the flexible change and cancellation policy. At this time, you won't be charged anything if you cancel the booking. This means you'll get all your points and taxes back, without a penalty.
Do you have any questions about booking international reward seats in 2022?
Let us know in the comments below.
---
Get set to book your next overseas adventure!
was last modified:
August 24th, 2023
by