Japan is a favourite for Aussies, and it's not hard to see why. There's something to suit every traveller: from breathtaking scenery to lively nightlife and a world-class food scene. Each city in Japan has a distinctive appeal, complemented by attractions, sights and rich history. And if you want to make the most of your Japan holiday, knowing where to stay and the types of accommodation available can ensure a memorable trip.
Japan might seem like a faraway dream for some, but it doesn't have to be. You can not only fly to Japan direct from Australia with multiple airlines, but you can do it for less with the power of points. Cards like the Westpac Altitude Qantas Platinum and St. George Amplify Platinum – Qantas Rewards offer bonus points when you meet the criteria – so you can be sipping sake in Shinjuku sooner. And if you're new to the points game, have a read of our guides to the Qantas Frequent Flyer Program and Velocity Frequent Flyer Program to get started.
So whether you're heading to Japan for your first or fifth time, our ultimate accommodation guide will help you decide where to stay to get the most out of your Japan holiday.
Where to stay in Japan for first-timers: Tokyo
Tokyo is one of the main entry points into Japan if you're flying from Australia. It's a great place to start if you're visiting Japan for the first time, giving you a taste of all aspects of the culture. Getting into the heart of Tokyo from Narita or Haneda airport is easy. And once you're there, you've got access to the city's extensive public transport network, including JR trains, the Tokyo Metro and buses. If you're not keen on dragging your luggage onto the bullet train, Tokyo is also an excellent base for day trips to surrounding areas.
Tokyo's various neighbourhoods are almost like cities on their own, each with their own unique charm. You can spend your morning exploring Sensō-ji, Tokyo's oldest temple. A short train ride will take you to Akihabara, the heart of all things electronics, where you can easily spend a whole afternoon darting in and out of countless department stores. Finish off the day in the upmarket district of Ginza, filled with luxury boutiques and fine dining. And if you're itching for a nightcap, izakayas in Shinjuku pump on until the early morning.
Big cities not your vibe? Venture beyond Tokyo to explore more of Japan's rich history. Tokyo connects to several areas in Japan via bullet train. So if you've got a JR Pass, it's easy to travel around Japan after flying into Tokyo.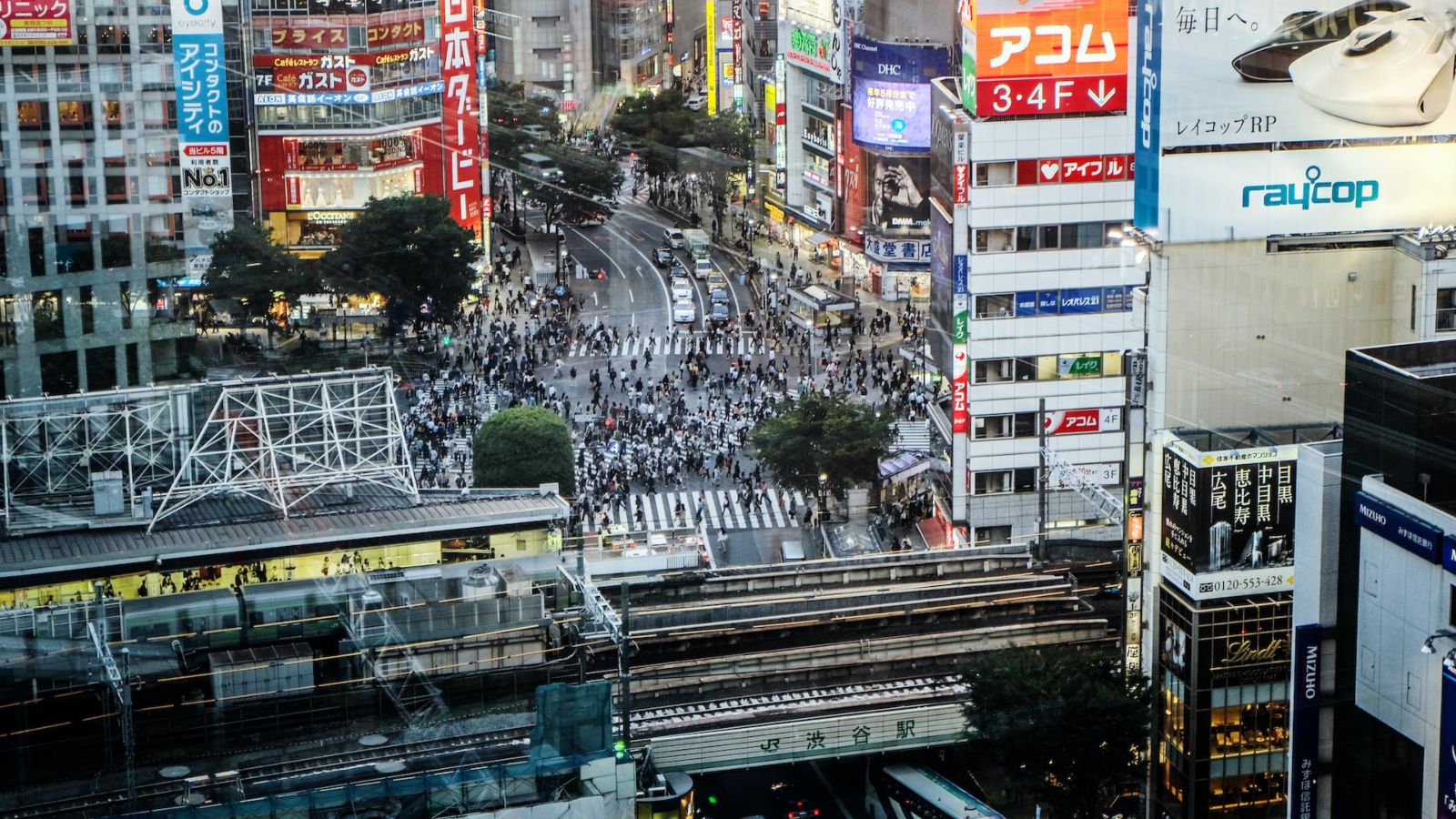 Where to stay in Japan for foodies: Osaka
Osaka is Japan's third largest city, and another main entry point if you're flying from Australia. Popular attractions, entertainment and shopping districts are found throughout the city. However, the real drawcard is the food. Osaka is undoubtedly the best place to stay to experience Japan's culinary culture. You'll find tasty street food cooked before your eyes, and around a hundred Michelin Star restaurants – plus everything in between.
When you book accommodation in Osaka, you can explore all the delights of Japan's food scene from dawn to dusk. Many hotels, Airbnbs and capsule hotels are located behind Osaka's bustling districts, giving you easy access to foodie heaven. You'll want to spend a few days in Osaka so you don't miss out on trying all of the popular dishes in Japan.
Much like Tokyo, Osaka is a vibrant, dynamic city. It's easy to get swept up by the neon lights as you munch on Osaka's famous okonomiyaki. However, you can get to Kyoto from Osaka in as little as 15 minutes by train. So if you manage to peel yourself away from the fresh takoyaki, temples galore await you.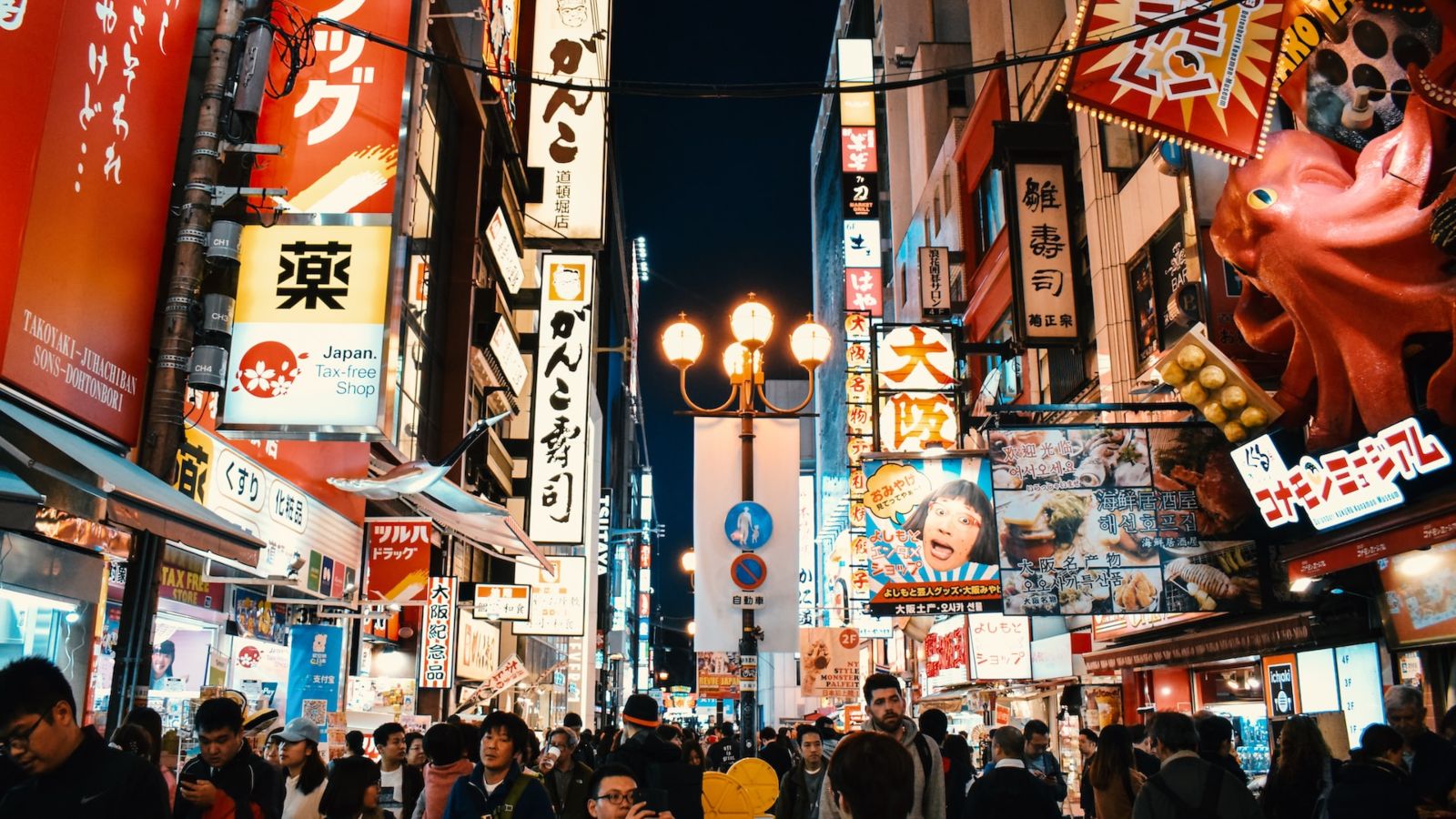 Where to stay in Japan for culture: Kyoto
While Kyoto is no longer the capital of Japan, it's still dubbed as the country's 'cultural capital' – and for good reason. The city is filled with a multitude of temples, shrines, imperial palaces and gardens – all remnants of its fascinating past.
With so much to see and do in Kyoto, basing yourself in the heart of the city allows you the flexibility to explore. Kyoto's famous Fushimi Inari Shrine is a must-see, as well as the breathtaking Kinkaku-ji Temple. Japan's most well-known bamboo forest in Arashiyama is a short train ride from Kyoto. And if you want to take a deep-dive into ancient Japan, you can get to Nara from Kyoto by train in less than one hour.
Accommodation in Kyoto is reflective of the deep-rooted culture in the city. It's one of the best places in Japan to experience a ryokan, a traditional Japanese house. There are also plenty of hotels in Kyoto, many located near train stations. If you're planning day trips, booking accommodation in Kyoto near a station is handy.
Staying in Kyoto is a great way to see many sites in a short timeframe. However, the city – and many of its popular landmarks – fill up with tourists quickly. Plan ahead when booking your Kyoto accommodation, or explore nearby towns for a similar cultural experience – without the crowds.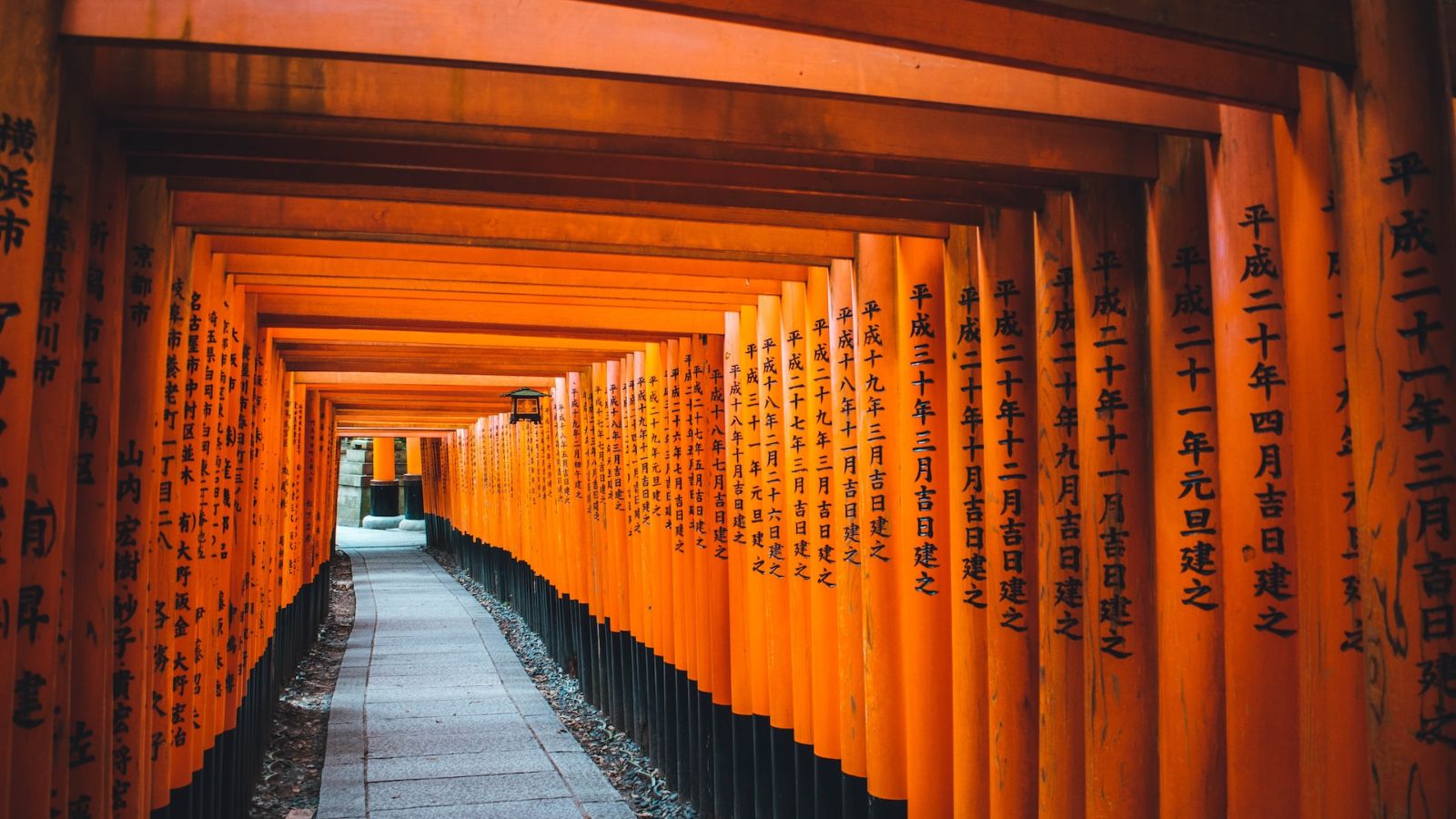 Where to stay in Japan for history: Hiroshima
Hiroshima is one of the top tourist destinations in Japan. The city is the site of the world's first nuclear attack, with many landmarks serving as a grim reminder of nuclear war. The Peace Memorial Museum provides a fascinating insight into the tragedy, while the Atomic Bomb Dome is one of the few original structures remaining after the 1945 blast. Since then, the city has been reborn and attracts millions of visitors annually, making it a must for anyone travelling to Japan.
Hiroshima is also the gateway to Miyajima Island, home of the famous Itsukushima Shrine. Built in 593 AD, the shrine is best known for its 'floating' gate, an illusion only visible at certain times of day. Just a 10-minute ferry ride from Hiroshima, Miyajima Island offers hiking, historical sites and the Miyajima Ropeway, boasting exceptional views from Mt. Misen. Miyajima Island is a popular day trip from Hiroshima, so it's worth booking accommodation in Hiroshima so you don't miss out.
While it's entirely possible to visit Hiroshima on a day trip from Osaka or Tokyo, you'll want to take your time learning about its fascinating history. You'll find plenty of hotels throughout Hiroshima, and it's worth choosing a central location to enjoy a stroll around the city. For a romantic getaway, Miyajima Island also offers luxury hotels and ryokan.
Plan ahead when visiting Hiroshima, as the bullet train from Tokyo can take up to four hours. If you're in Japan for a shopping holiday, save the souvenirs until the end. There's plenty of room for luggage on board, but make your train trip to Hiroshima easier by ditching the excess weight.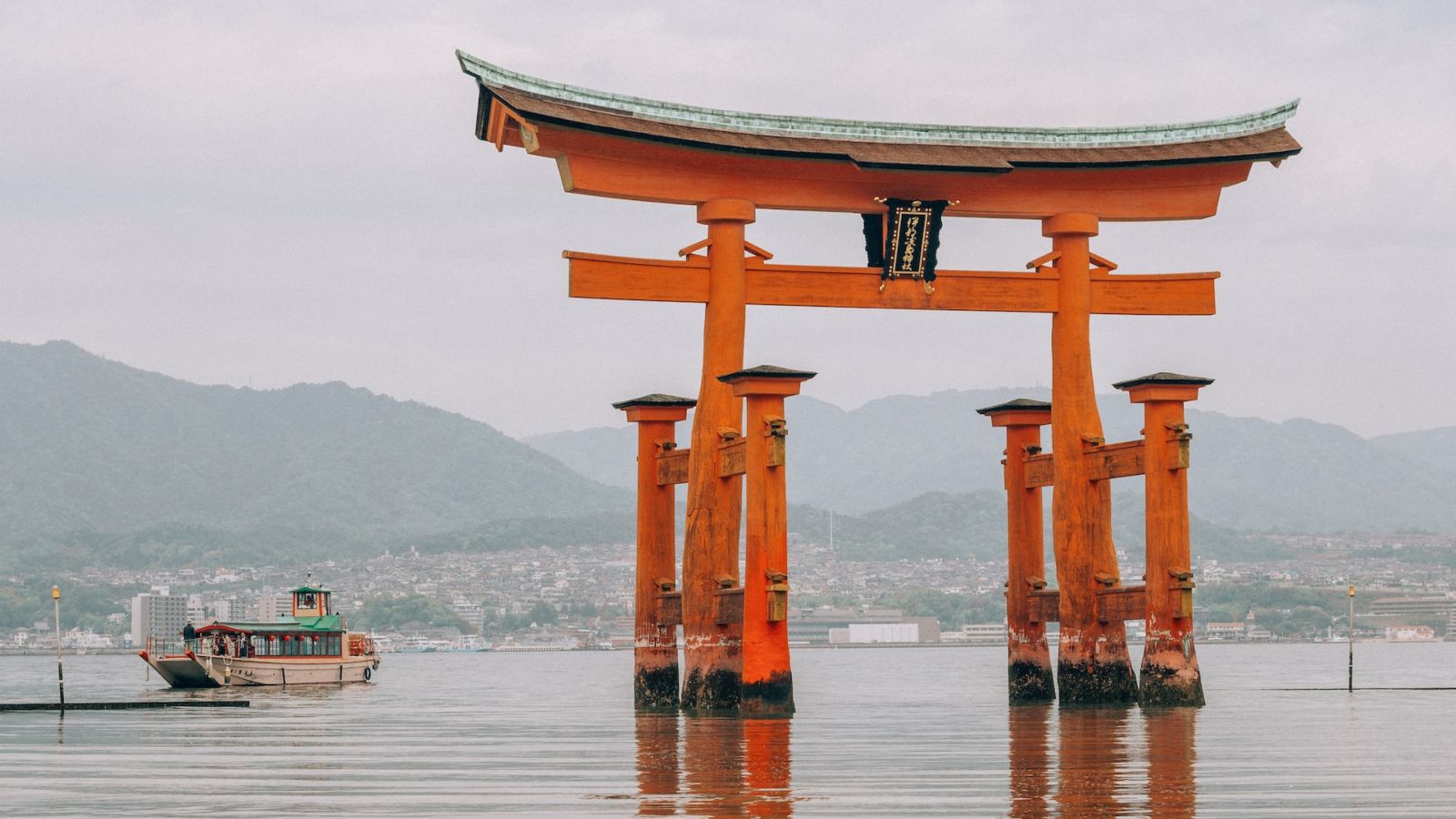 Where to stay in Japan to see Mt. Fuji: Fuji Five Lakes
The Fuji Five Lakes region is located around two hours from Tokyo, offering some of the best views of Mt. Fuji. Japan's highest mountain can be enjoyed from a variety of viewpoints throughout Fuji Five Lakes, including Lake Kawaguchi, the Mt. Fuji Panoramic Ropeway and the popular Chureito Pagoda.
If you intend to catch the stunning sunrise over Mt. Fuji, it's best to spend a night in the Fuji Five Lakes region. The area offers plenty of hotels and inns with easy access to transport. Explore the lakes with a boat tour, relax in an onsen, or experience one of the world's highest roller coasters at Fuji-Q Highland.
When booking accommodation near Mt. Fuji, look for rooms that offer a view. There's nothing better than waking up to spectacular scenery. There are plenty of hotels and onsen resorts located throughout the Fuji Five Lakes area. And even if the room itself isn't mountain-facing, you can still catch great views from the hotel lobby, restaurant or communal bath.
Love a bit of nightlife? You'll find the odd neon sign or pachinko parlour around Mt. Fuji. However, a big night with sake is a better match for the city. Instead, you can channel your night owl energy into an overnight hike of Mt. Fuji, promising remarkable sunrise views from the summit.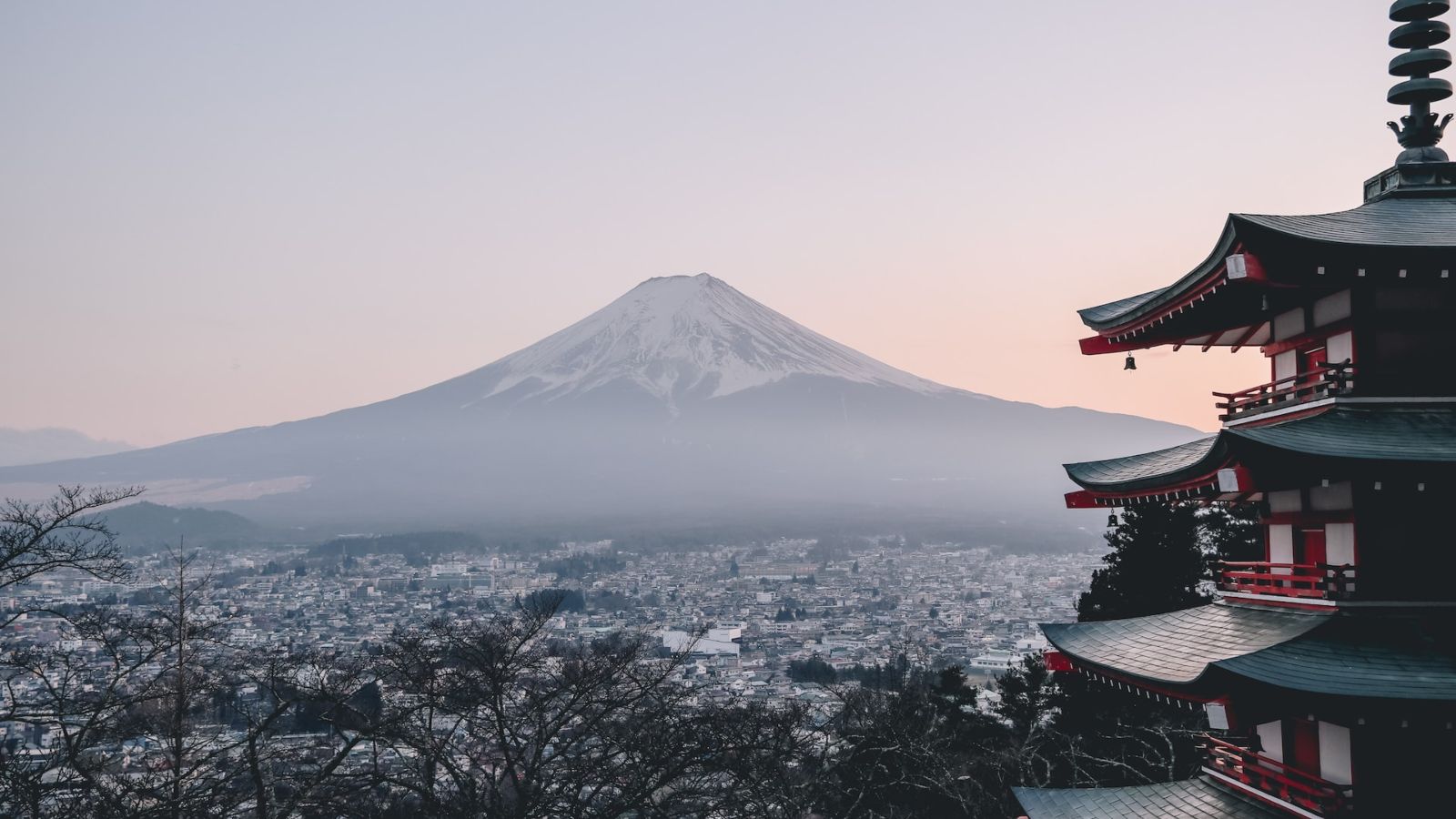 Types of accommodation in Japan
Once you've decided on the best area to stay in, it's time to pick your type of Japan accommodation.
Japan offers all the standard accommodation options: hotels, Airbnbs and budget accommodation. But there are a few unique in-country experiences to consider for a memorable stay in Japan.
Hotels in Japan: comfort and convenience
Like many other parts of the world, Japan is brimming with hotels. If you're a member of a hotel loyalty program, such as Accor Live Limitless, IHG One Rewards or Mariott Bonvoy, you'll find plenty of properties throughout Japan to suit all budgets.
If you want to channel your inner Bill Murray à la Lost In Translation, seek out the Park Hyatt Tokyo in Shinjuku. While you could settle for the film's infamous bar on the 52nd floor, book a room for the complete experience. This hotel is just one of many in Japan that are part of the World of Hyatt program, where you can earn and redeem points on your stay.
What to expect when you stay at a hotel in Japan
A standout of hotels in Japan is that many offer both Western and Japanese-style breakfasts. Feast on your favourites, including toast, fried eggs, bacon and cereal. But you'll also have the opportunity to try a traditional Japanese breakfast. This can include rice, miso soup, vegetables, grilled fish and soft-boiled eggs. If you're feeling adventurous, natto – a traditional dish of fermented soybeans – is also enjoyed during breakfast.
Need to use the bathroom? Don't be alarmed by all the buttons on your room's toilet seat. Bidets are common in hotel rooms throughout Japan and offer various functions including a seat warmer, a delicate spray of water for personal hygiene and a dryer. Some even play music or sound, which is especially handy when you're sharing a hotel room. And if you're feeling confused, most of the buttons have images so you'll know what you're in for.
Hotels in Japan deliver exceptional service no matter where you stay. If you're travelling for business, hotels provide all the comforts and convenience you'd expect. However, given the number of unique accommodation options in Japan, it's worth exploring alternatives for a more cultural experience.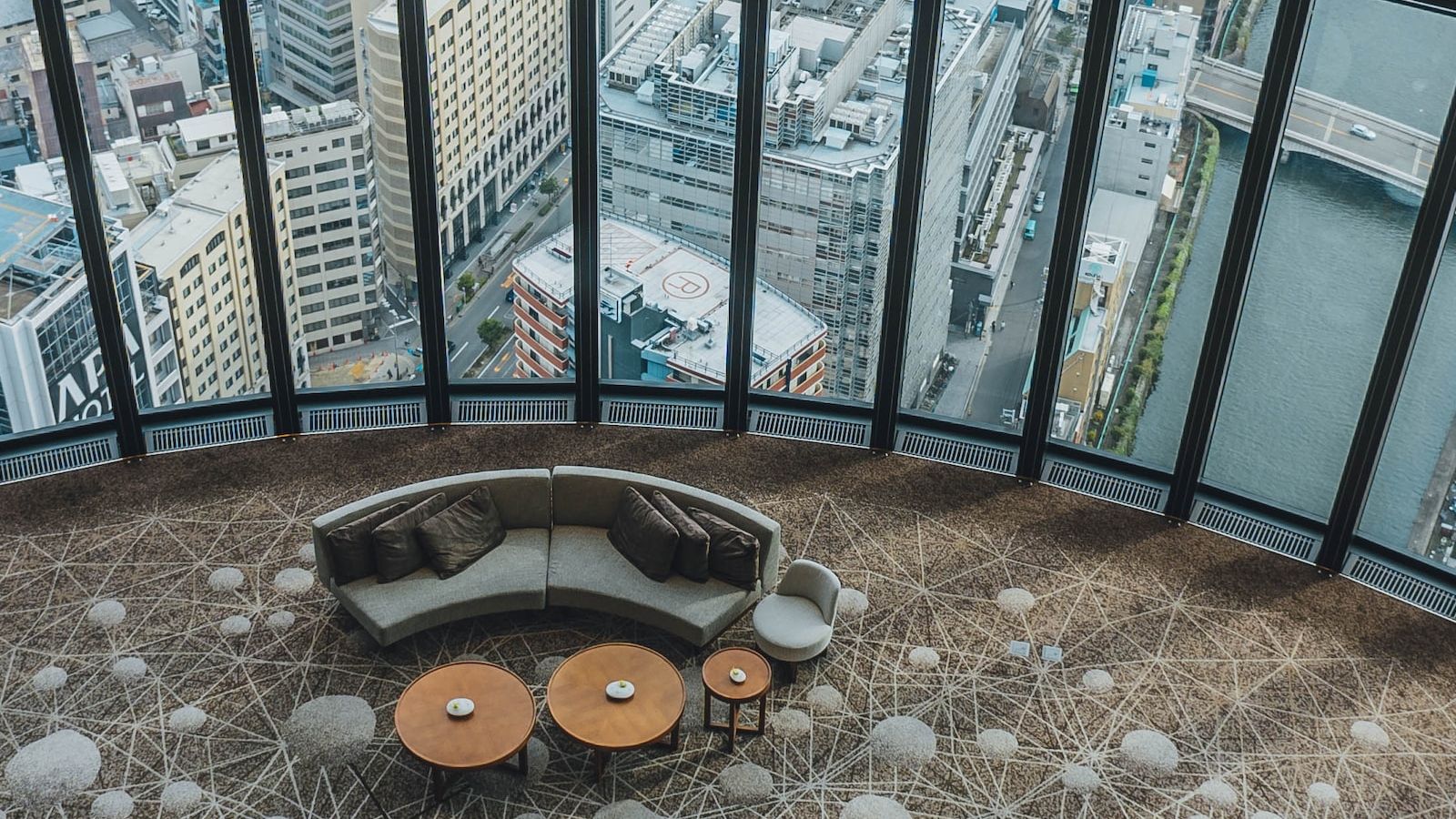 Airbnbs in Japan: best group accommodation
Japan is a popular destination for group trips, and Airbnbs are one of the most cost-effective ways to keep everyone under the same roof. You can book an Airbnb of any size, from studios to three-bedroom apartments. In larger cities, Airbnb listings are often residential apartments, so you can enjoy the thrill of living like a big-city local. Rural areas of Japan offer a more intimate experience, with Airbnbs that are closer to the traditional way of life. Think tatami mats, manicured Japanese gardens and rice field views.
If you're booking an Airbnb in Japan, you can earn Qantas Points when booking via Qantas Hotels. Members of the Qantas Frequent Flyer Program can earn one point per $1 spent, plus a bonus 500 points on your first Airbnb booking through Qantas Hotels.
What to expect when staying at an Airbnb in Japan
While Airbnbs are now legal in Japan, you'll notice a few differences during the booking process pertaining to Japanese law. All Airbnb hosts in Japan must register their property and display their license or registration number on the listing. Your host will also ask for personal details of every guest, which for foreign nationals includes a copy of their passport – another requirement by Japanese law. In addition to these processes, you'll also enjoy Airbnb's AirCover. This automatically applies to every guest for every Airbnb booking throughout the world, so you can rest assured that it's safe to book an Airbnb in Japan.
If you're struggling to find availability, there may be further local laws that apply. For example, some areas in Japan prohibit rentals on weekdays, while others only allow rentals during certain months.
An Airbnb can significantly reduce accommodation costs if you're travelling to Japan with a group. However, residential apartments in Japan can be a bit of a tight squeeze from all angles. If you're looking for all the frills and comfort, then other accommodation types in Japan may be better suited.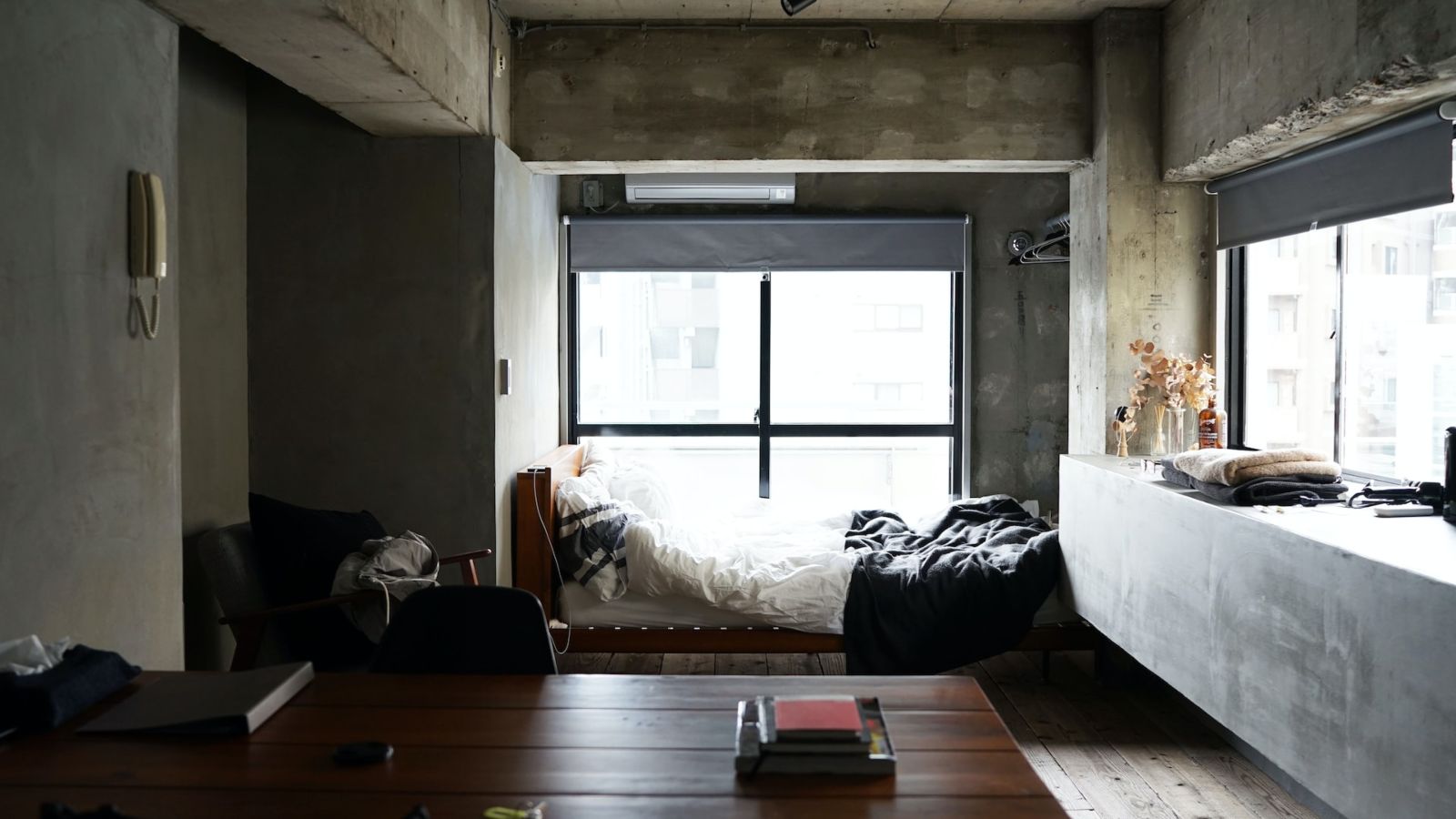 Ryokan in Japan: traditional Japanese house
For many travellers, the highlight of their trip to Japan is staying in a ryokan or a traditional Japanese house. Characteristics include a minimalist interior featuring tatami mats, neutral colours and communal spaces. This type of accommodation focuses on relaxation and harmony and usually opens onto tranquil gardens. Staying at a ryokan in Japan is not only an authentic experience, but the serenity will make you forget about the stresses of everyday life.
What to expect when staying at a ryokan in Japan
You'll get a full-blown cultural experience when you stay at a ryokan in Japan – and that includes sleeping on a futon on the floor. Some ryokans do include Western-style beds, so it's best to enquire with your accommodation before booking if sleeping on the floor isn't for you. The cost of a ryokan is typically higher than that of a regular hotel – in fact, they're one of the most expensive accommodation options in Japan. However, most include traditional meals served in your room, personalised service, and occasionally a private onsen or hot spring. While you'll find plenty of ryokans in big cities, they're best enjoyed away from all the hustle and bustle so you can immerse yourself in your surroundings.
Due to their high price, often rural location and sleeping arrangements, staying in a ryokan may only suit travellers to Japan for a few nights. Be sure to leave the Bluetooth speaker in your luggage though, as ryokans are a place of serenity.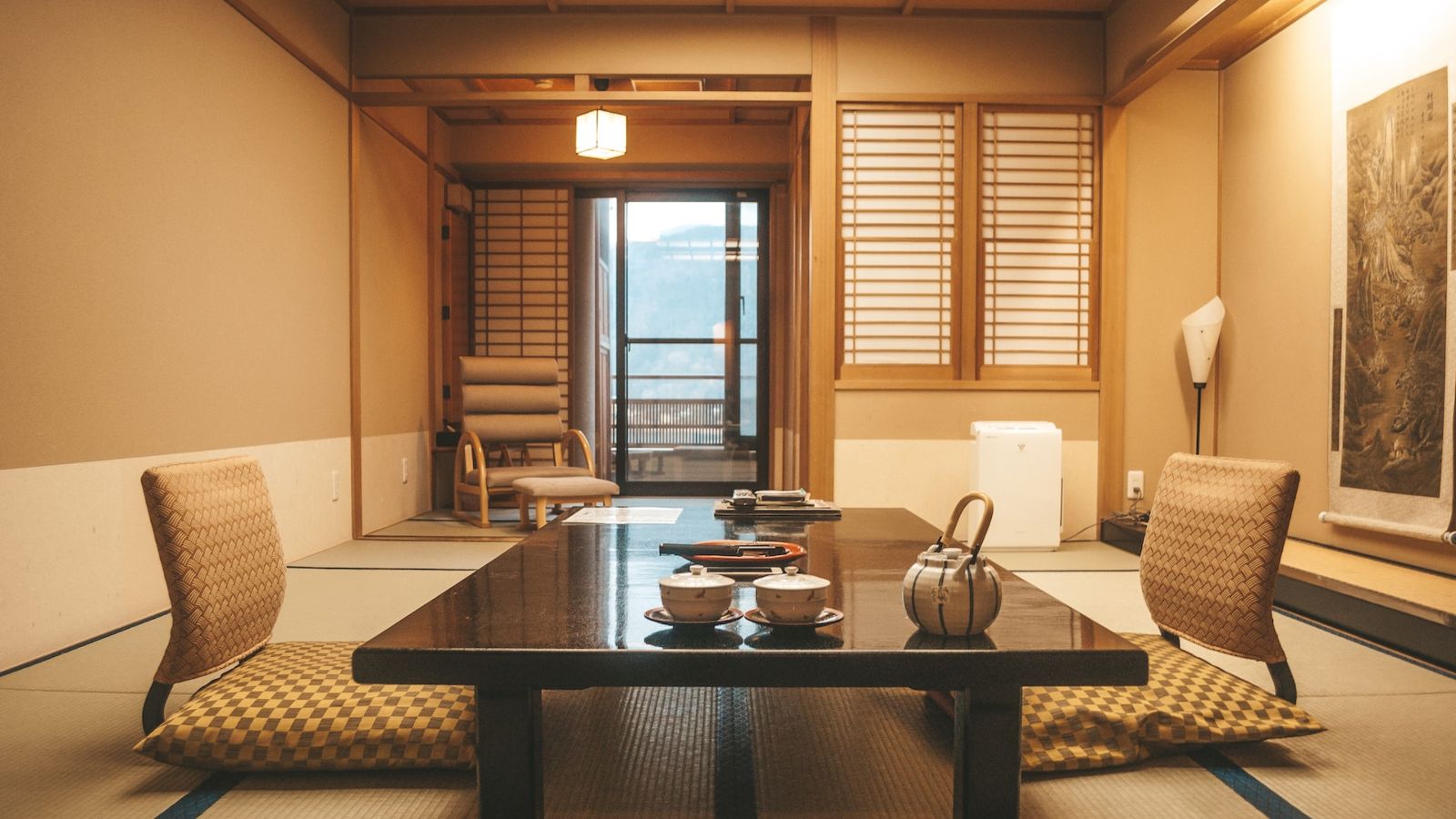 Capsule hotels in Japan: budget accommodation
The first capsule hotel in the world opened in Osaka in 1979. While they are now found in several countries globally, they remain synonymous with Japan. Also known as pod hotels, capsule hotels are the top choice for budget accommodation in Japan. When you book a capsule hotel in Japan, you won't get a 'room' as such. Rather, you'll be allocated a pod that's designed solely for sleeping – quite literally. The average capsule is 1.2 metres wide, one metre high and no longer than two metres – which can be a challenge for some. However, it's certainly an experience worth trying, even if only for a night. And when a tight budget calls, what the 'room' lacks in amenities is made up for by the attention to detail in other parts of the accommodation.
Capsule hotels in Japan are surprisingly clean and comfortable, and offer an exceptional level of service – it's engrained in the culture, after all. Toilets and showers are shared, and you'll often have access to basic toiletries such as shampoo, body wash and lotion. There are often other communal spaces such as a lounge area or desks, which are useful for relaxing or catching up on work. It's not uncommon for capsule hotels to offer pyjamas and slippers to guests, either. Some even go as far as providing skincare products, access to hair straighteners and curlers, and even face misting machines! It's the little touches that make staying in a capsule hotel in Japan truly memorable.
What to expect when staying at a capsule hotel in Japan
For the most part, Japan's capsule hotels are segregated by gender, with the majority of accommodations aimed at male guests. However, there has been a rise in female-only capsule hotels over the years, which are a safe choice for solo travellers in Japan. Mixed capsule hotels aren't uncommon, but most will accommodate male and female guests on separate floors. Similarly, if you're travelling with a companion, double capsules are difficult to come by, but they do exist.
Luggage is kept in a communal storage room, often in individual lockers that have a key. There's little room in your capsule for storage, but they're equipped with a small shelf that can store a mobile phone, glasses or other essential items. Most capsules have a power point or USB port so you can charge your device overnight. In case of a fire or other emergency, individual capsules cannot be locked. You'll likely find a curtain, blind or screen, and occasionally an unlockable door. Sound travels easily through thin privacy screens, so keep noise to a minimum to avoid waking your pod mates.
The concept of capsule hotels in Japan is ideal for solo travellers, budget travellers, and those that simply need somewhere to rest after a long day of exploring – minus the frills. If you're particularly prone to flailing about in your sleep, prefer some extra legroom, or aren't overly keen on spending eight hours in a tube, then there's little appeal to staying in a capsule hotel in Japan. And if you need some extra space, or enjoy the convenience of a private bathroom and kitchen, then there are plenty of other accommodation options in Japan to suit.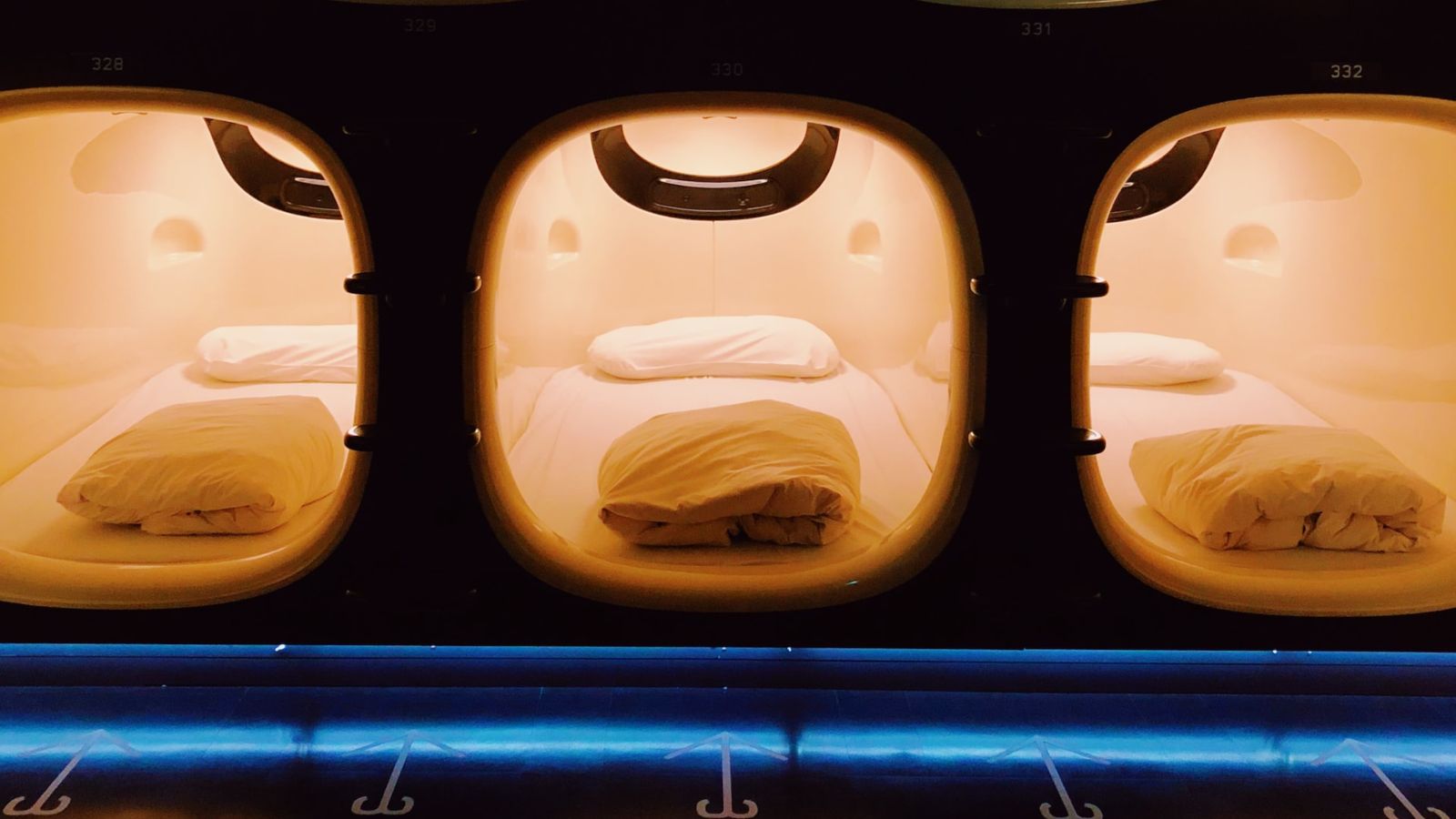 Themed hotels in Japan: a quirky stay
There are few places in the world where you'll find as many quirky hotels as in Japan. Themed hotels are a favourite among visitors and locals alike, offering rooms decked out in memorabilia to satisfy almost every interest. Think library-themed hotels, spaceship-esque rooms, and a hotel dedicated to Japan's most popular sea monster, Godzilla. Tokyo Disneyland's adjacent hotel even offers rooms themed to popular Disney films, including Alice in Wonderland, Cinderella and Beauty and the Beast. You'll find themed hotel rooms scattered throughout Japan, so it's worth checking for them at your destination if you're looking to spend a night somewhere unique.
What to expect when booking a themed hotel in Japan
You can book a themed hotel room by visiting the property's website and booking as you normally would, ensuring you select your desired room. Themed hotel rooms can come at a premium, and advanced booking is often necessary. However, they're plenty of fun for all ages, particularly die-hard fans that make the pilgrimage to cross the experience off their bucket list.
Unless you're planning to spend your entire holiday in Japan cooped up inside a room, a night or two at a themed hotel is sufficient. Not only are they usually pricier than a regular hotel room, but the novelty can wear off after a few days. Don't forget to take plenty of photos before you check-out, though – the standard of themed hotel rooms in Japan is unparalleled.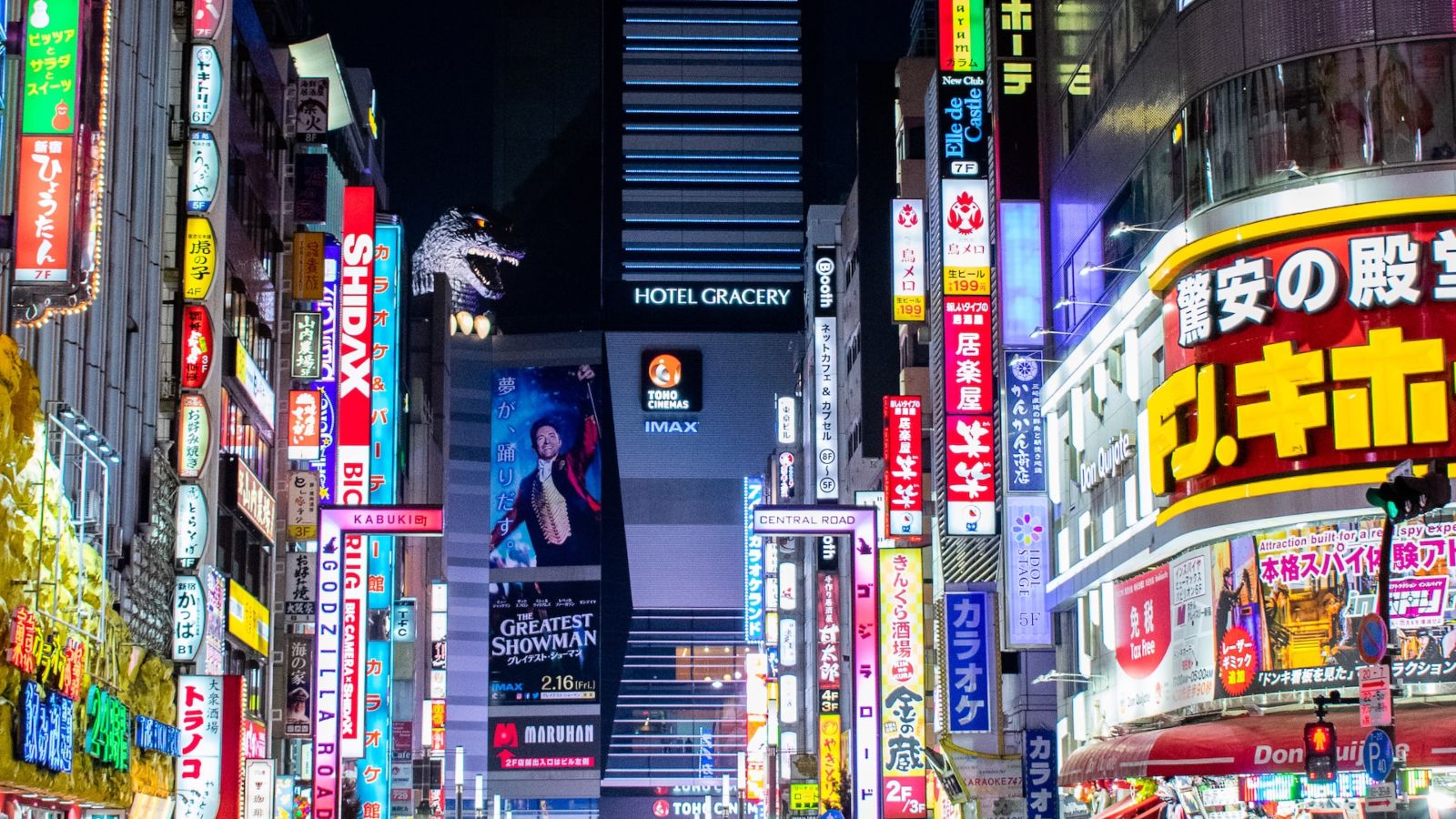 Beach resorts in Japan: a unique getaway
Resorts aren't top of mind when it comes to accommodation in Japan. However, given its vast coastline, the country offers plenty of luxurious beach resorts. These are often a destination in themselves, combining accommodation with on-site cafes, swimming pools and activities to keep you entertained throughout your stay.
What to expect when staying at a beach resort in Japan
While beach resorts are located throughout Japan, they're most common in the southern parts of the country where the weather is warmer. Areas like Okinawa and Amami have a humid, subtropical climate with temperatures averaging 27°C.
Japan's picturesque beaches boast stunning emerald waters and crisp white sand – a contrast to its bustling cities and laid-back countryside. Snorkelling, surfing and diving are common off Japan's coast, with plenty of services offering rental gear, tours and lessons. Staying at a beach resort in Japan gives you easy access to explore the country's diverse marine life.
If you're thinking of staying at a beach resort in Japan, it's important to plan ahead. Many destinations are only accessible by ferry or plane, so you'll want to spend a few days there. However, for more of a cultural experience, complete your trip to Japan by exploring its inland areas.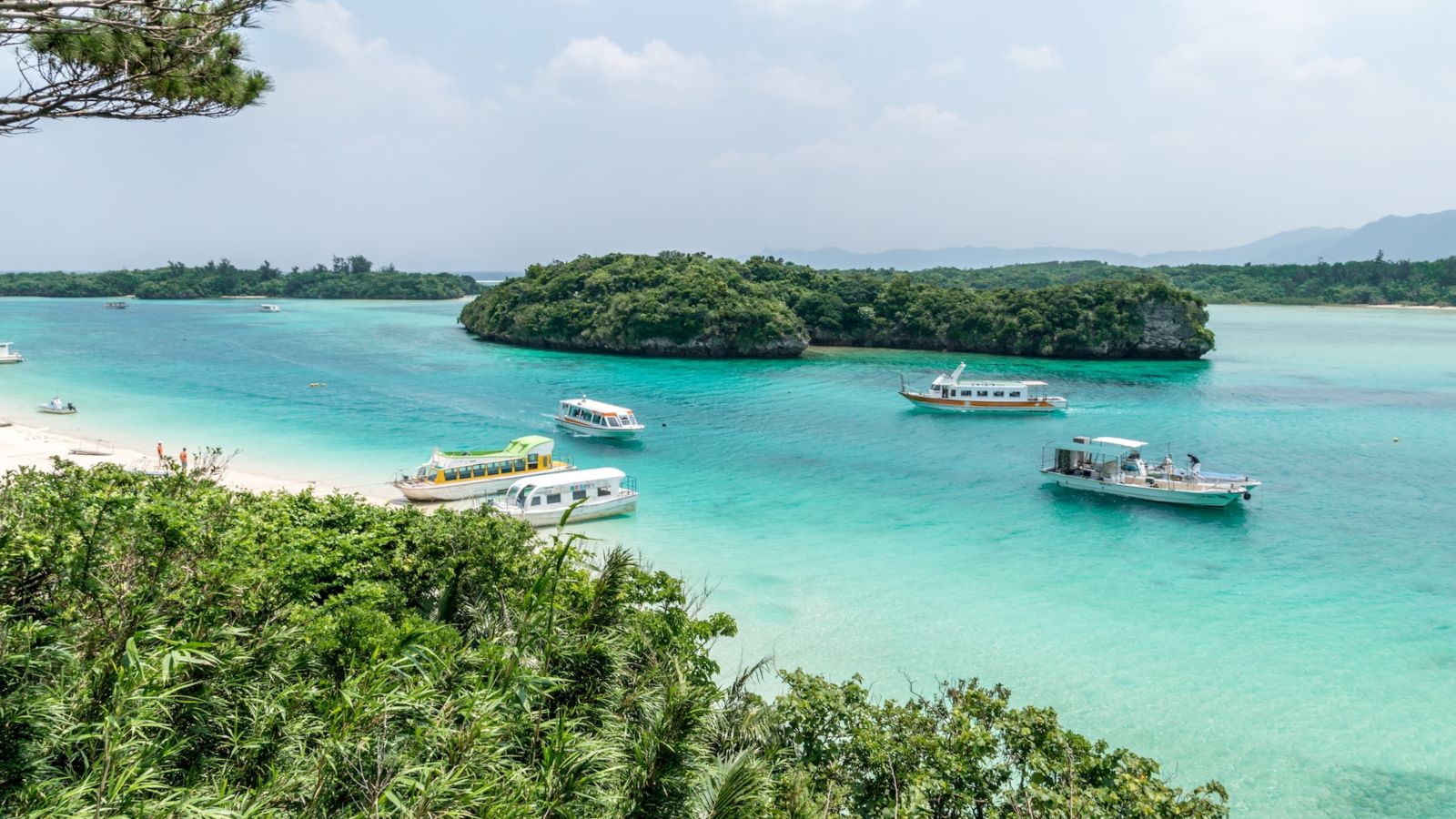 Fly to Japan from Australia
Don't just read about it – explore Japan for yourself. Fly direct to Japan from Australia with Jetstar, Qantas, Virgin Australia, ANA or JAL.
And with points, you can be jetting off to Japan sooner than you think. Read our beginner's guides to getting started with the Qantas Frequent Flyer Program and Velocity Frequent Flyer Program. And if Tokyo is on the cards, find out what to expect when you fly there from Australia.
Featured image: Claudio Guglieri, Unsplash
Your ultimate guide to Japan accommodation: where to stay
was last modified:
November 18th, 2022
by