AccorHotels have announced a new promotion through which Le Club members can earn 7,500 bonus points after three stays at participating properties.
You can join the program for free and then transfer these points to Qantas or Velocity at a 1:1 ratio, with a full explanation of the transfer process later in this guide.
Current offer
Each stay at an AccorHotels property has to be a minimum of two nights.
The offer is tiered as follows:
500 bonus points after the first stay
2,500 additional bonus points after the second stay
3,000 additional bonus points after the third stay
Plus, you will earn 500 extra Rewards points for every stay booked before 12 February.
You could book a stay at a property like the Novotel Sydney on Darling Harbour.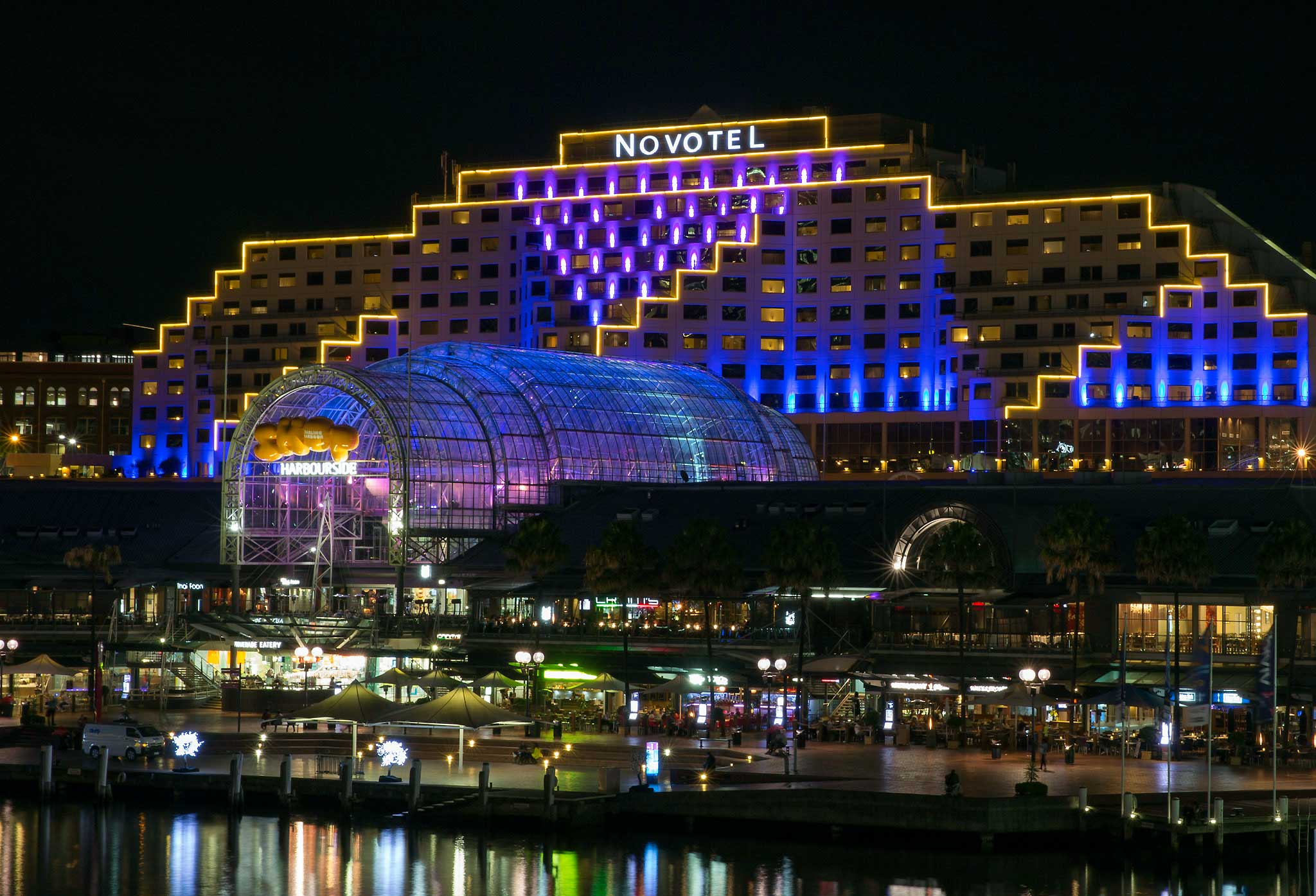 Key terms are:
You must register and book your stays before 28 February 2019
Stays are eligible if they post to your account between 15 February 2019 and 11 June 2019
Participating properties include Swissotel, Raffles, Fairmont, Banyan Tree, Angsana, Cassia, Sofitel, MGallery, Pullman, Grand Mercure, The Sebel, Novotel, Mercure, Mama Shelter, Adagio, ibis, ibis Styles and Adagio Access
These points are in addition to any standard Rewards points that you would usually earn for your stay
Stays that are paid for partially or fully with Rewards points or with one or more Le Club AccorHotels Rewards vouchers will not be eligible to benefit from this offer
Stays must be booked directly via AccorHotels or through a travel agency whose booking system is automatically connected to the AccorHotels booking office
The Rewards points will be credited to your account within 10 days of checking out
Why this offer is valuable
2,000 Rewards points are equal to 40 EUR (~AU$63) when redeemed towards stays at AccorHotels properties. This is a nifty amount to effectively 'earn back' after eligible stays.
However, these points can also be redeemed at a 1:1 ratio with Qantas Frequent Flyer and Virgin Velocity, with our valuation putting that at $120. Just note the minimum transfer amounts listed later in this guide.
Our take
AccorHotels have an extensive footprint in Australia, so this offer should be quite easy to take advantage of if you have domestic (or even international) travel planned in the coming months.
You can either use these points for a discount on future stays, or for a transfer to one of their many frequent flyer partners (recommended option).
---
A guide to Le Club AccorHotels point earn, frequent flyer partners and transfers
When looking to accrue more points, programs such as the Accor Hotels Le Club loyalty program can contribute to your frequent flyer balance by offering the ability to convert points earned from hotel stays over to frequent flyer points.
Le Club AccorHotels Loyalty Program is free to join and includes a range of brands such as Sofitel, Novotel, Mercure, Grand Mercure, The Sebel, Ibis, M Gallery, Adagio and Pullman.
Accor have a large presence in the Australian and New Zealand markets, totalling over 4,200 hotels in 95 countries worldwide providing accommodation in some of the most popular business destinations across the globe, so understanding how Le Club works is helpful when it comes to considering how you'll be booking.
How you earn and redeem Accor Le Club points
Accor has different Le Club earn rates at its different property brands, making it a bit confusing to calculate how many points you'll earn. They also base their earn rate on the amount you spent converted to euros.
The points you'll earn from stays are documented here. The earn rate for a regular, no status, 'Classic' member is shown below, and the earn rates increase with status (you are best to check this out on the Accor website as it's pretty complicated).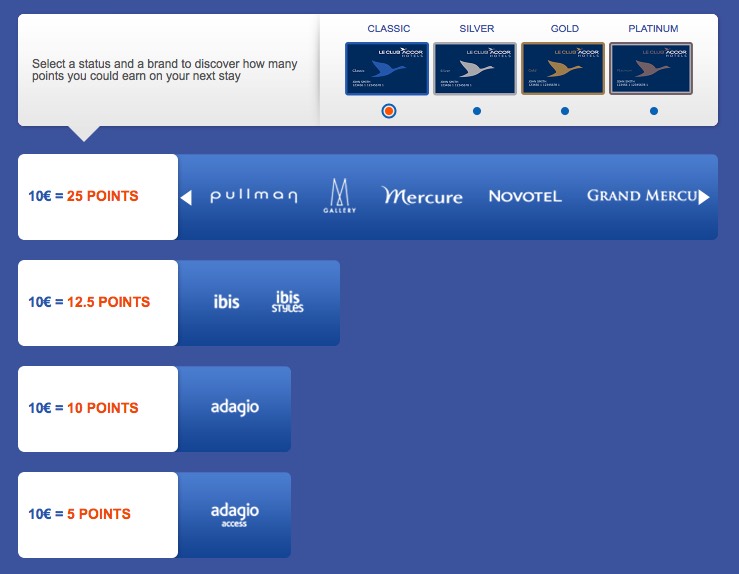 Thankfully they also offer a calculator to give you an idea of your potential earn here.
Accor then offer you two options for redemption—you can redeem 2,000 LeClub points for 40 euros of Accor credit or alternatively transfer them over to frequent flyer points. Either is a valid use of Le Club points but the frequent flyer redemption options deserve further explanation.
Why transfer Le Club points to frequent flyer programs?
If you want a discount on hotels, you can keep the points with Le Club AccorHotels. However, generally, people prefer to transfer the points to their frequent flyer programs and use them to fly Business or First Class as this can provide higher per-point value.
Not all reward programs are created equal for Accor, though. The general rule is 4,000 Le Club AccorHotels points transfer to 2,000 air miles, kilometres or airline points.
Why preference Qantas and Velocity?
There are some exceptions, with Qantas and Velocity being the two most applicable to Australians where points are converted more favourably—1 Le Club AccorHotels point equals 1 Qantas or Velocity Frequent Flyer point.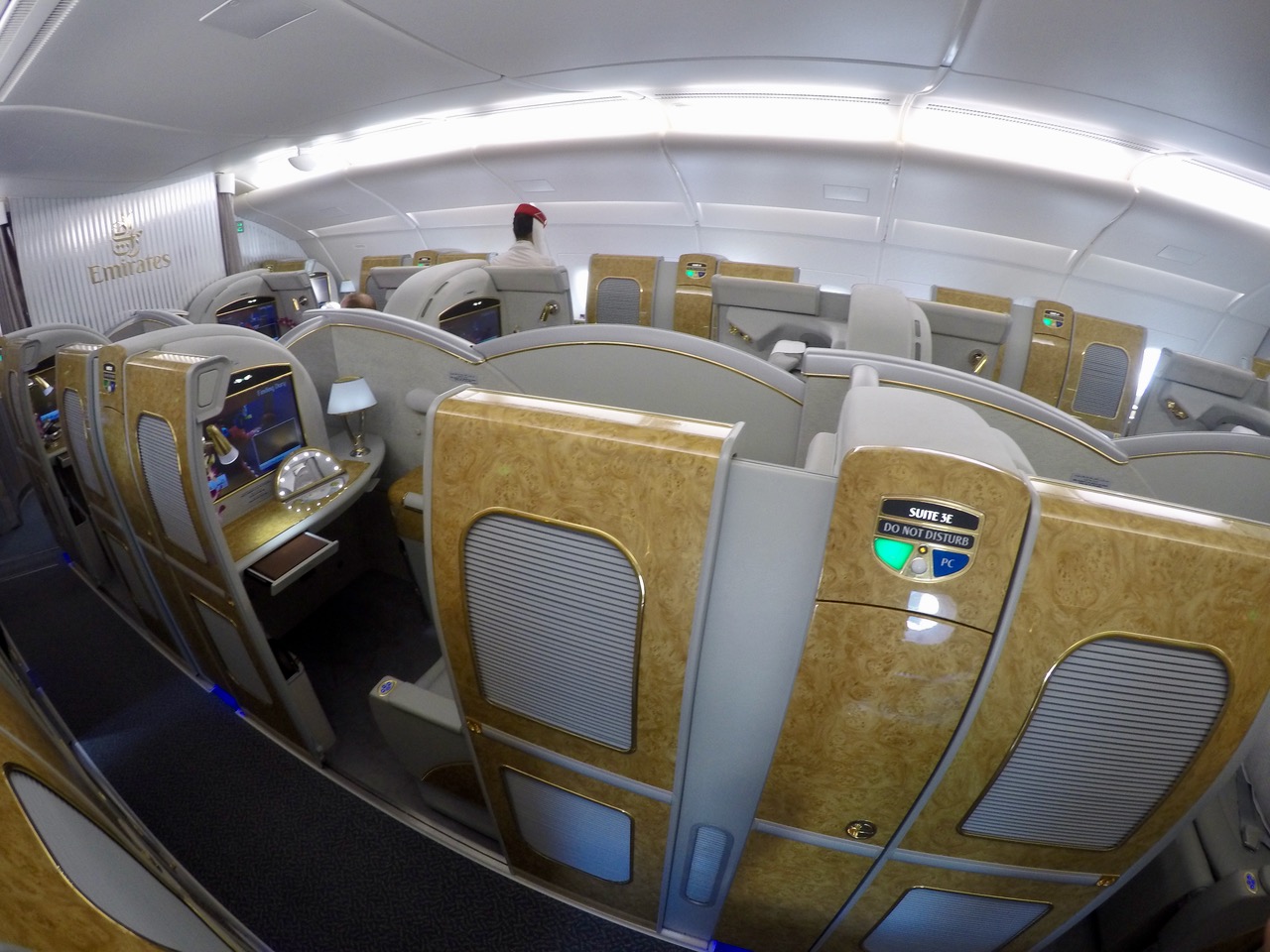 You can then use your Qantas Points to fly in Emirates First Class
How to transfer points to frequent flyer programs
Le Club AccorHotels offers the option of transferring your points to any of their partner frequent flyer programs.
Here are the transfer rates and minimum manual transfer amounts for the most popular for us in Australia:
Qantas: 1:1 ratio, 2,000 minimum
Velocity: 1:1, 4,000 minimum
Asia Miles: 2:1, 4,000 minimum
KrisFlyer: 2:1, 4,000 minimum
To transfer your points from Le Club AccorHotels to the frequent flyer program of your choice, you can either do it yourself when you reach the minimum threshold or set up an automatic transfer (not available for Velocity).
Choose auto-transfer for Qantas, Asia Miles and KrisFlyer
With manual transfer, you need to log in then transfer the points once you reach the minimum transfer amount and you need to use or transfer the points within 12 months. There are ways around this though—for Qantas Points, you only require 1 Le Club point in your account to enable auto-transfer; for Asia Miles and KrisFlyer, it is 2 points.
So, to get around the manual transfer minimum generally needed for frequent flyer programs, you can select automatic transfer over to these three programs, which is a great win.
At the end of every stay, any Le Club AccorHotels points accrued will automatically be transferred to your chosen frequent flyer program. You can accrue as little as 1 or 2 points and they will still be automatically transferred. To do this, it is best to log in and switch to automatic transfer as soon as you sign up.
You need to do a manual transfer for Velocity
Unfortunately, the automatic transfer option without a minimum points balance is not available for Velocity members; if converting your points to Velocity, you need to accrue 4,000 points to do so.
For more information, check the short general terms and conditions related to airline company partners of the Le Club AccorHotels loyalty program.
Summing up: what is the best value?
The best value option between keeping your points in Le Club AccorHotels compared to transferring to frequent flyer programs is dependent on your personal circumstances, as always—and especially in this case how many Le Club points you have, are likely to earn, and where you want to transfer them due to Accor's transfer limits.
For most people, I would be inclined to transfer the points to frequent flyer programs, and learn how to get the best value for your frequent flyer points—but if the 40 euro credit is an easy win for you, then there's little loss in redeeming for that either.
Supplementary images courtesy AccorHotels.
How to earn up to 7,500 bonus Qantas or Velocity points on your next three hotel stays with AccorHotels
was last modified:
February 11th, 2019
by