Note: The Le Club AccorHotels program has now been rebranded as Accor Live Limitless. Check out our introduction to the new program and keep an eye out for a range of new guides.
---
When looking to accrue more points, programs such as the Accor Hotels Le Club loyalty program are a useful points currency to consider if you have an affinity for staying in hotels that are a part of the ever-expanding AccorHotels group.
This guide gets into the guts of the program, including hotel locations, how to get free status, stay benefits, and key redemption opportunities.
Location & key hotels
Accor has a large presence in the Australian and New Zealand market, and have over 4,200 hotels in 95 countries worldwide, providing accommodation in some of the most popular business destinations across the globe.
The group includes a range of brands such as Raffles, Fairmont, Swissotel, Banyan Tree, Angsana, Cassia, Sofitel, Novotel, Mercure, Grand Mercure, The Sebel, Ibis, MGallery, Adagio and Pullman. The Mantra, Art Series, Peppers and BreakFree brands are also being folded into the group.
There are currently about 220 locations in Australia with the majority of them located around Sydney, Melbourne and Brisbane. Click here to explore all their properties in Australia.
Status
AccorHotels offer four status tiers in the following order (from lowest to highest): Classic, Silver, Gold, and Platinum.
You can find more information about the status tiers and benefits on the AccorHotels website.
Changes are slated to the program in late 2019, which will include a rebrand to All, the introduction of a new Diamond status tier, an 'invite only' tier, and confirmed suite upgrades for Platinum members. We'll review the changes in more detail closer to when they will be introduced.
Here is an overview of the benefits for each status level.
Classic
Requirement: just enrolment in the program
Complimentary Internet
Priority check-in at Fairmont properties
Express check-out
Complimentary newspaper and local calls at Fairmont and Swissotel properties
Access to Private Sales, 48 hours before non-members
Up to 10% discount off room rates at participating hotels
Silver
Requirement: 10 nights or 2,000 Status Points
In addition to Classic benefits:
Priority check-in at all properties
Priority waitlist status at Swissotel properties
Complimentary welcome drink for you and registered guests staying in your room (different rules apply in France)
Late check-out on request, and subject to availability. At MyResort properties, you'll be able to enjoy resort amenities beyond normal times
Daily turndown service at MGallery, Sofitel Legend, SO Sofitel and Sofitel properties
Complimentary fitness gear, access to BMW bicycles, and use of golf clubs at Fairmont properties
10% discount on treatments and products at Fairmont spas, and at the on-property Fairmont Store
You'll receive complimentary Silver status if you become an Accor Plus member.
Gold
Requirement: 30 nights or 7,000 Status Points
In addition to Classic and Silver benefits:
Early check-in on request, and subject to availability, or late check-out
Guaranteed room availability up to 3 days before arrival
In-room welcome amenity
Complimentary upgrade to the next room category, if available at the time of check-in, excluding villas, one of a kind suites, specialty suites and presidential suites. If not available, upgrade to the best available room in the current category
Host benefits at MyResorts properties
20% discount at Swissotel spa and sport facilities
You'll receive complimentary Gold status if you become an ibis Business Cardmember.
Platinum
Requirement: 60 nights or 14,000 Status Points
In addition to Classic, Silver, and Gold benefits:
Early check-in on request, and subject to availability, and late check-out
Access to Executive Lounges in these locations
Guaranteed room availability up to 2 days before arrival
Complimentary breakfast at these Asia-Pacific properties
Premium Wi-Fi where available
10% discount on treatments at Thalassa Sea & Spa Institutes, Raffles spa treatments, and in the restaurant/bar at select Mercure properties (latter is not available in France, Italy, Spain, Portugal and the Asia Pacific)
15% discount at the Raffles hotel boutique
Complimentary ironing service at Pullman Hotels & Resorts (one item per stay)
Guaranteed restaurant table at Raffles, with 24/hr notice
Daily turndown service at Fairmont properties (in addition to the hotels available for Silver and Gold members)
Free soft drinks from the mini-bar at MGallery
Extend Platinum benefits to another room at MyResorts properties, plus receive a surprise gift
You may receive complimentary Platinum status if you become an Accor Plus member through your American Express Platinum Charge card.
Earning and redeeming Le Club AccorHotels Rewards points
How can I earn points?
AccorHotels have varying earn rates at their different property brands, making it a bit confusing to calculate how many points you'll earn. They also base their earn rate on the amount you spend, converted to euros.
Here is the full earn rate table:
They do have a calculator that you can use, which makes it a bit easier to work out exactly how much you'll earn for your spend at any given property.
You can also earn points with a few niche partners:
Many of the offers above are 'one-time' only, so make sure you look at offers with different programs first to make sure you're picking the one that offers you the points you need.
Ad – Scroll down to continue reading.Minimum spend, terms & conditions apply.
Flying Blue Miles+Points Partnership
Every time you complete an eligible stay at an AccorHotels property or take an Air France, KLM or HOP flight, you can earn both Rewards points and Flying Blue Miles.
While most will be unfamiliar with the Flying Blue program—in Australia, their points are mainly only of use with SkyTeam partners like China Airlines and Korean Air—these are effectively points for nothing, so you may as well take advantage of this.
Start by joining Flying Blue, logging in, and then linking your accounts.
Then:
With the exception of ibis and Adagio properties, you will earn 1 Flying Blue mile for every 1 Euro spent at AccorHotels properties worldwide.
For every 2 Euros spent on a flight with Air France, KLM or HOP, you will earn 1 Rewards point
You can find the full terms and conditions of the partnership here.
How can I redeem points?
AccorHotels offer a variety of ways in which you can use your points.
The most obvious is using your points on future stays. You can redeem 2,000 Rewards points for 40 euros (~$64 AUD) of credit to spend at participating AccorHotels properties.
Other redemption opportunities/partners include:
Most of these redemptions are poor value, though if you are a road warrior and prefer to experience other things in life than more hotel stays, using your points for any of these would make perfect sense.
Frequent flyer transfers are explained further below.
Should I transfer Le Club points to frequent flyer programs?
As a general rule of thumb, points earned through hotel rewards programs are best kept and used towards future hotel stays. This is where you maximise their value.
Rewards points have a value of approximately AUD 3.3 cents each when used for credit to spend at Le Club AccorHotels properties. This should always serve as your value baseline when deciding whether to transfer to a frequent flyer program.
You can read more about how we value points here.
If you want to use the points towards a flight redemption, the general rule is 4,000 Rewards points transfer to 2,000 miles.
This means you're effectively 'spending' 6.6 cents on every mile. You'd have to be doing very well with your flight redemptions to be getting that much value from each mile.
Why preference Qantas and Velocity?
There are some exceptions, with Qantas and Velocity being the two most applicable to Australians where points are converted more favourably—1 Le Club AccorHotels point equals 1 Qantas or Velocity Frequent Flyer point.
This means you're 'spending' a far more favourable amount per point – only 3.3 cents. While we generally only value these points at around 2 cents each, you'll be more likely to find redemptions where you'll get much more bang for your buck, compared to those programs where the ratio is 2:1.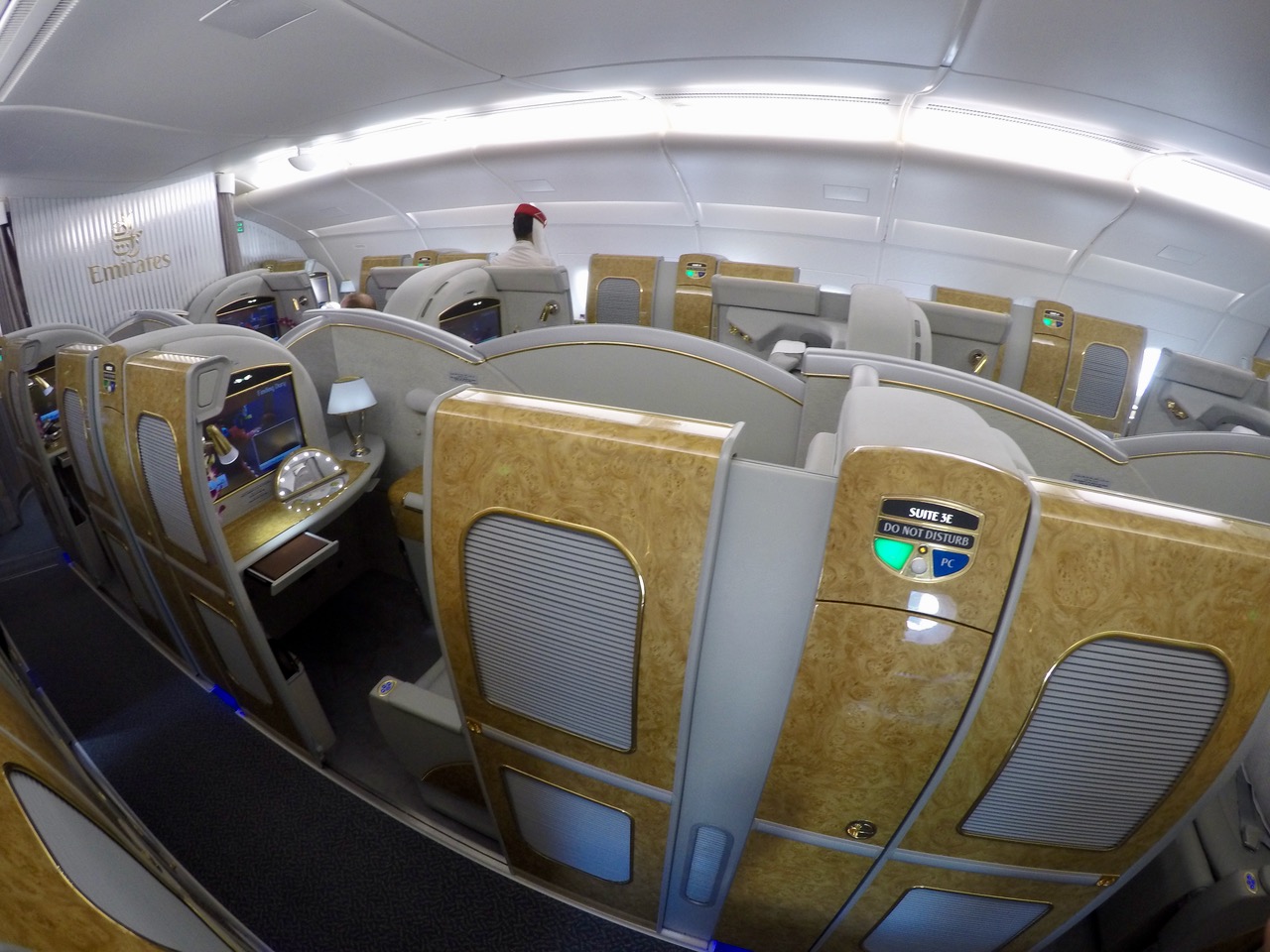 You can then use your Qantas Points to fly in Emirates First Class
How to transfer points to frequent flyer programs
Le Club AccorHotels offers the option of transferring your points to any of their partner frequent flyer programs.
Here are the transfer rates and minimum manual transfer amounts for the most popular for us in Australia:
Qantas: 1:1 ratio, 2,000 minimum
Velocity: 1:1, 4,000 minimum
Asia Miles: 2:1, 4,000 minimum
KrisFlyer: 2:1, 4,000 minimum
United MileagePlus: 2:1, 2,000 minimum
To transfer your points from Le Club AccorHotels to the frequent flyer program of your choice, you can either do it yourself when you reach the minimum threshold or set up an automatic transfer (not available for Velocity).
Choose auto-transfer for Qantas, Asia Miles and KrisFlyer
With a manual transfer, you need to log in, and then transfer the points once you reach the minimum transfer amount, and you need to use or transfer the points within 12 months. There are ways around this though—for Qantas Points, you only require 1 Le Club point in your account to enable auto-transfer; for Asia Miles and KrisFlyer, it's 2 points.
So, to get around the manual transfer minimum generally needed for frequent flyer programs, you can select automatic transfer over to these three programs, which is a great win. Once you change your preference to auto-transfer, all existing points in your account will transfer upon completion of your next stay.
You can accrue as little as 1 or 2 points and they will still be automatically transferred.
This is a good option for those who don't think that they'll accrue the minimum 2,000 points to use towards a future hotel stay, which is generally where you'll get better value per point.
You can also set up an auto transfer for MileagePlus miles but this will only kick in once your account reaches 2,000 points – the same number you need for a manual transfer. So not as much benefit as the programs above.
You need to do a manual transfer for Velocity
Unfortunately, the automatic transfer option without a minimum points balance is not available for Velocity members; if converting your points to Velocity, you need to accrue 4,000 points to do so.
For more information, check the short general terms and conditions related to airline company partners of the Le Club AccorHotels loyalty program.
Current offers
You can access a full list of current offers here.
Summing up: what is the best value?
The best value option between keeping your points in Le Club AccorHotels compared to transferring to frequent flyer programs is dependent on your personal circumstances, as always — and especially in this case how many Le Club points you have, are likely to earn, and where you want to transfer them due to Accor's transfer limits.
I stay at AccorHotels properties quite frequently and therefore keep my points in the AccorHotels program until I know exactly what I want to do with them. They'll never expire as long as you earn points at least once per year. This way, it effectively functions as an excellent flexible points program.
Though for those people who don't stay at hotels regularly, I would be inclined to recommend transferring the points to frequent flyer programs, and learning how to get the best value for their use.
Supplementary images courtesy AccorHotels.
A guide to Le Club AccorHotels points earn, frequent flyer partners and transfers
was last modified:
October 8th, 2020
by