It's been a long time coming. Walking into an international airport. Hearing the boarding call. Stepping onto a wide-body aircraft, being greeted by the cabin crew and then turning right.
Wait: turning right? Nowadays I always turn left – to the Business Class cabin. And you can too.
And you won't need $4,513 to purchase that Business Class ticket to balmy Singapore. In fact, you need just $127 and 62,000 KrisFlyer miles, which is less than the cost of an Economy ticket!
Now some of you may not have even heard of KrisFlyer miles, let alone know how to earn them. So to briefly explain, they're the airline currency of Singapore Airlines' frequent flyer program, KrisFlyer, and can easily be converted from many credit card reward programs. And more excitingly, KrisFlyer miles are your ticket to affordable Business and First Class seats.
But for those readers who have a stash of Velocity Points, there's some good news for you too. You can also use Velocity Points to book Business Class seats on Singapore Airlines.
Interested? Then read on to find out more.
Ad – Scroll down to continue reading.Minimum spend, terms & conditions apply.
A great cabin experience
As I arrive at the airport, I'm pleased to see the bustling check-in area – a sure sign that travel demand is on the rise. Of course, I'm even happier to spot the dedicated Business Class priority lane, a perk of flying Business. The number of people in the priority lane is only a fraction of those snaking through the Economy line. So instead of waiting 15 to 30 minutes to check-in, I'm done and dusted in just over five. Time to hit the lounge!
As I head to the Departures arch, I recall the many times over the past two years that I've dreamed of taking this walk. I start to get those familiar butterflies of excitement, knowing I'll soon be sipping champagne and experiencing superb long-haul Business Class service.
But first comes the Singapore Airlines KrisFlyer lounge, yet another pointy-end perk. I while away a few hours here eating and drinking (did I mention it's all free?). Though the lounge is so cozy and relaxing that it feels more like a few minutes. I'm hypnotised by the A350 awaiting me, clearly visible from the lounge's windows. So when my flight is called for boarding, I'm first on my feet. Priority boarding, here I come.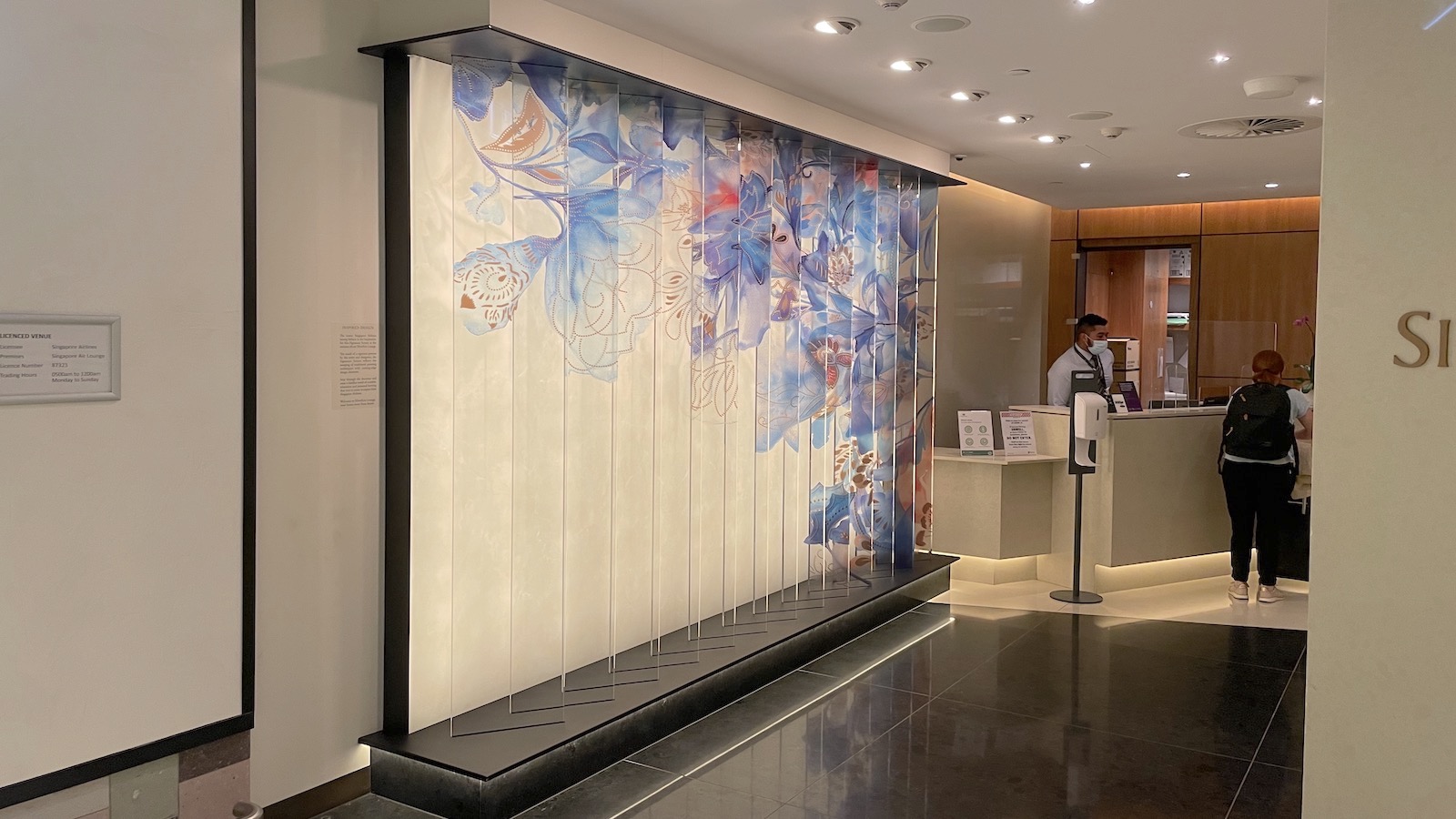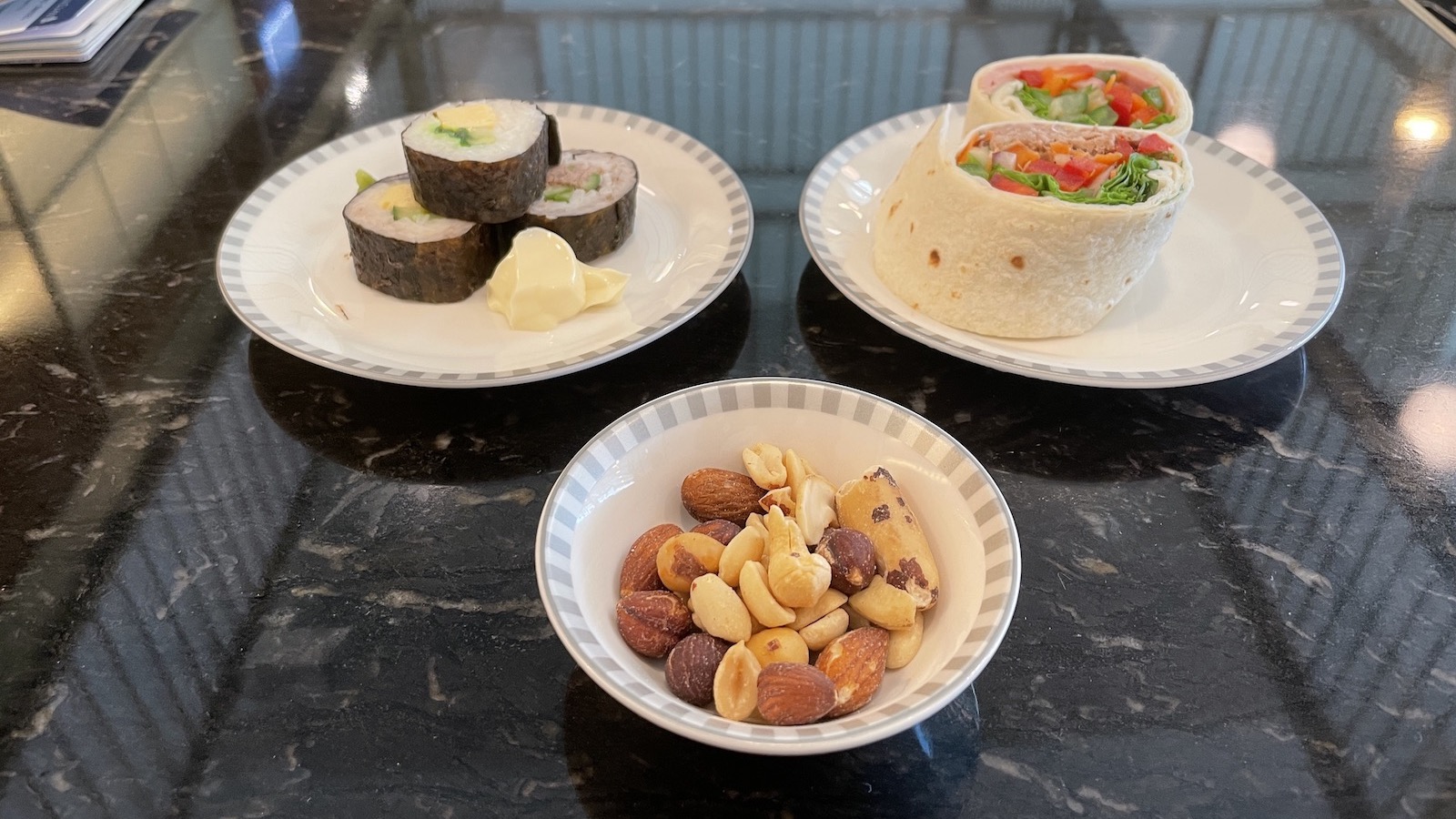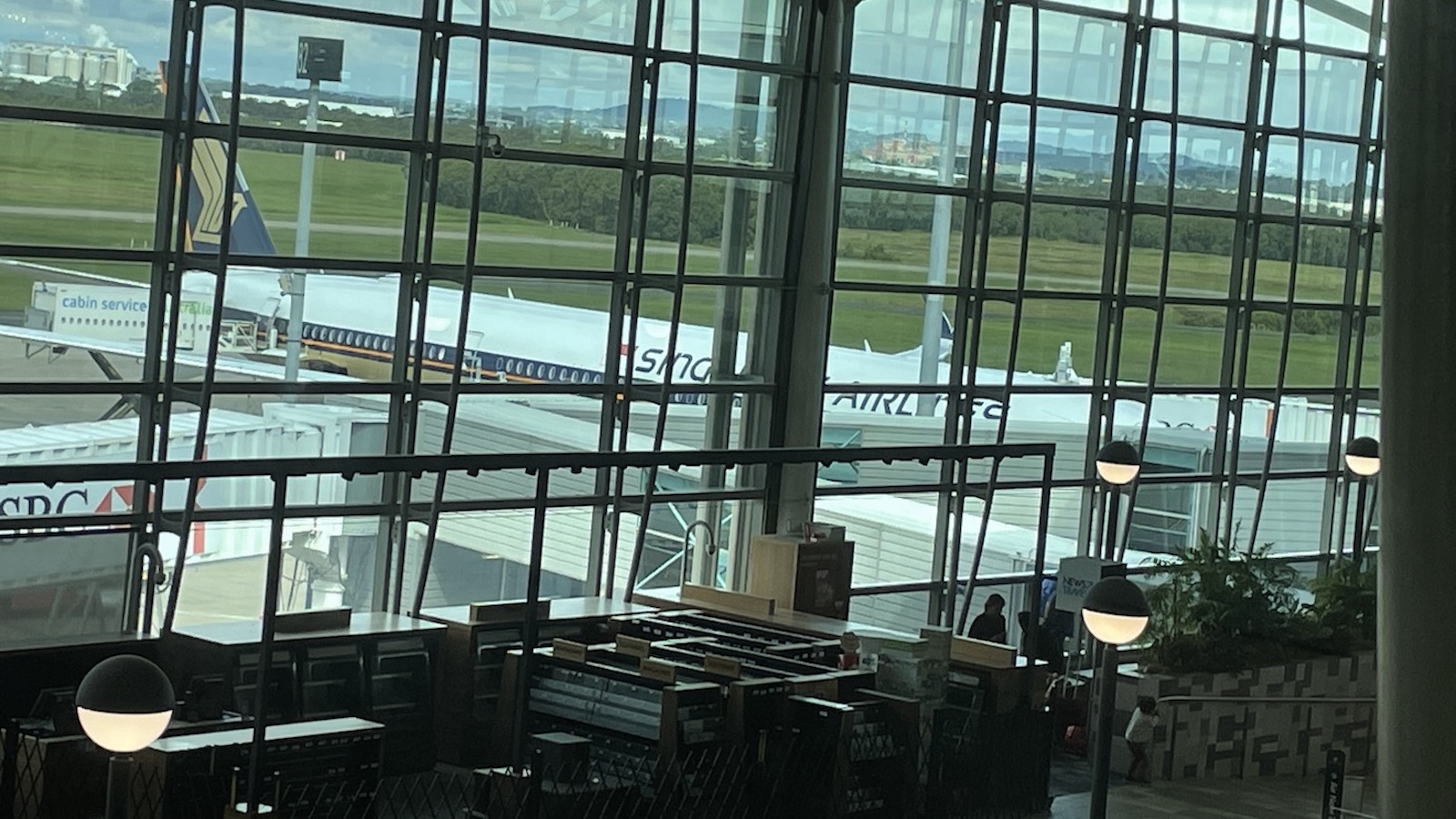 'Welcome, Mr Daniel! Great to have you on board. Follow me.' A member of the cabin crew leads me through the new A350 Business Class cabin to my seat, where she offers a run-down on its impressive features. What a pleasure to be enjoying Singapore Airlines' personalised service again. Moments later I'm sipping my welcome glass of 2012 Piper-Heidsieck Champagne and watching Brisbane recede into the distance.
Do you have a ritual when you travel? I love to sit back and stretch my legs out in mid-air. In fact, my Business suite is so spacious I've got ample room to wiggle them up and down. And this luxurious haven is all mine for the next eight hours.
After take-off, I transform my seat into a fully lie-flat bed, complete with a mattress topper, pillow and soft blanket. No matter how many times I fly Business Class, I can never get over the miracle of travelling the world while sleeping in a comfortable bed in the sky. If that's not the definition of luxury, I don't know what is.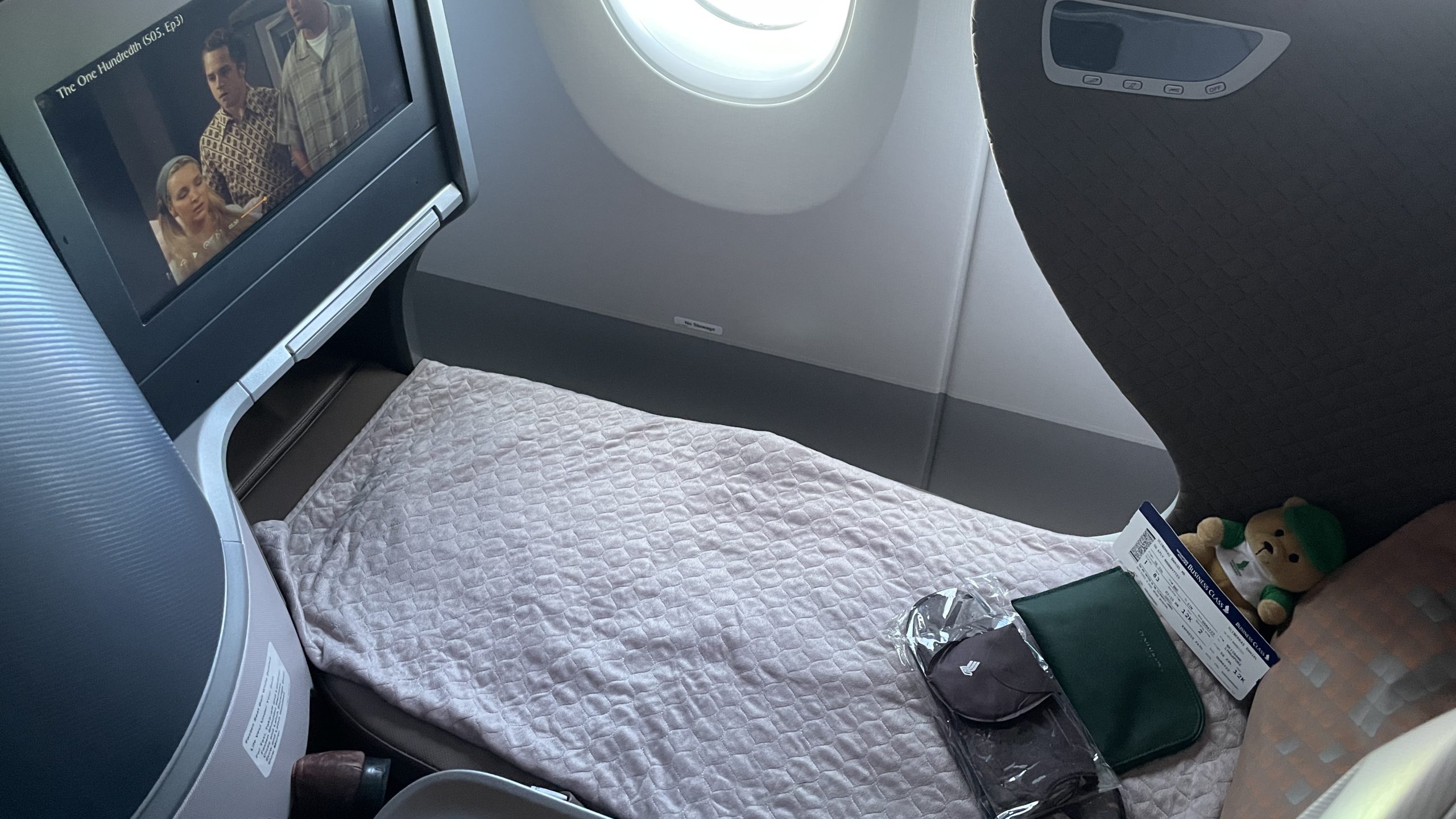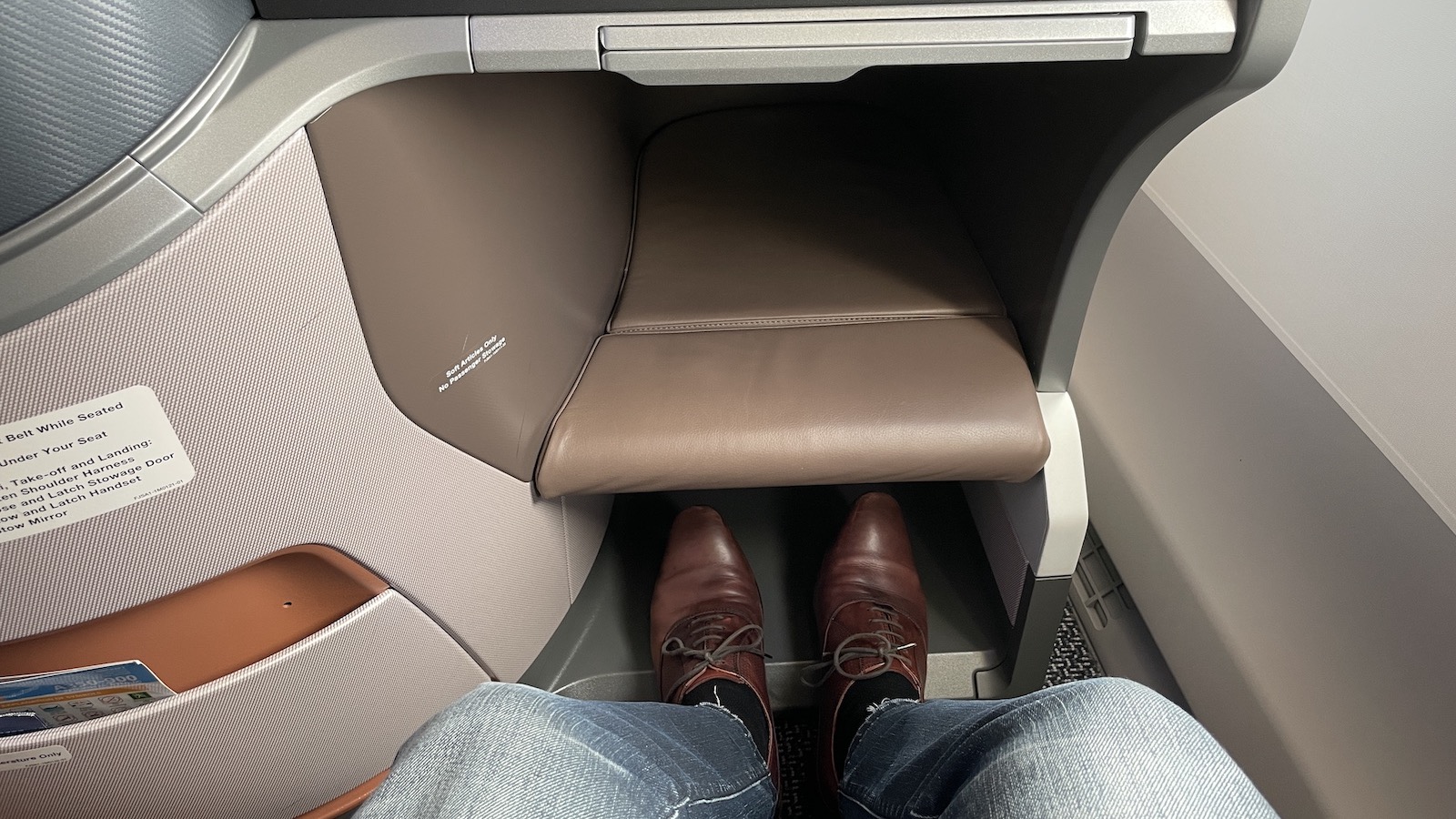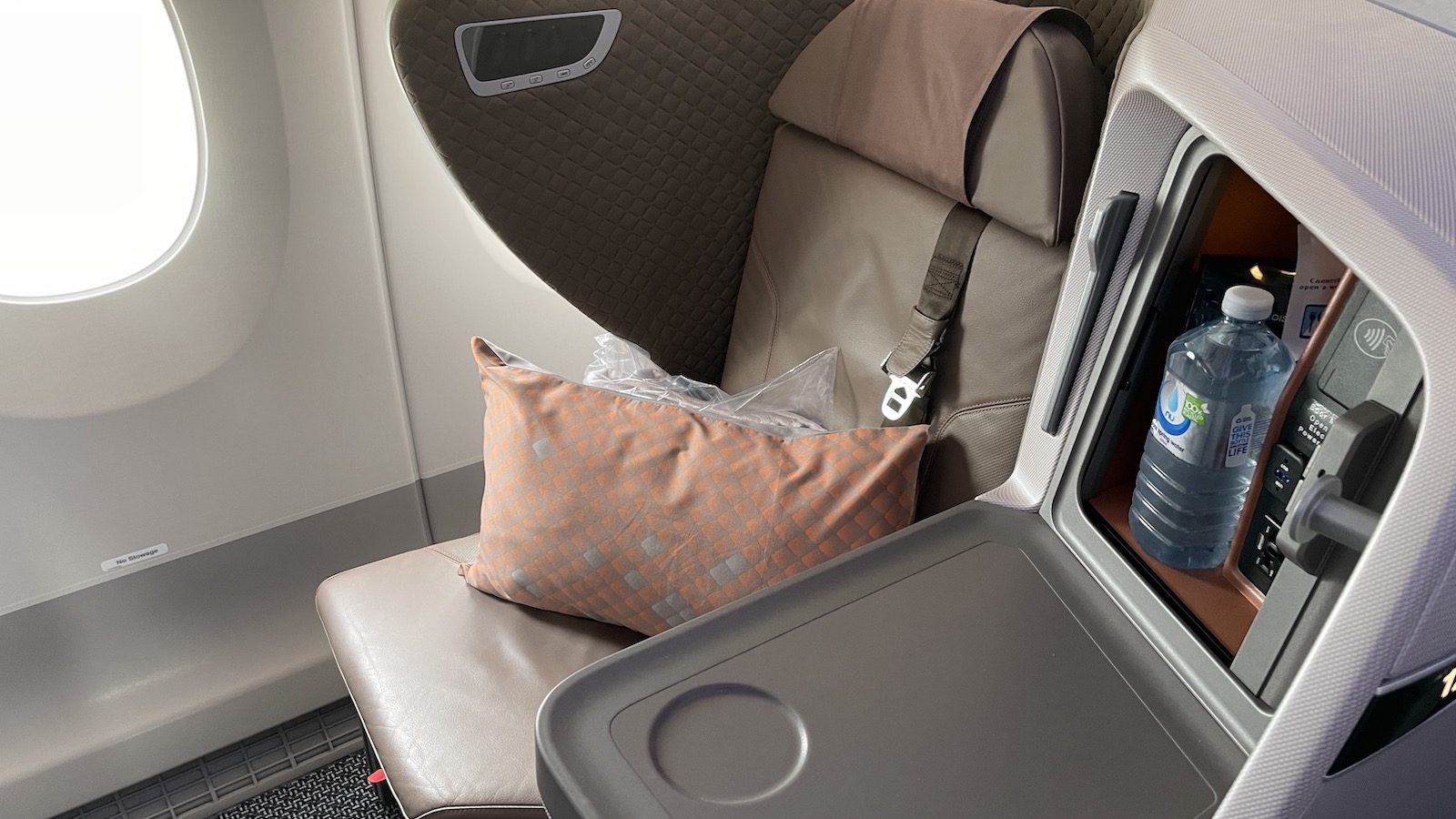 And another incredible part of flying Business Class? The delicious dining. From Book the Cook to an International Culinary panel-backed Business Class menu, the Singapore Airlines dining experience is one to savour. I start with a refreshing salmon salad paired perfectly with a 2018 Wairau River Sauvignon Blanc from Marlborough in New Zealand. And I can't resist selecting some tasty garlic bread to go with the salad.
Now you might be thinking, salmon and garlic bread, what a mismatch! But that's the beauty of Business Class dining. With a wide range of options available, you can go as crazy as you like with your food pairings.
Happily, the dining experience in Business Class is polished from start to finish. The three-course meal cures my hunger without giving me that heavy feeling I sometimes experience when indulging in mid-air feasts (supposedly our digestive systems work differently at 35,000 feet!).
So if you're keen to experience restaurant-quality dining in the sky, you absolutely can. All you need to do is book a Business Class flight with Singapore Airlines. And points are the way to do it on the cheap.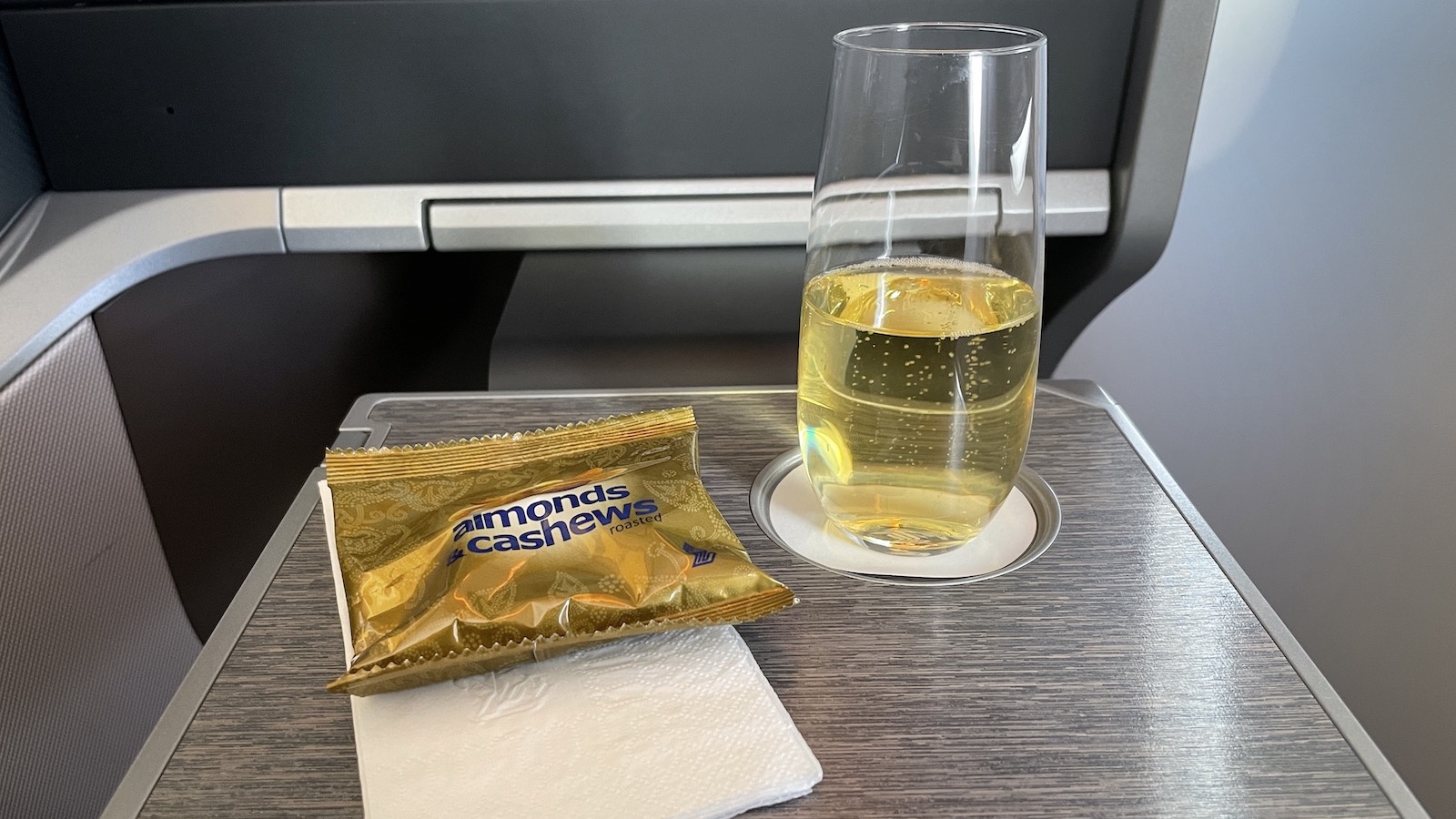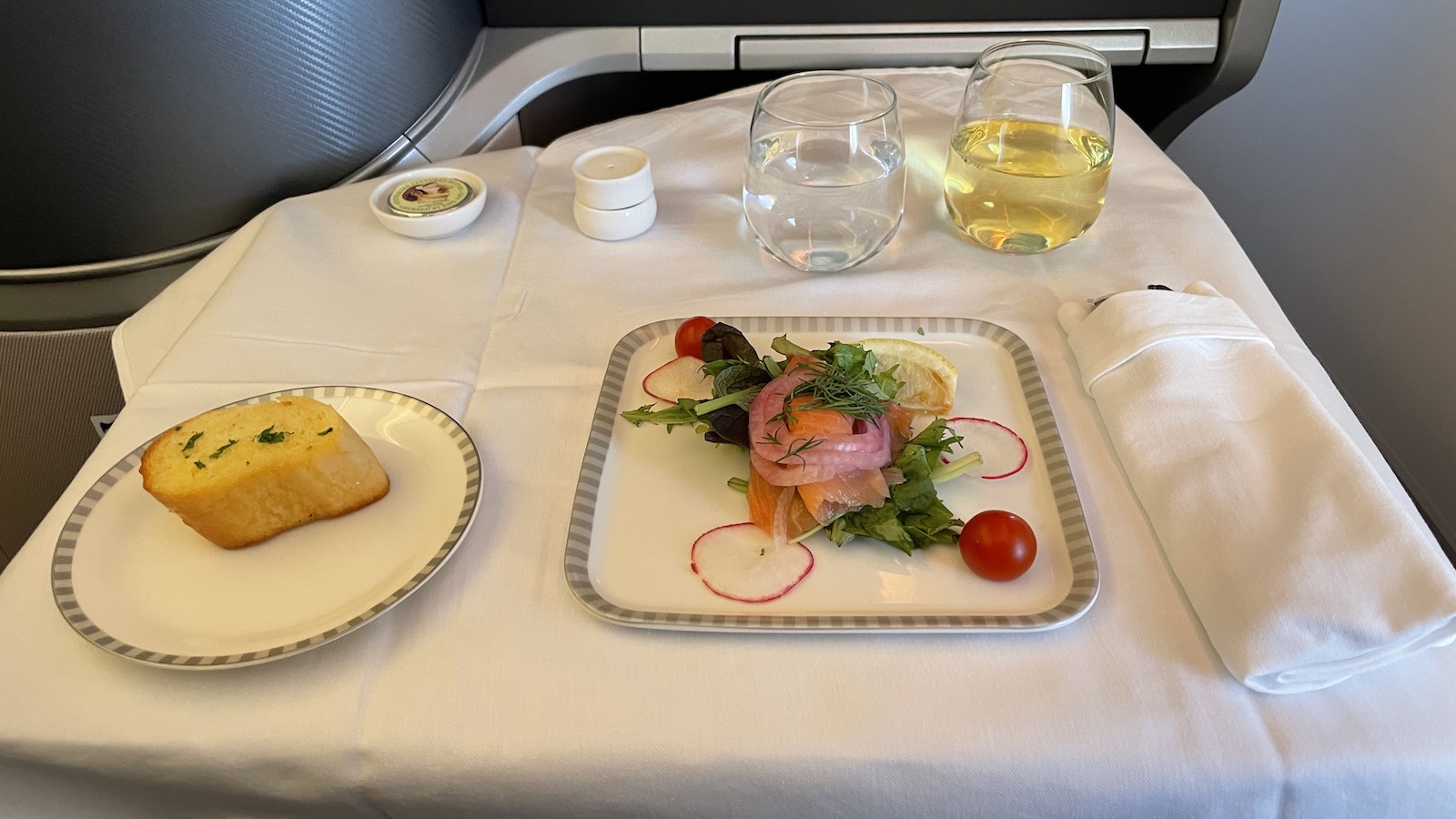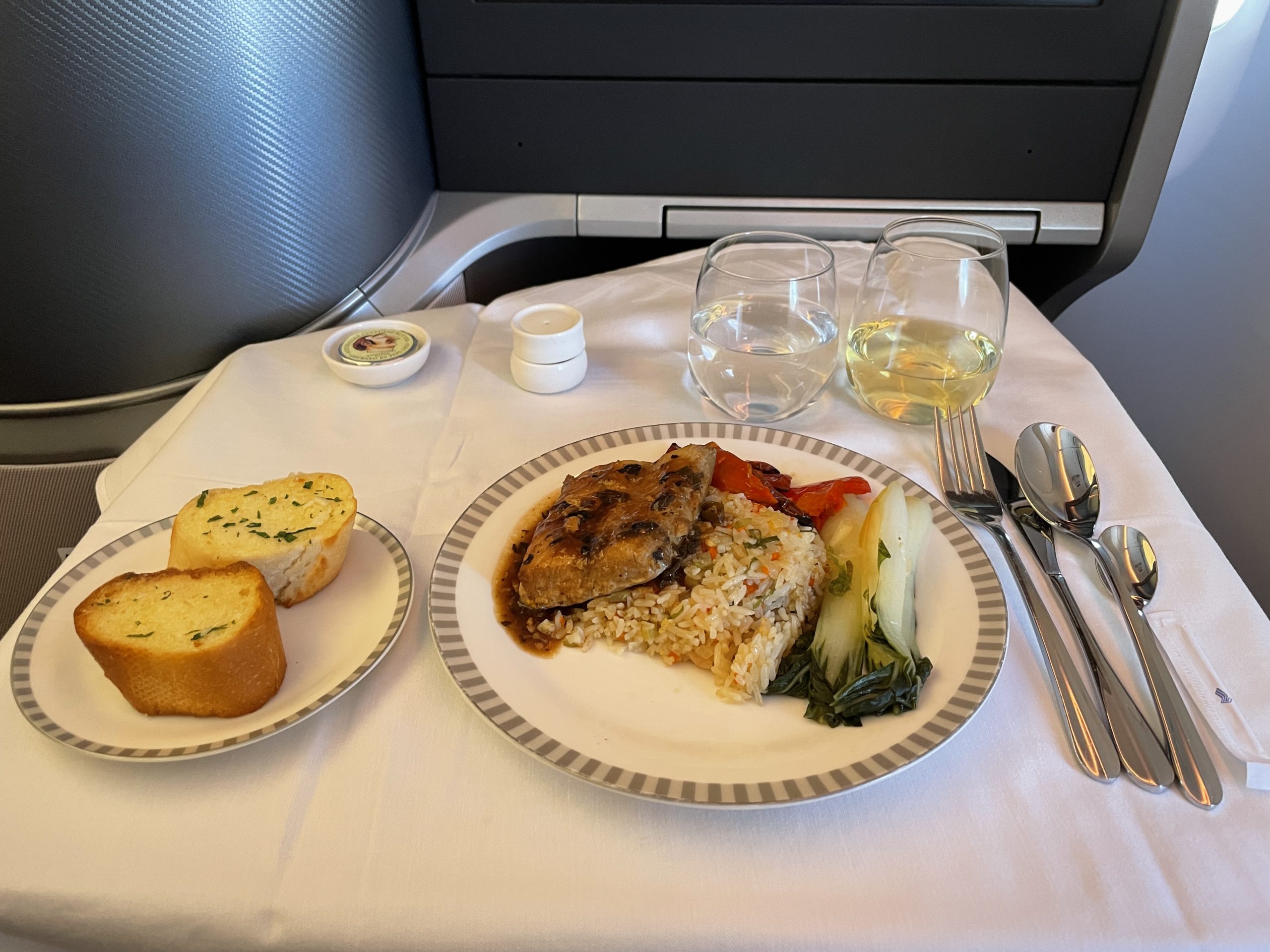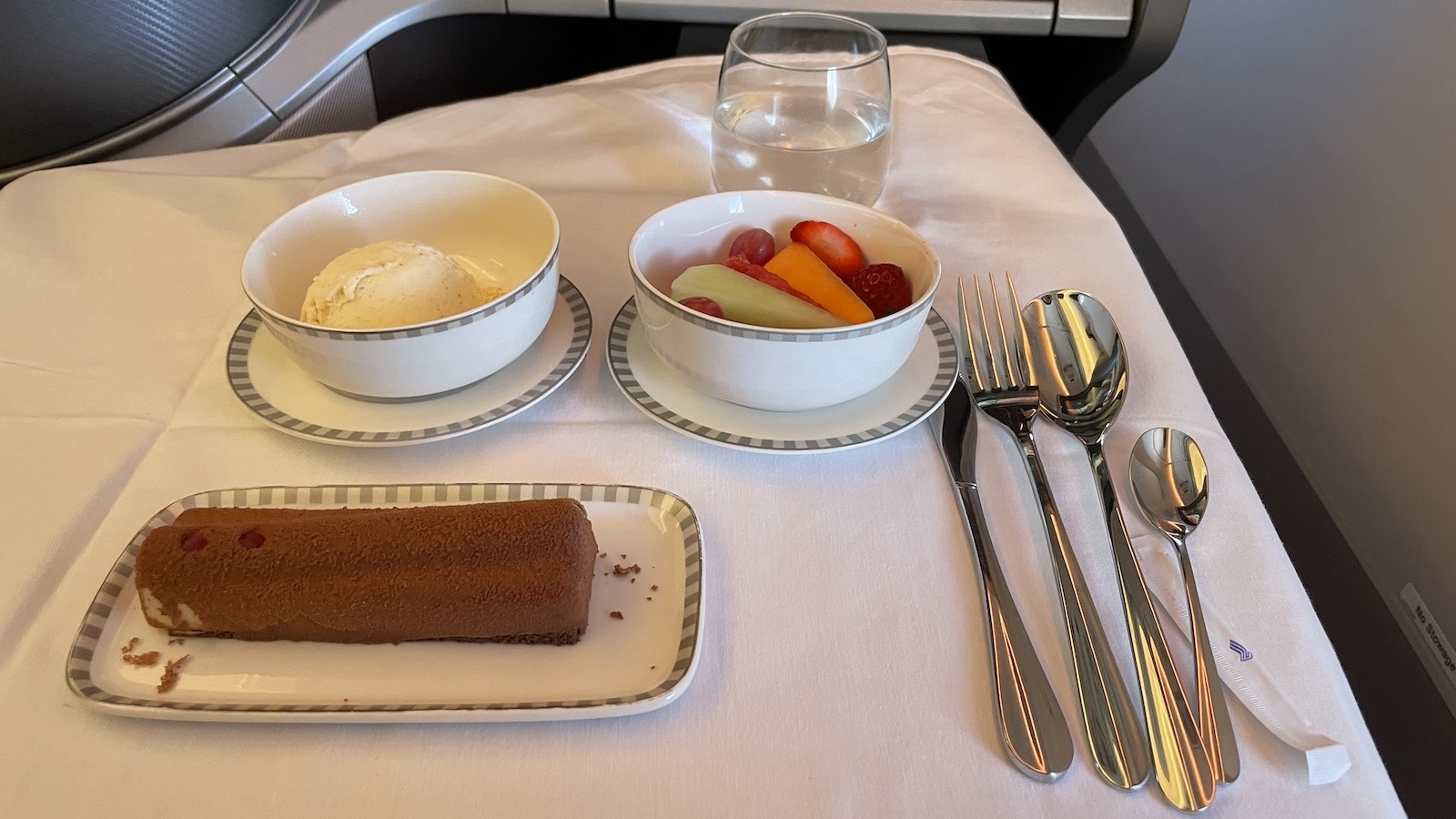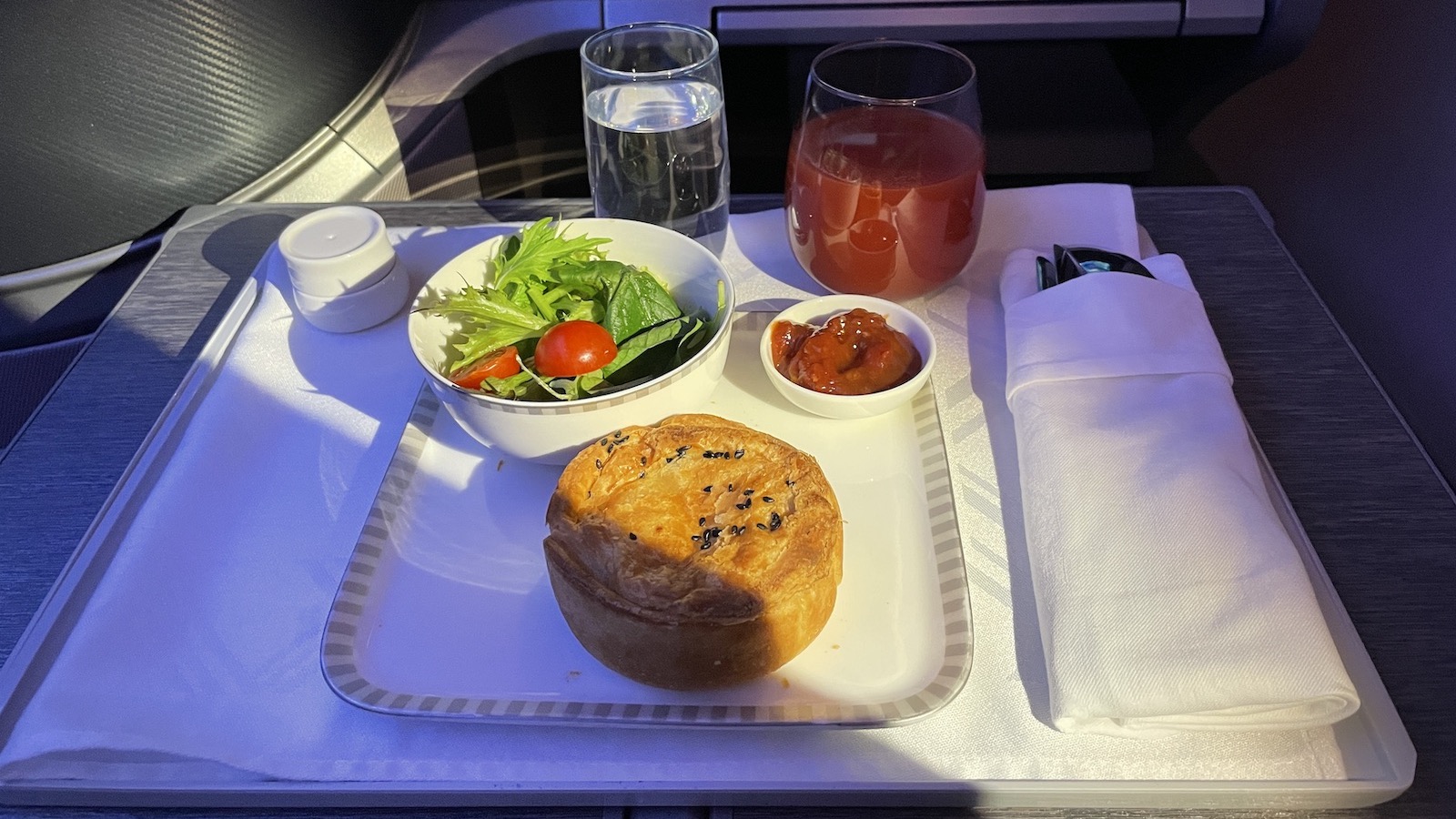 On the service front, the style is more relaxed and authentic than pre-COVID, which suits me perfectly. The Singapore Airlines cabin crew make me feel special at every opportunity. And who doesn't love eight hours of being treated like royalty?
Soon, I hear the familiar call to 'prepare the cabin for landing'. As we descend over the night lights of Singapore, I reflect on this memorable flight. Not just is it my first international flight post-pandemic. It's more than that. It's the superb service, the inspired dining, the spacious seat. In short, it's Business Class!
Here's how you can do it too!
If you're thinking: 'I don't fly enough to earn the points needed for a free flight, especially one in Business Class' – then here's the good news. You don't need to fly often to accrue points or miles. In fact, the quickest way to earn them doesn't require you to even leave the ground.
How? With credit card sign-up bonuses. Point Hacks has a number of offers that allow you to earn a large stash of bonus points or miles when you apply for a credit card. All you need is to be approved and meet the minimum spend requirements. And you'll earn enough from a single credit card offer for a one-way Business Class trip to Singapore – sometimes even enough for a return trip!
Now we used KrisFlyer miles to book this trip. But as I mentioned above, you can also use Velocity Points to book Singapore Airlines Business Class redemption seats. So if you've just signed up for a Velocity Points-earning credit card, then you're in luck too.
To view our current KrisFlyer and Velocity credit card offers, just click on these links:
Already earned those points or miles? Now comes the fun part!
Using KrisFlyer miles to book
If you're using KrisFlyer miles and booking from Australia's east coast, it will cost you 62,000 miles plus $127 in fees and taxes one-way. From Perth and Darwin, it's just 36,500 miles. The best way to find reward seats is to use the Singapore Airlines website. Just log into your KrisFlyer account and click on the 'Redeem flights' button. Then search for your flights in the same way you'd search for a cash fare.
| | |
| --- | --- |
| (one-way to Singapore, Business) | using KrisFlyer miles (per person) |
| Perth & Darwin | 36,500 miles + taxes |
| All other capitals | 62,000 miles + taxes |
You can easily earn KrisFlyer miles by converting points from a number of credit card reward programs. Some of the main programs (with the conversion rates in brackets) include:
Other reward programs also include Suncorp Rewards (2.5:1), St George/Bank of Melbourne/Bank SA Amplify Reward (2:1), Citibank Rewards (2.5:1) and HSBC Rewards Plus (2.5:1).
If you take out a credit card sign-up offer, make sure to convert your old credit card reward points to your KrisFlyer account and confirm that the miles have been credited before closing your credit card. Some people have learned this lesson the hard way and missed out on earning miles!
Also, keep in mind that KrisFlyer miles expire three years after they have been credited to your account, so make sure to strategically transfer your credit card reward points to your KrisFlyer account. Meaning? Only convert your reward points into KrisFlyer miles when you're ready to book a trip!
Using Velocity Points to book
If you're looking to use Velocity Points instead, head over to the Velocity Frequent Flyer website. Log into your Velocity account, click on 'The Basics' and select 'Redeem Velocity Points'. And again, just search for your flights in the same way as a cash fare.
| | |
| --- | --- |
| (one-way to Singapore, Business) | using Velocity Points (per person) |
| Darwin | 38,000 miles + taxes |
| Perth & Adelaide | 53,000 miles + taxes |
| All other capitals | 65,000 miles + taxes |
As you can see, flying in Singapore Airlines Business Class doesn't need to become a permanent item on your bucket list. With just a single credit card sign-up bonus, you can cross that item off your list for good.
Keen to read more of these incredible experiences? Then don't forget to sign up for our email newsletter. And for some insider tips on what it's like to travel to Singapore at the moment, have a listen to our exclusive podcast.
---
Please note that the cost for KrisFlyer redemptions will increase on 5 July 2022. For more information, click here.
---
Featured deals
Fly high to Singapore one-way in Business Class for just $127 with KrisFlyer miles
was last modified:
October 11th, 2023
by