Perth has seen an explosion of premium hotel options opening up in the last few years, including the Crown Towers, Westin Perth, InterContinental Perth and of course, the Ritz-Carlton.
Nestled on the banks of the Swan River in the newly-redeveloped Elizabeth Quay area, The Ritz-Carlton Perth is a modern five-star hotel with stunning views to match. We toured the facilities to see just what's on offer and whether it's worth the premium room rates.
Ritz-Carlton Perth location & our first impressions
You'll find the Ritz-Carlton Perth on 1 Barrack St, Perth. It's impossible to miss the building, no matter where you're coming from. If arriving by car, you'll be dropped off at this expansive driveway with a rather unassuming front door.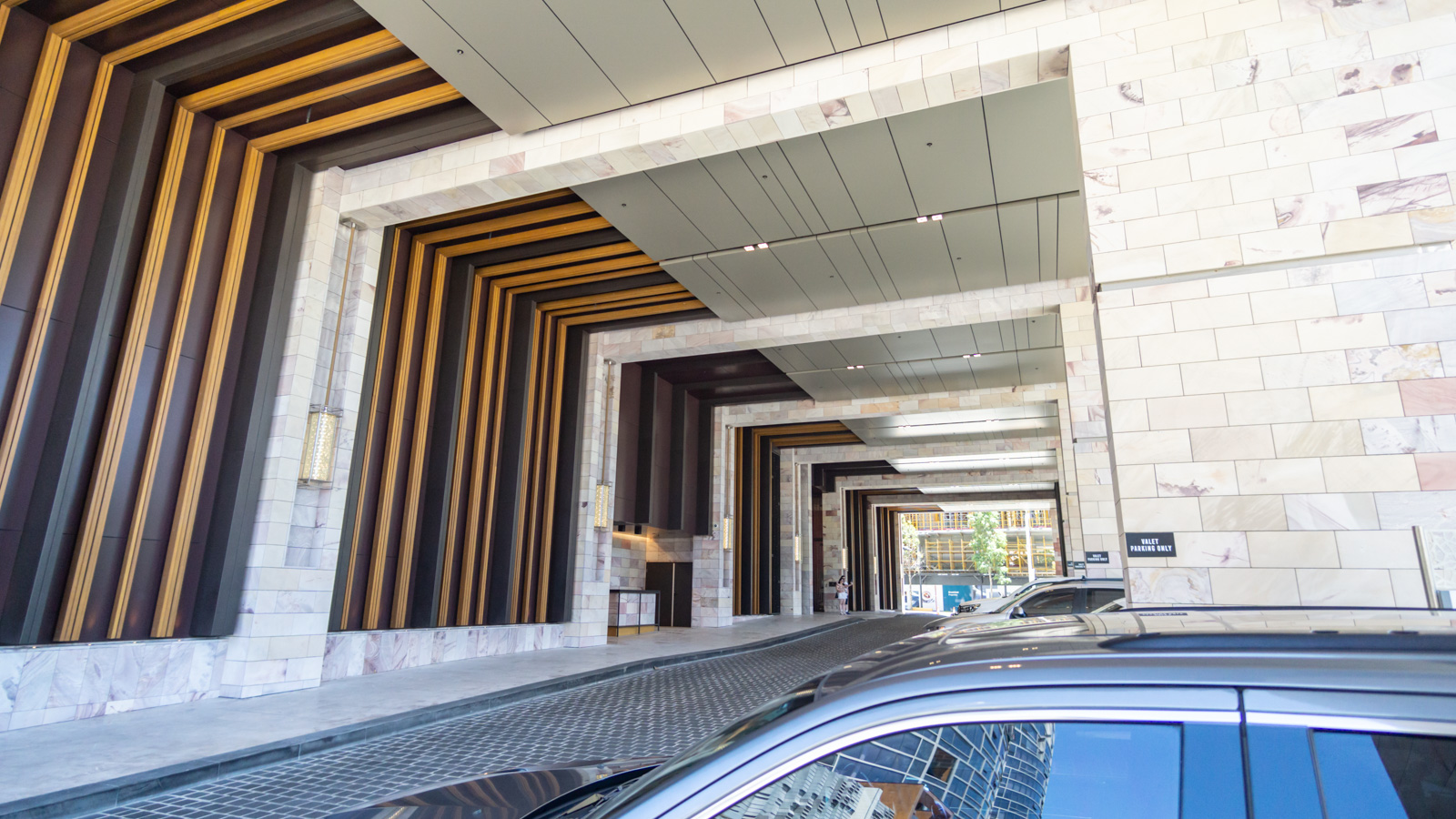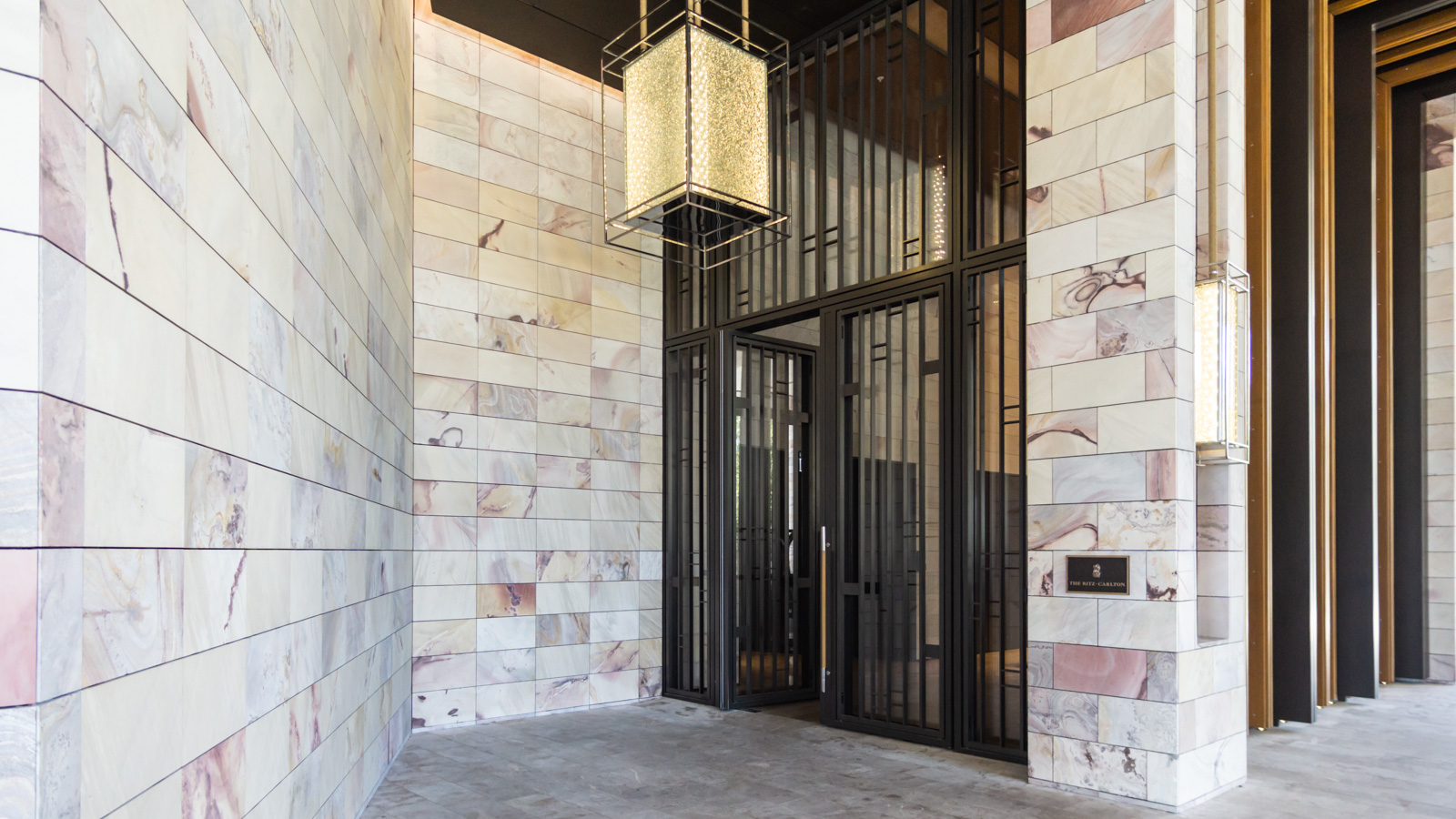 Once inside, you'll start seeing hints of Western Australia embedded within — from the facade to the artwork.
We're told that the building features 10,000 pieces of Kimberley sandstone, the concierge desk is created from jarrah a century old, and walking into the hotel itself is like sauntering through a gorge in Karajini National park (we'll let you decide that for yourself!).
Dried native plants are the flora of the day, displayed in big bold pots. Even the Christmas tree is artistically fashioned from dried cuttings.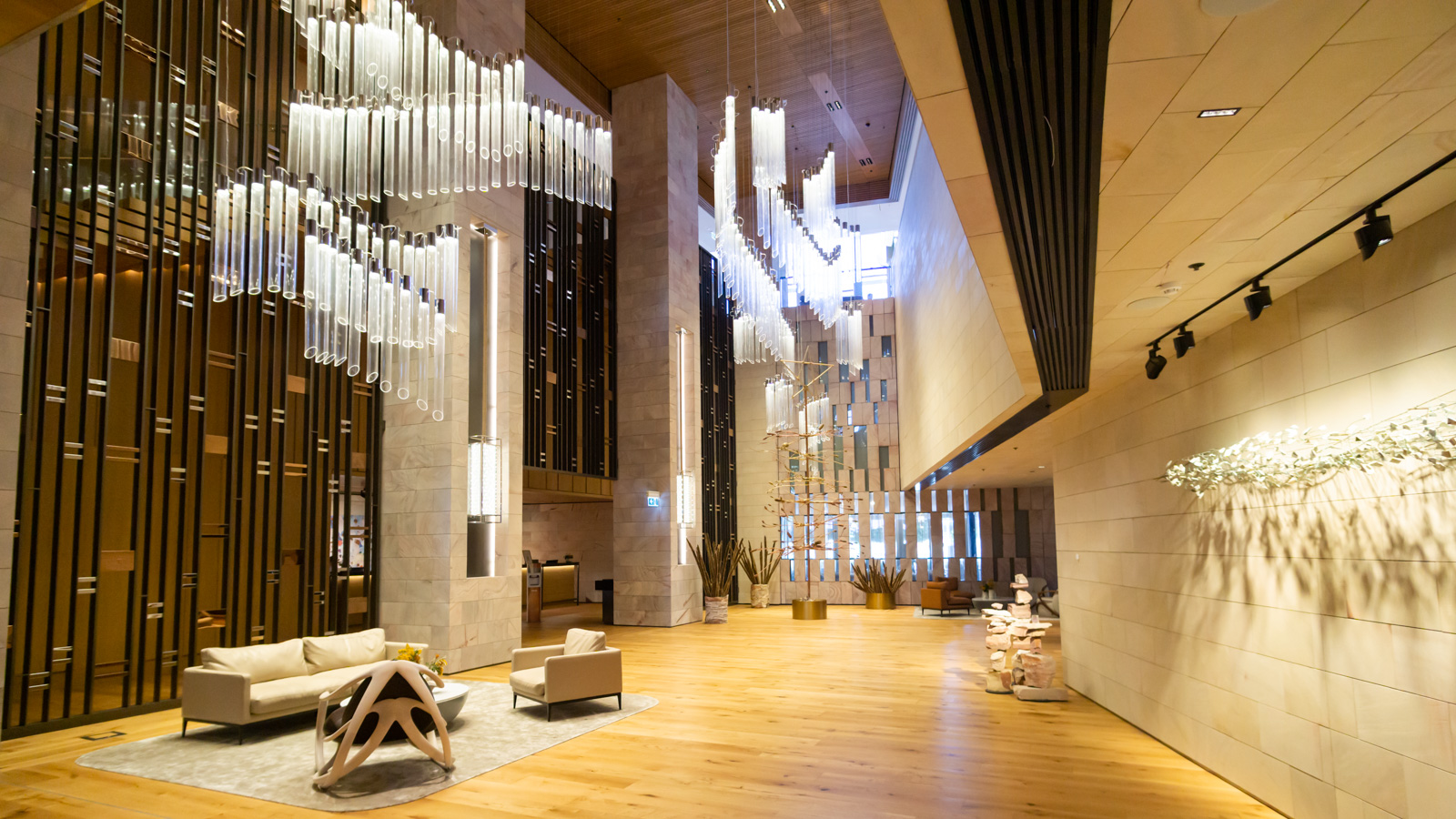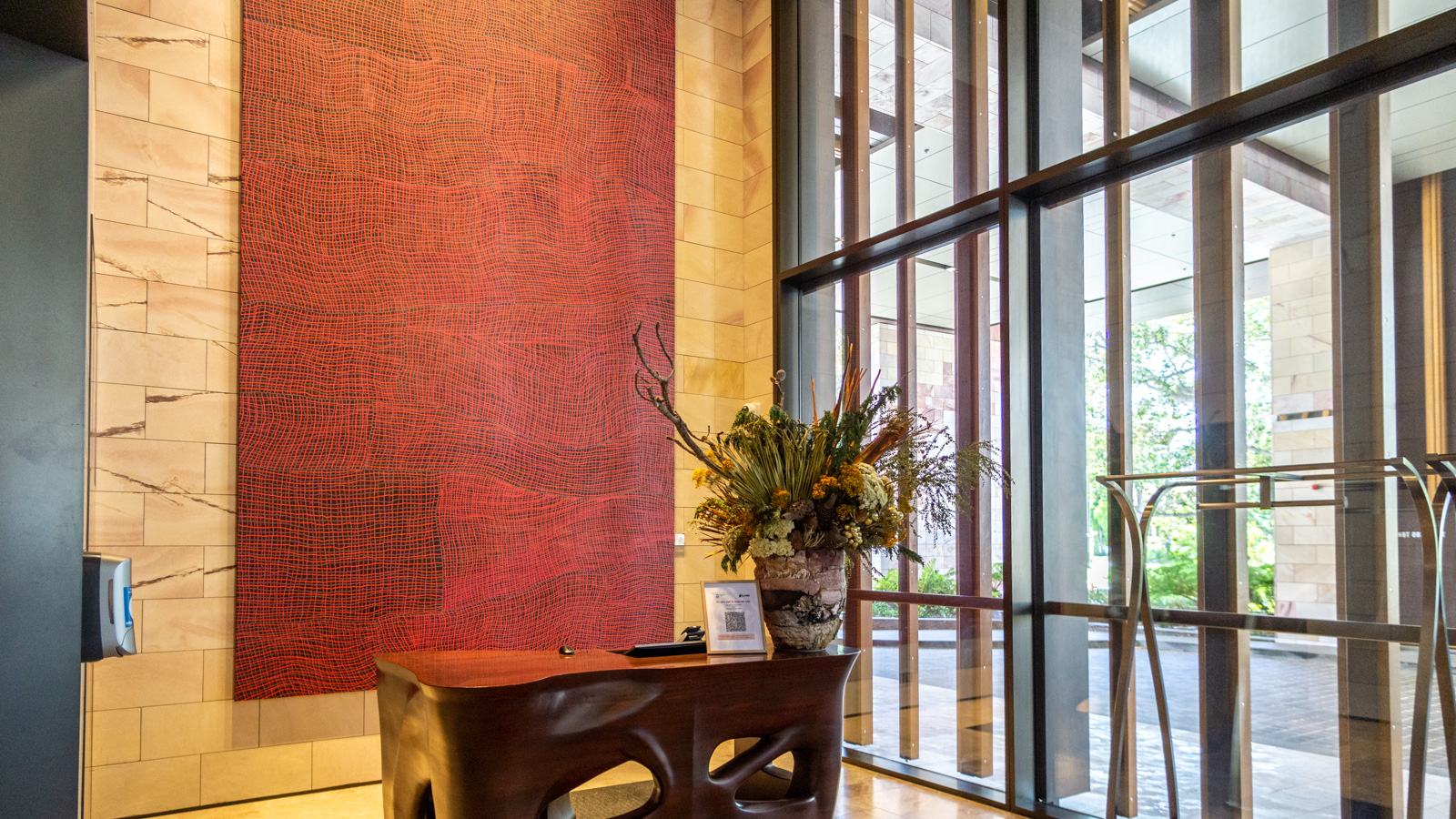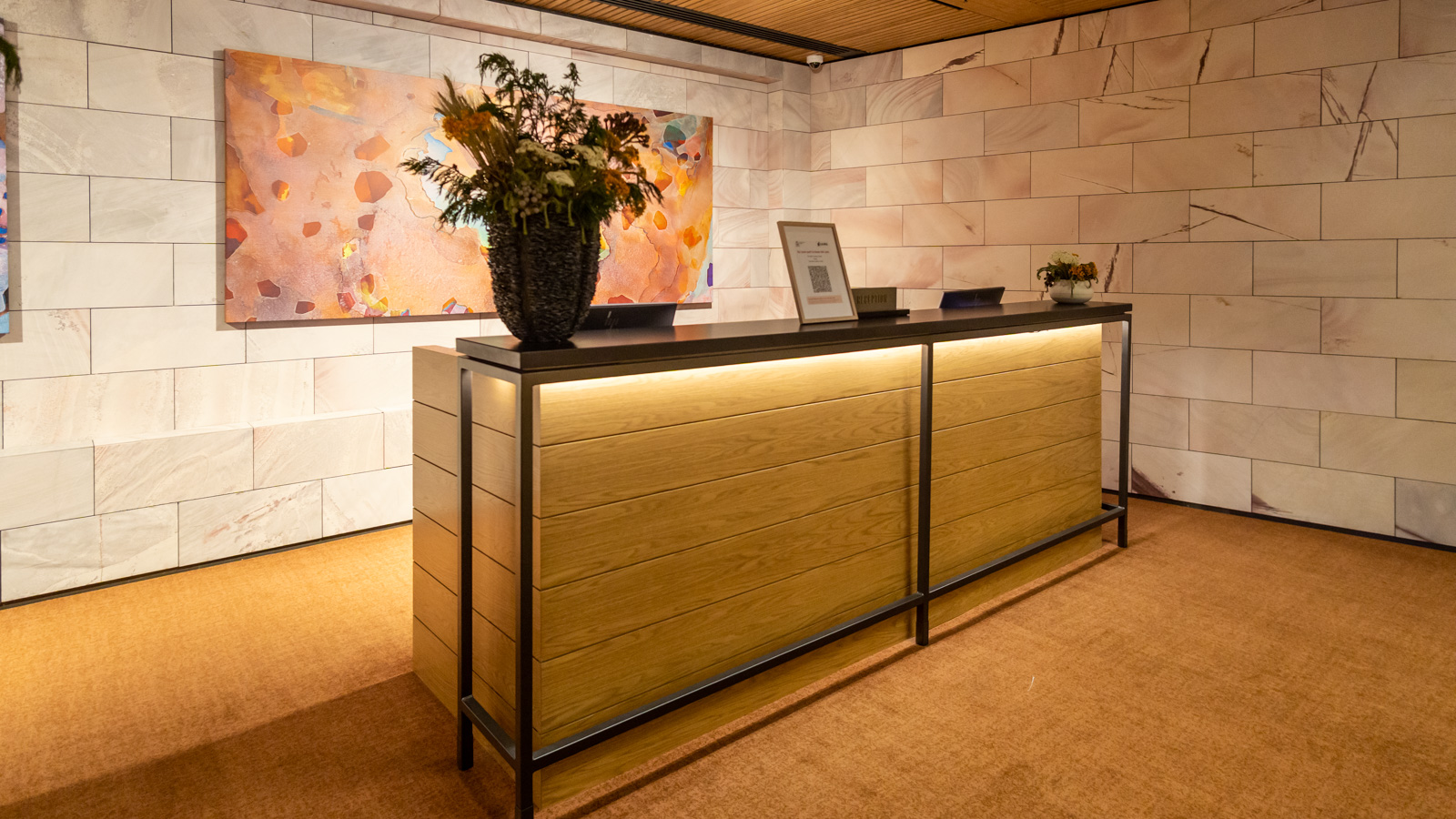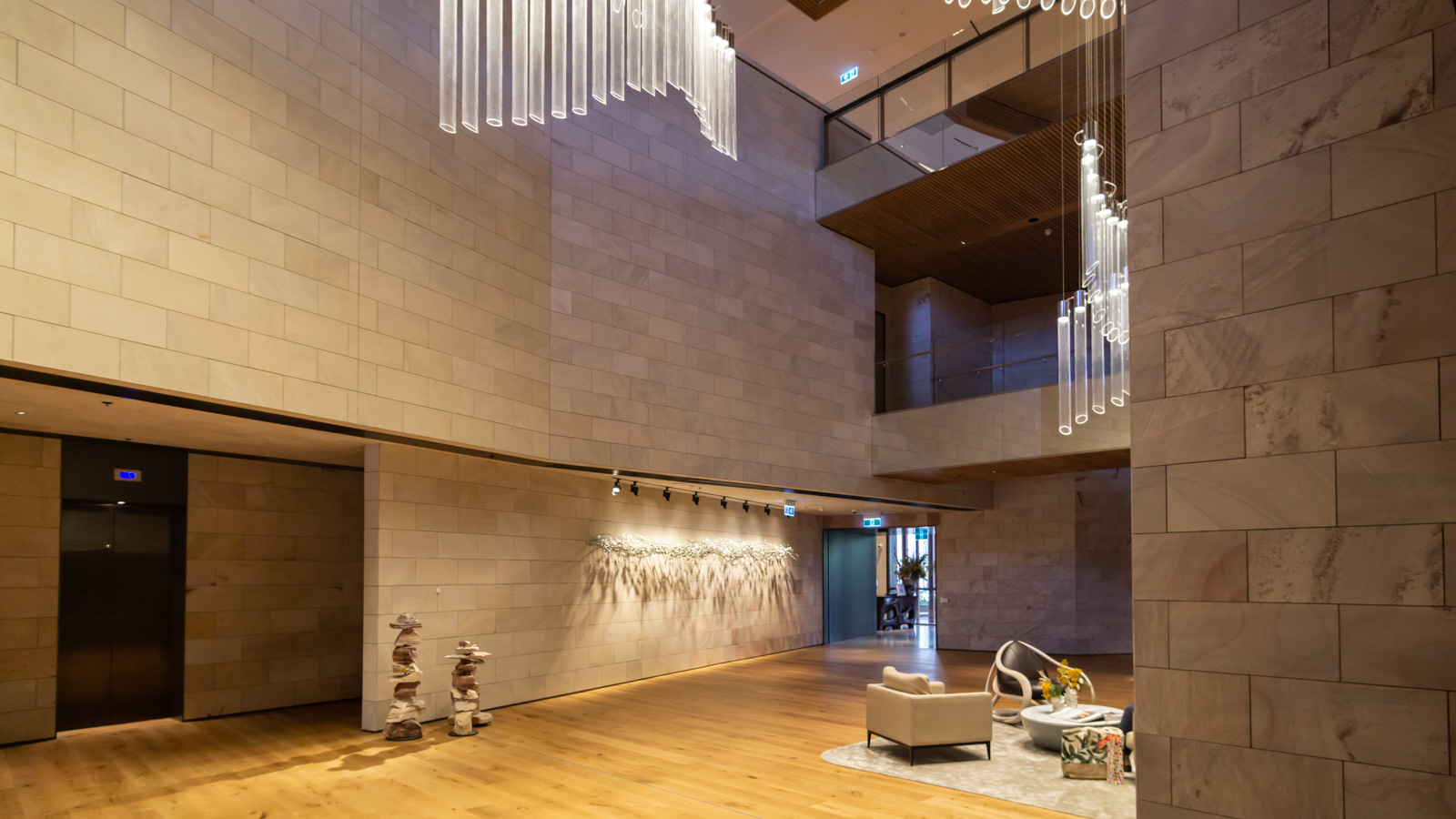 Elsewhere, the mood is elegant and subdued. The guestroom corridors are dark and quiet.
What are the Ritz-Carlton Perth rooms and suites like?
During this visit, we checked out a Premium River View room and an Elizabeth Quay Suite.
For reference, even the entry-level Deluxe rooms start from 50 sqm in size and feature many of the mod-cons that our reviewed rooms have, such as the expansive bathroom with a free-standing bathtub.
Premium River View Room
Premium rooms are slightly bigger at 55 sqm, on higher floors and generally have better river views than Deluxe rooms. However, much of the guest room is otherwise the same.
The main living area is tastefully designed, with floor-to-ceiling windows, a lounging chair and a coffee table. There is no work desk, however. You'll find a 55″ TV in every room.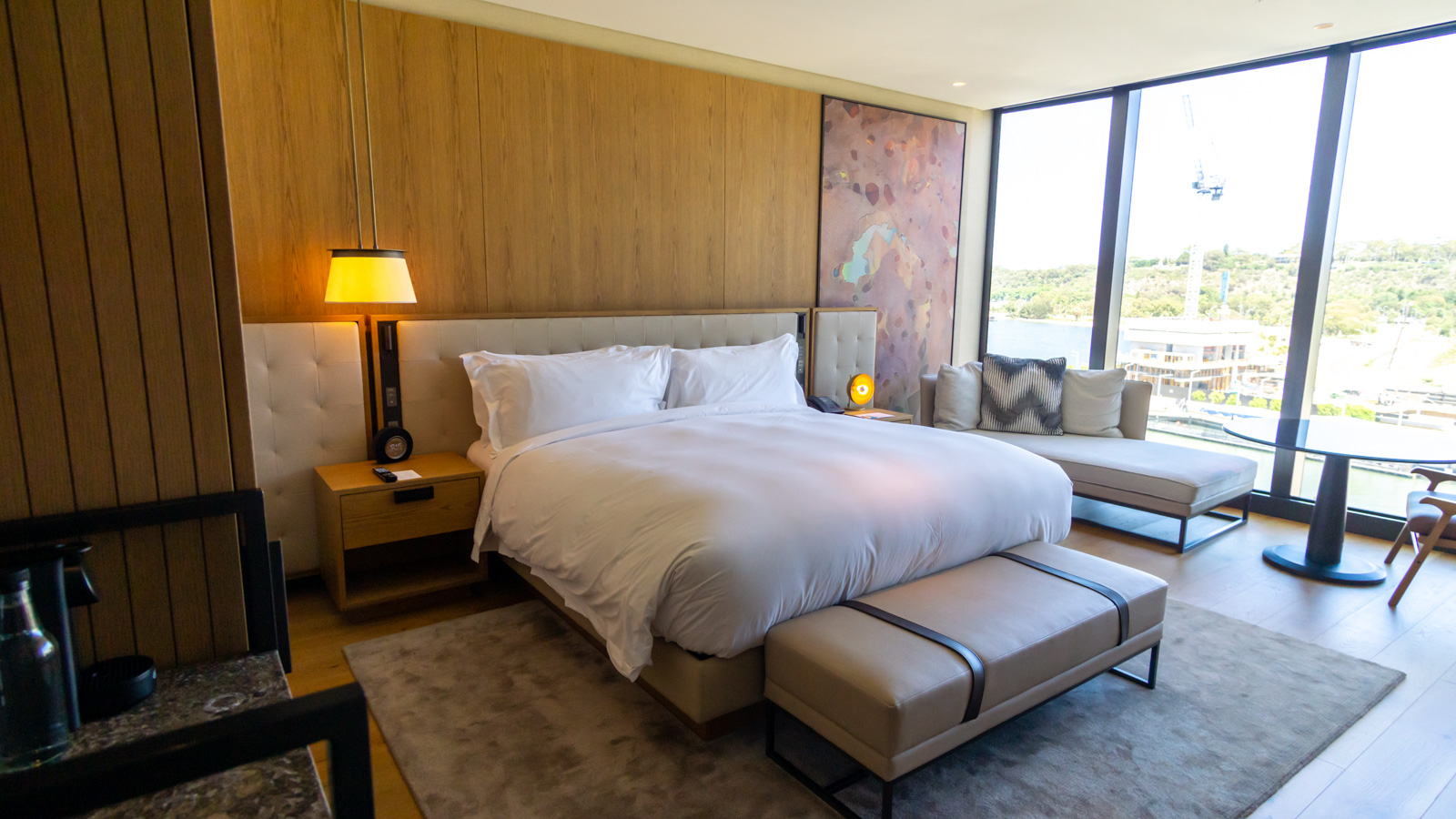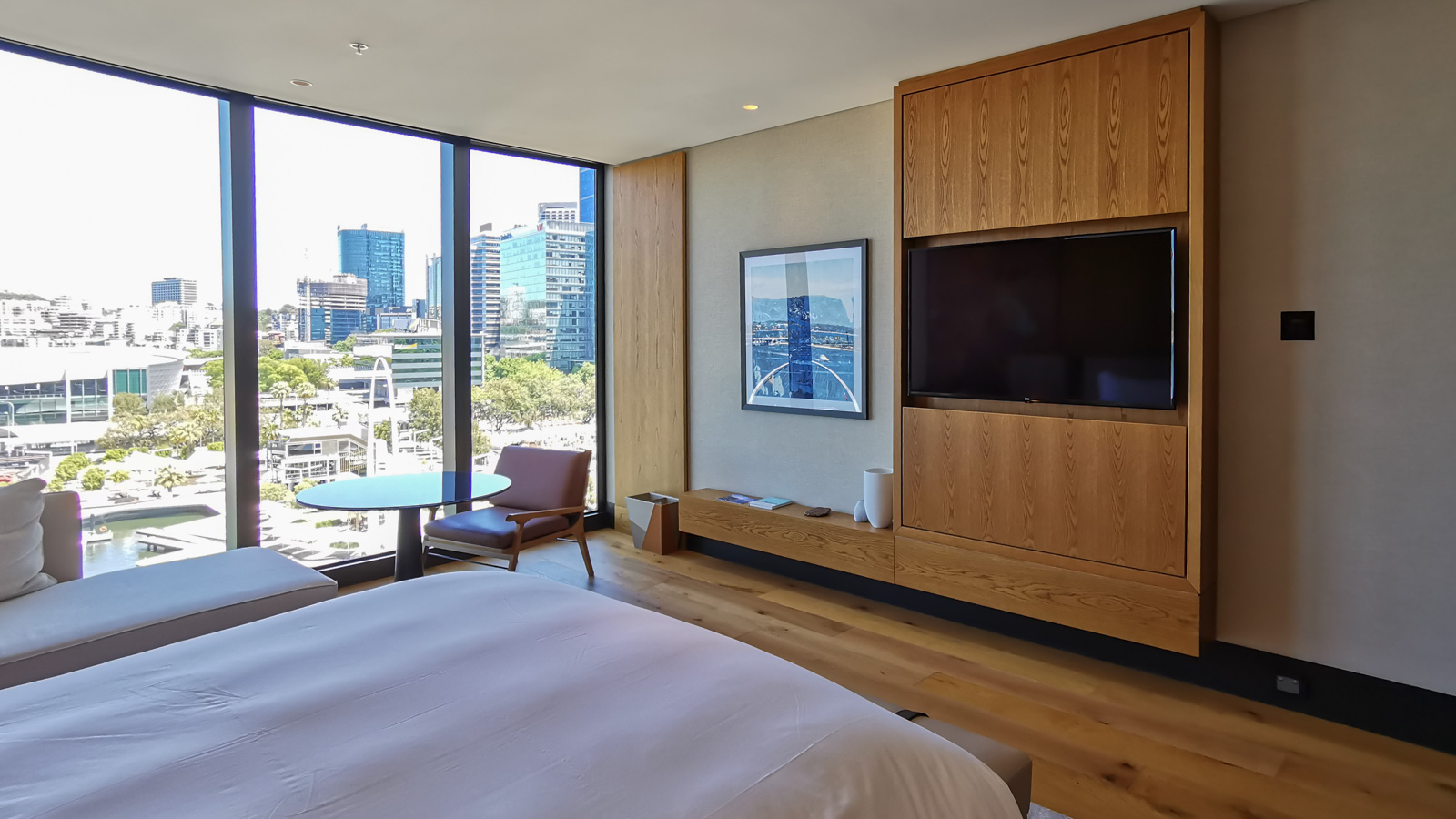 The mini-bar comes stocked with an assortment of spirits, craft beers, premium mixers and even a mini bottle of Moët & Chandon! The glassware stored nearby is noticeably high-quality as well. As expected, there are also capsule coffee and tea-making facilities too.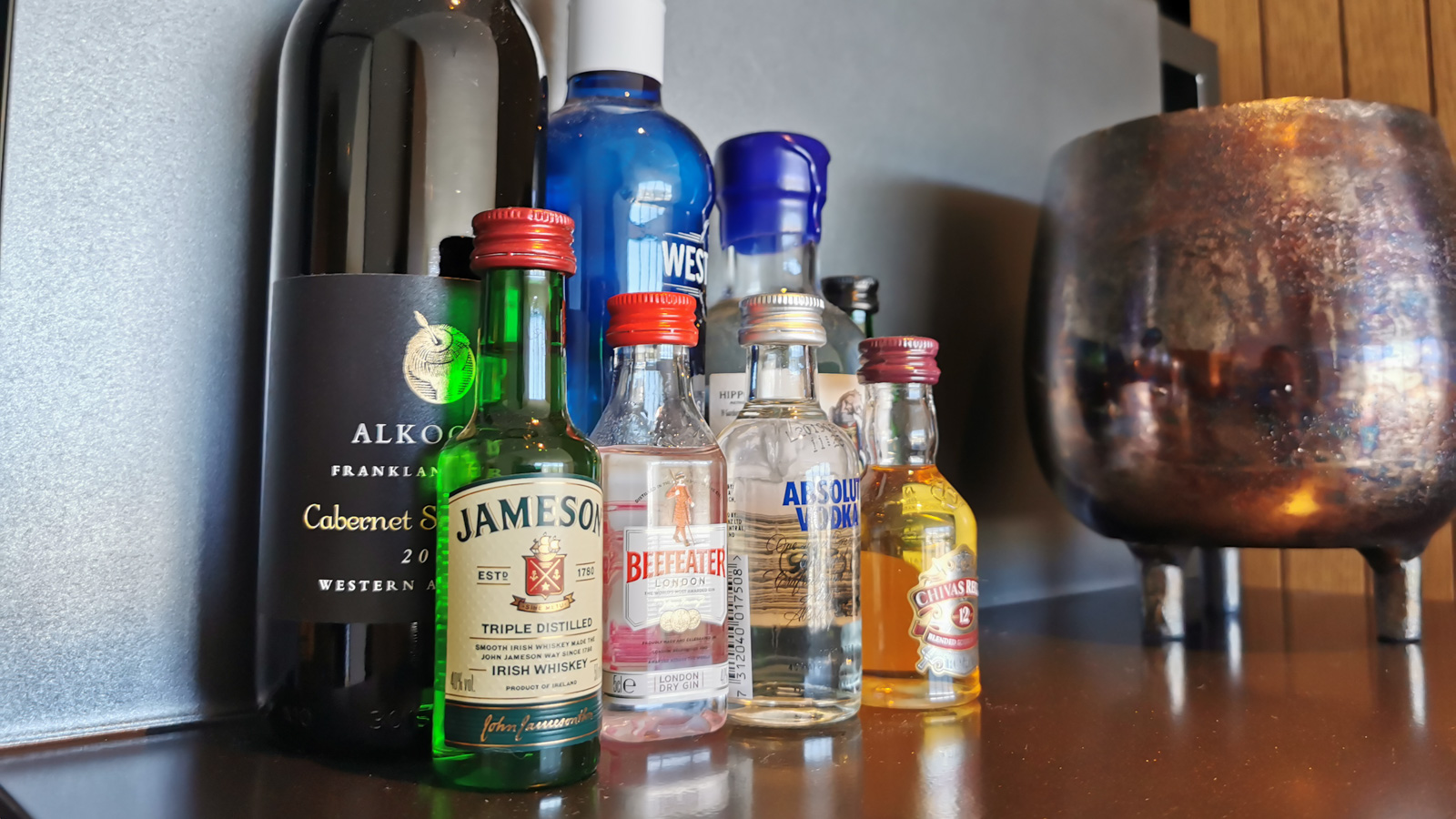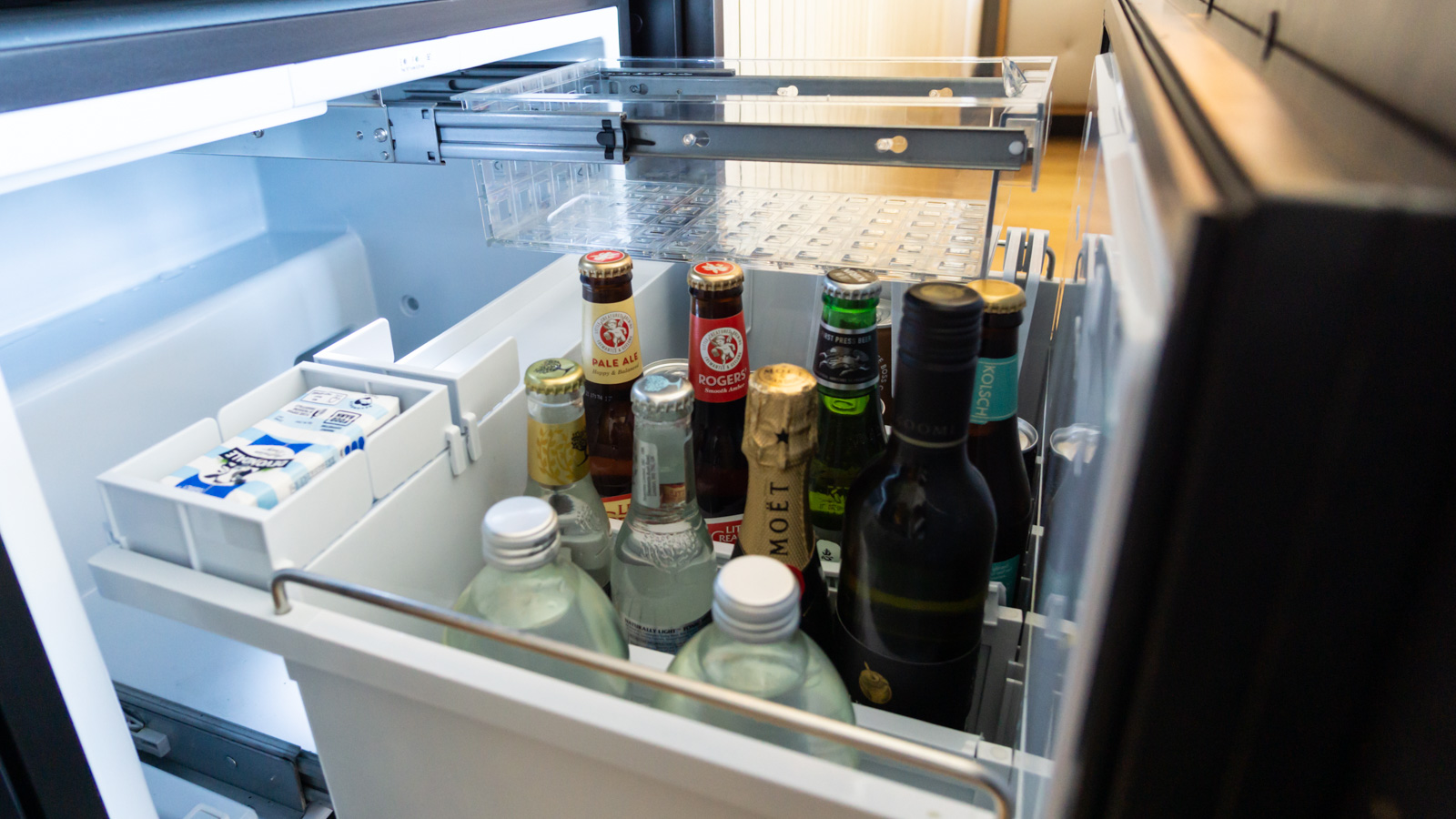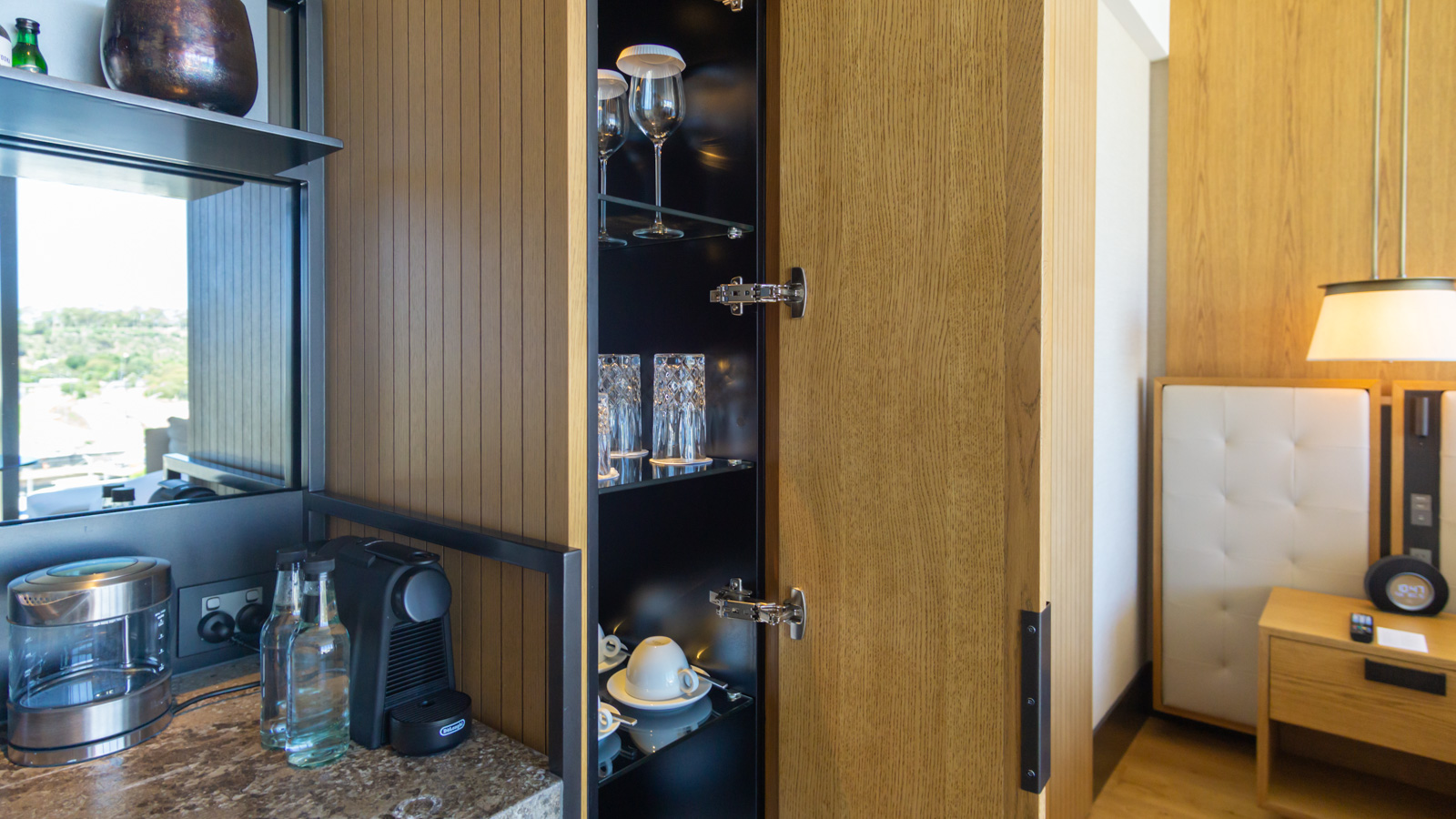 We're a fan of the bedside consoles, which include an easy-access AC power and USB charging port for your devices, as well as master switches for the various lights in the room.
Speaking of switches, you're also able to control the sheer and blackout curtains for the windows from a panel near the entrance of the room — a feature common to all guest rooms in the hotel.
But the star of the show might just be the bathroom. It's beautifully-appointed with soft lighting, an in-bathroom wardrobe for your clothes, Asprey amenities and a very fluffy bathrobe set.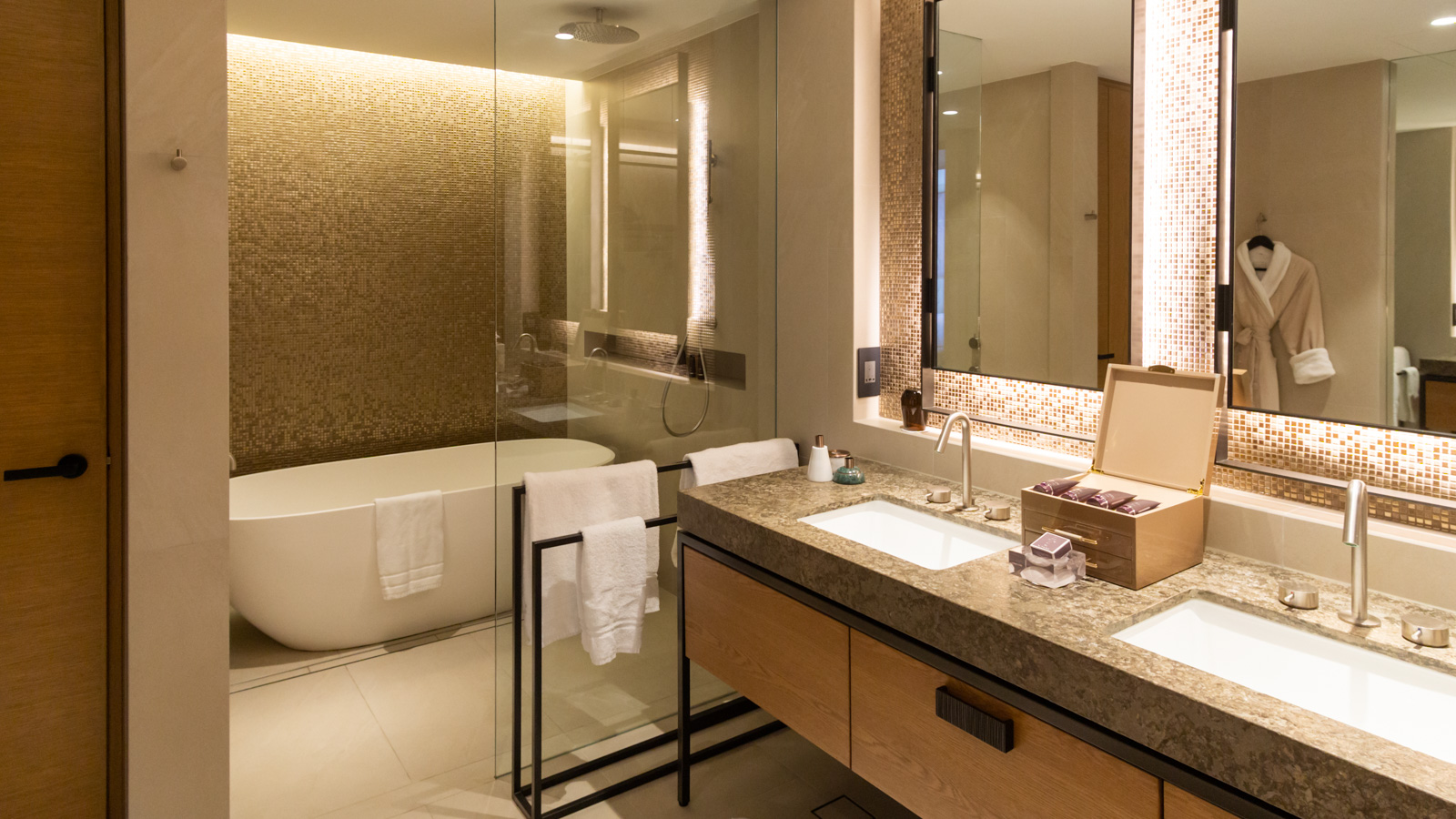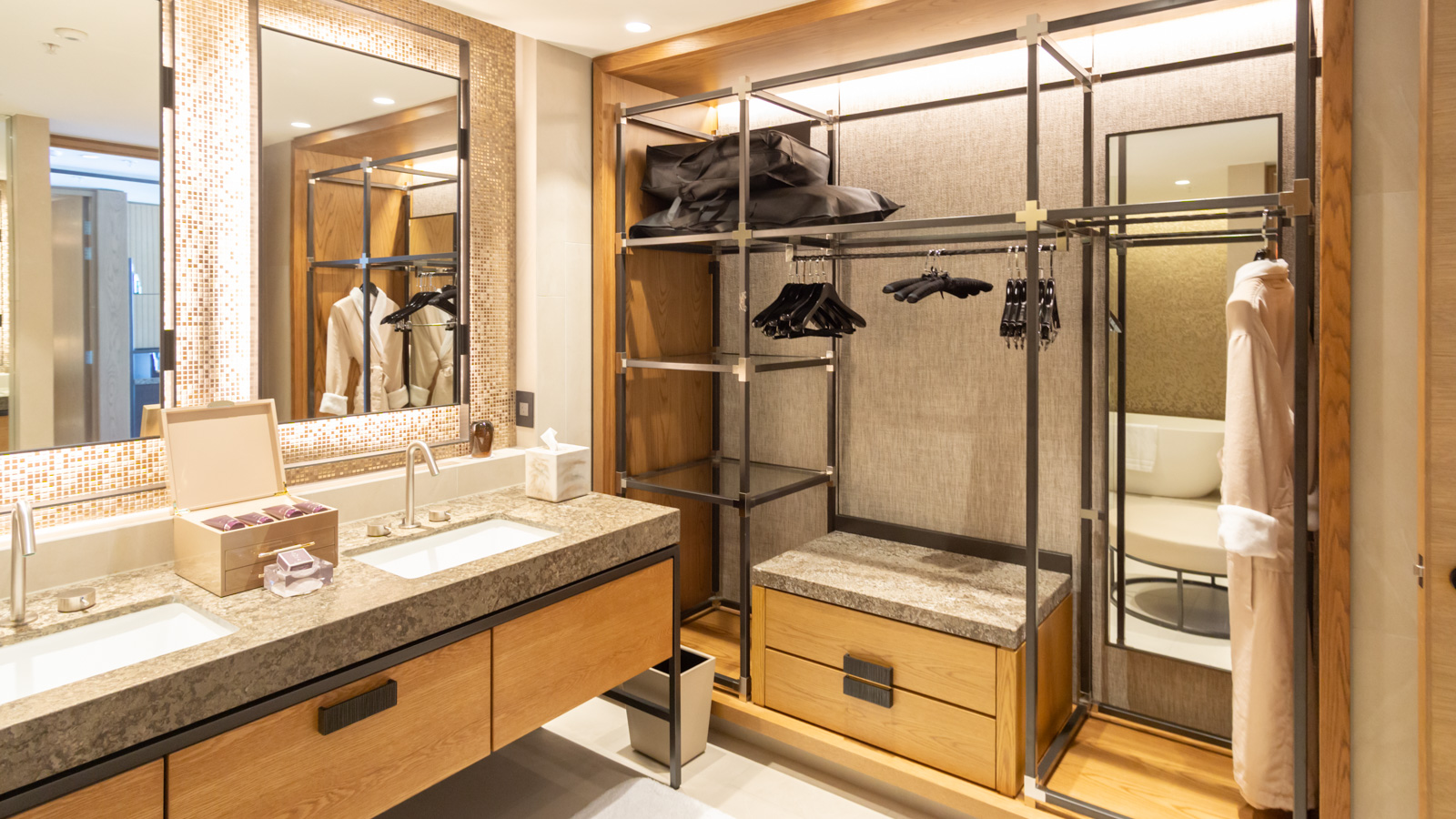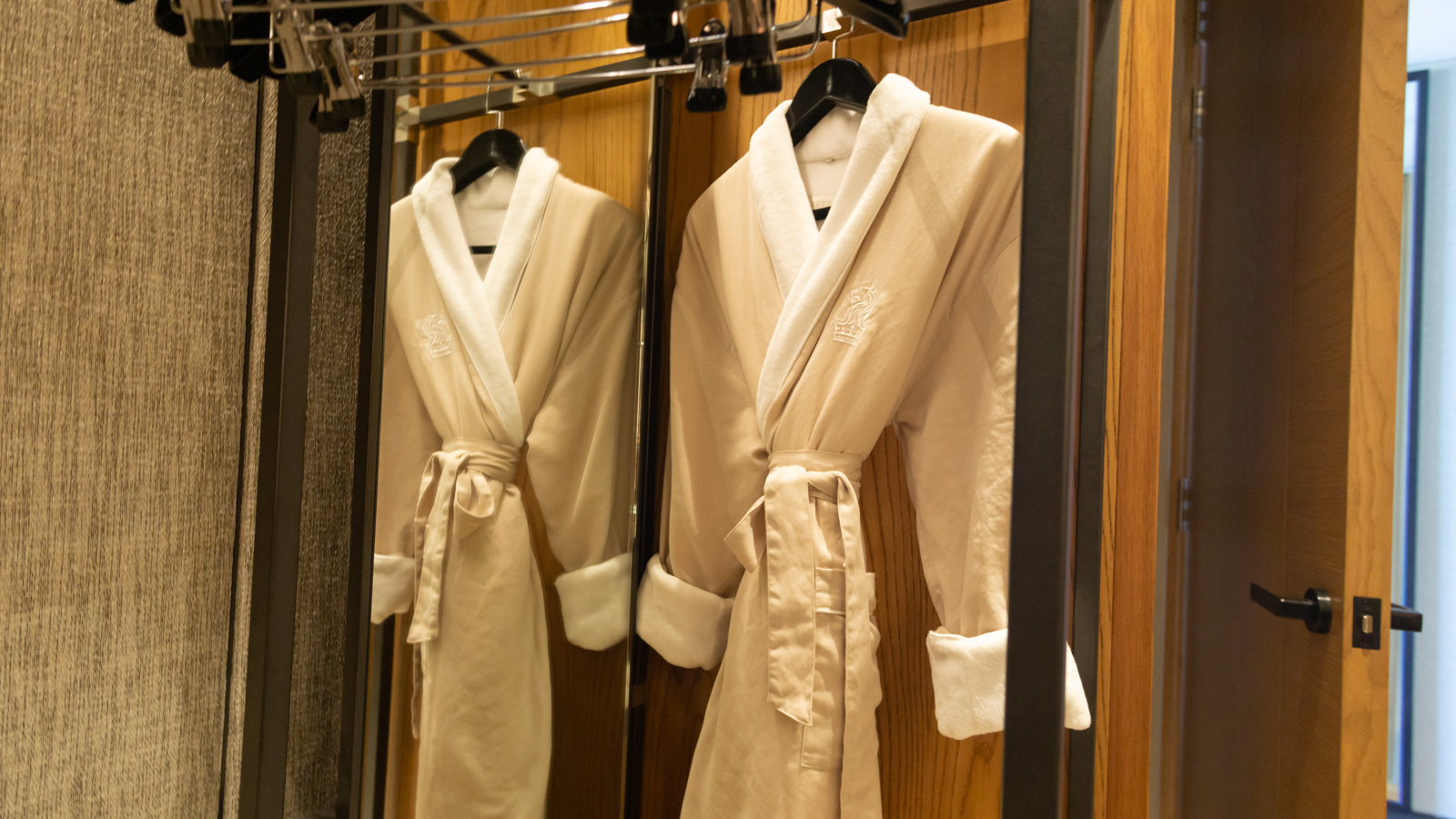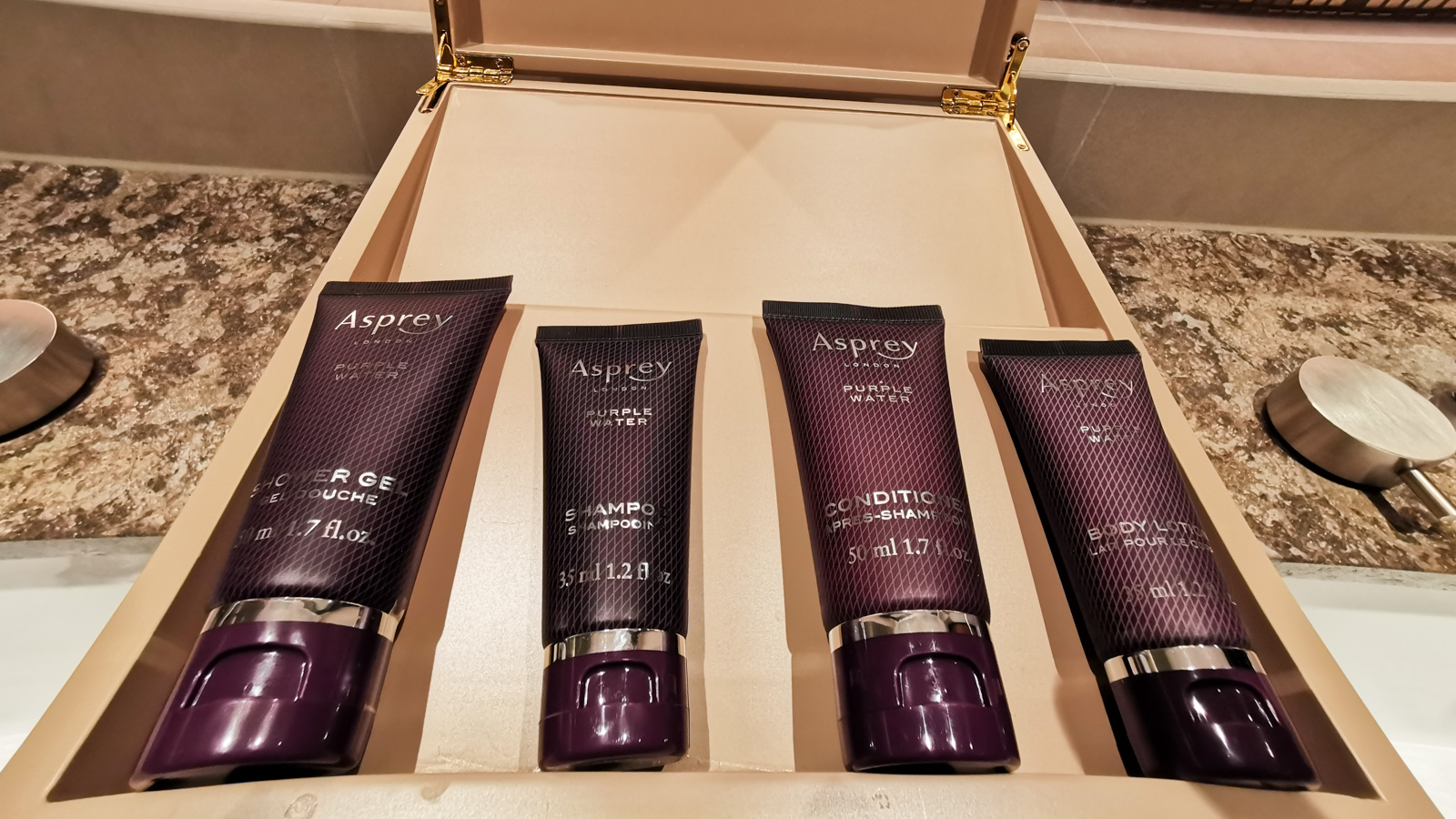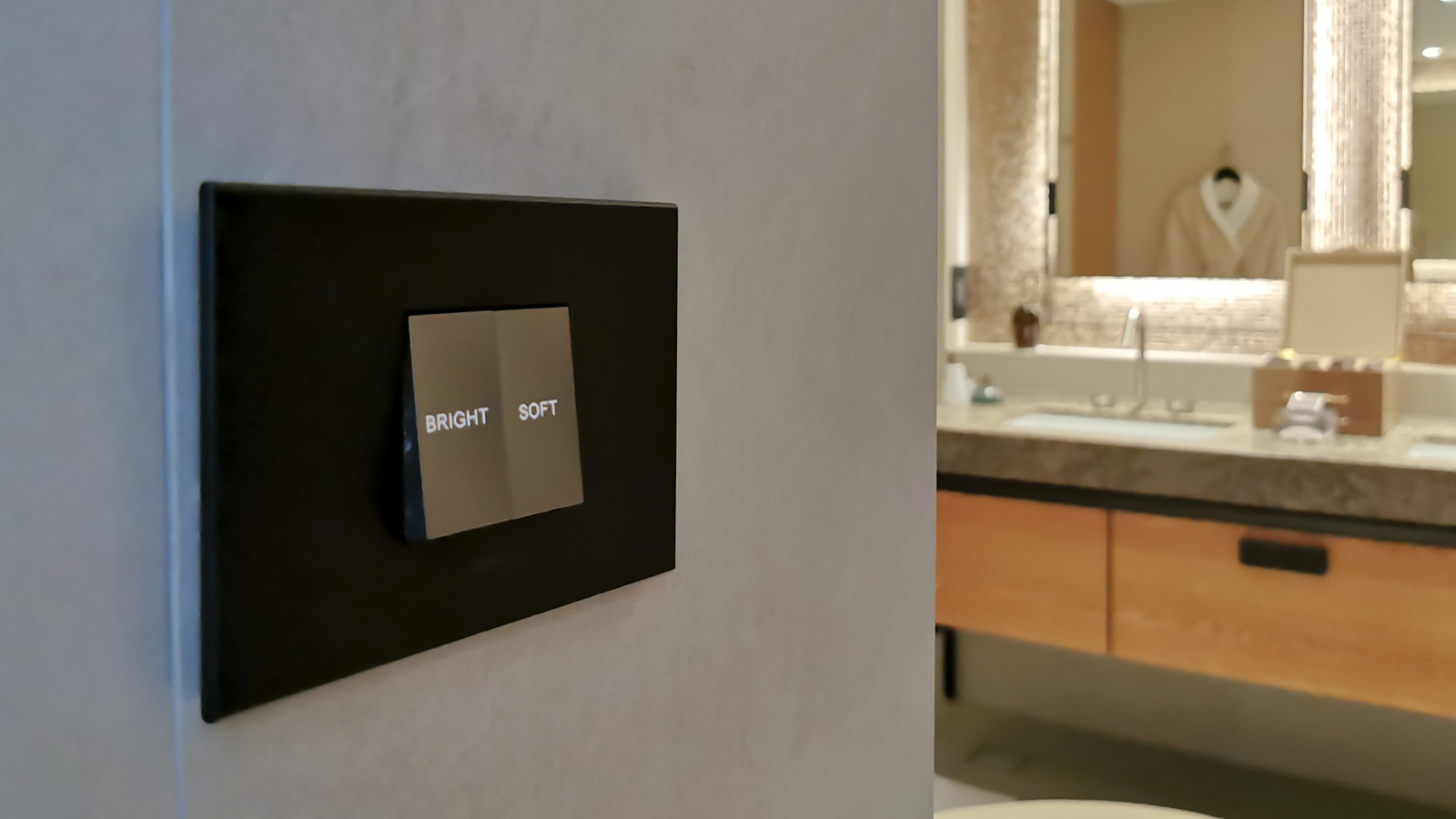 Elizabeth Quay Suite
Situated on floors 7-17, there are 11 Elizabeth Quay Suites in total. It's not hard to see why they are highly sought-after by bridal parties and luxury-seeking families alike, despite the ritzy price tag.
As you walk in, you're immediately drawn to the wrap-around panoramic views of the aforementioned quay.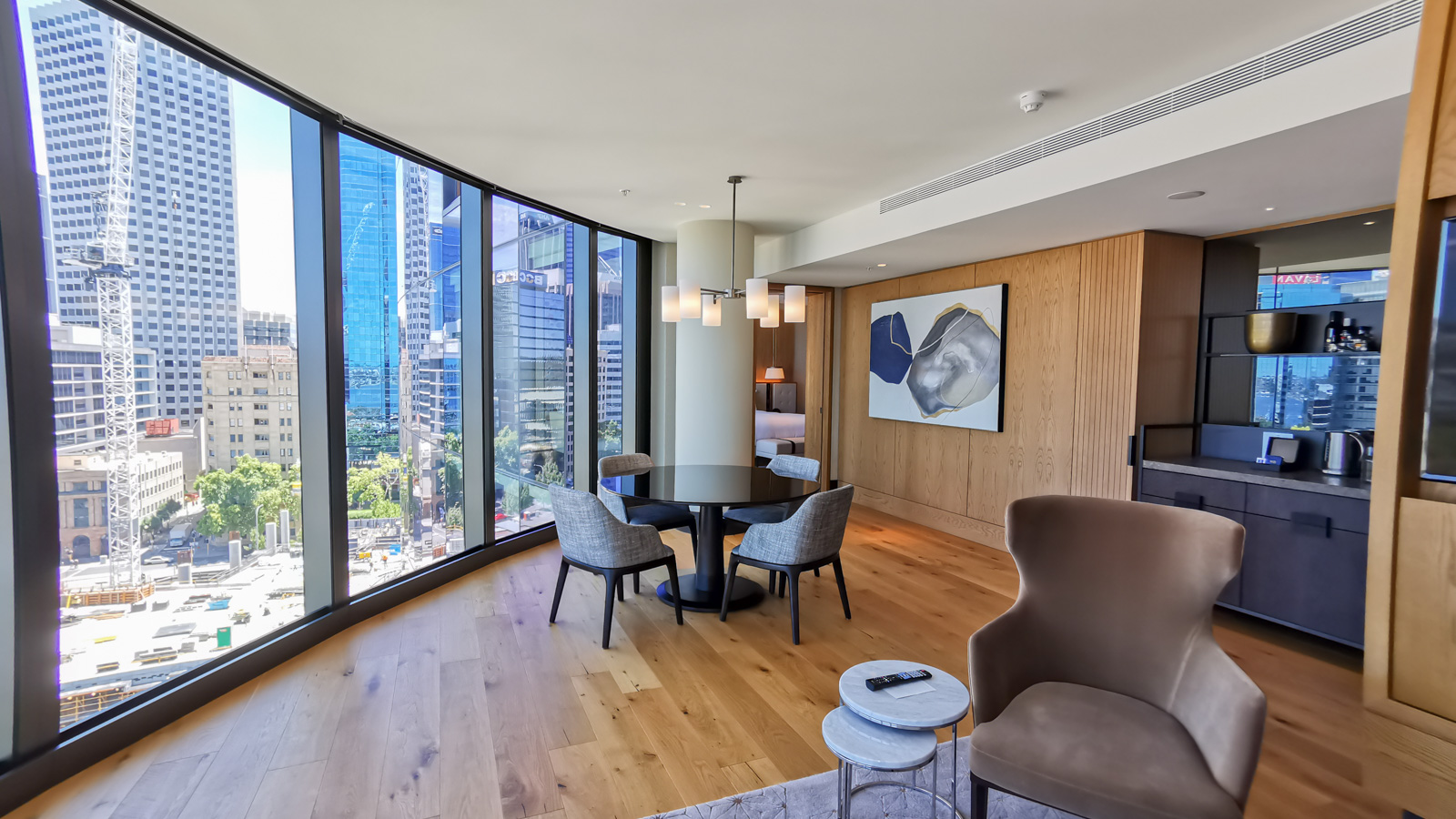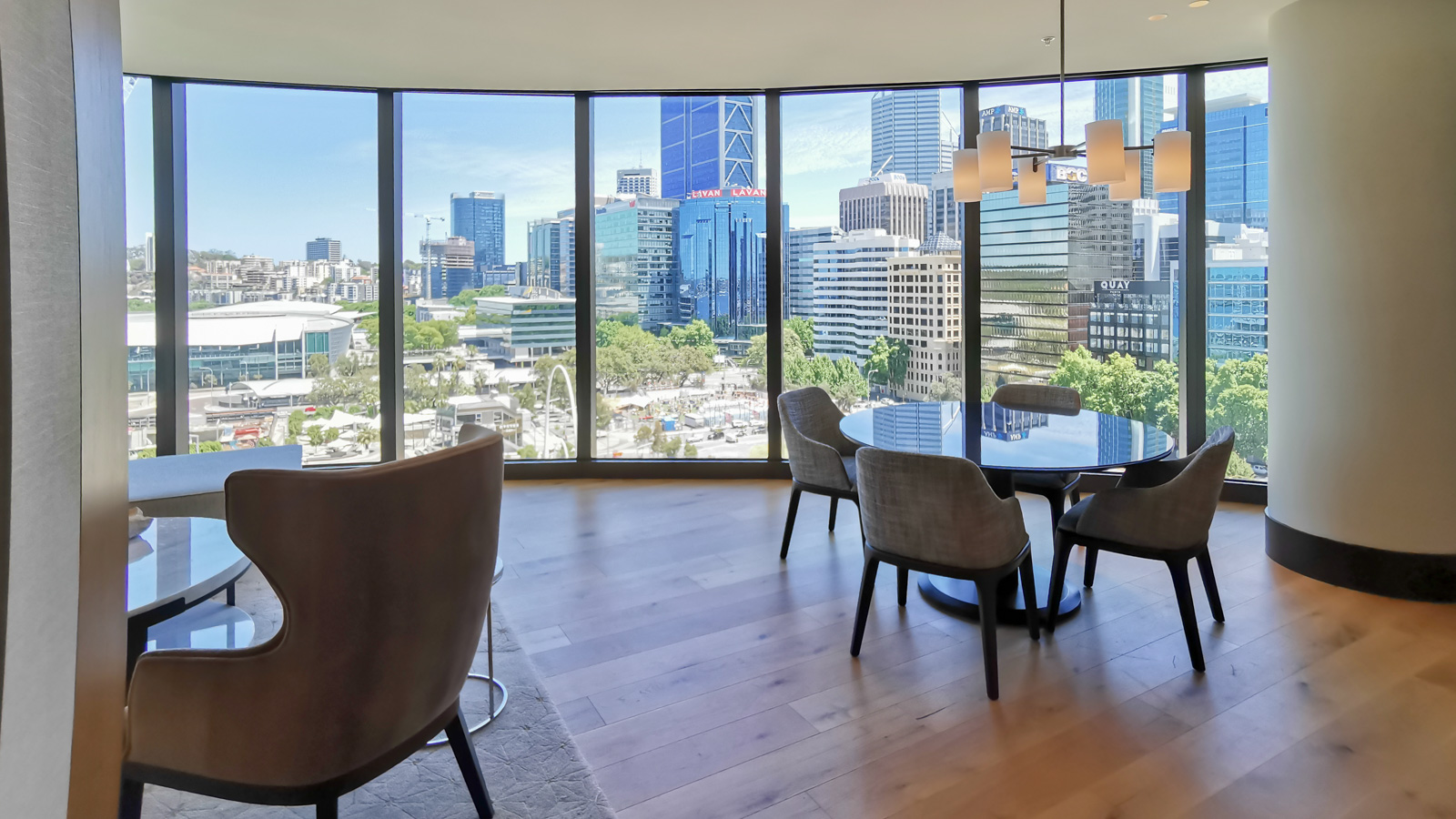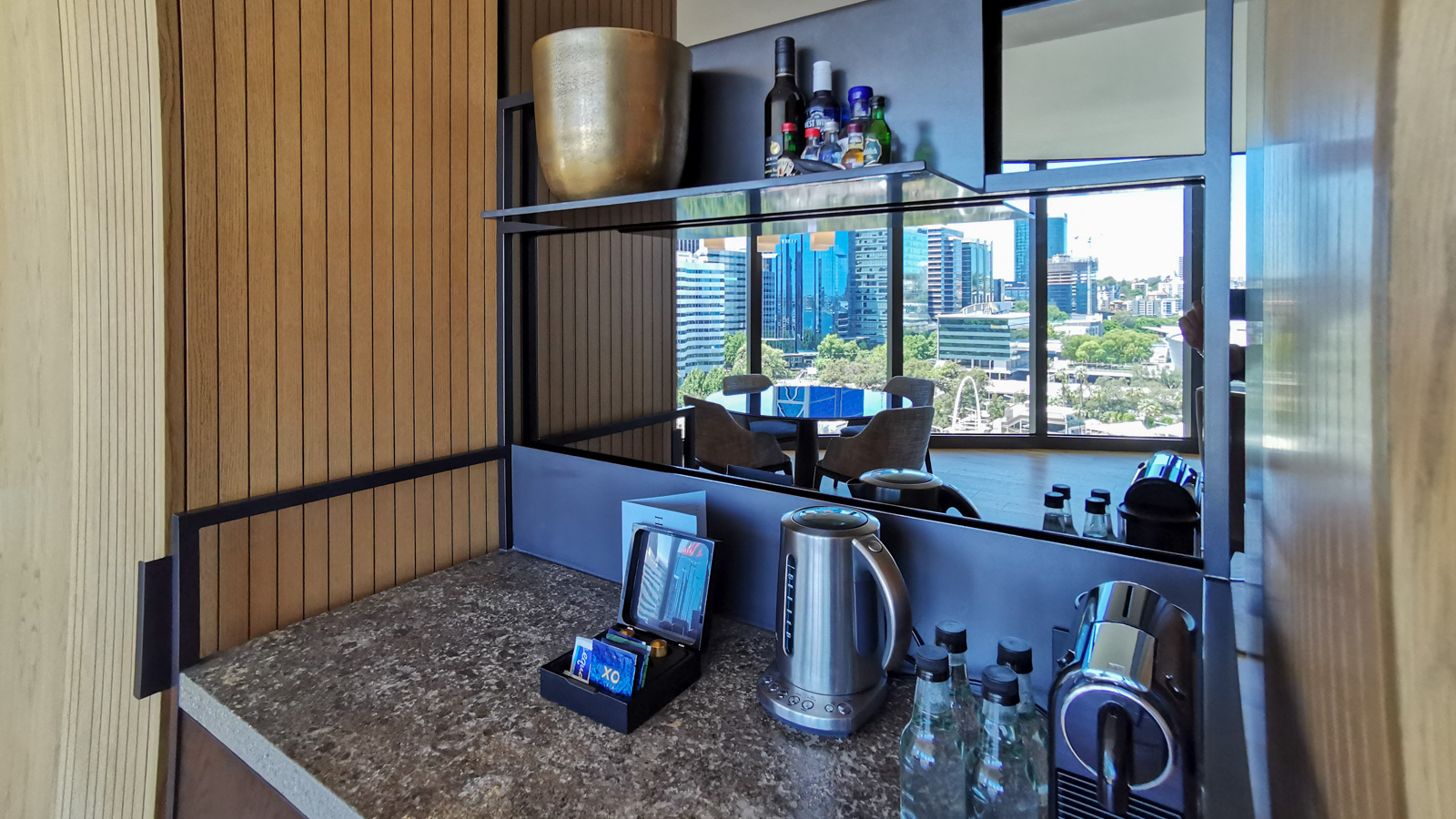 The 104 sqm suite is almost double the size of the Premium Room; the space just feels so airy and light. The separate living room boasts a dining table and lounge area with one of the suite's two televisions (the second is in the bedroom).
Moving into the bedroom, much of the space is similar to the other rooms in the property. You've got a comfortable king bed, but also the addition of a working nook if you feel like staying put.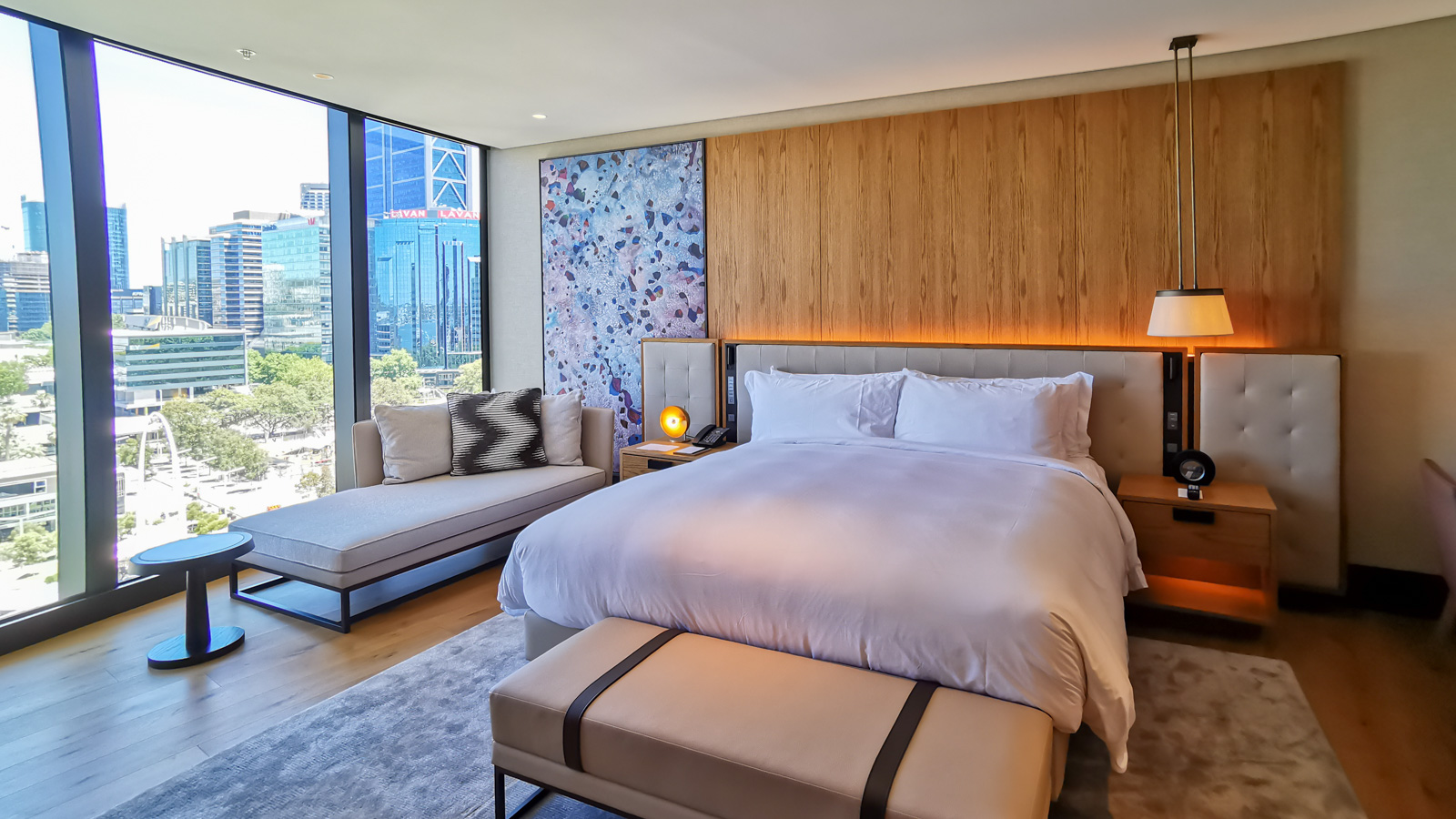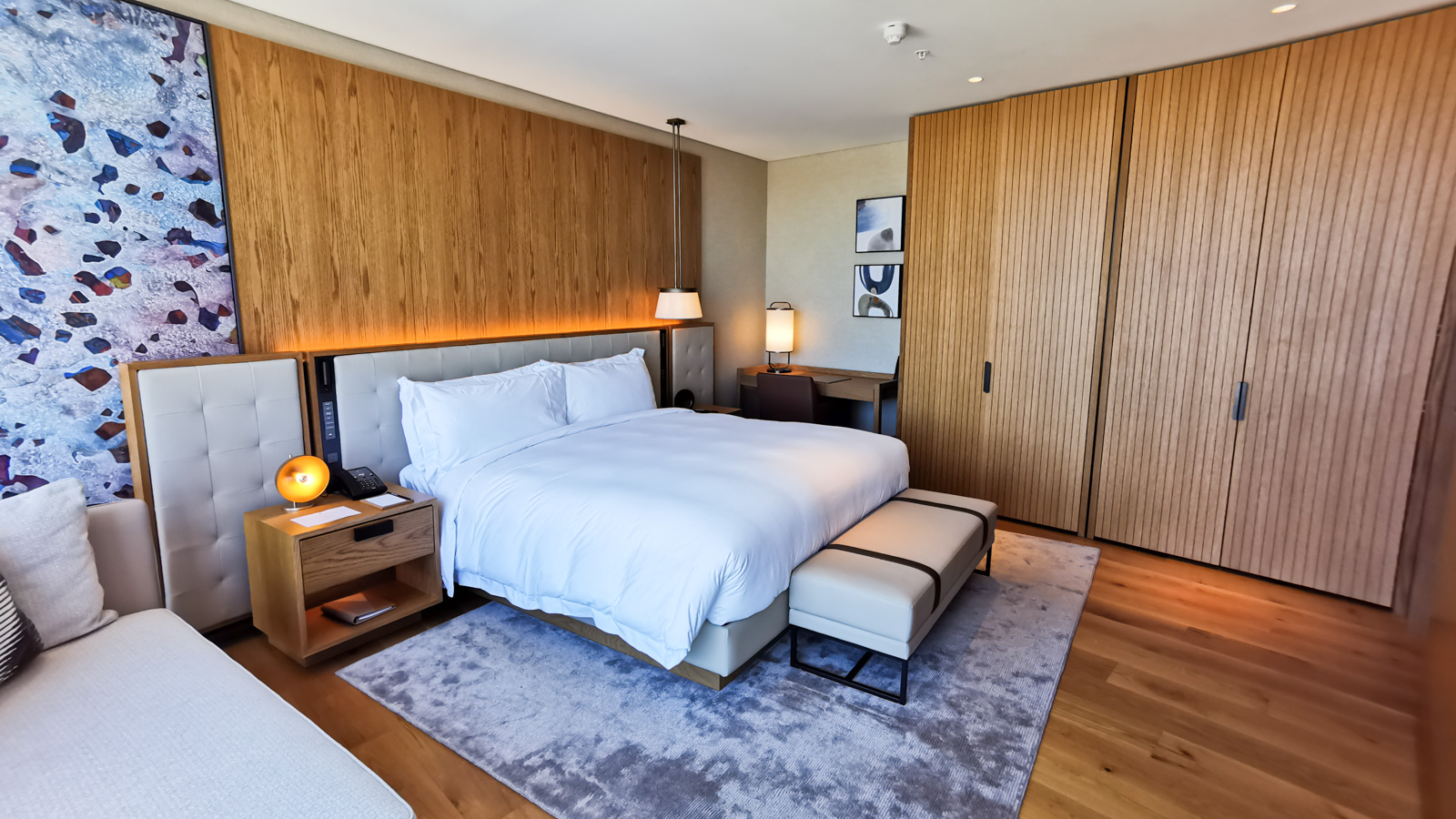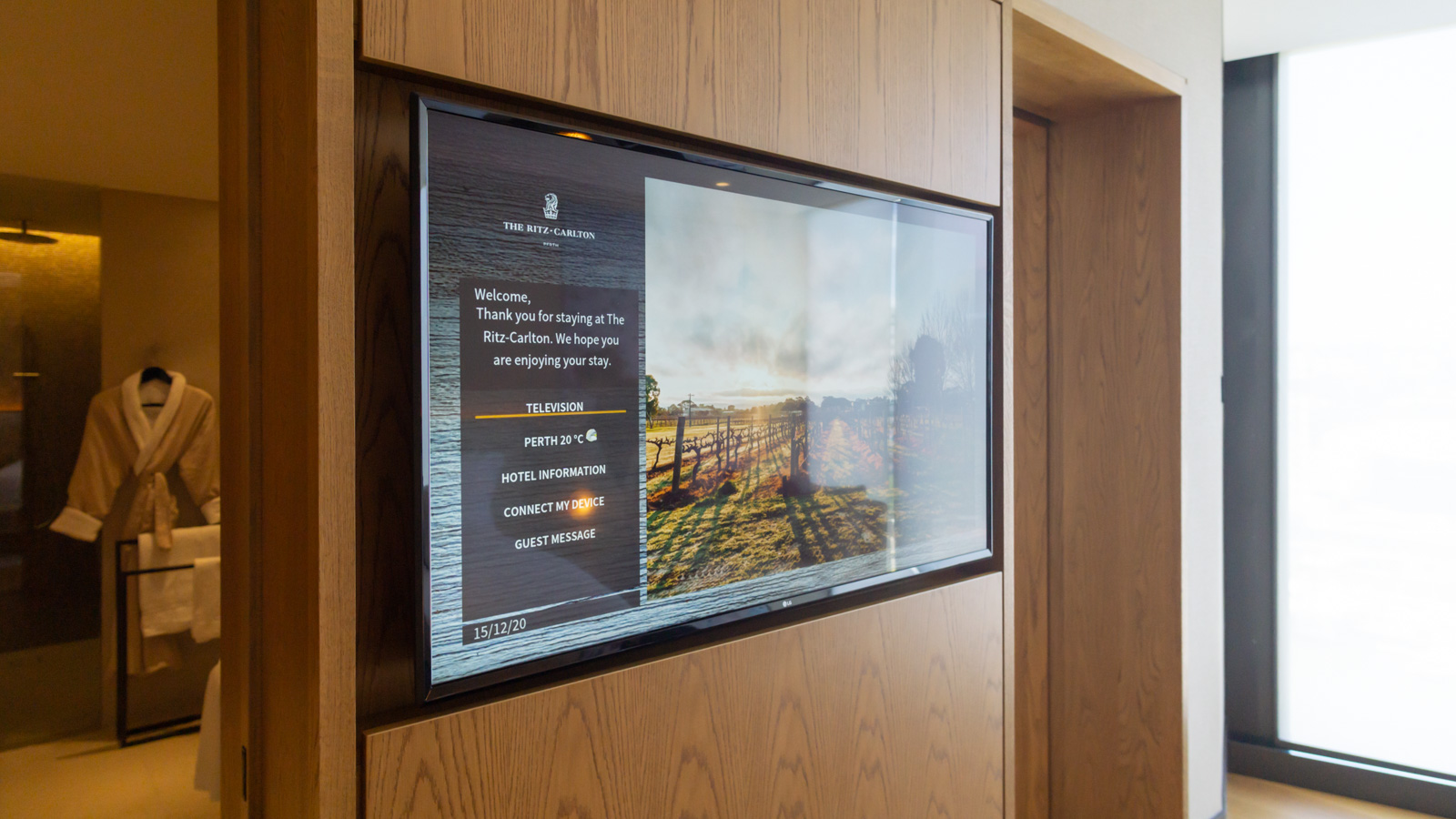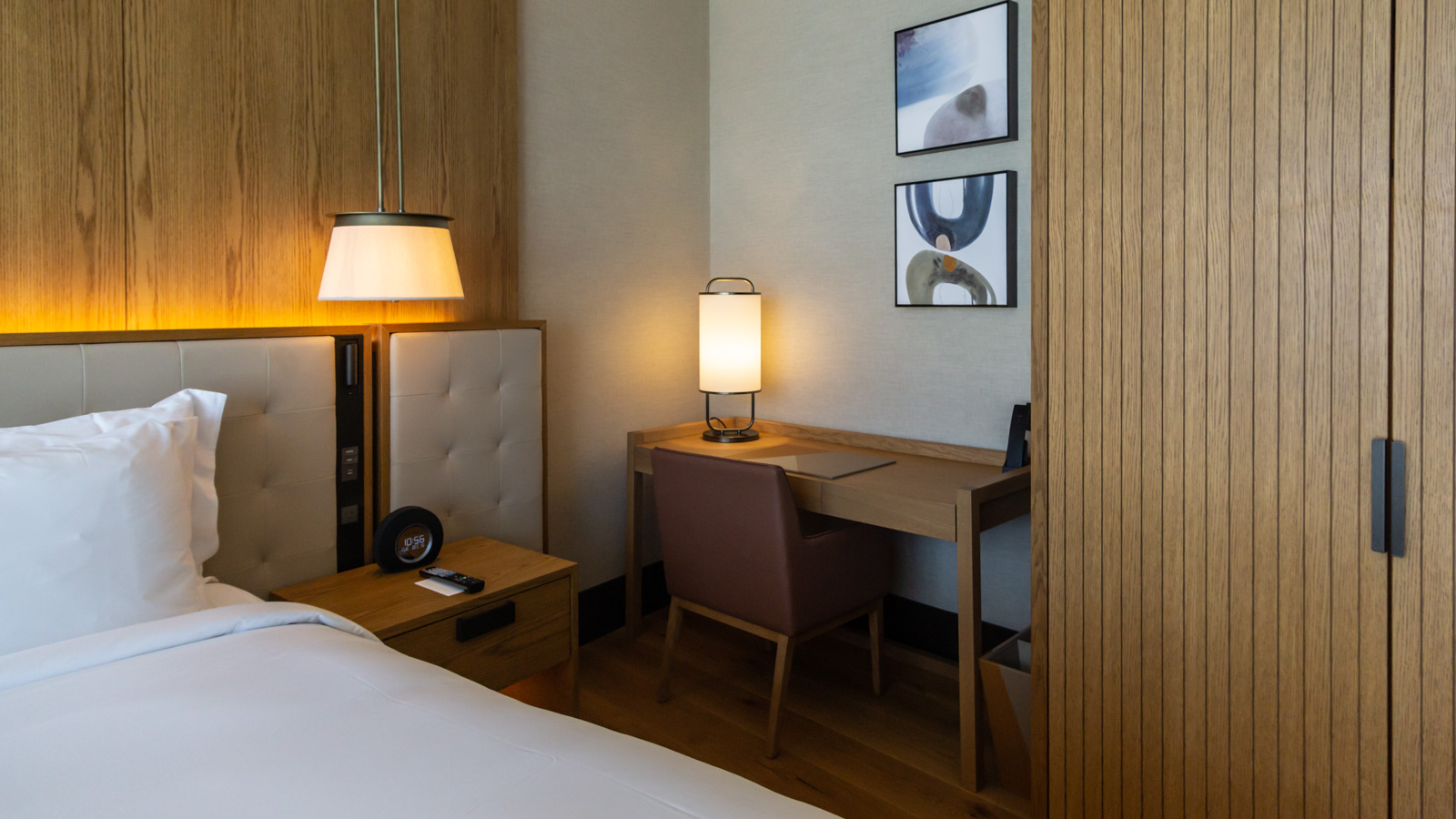 All Suites in this property have 1.5 bathrooms, which essentially means the addition of a separate 'powder room' and toilet for guests. The bathtub is also separate, meaning you gain a full-size standalone rainforest shower as well, rather than the two combined.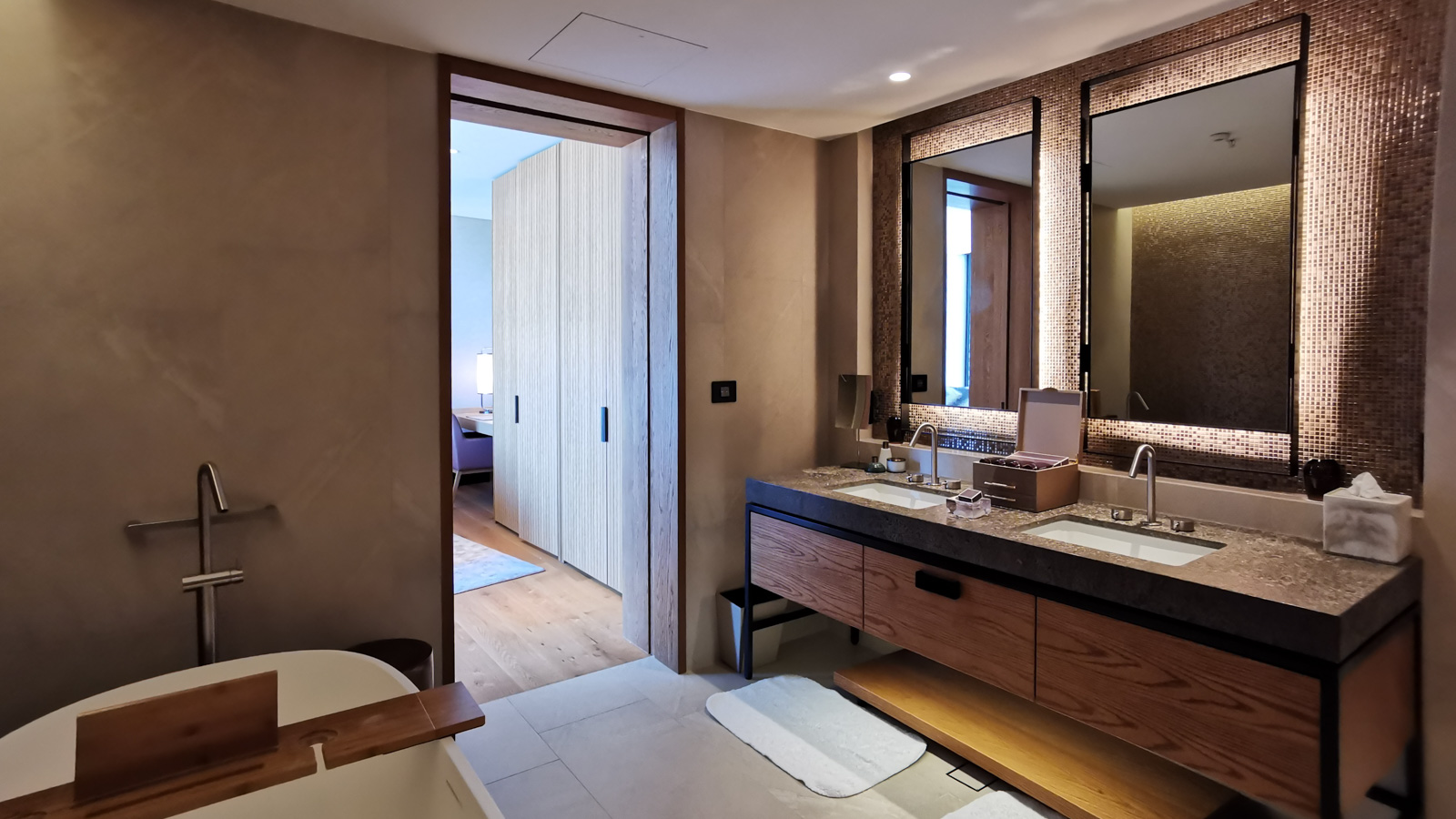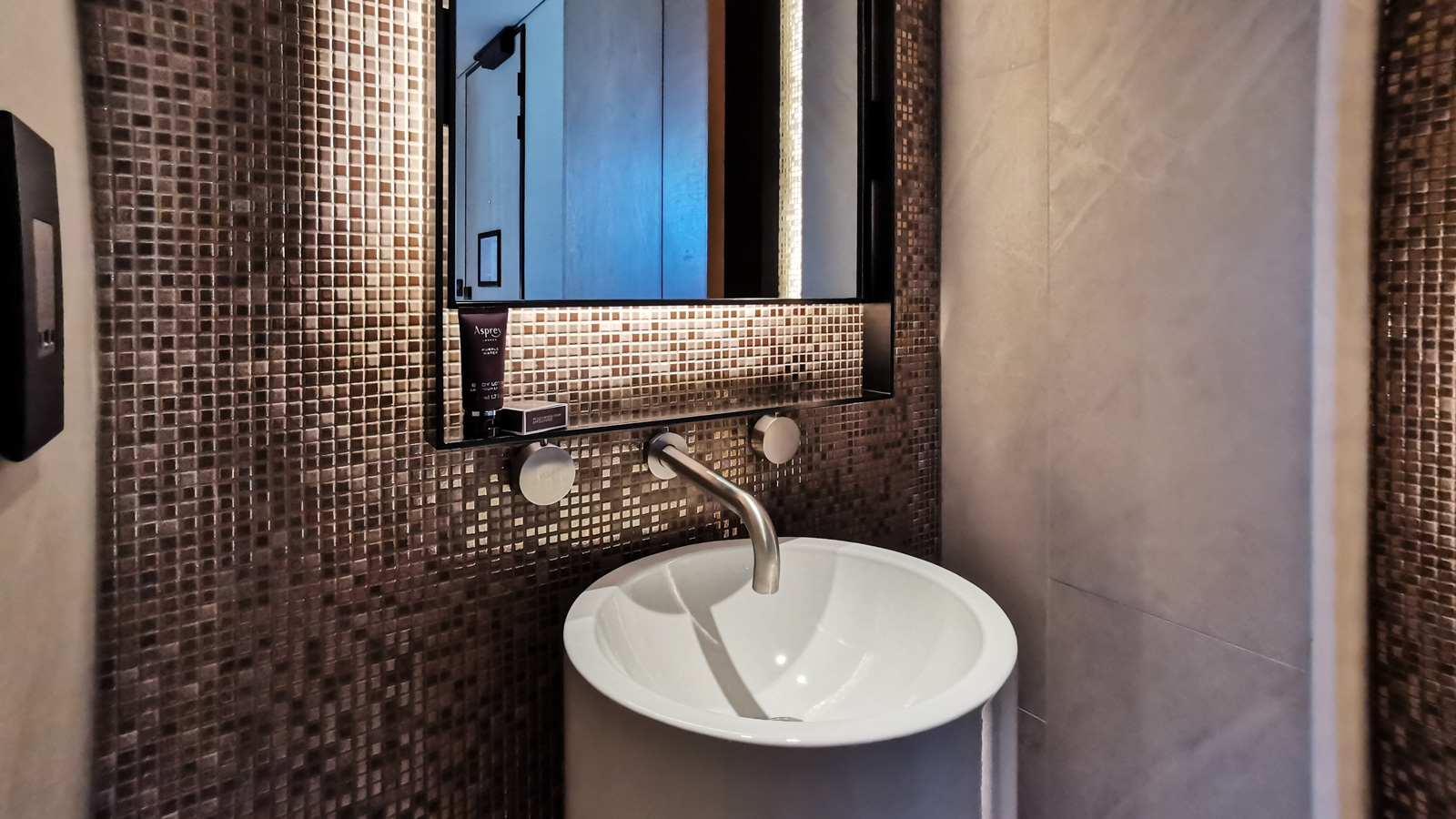 What amenities does the Ritz-Carlton Perth have?
Outdoor and fitness amenities
Guests have full use of the pool, gym, sauna and spa included, with only spa treatments requiring an additional charge. These treatments usually have to be pre-booked, as walk-ins are not generally accepted.
The outdoor infinity pool overlooks the Swan River and is sure to be quite a sight during the evening sunset, though it was definitely quieter and more serene during the morning.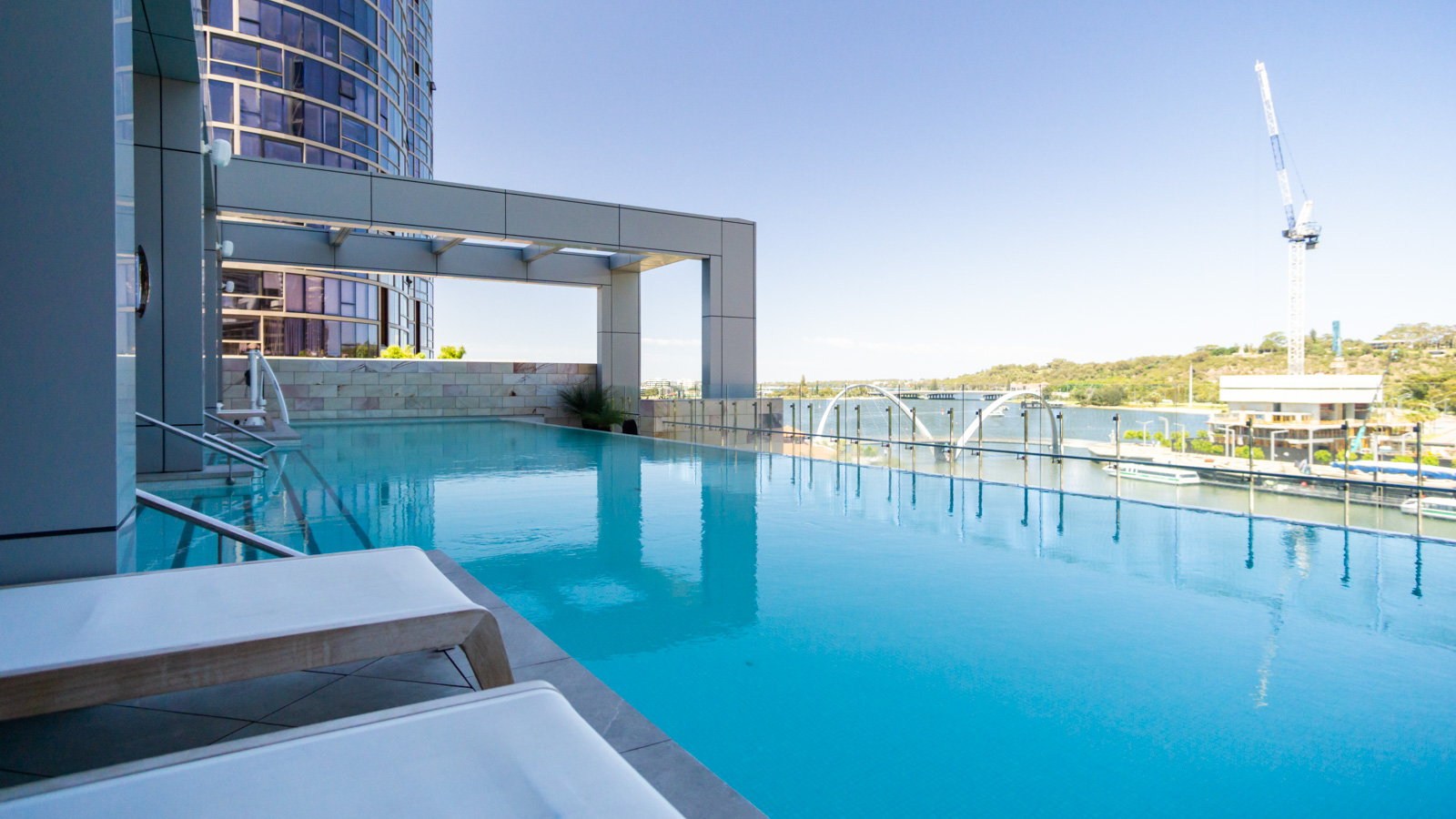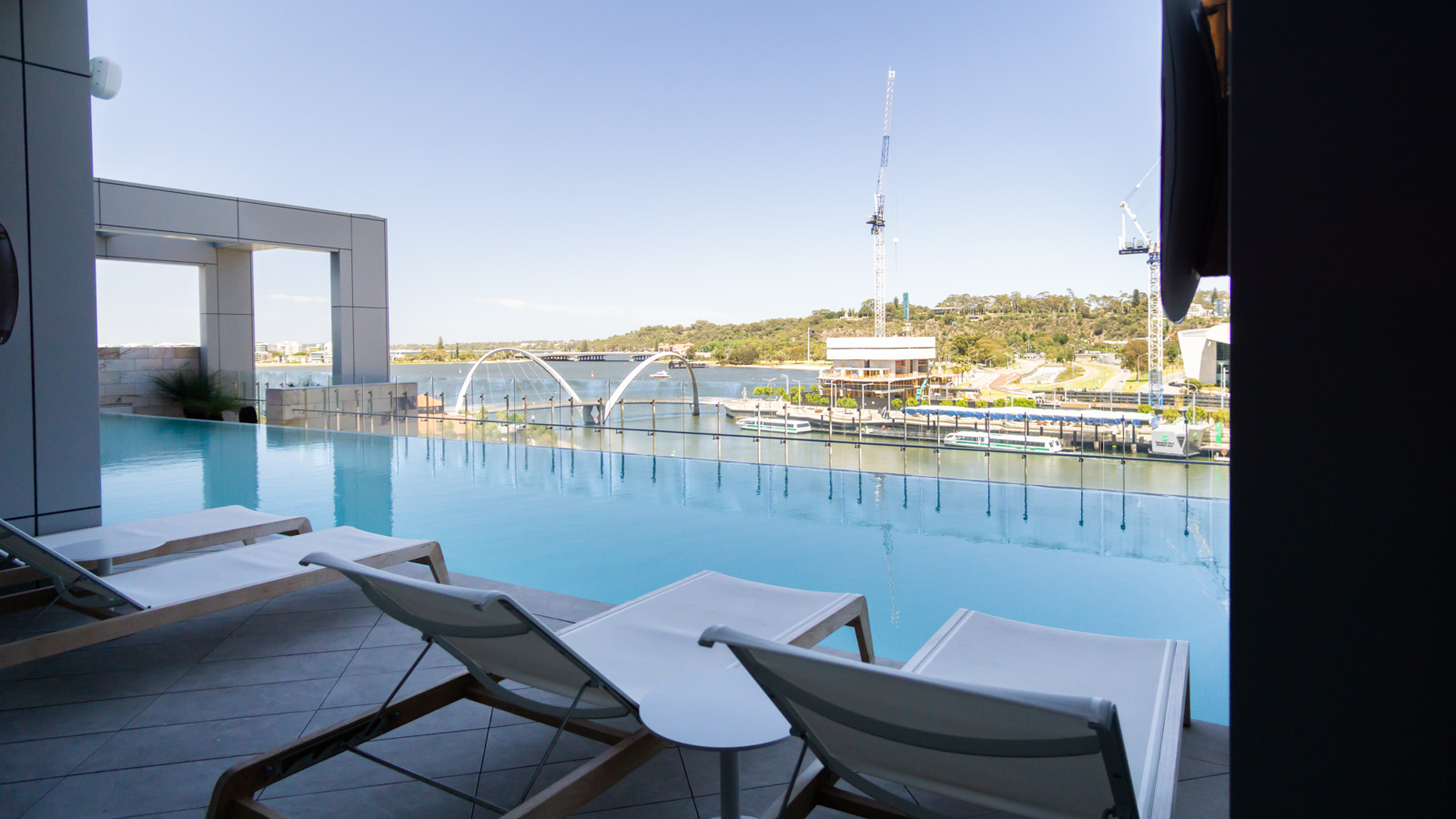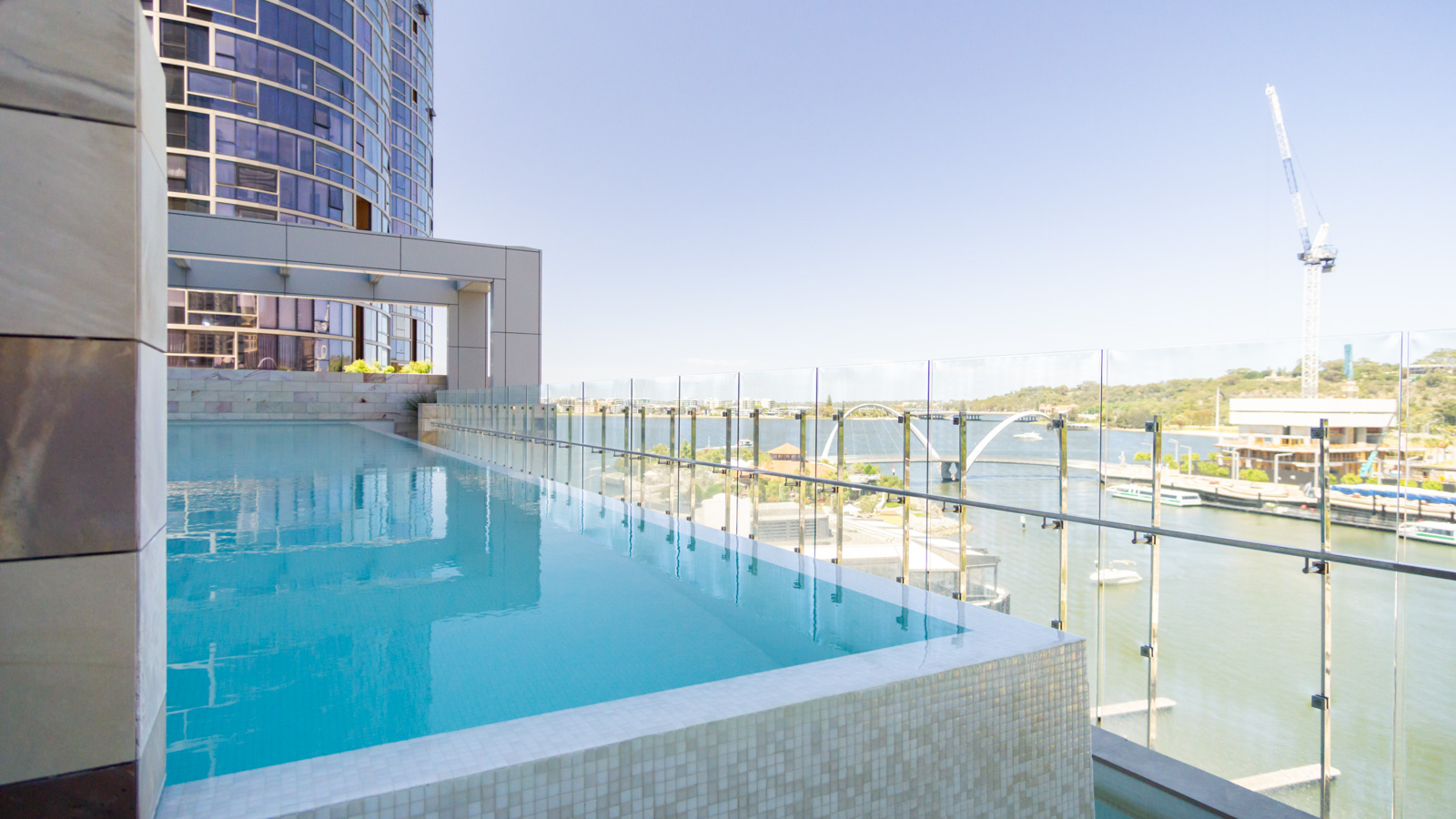 Guests can relax in the spa precinct too, with complimentary use of separate 'his and hers' vitality pool and sauna facilities. If you opt for a treatment, expect products from Australian brand La Gaia Unedited (which also supplies Qantas' First Class lounge spas), plus Biologique Recherche.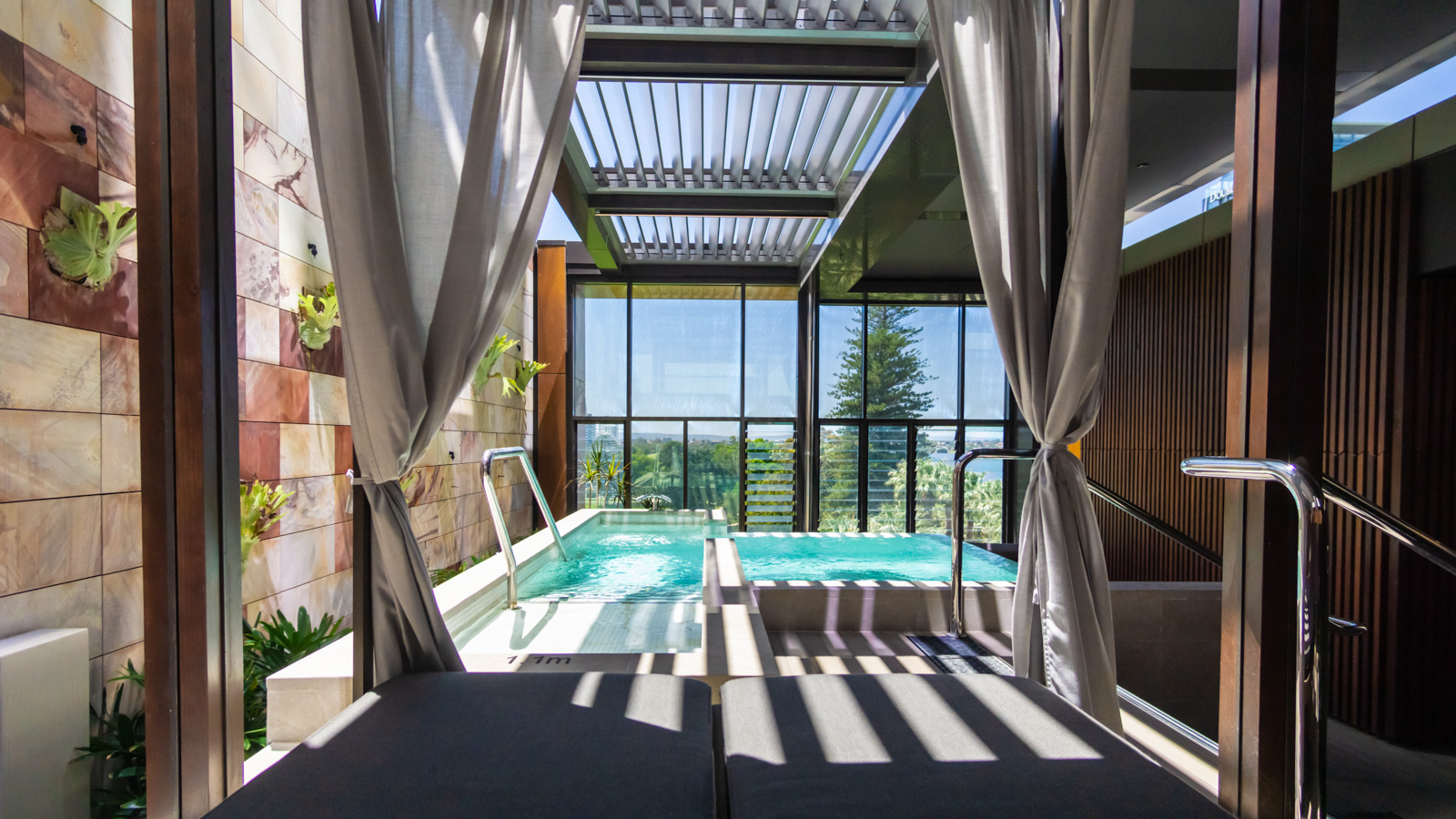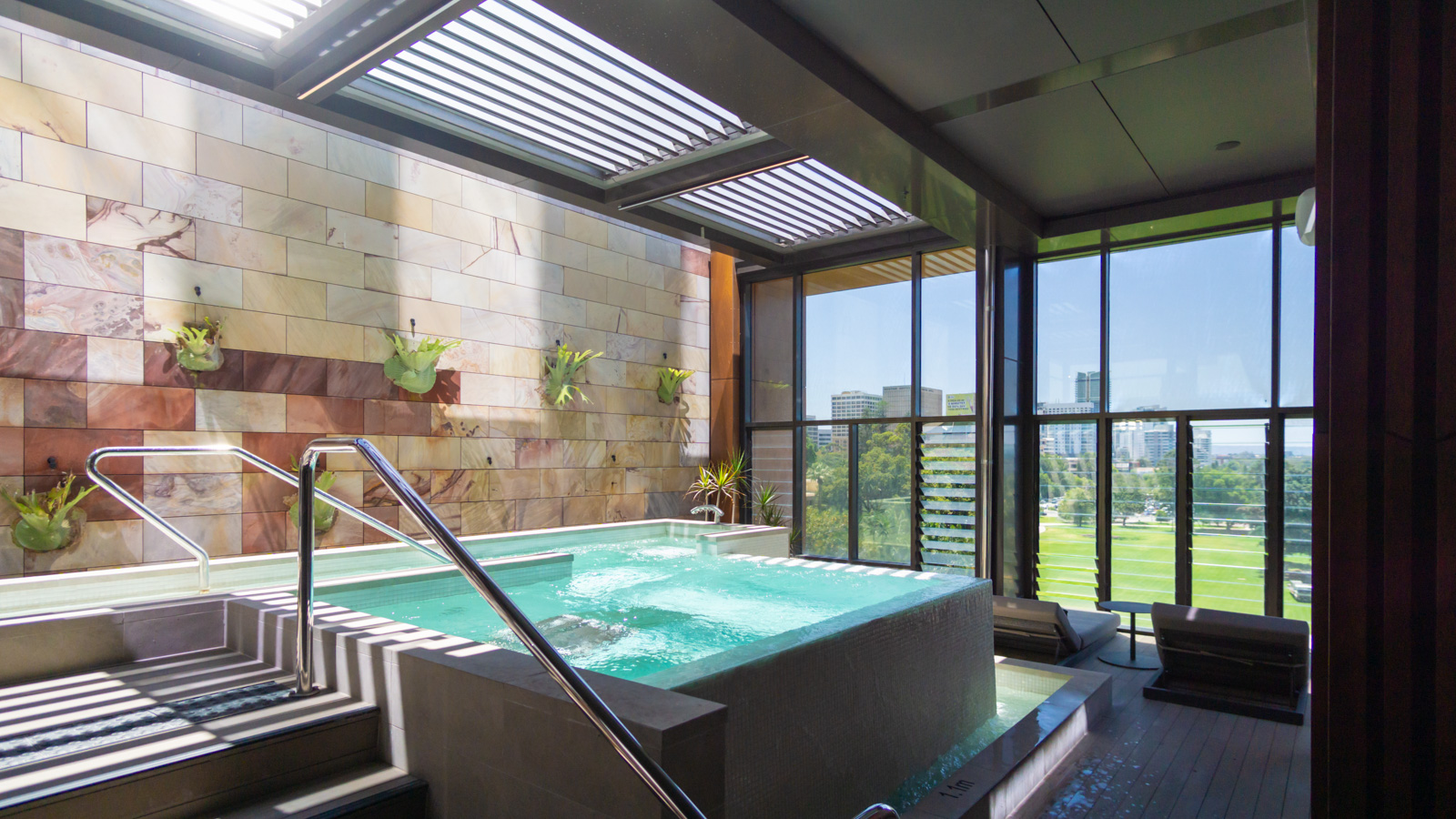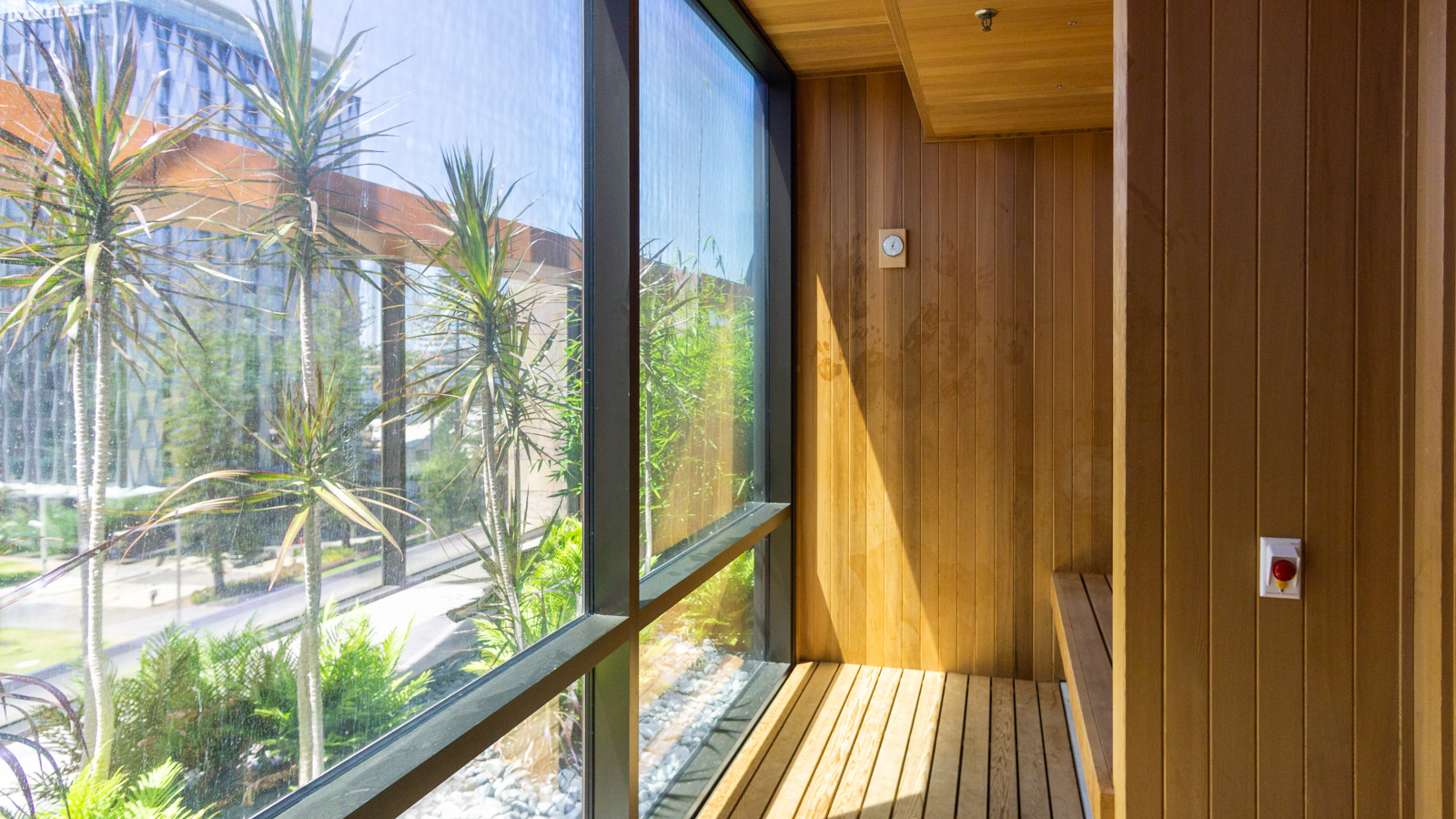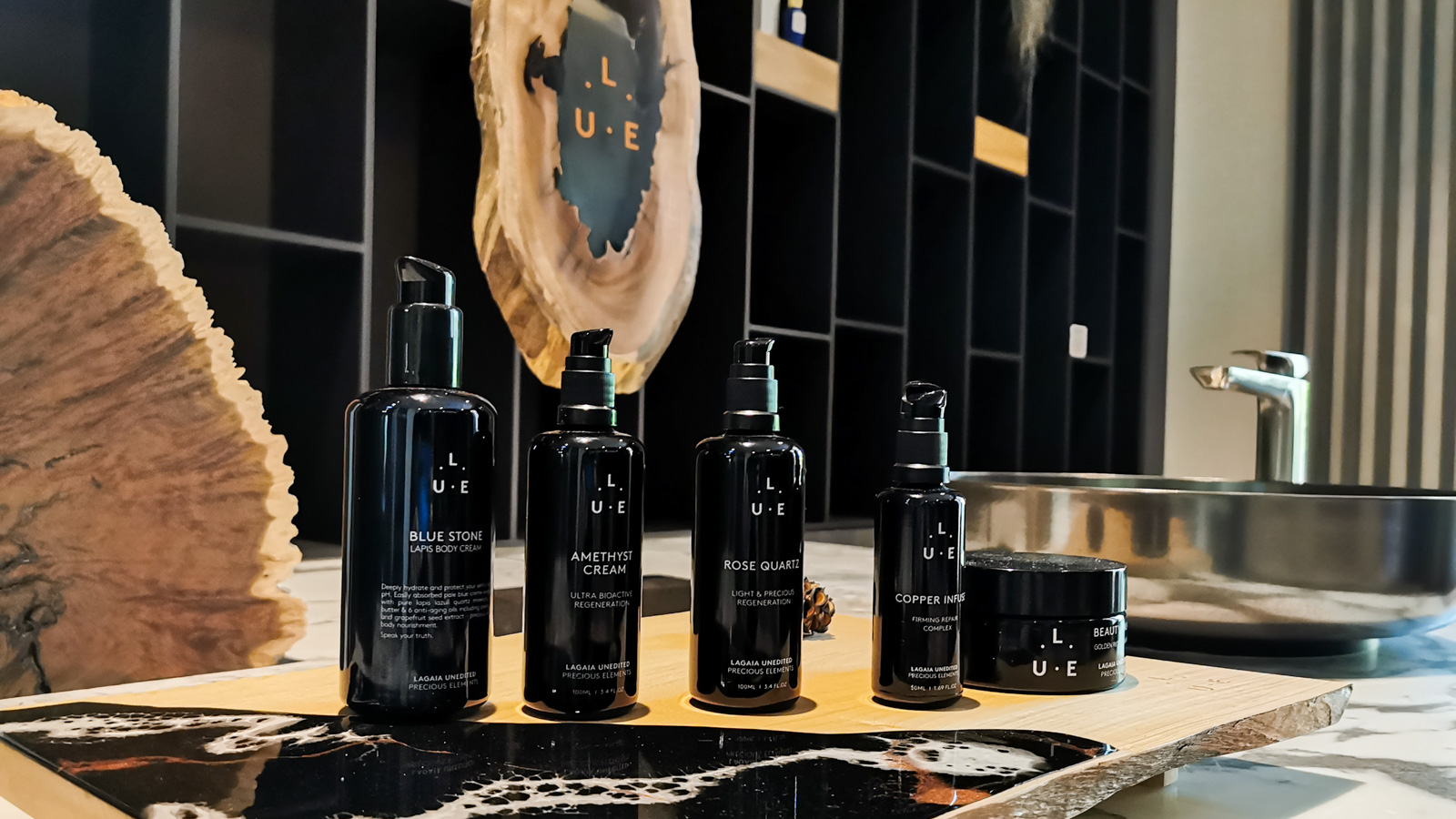 If you're looking to break a sweat, then the compact gym will have you covered, with a range of weights and high-tech machines to keep your blood and muscles pumping. Towels and water are provided too.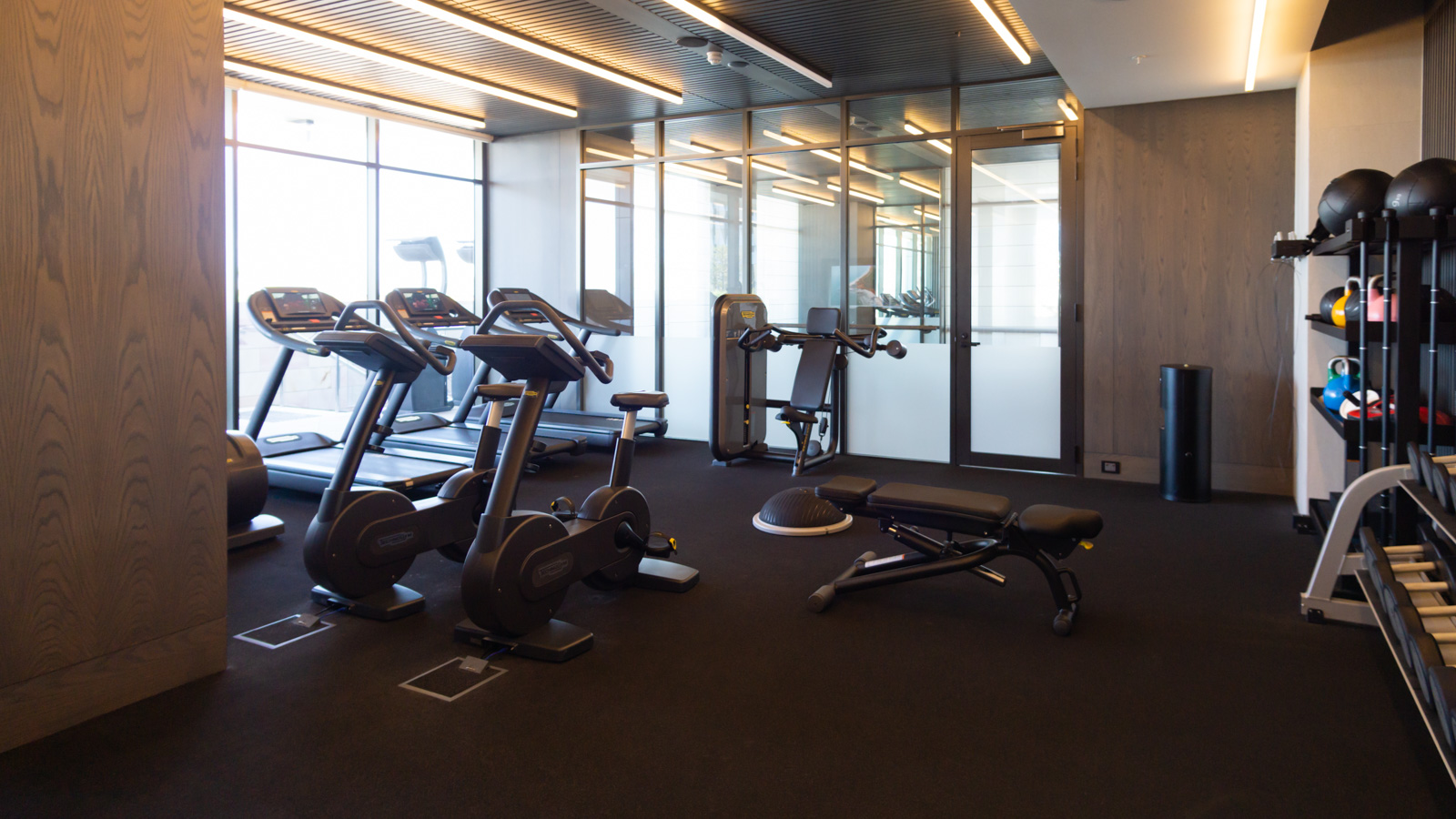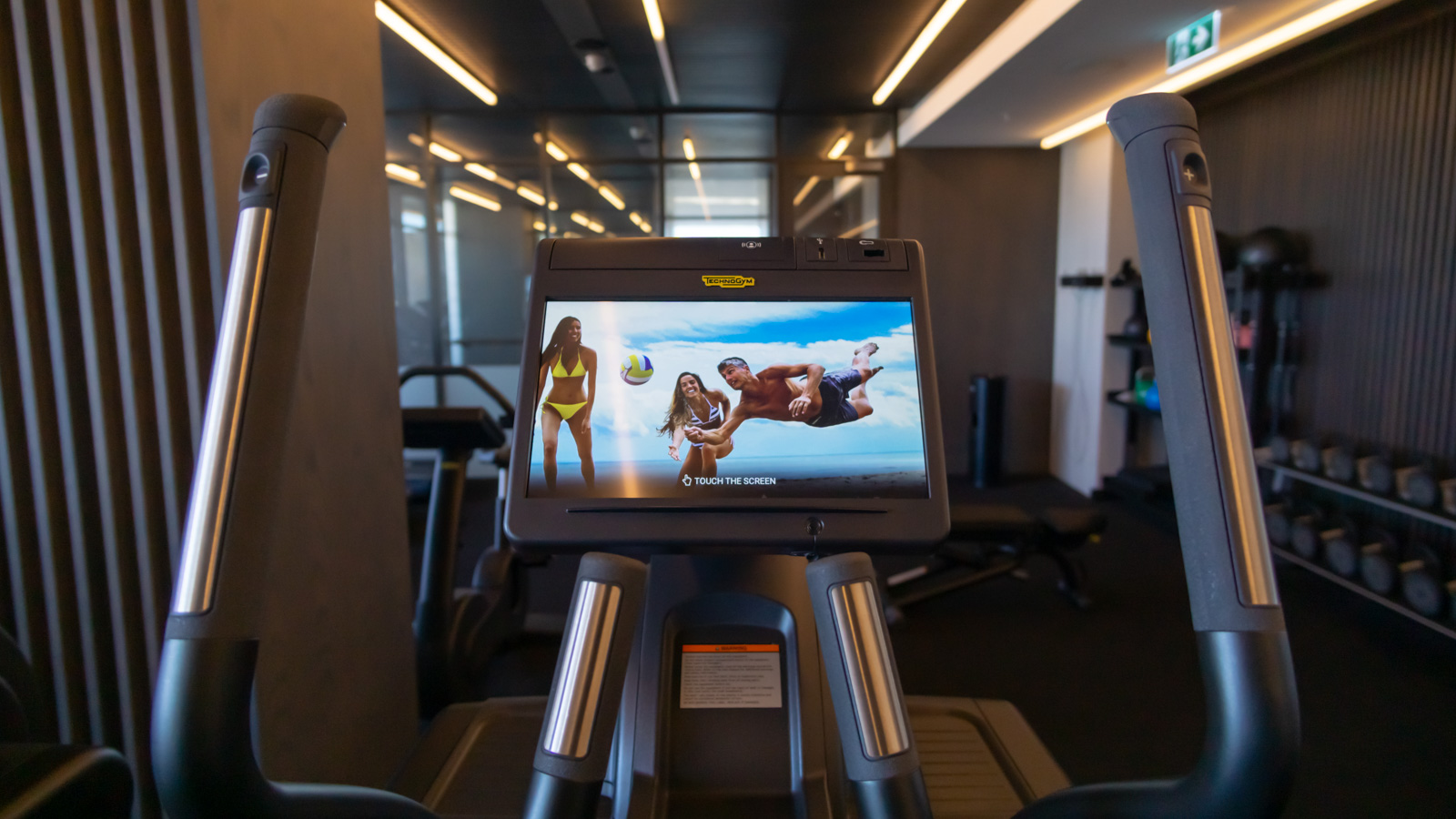 Hotel dining
On the dining scene, the main restaurant is Hearth, located on the ground floor. This is where the daily a-la-carte breakfasts are served for guests too. Hearth also features a cosy bar and lounge area for evening drinks.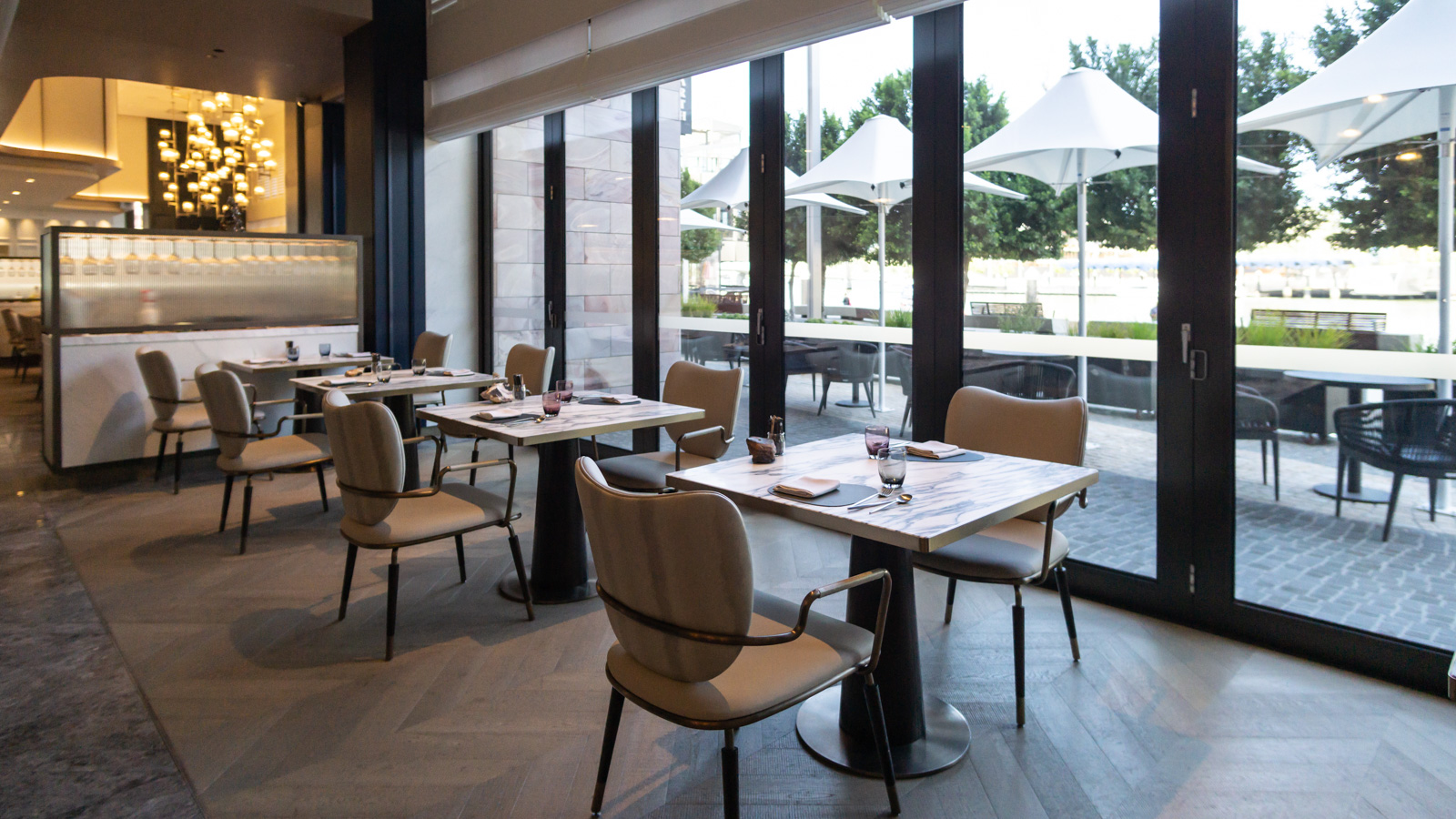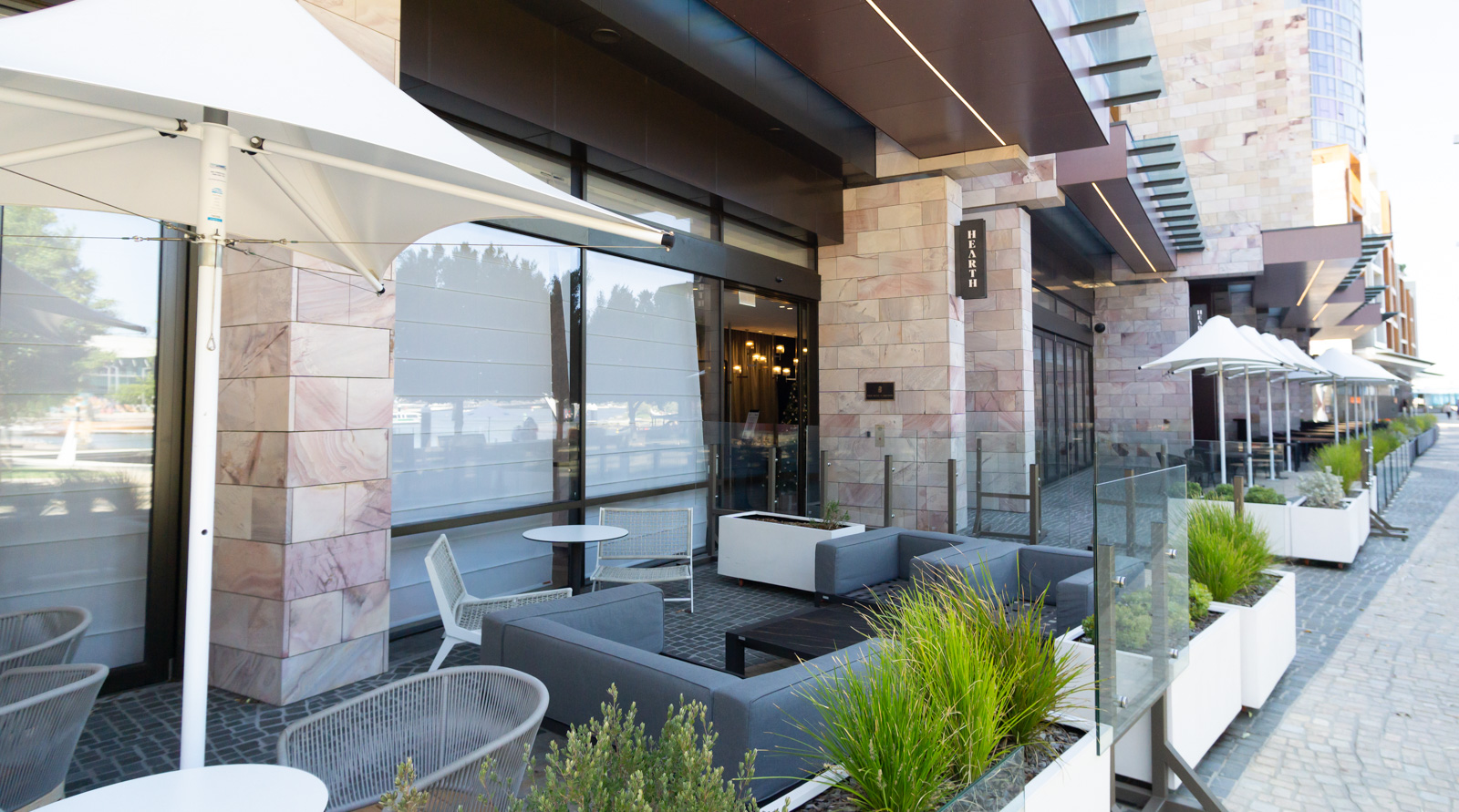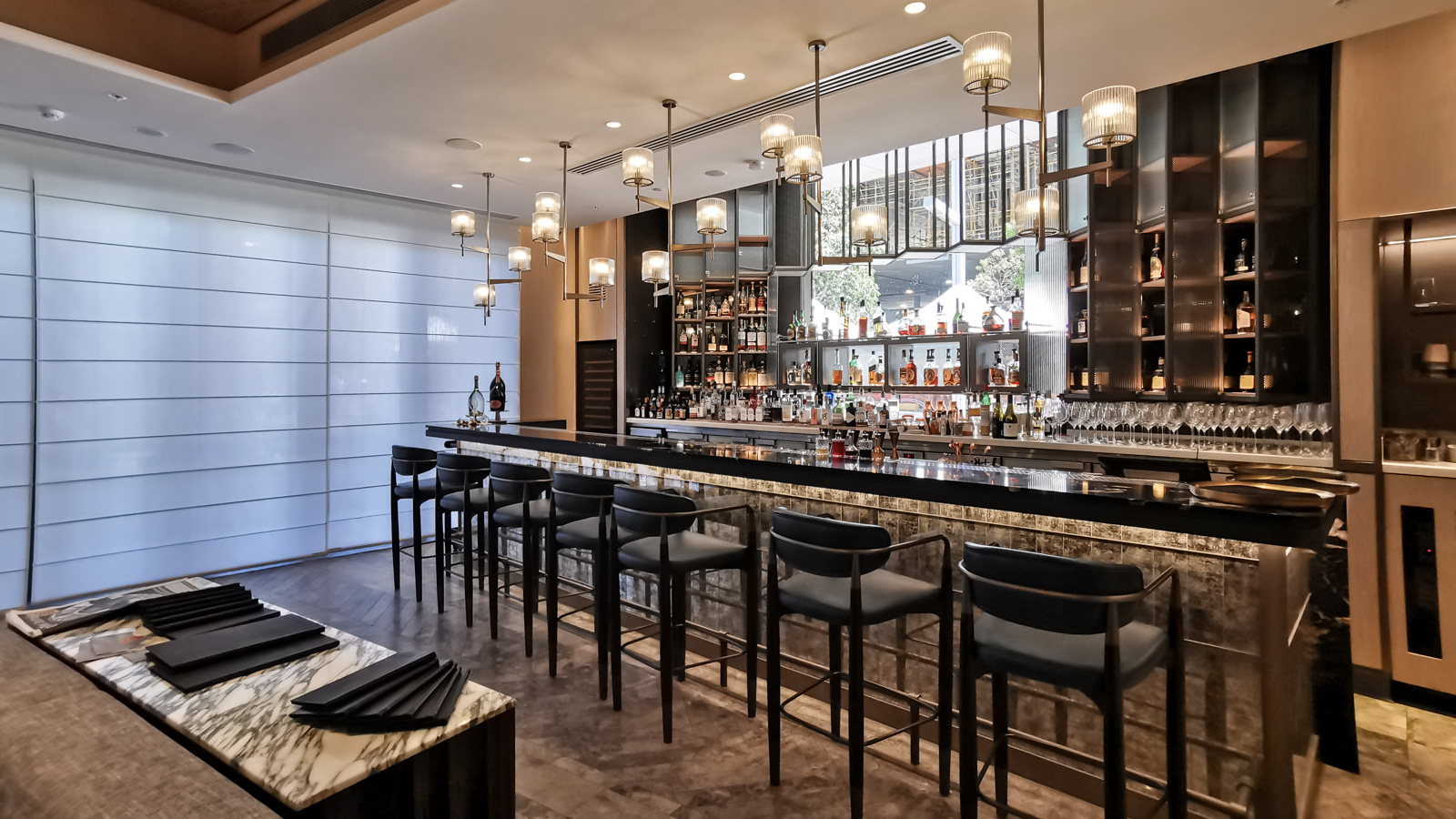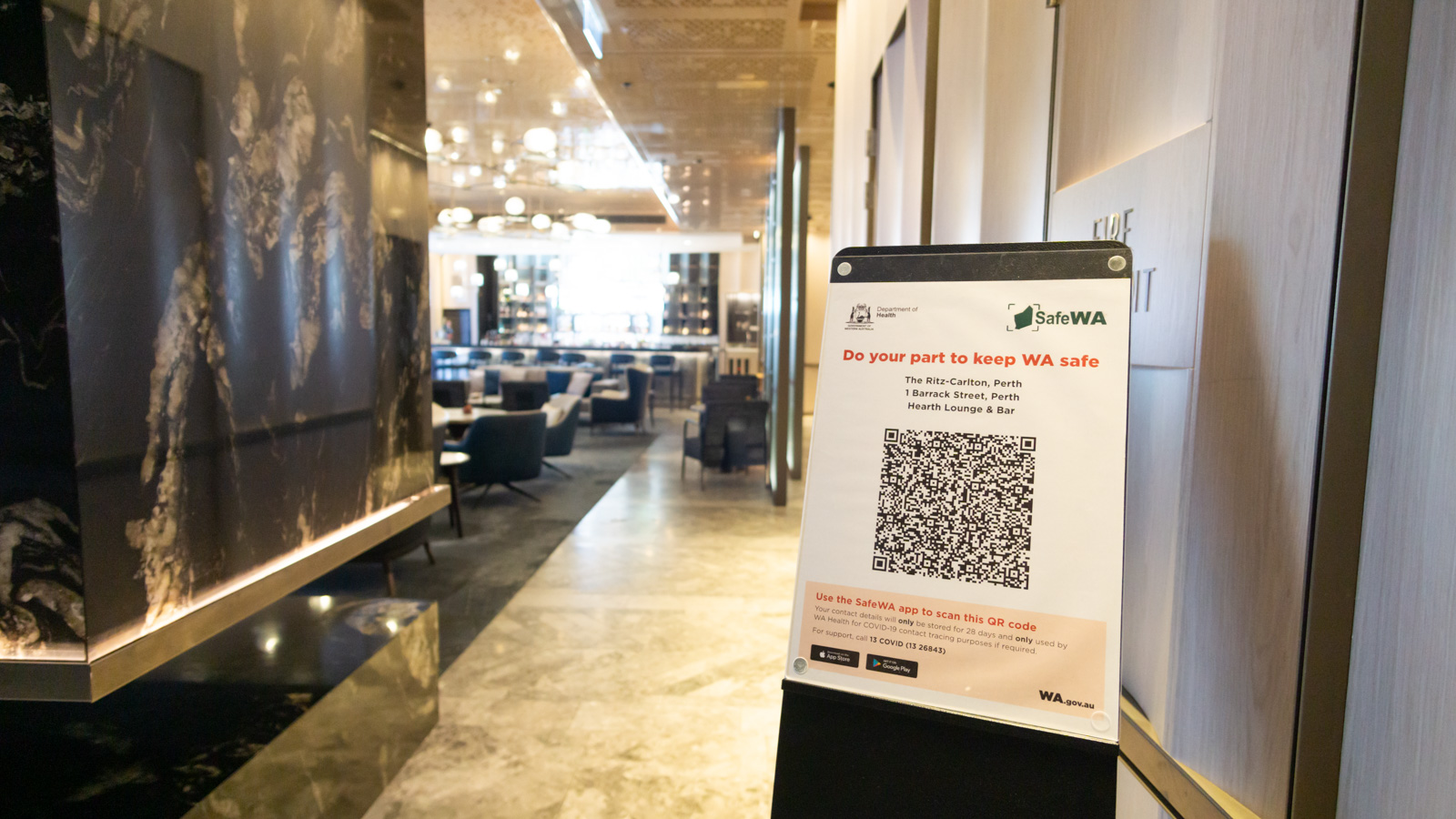 Meanwhile, Songbird Bar & Lounge is located a few floors up. It usually hosts evening weekend cocktails against the Perth sunset, plus a Sunday brunch as well.
The Ritz-Carlton Club Lounge
Club Lounges are a favourite for high-flying travellers looking for a place to work during the day and relax with drinks and light bites during the night. Unfortunately, the Ritz-Carlton Club Lounge in Perth is closed for the foreseeable future, but here are a few shots inside.
It's a long and narrow room subdivided into multiple sections, very reminiscent of the Qantas First Class Lounge in Sydney. Wood panelling features heavily and there are stations for food and drink situated at either end of the lounge. There's no word on when it re-opens, for now.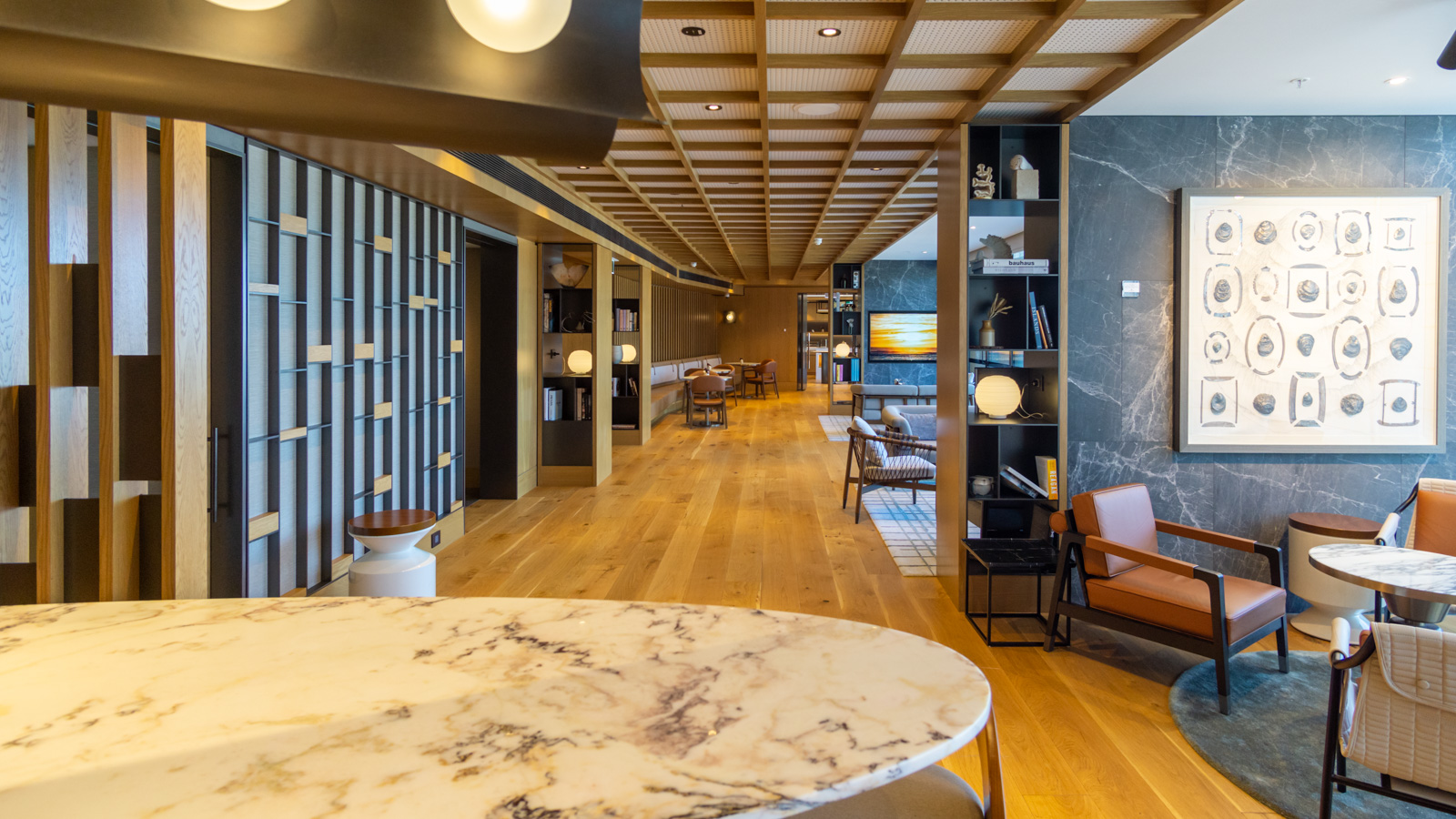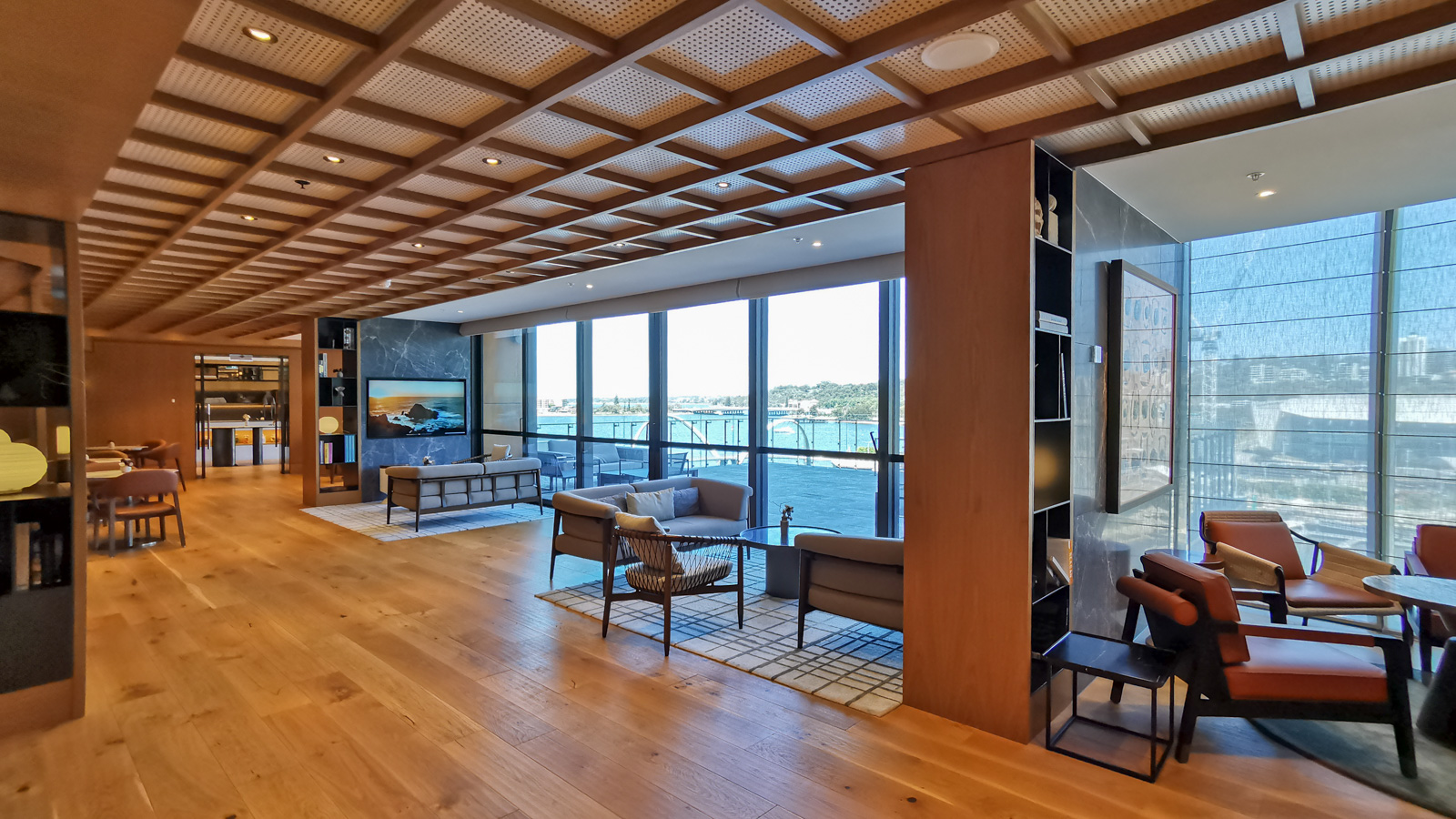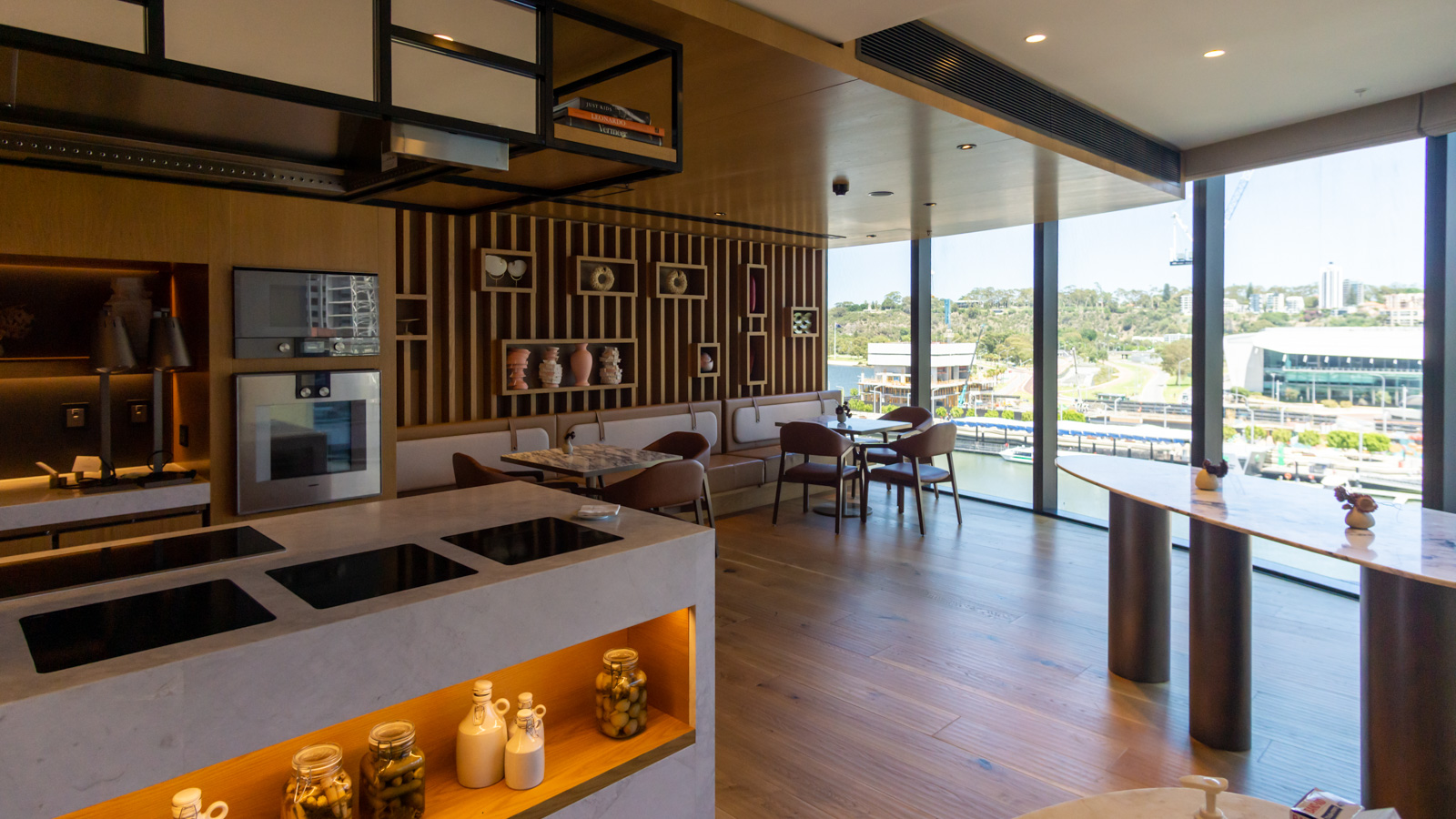 How can I book the Ritz-Carlton Perth with points?
As Ritz-Carlton is part of the Marriott portfolio, you'll be able to use Marriott Bonvoy (MB) points to book a stay. You can easily transfer those points over from American Express Membership Rewards (MR).
At the time of writing, American Express had a rare bonus transfer offer of 6 MR points to 5 MB points (usually 3 MR points to 2 MB points).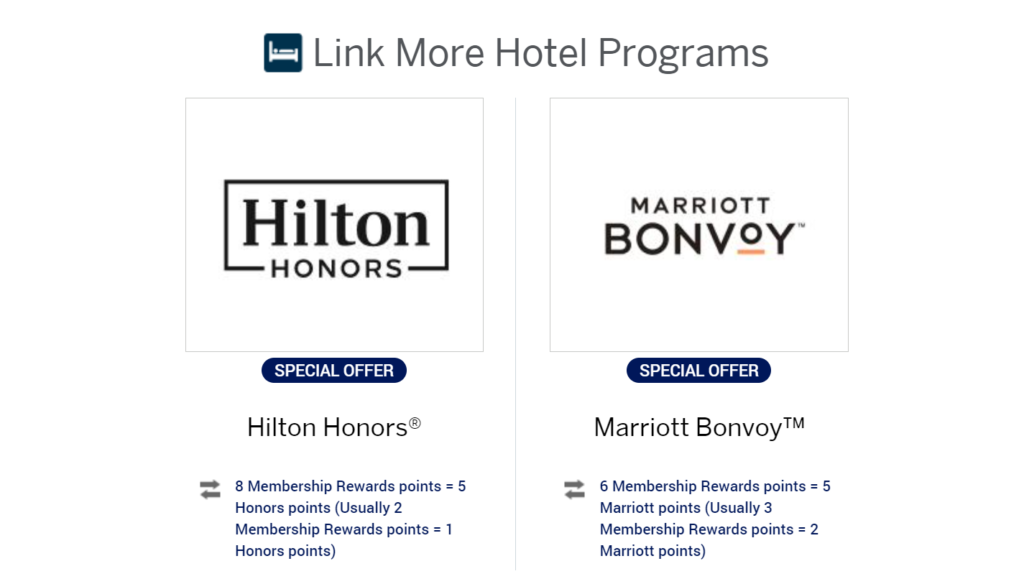 As a Category 6 property, you'll need 40,000-60,000 points a night for a base-level Deluxe room, depending on whether your dates are during peak holiday periods or not.
Upgrades to Premium rooms, Studios and Suites will cost increasingly more points, all the way up to 185,000 Marriott Bonvoy points per night for an Elizabeth Quay Suite.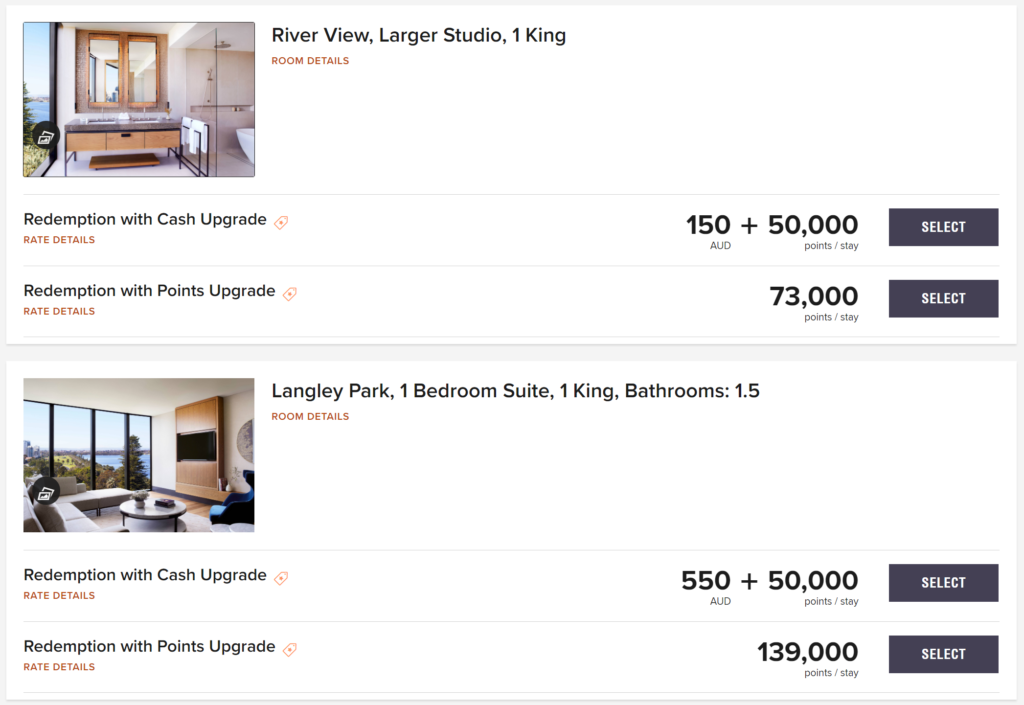 In terms of cash prices, Deluxe rooms tend to start from around $399 a night, up to around $1,200 for the Elizabeth Quay Suites. The hotel's signature Ritz-Carlton suite on the top floor commands an $8,888 a night price tag and does not appear to be bookable with points.
Making the most of a Category 6 travel package for the Ritz-Carlton Perth
If you've got 510,000 Marriott Bonvoy points to spare, you could nab a package that includes 7 nights at the Ritz-Carlton Perth (or other Category 6 properties), plus 100,000 frequent flyer points in a participating program of your choice, including Qantas, Velocity, KrisFlyer and Asia Miles.
That's an exceedingly good deal and would save you 30,000 Marriott Bonvoy points compared to redeeming the hotel and air miles components separately. Read about Marriott's Hotel + Air packages for more info.
Summing up
The Ritz-Carlton Perth certainly has everything going for it. It's got a central location, excellent views and what we feel is the right mix of luxury and elegance without becoming too stuffy.
It's easy to book a room with Marriott Bonvoy points, but do be prepared to save up for this Category 6 property. Remember that members can get the 5th night free when reserving a stay of consecutive nights, meaning you'll only need to have the points for 4 nights instead.
In terms of what room offers the best value, our opinion is to aim for a Studio Park or River room (which we weren't able to see during this trip, unfortunately) — these are the best room type under a Suite.
But the 64sqm Studio rooms still offer the signature wrap-around panoramic view from the bedroom that you'd find in a Suite, and some also feature a bathtub with unparalleled views outside (most other room types don't feature windows in the bathroom).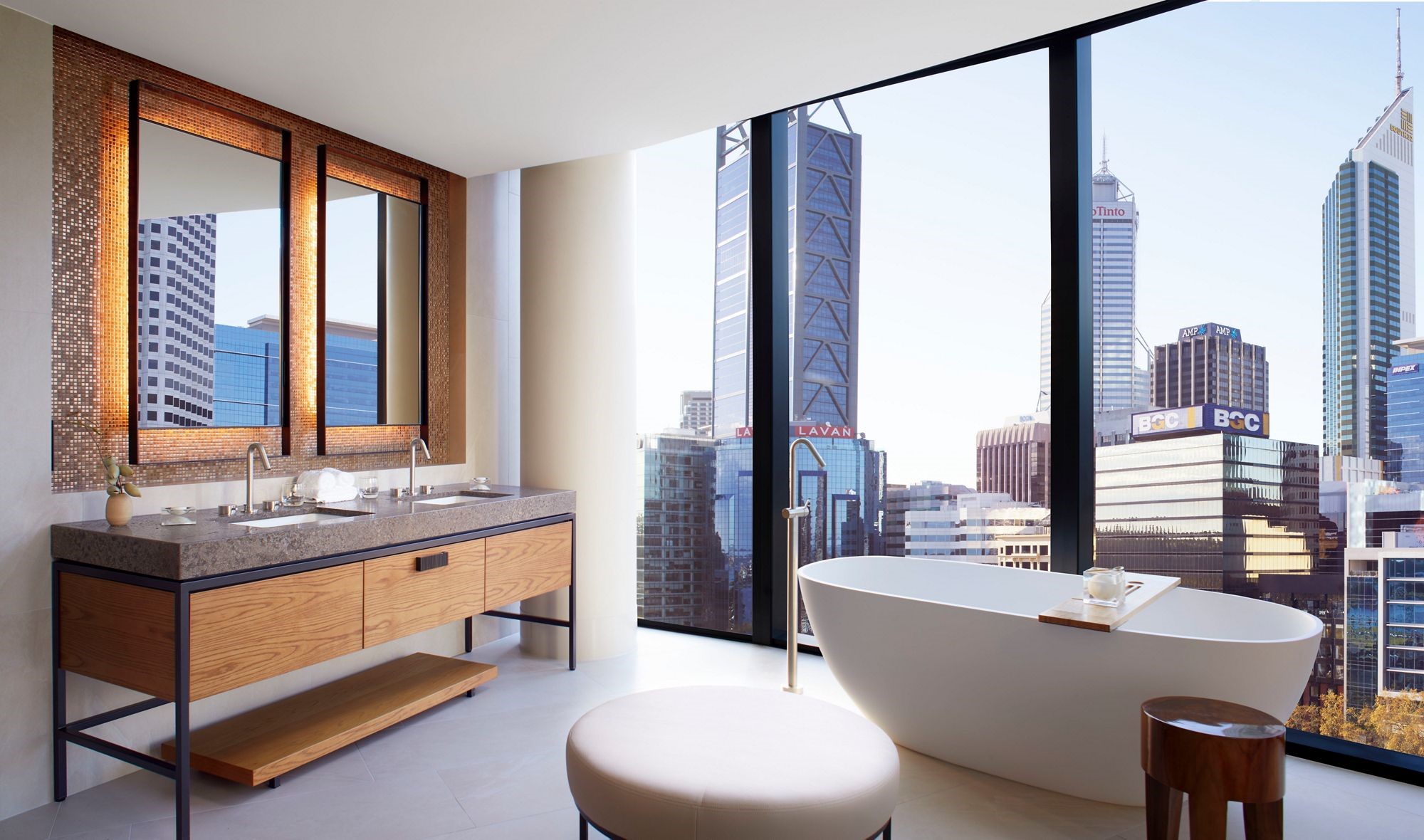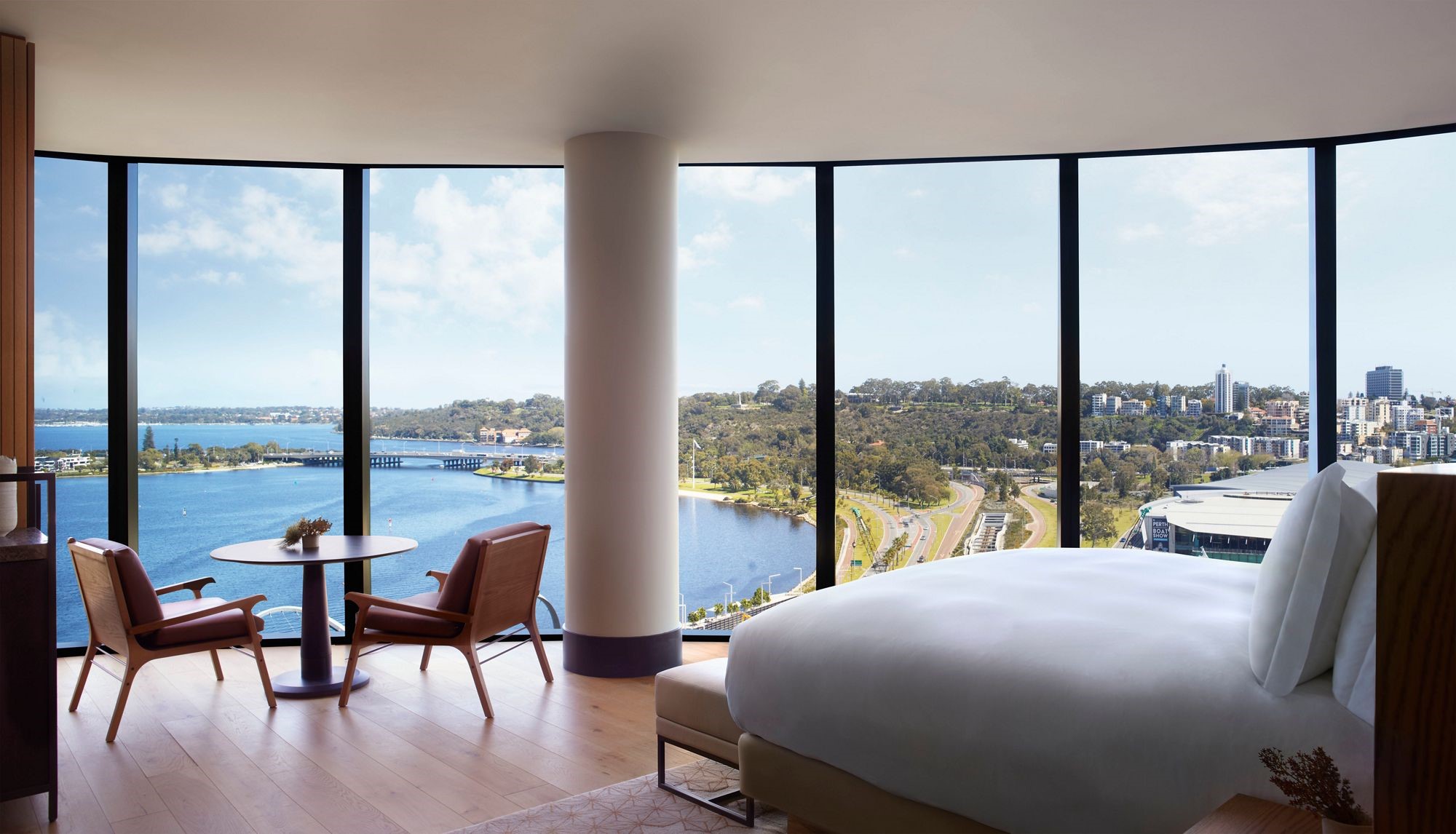 Best of all, those Studio rooms range from 59,000-63,000 points a night during off-peak periods, which is a reasonable rate for the stunning (and dare we say, Instagrammable) views that you could get.
Point Hacks did not receive any incentives or benefits from organising or attending this hotel tour.
This content contains affiliate links from which Point Hacks may earn commissions from transactions generated from new customers, bookings and general enquiries. Find out more here.
The Ritz-Carlton, Perth
was last modified:
December 7th, 2021
by