Kogan.com have a direct relationship with Qantas Frequent Flyer where, if you include your Qantas Frequent Flyer number in your Kogan account, you can usually earn 1 Qantas Point per $ spent.
They have upped this to 10 points per $ from today, with the offer ending in on June 14th.
On top of this, Amex Offers have a $30 off $150 spend at Kogan running until June 9th for anyone with Amex-issued cards. Just find and add the offer in your Amex app.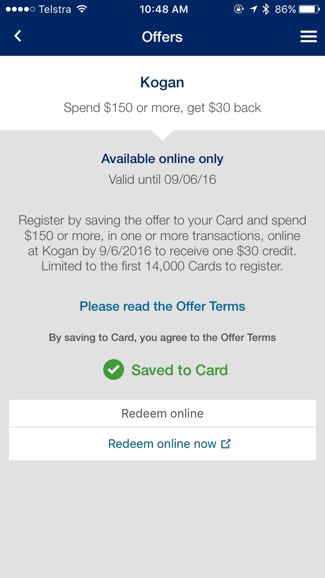 Not all products are included according to the terms, so when I read there were some restrictions on the deal, I originally thought that only a handful of products might be in the mix.
On checking out Kogan.com though, it turns out there are over 28,000 products included.
You can use the brand filter in the left hand navigation to drill down into which brands are included, but big ones like Apple, Acer and Belkin are included (I didn't get beyond 'B') because the list is so long!
Kogan have been expanding aggressively into homewares, home supplies (think bulk buy dishwasher tablets and the like) and own-branded electronics alongside big brand electronics.
Adding your Qantas Frequent Flyer number into your Kogan account
Usually you'd earn 1 Qantas Point per $ with purchases at Kogan, not enough to really warrant moving your business just because of the points on offer.
With a bigger bonus though, it's definitely worth shopping around, and to pick up points, you'll need to add your Qantas Frequent Flyer number into your account before you start checking out.
The register/login option is at the top right hand corner of every page
You can then look for "Qantas Frequent Flyer" in your account menu

And you'll get to this page (you can probably also click through directly to this page once logged in) to add your Qantas Frequent Flyer number
And that's it.
If you've checked out the offer, what do you think are the best deals for maximum points earn?
Kogan.com offering 10 Qantas Points per $ on 28,000 products; stack with Amex Offers for an extra $30 credit on $150 spend
was last modified:
December 21st, 2017
by