CommBank offers three levels of business credit cards: Awards, Gold and Platinum, with the Business Awards Platinum credit card being the top-tier option. The Platinum card offers higher earn rates than its peers and extra features such as complimentary insurances and fee-free international transactions.
Note: CommBank has announced that they will discontinue the ability to use their Amex cards from 1 November 2018, with the last day to apply for an Amex card on 31 August 2018.
It is the sister card to CommBank's personal Diamond and Platinum cards.
The CommBank Business Awards Platinum card participates in CommBank's Awards program, allowing members to earn points for everyday business spend in addition to bonus points from select bonus partners. Points can be redeemed for rewards including travel products through Flight Centre, gift vouchers, merchandise, cashback and the transfer of award points to Qantas, Velocity or another frequent flyer programs.
Earning points with the CommBank Business Awards Platinum Card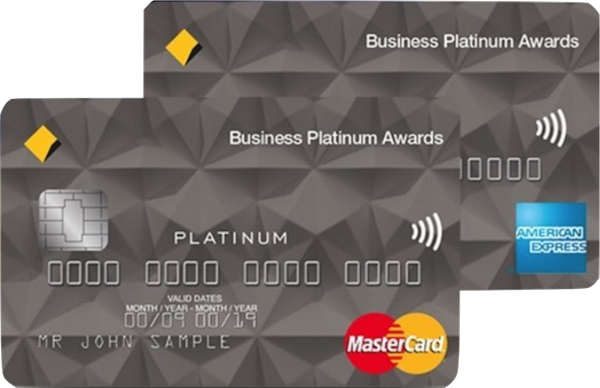 Card Details
Card
Commonwealth Bank Business Platinum
American Express Points Earn Rate
3 points per $ on overseas transactions, at supermarkets, department stores and petrol stations across Australia

0.5 point per $ everywhere else
Mastercard points earn rate
1 point per $
Points Cap
300,000 points per year
Minimum credit limit
$6,000
Extras
Complimentary Travel Insurance (PDS)
Overseas medical assistance
Transit Accident Insurance (PDS)

Overseas transaction fee
0% on the American Express

3% on the Mastercard
Annual fee
$300 p.a.
The base rate is 0.5 Award points on the American Express and 1 Award point on the MasterCard for every dollar spent, jumping up to 3 points per dollar spent on the American Express for all overseas transactions and purchases at supermarkets, department stores and petrol stations within Australia.
You can also earn bonus points when shopping with bonus partners, including up to 15 bonus Award points per dollar spent when shopping with Kaligo and 10 bonus points with OnSport.
More commonly, 1 bonus Award point is awarded per dollar spent with most bonus partners. A full list of bonus partners can be found here.
You can earn up to 300,000 Award points on the card per year, which equates to 120,000 Qantas points and 150,000 Velocity points if transferring to airline frequent flyer programs, which usually represents better value than cashback and gift vouchers.
CommBank Awards Program
CommBank's Awards Programs is one of Australia's largest and most popular rewards program in Australia.
The Program allows members to redeem Award points for a variety of awards, including merchandise, gift vouchers, cashback and travel booked directly with Flight Centre. A benefit of this tie-up between CommBank and Flight Centre is that there are no restrictions regarding seat, airline, dates or destinations.
You can also transfer your Award points to Qantas Frequent Flyer through direct sweep or to Velocity Frequent Flyer or one of the other frequent flyer program partners.
CommBank has not altered their transfer rates following the RBA's recent regulatory changes, meaning that 1 Award point can be transferred to 0.4 Qantas Points or 0.5 Velocity Points.
Further details regarding the CommBank Awards Program can be found here.
Other features of the CommBank Business Awards Platinum card
To apply for a CommBank Business Awards Platinum card, your business must accept a minimum credit limit of $6,000 and pay an annual fee of $300, which is waived for CommBank home loan customers who take out a Wealth Package and elect this card as their complimentary card. Additional cards can be issued for $75 each.
The card comes with an unsecured credit limit of up to $50,000 and complimentary travel insurance, which covers you, your spouse and your dependent children for return trips from Australia, up to a set period. Complimentary coverage includes:
| Cover | Details |
| --- | --- |
| Overseas medical assistance and hospital expenses | Unlimited |
| Personal liability cover | $2,500,000 |
| Cancellation fees and lost deposits | $15,000 |
| Rental vehicle access | $2,250 |
| Maximum trip length will be covered | Up to 6 months |
Note: Information is accurate at the time of publishing and may be subject to changes by CommBank at any time
Additional coverage also includes travel or luggage delay, kidnap and hijacking, accidental death, loss of income and travel service provider insolvency.
In order to receive the above level of coverage, you must activate your cover, however, this is a very simple process, which can be done through NetBank, the Commbank app or by calling Allianz Global Assistance on 1800 837 177 before you travel. Failure to activate your cover still gives you basic cover limited to the first two covers on the above table.
I have personally used NetBank to activate my cover and complete the process within a minute. A PDF version of your Travel Insurance document is immediately emailed to you. The process easily allows for optional extra cover to be purchased and any amendments to the insurance policy to be made through any of the three channels above.
The card also comes with complimentary Transit Accident Insurance and Unauthorised Transaction Insurance. Full details on the range of insurances included with the card can be found here Credit Card Insurance Product Disclosure Statement and Information Booklet
There is no requirement to have purchased your travel on the card, which is a very handy benefit when your travel has been booked using frequent flyer points.
Also of great benefit is that foreign denominated purchases using the American Express incur no foreign currency transaction fees, which can amount to large savings for businesses predominantly transacting in foreign currencies.
This guide references some of the benefits of insurance policies provided with this card.
You should read the PDS and obtain independent professional advice before obtaining this product.
Summing up
The CommBank Business Awards Platinum card is a card that provides many benefits for businesses such as competitive earn rates compared with other business cards in the market, a wide variety of redemption options, and comprehensive travel insurance.
No international transaction charges using the American Express card makes it a compelling proposition for those businesses with large foreign denominated transactions.
The points cap of 300,000 points is on the low side, so for businesses with large annual expenses, this is a limitation that should be factored in.
If the flexibility of airline reward partners is also of importance to your business, then this card shines but the transfer rates are lower than comparable products from other banks.
Overall, this card is a relatively strong offering and provides many benefits that are unique to the market at a competitive cost. If you're in the market for a business credit card linked to Qantas and/or Velocity, it is definitely worth considering.
CommBank Business Awards Platinum credit card review
was last modified:
July 9th, 2018
by
Point Hacks Credit Card Information
Point Hacks is published by Point Hacks Australia Pty Ltd (ACN 622 987 160), a corporate authorised credit representative (Number: 504786) of MSC Advisory Pty Ltd ACN 607 459 441 (Australian Credit License: 480649). In some instances, Point Hacks Australia Pty Ltd receives a commission or benefit for referring you to the services of a credit provider. This commission or benefit is disclosed at the point of referral to the credit provider. This website does not provide credit, assist you in obtaining credit, or advise you to apply for any particular product from a provider.
We have not taken into consideration your personal circumstances or financial situation when providing the information on this website. It is important you read the relevant PDS from the product issuer and seek the independent advice of an appropriately qualified professional before making a decision on a product.
While we invest a great deal of time and energy into ensuring we provide with you with the most up to date and accurate information, we do not warrant the accuracy of statements or information contained on the Website relating to third party goods and services, including credit card information, loyalty schemes and rewards. You acknowledge that such information and materials may contain inaccuracies or errors and we expressly exclude liability arising from any person acting on those statements or information to the fullest extent permitted by law. Where conditions or warranties are implied by law and cannot be excluded, our liability will be limited to the re-supply of information. You should confirm the accuracy of information provided on this Website with the third party product provider before acting on it.