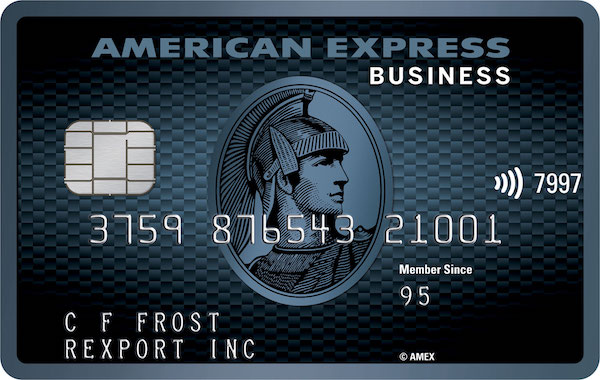 American Express Business 'Explorer' card has 60,000 bonus Membership Rewards Gateway points on offer. Benefits this card brings include business loyalty bonus each year, free American Express lounge access plus a range of insurances and high points earn rates on spend.
60,000 Membership Rewards Gateway point bonus
50,000 points Business Loyalty Bonus each year
Free access to the Sydney or Melbourne Airport American Express lounge twice a year
2 Membership Rewards points earned per $1 on all purchases except government bodies where you will earn 0.5 points per $1 spent.
Complimentary travel insurances (PDS)
Annual fee: $395 p.a.
Card Members who currently hold or who have previously held any Card product issued by American Express Australia Limited in the preceding 18 month period are ineligible for this offer. Previous and existing bank-issued American Express companion cardholders are eligible for this offer
$3,000 minimum spend in 3 months required to earn bonus points
$100,000 spend every 12 months from card approval to get the 50,000 points business loyalty bonus
Offer ends: 29 August 2018
Read the Amex Business Explorer Guide →
Point Hacks receive a maximum of $275 per applicant for this card. More about this →
After launching the personal version of the American Express Explorer card, American Express also added a business version of the card.
They are very similar, but there are a few key differences which gear the business card toward consistently high spenders looking for high points return on their spend.
The current offer for customers new to American Express only, is a 60,000 Membership Rewards Gateway points sign-up bonus, which has been extended until 29 August 2018.
There's a requirement of $3,000 minimum spend within the first three months to trigger the bonus points. Also, offer eligibility criteria states that no previous cardholder of an American Express-issued card within the last 18 months are eligible for the bonus. If you have held a bank-issued American Express, such as those from ANZ or Westpac, you will still be eligible for the bonus.
Membership Rewards Gateway points convert at 4 points = 3 frequent flyer points in most frequent flyer programs, and for those interested in using Starwood Preferred Guest, an excellent 1 point = 0.5 Starpoints.
This means the current bonus offer is equivalent to 75,000 points when transferred to frequent flyer programs such as Velocity, Krisflyer, Asia Miles and Etihad Guest Miles. We cover the transfer rates to different programs in more detail further down in the guide.
How you could use the bonus points from this card
All redemption figures shown are examples only and exclude accompanying taxes and fees. Points redemption price data is provided by a third-party, so inaccuracies may be present. Please check with the airline directly for a complete and accurate total redemption cost.
---
Key differences between the personal Explorer and Business Explorer cards
1. Earn 50,000 bonus points each year by spending $100,000
This is a simple, annual retention bonus designed by American Express to incentivise its high spenders on the card to keep and use the card on an ongoing business.
The $100,000 spend requirement equates to just under $8,335 per month on average, so depending on how you operate your business, it's a sizeable bonus to have by trying to put more spend onto your Business Explorer card.
50,000 points annually is a sizeable amount, and is an initiative we would love to see more of from more banks to keep cardholders.
2. No $400 travel credit each year or smartphone screen insurance
50,000 bonus points are essentially offered to replace the $400 travel credit which is available on the Personal Explorer card. This is an understandable strategy, as the $400 travel credit could be harder to use by some businesses for business travel purposes.
The smartphone screen insurance policy is also missing from the Business Explorer.
3. Interest rate of 16.99% p.a. on all purchases
The Business Explorer card offers a slightly lower interest rate if you need to carry a balance that incurs interest at any point. The interest rate is 20.74% on the personal American Express Explorer card.
Otherwise, the benefits are similar between both versions of the Explorer card
You'll find that the points earn rates and partners, twice-yearly access to an American Express lounge, travel insurances and up to 55 days interest-free on purchases are the same for both cards.
Points earned from ongoing spend are set at a solid 2 Membership Rewards points per dollar, which equates to 1.5 frequent flyer points per dollar, again for most (but not all) frequent flyer partners.
You'll also receive access to the American Express Lounge in Sydney or Melbourne twice per year without charge, a nice perk for international travellers in Economy.
Card Details
Card
American Express Business Explorer
Loyalty Program
American Express Membership Rewards Gateway
Points earned from spend
2 Membership Rewards points earned per $1 spent
Transfers to most frequent flyer programs at 4 points = 3 frequent flyer points
Minimum Income
$24,000 p.a.
Included Insurances
Travel Insurance
Medical Emergency Expenses Cover
Overseas transaction fee
3% of the converted amount
Annual fee
$395 p.a.
Effective Frequent Flyer Program Point Earn Rates
| Frequent Flyer / Hotel Program | Points earned from spend |
| --- | --- |
| Velocity Points | 1.5 points / $1 |
| Singapore Airlines Krisflyer Miles | 1.5 mile / $1 |
| Cathay Pacific Asia Miles | 1.5 mile / $1 |
| Starwood Preferred Guest | 1 Starpoint / $1 |
Earning points with the American Express Business Explorer
The card belongs to the American Express Membership Rewards Gateway program for points earned and redemption. We've covered Membership Rewards in depth – our full guide to the program is here.
The points earn rate on spend is 2 Membership Rewards points per dollar, however this is a Membership Rewards Gateway card, so that's equal to 1.5 frequent flyer points (in Velocity, KrisFlyer, Asia Miles and most other frequent flyer programs) per dollar spent.
You'll also earn the full points on the Business Explorer card for utilities and bills, unlike some other American Express cards. This means you'll get full points on 'telecommunications' and 'utilities' , but not on government charges – such as ATO and Australia Post.
The decision to put the Amex Business Explorer and Personal Explorer cards into the Gateway flavour of Membership Rewards is an interesting one – it adds a little bit of confusion to the value of the points from this card – it's otherwise a card with simple, effective features. The other card that is also linked to the Amex Gateway program is the no-fee American Express Essential card.
So, it's important to remember that with the American Express Business Explorer, that Membership Rewards Gateway points transfer out to most frequent flyer programs at a lower rate than other Membership Rewards linked cards, which lowers the value of the signup bonus and the ongoing earn rates.
That doesn't mean that the points bonus and earn rate on the Amex Business Explorer is not good – it's very competitive – but it does mean it can't be compared on a like-for-like basis with most of the other cards in the Membership Rewards range.
Membership Rewards Gateway links to most frequent flyer programs at 4 Membership Rewards points equal to 3 frequent flyer points – so the signup bonus and points earn rates are as shown below.
American Express Gateway Rewards Partners
Transfer Rates
Asia Miles
Emirates Skywards
Etihad Guest
Malaysian Airlines Enrich
Singapore Airlines KrisFlyer
THAI Royal Orchid Plus
Velocity Frequent Flyer
1 Membership Rewards point = 0.75 frequent flyer point
Starwood Preferred Guest
1 Membership Rewards point = 0.5 Starpoints
Hilton Honors
1 Membership Rewards point = 1 Honors point
Air New Zealand Airpoints
100 Membership Rewards points = 0.75 Airpoints
Helloworld
American Express Travel Online
David Jones Pay with points
Ticketmaster
American Express Foreign Exchange
eGift Cards and Gift Cards
Select+Pay with points
Points for Credit Card
13,500 Membership Rewards points = $100 travel reward
In summary, 1 Membership Rewards point on this card is not 1 frequent flyer point.
Membership Rewards Gateway also links to Starwood Preferred Guest and Hilton Honors for hotel points redemptions, but Starwood also has great international frequent flyer programs too – and the card has a high effective earn rate for Starpoints at 1 SPG point per $ spent.
The link to Starwood Preferred Guest at a comparably high points earn rate opens the door to advanced points redemption tricks, such as Marriott Travel packages, or leveraging the unique opportunities that Starwood provide such as SPG Moments.
Included Travel Insurances
As usual with the included insurances for credit cards, it's not really possible to make a solid recommendation – each insurance is usually good for different reasons and different people.
The travel insurance included with the Amex Business Explorer covers incidents such as:
Damaged, destroyed, lost or stolen personal baggage, money and documents during your trip
Card Account Balance Waiver Cover
Medical Emergency Expenses Cover
Delayed flight or missed flight connection
Luggage delay for luggage checked on a scheduled flight
Travel disruption due to the unforeseen and unavoidable cancellation of a trip
Just like most other credit card insurances, to activate the travel insurances – you'll need to have paid for the travel expenses on your card, or with your Membership Rewards points.
You can read the PDS for the insurance benefits of the Business Explorer Card here.
This guide references some of the benefits of insurance policies provided with this card.
You should read the PDS and obtain independent professional advice before obtaining this product.
Considering this card for Business-related transactions?
American Express offer a range of both business and consumer charge and credit cards. They do permit business transactions to be made on personal cards, unlike some other banks, but you might find some of the other business-focused benefits of the business cards to be appealing or more appropriate.
So – if you're a sole trader or a business looking to earn points with your business spend – this card would still work for that purpose.
There's a full list of business and personal consumer American Express cards which might be suitable for earning points from business-related transactions here.
60,000 Membership Rewards points with the American Express Business Explorer card
was last modified:
July 3rd, 2018
by
Eligibility criteria for bonus points for existing American Express Card Members
American Express are quite specific about whether existing Card Members will be eligible for bonus points if they apply for a card, are approved, and meet the minimum spend criteria.
If you hold a bank-issued American Express – such as from Westpac, Commonwealth Bank or NAB – that won't affect whether you're eligible for bonus points with an American Express branded card offer. There's more in our guide to this here.
However American Express don't allow existing cardholders, even for different types of American Express cards (e.g. Charge, Credit or Business) to be eligible for bonus points offers for cards in a different family.
60,000 Membership Rewards points with the American Express Business Explorer card
was last modified:
July 3rd, 2018
by
How the Business Explorer compares with other American Express Business Cards
When looking at the American Express Business card range, the Business Explorer card fits neatly above the Business Accelerator card – which has a $160 annual fee, and 2 Membership Rewards Ascent points per $ spent which is equivalent to 2 frequent flyer points per $ – however this earn rate is only effective up to $50,000 spent per year.
It's then well below the $1500 Business Platinum Charge card which is on a whole other level in terms of benefits – but also fees. The points earn rates on the Business Explorer are better for general spend, whereas the Business Platinum Charge card offers some higher points earn rates for specific bonus categories – travel, overseas spend, and a range of advertising and technology suppliers.
Our take on the American Express Business Explorer
This is a great addition to the American Express Membership Rewards range and helps fill a niche for business owners with substantial spend patterns for a card which will reward them in subsequent years of holding it with the 50,000 point bonus for spending $100,000 annually.
If you don't meet that spend criteria, then arguably the personal version of the Explorer card is the more useful option – the $400 travel credit that comes with that card is not conditional on spend levels, whereas the bonus points are. American Express are also fine with using their personal cards for business purposes and, otherwise, the differences between the cards are relatively minor.
60,000 Membership Rewards points with the American Express Business Explorer card
was last modified:
July 3rd, 2018
by
Point Hacks Credit Card Information
Point Hacks is published by Point Hacks Australia Pty Ltd (ACN 622 987 160), a corporate authorised credit representative (Number: 504786) of MSC Advisory Pty Ltd ACN 607 459 441 (Australian Credit License: 480649). In some instances, Point Hacks Australia Pty Ltd receives a commission or benefit for referring you to the services of a credit provider. This commission or benefit is disclosed at the point of referral to the credit provider. This website does not provide credit, assist you in obtaining credit, or advise you to apply for any particular product from a provider.
We have not taken into consideration your personal circumstances or financial situation when providing the information on this website. It is important you read the relevant PDS from the product issuer and seek the independent advice of an appropriately qualified professional before making a decision on a product.
While we invest a great deal of time and energy into ensuring we provide with you with the most up to date and accurate information, we do not warrant the accuracy of statements or information contained on the Website relating to third party goods and services, including credit card information, loyalty schemes and rewards. You acknowledge that such information and materials may contain inaccuracies or errors and we expressly exclude liability arising from any person acting on those statements or information to the fullest extent permitted by law. Where conditions or warranties are implied by law and cannot be excluded, our liability will be limited to the re-supply of information. You should confirm the accuracy of information provided on this Website with the third party product provider before acting on it.