We're in the first week of our 7 week long around the world trip, and things are going well!
We started off by flying Sydney to San Francisco in Business Class on QF73, Qantas' newest service to the USA which relaunched in December. I'll be working on the review over the next few days.
As part of the reviews for this trip, I also promised to delve a bit deeper on my research and decision making process behind each flight and hotel booking in the hope that this might help you get more from your trips too.
The factors I needed to consider
For anyone that's ever looked at redeeming points between Australia and the US, you'll know that finding availability on a direct flight is very tricky.
We've written up guides for the three key frequent flyer programs for this very reason – you need to be armed with as much information and as many options as possible if you want to make this happen too.
We were aiming for a ski on the West Coast, but where specifically was not decided when we started planning for this trip.
Other than this, our key constraints, which are similar to many other points redemption challenges, were…
Our family of four needed flights. My goal was Premium Economy or above
We wanted to avoid indirect flights as much as feasibly possible, especially for our youngest daughter (at 2.5 years old)
We were willing to split into two groups of two if necessary and fly on consecutive days
I wanted to use points I either already had or could easily buy to top up some balances
We started planning and looking around 9 months in advance of our trip
Given the length of our trip and travelling with kids, I wasn't prepared to wait for last minute points availability, and book our plans close to travelling
Which points I could use for this flight
I had a stash of both Amex Membership Rewards points and Westpac Altitude Rewards points which could be transferred to Velocity, Asia Miles, KrisFlyer or some other less relevant programs for this particular challenge.
I also had a couple of hundred thousand American Airlines AAdvantage miles purchased and not yet used from previous promotions, pre and post merger with US Dividend Miles. I was willing to top these up with another purchase if necessary.
How I initially found award seats to book
I started looking for award availability as soon as we thought we might want to take this trip on.
We didn't know how it would shape up, but part of the amazing thing about my work is that I have a lot of flexibility, so we were willing to travel any time between January and mid-March.
This flight was also the first of our trip and probably the hardest to find and book, meaning we could be ultra flexible about our plans to make it all work.
Discounting Air Canada
While we would have loved to travel directly to Canada with Air Canada between Sydney and Vancouver, finding award seats on this route in Business Class is not easy.
Occasionally pairs of seats do crop up, but I couldn't find any, probably due to the fact that this would be peak ski travel time – the very reason we were travelling to.
If I had found availability, I would have considered buying Lifemiles for this redemption, or potentially dipping into my KrisFlyer balance and transferring points of over. But I figured this was going to be very unlikely.
Virgin Australia availability disappeared
I looked first for availability with Virgin Australia using Velocity Points, but it was around this time that Virgin availability dried up (which used to be excellent) while they worked on their reconfiguration and refurbishment plans for their long-haul fleet.
As a result, I focused my efforts on finding availability with Qantas.
Starting the search with Qantas
At this point, I cranked open Awardnexus.com and started setting up some month long searches for our potential travel period. You could also do the same using the flexible dates option on Qantas.com too.
These were the general search criteria I used…
Looking for 2 travellers (if I found space for 2 I could always perform the search again for 4 on that specific date)
28 days (the maximum)
Using the Qantas (QF) search option, which gives the best availability indicator for Qantas flights
I also validated some of the results by using Qantas.com as well – as a Qantas Gold member I would have a few more seats available in Economy and Premium Economy than to Bronze or Silver members
I looked for Sydney to Dallas and Los Angeles, plus Melbourne to Los Angeles
After finding a few dates with pairs of Premium Economy seats I decided to hold off booking and see if we could come up with a better option.
Qantas' new San Francisco route to the rescue
Lo and behold, Qantas and American announced their significant set of route changes and growth plans, which included the new flight to San Francisco.
At that point I then set up a range of Awardnexus alerts around the new SFO flight, because it was somewhat inevitable that a new route announcement would, at some point, mean a large release of points redemption seats to encourage forward bookings.
I still didn't know what points currencies I would use to book these flights, but I knew now I would be looking at using Qantas Points (of which I didn't have access to enough of for all four of us) or another Qantas/oneworld partner like AAdvantage or Asia Miles.
These alerts were triggered when availability on the new route first showed up, and I found two consecutive days, for two travellers, in Business Class.
Ad – Scroll down to continue reading.Minimum spend, terms & conditions apply.
Making the booking with Asia Miles
When Qantas released their award seat availability onto the route, for some reason American Airlines did not have access to book these seats immediately. It ended up taking a few days before you could consistently get a positive answer out of AA to book using AAdvantage miles on the route.
This was a bummer for me – I really wanted to use up my AA miles for a couple of the seats I wanted to book.
Instead, I set about looking at other options. Qantas would have charged 96,000 points per person plus taxes, while the Asia Miles price is 70,000 miles per person plus a similar amount of taxes.
Given I didn't have enough Qantas Points for two people, let alone four, and the cheaper Asia Miles price, I figured this was the logical option.
The downside? Asia Miles usually take 48 hours to transfer across from American Express Membership Rewards.
So I called up Asia Miles and begged them to put the seats on hold, which they can do for a maximum of 48 hours – if you ask really nicely. It's not an official policy but for some of their airline partners, you can do this.
Thankfully my points credited to my Asia Miles account on time, and we were set – the rest of the trip could then start coming together.
It probably took me 2 to 3 hours in phone calls on hold and talking to customer service reps at Asia Miles to get the booking made in the end, with a little confusion over the new route to start with.
Taking advantage of award availability changes
I was really happy with our original outcome, but then in January 2016 Qantas again opened up a slab of new award seats on the same Sydney to San Francisco route.
Once again there were many new dates with 2 Business Class seats free, including both dates that our crew were booked to travel on.
This meant I could change one of our original itineraries to match the others travel date, and at that point, all four of us were on the same flight.
This was 'game won' in my book! Four of us in Qantas Business Class across the Pacific.
Managing our itinerary after we booked
At this point I called Qantas to link our itineraries and start the game of seat selection. There was a good chance we may not have been able to sit together so I wanted to get a request in early.
Again, I got lucky – we could be allocated all four seats in row 1 of the nose of Qantas' 747. I hadn't travelled as a family in row 1 before, but I figured this would likely be ideal and act as a small mini-cabin. It turned out perfectly too!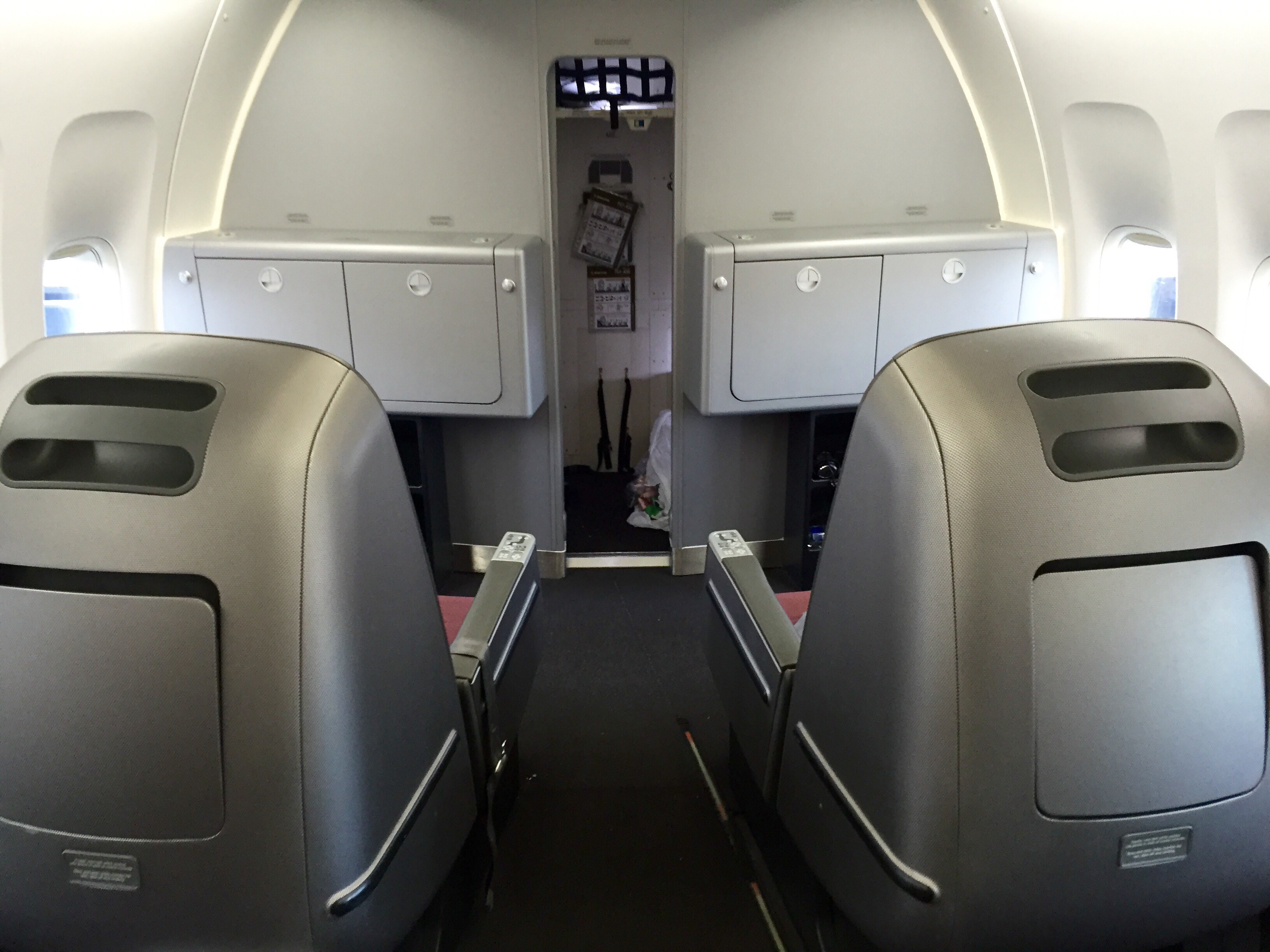 Summing up – lessons learned
Here's the key takeaways from this exercise, at least for me (and hopefully for you too):
Earn and leverage flexible points program currencies
Plan and research early
Be prepared to split your travel group up to get 'good enough' flights
Book the flights that are good enough, and keep on top of opportunities to improve on your original booking
Monitor airline news and goings on which might impact your ability to make your ideal itinerary
Have a loose plan in mind on how you'll use your points, but don't lock yourself in to a specific frequent flyer program too early (if I was banking on using AAdvantage miles I would have been out of luck)
Hopefully documenting and sharing my specific experience with finding and booking these flights helped. Any questions? Let us know in the comments!
Case study – how I used my points to book 4 Qantas Business Class seats to the US
was last modified:
February 6th, 2023
by