Cathay Pacific's Asia Miles program is a partner with American Express Membership Rewards, Citibank Rewards, ANZ Rewards and Westpac Altitude Rewards.
If the majority of your points come from credit card spend, then an Asia Miles redemption can be a useful option instead of using Qantas Points.
You'll have access to all the same oneworld airline partners as Qantas (including Qantas), but with different pricing and redemption mechanics – and there are some decent deals to be had by looking beyond Qantas Frequent Flyer.
Redeeming Asia Miles to the USA – available airlines and routes
Asia Miles can be redeemed on Cathay Pacific's oneworld partners.
Have a read of the last post on using Qantas Points to the US – the same set of airline partners with Asia Miles are available as with Qantas Points, with the exception of Jetstar, Fiji Airways and Emirates who don't partner with Asia Miles for redemptions.
As such, I won't go through all the route and airline combinations in heaps of detail again – here's a quick visual summary of the main airline partners and routes from Australia to the US:
Qantas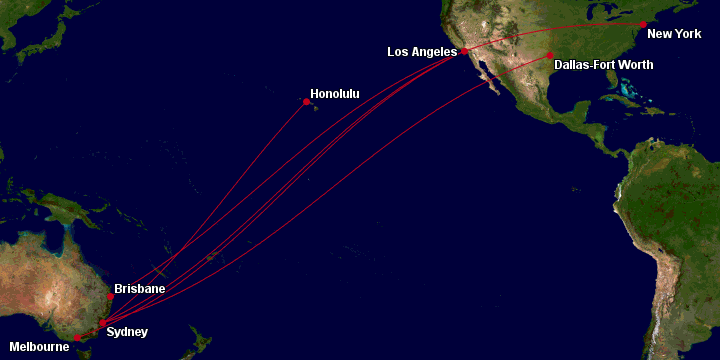 Cathay Pacific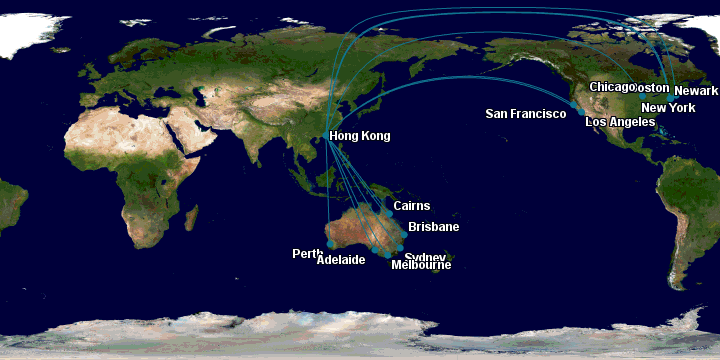 Japan Airlines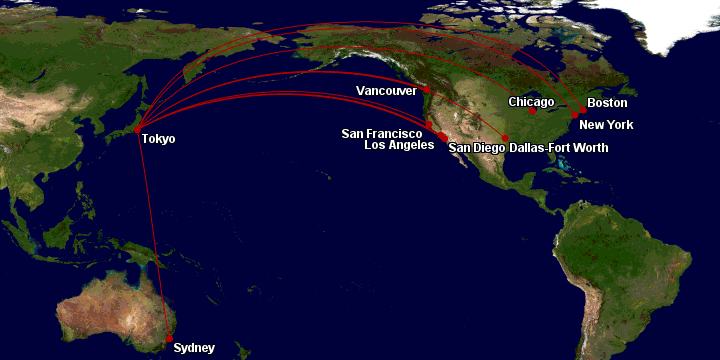 Qatar Airways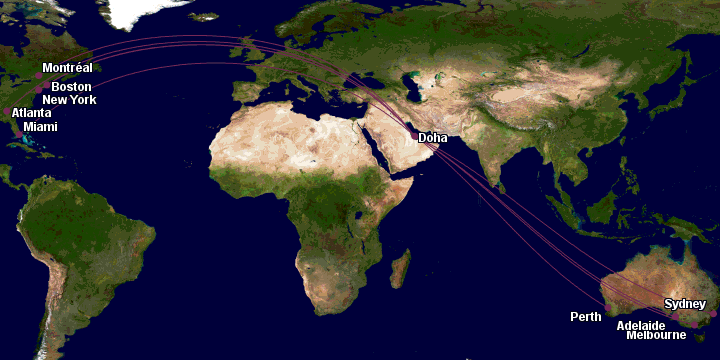 One difference when using Qantas Points on Qatar Airways is the lack of the 15,000 mile upper limit in the top band, meaning you could theoretically redeem for a Melbourne – Doha – Los Angeles flight (a very long way round!) which wouldn't be possible when using Qantas Points.
Comparing example redemptions to the US using Qantas Points or Asia Miles
| Route (one way) | | Airline / Cabin | Qantas Points | Asia Miles (one-way) |
| --- | --- | --- | --- | --- |
| Sydney, Brisbane | Los Angeles | Qantas Business Class | 96,000 | 75,000 |
| Sydney, Brisbane | Los Angeles | Qantas First Class | 144,000 | 120,000 |
| Melbourne, Adelaide | Los Angeles | Qantas Business Class | 96,000 | 90,000 |
| East Coast | New York | Qantas Business Class | 128,000 | 90,000 |
| East Coast | Honolulu | Qantas Business Class | 72,000 | 75,000 |
| All Australian ports via Hong Kong | New York | Cathay Pacific Business Class | 139,000 | 85,000 |
As you can see, Asia Miles pricing is almost always more competitive, on a per-point basis, than when using Qantas Points. However, Asia Miles cannot be used for one-way redemptions on Japan Airlines—they must be for roundtrip travel. Pricing can be checked/researched by using the Asia Miles Flight Award Finder.
Qantas Frequent Flyer also tends to pass on more taxes and fuel surcharges than Asia Miles, offering better value redemptions (some of the time). You can check the taxes for Asia Miles redemptions for Qantas, Cathay Pacific and British Airways flights online, with them being charged in Hong Kong dollars.
These costs apply to redemptions on a single airline – or if for an itinerary including two airlines, the pricing also applies but only if Cathay Pacific is included as one of the carriers.
Things to know when redeeming Asia Miles
The full set of Asia Miles guides is here, but the essential reading is this post: Tips for booking Asia Miles points redemptions, award holds and pricing.
Summing up: use Asia Miles to get to the US?
As I said early in this guide, Asia Miles are going to primarily earned by many Australian travellers from credit card spend – although you can of course earn them from travel on Cathay Pacific and oneworld partners (including Qantas) too.
There are fewer mileage-earning opportunities with Asia Miles in Australia outside of flying and credit cards than compared to Qantas Points, so it will be a bit tougher to build up a bigger balance.
Having said that, the major flexible points programs in Australia all partner with Asia Miles:
As a result, I'd suggest there are quite a few more bonus point opportunities from credit card spend which could be transferred to Asia Miles – if you pick up the right credit card for your needs – than from direct earn Qantas Frequent Flyer cards.
Asia Miles can be a great option for oneworld airline travel in Business and First Class, assuming you can access the currency to earn enough points to redeem for your intended trip.
Using Asia Miles as an alternative for redeeming points for flights to the USA from Australia
was last modified:
March 14th, 2019
by