Yes, we're not fooling around here – with British Airways Avios, it's actually possible to nab discounts as big as 80% off the standard ticket price for Qantas Business Class flights, with taxes included.
Now's the time to explore Australia. There's so much to see, and with international borders remaining shut for the foreseeable future, travellers are flocking over to other states and territories. In fact, Qantas and Jetstar have launched 38 new routes over the last year, and have also increased the number of reward seats available.
This is a great way for frequent flyers to get a cheaper holiday by using points. You can, of course, use Qantas Points to book those fares. But if you're flying in Business Class for some of the journey, the points needed can get quite high.
With a bit of effort, it's possible to get great bargain on Qantas domestic flights by using British Airways Avios. Both airlines are oneworld members, so it's easy to use Avios for Qantas flights. In fact, the British Airways website even does a better job by showing you exactly how many reward seats are left.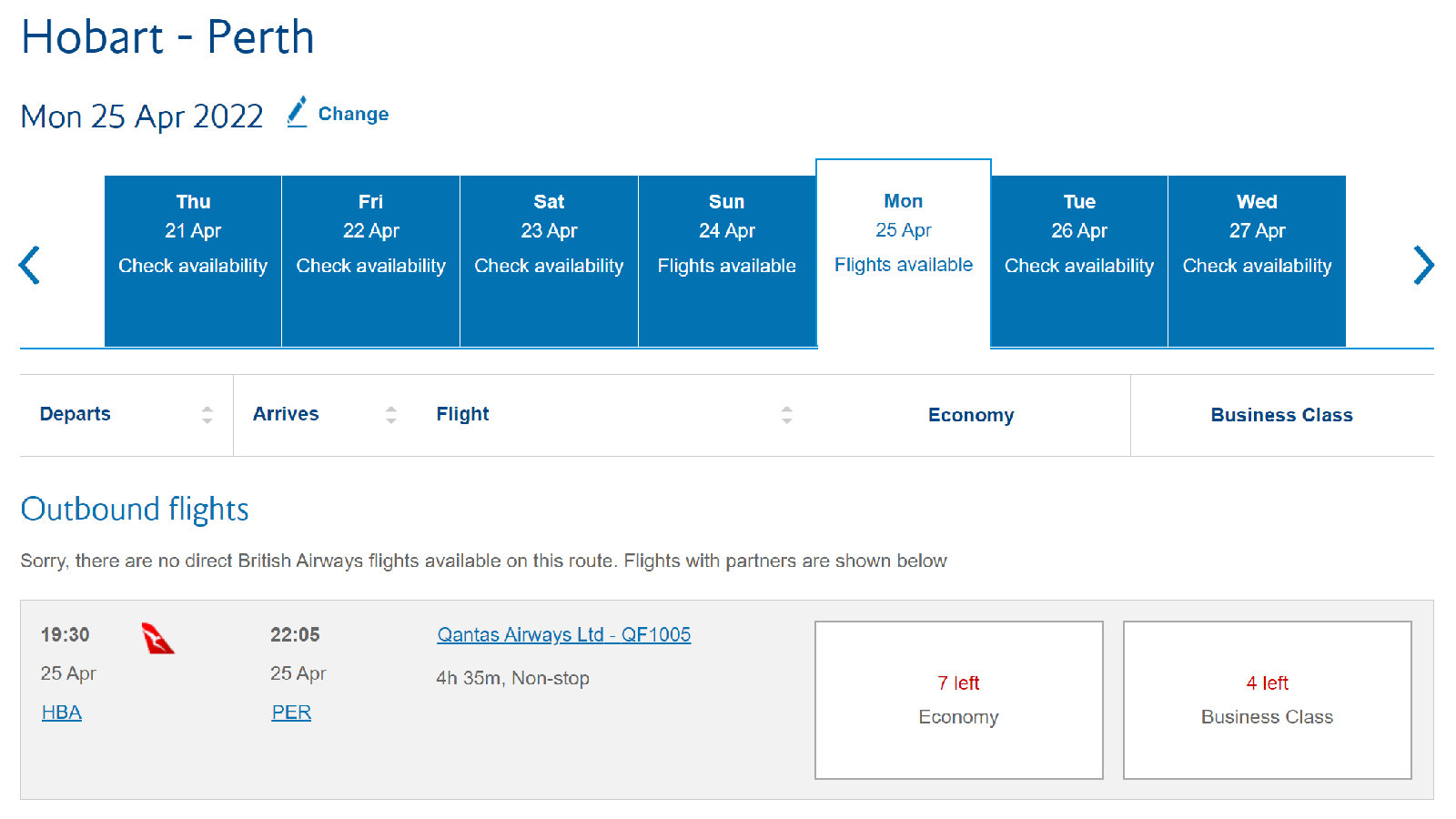 What are British Airways Avios?
Avios is the points program of British Airways Executive Club (as well as Iberia and some other partner airlines). You can use Avios for British Airways flights, as well as those of partner airlines such as Qantas. The reason Avios is a great program to use is that the pricing is very sharp for shorter flights, and the majority of Qantas' domestic flights are relatively short in length.
Distance travelled (Qantas flights)
Economy (Avios)
Business (Avios)
Zone 1 (1-650 miles)
e.g. Sydney to Canberra, Gold Coast
6,000
12,500
Zone 2 (651-1,151 miles)
e.g. Brisbane to Cairns, Adelaide
9,000
16,500
Zone 3 (1,152-2,000 miles)
e.g. Perth to Melbourne, Hobart
11,000
22,000
Zone 4 (2,001 to 3,000 miles)
e.g. Perth to Sydney, Brisbane
13,000
38,750
Considering that Qantas charges 41,500 points to fly Perth to Melbourne or Hobart in Business Class, you can see why it's appealing to only need to pay 22,000 Avios through British Airways!
How do I get British Airways Avios?
Here's the tricky part – British Airways Executive Club doesn't have a presence in Australia. You can't sign up for an account with an Australian address (so use a relative's overseas, perhaps) and there are no direct card or transfer partners here. However, you can earn Avios on Qantas flights if you put your Executive Club membership number in the booking.
The other option is buying the Avios. You can usually do this directly with British Airways, and there are occasionally promotions such as 50% bonus Avios which sweetens the deal. Read how our writer Matt Moffit scored up to 75% off the cost of international flights using Avios, a few years back.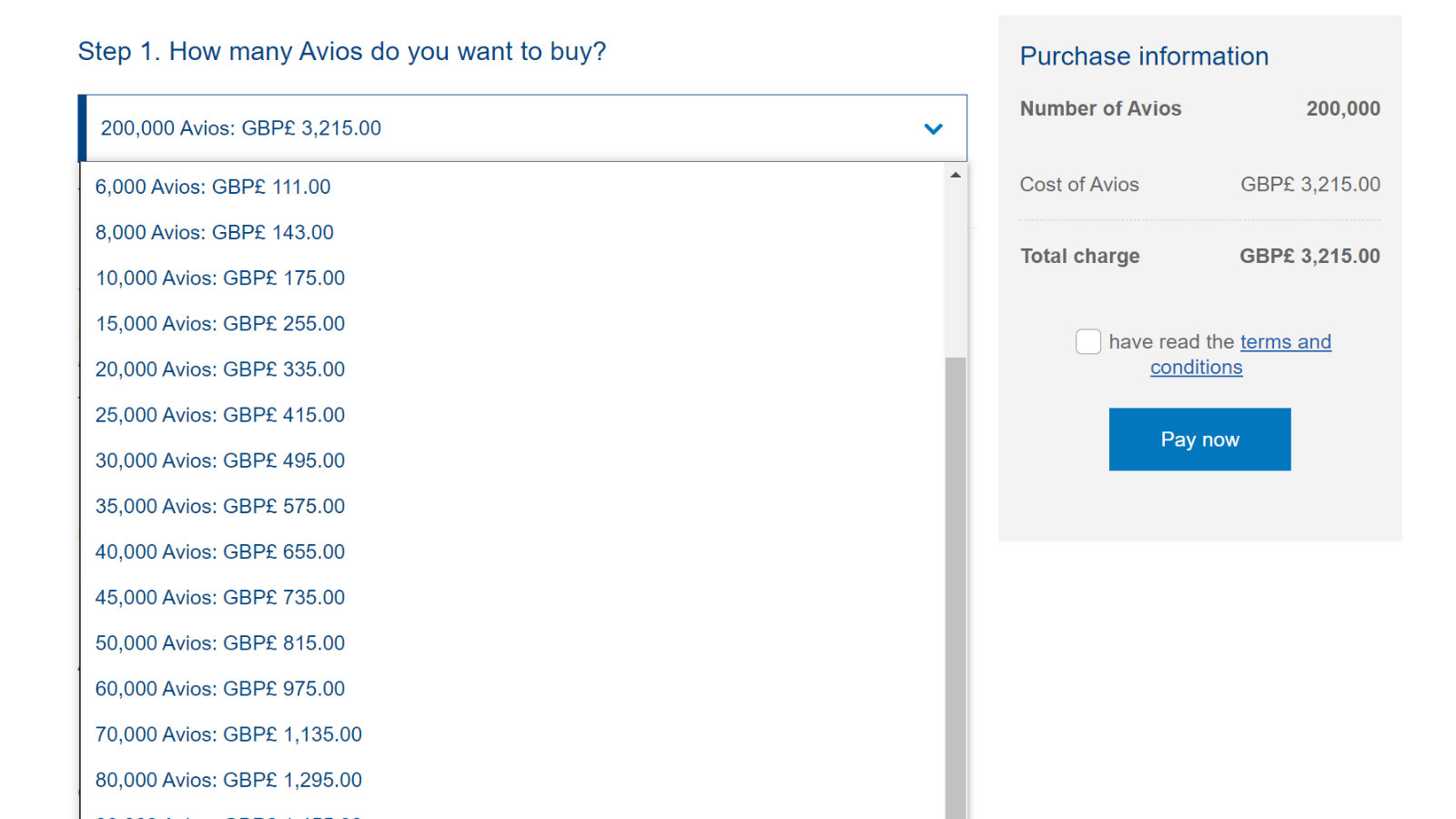 You can also transfer Avios over from various hotel partners, such as Marriott Bonvoy, IHG Rewards and Hilton Honors. Once again, the idea is to buy those points when there's a promotion, so you can get more for your buck.
Ad – Scroll down to continue reading.Minimum spend, terms & conditions apply.
How can Avios save me money on Qantas flights?
When British Airways has a promo on buying Avios, that's generally the best time to top-up your balance for Qantas flights. The best recurring offer to date is 50% bonus Avios on purchases, so we'll use that as a baseline.
Say you purchase 45,000 Avios for £735 (~A$1,340), with a 22,500 bonus thrown in on top, for a total of 67,500 Avios. Taxes on Qantas domestic flights are usually around £24.10 (A$44) per person. Taking all that into account, here's what you could do with your balance, with tax included:
Take 11 'Zone 1' one-way Qantas Economy flights (averaging A$166 per flight)

Good for last-minute trips where fares may be high but reward seats are available

Fly Qantas Business Class five times on 'Zone 1' routes (averaging A$312 a flight)

Qantas often charge A$700-$800 for Business on these routes

Take 4 Qantas Business Class flights on 'Zone 2' routes (averaging A$379 a flight)

Qantas often charge A$800-$900 for Business on these routes

Fly between Perth and Melbourne 'Zone 3' three times in Business (averaging A$491 a flight)

Qantas often charge A$1,600-$2,400 for Business on these routes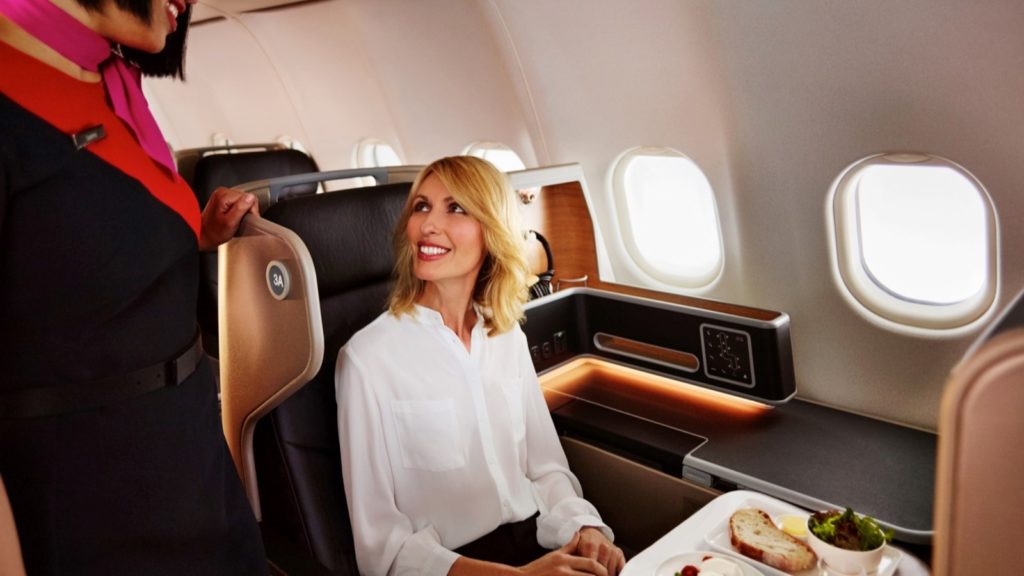 Imagine nabbing a $2,400 Qantas Business Class ticket from Hobart to Perth from just A$491 with Avios, including taxes – that's almost 80% off! You can see by now how incredibly useful Avios can be. It also helps that Qantas reward seat availability is fairly good domestically, so chances are you'll be able to get a seat on one of your preferred flights if you book in advance.
It's best to wait for British Airways to come out with a promo before buying. But if you can't wait, there's always the option of buying what you need at the usual price, or perhaps, going through a hotel partner which has a sale on points and transferring over to Avios. Either way, you'll still usually end up on top.
Case study: using Avios for Easter holiday flights
My friends and I are planning a trip from Perth to Tasmania in Easter 2022, and Qantas is the only carrier with direct flights at the time of writing. As I've alluded to in this guide already, Qantas' direct Perth to Hobart flights are quite expensive with the 'rack rate' being $380 each way in Economy or $2,400 in Business.
(You'll all know that WA is very strict with border controls and we want to reduce the risk of our trip being disrupted in Tasmania or upon return to Perth if we transit through other states).
On the dates we want to travel, here is the reward seat availability:
4x Business Reward seats from Perth to Hobart; nothing in Economy
At least 4x reward seats in both Business and Economy from Hobart to Perth
| | | |
| --- | --- | --- |
| Perth-Hobart (and return) | Qantas Points | British Airways Avios |
| Economy one-way | 18,000 pts + A$45 | 11,000 Avios + £24.10 |
| Business one-way | 41,500 pts + A$45 | 22,000 Avios + £24.10 |
Pricing for Perth-Hobart direct flights with Qantas Points and Avios.
For my partner and myself, we elect to just use our Qantas Points to book a mixed-class return trip with reward seats – it's not the greatest value, but we've got plenty of time to earn more points later.
So that's 59,500 Qantas Points and A$90 in taxes per person for Perth to Hobart in Business Class and Economy on the return, done and dusted. It works out to be about 4.67 cents per point in theoretical value.
Turning to Avios to book for our companions
Our two friends haven't earned a Qantas Point before (that's being changed as we speak). We can't use Qantas Points for non-family members either, so how do we get them on the same flights as us for a good price? Enter, Avios.
A quick search reveals that the same seats are readily available for 33,000 Avios + £48.2 in taxes per person, for Business Class one-way and Economy Class on the return. But BA's Executive Club has one more trick up its sleeve: you only need half the Avios required if you're prepared to pay a bit more in cash. In some cases, it could actually be cheaper to do this rather than to buy more points from other programs.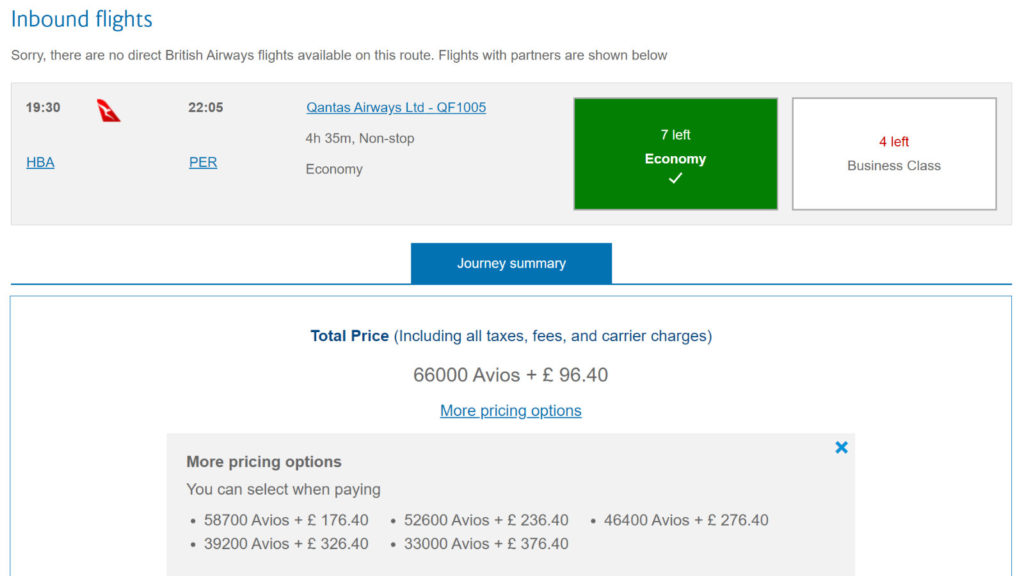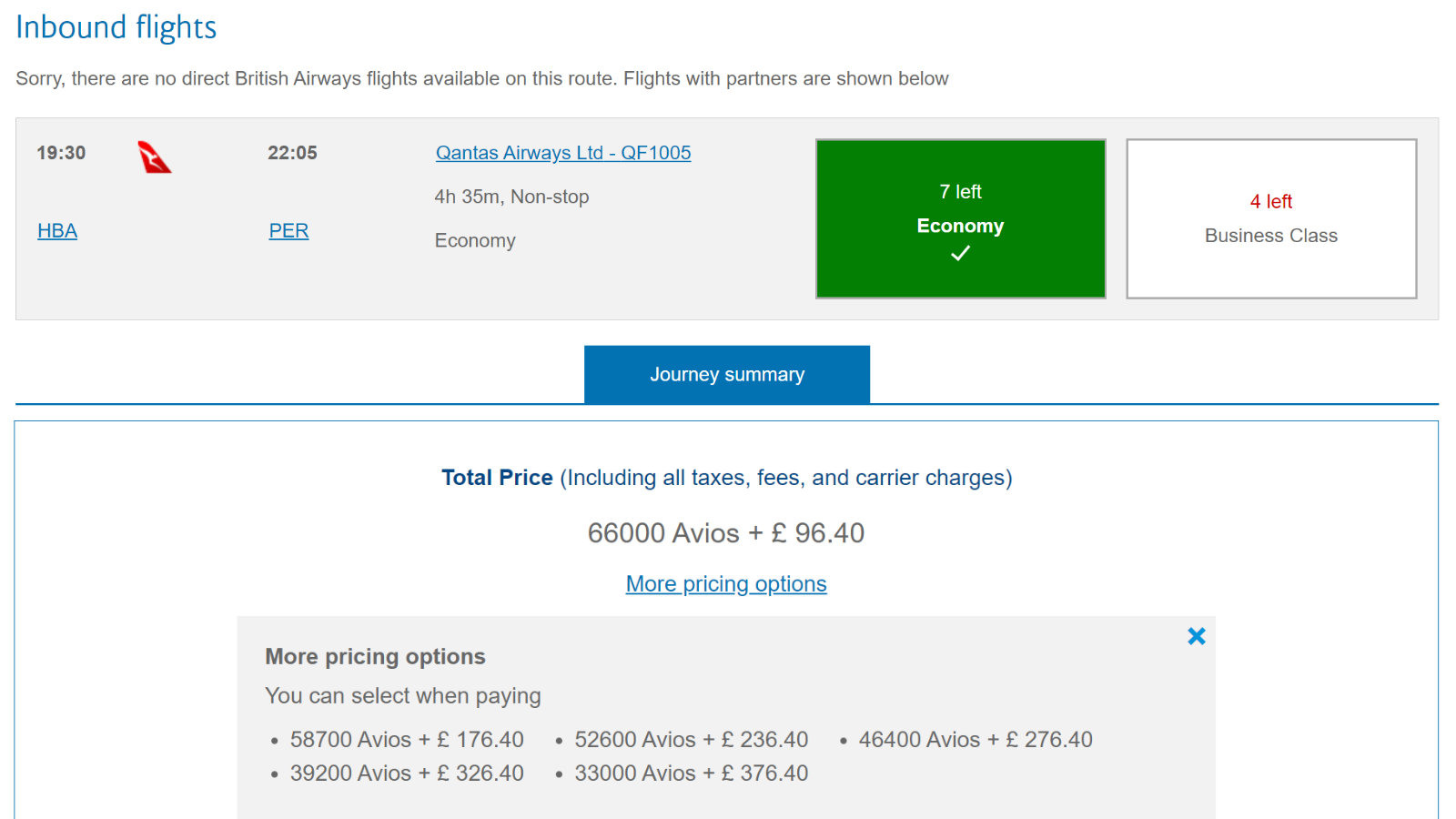 So for two people flying mixed-class return, we just need to hunt down 33,000 Avios in total (instead of 66,000) and pay a higher surcharge of £376.4 (A$685) when booking. Too easy.
Finding discounted Avios, quickly
As I'm planning this in late May 2021, I've missed the recent Avios 50% bonus offer in March. I'm also not keen on waiting for another offer and potentially losing the reward seats. I decide to accept a lower discount and go via Marriott Bonvoy, which is offering a 30% discount on purchased points at the time.
Marriott Bonvoy has great transfer rates of 3:1 to most of its airline partners. Plus, for every 60,000 Marriott points you transfer (equivalent to 20,000 airline miles), the program will throw in an extra 5,000 extra points/miles/Avios to your account, which is a welcome bonus.
I need to buy 85,000 Marriott Points at a discounted rate of US$743.75 (A$960). This will convert at 3:1 to 28,333 Avios, and with the bonus 5,000 thrown in by Marriott, I will end up with 33,333 Avios in my account.
The Marriott purchase goes through instantly, while the transfer to British Airways Executive Club takes roughly 24 hours (some reports mention up to 3 days, but I was lucky in this case). We're now ready to book.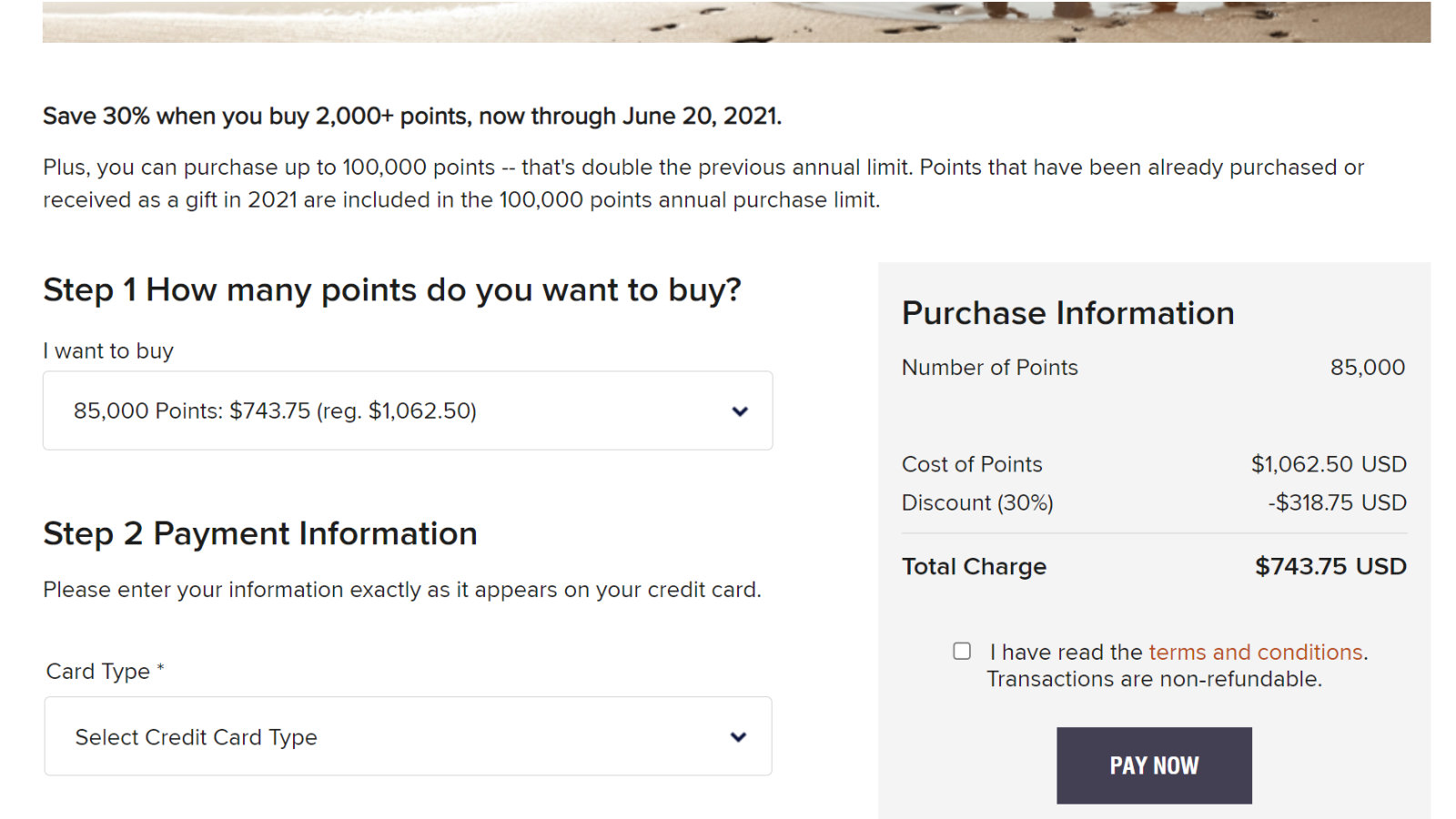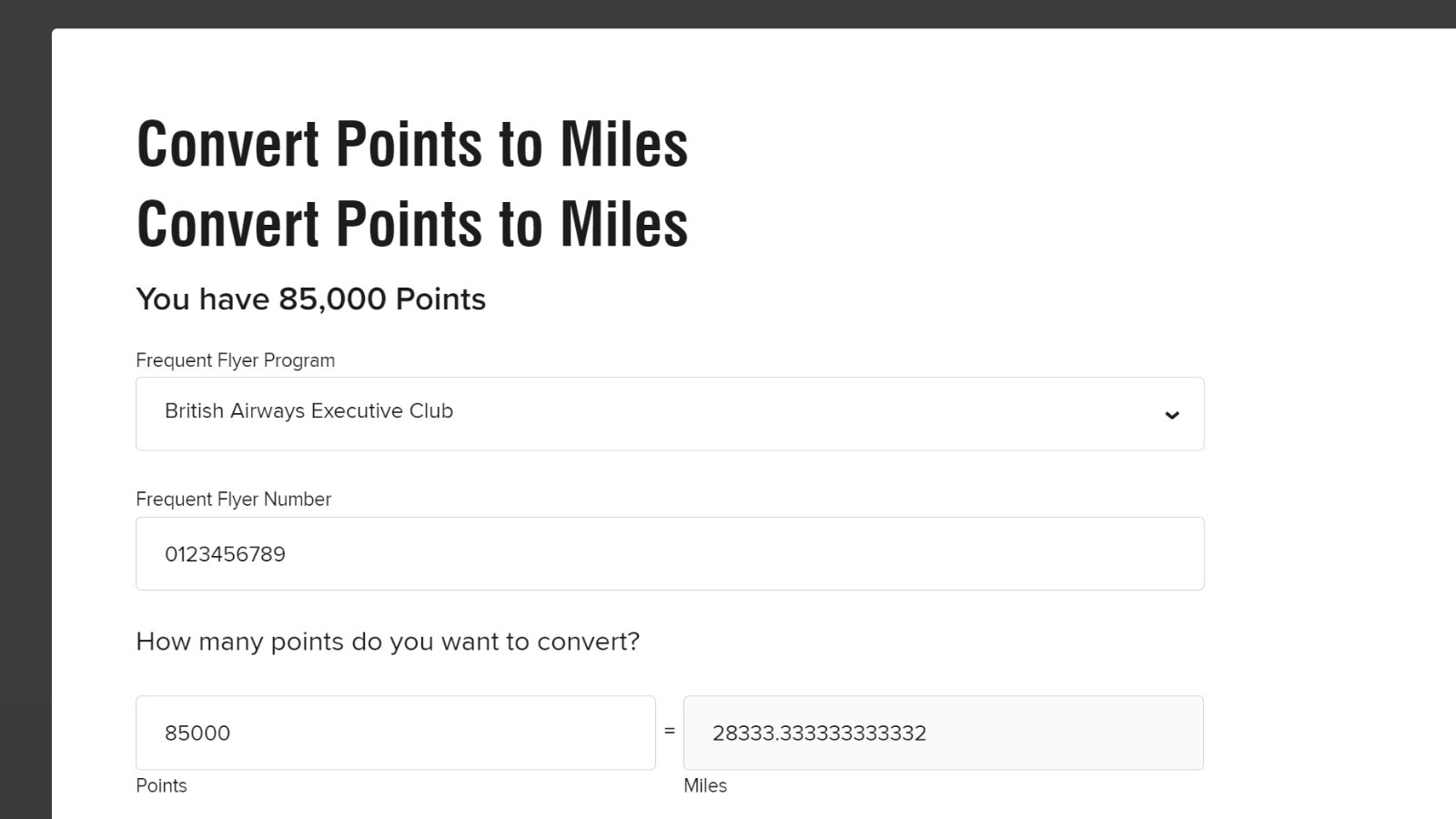 Note: Marriott Bonvoy T&Cs say that your account needs to be at least 30 days old with qualifying activity, or 90 days old without, before you're able to buy points. We recommend you open a free account now to get ahead of this.
Making the booking with Avios
With the Avios safely deposited in my account, it's simply a matter of searching for the flights again to make a booking. Since I don't have enough to pay the full rate, it automatically defaults to the lowest Avios option.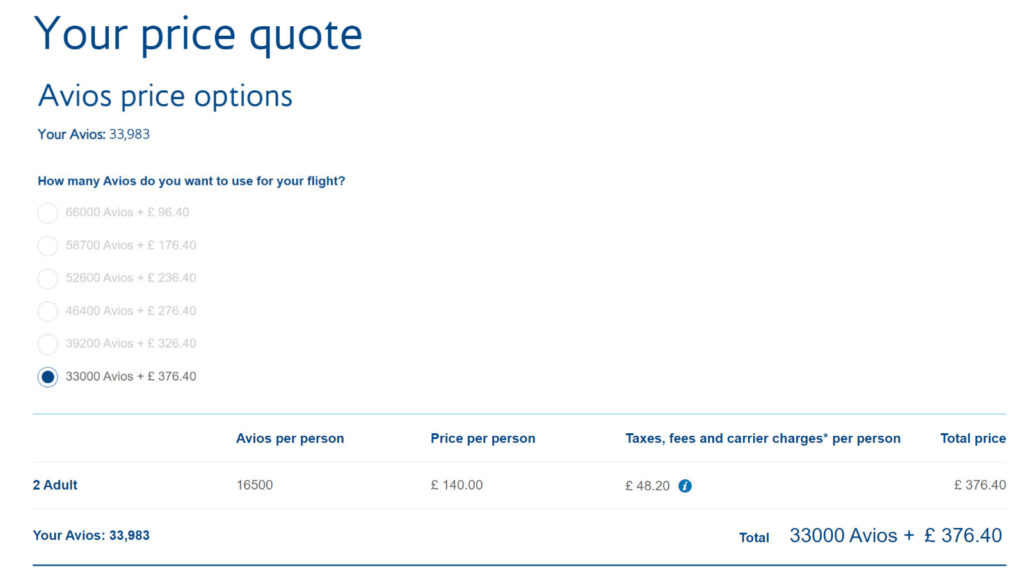 Then, it's a few easy steps to checkout and reserve the flights. As I used a card with no international transaction fees, here's how much the flights ended up costing (rounded up for clarity):
A$963 (US$743.75) for the 85,000 Marriott Points converting to 33,333 Avios
A$687 (£376.4) for the 'Avios part payment' surcharge and flight taxes
Total: A$1,650 for two people or A$825 per person for one-way Business and return in Economy
Not bad, considering it would have cost A$760 just to fly Qantas Economy return on a cash fare. And if we waited for Avios to launch another 50% bonus promo, the same trip could have cost as low as A$675 for one-way Business and one-way Economy, including taxes – that's cheaper than buying the return Economy ticket!
Summing up
I hope my real-life case study highlights the possibilities and savings unlocked with Avios. Yes, we are now in the realm of 'intermediate' points hacking, but once you understand the system and know how many points, miles or Avios to buy, then it's just a simple matter of making those transactions.
Pros of using Avios
The reward seat calendar opens up earlier – same as Qantas' – so you have access to reward seats a few weeks before people with American Airlines AAdvantage or Alaska Airlines miles (both of which are still great programs for Qantas flights in their own right).
You can easily see how many reward seats are available before booking
You only need half of the published number of Avios to make the booking, as long as you're prepared to pay a bigger cash surcharge. This can help if you're not able to get the full amount of Avios
Avios is one of the cheapest ways to get Qantas Business Class (and some Economy) flights
You can book for anyone using your Avios, as long as you're not part of a Household Account
Cons of using Avios
You need an address outside of Australia to register
You can't buy Avios directly from British Airways (e.g. during a promo) if your account balance is zero – you'll need to earn Avios externally or transfer in from an outside source (such as Marriott Bonvoy) first
Transfer to British Airways may not be instant, so you'll have to wait a day or three
Take up to 80% off Qantas Domestic Business Class with Avios
was last modified:
August 25th, 2023
by