Long security wait times of up to two hours at US airports are on the rise coming into the busy northern summer months, so arriving earlier than usual and planning to travel at off-peak times and days will help save you time and stress.
The problem
The Transport Security Administration (TSA), responsible for airport security screening, has copped a lot of flack over the past few months, with reports of wait times of 90-120 minutes at major airports like New York's La Guardia and Chicago's Midway.
The causes include inadequate staffing numbers, pooly-trained staff, inefficient processes and weapons-wielding passengers (more on that later).
It has led to the industry group representing most of the major US airlines – Alaska Airlines, American Airlines, JetBlue, Hawaiian, Southwest and United – launching the iHateTheWait.com website, which encourages exasperated travellers to vent their frustration online using the #iHateTheWait hashtag on Twitter.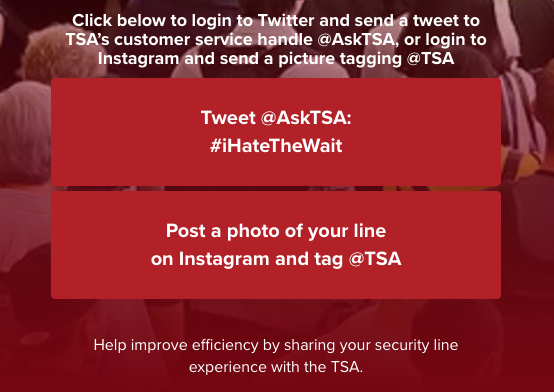 The Port Authority of New York and New Jersey, the operator of the second-busiest airport system in the world after London, with JFK, Newark and La Guardia Airports, is threatening to privatise its screening system.
I actually walked past a line very similar to this one flying out to London from Chicago O'Hare last week:
How to reduce your wait times
When you're planning your trip
Aim to arrive with plenty of time to spare: two hours before for domestic flights, three for international
Try to fly at off-peak times: Tuesdays and Wednesdays are the quietest days to travel, with midday being the slowest time of day anyday. (By contrast, Sundays, Mondays and Fridays are the busiest days, with early morning and late afternoon/early evening the busiest time of day)
If you are catching a cruise from Miami or Fort Lauderdale: a lot cruise ships dock at midday on a Saturday, so allow extra time if flying out of either of those airports on a Saturday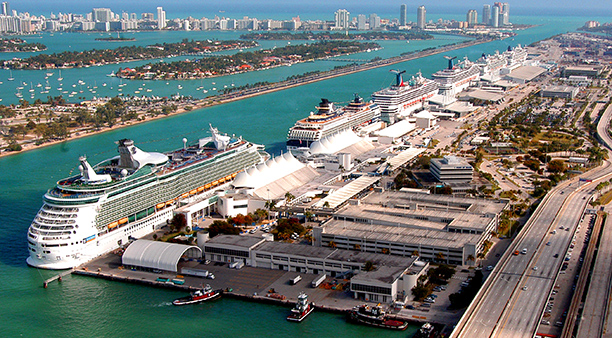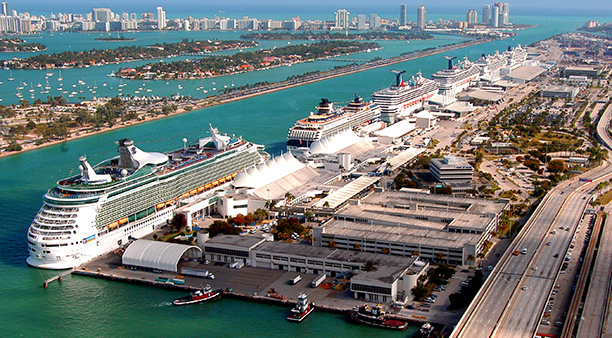 You may have heard of the expedited security program TSA Pre-Check, which is unfortunately unavailable to Australian and New Zealand citizens.
When you're at the airport
Upon approaching security:
Have your boarding pass and ID ready for scanning by the TSA officer
Put liquids and gels (max 100 mL) in a clear plastic bag separate to your other items
Take off your shoes, belts, jackets and coats
Take your laptop out of your bag
Keep your 20 centimetre-long 'Batarang' out of your carry-on luggage, thus avoiding featuring on the TSA's #tsagoodcatch Instagram account and Twitter feed
Technological help
The 3 1/2 out of 5 stars-rated My TSA app (for iOS and Android) shows wait times at many airports, but note that it is passengers who log the times, not the TSA, leading to selective reporting.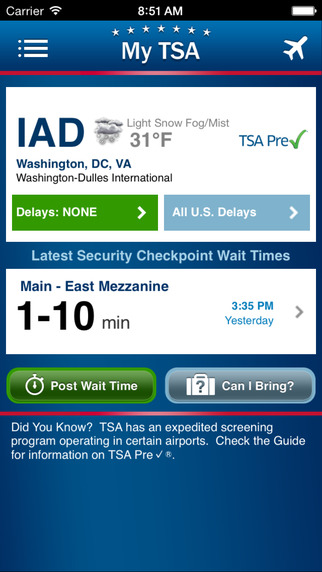 Some airports provide wait times on their website, including the busiest airport in the world, Atlanta, and United hub Denver.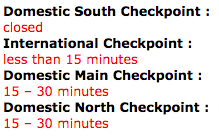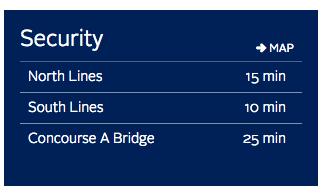 Summing up
The ease of air travel has only become more complicated in the post-September 11 world that we live in, so when travelling to such a security-conscious country like the US, be prepared for extra wait times, especially over the next few busy northern summer months.
Hopefully the more media and social media coverage the long wait times get, the more airport authorities and the government will be called to action.
Safe travels!
How to beat long security lines at US airports this northern summer
was last modified:
November 30th, 2017
by