B2Bpay, in partnership with Qantas Business Rewards, is a handy addition to the small but growing number of payment services in Australia that are usable for small businesses to increase their points-earning capability.
In short: B2Bpay accepts payment from SMEs (ABN holders) by Mastercard, Visa, American Express and Diners Club (with fees based on the exact card you use), and allows you to make or schedule a payment to another party by bank transfer or BPAY.
Disclaimer: This guide was produced in partnership with B2Bpay, a Point Hacks commercial partner.
What is B2Bpay?
At its heart, B2Bpay acts as a secure online payment portal for ABN-holders (you must have an ABN to register) to pay your invoices using your existing credit and debit cards instead of your regular business bank account. Billers receive payments by EFT or BPAY.
B2Bpay is operated by Zenith Payments Pty Ltd, a 100% Australian-owned and -operated company based in Balmain in Sydney. Zenith also operates many other payment services such as gift and prepaid cards, plus Rental Rewards and PropertyPay. This seems like a natural extension to their existing line of services.
Current offer
Connect your Xero, MYOB or Quickbook accounts with your B2Bpay account and make $20,000 in business payments before 31 July 2020 to earn 20,000 bonus points. Plus, connect your accounts and receive $20,000 in business payments before 31 July 2020 to earn an additional 20,000 bonus points.
How you earn points by paying bills with B2Bpay
There are two points-earning opportunities offered by B2Bpay, outside of any bonus points on offer for new customers—there's the points usually earned by your card spend, plus an additional serve of Qantas Points via their partnership with Qantas Business Rewards.
Firstly, by spending on your credit card, you'll earn full points as usual, then, you can also earn Qantas Business Rewards when using B2Bpay.
Note that Qantas Business Rewards is open to any business entity with an ABN, from those who operate as a sole trader up to those with multiple employees. Larger ACN entities are not eligible.
When using B2Bpay it's worth knowing that:
There are variable surcharges based on the card type: you'll see the exact surcharge being charged for the payment, so you can weigh up whether the points and the other benefits earned from payment are worth the fee.
If using the service consistently, use cards appropriate for business transactions: Be aware that some personal credit cards expressly do not permit business transactions in their terms and conditions – for example, such as the Coles Rewards Mastercard or Bank Australia Platinum Visa. I wouldn't suggest using a card like this with B2Bpay.
Qantas Business Rewards usually has a once-off off $89.50 fee to join but is free if you join via B2Bpay.
B2Bpay offers an additional 1 Qantas Point per $100 paid through the platform—so a $50,000 tax bill would earn you an extra 500 Qantas Points, in addition to earning full points from your credit card spend, unlike with most cards if you paid the ATO directly.
In addition, there are also a large range of B2Bpay bonus biller partners where you'll earn up to '3 Qantas Points per $1.50' in payments made to them. If paying a $5000 bill earning points at the highest bonus biller rate, you'd earn 10,000 Qantas Points plus the points from your credit card.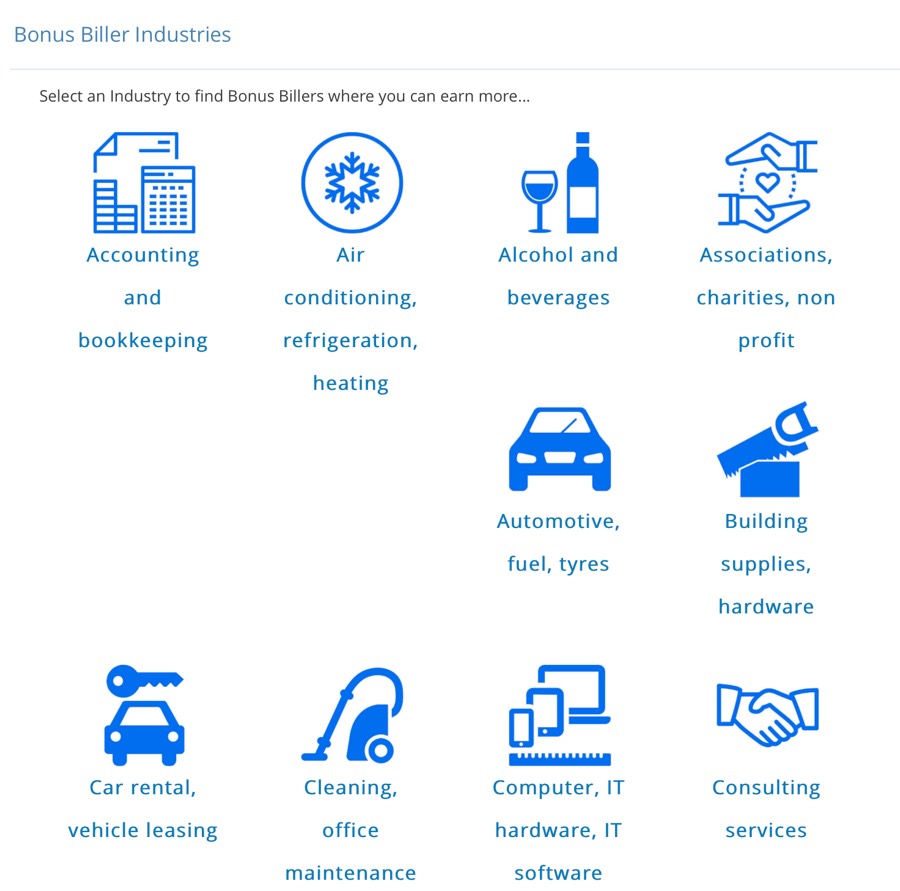 B2Bpay have a full list of bonus billers here. They are also integrated into their service so once you are registered you can search through the whole list, which is well stocked with many suppliers that you may already be working with.
The reason that bonus billers earn the payee more points? Well, the biller pays B2Bpay additional fees, and from there they can then appear in their bonus biller list and market themselves to B2Bpay's customers.
As a supplier, if you're interested in becoming a B2Bpay bonus biller, and/or accepting payments using B2Bpay, then you can email [email protected] or call 1300 404 163 to discuss.
Billers can now earn Qantas points too!
Businesses who sign up as a B2bpay Biller and receive $20,000 in payments by 31 July 2019 will receive 10,000 bonus Qantas points.
The video below explains the benefits of using B2Bpay as a Biller.
Ad – Scroll down to continue reading.Minimum spend, terms & conditions apply.
B2Bpay's fees to payers
There is no cost to join B2Bpay and no fees other than the (probably tax-deductible, but get your own advice!) card processing fee, which depends on the card you use.
B2Bpay provides you with a tax invoice for card processing fees, and the rates (excluding GST) are as follows:
Visa/Mastercard standard cards: 1.2% + GST (after company tax deduction: 0.84%)
Visa/Mastercard premium and corporate cards: 1.55% + GST (after tax deduction: 1.09%)
American Express: 2.2% + GST (after tax deduction: 1.54%)
Diners Club cards: 2.4% + GST (after tax deduction: 1.68%)
International cards: 2.73% + GST (after tax deduction: 1.91%)
What's a standard vs a premium Visa or Mastercard? It's all defined by the card number but generally a Platinum Visa or Mastercard and above would qualify as premium card.
Let's look at what this means in terms of the actual cost of points.
If you are a GST registered business with revenue to offset the GST cost against, then the + GST component of the expense doesn't factor into the calculations.
Then, if you are confident that the benefits of using B2Bpay for your business make it a tax deductible expense – (such as cashflow, how you use the points, scheduled payments etc – see the full list later in the guide) – and your business operates in profit, then the net cost of using the service is lowered again.
So, using the "after tax deduction" effective % surcharges shown above, this results in the following examples. With a…
1 frequent flyer point per $ earning American Express, such as the Amex Explorer: cost per point = 1.54c
1 frequent flyer point per $ earning premium Visa or Mastercard (there are still a few around but mostly with low monthly points caps): cost per point = 1.09c
0.75 frequent flyer point per $ earning standard Visa or Mastercard: cost per point = 1.12c
And in addition, you'll also earn the Qantas Points mentioned above.
Credit cards that could work best with B2Bpay
When it comes to which cards to use, there are going to be many variables which play into card choice – not just whether you can use them for payments like this. We mentioned a few of them above, but here's a little more about each one…
Visa/Mastercard
The following examples are some of the business-specific Visa or Mastercard options. B2Bpay does accept personal Visa/Mastercard options too.
The NAB Rewards Business Signature offers 1.25 Rewards point per $ or the equivalent of 0.625 Velocity Point per $, uncapped.
The ANZ Business Black Visa offers the equivalent of 0.75 frequent flyer point per $ up to $10,000, then 0.5 thereafter uncapped.
The Westpac BusinessChoice Visa offers 0.67 Qantas Point per $, uncapped
The Westpac Altitude Business Platinum offers the equivalent of 0.5 Qantas or Velocity Point and 0.4 Asia Miles or KrisFlyer miles per $, uncapped.
The Commonwealth Business Platinum Awards offers 1 award point per $ with the Mastercard, up to 300,000 award points per year. This is equivalent to 0.5 Velocity point per $ up to 150,000 points per year or 0.4 Qantas Point up to 120,000 points per year.
American Express
American Express Explorer offers the equivalent of 1 frequent flyer point per $, uncapped. The Business Explorer does the same with an additional points bonus if you spend over $100,000 annually.
The Qantas Ultimate American Express offers 1.25 Qantas Points per $, uncapped.
Using B2Bpay: eligible payments and accounting
B2Bpay allows you to earn credit card and Qantas Points when you pay for bills which you would otherwise have made from your bank account via BPAY or EFT. It's that simple. However, you will find that there a number of payees that aren't in the system.
For example, search for BPAY biller '5082' and nothing comes up – this is for American Express, so you can't pay your credit card bill with your credit card!
Search for BPAY biller '75556' though and you're in luck – the ATO is listed as a B2Bpay biller.

You can also add and pay any biller you can't find in B2Bpay's list of known billers.
Once you've made a payment, you'll see a single charge on your credit card bill for the amount paid including the fee. You'll also receive a tax invoice for the fee separately. Combine your supplier's invoice plus the B2Bpay invoice in your accounting system and you'll be able to account for the total amount charged to your card.
The full list of B2Bpay features
Product Features
B2Bpay
Cash
Cheque
EFT
Other direct
credit, online
bill pay
Convenience features for payer
Simple biller implementation
✔
✔
✔
Payment scheduling for payer
✔
✔
✔
Automatic bill reminders to payers
via SMS/email (and reply to pay)
✔
Centralised expense management for payer
✔
Save biller details for recurring bills
✔
✔
✔
Payee and biller simple record keeping
✔
✔
Payee and biller reconciliation data
via transaction reference
✔
✔
Biller business data stored in the cloud
✔
✔
Acceptance variety
Wide B2B payment acceptance
✔
Business tolls for billers
Automatic bill reminders to payers
via SMS/email (and reply to pay)
✔
Alerts through SMS and email to payers
✔
Automatic payments by biller or solution
✔
Send payer confirmation by email, SMS or print
✔
Auto-retry for failed payments
✔
Data encryption
✔
✔
✔
Download transactions in a compatible format
to import into MYOB, Xero, etc.
✔
✔
✔
Qantas Points
Earn Qantas Points for business,
simply join Qantas Business Rewards for free
(saving $89.50)
✔
Source: B2Bpay
Summing up: B2Bpay
B2Bpay is a great addition to the world of services offering points for SMEs—alongside existing payment services like RewardPay, but also other services like Live Eftpos Black.
The B2Bpay platform is a very useful platform for SMEs managing multiple billers who are looking to use a variety of cards for their business spend, with many features on offer to try and make their service useful to customers.
The Qantas Business Rewards offering and the ability to use Visa and Mastercard in addition to American Express gives it some valuable extra benefits.
Whether you should pay the fees for a service like this is totally down to how much you value points and whether you think the fees. I feel the fees are at least competitive for a service like this, plus there are the cashflow benefits of putting business transactions on your credit card to consider as well.
Some of the other features offered by the B2Bpay platform become useful to justify some of the fee too—for example, storing multiple cards and choosing which card to use for specific bills, scheduled billing, and the bonus billers service.
In talking to the B2Bpay team personally, they have plans to continue to invest in and improve the product quite quickly, so it will be interesting to see where they develop the platform and how they can keep making it more useful.
Get up to 40,000 bonus Qantas Points with B2Bpay until 31 July 2020
was last modified:
October 24th, 2022
by