Live eftpos are offering up to 1 million bonus Qantas Points when you apply for a new Live eftpos black account before 31 July 2018 and reach the required transaction amount within 60 days of approval.
Offer details
The bonus points for the Live eftpos black Greater Distance promo is added on top of the regular points earn. The amount of points you will receive is tiered with the minimum transaction starting at $50,000 within the first 60 days of approval.
The table below shows the tiers, bonus points and the maximum possible points you can receive per tier:
Tiers
Bonus Qantas points
Total Qantas Points
Transact $50,000
50,000 Qantas Points
up to 100,000 Qantas Points*
Transact $100,000
100,000 Qantas Points
up to 200,000 Qantas Points*
Transact $200,000
200,000 Qantas Points
up to 400,000 Qantas Points *
Transact $1,000,000
1 million Qantas Points
up to 2 million Qantas Points*
*for Visa, Mastercard and debit (EFTPOS) transactions
Read the full terms and conditions of the offer here.
What is Live eftpos black?
Over the past few years, there has been a proliferation of mobile payment systems that allow businesses to accept EFTPOS transactions without the restriction of having the payment device physically connected to a cash register.
These mobile payment providers have also been a blessing for small businesses that have not had the transaction volume to acquire payment devices from large financial institutions.
Live eftpos is one such provider, having entered the market in 2011. They have partnered with Qantas Business Rewards to offer businesses the ability to earn Qantas Points for each transaction processed through their device, with points being earned by the merchant for customer spend on Visa, Mastercard, Amex & Diners.
Earning Qantas Points with Live eftpos black
There is no cap on the number of points that can be earned, meaning that if your business transacts $2 million per month, your business gets 2 million Qantas Points.
Ad – Scroll down to continue reading.Minimum spend, terms & conditions apply.
Features of Live eftpos black
The Live eftpos black device leverages the strength of Telstra's mobile 3G network, Australia's largest mobile network. It also comes with a dedicated Relationship Manager for each customer after receipt of their device, who will provide ongoing assistance to the customer.
Payments transacted through Live eftpos black are deposited into your business bank account every business day, and will be received within 1-2 business days if the payment is taken before 5:45pm AEST, otherwise will take within 2-3 business days.
The product differs from other payment systems such as Square, in that it does not require an iOS device or a reader and offers Qantas Points to the merchant.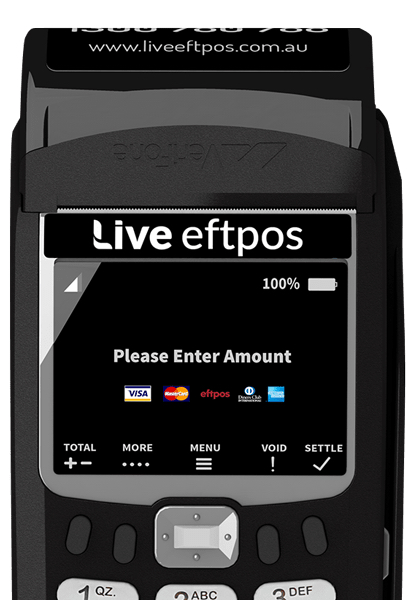 Pricing for Live eftpos black
To differentiate from financial institutions, who generally adopt an interchange fee plus fixed mark-up model, Live eftpos black relies on a blended pricing structure, dubbed 'Simple Pricing'. The cost to rent a payment device is fixed at $49 per month.
In addition, a 2* – 2.355% + GST merchant processing fee is also applied for Visa, Mastercard, Debit, Diners Club and Amex transactions. For Visa and Mastercard transactions, 1 Qantas Point per $1 is awarded and for Amex and Diners Club transactions, 0.5 Qantas Points per $1 is awarded.
* The 2% processing fee for Visa, Mastercard, Debit, Diners Club and Amex transactions are only applicable to specific industries such as Charity, Education, Utility Providers, Insurance, Service Station, Supermarket/Grocery Store and Transit.
Live eftpos black's pricing is high when compared outright to other EFTPOS providers, however, the Live eftpos black device is the only product on the market that offers Qantas Points to merchants.
The price for Live eftpos black does not include any annual, set-up or exit fees and there are no lock-in contracts, so to compare pricing, you'll need to consider the average rate your existing—or potential—EFTPOS supplier may charge.
For example, say an existing supplier offers you an EFTPOS facility at an average rate of 1.2% and no monthly fee. The difference between that and Live eftpos black is $49 for the monthly fee, 1.3% in interchange fees and the ability to earn Qantas Points. If you are comfortable with those costs, then this could be an effective way to accrue points, bearing in mind the merchant fees would also be a deductible business expense.
Finally, that's not considering any of the other services or benefits that either Live eftpos or whoever you are comparing to may offer.
Which businesses should consider Live eftpos black?
The product works best for businesses wanting to offer their clients in-person EFTPOS facilities with Visa/Mastercard/Amex/Diners Club acceptance, and business owners or managers who want to benefit from accruing Qantas Points and redeeming them for high-value redemptions.
This could be especially true for businesses that transact larger amounts or volumes, such as dentists, accountants or lawyers, given that earning is not subject to capping.
Summing up
The ability for businesses to earn Qantas Points through EFTPOS transactions could be a welcome addition for business owners or managers who know how to get value from the points earned.
Given that Live eftpos are the first to offer a product like this in Australia, and that the earning potential is uncapped, it is a unique way to earn more Qantas Points. Live eftpos black also provides those small businesses unable to acquire a payment device through their bank an opportunity to do so.
However, this product will not appeal to all businesses. Those businesses that don't see the value in Qantas Points, or receive payment terminals at discounted rates from their financial institution would likely see little value in considering Live eftpos black.
Given businesses need to compare their own existing EFTPOS facilities or other offers in the market to this option, and that EFTPOS fees often vary wildly in terms of price and services on offer based on the nature and location of the business, it's not possible to say that Live eftpos black is a contender for everyone, so make your own comparisons!
*A business must be a Qantas Business Rewards Member to earn Qantas Points for business transactions. A one-off join fee of $89.50 including GST normally applies, however, this will be waived for Live eftpos black customers. Membership and Qantas Points are subject to the Qantas Business Rewards Terms and Conditions. Qantas Points for business are offered under the Live eftpos black Terms and Conditions. Any claims in relation to Qantas Points under this offer must be made directly to Live eftpos by calling 1300 780 788 or emailing [email protected]. Qantas Points will be credited to the Members' Business Rewards account within 60 days of receiving your End of Month Merchant Statement from Live eftpos black. Members will earn 1 Qantas Point for every $1 spent (including GST) transacted via the Live eftpos black Merchant facility.
This content contains affiliate links from which Point Hacks may earn commissions from transactions generated from new customers, bookings and general enquiries. Find out more here.
Earn up to 1 million bonus Qantas Points with Live eftpos black
was last modified:
October 24th, 2022
by