Coming from the US for the Point Hacks team meetup, I arrived a day early to allow myself more time to get adjusted to the time difference and, so, needed a comfortable place to stay for just one night before joining the others.
I decided on this property as, when I booked and stayed in August 2018, I was able to take advantage of a redemption sweet spot, detailed below.
This property ranks as #9 of 919 Hotels in Tokyo on TripAdvisor, which is quite the feat given the intense competition. The only other brand hotels ranking above The Ritz are the Shangri-La Hotel near Tokyo Station and Park Hyatt in Shinjuku.
Research & booking
This is a Marriott Category 8 property, costing 70,000/85,000/100,000 Marriott Bonvoy points per night (off-peak/standard/peak).
The most common ways for Australia-based travellers to get their hands on Marriott Rewards points are by buying them or transferring American Express Membership Rewards points.
In Tokyo (and some other Japanese cities), a 200 JPY (~AU$2) accommodation tax is payable on both paid and award stays.
With my Marriott Rewards Gold Elite status—coming from being an American Express Platinum Charge Card Member—I was upgraded to a room on the top (53rd) floor but it was still a standard room, just with a better view.
Due to my status, I was also permitted a very early check-in at 6:30am after having arrived on a red-eye from Los Angeles and was given a late check-out at 2pm the next day, giving me 31+ hours to enjoy the room and hotel!
The room
The king-sized bed is extremely comfortable: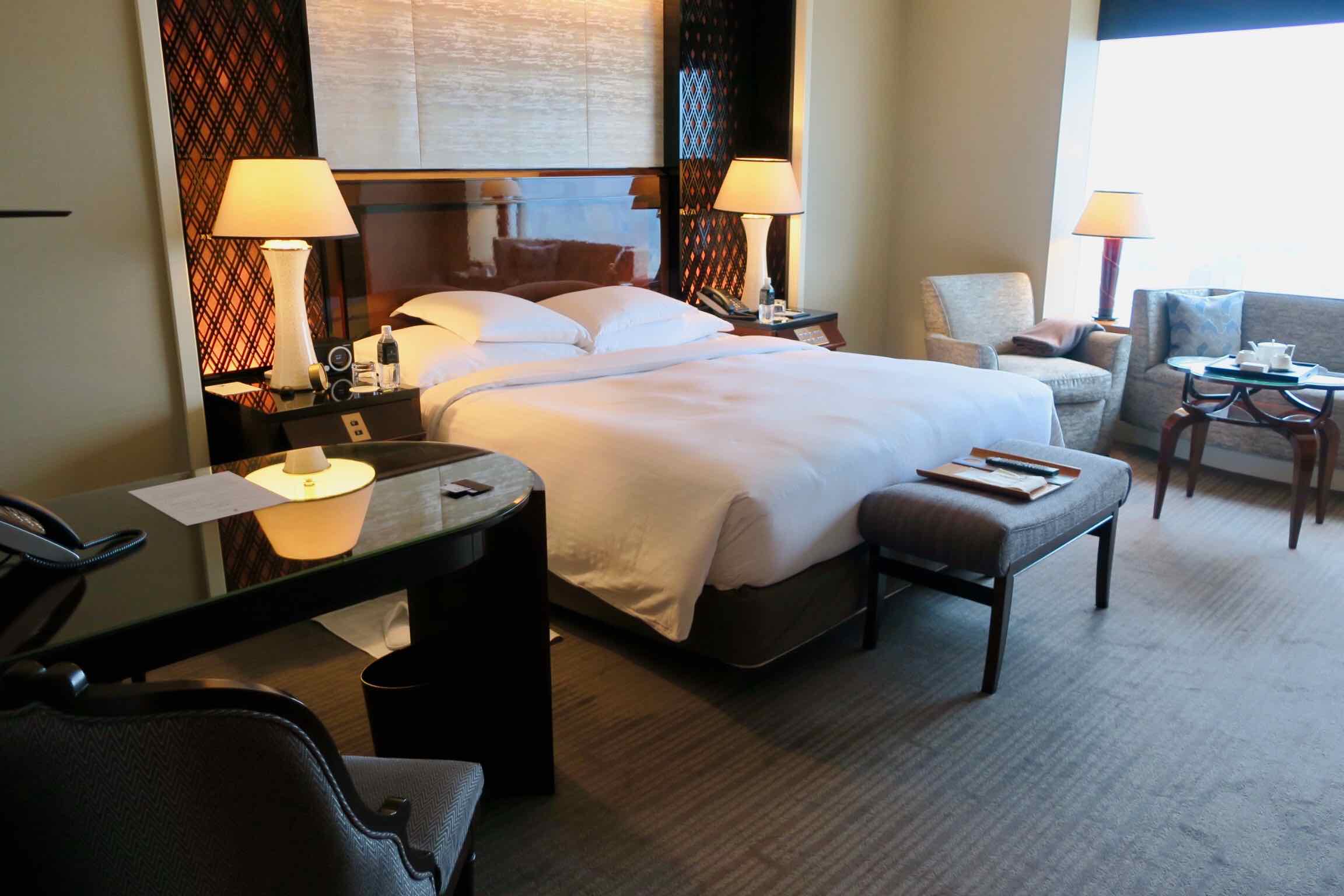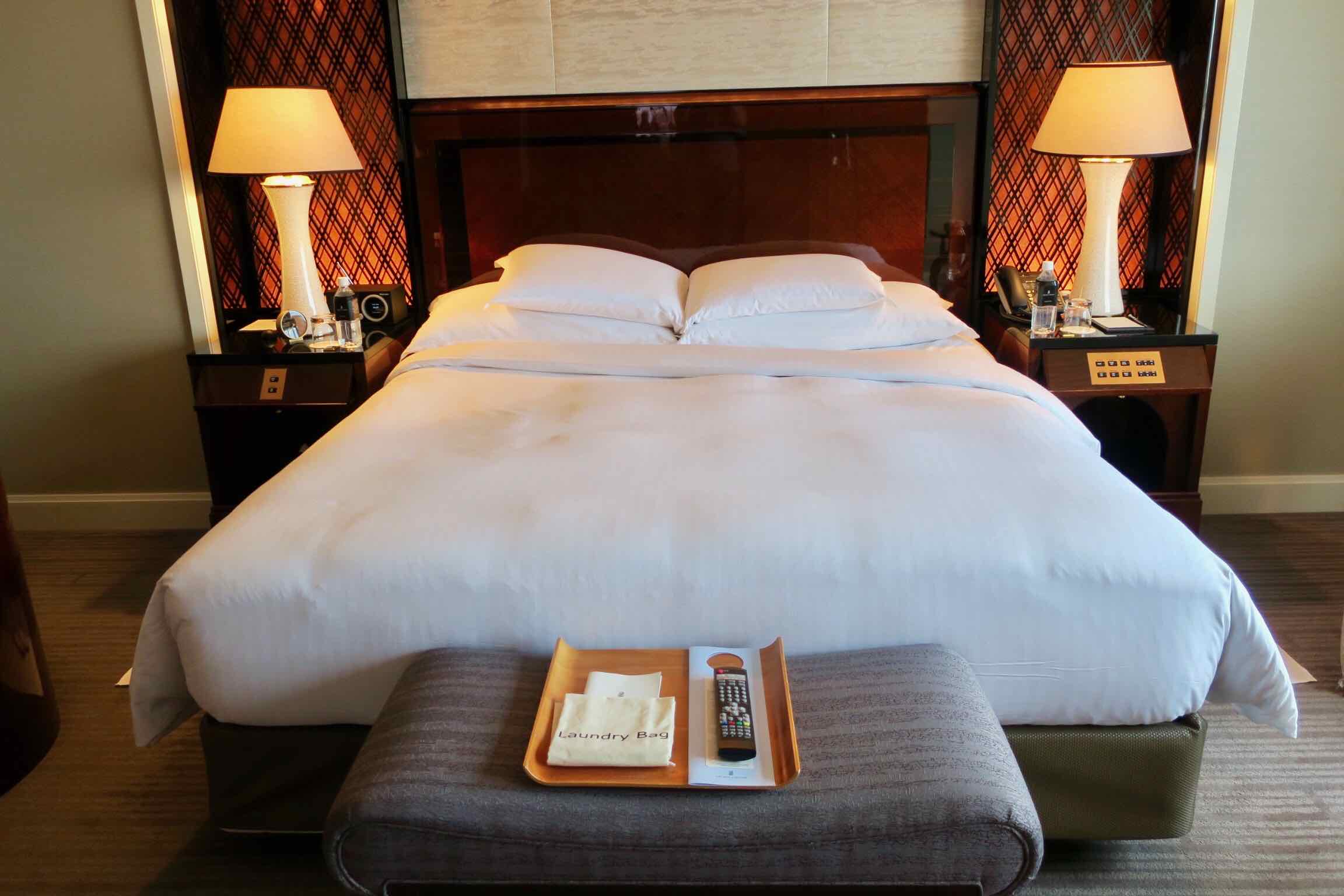 and you can enjoy spectacular views of Shinjuku and the 2020 Summer Olympics main stadium under construction in the foreground.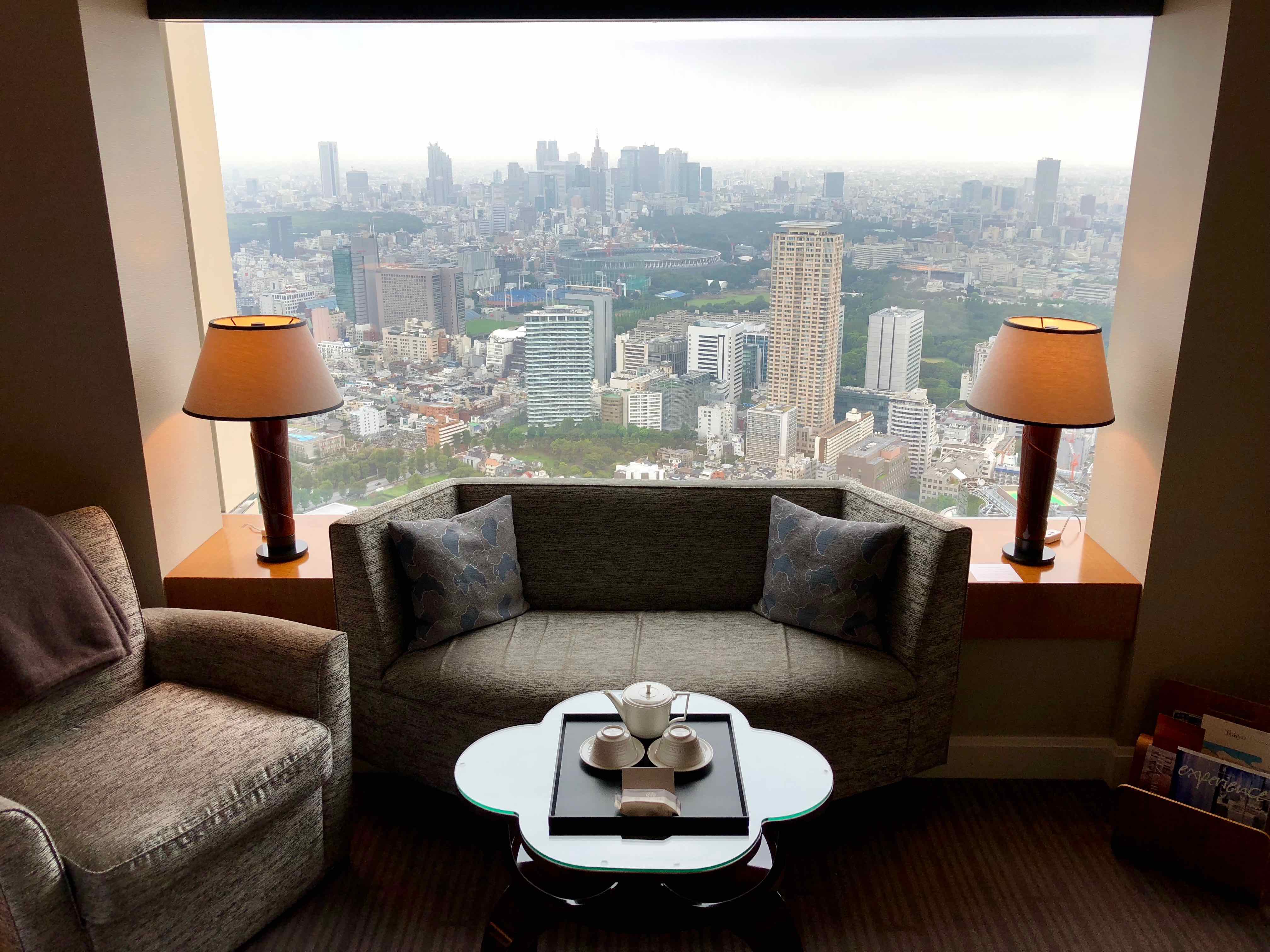 There was a hand-written welcome note waiting for me, accompanied by a selection of different-flavoured nuts inside (what I later found out were edible!) chocolate containers: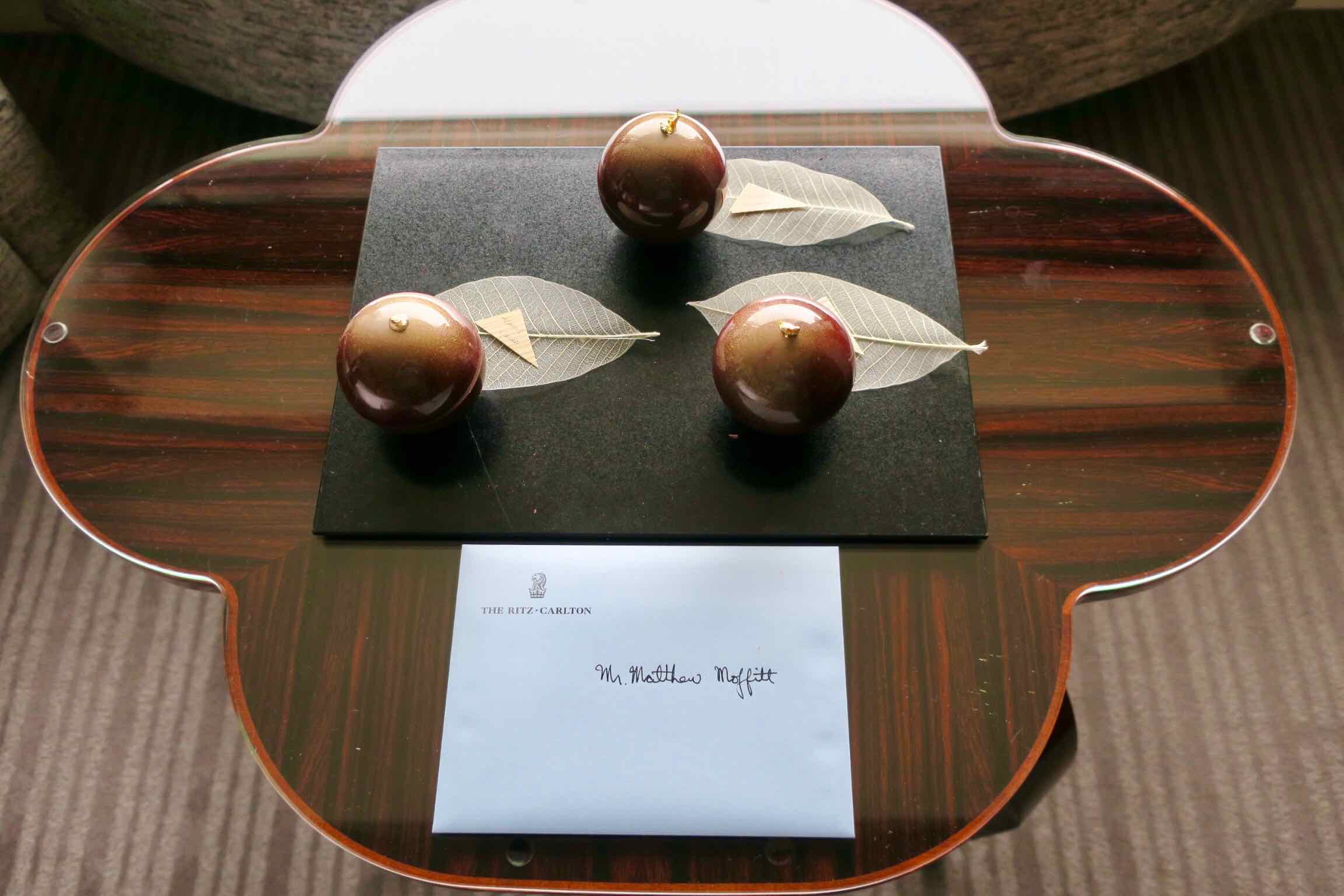 The entrance foyer is long: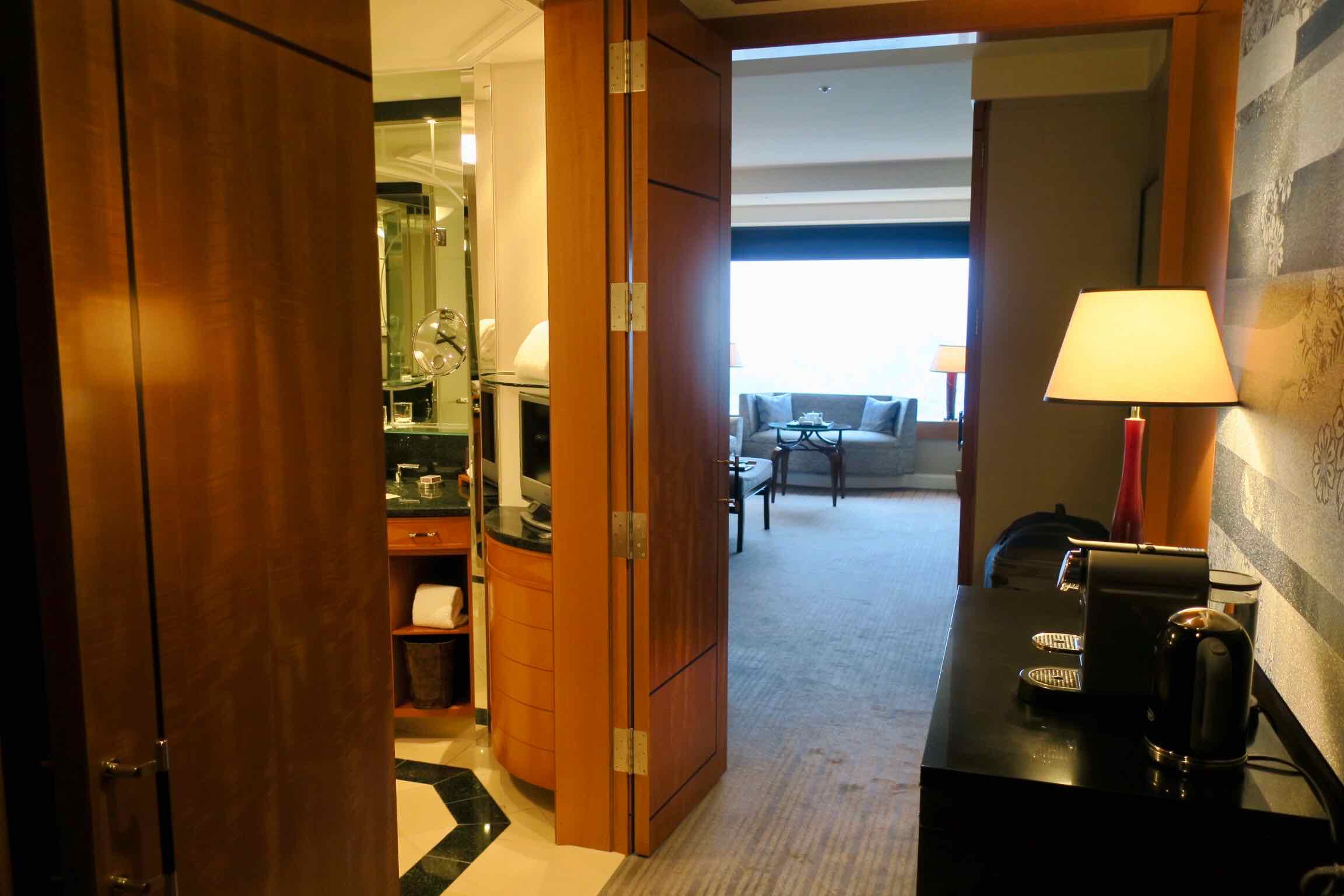 and includes a coffee and tea station with a Nespresso machine.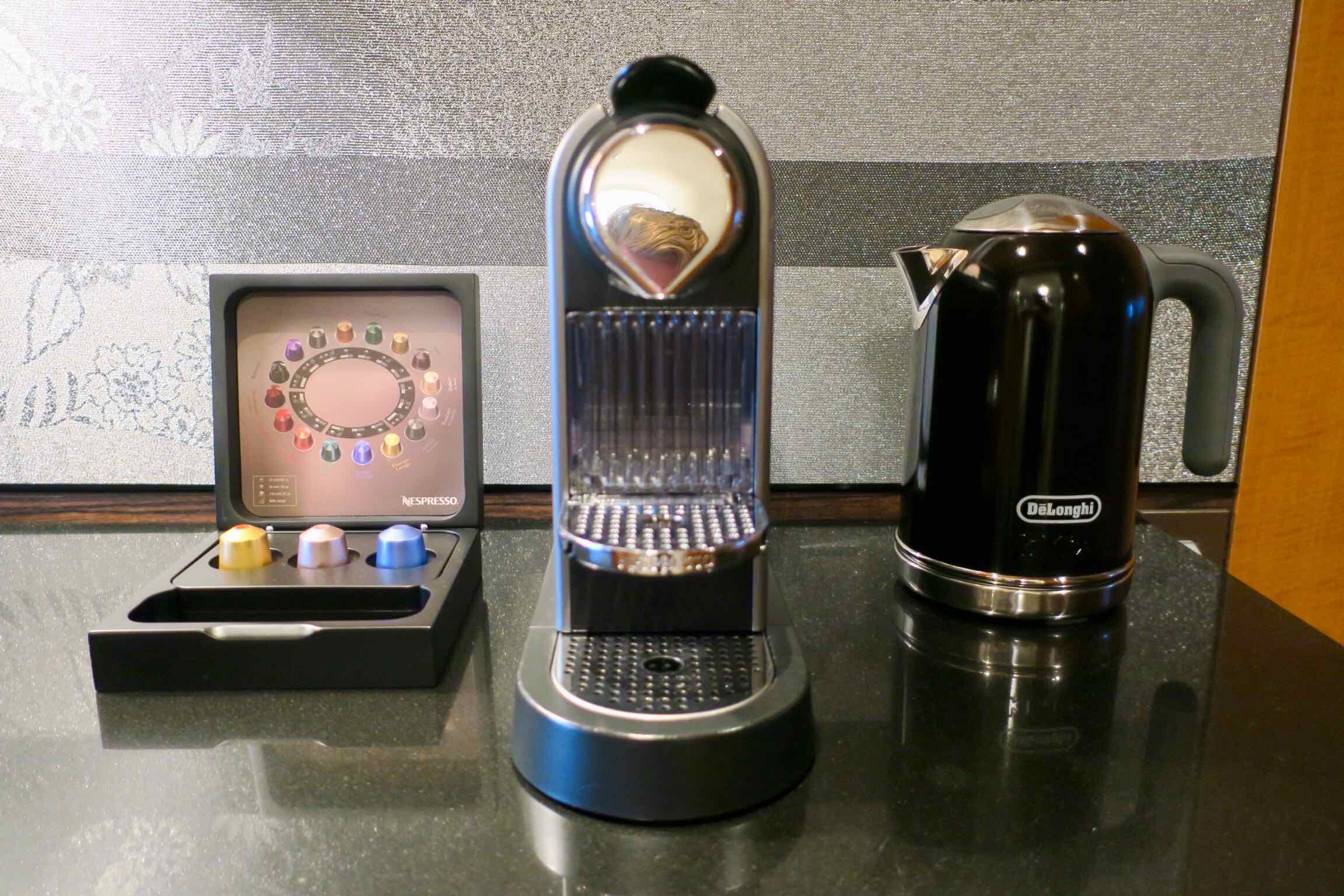 The desk and two chairs are comfortable but those working on a computer might not appreciate the backwards-slanted nature of the chairs, seemingly more designed for relaxing than working: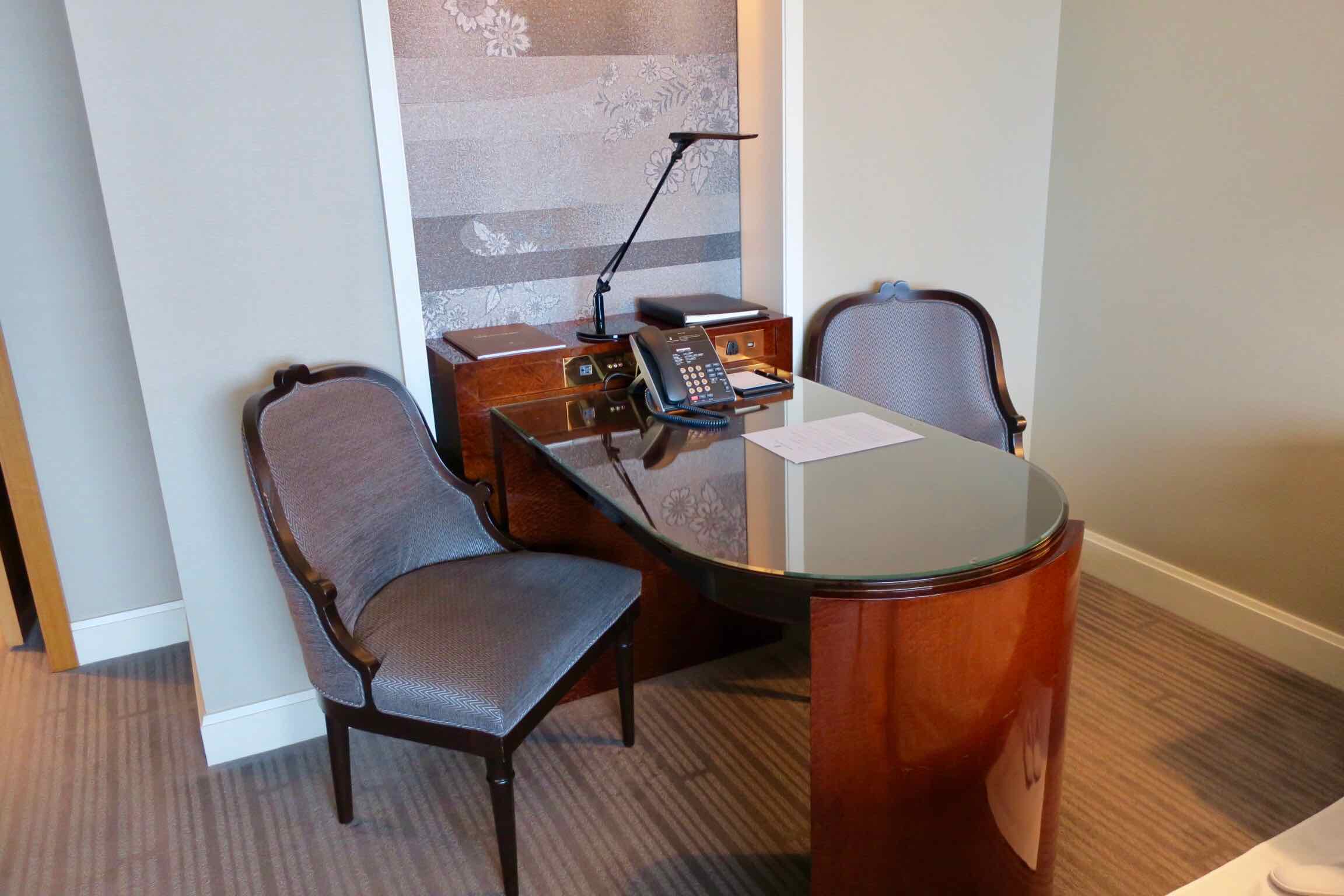 The TV has crystal-clear definition and there is a beautiful welcome image and music playing upon arrival: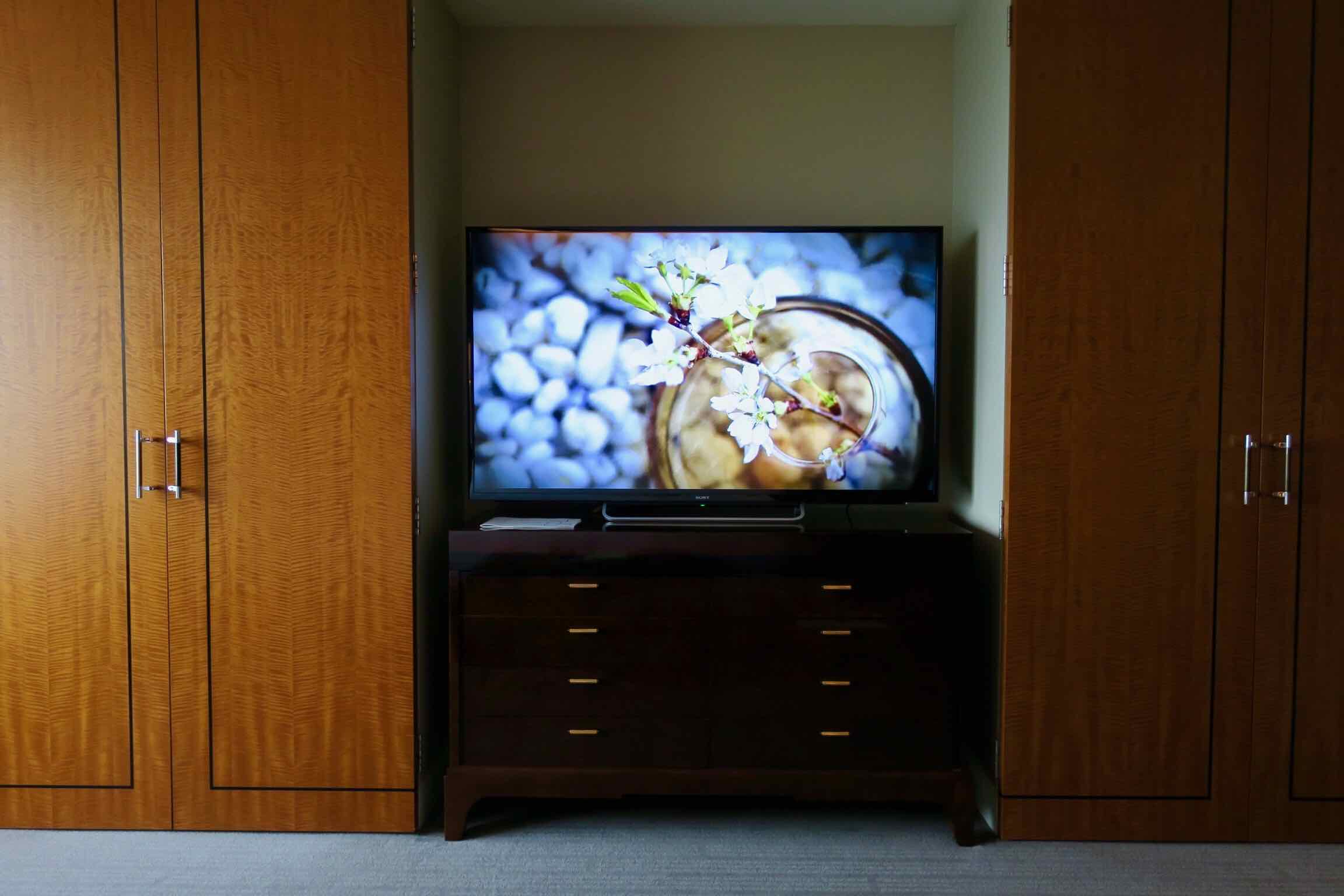 with the two closets providing more-than-ample space to store belongings.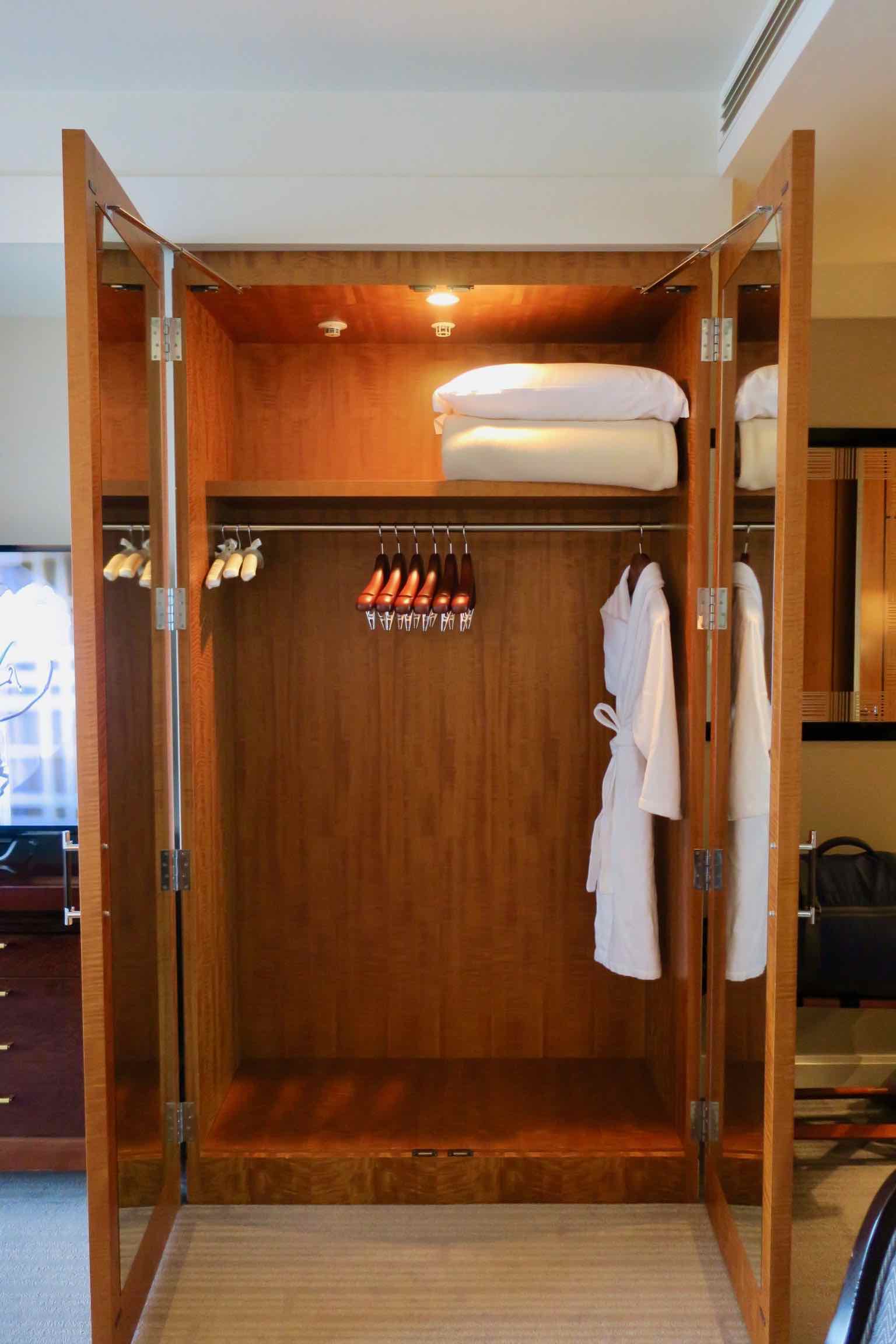 My photos do not do the bathroom justice—it is simply the most opulently-detailed bathroom I have set foot in, with two vanities:
and a deep bath.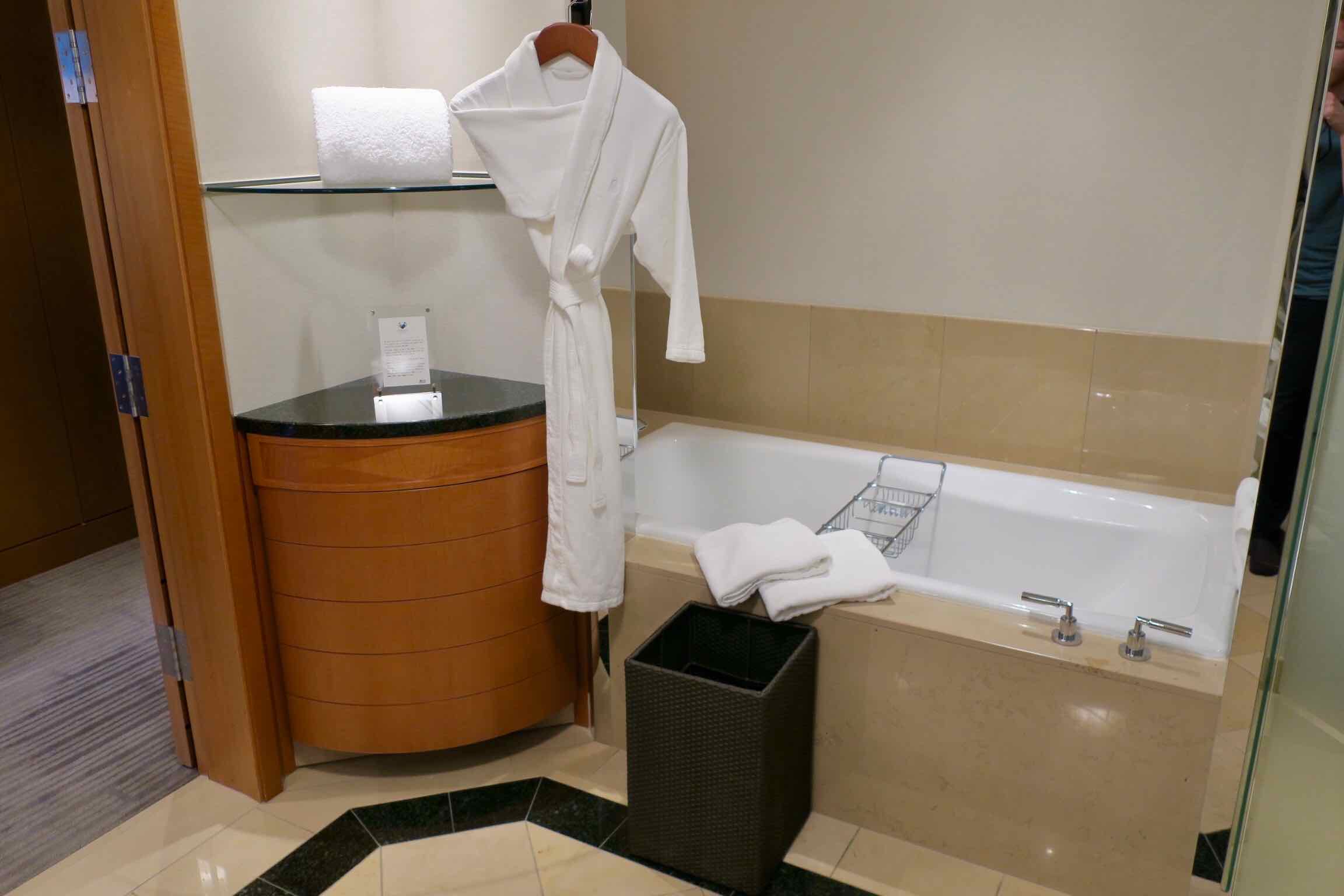 Of course, the technologically-advanced Japanese toilets are always a delight: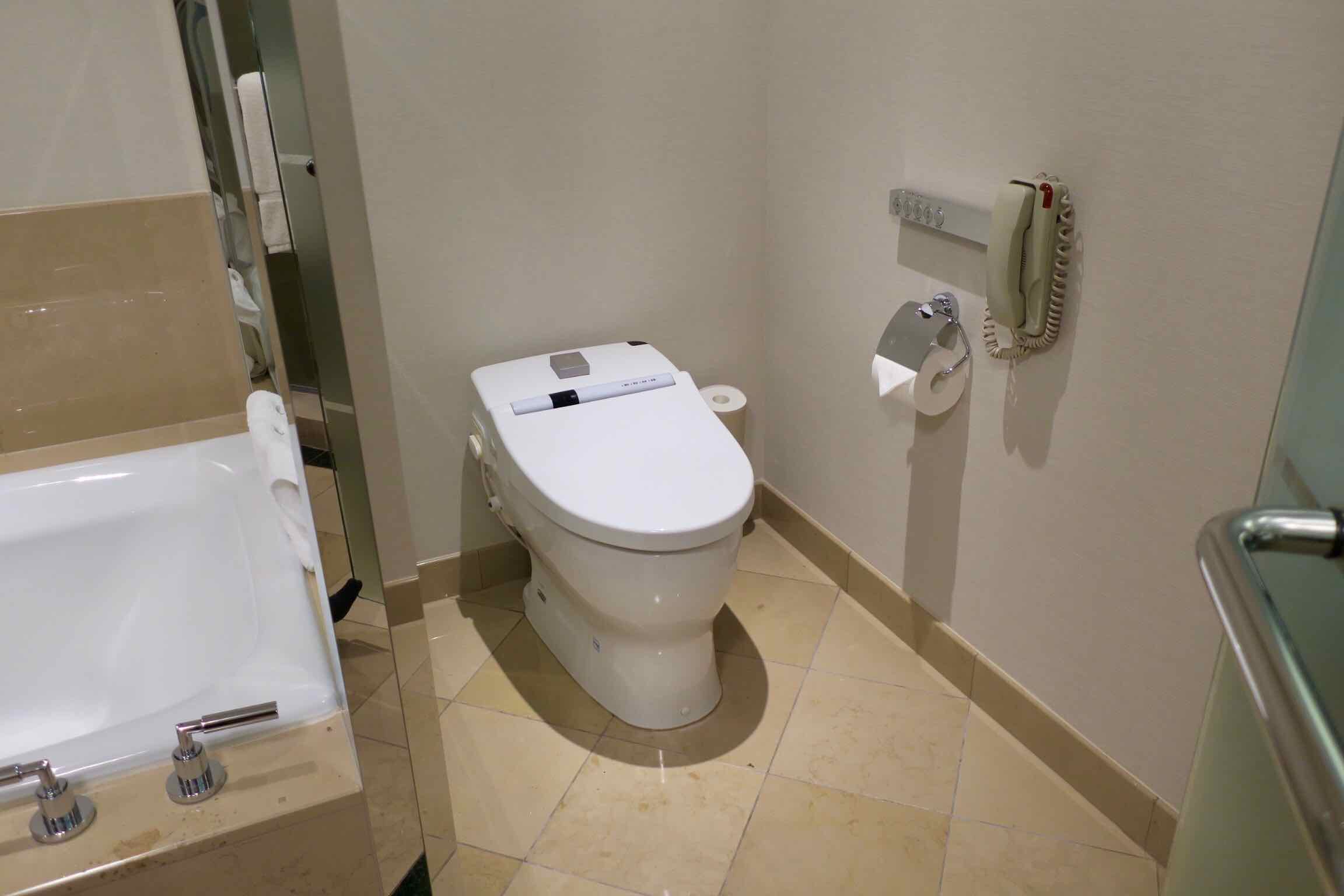 and the water pressure and temperature in the shower were both excellent.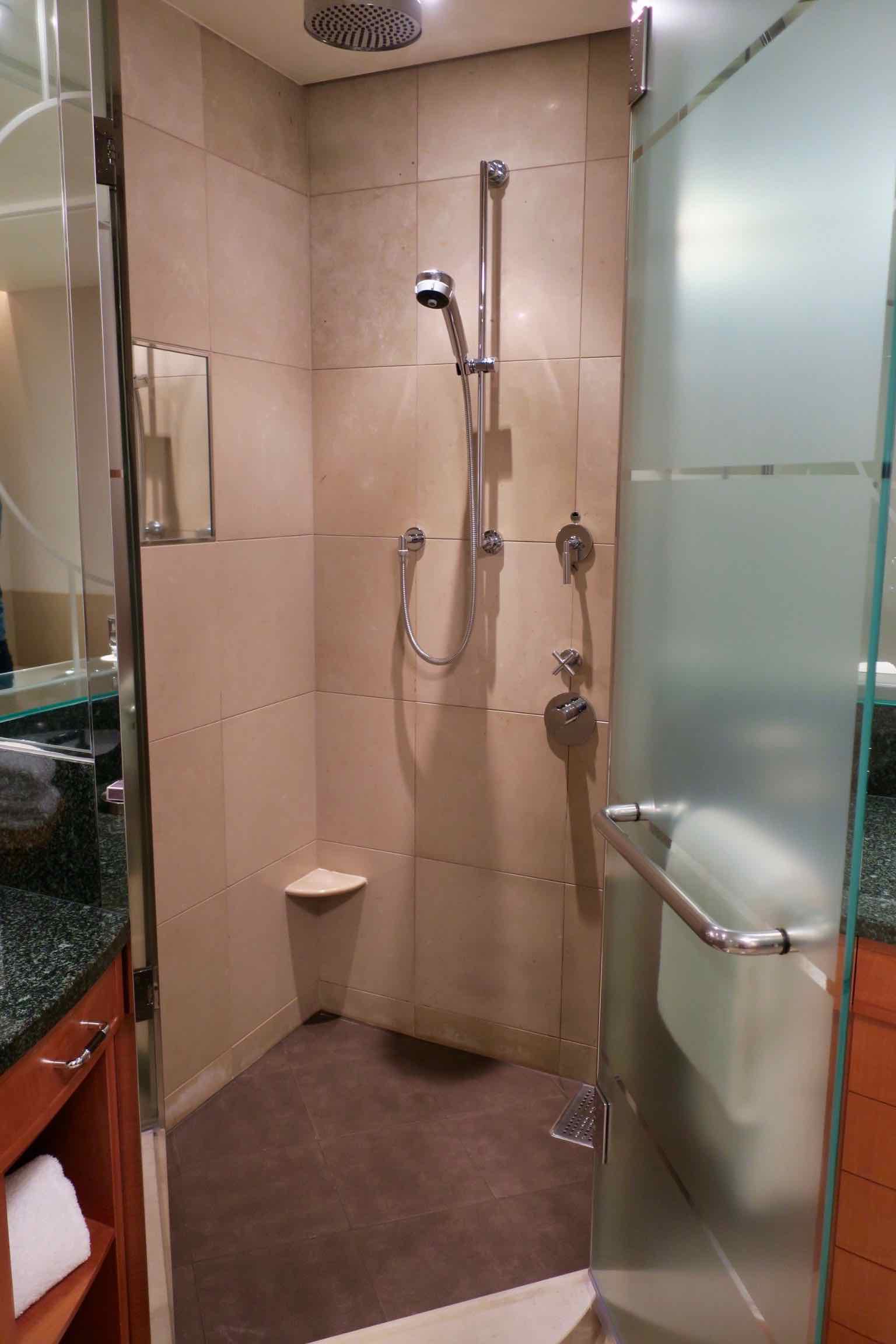 The hotel
The hotel has 247 rooms across 7 floors including 35 suites. I was told that the hotel receives about 40% Japanese visitors and 60% from overseas, with the majority coming from the US.
You enter at the ground floor, where you are greeted by hotel staff and a beautiful flower display: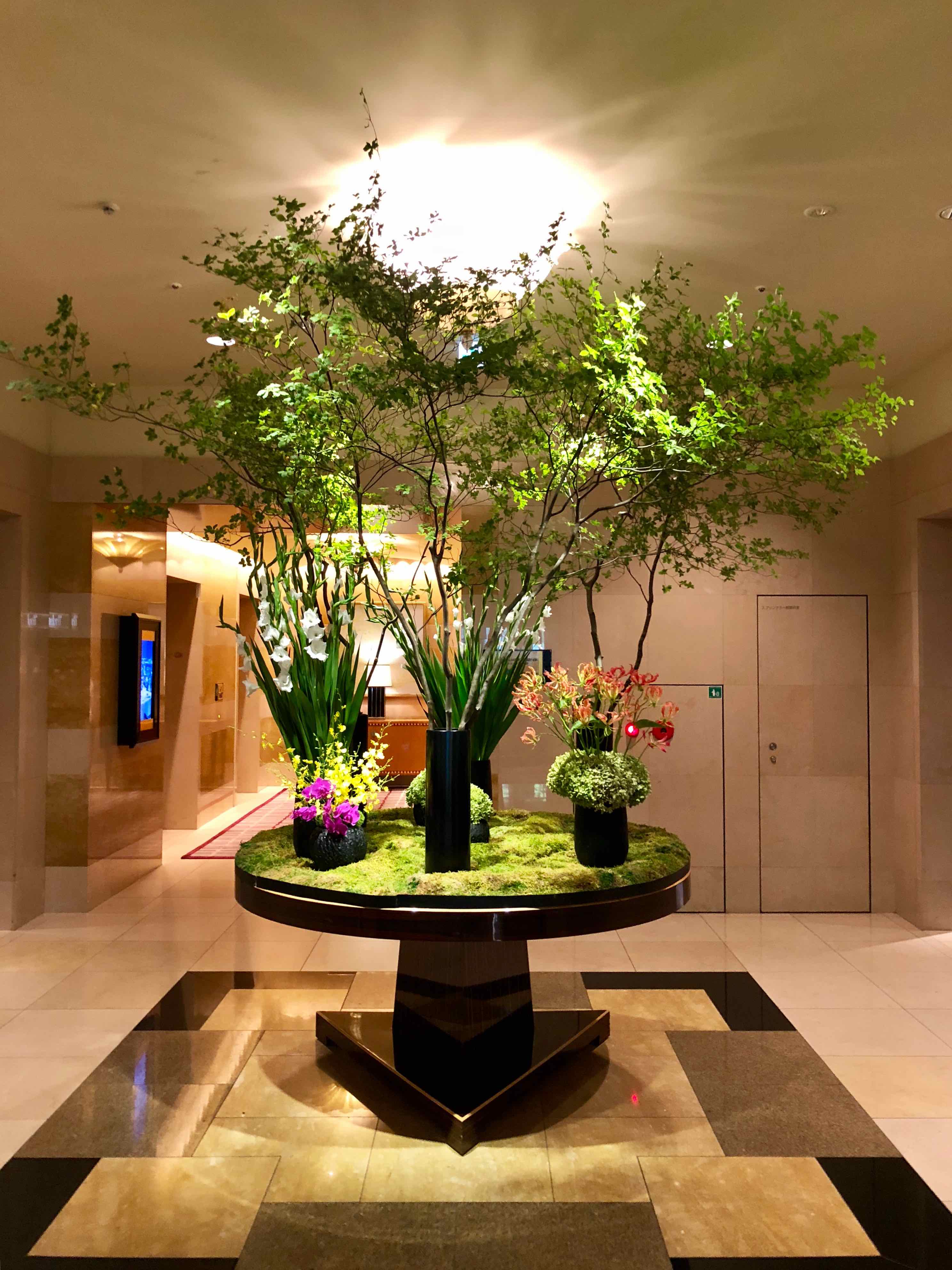 but check-in occurs on the 45th floor.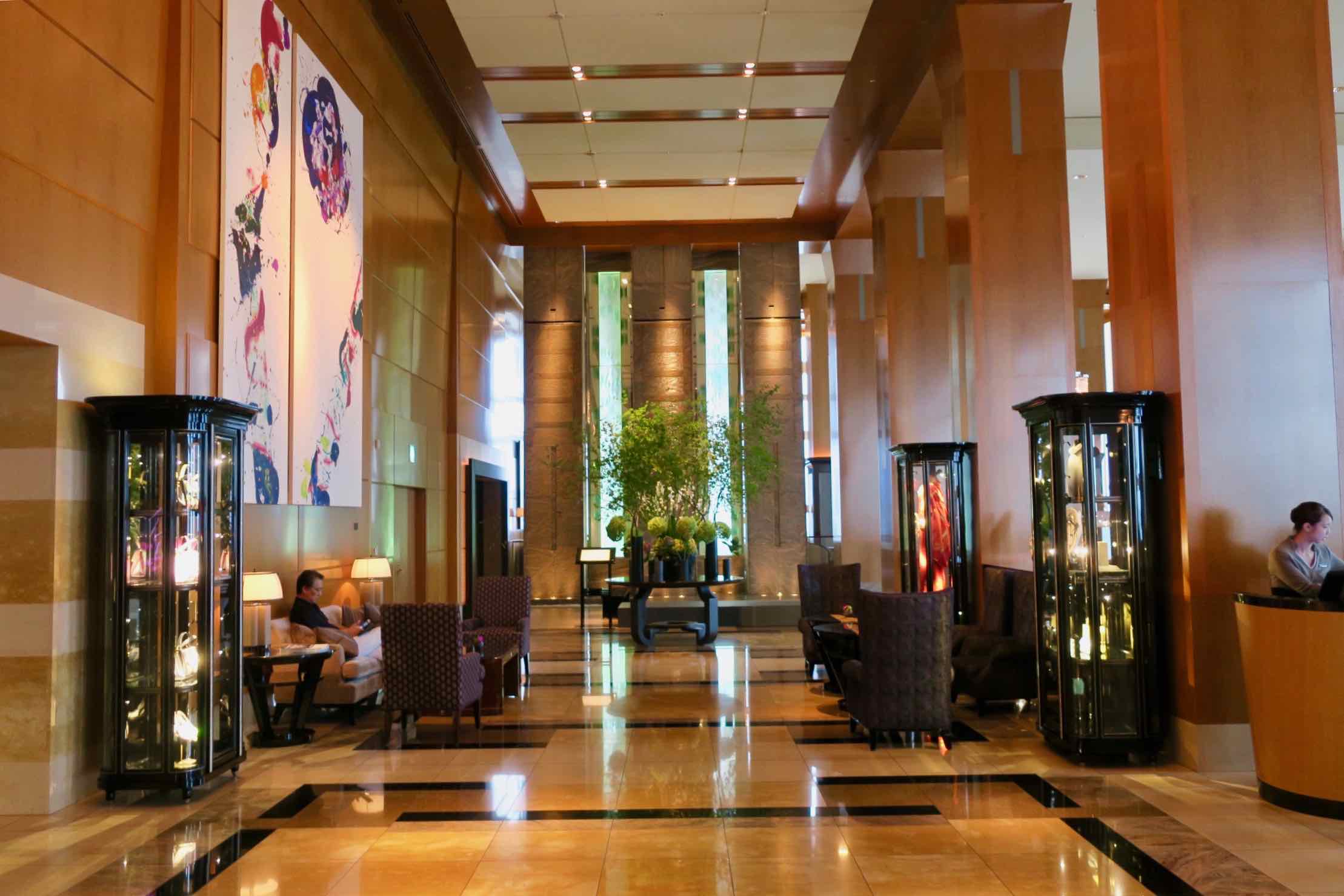 The lobby is spacious and gorgeous and surprisingly quiet for the number of people that I saw pass through: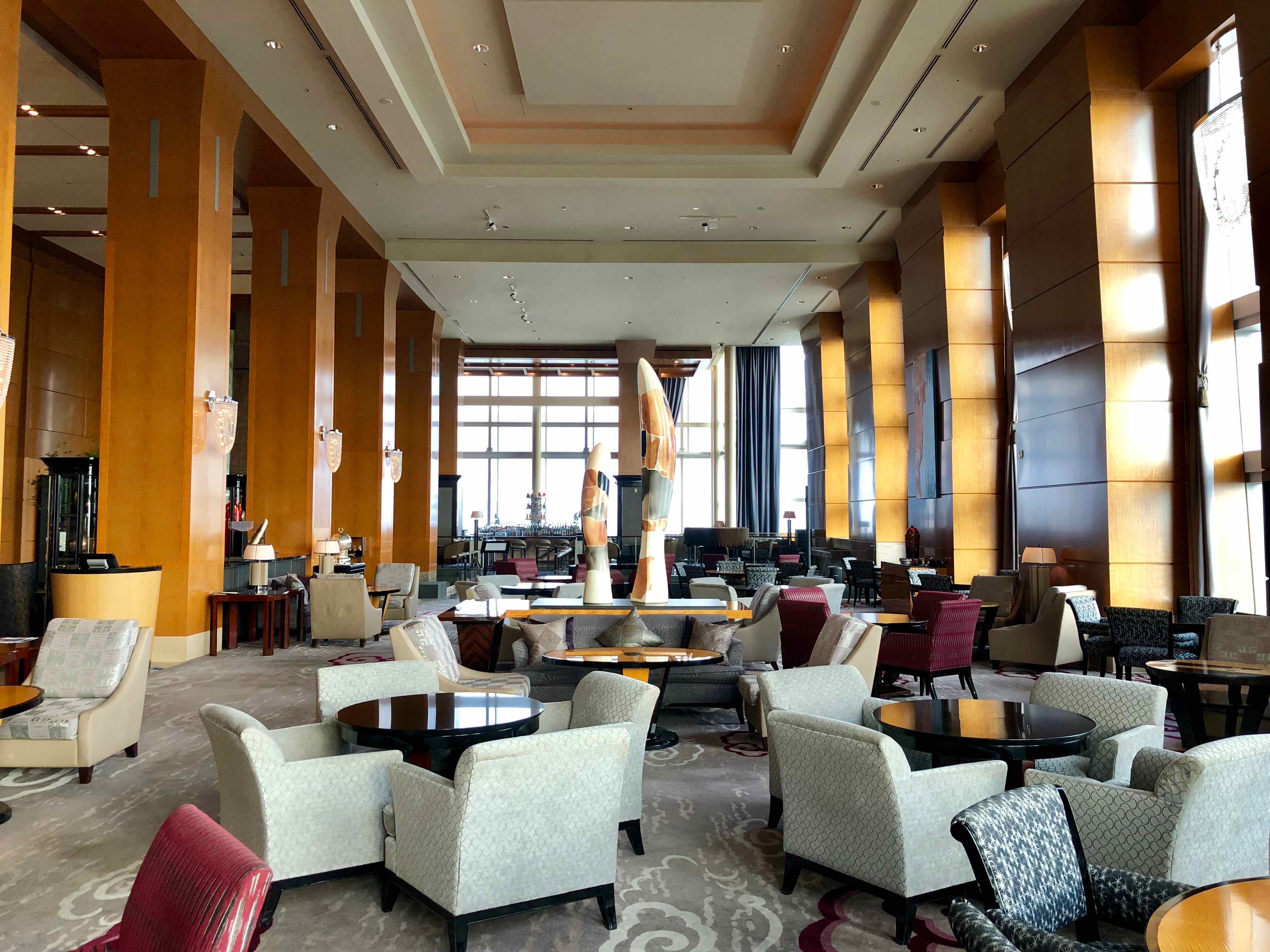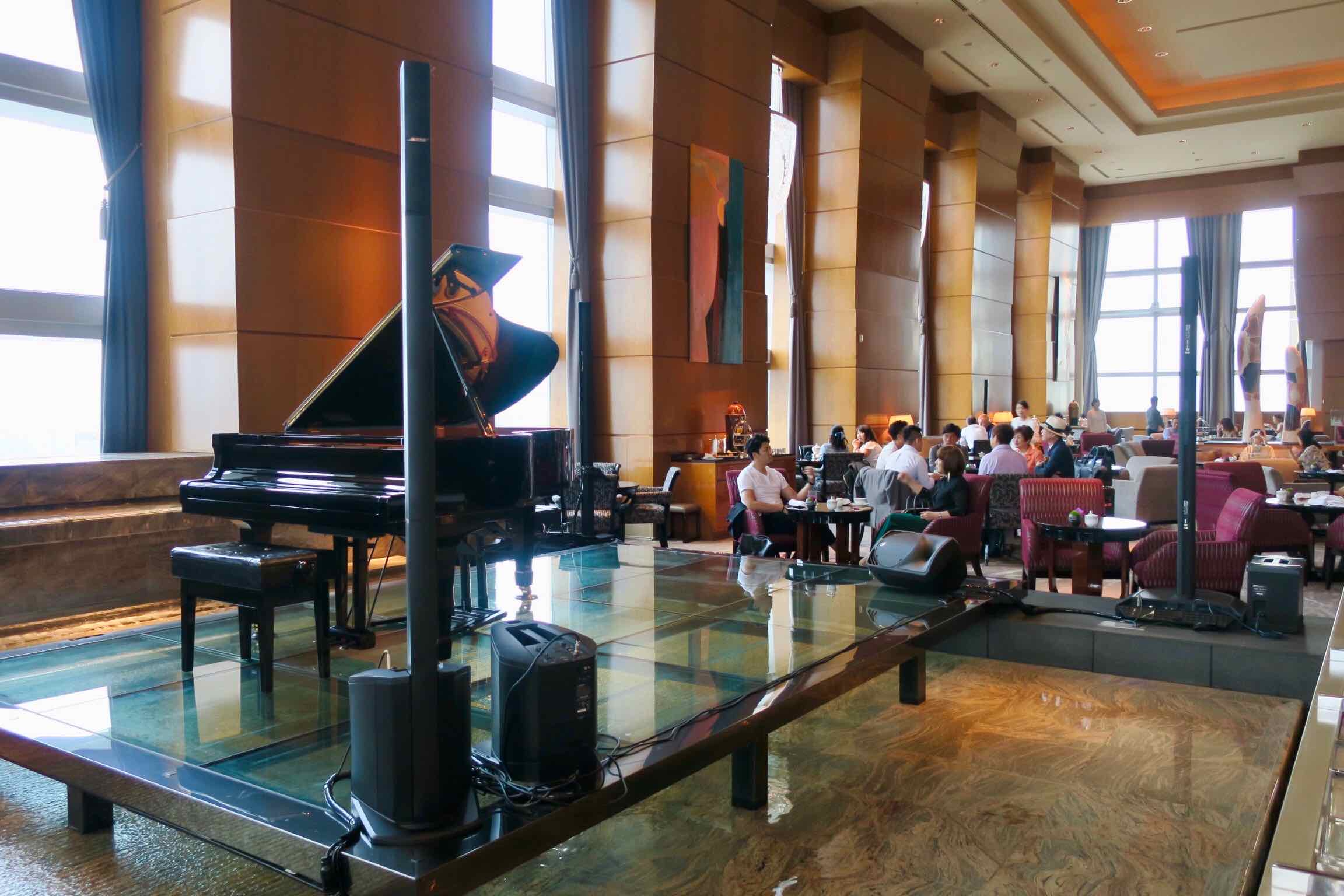 Something happened after check-in that had never happened to me before—I was personally escorted to my room and given a tour of its features. I do not know if this is because I hold status or if that is standard practice at this and/or all Ritz-Carlton properties.
What also struck me was that every single employee of the hotel smiled and greeted me every single time I saw them.
The wifi was reliable and fast, clocking 83/91 Mbps download/upload speeds.
Although I did not get any photos, I enjoyed the 20-metre-long heated pool and accompanying spa, open 7am to 10pm. There is also a sauna and steam room available for 90 minutes for AU$350+, which is outrageously expensive.
The Club Lounge is available to those who have booked a suite or Club Room, which averages a ~AU$250/night co-payment—again, worth it?!
Dining
The hotel has a number of high-end restaurants, covering traditional and modern Japanese as well as general Western and French cuisine.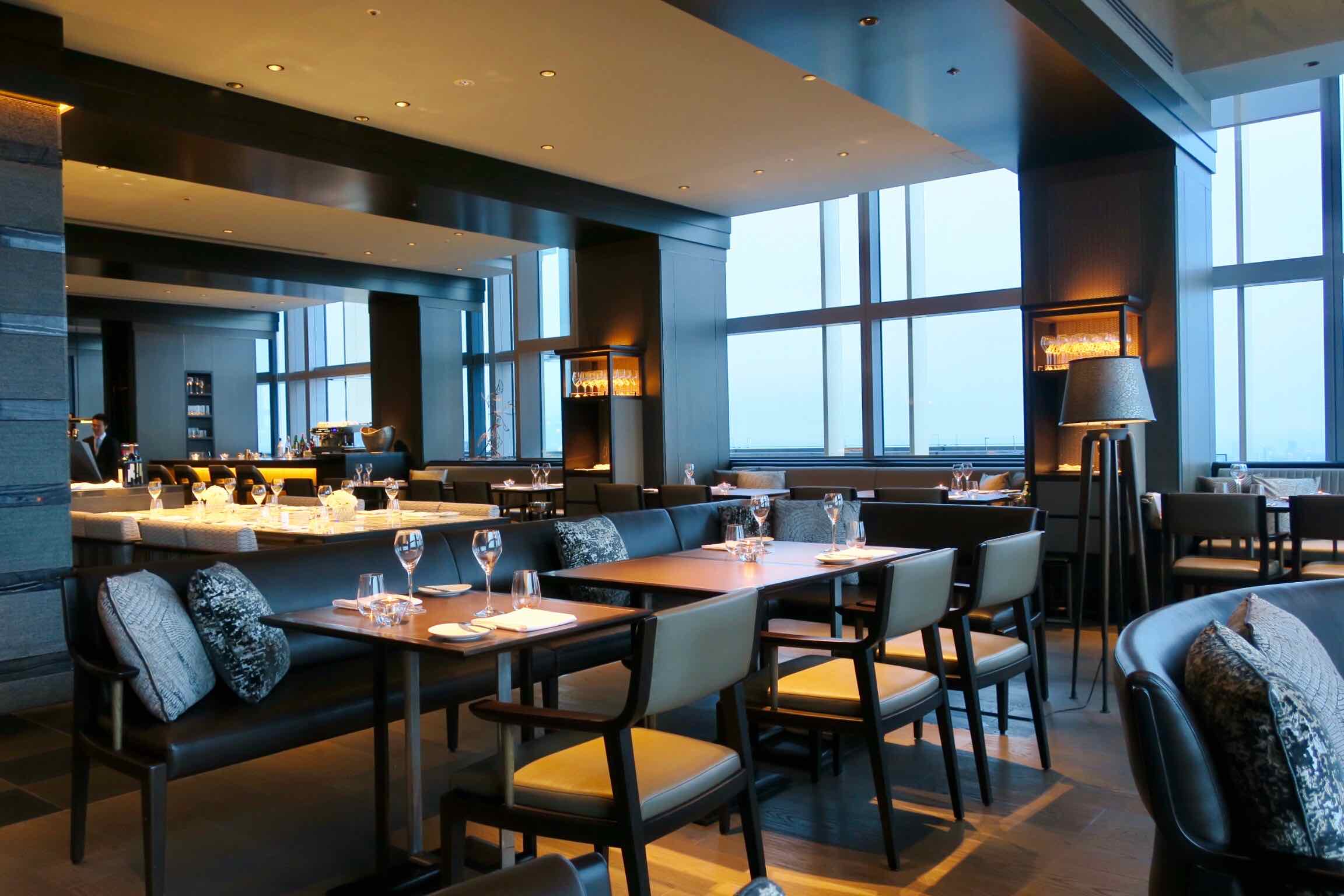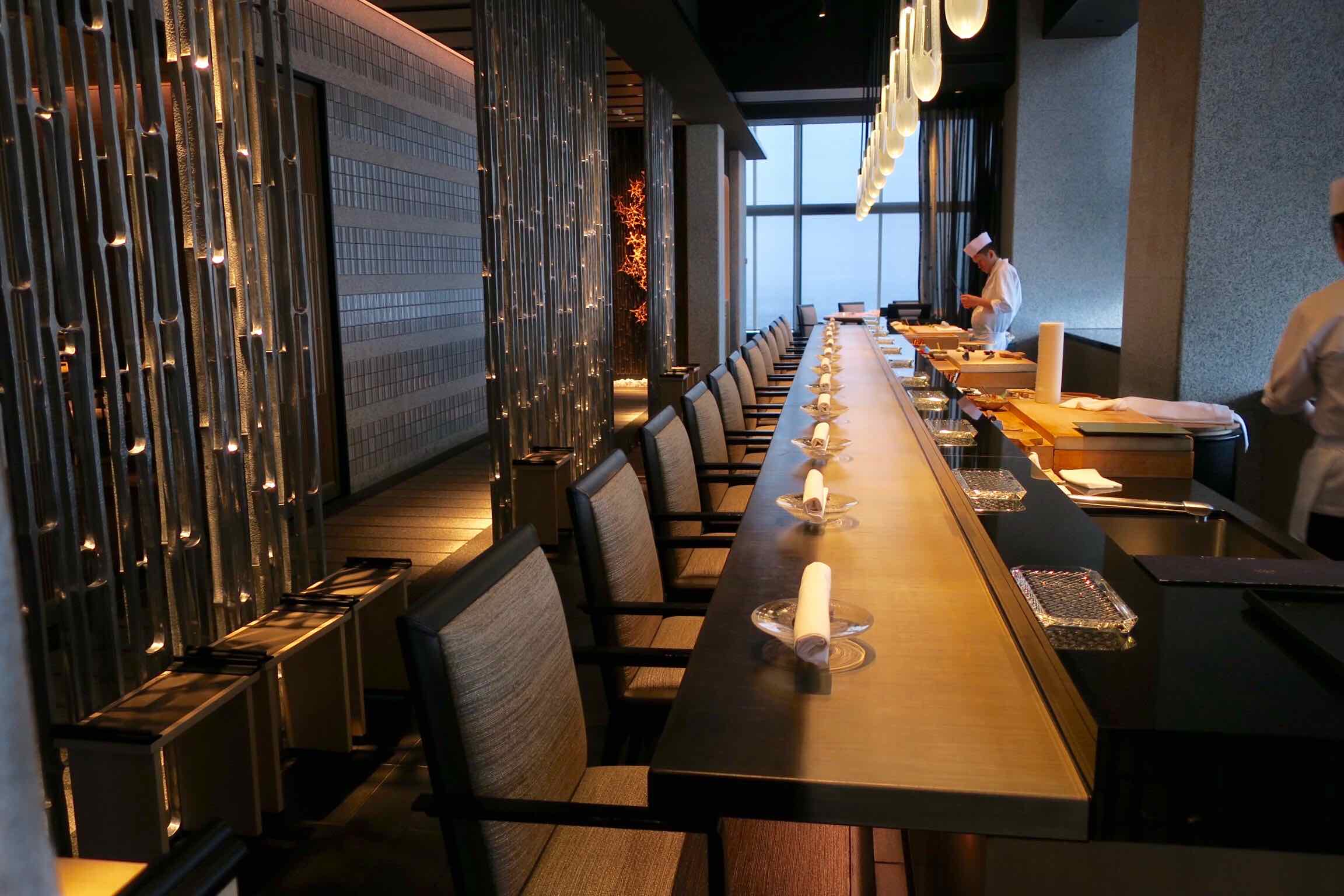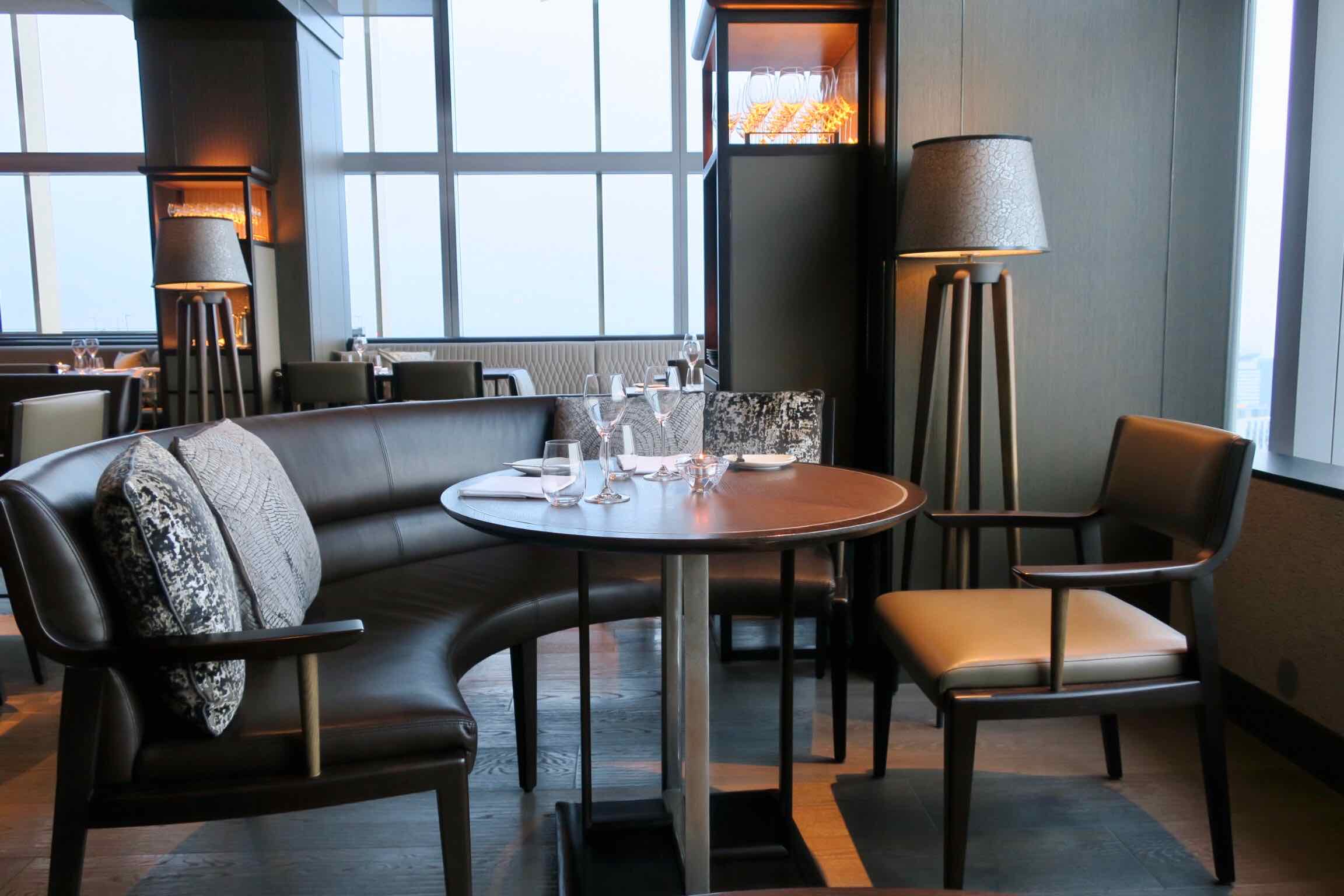 The breakfast buffet looked varied, healthy and delicious: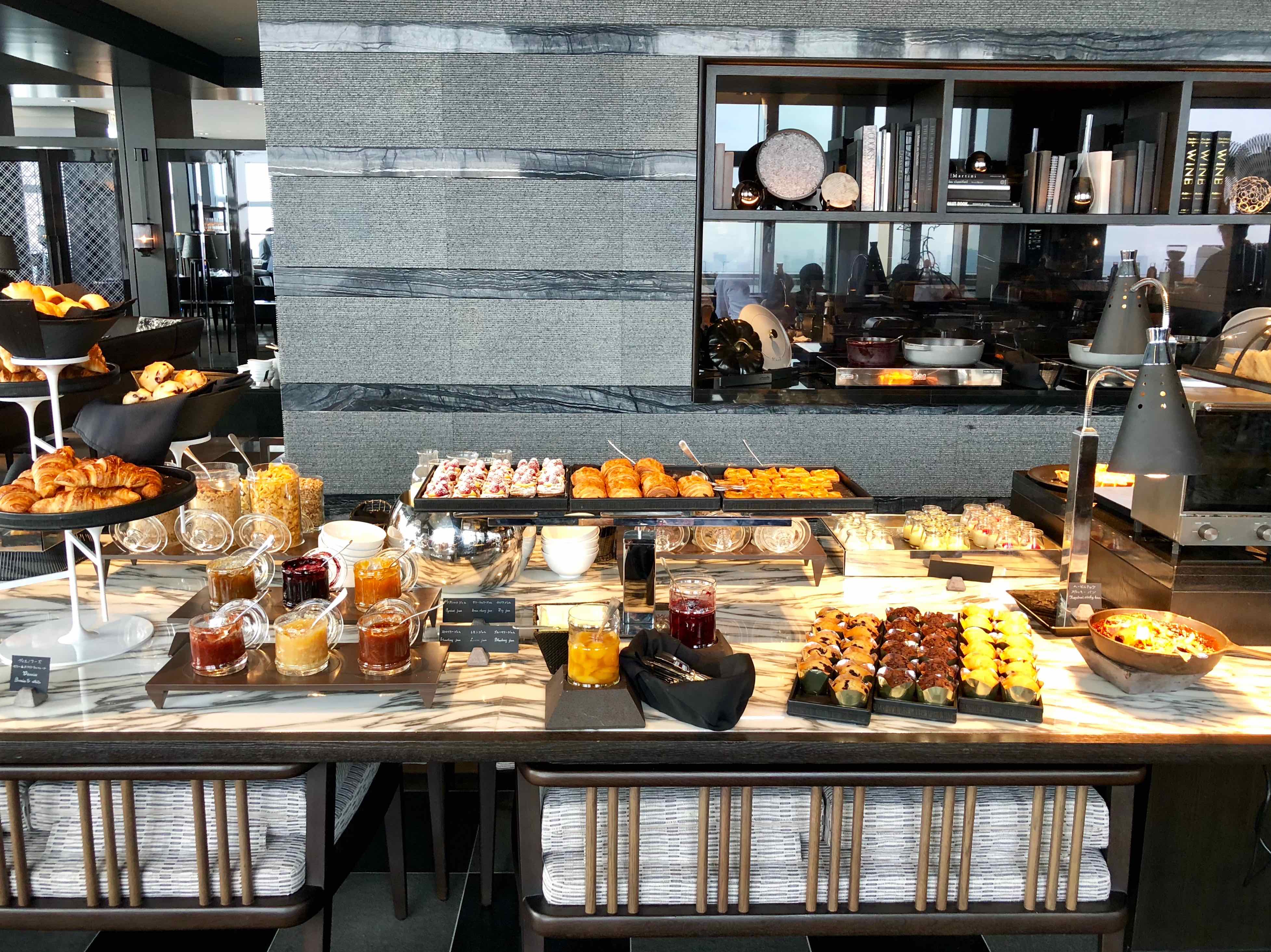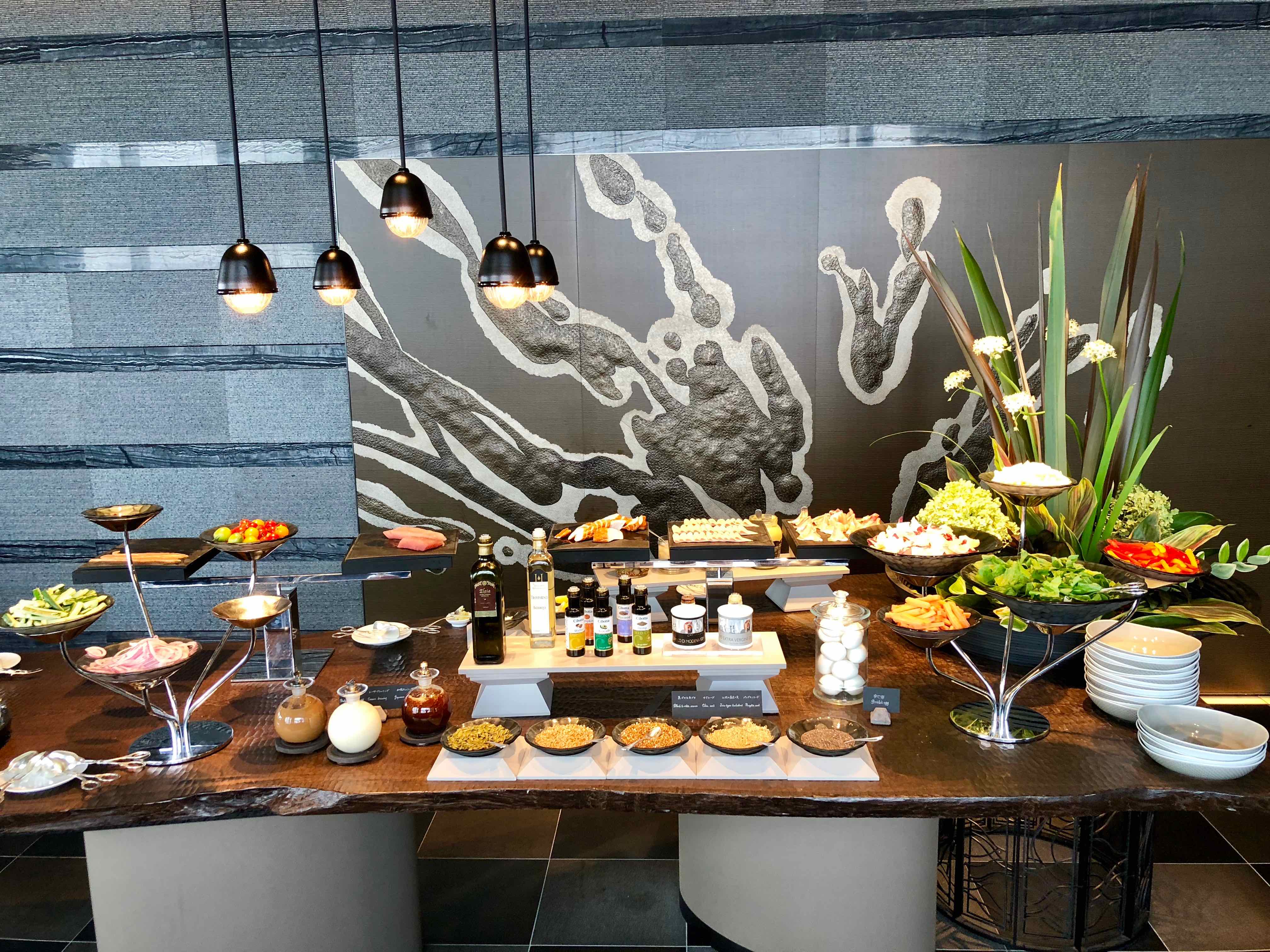 As part of a gesture from Marriott Rewards PR, I was treated to a five-course dinner: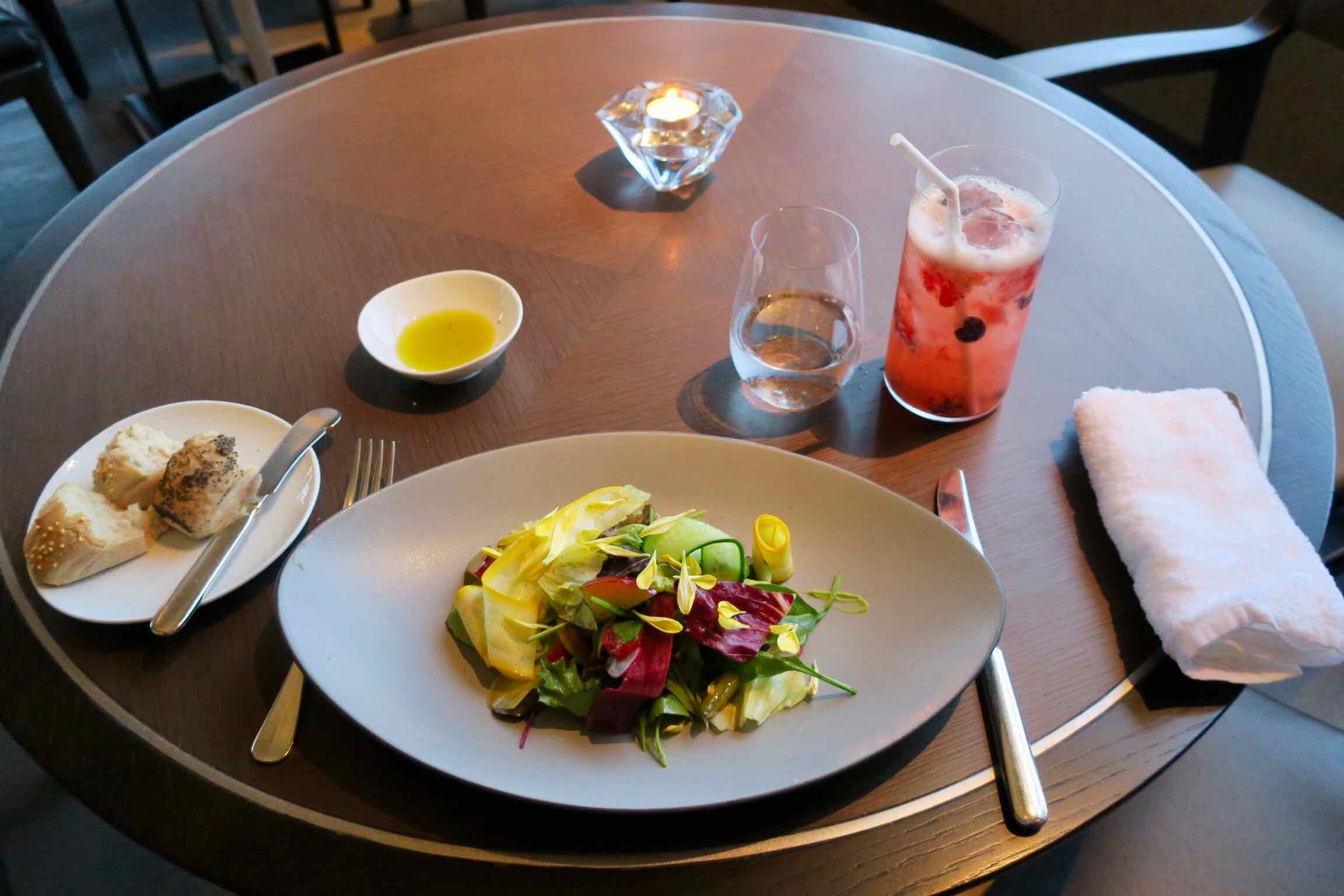 and a traditional Japanese breakfast the next morning.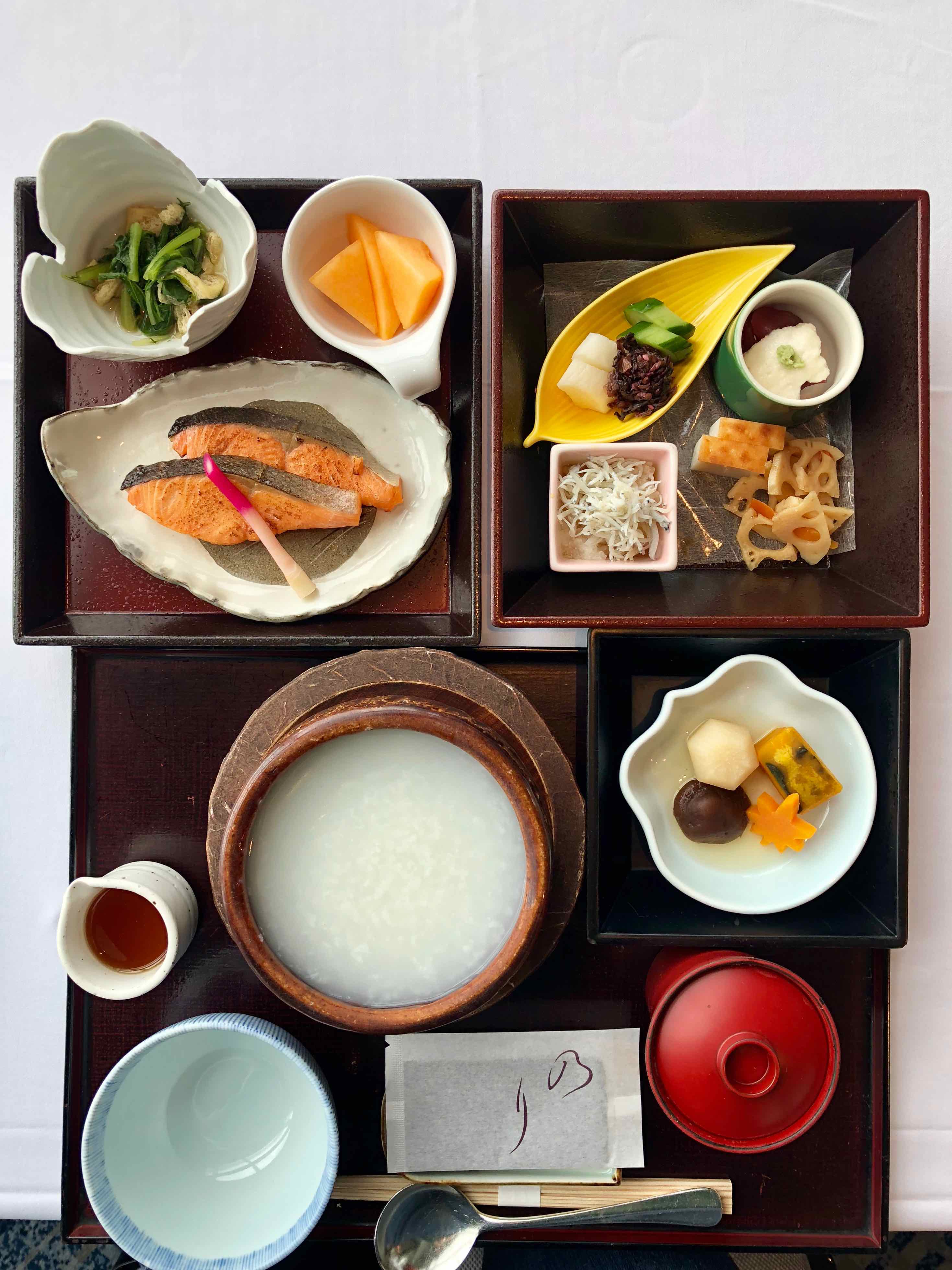 The food was absolutely exquisite, with customer service to match. Each course took a while to be prepared but maybe I am just not used to dining in such fancy places. Meanwhile, I was able to enjoy the views towards Tokyo Tower and Tokyo Bay through the floor-to-ceiling windows.
Around the hotel
The hotel is located in a business precinct with three tall buildings and is conveniently connected to the Roppongi metro station through underground exit B1.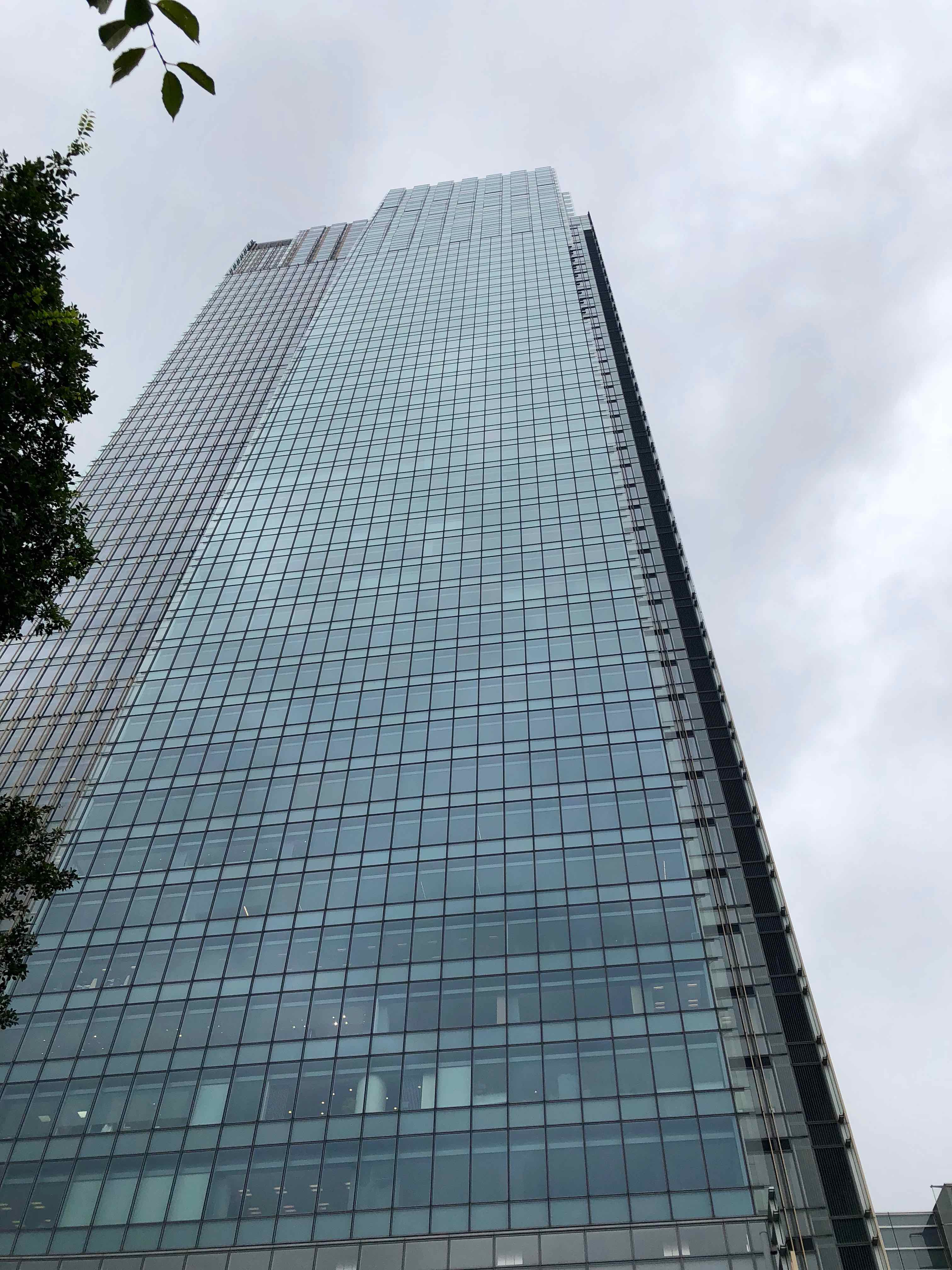 However, it was not open when I arrived early in the morning and it was difficult to find the entrance around the back of the building facing the park, not the main road.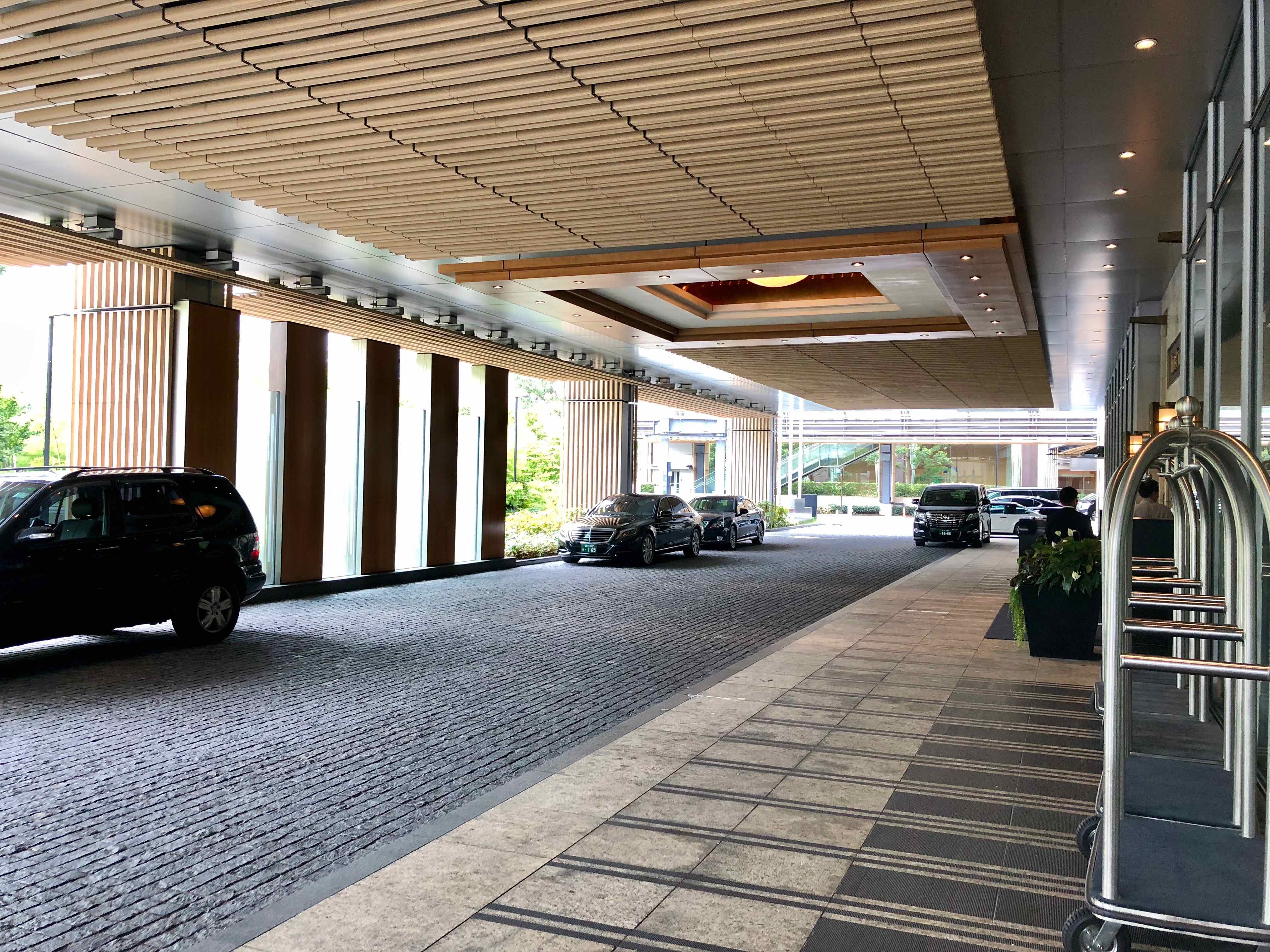 The lush park is medium-sized and has a children's play area: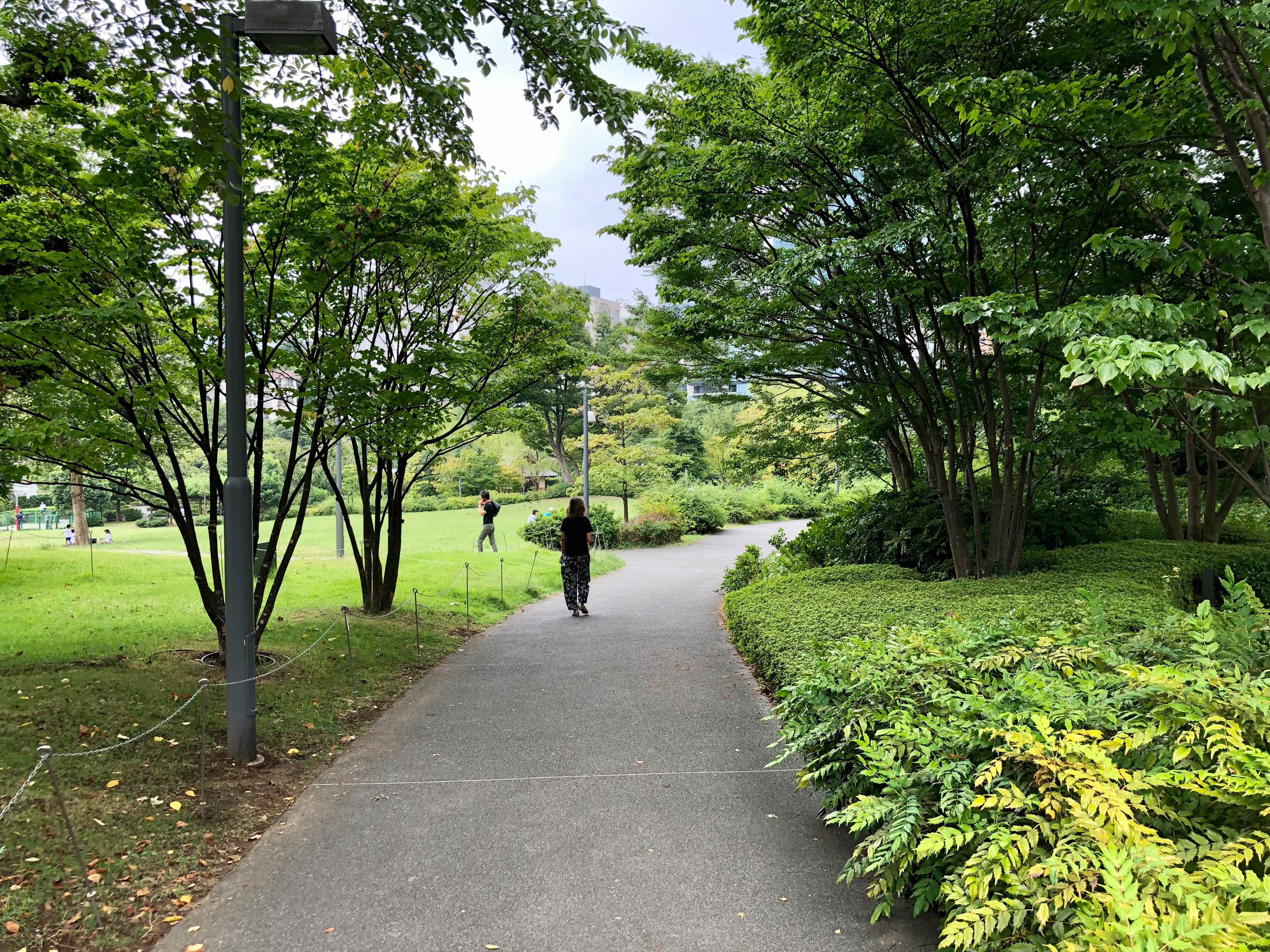 Roppongi is known for its numerous bars and restaurants, as well as museums and the National Art Center.
In true Japanese style, there is a well-stocked convenience store each block or two in the hotel's vicinity.
It takes ~45 minutes door-to-door to get to/from Tokyo Haneda Airport or double that to/from Narita by public transport.
Summing up
This is probably my favourite hotel stay to date (with The St. Regis Singapore a close second).
The customer service was world-class, the room spacious and well-appointed, and the facilities just downright gorgeous. I have no complaints about anything to do with this hotel or my stay.
With the temporary redemption opportunity of 60,000 Marriott Rewards points per night, this is a great-value way to use your points. Once the new award chart kicks in from January 2019, I would not hesitate to book this property again at the off-peak rate but would start to consider other options at the standard or peak rate—not because this property is not worth every penny but because there are also other valuable uses of Marriott Rewards points.
Note that while the room was booked on points from the author's personal Marriott Rewards account, the two meals mentioned in this review were sponsored by Marriott Rewards.
The Ritz-Carlton, Tokyo review
was last modified:
August 4th, 2021
by