Sure, it might be nice to have a coveted Gold, Platinum or even Diamond loyalty card. But with many airlines – and more recently, hotel chains too – there's often a level beyond. A more secretive, hush-hush, invitation-only tier, for which members are handpicked. At Accor, that VIP level is simply known as 'Limitless'.
Now, it's not to be confused with the name of Accor's actual loyalty program, Accor Live Limitless. After all, travellers can have Accor Live Limitless Classic, Silver, Gold, Platinum or Diamond status. But above the Diamond rank sits this exclusive sixth tier. And to make it stand out (and avoid that confusion), it's usually referred to as 'ALL Limitless'.
Occasional upgrades to penthouse suites and serious attention to detail are just two of the privileges awaiting Accor's top global guests. Welcome to the Chairman's Lounge of the hotel world – a realm where the only limit is that of your own imagination. This is Limitless, after all…
How can you earn ALL Limitless?
Accor's exclusive Limitless tier can't be earned like the program's other status levels. There's no set target that guarantees membership – it remains at the chain's discretion. But knowing that ALL Limitless is the highest rank, let's look at Accor Live Limitless' Diamond level: the top public tier.
Diamond is awarded to travellers notching up 26,000 Status Points in a single year. In monetary terms, that reflects an annual spend of €10,400 (just over AU$17,000) at most Accor hotels. But some brands – including Art Series, Mantra and Peppers – provide Status Points at a reduced rate. This means the necessary spend could be even higher.
ALL Limitless, of course, is the level above. And based on what I've learned from some current VIP-tier members (who prefer not to be named), consistently spending much greater sums over a longer period of time is what's earned them their nod to the chain's secret club.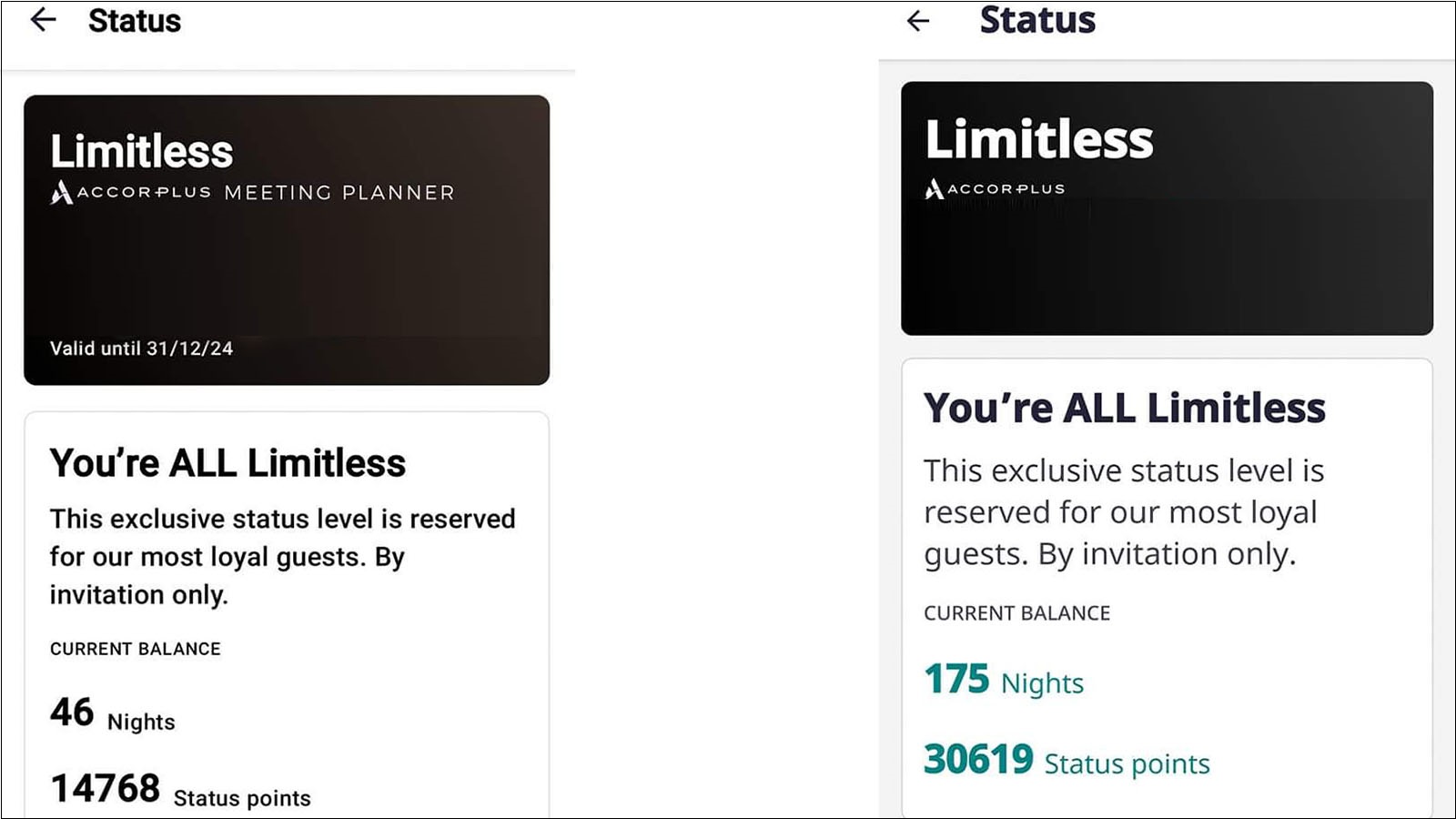 One of those members spends around 100 nights per year in Accor hotels. Those stays are almost always in five-star properties. And if they had to guess, they'd be paying at least AU$25,000 per year in room rates alone.
Another of Accor's most frequent guests manages to notch up more than 65,000 Status Points per year. That's more than double the annual requirement for Diamond – the program's highest public tier. They've also been consistently hitting that threshold for around five years straight (travel restrictions permitting). Typically, this sees them staying with Accor anywhere between 200 and 320 nights per year.
By these standards, ALL Limitless is really for those who travel so much that hotels are their home. The real-life Ryan Binghams, if you will. The same members tell me that globally, there are only a few hundred other people at this elusive Limitless tier. It's a small club.
Ad – Scroll down to continue reading.Minimum spend, terms & conditions apply.
Exclusive benefits of ALL Limitless
So what happens once you've reached the heights of ALL Limitless? Really, it comes down to each member. There are some 'formal' benefits – like being able to gift Accor Live Limitless Platinum status to somebody of your choice. Plus access to an Accor personal assistant to handle all your hotel requests.
But as with many invitation-only programs, the real benefits aren't the ones outlined on paper. It's that bespoke service and attention to detail where the influence of VIP shines through and elevates every stay.
For instance: one ALL Limitless member is a big football fan. And given the typical Limitless lifestyle, their frequent travels often coincide with match days for their favourite team. So that they don't miss a moment of the action, hotels will often swap their normal in-room TV for a much bigger screen – without being asked.
In other cases, it's more about courtesy. A casual chat with an Accor hotel general manager informs me that a Limitless guest is staying in-house on a six-month reservation. But in the middle of that block, they'd like to go home for just a few days, and not have to pack everything up and vacate the room.
Not only are the accommodation charges waived for those few nights away, but the hotel gladly keeps their room on reserve. Everything stays exactly where they've left it – so that when they're back at the hotel, it feels like they're home. After all, they practically are.
On shorter stays, upgrades to suites are common. And occasionally, hotels go one better. One welcome letter I've seen (but been asked not to publish in full), contains this magical line. 'As a sensational Limitless Member of ALL, we have arranged a complimentary top floor penthouse upgrade.' It seems the sky is the only limit.
Other perks of ALL Limitless
Accor's Limitless level is mainly about that special touch – making the chain's most loyal guests feel comfortable with every stay. But aside from that 'wow' effect, Limitless members enjoy many of the same perks as Accor Live Limitless Diamond.
This includes complimentary early check-in and late check-out (where available), as well as free premium hotel Wi-Fi. Guests can also expect a welcome drink and a separate in-room welcome amenity. Where available, access to a hotel's Executive Lounge comes gratis too.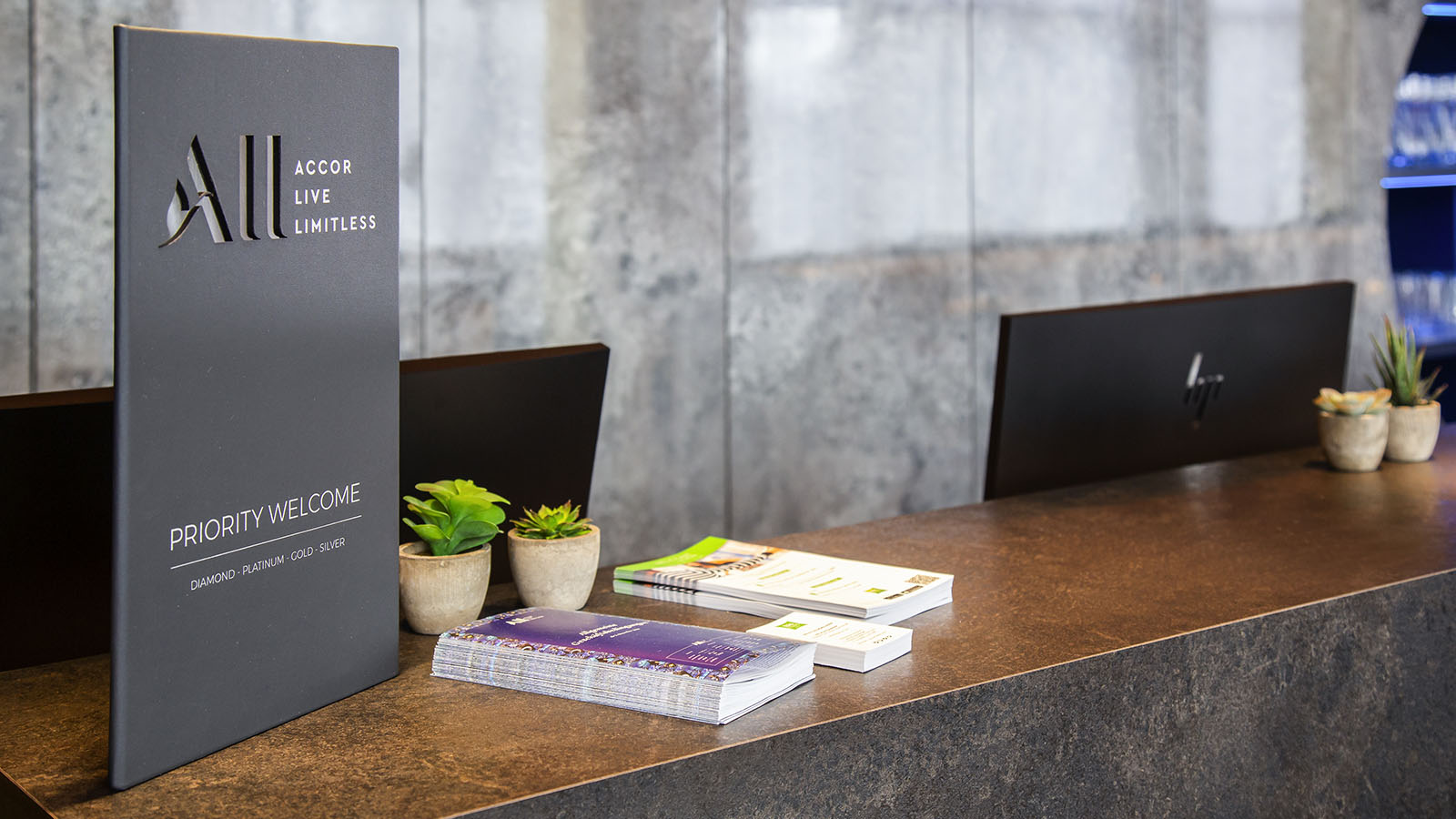 But unlike Diamond, ALL Limitless remains its own tier, with its own membership card. Instead of the plastic cards used for Diamond and the other levels, the physical Limitless card is weighted metal. And in the Accor mobile app, those at the rung of VIP are valued as the chain's 'most loyal guests'.
From time to time, ALL Limitless members may receive hospitality invitations from Accor. Particularly so, if Accor has naming rights over the venue – such as Sydney's Accor Stadium. Given these travellers apparently stay almost exclusively with Accor, invitations can be timed to coincide with their visit to a particular city. Or in their own backyard, on the few days a year that they're actually at home.
Summing up
For many years, these secret loyalty levels were very much like 'the first rule of Fight Club'. Nobody knew they even existed – except, of course, for those on the inside. But over the years, things have changed… just a little.
The popular George Clooney movie, Up in the Air, certainly helped with that. In the film, his character, Ryan Bingham, whips out a graphite American Airlines ConciergeKey card to impress Alex at the bar. She remarks, 'I wasn't sure this even existed'… informing millions watching of its existence. And this isn't just movie magic: ConciergeKey is real.
But on the hotel front, invitation-only levels like ALL Limitless are a little newer. They're typically created when the loyalty program itself undergoes a much bigger redevelopment. For instance, Shangri-La's recent addition of its comparable Polaris tier came as part of the rebrand and relaunch of Shangri-La Circle.
Even then, not every chain has a VIP tier. Hilton Honors – one of the world's biggest hotel loyalty programs – has no such thing. Its own Diamond level is the highest rung on the ladder… well, except for Lifetime Diamond.
But the truth remains: hotels are in the business of hospitality, and of recognising and welcoming their most loyal returning guests. Different chains take different approaches. And when it comes to Accor, the benefits are Limitless.
Also read: Virgin Australia Beyond – Velocity's secret above-Platinum tier
Feature image courtesy of Accor Live Limitless.
---
Stay up to date with the latest news, reviews and guides by subscribing to Point Hacks' email newsletter.
Inside 'Limitless': Accor's secret VIP tier above Diamond
was last modified:
July 27th, 2023
by