One of the wonderful things about the Accor Live Limitless program is that you don't require a huge balance of points to save on your next stay.
Using your points for hotel stays is one of the better ways to use Accor Rewards points as they have a fixed value no matter where you stay. There are no tricky hotel categories or charts to worry about.
There are also a few other options for redeeming points (besides transferring them to frequent flyer programs), such as car hire, shopping, and once-in-a-lifetime events.
Accor Group Hotels
Of course, you can redeem Accor Rewards points when staying at properties in the Accor portfolio. With more than 3,700 hotels in one hundred countries, you will be able to find a few choices at most destinations around the world.
Number of Accor Rewards points needed for redemptions
You can use your points to settle all or part of your hotel stay.
The maths is simple:
2,000 Rewards points = €40 / $65 AUD
This gives each Accor Rewards point the same value, no matter where it is spent—a minimum of 3c each in Australian currency.

You must use Rewards points in increments of 2,000.
This means that the total amount (tax included) of your booking must be greater or equal to the converted points (2,000 points = €40).
For example, for a stay that costs 85 Euros, you would be able to use a maximum of 4,000 Rewards points. You would have 5 Euros that you would need to pay in cash.
How to book a stay redemption using Accor Rewards points
Using your Accor Rewards points towards your next stay is simple. Just follow these steps:
Use the Accor mobile app or head to the Accor Hotels website and search for a destination as normal. Make sure you are logged into your account.
When you get to the 'Finalize your booking' page, you will see an option to 'Use your Rewards points'.
Click on the '+' button to increase the number of points you wish you use. You'll see the total cost of the stay reduce proportional to the value of the points.
Add your credit card details to pay any remaining balance and confirm the reservation, and your redemption will be complete.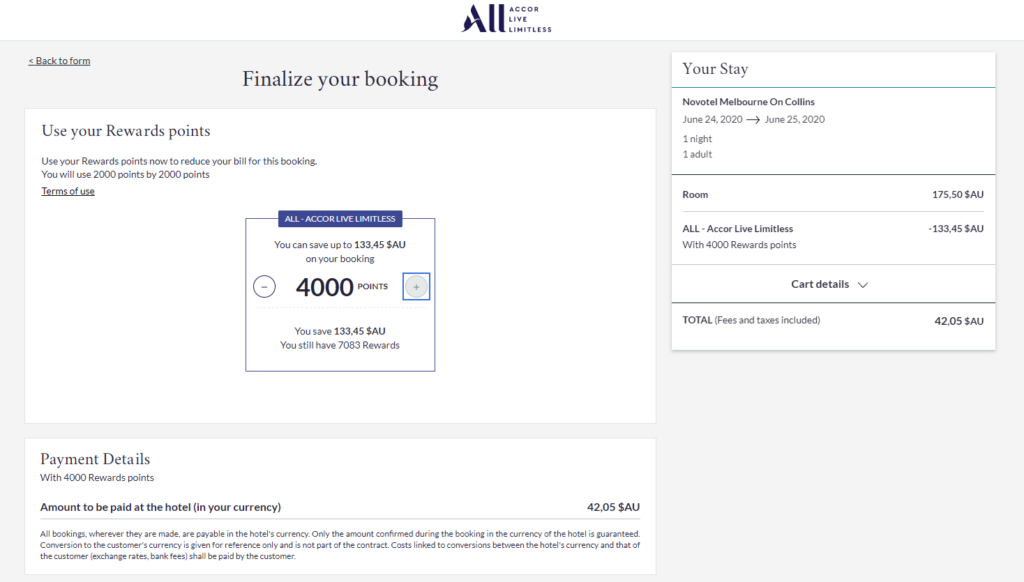 Note that the cancellation policy for a redemption booking is the same as the initial rate that you select. Points redemptions do not come with any added flexibility. Unless travel is imminent, it is often a clever idea to consider flexible bookings.
onefinestay
You can use your Reward points to enjoy stays in exclusive homes and villas with onefinestay.
Each point is valued at 2.2c each in Australian currency. This is less value than you would receive for a stay at an Accor branded property.
However, this option may allow you to redeem points for a stay in locations where there are no Accor properties.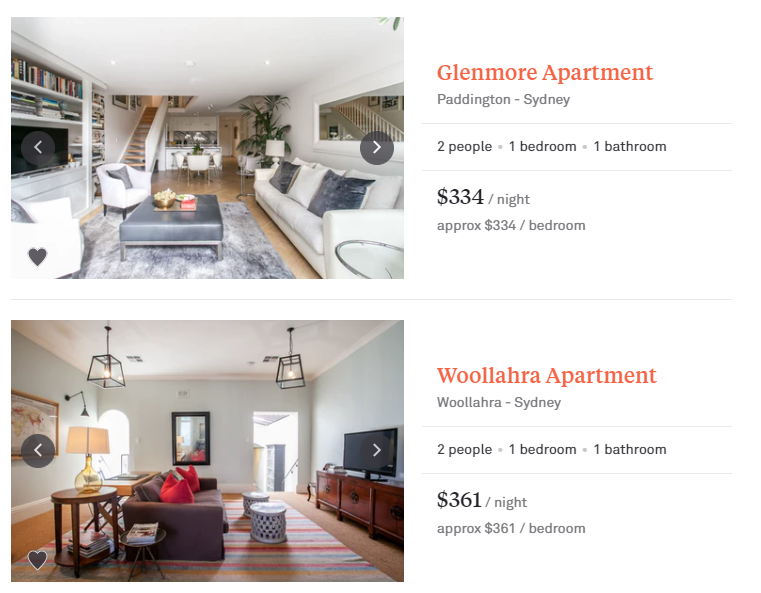 Ad – Scroll down to continue reading.Minimum spend, terms & conditions apply.
Other redemption options
Here are some more niche redemption options, some of which may not be good value:
Frequently asked questions
What is Accor Live Limitless?
Accor Live Limitless is the name of the Accor group hotel loyalty program. It is the program you must join to receive stay benefits and earn points that can be used on future stays or converted into frequent flyer miles.
Is Accor Live Limitless free?
Yes, it is free to join. If you are not a member already, you can join by signing up at the form located here.
What are 2,000 ALL Rewards points worth?
2,000 ALL Rewards points are worth €40, which equates to around $65 AUD. This gives each point a minimum value of 3c each in Australian currency.
Will I earn Rewards points through bookings made using my points?
You won't earn any ALL Rewards points for that part of the bill that you have used points on. Any portion of your stay paid for in cash is eligible for points earn as is any spend during your stay such as on dining charged to your room.
Will I lose my points if I cancel or change my stay?
Your ALL Rewards points will not be credited if you request a change or cancellation to your booking for rates that cannot be changed or refunded.
Summing up
Using ALL Rewards points for hotel stays is easy to do and one of their best uses given the loyalty scheme revolves around its hotel portfolio. It's also where you get the best value for each point. (A minimum of 3c each in Australian currency).
Other ways to use points include transferring them to airline partners, redeeming them for car hire, or using for unique experiences.
This content contains affiliate links from which Point Hacks may earn commissions from transactions generated from new customers, bookings and general enquiries. Find out more here.
How to redeem ALL Rewards points for hotel stays and more
was last modified:
December 15th, 2021
by