The Qantas American Express Ultimate has 75,000 bonus Qantas Points and 75 bonus Status Credits on offer. It's one of the highest earning Qantas Point cards and offers a free Qantas domestic flight each year.
75,000 Qantas Points for new applicants, plus 75 Qantas Status Credits (subject to meeting Qantas booking / flight criteria)
Free domestic flight with Qantas each cardholder year
Travel and purchase protection insurances
1.5 Qantas points earned per $ on eligible purchases including utilities and 0.5 points per $ on government spend
0% p.a. on balance transfers for the first 12 months, with a 1% establishment fee - maximum balance transfer is $10,000 or 70% of your approved credit limit, whichever is less
$450 p.a. annual fee
Minimum income requirement of $65,000
Spend $1,500 on eligible purchases within 3 months of approval to trigger bonus Qantas points
Book and travel on a return Qantas flight by 30th September 2017 to receive bonus Status Credits
Card Members who currently hold or who have previously held any Card product issued by American Express Australia Limited in the preceding 18 month period are ineligible for this offer. Previous and existing bank-issued American Express companion cardholders are eligible for this offer
Offer ends: 1st May 2017
Read the Qantas Ultimate American Express guide →
I earn a maximum of $200 per applicant for this card. More about this →
American Express is running another round of bonus offer with the American Express' Qantas Ultimate, this time with 75,000 bonus Qantas Points and – the first time we have seen this in a credit card offer – an additional 75 Qantas Status Credits.
The bonus points will be triggered after spending $1,500 within the first 3 months of being approved for the card, and the Status Credits when you book and fly a return journey with Qantas by September 30th 2017.
The American Express Qantas Ultimate had some recent changes with the revised points earn rates as part of the range of Qantas American Express cards. While the category bonuses have been removed, it is still one of the best Qantas Points-earning credit card on the market with the overall earn rate increased to 1.5 Qantas point per $1.
The card also offers a free Qantas domestic flight each year. The Qantas Ultimate is targeted at cardholders who want to maximise the Qantas Points earned from an American Express card.
The 75 bonus Qantas Status Credits offer
This is a unique offer – Qantas Status Credits can usually only be earned by flying, and this could be very useful for someone looking to top up their frequent flyer elite status to reach a higher tier.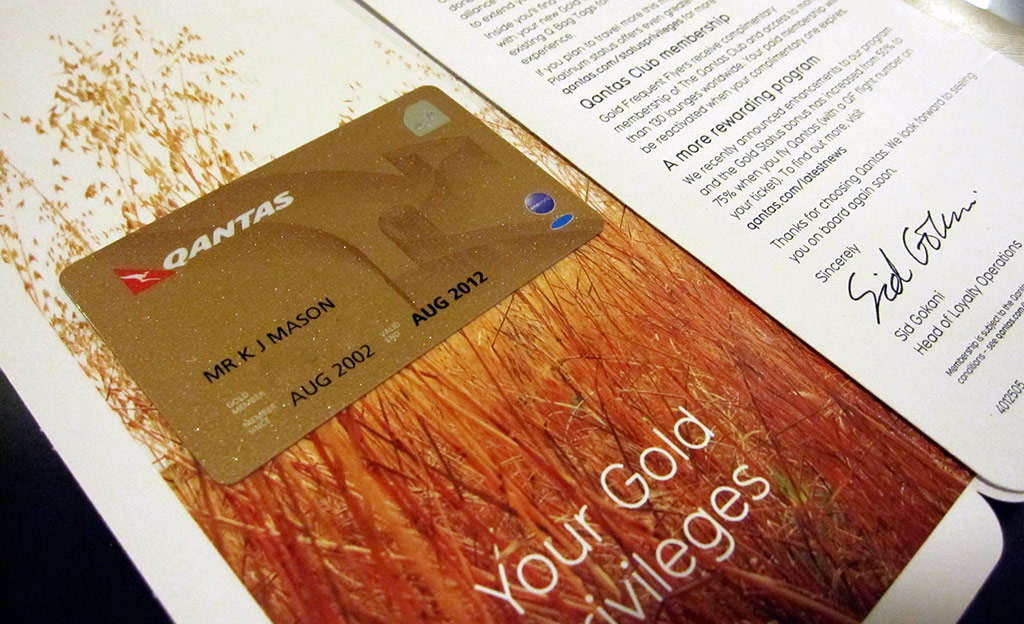 There are some terms to be aware of with the current offer on the Qantas Ultimate American Express:
You'll need to apply in the current offer window before 1st May
You'll need to book and travel on a new Qantas return flight (paid fares only, not points redemption), between 6th March and 11.59pm on 30th September 2017
You have to record your Qantas Frequent Flyer number in the booking at the time of booking the fare
If you change or cancel your flight, or it is completed outside these dates, the offer won't be triggered
Flights need to be booked directly with Qantas at Qantas.com
The bonus Status Credits could take up to 10 weeks after travel to be credited to your Qantas Frequent Flyer account
The bonus Status Credits won't trigger a loyalty bonus
The bonus Status Credits won't contribute towards attaining Platinum One status
So this offer won't work for anyone with an account renewal date coming up in the next few months, unfortunately, because there is no guarantee as to when they will actually credit your account. However, if you are thinking you would like the boost in Status Credits and the timing of your Qantas Frequent Flyer annual membership renewal is a few months away, and you can book and travel within the timeframes stipulated by the offer, then this offer could work well.
Read more in our guide to Qantas Frequent Flyer status.
The 75,000 Qantas Point bonus is also handy – although not as high as the stellar 100,000 point bonus which ran earlier this year.
Digging into the benefits of the American Express Qantas Ultimate credit card
The American Express Qantas Ultimate has increasing competition in the premium credit card market, but still holds it's own when it comes to the points and benefits on offer.
Card Details
Card
Qantas Ultimate American Express
Loyalty program
Qantas Frequent Flyer
Points earned from spend
2.5 Qantas Points per $ spent on selected Qantas products and services
1.5 Qantas Points per $ spent everywhere else
0.5 Qantas points per $ on Government spend
Points cap
None
Travel benefits
Free Qantas domestic flight each year
Included insurances
Medical emergency expense cover, travel cancellation cover, baggage/money/documentation cover, transport accident cover and inconvenience insurance (if your flight is delayed) when you pay for travel with the card
Overseas transaction fee
3% of the converted amount
Annual fee
$450
Earning Qantas Points from spend
With the American Express Qantas Ultimate there is no points cap on what you can earn, and the card will sweep over your points to your Qantas Frequent Flyer account on a monthly basis, as you'd expect.
If you find yourself booking several thousands of dollars in Qantas flights on a regular basis, the 2.5 points per $ on Qantas spend will quickly rack up to boost your Qantas Frequent Flyer balance.
This card is also enabled for American Express 'Local Champion' program which allows you to nominate up to 10 specific local retailers at which you earn an extra bonus point per dollar spent. More on this in our guide linked below.
The free Qantas domestic return flight each year
As an Amex Qantas Ultimate cardholder, you are eligible to claim a free Qantas domestic return flight in Economy Class between a range of Australian capital cities for each year you have the card.
The best-value uses of this benefit come from using it on routes which are relatively more expensive, or you may be able to book a flight for someone else and pocket the cash yourself!
Insurances and other benefits
In the travel insurance bucket you'll get medical emergency expense cover, travel cancellation cover, baggage/money/documentation cover, transport accident cover and inconvenience insurance (if your flight is delayed) when you pay for travel with the card.
You'll need to dig into the various PDS of these policies if you intend on relying on this cover to make sure they work for you.
This guide references some of the benefits of insurance policies provided with this credit card.
You should read the PDS and obtain independent professional advice before obtaining this product.
Lounge Access
Another benefit of the American Express Qantas Ultimate Card card is access to the Sydney American Express airport lounge, including additional guests.
Eligibility criteria for bonus points for existing American Express cardholders
American Express are quite specific about whether existing cardholders will be eligible for bonus points if they apply for a card, are approved, and meet the minimum spend criteria.
Firstly, if you hold a bank-issued American Express – e.g. from Westpac or from ANZ – that alone won't affect whether you're eligible for bonus points with an American Express branded card offer. There's more in our guide to this here.
Previously American Express allowed cardholders of different family types (e.g. Charge, Credit or Business) to be eligible for bonus points offers for cards in a different family. This is now not the case, with this eligibility criteria being redefined to all previous cardholders of any 'card products' now being ineligible for bonuses.
Summary – American Express Qantas Ultimate
The Qantas Ultimate Card has a high annual fee, but offers a high points earn opportunity for the die-hard Qantas Point collector.
The free flight each year is a useful bonus to offset the annual fee, while the overall high earn rate is a fairly lucrative way to quickly rack up your Qantas points.
Point Hacks Credit Card Information
Point Hacks is published by Newformula Media. Newformula PTY LTD (ACN: 609 361 051) is a credit representative (486568) of Eurofinance Corporation Pty Ltd (Australian Credit License: 393845). In some instances, Newformula PTY LTD receives a commission or benefit for referring you to the services of a credit provider. This commission or benefit is disclosed at the point of referral to the credit provider. This website does not provide credit, assist you in obtaining credit, or advise you to apply for any particular product from a provider.
We have not taken into consideration your circumstances or financial situation when providing the information on this website. It is important you read the relevant PDS from the product issuer and seek the independent advice of an appropriately qualified professional before making a decision on a product.
While we invest a great deal of time and energy into ensuring we provide with you with the most up to date and accurate information, we do not warrant the accuracy of statements or information contained on the Website relating to third party goods and services, including credit card information, loyalty schemes and rewards. You acknowledge that such information and materials may contain inaccuracies or errors and we expressly exclude liability arising from any person acting on those statements or information to the fullest extent permitted by law. Where conditions or warranties are implied by law and cannot be excluded, our liability will be limited to the re-supply of information. You should confirm the accuracy of information provided on this Website with the third party product provider before acting on it.