70,000 Citi Rewards Points are on offer with the Citi Prestige Visa when signing up and linking to Citi Rewards - you can transfer these points to Virgin, Krisflyer or Asia Miles.
70,000 Citi Rewards points after first eligible transaction
Ability to transfer points to Velocity, Krisflyer, Asia Miles or other international frequent flyer programs
Priority Pass lounge access, Visa Luxury Hotels service, and other premium benefits
2 Citi Rewards points earned per $ or 1 Qantas point per $, 5 Citi Rewards points per $ earned on overseas transactions
Points earn equivalent to 1 Velocity points or KrisFlyer miles per $ spent domestically, or 2.5 per $ spent on overseas transactions
0% interest p.a. on balance transfers for 6 months
$700 annual fee
$150,000 p.a. minimum income requirement
Offer expires: April 30th 2017
Read the Citi Prestige Visa guide →
Point Hacks earn a maximum of $280 per applicant for this card. More about this →
The Citi Prestige Visa is a card for the aggressive points collector – the card has a minimum income requirement of at least $150k – and has an annual fee of $700 – but with high points earn rates, a large number of frequent flyer program transfer partners, and a vast range of perks.
The included more valuable benefits on offer are a free hotel night (from a select list of hotels), a 4th night free hotel booking discount, and airport limo transfers.
short
The card be linked to Qantas Points or Citi Rewards points. Right now the signup bonus is in Citi Rewards points but points earned from spend could be switched to Qantas Points after you have been approved for the account and earned the Citi Rewards bonus.
If the card is linked to Citi Rewards, the effective earn points earn rates on spend when transferring out to the key partner programs are as follows:
Virgin Australia Velocity (1 Velocity point per $)wards
Singapore Airlines Krisflyer (1 KrisFlyer mile per $)
Cathay Pacific Asia Miles (1 Asia Mile per $)
Etihad Guest (1 Etihad Guest mile per $)
and many others.
Given that Citi Rewards are transferred out at a rate of 2 Citi Rewards points to frequent flyer programs (in the case of the example above), that halves the value of the Citi Rewards sign up bonus in frequent flyer point terms.
Note that the Citi Rewards website does not make the Prestige partners and transfer rates clear. Here's a screenshot of the partners and transfer rates as of September 30 from an existing cardholder: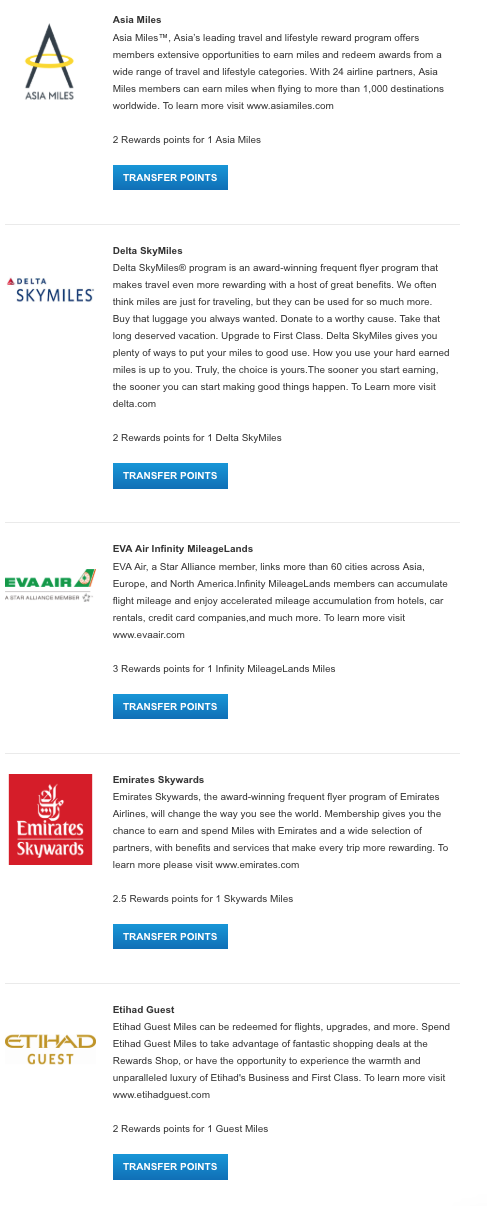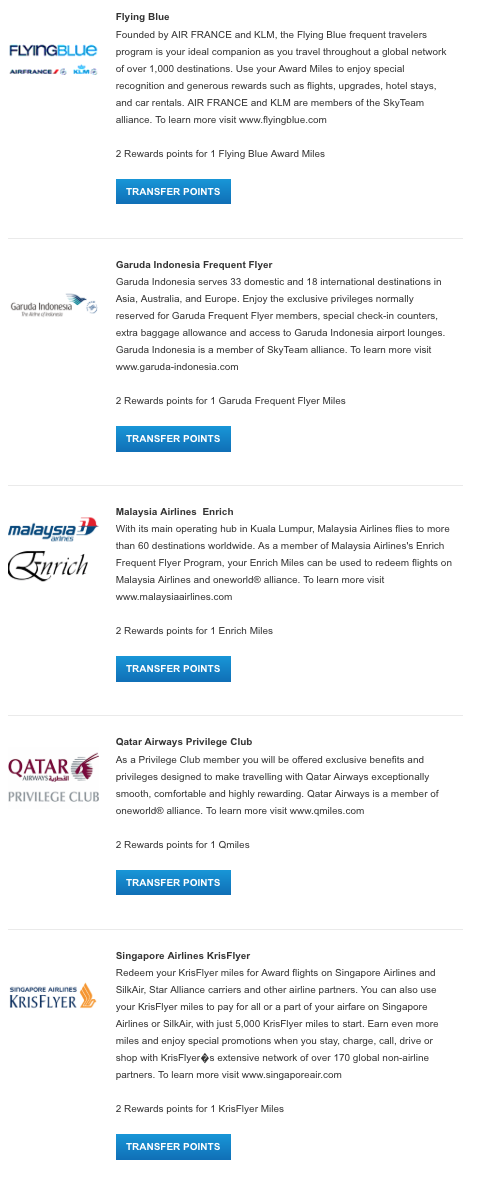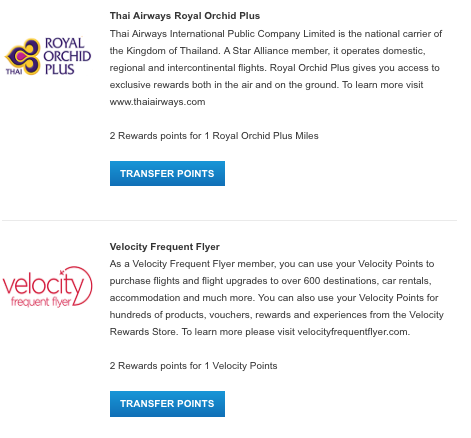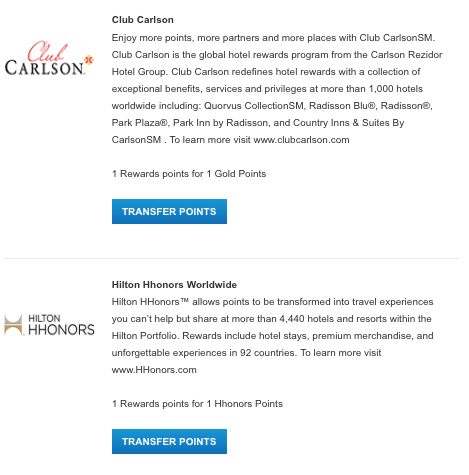 Card Details
Card
Citi Prestige Visa 'Infinite'
Loyalty program
Citi Rewards or Qantas Frequent Flyer via Citi Qantas Rewards
Citi Rewards earn rate
2 Citi Rewards points per $ spent domestically or 5 Citi Rewards per $ on overseas transactions
Velocity, KrisFlyer & Asia Miles effective earn rate
1 point/mile per $ on domestic spend, 2.5 points/miles per $ on international spend, when transferred from Citi Rewards at 2:1
Qantas Point earn rate
1 Qantas Point per $ spent, earned directly into Qantas Frequent Flyer each month
Points cap
None
Earns points at ATO
No
Travel benefits
Visa Luxury Hotels, Hilton HHonors Gold status
Ritz-Carlton & Starwood preferred booking benefits
Two limousine transfers per year
Priority Pass membership
Included insurances
Travel, purchase protection and warranty insurances (PDS)
Minimum income requirement
$150,000 p.a.
Overseas transaction fee
3.40% of the converted amount
Annual fee
$700 + $49 for optional Qantas Point opt-in
Effective Frequent Flyer Program Point Earn Rates
Frequent Flyer Program
Domestic Spend
Overseas Spend
Qantas Points*
1 point / $
1 point / $
Velocity Points
1 point / $
2.5 points / $
Singapore Airlines KrisFlyer Miles
1 mile / $
2.5 miles / $
Cathay Pacific Asia Miles
1 mile / $
2.5 miles / $
* Qantas Points are only earned through the Citi Prestige Qantas Visa card
Citi Prestige Visa 70,000 point sign-up bonus – considerations and example uses
The 70,000 point signup bonus would yield a value of either 70,000 Qantas points, 35,000 Velocity points, Krisflyer Miles or Asia Miles.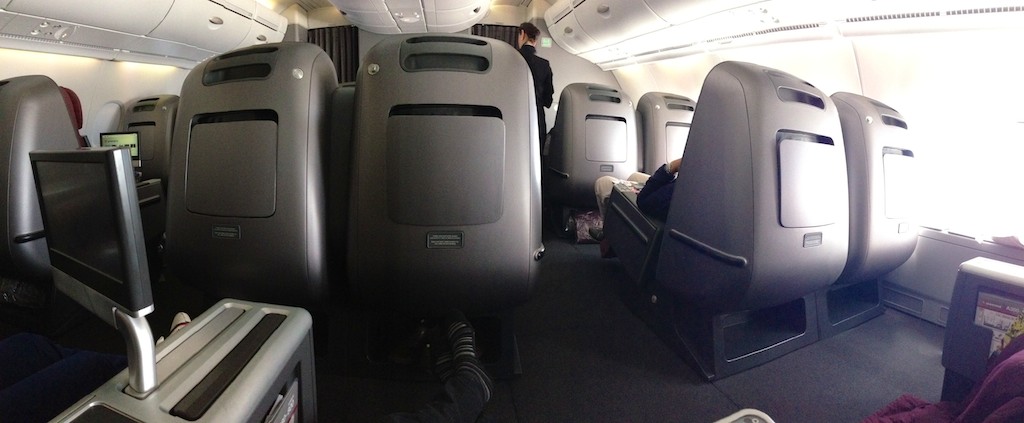 If you want to earn Qantas points, you'll need to specifically opt-in to Qantas Points for an additional $49 annual fee, and this will preclude you from earning Citi Rewards points.
The signup bonus on the card may be more valuable if you push it to Qantas Frequent Flyer, but the 2 point per $ earn on spend for Citi Rewards makes accruing Citi Rewards points from spend potentially more lucrative, along with the greater flexibility of transfers to many airline programs, rather than one.
As a result, there is the option to pay the $49 fee for Qantas rewards on sign up, then change to Citibank Rewards in future.
---
Guide to the Citi Prestige Visa Infinite credit card
Which points to earn – Qantas or Citi Rewards?
The Visa Prestige card, like Citibank's slightly less expensive Citibank Signature Visa, comes with the option of either opting in to earn Qantas Points (at an additional $49 annual fee) with points swept over to Qantas on a monthly basis, or with Citi Rewards.
I've written a full guide to Citi Rewards here.
In brief, the Citi Rewards scheme lets you transfer your points over to the following partners, with the effective earn rate per $ on domestic spend shown after the program:
The key partners:
Virgin Australia Velocity (1 point per $)
Singapore Airlines Krisflyer (1 mile per $)
Cathay Pacific Asia Miles (1 mile per $)
The secondary partners:
Emirates Skywards (0.8)
Delta Skymiles (1)
Malaysia Airlines Enrich (1)
Qatar Privilege Club (1)
Thai Airways Royal Orchid (1)
Etihad Guest (1)
Air France/KLM Flying Blue (1)
Garuda Frequent Flyer (1)
Eva Air Infinity MileageLands (0.66)
Hilton HHonors (2)
IHG Rewards (1.25)
Club Carlson (2)
If you decide to earn Qantas Points, your points will be locked into Qantas and transferred over to Qantas each month.
Earning points from spend on the Citi Prestige Visa
The points earn on spend for the Citi Prestige Visa is 2 Citi Rewards points per $, or 1 Qantas point per $.
On a Visa for Qantas Points earn, this is a good earn rate.
For Citi Rewards points earn, this is a high earn rate that can yield a good points haul if you're going to pump a decent amount of spend through the card, with the most potential value equating to 1 Krisflyer miles or Velocity points per $ spent, and with no annual or monthly cap.
On international spend if you're earning Citi Rewards points you'll earn 5 points per $, but will incur a 3.4% surcharge on non Australian $ transactions. This equates to 2.5 Krisflyer Miles or Velocity Points per dollar spent on overseas transactions.
If your preferred currency is Qantas Points, then this may not be a card to hold only for the points earn rate on spend – if you're opted into Qantas Point earn there are no overseas spend bonuses.
Big spenders using the Citi Prestige Visa with the Citibank Rewards program however, could well justify keeping the card each year just for the points alone.
Have a read of some of the benefits of Citi Rewards (the full Citibank Rewards guide is here), as well as the benefits specific to the Citi Prestige Visa below.
If you're going for Krisflyer Miles, Asia Miles, or Velocity Points, the $700 annual fee may well pay for itself with the points earned. The transfer rate to Skywards is not so valuable.
Citi Rewards points benefits and considerations
Citi Rewards points don't expire for the lifetime of you holding the card, and there's also no points cap. This is one of the major benefits of the card – with unlimited points earning at excellent rates for Krisflyer or Velocity Miles (if you opt into Citibank Rewards over Qantas).
The minimum transfer levels to airline programs are high, with a minimum of 20,000 Citi Rewards points to be transferred. This differs significantly to American Express Membership rewards, which is more flexible.
The Prestige Visa offers a great points earn rate for a Visa, on most spend, to earn Krisflyer Miles, Velocity Points, or Asia Miles.
Creatively, Citi are also offering 30,000 points per year for Citigold customers to keep cardholders with the card, dubbed as an 'annual relationship bonus'. This is a nice benefit, but it's only for cardholders with a Citigold relationship where you'll need to have $100,000 in assets or debt with the bank.
Other travel benefits of the Citi Prestige Visa
The Citi Prestige Visa also offers a number of travel benefits, including Priority Pass lounge access and discounts through the 4th night free and Visa Luxury Hotels programs.
Earlier this year Citi revised the range of benefits on the card for 2016:
The 4 nights for the price of 3 hotel benefit is now being managed by Hotels.com, offering a wider range of hotels and hopefully a more streamlined redemption/booking system
Back to back stays on the 4 nights for the price of 3 are no longer permitted
The Citi travel service/concierge can book stays under the Starwood Privileges program which offers some extra benefits on Starwood stays when paying with your card.
A similar set of exclusive booking benefits with Ritz-Carlton and Mandarin Oriental hotels
The limo transfer benefit (2 x per year) is being reduced to journeys of 25km, down from 30km
Hilton HHonors Gold status used to be automatic with this card – now you have to complete two paid stays or four nights at Hilton properties (see below)
Shangri-La Golden Circle status has been removed
The full terms can be accessed here.
Fourth night free benefit at hotels globally
If you're a Prestige cardholder you'll also get a fourth night free at large number of hotels globally – essentially pay for 3 nights, get the 4th free of charge.
Access to Visa Luxury Hotels
High end Visa cards globally have access to the 'Visa Luxury Hotels Collection' booking channel. Thankfully the website is open to the general public when it comes to researching the value of this, so it's easy to get a good idea of which hotels participate – there are around 900 in the program.
The standard benefits of booking through Visa Luxury Hotels are
Guaranteed best available rate
Automatic room upgrade on check in
Free continental breakfast
Free internet
3pm checkout
VIP Guest status
$25 US food or beverage voucher per stay
The clearest value benefits are the breakfast, free internet and $25 credit, which could add up to $75+ value on a one night stay if they were otherwise chargeable. The room upgrade and 3pm checkout are at the Hotel's discretion, so may not yield much value.
For Citibank customers, the booking portal is accessed via http://citibank.visaluxuryhotels.com. For example, in Sydney, Melbourne and Hong Kong, the following hotels participate:
In Sydney:
Shangri-La
The Langham
The Darling
In Melbourne:
Park Hyatt
Grand Hyatt
The Lyall Hotel & Spa
In Hong Kong:
The Mira and Mira Moon
The Peninsula
The Landmark
Conrad Hong Kong
The Upper House
Helpfully, these are all generally fairly unique hotels where it is generally hard to get achieve any kind of hotel program status, so the additional benefits are very handy.
There's also a range of special offers with specific hotels available which is worth keeping an eye on – For example, at the Shangri-La Sydney, there's a $100 dining credit offer for 2 night stays.
With access to the Luxury Hotels service it's possible to get a pretty good return if you want to travel and stay at these kind of hotels a few times per year.
Hilton HHonors Gold status upgrade
One of the biggest benefits of Hilton Gold is a free breakfast plus slightly better rooms when available. You'll need to stay twice with Hilton and register for the promotion with your Prestige Visa before you stay to get Gold sooner. Gold can be more readily available through status matches and other offers so this benefit may be limited.
You can read our guide to the HHonors program here.
Two limousine airport transfers free of charge per year
The limousine transfer and meet and greet airport benefit does offer some tangible value, and is available in Brisbane, Sydney, Melbourne and Perth, plus a range of cities outside Australia. There's more on this here, and it's available twice per calendar year and for fairly lengthy transfers so each one could be worth well in excess of $150 if used wisely.
Priority Pass Lounge Access
You'll also receive Priority Pass membership with the card, with unlimited access worth $399 per year.(There's also a 10% discount on paid Priority Pass memberships here for Point Hacks readers)
In reality, you'll get better use out of this membership if you travel internationally, as there are only a couple of Priority Pass partner lounges in Australia.
Fine Dining Privileges
You'll get three fine dining benefits with this card:
a free bottle of wine at participating Citibank Dining restaurants in Australia
access to customised experiences and special events
priority bookings at the top 100 restaurants in the world
Then there's also a few other Visa-specific benefits, such as 'Visa Front Line' (premium tickets to events) and 'Visa Signature Bespoke Event Program' access.
Free Golf – complimentary green fees at some select Golf Clubs throughout Australia & Asia
The Citibank Prestige Visa also offers paid green fees at 20 participating golf clubs across Asia Pacific.
Finally, there's also the usual range of travel, purchase protection and warranty insurances, and you should read the PDS to assess if these insurances meet your individual needs and have significant value to you.
This guide references some of the benefits of insurance policies provided with this credit card.
You should read the PDS and obtain independent professional advice before obtaining this product.
Summing up – Citi Prestige Visa
The Citi Prestige Visa is positioned as a high-end card with a vast array of benefits, and at a cost that's $550 less per year than the most similar card out there, the American Express Platinum Charge.
One of the biggest reasons to hold and use this card is for the good points earn rates on domestic and overseas spend, along with a large range of third party points transfer partners.
The large signup bonus, ability to earn points quickly with Citi Rewards through spend with no points cap, the Visa Luxury Hotels, Limo transfer and Annual points bonus are all solid benefits too.
The extra partners now add a range of additional flexibility for those who can earn large points balances to get more uses from their points – a very good thing.
There's a place in the market for a high-end Visa card, either to compliment American Express' offering if you can justify holding two cards of this cost, or as a less expensive alternative.
The Citi Prestige Visa is not for everyone – there's a minimum income requirements of $150,000, for example – but it might be for you.
Point Hacks Credit Card Information
Point Hacks is published by Newformula Media. Newformula PTY LTD (ACN: 609 361 051) is a credit representative (486568) of Eurofinance Corporation Pty Ltd (Australian Credit License: 393845). In some instances, Newformula PTY LTD receives a commission or benefit for referring you to the services of a credit provider. This commission or benefit is disclosed at the point of referral to the credit provider. This website does not provide credit or advise you to apply for credit assistance from any particular provider.
We have not taken into consideration your circumstances or financial situation when providing the information on this website. It is important you read the relevant PDS from the product issuer and seek the independent advice of an appropriately qualified professional before making a decision on a product.