The Citi Prestige Visa is a card for the aggressive points collector – the card has a minimum income requirement of at least $150k – and has an annual fee of $700 – but with a large number of frequent flyer program transfer partners, and a vast range of perks.
The included more valuable benefits on offer are a free hotel night (from a select list of hotels), a 4th night free hotel booking discount, and airport limo transfers.

The card can be linked to Qantas Points or Citi Rewards points. Right now the signup bonus is in Citi Rewards points but points earned from spend could be switched to Qantas Points after you have been approved for the account and earned the Citi Rewards bonus.
---
Citi are making changes to their card range which are effective from June 15
Citi have decided to overhaul the earn rates on their rewards cards. The changes were announced on April 3, and take effect for cardholders as of June 15th, so if you apply for a Citi card between now and then, you'll have two sets of points earn rates – those in place now as outlined this guide, plus those in place from that date onward.
You can read our full summary of these changes by Citi here. If you're an existing cardholder, you may find you will earn a different number points from your Citi credit card thanks to the new earn rates, or if you are considering the card, you should understand the new earn rates fully before applying as they will be in place soon.
---
Changes to Citi Prestige Visa from June 15
We've summarised the upcoming changes in the tables below. In summary, the current earn rate of 2 Rewards points for eligible Domestic Spend will be replaced with a tiered rate based on categories, with earn rates increasing on certain categories and decreasing on others. Earn rates on eligible International Spend will also be lowered to 3 Rewards points per $1 from the current 5 points per $1.
Card Type
Eligible Domestic Spend earn rate
Eligible International Spend earn rate
Citi Prestige Rewards Card



3 Points per $1 for selected purchases made and booked directly from a range of major restaurants and restaurant chains, major hotel chains and flights directly booked with major airlines


2 Points per $1 for selected purchases made at major petrol outlets, major supermarkets and major national retailers


1 Point per $1 spent everywhere else on Eligible Transactions



3 Points per $1 spent on eligible International Spend
For the Qantas point earning Citi Prestige Qantas Visa, the current flat earn rate of 1 Qantas point on all eligible spend have also been replaced with a tiered earn rate with better earning potential on international spend. but lower for eligible domestic spend outside of the bonus categories.
Card type
Eligible Domestic Spend earn rate
Eligible International Spend earn rate
Citi Qantas Prestige Rewards card



1.5 Points per $1 for selected purchases made and booked directly from a range of major restaurants and restaurant chains, major hotel chains and flights directly booked with major airlines


1 Point per $1 for selected purchases made at major petrol outlets, major supermarkets and major national retailers


0.5 Points per $1 spent everywhere else on Eligible Transactions



1.5 Points per $1spent on eligible International Spend
Citi Prestige Visa 70,000 point sign-up bonus – considerations and example uses
The 70,000 point signup bonus would yield a value of either 70,000 Qantas points, 35,000 Velocity points, Krisflyer Miles or Asia Miles.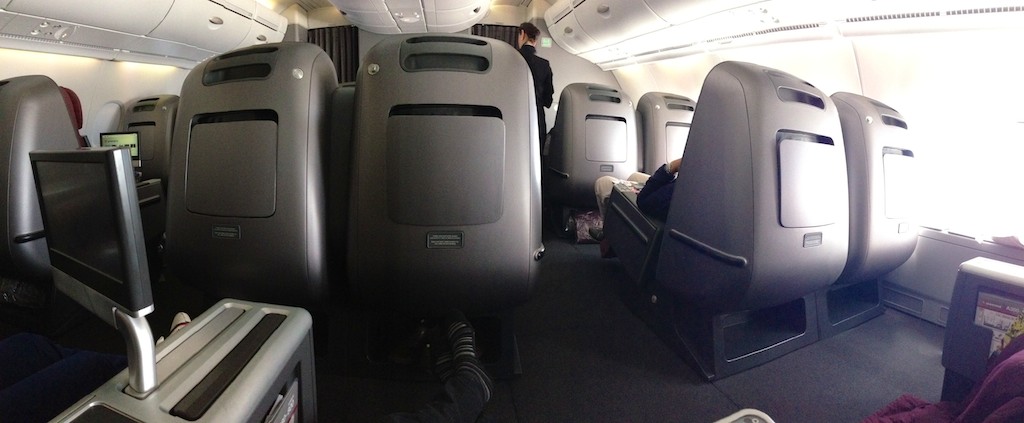 If you want to earn Qantas points, you'll need to specifically opt-in to Qantas Points for an additional $49 annual fee, and this will preclude you from earning Citi Rewards points.
The signup bonus on the card may be more valuable if you push it to Qantas Frequent Flyer, but the 2 point per $1 earn on eligible Domestic Spend for Citi Rewards makes accruing Citi Rewards points from spend potentially more lucrative, along with the greater flexibility of transfers to many airline programs, rather than one.
As a result, there is the option to pay the $49 fee for Qantas rewards on sign up, then change to Citi Rewards in future.
---
Guide to the Citi Prestige Visa Infinite credit card
Which points to earn – Qantas or Citi Rewards?
The Visa Prestige card, like Citi's slightly less expensive Citi Signature Visa, comes with the option of either opting in to earn Qantas Points (at an additional $49 annual fee) with points swept over to Qantas on a monthly basis, or with Citi Rewards.
I've written a full guide to Citi Rewards here.
In brief, the Citi Rewards scheme lets you transfer your points over to a range of frequent flyer program partners. Citi Rewards points are transferred out at a rate of 2 Citi Rewards points to most frequent flyer programs, that essentially halves the value of any Citi Rewards sign up bonus on offer in frequent flyer point terms.
Note that the Citi Rewards website does not make the Prestige partners and transfer rates clear. Here's a screenshot of the partners and transfer rates as of September 30 from an existing cardholder: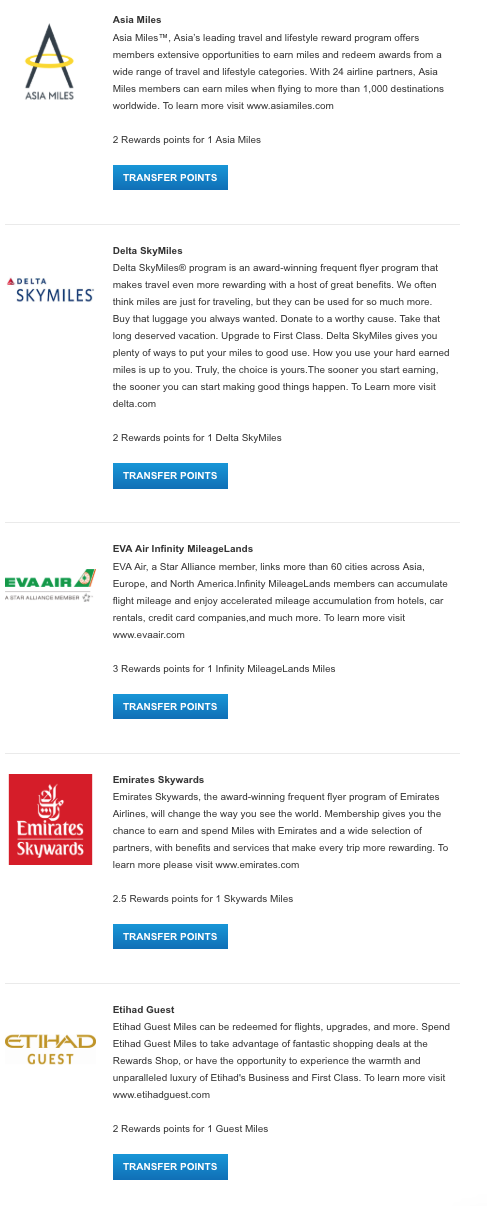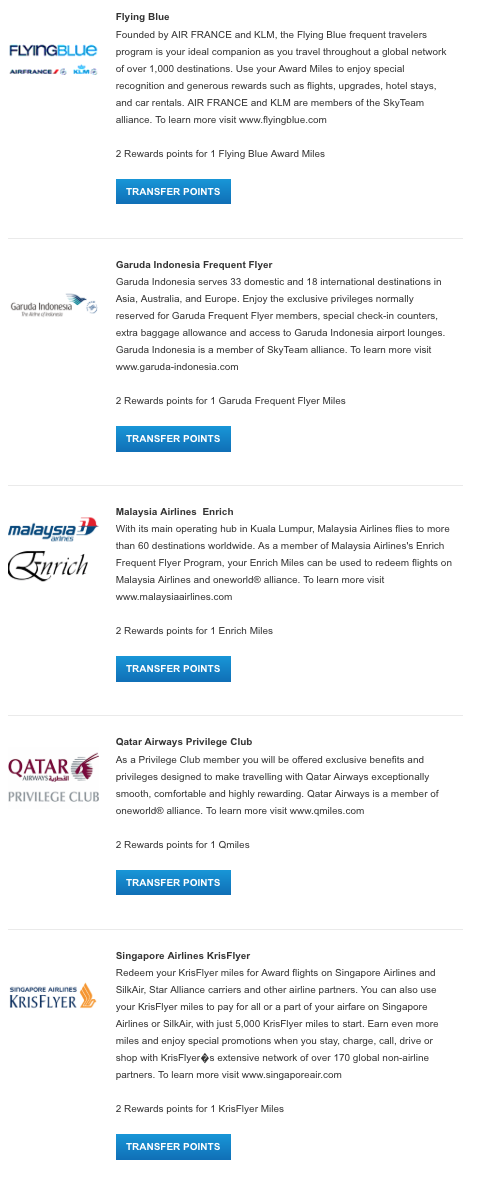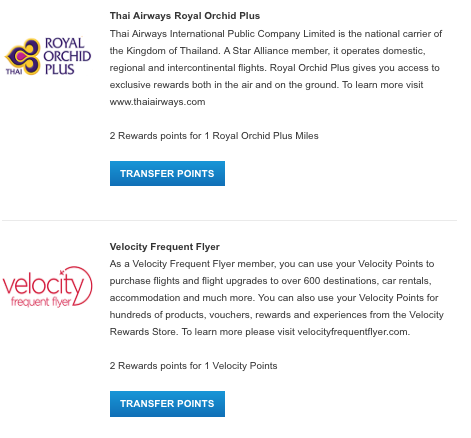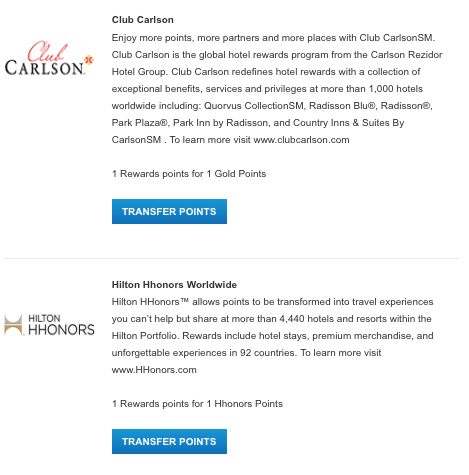 The key partners:
Virgin Australia Velocity (1 point per $1)
Singapore Airlines Krisflyer (1 mile per $1)
Cathay Pacific Asia Miles (1 mile per $1)
The secondary partners:
Emirates Skywards (0.8)
Delta Skymiles (1)
Malaysia Airlines Enrich (1)
Qatar Privilege Club (1)
Thai Airways Royal Orchid (1)
Etihad Guest (1)
Air France/KLM Flying Blue (1)
Garuda Frequent Flyer (1)
Eva Air Infinity MileageLands (0.66)
Hilton HHonors (2)
IHG Rewards (1.25)
Club Carlson (2)
If you decide to earn Qantas Points, your points will be locked into Qantas and transferred over to Qantas each month.
Earning points from spend on the Citi Prestige Visa
As already mentioned, the earn rates on most of Citi's rewards credit cards are changing on June 15th. The rest of this article references the current earn rates, but read our analysis of the changes for more about on this.
The points earn on eligible Domestic Spend for the Citi Prestige Visa is currently 2 Citi Rewards points per $1, or 1 Qantas point per $1.
On a Visa for Qantas Points earn, this is a good earn rate.
For Citi Rewards points earn, this is a high earn rate that can yield a good points haul if you're going to pump a decent amount of spend through the card, with the most potential value equating to 1 Krisflyer miles or Velocity points per $1 spent, and with no annual or monthly cap.
On eligible International Spend, if you're earning Citi Rewards points you'll earn 5 points per $1, but will incur a 3.4% surcharge on non Australian $1 transactions. This equates to 2.5 Krisflyer Miles or Velocity Points per dollar spent on eligible international spend.
If your preferred currency is Qantas Points, then this may not be a card to hold only for the points earn rate on spend – if you're opted into Qantas Point earn there are no international spend bonuses.
Big spenders using the Citi Prestige Visa with the Citi Rewards program however, could well justify keeping the card each year just for the points alone.
Have a read of some of the benefits of Citi Rewards (the full Citi Rewards guide is here), as well as the benefits specific to the Citi Prestige Visa below.
If you're going for Krisflyer Miles, Asia Miles, or Velocity Points, the $700 annual fee may well pay for itself with the points earned. The transfer rate to Skywards is not so valuable.
Citi Rewards points benefits and considerations
Citi Rewards points don't expire for the lifetime of you holding the card, and there's also no points cap. This is one of the major benefits of the card – with unlimited points earning at excellent rates for Krisflyer or Velocity Miles (if you opt into Citi Rewards over Qantas).
The minimum transfer levels to airline programs are high, with a minimum of 20,000 Citi Rewards points to be transferred. This differs significantly to American Express Membership rewards, which is more flexible.
The Prestige Visa offers a great points earn rate for a Visa, on most eligible spend, to earn Krisflyer Miles, Velocity Points, or Asia Miles.
Creatively, Citi are also offering 30,000 points per year for Citigold customers to keep cardholders with the card, dubbed as an 'annual relationship bonus'. This is a nice benefit, but it's only for cardholders with a Citigold relationship where you'll need to have $100,000 in assets or debt with the bank.
Other travel benefits of the Citi Prestige Visa
The Citi Prestige Visa also offers a number of travel benefits, including Priority Pass lounge access and discounts through the 4th night free and Visa Luxury Hotels programs.
Fourth night free benefit at hotels globally
If you're a Prestige cardholder you'll also get a fourth night free at large number of hotels globally – essentially pay for 3 nights, get the 4th free of charge.
Access to Visa Luxury Hotels
High end Visa cards globally have access to the 'Visa Luxury Hotels Collection' booking channel. Thankfully the website is open to the general public when it comes to researching the value of this, so it's easy to get a good idea of which hotels participate – there are around 900 in the program.
The standard benefits of booking through Visa Luxury Hotels are
Guaranteed best available rate
Automatic room upgrade on check in
Free continental breakfast
Free internet
3pm checkout
VIP Guest status
$25 US food or beverage voucher per stay
The clearest value benefits are the breakfast, free internet and $25 credit, which could add up to $75+ value on a one night stay if they were otherwise chargeable. The room upgrade and 3pm checkout are at the Hotel's discretion, so may not yield much value.
For Citi customers, the booking portal is accessed via http://citibank.visaluxuryhotels.com. For example, in Sydney, Melbourne and Hong Kong, the following hotels participate:
In Sydney:
Shangri-La
The Langham
The Darling
In Melbourne:
Park Hyatt
Grand Hyatt
The Lyall Hotel & Spa
In Hong Kong:
The Mira and Mira Moon
The Peninsula
The Landmark
Conrad Hong Kong
The Upper House
Helpfully, these are all generally fairly unique hotels where it is generally hard to get achieve any kind of hotel program status, so the additional benefits are very handy.
There's also a range of special offers with specific hotels available which is worth keeping an eye on – For example, at the Shangri-La Sydney, there's a $100 dining credit offer for 2 night stays.
With access to the Luxury Hotels service it's possible to get a pretty good return if you want to travel and stay at these kind of hotels a few times per year.
Hilton HHonors Gold status upgrade
One of the biggest benefits of Hilton Gold is a free breakfast plus slightly better rooms when available. You'll need to stay twice with Hilton and register for the promotion with your Prestige Visa before you stay to get Gold sooner. Gold can be more readily available through status matches and other offers so this benefit may be limited.
You can read our guide to the HHonors program here.
Two limousine airport transfers free of charge per year
The limousine transfer and meet and greet airport benefit does offer some tangible value, and is available in Brisbane, Sydney, Melbourne and Perth, plus a range of cities outside Australia. There's more on this here, and it's available twice per calendar year and for fairly lengthy transfers so each one could be worth well in excess of $150 if used wisely.
Priority Pass Lounge Access
You'll also receive Priority Pass membership with the card, with unlimited access worth $399 per year.(There's also a 10% discount on paid Priority Pass memberships here for Point Hacks readers)
In reality, you'll get better use out of this membership if you travel internationally, as there are only a couple of Priority Pass partner lounges in Australia.
Fine Dining Privileges
You'll get three fine dining benefits with this card:
a free bottle of wine at participating Citi Dining restaurants in Australia
access to customised experiences and special events
priority bookings at the top 100 restaurants in the world
Then there's also a few other Visa-specific benefits, such as 'Visa Front Line' (premium tickets to events) and 'Visa Signature Bespoke Event Program' access.
Free Golf – complimentary green fees at some select Golf Clubs throughout Australia & Asia
The Citi Prestige Visa also offers paid green fees at 20 participating golf clubs across Asia Pacific.
Finally, there's also the usual range of travel, purchase protection and warranty insurances, and you should read the PDS to assess if these insurances meet your individual needs and have significant value to you.
This guide references some of the benefits of insurance policies provided with this credit card.
You should read the PDS and obtain independent professional advice before obtaining this product.
Summing up – Citi Prestige Visa
The Citi Prestige Visa is positioned as a high-end card with a vast array of benefits, and at a cost that's $550 less per year than the most similar card out there, the American Express Platinum Charge.
One of the biggest reasons to hold and use this card is for the good points earn rates on eligible domestic and international spend, along with a large range of third party points transfer partners. However that is changing come mid-June, so you'll need to assess the new category bonuses being put in place by Citi then and see if they will work for you into the future after then.
The large signup bonus, ability to earn points quickly with Citi Rewards through spend with no points cap, the Visa Luxury Hotels, Limo transfer and Annual points bonus are all solid benefits too.
The extra partners now add a range of additional flexibility for those who can earn large points balances to get more uses from their points – a very good thing.
There's a place in the market for a high-end Visa card, either to compliment American Express' offering if you can justify holding two cards of this cost, or as a less expensive alternative.
The Citi Prestige Visa is not for everyone – there's a minimum income requirements of $150,000, for example. But it could work for higher spenders, especially those who spend internationally or tip a lot of their spend into the bonus categories Citi will add to the card in June.
Point Hacks Credit Card Information
Point Hacks is published by Newformula Media. Newformula PTY LTD (ACN: 609 361 051) is a credit representative (486568) of Eurofinance Corporation Pty Ltd (Australian Credit License: 393845). In some instances, Newformula PTY LTD receives a commission or benefit for referring you to the services of a credit provider. This commission or benefit is disclosed at the point of referral to the credit provider. This website does not provide credit, assist you in obtaining credit, or advise you to apply for any particular product from a provider.
We have not taken into consideration your circumstances or financial situation when providing the information on this website. It is important you read the relevant PDS from the product issuer and seek the independent advice of an appropriately qualified professional before making a decision on a product.
While we invest a great deal of time and energy into ensuring we provide with you with the most up to date and accurate information, we do not warrant the accuracy of statements or information contained on the Website relating to third party goods and services, including credit card information, loyalty schemes and rewards. You acknowledge that such information and materials may contain inaccuracies or errors and we expressly exclude liability arising from any person acting on those statements or information to the fullest extent permitted by law. Where conditions or warranties are implied by law and cannot be excluded, our liability will be limited to the re-supply of information. You should confirm the accuracy of information provided on this Website with the third party product provider before acting on it.