Back at the start of 2021, Velocity members were given a delicious new way to earn points with the introduction of meal delivery partner Youfoodz. The standard earn rate is 1 Velocity Point per dollar for orders above $49, plus those earning points this way for the first time will pocket an easy 1,000 bonus points too.
But for the month of June 2021, you'll be able to double up on points at Youfoodz as part of the Winter Menu launch. The new range includes 20+ new menu items across a range of meals, large meals and snacks.
We've incorporated a range of ingredients into these meals, which makes the Winter menu truly unique.

Youfoodz Chef Marty
Winter warmer delights include dishes such as beef ragout & pappardelle, chicken katsu curry, creamy chicken laksa and clean roast pork & mash.
How do I earn Velocity Points with Youfoodz?
It's easy to get started – you'll just need a free Youfoodz and Velocity account.
Login to your Youfoodz account and go to the 'Velocity' section
Follow the prompts to link your accounts
At the final stage of checkout, ensure your Velocity account shows as 'linked', or enter and link your details on the spot (see the image below).
You will earn Velocity Points on the purchase if above $49.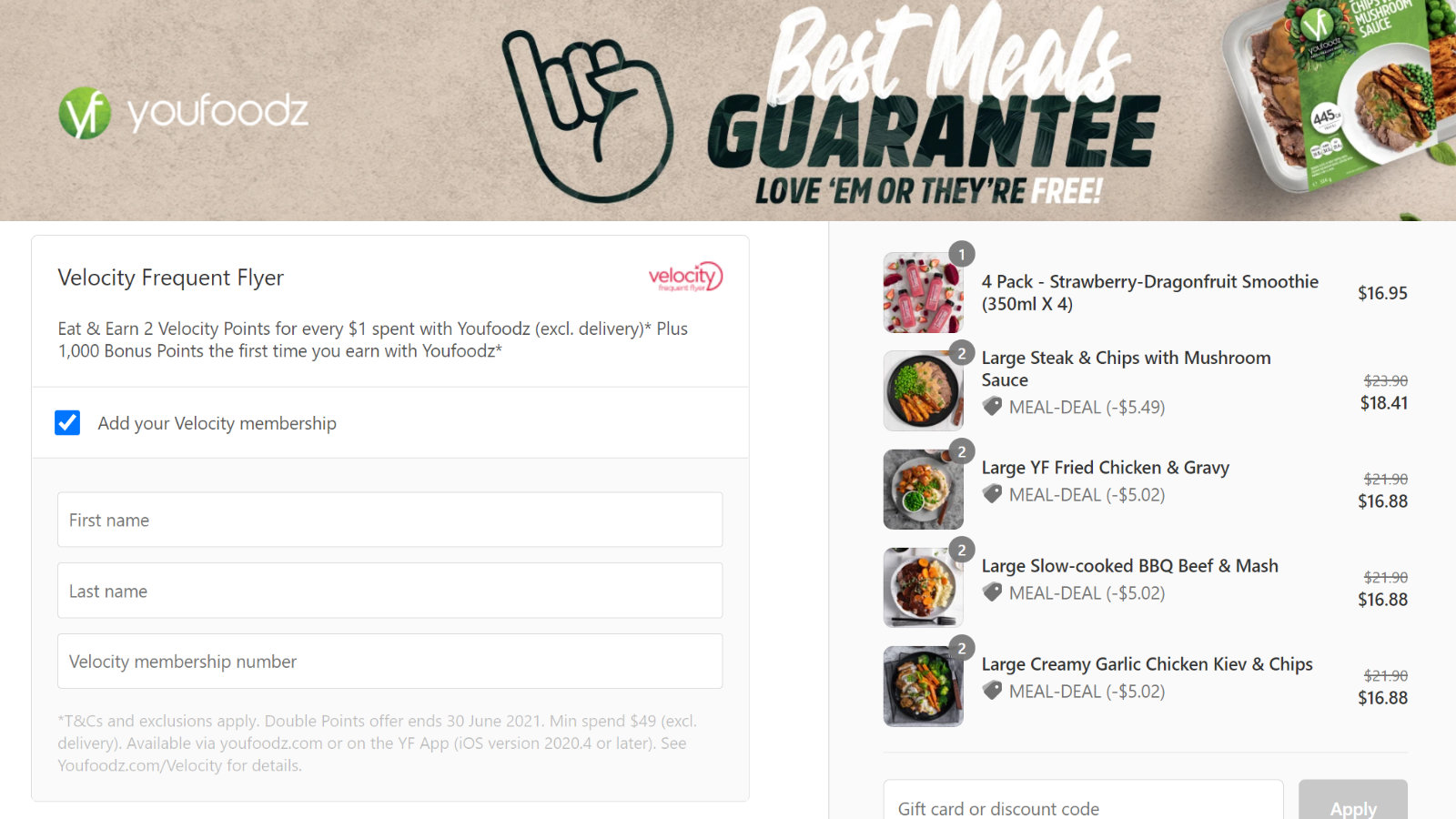 Allow for up to 10 days after a successful Youfoodz order for the bonus Velocity Points to hit your account.
Summing up
Youfoodz is a convenient way to have some fresh read-made meals on hand. It's great for those who might have a busy week ahead and need something quick for lunch or dinner.
There are usually some discount codes floating around (the best recurring offer is 9 meals for $59), but do pay attention to the shipping fees. At least for WA residents, shipping is $20 which does make it uneconomical, but it's a reasonable $7.50 to most other states and territories for orders under $89 and free on those above this amount.
Twice the fun with some yum: double Velocity Points with Youfoodz
was last modified:
June 4th, 2021
by