Velocity Frequent Flyer international redemptions are back! As one of Virgin Australia's closest airline partners, Etihad offers plenty of reward redemptions throughout 2022 and beyond. Savour a journey in Etihad's First Class suites, or travel in comfort in the Business Studios.
If you're eager to lock in a European escape, then using your Velocity Points for Etihad will be one of your best options. You won't pay more than 139,000 points per person in Business Class. Just be aware that Etihad reward seat bookings attract a hefty carrier charge, which is on top of the taxes you need to pay.
Despite the high costs in taxes and charges, Etihad remains an appealing and unique way to redeem Velocity Points, thanks to the modern Business and First Class cabins. Etihad's premium cabins compete well with close rivals Qatar Airways and Emirates. In this guide, we get into the details of how to redeem your Velocity Points with Etihad.
Which Etihad flights can I use Velocity Points on?
You should be able to use your Velocity Points on any Etihad flight that is available for booking and that has reward seat availability.
We imagine most of you will be interested in Etihad's one-stop service from Australia to Abu Dhabi, and then onwards to Europe. In Australia, Etihad is flying to Sydney and Melbourne. Sadly, services to Perth were cut in October 2018, and Brisbane in October 2020.
Visit Etihad's 'Destinations' page to visualise the airline's latest active routes on an interactive map.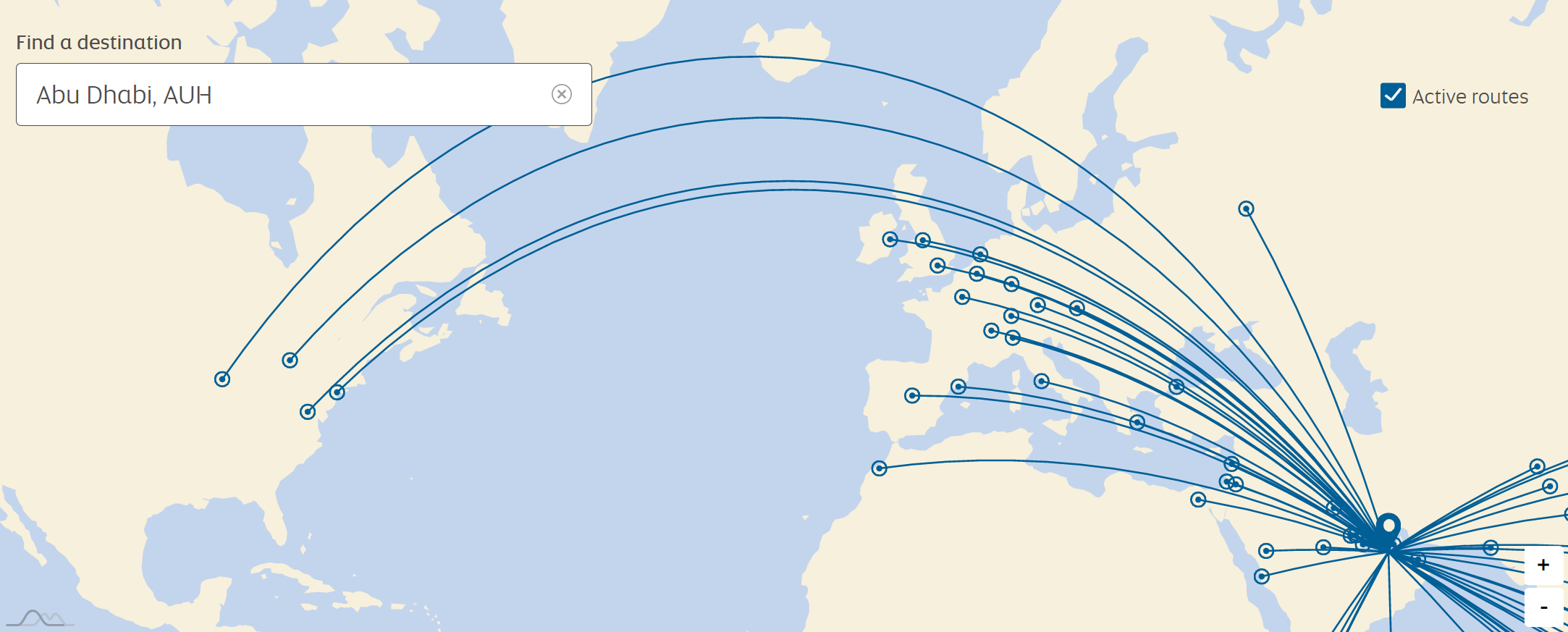 Because Etihad's network is still recovering from COVID and Australia is only beginning to rediscover international travel, we won't get into the nitty gritty of schedules right now. Just know that at the time of writing, there is usually a daily flight to Sydney and Melbourne on the Boeing 787-9.
All 10 of Etihad's Airbus A380s are currently mothballed in Europe, so there's no chance of experiencing the famed Airbus A380 First Class Apartments right now. But a handful of Boeing 787s boast a compact eight-seat First Class cabin. Etihad's Boeing 777-300ERs also have First Class, but those jets will be retiring soon.
Etihad, of course, has a much wider network than just Europe, the Middle East, Australia and the US. But given the need for extensive back-tracking to get to Asia or the southern countries of Africa, we won't focus on these.
How many Velocity Points do I need for Etihad reward seats?
Ultra-long-haul flights, like Etihad's service from Abu Dhabi to Sydney, Melbourne or the US, are usually very expensive in premium cabins if you're paying by cash.
As a result, using Velocity Points for these flights still has some great value. The cap is 139,000 Velocity Points in Business Class for a booking that can reach up to 28 hours of flying!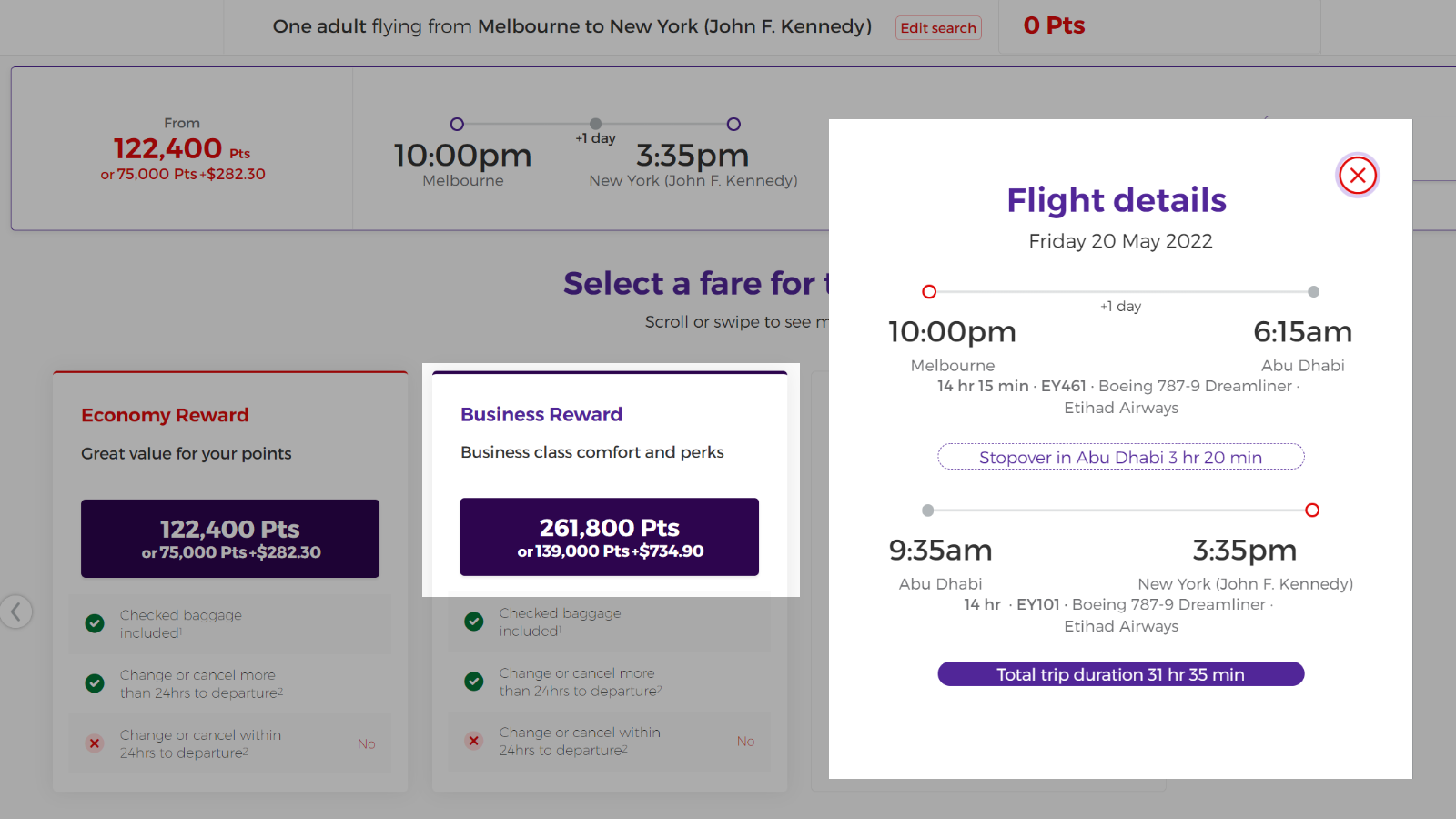 Here are some comparisons for travel on Etihad using Velocity Points, Etihad Guest miles, or Aeroplan Points.
Using points or miles with Etihad Business Class
Route (one-way, Business)
Velocity Points
Etihad Guest miles
Air Canada Aeroplan Points
Abu Dhabi to London
53,000 pts
+ AUD$309.90
62,606 miles
+ AED$680
45,000 pts
+ CAD$80
Abu Dhabi to New York
92,000 pts
+ AUD$372.80
120,070 miles
+ AED$1,420
85,000 pts
+ CAD$101
Sydney to Abu Dhabi
104,000 pts
+ AUD$399.38
100,017 miles
+ AUD$292.88
100,000 pts
+ CAD$126
Sydney to London via Abu Dhabi
139,000 pts
+ AUD$678.28
195,024 miles
+ AUD$505.28
100,000 pts
+ CAD$158
Melbourne to New York via Abu Dhabi
139,000 pts
+ AUD$734.90
200,033 miles
+ AUD $547.40
n/a
Using points or miles with Etihad First Class
Route (one-way, First Class)
Velocity Points
Etihad Guest miles
Air Canada Aeroplan Points
Abu Dhabi to London
78,000 pts
+ AUD$456.30
88,011 miles
+ AED$860
65,000 pts
+ CAD$80
Note: these figures (including taxes) are correct as of 3 November 2021. However, they may change without notice.
Air Canada actually comes out on top in most cases, because you need fewer points and don't have to pay any carrier charges (just the taxes). And that's not a mistake above – it doesn't cost any extra points to fly Sydney-London compared to Sydney-Abu Dhabi. While most of you won't have stashes of Aeroplan Points, you can buy them for a discount. We'll be updating our guides to talk more about this very soon.
To make a booking, simply browse the relevant airline website. That's Virgin Australia for Velocity Points, Etihad for Etihad Guest, and Air Canada for Aeroplan Points. You should be able to make Velocity Points bookings for Etihad flights online, including for First Class.
Ad – Scroll down to continue reading.Minimum spend, terms & conditions apply.
What are Etihad's Business and First Class cabins like?
This is the awesome Business Studio on the Etihad A380 and Boeing 787. You'll be ensconced in a seat that can transform into a fully-flat bed. There are certainly worse ways to spend 14 hours on a flight!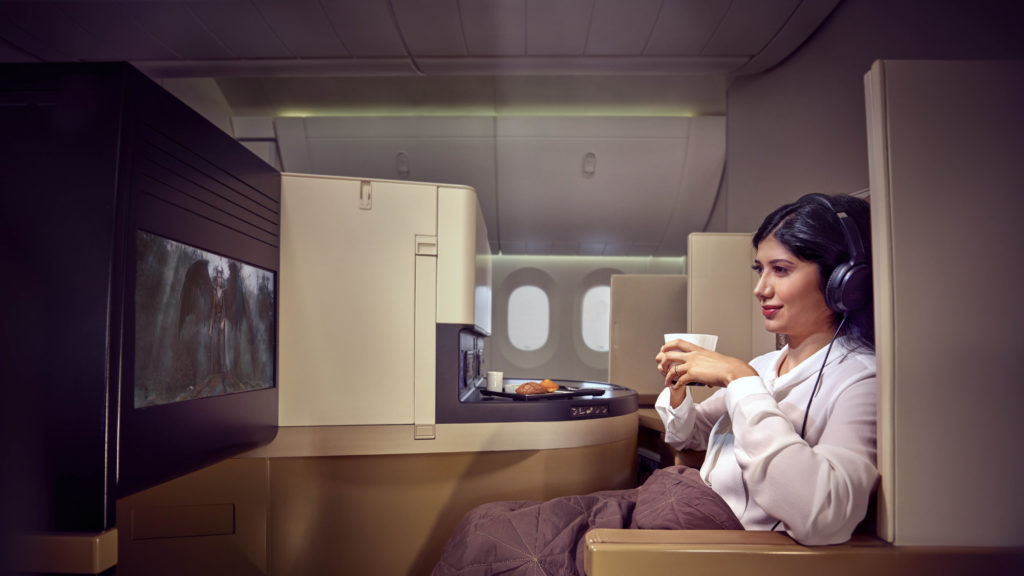 The excellent First Class experience on the A380 looks like this – and also gives you access to an onboard shower. Unfortunately, we're not expecting the First Class apartments to return anytime soon, due to Etihad's Airbus A380s being in long-term storage.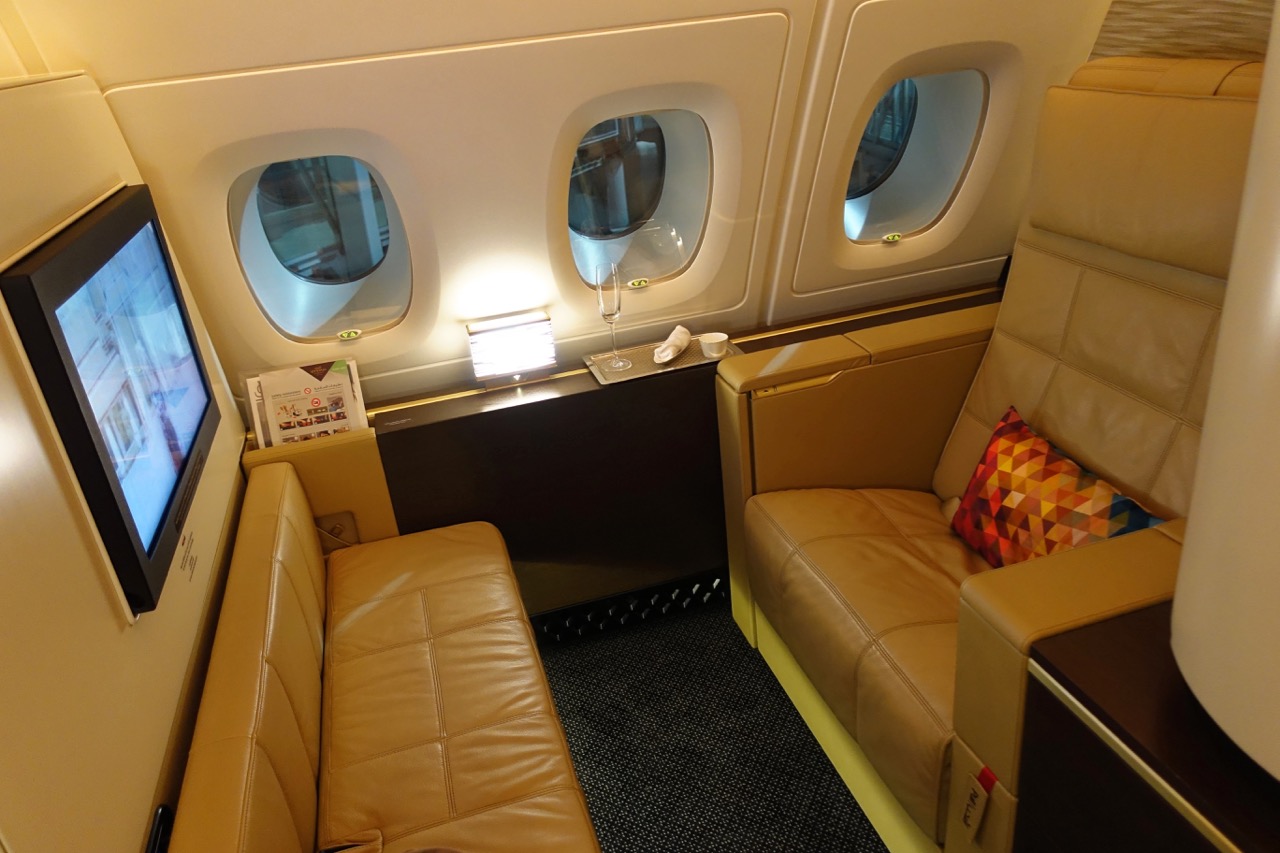 Instead, you can enjoy Etihad's Boeing 787 First Class on select routes from Abu Dhabi, including to London. Your suite comes with sliding doors and world-class dining, including tasty caviar as a starter!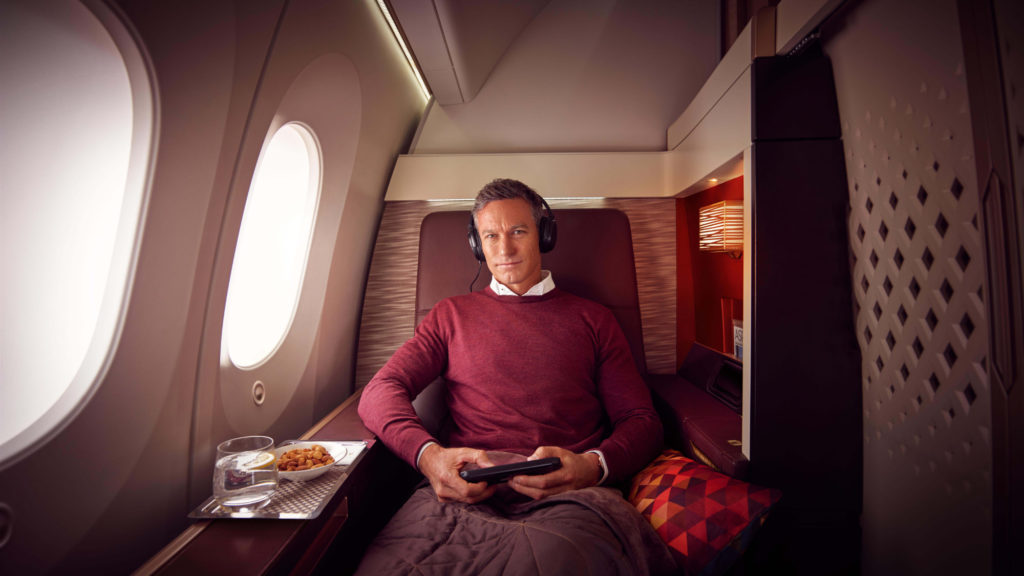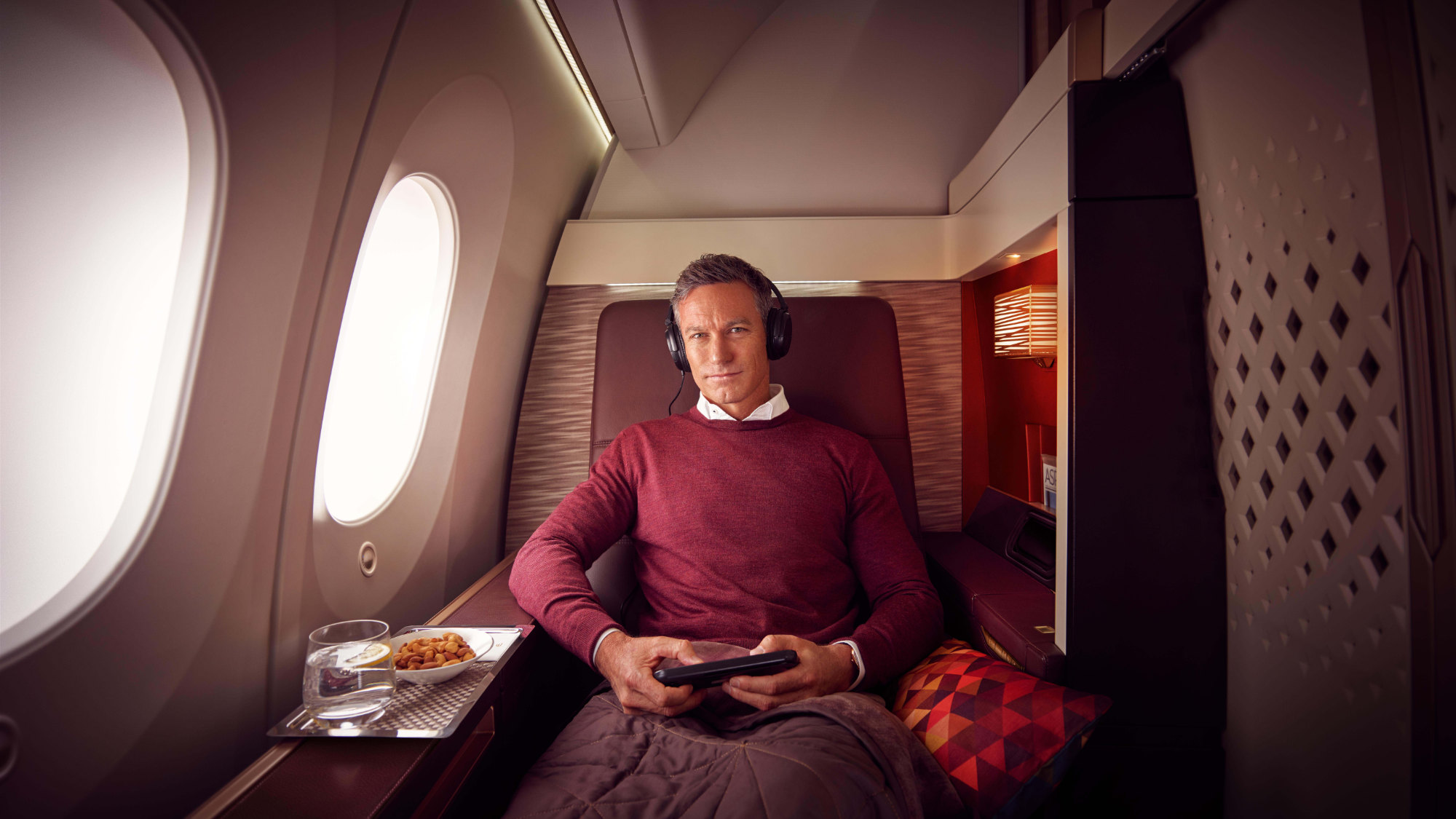 We're looking to bring you a review of Etihad's Boeing 787 cabins in 2022, so stay tuned for more.
What are the Etihad carrier charges for Velocity?
In June 2015, Velocity added the 'Etihad Airways Reward Seat Carrier Charge', ranging from US$50 in Economy to US$300 in First Class. This has been updated in 2021, with the carrier charge now depending on the length of your flight in miles.
| | | | |
| --- | --- | --- | --- |
| Distance (one-way) | Economy (USD) | Business (USD) | First (USD) |
| 0 to 1,000 miles | $30 | $150 | $280 |
| 1,001 to 2,000 miles | $40 | $165 | $290 |
| 2,001 to 3,000 miles | $50 | $180 | $300 |
| 3,001 to 4,000 miles | $55 | $200 | $310 |
| 4,001 miles and more | $60 | $230 | $320 |
New Etihad carrier charges for Velocity bookings from November 2021 onwards.
This carrier charge still applies per flight sector, not per booking. For most shorter flights, the charge is a bit less than before. But longer flights to Sydney, Melbourne and the US will see a slightly higher charge.
For reference, it will cost you US$860 in carrier charges on a return booking from Australia to Europe. This is the biggest disincentive to using Velocity Points for Etihad flights, unfortunately.
Air Canada Aeroplan doesn't charge extra fees, so you might want to consider buying Aeroplan Points one day to fund your Europe trip. We'll have a new guide on this shortly.
Summing up
It's well worth understanding the ins and outs of how to redeem your Velocity Points for Etihad flights.
The 139,000 Velocity cap for multi-flight redemptions in Business Class still offers some value for Etihad flights in Business or First Class. Given how many opportunities there are to build up your Velocity balance, these are fairly achievable goals.
However, with the per-sector Etihad carrier charges imposed by Velocity, you need to take into account both the cabin you are flying in and the number of sectors you are booking in order to calculate the true points + cash cost to you (and your travelling companions).
Etihad is a great airline to fly, with awesome availability and excellent cabins, service and lounges. But you will be paying a premium to fly with Etihad when using your Velocity Points, compared to other programs like Air Canada Aeroplan.
This guide was previously written by Matt Moffit.
How to use Velocity Points for Etihad flights
was last modified:
November 3rd, 2021
by