Your hard-earned Velocity Points and Status Credits will not stick around forever. Fortunately, it is very easy to stop your Velocity Points from expiring indefinitely by following a few simple steps.
Read on to see our frequently asked questions and what you need to do to keep your balance active.
When do Velocity Points expire?
Your Velocity Points will only expire after 24 months of inactivity on your account—that means no points in and no points out for two whole years.
How do I stop Velocity Points from expiring?
To stop Velocity Points from expiring, you just need to earn or redeem one point within a 24-month period. It is as simple as that!
This could be as easy as swiping your card at BP, transferring FlyBuys points to Velocity, or booking a reward seat. Each time you earn or redeem a Velocity Point, the expiry of your balance is reset to another two years.
See our comprehensive list on ways to earn Velocity Points.
If you constantly earn Velocity Points, such as from a credit card or from flying, chances are you will never have to worry about your balance expiring.


Do Velocity Status Credits expire?
Yes, Status Credits will automatically expire one year after they are earned, with no exceptions.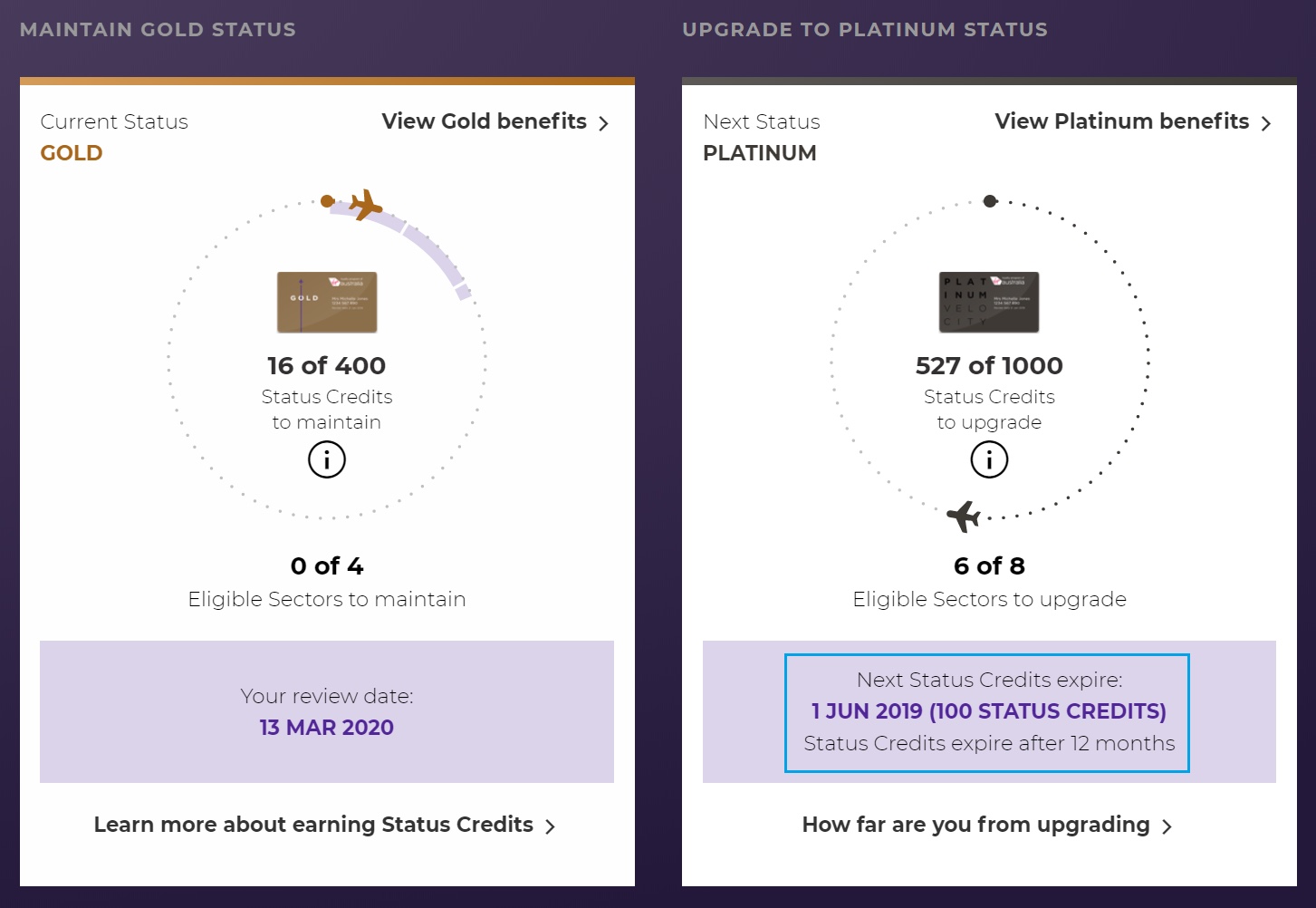 In this example above, a Gold member with 527 Status Credits is about to have 100 SCs expire on 1 June 2019 (bottom right corner).
They would need to earn a further 473 Status Credits before that date to reach Platinum.
Ad – Scroll down to continue reading.Minimum spend, terms & conditions apply.
Frequently Asked Questions
Will I be notified if my Velocity Points are expiring?
Yes, you will be emailed at least 30 days before your points are expiring, giving you plenty of time to quickly earn or redeem some Velocity Points.

Can I use Family Transfers to extend my Velocity Points expiry?
No – unfortunately, points obtained through Family Transfers and Family Pooling will not help extend the expiry. The account needs to earn or redeem at least one Velocity Point independently for the expiry to be reset.
Can I extend the expiry of Status Credits?
No, Status Credits are set to expire 12 months after they are earned, and nothing can change that.
Can I buy some extra Status Credits to reach the next elite tier?
No, not exactly. However, you can earn Status Credits indirectly by shopping at Coles and swiping your FlyBuys card. Every $100 spent is 1 Status Credit, up to 10 per month unless there is a promotion.




You can also get 100 Status Credits by spending at least $50,000 annually on the American Express Velocity Platinum credit card.

The only other way to get Status Credits is to fly more on Virgin Australia and its airline partners.
Summing up
As you can see, there is no need to be concerned about the expiry of your Velocity Points. Just be sure to earn or use some points every now and then, and you will be fine for another two years.
Status Credits are a bit harder to deal with since they have a fixed expiry, but Velocity Gold and Platinum status has lots of perks and you will have to do a bit of actual flying to get there!

Feel free to ask us any questions in the comments section below.

When do Velocity Points expire?
was last modified:
March 28th, 2022
by