Velocity Frequent Flyer members have a new option when spending points in the sky, with reward seat bookings now live on Japan's All Nippon Airways (ANA). Covering the airline's international and Japanese domestic routes, it provides another path for jetting out of Australia in style.
Currently, ANA offers direct flights from Tokyo to Sydney and Perth. And of course, from its joint hubs at Tokyo's Haneda and Narita airports, travellers can venture even further afield with ANA.
Here's a look at how to secure your seat on Virgin Australia's newest international partner using Velocity Points.
Update 16 November 2023: It is now possible to book ANA reward seat online with Velocity Points.
How many Velocity Points do you need to fly ANA?
For Velocity, ANA resides on the least generous of the program's two 'partner' reward tables. This means ANA flights cost more Velocity Points than what's needed to book journeys of the same distance with Virgin Australia, United or Virgin Atlantic. But the rates still aren't bad. They match what you'd need to book flights with other major partners like Qatar Airways and Singapore Airlines.
Interestingly, when the ANA partnership first went live, Velocity listed ANA on that more generous reward table, alongside United and Virgin Atlantic. Velocity also sent emails to some members announcing the ANA partnership quoting reward flight prices at those more generous rates. But soon after, ANA was quickly moved to that 'other' partner reward table, where it remains. Go figure!
On ANA, Velocity members can book Economy Class, Business Class and First Class. Reward flights in ANA Premium Economy aren't bookable using Velocity Points. Also note, ANA doesn't offer First Class to Australia – only on other selected routes. Here's a look at how that shapes up when using points for one-way flights.
| | | | |
| --- | --- | --- | --- |
| ANA route and cabin | Economy Class | Business Class | First Class |
| Sydney to Tokyo Haneda | 42,000 Velocity Points | 78,000 Velocity Points | N/A |
| Perth to Tokyo Narita (from 29 October 2023) | 42,000 Velocity Points | 78,000 Velocity Points | N/A |
| Tokyo Haneda to London Heathrow | 50,000 Velocity Points | 92,000 Velocity Points | 134,000 Velocity Points |
| Sydney to London, via Tokyo Haneda | 75,000 Velocity Points | 139,000 Velocity Points | Not available as a single reward |
| Perth to Brussels, via Tokyo Narita | 75,000 Velocity Points | 139,000 Velocity Points | N/A |
Eyeing off a First Class jaunt to London? You'd end up paying a lot of Velocity Points – 212,000, to be precise. That's because without First Class available from Australia, you'd be charged the Business Class rate from Australia to Japan. And then on top, the separate First Class rate from Japan to London as a second reward.
Pleasingly though, carrier charges don't appear to be levied on ANA reward flights booked via Velocity. This means a one-way Sydney-Tokyo flight comes with just $91.28 to pay on the side. When booking the same through some of ANA's other partner programs, the carrier charges alone can be hundreds of dollars per one-way sector.
Ad – Scroll down to continue reading.Minimum spend, terms & conditions apply.
How to find and book ANA reward flights using Velocity Points
ANA reward flights are now available to book online. It's as simple as ticking 'Use Velocity Points' on the Virgin Australia website, entering your flight details and hoping for the best. Here are example Economy and Business reward seats on the Australian and London routes.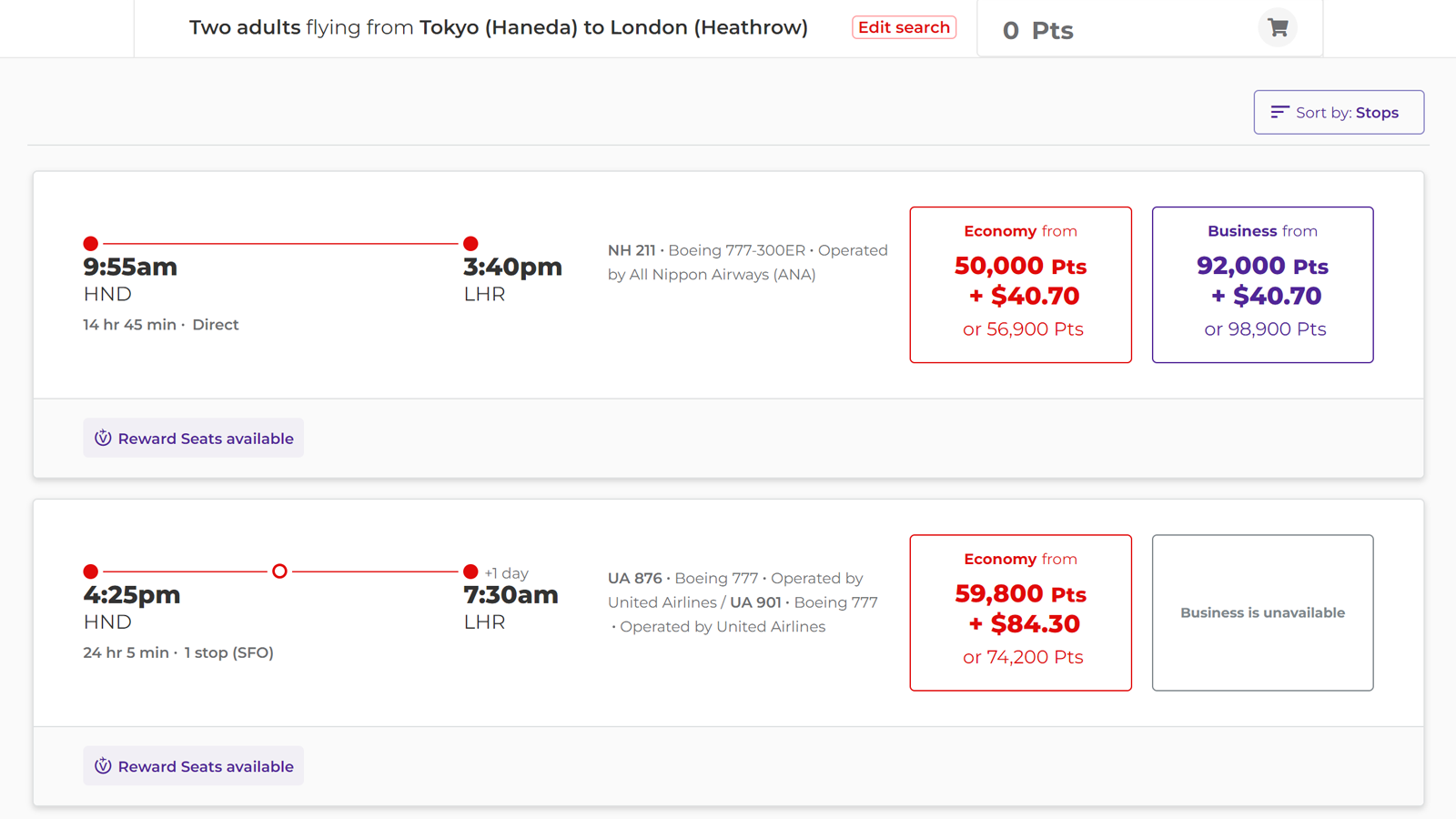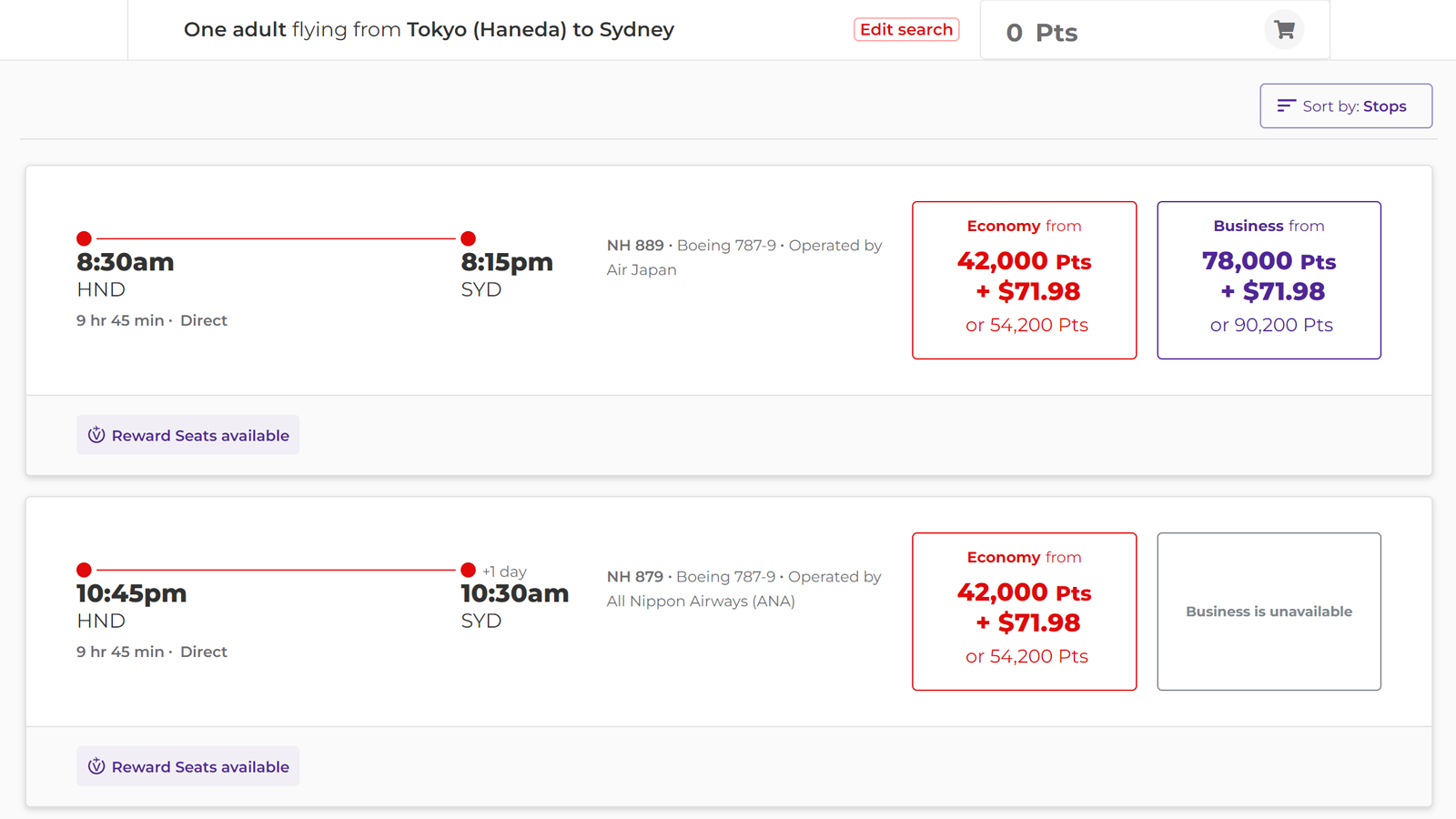 Some partner airlines also display ANA reward flights online. Singapore Airlines' KrisFlyer program is one of many. As with ExpertFlyer, if you can see an ANA reward seat via KrisFlyer, you should be able to book the same flight and cabin using Velocity Points.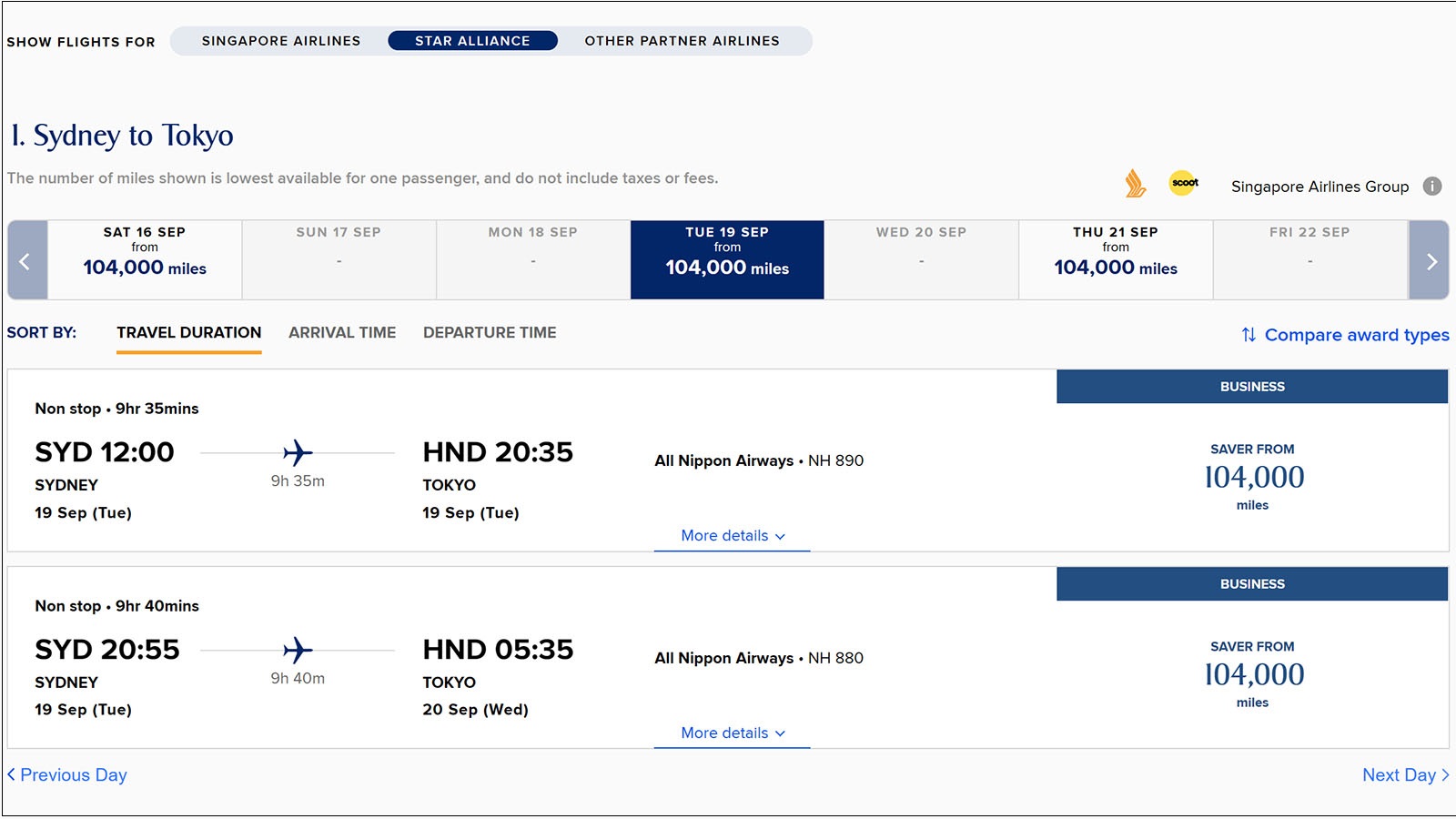 Other ways to book ANA
As you'll have already gathered, Velocity isn't the only way to book reward flights with ANA. As it happens, All Nippon Airways is a member of Star Alliance. This means you can use points or miles from any Star Alliance program to travel with ANA. Subject to reward seat availability, of course.
ANA reward flights can be booked through KrisFlyer, as above. But you could also book the same through other Star Alliance programs too, like Air Canada Aeroplan and United MileagePlus. Heck, you can book ANA flights through Avianca LifeMiles as well. This unlocks many opportunities to savvily buy and redeem those Avianca miles.
Beyond Star Alliance, one of ANA's other points partnerships is particularly notable. That's with Virgin Atlantic Flying Club. Flying Club offers some very sharp redemption rates on ANA flights. For instance, a one-way Business Class ticket from Sydney or Perth to Tokyo is just 45,000 Virgin Points. Make that same booking through Virgin Australia Velocity and it'd be 78,000 Velocity Points. Or through Singapore Airlines, it's 104,000 KrisFlyer miles.
To avoid any confusion, I'll remind you that Virgin Atlantic Flying Club is a completely separate program from Virgin Australia's Velocity Frequent Flyer. And for that matter, you can't transfer points between Flying Club and Velocity. But there are easy ways to acquire points with Flying Club.
One method is to simply buy them – especially when there's a promotion running. The other – and the path that'll be easier for many – is to convert Amex Membership Rewards points across to Flying Club.
Consider too that Amex uses the same 2:1 conversion rate to Flying Club as it does with Velocity. If that's where your points are coming from, booking via Flying Club can be a savvy move. Be aware though, Flying Club does pass on ANA's carrier charges. So while Flying Club gets you ANA flights for fewer points than with Velocity, you'll pay more in dollars through Flying Club when making those same bookings.
Summing up
This move marks the latest development in the growing partnership between Velocity and ANA. Back in July, the airlines kicked off mutual earning of points. Some very limited frequent flyer benefits also got off the ground, like priority check-in for eligible Velocity members when flying from Australia to Tokyo.
Being able to redeem Velocity Points on ANA is a logical next step – and another great option to have. Especially so as reward flights are available in First Class. That's something that Velocity still hasn't managed to bring back on one of its other partners, Singapore Airlines.
But looking to Japan and ANA, there's clearly more work to do. For instance, there's still no lounge access when Velocity Gold and Platinum members travel with ANA. In fact, even for Velocity Platinum, priority check-in only works when departing Australia on an NH or VA flight number, or within Japan when booked on a VA codeshare only.
This is one of the biggest issues we hear readers raise about Velocity's international partners. The rules and benefits differ between every airline, can change with little warning and it can be hard keeping up. Particularly given Virgin Australia's own limited international network, making things as smooth as possible when travelling on partner airlines would increase the appeal of the Velocity program itself.
Also read: How to earn Velocity Points on ANA flights
Feature image courtesy of Virgin Australia/ANA. Velocity bookings screenshots and update by Brandon Loo.
---
Stay up to date with the latest news, reviews and guides by subscribing to Point Hacks' email newsletter.
How to book ANA flights using Velocity Points
was last modified:
November 16th, 2023
by