Velocity members lose Virgin Atlantic Clubhouse access at London Heathrow
That shiny Velocity card no longer gets you into Virgin Atlantic's best lounge.
Posted:
July 28, 2023 - 3:24 pm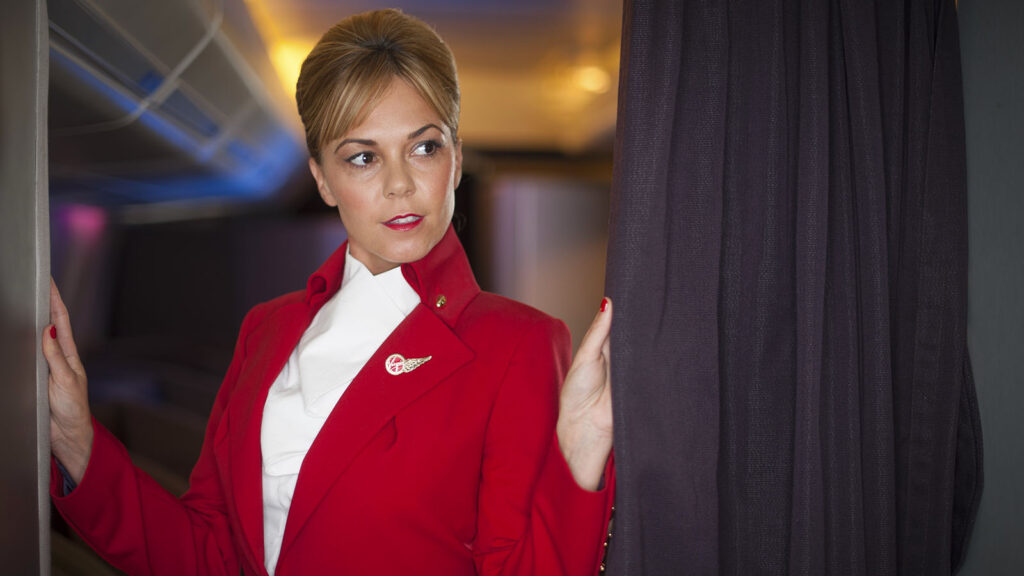 What we'll be covering
Virgin Atlantic's flagship Clubhouse Lounge at London Heathrow is now off-limits to Virgin Australia's Velocity Gold, Platinum and Beyond members. Many elite frequent flyers of Virgin Atlantic's other partner airlines are affected too.
It's a significant move – particularly as the London Clubhouse was arguably one of the best lounges open to Velocity members anywhere in the world. Given Virgin Atlantic doesn't have First Class, its Clubhouse previously had Business Class-like entry requirements – but it offers amenities closer to First Class territory. For instance, à la carte dining, and a more recent addition, a Peloton workout room.
At the time of writing, the Virgin Australia website doesn't yet reflect this change. But we've confirmed the new policies directly with Virgin Atlantic, which are already in effect.
To ensure our customers continue to receive the experience our Clubhouse at London Heathrow is famous for … we're making a few changes to the entry requirements.

We're delighted to be able to offer Delta Air Lines Diamond and Platinum cardholders who are travelling Economy and eligible SkyTeam Elite Plus customers (and eligible Velocity members) entry to the Club Aspire Lounge which is just a short walk away from the Clubhouse. We're excited to work with the Club Aspire team to ensure we bring a great experience to our customers and partners.

– Virgin Atlantic spokesperson, July 2023
Here's a rundown of who can still access the London Clubhouse, as well as the options now available for Velocity members.
Who still qualifies for Virgin Atlantic's London Clubhouse?
First, he's a quick look at who's safe from these changes. You'll still be able to access Virgin Atlantic's Clubhouse on departure from London Heathrow Terminal 3 if you're flying Business Class as below:
Flying onwards in Virgin Atlantic Upper Class. One guest permitted who must be flying on Virgin Atlantic or Delta Air Lines.
Departing on Delta in the Delta One cabin. No guests allowed.
Flying Aeroméxico in Clase Premier. No guests permitted.
Not sitting at the very front of the plane? You can also still visit the London Clubhouse if holding one of the following frequent flyer cards and travelling on an eligible flight:
Virgin Atlantic Flying Club Gold members travelling onwards with Virgin Atlantic, Delta or Aeroméxico in any cabin. One guest allowed who must be on one of the same airlines.
Delta SkyMiles Platinum Medallion and Diamond Medallion members, but only when flying Virgin Atlantic Premium or Delta Premium Select (Premium Economy). One guest permitted under the same circumstances.
Air France/KLM Flying Blue Platinum members. But again, only when flying Premium Economy with Virgin Atlantic or Delta. One guest permitted, who must meet the same rule.
In other words, the only frequent flyers who now qualify for the London Clubhouse when flying Economy are Virgin Atlantic's own elite members. Those sitting down the back with status in any other partner program are now out. Even when flying in Premium Economy, most elites also don't make the cut, aside from the Delta and Flying Blue exceptions above.
For elite Velocity members, this now means Clubhouse access in London is only available when departing in Business Class on an eligible airline. But that perk comes included with the ticket irrespective of status, so it's not a perk provided by Velocity.
Ad – Scroll down to continue reading.Minimum spend, terms & conditions apply.
A new alternative to Virgin Atlantic's London Clubhouse
Travellers who previously enjoyed Virgin Atlantic's London Clubhouse aren't left lounge-less. But we'll be honest – the alternative just isn't as exciting. Whereas the Clubhouse is more akin to a First Class lounge, the alternative is the airport's Club Aspire Lounge.
Not only is the Club Aspire Lounge also shared with Priority Pass members, but many amenities that travellers expect of Virgin Atlantic's Clubhouse cost extra in Aspire. This includes Prosecco, Champagne and cocktails – and there's even a fee to use the shower. Sadly, these charges aren't waived for Virgin Atlantic's guests.
Rather than à la carte dining in the Clubhouse, food is also only served buffet-style in the Aspire lounge. If you've become accustomed to living the high life in the Heathrow Clubhouse, this alternative is a noticeable step down.
It's now the go-to lounge for the following cardholders, who could previously access the Virgin Atlantic Clubhouse:
Virgin Australia Velocity Gold, Platinum and Beyond members when departing on Virgin Atlantic.
Singapore Airlines KrisFlyer Gold, PPS Club and Solitaire PPS Club members with an onward Virgin Atlantic flight.
Air New Zealand Airpoints Gold and Elite members flying with Virgin Atlantic to San Francisco only.
Delta SkyMiles Platinum Medallion and Diamond Medallion cardholders flying Virgin Atlantic or Delta in a cabin lower than Premium Economy.
Air France/KLM Flying Blue Platinum members travelling in a cabin below Premium Economy on Virgin Atlantic or Delta.
Other SkyTeam Elite Plus cardholders when departing on Virgin Atlantic, Delta or Aeroméxico.
Of course, with a Priority Pass card, you can visit the same lounge when travelling on any airline and have exactly the same experience.
What about Virgin Atlantic's other lounges?
Point Hacks understands that Virgin Atlantic's changes are to address overcrowding issues in the Clubhouse. That's been a persistent problem in London since Virgin Atlantic joined SkyTeam. Of course, that SkyTeam membership brings a whole host of extra frequent flyers on board, and Virgin Atlantic's Clubhouse wasn't designed with that level of capacity.
The airline's solution, while jarring for some, keeps all eligible frequent flyers in a lounge of some description. But for many, it'll just no longer be the prized Heathrow Clubhouse – the very thing that motivates some people to fly Virgin Atlantic to begin with.
In any case, there are no changes to access policies at Virgin Atlantic's other Clubhouse lounges. For instance, elite Velocity members still qualify for Virgin Atlantic Clubhouse entry in New York (JFK), San Francisco, Washington D.C. (IAD) and Johannesburg, when flying with Virgin Atlantic. The same is true of Virgin Atlantic's Clubhouse in Boston, once that reopens.
But it's worth remembering that outside London, Velocity members on Virgin Atlantic can only enjoy a lounge when it's an actual Virgin Atlantic Clubhouse. In other cities like Los Angeles, where Virgin Atlantic no longer has an own-brand Clubhouse, Velocity status carries no weight.
Virgin Atlantic also confirms to Point Hacks that there are no changes to access for the Revivals Lounge at London Heathrow. That's the airline's arrivals lounge, which eligible passengers can use after passport control, baggage claim and Customs. This remains available to Velocity Platinum and Beyond members arriving on a Virgin Atlantic flight from any destination.
Velocity Gold members aren't able to access the Revivals Lounge – which, again, I'm told is to help manage capacity. But this has been the case for quite some time. Travellers with any status arriving in Virgin Atlantic Upper Class can also visit the Revivals Lounge.
Summing up
For frequent flyers, Virgin Atlantic's change in Clubhouse policy is largely unfavourable news. Rather than having one of the world's best Business Class lounges to look forward to, many elite travellers will instead be shunted to a third-party lounge of a lower standard.
But those members' loss is others' gain. Passengers flying Virgin Atlantic Upper Class will no doubt appreciate the more comfortable surroundings of a Clubhouse with fewer people squeezed in. The airline's own elite frequent flyers also emerge unscathed. They're the travellers most likely to be flying through London regularly to enjoy the benefit, after all.
If you're affected by these changes and not content with the alternative, don't forget about your other options. With a Priority Pass card, both the Club Aspire Lounge and the No1 Lounge are available to you in Terminal 3. And with an American Express Platinum Card, Platinum Business Card, Corporate Platinum Card or Centurion Card, there's also London's Centurion Lounge in Terminal 3.
The Centurion Lounge can sometimes be busy, especially in the evenings. But once you're in that boat, it doesn't matter which airline you fly. Whether that's Virgin Atlantic, or others like Qantas, Cathay Pacific, American Airlines and more, all you need is an onward boarding pass and you're sorted for lounge access.
Also read: How to earn and redeem (Flying Club) Virgin Points on SkyTeam
Feature image courtesy of Virgin Atlantic.
---
Stay up to date with the latest news, reviews and guides by subscribing to Point Hacks' email newsletter.
Velocity members lose Virgin Atlantic Clubhouse access at London Heathrow
was last modified:
August 24th, 2023
by