In 2017, Qantas commenced their transition to a digital system for complimentary lounge passes that come with Qantas points-earning credit cards and Silver Qantas Frequent Flyer status.
Now that most partners are exclusively providing digital invitations, in this guide, we take a quick look at the types of passes available, how to connect a pass to an eligible flight, and some common pitfalls to avoid.
You can also click here to download a printable guide from Qantas on using complimentary digital lounge passes.
Types of passes
There are three types of Qantas complimentary lounge passes: General, Domestic and Platinum One invitations. In this guide, we'll refer to General invitations, which are usually provided by credit card partners.
Domestic invitations only allow access to domestic Qantas Clubs, while Platinum One invitations (of which two are awarded annually to Platinum One members) also grant access to Qantas International First Lounges, when the traveller is flying Qantas.
Platinum One invitations can be used to access Qantas International First Class lounges
Flight eligibility
It is important to check whether your flight is eligible for you to use a complimentary invitation. At the time of writing, this includes when the passenger is travelling on a Qantas (QF) or Jetstar (JQ, 3K, GL or BL) flight numbers, so that could include travel on such as Emirates and American Airlines if your ticket has a QF flight number on it, i.e. it is a Qantas-marketed flight.
Where a traveller is flying in Business Class or has Qantas or oneworld status that would already grant lounge access, complimentary invitations could be used to bring additional guests into the lounge, provided those guests are also travelling on an eligible flight.
Unlike domestic non-travelling guest rights granted with Qantas Gold or higher status, non-travelling persons are unable to use complimentary invitations.
Lounge eligibility
Complimentary invitations can only be used in an airport which has a domestic Qantas Club or Qantas-operated International Business Lounge. Associated lounges are excluded, such as lounges run by private operators or other airlines, such as the jointly-run Qantas/oneworld International Business Lounge Los Angeles.
Selected Qantas lounges are also excluded from using complimentary invitations. At the time of writing, this included the Melbourne Qantas Club and the Qantas Singapore Lounge, and the transit lounge in Perth Airport's Terminal 3 due to lounge redevelopments or other access restrictions.

From time to time, Qantas restrict the use of complimentary invitations at lounges with capacity restrictions or undergoing renovations
If flying Jetstar, you may want to confirm the operating hours of the Qantas lounge as it may not remain open for Jetstar departures. You can do this by checking out the Airport Lounges page of the Qantas website.
Ad – Scroll down to continue reading.Minimum spend, terms & conditions apply.
Passenger eligibility
Briefly, to be eligible to use a complimentary invitation, the passenger must also be eligible to enter the lounge, including being of the legal drinking age for that lounge—or accompanied by a passenger who is—and meeting smart casual dress requirements.
Linking a pass to a Qantas booking
Once you have received a pass from a credit card or other Qantas partner and made an eligible booking, you can log on to the Qantas website to manage your passes, using your Frequent Flyer details. There, details of your available passes will be displayed.

Upon logging in, available passes and their expiry dates are listed
Upcoming Qantas bookings connected to your Frequent Flyer number appear on this page, along with a Link Invitation button.

If a Qantas-marketed booking is missing, check that your Frequent Flyer number is recorded under Manage your Booking
Clicking on Link Invitation takes you to a confirmation page, where you can choose which passenger in your booking receives the invitation.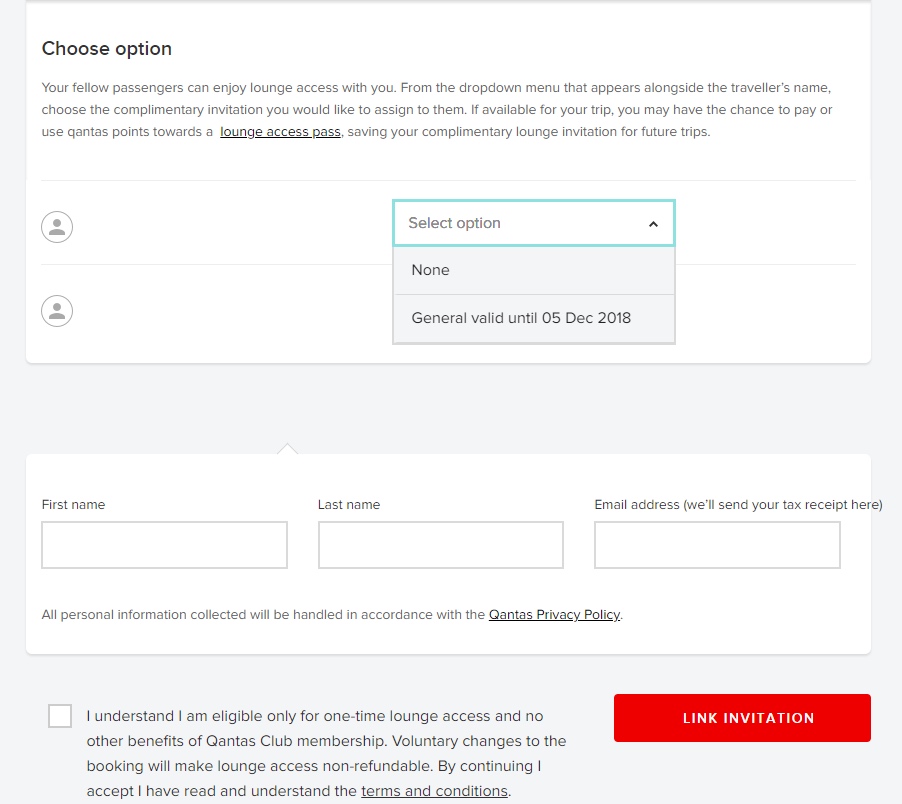 Note that by changing your reservation you may invalidate your lounge pass
On this page, select the lucky passenger and click Link Invitation. Shortly, an email confirmation will welcome you to the lounge, which must be presented along with a boarding pass to gain entry.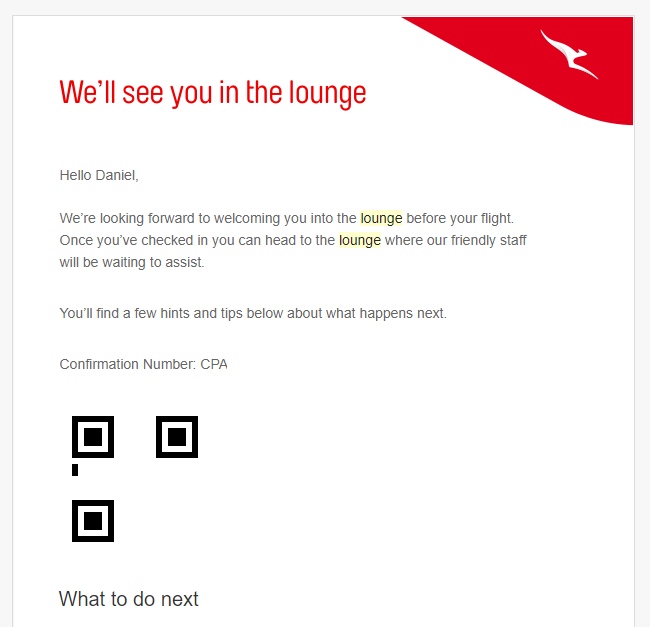 Linking a pass to a Jetstar booking
If you are flying Jetstar, scroll down a little further to click on Link an invitation to your Jetstar flight booking.

A form will then appear for you to enter your flight details.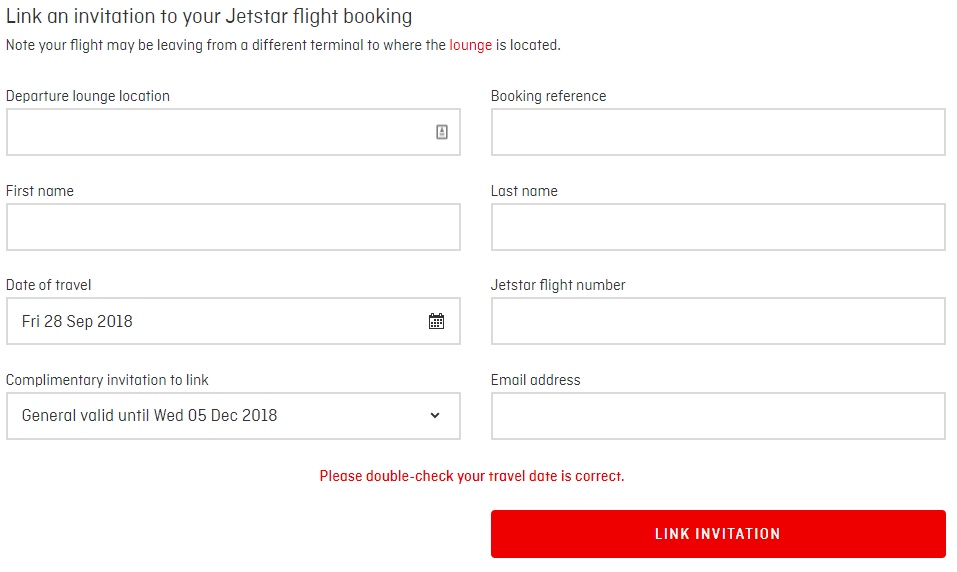 Unlike for a Qantas booking, every passenger wanting to access the lounge will need to fill out this form using their own Qantas Frequent Flyer account
If you hold the complimentary invitations, you can transfer them instantly to another Qantas Frequent Flyer member using the form at the bottom of the same page, who can then link it to their flight.
Potential pitfalls
The necessity of linking a lounge pass to a booking makes their use a little more complex than old paper passes.
Timeline
The Qantas website lists that a booking should be linked at least the day prior to flight departure, though in my experience, I have linked an invitation to a Jetstar flight while going through security and used it under half an hour later.
Later in the complimentary invitation terms and conditions, it is stated that reinstated passes can be linked to a new flight until check-in closes for that flight.
Unlinking passes
According to Qantas, incorrectly linked passes cannot be reinstated, so be sure to select the correct invitation for your booking. It would also be wise not to connect your invitation until you are reasonably sure that you will be travelling.
Booking changes and cancellations
Changes and cancellations of flights are the only listed circumstance under which invitations can be unlinked. If you make changes to your booking more than 24 hours before your trip, you can log in to the complimentary invitations portal and link your invitation as necessary.
Cancellations automatically cause the invitation to be unlinked from a Qantas flight, though for Jetstar flights, you will need to unlink the booking in the invitations portal.
If Qantas change your flight up to 24 hours before your scheduled departure, your pass should link to your new eligible flight but I would recommend checking the portal to be sure. For Jetstar, you would again need to unlink the invitation.
If the lounge is full
If the lounge is full and you are denied access, you can apply for a reinstatement of the lounge pass via the Qantas Refunds form.
Summing up
It is easy to link a complimentary invitation to an eligible flight but hold off on the linking process until you are sure you will be travelling. Remember that your flight must have a Qantas or Jetstar flight number to use your invitation.
Ready to make use of your complimentary invitation? Pick where to use your pass by reading our definitive guide to the Qantas lounge network and let us know in the comments below about where you think it is best to redeem valuable complimentary invitations!
How to use digital lounge passes for Qantas and Jetstar flights
was last modified:
May 9th, 2022
by