Just three hours from Australia's east coast, Nouméa is your French holiday paradise in the Pacific. It's super easy to reach using Qantas Points, and it's a great spot for an easy and relaxing getaway. Whether that means exploring the cultural sights or perhaps just relaxing in an overwater bungalow, the choice is yours!
Travelling to Nouméa is also straightforward, as Australian passport holders (and many others) don't need a visa to visit on holiday. Flying here is almost as simple as taking an Australian domestic flight.
In this guide to Nouméa, I'll explain how you can get here using Qantas Points. And spoiler alert, you don't need many at all to fly in comfort. I'll also outline what to expect at Nouméa's La Tontouta International Airport, share a few travel trips, and dive into maximising points on your hotel stays.
Flying to Nouméa on points
Believe it or not, you can travel from Australia to this French overseas territory from just 12,000 Qantas Points one-way. That's no more points than it costs to fly from Melbourne to Brisbane, so a Nouméa getaway certainly won't break the bank.
You're also spoiled for choice, with direct flights to Nouméa available on both Qantas and Aircalin. Under Qantas' codeshare deal with Aircalin, you're able to book those Aircalin flights using Qantas Points as well – and at the same rate as for Qantas itself.
In fact, finding reward seats is rather easy. Unlike longer international flights where Business Class tickets are rarer on points, with Nouméa, you can often take your pick of flights and dates.
Flying Qantas and Aircalin
Qantas provides direct flights from both Sydney and Brisbane to Nouméa. Qantas' reward rates are also based on the distance flown. This means departing from Brisbane costs fewer Qantas Points than from Sydney.
But if you are based in Sydney, booking Sydney-Brisbane-Nouméa costs no more points than Sydney-Nouméa itself. That's a useful trick to keep in your back pocket if your travel dates aren't as flexible, where taking a connecting flight could allow you to travel on the days that suit you. Taking a connecting flight is also a nice way to earn extra Status Credits as a Qantas Points Club member.
Even though Aircalin doesn't appear on Qantas' Classic Flight Reward tables, you can still book some of Aircalin's Australian flights using Qantas Points.
That's because Qantas codeshares with Aircalin, and as part of that codeshare, makes reward seats available via the Qantas QF code. This doesn't happen with many of Qantas' partners. But with Aircalin, you can indeed secure the QF codeshare on points. This doesn't currently apply to Aircalin's direct Melbourne-Nouméa flights, though.
| | | |
| --- | --- | --- |
| using Qantas Points | Economy | Business |
| Brisbane to Noumea | 12,000 | 27,600 |
| Sydney to Noumea | 18,000 | 41,500 |
Qantas Points required are per person, one way. Taxes, fees and charges are also payable and vary by route.
Ways to earn Qantas Points
Being Australia's largest frequent flyer program, it's easy to earn Qantas Points with Qantas Frequent Flyer. We've shared many of these paths via this comprehensive guide. But if you're in need of points fast, turn your attention to sharp 'bonus points' deals.
For instance, buying vino via Qantas Wine can deliver up to 10,000 bonus Qantas Points per eligible case – sometimes more. That means you could earn more than enough points for a return trip from Brisbane to Nouméa just by buying three cases of wine!
Of course, another way to unlock bonus points is through a generous credit card sign-up offer. This usually means applying for a card, being approved and meeting any minimum spending requirements. Have a browse of these top Qantas Points credit card deals to get started.
Even more ways of flying to Nouméa
The simplest way to travel to Nouméa is on a direct flight from Australia – even if there's an Australian domestic connection required.
But it pays to know all your options – particularly if you can't initially find reward seats on the only dates you can travel. Here are a few more options if you need a 'Plan B' on points:
| | | | |
| --- | --- | --- | --- |
| Airline | Book using | Australian cities served | Transit point |
| Air New Zealand | KrisFlyer and other Star Alliance programs | Sydney, Melbourne, Brisbane, Adelaide, Perth, Cairns, Gold Coast, Hobart and Sunshine Coast | Auckland |
| Air Vanuatu | Qantas Points | Sydney, Melbourne and Brisbane | Port Vila |
It's worth noting that Qantas' redemption rates on these Air Vanuatu flights may be higher than on direct flights between Australia and Nouméa. That's because of the greater distance you have to fly to take these journeys.
Exploring Nouméa's La Tontouta Airport
As the international gateway to Nouméa and New Caledonia, La Tontouta Airport is every air passenger's first port of call.
When I land from Sydney, I'm pleased to find no queue at passport control. In fact, even with no line I'm ushered down a separate Business Class channel… you know, to skip those empty queues! But I'm not complaining – fast service is still fast service. My bag is swiftly off the belt, and I'm through the airport formalities quick smart.
Before heading into the city, I make a stop at the NC Pocket Wi-Fi counter to hire a portable hotspot. It comes in handy because data roaming support is limited in New Caledonia. But with this pre-charged and in my pocket, I can navigate and translate with ease.
Once ready to roll, there are two main ways of heading into the city. One is to take a taxi or pre-arranged car, and the other is an airport bus.
With credit cards not always accepted in Nouméa taxis, I opt for a pre-arranged (and pre-paid) car. I book online through Arc en ciel, and the driver is ready and waiting for me on arrival. It's comforting to know I'll get to my destination without any drama.
When I return at the end of the trip, I find Qantas check-in open three hours before departure. And yet, passport control and security only open two hours before departure. My punctuality means an hour just sitting around before I can get close to the lounge – don't make that same mistake!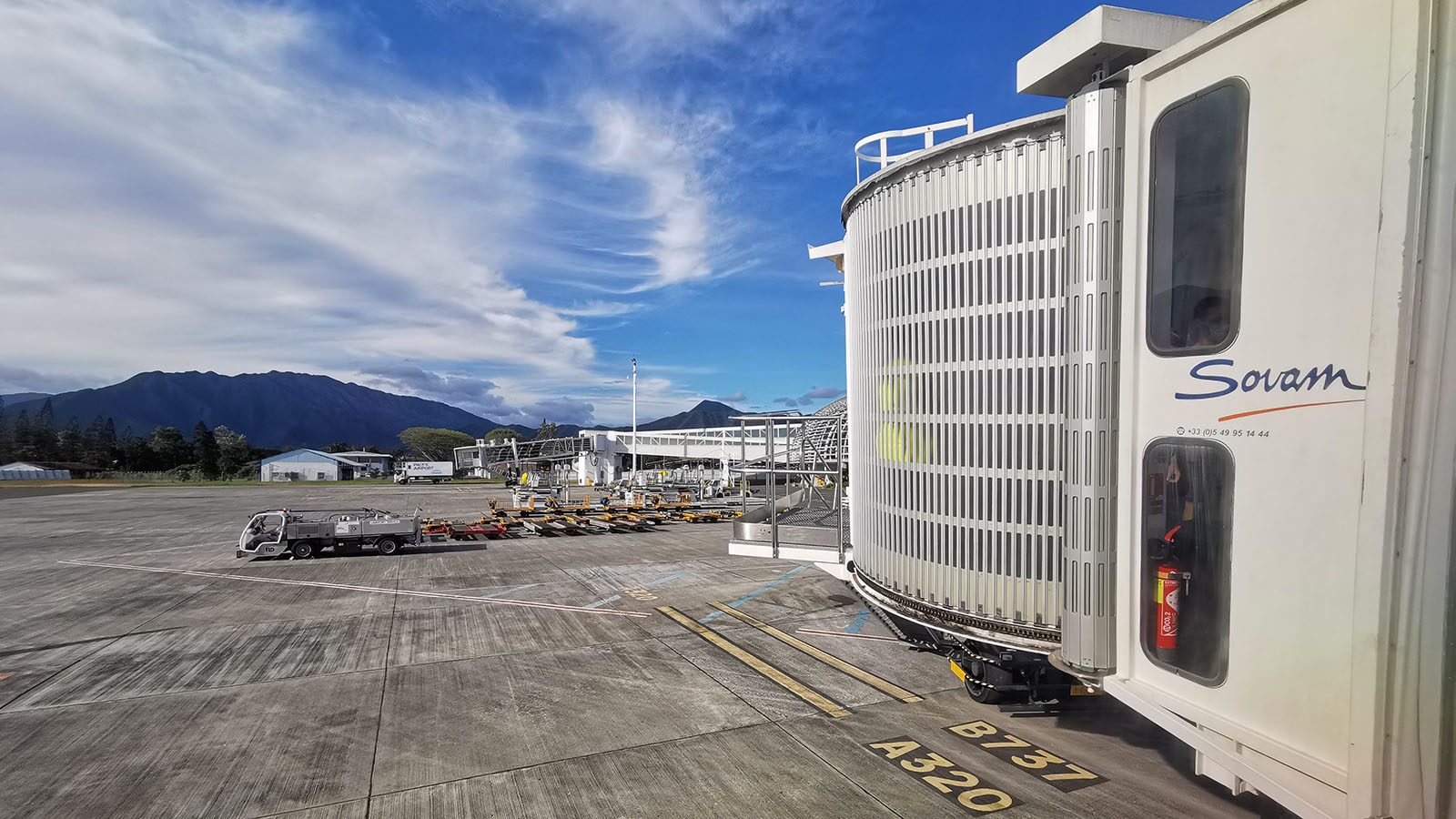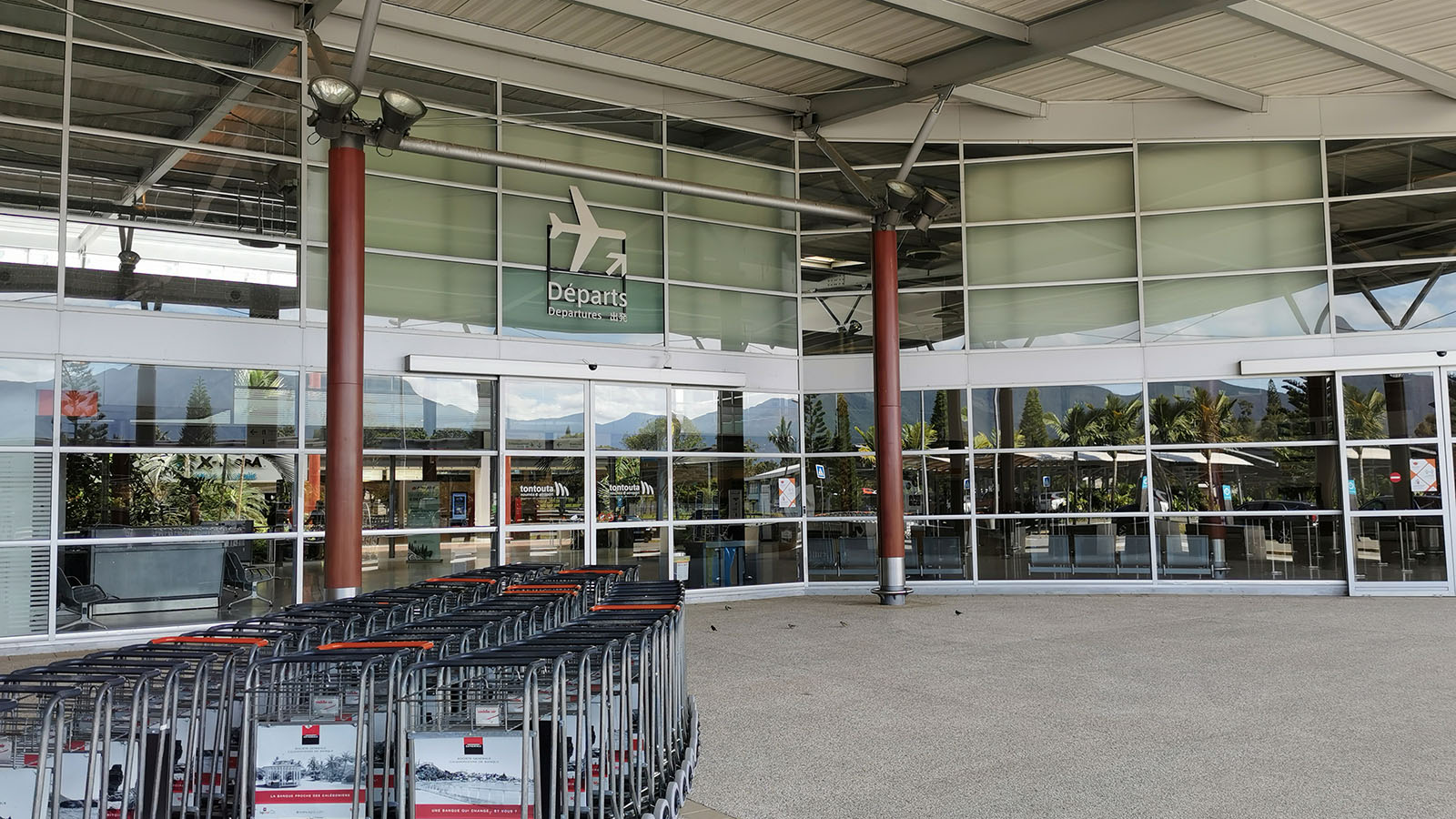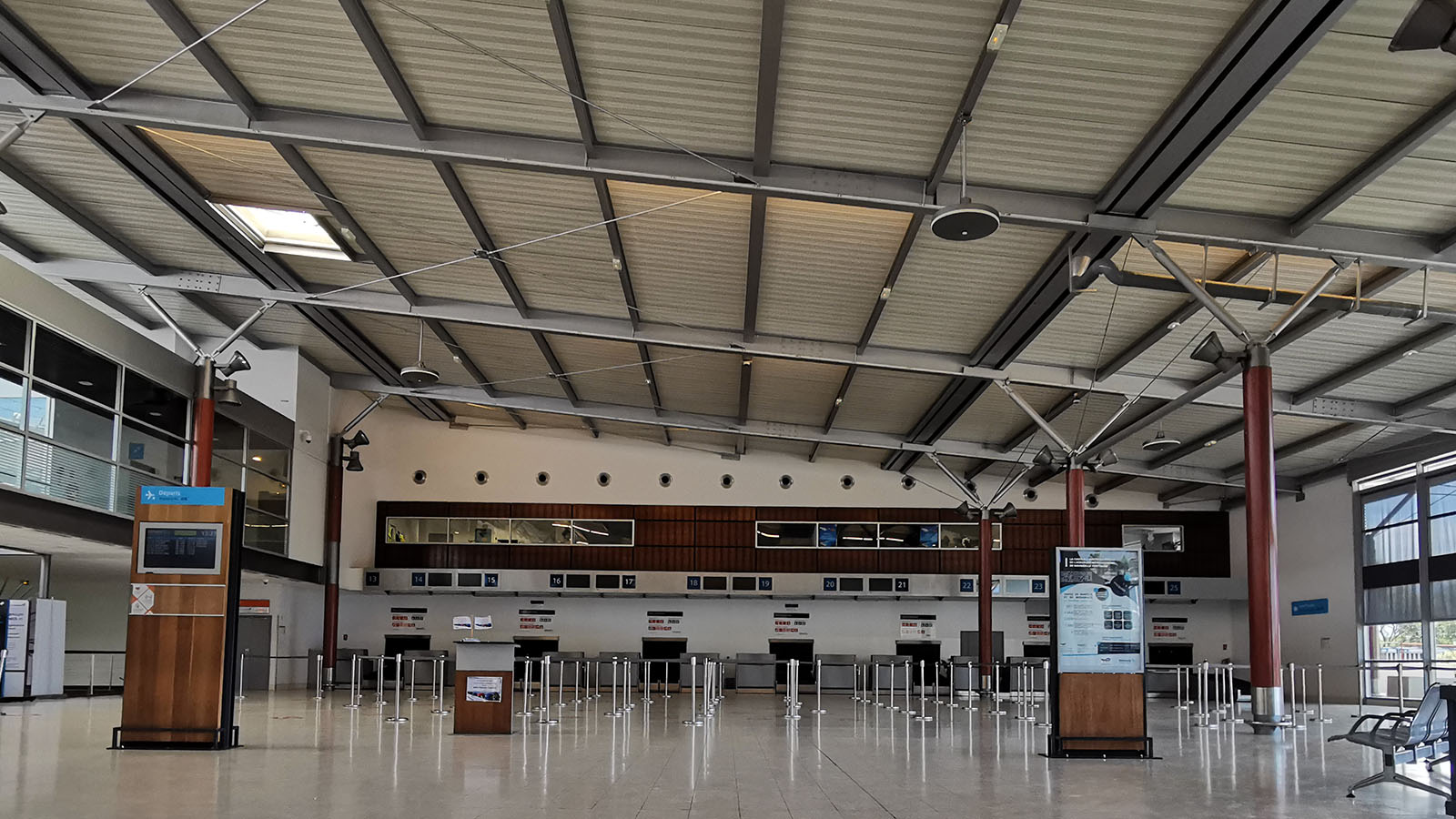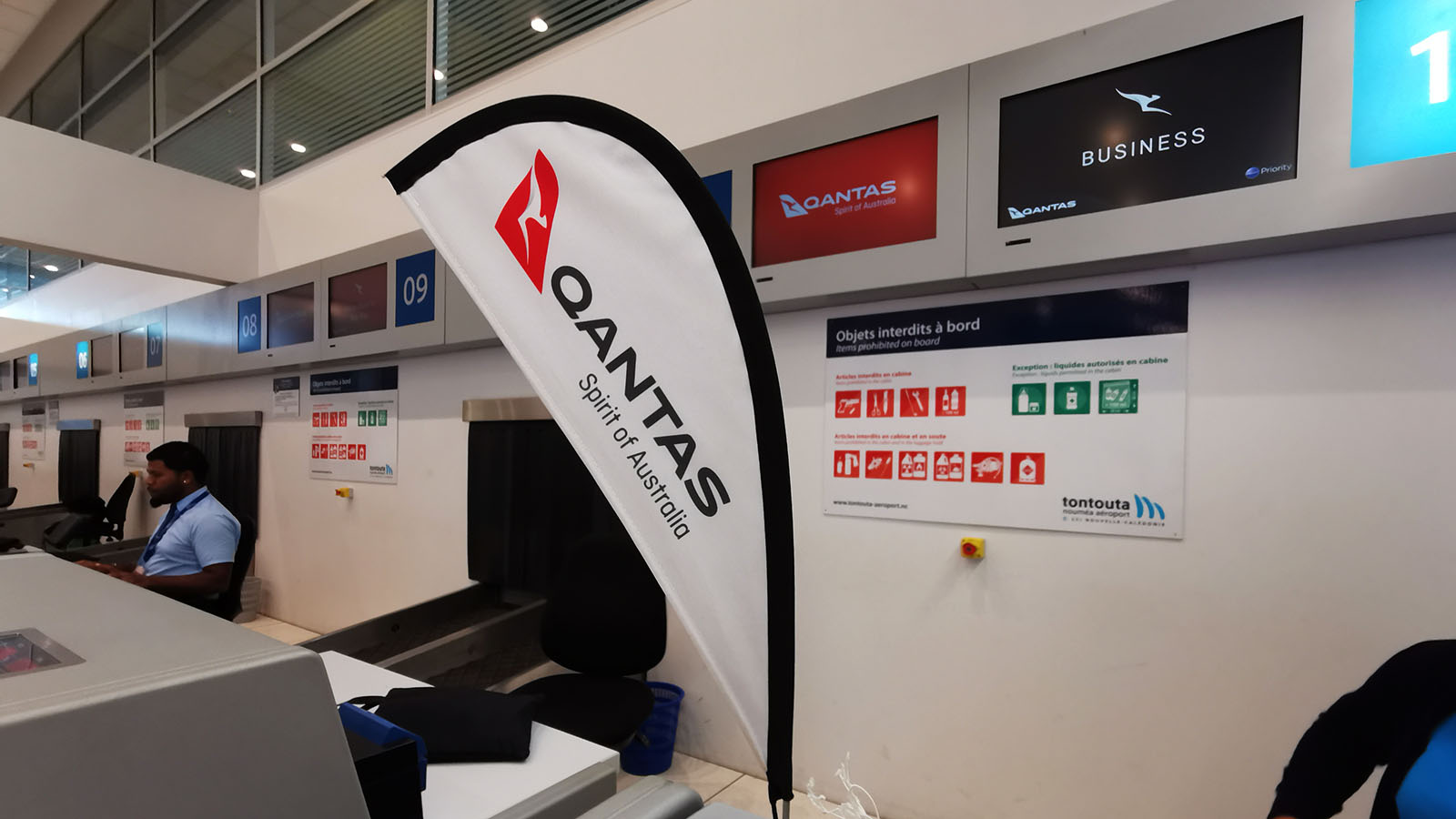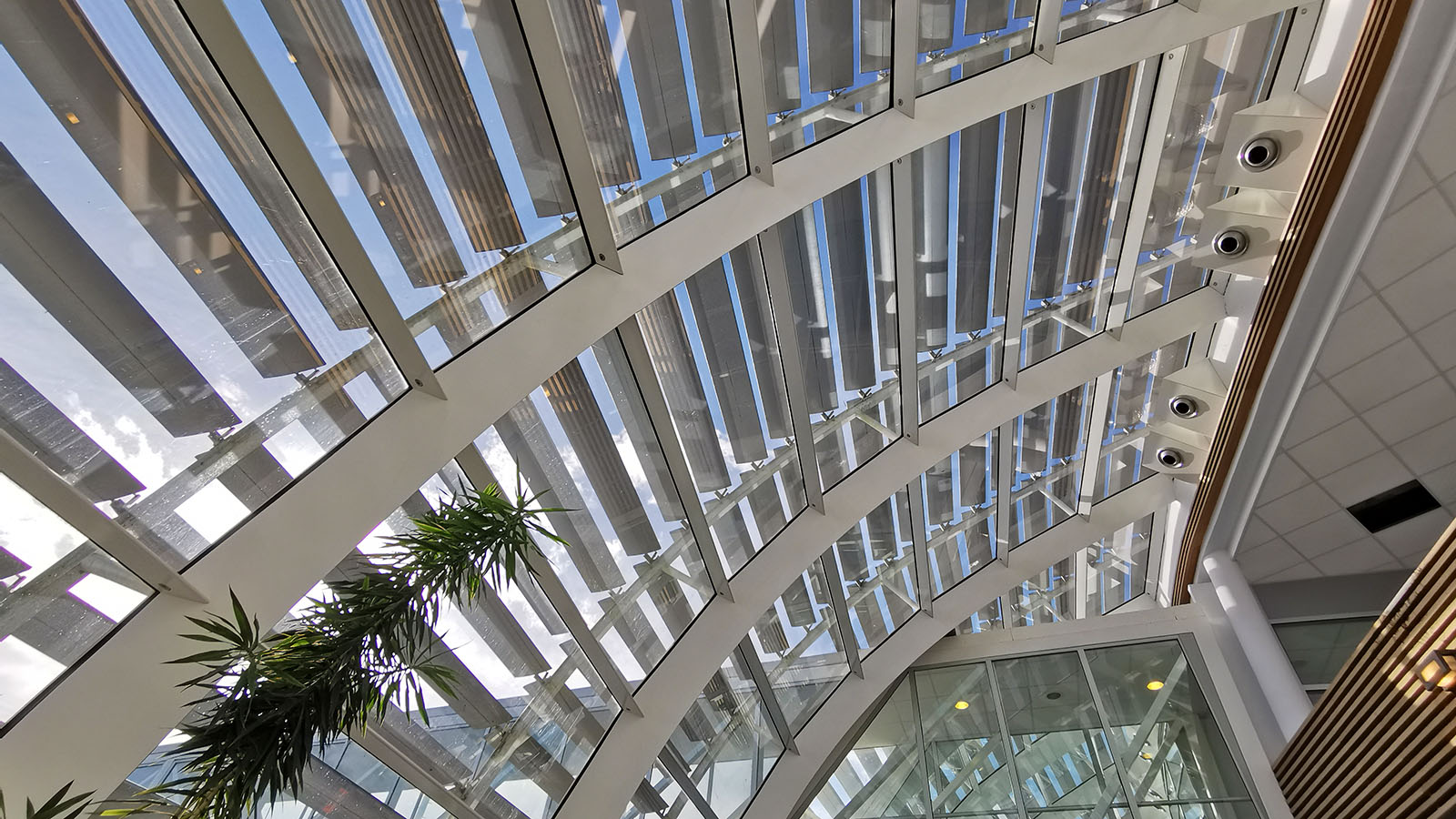 Lounges at Nouméa's La Tontouta Airport
La Tontouta Airport is relatively small, so there's just one lounge. That's the Aircalin Hibiscus Lounge – Aircalin being New Caledonia's home carrier.
It's a bright, modern space with funky mood lighting and airport views. The Champagne is also particularly appealing before the evening flights to Australia. It's a lesser-known drop, Chassenay d'Arce Cuvée Première Brut, but it's a great way to settle in.
Here's who makes the cut for Hibiscus Lounge access.
When flying Qantas or on a QF Aircalin codeshare:
Business passengers.
Qantas Gold, Platinum, Platinum One and Chairman's Lounge.
Other oneworld Sapphire and Emerald frequent flyers.
Qantas Club members (but not single-use passholders).
Aircalin's paid L'Abonnement members (SB codeshares only).
When flying Aircalin:
Business Hibiscus passengers.
Flying Blue Gold, Platinum, Ultimate and Club 2000 members.
Qantas Gold, Platinum, Platinum One and Chairman's Lounge (QF codeshares only).
Qantas Club members (QF codeshares only).
Aircalin's L'Abonnement subscribers.
For departures on Air New Zealand:
Business Premier guests (when available).
Airpoints Gold, Elite and Elite Priority One.
Star Alliance Gold frequent flyers.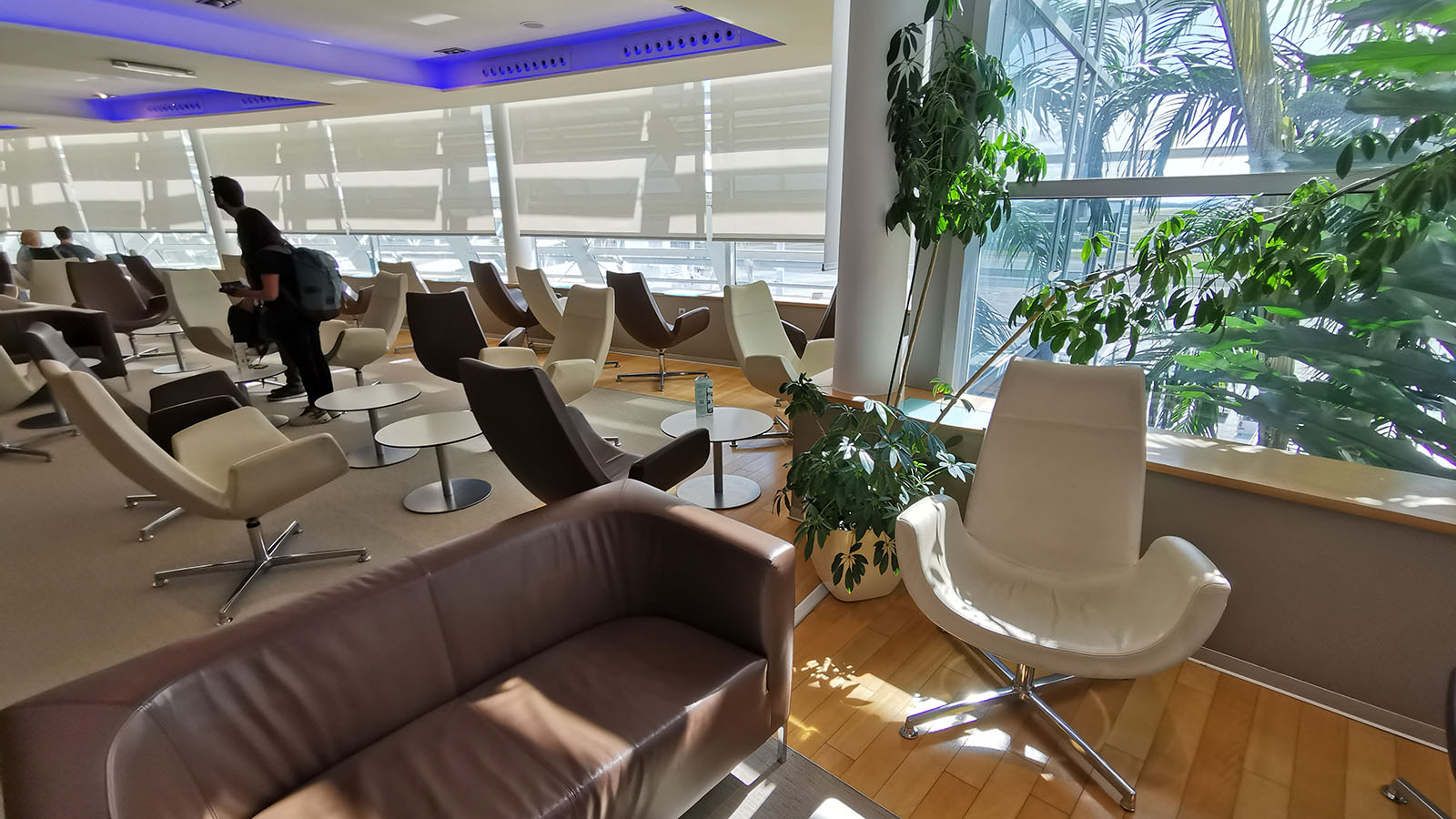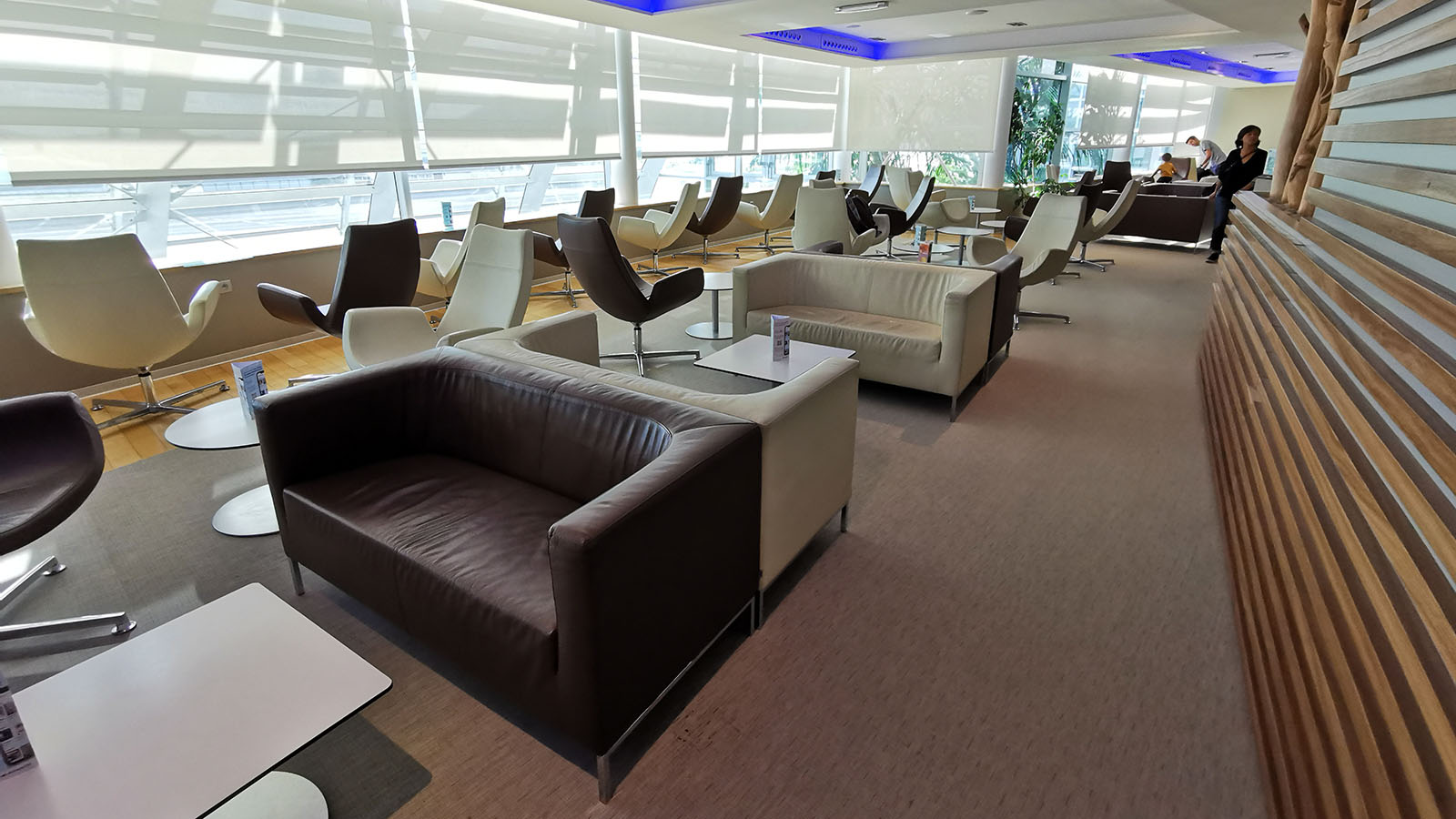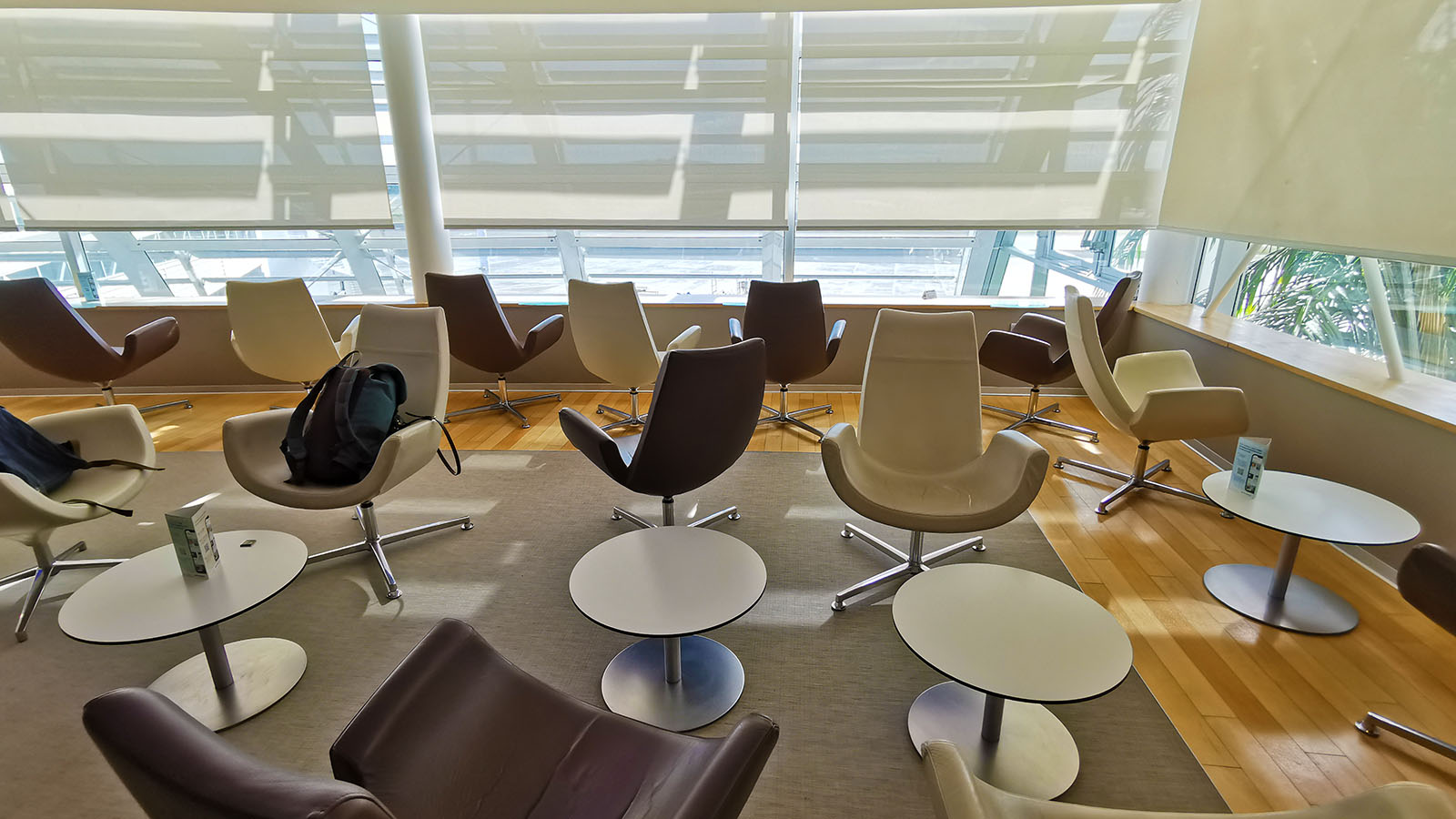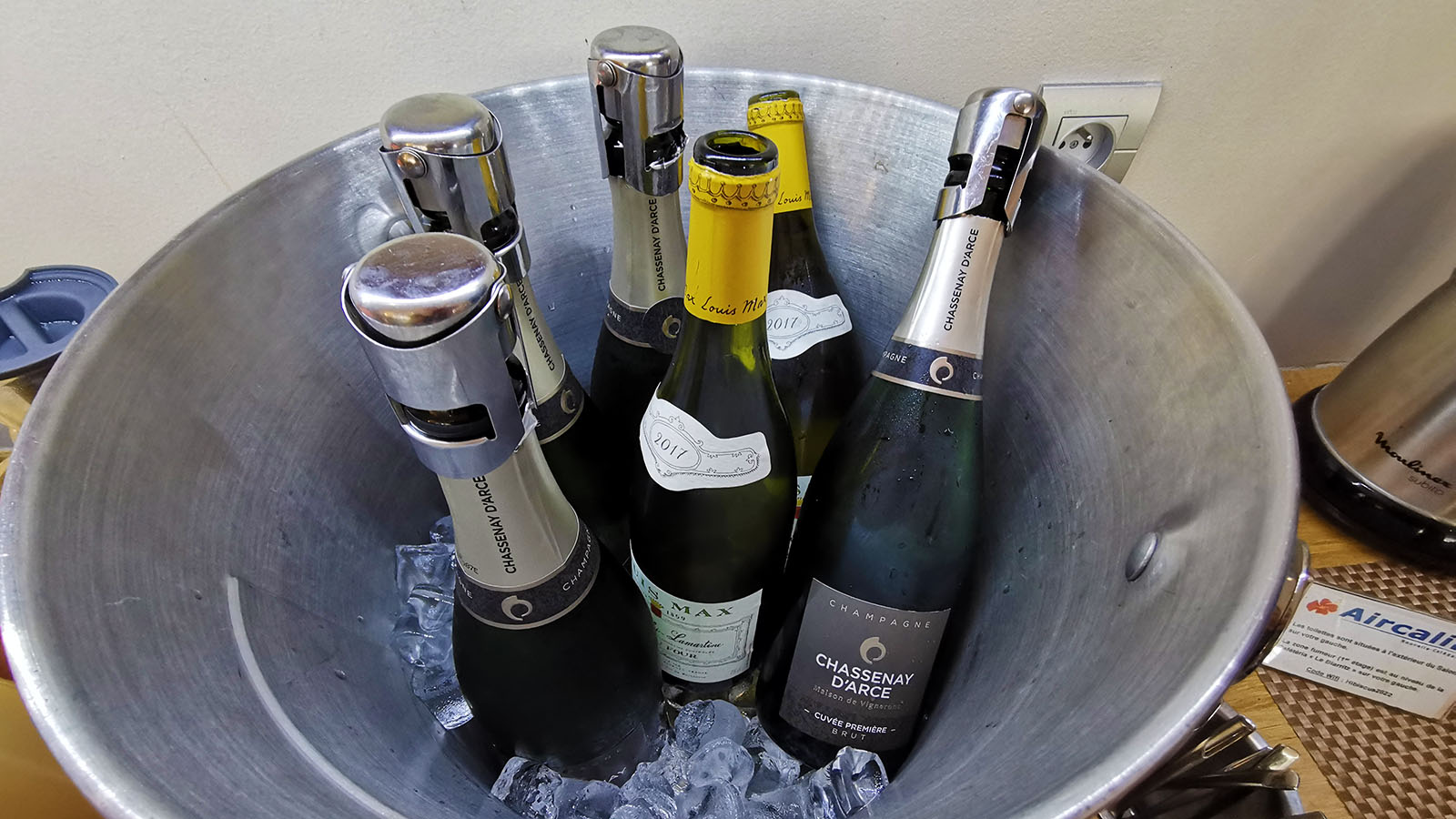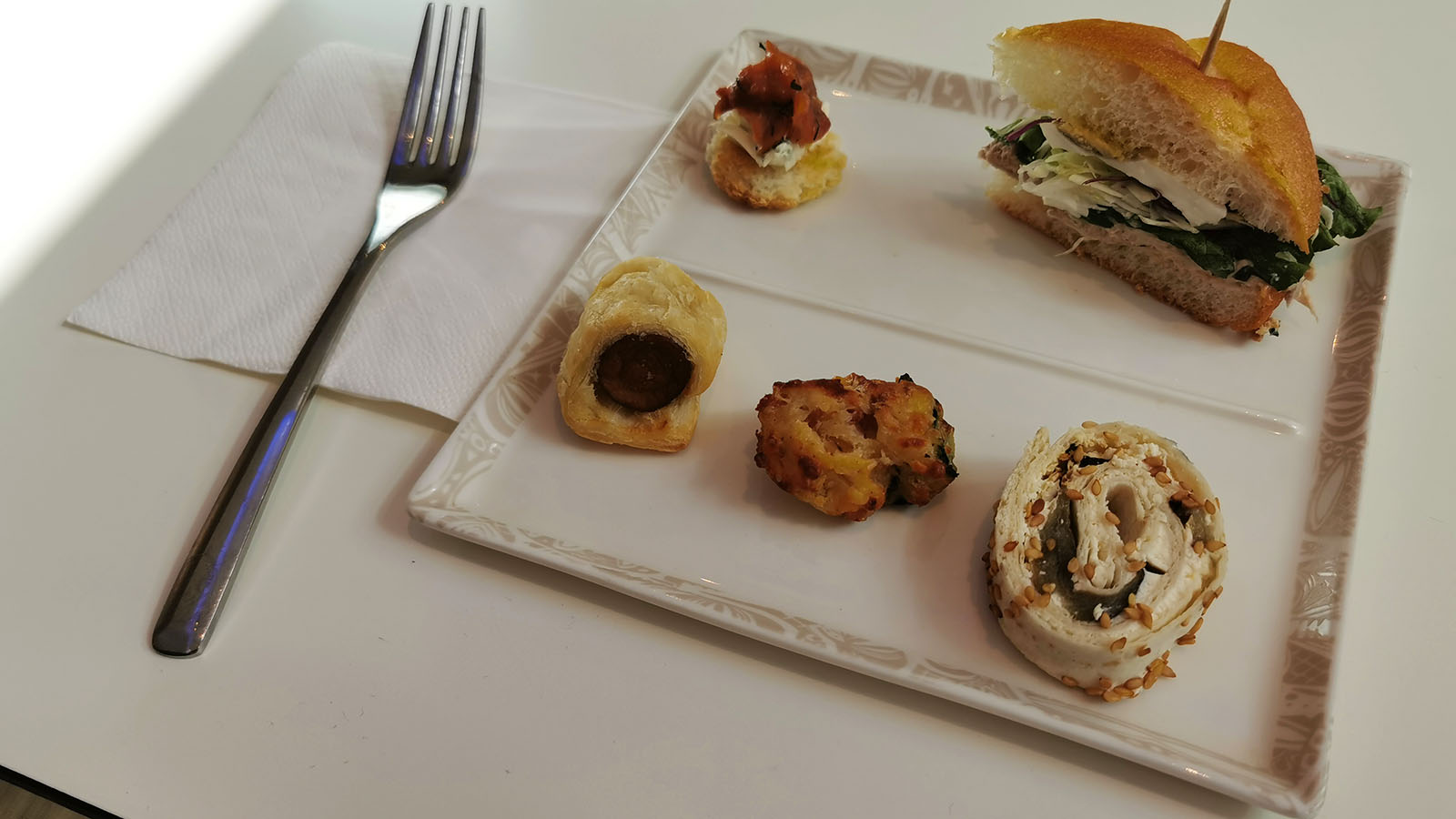 Earning and using points on hotels in Nouméa
Accommodation choices aren't overly vast in Nouméa. It's also not uncommon for the city's chain hotels to fill up during peak periods like school holidays. That's why we strongly recommend making a booking – any booking! – to cover your dates as soon as you're planning your flights.
Even if that's a pricier fully-flexible rate that you'd only pay on check-out, you'll at least be guaranteed somewhere to stay. Then once your plans firm up, review your options again to get the best value. Of course, don't forget to cancel that flexible booking if you don't intend to use it, otherwise that'll backfire quite spectacularly!
Wherever you decide to stay, here's how you can be rewarded on the ground in Nouméa.
Book directly with the hotel
Whether you already have hotel status or hope to ascend to its lofty heights, booking direct is the way to go. With the major chain hotels, this ensures you'll accrue those all-important 'nights' or 'stays' – and of course, earn points with that chain.
In Nouméa, you can book properties attached to several global hotel programs including Hilton Honors, Marriott Bonvoy and Wyndham Rewards.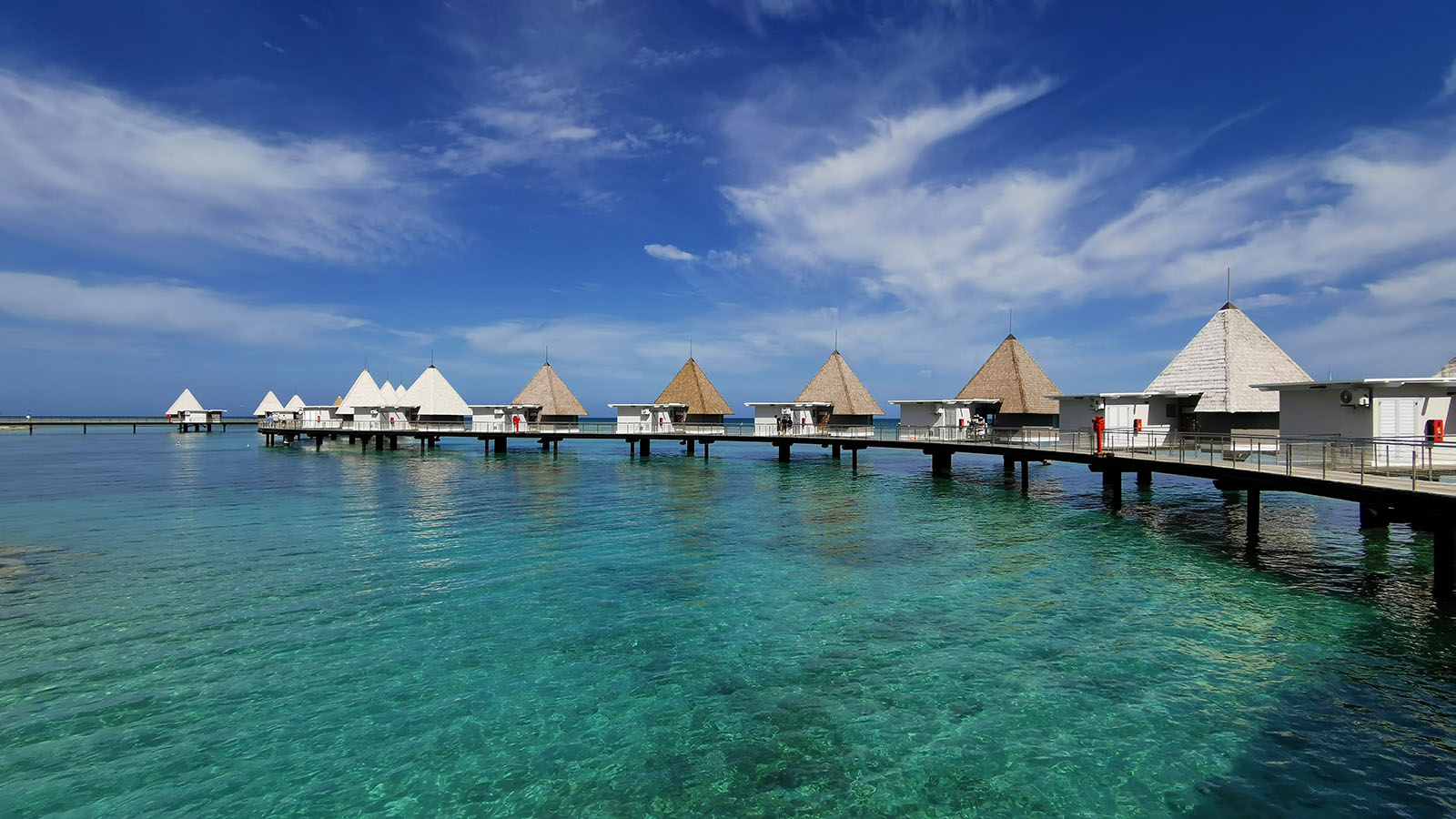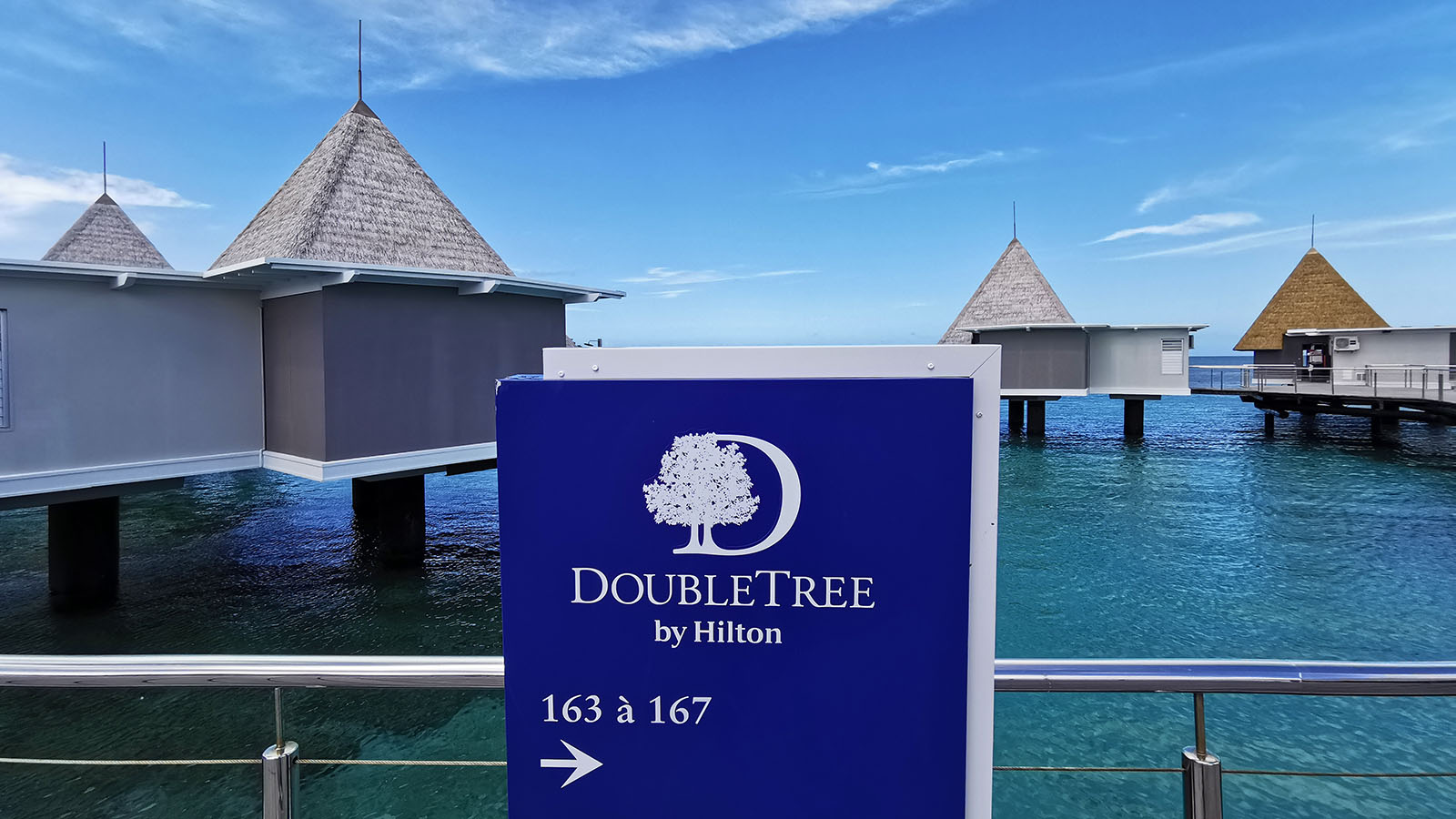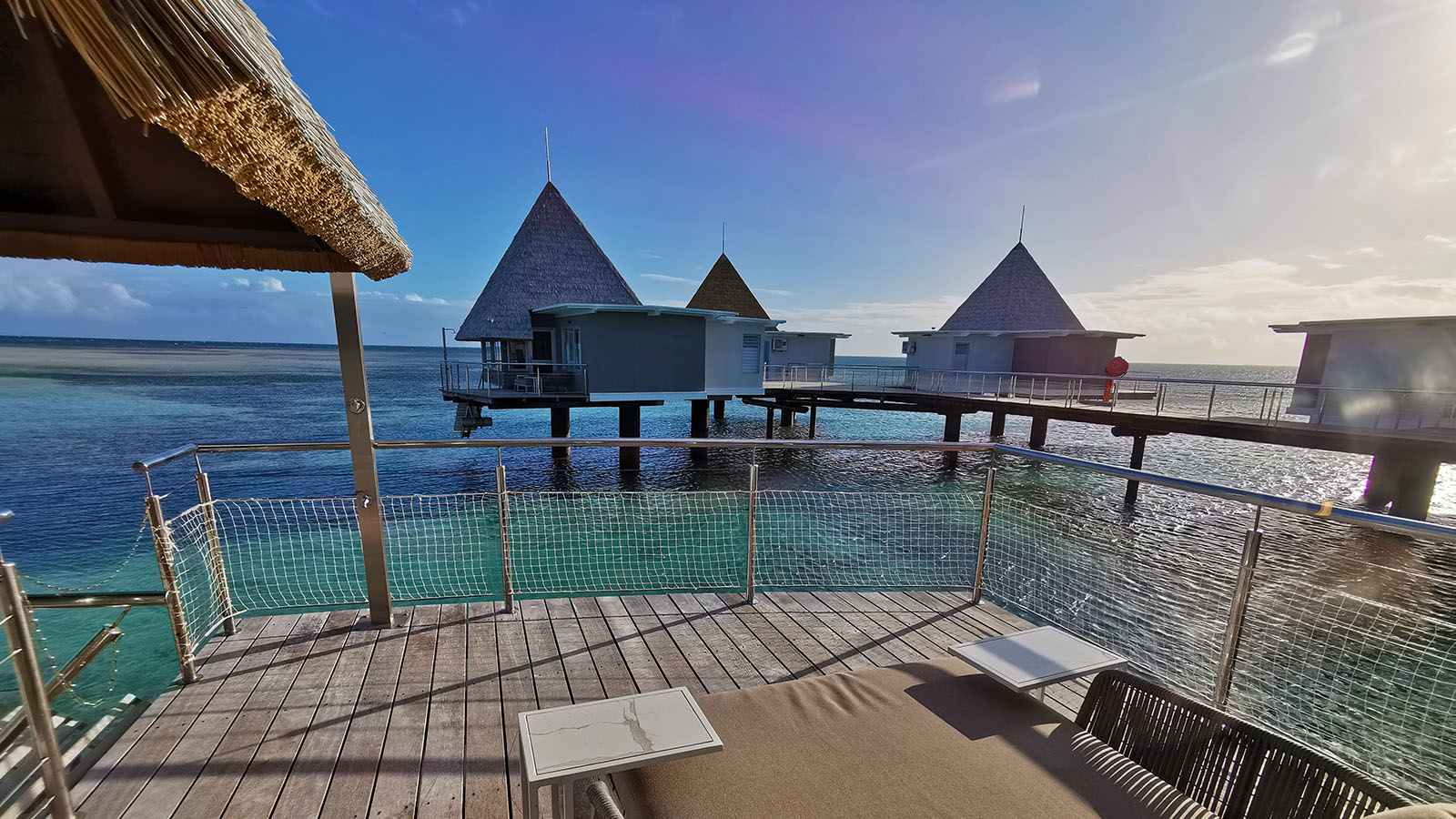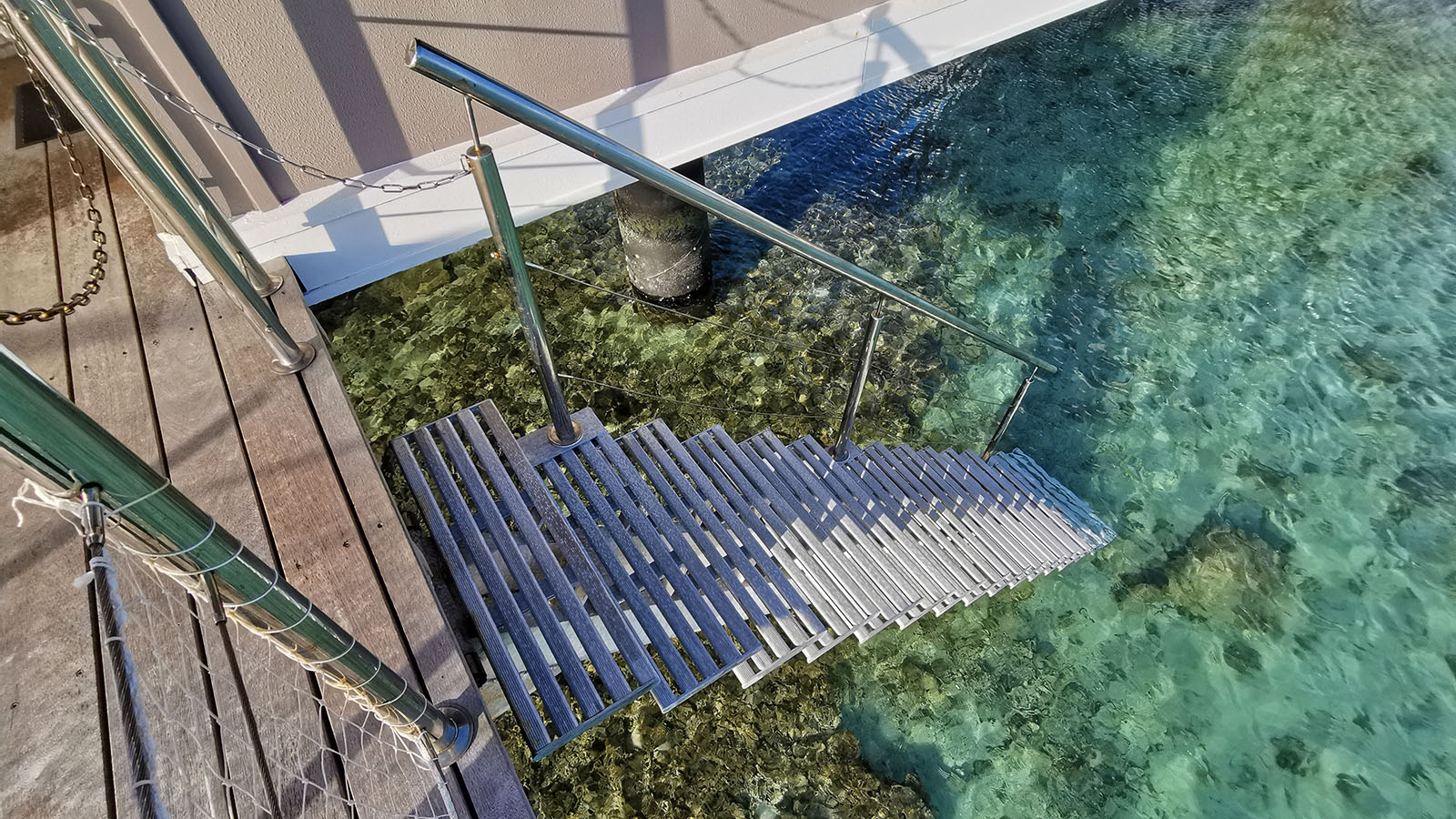 Book through a third-party provider
Not fussed about hotel status, or prefer to earn airline points or miles instead? Then it's worth exploring your options. Many third-party booking platforms can serve up rewards – but here are a few of the most rewarding for Aussie travellers.
If you want to earn Qantas Points
This one's easy. If you want to earn Qantas Points on your stays, just book through Qantas Hotels. You'll earn at least three Qantas Points per AUD spent – but sometimes even more when promotions are running. Points Club members also earn a 25% bonus on the base earn rate, while Points Club Plus nets a 50% boost.
If you've already amassed a stockpile of Qantas Points, you might choose to redeem them on your hotel stay. It's not quite the 'best' use of points, but it's an option when the goal is to minimise the cash you're spending. In 2022, Qantas improved these redemptions by reducing the required number of Qantas Points by 30-45%. So if you are going to spend your points this way, it's still better value than in the years gone by.
If you want to earn Velocity Points
If your loyalty lies more in the Velocity camp, take home at least three Velocity Points per AUD spent via Rocket Travel. This new partnership replaces Velocity's previous Expedia deal, but it works the same way. Keep your eyes peeled for any bonus points offers as well.
If you want to earn KrisFlyer miles
Look to Rocketmiles if you're seeking KrisFlyer miles on your travels. Note, Rocketmiles is separate from Rocket Travel. Through the Rocketmiles portal, you'll first earn points directly with Rocketmiles – but can convert these into KrisFlyer miles. Or if the mood strikes, into frequent flyer points with over 50 other programs.
It's also possible to earn KrisFlyer miles via Kaligo. More on that below.
If you want to earn bonus Velocity Points or KrisFlyer miles
Do you have a credit card attached to the Commonwealth Bank's CBA Awards program? Using that card to pay for hotel stays via Kaligo can deliver up to 15 CommBank Award Points per dollar spent. These can be converted into Velocity Points at a 2:1 rate for Platinum cardholders and above (2.5:1 for Gold and below), or into KrisFlyer miles at a 3:1 rate.
That means you could be earning an impressive 7.5 Velocity Points per $1 spent as a Platinum, Diamond or Ultimate Awards cardholder. Or, a still-solid six Velocity Points per $1 spent with a standard Awards card – or if you still have a Gold Awards card, which isn't available to new customers. If you're more in the KrisFlyer camp, those rates provide a generous five KrisFlyer miles per dollar spent instead, so take your pick!
If you want to save on the cost of your hotel bill
While earning points is nice, paying less is even nicer. That's why selected American Express cards offer an annual travel credit. This can be spent via American Express travel – including on hotel stays. You may be able to use the credit to pay for the entire stay or to reduce your reservation cost on a pricier booking.
These Australian American Express cards currently offer an annual travel credit:
Point Hacks' tips and tricks
Here are a few final tips to make your journey smoother and more rewarding.
When spending Qantas Points, be sure you're booking a 'Classic Reward' seat. Choosing any other fare type is akin to converting your Qantas Points into cash – and you'll end up paying significantly more points for the same flight.
Check that there's suitable accommodation available before locking in flights over peak periods such as school holidays.
If you're transiting through Sydney or Brisbane, you may be able to include an overnight stay for no extra Qantas Points. This works when there's less than 24 hours between your arrival and departure. As an example, you can fly Brisbane-Sydney, stay overnight, and fly Sydney-Nouméa the next morning without paying any extra points than Sydney-Nouméa alone.
Incidentals such as taxi services, food and drinks can be a little more expensive than in Australia, so plan ahead. Of course, given you're saving so much on flights, your visit will still be great value overall.
To ensure you can get around, carry some cash (Pacific francs, XPF). That's because there's no Uber here, and only some taxis accept credit cards. Bus services generally accept cash only – but you can use your credit card to pre-book airport transfers via Arc en ciel.
Speaking of credit cards, don't forget about credit card transaction fees. If you're going to pay them, you may as well earn generous rewards in return. In that respect, the Qantas Premier Platinum Mastercard is a popular choice with an earn rate of 1.5 Qantas Points per $1 spent abroad aside a typical 3% international transaction fee. CBA Ultimate Awards is one popular alternative, serving up points but without overseas transaction fees.
It won't hurt to brush up on a few French words and phrases, as English isn't fluently, universally spoken. Knowing the basics like 'bonjour' (hello), 'merci' (thank you), 'oui' (yes), 'non' (no) and 'je voudrais' (I would like) will help you get around. The most important phrase for my visit was 'je voudrais un café au lait, s'il vous plaît'. That's 'I would like a coffee with milk, please'… very important after a morning flight!
Only one question remains. With Nouméa so close to home, why haven't you started packing? I'm already planning my next visit.
Photography by Chris Chamberlin, who travelled to Nouméa at Point Hacks' expense.
How to hack your way to Nouméa with points
was last modified:
November 16th, 2023
by