The Starwood Preferred Guest program is one of most generous hotel loyalty programs out there, and with eight full months of the year left to achieve and enjoy Platinum or Gold status, it is worth playing your cards right.
Gold status with SPG is much like Silver status with airlines – yes, it is a carrot, but more a token of appreciation. If you're staying at Starwood Hotels for any frequency or length of time this year you should really should be aiming for Platinum status, and all the benefits that come with it.
In this guide we run through the essential things to know about Starwood Gold & Platinum elite status.
Before reading on, you can brush up on our beginner's guide to SPG here.
Merger with Marriott Rewards
A new combined program will be launched in 2019.
Ad – Scroll down to continue reading.Minimum spend, terms & conditions apply.
Gold status
The methods to earn Gold status are through:
10 elite-qualifying stays; or
25 elite-qualifying nights in one calendar year.
The benefits of Gold status that stand out to us are:
A welcome gift of 250 Starpoints, free wifi or beverage; and
4pm late checkout. (will change to 2pm from August 2018 onwards)
Here is a more comprehensive list of the benefits: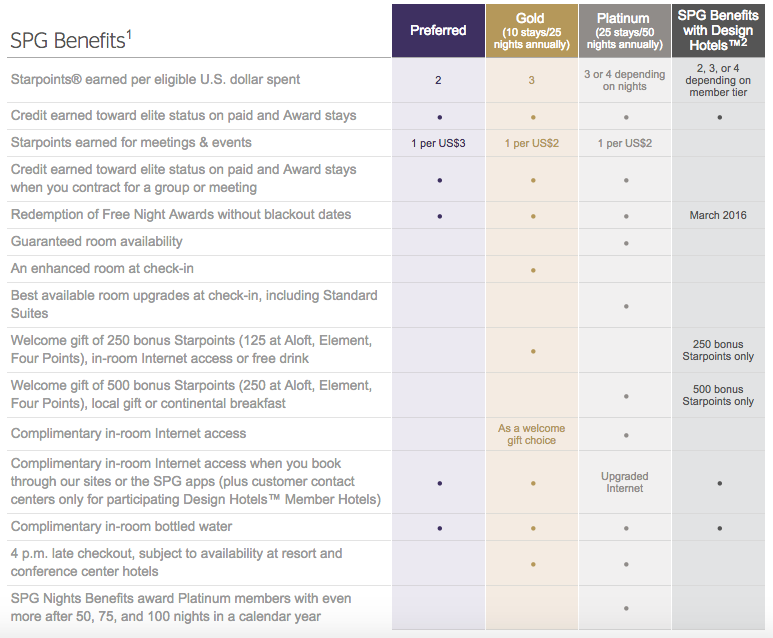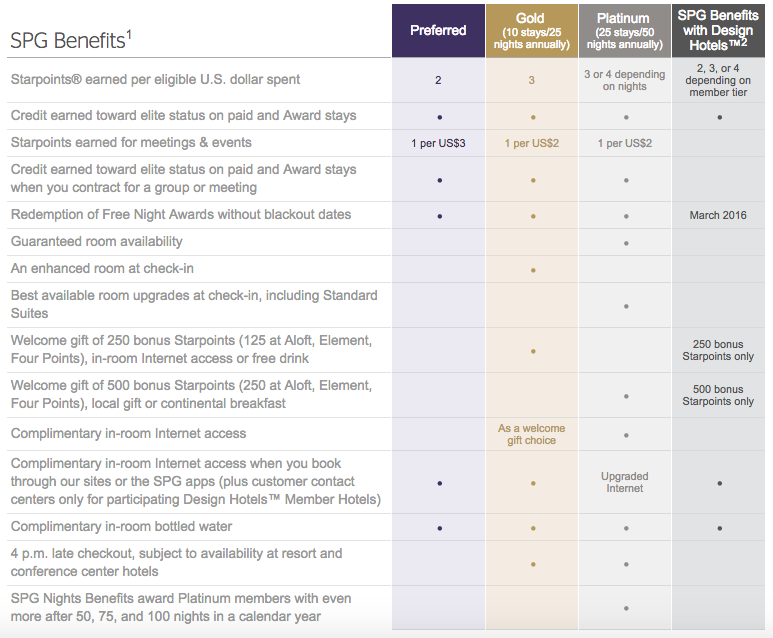 Along the way, you might as well earn 500 Starpoints per night that you decline housekeeping and 1-4 Starpoints for every $1 spent on Uber.
Platinum status
Platinum is where it is at. You can qualify for Platinum by doubling the requirements for Gold:
25 elite-qualifying stays; or
50 elite-qualifying nights in one calendar year.
This is where the main benefits get ramped up, which, in addition to the benefits that come with Gold status, are:
Best available room upgrades, including Standard Suites;
Guaranteed room availability if booked three days in advance;
Welcome gift of 500 Starpoints, complimentary breakfast or local gift; and
Free wifi.
And it continues…
You are better off to reach Platinum status through the 50-night requirement rather than the 25-stay one because…
After 50 nights
You can choose one of the following rewards:
Ten Suite Night Awards: one-night suite upgrades made five days in advance (keep in mind that availability may be harder to come by if you travelling to popular destinations at popular times, e.g. New York at Christmas);
Gift Gold status to a friend or family member;
Free night award at any Category 1-5 hotel or resort (a Category 5 hotel costs 16,000 points, valued at ~$450);
Five elite-qualifying nights, which can contribute to re-earning elite status for the next year;
Free five-day rental of a silver Audi A4 through Silvercar (worth more than 400 USD; only available in US);
Donate $100 to UNICEF; or
40% off your favourite hotel bed, including the popular Westin Heavenly® Bed (maybe not so valuable as a reward as periodic sales are often on).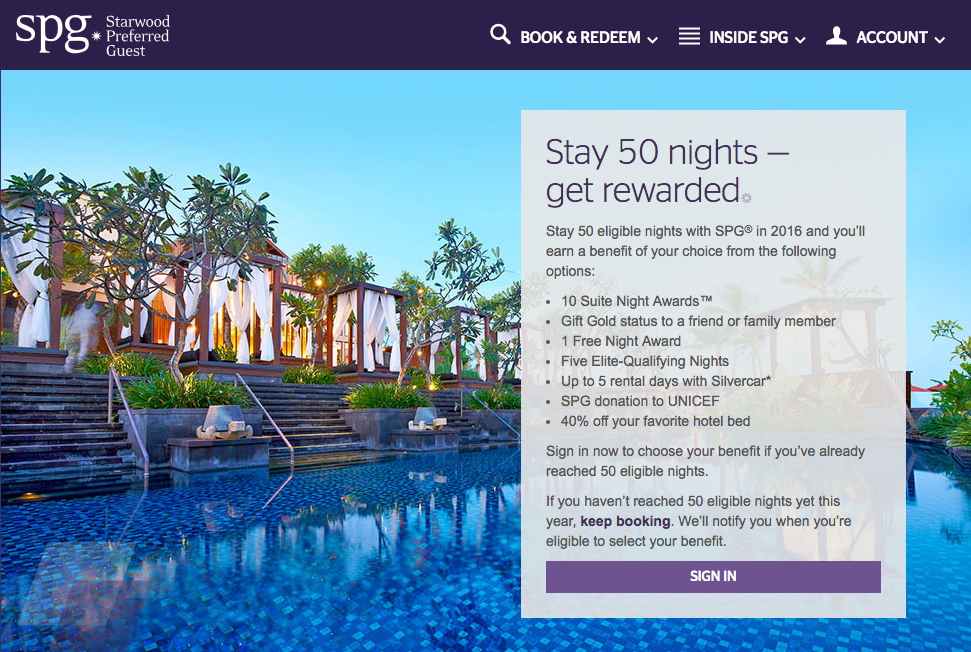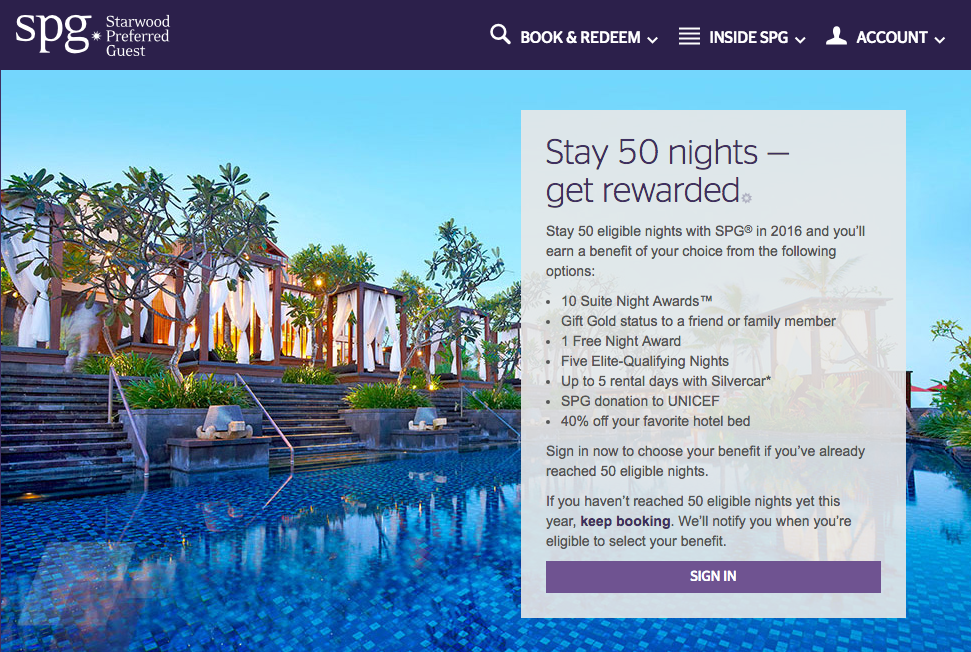 As soon as you hit your Platinum Status (with or without the 50 nights) you'll be emailed with congratulations, along with a prompt to select your benefit:
Welcome email to SPG Platinum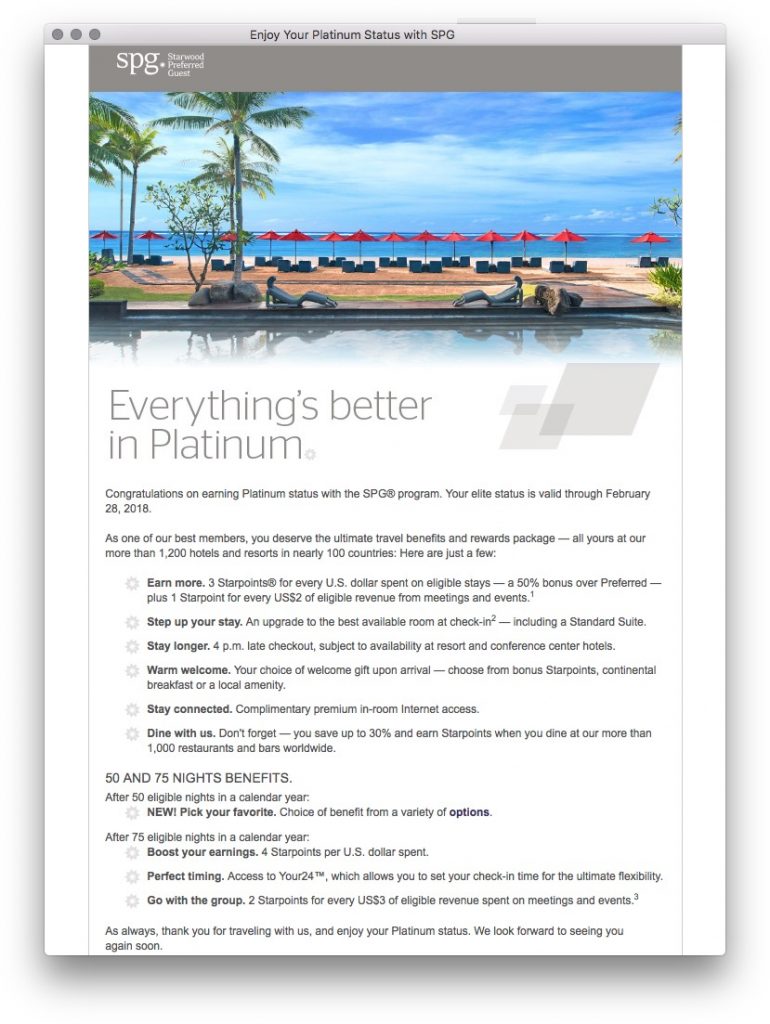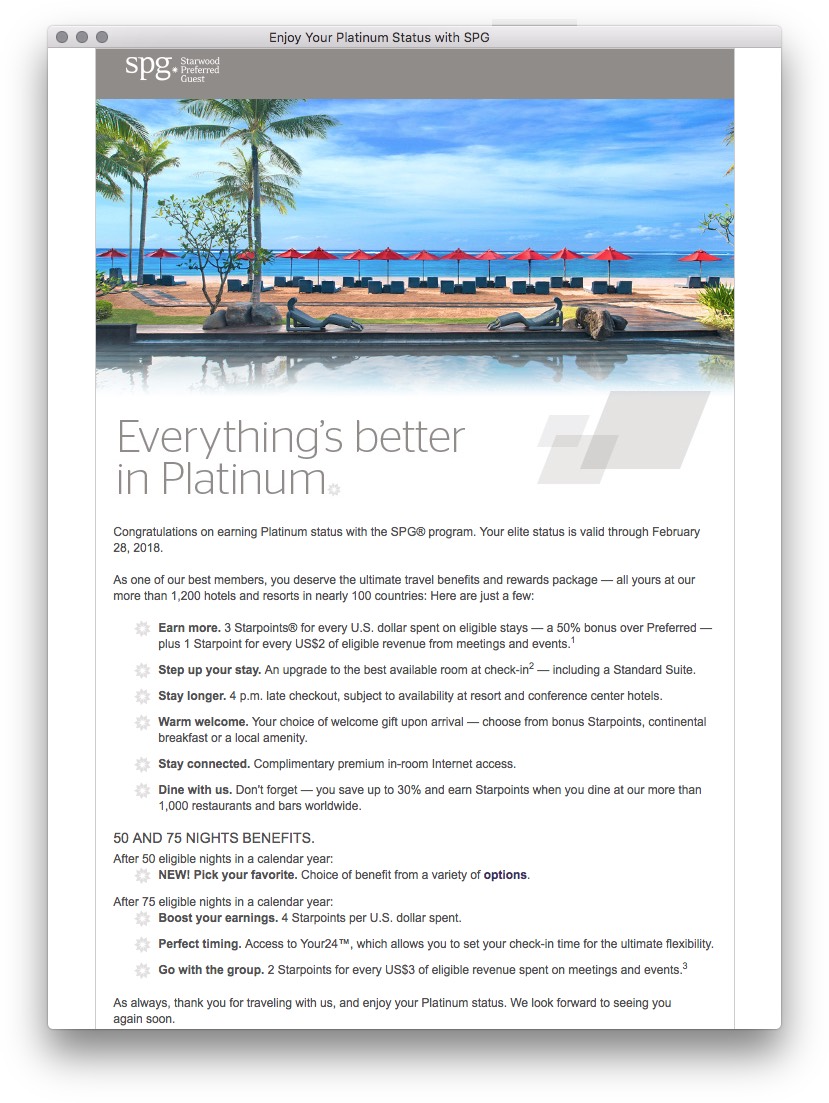 Prompt to select your 50 night benefit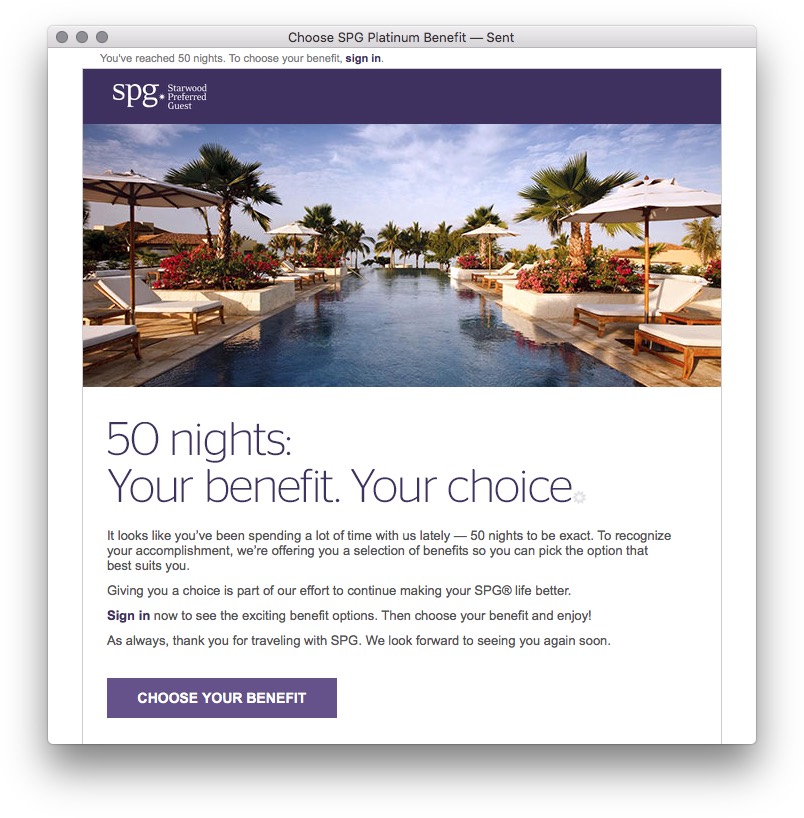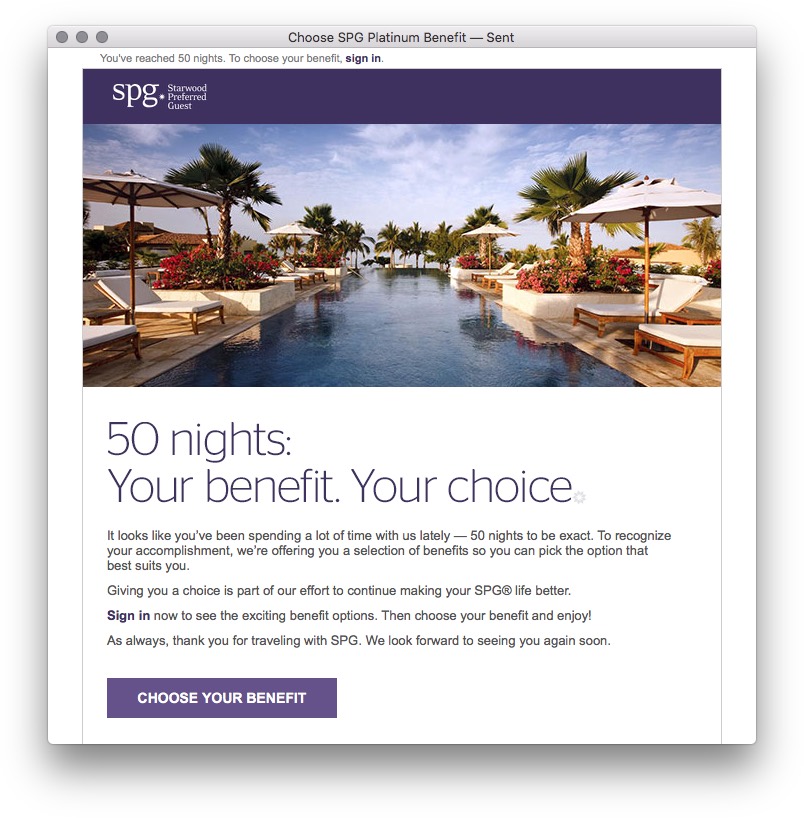 The 50 night benefit can be selected by eligible members here. Each benefit will have more value to different members, so it's hard to say which offers most value.
Here are the terms of the free night award:
Escape for a quick getaway, a relaxing weekend or a vacation and the first night is on SPG®. We'll pick up the tab when you redeem your 1 Free Night Award for any participating Category 1–5 SPG-participating hotel or resort, including Le Méridien San Francisco or Aloft London Excel.
Free night award are valid until the end of the year that your Platinum status expires, which is the end of the calendar year after it was earned.
Suite Night Awards on the other hand work as follows:
Redeem your Award(s) directly at spg.com or call the Customer Contact Center to request one or more Awards for an upcoming stay.
We'll start looking for available upgrades within five days of your stay. If we find one, it's yours, and we'll let you know as soon as possible.
If we can't find an available upgrade five days before your arrival, we'll send you an update and keep checking.
If your Award(s) can't be confirmed by 2 p.m. local time the day before your arrival, we'll notify you via email and credit the Award(s) back to your account.
As a result, Suite Night awards can't be banked on for larger rooms if they are absolutely necessary for your stay (e.g. if you are planning to travel with multiple guests or your family).
You can select your benefit any time during the year you earned Platinum status.
After 70 nights
You earn an extra Starpoint (3 vs 2 points) per dollar spent on stays and food; and
Get access to Your24, meaning that you can check out a full 24 hours after check-in, e.g. if you check in at 9pm, you can check out the following day at 9pm, or even 4pm the day after with the late checkout benefit (must be requested at least two days ahead of stay and is up to the hotel's discretion).
After 100 nights
Summing up – SPG status
As status with SPG is determined by how many nights (25, 50, 70 or 100) you stay at their properties in a calendar year, if you are on your way to one of those levels at time of writing (April 2016), you may want to bunker down and direct more of your business towards them for the rest of the year.
Then, once you have qualified for Platinum status, you could use your 50-night bonus reward of five elite qualifying nights to help you re-qualify for 2017.
Otherwise, it is something to keep in mind to achieve next year, but also consider that there is uncertainty about what changes in benefits (if any) the merger between Starwood and Marriott will bring.
Do you have Starwood Platinum or Gold status? What do you value it for most and least?
Guide to Starwood Preferred Guest Gold and Platinum Elite status
was last modified:
March 1st, 2019
by