As part of my one-way flight from Sydney to Venice via Doha in Qatar Airways First and Business Class using Qantas Points earlier this year, I was able to access Qatar Airways flagship First Class lounge in Doha.
Even though I was travelling onward in Business Class, which on its own wouldn't normally allow for access to this lounge, the fact I was arriving from a First Class flight was enough to have the doors opened for me – and this was one of the more outlandish lounge experiences I've had.
Location and opening hours
The lounge is located just past the First Class check-in, immigration and security area; or if connecting from another flight, this airport only has one terminal with Concourses A to E and is located on Level 3.
The lounge is open 24 hours a day, and you'll probably find it very sparse in terms of other passengers.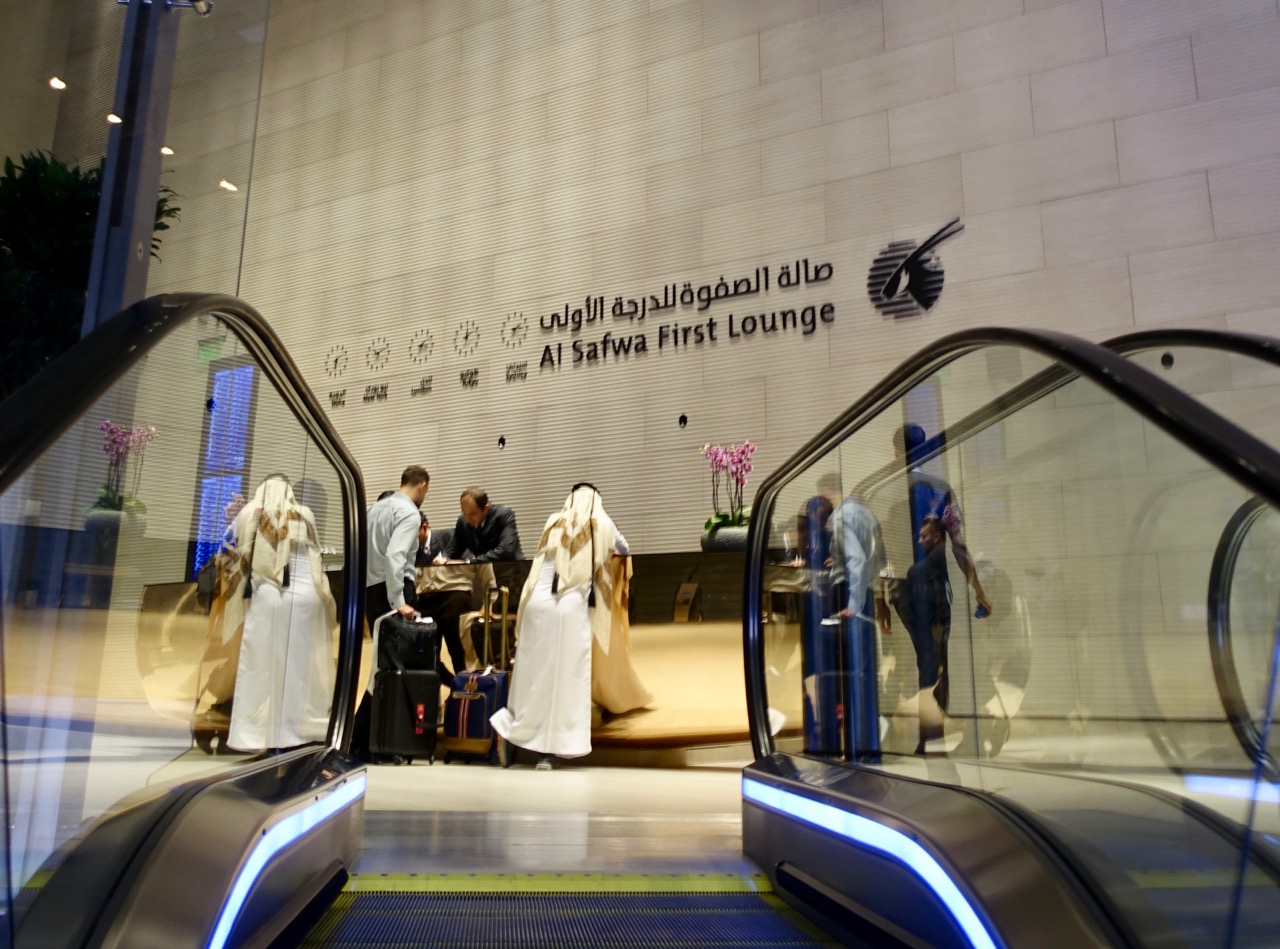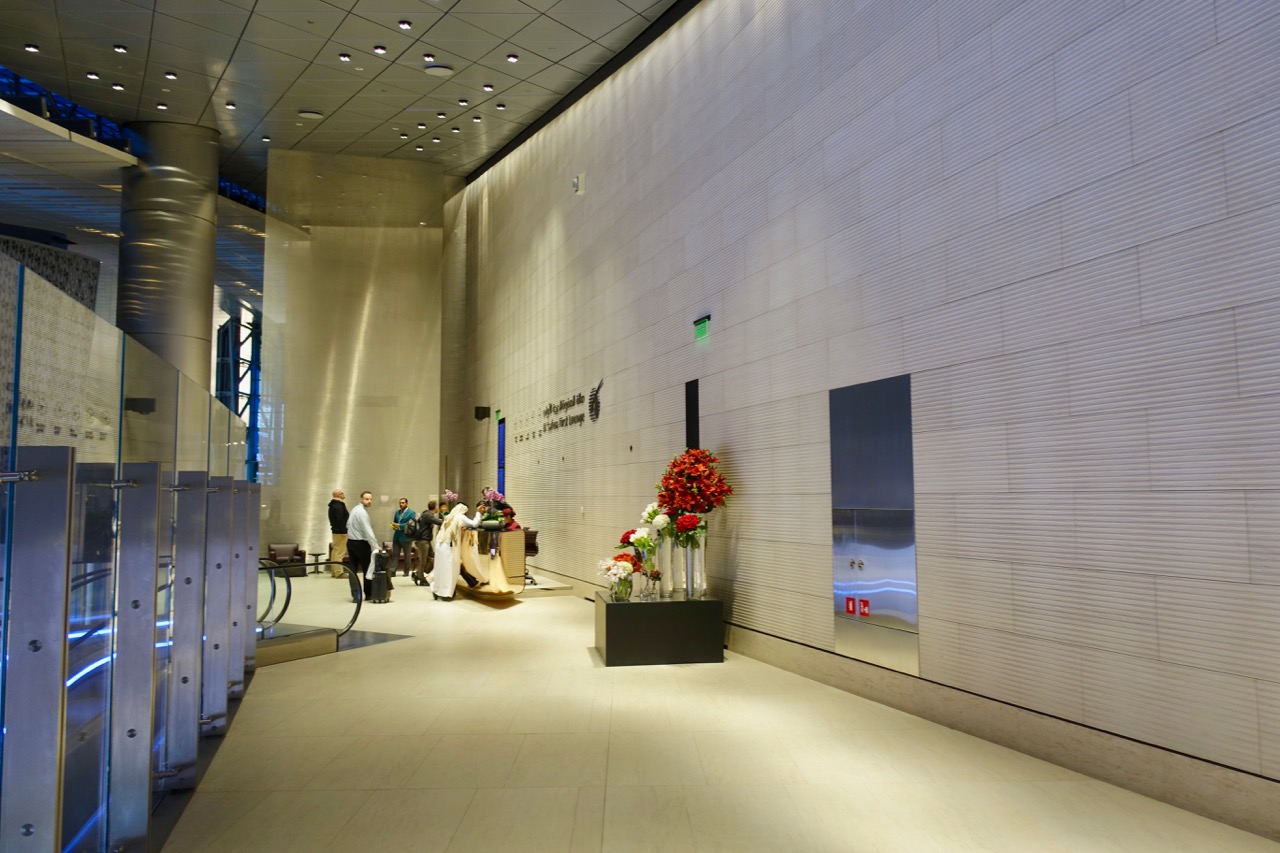 Layout & seating
You can take an interactive tour of the minimalist lounge:
The entrance is huge and imposing: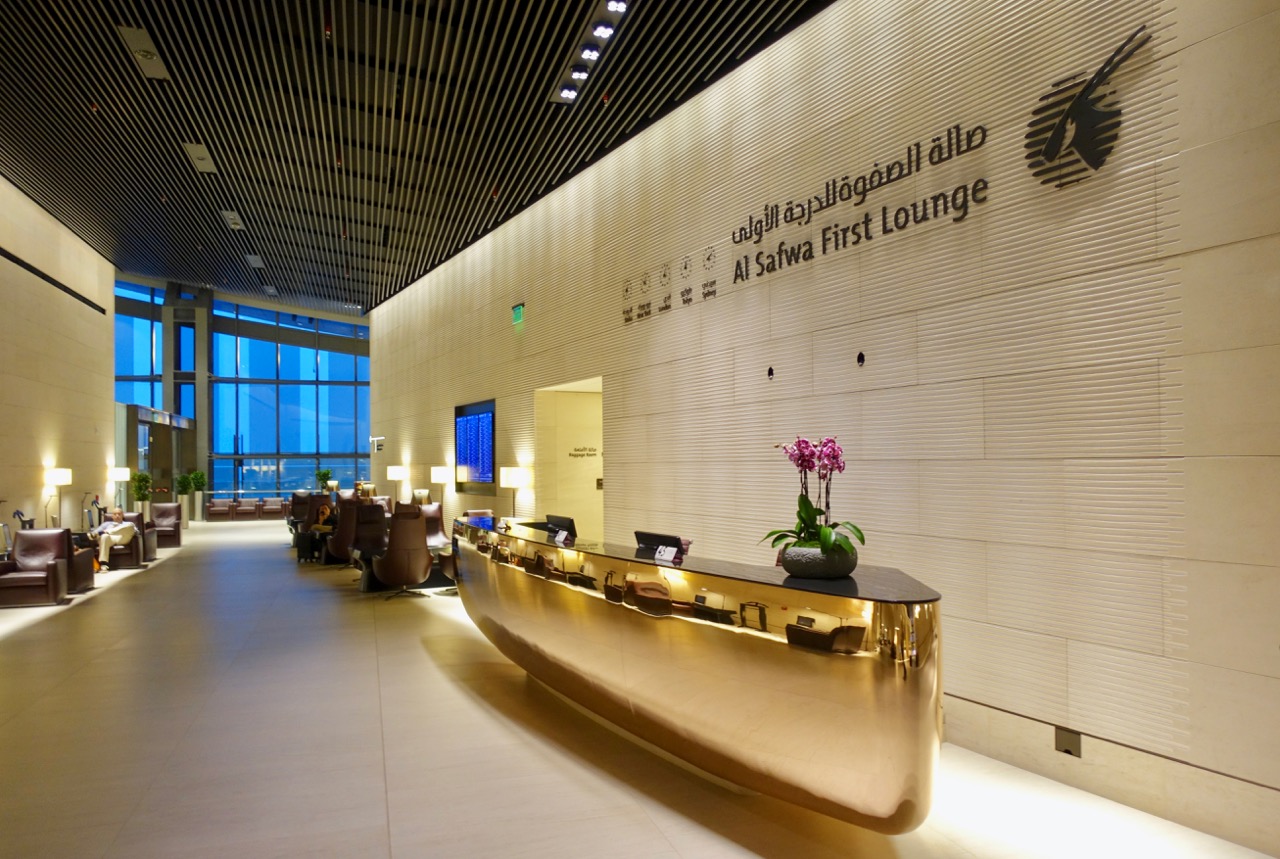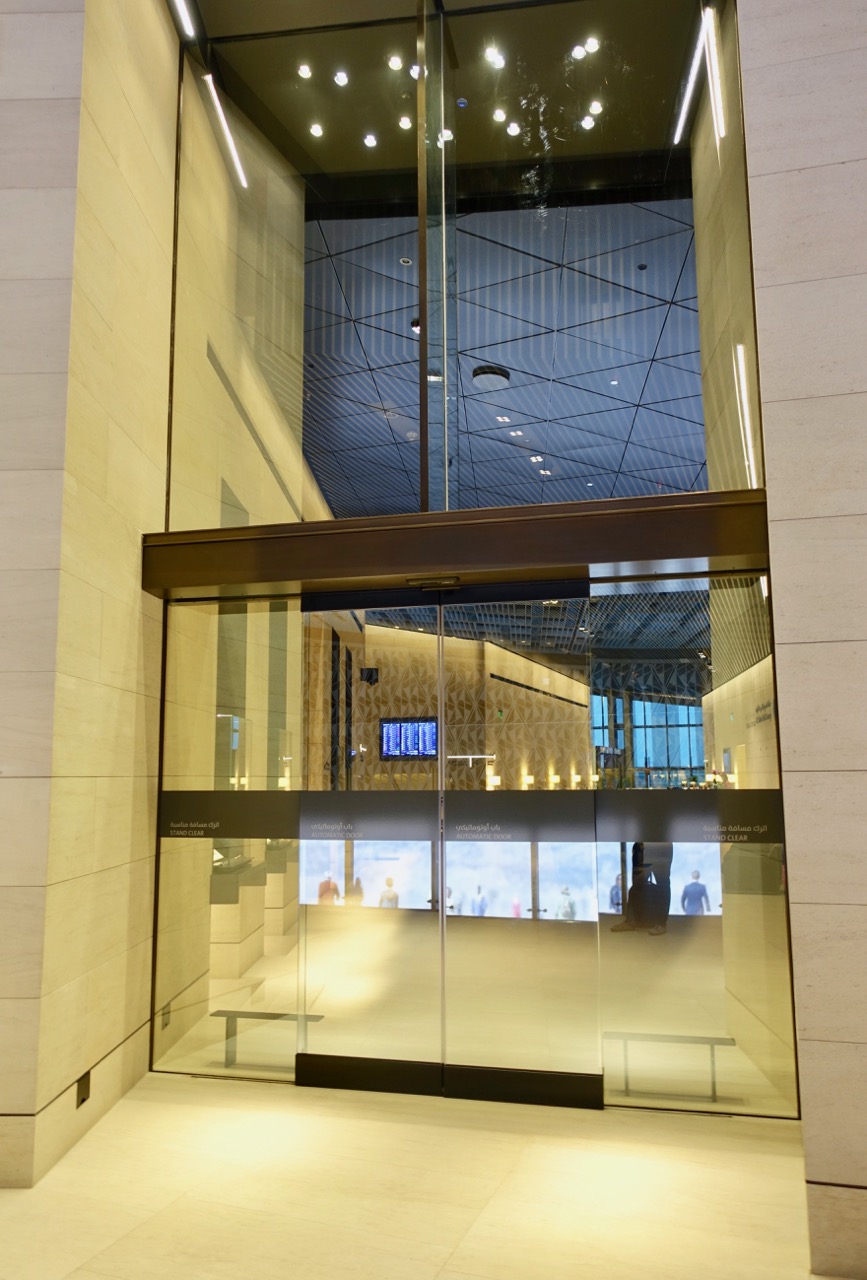 The water display is the centrepiece of the lounge: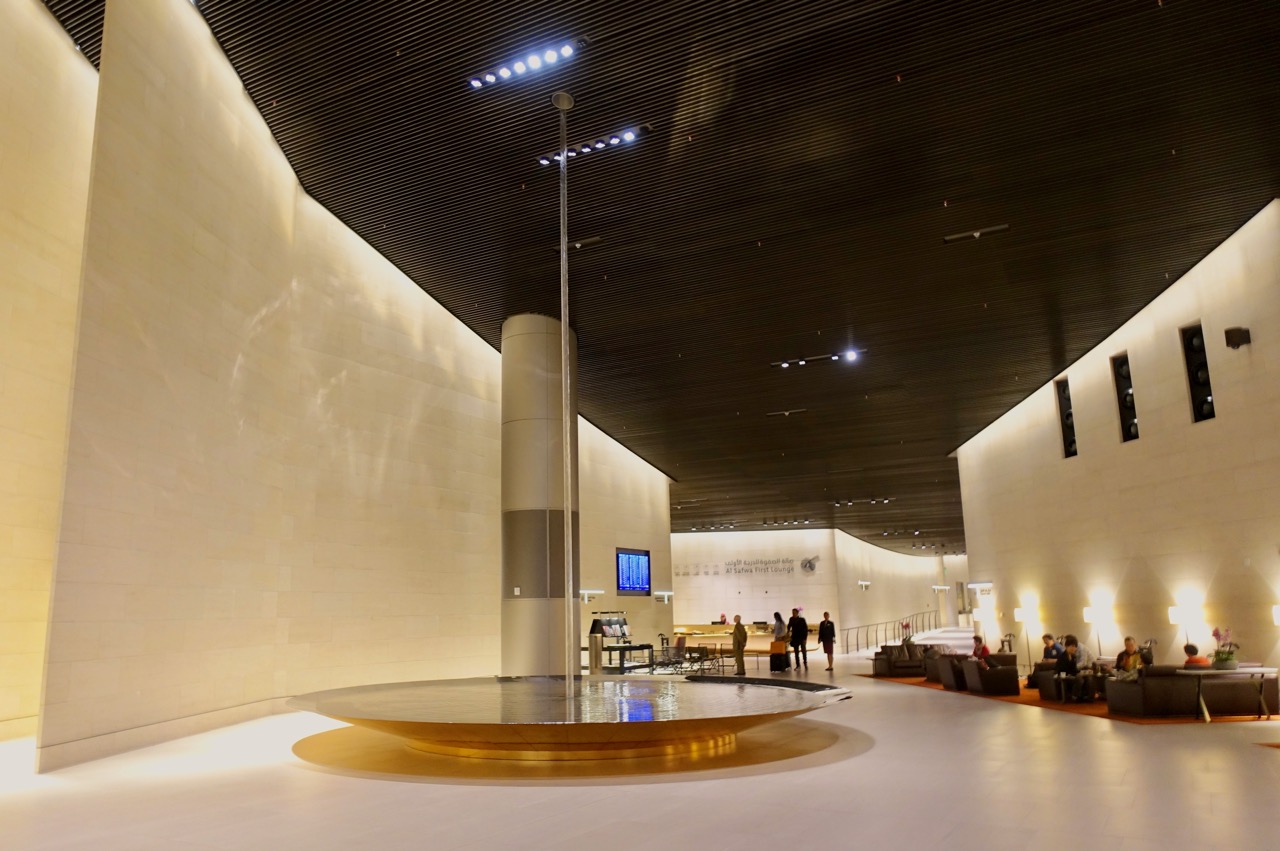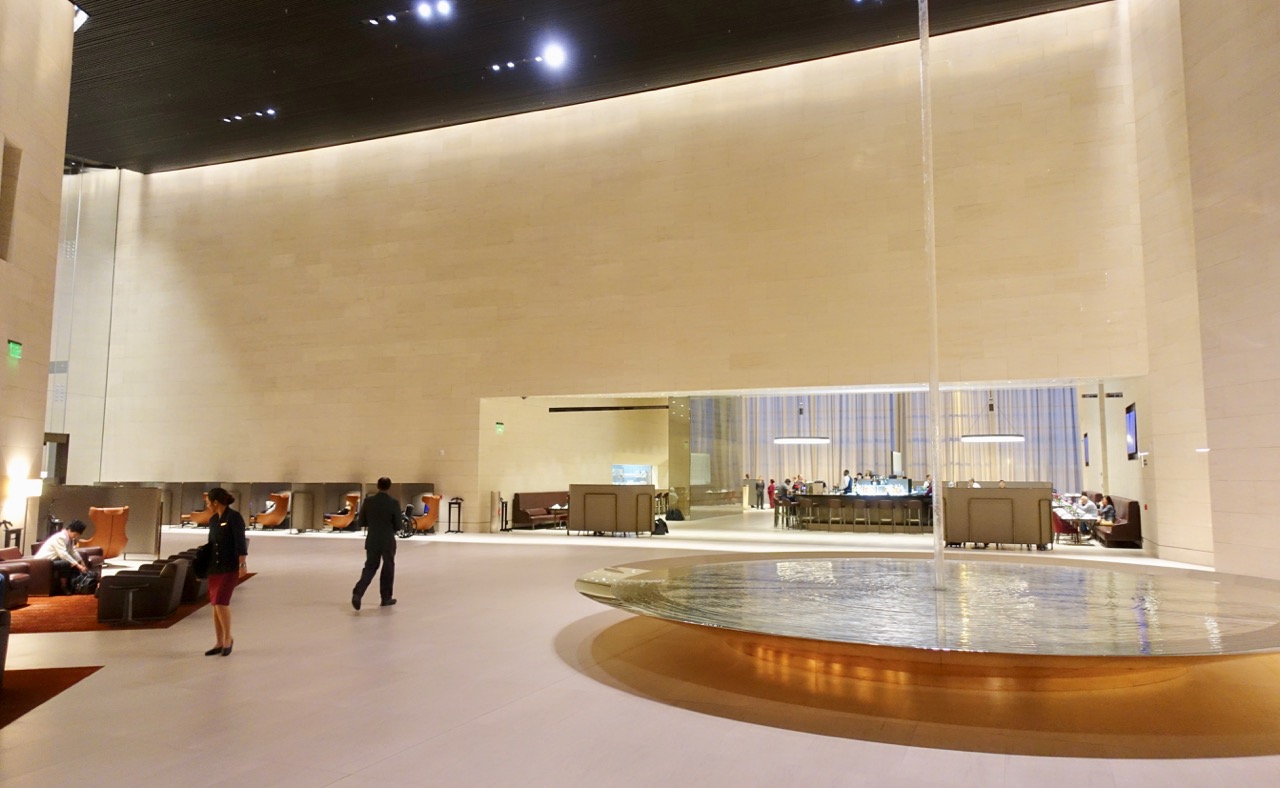 and there are some large artworks adorning the walls: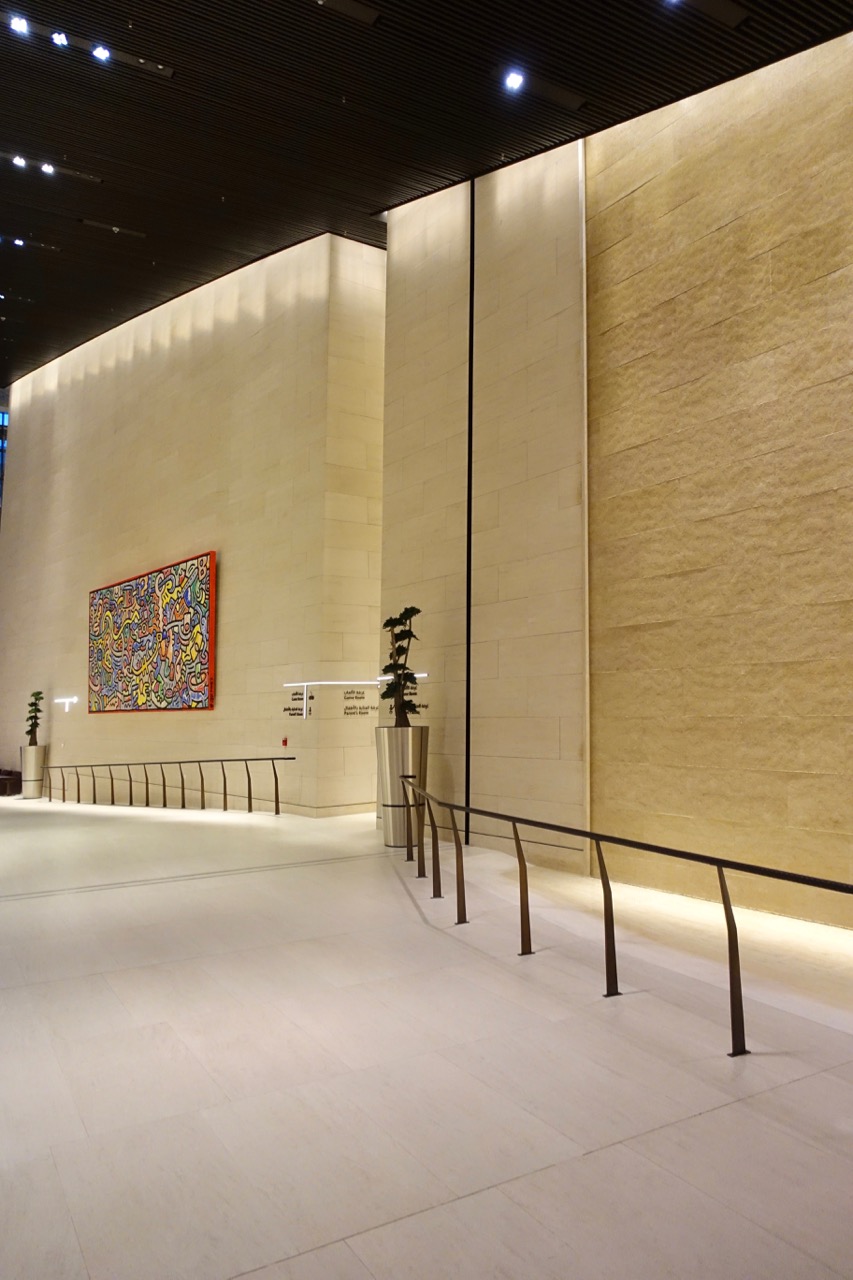 For seating, you can choose one of the strange but relatively private and comfortable U-shaped pods: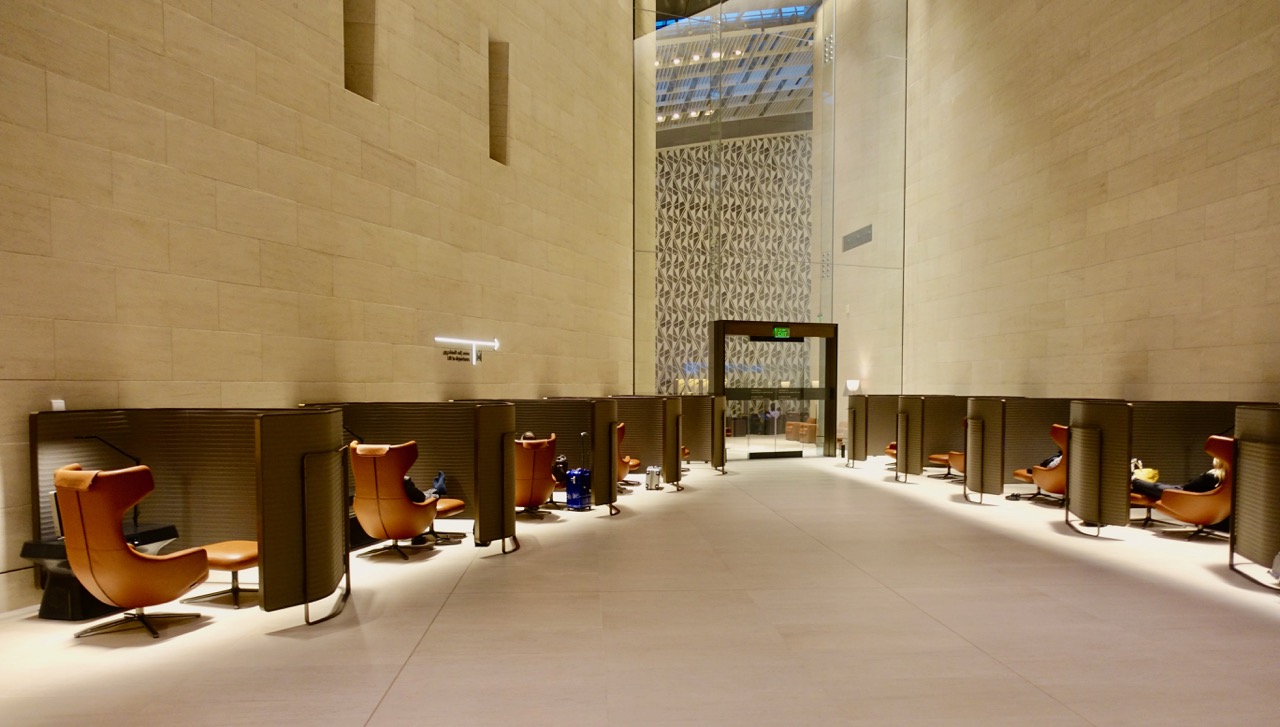 Or there's plenty of low seating around the lounge as you need, as well as table service dining.
Food & Drink
There are two dining options: an a-la-carte restaurant and the buffet area. There is a dessert bar in a separate area.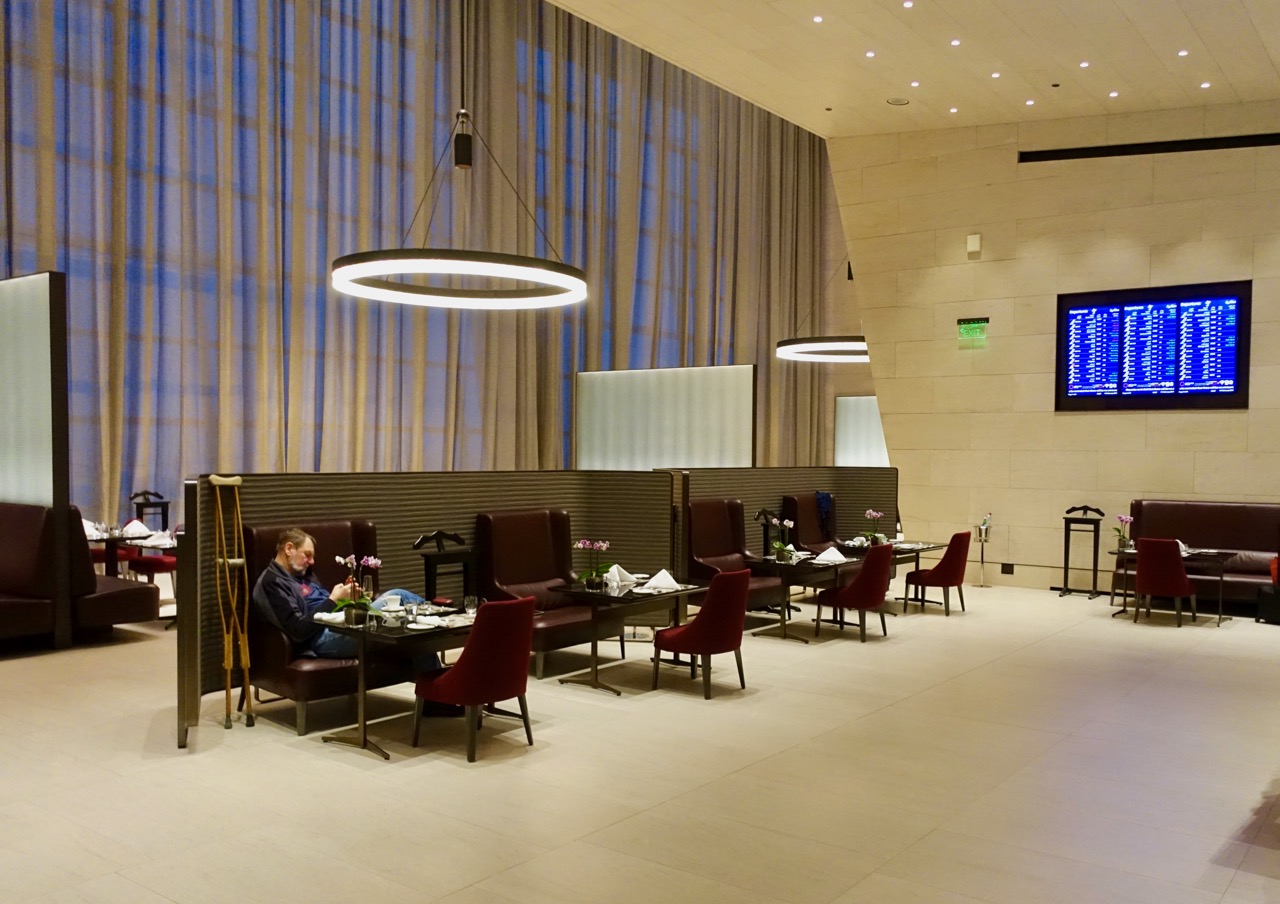 Be aware that alcohol may not be served during Ramadan.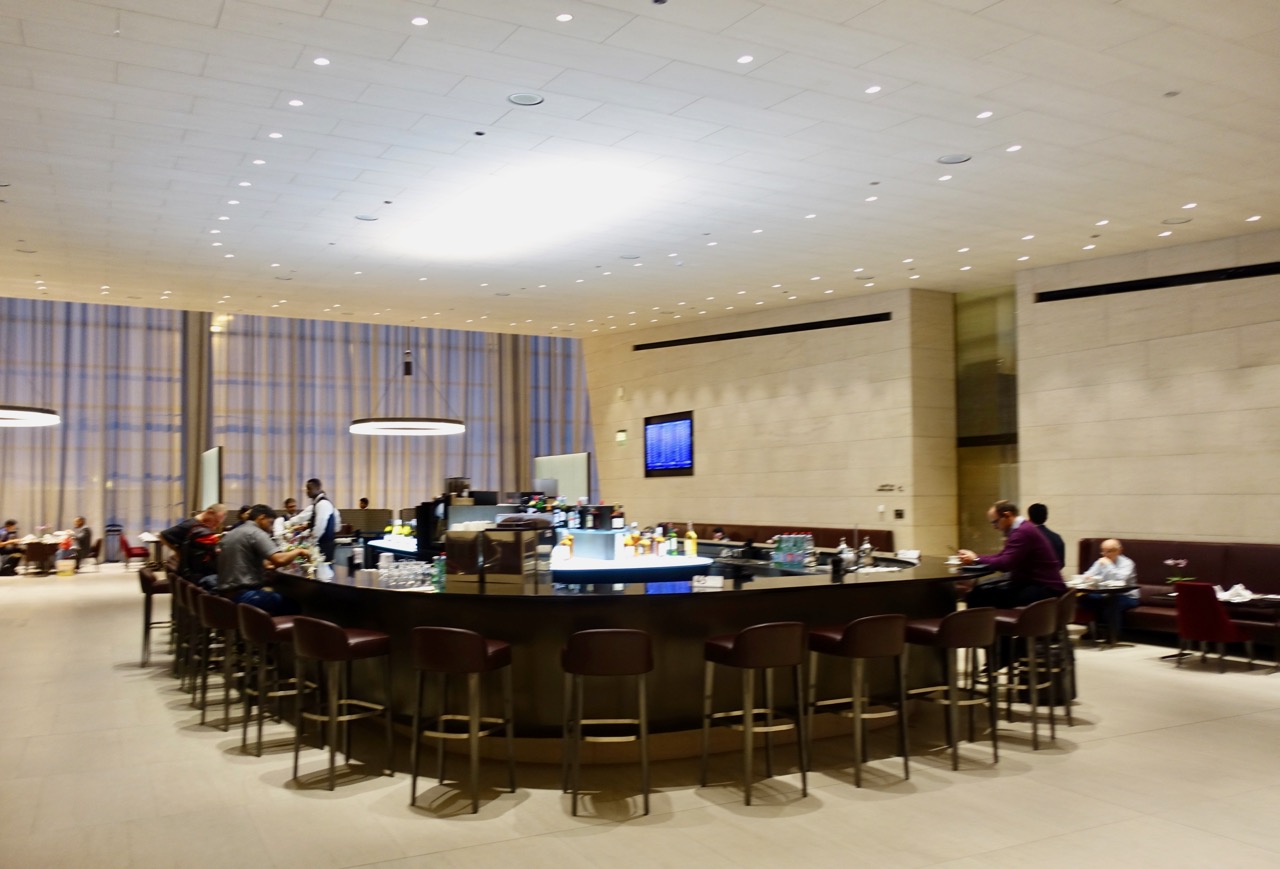 My layover was under two hours, so I didn't have time to enjoy any food. I'd definitely look to arrive early if you have the chance to make time for a full meal.
Amenities
Here's a strange thing: there's a spa but you have to pay for the facilities, which include showers, a hot tub and spa treatments.
I arrived on the Sydney flight at around 5am local time and the lounge was fairly dead. I wasn't hungry, so I was targeting a massage and a shower to freshen up before connecting on to Venice.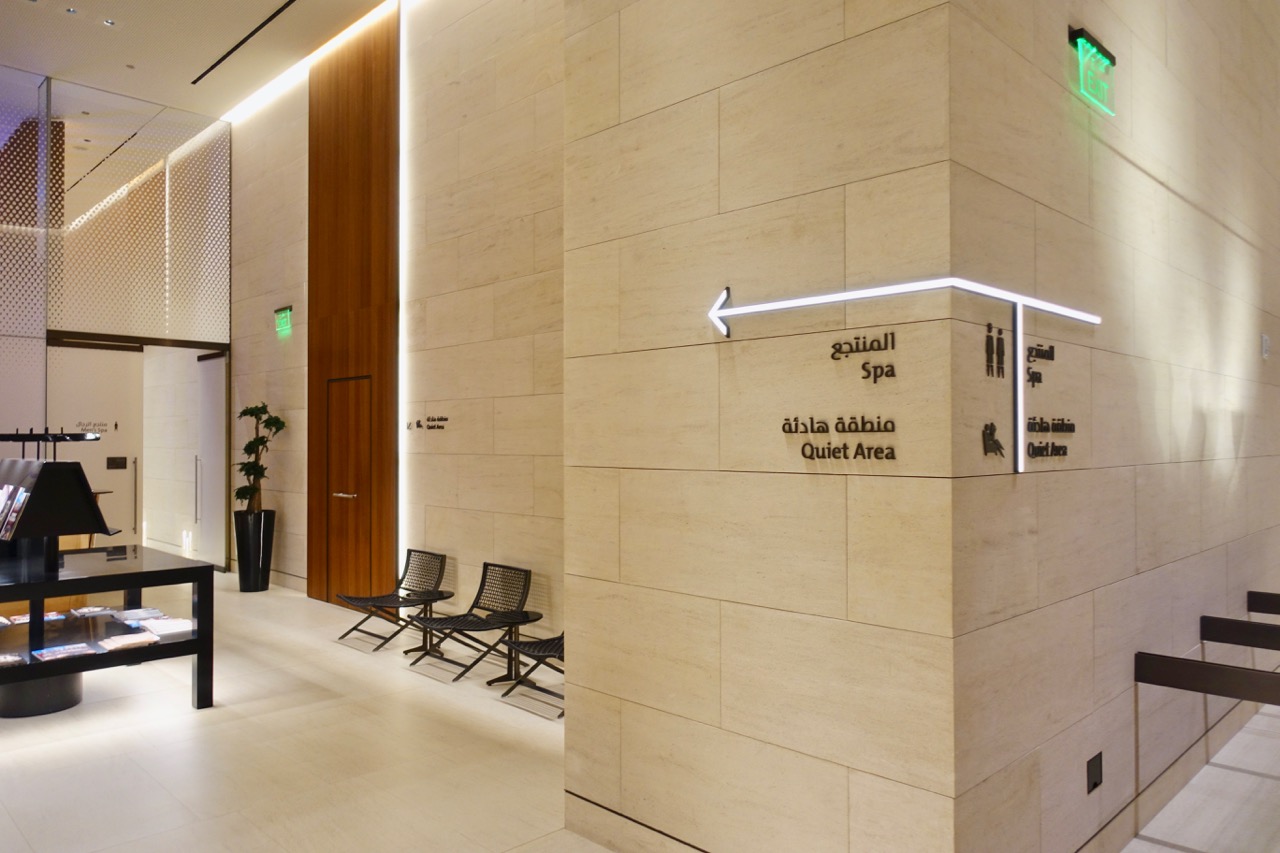 It took around 30 minutes for me to make my way through the various formalities of entering the lounge, making my way to the spa to check availability, having the attendant boot up their payment system to accept my credit card, before finally getting started with the massage.
This didn't leave much time before I head to my gate, but it was a good massage, although very expensive at ~$125 AUD for a 30-minute treatment.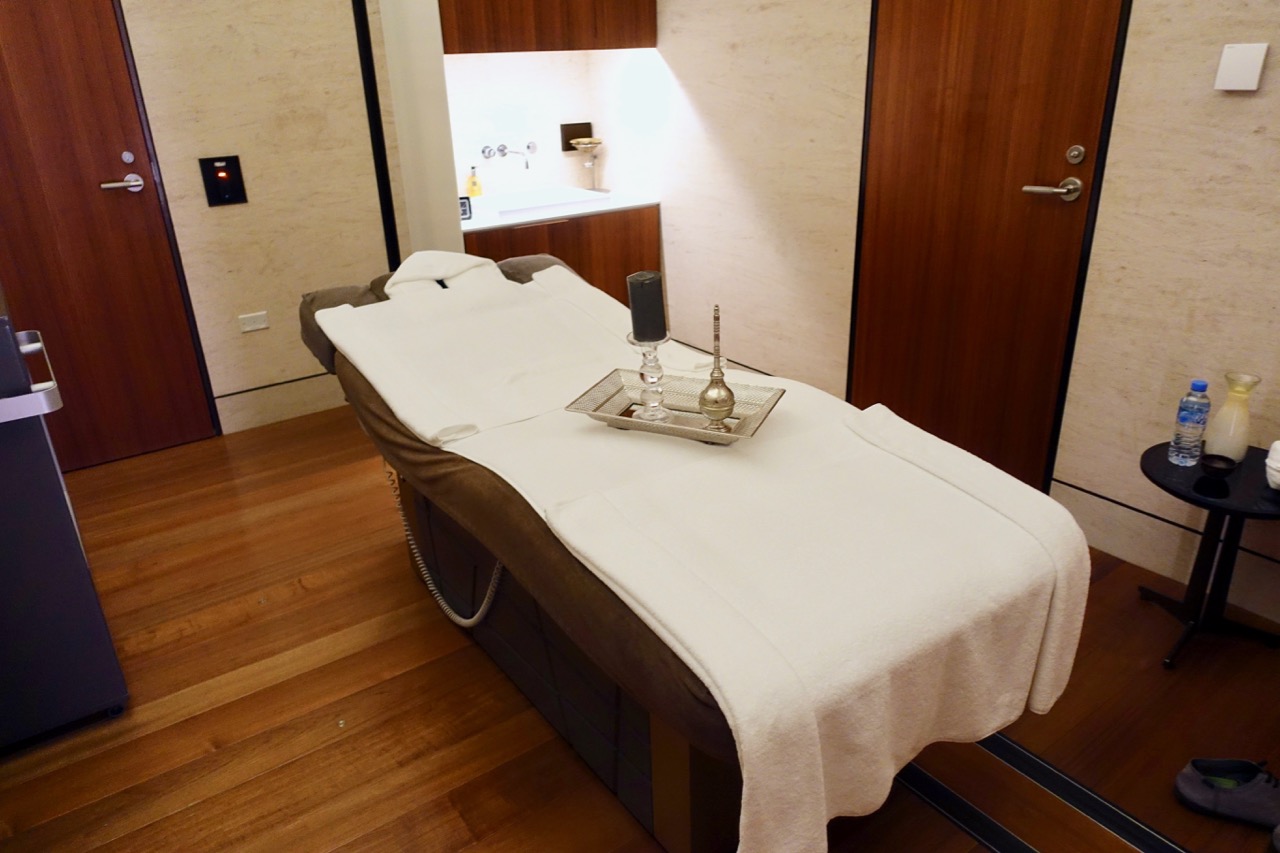 Each treatment room has its own adjoining bathroom so you can then freshen up at your leisure before heading off to your flight.
However, if you want to have a shower without a spa treatment, you can use the free one in the family area, or the shower in one of the nap rooms (although, technically, you are supposed to be on a layover of over four hours to access a nap room.)
It's all a bit confusing to access one of the most basic features of a lounge (showers).
There is also a business centre with reading materials in the middle and workstations surrounding it – again, totally empty at 6am in the morning.
Not pictured are a TV room, a nanny room, and a kids' play area with toys and Playstations.
Access options
By class of travel: passengers departing a Qatar Airways First Class flight (currently only on routes serviced by the Airbus A380) or oneworld First Class flight (e.g. British Airways); passengers arriving on a Qatar Airways or oneworld First Class flight and connecting onto a Business Class flight (my case); or passengers departing on a short-haul Qatar Airways Business Class flight (marketed as 'First Class') to the Gulf countries
By airline frequent flyer status: Qatar Airways Privilege Club Platinum members travelling on a Business Class flight (other oneworld Emerald members, such as Qantas Platinum, are directed to the confusingly named Qatar First Class Lounge)
By day pass: Qatar Airways Business Class passengers can purchase access to this lounge for 600 QAR (=~AU$240)
No guests are permitted except with Qatar Airways Privilege Club Platinum members (two guests).
Business Class travellers on Qatar Airways and oneworld flights are directed to the Al Mourjan Business Class Lounge. The airline is set to open an improved Business Class lounge in 2020.
Al Safwa First Class Lounge: our take
I found the Al Safwa First Class lounge mind-boggling.
First, the scale of the place is just vast – it's definitely too big, in my opinion, and given I was limited for time, I had to ask at least three staff for help finding my way around.
But then the scale – with the height of the ceilings and masses of open space – is also what makes the lounge unique, I guess.
My short stopover didn't help this but, in short, I found the place a bit confounding, and it's hard to judge whether the lounge is really one to seek out without having sampled the food.
Either way, it was a great perk to gain access as part of a Qantas Point redemption from Australia to Europe, despite its quirks.
Qatar Airways Al Safwa First Class Lounge Overview
was last modified:
August 13th, 2020
by